Re-visiting the Mayweather-McGregor Hoax One Year Later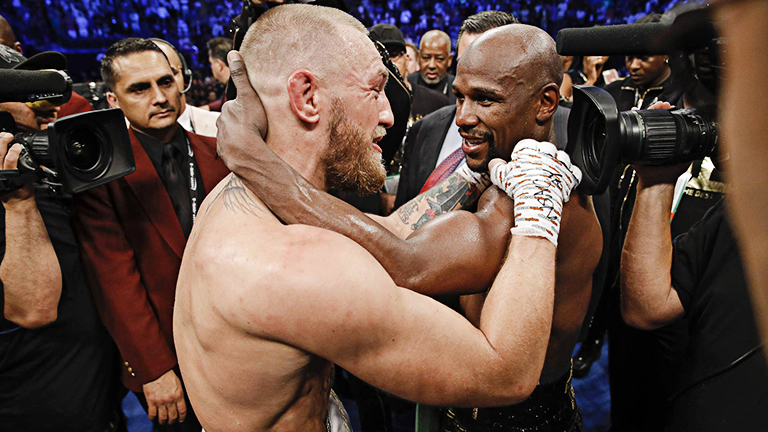 This Sunday, August 26, marks the first anniversary of the Mayweather-McGregor fight. The bout at the T-Mobile Arena in Las Vegas drew an announced crowd of 14,623 (13,094 paid), well below capacity, but with tickets priced so steep, the live gate was enormous. The tally, $55,416,866, stands as the second highest in the annals of boxing, surpassed only by the 2015 match between Mayweather and Manny Pacquiao. Pay-per-view sales worldwide, reportedly 4.3 million, were likewise second only to Mayweather-Pacquiao which registered 4.6.
When the fight was announced, many were quick to denounce it as a sham. The very idea that an MMA fighter with no professional boxing experience could overcome a man hailed in many quarters as the best boxer of his generation was absurd on the face of it. The noted journalist Charles P. Pierce called the promotion a "glorified cholera outbreak" and a "festival of fools." Pierce was alluding not just to the fight that would transpire, but to the war of words leading up to it, a shameless pageant of f-bombs that played out before large gatherings on a promotional tour of four cities: Brooklyn, Toronto, Los Angeles, and London.
The fight, which was waived off in the 10th frame with McGregor on his feet but taking a beating, remains controversial after the fact. The lingering question is whether Mayweather "carried" McGregor to give those that bought into the fight more bang for their buck.
Dishonest fights come in many hues. At one end of the spectrum we have the kind favored by Hollywood filmmakers wherein a boxer is browbeat into taking a dive so that his manager or another party can effectuate a betting coup. I've not sniffed out even one example of this in all the years that I've been covering the sport. At the other end we have the example of an "opponent" tailoring his performance to the role in which he was cast. A common rendering sees the designated loser retiring on his stool after a few rounds while complaining of an injury.
Carrying an opponent, which became more prevalent with the advent of TV (advertisers don't like short fights), fits at neither pole. In the eyes of many immersed in boxing, there's nothing dishonest about it. In the end, the better man wins so what's the big deal?
Many observers, this reporter included, thought McGregor won the first three rounds. He was clearly the busier man. But this wasn't out of character for Mayweather, historically a slow starter. He likes to process his opponent – "gathering data" in the words of Frank Lotierzo — before firming up his own battle plan. Moreover, Floyd, although approaching 41, had every reason to think that he would be better conditioned and thereby less vulnerable as the bout wended into the later rounds. MMA fighters train differently than boxers. An MMA title fight that goes the distance consumes only 25 minutes of actual combat (five 5-minute rounds), 11 fewer minutes than a 12-round boxing match. So if Floyd lollygagged through the first few rounds, it wasn't for the purpose of carrying McGregor. Floyd was just being Floyd and, one might add, he was just being smart.
In his post-fight article, Lotierzo made note of these factors while rejecting the notion that Mayweather carried McGregor. In the early rounds, said Lotierzo, Mayweather was troubled by McGregor's size and physicality and his awkwardness – "unorthodox slaps and quick flurries" – and this caused Floyd "to step back and fight a little more judiciously."
This opinion isn't shared by Hall of Fame boxing broadcaster Jim Lampley. Two months after the fight, Lampley was cornered in a parking garage by a roving reporter for the gossip site TMZ. In the video that ensued, which drew a lot of hits, Lampley said that it was obvious to him that Mayweather tanked the first three rounds. "It was all a set-up," he said.
Let's ask Floyd to weigh-in. In a post-fight interview, Floyd said, "He's a lot better than I thought he was. He used different angles…He was a tough competitor…I chose a hell of a dance partner to dance with. Conor McGregor, you are a great champion." But then, in a video posted on fighthype.com on Dec. 4 of last year, Mayweather changed his tune. "You know I carried McGregor," he said. "I made it look good for y'all."
So who's telling the truth, Mayweather or Mayweather? (We're reminded of the famous line that Bob Arum uttered in an informal bull session with a small group of reporters in 1981 — "Yesterday I was lying; today I'm telling the truth" – an utterance that for some is the perfect catchphrase for the Machiavellian world of professional boxing.)
I was at the fight, free from the noise of the TV commentators who were duty-bound to pump up McGregor to assure the folks watching on pay-per-view ($99.95 for high definition and $89.95 for the regular transmission) that they hadn't been suckered into buying a lemon. But I wasn't seated where my view of the action was as good as those watching at home. I have read where McGregor nailed Mayweather with a harsh uppercut in the opening round. Somehow I missed it. However, while I wasn't able to give the "carrying hypothesis" a good eye test, I will always believe that there was a gentleman's agreement in place that Mayweather wouldn't embarrass McGregor and that this was the primary factor that determined the flow of the early rounds.
I say this for two reasons. At a pre-fight media confab at the Mayweather Gym, Floyd was asked if he would carry McGregor if he figured out early on that the Irishman wasn't in his league. Mayweather artfully dodged the question and the confab was terminated before I had the chance to re-introduce it. And then there was the way that the two embraced when the fight was finished. It struck me that there was something fishy about it.
Yes, we knew that the fight would end in a display of good sportsmanship. We knew that all the acrimony that poured forth on the four-city promotional tour was just posturing. But as the two embraced like long lost friends, one discerned in McGregor's body language elements of relief and jubilation. It was as if we were watching two guys who went halfsies on the Pick Six at Santa Anita with a big carryover pool and just realized that they held the only winning ticket.
McGregor had plenty to say to Mayweather as they snuggled post-fight but his words were inaudible in the din. I'm guessing he said something along these lines: "Well, we pulled it off, didn't we? And all the bastards that said it was going to be a farce can eat crow because we put on a good show."
Indeed, they could not have pulled it off any better than if it had been choreographed. CBS Sports correspondent Brian Campbell came away with this take: "(McGregor was) incredibly game. What he did was present Mayweather with a poised and credible challenge, teasing a bright future in the boxing game should he consider it."
Showtime will replay the fight on Sunday in celebration of the one-year anniversary. Truth be told, I wasn't really that interested in seeing the fight live, but I'm very interested in seeing the replay.
Check out more boxing news on video at The Boxing Channel
Fast Results from London: Joe Joyce Stops Daniel Dubois in the 10th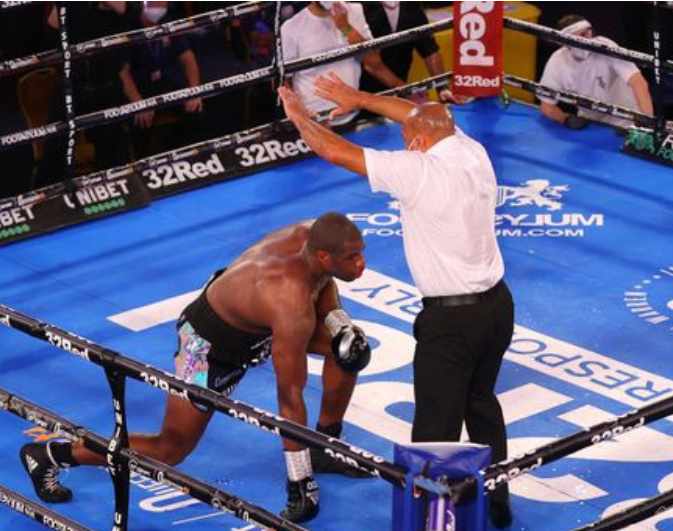 The historic Church House which sits in the shadow of Westminster Abbey was the site of tonight's clash in London between unbeaten heavyweights Daniel Dubois and Joe Joyce. The bout lacked the gloss of a world title fight, but didn't need it. The oft-postponed match, originally slated for the 02 Arena in London on April 11 with promoter Frank Warren anticipating a sellout, was fairly hyped as the most anticipated fight since Fury-Wilder II which was the last big fight before the coronavirus clampdown.
Dubois, 15-0 with 14 KOs heading in, was a consensus 7/2 favorite in man-to-man betting, He was younger, faster and punched harder, but ultimately it would be his "O" that had to go. Joe Joyce, an inch taller at six-foot-six and 15 pounds heavier at 259, emerged victorious with a 10th-round stoppage in what was a good back-and-forth fight with a divided opinion as to who had the edge through the completed rounds.
Joyce really didn't do much but throw a jab, but he landed that jab consistently and it was a hard, thudding jab that caused Dubois's left eye to start swelling during the mid-rounds of the fight. The damaged eye eventually shut and when Joyce reached it with another hard jab in the 10th, Dubois surrendered by taking a knee. The presumption was that he had suffered a broken orbital bone.
The 35-year-old Joyce, nicknamed Juggernaut, is of Scotch-Irish and Nigerian descent. He lost by split decision to Tony Yoka in the semifinals of the 2016 Olympics and had to settle for a silver medal. Prior to turning pro, he was 12-1 in the semi-pro World Series of Boxing with his lone defeat coming at the hands of Oleksandr Usyk. With today's career-defining win, he upped his pro ledger to 12-0 (11).
Other Bouts
Top-rated WBC super lightweight contender Jack Catterall (26-0) won a predictably one-sided 10-round triumph over 33-year-old Tunisian Abderrazak Houya (14-3). Catterall scored two knockdowns en route to winning by a 99-90 score. This was a stay-busy fight for the Lancashire man who was the mandatory challenger for title-holder Jose Carlos Ramirez and accepted step-aside money with the promise that he would meet the winner of the unification fight between Ramirez and Josh Taylor which is expected to come off in February.
The lead-in fight was a 10-round contest in the super welterweight division between 21-year-old Hamzah Sheeraz and 33-year-old Guido Nicolas Pitto. The fight was monotonous until Sheeraz (12-0, 8 KOs) kicked it into a higher career in the final stanza and brought about the stoppage. Pitto, from Spain by way of Argentina, declined to 26-8-2. The official time was 1:11 of round 10.
In an 8-round cruiserweight bout, Jack Massey improved to 17-1 (8) with a 79-74 referee's decision over Mohammad Ali Farid (16-2-1). Massey was making his first start since losing a close 12-round decision to Richard Raikporhe in December of 2019 for the vacant BBBofC title. The well-traveled, one-dimensional Farid had scored 16 knockouts in his previous 18 fights while answering the bell for only 33 rounds.
Check out more boxing news on video at the Boxing Channel 
To comment on this story in the Fight Forum CLICK HERE
Daniel Jacobs Edges Past Gabe Rosado on a Matchroom card in Florida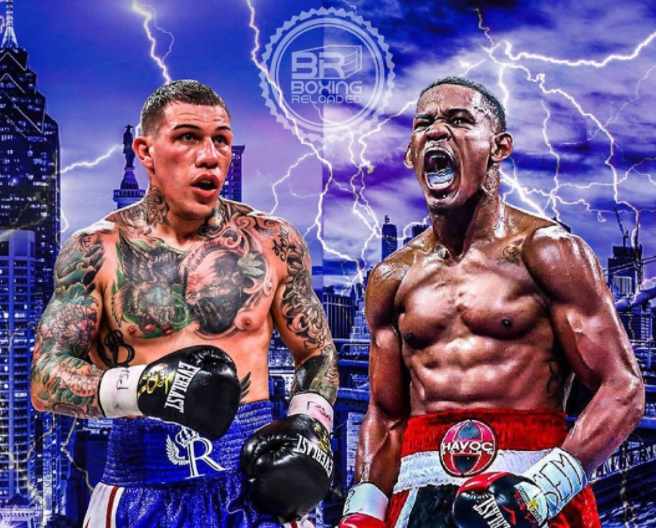 Former world champion Daniel Jacobs needed the last round to win by split decision against upset-minded Gabe Rosado and keep his place in line on Friday for lucrative super middleweight matchups.
But when the ring announcer erroneously announced the winner was from Philadelphia, confusion reigned for a moment until Jacobs was correctly called the winner.
Brooklyn's Jacobs (37-3, 30 KOs) jumped out ahead against Philly fighter Rosado (25-13-1, 14 KOs) and held on for the win in front of no fans at the Seminole Hard Rock Hotel and Casino in Hollywood, Florida. For a second, many thought Rosado had won.
Both were careful during the first three rounds measuring each other's distance and looking for openings to counter. There were very few.
It was the kind of fight expected by those who know boxing: two veterans with immense experience against top-flight world champions. Mistakes were few.
Jacobs, a former middleweight world champion, had fought Saul "Canelo" Alvarez and Gennady "GGG" Golovkin in close but losing efforts.
Rosado had battled Golovkin too, six years ago in a bloody affair that ended in a loss. He had also lost to other champions like Peter Quillin and Jermell Charlo. But none were able to knock him out.
Both were aware of each other's reputation. Bitter words had been exchanged for years and now they finally got their chance to prove their mettle and they did.
Though Jacobs was recognized as a knockout puncher, Rosado's resilience was just as well known. Both neutralized each other for most of the fight with their feints and jabs to the body. Neither was willing to leave openings for each other.
Jacobs scored big with a left uppercut at the end of the seventh round. While Rosado wowed viewers with a sizzling right cross in the 11th round.
It was 1950s style, boxing with intelligence. Each found it difficult to land combinations, let alone find openings to score knockout blows. Instead, they had to be satisfied with scoring enough to convince three judges the actual winner.
Neither was able to pull out ahead with any conviction.
After 12 rounds one judge saw Rosado the winner 115-113 while two others saw Jacobs the winner 115-113 to give him the win by split decision.
"It felt just a little weird. It felt like a sparring match," said Jacobs about fighting without fans in the audience. "This wasn't a valiant effort."
Rosado was certain he was the true winner.
"I thought I won the fight. I surprised him," said Rosado who trained with Freddie Roach for this fight. "I'm a veteran, I know how to fight."
Indeed, he does.
Jacobs now stands poised to fight one of many super middleweight champions in need of a marquee name.
"I live to see another day," he said honestly.
Other Bouts
Kazakhstan's Daniyar Yeleussinov (10-0, 6 KOs) proved he was not an easy touch and knocked out former world champion Julius Indongo (23-3, 12 KOs) to march forward in the welterweight division while grabbing the vacant IBF Inter-Continental title.
In a fight featuring southpaw versus southpaw Yeleussinov caught Indongo with a roundhouse left the first time they exchanged and down went the former super lightweight world champion. Indongo beat the count and survived the round.
Indongo wasn't as lucky in the second round as Yeleussinov again connected with a left and down went the fighter from Namibia again. He would not get up at 1:24 of round two giving the knockout win for Yeleussinov.
A battle between undefeated heavyweights saw Azerbaijan's Mahammadrasul Majidov (3-0, 3 KOs) use roundhouse rights to stagger the heavier Sahret Delgado (8-1) to win by knockout in the third round. Majidov actually helped Delgado get to his stool after knocking him out on his feet at 47 seconds of the third round.
Emmanuel Tagoe (32-1) defeated Mason Menard (36-5) by majority decision after a 10- round lightweight fight that saw a lot of clinching and leaning.
Nikita "White Chocolate" Ababiy (10-0) out-fought Detroit's Brandon Maddox (7-4-1) to win by unanimous decision after six rounds in a middleweight clash. Ababiy hurt Maddox with body shots but found Maddox more resilient than expected.
Check out more boxing news on video at the Boxing Channel 
To comment on this story in the Fight Forum CLICK HERE.
Pradabsri Upsets Menayothin, Ends the Longest Unbeaten Streak of Modern Times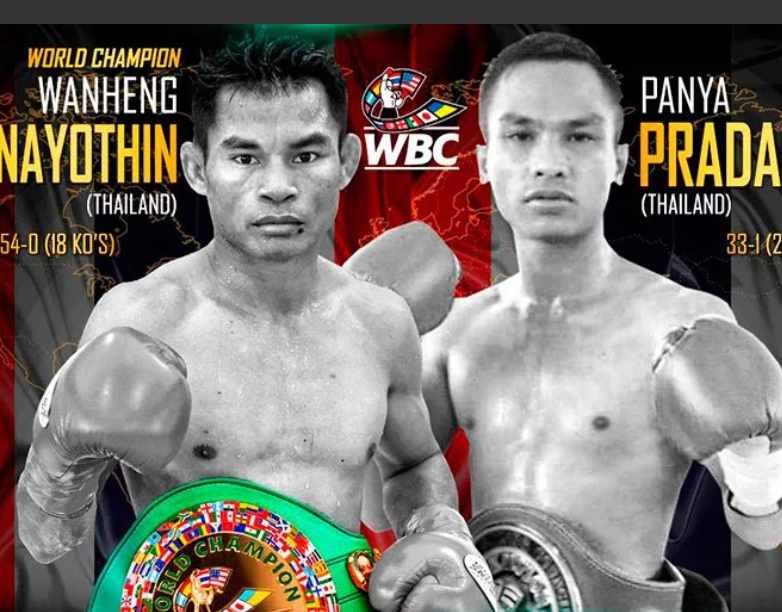 During the wee hours in the Americas, a big upset was brewing in Thailand. In Nakhon Sawan, a city roughly 150 miles north of Bangkok, Panya Pradabsri (aka Petchmanee CP Freshmart) out-pointed Wanheng Menayothin (aka Chayaphon Moonsri) in a domestic clash with international significance. Manayothin entered the bout with a 54-0 (18) record and was making the 13th defense of his WBC world minimumweight title.
Pradabsri had been defeated only once in 35 previous starts, but only 11 of his 34 victories had come against fighters with winning records. According to ringside reports, he kept Menayothin at bay with good fundamentals, a stiff jab, and good lateral movement. All three judges had it 115-113. The fight wasn't without controversy as Menayothin finished stronger and many folks scoring off the live video thought that he had done just enough to retain his title.
How good was/is Menayothin? That's a question that serious boxing fans will likely debate for decades.
In the summer of 2019, Menayothin signed a co-promotional deal with Oscar De La Hoya's Golden Boy Promotions. At time, GBP president Eric Gomez described him as one of the best fighters in the world. "We really want to bring him to the U.S. so people can see how talented he really is," Gomez told England's Sky Sports.
Menayothin was expected to make his U.S. debut in April of this year, but the pandemic ruined that plan. Earlier this year, he announced his retirement, but rescinded it after only two days.
Scottish boxing historian Matt McGrain, who has an exclusive arrangement with this web site, had lukewarm opinion of the Thai mighty-mite although he rated him the second-best 105-pound boxer of the decade, trailing only his countryman Thammanoon Niyomtrong (aka Knockout CP Freshmart).
"He is disciplined, strong, brings good pressure and is armed with a very decent range of punches," said McGrain, "(but his record) is comprised mostly of men any competent fighter would be expected to beat."
Although only one boxer from Thailand has been inducted into the International Boxing Hall of Fame (Khaosai Galaxy, class of 1999), the Southeast Asia nation has produced some outstanding boxers over the years – Chartchoi Chionoi, Sot Chitalada, Pongsaklek Wonjongkam, and Srisaket Sor Rungvisai to name just a few. The difference between these fighters and Wanheng Menayothin is that they all left the comfort zone of their homeland to score one or more important wins on foreign soil.
Menayothin may yet display his wares in a U.S. ring. But at age 35, an advanced age for small fighters in particular, we won't get to see him at his best and now that his bubble has been burst, disinviting further comparisons to Mayweather and Marciano, the curiosity factor has been tempered.
To comment on this story in the Fight Forum CLICK HERE