1,501 Tests, One Reported Positive? What's Going On with USADA and Boxing?
On October 18, 2012, Halestorm Sports reported that Erik Morales had tested positive with the United States Anti-Doping Agency (USADA) for clenbuterol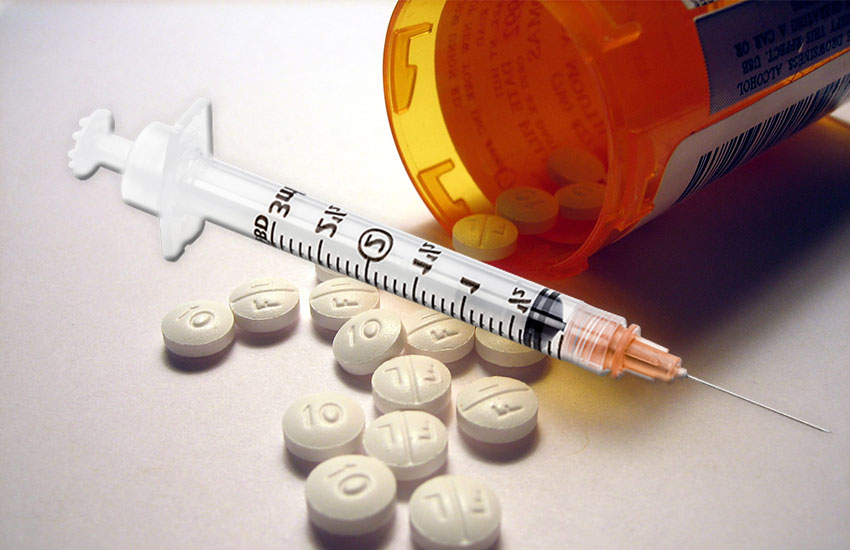 By THOMAS HAUSER — On October 18, 2012, Halestorm Sports (a small website that no longer exists) reported that Erik Morales had tested positive with the United States Anti-Doping Agency (USADA) for clenbuterol, a banned substance. Morales was scheduled to fight Danny Garcia at Barclays Center in Brooklyn on October 20. More significantly, it was later confirmed by the New York State Athletic Commission that USADA hadn't reported the violation to the NYSAC until after the internet disclosure.
USADA has been testing professional boxers for performance enhancing drugs since 2010. Its website states that it has administered 1,501 tests on 128 professional boxers through August 22 of this year. Yet it appears as though, in all these years, USADA has reported only one adverse finding regarding a professional boxer (its belated report of Morales to the NYSAC) to a governing state athletic commission.
Is it possible that USADA has administered 1,501 tests to 128 professional boxers and that only one of these tests has come back positive? Yes. It's also possible that a giant asteroid will obliterate life as we know it on earth tomorrow. But it's statistically implausible and highly unlikely.
In the past, I've written extensively about USADA's involvement with professional boxing. Most notably, in a 2015 article entitled "Can Boxing Trust USADA?", I explored how the agency handled the intravenous administration of what was said to be a mixture of saline and vitamins to Floyd Mayweather hours after Mayweather weighed in for his May 2, 2015, fight against Manny Pacquiao. As outlined in this article, the evidence strongly supports the conclusion that USADA's actions with regard to Mayweather's IV violated both Nevada State Athletic Commission protocols and the World Anti-Doping Code. The article can be found at:
https://www.sbnation.com/longform/2015/9/9/9271811/can-boxing-trust-usada
USADA responded to these allegations with a lengthy media release:
https://usada.org/wp-content/uploads/USADAs-Detailed-Correction-to-SB-Nation-Article-by-Tom-Hauser.pdf
My response to the USADA media release can be found at: https://www.boxnation.com/boxing-news/was-floyd-mayweather-really-dehydrated-the-fallout-from-can-boxing-trust-usada/
Now, in 2018, there's still reason to question USADA's commitment to "clean sport" insofar as professional boxing is concerned. As noted above, USADA reports having conducted 1,501 tests for banned substances on 128 professional boxers from January 1, 2010, through August 22, 2018. Yet it appears as though only one of these tests (that of Erik Morales) resulted in an adverse finding that was communicated to a state athletic commission.
By way of comparison, Dr. Margaret Goodman (president of the Voluntary Anti-Doping Association, which is widely regarded as the most credible testing organization in professional boxing) reports that close to four percent of the tests for illegal performance enhancing drugs conducted by VADA come back positive. Using the four-percent benchmark, one would expect that 60 of the 1,501 tests conducted by USADA from 2010 to date would have yielded a positive result.
Broken down by year, the numbers reported by USADA on its website are as follows:
| | | |
| --- | --- | --- |
| YEAR | BOXERS | TESTS |
| 2010 | 2 | 16 |
| 2011 | 2 | 29 |
| 2012 | 9 | 113 |
| 2013 | 11 | 181 |
| 2014 | 28 | 310 |
| 2015 | 35 | 446 |
| 2016 | 16 | 171 |
| 2017 | 12 | 105 |
| 2018 thru 8/22 | 13 | 130 |
| TOTAL | 128 | 1,501 |
Virtually all of these tests were administered in conjunction with fights in which companies controlled by Al Haymon had a vested financial interest.
The most common venues for the fights in question were Nevada, California, and New York.
On August 21, 2018, Bob Bennett (executive director of the Nevada Athletic Commission) told this writer, "I don't recall ever being advised that a boxer who was tested by USADA for one of our fights tested positive for a banned substance. MMA combatants, yes; but no boxers."
One day later, Andy Foster (executive officer for the California State Athletic Commission) acknowledged, "I can't recall an instance when USADA reported a positive test finding for a professional boxer here in California. I know that VADA has, but not USADA."
Multiple sources at the New York State Athletic Commission say that they are unaware of USADA communicating any adverse finding with regard to a professional boxer to the NYSAC other than its belated reporting of Erik Morales for the presence of clenbuterol in his system in 2012.
It should be further noted that three of the professional boxers who tested clean with USADA during the period in question – Andre Berto, Lamont Peterson, and Canelo Alvarez – tested positive with VADA on other occasions. Indeed, it was VADA's finding that Alvarez had clenbuterol in his system that forced the rescheduling of his rematch against Gennady Golovkin from May 5 to September 15 of this year.
Despite its name, USADA is neither a government agency nor part of the United States Olympic Committee. It's an independent "not-for-profit" corporation headquartered in Colorado Springs that offers drug-testing services for a fee. Most notably, the United States Olympic and Paralympic movement utilize its services. Because of this role, USADA receives in excess of ten million dollars annually in Congressional funding.
Travis Tygart, USADA's chief executive officer, spearheaded his organization's expansion into professional boxing. That opportunity arose in late-2009, when drug testing became an issue in the first round of negotiations for a proposed fight between Floyd Mayweather and Manny Pacquiao. Thereafter, Tygart moved aggressively to expand USADA's footprint in professional boxing and forged a working relationship with Richard Schaefer, who until 2014 served as CEO of Golden Boy Promotions. USADA also became the drug-testing agency of choice for fighters advised by Al Haymon.
At present, no state requires as a matter of course that drug testing contracts entered into by USADA or VADA be filed with the state athletic commission. In some states, USADA and VADA aren't even required to report positive test results (although VADA always does).
By and large, state athletic commissions tend to defer to USADA and VADA because of their expertise and because it saves the governing commission money if someone else does the PED testing.
Often, when USADA sends reports to a state athletic commission, it sends only test summaries, not full laboratory test results.
Even when USADA and VADA are uninvolved, some states still don't test for performance enhancing drugs.
It's a haphazard system that's ripe for abuse. And it leads to the question, "How can USADA administer 1,501 tests for banned substances to professional boxers and report only a single violation of anti-doping rules to a governing state athletic commission?"
USADA has shown that it knows how to catch drug cheats. In 2015, it entered into a contract to test mixed martial arts combatants for UFC. UFC wanted USADA to catch the drug cheats. In part, that might have been because a multi-billion-dollar sale of UFC's parent company was in the works and prospective buyers wanted a clean sport. It's also possible that Dana White and the rest of the UFC leadership understand the difference between right and wrong when it comes to illegal PED use in a combat sport.
Since then, some of the biggest names in UFC have been suspended pursuant to tests administered by USADA. This includes Brock Lesnar, Chad Mendes, Junior Dos Santos, Francisco Rivera, Anderson Silva, Jon Jones, Josh Barnett, and Nick Diaz.
Similarly, USADA has issued numerous press releases with regard to positive test results and the resulting suspension of amateur boxers (for example, Paul Koon, Michael Hunter, Damon Allen Jr, Jesus Gomez, and Jerren Cochran).
So why the absence of reported positive test resuts with regard to professional boxers?
Let's start with the fact that USADA is often hired by, and contracts with, representatives of the very boxers it's supposed to be testing.
A Major League Baseball team or National Football League player can't choose the drug-testing agency that will conduct tests and then negotiate a fee with that agency. But this is what happens frequently with USADA. Indeed, there are times when it seems as though USADA collects drug-testing payments the way boxing's world sanctioning organizations collect sanctioning fees. It has been known to charge as much as $150,000 to administer tests for a particular fight. By contrast, VADA charges as little as $16,000 for a complete drug-testing program for a given fight.
Also, if one is looking for loopholes, there are many ways to rationalize throwing out an adverse test result: "The collection process was flawed . . . The chain of custody for the sample was improper . . . The sample was somehow contaminated . . . The boxer tested positive for clenbuterol because he ate contaminated beef . . . I know he tested positive, but we're granting him a retroactive therapeutic use exemption."
Judgments regarding mitigating circumstances are properly left to governing state athletic commissions. USADA should test and report the results of these tests to the governing state athletic commission and certain other contractually-designated parties. It should not adjudicate or grant retroactive therapeutic use exemptions. That's what got it in trouble in Nevada in 2015 when it unilaterally granted a retroactive therapeutic use exemption to Floyd Mayweather and later conceded that, without this retroactive TUE, Mayweather would have been in violation of the World Anti-Doping Agency code.
But it appears as though some of USADA's PED-testing contracts for professional boxers don't require it to report violations to the governing state athletic commission. And some of its contracts allow it to adjudicate matters that should be left to other decision-makers.
Here, the contract for PED testing entered into by USADA with Floyd Mayweather and Manny Pacquiao is instructive. Paragraph 30 of this contract states, "If any rule or regulation whatsoever incorporated or referenced herein conflicts in any respect with the terms of this Agreement, this Agreement shall in all such respects control. Such rules and regulations include, but are not limited to: the Code [the World Anti-Doping Code]; the USADA Protocol; the WADA Prohibited List; the ISTUE [WADA International Standard for Therapeutic Use Exemptions]; and the ISTI [WADA International Standard for Testing and Investigations]."
In other words, USADA was not bound by the drug testing protocols that one might have expected it to follow in conjunction with Mayweather-Pacquiao.
Indeed, at one point in the negotiations, USADA presented the Pacquiao camp with a contract that would have allowed USADA to grant a retroactive therapeutic use exemption to either fighter in the event that the fighter tested positive for a prohibited drug. And this TUE could have been granted without notifying the Nevada State Athletic Commission or the opposing fighter's camp. Team Pacquiao thought this was outrageous and refused to sign the contract. Thereafter, Mayweather and USADA agreed to mutual notification and the limitation of retroactive therapeutic use exemptions to certain circumstances.
On August 14, 2015, in the aftermath of the Mayweather IV controversy, Annie Skinner (then a public relations spokesperson for USADA) acknowledged, "At this time, the only professional boxer under USADA's program who has been found to have committed an anti-doping rule violation is Erik Morales."
At that time, USADA, by its own count, had administered 915 tests to professional boxers. Think about that for a minute! VADA's four-percent positive-test-result rate would have yielded 36 positive test results at that point in time. And since then, there appear to have been zero reports by USADA of adverse findings regarding a professional boxer to a governing state athletic commission.
Here it should be noted that, as stated earlier in this article, the USADA website says that USADA conducted 105 tests on professional boxers in 2017. But USADA's 2017 annual report states that USADA conducted 109 tests on professional boxers in 2017.
Drug-testing is a detail-oriented endeavor. Statistics have to be precisely calculated. How does USADA account for the four missing tests?
Victor Conte was the founder and president of BALCO and at the vortex of several well-publicized PED scandals. He spent four months in prison after pleading guilty to illegal steroid distribution and tax fraud in 2005. Since then, Conte has become a forceful advocate for clean sport. What makes him a particularly valuable asset is his knowledge of how the performance enhancing drugs game is played.
Asked about USADA's PED test numbers for professional boxers, Conte declares, "Numbers like this for professional boxing don't make sense. It's just not credible. You have to ask whether there's a genuine interest on the part of USADA in catching these athletes."
"One reason VADA testing is effective," Conte continues, "is that Margaret Goodman uses CIR [carbon isotope ratio] testing on every urine sample that VADA collects from a boxer. CIR testing can increase the number of positive tests in a given situation from one percent to five percent. To my knowledge, USADA doesn't use CIR testing on every sample. But it's common sense. To be successful in any endeavor, you do more of what works and less of what doesn't work."
On multiple occasions in August, this writer requested of USADA that it provide answers to the following questions:
(1) Other than Erik Morales in 2012, has USADA ever reported a positive drug test result with regard to a professional boxer to a state athletic commission? And if so, on how many occasions and to which commission(s).
(2) On how many occasions has the "A" sample of a professional boxer tested by USADA come back positive for a prohibited substance?
(3) On how many occasions has the "B" sample of a professional boxer tested by USADA come back positive for a prohibited substance?
On August 28, Danielle Eurich (a media relations specialist for UDADA) responded as follows: "Hi Thomas, Given your previous inaccurate reporting on USADA's role in professional boxing and refusal to correct the record when given the opportunity, our only comment at this time is that we will not be providing you with the requested information as we have no confidence that anything we offer in response to your questions would be used accurately. We believe readers deserve an honest, fact-based account of the state of anti-doping in boxing, but regrettably that need has not been met with your past reporting. We're sure you understand the reasons why we are unable to offer any further comment at this time."
This is known as avoiding the issue. Other writers, news organizations, and government entities (including the Association of Boxing Commissions) are urged to press USADA for answers to the questions above.
Meanwhile, where should boxing go from here?
As I wrote three years ago, the presence of performance enhancing drugs in boxing cries out for action. To ensure a level playing field, a national solution with uniform national testing standards is essential. A year-round testing program is necessary. It should be a condition of being granted a boxing license in this country that any fighter is subject to blood and urine testing at any time. While logistics and cost would make mandatory testing on a broad scale impractical, unannounced spot testing could be implemented, particularly on elite fighters.
Without additional federal legislation, the Association of Boxing Commissions can't require PED testing. But the individual states can. Each state should require that:
(1) All contracts for drug testing be filed with the governing state athletic commission within seven days of execution.
(2) All test results be forwarded to the governing state athletic commission within three days of receipt by USADA, VADA, or any other testing agency. Such filings should include (a) the name of the boxer who was tested; (b) a summary of the results from each test; and (c) copies of the complete test results. A commission doctor should review all test results as they come in.
The Association of Boxing Commissions could serve as a repository for this information as it's received by the individual states. In today's computer age, that wouldn't be hard to do. This registry would ensure the free flow of information from state to state and also provide a baseline against which future tests for performance enhancing drugs could be evaluated.
Given the amount of money that USADA receives annually from the federal government, it would also be appropriate for Congress to conduct an inquiry into USADA's practices with regard to professional boxing.
Meanwhile, the point can't be made often enough. This isn't about running faster or hitting a baseball further. It's about hitting someone in the head harder in a sport where the aim is to knock an opponent unconscious.
Thomas Hauser can be reached by email at thauser@rcn.com. His next book – Protect Yourself at All Times – will be published by the University of Arkansas Press this autumn. In 2004, the Boxing Writers Association of America honored Hauser with the Nat Fleischer Award for career excellence in boxing journalism.
Check out more boxing news on video at The Boxing Channel
Tyson and Jones Box to an Unofficial Draw in a Predictable Stinker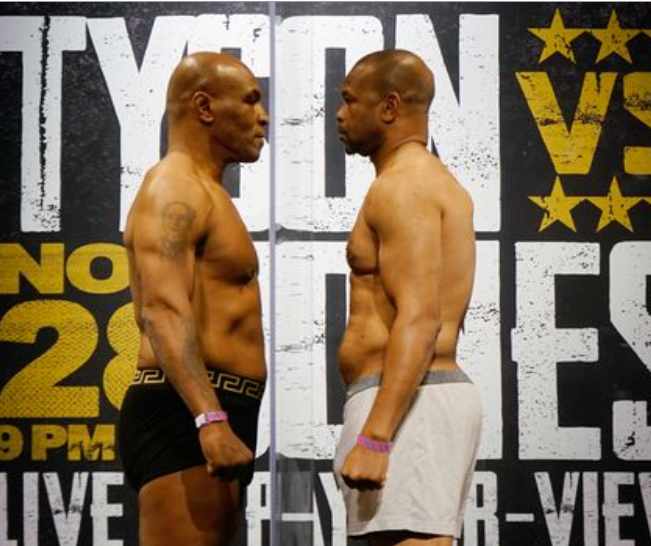 The Ringling Bros. and Barnum & Bailey Circus, an American institution, went belly-up in 2017, but a different kind of circus played to an empty house at the Staples Center in Los Angeles tonight. The main attraction wasn't Jumbo the elephant but Iron Mike Tyson in his first ring appearance in 15 years. In the opposite corner was Roy Jones Jr, who at age 51 was the younger man by three years.
Tyson vs. Jones was the main piece of a 4-hour boxing and music festival live-streamed in the U.S. on the TysononTriller.com app at a list price of $49.95. This was the first live event on "Triller" which allows people to create their own music videos and was designed as a rival to China-owned TikTok, one of the biggest recent success stories in the internet world.
The California State Athletic Commission, which sanctioned the match, insisted that Tyson vs. Jones would be an exhibition. They would fight 8 two-minute rounds with 12-ounce gloves and if there were a knockdown, the referee would not give a count and the bout would or would not continue at his discretion. The rounds would not be scored and no winner would be named.
Of course, the promoter chafed at these restraints and did his best to create the impression that this was a legitimate prizefight. Retired boxers Vinny Pazienza, Chad Dawson, and Christy Martin were lassoed to serve as judges, scoring the fight from a remote location, and the WBC commissioned an honorary belt to present to the winner.
The advance hype was enormous. A clickbait-obsessed media lapped it up including photoshop-enhanced images of Mike Tyson's physique.
In the second round, Tyson landed a double left hook and that was the only indelible moment in the match. By the third round, both looked and sounded tired and by the sixth round Jones was thoroughly gassed out and took to clinching to make it to the final bell.
For the record, the scores were 79-73 for Tyson (Martin), 80-76 for Jones (Pazienza), and 76-76 (Dawson). On the internet, the clear consensus was that Tyson had the best of it.
Mike Tyson, 50-6, 2 NC (44 KOs) last fought in June of 2005 when he was stopped by third-rater Kevin McBride. Roy Jones (66-9, 47 KOs) was active as recently as 2018 and won his last four, but against hand-picked opponents including a boxer making his pro debut. His last fight of significance came in 2011 when he was brutally KOed by Dennis Lebedev in Moscow.
Jones, who weighed 210 ½ tonight, weighed 157 when he made his pro debut in 1989. In his prime, he was pound-for-pound the best fighter in the world, but that was back in the previous century.
Both fighters were reportedly guaranteed $1 million with Tyson's take potentially reaching $10 million if certain financial targets were met.
Other Bouts
YouTube sensation Jake Paul, who we reluctantly concede has more than a modicum of talent in the fisticuffing department, knocked out Nate Robinson in the second round and it was a clean knockout with Robinson knocked out cold. The 36-year-old Robinson, the former NBA point guard who was a three-time slam dunk champion during his 11-year NBA career, is a well-rounded athlete, good enough to start as a cornerback in football during his freshman year at the University of Washington, but his athleticism didn't translate to the squared circle as he looked like a common bar brawler.
Former two-division belt-holder Badou Jack (22-3-4), who said he appeared on the card as a favor to his friend Mike Tyson, was a clear-cut winner over hard-trying but out-classed Blake McKernan in an 8-round cruiserweight match.
At age 37, Jack's career is winding down. He tipped the scales at 188 ¾, 14 pounds more than in his previous engagement vs. Jean Pascal. McKernan, a natural cruiserweight from Sacramento, was undefeated coming in (13-0), but was in over his head against Jack, a former Olympian and veteran of seven world title fights.
In a good action fight, Worcester, Massachusetts lightweight Jamaine Ortiz, a carpenter by trade, improved to 14-0 (8) with a seventh-round stoppage of Sulaiman Segawa (13-3-1), a Maryland-based Ugandan.
In the first bout on the program, Fort Worth featherweight Edward Vazquez improved to 9-0 (1) with an 8-round split decision over Jamaine Ortiz stablemate Irvin Gonzalez (14-3).
Heavyweight Juiseppe "Joe" Cusumano improved to 19-3 (17) with a sixth-round stoppage of late sub Gregory Corbin (15-4). It was the fourth straight loss for the 40-year-old Corbin who came in at a beefy 291 ¾ pounds.
Check out more boxing news on video at the Boxing Channel 
To comment on this story in the Fight Forum CLICK HERE
Fast Results from London: Joe Joyce Stops Daniel Dubois in the 10th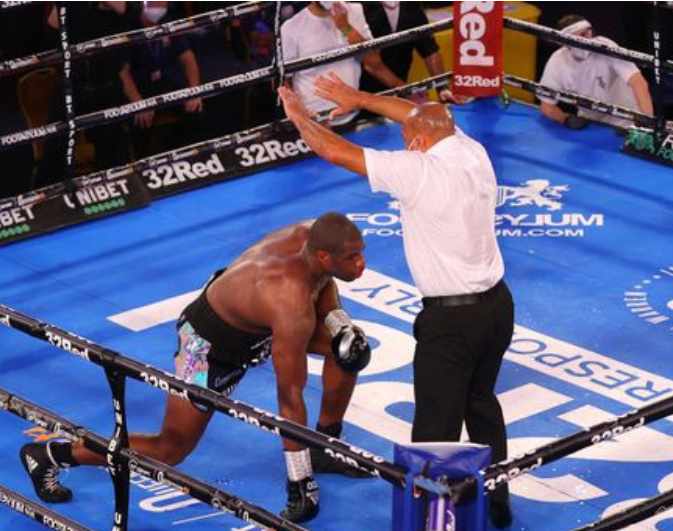 The historic Church House which sits in the shadow of Westminster Abbey was the site of tonight's clash in London between unbeaten heavyweights Daniel Dubois and Joe Joyce. The bout lacked the gloss of a world title fight, but didn't need it. The oft-postponed match, originally slated for the 02 Arena in London on April 11 with promoter Frank Warren anticipating a sellout, was fairly hyped as the most anticipated fight since Fury-Wilder II which was the last big fight before the coronavirus clampdown.
Dubois, 15-0 with 14 KOs heading in, was a consensus 7/2 favorite in man-to-man betting, He was younger, faster and punched harder, but ultimately it would be his "O" that had to go. Joe Joyce, an inch taller at six-foot-six and 15 pounds heavier at 259, emerged victorious with a 10th-round stoppage in what was a good back-and-forth fight with a divided opinion as to who had the edge through the completed rounds.
Joyce really didn't do much but throw a jab, but he landed that jab consistently and it was a hard, thudding jab that caused Dubois's left eye to start swelling during the mid-rounds of the fight. The damaged eye eventually shut and when Joyce reached it with another hard jab in the 10th, Dubois surrendered by taking a knee. The presumption was that he had suffered a broken orbital bone.
The 35-year-old Joyce, nicknamed Juggernaut, is of Scotch-Irish and Nigerian descent. He lost by split decision to Tony Yoka in the semifinals of the 2016 Olympics and had to settle for a silver medal. Prior to turning pro, he was 12-1 in the semi-pro World Series of Boxing with his lone defeat coming at the hands of Oleksandr Usyk. With today's career-defining win, he upped his pro ledger to 12-0 (11).
Other Bouts
Top-rated WBC super lightweight contender Jack Catterall (26-0) won a predictably one-sided 10-round triumph over 33-year-old Tunisian Abderrazak Houya (14-3). Catterall scored two knockdowns en route to winning by a 99-90 score. This was a stay-busy fight for the Lancashire man who was the mandatory challenger for title-holder Jose Carlos Ramirez and accepted step-aside money with the promise that he would meet the winner of the unification fight between Ramirez and Josh Taylor which is expected to come off in February.
The lead-in fight was a 10-round contest in the super welterweight division between 21-year-old Hamzah Sheeraz and 33-year-old Guido Nicolas Pitto. The fight was monotonous until Sheeraz (12-0, 8 KOs) kicked it into a higher career in the final stanza and brought about the stoppage. Pitto, from Spain by way of Argentina, declined to 26-8-2. The official time was 1:11 of round 10.
In an 8-round cruiserweight bout, Jack Massey improved to 17-1 (8) with a 79-74 referee's decision over Mohammad Ali Farid (16-2-1). Massey was making his first start since losing a close 12-round decision to Richard Raikporhe in December of 2019 for the vacant BBBofC title. The well-traveled, one-dimensional Farid had scored 16 knockouts in his previous 18 fights while answering the bell for only 33 rounds.
Check out more boxing news on video at the Boxing Channel 
To comment on this story in the Fight Forum CLICK HERE
Daniel Jacobs Edges Past Gabe Rosado on a Matchroom card in Florida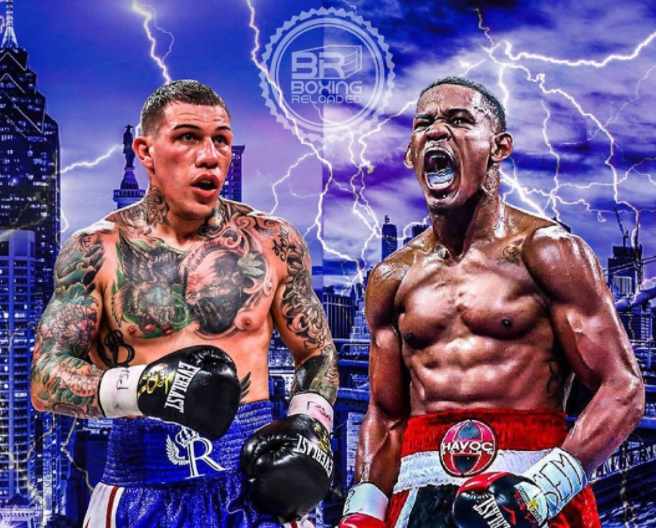 Former world champion Daniel Jacobs needed the last round to win by split decision against upset-minded Gabe Rosado and keep his place in line on Friday for lucrative super middleweight matchups.
But when the ring announcer erroneously announced the winner was from Philadelphia, confusion reigned for a moment until Jacobs was correctly called the winner.
Brooklyn's Jacobs (37-3, 30 KOs) jumped out ahead against Philly fighter Rosado (25-13-1, 14 KOs) and held on for the win in front of no fans at the Seminole Hard Rock Hotel and Casino in Hollywood, Florida. For a second, many thought Rosado had won.
Both were careful during the first three rounds measuring each other's distance and looking for openings to counter. There were very few.
It was the kind of fight expected by those who know boxing: two veterans with immense experience against top-flight world champions. Mistakes were few.
Jacobs, a former middleweight world champion, had fought Saul "Canelo" Alvarez and Gennady "GGG" Golovkin in close but losing efforts.
Rosado had battled Golovkin too, six years ago in a bloody affair that ended in a loss. He had also lost to other champions like Peter Quillin and Jermell Charlo. But none were able to knock him out.
Both were aware of each other's reputation. Bitter words had been exchanged for years and now they finally got their chance to prove their mettle and they did.
Though Jacobs was recognized as a knockout puncher, Rosado's resilience was just as well known. Both neutralized each other for most of the fight with their feints and jabs to the body. Neither was willing to leave openings for each other.
Jacobs scored big with a left uppercut at the end of the seventh round. While Rosado wowed viewers with a sizzling right cross in the 11th round.
It was 1950s style, boxing with intelligence. Each found it difficult to land combinations, let alone find openings to score knockout blows. Instead, they had to be satisfied with scoring enough to convince three judges the actual winner.
Neither was able to pull out ahead with any conviction.
After 12 rounds one judge saw Rosado the winner 115-113 while two others saw Jacobs the winner 115-113 to give him the win by split decision.
"It felt just a little weird. It felt like a sparring match," said Jacobs about fighting without fans in the audience. "This wasn't a valiant effort."
Rosado was certain he was the true winner.
"I thought I won the fight. I surprised him," said Rosado who trained with Freddie Roach for this fight. "I'm a veteran, I know how to fight."
Indeed, he does.
Jacobs now stands poised to fight one of many super middleweight champions in need of a marquee name.
"I live to see another day," he said honestly.
Other Bouts
Kazakhstan's Daniyar Yeleussinov (10-0, 6 KOs) proved he was not an easy touch and knocked out former world champion Julius Indongo (23-3, 12 KOs) to march forward in the welterweight division while grabbing the vacant IBF Inter-Continental title.
In a fight featuring southpaw versus southpaw Yeleussinov caught Indongo with a roundhouse left the first time they exchanged and down went the former super lightweight world champion. Indongo beat the count and survived the round.
Indongo wasn't as lucky in the second round as Yeleussinov again connected with a left and down went the fighter from Namibia again. He would not get up at 1:24 of round two giving the knockout win for Yeleussinov.
A battle between undefeated heavyweights saw Azerbaijan's Mahammadrasul Majidov (3-0, 3 KOs) use roundhouse rights to stagger the heavier Sahret Delgado (8-1) to win by knockout in the third round. Majidov actually helped Delgado get to his stool after knocking him out on his feet at 47 seconds of the third round.
Emmanuel Tagoe (32-1) defeated Mason Menard (36-5) by majority decision after a 10- round lightweight fight that saw a lot of clinching and leaning.
Nikita "White Chocolate" Ababiy (10-0) out-fought Detroit's Brandon Maddox (7-4-1) to win by unanimous decision after six rounds in a middleweight clash. Ababiy hurt Maddox with body shots but found Maddox more resilient than expected.
Check out more boxing news on video at the Boxing Channel 
To comment on this story in the Fight Forum CLICK HERE.