1,501 Tests, One Reported Positive? What's Going On with USADA and Boxing?
On October 18, 2012, Halestorm Sports reported that Erik Morales had tested positive with the United States Anti-Doping Agency (USADA) for clenbuterol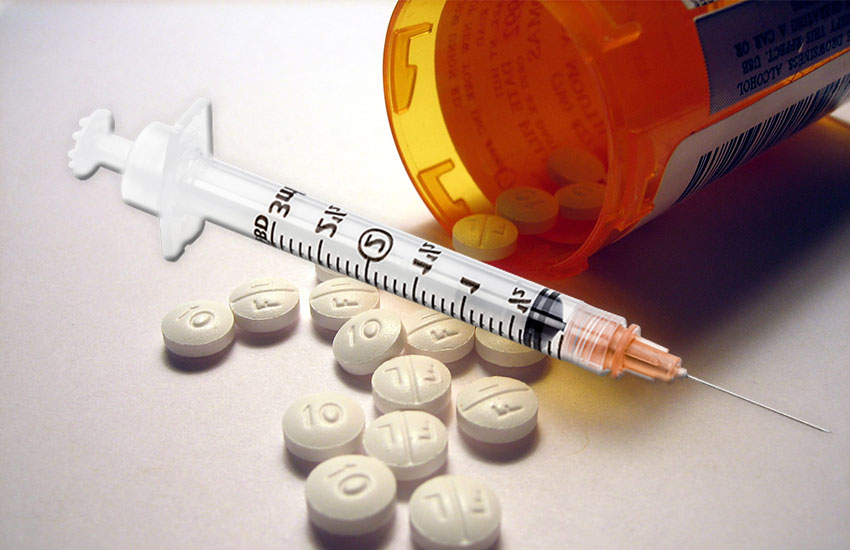 By THOMAS HAUSER — On October 18, 2012, Halestorm Sports (a small website that no longer exists) reported that Erik Morales had tested positive with the United States Anti-Doping Agency (USADA) for clenbuterol, a banned substance. Morales was scheduled to fight Danny Garcia at Barclays Center in Brooklyn on October 20. More significantly, it was later confirmed by the New York State Athletic Commission that USADA hadn't reported the violation to the NYSAC until after the internet disclosure.
USADA has been testing professional boxers for performance enhancing drugs since 2010. Its website states that it has administered 1,501 tests on 128 professional boxers through August 22 of this year. Yet it appears as though, in all these years, USADA has reported only one adverse finding regarding a professional boxer (its belated report of Morales to the NYSAC) to a governing state athletic commission.
Is it possible that USADA has administered 1,501 tests to 128 professional boxers and that only one of these tests has come back positive? Yes. It's also possible that a giant asteroid will obliterate life as we know it on earth tomorrow. But it's statistically implausible and highly unlikely.
In the past, I've written extensively about USADA's involvement with professional boxing. Most notably, in a 2015 article entitled "Can Boxing Trust USADA?", I explored how the agency handled the intravenous administration of what was said to be a mixture of saline and vitamins to Floyd Mayweather hours after Mayweather weighed in for his May 2, 2015, fight against Manny Pacquiao. As outlined in this article, the evidence strongly supports the conclusion that USADA's actions with regard to Mayweather's IV violated both Nevada State Athletic Commission protocols and the World Anti-Doping Code. The article can be found at:
https://www.sbnation.com/longform/2015/9/9/9271811/can-boxing-trust-usada
USADA responded to these allegations with a lengthy media release:
https://usada.org/wp-content/uploads/USADAs-Detailed-Correction-to-SB-Nation-Article-by-Tom-Hauser.pdf
My response to the USADA media release can be found at: https://www.boxnation.com/boxing-news/was-floyd-mayweather-really-dehydrated-the-fallout-from-can-boxing-trust-usada/
Now, in 2018, there's still reason to question USADA's commitment to "clean sport" insofar as professional boxing is concerned. As noted above, USADA reports having conducted 1,501 tests for banned substances on 128 professional boxers from January 1, 2010, through August 22, 2018. Yet it appears as though only one of these tests (that of Erik Morales) resulted in an adverse finding that was communicated to a state athletic commission.
By way of comparison, Dr. Margaret Goodman (president of the Voluntary Anti-Doping Association, which is widely regarded as the most credible testing organization in professional boxing) reports that close to four percent of the tests for illegal performance enhancing drugs conducted by VADA come back positive. Using the four-percent benchmark, one would expect that 60 of the 1,501 tests conducted by USADA from 2010 to date would have yielded a positive result.
Broken down by year, the numbers reported by USADA on its website are as follows:
| | | |
| --- | --- | --- |
| YEAR | BOXERS | TESTS |
| 2010 | 2 | 16 |
| 2011 | 2 | 29 |
| 2012 | 9 | 113 |
| 2013 | 11 | 181 |
| 2014 | 28 | 310 |
| 2015 | 35 | 446 |
| 2016 | 16 | 171 |
| 2017 | 12 | 105 |
| 2018 thru 8/22 | 13 | 130 |
| TOTAL | 128 | 1,501 |
Virtually all of these tests were administered in conjunction with fights in which companies controlled by Al Haymon had a vested financial interest.
The most common venues for the fights in question were Nevada, California, and New York.
On August 21, 2018, Bob Bennett (executive director of the Nevada Athletic Commission) told this writer, "I don't recall ever being advised that a boxer who was tested by USADA for one of our fights tested positive for a banned substance. MMA combatants, yes; but no boxers."
One day later, Andy Foster (executive officer for the California State Athletic Commission) acknowledged, "I can't recall an instance when USADA reported a positive test finding for a professional boxer here in California. I know that VADA has, but not USADA."
Multiple sources at the New York State Athletic Commission say that they are unaware of USADA communicating any adverse finding with regard to a professional boxer to the NYSAC other than its belated reporting of Erik Morales for the presence of clenbuterol in his system in 2012.
It should be further noted that three of the professional boxers who tested clean with USADA during the period in question – Andre Berto, Lamont Peterson, and Canelo Alvarez – tested positive with VADA on other occasions. Indeed, it was VADA's finding that Alvarez had clenbuterol in his system that forced the rescheduling of his rematch against Gennady Golovkin from May 5 to September 15 of this year.
Despite its name, USADA is neither a government agency nor part of the United States Olympic Committee. It's an independent "not-for-profit" corporation headquartered in Colorado Springs that offers drug-testing services for a fee. Most notably, the United States Olympic and Paralympic movement utilize its services. Because of this role, USADA receives in excess of ten million dollars annually in Congressional funding.
Travis Tygart, USADA's chief executive officer, spearheaded his organization's expansion into professional boxing. That opportunity arose in late-2009, when drug testing became an issue in the first round of negotiations for a proposed fight between Floyd Mayweather and Manny Pacquiao. Thereafter, Tygart moved aggressively to expand USADA's footprint in professional boxing and forged a working relationship with Richard Schaefer, who until 2014 served as CEO of Golden Boy Promotions. USADA also became the drug-testing agency of choice for fighters advised by Al Haymon.
At present, no state requires as a matter of course that drug testing contracts entered into by USADA or VADA be filed with the state athletic commission. In some states, USADA and VADA aren't even required to report positive test results (although VADA always does).
By and large, state athletic commissions tend to defer to USADA and VADA because of their expertise and because it saves the governing commission money if someone else does the PED testing.
Often, when USADA sends reports to a state athletic commission, it sends only test summaries, not full laboratory test results.
Even when USADA and VADA are uninvolved, some states still don't test for performance enhancing drugs.
It's a haphazard system that's ripe for abuse. And it leads to the question, "How can USADA administer 1,501 tests for banned substances to professional boxers and report only a single violation of anti-doping rules to a governing state athletic commission?"
USADA has shown that it knows how to catch drug cheats. In 2015, it entered into a contract to test mixed martial arts combatants for UFC. UFC wanted USADA to catch the drug cheats. In part, that might have been because a multi-billion-dollar sale of UFC's parent company was in the works and prospective buyers wanted a clean sport. It's also possible that Dana White and the rest of the UFC leadership understand the difference between right and wrong when it comes to illegal PED use in a combat sport.
Since then, some of the biggest names in UFC have been suspended pursuant to tests administered by USADA. This includes Brock Lesnar, Chad Mendes, Junior Dos Santos, Francisco Rivera, Anderson Silva, Jon Jones, Josh Barnett, and Nick Diaz.
Similarly, USADA has issued numerous press releases with regard to positive test results and the resulting suspension of amateur boxers (for example, Paul Koon, Michael Hunter, Damon Allen Jr, Jesus Gomez, and Jerren Cochran).
So why the absence of reported positive test resuts with regard to professional boxers?
Let's start with the fact that USADA is often hired by, and contracts with, representatives of the very boxers it's supposed to be testing.
A Major League Baseball team or National Football League player can't choose the drug-testing agency that will conduct tests and then negotiate a fee with that agency. But this is what happens frequently with USADA. Indeed, there are times when it seems as though USADA collects drug-testing payments the way boxing's world sanctioning organizations collect sanctioning fees. It has been known to charge as much as $150,000 to administer tests for a particular fight. By contrast, VADA charges as little as $16,000 for a complete drug-testing program for a given fight.
Also, if one is looking for loopholes, there are many ways to rationalize throwing out an adverse test result: "The collection process was flawed . . . The chain of custody for the sample was improper . . . The sample was somehow contaminated . . . The boxer tested positive for clenbuterol because he ate contaminated beef . . . I know he tested positive, but we're granting him a retroactive therapeutic use exemption."
Judgments regarding mitigating circumstances are properly left to governing state athletic commissions. USADA should test and report the results of these tests to the governing state athletic commission and certain other contractually-designated parties. It should not adjudicate or grant retroactive therapeutic use exemptions. That's what got it in trouble in Nevada in 2015 when it unilaterally granted a retroactive therapeutic use exemption to Floyd Mayweather and later conceded that, without this retroactive TUE, Mayweather would have been in violation of the World Anti-Doping Agency code.
But it appears as though some of USADA's PED-testing contracts for professional boxers don't require it to report violations to the governing state athletic commission. And some of its contracts allow it to adjudicate matters that should be left to other decision-makers.
Here, the contract for PED testing entered into by USADA with Floyd Mayweather and Manny Pacquiao is instructive. Paragraph 30 of this contract states, "If any rule or regulation whatsoever incorporated or referenced herein conflicts in any respect with the terms of this Agreement, this Agreement shall in all such respects control. Such rules and regulations include, but are not limited to: the Code [the World Anti-Doping Code]; the USADA Protocol; the WADA Prohibited List; the ISTUE [WADA International Standard for Therapeutic Use Exemptions]; and the ISTI [WADA International Standard for Testing and Investigations]."
In other words, USADA was not bound by the drug testing protocols that one might have expected it to follow in conjunction with Mayweather-Pacquiao.
Indeed, at one point in the negotiations, USADA presented the Pacquiao camp with a contract that would have allowed USADA to grant a retroactive therapeutic use exemption to either fighter in the event that the fighter tested positive for a prohibited drug. And this TUE could have been granted without notifying the Nevada State Athletic Commission or the opposing fighter's camp. Team Pacquiao thought this was outrageous and refused to sign the contract. Thereafter, Mayweather and USADA agreed to mutual notification and the limitation of retroactive therapeutic use exemptions to certain circumstances.
On August 14, 2015, in the aftermath of the Mayweather IV controversy, Annie Skinner (then a public relations spokesperson for USADA) acknowledged, "At this time, the only professional boxer under USADA's program who has been found to have committed an anti-doping rule violation is Erik Morales."
At that time, USADA, by its own count, had administered 915 tests to professional boxers. Think about that for a minute! VADA's four-percent positive-test-result rate would have yielded 36 positive test results at that point in time. And since then, there appear to have been zero reports by USADA of adverse findings regarding a professional boxer to a governing state athletic commission.
Here it should be noted that, as stated earlier in this article, the USADA website says that USADA conducted 105 tests on professional boxers in 2017. But USADA's 2017 annual report states that USADA conducted 109 tests on professional boxers in 2017.
Drug-testing is a detail-oriented endeavor. Statistics have to be precisely calculated. How does USADA account for the four missing tests?
Victor Conte was the founder and president of BALCO and at the vortex of several well-publicized PED scandals. He spent four months in prison after pleading guilty to illegal steroid distribution and tax fraud in 2005. Since then, Conte has become a forceful advocate for clean sport. What makes him a particularly valuable asset is his knowledge of how the performance enhancing drugs game is played.
Asked about USADA's PED test numbers for professional boxers, Conte declares, "Numbers like this for professional boxing don't make sense. It's just not credible. You have to ask whether there's a genuine interest on the part of USADA in catching these athletes."
"One reason VADA testing is effective," Conte continues, "is that Margaret Goodman uses CIR [carbon isotope ratio] testing on every urine sample that VADA collects from a boxer. CIR testing can increase the number of positive tests in a given situation from one percent to five percent. To my knowledge, USADA doesn't use CIR testing on every sample. But it's common sense. To be successful in any endeavor, you do more of what works and less of what doesn't work."
On multiple occasions in August, this writer requested of USADA that it provide answers to the following questions:
(1) Other than Erik Morales in 2012, has USADA ever reported a positive drug test result with regard to a professional boxer to a state athletic commission? And if so, on how many occasions and to which commission(s).
(2) On how many occasions has the "A" sample of a professional boxer tested by USADA come back positive for a prohibited substance?
(3) On how many occasions has the "B" sample of a professional boxer tested by USADA come back positive for a prohibited substance?
On August 28, Danielle Eurich (a media relations specialist for UDADA) responded as follows: "Hi Thomas, Given your previous inaccurate reporting on USADA's role in professional boxing and refusal to correct the record when given the opportunity, our only comment at this time is that we will not be providing you with the requested information as we have no confidence that anything we offer in response to your questions would be used accurately. We believe readers deserve an honest, fact-based account of the state of anti-doping in boxing, but regrettably that need has not been met with your past reporting. We're sure you understand the reasons why we are unable to offer any further comment at this time."
This is known as avoiding the issue. Other writers, news organizations, and government entities (including the Association of Boxing Commissions) are urged to press USADA for answers to the questions above.
Meanwhile, where should boxing go from here?
As I wrote three years ago, the presence of performance enhancing drugs in boxing cries out for action. To ensure a level playing field, a national solution with uniform national testing standards is essential. A year-round testing program is necessary. It should be a condition of being granted a boxing license in this country that any fighter is subject to blood and urine testing at any time. While logistics and cost would make mandatory testing on a broad scale impractical, unannounced spot testing could be implemented, particularly on elite fighters.
Without additional federal legislation, the Association of Boxing Commissions can't require PED testing. But the individual states can. Each state should require that:
(1) All contracts for drug testing be filed with the governing state athletic commission within seven days of execution.
(2) All test results be forwarded to the governing state athletic commission within three days of receipt by USADA, VADA, or any other testing agency. Such filings should include (a) the name of the boxer who was tested; (b) a summary of the results from each test; and (c) copies of the complete test results. A commission doctor should review all test results as they come in.
The Association of Boxing Commissions could serve as a repository for this information as it's received by the individual states. In today's computer age, that wouldn't be hard to do. This registry would ensure the free flow of information from state to state and also provide a baseline against which future tests for performance enhancing drugs could be evaluated.
Given the amount of money that USADA receives annually from the federal government, it would also be appropriate for Congress to conduct an inquiry into USADA's practices with regard to professional boxing.
Meanwhile, the point can't be made often enough. This isn't about running faster or hitting a baseball further. It's about hitting someone in the head harder in a sport where the aim is to knock an opponent unconscious.
Thomas Hauser can be reached by email at thauser@rcn.com. His next book – Protect Yourself at All Times – will be published by the University of Arkansas Press this autumn. In 2004, the Boxing Writers Association of America honored Hauser with the Nat Fleischer Award for career excellence in boxing journalism.
Check out more boxing news on video at The Boxing Channel
The Follies of Gervonta Davis: They Gave Him the Key to the City and Now He's in the Slammer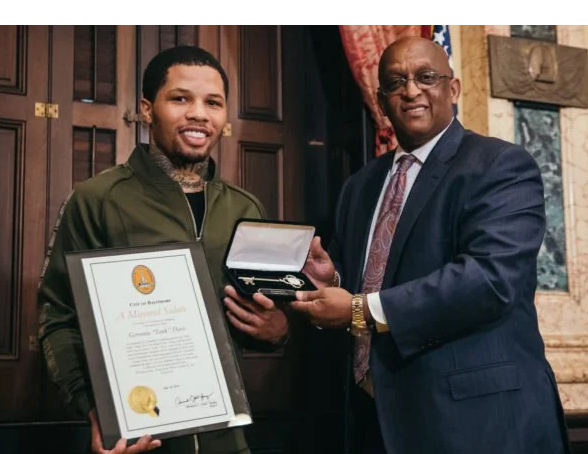 One surmises that Baltimore City Circuit Court judge Althea Handy has a lot of guts. When the 65-year-old jurist rescinded her decision to allow Gervonta "Tank" Davis to serve his 90-day sentence at the home of his trainer Calvin Ford and remanded him to the jailhouse, that undoubtedly didn't sit well with some of the poobahs in Maryland's largest city. After all, it wasn't that long ago that Davis was presented with a key to the city and a parade was held in his honor.
Davis appeared before Judge Handy on May 5. He had already pleaded guilty to each of four counts stemming from a hit-and-run accident that happened shortly before 2 a.m. on the morning of Nov. 5, 2020. After running a red light, Davis crashed his Lamborghini into another vehicle before crashing into the fence of a 7-eleven. The four occupants of the other vehicle, including a pregnant woman, required medical attention. Gervonta and his two passengers fled the scene in another car.
The four charges to which he pled guilty, eschewing a jury trial, included driving on a revoked license. Had Judge Handy thrown the book at him, she could have packed him off to prison for a term of four years and two months. Instead, she sentenced him to 90 days home detention, three years' probation, and 200 hours of community service.
Davis owns a home in tony Broward County in South Florida. If it had been his decision, that's where he would have served his 90 days. But Handy had visions of the boxer lounging by the pool and wouldn't allow it. She insisted that he serve out his sentence in his native Baltimore.
It was agreed that Davis would be confined to the home of his longtime coach Calvin Ford for the duration of his sentence. The head trainer at the Upton Boxing Center in impoverished West Baltimore and the inspiration for the Dennis "Cutty" Wise character in the HBO series "The Wire," Coach Calvin, as he is called, has been a father figure to Gervonta Davis and countless other boys. Gervonta was living with his grandmother after bouncing around between foster homes when he wandered into Upton at the age of seven. The boxer credits his coach with instilling within him the discipline needed to stay off the streets.
There was one small problem. Calvin Ford's home had only one bedroom. It was far too small for the boxer and his entourage.
Davis needed to find a new crash pad. Being the resourceful type, he moved his tack to Baltimore's luxurious Four Seasons Hotel before plunking down a reported $3.4 million on a 5,000-square-foot high-rise penthouse. When informed that the boxer had taken it upon himself to recalibrate his "punishment," Judge Handy said, "not on my watch" or words to this effect, and had the boxer hauled off to the slammer.
—
Gervonta Davis was boxing's youngest American-born world champion when he won his first title in 2017. On July 24, 2019, three days before his homecoming fight with Ricardo Nunez – his fifth 130-pound world title defense – he was presented the keys to the city by then mayor Bernard C. "Jack" Young in a ceremony at City Hall. "Welcome Home….We're so proud of you!", read the proclamation. Later that year, on Oct. 26, the boxer was feted with a parade in his old neighborhood.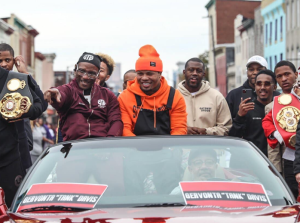 In his most recent bout, a non-title affair contested at the catch-weight of 136 pounds, Davis stopped Ryan Garcia in the seventh round to advance his record to 29-0. The fight played out before an SRO crowd of 20,000-plus at the T-Mobile Arena in Las Vegas. In his four fights prior to that, Davis drew capacity or near-capacity crowds to NBA arenas in Atlanta, Los Angeles, Brooklyn, and Washington, DC. When it comes to putting asses in seats, no other American boxer can match him.
—-
Davis turned pro under Floyd Mayweather Jr's "Money Team" banner. As recounted in a previous story, Mayweather's influence was pervasive. Gervonta came to mimicking Floyd's lifestyle, reflected in what normal people would see as reckless spending, manifested in bling and in his growing collection of rare and expensive automobiles. The parallels are striking and to that list we can now add one more. When Gervonta emerges from his current abode he will have spent almost exactly as many days behind bars as his former promoter. Mayweather was sentenced to 90 days for domestic battery in 2012 and with time off for good behavior was out of jail in two months.
When Davis gets out, will his boxing tools be as sharp as ever? Based on Mayweather's experience, his fans have nothing to worry about.
During Mayweather's incarceration, his lawyer and personal physician submitted a document to the court in hopes of securing an early release. "Jail food and water," it said, "didn't meet Mayweather's dietary needs and lack of exercise space in a cramped cell of fewer than 98 square feet threatened his health and fitness."
Not to worry. Floyd had some of his best moments after he was set free, although it may be worth noting that he stopped knocking people out.
Floyd was 35 years old when he regained his freedom. Gervonta Davis will be 28. There's no reason to think that he won't be as good as ever, but that's assuming that he keeps his nose clean. He doesn't need any more of these kinds of distractions.
To comment on this story in the Fight Forum CLICK HERE
Claressa Shields Defeats Maricela Cornejo in Detroit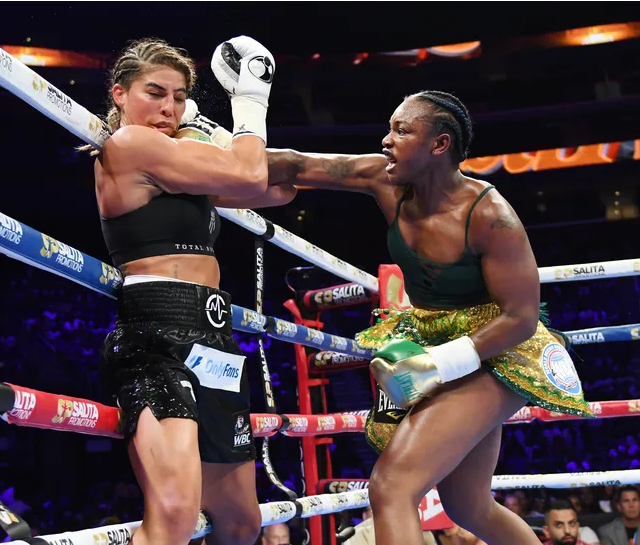 In front of a Detroit crowd familiar with boxing legends, Claressa Shields demonstrated her place among the legends with a start-to-finish win over number one contender Maricela Cornejo to retain her middleweight world championship on Saturday.
"Maricela is just super tough. She was just in shape and knew how to get away from shots," said Shields
More than 10,000 fans entered Little Caesars Arena and witnessed the fight.
Despite last-minute changes in opposition, Shields (14-0, 2 KOs) accepted always strong Cornejo (16-6, 6 KOs) and proved that former Detroit boxing legends such as Sugar Ray Robinson, Joe Louis and Tommy Hearns need to move over.
The champion wasted little time in opening-up with looping overhand rights that barely missed the mark. Cornejo was careful to avoid the bombs. Though few punches landed it was clear that Shields was on the attack.
Cornejo was scheduled to fight another foe and had been preparing in Las Vegas with famed trainer Ismael Salas. She was fully prepared to face anyone, but Shields is not anyone. Her defense was on point but the speed ratio of Shields punches is almost impossible to practice.
Still, Cornejo did enough by connecting with a strong right cross that kept Shields from overwhelming her.
"Just stay smart and not get hit with her big right hand," said Shields about her battle plan against Cornejo who replaced Hanna Gabriels who failed a PED test.
Though Cornejo had two inches height advantage, Shields had faced others that were taller before such as Christina Hammer and Savannah Marshall. Shields adjusted well.
"Height don't matter, power don't matter," Shields said. "It's all about skills and wills and I always have more."
Over the years Shields has carefully added more ammunition to her offensive arsenal and fighting a taller opponent with power has become second nature. Shields kept a perfect distance at all times and made it difficult for Cornejo to time her attacks with a big right cross.
Cornejo jabbed her way trying to close the distance, but Shields agility and reflexes kept the taller fighter from her goal. Shields snapped Cornejo's head back numerous times during the fight, but the Mexican-American fighter from the state of Washington has always shown to have one of the best chins in women's boxing. No one has ever knocked her down.
Shields came close, especially in the seventh round. Cornejo opened the frame with a strong right lead that seemed to awaken the gates. Shields unleashed the blinding combinations that have bewildered every foe she's ever faced since childhood. The speed and fury of the blows forced Cornejo to hold and maneuver out of range. She survived the onslaught but if it had been a three-minute round the fight might have been over. Instead, after the two-minute round expired, Cornejo had survived.
Shields had expended a lot of energy attempting the knockout. It takes a lot of to fire off dozens of blows with blinding speed and accuracy. Most of the eighth round was fought by both at a much slower tempo, until the last 20 seconds when Shields and Cornejo opened up the guns.
After saving energy in the prior round, Shields stunned Cornejo with a strong one-two that snapped the head of the challenger. Shields kept on the attack but in measured tones. Though she won every round it was evident that Cornejo was looking for one big counter shot that could turn the momentum.
It did not happen. Shields kept control of the fight until the very end. After 10 rounds both hugged each other in respect and the judges gave their verdict 100-89, 100-90 twice for Shields who keeps the middleweight world championship.
"I felt great. I won every round like I knew I could," said Shields. "I tried for the KO, but Maricela was tough, had a strong right hand."
For Shields it was her sixth defense of the middleweight championship.
"I thought I looked really, really good," said a very content Shields. "Thank you for coming out."
Other Bouts
Local fighter Ardreal Holmes (14-0) defeated Haiti's Wendy Toussaint (14-2) by technical split decision after the fight was stopped early due to a bad cut following a clash of heads in the super welterweight match.
Toussaint was the aggressor through most of the fight but when a savage cut opened up above his forehead the referee stopped the fight though the ringside physician had given approval to continue.
The fight was stopped at 1:54 of the eighth round and Holmes won 76-75, 77-74, 74-77. The Detroit crowd booed the decision loudly.
A middleweight contest saw Michigan's Joseph Hicks (7-0, 5 KOs) use his height and reach to dominate Atlanta's Antonio Todd (14-8) from the outside. All three judges scored it 80-72 for Hicks.
To comment on this story in the Fight Forum CLICK HERE
Adelaida Ruiz and Fernando Vargas Jr Score KO Wins at Pechanga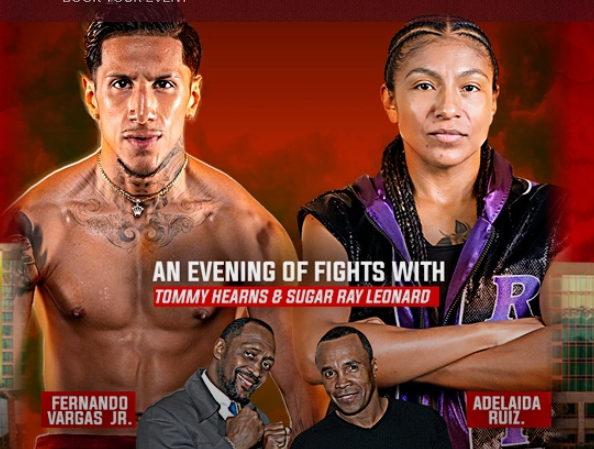 Adelaida Ruiz and Fernando Vargas Jr Score KO Wins at Pechanga
TEMECULA, Ca.-After a long period of fighting out of the country, Adelaida Ruiz returned to Southern California and with her came hundreds of her ardent followers as she won by knockout over Mexico's Maria Cecilia Roman on Friday.
Ruiz (14-0-1, 8 KOs) looked sharp and stepped in with a disciplined attack against Roman (17-8) who fought behind a peek-a-boo style throughout the fight. Ruiz fired away at openings with a measured attack in front of several thousand fans at Pechanga Arena on the MarvNation Promotions card.
Midway through the eight-round match Ruiz increased the tempo of the attack with blistering combinations to the body and head. During one of the combinations Ruiz connected with a left hook to Roman's temple and down she went.
Roman beat the count, but Ruiz never slowed her attack and each round her blows seemed to increase with power, the impact of the punches resonating in the arena. The interim WBC super flyweight titlist, whose title was not at stake, seemed determined to win by knockout.
In the eighth and final round Ruiz staggered Roman with another left hook to the temple and that only sparked more punches from the Southern California fighter. She unloaded her bullet chambers and the referee decided to stop the action at 1:19 of the eighth round.
Other Bouts
Fernando Vargas Jr. (9-0) won the super middleweight contest by knockout when Heber Rondon (20-5) was unable to continue due to a shoulder injury at the end of the second round. Fans were displeased but it was not up to the fans.
Vargas showed patience against the veteran southpaw Rondon who showed some tricks in his bag. But after some exchanges in the second round it was a surprise to everyone in the arena when the referee signaled the fight was over at the end of the second round.
Undefeated Jonathan Lopez (11-0, 7 KOs) of Florida remained unblemished with a unanimous decision win over Mexico's Eduardo Baez (21-5-2, 7 KOs) in a 10-round featherweight fight.
San Bernardino's Lawrence King (13-1,11 KOs) faced veteran Mexican fighter Marco Reyes (37-10) and was able to use his speed and southpaw stance to win almost every round. But he had to work for it.
Reyes was able to avoid most of King's attacks but in the sixth round after absorbing some heavy blows the Mexican fighter was unable to continue and the fight was stopped at the end of the sixth round for a knockout win by King.
In a super welterweight fight, Mario Ramos (11-0, 9 KOs) wore down Jesus Cruz (6-3) for three rounds with his left-handed assault and then lowered the boom with a non-stop barrage of lefts and rights. After nearly two-dozen nearly unanswered blows the referee stopped the battering at 2:09 of the fourth round.
Orlando Salgado (3-2) slugged it out with Squire Redfern (0-1) to win a super welterweight fight by decision after four back and forth rounds. Salgado connected with the bigger blows but never could stop Redfern from rallying round after round. All three judges scored in favor of Salgado.
A heavyweight battle saw Mike Diorio (1-5-1) win his first pro fight in out-punching debuting heavyweight Ian Morgan (0-1) after four rounds. Both fighters tired a bit but Diorio had a better idea of how to score and won by decision.
To comment on this story in the Fight Forum CLICK HERE