Canelo Wins Mexican Style Rematch by Majority Decision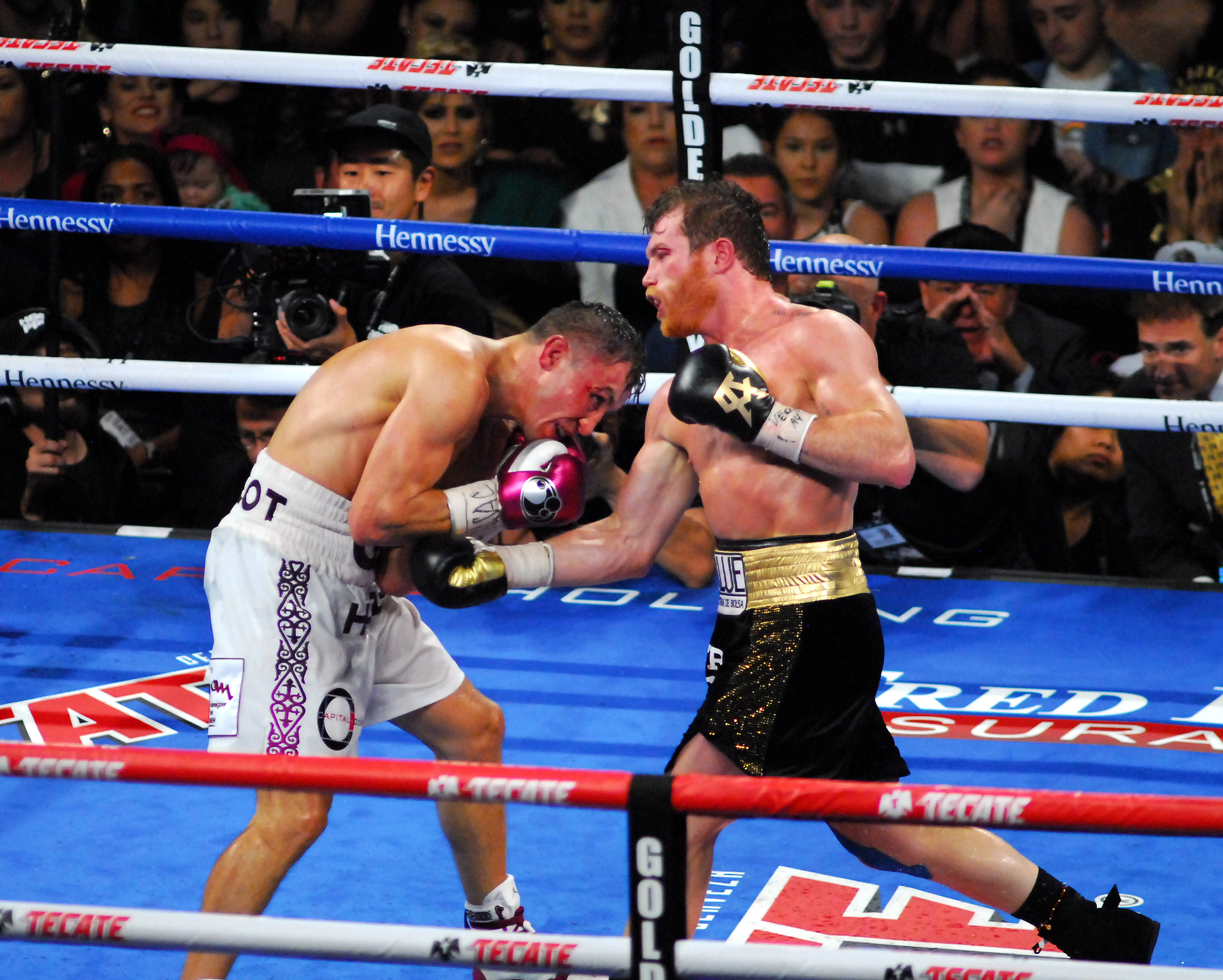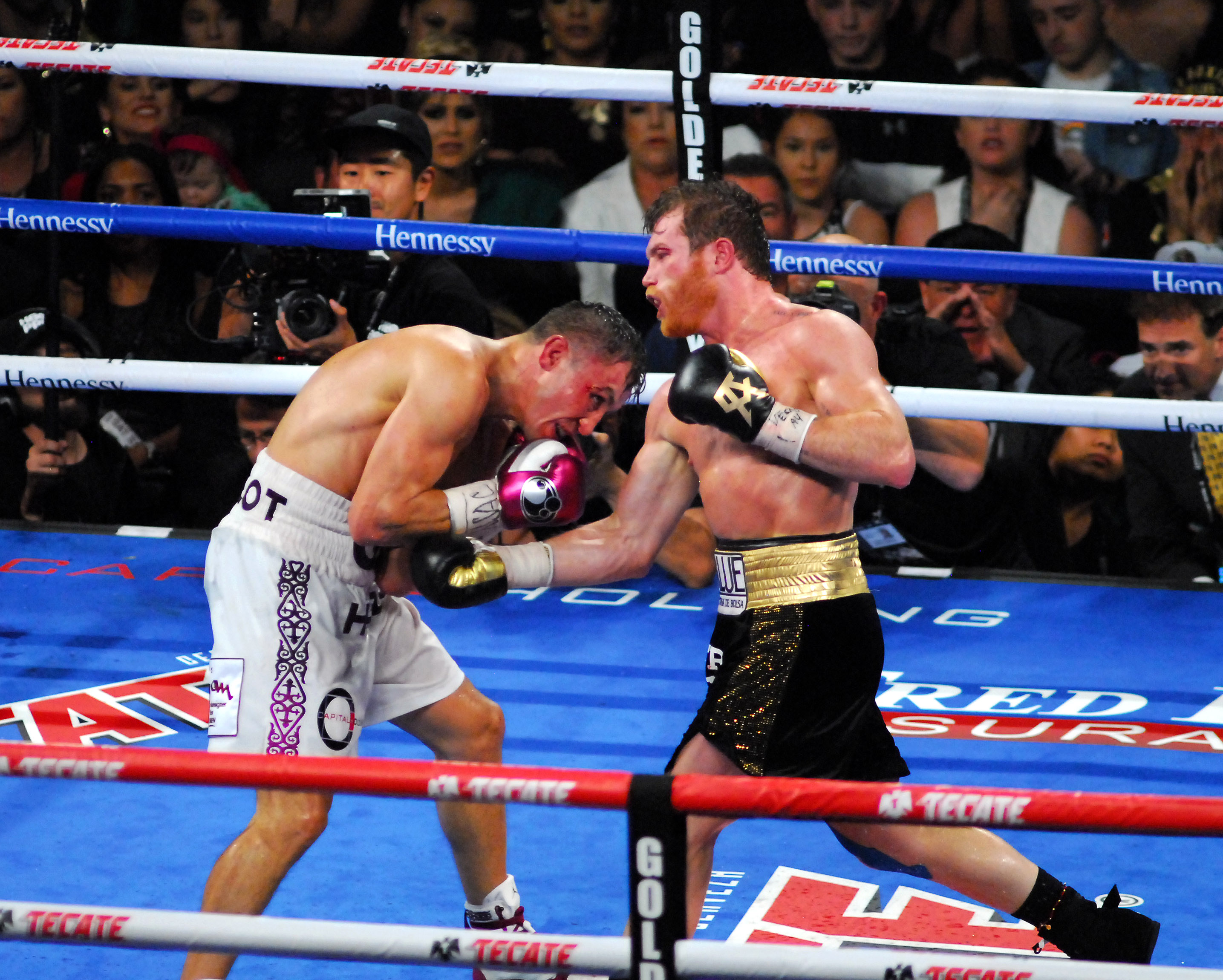 LAS VEGAS-Mexican style erupted and Saul "Canelo" Alvarez proved that it's not foreign to him as he bested powerful Gennady "GGG" Golovkin to win the middleweight world titles by majority decision on Saturday.
The Mexican redhead Alvarez (50-1-2, 34 KOs) proved in his 50th win superior to Mexican style fighter Golovkin (38-1-1, 34 KOs) of Kazakhstan before a sold-out crowd of 21,965 screaming fans at T-Mobile Arena. Still, it was close.
After months of name calling and accusations of cheating, plus a suspension by the Nevada State Athletic Commission because of illegal use of banned drugs, Alvarez abided by the penalty rendered and was supervised by VADA to be eligible to fight Golovkin in the rematch after their first encounter ended in a majority draw.
This time Alvarez cleaned the slate and won by majority decision after 12 turbulent back and forth rounds. The fans were loud in their support for both throughout.
Youth was in Alvarez's favor and he took advantage with his speed despite standing in striking distance in every round. It was a matter of machismo for the Guadalajara native who had suffered hearing Golovkin's team claim he did not fight like a Mexican while the middleweight champion did in the first fight.
Alvarez took it to heart.
Early in the fight Alvarez was quicker to the draw though Golovkin was able to counter with powerful blasts. The exchange of blows was measured in a pace dictated by Golovkins jabs in the first three rounds. It was too early to determine who was the superior fighter.
Golovkin picked up the pace in the fourth round and snapped Alvarez's head back with vicious right uppercut. Alvarez then blasted a left hook to the body and got a reaction from the blow, but overall Golovkin had his best round.
The quickened pace continued and Alvarez began targeting Golovkin's body with right uppercuts to the belly and left hooks to the liver and ribs. Though the always strong Golovkin did not show it, Alvarez continued the body assault. In the sixth round both unloaded with tremendous blows that seemingly would knock out anyone. Both remained standing.
Alvarez began to get into a rhythm with rights to the body and lefts to the body mixed in with power shots to the head. Golovkin rallied a bit with a three-punch combination and seemed to regain control of the round overall. It stopped Alvarez's momentum.
Both fighters engaged in some hellacious shots in the next few rounds though both seemed tired. At one point Alvarez did the sign of the cross and entered in the fray as if prepared to walk into fire. He did.
Golovkin absorbed some tremendous blows to the head and though tired he never wilted. Neither did Alvarez. The final two rounds were hard to determine whose blows were affecting each other. Golovkin must have known the decision was in the balance and erupted in the final round with rights and a right uppercut followed by a left hook and right-left combination. A big right cross from Alvarez stopped the onslaught and then the Mexican redhead began connecting with his own.
A collective exhaling took part when the final bell sounded. Both Golovkin and Alvarez hugged briefly. Both had fought to the full extent of their abilities and both fought Mexican style.
One judge Glenn Feldman scored it a draw 114-114, while Steve Weisfeld and Dave Moretti scored it 115-113 for Alvarez who becomes the new WBC, WBA and IBF middleweight titleholder.
"It was a very exciting and very emotional 12th round," said Alvarez, 28. "He's a great fighter. I salute him. He's a great fighter but I did this for Mexico."
Golovkin was classy in defeat and knew it was very close and could have been a draw.
"I'm not going to say who won tonight because the victory belongs to Canelo according to the judges," said Golovkin, 36, who was taken to the hospital for stitches. "I thought the fight was very good for the fans."
Many felt the fight was superior to the first in terms of pure action.
"If he wants, we can do it again," said Alvarez. "But let's enjoy this tonight."
Munguia
WBO super welterweight titlist Jaime Munguia tried to contain the storm within but once Canada's Brandon Cook began unleashing wild overhand rights, the chains of restraint were off and both were flailing away like bullies in a street fight. In this street fight Munguia was vastly in his element in winning by third round knockout.
Munguia used his jab and foot movement to keep the fight at a distance in the opening round. Cook looked to land some counter rights every time the taller Mexican fighter fired a jab, but no luck. And when Cook tried to mount an offense with more overhand rights the fight was on and Munguia was like a wild stallion unleashed out of the gates.
At the end of the second round Munguia had Cook cornered in the corner and connected with a blistering right cross from that long arm he possesses. Cook barely survived.
Munguia seemed more intent to close out the fight in the third round as he cornered Cook and dropped a right hand like an anchor and down went Cook. The Canadian bravely got up but Munguia raked him with a blistering four-punch combination and referee Tony Weeks wisely stopped the fight at 1:03 of the round. It was another knockout win for the Tijuana fighter.
"I was a little more composed and concentrated this time around," Munguia said as fans cheered. "Before, I was always looking first for the knockout and only the knockout, this time I focused a little bit more."
Talk on his readiness to move up to the middleweight division is already being discussed.
"Little by little you find out what you do well," said Munguia about what he learned from this win. "I think it's a process I'm only 21 and I'll take the fight of the winner. We've learned a lot of things. I want to show that I can fight the best to show that I am the best.
Lemieux
A blistering war on social media was ended abruptly in the boxing ring as former middleweight world champion David Lemieux (40-4, 34 KOs) knocked out Ireland's Spike O'Sullivan (28-3, 20 KOs) with a left hook to the chin in the first round.
Lemieux and O'Sullivan warred like hungry dogs on social media but when it came to the actual fighting the real alpha dog showed when the Canadian beat the handle-bar moustache boxer to the punch with a quick left hook. Down went O'Sullivan in sections at the end of the first round. After delivering a jab O'Sullivan was following up with a right when Lemieux short-circuited him with the blow. The end came at 2:44 of the first round as referee Russell Mora stopped the fight though a wobbly O'Sullivan got up.
Now will Lemieux fight the winner of Golovkin-Alvarez?
"They're two excellent fighters but there is no middleweight like David Lemieux. I'm not rooting for anybody, I think it's a 50/50 fight," said Lemieux before the main event. "I once fought Golovkin at his peak. Perhaps Golovkin will fight Lemieux at his peak."
Chocolatito
Roman "Chocolatito" Gonzalez (47-2, 39 KOs) answered several questions at once with a single blow as he knocked out Mexico's Moises Fuentes (25-6-1, 14 KOs) to return with a bang after a year's absence.
After losing back-to-back fights and the super flyweight world title, many felt Gonzalez no longer possessed the fighting skills that enabled him to capture four division world titles and consideration as the top fighter pound for pound. Others wondered if his political leanings in his native Nicaragua might also be a tug on his ability to concentrate on boxing.
With one punch, Gonzalez answered all those questions with a rocket right cross that deposited Fuentes in his own corner and unconscious at 1:44 of the fifth round as referee Robert Byrd stopped the fight.
"When he hit the floor, I got very worried for him and I panicked," said Gonzalez who trotted over to the fallen Fuentes. "I asked for him to forgive me because this is the job that we chose and that I didn't mean to hurt him."
Up until the fifth round Gonzalez exchanged combinations with fellow multi-division world champion Fuentes and looked faster and sharper than his Mexican counterpart.
"I'm very thankful for this opportunity," said Gonzalez. "I am a step closer to being a world champion."
Other Bouts
Heavy-hitting prospect Vergil Ortiz (11-0, 11 KOs) crushed former sparring partner Mexico's Roberto Ortiz (35-3-2, 26 KOs) and scored two knockdowns before the fight was stopped at 1:00 of the second round. A quick counter right cross delivered Roberto Ortiz to the floor and he rolled around for a few seconds. Though he did beat the count and tried to rally he was blasted out by a three-punch combination and down he went for the final time forcing referee Vic Drakulich to halt the super lightweight fight.
Though both prizefighters are named Ortiz they are not related. But they do know each other from ring sessions earlier in their careers.
"The win is bittersweet because I won against a great name and a record, but "Massa" (Roberto Ortiz) was my first ever sparring partner when I first turned pro," said Vergil Ortiz, who grew up in Dallas and trains in Riverside, Calif. "Now he's a win on the next step of my career. During my first sparring session he gave me a swollen lip. Today I knocked him out."
Santa Ana's Alexis Rocha (12-0, 8 KOs) won the battle of southpaws versus Carlos Ortiz (10-3, 10 KOs) of Mexico by unanimous decision after six rounds in a super welterweight clash. Rocha was a little quicker and slicker with his punches and nearly had a whitewash. The scores were 80-72 twice and 79-73 for Rocha.
"I wish I could have thrown more punches and more combinations," said Rocha whose brother is former featherweight contender Ronny Rios. "He was really good at catching shots and countering."
Philadelphia's Jaba Khositashvili (4-0) won by decision after six super middleweight rounds against San Bernardino's Lawrence King (4-1).
"My opponent kept holding me and wouldn't let me fight him," said Khositashvili.
New York's Brian Ceballo (5-0, 3 KOs) won by stoppage in the second round over David Thomas of Texas in a welterweight match set for six rounds. The end came at 30 seconds of round two.
"I figured out beforehand that he always fights the same way," said Ceballo. "So I knew to keep my distance and keep a fast pace."
Photo credit: Al Applerose
Check out more boxing news on video at The Boxing Channel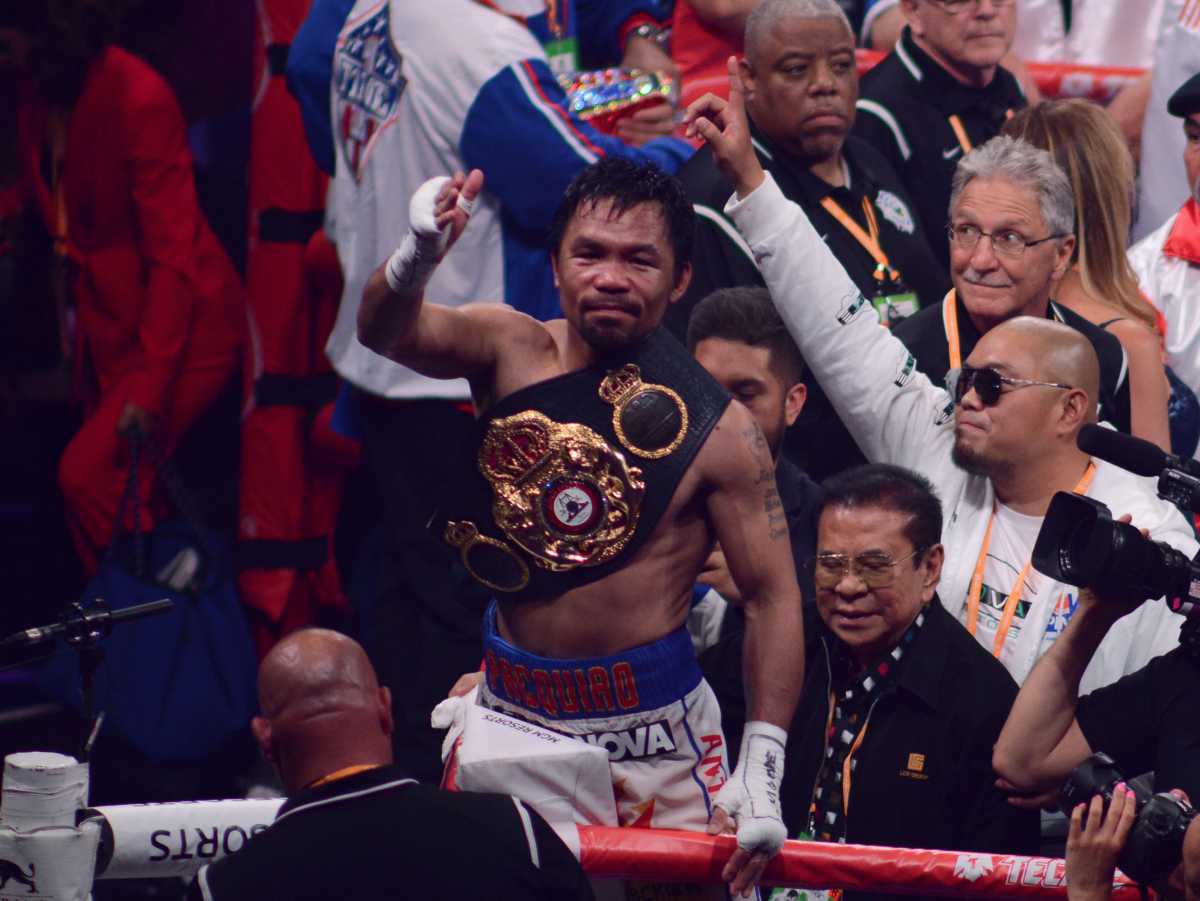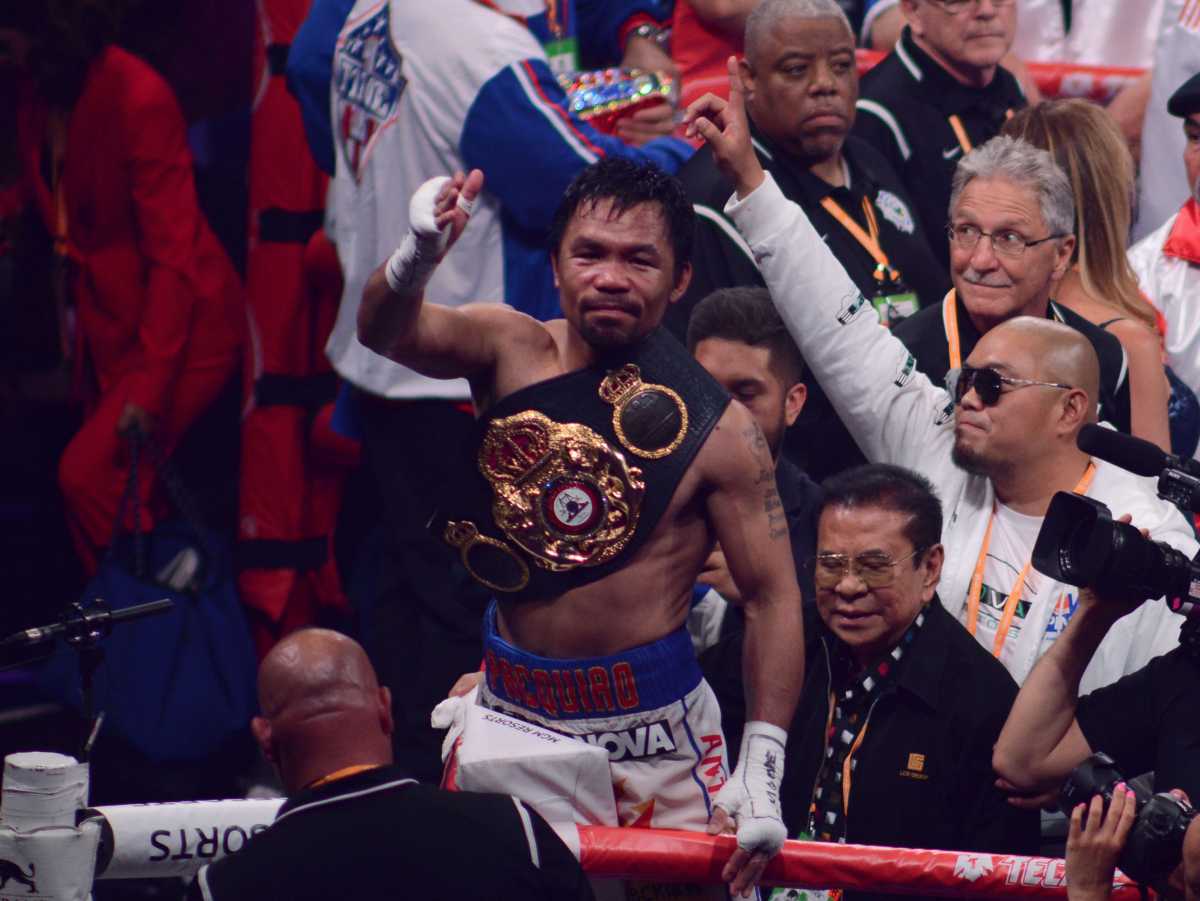 The crowd chants "Manny, Manny, Manny" at the weigh-in at the MGM Grand Garden Arena in Las Vegas and Pacquaio's beloved Pinoy fans are going wild. It's a BIG event, bigger even than many heavyweight title fights.
Max
Meanwhile, Maxim "Mad Max" Dadashev's wife Elizabeth is flying from her home in St. Petersburg, Russia, to be with her husband at a hospital in Maryland. Dadashev was critically injured on Friday night while suffering an upset loss to heavy-handed Puerto Rican bomber Subriel Matias at another MGM property, the MGM National Harbor in Oxon Hill, Maryland.
Dadashev, 28, was 281-20 as an amateur, undefeated in 13 professional fights, and the IBF's third-ranked junior welterweight, but Matias had his number and dominated throughout in a tough and grinding affair.
At the end of the 11th round, Buddy McGirt told his fighter, "I'm going to stop it, Max." Dadashev protested. Maybe Max's brain signaled no, maybe not. But his heart surely said "I'm not done."
McGirt overruled him, a sage move, but unbeknownst to anyone the damage had been done and it was severe.
"He had one hell of a fight," McGirt told the Washington Post. "Tough fight, tough fight; took a lot of tough body shots. I just think it was time to stop it. He was getting hit with too many shots. I said to him, 'I'm stopping it.' He said, 'No, don't.'"
The scores at the time of the stoppage were 109-100, 108-101 and 107-102 in favor of Matias. According to CompuBox, Matias out-landed Dadashev 319-157; 112 of Matias' punches were body shots.
Max was stretchered out of the arena and rushed to UM Prince George's Hospital where his skull was opened up to relieve the pressure caused by bleeding. The cavity reveals brain damage, and memories of Mago surface. The dreaded and familiar scenario then begins as he is put into an induced coma. Hopefully, the swelling goes down, the bleeding stops, and no blood clot appears as the later would make a terrible situation grave. In any event, Max will never box again. His well-publicized dream to win a world title will not be fulfilled.
In a post-fight interview, ESPN's ringside analyst Tim Bradley said, "That's a scary situation and every time you step foot in the ring you know that was always the talk that I would have with my wife. You know before I would step foot in the ring, I would sit her down, I would look at her and I would say, 'Look at me, honey. Take a good look at me, open your eyes wide open because I might not come out the ring, for one, and I know I'm not coming out of the ring the same way that I came in.'"
Manny
Back to the big fight the following evening:
The crowd chants "Manny, Manny, Manny" as he enters the ring to battle Keith Thurman for still another championship as his worshipers are now virtually in a state of mass hysteria and begin singing and cheering loudly. The scene borders on the surreal.
Across the Pond
Earlier on Saturday, across the pond in London, heavyweight David Allen took a bad beating from 6'9" David Price and required oxygen. He also was stretchered out and sent to a hospital, adding to the angst. But he will be okay. According to his promoter, Eddie Hearn, Allen had a broken orbital bone and a damaged tongue, but brain scans suggested he was okay.
David Allen — "Very happy and proud of David Price. I will be okay, but the last 12 months or so my health has been deteriorating and I'm glad I hung on, took the chance, and made money. [I'm] now probably done."
"Manny, Manny, Manny"
In Las Vegas, Manny has decked Thurman in the first round and the place is delirious. The crowd senses that this is his night although Thurman is not backing up. In the tenth, Pac almost puts "One Time" away after landing a devastating body punch.
Finally, the fight is over and Manny is declared the winner. The decibel count goes off the chart as the Pinoys sing "We Are The Champions." Viewers hit the mute button. These are not fans as much as they are cultists. One wonders if those who are chanting even know that this has been a week where boxing exposed its grim side.
Photo credit: Al Applerose
Ted Sares is a member of Ring 8, a lifetime member of Ring 10, and a member of Ring 4 and its Boxing Hall of Fame. He also is an Auxiliary Member of the Boxing Writers Association of America (BWAA). He is an active power lifter and Strongman competitor in the Master Class.
Check out more boxing news on video at The Boxing Channel
To comment on this story in The Fight Forum CLICK HERE
The Hauser Report: Caleb Plant is Making His Mark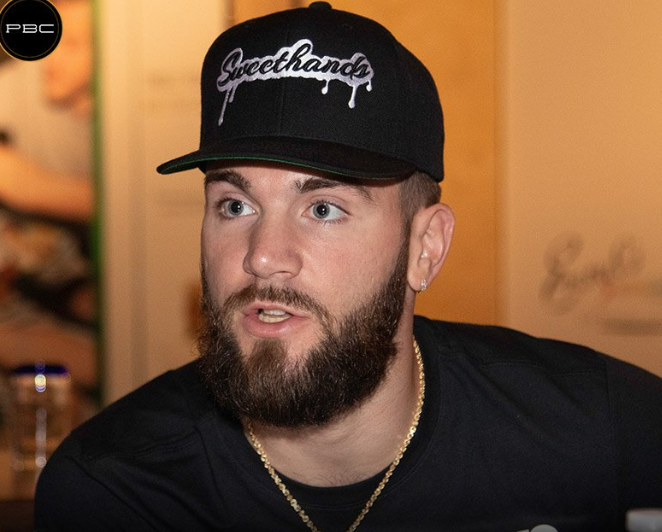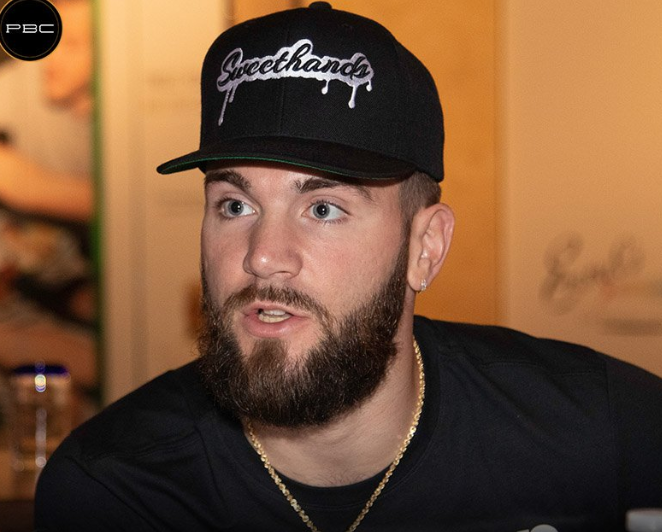 The July 20 IBF 168-pound title fight between Caleb Plant and Mike Lee wasn't expected to be competitive. But it was a coming out party for one of boxing's more compelling personalities.
Plant was born and raised in Tennessee. As his ring career progressed, he moved to Henderson on the outskirts of Las Vegas to hone his craft. On January 13 of this year, he scored an upset decision victory over Jose Uzcategui to claim the IBF belt and bring his record to 18-0 with 10 KOs. Prior to that, his hardscrabble origins had been scarred by tragedy.
Plant grew up in a home where alcohol and drug abuse were common. His own daughter, Alia, was born with severe brain damage.
"She had zero motor skills," Caleb recounted last year. "She couldn't sit up. She couldn't hold her head up. She couldn't lift her arm. She couldn't eat. She ate through a tube in her stomach. I didn't know if she was gonna know who I was. I didn't know if she knew that I loved her. She was never gonna stand and say 'I love you, dad' or 'Merry Christmas, dad.' She's not gonna know what it's like to have friends. But what if I could just give her a nice life, a life that I didn't have. What if I could work so hard that I can give her a life and things that I never had as a kid. We won't be able to have the relationship that I had with my dad. But I'll give her my all, my best, no matter what. This is what I can try to give her. A roof over her head; food in her stomach even if it's not through her mouth."
In 2015, at nineteen months of age, Alia was in the hospital on life support for the fifth and final time in her young life. Plant's words speak for themselves.
"The doctors were telling me, 'Mr. Plant, your daughter is gonna pass away. That's a tough conversation to have. She was slowly going down and down and down and down. I went to her. It was just me, and I said, 'You know, this has been a long nineteen months, and I know you have to be tired. And if you are over this, then I'm okay with that. I'm not gonna be mad at you. I'm not gonna be disappointed in you. I'm not gonna be upset with you. If you're tired of this and you're done and you don't want to do this anymore, then your daddy supports you. And I'm gonna be right here.' And right after that conversation – a conversation that I had never had with her before because, every time before, it was 'No, this is not gonna happen' – she started going down. I said, 'I want you guys to take this stuff off of her because I don't want her to pass with these tubes down her throat and an EEG machine on her head and sticky and all that stuff.' They took all that stuff out. They cleaned her off and washed her hair. They took everything out. I got to sit there with her. She took her last breath at 10:55. And I just sat with her there for a long while."
Adding to the tragedy in Plant's life, his mother was shot and killed by a police officer in March of this year. According to the Tennessee Bureau of investigation, Beth Plant was being taken to a hospital by ambulance when she became unruly and pulled a knife from her backpack. The driver pulled over to the side of the road and called for assistance from law enforcement. When a policeman arrived, Plant came toward him brandishing the knife and he shot her.
After Plant's mother died, Caleb posted a message on Facebook that read, "Love you forever and always momma. You always said 'work hard bubba' and I did. I know that we spent a lot of time wishing the relationship we had was different but you was still my momma. We both wished we could start from scratch so we could go back and you could have a fresh start with me and Maddie. Regardless you was one of the sweetest ladies I've ever come across. You had your demons but you'd give the shoes off your feet and your last dollar to someone who needed it less than you. I love you momma and I know you are up there with Alia now and her and grandma finally get to spend time together like we talked about way back. You are the first one out of all of us to see what Alia is really like so make the most of that and kiss her up and tell her that her daddy loves and misses her. I know in the end it's your demons we always talked about that got the best of you. Maybe you always told me because you knew I'd understand because we shared some of the same ones."
The saving grace in Plant's life has been boxing.
"I've been boxing since I was nine years old," Caleb says. "There ain't never been a Plan B. Not to go to college. Not to get a nine-to-five. Not to get a job. Not to be in the NFL. Not any of that. All I've ever had is boxing. I'm from the metho-heroin capital of the U.S. where a mother will sell her child's last toy for one Xanex. Where a mother will lock her son and her daughter in a room for hours, not taking care of them, just so she can be locked away in her room doing her own stuff. I'm from where the Bethesda Center gives out-of-date canned food to you because you ain't got no food. There ain't no Plan B."
Elaborating on that theme during a July 1 media conference call, Plant declared, "Boxing has always been like a sanctuary for me. It's been a place that I could go and be somebody. As a kid, I was somebody that nobody would want to be, living in a place where nobody would want to be in. When I got to go to the gym, then I got to be somebody that everybody wanted to be. Grown men looking up to me, oohing and ahhing. And once I got back out of those doors, I had to go back to being that kid that nobody wanted to be. So that became like an addiction for me, to want to be there, want to be in the gym."
"Through everything that came and left in my life," Plant continued. "Through all the things that I've lost, through all the things I've been deprived of or haven't had, boxing has always stood by my side. Boxing has always been there for me through thick and thin. Boxing is like a woman. If you treat her right and you do good by her, then she'll stand by you and she'll do right by you. But she's a jealous woman. And the difference between me and my opponent is, I haven't glanced off of her. I haven't endeavored into other things."
Mike Lee comes from a world that Caleb Plant is unfamiliar with.
Lee went to high school at the Benet Academy in Lisle, Illinois. Virtually all of Benet's students go on to college. Lee spent a year at the University of Missouri before transferring to Notre Dame, where he graduated with a degree in finance. "I relax by watching CNBC," he told writer Kieran Mulvaney several years ago. "And I like reading the Wall Street Journal."
For most of Lee's ring career, he was well marketed and well protected by Top Rank. At one point, he parlayed his Notre Dame pedigree into a much-commented-upon Subway commercial. Recently, he left Top Rank to campaign under the Premier Boxing Champions banner. Now 32 (five years older than Plant), he came into Saturday night's fight with a 21-0 (11 KOs) record and had fought his entire career at light-heavyweight or a shade higher.
Plant's opposition had been suspect prior to his victory over Uzcategui. Lee's opposition had been worse. "The typical Mike Lee opponent," one matchmaker observed, "has had ten fights and won all but nine of them."
Kick-off press conferences are usually characterized by the lack of anything eloquent being said. The May 21 press conference for Plant-Lee was different. Lee spoke first, voicing the usual platitudes.
"Every single fight is different. I don't really care what his other opponents have done in or out of the ring. It doesn't matter. On fight night, the bell rings, it's just me and him. The best man will win. I've been in so many press conferences where opponents either talk shit or they're dismissive or they're respectful. I've beat them all. This is an incredible opportunity and I will make the most of it. I'm going to shock a lot of people"
Then it was Plant's turn.
"I've been boxing my whole life," Caleb said. "No college degree for me. No high school sports. No acting gigs. No Subway commercials. Just boxing, day in and day out, rain, sleet, or snow. He may have a financial degree. But in boxing I have a Ph.D and that's something he don't know anything about. Something else I have a Ph.D in is being cold and being hungry and being deprived, coming from very rock bottom. That's something he don't know anything about. So if this guy ever thought for one second that I would let him mess this up for me and send me back there; unlike him, I have everything to lose. This is how I keep a roof over my head and food in my belly. That's something he don't know anything about. So if he thinks he's going to mess this up for me, he's not half as educated as I thought he was."
At times, the dialogue seemed to verge on class warfare. And it continued in that vein through fight week.
"There are zoo lions and there are jungle lions," Plant said at the final pre-fight press conference two days before the bout. "The zoo lion will look at the jungle lion and think they're the same thing. And from a distance they look the same. Until it's time to eat or be eaten."
"The trash talking goes back and forth," Lee responded. "That's as old as time. Nothing he's saying is new. It's all recycled stuff he's heard on TV or heard in movies. It's nothing new to me. It doesn't even bother me. I laugh at it."
Plant-Lee was broadcast live on Fox as a lead-in to the Pacquiao-Thurman pay-per-view card. Lee was a 15-to-1 underdog. The consensus was that he had as much chance of beating Plant in a boxing match as Yale would have of beating Notre Dame in football.
Nevada's choice of 76-year-old referee Robert Byrd as third man in the ring was a bit of a surprise. Byrd was once a capable referee, but his performance in recent years has been erratic. The most egregious example of this was his mishandling of the June 15 World Boxing Super Series cruiserweight semi-final bout between Mairis Briedis and Krzysztof Glowacki.
Byrd is past the point where he can move nimbly around the ring and was out of position for much of Briedis-Glowacki. His judgment was also faulty. In round two while the fighters were in a clinch, Glowacki hit Breidis in the back of the head with a rabbit punch. Briedis retaliated by flagrantly smashing an elbow into Glowacki's face, driving the Pole to the canvas. In a post-fight in-the-ring interview on DAZN, Briedis acknowledged the foul, saying, "I did a little bit dirty."
Glowacki, for his part, noted, "The elbow was really strong and clear to the chin. I did not know what happened. I do not remember a lot after that."
Byrd deducted a point from Briedis but didn't give Glowacki additional time to recover. Still hurt, Glowacki was knocked down fifteen seconds later by a two-punch combination that ended with a right hand to the back of the head. He rose. The bell rang to end the round. And Byrd didn't hear it.
"The bell's gone," DAZN blow-by-blow commentator Jim Rosenthal shouted. "They're carrying on. Come on, referee. I can hear it. Get in there."
But Byrd allowed the action to continue. With people at ringside waving their arms and screaming at him that the round had ended, he allowed Briedis to batter Glowacki for another eight seconds until Mairis scored another knockdown.
"He's gone down after the bell," Rosenthal proclaimed. "What is occurring in there? What is occurring? That bell was ringing for ages. It's farcical. He's saying he couldn't hear the bell. He must have been the only one in the arena."
A badly damaged Glowacki was allowed out of his corner for round three but the fight was stopped twenty seconds later. In the same post-fight interview on DAZN, Briedis conceded that he'd heard the bell ending round two but kept punching.
As for Plant-Lee, the fight lived down to expectations. Lee tried to fight aggressively but didn't have the tools to do it. Plant was the faster, stronger, tougher, better schooled fighter. He dropped Lee with a lead left hook late in round one, dug effectively to the body throughout, and put Lee on the canvas thrice more in the third stanza. After the final knockdown, Byrd stopped the mismatch. According to CompuBox, Lee landed just eight punches in the entire bout.
It will be interesting to see how Plant progresses from here, in and out of the ring. In that regard, it should be noted that writer Jeremy Herriges talked at length recently with Carman Jean Briscoe-Lee (Alia's mother, who was once Caleb's companion). Thereafter, Herriges wrote a thought-provoking article for NY Fights that calls portions of Plant's narrative into question.
Meanwhile, Caleb remains a work in progress.
"I'm not a grown man," he said during a July 1 media conference call. "I'm a growing man. So I'm going to continue to become better in the ring. I'm going to continue to become a better man outside the ring. Thus far, I think I've done a good job of handling that responsibility. If I just continue to follow what I've done, I think I'll be on the right path."
Let's see how the journey unfolds.
Thomas Hauser's new email address is thomashauserwriter@gmail.com. His next book – A Dangerous Journey: Another Year Inside Boxing  – will published this autumn by the University of Arkansas Press. In 2004, the Boxing Writers Association of America honored Hauser with the Nat Fleischer Award for career excellence in boxing journalism.
Check out more boxing news on video at The Boxing Channel
To comment on this story in The Fight Forum CLICK HERE
Manny Pacquiao Defies Father Time, Whips Thurman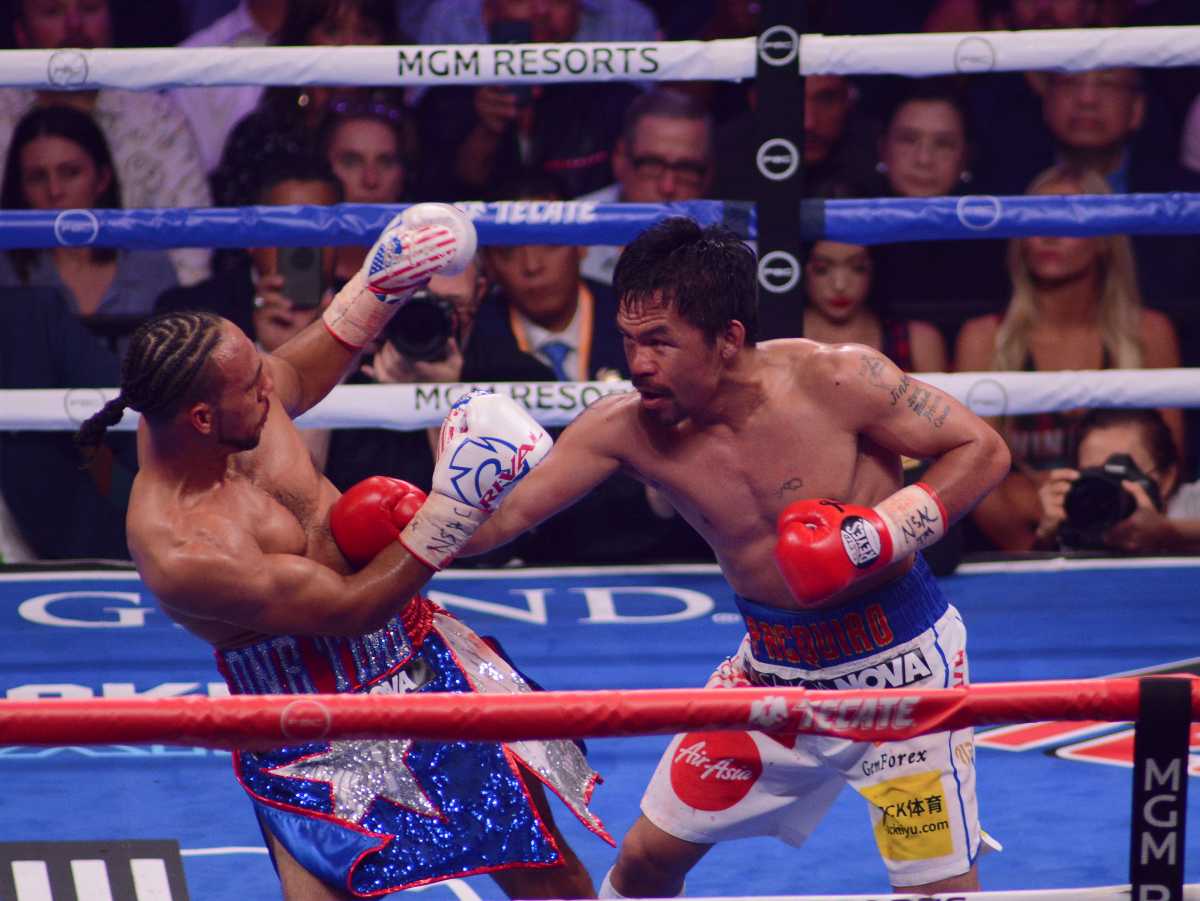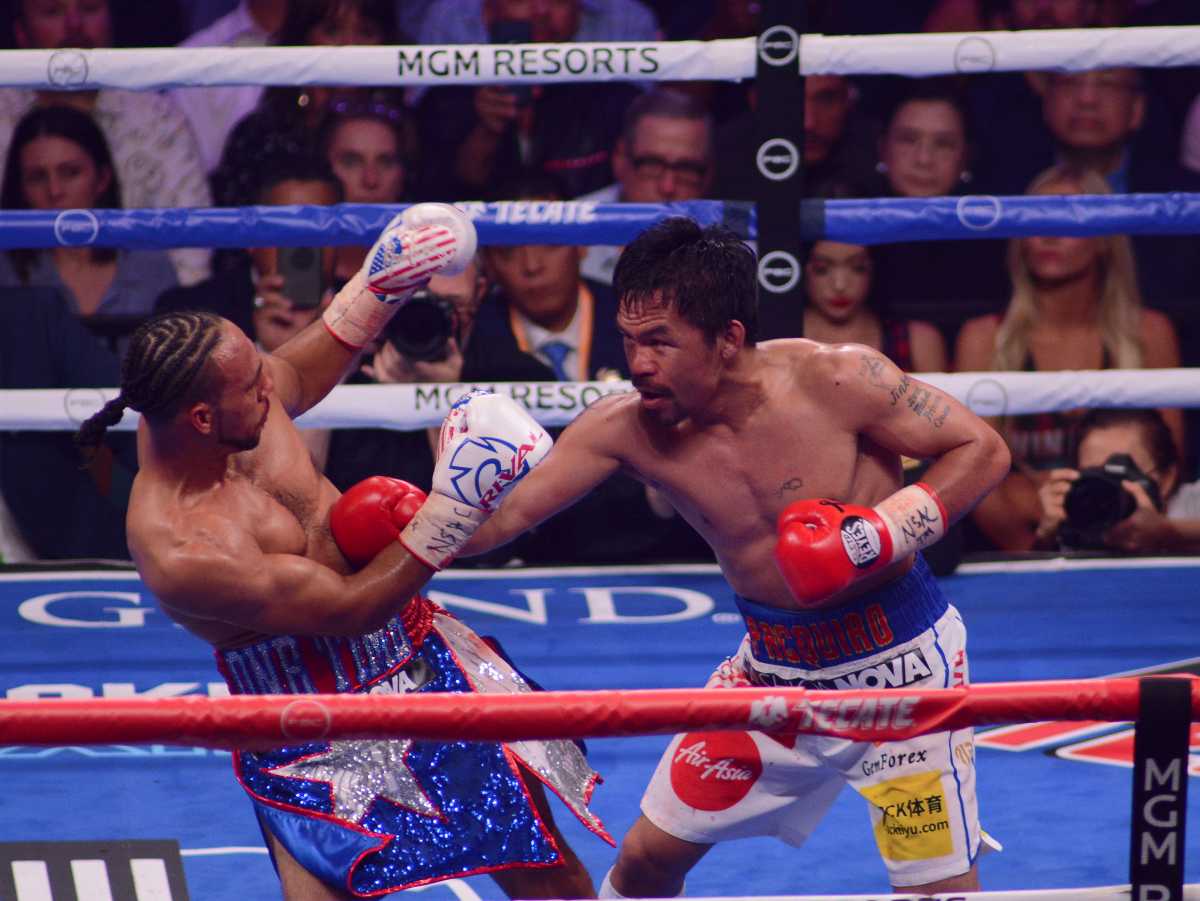 Manny Pacquiao Defies Father Time, Whips Thurman
LAS VEGAS-Father time, hold on.
Manny Pacquiao knocked down Keith Thurman with his electrifying speed in the first round then managed to keep the lead and defeat Keith Thurman by split decision and retain the WBA welterweight world title Saturday. It was one exciting firefight.
Pacquiao showed the young guns he still has bullets left in the chamber.
The pride of the Philippines, Pacquiao (62-7-2, 39 KOs) also showed he still has star attraction and startling speed in front of the crowd of 14,356 at the MGM Grand. And he still has enough in the gas tank to defeat a young powerhouse like 30-year-old Thurman.
But it was razor close.
Pacman jumped to the lead in the first round with a sizzling combination capped by a lightning right hook that floored a surprised Thurman. The Florida fighter smiled while getting up.
"He caught me when I was moving back," said Thurman. "After that knockdown it was just a numbers game."
For the first five rounds Pacquiao bedazzled Thurman and the fans with his jitterbug style that has confused dozens of opponents in more than 20 years as a professional. But once he slowed down, Thurman began connecting and connecting.
Thurman had never tasted defeat and used a body attack to slow down the rushes by Pacquiao. It proved effective and from rounds six through nine the taller Thurman was connecting on a slower moving Pacquiao.
Just when it looked like Thurman was about to take over with body shots and rights in the 10th round, Pacquiao stopped the onslaught and unleashed a multiple-punch rally including a powerful left to the body that buckled Thurman who was visibly pained by the body blow. Somehow he hung on as Pacquiao unfurled a barrage of blows in search of the killing blow he once knew so well. Thurman survived.
"I felt like I was grabbing some momentum back. I felt like I needed to possibly get a knockdown," Thurman said. "But definitely I was obviously hurt in that round.  I tried to push him to his limit and he came up on top."
Pacquiao was able to carry over the momentum to the 11th round by targeting Thurman's weakened body. But at 30 years old the Floridians recovery time was quick and he was able to stave off Pacquiao's attacks with well-placed right counters.
In the final round Thurman kept pressure on the shorter Pacquiao who seemed a little tired and careful about getting caught with Thurman's sharp right counters. The fight ended without serious further altercations.
Judge Glenn Feldman scored it 114-113 for Thurman while judges Dave Moretti and Tim Cheatham tabbed it 115-112 for Pacquiao who retains the WBA welterweight title by split decision.
Once again the record-making eight-division world champion Pacquiao defied the ageing process with a victory over another younger world champion. If naysayers felt retirement was overdue he proved once again that he is one of the wonders of prizefighting.
"He's a good fighter, he's strong," said Pacquiao. "We did it for the fans. I'm sure they were happy tonight. Even though it was close he's not an easy opponent, he's strong."
Thurman was gracious in defeat.
"I knew it was close," said Thurman. "This is a beautiful night for boxing. Manny Pacquiao is a great, great champion. I wish I had a little bit more as he was getting tired, but it was a great night for boxing."
"This guy is a fighter," said Pacquiao. "I think I can rank this like a (Antonio) Margarito fight, an Oscar De La Hoya fight, a Juan Manuel Marquez fight and Marco Antonio Barrera fight. You saw what we did in the ring, it's the first time I encountered an opponent like Keith Thurman. Keith hits like Margarito. I think because he was too big for me and heavy handed."
Caleb Plant
IBF super middleweight titlist Caleb Plant had predicted Mike Lee was not a true challenge and then proved it with three rounds of domination to win by technical knockout in the third round.
Plant floored a hyper Lee in the first round with a left hook but the Chicago fighter shook it off. The second round was better for Lee who managed to land some blows against the speedy Plant but still lost the round. Worse things were in store for Lee.
Las Vegas-based Plant opened the third round with two quick jabs and rifled a right cross missile that dropped Lee with a thud. The former Notre Dame football player got up enthusiastically ready for more and Plant obliged with a check left hook and down went Lee again. Luckily for Lee, referee Robert Byrd missed the knockdown and called it a slip. Lee couldn't get up right away but managed to gather himself. When the fight resumed Plant zipped a right cross and down went Lee hard. Referee Byrd stopped the fight without a count though Lee angrily disagreed with the stoppage.
Plant was deemed the winner by technical knockout at 1:29 of the third round to retain the IBF super middleweight world title. It was his first title defense since winning it earlier this year in Los Angeles against Jose Uzcategui.
"I've been telling you it's not going 12," said Plant. "I take my hat off to Mike, it takes a true man to go in the ring."
The Tennessee native said he's ready for anyone whether it's a super middleweight or light heavyweight.
"I ain't hard to get ahold of, just come to Las Vegas," said Plant.
Nery KOs Payano
In a tough battle between southpaw sluggers for the WBC Silver bantamweight title Mexico's Luis Nery (30-0, 24 KOs) finally solved Dominican's Jose Carlos Payano (21-3, 9 KOs) by directing his big blows to the body to win by knockout in the ninth round. It was Nery's 11th consecutive knockout win.
"He had a complicated style but I adapted by the sixth round and went to the body and focused on that," said Nery who lives and trains in Tijuana, Mexico.
After back and forth blows for nine rounds Nery caught Payano with a crackling left to the body and down went Payano for more than five minutes. The Dominican was counted out by referee Vic Drakulich at 1:43 of the ninth round.
Ugas wins Ugly
If not for a point deducted Cuba's Yordenis Ugas (24-4, 11 KOs) would have won every round over Texas fighter Omar Figueroa (28-1-1, 19 KOs) but he had to settle for winning by unanimous decision in winning the eliminator for the WBC welterweight title.
It was an ugly fight.
The first round looked good for Ugas who nailed Figueroa with a wicked overhand right. Figueroa was saved from hitting the floor by the ropes and the referee wisely called it a knockdown. But after that, darkness and frustration set in as Figueroa hugged his way inside and Ugas showed he did not how to fight at close distance. Instead of fighting he held and held until referee Russell Mora took a point away in the fifth round.
Figueroa's charges inside were ineffective for 11 rounds as both were unable to allow a fight to break out. After 12 rounds all three judges scored it the same 119-107 for Ugas. It was Figueroa's first loss as a pro.
Lipinets
Former super lightweight world titlist Sergey Lipinets faced last-minute replacement Javar Inson, a southpaw, and knocked out the Filipino fighter with a counter left hook in the second round. It was advice that his new trainer Joe Goossen had directed him to do.
"(Joe Goossen) is an exceptional trainer. He just wanted me to make sure I block his punches with my elbows and just counter," said Lipinets.
During a exchange of blows Lipinets countered with a left hook that Inson did not see and was dropped for a knockdown. Referee Jay Nady looked at his eyes and stopped the fight at 57 seconds of the second round for a technical knockout win for Lipinets.
"You never know what to expect because you train for one style and get another. He was looking for it. A great fighter executes what he expects," said Goossen.
Other Bouts
Nigeria's Efe Ajagba (11-0, 9 KOs) out-punched Turkey's Ali Eren Demirezen (11-1,10 KOs) over 10 rounds to surprisingly win by unanimous decision instead of by knockout. Both heavyweights entered the ring with prodigious knockout records but neither was able to knock the other down. Two judges scored it 99-91 and a third 97-93 for Ajagba.
Photo credit: Al Applerose
Check out more boxing news on video at The Boxing Channel
To comment on this story in The Fight Forum CLICK HERE