Canelo Wins Mexican Style Rematch by Majority Decision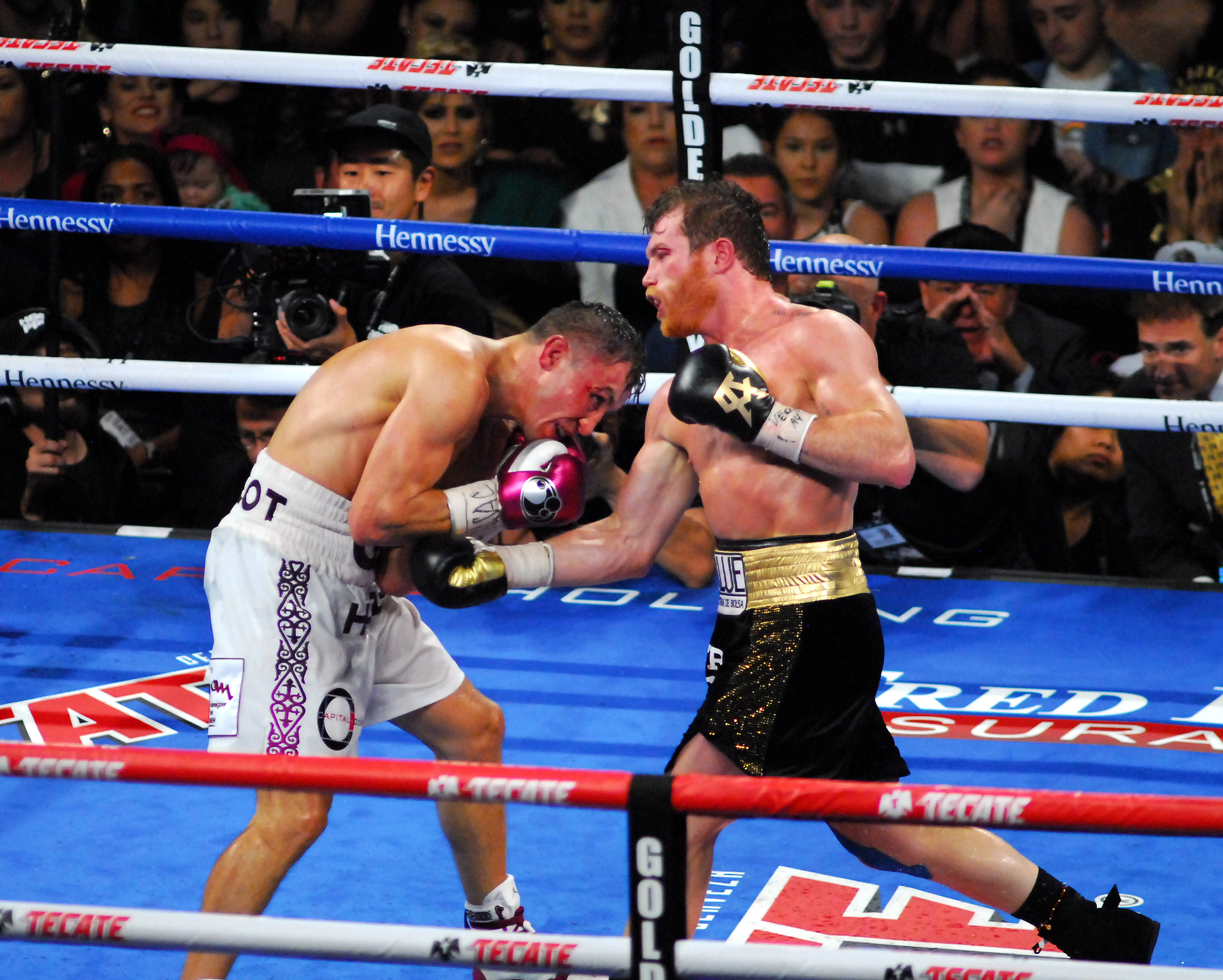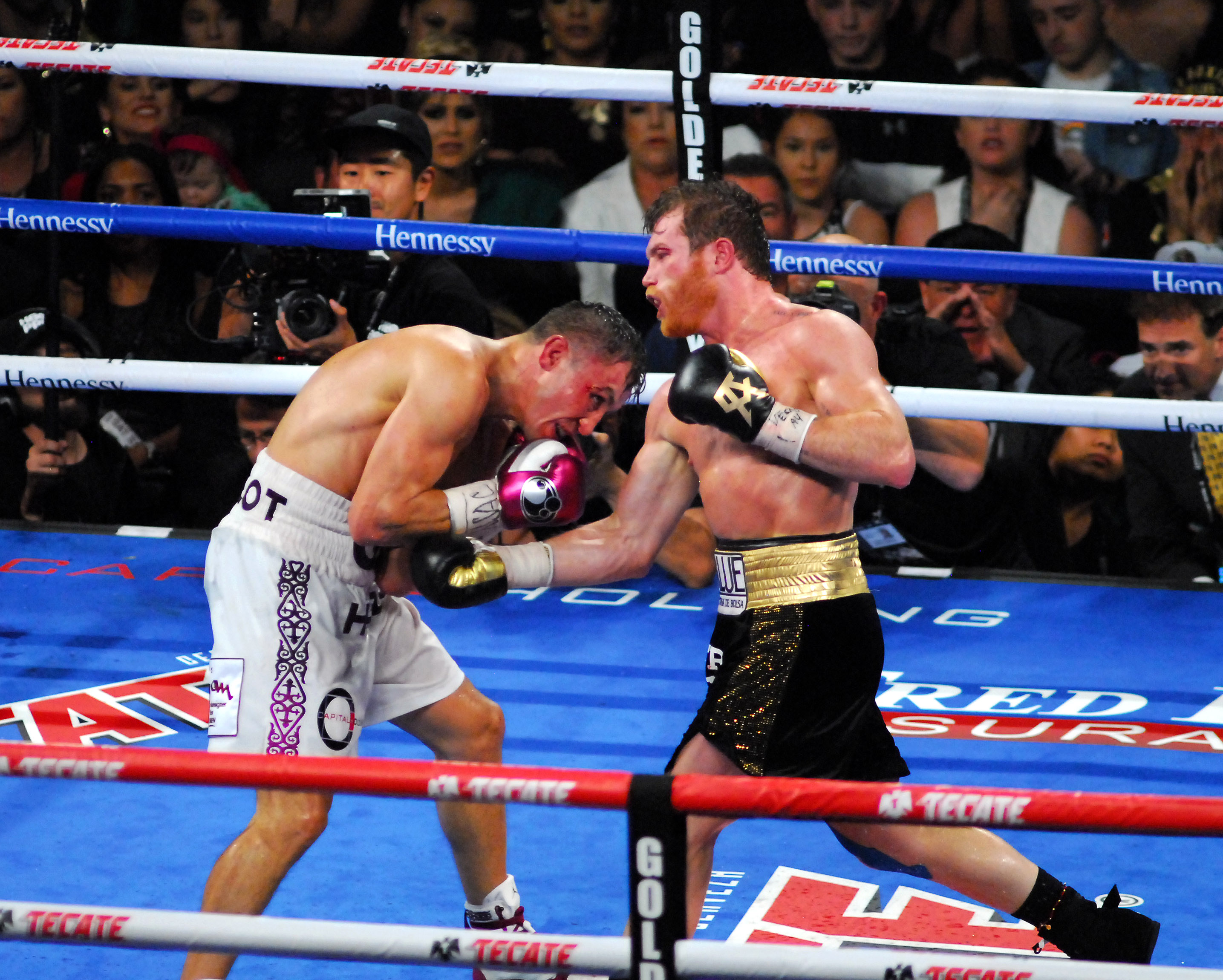 LAS VEGAS-Mexican style erupted and Saul "Canelo" Alvarez proved that it's not foreign to him as he bested powerful Gennady "GGG" Golovkin to win the middleweight world titles by majority decision on Saturday.
The Mexican redhead Alvarez (50-1-2, 34 KOs) proved in his 50th win superior to Mexican style fighter Golovkin (38-1-1, 34 KOs) of Kazakhstan before a sold-out crowd of 21,965 screaming fans at T-Mobile Arena. Still, it was close.
After months of name calling and accusations of cheating, plus a suspension by the Nevada State Athletic Commission because of illegal use of banned drugs, Alvarez abided by the penalty rendered and was supervised by VADA to be eligible to fight Golovkin in the rematch after their first encounter ended in a majority draw.
This time Alvarez cleaned the slate and won by majority decision after 12 turbulent back and forth rounds. The fans were loud in their support for both throughout.
Youth was in Alvarez's favor and he took advantage with his speed despite standing in striking distance in every round. It was a matter of machismo for the Guadalajara native who had suffered hearing Golovkin's team claim he did not fight like a Mexican while the middleweight champion did in the first fight.
Alvarez took it to heart.
Early in the fight Alvarez was quicker to the draw though Golovkin was able to counter with powerful blasts. The exchange of blows was measured in a pace dictated by Golovkins jabs in the first three rounds. It was too early to determine who was the superior fighter.
Golovkin picked up the pace in the fourth round and snapped Alvarez's head back with vicious right uppercut. Alvarez then blasted a left hook to the body and got a reaction from the blow, but overall Golovkin had his best round.
The quickened pace continued and Alvarez began targeting Golovkin's body with right uppercuts to the belly and left hooks to the liver and ribs. Though the always strong Golovkin did not show it, Alvarez continued the body assault. In the sixth round both unloaded with tremendous blows that seemingly would knock out anyone. Both remained standing.
Alvarez began to get into a rhythm with rights to the body and lefts to the body mixed in with power shots to the head. Golovkin rallied a bit with a three-punch combination and seemed to regain control of the round overall. It stopped Alvarez's momentum.
Both fighters engaged in some hellacious shots in the next few rounds though both seemed tired. At one point Alvarez did the sign of the cross and entered in the fray as if prepared to walk into fire. He did.
Golovkin absorbed some tremendous blows to the head and though tired he never wilted. Neither did Alvarez. The final two rounds were hard to determine whose blows were affecting each other. Golovkin must have known the decision was in the balance and erupted in the final round with rights and a right uppercut followed by a left hook and right-left combination. A big right cross from Alvarez stopped the onslaught and then the Mexican redhead began connecting with his own.
A collective exhaling took part when the final bell sounded. Both Golovkin and Alvarez hugged briefly. Both had fought to the full extent of their abilities and both fought Mexican style.
One judge Glenn Feldman scored it a draw 114-114, while Steve Weisfeld and Dave Moretti scored it 115-113 for Alvarez who becomes the new WBC, WBA and IBF middleweight titleholder.
"It was a very exciting and very emotional 12th round," said Alvarez, 28. "He's a great fighter. I salute him. He's a great fighter but I did this for Mexico."
Golovkin was classy in defeat and knew it was very close and could have been a draw.
"I'm not going to say who won tonight because the victory belongs to Canelo according to the judges," said Golovkin, 36, who was taken to the hospital for stitches. "I thought the fight was very good for the fans."
Many felt the fight was superior to the first in terms of pure action.
"If he wants, we can do it again," said Alvarez. "But let's enjoy this tonight."
Munguia
WBO super welterweight titlist Jaime Munguia tried to contain the storm within but once Canada's Brandon Cook began unleashing wild overhand rights, the chains of restraint were off and both were flailing away like bullies in a street fight. In this street fight Munguia was vastly in his element in winning by third round knockout.
Munguia used his jab and foot movement to keep the fight at a distance in the opening round. Cook looked to land some counter rights every time the taller Mexican fighter fired a jab, but no luck. And when Cook tried to mount an offense with more overhand rights the fight was on and Munguia was like a wild stallion unleashed out of the gates.
At the end of the second round Munguia had Cook cornered in the corner and connected with a blistering right cross from that long arm he possesses. Cook barely survived.
Munguia seemed more intent to close out the fight in the third round as he cornered Cook and dropped a right hand like an anchor and down went Cook. The Canadian bravely got up but Munguia raked him with a blistering four-punch combination and referee Tony Weeks wisely stopped the fight at 1:03 of the round. It was another knockout win for the Tijuana fighter.
"I was a little more composed and concentrated this time around," Munguia said as fans cheered. "Before, I was always looking first for the knockout and only the knockout, this time I focused a little bit more."
Talk on his readiness to move up to the middleweight division is already being discussed.
"Little by little you find out what you do well," said Munguia about what he learned from this win. "I think it's a process I'm only 21 and I'll take the fight of the winner. We've learned a lot of things. I want to show that I can fight the best to show that I am the best.
Lemieux
A blistering war on social media was ended abruptly in the boxing ring as former middleweight world champion David Lemieux (40-4, 34 KOs) knocked out Ireland's Spike O'Sullivan (28-3, 20 KOs) with a left hook to the chin in the first round.
Lemieux and O'Sullivan warred like hungry dogs on social media but when it came to the actual fighting the real alpha dog showed when the Canadian beat the handle-bar moustache boxer to the punch with a quick left hook. Down went O'Sullivan in sections at the end of the first round. After delivering a jab O'Sullivan was following up with a right when Lemieux short-circuited him with the blow. The end came at 2:44 of the first round as referee Russell Mora stopped the fight though a wobbly O'Sullivan got up.
Now will Lemieux fight the winner of Golovkin-Alvarez?
"They're two excellent fighters but there is no middleweight like David Lemieux. I'm not rooting for anybody, I think it's a 50/50 fight," said Lemieux before the main event. "I once fought Golovkin at his peak. Perhaps Golovkin will fight Lemieux at his peak."
Chocolatito
Roman "Chocolatito" Gonzalez (47-2, 39 KOs) answered several questions at once with a single blow as he knocked out Mexico's Moises Fuentes (25-6-1, 14 KOs) to return with a bang after a year's absence.
After losing back-to-back fights and the super flyweight world title, many felt Gonzalez no longer possessed the fighting skills that enabled him to capture four division world titles and consideration as the top fighter pound for pound. Others wondered if his political leanings in his native Nicaragua might also be a tug on his ability to concentrate on boxing.
With one punch, Gonzalez answered all those questions with a rocket right cross that deposited Fuentes in his own corner and unconscious at 1:44 of the fifth round as referee Robert Byrd stopped the fight.
"When he hit the floor, I got very worried for him and I panicked," said Gonzalez who trotted over to the fallen Fuentes. "I asked for him to forgive me because this is the job that we chose and that I didn't mean to hurt him."
Up until the fifth round Gonzalez exchanged combinations with fellow multi-division world champion Fuentes and looked faster and sharper than his Mexican counterpart.
"I'm very thankful for this opportunity," said Gonzalez. "I am a step closer to being a world champion."
Other Bouts
Heavy-hitting prospect Vergil Ortiz (11-0, 11 KOs) crushed former sparring partner Mexico's Roberto Ortiz (35-3-2, 26 KOs) and scored two knockdowns before the fight was stopped at 1:00 of the second round. A quick counter right cross delivered Roberto Ortiz to the floor and he rolled around for a few seconds. Though he did beat the count and tried to rally he was blasted out by a three-punch combination and down he went for the final time forcing referee Vic Drakulich to halt the super lightweight fight.
Though both prizefighters are named Ortiz they are not related. But they do know each other from ring sessions earlier in their careers.
"The win is bittersweet because I won against a great name and a record, but "Massa" (Roberto Ortiz) was my first ever sparring partner when I first turned pro," said Vergil Ortiz, who grew up in Dallas and trains in Riverside, Calif. "Now he's a win on the next step of my career. During my first sparring session he gave me a swollen lip. Today I knocked him out."
Santa Ana's Alexis Rocha (12-0, 8 KOs) won the battle of southpaws versus Carlos Ortiz (10-3, 10 KOs) of Mexico by unanimous decision after six rounds in a super welterweight clash. Rocha was a little quicker and slicker with his punches and nearly had a whitewash. The scores were 80-72 twice and 79-73 for Rocha.
"I wish I could have thrown more punches and more combinations," said Rocha whose brother is former featherweight contender Ronny Rios. "He was really good at catching shots and countering."
Philadelphia's Jaba Khositashvili (4-0) won by decision after six super middleweight rounds against San Bernardino's Lawrence King (4-1).
"My opponent kept holding me and wouldn't let me fight him," said Khositashvili.
New York's Brian Ceballo (5-0, 3 KOs) won by stoppage in the second round over David Thomas of Texas in a welterweight match set for six rounds. The end came at 30 seconds of round two.
"I figured out beforehand that he always fights the same way," said Ceballo. "So I knew to keep my distance and keep a fast pace."
Photo credit: Al Applerose
Check out more boxing news on video at The Boxing Channel
Maxim Dadashev Dead at Age 28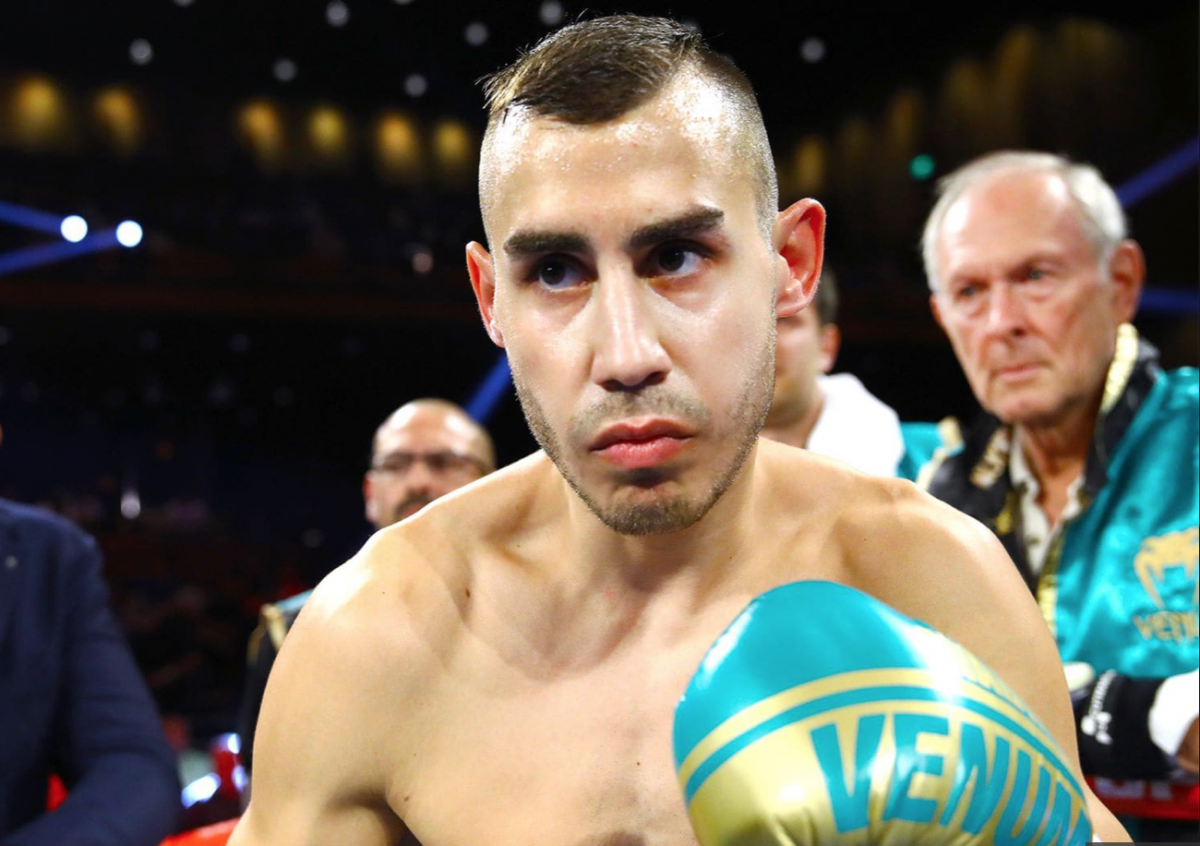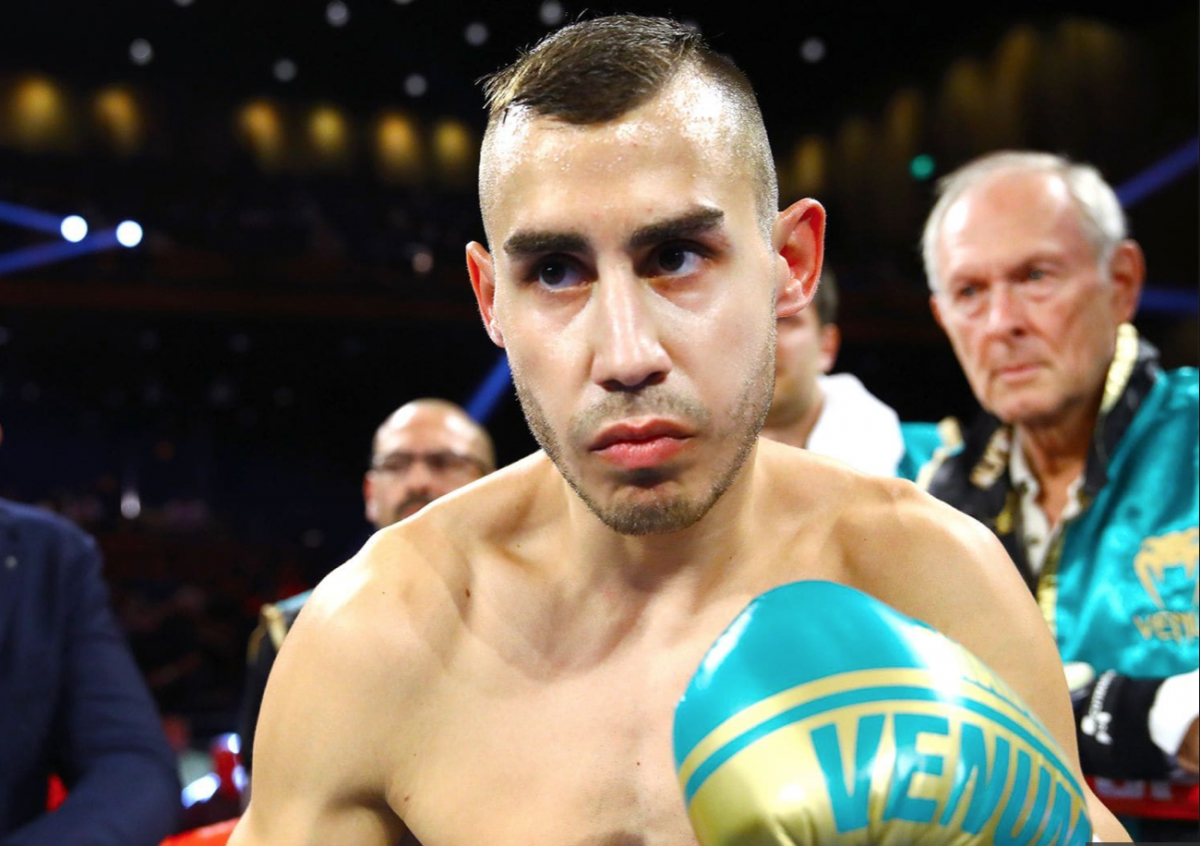 Junior welterweight boxer Maxim Dadashev passed away this morning (Tuesday, July 23) at the University of Maryland Medical Center in Prince George County, Maryland.  The news was confirmed by Dadashev's trainer Buddy McGirt and his strength and conditioning coach Donatas Janusevicious.
Dadashev's death was a result of injuries suffered in a fight four days earlier at the MGM casino-resort in Oxon Hill, Maryland. Dadashev's match with Subriel Matias, scheduled for 12 rounds, was billed as a title eliminator with the victor first in line to face the winner of the upcoming match between Josh Taylor and Regis Prograis. It was the chief undercard bout on a show headlined by fast rising lightweight contender Teofimo Lopez.
Dadashev, who entered the contest undefeated (13-0) was facing another undefeated fighter in Puerto Rico's Matias, also 13-0 but against suspect opposition. As the fight wore on, it became increasingly more one-sided with Dadashev absorbing heavy punches to the body and head. After the 11th round, Dadashev was pulled from the fight by McGirt.
Dadashev protested McGirt's decision. He wanted to continue the fight although it was evident that he had no chance of winning without a knockout. But he had trouble walking as he repaired to his dressing room and began vomiting violently once there. Placed on a stretcher, he was rushed to the hospital in an ambulance where he underwent a two-hour operation for a subdural hematoma. A portion of his skull was reportedly removed in an effort to reduce the swelling.
Federal privacy laws prevented the hospital from releasing any details without the consent of his next of kin. As Dadashev lay in the hospital in an induced coma, his wife flew to be by his side from their home in St. Petersburg, Russia.
Reportedly 281-20 as an amateur, Dadashev had fought exclusively in the United States since turning pro. Managed by Egis Klimas and promoted by Top Rank, he trained in Oxnard, California, along with stablemates Vasiliy Lomachenko and Oleksandr Gvozdyk.
As expected, Buddy McGirt, who entered the International Hall of Fame this year, was devastated by the news. "He did everything right in training," said McGirt, "no problems, no nothing….great, great guy. He was a trainer's dream. If I had two more guys like him, I would need nobody else because he was truly dedicated to the sport."
We here at TSS send our condolences to Dadashev's family and loved ones.
Check out more boxing news on video at The Boxing Channel
To comment on this story in The Fight Forum CLICK HERE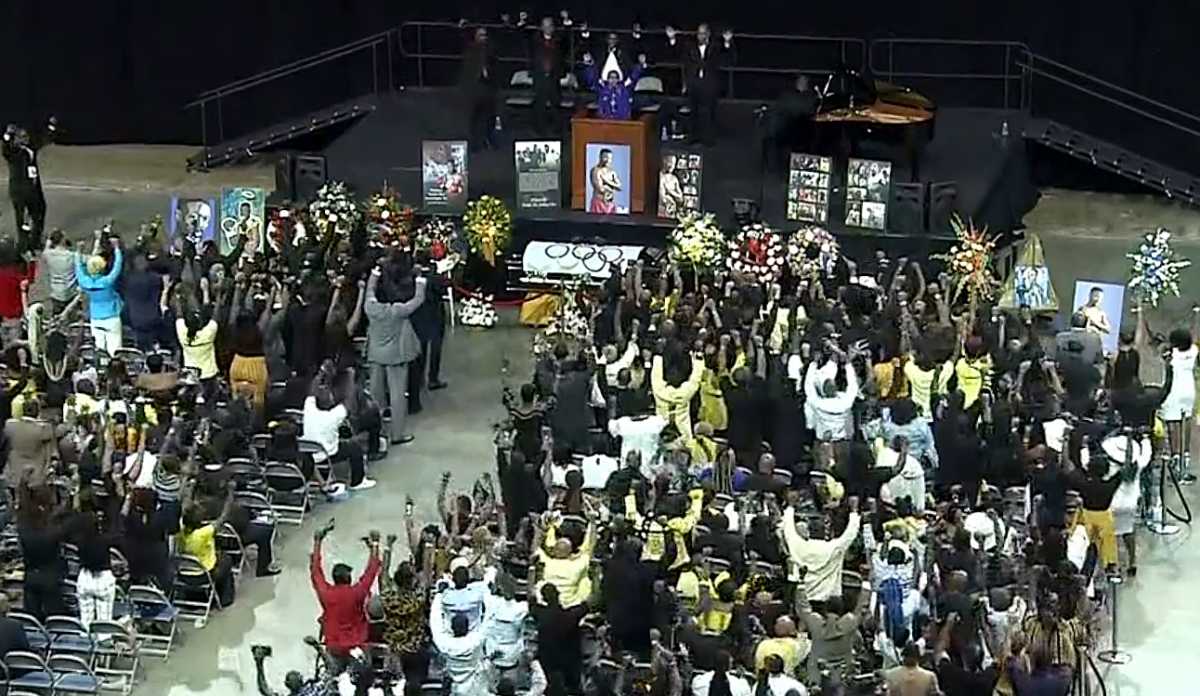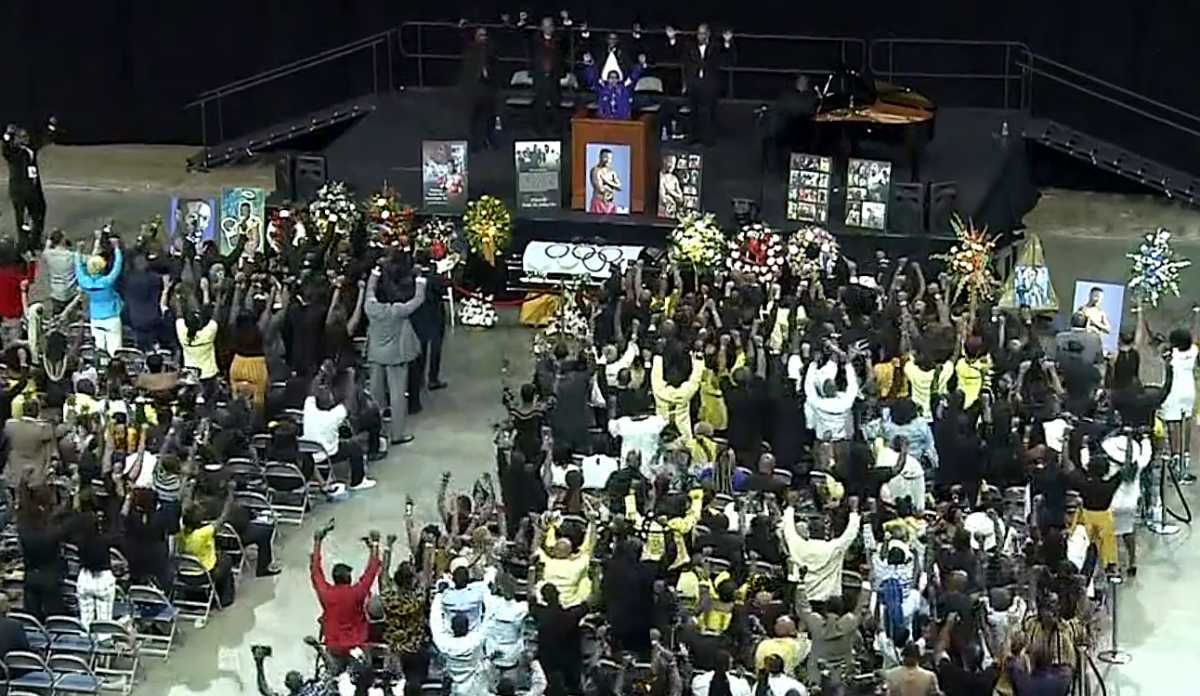 Good Night, Sweet Pea
Bishop James E. Jones Jr.'s booming baritone was rising up through the rafters at the Scope Arena in Norfolk, Virginia. He was preaching about hands—your neighbor's hands, the hand in yours now, the Father's hands into which Jesus commended his spirit from the cross. "Sweet Pea's HANDS," he shouted, "took him to places HIS EYES NEVER IMAGINED!"
Pernell "Sweet Pea" Whitaker, the greatest pure boxer since Willie Pep, lay in repose at the foot of the stage, his hands crossed at his belt. His coffin was black. An Olympic flag was draped over it and boxing gloves carefully arranged on top. The few thousand who attended his Saturday morning memorial service came to mourn and to celebrate a perfect fighter, an imperfect man, and a community that has long-since learned to look up no matter what.
Mark Breland was there. He came down from New York to honor the captain of an Olympic boxing team that won nine gold medals in 1984. Long gone is the fresh-faced amateur smiling under a laurel wreath, but Breland remains reed thin. He stood at the podium in a gray suit with a powder blue shirt and was too overwhelmed with grief to say much. "We knew him differently," he said.
Kathy Duva, now a promoter, then his publicist, was there too. "Pound-for-pound," she said. "That's how he signed his autographs." And that's exactly what he was: the pound-for-pound best boxer in the world from September 1993 through March 1996, despite performances that struck the unsophisticated as pusillanimous. "He simply chose not to engage in outright brutality," Duva said. "It was so much more fun to tease and toy with his opponents." Whitaker teased and toyed with everyone, including a young Floyd Mayweather Jr. who, she said, "could not lay a glove on him" even as he sparred with those hands of his behind his back in 1996. Whitaker brought laughter into the midst of danger because of his cosmic level of skill, and because it kept boredom at bay. Merely making world-class fighters miss wasn't enough; so he'd dart behind them and as they looked around to see where he went, he'd tap them on the rear end. When Roger Mayweather was known as "Black Mamba" and feared for his right hand, Whitaker—fighting here at the Norfolk Scope—yanked his trunks down in the middle of the sixth round.
"An imp with gold teeth," said one wit during his glory days, "floating around that blue canvas like a cloud," added Duva.
No one could outbox him. It isn't easy to settle firmly on a lightweight in history who could. But the product of Young Park, a housing project just east of the Scope, wasn't raised to shrink from violence. As a child, his father wouldn't tolerate tears when he was hurt by neighborhood bullies. He'd turn him around. "Go back," he'd say. "Give them everything you got." When he was eight, he and nine-year-old Mario Cuffee got into a street fight and Clyde Taylor, a mailman who moonlighted as the neighborhood's recreation director, hustled over and grabbed both by the scruff of the neck. "Do your fighting in the gym," he said, and with permission from the boys' parents, restaged the fight in the ring, with boxing gloves that looked like balloons. Whitaker lost that one, but found a mentor who began the process of transforming an undersized project kid into a giant of boxing and boxing history. Whitaker credited Cuffee almost as much. "Come to think of it," Cuffee told me Monday, "I beat him that first fight, though I gotta come clean, he got me back a few years later." When Whitaker fought Greg Haugen at the Coliseum in 1989, Cuffee bought a ticket and made his way across the Hampton Roads Beltway through a blizzard to see Haugen lose every round. At the post-fight press conference, Cuffee was standing in the back, "in cognito." Whitaker spotted him and told the story of their fateful childhood fight. "Thanks Mario," he said. Haugen, his face scuffed and swollen, looked up. "Yeah," he said. "Thanks Mario."
In Detroit, while still an amateur, he was invited to spar with Hector Camacho just as Floyd Mayweather was later invited to spar with him. Camacho couldn't land a glove on him either. "He got mad and started fighting dirty," Whitaker told the Newport News. "He grabbed me behind the head, pulled it down, and hit me with an uppercut. Then I grabbed him and threw him to the canvas and we started wrestling and fell out of the ring." Whitaker offered to take it outside. Camacho talked a lot but never went near him again.
In 1984, after the Duvas had convinced Whitaker to throw in with Main Events, they introduced him to trainer George Benton. Benton, who understood the science of belligerent invisibility like no one else, took what Taylor had begun and finished it. He taught him to stop running around the ring, to stand on a dime; to see the difference between wasting energy and ducking and slipping just enough to let punches graze your hair or flick your ear. Benton made sure he became, in his words, "harder to hit than the numbers," and a master at punching around, between, over, and under what's coming in. "When I talk he stands and listens like a private would a general," he said in 1986. "Sweet Pea's going to be one of the best fighters ever."
Seven years later, Whitaker swaggered into the ring against Julio Cesar Chavez, then 87-0 and rated by The Ring as the best pound-for-pound fighter in the world. Whitaker fought him on a dime—twisting, rolling, fast-stepping outside his lead foot, and punching around, between, over, and under whatever came in. He had a trick that kept working. He'd turn his right shoulder in to narrow himself and hide his left until the moment it clubbed Chavez on the side of the head. You could hear it land—"whump!"—and it landed all night. In the ninth round, he was outfighting Chavez on the inside—"whump, whump!"—which no one had ever done. Chavez was befuddled and —"whump!"—puffing up. And then, at the end, 59,000 witnessed one of boxing history's most egregious heists. Two of the three judges called the fight a draw. That's what we were told anyway. Josè Sulaimàn, WBC president, countryman of Chavez, and favorite stooge of Don King, was seen collecting the scorecards after every round that night.
It is a grandiose irony. Whitaker put an exclamation point on Benton's prediction in two fights he didn't win. The second one was nearly as bad as the first.
At 33, he faced a 24-year-old Oscar De La Hoya, then 23-0 and rated by The Ring as the second best pound-for-pound fighter behind Roy Jones Jr. Whitaker made him look like a golem and won that fight too despite an official loss that stinks to this day. "The world saw it," he said afterward, and smiled anyway, gold teeth gleaming. "The people saw it."
Bishop Jones saw it. He remembered him standing triumphantly on the ropes before the decision against him was announced. He remembered it well.
"What I loved most about Sweet Pea Whitaker," he told the mourners at the Norfolk Scope,
".…was when he KNEW he had won the fight he DIDN'T WAIT on the referee to hold up his hands. He didn't WAIT on the THE JUDGES to tell him whether or not he had won the fight, but if you look on the back of your programs, there's a SIGNATURE MOVE that the champ would always do when he knew he had WON THE FIGHT. Family! HE WOULD THROW UP BOTH HIS HANDS!"
With that, Jones stepped back from the podium and thrust both hands in the air. When the people saw that, they roared as one. But Jones was just getting started, the crescendo wasn't reached, not yet. He stopped them short. "EXODUS CHAPTER SEVENTEEN, VERSE ELEVEN! Whenever Moses held up…" and stepping back again, struck the same pose, "…HIS HANDS the people always had the victory…if the champ could hold up his hands in the middle of his fight, then SURELY you and I ought to HOLD UP OUR HANDS!"
Mario Cuffee jumped to his feet and thrust both hands in the air. Thousands, dressed in their best on the hottest day yet this year, rose as one and thrust both hands in the air. Whitaker's signature move, multiplied. It was a transcendent moment; the spirit of a man—a father, a brother, a friend, a neighbor—merging with the spirit of the city he loved.
Bishop Jones lowered his gaze to the black coffin at the center of it all. "SWEET PEA!" he thundered as if to wake him up, "That one is for you! You got the victory! CHAMP!"
I closed my eyes and somewhere, I know, Whitaker opened his.
"—YOU GOT THE VICTORY!"
___________________
Special thanks to Dr. James E. Jones Jr. senior pastor and founder of Greater Grace Church in Portsmouth, VA.
 Springs Toledo is the author of Smokestack Lightning: Harry Greb, 1919, now available in paperback.
Check out more boxing news on video at The Boxing Channel
To comment on this story in The Fight Forum CLICK HERE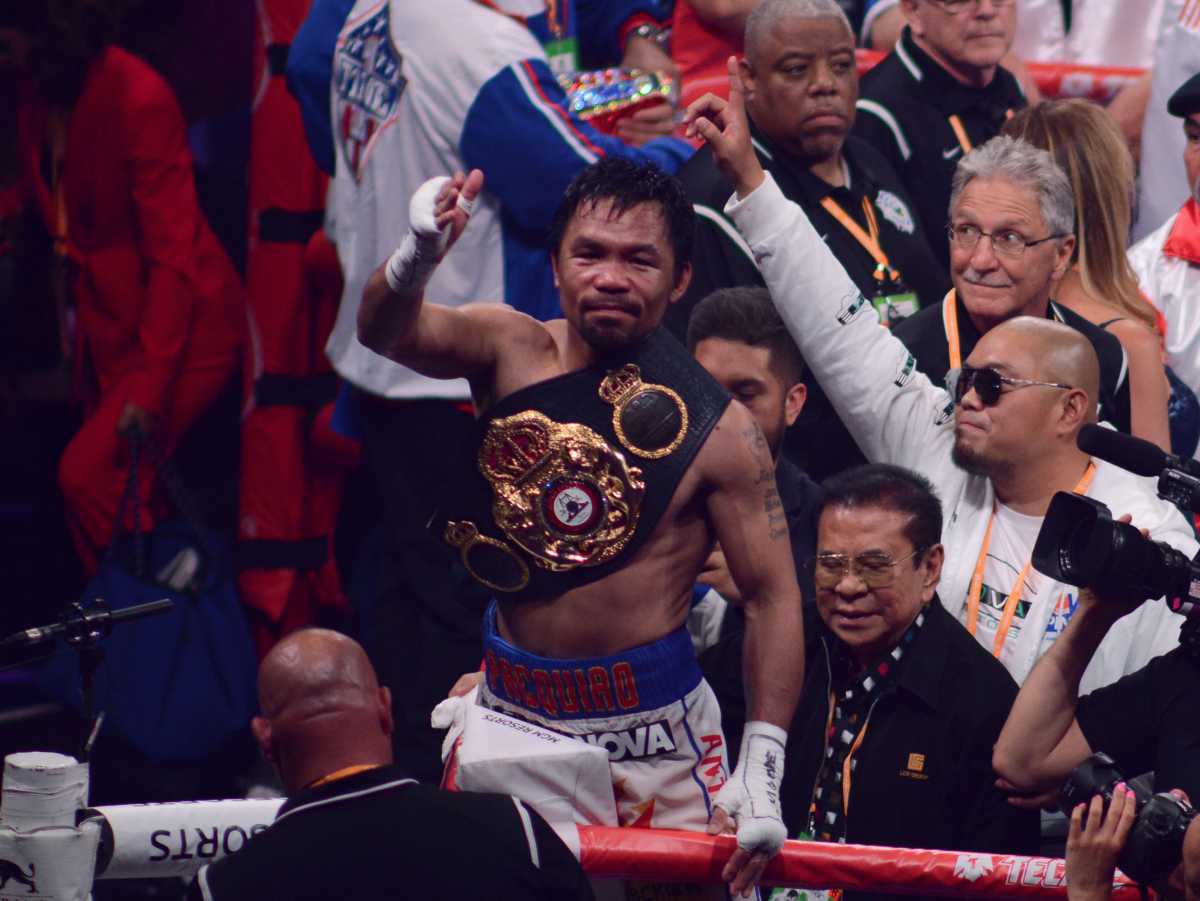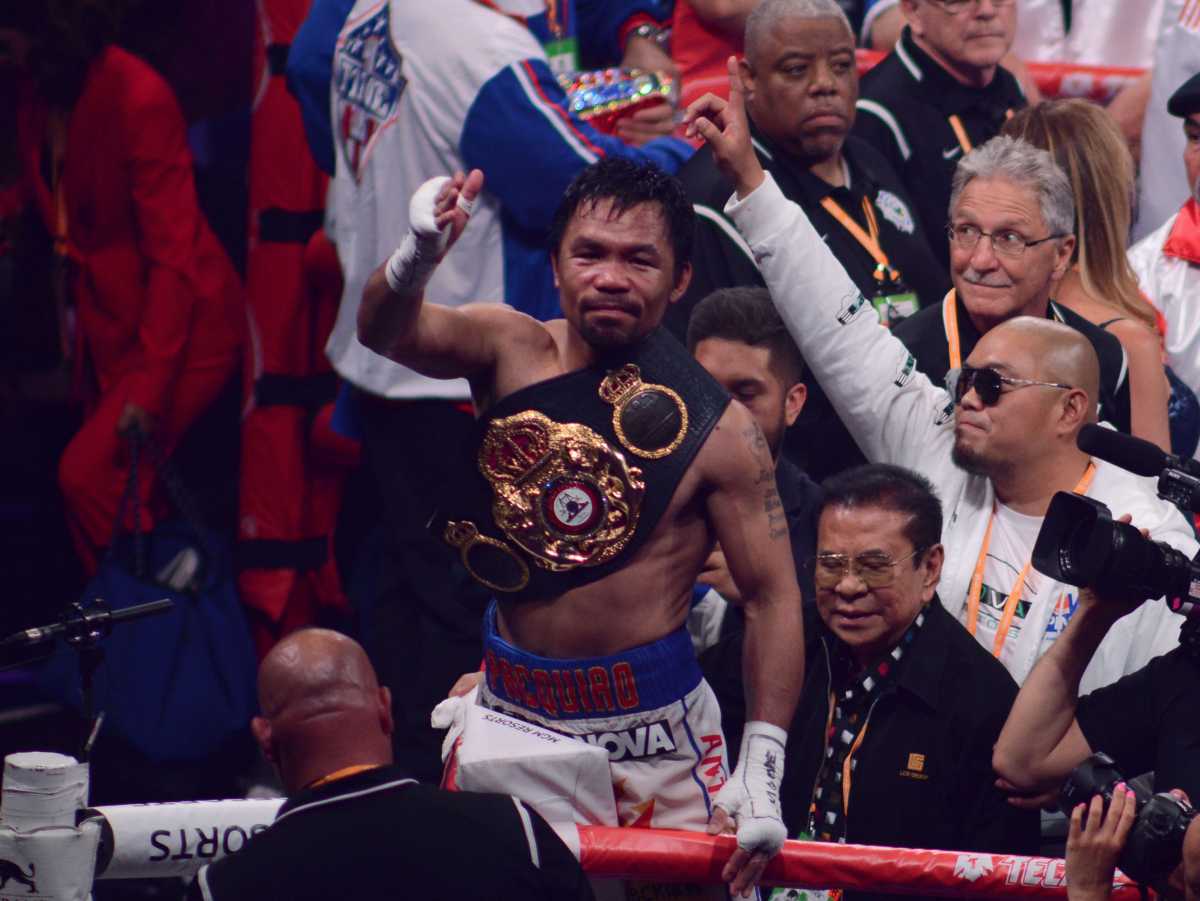 The crowd chants "Manny, Manny, Manny" at the weigh-in at the MGM Grand Garden Arena in Las Vegas and Pacquaio's beloved Pinoy fans are going wild. It's a BIG event, bigger even than many heavyweight title fights.
Max
Meanwhile, Maxim "Mad Max" Dadashev's wife Elizabeth is flying from her home in St. Petersburg, Russia, to be with her husband at a hospital in Maryland. Dadashev was critically injured on Friday night while suffering an upset loss to heavy-handed Puerto Rican bomber Subriel Matias at another MGM property, the MGM National Harbor in Oxon Hill, Maryland.
Dadashev, 28, was 281-20 as an amateur, undefeated in 13 professional fights, and the IBF's third-ranked junior welterweight, but Matias had his number and dominated throughout in a tough and grinding affair.
At the end of the 11th round, Buddy McGirt told his fighter, "I'm going to stop it, Max." Dadashev protested. Maybe Max's brain signaled no, maybe not. But his heart surely said "I'm not done."
McGirt overruled him, a sage move, but unbeknownst to anyone the damage had been done and it was severe.
"He had one hell of a fight," McGirt told the Washington Post. "Tough fight, tough fight; took a lot of tough body shots. I just think it was time to stop it. He was getting hit with too many shots. I said to him, 'I'm stopping it.' He said, 'No, don't.'"
The scores at the time of the stoppage were 109-100, 108-101 and 107-102 in favor of Matias. According to CompuBox, Matias out-landed Dadashev 319-157; 112 of Matias' punches were body shots.
Max was stretchered out of the arena and rushed to UM Prince George's Hospital where his skull was opened up to relieve the pressure caused by bleeding. The cavity reveals brain damage, and memories of Mago surface. The dreaded and familiar scenario then begins as he is put into an induced coma. Hopefully, the swelling goes down, the bleeding stops, and no blood clot appears as the later would make a terrible situation grave. In any event, Max will never box again. His well-publicized dream to win a world title will not be fulfilled.
In a post-fight interview, ESPN's ringside analyst Tim Bradley said, "That's a scary situation and every time you step foot in the ring you know that was always the talk that I would have with my wife. You know before I would step foot in the ring, I would sit her down, I would look at her and I would say, 'Look at me, honey. Take a good look at me, open your eyes wide open because I might not come out the ring, for one, and I know I'm not coming out of the ring the same way that I came in.'"
Manny
Back to the big fight the following evening:
The crowd chants "Manny, Manny, Manny" as he enters the ring to battle Keith Thurman for still another championship as his worshipers are now virtually in a state of mass hysteria and begin singing and cheering loudly. The scene borders on the surreal.
Across the Pond
Earlier on Saturday, across the pond in London, heavyweight David Allen took a bad beating from 6'9" David Price and required oxygen. He also was stretchered out and sent to a hospital, adding to the angst. But he will be okay. According to his promoter, Eddie Hearn, Allen had a broken orbital bone and a damaged tongue, but brain scans suggested he was okay.
David Allen — "Very happy and proud of David Price. I will be okay, but the last 12 months or so my health has been deteriorating and I'm glad I hung on, took the chance, and made money. [I'm] now probably done."
"Manny, Manny, Manny"
In Las Vegas, Manny has decked Thurman in the first round and the place is delirious. The crowd senses that this is his night although Thurman is not backing up. In the tenth, Pac almost puts "One Time" away after landing a devastating body punch.
Finally, the fight is over and Manny is declared the winner. The decibel count goes off the chart as the Pinoys sing "We Are The Champions." Viewers hit the mute button. These are not fans as much as they are cultists. One wonders if those who are chanting even know that this has been a week where boxing exposed its grim side.
Photo credit: Al Applerose
Ted Sares is a member of Ring 8, a lifetime member of Ring 10, and a member of Ring 4 and its Boxing Hall of Fame. He also is an Auxiliary Member of the Boxing Writers Association of America (BWAA). He is an active power lifter and Strongman competitor in the Master Class.
Check out more boxing news on video at The Boxing Channel
To comment on this story in The Fight Forum CLICK HERE