The Ali-Shavers Fight and the Ever-Present Open Scoring Debate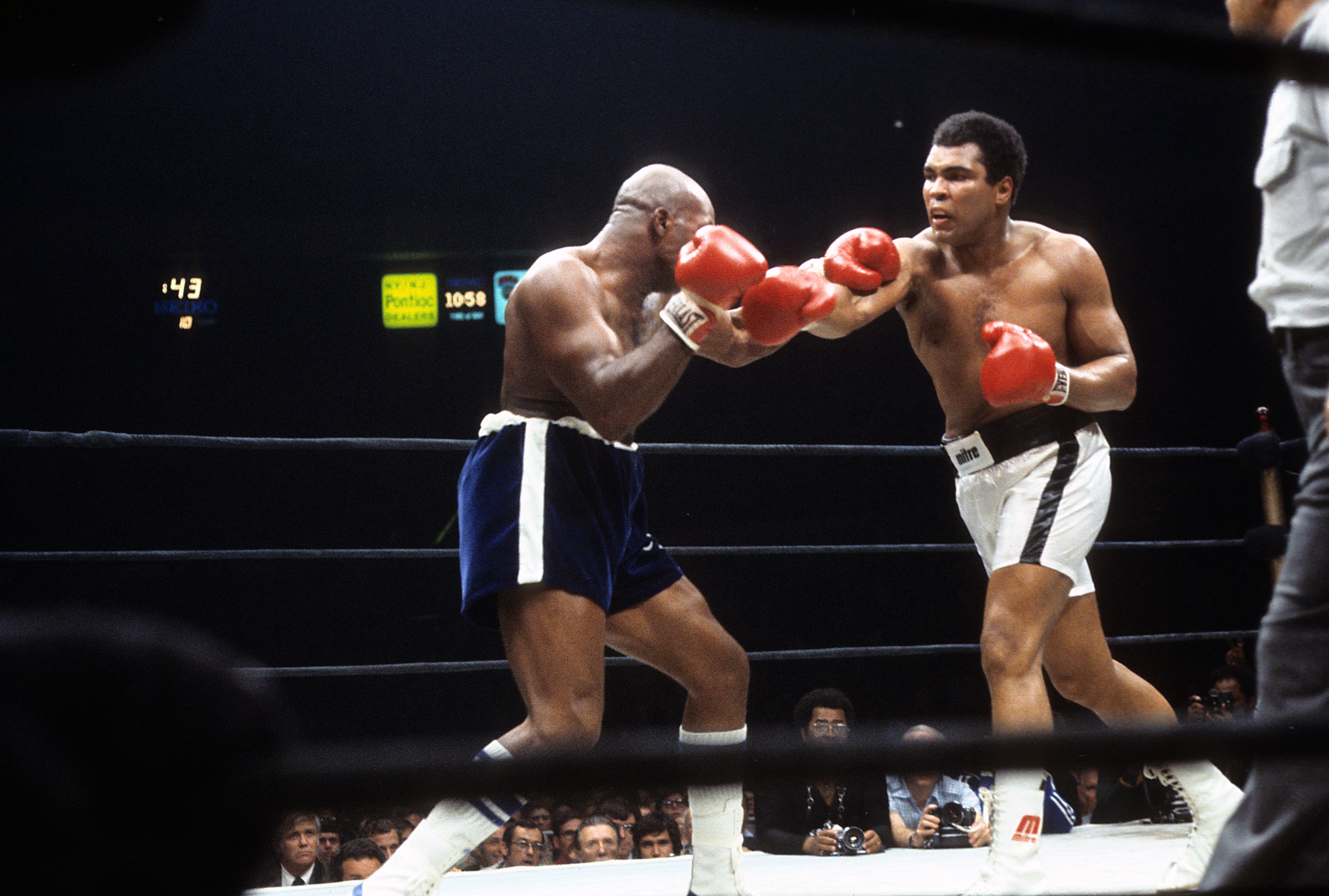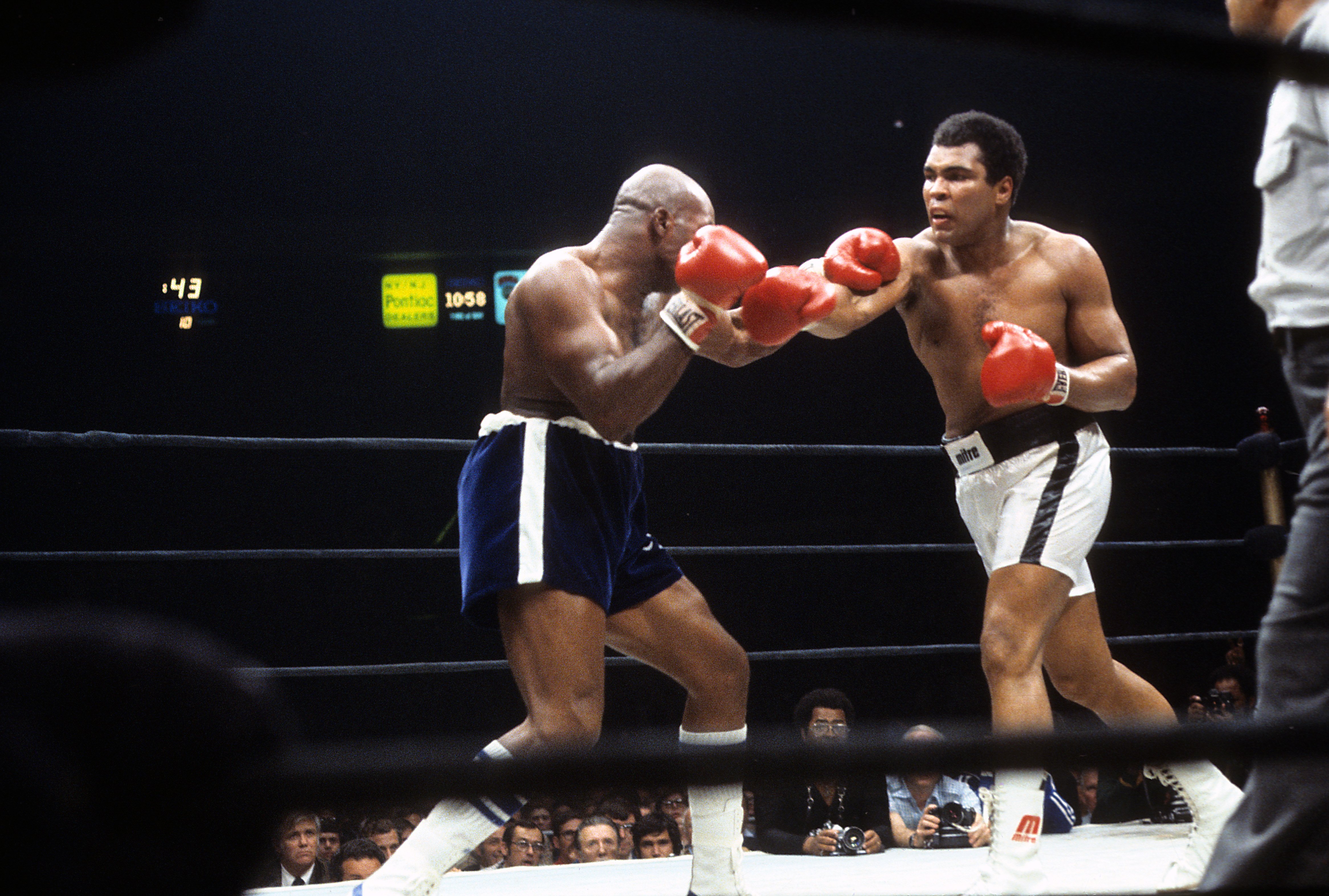 Saturday, Sept. 29, marks the 41st anniversary of Muhammad Ali's last successful title defense. The 35-year-old Ali defended his WBA and WBC belts against Earnie Shavers, a devastating puncher, but otherwise limited, in Madison Square Garden. Those tuning in to the Thursday night fight on NBC, an estimated 70 million, were able to track the round-by-round scoring. And therein lies an interesting tale.
A bit of background. Technically, the first instance of open scoring, at least as it pertained to television, was to have been implemented by Ted Nathanson, producer for NBC Sports, which televised the May 11, 1977, heavyweight bout pitting Ken Norton against Duane Bobick in Madison Square Garden. Although on-site spectators would not have been privy to round-by-round scoring, the TV audience would have had such access. The grand experiment proved dead on arrival, however, when Norton needed only 58 seconds of the first round to blast out Bobick.
Nathanson was nothing if not determined, however, and he successfully lobbied for the same format to be used for the Ali-Shavers fight. As was the case for Norton-Bobick, spectators in the arena would not have the same access to the round-by-round scoring as would NBC viewers. The New York State Athletic Commission, then headed by former heavyweight champion Floyd Patterson, signed off on the arrangement with NBC with some hesitation.
John F.X. Condon, vice president of Garden Boxing, said he originally had planned to show the round-by-round scoring on the huge overhead screen to the 14,613 on-site spectators, but he decided against it. "We didn't think it was wise," Condon concluded. "Personally, I think it also detracts from the pleasure of watching at home. Fight fans like to get involved. They like the uncertainty of waiting for the final decision."
Even more adamant in his opposition to open scoring, in any form, was legendary Garden matchmaker Teddy Brenner, who said he would do everything in his power to ensure that the NBC experiment would be a one-and-done, at least if he had anything to say about it. "I am against it," Brenner stressed. "We at the Garden plan to do something about it."
Unlike Norton-Bobick, Ali-Shavers would go the 15-round distance, with scoring on a round basis instead of the 10-point-must system now in place. Ali won by 9-5-1 on the card submitted by referee Johnny LoBianco and by 9-6 on the cards turned in by judges Tony Castellano and Eva Shain, the latter of who made history as the first woman ever to work a big-time fight. It was Ali's 19th victorious title defense.
Garden officials were embarrassed, however, when a question of fairness was raised. The NBC telecast was shown in Ali's dressing room, and a runner was assigned to keep Ali trainer Angelo Dundee informed of the judges' evolving scores. The Shavers dressing room did not have similar access, which led his manager, Frank Luca, to complain of preferential treatment being granted to Ali. He said the NYSAC even attempted to obligate the fighters to use 10-ounce gloves instead of eight-ouncers, a change which was not approved but would have been detrimental to the harder-hitting challenger.
When informed of a playing field seemingly tilted to favor Ali, Patterson said the NYSAC never again would consent to open scoring at any venue in the state, be it for on-site spectators or just TV. "That will be stopped," Patterson said. "I understand Angelo Dundee had someone running back to get him information and the other corner didn't. That's not fair. It could influence a fight, affect gambling in the arena with cheaters. It was not a success and it will never happen again."
Shavers, who went into the Ali fight with a 54-5-1 record that included 52 wins inside the distance, said he might have fought differently – yeah, right – had he been apprised of the round-by-round scoring. "My corner told me I was ahead," he lamented. "I didn't go for the knockout. I would have put more pressure on him, taken more chances."
Promoter Don King pushed for open scoring on May 5, 1994, at a Las Vegas press conference to hype the pay-per-view card two nights later at the MGM Grand headlined by WBC super lightweight champion Frankie Randall's rematch with Julio Cesar Chavez, whom he had controversially outpointed nearly four months earlier.
"Progress can't be stopped," King said with his trademark bluster and hyperventilation. "It's time for a change. Bring boxing out of the dark and into the light. People who go to football and basketball games know what the score is at all times. Why should boxing be the only sport where judges pass little scraps of paper back and forth and nobody else knows who's winning until the end?"
King said he had been "excoriated and vilified" for having promoted two bouts during the previous eight months that ended in questionable decisions, and that open scoring could eliminate or reduce the problem.
"If anything controversial happens, people will be calling for (WBC president) Jose Sulaiman and me to be ridden out of town on a rail," King continued. "One little controversy and these four great (rematches, the others being Simon Brown vs. Terry Norris, Gerald McClellan vs. Julian Jackson and Azumah Nelson vs. Jesse James Leija) suddenly become secondary. I don't want that to happen."
His Hairness indisputably was on target in noting that the two referenced bouts, in which Pernell Whitaker retained his WBC welterweight title on a majority draw against Chavez on Sept. 10, 1993, and Randall nipped Chavez on a split decision in large part because JCC had been docked two penalty points by referee Richard Steele, were controversial. Most ringside observers had Whitaker winning eight to 10 of the 12 rounds in San Antonio, Texas, and were it not for the two penalty points Chavez would have won a split decision instead of losing by the same margin.
Although King advocated for open scoring to be instituted immediately, he had to know that the wheels of change do not move that swiftly in Nevada or any other jurisdiction. But Marc Ratner, the executive director of the Nevada State Athletic Commission, while expressing his own doubts as to the usefulness of open scoring, said such a proposal at least merited further scrutiny.
"For this particular card, there will be no open scoring," Ratner said. "But we're not ostriches. We don't have our heads in the sand. This is an issue that should be studied."
Studied and almost certainly likely to be rejected, as it later was by the NSAC, for reasons that to Ratner were even more glaringly obvious than those offered by King for the other course of action.
"What if two fighters accidentally butt heads in the fourth round and one of them suffers a cut?" hypothesized Ratner. "If the bleeding fighter is ahead on the scorecards, his corner might be tempted not to close the cut, thereby prompting the bout's premature conclusion and a decision victory."
An even more compelling reason to forever squash the notion of full-blown open scoring holds that a fighter, if he knows he is sufficiently ahead entering the late rounds to be uncatchable on the scorecards, would get on his bicycle and pedal around the ring to eliminate or at least reduce the risk of being knocked out. Such a safety-first approach would drain whatever measure of hope still existed for the losing fighter banking on a puncher's-chance turnaround.
We haven't heard the last of the open scoring debate. The subject came up again in the aftermath of the Golovkin-Alvarez rematch, a tightly contested bout which Alvarez won by majority decision, much to the displeasure of Golovkin and his supporters. But for now, fight fans must continue to live with the occasional scorecard that defies credulity. And while too much controversy is never a good thing, some of it helps sell the sport and keeps interest high up to and even beyond the final bell. The alternative is the elimination of uncertainty, and with it the magic that sometimes is produced when two fighters believe success hinges on giving maximum effort to the very last punch.
Bernard Fernandez is the retired boxing writer for the Philadelphia Daily News. He is a five-term former president of the Boxing Writers Association of America, an inductee into the Pennsylvania, New Jersey and Atlantic City Boxing Halls of Fame and the recipient of the Nat Fleischer Award for Excellence in Boxing Journalism and the Barney Nagler Award for Long and Meritorious Service to Boxing.
Check out more boxing news on video at The Boxing Channel
Pico Rivera Summer Fights See Cruz, Vega and Flores Win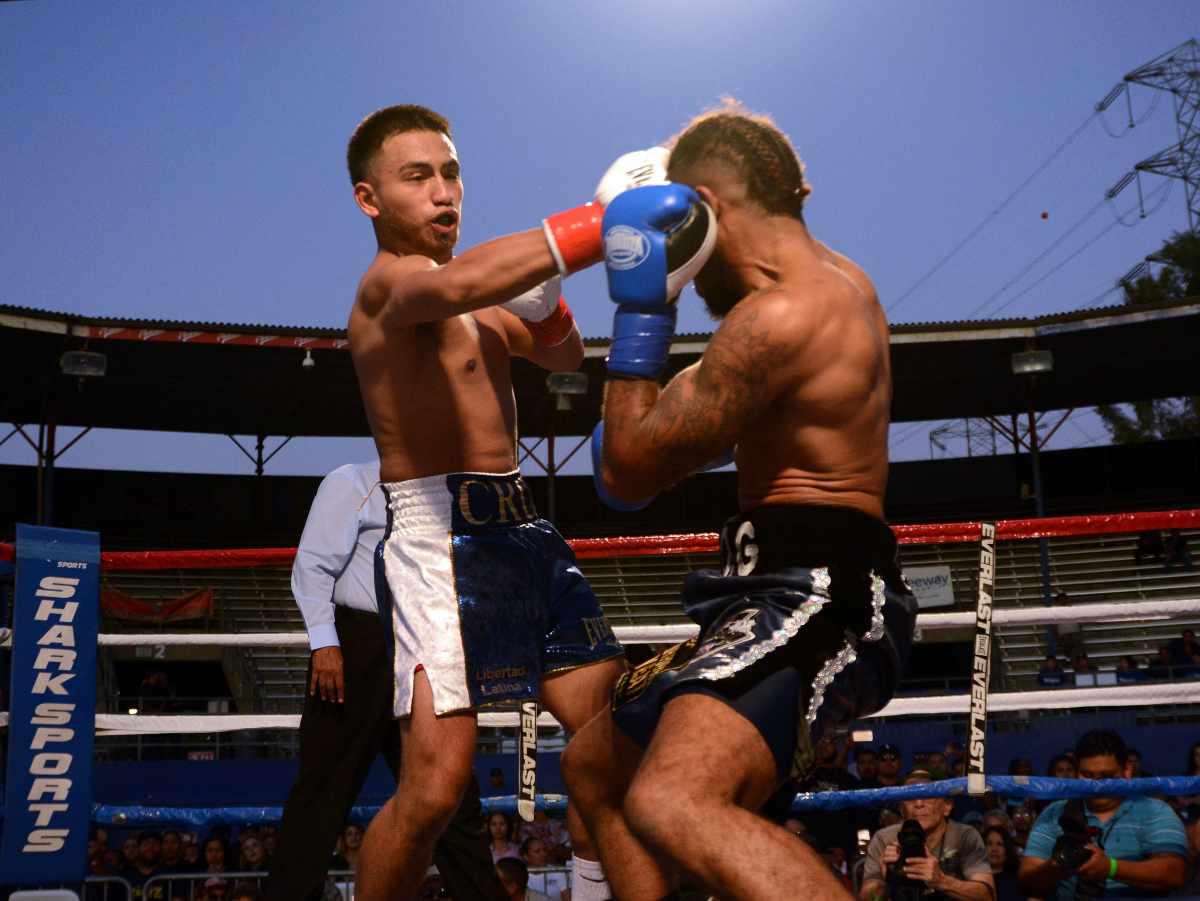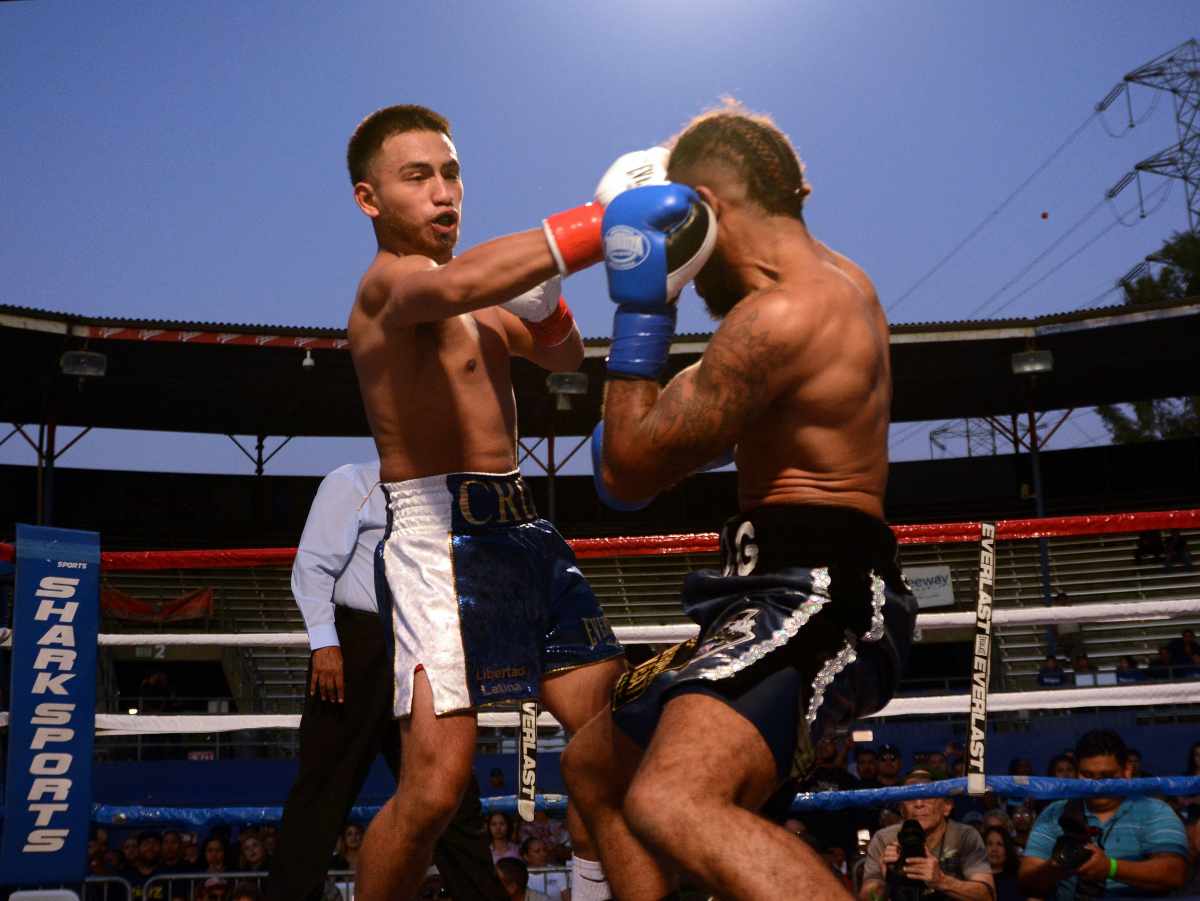 PICO RIVERA, Ca.-Along the San Gabriel River on a soft summer evening, Red Boxing Promotions brought another slew of hot local prospects to the forefront on Saturday.
Chino's Daniel "Cuetito" Cruz (3-0) burst into the fight like an energy bomb and simply overwhelmed southpaw Phillip Bounds (0-4) with lightning combinations to win by unanimous decision. More than 700 fans saw the Red Boxing fight card.
Though it was only his third pro fight, the high intensity prizefighter Cruz (pictured on the left) exhibited a level of confidence that allowed him to attack with impunity for the first two rounds.
Cruz switched to southpaw and had even more success against the lefty Bounds. The speed of Cruz proved too much to overcome for Bounds who tried different approaches but couldn't find an antidote for Cruz who won by unanimous decision 40-36 on all three cards in the super lightweight match.
"I'm excited, I wanted to put on a good show," said Cruz, 20. "I'm coming for all of the big names. Cuetito is here."
Andre Marquez (2-1) overwhelmed the much taller Alvin Brown (0-8) from Louisiana with a whirlwind style that ended in a knockout in the fourth and final round of their super featherweight match. A left hook caught Brown flush and Marquez followed up with four more blows, forcing Brown to take a knee at 1:41 of the fourth round. Marquez was ruled the winner by knockout by referee Sharon Sands.
"My plan was to work his body," said Marquez. "It worked out perfectly."
Welterweights Bradley Pena (0-0-1) and Ed Nunez (0-0-1) blasted each other for four rounds, with Pena starting fast and Nunez ending strong. No knockdowns were scored in the fight that started the night and ended in a draw.
Main Bouts
A light flyweight clash saw Axel Vega (13-2-1, 8 KOs) of Ensenada, Mexico knock out Tijuana's Giovanni Noriega (2-5-2) with a triple left hook in the second round. Vega, 19, trained out of Compton for this fight.
Welterweight prospect Steven Rodriguez (8-0) suffered a cut on his forehead due to a clash of heads but still managed to out-perform Las Vegas fighter Ryan Picou (3-12-1) after four rounds. All three judges scored the fight 40-36 in favor of Rodriguez. But Picou gave a stubborn defense against the constant rushes of Rodriguez and was able to score on occasion.
Santa Barbara's Angel Flores (6-0, 4 KOs) defeated Mexico's Roberto Almazan (9-12) by unanimous decision after six rounds in a super lightweight contest. Flores knocked down Almazan twice in the last round to clinch the win and get the victory by a landslide.
In the audience was former world champion Arturo Frias of East Los Angeles who won the WBA world lightweight title in 1982 and fought numerous times at LA's  fabled Olympic Auditorium. Also in attendance was current super flyweight contender Adelaida "La Cobra" Ruiz of Los Angeles who is scheduled to fight on October 12 at the same Pico Rivera Sports Arena. Red Boxing Promotions will be staging the event.
Photo credit: Al Applerose
Check out more boxing news on video at The Boxing Channel  
To comment on this story in The Fight Forum CLICK HERE
Fast Results from Russia: Kovalev KOs Yarde in the 11th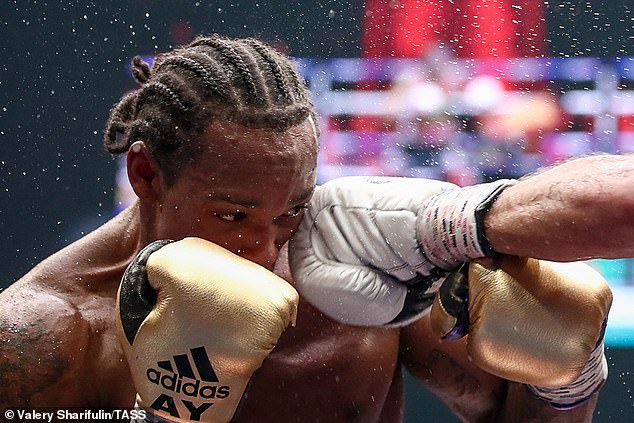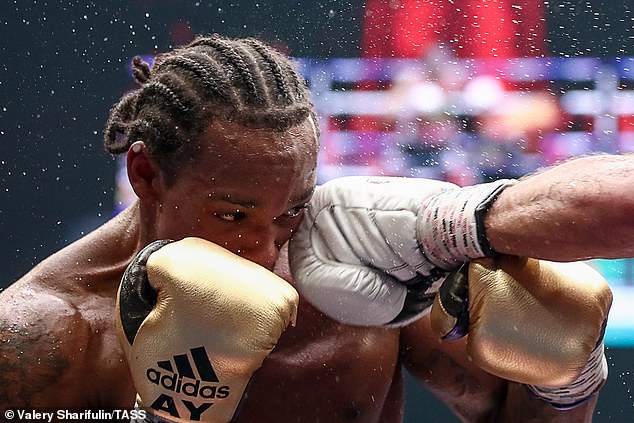 The consensus of opinion regarding tonight's fight at Chelyabinsk between Sergey Kovalev and Anthony Yarde was that….well, there was no consensus, save that it would not bode well for Yarde if both fighters were still standing at the final bell. Fighting in his hometown, and with a monster payday reportedly looming against Canelo Alvarez should he win, "Krusher" was unlikely to get the worst of it if the fight went to the scorecards. But there would be no controversial decision. In a fight that started slowly and then shifted Yarde's way, Kovalev stemmed the momentum, took charge in the 10th, and then closed the show in the next round with a scorching left hand that left Yarde flat on his back, gasping for air.
In handicapping the fight, Kovalev certainly had more check marks in the plus column. A former three belt champion and the reigning WBO 175-pound title-holder, Kovalev would be appearing in his 16th world title fight, his second with Hall of Fame trainer Buddy McGirt, with whom he had great rapport. By contrast, Yarde, although undefeated (18-0), had answered the bell for only 51 rounds and had defeated only nine fighters with winning records. Moreover, the Englishman had fought only 12 amateur fights before turning pro.
However, at age 36, Kovalev was getting long in the tooth and in some of his more recent fights he had stamina issues. Moreover, there was a school of thought that Yarde was a beast. In his 30 fights, amateur and pro, he had scored 28 knockouts.
Yarde's first good round was the seventh and he followed that up with a very strong eighth in which he hurt Kovalev and had the Krusher looking tired. But the assumption that he had paced himself brilliantly proved to be a mirage. As the bout moved into the home stretch, it was the younger man that was more fatigued.
Kovalev backed Yarde against the ropes and hurt him in the 10th. The Russian repeatedly had success with his hard left jab (shades of Larry Holmes) and it was a jab that ended it. Yarde was too exhausted to make it to his feet and was counted out.
Kovalev reportedly has already agreed to meet Canelo in November or December. Tonight he may have added an extra zero to his purse.
Kovalev vs. Canelo, likely at the T-Mobile Arena in Las Vegas, will be a blockbuster. Let the hype begin.
Co-Feature
The co-feature between knockout artists Aleksei Papin and Ilunga Makabu wasn't expected to last the distance, but it went the full 12 and was a highly entertaining affair climaxed by a great 12th round. When the smoke cleared, Ilunga, who went to post a slight favorite, improved to 26-2 (24) by dint of winning a majority decision. It was the second straight win on Russian soil for the Congolese southpaw who fights out of Johannesburg. In his previous go, he stopped Dmitry Kudryashov in the fifth round at Ekaterinburg.
Papin was 11-0 going in with 10 knockouts but the 31-year-old Russian, a former kickboxing champion, was moving up in class against Makabu, a former world title challenger. In the 12th, Makabu scored a knockdown with a straight left after buzzing Papin with a left-right combination, but Papin wasn't badly hurt and came back to rock him in the final seconds. The knockdown seemingly spelled the difference as two judges had it 115-113 with the third scoring it even (113-113).
Check out more boxing news on video at The Boxing Channel  
To comment on this story in The Fight Forum CLICK HERE
Tanaka and Hatanaka Stay Undefeated in Nagoya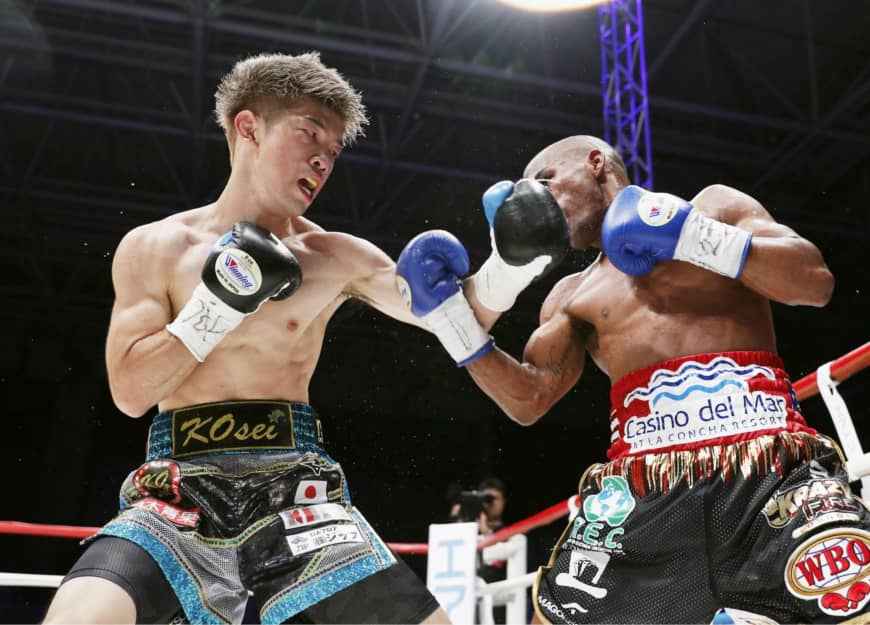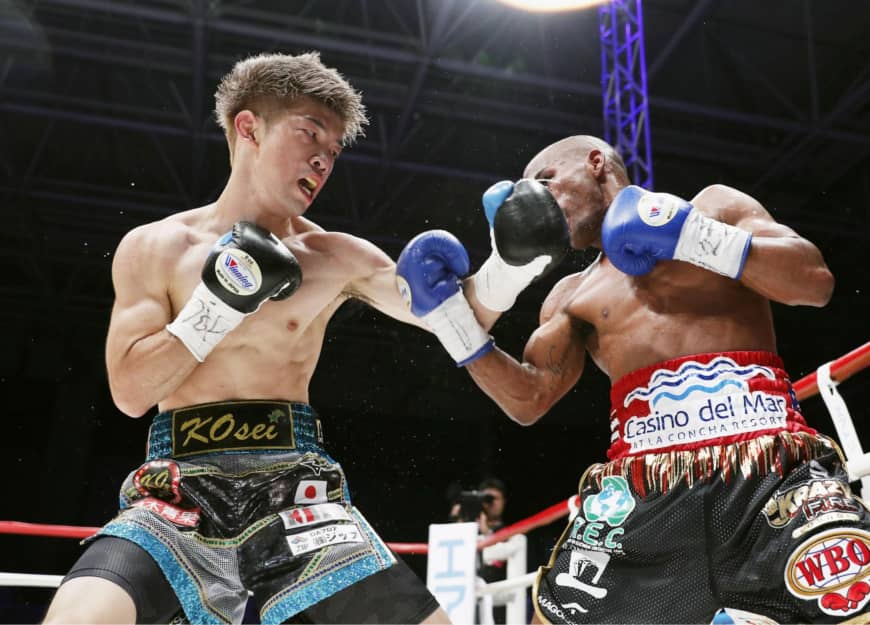 Kiyoshi Hatanaka, the former world super bantamweight champion, now runs a boxing gym and promotes fights in his hometown of Nagoya. The top fighters in his gym are 24-year-old Kosei Tanaka, who has already won world titles in three weight classes, and Kento Hatanaka, Kyoshi's 21-year-old son. Both were in action today and both were victorious, but not without anxious moments.
Tanaka, the reigning WBO 112-pound champion, improved to 14-0 (8 KOs) with a seventh-round TKO of Jonathan Gonzalez (22-3-1) in an action-packed bout. There were five knockdowns in all, four by Tanaka, before the referee waved it off with merely a second remaining in the seventh stanza.
Gonzalez took a knee after being hurt by a body punch in round three. But he returned the favor, knocking Tanaka down with a counterpunch in the next stanza, and seemingly had the fight in hand when he dominated the fifth. But Tanaka regained the momentum and scored three knockdowns in Round 7 to close the show.
Kosei Tanaka is overshadowed as a sports personality by countryman Naoya "Monster" Inoue, but is carving out quite a legacy. At age 19, in only his fifth pro fight, he defeated WBO minimumweight (105 pound) champion Julian Yadras of Mexico. He then gathered in titles at 108 and 112, accomplishing the hat trick in only his 12th pro fight, tying Vasiliy Lomachenko's record.
With only a few pounds separating each of the lowest weight classes, Tanaka likely isn't done jumping up in weight. There's already talk of a showdown with 115-pound title-holder Kazuto Ioka. But Tanaka has indicated that he wants to expand his opportunities overseas, following the example of Inoue. There are still holes in his defense, but that makes for exciting fights and a match between him and someone like "Chocolatito" Gonzalez would be worth the price of admission.
Jonathan Gonzalez, a southpaw with a good amateur pedigree, had fought his previous three fights in Kissimmee, Florida. When in his native Puerto Rico, he trains in the same gym as former super bantamweight and featherweight champion Juan Manuel Lopez. We certainly haven't seen the last of him.
The 10-round co-feature between super flyweights Kento Hatanaka and Jaysever Abcede was also a crowd pleaser that saw both combatants score knockdowns. Hatanaka improved to 10-0 but was extended the distance for the first time in his pro career. Abcede, a noted spoiler from the Philippines, saw his winning streak end at four and fell to 19-9. The scores were 95-93, 96-93, and 96-92.
Check out more boxing news on video at The Boxing Channel  
To comment on this story in The Fight Forum CLICK HERE