The Ali-Shavers Fight and the Ever-Present Open Scoring Debate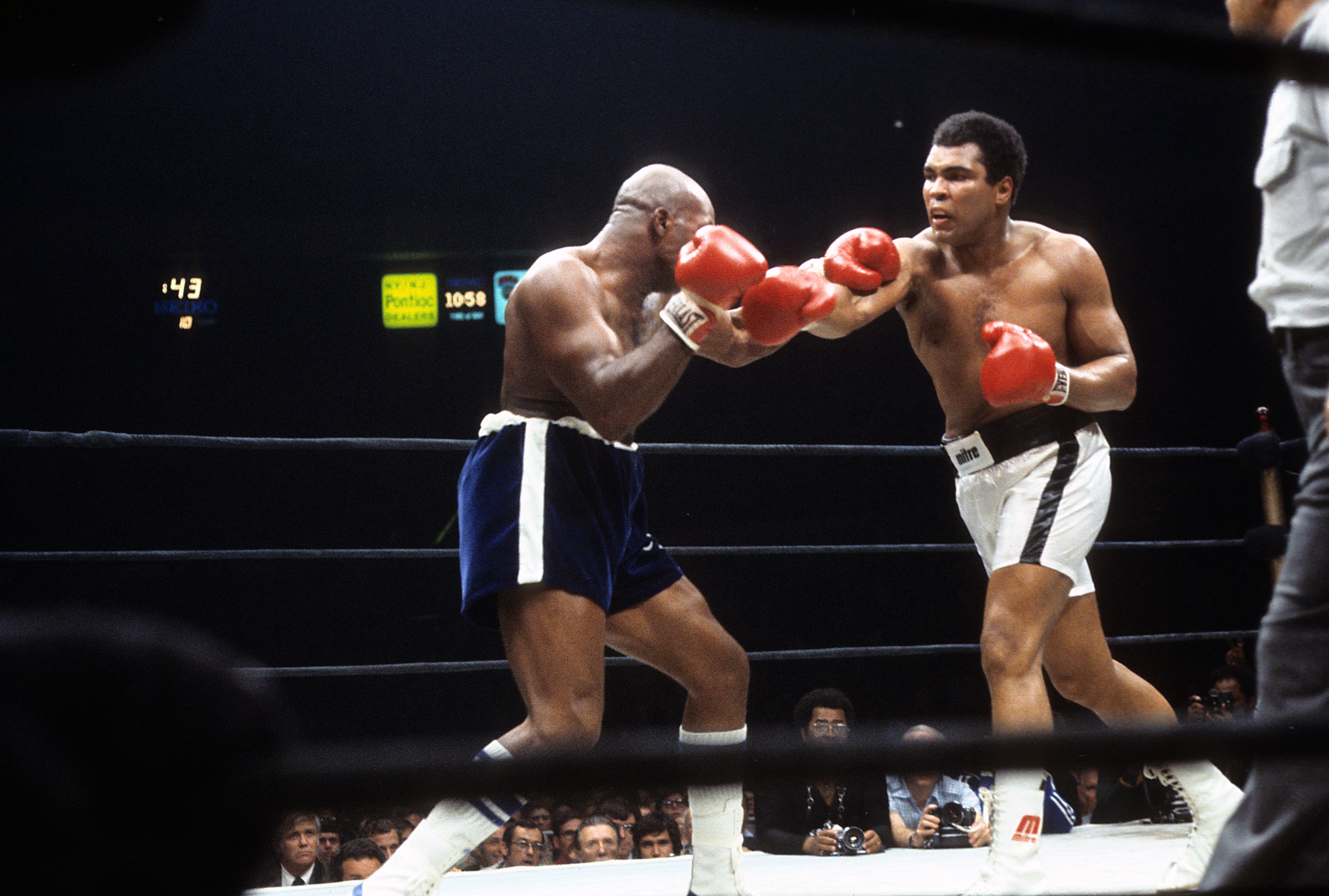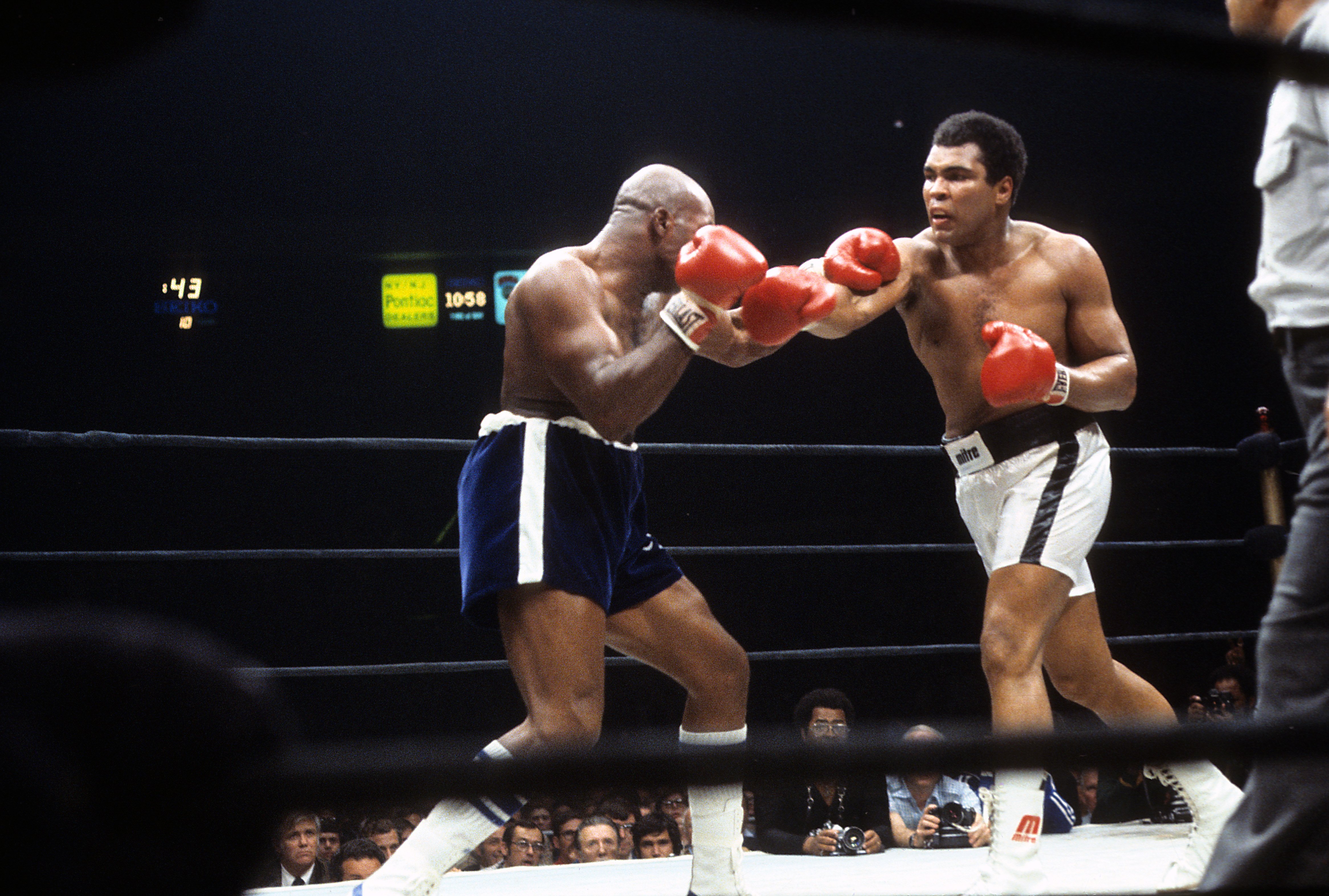 Saturday, Sept. 29, marks the 41st anniversary of Muhammad Ali's last successful title defense. The 35-year-old Ali defended his WBA and WBC belts against Earnie Shavers, a devastating puncher, but otherwise limited, in Madison Square Garden. Those tuning in to the Thursday night fight on NBC, an estimated 70 million, were able to track the round-by-round scoring. And therein lies an interesting tale.
A bit of background. Technically, the first instance of open scoring, at least as it pertained to television, was to have been implemented by Ted Nathanson, producer for NBC Sports, which televised the May 11, 1977, heavyweight bout pitting Ken Norton against Duane Bobick in Madison Square Garden. Although on-site spectators would not have been privy to round-by-round scoring, the TV audience would have had such access. The grand experiment proved dead on arrival, however, when Norton needed only 58 seconds of the first round to blast out Bobick.
Nathanson was nothing if not determined, however, and he successfully lobbied for the same format to be used for the Ali-Shavers fight. As was the case for Norton-Bobick, spectators in the arena would not have the same access to the round-by-round scoring as would NBC viewers. The New York State Athletic Commission, then headed by former heavyweight champion Floyd Patterson, signed off on the arrangement with NBC with some hesitation.
John F.X. Condon, vice president of Garden Boxing, said he originally had planned to show the round-by-round scoring on the huge overhead screen to the 14,613 on-site spectators, but he decided against it. "We didn't think it was wise," Condon concluded. "Personally, I think it also detracts from the pleasure of watching at home. Fight fans like to get involved. They like the uncertainty of waiting for the final decision."
Even more adamant in his opposition to open scoring, in any form, was legendary Garden matchmaker Teddy Brenner, who said he would do everything in his power to ensure that the NBC experiment would be a one-and-done, at least if he had anything to say about it. "I am against it," Brenner stressed. "We at the Garden plan to do something about it."
Unlike Norton-Bobick, Ali-Shavers would go the 15-round distance, with scoring on a round basis instead of the 10-point-must system now in place. Ali won by 9-5-1 on the card submitted by referee Johnny LoBianco and by 9-6 on the cards turned in by judges Tony Castellano and Eva Shain, the latter of who made history as the first woman ever to work a big-time fight. It was Ali's 19th victorious title defense.
Garden officials were embarrassed, however, when a question of fairness was raised. The NBC telecast was shown in Ali's dressing room, and a runner was assigned to keep Ali trainer Angelo Dundee informed of the judges' evolving scores. The Shavers dressing room did not have similar access, which led his manager, Frank Luca, to complain of preferential treatment being granted to Ali. He said the NYSAC even attempted to obligate the fighters to use 10-ounce gloves instead of eight-ouncers, a change which was not approved but would have been detrimental to the harder-hitting challenger.
When informed of a playing field seemingly tilted to favor Ali, Patterson said the NYSAC never again would consent to open scoring at any venue in the state, be it for on-site spectators or just TV. "That will be stopped," Patterson said. "I understand Angelo Dundee had someone running back to get him information and the other corner didn't. That's not fair. It could influence a fight, affect gambling in the arena with cheaters. It was not a success and it will never happen again."
Shavers, who went into the Ali fight with a 54-5-1 record that included 52 wins inside the distance, said he might have fought differently – yeah, right – had he been apprised of the round-by-round scoring. "My corner told me I was ahead," he lamented. "I didn't go for the knockout. I would have put more pressure on him, taken more chances."
Promoter Don King pushed for open scoring on May 5, 1994, at a Las Vegas press conference to hype the pay-per-view card two nights later at the MGM Grand headlined by WBC super lightweight champion Frankie Randall's rematch with Julio Cesar Chavez, whom he had controversially outpointed nearly four months earlier.
"Progress can't be stopped," King said with his trademark bluster and hyperventilation. "It's time for a change. Bring boxing out of the dark and into the light. People who go to football and basketball games know what the score is at all times. Why should boxing be the only sport where judges pass little scraps of paper back and forth and nobody else knows who's winning until the end?"
King said he had been "excoriated and vilified" for having promoted two bouts during the previous eight months that ended in questionable decisions, and that open scoring could eliminate or reduce the problem.
"If anything controversial happens, people will be calling for (WBC president) Jose Sulaiman and me to be ridden out of town on a rail," King continued. "One little controversy and these four great (rematches, the others being Simon Brown vs. Terry Norris, Gerald McClellan vs. Julian Jackson and Azumah Nelson vs. Jesse James Leija) suddenly become secondary. I don't want that to happen."
His Hairness indisputably was on target in noting that the two referenced bouts, in which Pernell Whitaker retained his WBC welterweight title on a majority draw against Chavez on Sept. 10, 1993, and Randall nipped Chavez on a split decision in large part because JCC had been docked two penalty points by referee Richard Steele, were controversial. Most ringside observers had Whitaker winning eight to 10 of the 12 rounds in San Antonio, Texas, and were it not for the two penalty points Chavez would have won a split decision instead of losing by the same margin.
Although King advocated for open scoring to be instituted immediately, he had to know that the wheels of change do not move that swiftly in Nevada or any other jurisdiction. But Marc Ratner, the executive director of the Nevada State Athletic Commission, while expressing his own doubts as to the usefulness of open scoring, said such a proposal at least merited further scrutiny.
"For this particular card, there will be no open scoring," Ratner said. "But we're not ostriches. We don't have our heads in the sand. This is an issue that should be studied."
Studied and almost certainly likely to be rejected, as it later was by the NSAC, for reasons that to Ratner were even more glaringly obvious than those offered by King for the other course of action.
"What if two fighters accidentally butt heads in the fourth round and one of them suffers a cut?" hypothesized Ratner. "If the bleeding fighter is ahead on the scorecards, his corner might be tempted not to close the cut, thereby prompting the bout's premature conclusion and a decision victory."
An even more compelling reason to forever squash the notion of full-blown open scoring holds that a fighter, if he knows he is sufficiently ahead entering the late rounds to be uncatchable on the scorecards, would get on his bicycle and pedal around the ring to eliminate or at least reduce the risk of being knocked out. Such a safety-first approach would drain whatever measure of hope still existed for the losing fighter banking on a puncher's-chance turnaround.
We haven't heard the last of the open scoring debate. The subject came up again in the aftermath of the Golovkin-Alvarez rematch, a tightly contested bout which Alvarez won by majority decision, much to the displeasure of Golovkin and his supporters. But for now, fight fans must continue to live with the occasional scorecard that defies credulity. And while too much controversy is never a good thing, some of it helps sell the sport and keeps interest high up to and even beyond the final bell. The alternative is the elimination of uncertainty, and with it the magic that sometimes is produced when two fighters believe success hinges on giving maximum effort to the very last punch.
Bernard Fernandez is the retired boxing writer for the Philadelphia Daily News. He is a five-term former president of the Boxing Writers Association of America, an inductee into the Pennsylvania, New Jersey and Atlantic City Boxing Halls of Fame and the recipient of the Nat Fleischer Award for Excellence in Boxing Journalism and the Barney Nagler Award for Long and Meritorious Service to Boxing.
Check out more boxing news on video at The Boxing Channel
The Hauser Report: Fight Notes on Mexican Independence Day Weekend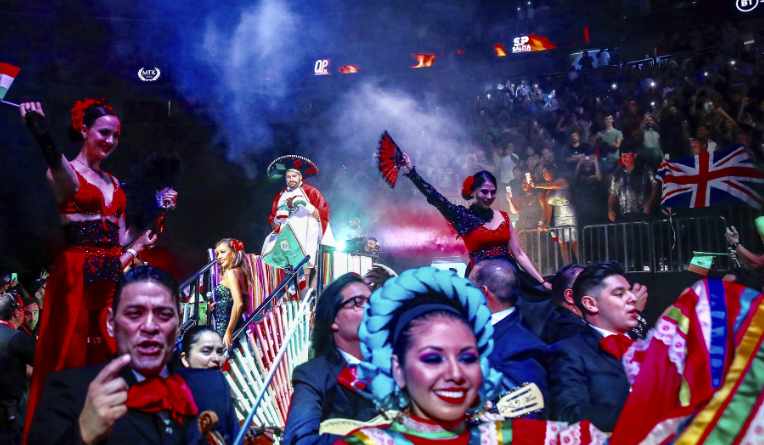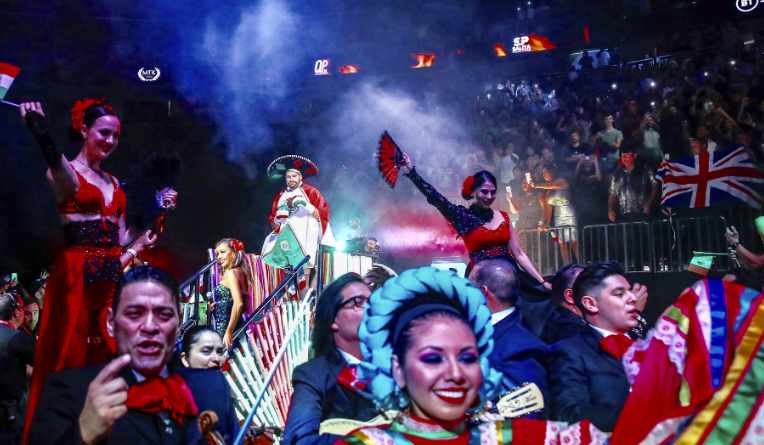 Boxing is accustomed to having a major fight in Las Vegas as the centerpiece of Mexican Independence Day Weekend. This year, Canelo Alvarez was penciled in as the star attraction. But Canelo and his presumed challenger, Gennady Golovkin, couldn't come to terms, and boxing's PPV-streaming-video king decided that he would enter the ring next against Sergey Kovalev on November 2. That left a holiday void to fill and three separate promotions vying to fill it.
The action began on Friday, September 13, at Madison Square Garden's Hulu Theater. Three bouts were billed as featured attractions on a Matchroom USA card streamed on DAZN.
First up, as expected, Michael Hunter (17-1, 12 KOs) outslicked Sergey Kuzmin (15-0, 11 KOs). Kuzman had an extensive amateur background in the Russian amateur system but is a one-dimensional fighter. For most of the fight, he plodded forward while Hunter potshotted him at will in what looked like a spirited sparring session en route to a 117-110, 117-110, 117-110 triumph.
Next, Amanda Serrano (36-1-1, 27 KOs), who has won belts in weight classes ranging from 118 to 135 pounds, challenged WBO 126-pound beltholder Heather Hardy (22-0, 4 KOs). It was expected to be an ugly beatdown with Hardy on the receiving end. The only open issue for most fight fans was how long Heather would last.
Hardy only knows one way to fight. Moving forward, which she has been able to do in the past against stationary opponents who had less of a punch that she did. All of her previous fights had been made for her to win. Questionable hometown judging carried her across the finish line on several occasions when it appeared as though she had fallen short.
At the final pre-fight press conference for Hardy-Serrano, Heather proclaimed, "I'm the toughest girl I know."
But tough alone doesn't win fights. Against Serrano, Hardy took a pounding in a lopsided first round that two of the judges correctly scored 10-8 in Amanda's favor. Round two was more of the same. Serrano was the more skilled, faster, stronger fighter and a sharper puncher. Heather hung tough. But she was hanging from a thread.
Over the next eight rounds, Hardy showed courage and heart. For the first time in her career, she was in the ring against an opponent who hadn't been chosen because it was presumed that Heather would beat her. She survived and legitimately won a few rounds against Serrano in the process.
The final scorecards were 98-91, 98-91, 98-92 in Serrano's favor. Each woman received an $80,000 purse. Hardy earned every penny of it. And she earned respect for her effort in a way that none of the "W"s on her ring record had brought her.
The main event showcased lightweight Devin Haney (22-0, 14 KOs) against Zaur Abdulaev (11-0, 7 KOs). Haney is 20 years young and a hot prospect. Abdulaev, age 25, is a solid fighter but in a different league than Haney.
Devin entered the ring as a 20-to-1 favorite. At this point in his career, he appears to be the whole package with speed, power, explosiveness, and good ring skills. Physically and mentally, he's mature beyond his years as a fighter but still has the enthusiasm of youth. Over the course of four rounds, he gave Abdullaev nothing to work with, broke the Russian down, and fractured Zaur's cheekbone. Abdullaev's corner called a halt to the proceedings after the fourth stanza.
Haney has The Look that fighters like Shane Mosley and Roy Jones Jr. had when they were young. He and boxing are in their honeymoon years. As for the immediate future; Devin has been calling out Vasyl Lomachenko. But given the different promotional entities and networks involved, the chances of that fight happening anytime soon are nil.
Twenty years ago, fight fans could have looked forward to Haney being meaningfully challenged at each level as he moved forward in an attempt to prove how good he is. In today's fragmented boxing world, what happens next is anyone's guess.
On Saturday, the scene shifted to Dignity Health Sports Park in Carson, California, for another DAZN telecast. This one was promoted by Golden Boy and was supposed to showcase 21-year-old lightweight Ryan Garcia (18-0, 15 KOs), who's being marketed as a heartthrob who can fight, against light-punching Avery Sparrow (10-1, 3 KOs). That match evaporated one day before its scheduled date when Sparrow was arrested and taken into custody on an outstanding arrest warrant issued after he allegedly brandished a handgun in a domestic dispute this past April.
The main event wasn't much of a contest either with Jaime Munguia (33-0, 26 KOs) defending his WBO 154-pound belt against Patrick Allotey (40-3, 30 KOs) of Ghana.
Munguia had nice wins last year against Sadam Ali and Liam Smith. Then, five months ago, he was undressed by Dennis Hogan (although the judges in Monterrey, Mexico, found a way to give Jaime a dubious home country majority decision). Allotey's record looked good until one checked the quality of his opponents on BoxRec.com. Munguia was a 30-to-1 favorite.
When the fight began, Allotey seemed most comfortable on his bicycle and decidedly uncomfortable when he was getting hit by the hooks that Munguia pounded repeatedly into his body. Two minutes into round three, one of those hooks put him on the canvas. A combination dropped him for the second time just before the bell. Patrick seemed disinclined to come out of his corner for round four but was nudged back into the conflict. Two minutes later, he took a knee after another hook to the body and his corner stopped the bout.
The third significant fight card of Mexican Independence Day weekend was the biggest of the three. Promoted by Top Rank and streamed on ESPN+, it featured Tyson Fury vs. Otto Wallin at T-Mobile Arena in Las Vegas.
Like the other two shows, this one disappointed at the gate. The Hulu Theater had been reconfigured on Friday night so the rear sections were curtained off. There were more empty seats than seats with people in them at Dignity Health Sports Park on Saturday.
When Fury fought Tom Schwarz at the MGM Grand in Las Vegas on June 15, Top Rank had announced a crowd of 9,012. But according to final receipts submitted to the Nevada State Athletic Commission, only 5,489 tickets were sold for that event with another 1,187 complimentary tickets being given away. The announced attendance for Fury-Wallin was 8,249. T-Mobile arena seats 20,000 for boxing.
ESPN+'s featured three-fight stream didn't begin until 11:00 PM eastern time. Jose Zepeda (30-2, 25 KOs, 1 KO by) won a 97-93, 97-93, 97-93 decision over former beltholder Jose Pedraza (26-2, 13 KOs, 1 KO by). Then WBO 122-pound titlist Emanuel Navarrete (28-1, 24 KOs) cruised to a fourth-round stoppage of Juan Miguel Elorde (28-1, 15 KOs). That set the stage for Fury-Wallin.
There are plenty of "world heavyweight championship" belts to go around these days. Claimants during the past four years have included Manuel Charr, Joseph Parker, Ruslan Chagaev, Lucas Browne, Charles Martin, and Bermane Stiverne. Fury (who entered the ring with a 28-0, 20 KOs record) is currently being marketed as the "lineal" heavyweight champion and can trace his lineal roots all the way back to Wladimir Klitschko (which falls short of going back to John L. Sullivan). The best things said about Wallin (20-0, 13 KOs) during fight week were that he was probably better than Tom Schwarz (Fury's most recent opponent) and that, as noted by Keith Idec of Boxing Scene, Wallin was "perfectly polite" during the fight-week festivities.
Bob Arum, who shares a promotional interest in Fury with Frank Warren, praised Fury as the second coming of The Greatest and advised the media, "People are seeing things that they haven't seen since Muhammad Ali. You're seeing a great fighter who can connect to the people and he's a real showman."
Fury (born, raised, and still living in the United Kingdom) got into the spirit of things and proclaimed, "I am going to change my name for the weekend to El Rey Gitano [which translates from Spanish to English as "The Gypsy King"]. And he further declared, "Isn't it a great thing that a total outsider is showing so much love, passion, and respect for the Mexican people. At the minute, they are being oppressed by the people here [in the United States]. Building a wall, chucking 'em all out, and treating them terrible. I don't know what is going on, but it is nice to see a total stranger, heavyweight champion of the world, coming here and respecting people and paying homage to their beliefs and special days. I've got the Mexican shorts, the Mexican gloves, the Mexican mask, the Mexican music, the Mexican flag. I have Mexicans as part of my training team. There is a lot of honor and respect in fighting on this date."
That elicited a response from WBA-IBF-WBO heavyweight champion Andy Ruiz, who declared on social media, "Tyson Fury's talking sh**. He's representing Mexico – he's not even Mexican, what kind of sh** is that? A British f***in, he ain't even Mexican, wearing the f***ing Mexican flag, messed up man. Stay in your lane."
Meanwhile, with no existing World Boxing Council title at stake, WBC president Mauricio Sulaiman stepped in and announced that Fury-Wallin would be contested for a special "Mayan belt" that was also offered to the winner of Munguia-Allotey. Maybe someday boxing will have interim Mayan belts and Mayan belts in recess as well.
Fury was a 25-to-1 betting favorite. For two rounds, everything went according to plan. Then, in round three, a looping left by Wallin opened a horrible, deep gash along Tyson's right eyebrow. The cut gave the fight high drama. There was a real chance that it would worsen to the point where there was no alternative to stopping the bout. Despite the efforts of cutman Jorge Capetillo, blood streamed from the wound for the rest of the fight.
Knowing that he was in danger, Fury abandoned what he likes to think of as finesse boxing and began to brawl, coming forward and trying to impose his 6-foot-9-inch, 254-pound bulk on his opponent. By round eight, Wallin was exhausted. Tyson was teeing off from a distance and, when he came inside, bullying Otto around.
Wallin fought as well as he could. But he was being pounded around the ring and getting beaten down. Then, remarkably, 38 seconds into round twelve, he whacked Fury with a good left hand and, suddenly – if only temporarily – Tyson was holding on.
The final scorecards read 118-110, 117-111, 116-112 in Fury's favor.
"I was happy that he was cut," Wallin said afterward. "But I wish I could of capitalized a little more on it."
And a final thought . . . When there are three heavyweight "world champions" (which is what boxing has now), there is no heavyweight champion at all.
Thomas Hauser's email address is thomashauserwriter@gmail.com. His next book – A Dangerous Journey; Another Year Inside Boxing– will be published this autumn by the University of Arkansas Press. In 2004, the Boxing Writers Association of America honored Hauser with the Nat Fleischer Award for career excellence in boxing journalism.
Photo credit: Mikey Williams for Top Rank (note Fury's jumbo-sized sombrero)
Check out more boxing news on video at The Boxing Channel  
To comment on this story in The Fight Forum CLICK HERE
Mexico's Jaime Munguia KOs Allotey and Franchon Crews Unifies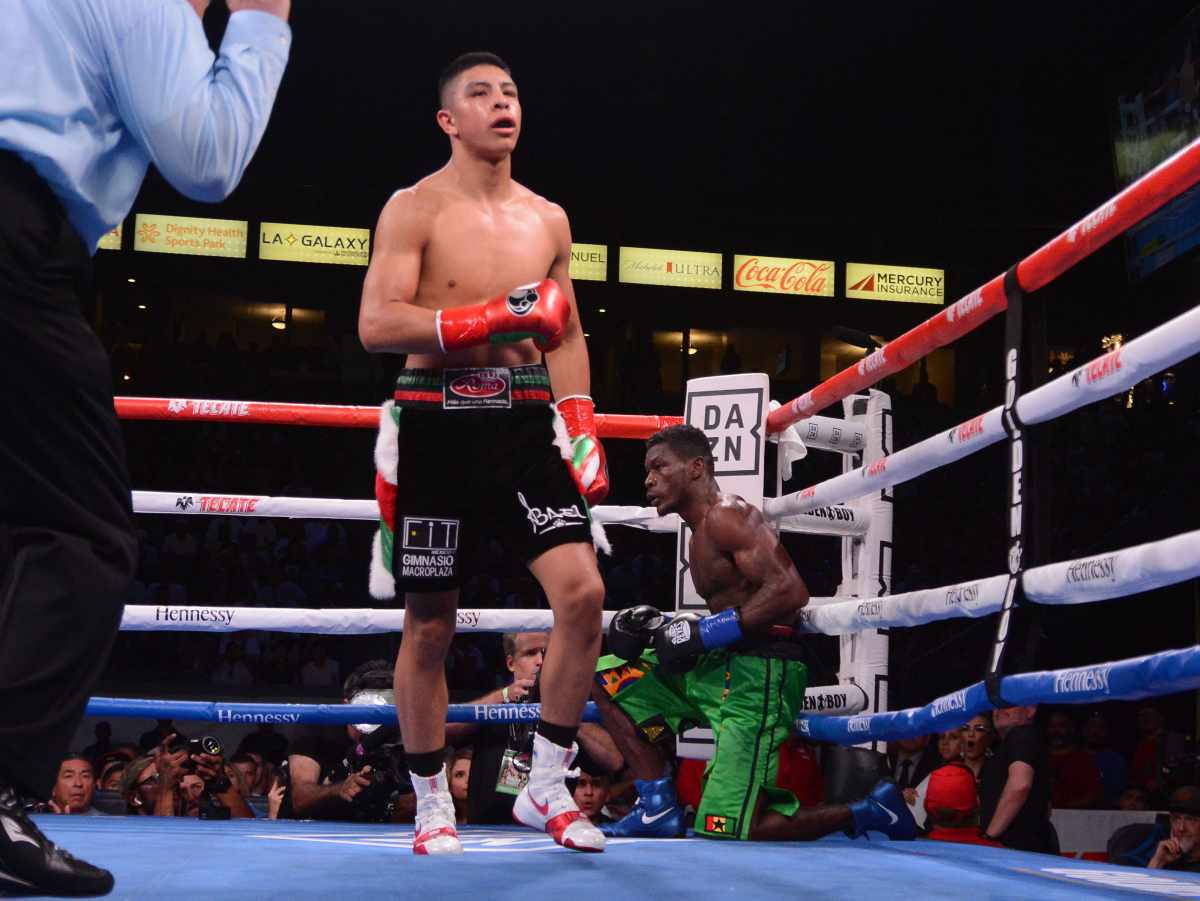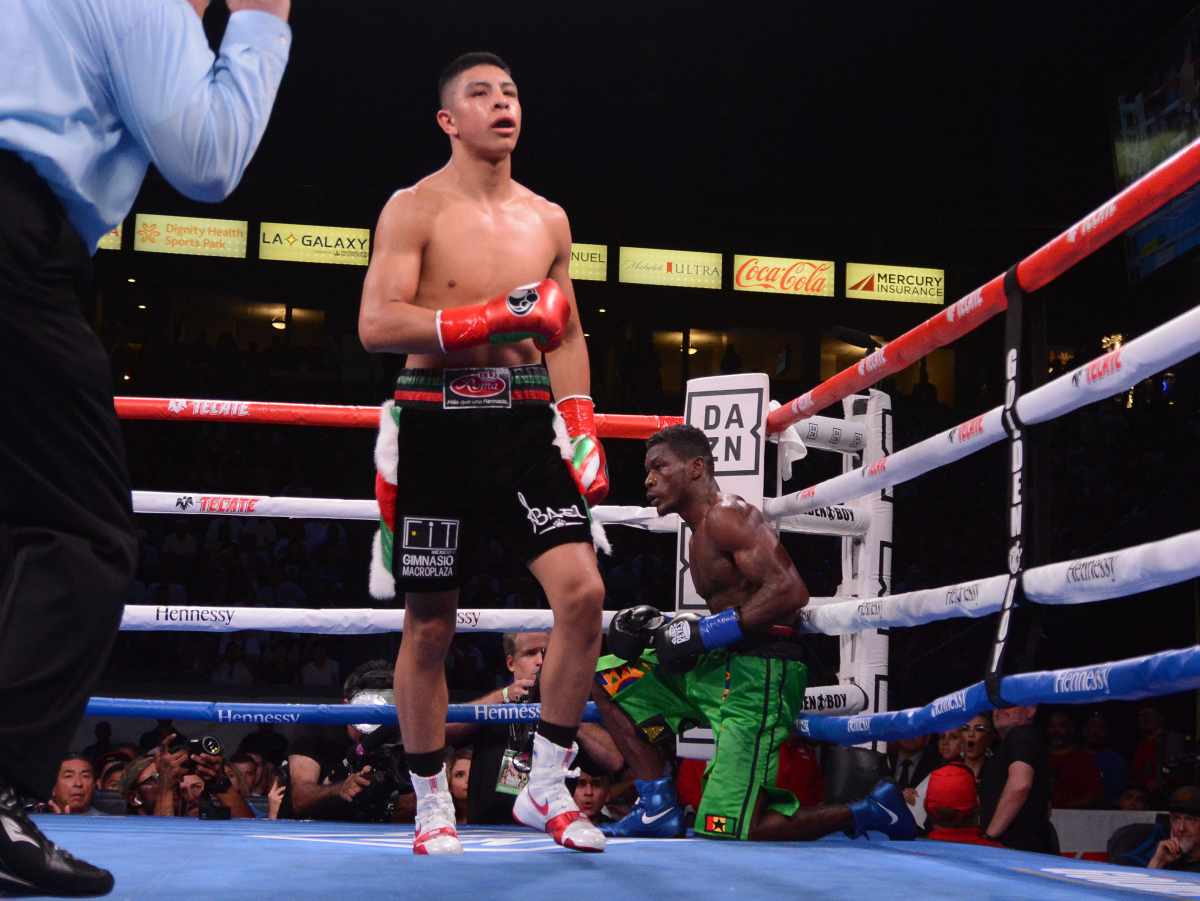 LOS ANGELES-Mexico's Jaime Munguia walked into the warm and humid outdoor arena like a conquering hero and walked out the same way after knocking out Patrick Allotey to retain the WBO super welterweight title on Saturday.
The large, mostly Mexican, Independence weekend crowd was ecstatic.
Munguia (34-0, 27 KOs) showed the more than 7,000 fans at Dignity Health Sports Park that he learned a few things from his new trainer and that was a bad thing for Ghana's Allotey (40-4, 30 KOs). The tall Tijuana fighter seemed calm and focused in this possible last defense of his super welterweight title.
"I don't know yet, I'll have to meet with my team to decide," said Munguia about evacuating the weight division to move up to middleweight.
Allotey probably wishes Munguia left yesterday.
For a short while, Allotey used movement and pot shots to catch the aggressive Mexican fighter during the first two rounds. Both landed blows but not enough to quench the thirst of the pro-Mexican crowd there to see a knockout.
Things turned around quickly in the third round as Munguia, who is now trained by former Mexican great Erik Morales, began catching up to Allotey, in particular with bludgeoning body shots. A three punch Munguia combination dropped the Ghanaian for the count. He got up and was met with a blistering five-punch combination, including one that sent him across the ring for another knockdown. Allotey beat the count near the end of the round.
The fight could have ended in the previous round but it was allowed to continue. A left hook to the body of Allotey sent him to the floor after a delayed reaction. The Ghanaian's corner asked the referee Jack Reiss to halt the fight at 2:18 of round four, giving the knockout win to Munguia.
Cheers erupted from the large Mexican crowd.
"Step by step, I've learned a lot from all the fighters that I've fought before," said Munguia who lives in Tijuana. "This is Mexican Independence Day and I feel really good and I'm ready to go further for more."
Franchon Crews   
Franchon Crews Dezurn (6-1) won by unanimous decision but this time it was a more impressive Maricela Cornejo (13-4, 5 KOs) who showed up in the sudden rematch that was put together in two days. Impressive or not, Crews walked away with both the WBC and WBO super middleweight world titles.
Both women warriors exchanged thunderous blows that bounced off each other to the delight of the crowd, but neither would go down. By the middle rounds, Cornejo slowed visibly but still had enough to stay in the fight competitively. It was a much better performance than their first clash a year ago in Las Vegas that saw Crews win the WBC title by decision.
Once Cornejo slowed, Crews slowed her pace too but had more energy and was able to use her jab and combinations. Toward the last few rounds there was a lot of holding but both connected with solid blows until the end.
After 10 rounds two judges scored it 98-92 and a third 97-93 for Crews.
It was a remarkable performance by both fighters who were not originally scheduled to meet. But when the original Mexican opponent Alejandra Jimenez was unable to obtain a visa, Golden Boy Promotions asked Cornejo and she gladly obliged just two days ago.
"I got out here thinking I was going to fight one person, a person who had been bullying me on the internet. Alejandra Jimenez, if you want this one, you can come get it too. I'm not here for a good time, I'm here for a long time. This is the land of the warriors, not the posers, not the models," said Crews. "I want to be respected just like the men are respected. I'm going to step up to the plate and take the challenges. I don't go into any match thinking I'm entitled to anything."
Duno
Romero Duno (21-1, 16 KOs) underwent some minor drama before even stepping into the ring, but it didn't stop him from winning by knockout against Los Angeles tough guy Ivan Delgado (13-3-2, 6 KOs) in their on and off and on again lightweight fight.
When sizzling prospect Ryan Garcia's opponent Avery Sparrow was arrested and unable to fight, it was suggested that Duno should be Sparrow's replacement. That didn't go well with Garcia's team and was abruptly shot down. The Duno-Delgado fight then went back on the drawing board, as originally planned, but Delgado came in more than four pounds overweight.
It didn't matter.
Duno battered Delgado in the first round but the local fighter managed to use his experience to fend off further damage by the heavy-handed Filipino. After that it was a game of cat and mouse. Through most of the fight, Duno landed more blows but Delgado used some slick counters to score and keep the strong puncher from landing the killer blow. Still it wasn't enough, and at the end of the seventh round the corner decided to end the fight, giving Duno the win by knockout.
"I was just doing my job," said Duno. "I know Delgado is a tough fighter."
Regarding Ryan Garcia, "I know Ryan Garcia wants to fight me. He's a top boxer."
Other Bouts
Joselito Velasquez (11-0, 9 KOs) knocked out fellow Mexican Francisco Bonilla (6-7-3, 3 KOs) in a battle between North and South Mexican flyweights. Velasquez floored Bonilla in the second round when he beat Bonilla to the punch with a left hook. Finally, in the fourth round during a Bonilla rally, Velasquez connected with a left-right combination the sent the Chihuahua fighter to the floor. Referee Sharon Sand immediately waved the fight over at 2:54 of the fourth round.
A battle between undefeated super middleweights saw the very tall Diego Pacheco (6-0, 5 KOs) win by knockout over Oakland's Terry Fernandez (3-1, 3 KOs). Pacheco used his size to keep Fernandez at bay then pummeled him with long rang rights and shots to the body. At the end of the second round, Pacheco battered Fernandez with 18 consecutive blows from one corner to the other. In the third round, Pacheco connected with a three-punch combination that snapped back Fernandez's head violently and though he did not go down, the referee Eddie Hernandez wisely stopped the fight at 41 seconds of the third round.
Rafael Gramajo (11-2-2, 3 KOs) won by knockout over Daniel Olea (13-9-2) at the end of the fourth round when he could not continue in their lightweight contest.
Alejandro Reyes (1-0) won his pro debut by knockout over Mexico's Jorge Padron (3-5, 3 KOs) with a left hook to the body at 1:55 of the second round of a lightweight match. New referee J Guillermo counted out Sonora's Padron.
Photo credit: Al Applerose
Check out more boxing news on video at The Boxing Channel  
To comment on this story in The Fight Forum CLICK HERE
Fast Results from Las Vegas: Tyson Fury Overcomes Doughty Otto Wallin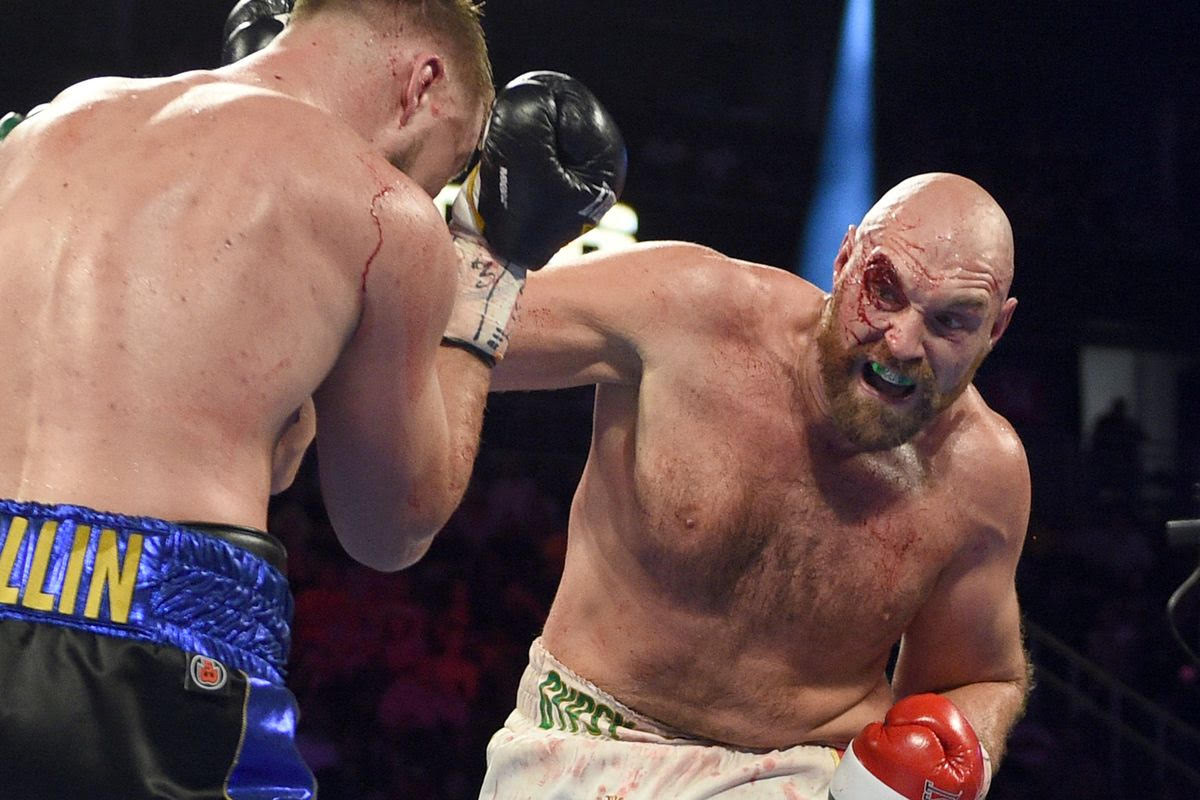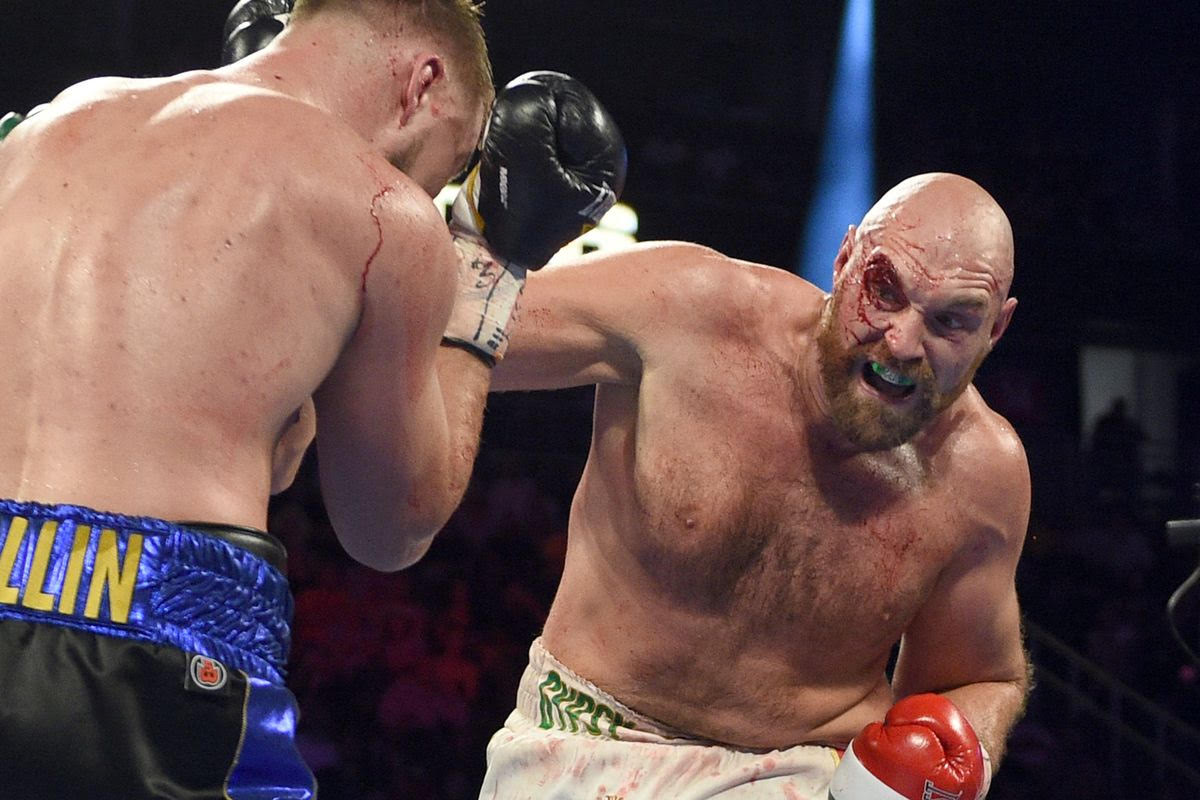 LAS VEGAS, NV — Otto Wallin proved to be a more formidable opponent than Tyson Fury's last victim, Tom Schwarz, by a long shot. One could sense that this wouldn't be a walkover for the Gypsy King when Wallin backed Fury into a neutral corner in round two and got off a good volley of punches.
Wallin opened what became a very nasty gash over Fury's right eye in round four. Fury pawed at it continually throughout the fight which went the full distance. Fury seemed to think that the cut resulted from a clash of heads, but the replay indicated otherwise. Near the end of round six, Wallin rubbed the cut with the laces of his gloves, earning a stern but silent rebuke from Fury and referee Tony Weeks who did not deduct a point.
Fury prefers to fight off the back foot until he has his opponent hurt, but with the cut he fought with more of a sense of urgency, pressing forward. The fight turned messy over the final third as the contest turned into somewhat of a hug-fest.
Wallin, who came in undefeated (20-0), landed some hard shots in the final round, but by then he needed a knockout to win. The final scores were 116-112, 117-111, and 118-110. The 118-110 tally was overly severe, distorting the fact that this was a hard fight for the Gypsy King  who improved his ledger to 29-0-1.
The promoters say the rematch with Deontay Wilder, the second bout of a planned trilogy, is set for February but Wallin may have wrecked those plans. It would seem that Fury will need more time to heal that cut.
Co-Feature
Based on raw numbers, it figured that the fight between defending WBO world 122-pound champion Emanuel Navarrete and Juan Miguel Elorde would be competitive. Both had identical records (28-1) and both were riding long winning streaks; 23 straight wins for Navarrete and 18 straight for Elorde. But the grandson of Filipino boxing legend Flash Elorde was out of his league. Navarette, who is a big featherweight, was too strong for him. Near the end of round three, Elorde received a standing 8-count when he landed against the ropes, which kept him upright. Twenty-six seconds into the next round it was all over, with referee Russell Mora halting the bout to protect Elorde from taking more punishment.
The victorious Navarette, from Mexico City, was making the third defense of the title he won from Isaac Dogboe. Las Vegas hasn't been good to Elorde whose lone prior defeat came at nearby Mandalay Bay in a 4-round contest.
Other Bouts
In a mild upset, Jose Zepeda, won a 10-round unanimous decision over Jose Pedraza. A 2008 Olympian for Puerto Rico and former two-division belt-holder, Pedraza declined to 26-3.
Zepeda (33-2), a native Californian who entered the ring draped in the Mexican flag, did his best work early and late. In the middle rounds it appeared that Pedraza was taking control with superior marksmanship but he couldn't sustain it. The seventh round was furious as were the waning moments of the 10th. All three judges had it 97-93.
In an 8-round featherweight bout, Isaac Lowe, a fellow Traveler and stablemate of Tyson Fury, remained undefeated with an 8-round unanimous decision over Mexico City's Ruben Hernandez. The scores were 78-74 and 77-75 twice.
Lowe, who showed good boxing skills but isn't a hard puncher, improved to 19-0-3 (6 KOs). Hernandez falls to 25-5-2.
In the first walk-out fight, Guido Vianello, a 6'4″, 240-pound heavyweight from Rome, Italy, improved to 5-0 (5 KOs) at the expense of Cassius Anderson,  a 35-year-old former Toledo U. linebacker, whose corner pulled him out after the fourth round. Vianello knocked Anderson down in the first few seconds of the fight, but Anderson wasn't of a mind to leave that quick.
Check out more boxing news on video at The Boxing Channel  
To comment on this story in The Fight Forum CLICK HERE