Three Punch Combo: Notes on Thailand's Little Dynamo, IBHOF Oversights and More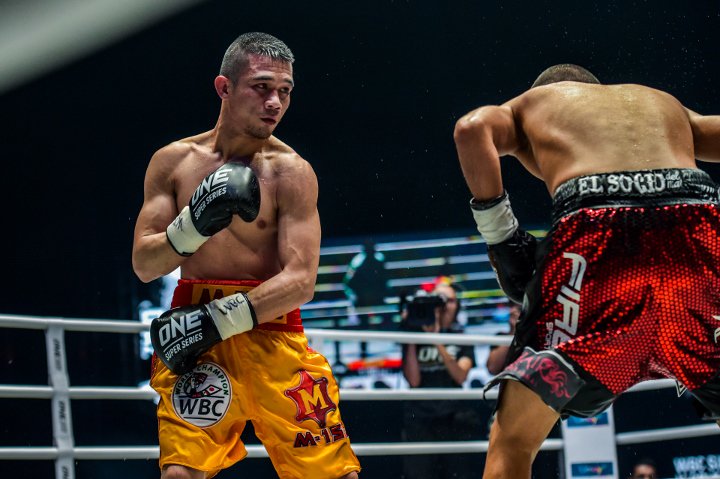 THREE PUNCH COMBO: Last week was a very busy week in boxing, both inside and outside the ring. Here are a couple of random observations:
Srisaket Sor Rungvisai (47-4-1, 41 KO's) returned in his native Thailand and successfully defended his 115-pound title belt with a wide unanimous decision over tough Iran Diaz (14-3-3, 6 KO's). Sor Rungvisai's performance showed what makes him so good as well as what makes him so vulnerable.
Sor Rungvisai (pictured in the yellow trunks) is an aggressive power punching machine and once again overwhelmed his opponent with this style. Against Diaz, he committed to working the body from the opening bell and took a lot of the fight from Diaz with this committed body assault. I think Sor Rungvisai is the most effective body puncher in boxing today.
But this style can have vulnerabilities. For one, I did not see one jab from Sor Rungvisai in this fight against Diaz. It was just plain and simple aggression. And going to the body so much can leave him open for counter rights. Sor Rungvisai was clocked by a few and even appeared to be stunned in round nine by a counter right from Diaz after attacking the body.
Sor Rungvisai is certainly fun to watch and his ultra-aggressive offensively minded style makes him a tough out for anyone. But those vulnerabilities, while making him all the more entertaining, will likely one day come back to haunt him.
On Friday, it was announced that Saul "Canelo" Alvarez (50-1-2, 34 KO's) would return to the ring on December 15th at Madison Square Garden to face Rocky Fielding (27-1, 15 KO's) in a 168-pound title bout. A lot of fans took to social media to announce their displeasure at the choice of opponent for Canelo following the announcement. My feelings are different.
We want our stars in this sport to be active. It helps to grow and promote the sport. In order to be active, they can't always fight top level opposition. That would be terrible management.
I like that Canelo is returning so quick after the Golovkin fight and not just sitting back until May to fight again. There was a lot of positive momentum gained from that fight for boxing and the fact that Canelo is not waiting until May to fight again is a boost for the sport. Let's appreciate the fact that he wants to fight again three months after a bruising war with Golovkin regardless of the opponent. Canelo will fight better opposition down the road. He has proven that he is willing to step up to any challenge. But let's not beat him up for taking a step down in class from time to time in order to be more active.
HBO Do The Right Thing, Part Two
 Last week, I wrote that HBO needed to do the right thing and add the female featherweight title fight between Heather Hardy and Shelly Vincent to its October 27th broadcast. The cable giant did in fact do the right thing, announcing mid-week that they would make the October 27th broadcast a tripleheader by adding the Hardy-Vincent fight to the telecast.
Also, fight writer Mike Coppinger reported that HBO is considering at least one more card before saying so long to televising live boxing. The report stated that they are considering a card on December 8th that will be headlined by 154-pound champion Jaime Munguia.
I am all for live boxing but get concerned when networks have their respective boxing cards compete with one another. Ultimately, everyone loses as eyeballs become split. Previously, Top Rank announced that on December 8th Vasyl Lomachenko will return to face Jose Pedraza in a lightweight unification fight on ESPN.
Lomachenko vs. Pedraza is a big fight and now risks losing eyeballs if HBO goes ahead with a competing card. Further to my concern, if this is the last HBO card, then many may flip to the network away from the ESPN card for nostalgia purposes. My hope is if HBO is planning another card in December that they will take this event on ESPN under consideration when planning their own card so the two do not directly compete. Why hurt the sport of boxing by splitting eyeballs if your brand will no longer be covering the sport in future?
Hall Of Fame Ballot Omissions
The International Boxing Hall of Fame & Museum in Canastota, NY has mailed out the ballots for the class of 2019. I am not a voter but the ballots have been posted on social media. Though debate has begun as to whom belongs in the Hall of Fame class of 2019, I want to focus on fighters who 100% assuredly won't be inducted because their names did not even make it on the ballot.
Here are three fighters with Hall of Fame credentials not on the 2019 ballot:
KEVIN KELLEY (60-10-2, 39 KO's)
 Those who know me know that I have been beating the drum for Kelley for years. In my mind, the fact that he is not even on the ballot is borderline criminal. Kelley is a former featherweight champion and one of the great action fighters of his era. He had many memorable all-out wars including his fights against Troy Dorsey, Ricardo Rivera, Derrick Gainer and Naseem Hamed, just to name a few. There is a fighter with similar credentials from Kelley's era, Arturo Gatti, who made the Hall of Fame the first year he was eligible. Kelley belongs in the Hall and at the very least should be on the ballot for voters to consider.
JUNIOR JONES (50-6, 28 KO's)
Jones is a fighter whose Hall of Fame credentials I touched upon a few months ago and I think it is a crying shame that he did not even make it on this year's ballot. He is a former two division champion with wins against some of the best fighters of his era. This includes two wins against Hall of Famer Marco Antonio Barrera and a win against another Hall of Famer, Orlando Canizales. His resume also includes wins against former champions Jorge Eliecer Julio, Tom Johnson and Tracy Harris Patterson. All told, Jones was 10-4 against fighters who held a world title at some point in their career. His resume speaks for itself .
VEERAPHOL SAHAPROM (66-4-2, 46 KO's)
How can this guy not be on the ballot? Just take a look at his credentials. In 1995, in just his fourth pro fight, Sahaprom won a bantamweight title. Though he lost that title in his next fight to the much more seasoned Nana Yaw Konadu, Sahaprom would recapture a bantamweight title against Joichiro Tatsuyoshi a few years later in 1998 and would hold that title for over six years before finally losing the belt to Hozumi Hasegawa. Granted, the opposition wasn't always the best but there are some solid victories on his resume including two against the aforementioned Tatsuyoshi as well as two against Toshiaki Nishioka. The long title reign mixed in with some high quality wins at the very least should have earned Sahaprom a place on the ballot.
Check out more boxing news on video at The Boxing Channel
Avila Perspective, Chap 73: Gesta vs Morales, Celebrity Boxing, Liston and More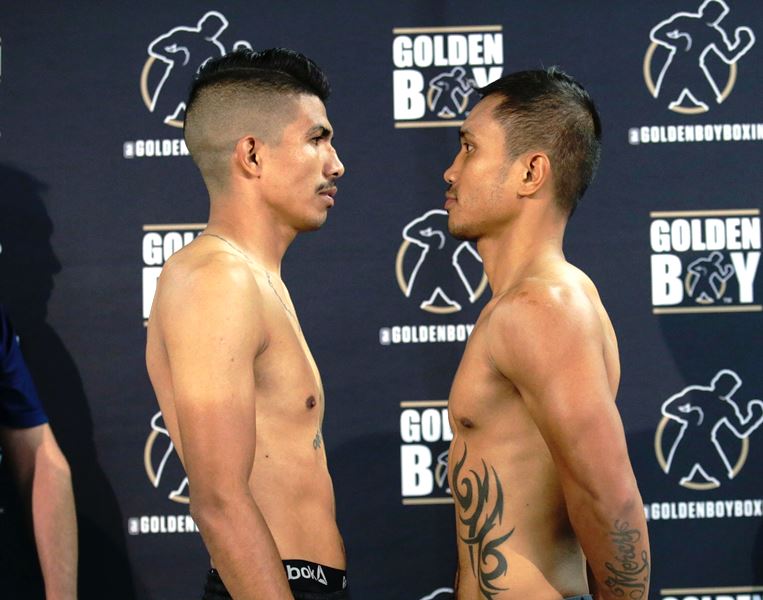 One of the rewards for journalists following smaller boxing cards is watching new talent emerge. Every so often you spot the gold nuggets among the heap.
Some fighters stand out immediately before even stepping in the prize ring. Others walk in hesitantly with dirty towels wrapped around their shoulders.
On Thursday, Carlos "The Solution" Morales (19-4-3, 8 KOs) and Mercito "No Mercy" Gesta (32-3-2, 17 KOs), who arrived on the hard road of boxing, meet in a lightweight match set for 10 rounds at Belasco Theater in downtown L.A. DAZN will stream live.
Two classier guys you will never meet than Gesta and Morales.
Gesta, a southpaw from Cebu, Philippines, arrived in 2007 and immediately found work on casino fight cards in Arizona, California and Nevada. His athleticism was obvious and he raced through competition till he met Mexico's Miguel Vazquez for the IBF lightweight world title.
In that first loss, fans learned what Gesta was all about. He was gracious in defeat and fans loved his character. From that point on more people wanted to see the Filipino lefty perform. After Top Rank let him go, Golden Boy Promotions picked up his contract and he became a staple on the Southern California fight scene.
Win or lose, fans adore Gesta who was trained by Freddie Roach at the Wild Card Boxing club in Hollywood but now works with Marvin Sonorio. A decision loss to WBA lightweight titlist Jorge Linares at the Inglewood Forum did nothing to diminish Gesta's fan base.
"I need challenges and I like challenges," said Gesta during an interview with Beto Duran on Golden Boy's Ring Side show. "I still feel great and still feel in the game."
How could you not like a fighter like Gesta?
On the opposite corner at Belasco Theater will be "The Solution" Morales.
When Morales first entered the professional fight scene he stumbled a bit with a loss then three consecutive draws. I saw all four fights in person. The Mexican-born fighter needed about two years to figure out what worked for him.
He's found it.
Morales, a gym rat if I ever saw one, purchased his own gym in the Alhambra area. He's a family man, worker and businessman all rolled into one. The Mexican fighter needed time to discover his assets in the ring and use them in a productive manner.
Though he's lost three of his last six fights they all came against top competition such as world champion Alberto Machado, ranked contender Rene Alvarado and current star Ryan Garcia. In each and every one of those fights Morales was up to his neck in battle.
"I definitely need a win over a name like Mercito Gesta," said Morales. "He's been in the game a long time."
In local gyms he spars with many of the best and on occasion they understand what "the Solution" is all about.
"He is very, very good," said one visiting Japanese fighter who witnessed Morales knock out a sparring partner in one particular session. "A very professional style."
Both Gesta and Morales represent the side of Los Angeles most fans don't get to see. Once upon a time, matchups like these were common in the L.A. area. Golden Boy Promotions has been slowly building up these local fighters and if you have paid attention you know this will be a firecracker of a show.
This is a 1930s kind of match you used to see at the old Olympic Auditorium or Hollywood Legion Stadium when guys like Speedy Dado, Baby Arizmendi, Chalky Wright and Newsboy Brown would fight each other and fill the arena. Dado would bring the Filipino crowd, Arizmendi the Mexican crowd, Wright the African- American fans, Newsboy Brown the Jewish fans and so on.
Gesta versus Morales has that 1930s flavor. If you close your eyes you might expect a ghost or two from boxing's past to be in attendance at Belasco Theater. It's an old venue where famous bandleaders like Duke Ellington once played. It's got a lot of history and this fight was tailor-made for the old stylish building.
Celebrity Boxing
Nowadays celebrities come from different directions.
Last week, celebrities who gained fame via social media avenues like YouTube.com, Twitter and Instagram, arrived at the Staples Center in Los Angeles with hands wrapped, gloves on and a license to box professionally.
Their names were not familiar to regular boxing fans, but to millions of youngsters and young adults who do not normally follow boxing, these guys named Logan Paul, KSI and Joshua Brueckner were super stars.
It was a massive hit according to DAZN and Matchroom Boxing, the promoters.
I walked around the arena to take a look at the people arriving to see the boxing card. What I saw were moms and their sons and daughters, groups of girls in their early teens, and pale boys who normally don't see much sun because they're usually planted behind a computer playing video games. They all had a blast.
Most of these fans had never seen live boxing and got their first glimpse of prizefighting at a high level when Ronny Rios defended his WBA Gold super bantamweight title against Colombia's Hugo Berrio. The Santa Ana fighter Rios came out firing thudding body shots that echoed in the arena. You could hear the responses from the new fans who openly expressed their amazement with a roar of applause at the display of power.
It's one thing to see a fight but a whole new thing to hear power shots bouncing off another human being. Rios pummeled Berrio up and down and eventually knocked out the Colombian with a three-punch combination in the fourth round. Fans were awestruck.
You never forget your first live prizefight. It burns in your memory forever. All of these new fans will never forget watching a live boxing card.
Watching the responses of the new kind of crowd was an experience in itself. Many of these fans will return for more. Their excitement was pure and untainted.
Showtime
A feature documentary visiting the life of Sonny Liston called "Pariah: The Lives and Deaths of Sonny Liston" makes its debut on Friday Nov. 15 on Showtime at 9 p.m. (PT).
Liston was one of the most mysterious and feared heavyweight champions of all time. Read the story by Bernard Fernandez to get a preview of what to expect from the documentary. It's riveting stuff: https://tss.ib.tv/boxing/featured-boxing-articles-boxing-news-videos-rankings-and-results/61445-from-womb-to-tomb-the-fate-of-sonny-liston-was-seemingly-preordained
Though Liston died 49 years ago in December 1970, he's still discussed by boxing people especially in Las Vegas where he lived and died.
Fights to Watch (all times Pacific Coast time)
Thurs. DAZN 7 p.m. Mercito Gesta (32-3-2) vs Carlos Morales (19-4-3).
Fri. ESPN+ 12 p.m. Rocky Fielding (27-2) vs Abdallah Paziwapazi (26-6-1).
Fri. Showtime 7:30 p.m. Erik Ortiz (16-0) vs Alberto Palmetta (12-1).
Sat. ESPN+ 12 p.m. Lee McGregor (7-0) vs Kash Farooq (13-0).
Photo credit: Kyte Monroe
Check out more boxing news on video at The Boxing Channel 
To comment on this story in The Fight Forum CLICK HERE
Ortiz Accuses Wilder of 'Borderline Criminal' Tactics; Wilder Takes Umbrage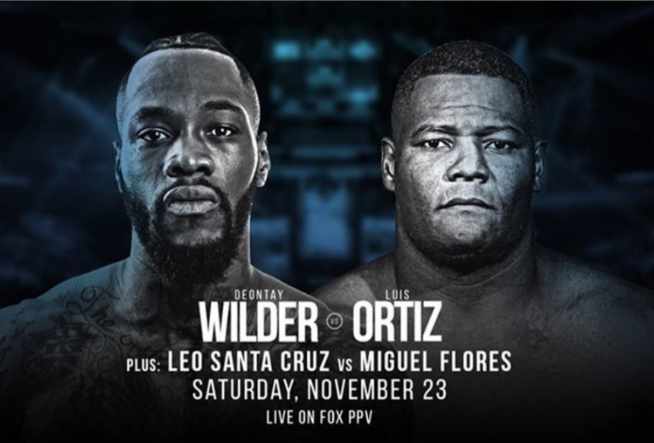 Yes, Deontay Wilder still wants to knock out each and every man he faces in the ring. But a bond the WBC heavyweight champion has shared with his Nov. 23 rematch rival and fellow family man, Luis Ortiz, had caused Wilder to have a somewhat more conciliatory feeling toward the Cuban southpaw given the fact that each power puncher knows what it's like to deal with a child facing significant health issues.
But Wilder's small but oft-expressed well of goodwill toward Ortiz may have dried up Tuesday afternoon after he learned of derogatory comments Ortiz had made about him during a teleconference with the media, prior to Wilder joining the call. Ortiz (31-1, 26 KOs), who had Wilder (41-0-1, 40 KOs) in the danger zone in the seventh round of their first bout, on March 3, 2018, at Brooklyn's Barclays Center, couldn't seal the deal and went down and out himself in the 10th round. All three judges had Wilder ahead by the same razor-thin margin, 85-84, when the end came.
The do-over will take place at the MGM Grand in Las Vegas and will be televised via Fox Pay-Per-View
Wilder, although promising to win inside the distance as he always does, again gave props to the 40-year-old Ortiz, a father of three whose daughter Lismercedes suffers from epidermolysis bullosa, a painful skin condition. That struck a sympathetic chord with Wilder, who has eight children, one of whom, daughter Naieya, was born in 2005 with spina bifida.
"Ortiz has a family," Wilder said when it was his turn to answer reporters' questions. "I grew a great bond with Ortiz the first time with his child. My child was born with a disorder as well. I know personally how hard it is and how much it takes to take care of a child with a disorder. It takes a lot of money and it takes a lot of care, so I wanted to bless him again (by granting him a rematch) – not only for being a great warrior, one of the best in the world, but also for his family."
Wilder had scarcely finished lauding Ortiz as a fighter and a father when he was told that his ring tactics had been characterized by Ortiz in less than flattering terms.
"Some of the antics that Wilder does, like the illegal blows that he throws with the inside of his fists and punching from the top of the head down … all kinds of craziness," Ortiz, who does not speak English, said through his trainer/translator, Herman Caicedo. "It makes it very difficult to get settled in. Quite frankly, that stuff is borderline criminal."
Wilder, who figured he had "blessed" Ortiz by granting him a high-visibility, good-paying shot at his title 20 months ago, and was doing so again, seemed taken aback by the suggestion that his free-swinging ways and code of ethics had been called into question.
"I never heard of that," Wilder said. "I think he's being sarcastic. The only thing that's criminal is me hitting people with the right hand and almost killing them.
"Someone will have to ask him to clarify what he meant by that. I would like to know myself. If it was something to tear me down, I would feel some type of negative vibe toward him, after I've blessed him twice. That'll make me want to hurt him more than I want to do now. Because when I get mad, it's over.
"Right now, I've been very respectful to him. He don't want me to take this wrong because then I'd really want to beat his ass."
Boxing being what it is, mutual respect tends to be put on hold in any case when the action gets hot and heavy. It was pretty intense in the first time around, the seventh round representing the most perilous spot Wilder has been in since turning pro after taking a bronze medal at the 2008 Beijing Olympics. But "The Bronze Bomber," as Wilder is known, said that being taken to the brink and fighting his way out of trouble is as big a plus as any of his exclamation-point KO victories.
"That seventh round was an amazing time for me," he said. "It allowed me to see what I'm really made of. I was very proud of myself to be able to handle that situation, and go be able to go into the fight with the flu. Proper protocol is to (postpone) that and wait 'til a later date when you're healthy. But being me, I'm hard-headed and that makes me different from the rest."
Ailing daughters or not, it really would not make that much of a difference had Ortiz tossed verbal bouquets at Wilder instead of incendiary accusations. Wilder, who will be making the 10th defense of the WBC championship he won on a 12-round decision over then-titlist Bermane Stiverne on Jan. 17, 2015, believes that, at 34, he is the best heavyweight on the planet, worthy of discussion as one of the best big men ever to lace up a pair of gloves, and arguably the most devastating puncher ever.
"We already know I'm the hardest hitter probably in boxing history," he said with typical immodesty. "I see this fight going only one way, and that's Deontay Wilder knocking out Luis Ortiz. He knows it, and I know it."
Well, maybe Ortiz isn't quite convinced of the inevitability of his getting starched again.  He was a live underdog the first time he and Wilder swapped haymakers, and he's a live underdog again. His dream is to become the first Cuban heavyweight champion, and he insists he is as mentally and physically prepared as he's ever been for a fight.
"He can bring whatever he's going to bring, no problem," Ortiz said of Wilder.
Could Ortiz have been playing standard-issue mind games by claiming the champion's style is almost felonious? Maybe. But if he really wanted to get under Wilder's skin, he could have said something about how much he enjoyed LSU knocking off the Alabama Crimson Tide this past Saturday. Wilder, a native of Tuscaloosa, Ala., who grew up dreaming of someday playing football for his hometown university, would instantly have been whipped into a frothing rage.
Check out more boxing news on video at The Boxing Channel 
To comment on this story in The Fight Forum CLICK HERE
Thomas Hauser's Latest Book, 'A Dangerous Journey,' is Another Peach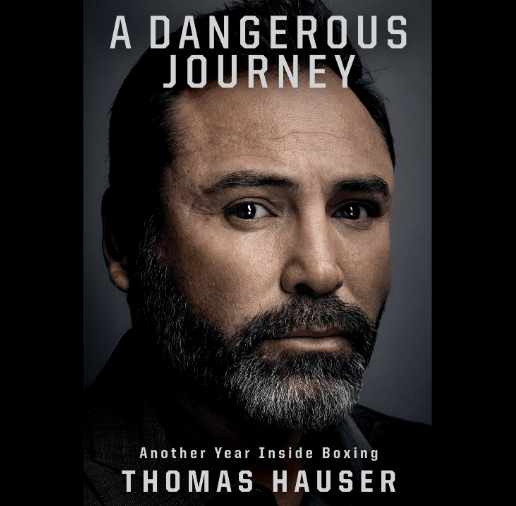 In 2001, the University of Arkansas Press released Thomas Hauser's "A Beautiful Sickness: Reflections on the Sweet Science" and a tradition was born. Decades from now, if someone wants to know what was happening in the world of professional boxing during the first two decades of the 21st century – "on and off the field," so to speak – a complete set of Hauser's annual anthologies will be a prized resource.
Hauser's latest book is titled "A Dangerous Journey," subtitled "Another Year Inside Boxing."
Like the others, it is a compilation of previously published stories. There are 46 in all, arranged under four headings: Fighters and Fights; Curiosities; Other Sports; and Issues and Answers. Regular readers of The Sweet Science will recognize some of the stories as they appeared first in these pages.
Fighters and Fights opens with Canelo-GGG II, taking the reader from the contentious lead-up to the scene in Canelo's dressing room as he waits to be summoned into the ring, and then on to the actual fight. In the last entry of this section, Hauser is back in Canelo's dressing room for his match with Rocky Fielding. Canelo's "key to victory," notes Hauser, was that Fielding didn't belong in the same ring with him.
There are 11 entries in the "Curiosities" component. Two of the more interesting segments deal with the history of mouth guards and the history of ring walks.
I wasn't aware that mouthpieces did not become standard until the 1930s. Neither Dempsey nor Tunney wore a mouthguard in their historic "long count" fight. A boxer can buy a mouthguard off the shelf for a few dollars or have one custom made for a few hundred dollars. According to Freddie Roach, Marlon Starling was too cheap to go to a dentist and have a mouthpiece customized for him.
In the old days, ring walks were straightforward. The procession normally included only the fighter, his trainer and his two cornermen. The boxer walked behind the trainer with his hands on the trainer's shoulders, followed by the cornermen. Then music was introduced and nowadays for some big fights the ring walk is a major production with pyrotechnics.
Hauser quotes Teddy Atlas: "The ring walk in boxing is part of a tradition, two fighters taking a short but long journey to a place that's dangerous and dark. That's lost now. It's not about introspection or history or tradition anymore. It's about self-celebration and how sensational can we make it."
Atlas, Hauser informs us, was once hired by the New York Rangers hockey team to teach the rudiments of boxing to one of their bigger players who wasn't "engaging" as often as they would have liked.
Although stiffer penalties have been introduced to reduce the frequency of fights in hockey, the NHL, says Hauser, doesn't want to eliminate fights altogether. Moreover, although fights are real, they are, needless to say, seldom injurious. (Try getting leverage behind a punch when you're boxing on a slick surface with ice skates as your boxing shoes). "As far as technique is concerned," said promoter Lou DiBella, "hockey players who are fighting make Butterbean look like Sugar Ray Robinson."
In one of his fun pieces, Hauser compares the two Kid Galahad movies, the 1937 original in black and white with Hollywood heavyweights Edward G. Robinson, Bette Davis, and Humphrey Bogart in supporting roles and the 1962 re-make starring Elvis Presley. The former, says Hauser, is unrealistic, hokey, and lots of fun. In the Elvis version, the fight scenes are "as realistic as a theatrical production would be if Adrien Broner played Hamlet."
Hauser reviews more boxing books than any other boxing writer and all of his anthologies have a "Literary Notes" section: A pictorial history of Muhammad Ali from the archives of the Louisville Courier-Journal comes highly recommended although the "wonderful" compilation is marred by some inaccuracies in the text. The Courier-Journal's collection of Ali photographs dates back to when he was a 12-year-old boy.
Collectors of boxing memorabilia might be interested in knowing that the "Holy Grail" of collectibles is The Ring magazine championship belt inscribed to Cassius Clay (whereabouts unknown). That's according to Scott Hamilton who Hauser identifies as America's leading boxing memorabilia dealer. Hamilton notes that when he started his business, 85 percent of sales were to collectors in the U.S.; now it's down to 40 percent because of European buyers. Interesting.
Hauser's writings have earned him numerous awards, including multiple BWAA awards for investigative reporting. He covers issues large (boxing's PED problem; incompetent boxing commissions and ring officials) and small (the pervasive scent of marijuana at Brooklyn's Barclays Center). "I appreciate the pleasures of marijuana as a recreational drug and also its benefits as a medicinal aid, "writes Hauser. "But it shouldn't be forced on those who don't want it."
In this vein, Hauser's examination of CompuBox is food for thought. Do you suspect that the CompuBox punch stats are sometimes way off the mark? If so, those suspicions will be reinforced after digesting Hauser's book.
Thomas Hauser is a renaissance man. He's well-versed in the works of Beethoven, Charles Dickens, and Mark Twain, among others, and to this list we can now add Albert Einstein. One of the longer of the 46 pieces in "A Dangerous Journey" is a mini-bio of Einstein who, despite being dead for more than 60 years, "remains the world's most powerful symbol of scientific inquiry."
There is something self-indulgent about this piece. It belongs in a different book. Moreover, not all readers will appreciate his swipe at the Commander in Chief.
Many years ago, Hauser collaborated with golf legend Arnold Palmer on Palmer's autobiography. Palmer wasn't outwardly political, but he was a Barry Goldwater conservative who had numbered Dwight D. Eisenhower among his closest friends.
What would Arnold Palmer think of Donald Trump? Palmer died in 2016 shortly before the election, so Hauser could not reach out to him. But he reached out to Palmer's older daughter, Peg. Her discernment, in a nutshell: My dad would have cringed.
This reporter wishes that it was mandatory for all non-fiction books to have an index. And that goes double for books of this nature as the various chapter headings don't always point the reader in the right direction if he wishes to re-visit a slice of the book that particularly struck his fancy.
One can appreciate why the publisher eschewed an index as it would have been very long, substantially thickening a work that already clocks in at 316 pages. And index or no interest, "A Dangerous Journey," aside from its historical value, is bound to provide hours of enjoyment for boxing fans of all ages.
Check out more boxing news on video at The Boxing Channel 
To comment on this story in The Fight Forum CLICK HERE