Rob Brant is the New WBA Middleweight Champion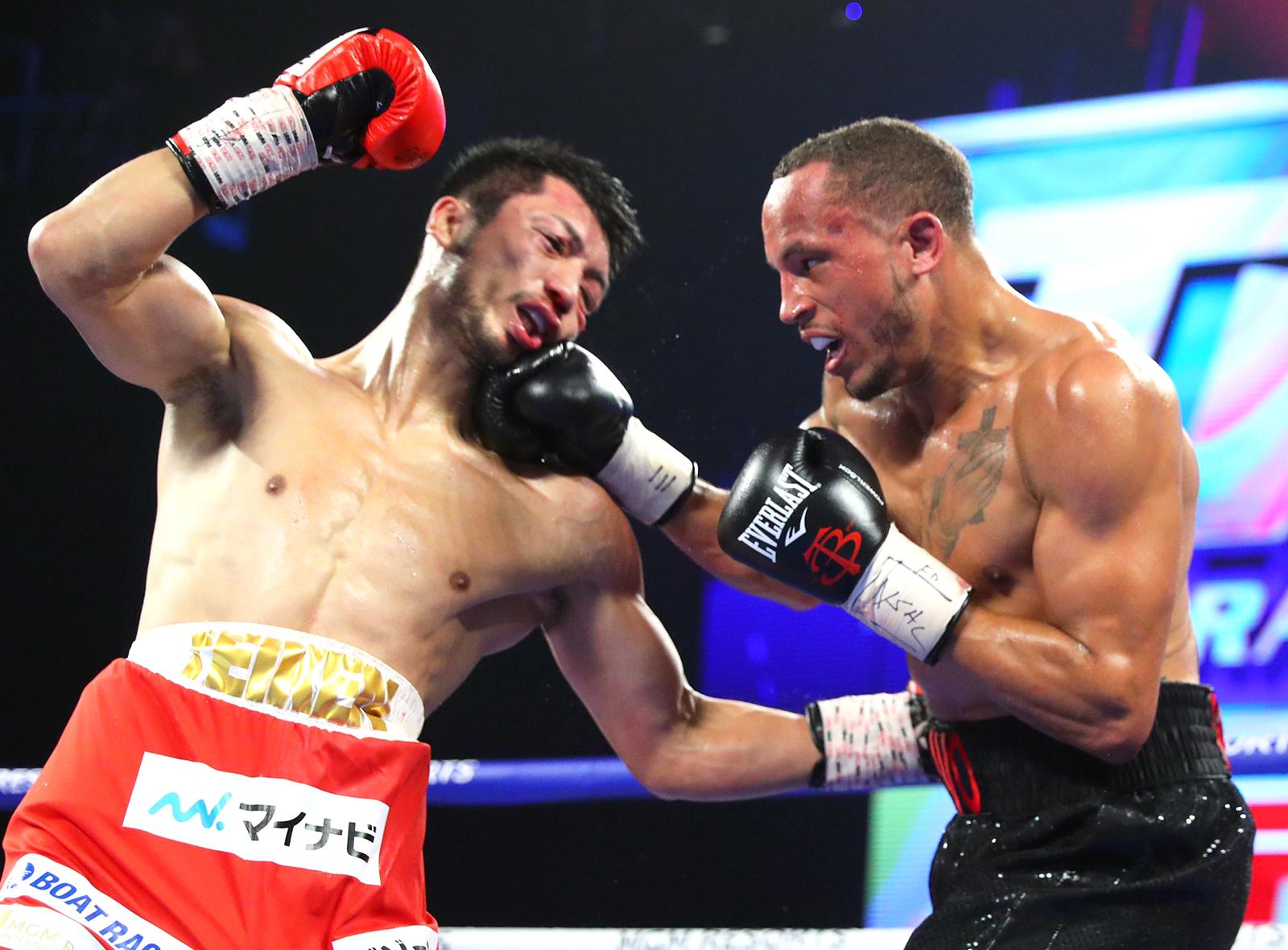 LAS VEGAS, Nevada- In a major upset that saw a mega fight disappear, Rob Brant took the WBA middleweight title from Japan's Ryota Murata with a lot of hustle and a heck of a chin to the surprise of many on Saturday.
Murata (14-2,11KOs) was expected to fight Gennady "GGG" Golovkin if he won, but the dress rehearsal turned into a nightmare as Brant (24-1, 16 KOs) attacked and attacked while out-punching the Japanese fighter nearly two to one in front of a stunned audience of more than 2700 at the Park Theater at the MGM.
"This was one of the best moments of my life, said Brant. "I wasn't thinking of punch output. I was thinking about winning."
With many planning their trips to Tokyo for an expected showdown between Murata and Golovkin, the Las Vegas based Brant put a stick into the spokes of their travel plans.
Brant started quickly with combination punching and moving in and out of range during the first three rounds of the middleweight bout. Murata smiled throughout the incoming blows from the upstart Brant.
"It's easy to smile, but his eyes were swollen and he had blood on his mouthpiece," said Brant.
It wasn't until the fourth round that Murata found life while attacking the body.
The body punches opened up the lead right cross for Murata, who began targeting Brant's head. But the Minnesota native was able to absorb the big blows and kept firing back. Though Brant was landing more shots, Murata's punches were clearly harder and landed with a thud.
The crowd got into the fight early as cheers of "USA! USA!" were shouted sporadically throughout the fight. It probably had an effect on the judges.
It seemed Murata was landing the more effective blows in the middle rounds, especially when he targeted the body, then switched to the head. But though they were hard punches, Brant moved backward and kept returning fire.
The action was measured, but constant, with no slow rounds after round three. At times it looked like Murata was about to score a knockout but it never came. Brant proved resilient. More than that, he convinced the three judges he was the winner 119-109(2x) and 118-110.
Only the widespread scores were surprising. It seemed like a much closer fight.
Dudashev prevails
Maxim Dudashev (12-0, 10 KOs) tried to blast it out with Mexico's Antonio DeMarco (33-7-1, 24 KOs), but after taking heavy incoming fire, the undefeated super lightweight changed tactics and out-boxed the former world champion to win by unanimous decision.
Dudashev moved around just enough and used quick short combinations to out-score the long-armed Tijuana fighter after the midway point of the 10-round affair. Though DeMarco was able to score with heavy body shots  and lead lefts to the head, Dudashev managed to fire off combinations that kept winning rounds in the second half of the fight. The judges scored the fight 97-93, 96-94, 98-92 for Dudashev. TheSweetScience.com scored it 96-94 for Dudashev, who keeps the NABF super lightweight title.
"This was a great learning experience for me," said Dudashev. "DeMarco is a true champion, and he fought with great heart and determination."
Falcao and other bouts
Brazil's Esquiva Falcao (22-0, 15 KOs) showcased his various boxing skills against Argentina's Guido Pitto (25-6-2, 8 KOs) who lost by unanimous decision but forced the undefeated fighter into various situations. In the first four rounds, Falcao fought from the outside with impunity as Pitto was unable to touch the Brazilian. But when the Argentine boxer took the fight inside, he found more success and forced Falcao to utilize his inside boxing skills. The fighting was intense but Falcao was just too strong and slightly quicker in winning every round in the 10 round middleweight fight. Pitto's best moments came during the fifth round when he forced his way inside. All three judges saw it 100-90 for Falcao.
Ireland's Michael Conlan (9-0, 6 KOs) battered Nicola Cipolletta (14-7-2) every round with rights to the body and head. The Italian boxer rarely fired back and after several unanswered blows by Cipolletta the referee Russell Mora stopped the featherweight fight @1:55 of round seven. Cipolletta protested the stoppage but never truly engaged Conlan, who must have connected on more than 60 percent of his punches thrown. It was a whitewash for the former Irish Olympian.
Vladimir Nikitin (2-0) won by unanimous decision over Louisiana's Clay Burns (5-5-2) in a featherweight fight that was much closer than the scores given. Burns started out fast and easily won the first two rounds. Then the battle got much closer as Nikitin's overhand rights began scoring. Burns switched to southpaw and switched back and forth and that gave Nikitin pause. The last two rounds were very close especially the final round. But all three judges scored it 59-55 for Nikitin, thus only giving Burns one round. It was much closer in reality.
A battle between undefeated Puerto Rican lightweights saw Joseph Adorno (10-0, 9 KOs) drop Kevin Cruz (8-1, 5 KOs) twice in winning by unanimous decision. Though Adorno's knockout streak was snapped, he engaged in a spirited battle against left-handed Cruz who let loose in the sixth and final round. A counter left hook by Adorno floored Cruz the second time during a furious exchange. Cruz beat the count and tried his best to go for the knockout; Adorno scooted away until the final bell. Scores of 59-53(2x) and 58-54 for Adorno.
Adam Lopez (11-1, 5 KOs) won by knockout over Hector Ambriz (12-8-2) in a featherweight match. The end came @1:29 of the eighth and final round of the fight when Lopez fired a four punch combination that forced referee Tony Weeks to halt the fight though Ambriz was still standing.
Uzbekistan's Fazliddin Gaibnazarov (6-0, 3 KOs) stopped veteran Wilberth Lopez (23-10, 15 KOs) with a series of body blows @2:13 of round two in a super lightweight contest between lefties.
Check out more boxing news on video at The Boxing Channel
Daniel Jacobs Edges Past Gabe Rosado on a Matchroom card in Florida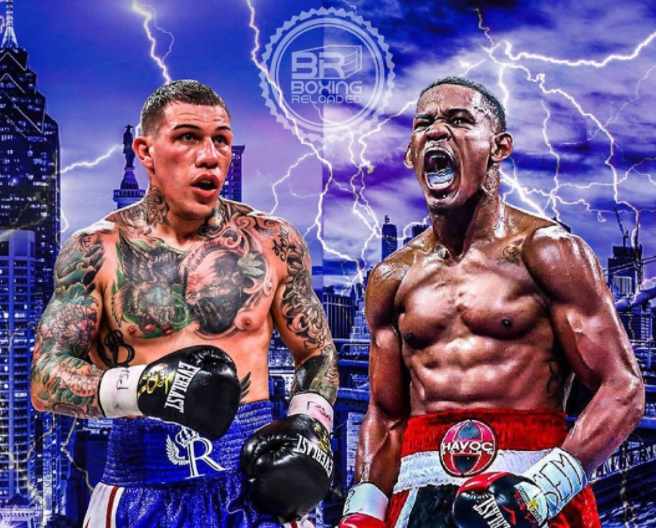 Former world champion Daniel Jacobs needed the last round to win by split decision against upset-minded Gabe Rosado and keep his place in line on Friday for lucrative super middleweight matchups.
But when the ring announcer erroneously announced the winner was from Philadelphia, confusion reigned for a moment until Jacobs was correctly called the winner.
Brooklyn's Jacobs (37-3, 30 KOs) jumped out ahead against Philly fighter Rosado (25-13-1, 14 KOs) and held on for the win in front of no fans at the Seminole Hard Rock Hotel and Casino in Hollywood, Florida. For a second, many thought Rosado had won.
Both were careful during the first three rounds measuring each other's distance and looking for openings to counter. There were very few.
It was the kind of fight expected by those who know boxing: two veterans with immense experience against top-flight world champions. Mistakes were few.
Jacobs, a former middleweight world champion, had fought Saul "Canelo" Alvarez and Gennady "GGG" Golovkin in close but losing efforts.
Rosado had battled Golovkin too, six years ago in a bloody affair that ended in a loss. He had also lost to other champions like Peter Quillin and Jermell Charlo. But none were able to knock him out.
Both were aware of each other's reputation. Bitter words had been exchanged for years and now they finally got their chance to prove their mettle and they did.
Though Jacobs was recognized as a knockout puncher, Rosado's resilience was just as well known. Both neutralized each other for most of the fight with their feints and jabs to the body. Neither was willing to leave openings for each other.
Jacobs scored big with a left uppercut at the end of the seventh round. While Rosado wowed viewers with a sizzling right cross in the 11th round.
It was 1950s style, boxing with intelligence. Each found it difficult to land combinations, let alone find openings to score knockout blows. Instead, they had to be satisfied with scoring enough to convince three judges the actual winner.
Neither was able to pull out ahead with any conviction.
After 12 rounds one judge saw Rosado the winner 115-113 while two others saw Jacobs the winner 115-113 to give him the win by split decision.
"It felt just a little weird. It felt like a sparring match," said Jacobs about fighting without fans in the audience. "This wasn't a valiant effort."
Rosado was certain he was the true winner.
"I thought I won the fight. I surprised him," said Rosado who trained with Freddie Roach for this fight. "I'm a veteran, I know how to fight."
Indeed, he does.
Jacobs now stands poised to fight one of many super middleweight champions in need of a marquee name.
"I live to see another day," he said honestly.
Other Bouts
Kazakhstan's Daniyar Yeleussinov (10-0, 6 KOs) proved he was not an easy touch and knocked out former world champion Julius Indongo (23-3, 12 KOs) to march forward in the welterweight division while grabbing the vacant IBF Inter-Continental title.
In a fight featuring southpaw versus southpaw Yeleussinov caught Indongo with a roundhouse left the first time they exchanged and down went the former super lightweight world champion. Indongo beat the count and survived the round.
Indongo wasn't as lucky in the second round as Yeleussinov again connected with a left and down went the fighter from Namibia again. He would not get up at 1:24 of round two giving the knockout win for Yeleussinov.
A battle between undefeated heavyweights saw Azerbaijan's Mahammadrasul Majidov (3-0, 3 KOs) use roundhouse rights to stagger the heavier Sahret Delgado (8-1) to win by knockout in the third round. Majidov actually helped Delgado get to his stool after knocking him out on his feet at 47 seconds of the third round.
Emmanuel Tagoe (32-1) defeated Mason Menard (36-5) by majority decision after a 10- round lightweight fight that saw a lot of clinching and leaning.
Nikita "White Chocolate" Ababiy (10-0) out-fought Detroit's Brandon Maddox (7-4-1) to win by unanimous decision after six rounds in a middleweight clash. Ababiy hurt Maddox with body shots but found Maddox more resilient than expected.
Check out more boxing news on video at the Boxing Channel 
To comment on this story in the Fight Forum CLICK HERE.
Pradabsri Upsets Menayothin, Ends the Longest Unbeaten Streak of Modern Times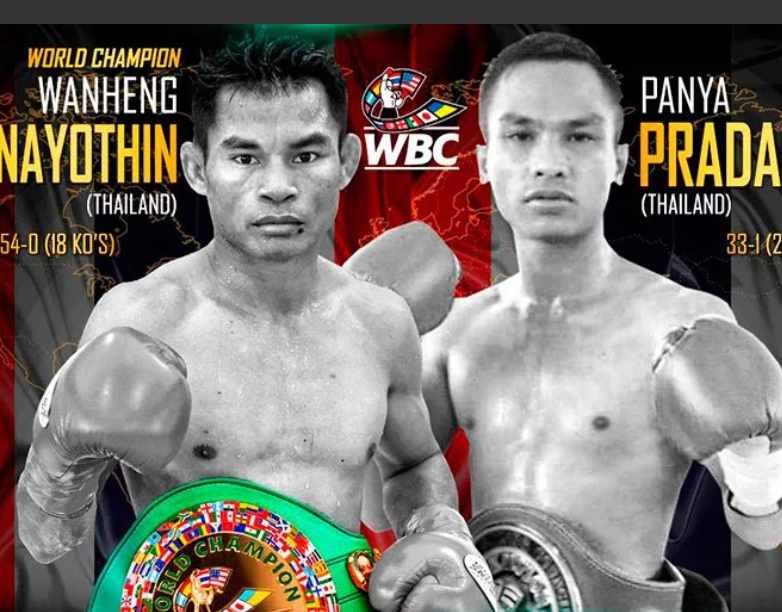 During the wee hours in the Americas, a big upset was brewing in Thailand. In Nakhon Sawan, a city roughly 150 miles north of Bangkok, Panya Pradabsri (aka Petchmanee CP Freshmart) out-pointed Wanheng Menayothin (aka Chayaphon Moonsri) in a domestic clash with international significance. Manayothin entered the bout with a 54-0 (18) record and was making the 13th defense of his WBC world minimumweight title.
Pradabsri had been defeated only once in 35 previous starts, but only 11 of his 34 victories had come against fighters with winning records. According to ringside reports, he kept Menayothin at bay with good fundamentals, a stiff jab, and good lateral movement. All three judges had it 115-113. The fight wasn't without controversy as Menayothin finished stronger and many folks scoring off the live video thought that he had done just enough to retain his title.
How good was/is Menayothin? That's a question that serious boxing fans will likely debate for decades.
In the summer of 2019, Menayothin signed a co-promotional deal with Oscar De La Hoya's Golden Boy Promotions. At time, GBP president Eric Gomez described him as one of the best fighters in the world. "We really want to bring him to the U.S. so people can see how talented he really is," Gomez told England's Sky Sports.
Menayothin was expected to make his U.S. debut in April of this year, but the pandemic ruined that plan. Earlier this year, he announced his retirement, but rescinded it after only two days.
Scottish boxing historian Matt McGrain, who has an exclusive arrangement with this web site, had lukewarm opinion of the Thai mighty-mite although he rated him the second-best 105-pound boxer of the decade, trailing only his countryman Thammanoon Niyomtrong (aka Knockout CP Freshmart).
"He is disciplined, strong, brings good pressure and is armed with a very decent range of punches," said McGrain, "(but his record) is comprised mostly of men any competent fighter would be expected to beat."
Although only one boxer from Thailand has been inducted into the International Boxing Hall of Fame (Khaosai Galaxy, class of 1999), the Southeast Asia nation has produced some outstanding boxers over the years – Chartchoi Chionoi, Sot Chitalada, Pongsaklek Wonjongkam, and Srisaket Sor Rungvisai to name just a few. The difference between these fighters and Wanheng Menayothin is that they all left the comfort zone of their homeland to score one or more important wins on foreign soil.
Menayothin may yet display his wares in a U.S. ring. But at age 35, an advanced age for small fighters in particular, we won't get to see him at his best and now that his bubble has been burst, disinviting further comparisons to Mayweather and Marciano, the curiosity factor has been tempered.
To comment on this story in the Fight Forum CLICK HERE
Yoka vs. Hammer Kicks Off the Thanksgiving Weekend Slate on ESPN+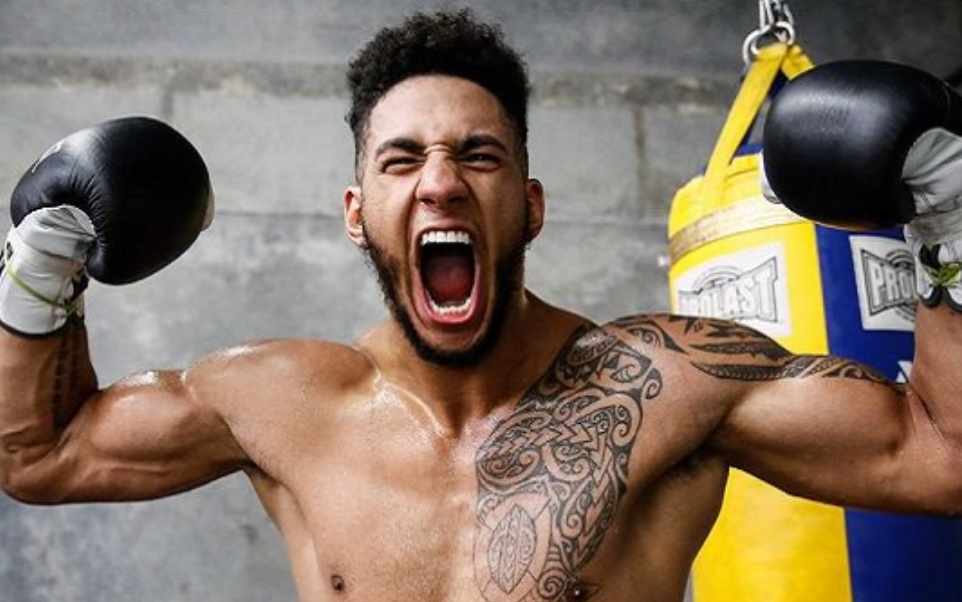 PRESS RELEASE— Tony Yoka, the dynamic heavyweight punching Parisian, aims to impress in his ESPN platform debut. Yoka, who won a super heavyweight gold medal for France at the 2016 Rio Olympics, will fight veteran Christian Hammer in a 10-rounder Friday at H Arena in Nantes, France.
Yoka-Hammer will stream live and exclusively this Friday, Nov. 27 in the United States on ESPN+ beginning at 2:55 p.m. ET/11:55 a.m. PT.
The ESPN+ stream will also include the return of unbeaten 2016 French Olympic gold medalist Estelle Yoka-Mossely against Pasa Malagic in an eight-round lightweight bout. Yoka and Yoka-Mossely, who have been married since 2018, welcomed their second child in May.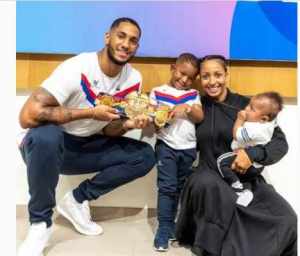 Earlier this year, Yoka inked a promotional agreement with Top Rank, which will co-promote him with Ringstar France.
"Tony Yoka's potential is limitless, and he is a grounded young man who is motivated to be a great professional fighter," said Top Rank chairman Bob Arum. "France has never had a world heavyweight champion, and I believe Tony is the one to bring the sport's biggest honor home."
The 28-year-old Yoka's stellar amateur run included a berth at the 2012 London Olympics and gold medals at the 2015 World Championships and 2010 Youth Olympic Games. Before his triumph in Rio, he'd already defeated the likes of former heavyweight world champion Joseph Parker and current undefeated prospects Joe Joyce and Ivan Dychko. At the Rio Olympics, he defeated Croatian standout Filip Hrgović in the semifinals and edged Joyce in the gold medal match.
As a professional, Yoka (8-0, 7 KOs) made his debut in June 2017 with a second-round stoppage over the previously undefeated Travis Clark. Apart from a decision win over Jonathan Rice in his second outing, Yoka has stopped every foe, including durable Englishman David "White Rhino" Allen and former European champion Alexander Dimitrenko. He made his 2020 debut Sept. 25 and stopped former world title challenger Johann Duhaupas in one round.
Hammer (25-6, 15 KOs) has fought many of the leading heavyweight names during his 12-year career, falling short against Tyson Fury, Luis Ortiz and Alexander Povetkin. He's notched myriad upset victories, including a highlight-reel knockout over David Price and a 2016 split decision over Erkan Teper for the WBO European belt. In March 2019, he went the 10-round distance against Ortiz and has not been stopped since Fury forced him to retire on his stool after eight rounds in their February 2015 clash.
Check out more boxing news on video at the Boxing Channel 
To comment on this story in the Fight Forum CLICK HERE