Andrade Grabs Vacant WBO Middleweight Belt in Boston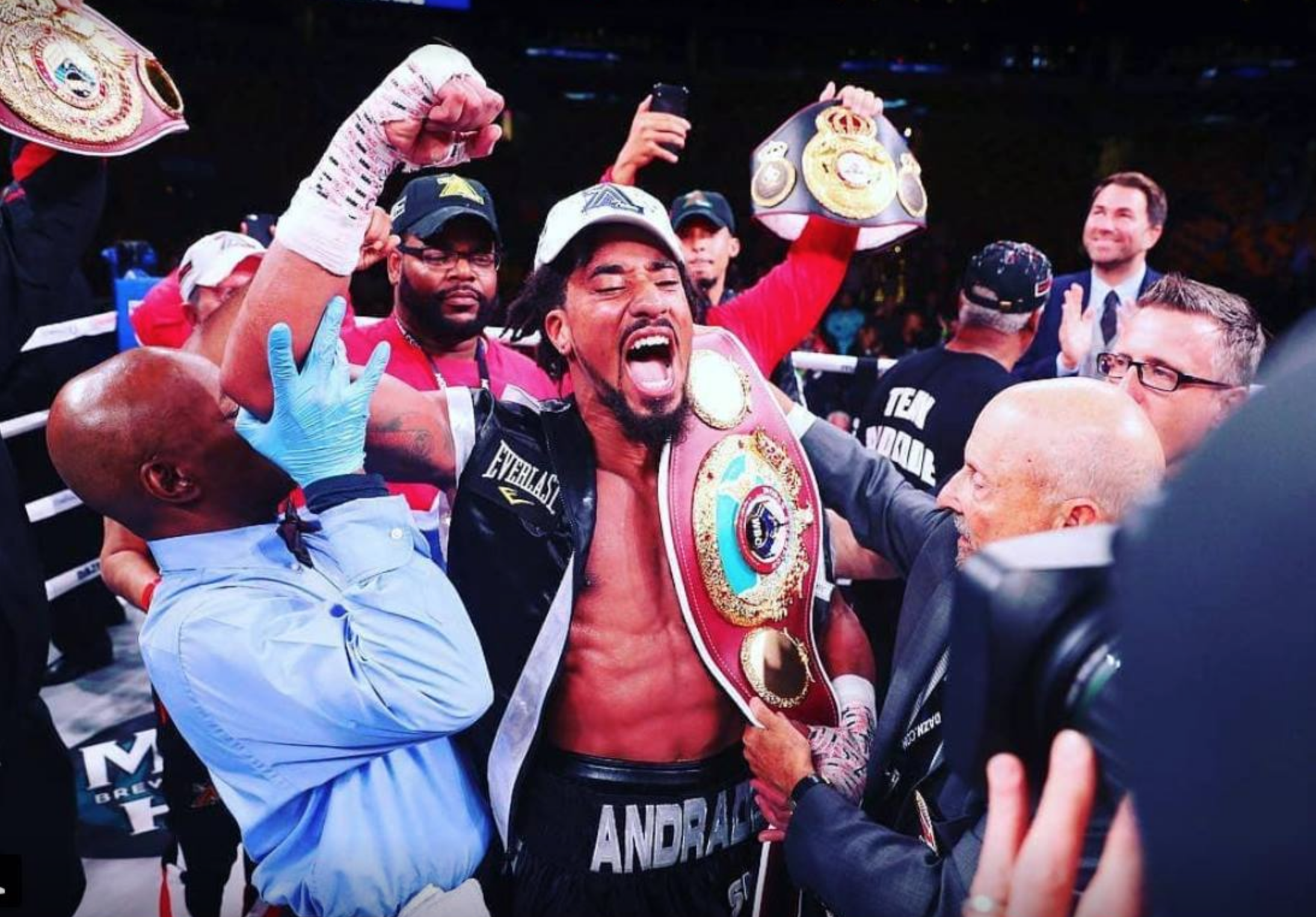 TD GARDEN​​ — It's a good thing Eddie Hearn didn't listen to the people who told him not to promote prizefighting in Boston. With all four major American sports in full swing in the city, Matchroom Boxing absolutely rocked the house as an equitable fan attraction in New England.The media was out in full force and so were the fans. At the final fight week press conference, Hearn introduced ESPN's Dan Rafael before he even barked for his boxers. "You know it's a big card when Dan Rafael shows up," he said of the 2013 BWAA Nat Fleischer award winner for career excellence in journalism. Hearn knows it's about building hype and that's what he's doing.
Sugar Ray Leonard was on the mic for DAZN. Paulie Malignaggi was doing the same for Sky Sports. I saw Micky Ward and Conor McGregor seated at ringside. Mike Tyson conqueror Kevin "The Clones Colossus" McBride was also spotted in the mix throughout the night.
"We did about five thousand in Chicago," Hearn told me of his first Matchoom USA show October 6 on DAZN. Hearn expected about seven thousand for Boston, hoping for a good walk-up crowd. "I'm pleased with ticket sales. I'm pleased with the venue. If the fans are happy and enjoy a great night at the fights and if they want us back, we'd love to return," he said.
Hearn's originally scheduled main event fell apart in September when Billy Joe Saunders controversially failed VADA drug testing for the banned stimulant oxilofrine. "Unfortunately Billy Joe failed a drug test. I don't think the Massachusetts Commission had any choice in denying him a license," Hearn told me during the final fight week press conference at Fenway Park.
Saunders was to defend the WBO middleweight title against Providence, Rhode Island's Demetrius Andrade. Instead, Saunders was stripped of his strap and unknown African champ Walter ​Kautondokwa stepped in to face Andrade for the vacant WBO 160 pound title. "I'm too old to fight nobodies now," said the 30 year-old Andrade without a trace of irony. In fact, Andrade's whole pro career has been carefully built on soft touches and vacant ABC championships.
Hearn's undercard also suffered a hit when popular local junior welterweight Danny "BHOY" O'Connor pulled out of his bout against Tommy Coyle, citing injury. According to Hearn, "​O'Connor was working very hard in camp but I don't think it was going particularly well."
The live crowd in attendance at the Garden was loud and enthusiastic. In a full sized entertainment venue that seats close to twenty thousand fans and with promotional aspirations optimistically set at half that number (official attendance was listed at 6,874), your best chance to have seen these fights for yourself was on the emerging and effective streaming app DAZN.
For Brits stuck back home it was on Sky Sports.  For everybody else, I'm here to ringside report.
In the Main Event for the vacant WBO middleweight championship, Providence, Rhode Island's Demetrius "Boo Boo" Andrade, 30, 160, 26-0 (16) dominated Namibian import Walter Kautondokwa, 33, 17-1 (16). ​A stablemate of former super lightweight champ Julius Indongo, Kautondokwa drew inspiration from his countryman's international accomplishments in boxing. Indongo parlayed the WBO African title into an eventual unification showdown with Terence Crawford in Nebraska. "He's definitely not stopping this train," promised Andrade at the weigh-in.
He was right.
In the first round, ​Kautondokwa slipped to the canvas and Andrade hit him on the chin while he was on all fours. Referee Steve Willis ruled it a knockdown, rather than reacting to the foul. Kautondokwa pushed the action in the second but Andrade scored with the cleaner punches. In the third, Andrade scored a clean knockdown with a flush left hand to the chin. The challenger rose and answered the bell for the fourth down by two extra points. Kautondokwa went down again twice more in the fourth leaving Andrade with a look like, "What more do I have to do?"
As the rounds wore on and on, Andrade found the answer to be elusive, even if Kautondokwa wasn't terribly so. His best power punches were either missing or being blocked, and Kautondokwa was proving durable. By the championship rounds, it was clear that Andrade wouldn't be able to stop the train that was Kautondokwa. The energy in the live crowd suffered accordingly. Michael Buffer announced what was already known, that Andrade won a virtual shutout on the cards.  Scores were 120-104 twice and 119-105.
"I did what I had to do. I could see that he was tough. It was good to get those twelve rounds in because I've been inactive," said Andrade at the post-fight press conference. He also spoke of a fight week injury to his left shoulder that affected his performance and prevented a knockout. To be perfectly honest, it sounded like an excuse for not finishing off a badly hurt fighter.
In her de facto Irish Homecoming, Katie Taylor, 32, Bray, 11-0 (5) successfully defended her WBA/IBF female lightweight titles against the very experienced Cindy Serrano, 36, Brooklyn, 27-6-3 (10), over ten two-minute rounds. Serrano was moving up in weight to challenge Taylor, who's already made two title defenses this year in London and in Brooklyn. Serrano was never in danger of being hurt or knocked out and Taylor was never in any danger of losing the fight.  Taylor won every round on all three cards 100-90.  "Cindy was just in there to survive," said a disappointed Taylor.  Some fans jeered the "action" but it didn't bother Serrano. "Eddie Hearn believes in female fighting. Hopefully he can turn it around and we can get a couple more promoters just like him."
To make the first defense of his newly won IBF super featherweight championship, Philly southpaw Tevin "American Idol" Farmer, 27-4-1 (6), stopped Belfast KRONK's James Tennyson, 22-3 (18) in five. During promotion for the title bout, it looked for all to see that Farmer was overlooking Tennyson with his focus squarely on a big money grudge match with Gervonta Davis. ​"I'm not overlooking James but I want to fight Tank Davis. I have to have that fight and it's got to happen. Let's leave the streets on the streets and fight in the ring. We've talked enough."
In the ring, Farmer looked at his opponent and punched right through him. In the fourth frame, Farmer dropped Tennyson with a solid left hook to the body. It got no better for the Belfast native. The next round, Arthur Mercante stopped it when Tennyson fell again from body shots. ​In accepting the fight, Farmer's promoter Lou DiBella didn't want to deny his fighter the opportunity to appear on such a high profile card so he willingly worked with Hearn to make it happen.  Time of the TKO was 1:44 of the round 5.
In an IBF featherweight elimination bout scheduled for twelve, Evander Holyfield's Toka Kahn Clary, Providence, R.I., 25-3 (17), dropped a pedestrian UD to Ingle Gym's Kid Galahad, Sheffield, 25-0 (15). At the press conference in August to announce the match-up, there was bad blood in the air. "Toka is a bum," a chippy Galahad told me at Boston's Faneuil Hall. "He didn't want this fight. He was talking trash so I called him a wanker and it got a little out of hand."
"I'm gonna beat him," Galahad promised.
At the final press conference, Galahad was demonstrably more peaceful. During the media face-off with Kahn, he offered his hand to shake but Toka just left it hanging there. "I've calmed down," Kid told me. "Nothing personal, just business." ​Is Toka a bum?​ "You can't call him a bum." ​You did Kid.​ "I might have gone over the top. Any fighter that gets in the ring you gotta have some respect for. Toka is gonna show up and my job is to make sure I do a job on him."  Job well done, Kid.  Final scores were 118-110 twice and 115-113.
In an entertaining ten round junior welterweight scrap, Tommy "Boom Boom" Coyle, Hull, Yorkshire, U.K., 25-4 (12), outpointed Ryan Kielczweski, Quincy, Mass, 29-4 (11) over the distance. Unanimous scores were 99-90, 98-91 and 96-93. The "Polish Prince" substituted for Danny O'Connor against Coyle, a fighter TSS's own Ted Sares expected Ryan to have had his hands full with in a knockout loss; describing Coyle as a "load" in the ring. In the seventh round, Kielczweski was felled by a massive right hand to the body and a vicious follow up left hook to the head. He took a long nine count but got up to then stalk a fading Coyle down the stretch.  "This is the most ready I've been for any fight," Kielczweski told me before the bout. "I fought in September. A week later I got a call for this one so it's like I'm on a ten week training camp."
Coyle is a pressure fighter and an interesting character. Kielczweski struggled to keep him at bay but landed with several quality power shots of his own, many coming in the last three rounds—after the knockdown. Calling this his "American Dream" come true, Coyle grew up in England loving ROCKY movies and Irish Micky Ward fights. Tonight, he was almost in one.
In a super featherweight comeback bout, former super bantamweight and featherweight champion Scott Quigg, 30, Bury, U.K., 35-2-2 (26) made a successful return against journeyman Mexican Mario Briones, 29-8-2 (21), stopping him in two rounds with an unanswered three punch combination along the ropes. Trained by Freddie Roach, Quigg was defeated last March by WBO featherweight champion Oscar Valdez in a bruising non-title bout. Quigg suffered multiple facial laceration and a broken nose in the unanimous decision loss. "I want a rematch with Valdez and with Carl Frampton because I want to avenge my losses. If I'd be happy not fighting them again, I'd be in the wrong game," a candid Quigg told me. "The work Freddie's had me doing and the sparring I'm on, I feel like I'm a ten times better fighter now."
In a junior middleweight rematch, Murphys Boxing U.S. Marine Mark "Bazooka" DeLuca, Whitman, Mass, 22-1 (13) outgunned Walter "2 Guns" Wright 37, Seattle, Washington 17-5 (8) to defeat the only man to have beaten him as a pro, winning 97-93, and 96-94 twice. From ringside I scored it 6-4 in rounds for DeLuca who scored well early with left hooks. Wright did well in the middle rounds on the inside when DeLuca was tiring but it wasn't enough. Though his promoter Ken Casey questioned the outcome of the first fight last June in N.H., DeLuca told me it was tight. "But he got me," he admitted. Wright didn't understand the manufactured controversy. "I won. To come across the country, fight the local guy, and beat him, I should think I'd get my props for winning. My performance should outweigh politics." On this night, Wright's good but not good enough performance earned him an appropriately scored unanimous decision loss.
There was no protest from Wright with the verdict.
UNDERCARD RESULTS:
In the show opener, super lightweight southpaw Sean McComb from Belfast improved to 4-0 (3), outclassing 37 year-old Peruvian Carlos Galindo, 1-6. Galindo's only win came against Maine's Brandon Berry last June in N.H. This was McComb's first appearance outside the U.K. Galindo took a body beating and the fight was stopped in the third after a pair of knockdowns.
Accompanied to the ring by middleweight corker Spike O'Sullivan, Murphys Boxing's Gorey, Ireland heavyweight Niall Kennedy 221.6, 12-0-1 (7) took a few to give a few against New Jersey's Brendan Barrett 238, 7-1-2 (5), including a hip-toss and a headlock. The 6'3" Kennedy used his good left jab and strong right cross to earn a unanimous six round decision, dropping the stocky Barrett in the fifth with a brutal right hand. Official scores: 60-53 twice and 58-55.
Kazakh Olympic Gold medalist welterweight prospect Daniyar Yeleussinov improved to 4-0 (2) against Salem, Mass "Mantis" Matt Doherty, 8-6-1 (4). Doherty wore a J.D. Martinez Red Sox jersey to the ring but he was outgunned. The 27 year-old southpaw finished Doherty off with a barrage of unanswered punches in the first round and referee Arthur Mercante waved a halt.
Check out more boxing news on video at The Boxing Channel
Terence Crawford is Bob Arum's Yuletide Gift to New York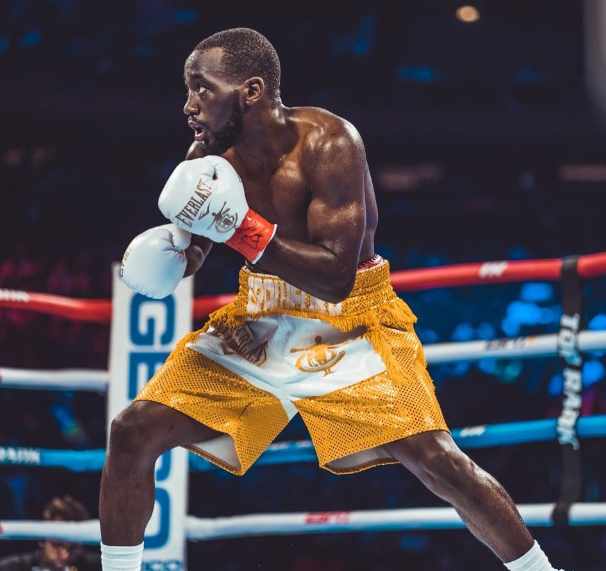 Terence Crawford is Bob Arum's Yuletide Gift to New York
Throughout history, boxing promoters have shunned the weeks before Christmas. The conventional wisdom is that the typical fight fan has little money at his disposal for a frivolity such as a night at the fights, having exhausted his funds buying Christmas presents. But don't tell that to Top Rank promoter Bob Arum who has flouted this dictum and profited handsomely.
Back in 1995, Arum secured Madison Square Garden for the night of Dec. 17 for a show that pitted Oscar De La Hoya against Jesse James Leija in the main event. The cynics said the date was all wrong, let alone the location for a match between two Mexican-Americans from out west, one from LA and the other from San Antonio. But lo and behold, the show was a big money-maker, attracting a crowd of 16,027, more than 15,000 paid.
Arum anticipates another box office bonanza on Dec. 14 when he plants an ESPN and ESPN Deportes tripleheader in America's most famous sports arena, an event headlined by Terence "Bud" Crawford's WBO title defense against Egidijus Kavaliauskas. Crawford, who turned 32 several weeks ago, moved up to welterweight after grabbing all the belts at 140 and will be making his fourth welterweight title defense.
The opening bout on the telecast pits featherweight Michael Conlan against former amateur rival Vladimir Nikitin. Conlan will be making his sixth appearance at the Garden. In the co-feature, Richard Commey defends his IBF world lightweight title against Teofimo Lopez.
Although many rate Terence Crawford the top pound-for-pound fighter in the world, he has been something of a forgotten man lately. Almost 10 full months have elapsed since he last fought. Oscar De La Hoya, who had a bitter break-up with Arum late in his boxing career, recently took a swipe at Arum for not keeping Crawford more active, suggesting Arum's "inertia" might be keeping Crawford out of the Hall of Fame.
The Crawford-Kavaliauskas match-up serves as Arum's retort as it will shine a bright spotlight on Crawford, the pride of Omaha, Nebraska, as Arum's show will air on ESPN directly following the Heisman Trophy presentation. Now it behooves Arum to pull some strings so that the Heisman Trophy show doesn't run too long as has happened in the past.
At the moment, parlaying Terence Crawford (35-0, 26 KOs) to Alabama quarterback Tua Tagovailoa seems like a safe bet, but Egidijus Kavaliauskas, a two-time Olympian who was profiled on these pages in July of 2016, is no slouch.
True enough, Kavaliauskas (21-0-1, 17 KOs) didn't look all that sharp in his last outing when he was held to a draw by Ray Robinson, but Philadelphia's Robinson had an awkward style (think former heavyweight contender Jimmy Young) and was fighting in his hometown.
If Kavaliauskas were a horse, we would say that he comes from a great barn. The 31-year-old Lithuanian is a stablemate of the Big Three in the barn of Egis Klimas: Vasiliy Lomachenko, Oleksandr Usyk, and Oleksandr Gvozdyk.
—
Richard Commey (29-2, 26 KOs) hails from Ghana but now hangs his hat in Brooklyn. His losses were both by split decision in back-to-back fights with Robert Easter and Denis Shafikov and he has won five straight since then, most recently an eighth-round stoppage of veteran Ray Beltran in the first defense of his IBF title.
Teofimo Lopez, 10 years younger than Commey at age 22, is moving up in class, but will yet go to post the favorite. In his last start, Lopez won a unanimous 12-round decision over Masoyoshi Nakatani, ending a skein of highlight reel knockouts. In December of last year, Lopez scored a one-punch knockout over Mason Menard in a bout that lasted all of 44 seconds. It was named the TSS Knockout of the Year.
Lopez (14-0, 11 KOs) grew up in Davie, Florida, but was born in Brooklyn and currently has a home there, giving the show even more of a local flavor. He and his Honduras-born father of the same name are not shy when it comes to boasting of his prowess and Teofimo's braggadocio has enhanced his appeal with young fans.
Michael Conlan (10-0, 7 KOs) and Vladimir Nikitin (3-0, all by decision) met in the quarterfinals of the 2016 Rio Olympics. Nikitin got the decision, a jaw-dropper that spawned the most indelible moment of the Games when an enraged Conlan gave the judges a two-middle-finger salute.
The rematch between them was hatched at that moment although it took awhile for Arum to rope the Russian into the fold. They were originally slated to fight on Aug. 3 at an outdoor show in Conlan's hometown of Belfast, but Nikitin suffered a torn bicep in training and had to pull out.
This is the kind of match that Bob Arum can really get his teeth in. The crusty octogenarian and former attorney would have it that all people of good character ought to be rooting for Conlan in the interest of seeing an injustice rectified.
Regardless, Arum's Dec. 14 show is a nice Christmas present for Big Apple boxing fans.
Check out more boxing news on video at The Boxing Channel 
To comment on this story in The Fight Forum CLICK HERE
Three Punch Combo: Gvozdyk-Beterbiev Thoughts and More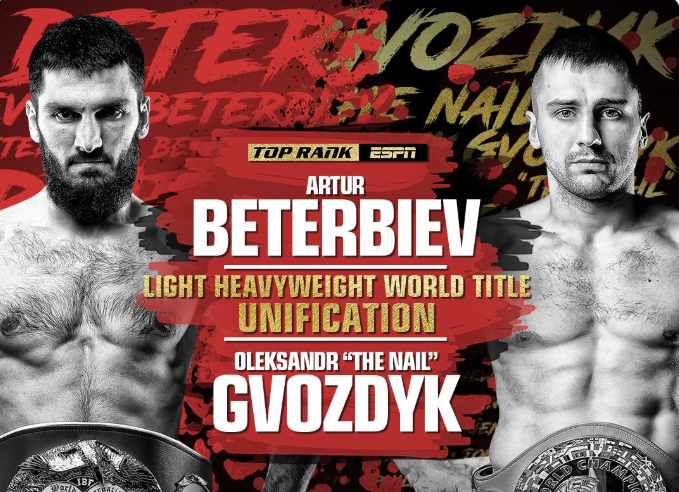 Three Punch Combo — For hardcore fans, one of the most attractive fights of the year takes place on Friday when undefeated light heavyweight champions Oleksandr Gvozdyk (17-0, 14 KO's) and Artur Beterbiev (14-0, 14 KO's) battle in a title unification bout. This contest will headline an ESPN televised card from the Liacouras Center in Philadelphia, PA. Here are a few subtle things that could play a factor in how this fight plays out.
A Tactical Fight?
Twenty years ago, Oscar De La Hoya and Felix Trinidad met in a welterweight title unification fight. It was a super fight between two explosive punchers. Everyone expected fireworks, but as we all know, it turned into an all-out chess match for twelve rounds.
When two big punchers meet, sometimes we get fireworks and sometimes each fighter respects the other's power so much that they both become somewhat tentative inside the ring.
Keep in mind we have seen in several Gvozdyk fights a somewhat cautious approach. He will take what is given and nothing more. As for Beterbiev, he has typically been a very aggressive fighter (more on that later) but has had his moments where caution has entered his mindset. Just take a look back at his 2017 fight with Enrico Koelling.
I know it is the unpopular opinion but we could certainly see a very tactical chess match between these two on Friday.
Beterbiev's Defense and Chin
Beterbiev, as noted, is a very aggressive fighter. But with that aggression comes an almost complete lack of focus on the defensive side of the game.
So far, Beterbiev's offense has been his best defense as many times his opponents have simply been too fearful of opening up. But at times the cracks have shown. Callum Johnson, for example, wasn't afraid to throw in spots and when he did, his punches landed.
In that fight, we saw Beterbiev get hurt and dropped. Beterbiev showed a ton of heart to come back from that moment and later stop Johnson, but his chin is certainly a question mark. And Gvozdyk, aside from carrying one-punch power, is a very sharp and accurate puncher who has shown excellent finishing skills thus far in his career.
Gvozdyk's Mindset
A little more than ten months ago, Gvozdyk wrested away the title from Adonis Stevenson. But on what was supposed to be the night where Gvozdyk's dream came true, things almost turned tragic as Stevenson suffered a brain bleed that nearly took his life.
Gvozdyk has had one fight since against journeyman Doudou Ngumbu. Though Gvozdyk won easily, there was something about his performance that just didn't feel right. Gvozdyk had a fighter in front of him who offered little resistance but seemingly didn't want to fully step on the gas.
In order to compete with Beterbiev, we have to see the same Gvozdyk that we saw against Stevenson. But has Gvozdyk's mindset permanently been altered by the events of that evening?
Under The Radar Fight
A pivotal crossroads bout in the welterweight division between Luis Collazo (39-7, 20 KO's) and Kudratillo Abdukakhorov (16-0, 9 KO's) is also on Friday's ESPN broadcast. The winner will be in prime position for a title shot in 2020.
Collazo, a world welterweight titlist back in 2005, is in the midst of yet another career resurrection. After getting stopped by defending WBA welterweight champion Keith Thurman in 2015, Collazo has won three straight. And these wins were not against subpar opposition. Two were against up-and-coming young fighters in Sammy Vasquez and Bryant Perrella; the other against fringe contender Samuel Vargas.
At age 38, Collazo has proven he still has plenty in the tank and has clawed back up the rankings in the welterweight division. But to get one more shot at a title, Collazo must find a way to get past another young up-and-comer in Uzbekistan's Abdukakhorov.
Abdukakhorov, 26, is coming off the biggest win of his pro career this past March when he won a 12-round unanimous decision over former 140-pound title challenger Keita Obara. That win boosted Abdukakhorov into the number one position in the IBF at welterweight and in line to one day be the mandatory challenger for current belt-holder Errol Spence Jr.
Stylistically, I love this matchup. Abdukakhorov is an aggressive boxer-puncher. He will look to press the attack and won't be afraid to lead looking to land his best punch which is the overhand right. Collazo is a southpaw who is a natural counterpuncher. He will look to make Abdukakhorov's aggression work against him and should find plenty of opportunities to do so.
I think we are going to get an action-packed, competitive fight. This should serve as an excellent appetizer to Gvozdyk-Beterbiev.
What's Next For Dmitry Bivol?
This past Saturday, Dmitry Bivol (17-0, 11 KO's) successfully defended his WBA light heavyweight title with a wide unanimous decision over Lenin Castillo (20-3-1, 15 KO's). Though it wasn't the most exciting performance, the win keeps Bivol in line for bigger opportunities down the road. So, what's next for him?
Saturday's title defense marked Bivol's second consecutive appearance on the streaming service DAZN. DAZN needs future opponents for its two biggest stars in Canelo Alvarez and Gennady Golovkin. Clearly part of the reason for DAZN showing interest in Bivol is geared toward him potentially getting one or the other down the road.
Though Alvarez is fighting at light heavyweight in November, this appears to be a one-time appearance for the Mexican superstar in that division. He is likely headed back to middleweight or the 168-pound weight class. As for Golovkin, he has fought his entire 13-year career at middleweight. A move at some point soon to 168 would not be a surprise.
Bivol and his team have made it very clear that he can get down to 168. With DAZN's two biggest stars hovering around that division, a move down to 168 seems likely.
The WBA champion at 168 is Callum Smith who is slated for a title defense in November against UK countryman John Ryder. Assuming Smith prevails, he would make a logical opponent for Bivol in the spring of 2020.
Smith-Bivol would be a big fight between two young undefeated fighters and the winner would then be in position for a mega fight later in 2020 against either Alvarez or Golovkin.
But what if Smith goes a different direction following the Ryder fight? If that is the case, Bivol may instead just look to dip his toes in the water at 168 with someone like Rocky Fielding.
Fielding is a tough, gritty competitor who is popular in the UK and has name recognition in the US based on his fight last December with Canelo. But as we saw in that fight, Fielding is very limited.
Fielding is just the type of opponent who could bring out the best in Bivol. A spectacular knockout would help erase some of Bivol's recent lackluster performances. And this would, of course, make Bivol much more marketable for a future date with Alvarez or Golovkin.
Check out more boxing news on video at The Boxing Channel 
To comment on this story in The Fight Forum CLICK HERE
The First Coming of George Foreman: A Retrospective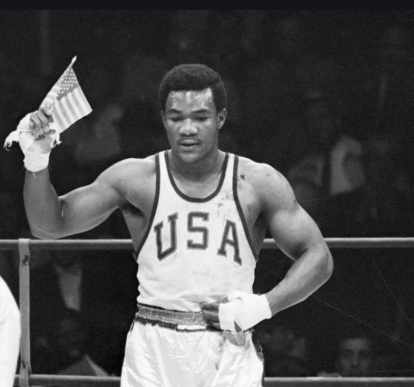 This coming Oct. 30 is the 45th anniversary of the Ali-Foreman fight. Boxing has had its fair share of memorable fights across the decades, but few have been more talked about than "The Rumble in the Jungle."

The 60,000 fans in attendance watching at the 20th of May Stadium in Kinshasa, Zaire and the record–setting one billion viewers taking it in around the globe, including 50 million who watched via pay-per-view on closed circuit television, will never forget what happened inside the ring.

Foreman, who was recognized as the world heavyweight champion by the World Boxing Association and World Boxing Council, the only sanctioning bodies that mattered, entered with a 40-0 record and 37 knockouts. Ali owned a 44-2 mark with 31 knockouts, but wasn't the same fighter after being stripped of his titles and missing three-and-a-half years between 1967 and 1970 after refusing induction into the military based on his religious convictions.

Both stood 6-feet-3. Foreman weighed 220 pounds and Ali 216, but the latter was giving away seven years in age, 32 to 25.

The fight commenced with Ali on the offensive, but Foreman, a 4-to-1 betting favorite, rallied to close the gap by the end of the opening frame.

In the second round, Ali allowed "Big George" to bang away at his arms and body, using what he later described as the "rope-a-dope," which helped tire Foreman out.

As the fight continued, Foreman's once fierce arsenal was reduced to half its potency and in the eighth round Ali eventually found his range.

Ali now threw punches at will, and when Ali buzzed Foreman with a quick right and knocked him to the canvas, Zack Clayton, the referee, had seen enough.

Having lost for the first time as a professional, Foreman was bitter and even claimed that his trainer and manager, Dick Sadler, put something in his water just minutes before the opening bell.

"It's not like the water beat me," Foreman said in writer Jonathan Eig's biography, "Ali." "Muhammad beat me. With a straight right hand. Fastest right hand I'd ever been hit with in my life. That's what beat me. But they put drugs in my water."

In time, though, Foreman would mellow, saying, "Before that, I had nothing but revenge and hate on my mind, but from then on, it was clear. I'll never be able to win that match, so I had to let it go. It just wasn't my night."

The Road to Zaire

Foreman's sweet and outgoing personality wasn't on display when he began his pro career shortly after winning a gold medal at the 1968 Summer Olympics in Mexico City.

To the contrary, Foreman was a mean and angry young man after spending his childhood in Houston's tough Fifth Ward.

Growing up with six siblings and without much on the table to eat will create a crusty exterior.

Everyone needs an escape. Football was that for Foreman, who idolized Jim Brown, arguably the NFL's greatest running back.

But it was boxing that saved him and helped turn his hardscrabble life around.

At 15, Foreman grew tired of high school and dropped out, joining the Job Corps.

This is where he was introduced to boxing and through hard work and dedication went on to earn a berth on the U.S. Olympic boxing team, going on to win a gold medal at the 1968 Summer Games.

This was a turbulent year. It was the year in which Dr. Martin Luther King Jr. and New York Senator Robert F. Kennedy, a Presidential hopeful, were assassinated. Blacks were rioting in many American cities over grievances including police harassment, the Viet Nam War was raging half a world away and college students were protesting our involvement in that very unpopular war.

This was the ugly backdrop against which the 1968 Olympic Games were being contested.

Two black American track stars, Tommie Smith and John Carlos, were front and center in Mexico City after placing first and third respectively in the 200-meter dash. At the medal stand, Smith and Carlos raised their clenched fists wrapped in black gloves skyward while the National Anthem played, which triggered a chorus of boos from those inside the stadium.

Foreman waltzed through each round of the heavyweight tournament and took the gold medal by stopping Lithuania's Jonas Cepulis, representing the Soviet Union, in the second round.

Foreman then pulled out a small American flag and walked around the ring, bowing to the crowd.

Many Americans fell in love with Foreman because of that simple gesture of waving the flag.

"I had a lot of flak," said Foreman years later of the flag-waving incident. "In those days, nobody was applauded for being patriotic. The whole world was protesting something. But if I had to do it all again, I'd have waved two flags."

Foreman's professional career began in grand fashion in June 1969 at New York's Madison Square Garden when he scored a third-round TKO over Don Waldhelm.

The next six fights concluded by knockout or TKO before Foreman triumphed over Peruvian trial horse Roberto Davila by unanimous decision at the Garden in October 1969.

Three more victories followed by knockout or TKO before Foreman registered a unanimous decision over journeyman Levi Forte in Miami Beach in December 1969.

With three more wins coming by knockout or TKO, Foreman was now 15-0.

In his next fight, Argentine veteran Gregorio Peralta extended him the 10-round distance, after which Foreman won 24 in a row inside the distance, including a 10th round TKO of Peralta in a rematch in May 1971 at the Oakland County Coliseum Arena where he grabbed his first championship belt, the North American Boxing Federation strap.

Ten victories followed including a second round TKO over undefeated Joe Frazier in Kingston, Jamaica, in January 1973, where he took away Frazier's WBA and WBC world title belts.

Foreman then knocked out Jose Roman in the first round in Tokyo, Japan in September 1973 and followed that up with a second round TKO of Ken Norton in Caracas, Venezuela in March 1974. Then it was off to Zaire to meet Ali with the unified title at stake.

Post-Ali

In January 1976 Foreman returned to the ring after a 16-month absence and knocked out Ron Lyle in the fifth round at Caesars Palace in Las Vegas in The Ring magazine Fight of the Year. Four more wins by TKO would follow before losing a 12-round unanimous decision to Jimmy Young in March 1977 in San Juan, Puerto Rico.

In the dressing room after the fight, Foreman, suffering from heatstroke and exhaustion, said he had a near-death experience in which he claimed to have been in a hellish place of nothingness and despair. Foreman pleaded with God to save him.

Foreman said God told him to change his ways and at that moment he became a born-again Christian, dedicating his life to his Lord.

Foreman stopped fighting and became a streetcorner evangelist before opening his own church, the Church of the Lord Jesus Christ in Houston.

Foreman focused his attention on his family and congregation and opened a youth center in his name

He was only 28 years old when he turned his back on boxing and a decade would pass before he would re-enter the sport.

Second Coming

In November of 1994, twenty years after he lost to Ali, Foreman, now 45 years old, upset Michael Moorer with a 10th round knockout at the MGM Grand Garden Arena and became the oldest fighter ever to win a championship.

Regaining the title was a byproduct of Foreman's desire to raise money for his congregation.

Today, Foreman is a bigger-than-life personality who draws people to him.

Young and old, black and white and everything in-between gravitate to the 70-year-old, two-time heavyweight champion like a magnet.

Boxing did indeed rescue George Foreman who concluded his Hall of Fame career with 76 wins, five losses and 68 knockouts.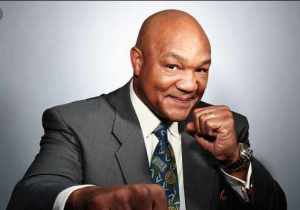 "If I hadn't found boxing, I wouldn't have been able to fulfill half of my dreams," he said. "In fact, I didn't know how to dream until I found boxing."
Very few fighters rise through the ranks and claim a world championship title. To replicate this achievement after being off for a decade is truly incredible.
Check out more boxing news on video at The Boxing Channel 
To comment on this story in The Fight Forum CLICK HERE