Olympic Boxing On The Brink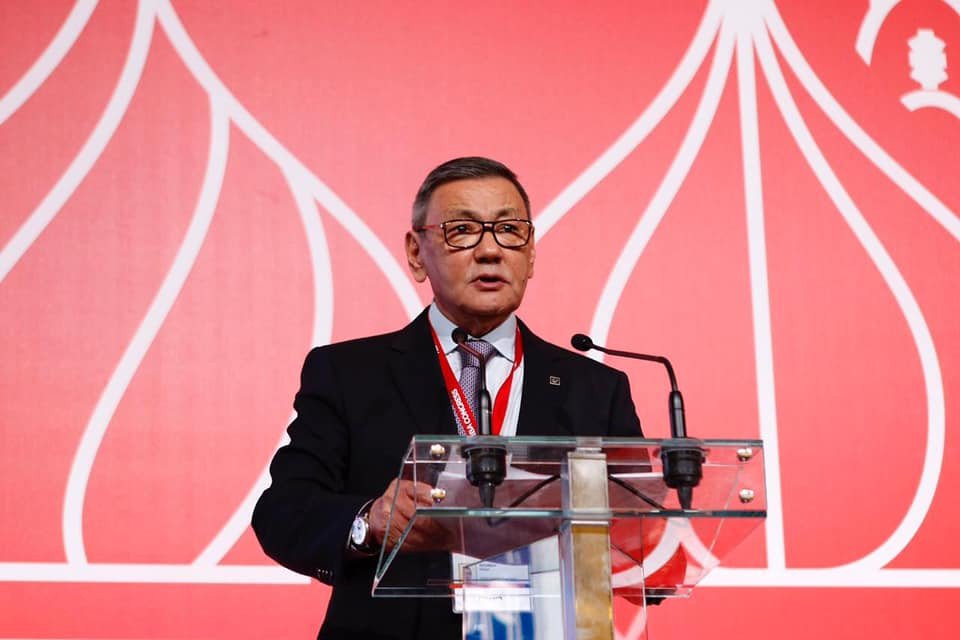 In 2012, the United States Treasury Department identified a group called "The Brothers' Circle" alongside the infamous Japanese Yakuza as being a "significant Transnational Criminal Organization" and, prompted by the then President, Barack Obama, set out in "pursuing additional sanctions against their members and supporters."
This has been and remains standard practice for the U.S. in working against its enemies when they lie beyond its borders and ordinary legal jurisdiction. Typically a key member of a criminal or political organization will find his or her assets frozen and their ability to move freely restricted. More, they have been branded, publicly and loudly, as being the worst kind of criminal: organized, powerful and dangerous. This can make doing business and establishing new professional relationships difficult – or at least, that is the theory.
The Yakuza are well known but "The Brother's Circle" I had never heard of, and apparently with good reason. In 2012, the Organized Crime and Corruption Reporting Project spoke to sometime Guardian journalist and expert in Russian and Eurasian criminal activity Mark Galeotti on the subject of The Brother's Circle and he had this to say: "I have not found anyone in Russian law enforcement or elsewhere who actually says 'yes, the brother's circle is an organization and it exists.' It's either complete myth, or 99% myth."
I spoke to Mark today and he confirmed that this remained his position.
"I suspect," wrote Galeotti after the action was handed down, "that given the absence of any other meaningful specific individual gangs to identify, reference to the Circle represents a convenient catch-all term, a way of making sure that Russian OC is included."
Among those included is Gafur Rakhimov (pictured).
"Rakhimov," claims the Treasury Department, "is one of the leaders of Uzbek organized crime with a specialty in the organized production of drugs in the countries of Central Asia. He has operated major international drug syndicates involving the trafficking of heroin."
His passport number and an "alternative" passport number is listed as are other personal details including an address. His alleged background as car thief through to fixer through to drug dealer is laid out, albeit in very little detail. A power-point presentation illustrating some of the names of his associates and their subservient relationship to him is available. He is directly connected to and often identified as being in a position of authority over numerous men linked to murder, the trafficking of human beings and in one instance the assassination of a Ukrainian politician.
The U.S. Treasury Department is as serious about Gafur Rakhimov as they were about Al Capone.
Yesterday, Rakhimov was elected as the International Boxing Association (AIBA) president, amateur boxing's global governing body.
If you were unaware of this story, and it has not been widely or properly reported by boxing media, take a moment to allow it to sink in.
The most acute problem here relates to the status of Olympic boxing. For some time the International Olympic Committee (IOC) has harbored concerns about the AIBA and the corruption which purveys the sport it runs. Most Americans reading this will think of the alleged match fixing in Seoul that saw local Park-Si hun "triumph" over Roy Jones; perhaps for the Europeans it may be a fresher memory, that of Michael Conlan who branded the AIBA "f****** cheats" and "cheating bastards" who were "paying [off] everybody" after an inexplicable loss at the 2016 games.
Sporadically, good journalism has actually outed corrupt judging, as in 1996 when Independent boxing journalist Steve Bunce was all set to travel to Russia to interview a judge caught with a thousand dollar bung. Unfortunately the judge was murdered before Bunce could get to him.
Japanese administrator Akira Yamane resigned this summer after his association with gangsters and allegations of tampering with officials emerged. The 2012 Azerbaijani amateur boxing scandal was as embroiled and confounding as to defy any thumbnail explanation here, suffice to say that once every four years the Olympics spotlights amateur boxing's vast and varied shortcomings but they remain a problem year round. The gloom outwith the illumination of the Olympic torch fuels dark deeds.
So even before the election of Rakhimov as permanent AIBA president, the IOC were "extremely worried" about the governance of the sport and were prepared to take "bold action" against it. Hideous financial mismanagement was as much a concern as corruption, as the AIBA flirted with bankruptcy behind its involvement with Eurasian loans. Rakhimov, who stepped out from behind the shadow of the hapless outgoing president Wu Ching-Kuo, proceeded to direct the rescue of the AIBA to the everlasting gratitude of many of its members.
The IOC, horrified by the corruption and financial irresponsibility in the sport of amateur boxing seemed dumbfounded by the appearance of Rakhimov as its potential savior. The AIBA was, however, preparing to launch itself out of the proverbial frying pan into the proverbial fire with all the force of an institution actively seeking its own demise.
"The IOC reserves the right to ­review the inclusion of boxing," it offered, "in the programs of the Youth Olympics 2018 and Tokyo 2020."
Boxing was included at the Youth Olympics but Rakhimov was reportedly not accredited. This is as clear an indication as the IOC could make to the AIBA of their opinion of the AIBA's unopposed nominee for president. It responded by reluctantly allowing opposition which had previously been excluded for petty technical reasons, but nobody was going to beat Rakhimov cold; it's arguable that nobody could have beaten him with even a fair shake such was his position of power after his handling of the Ching-Kuo debacle. Had Rakhimov come from nowhere it is likely his past would have counted against him but his association with the AIBA is long and strong.
How this came to be is explained in some small way by the OCCRP who deemed Rakhimov "the classic Uzbek gangster," and noted that "you don't get to be an Uzbek gangster without being a partner of powerful people in the state apparatus."
Or, as Mark Galeotti so elegantly put it, "whatever you say about Russian OC, it's outgunned by the state."
It is Rakhimov's very involvement in the upper echelons of organized crime that would provide him with access to the upper echelons of administrative power in his country.
It should be noted here that Rakhimov protests his innocence, and vigorously, but this, in a sense, misses the point. It is unfair that Rakhimov's being accused of unproven criminality by the United States government, Mark Galeotti and the OCCRP, among others, should exclude him from working for the AIBA – but it should. Unquestionably and inarguably, it should. It should absolutely exclude him from running that organization.  He could be the most effective administrator to have ever lived and the fact would remain that his overall influence upon the sport he claims to love would be almost entirely negative. But his protestations of his innocence must be recorded.
In his own words, his inclusion as a U.S. Treasury target is a "mistake" that he hopes can be "corrected" within six months.
But he's had six years.
Rakhimov has declared the date of his own election "a great day for the AIBA" and "an important step forward in boxing." He spoke of the AIBA's "commitment to the Olympic movement and Olympic values." The IOC, meanwhile, are rumored to be weighing three options: excluding boxing from the Olympic games; staging an Olympic tournament without the inclusion of the AIBA (thereby withdrawing funding); or allowing the AIBA to run the Olympic boxing tournament under certain agreed-upon conditions.
None of these options are appealing, but I regretfully suggest that the third of these is the most harmful. While excluding boxing would deal a hammer blow to the sport that would be felt for a generation and the damage done to grassroots boxing by cutting off funding to the AIBA by the IOC would be enormous, either arrangement is likely preferable to doing nothing.
If there is a line of corruption our sport cannot be allowed to cross, I would suggest that it was reached and breached today. It saddens and shocks me that this has occurred in the world of amateur rather than professional boxing.
Check out more boxing news on video at The Boxing Channel
Berchelt TKOs Valenzuela in Mexico City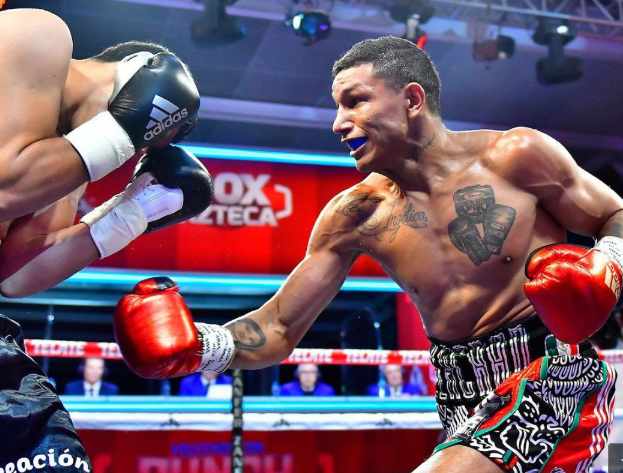 Mexico's Miguel Berchelt hammered his way to a decisive knockout victory over fellow Mexican Eleazar Valenzuela in a non-title light fight on Saturday.
After nearly nine months off, WBC super featherweight titlist Berchelt (38-1, 34 KOs) unraveled a withering body attack including numerous low blows but Valenzuela remained upright in front of a sparse TV studio audience until he could take it no longer.
Berchelt used a seven-punch combination to knock the senses out of the very tough Valenzuela who hails from Sinaloa. The referee saw enough and stopped the fight with Valenzuela leaning against the ropes with a dazed look.
The champion from Cancun used a triple left hook in the first round to floor Valenzuela and it looked like the fight would not last more than two rounds. But Valenzuela, a sturdy veteran, bored into Berchelt to keep him off balance and was able to stop the momentum.
It did not last.
A vicious attack to the body sapped the energy from Valenzuela who has fought many elite fighters in the past, but none like Berchelt. He was able to batter the veteran round after round.
Valenzuela sought to reverse the momentum with some combinations of his own. Berchelt opened up with some combinations from the outside and cracked his foe with some skull-numbing blows that clearly affected Valenzuela's senses. The referee wisely stopped the fight at 1:03 of the sixth round to give the win to Berchelt by knockout.
The victory opens the door to a potential clash with featherweight world titlist Oscar Valdez of Nogales, Mexico who has a fight of his own planned next month. Both champions are promoted by Top Rank.
Other Bouts       
Omar Aguilar (18-0, 17 KOs) bushwacked veteran Dante Jardon (32-7, 23 KOs) within a minute of the first round to win by technical knockout. A barrage of blows by Ensenada's Aguilar opened up the fight and a four-punch combination forced the referee to stop the super lightweight fight with Mexico City's Jardon against the ropes.
A battle between super bantamweights saw the taller Alan Picasso (14-1) out-hustle Florentino Perez (14-6-2) in an eight round clash between Mexican fighters. Mexico City's Picasso fought effectively inside against the shorter Perez of Monterrey and was able to maintain a consistent pace. Neither fighter approved the use of a jab but Picasso was more effective inside with body shots and uppercuts and dominated the last half of the fight.  The six judges scored in favor of Picasso.
The WBC instituted the extra judges as a means of tabulating score cards efficiently. Three judges scored from the television studios and another three judges scored from the USA. It was the second time WBC judges officiated remotely and all six scorecards were official.
Photo credit: Zanfer Promotions
To comment on this story in The Fight Forum CLICK HERE
Boxing Odds and Ends: Big Baby Miller, Roberto Duran and More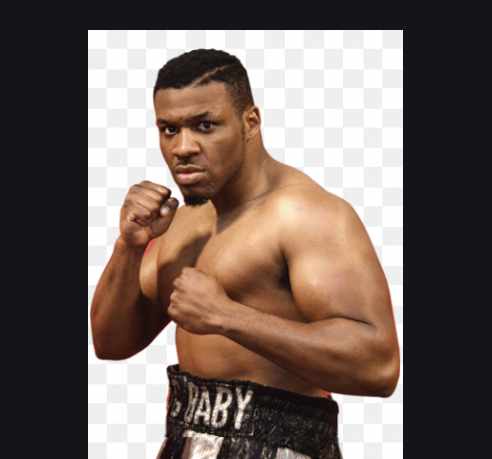 Jarrell "Big Baby" Miller just can't keep his hands out of the cookie jar. It was announced today (Saturday, June 27) that the jumbo-sized heavyweight from Brooklyn tested positive for a banned substance, forcing him out of a July 9 fight at the MGM Grand "Bubble" against Jerry Forrest. The story was broken by Mike Coppinger of The Athletic who breaks more hard news stories than any other boxing writer.
Miller, needless to say is a repeat offender. He failed three different PED tests in a span of three days for three different banned substances leading into his planned June 2019 match at Madison Square Garden with WBA/IBF/WBO world heavyweight champion Anthony Joshua. That cost him the fight and a reported $5 million-plus payday. Andy Ruiz filled the void and scored an historic upset.
When the first test came back positive, Miller wailed that he was the victim of a faulty test. "My team and I stand for integrity, decency and honesty and will fight this with everything we have," he said in a prepared statement. He later changed his tune. "I messed up," he said.
In a story that appeared on these pages, Thomas Hauser noted that Big Baby had a history of PED use dating to 2014. In that year, he was slapped with a nine-month suspension by the California Athletic Commission following a kickboxing event in Los Angeles.
Counting this latest revelation, it's five strikes for Big Baby. He's taking quite a roasting right now on social media. Some of the harshest criticism is coming from his fellow boxers.
Assuming that Top Rank can't find a replacement for Miller, this is another tough break for Jerry Forrest, a 32-year-old southpaw from Virginia with a 26-3 (20) record. Forrest was scheduled to fight hot prospect Filip Hrgovic on April 17 on a card at the MGM National Harbor in Oxon Hill, Maryland, a show swept away by the coronavirus outbreak. Forrest has been matched very soft throughout his career, but he acquitted himself well in his lone previous TV appearance, losing a split decision to undefeated Jermaine Franklin on "Showtime: The New Generation." The decision was controversial.
There's talk now that Carlos Takam is angling to replace Big Baby. The French-Cameroonian, a former world title challenger who turns 40 in December, was billed out of Henderson, Nevada, in his last ring appearance that saw him winning a unanimous decision over fellow greybeard Fabio Maldonado in Huntington, NY.
—-
When it comes to Murphy's Law ("anything that can go wrong, will"), there's no sport quite like boxing. Just ask Bob Arum. The most mouth-watering matchup in his ESPN "summer series" fell out this week when Eleider Alvarez suffered a shoulder injury in training, forcing a postponement of his July 16 date with Joe Smith Jr. The match between Alvarez (25-1, 13 KOs) and Smith (25-3, 20 KOs) would have been a 12-rounder with the winner guaranteed a shot at the vacant WBO light heavyweight title, a diadem that Alvarez previously owned.
Joe Smith Jr, a Long Island construction worker once dismissed as nothing more than a club fighter, won legions of new fans in his last start, a one-sided (to everyone except one myopic judge) win over Jesse Hart in Atlantic City.
Cancelled matches have become a recurrent theme in ESPN's semi-weekly boxing series. The very first card in the series lost what shaped up as its most competitive fight when Mikaela Mayer tested positive for COVID-19, scuttling her bout with Helen Joseph. In subsequent weeks, the manager of Mikkel Les Pierre tested positive for COVID-19 as did WBO junior lightweight champion Jamel Herring. Those bad test results forced the postponement of two main events. Then earlier this week, hot lightweight prospect Joseph Adorno was lopped off Tuesday's card after feeling sick after coming in overweight at the previous day's weigh-in.
The undercards of the Tuesday/Thursday ESPN fights have left something to be desired, but that's understandable. As Bob Arum noted in a conversation with veteran boxing scribe Keith Idec, Top Rank's matchmakers Bruce Trampler and Brad "Abdul" Goodman have had a hard time fleshing out the cards because with so many gyms closed there's a shortage of boxers who are in shape to fight on short notice. Then there are the COVID-19 travel restrictions and (something Arum did not acknowledge) budgetary restrictions more severe than an ordinary Top Rank card. Most of the undercard fighters have come from neighboring states such as Utah, saving Top Rank the cost of air fare. Fighters from faraway places, with some exceptions, were already training in Las Vegas.
Kudos to the entire Top Rank staff for keeping boxing alive during these challenging times.
—
It's old news now, but Panamanian boxing legend Roberto Duran, 69, tested positive for the coronavirus and was hospitalized in Panama City with a viral infection. There's been no update on his condition but his son Robin Duran wrote on Instagram that his father is not having any symptoms beyond those associated with a common cold. We will update you when new details become available.
Duran's hospitalization came just a few days after the 40th anniversary of his first fight with Sugar Ray Leonard in what would say was Duran's finest hour. They met on June 20, 1980 at Olympic Stadium in Montreal.
Duran won a unanimous decision. Converting the "10-point must" system into rounds, Duran prevailed by scores of 3-2-10, 6-5-4, and 6-4-5. As Yogi would have said, you could look it up.
Check out more boxing news on video at The Boxing Channel 
To comment on this story in the Fight Forum CLICK HERE
Fast Results from the Bubble: Jason Moloney TKOs Baez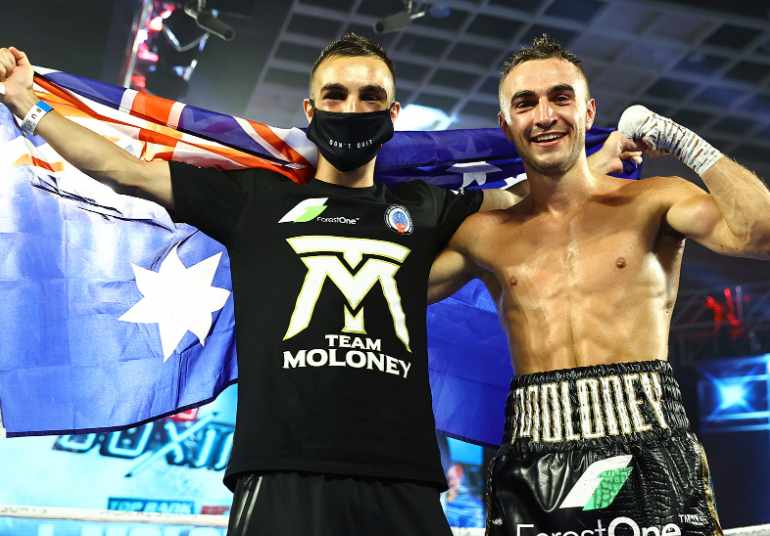 Top Rank was back inside the MGM Grand "Bubble" tonight for chapter six of their semi-weekly ESPN summer series. Jason Moloney, one-half of Australia's Moloney twins, accomplished what his brother Andrew Moloney was unable to accomplish in this ring on Tuesday night, adding a "W" to his ledger and looking good doing it. It came at the expense of Mexicali's Leonardo Baez.
It was Jason Moloney's second start on U.S. soil after coming up just a tad short in a bid for the vacant IBF world bantamweight title at Orlando in October of 2018. Against Baez, he fought a smart tactical fight, blunting the Mexican's superior reach by fighting him at close quarters. Baez fought from the third round on with a cut over his right eye and then suffered a cut over his left eye in the seventh round. By then the fight was becoming increasingly one-sided and Baez's corner did not let him come out for round eight.
Jason Moloney improved to 21-1 with his 18th knockout. Leonardo Baez, who took the fight on short notice after Maloney's original opponent Oscar Negrete was forced to withdraw with a detached retina, slumped to 18-3.
Co-Feature
In the 10-round co-feature, Abraham Nova advanced to 19-0 with a unanimous decision over Philadelphia's Avery Sparrow but won no new fans with a lackadaisical performance. Nova, born in Puerto Rico to parents from the Dominican Republic and raised in Albany, NY, showed little but his jab through the first seven rounds until hurting Sparrow with a big right hand in the eighth. The judges had it 96-94, 97-93, and 99-91.
Sparrow (10-2), whose lone previous loss was by disqualification, was making his first start in 15 months. He was slated to fight Ryan Garcia in Los Angeles last Sept. 14 but never made it to the weigh-in after being arrested by U.S. marshals on a charge of threatening a woman with a gun after she threw his clothes out the window…
Other Bouts
In an 8-round featherweight contest, Puerto Rican southpaw Orlando Gonzalez advanced to 15-0 with a unanimous decision over Ecuador's Luis Porozo (15-3). The scores were 76-74 and 77-73 twice.
Gonzalez wasn't particularly impressive although he did score two knockdowns. He decked Porozo near the end of round two with a left hook following a straight left and decked him again near the end of round seven with a left uppercut to the body.
In a rather ho-hum fight, welterweight Vlad Panin improved to 8-1 with 6-round majority decision over San Antonio's 36-year-old Benjamin Whitaker (13-4). Panin, a Belarusian who grew up in Las Vegas and earned a BA in English from UCLA, has a good back story but seemingly a limited upside in the fight game.
In an entertaining 6-round welterweight clash, Filipino campaigner Reymond Yanon improved to 11-5-1 with a split decision (59-55, 58-56, 56-58) over Clay Burns. A 33-year-old ex-Marine from Fort Worth, Burns declined to 9-8-2.
The opener, a heavyweight bout slated for six rounds, matched two Phoenix-based fighters in a rematch. Kingsley Ibeh, a former standout defensive lineman for the Washburn College Ichabods, avenged his lone defeat and improved to 4-1 with a fourth-round stoppage of Waldo Cortes (5-3). Ibeh, who at 286 had a 39-pound weight advantage, softened Cortes up with a series of uppercuts and Cortes was on his way down when he was tagged with a glancing left hand. He got to his feet, but referee Vic Drakulich waived it off. The official time was 1:41.
Photo credit: Mikey Williams for Top Rank
Check out more boxing news on video at The Boxing Channel 
To comment on this story in The Fight Forum CLICK HERE