Jeff "Candy Slim" Merritt: A Fighter's Life (Part Two of a Three-Part Series)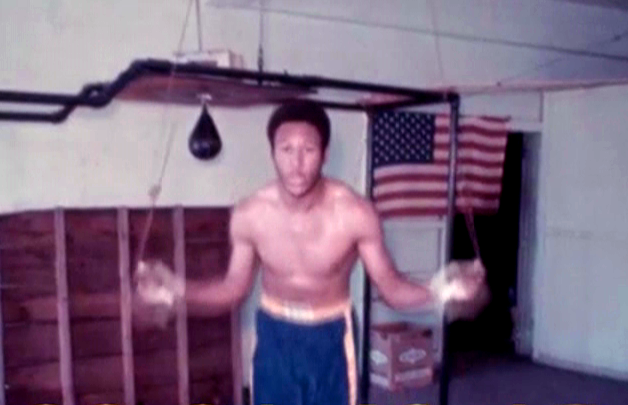 NOTE: When we left Jeff Merritt, he had just advanced his record to 11-1 with an 8-round unanimous decision over Henry Clark, his most seasoned opponent. The match played out at Madison Square Garden on a show headlined by George Foreman vs. Chuck Wepner. It was Merritt's fourth appearance at the Garden under the aegis of his sponsor, the National Maritime Union.
Merritt was quickly matched for another bout in the Garden's Felt Forum but the fight never came off. Within a few months Merritt's contract had been purchased from the Union by a ten man syndicate calling itself U.S. Championships, Inc. which included Bob Arum, Joe Louis, Norman King, Henny Youngman, William B. Williams, David Popsfsky, and William Walters. Muhammad Ali's former court jester Drew 'Bundini' Brown was in town for the Joe Frazier-Jimmy Ellis heavyweight unification and looking to attach himself to a new fighter on the upswing with his former meal ticket in exile. He was given managerial and training duties over Merritt with Angelo Dundee.
Merritt's new agreement gave him a $150 a week salary, living expenses, a car, and 50% of his purses. The syndicate would also pay for his training expenses, management fees, and transportation out of their share. In order to manufacture some cheap publicity they carted Merritt to the New York State Athletic Commission offices to file the contract. Accompanying the group was a belly dancer named Leila Sohl who they announced would be Merritt's trainer. They invited a bevy of photographers who popped flashbulbs as Merritt and his "trainer" danced and gyrated to the horror of the commission members. The photos and Merritt's story appeared in newspapers across the country. Bundini then rebranded Merritt "Candy Slim" because he was slim and had the sweetest left hook since Sugar Ray. It was a name that stayed with Merritt the rest of his life.
The syndicate immediately made the decision to send Merritt south to Miami where Angelo and Bundini would polish their new diamond in the rough at Chris Dundee's 5th Street Gym (Chris was Angelo's brother). Just over a month after arriving at Miami Merritt headlined his first card with a devastating two round knockout over Johnny Hudgins. Candy Slim pounded Hudgins mercilessly before finally lifting him off the canvas with an uppercut that left him glassy eyed and confused on the canvas for well over the ten seconds required to end the contest.
One day in April or May of 1970 while Merritt trained at Dundee's Fifth St. Gym, Muhammad Ali, still in exile due to his stance over the Vietnam War, decided to test himself against one of the young guns in the gym. He selected Jeff Merritt as his foil. Accounts differ as to the outcome (Ali said by the end of the session he was able to figure out Merritt; Merritt claimed he hit Ali so hard he knocked his headgear off, forcing Dundee to call a halt to the session). Whatever the outcome, Ali and Merritt struck up an association that would last several years.
Over May and June of 1970 Merritt reeled off two more impressive victories over Eddie Vick and Charlie Polite but a series of opportunities at wider exposure failed to materialize. Merritt was scheduled to appear against Sylvester Dullaire but begged out of the contest when he was offered the opportunity to appear on the undercard of the Emile Griffith-Dick Tiger fight at Madison Square Garden. Merritt was also scheduled to appear in an exhibition bout with Muhammad Ali in Charleston, South Carolina which would be Ali's first public appearance in a boxing ring since his exile began three years earlier. However, the day before the Ali exhibition opposition to Ali's stance proved so great that promoters were forced to cancel the bout. Two days later Merritt was injured in training forcing him to pull out of his bout with Al 'Blue' Lewis on the Griffith-Tiger card. It would be nearly a year before Merritt would reappear in a boxing ring.
Jeff returned home to Kansas City for an extended stay where he capped off 1970 by marrying Bernice Cox just before Christmas. The following spring he returned to Miami with his new bride and her young son to resume training. He opened his campaign stating that he intended to fight every three weeks until the end of the year in order to crack the top ten but his ambition was short lived. He bowled over two cannon fodder opponents, George Dulaire and Willie McMillan, in the span of three weeks (a fight against Stamford Harris that appears on his record sandwiched between these two never took place) but Merritt pulled out of his next bout citing food poisoning despite going through with an exhibition bout against Muhammad Ali the following day.
At the end of July Merritt travelled to Houston with Jimmy Ellis to serve as sparring partner while Ellis trained for his upcoming bout with Muhammad Ali (a fight against Ollie Wilson that appears on Merritt's record at this time never took place). Bob Arum, who was a part of the syndicate that owned Merritt's contract and was promoting the Ali-Ellis card, found room for Merritt on the undercard. Chris Dundee offered Olympic heavyweight champion George Foreman $50,000 to fight Merritt on the card but Foreman's manager Dick Sadler declined. Instead Merritt faced Al Banks who he stopped in two rounds.
Merritt returned to Miami for a scheduled 10 rounder against Leroy Caldwell, who was a late substitute for Wendell Newton. The night of the fight Jeff Merritt was nowhere to be found. As Angelo Dundee grew frantic he sent another of his fighters, Vern McIntosh, to the hotel where Merritt was living only to find that Bernice had no idea where Jeff was. In order to save the show Dundee put McIntosh in Merritt's place and Vern proceeded to knock out Caldwell in six exciting rounds. The following day the Miami boxing commission suspended Merritt's license. The fans were told that Merritt had refused to fight because he "felt weak." What the fans weren't told, and what wasn't revealed until later, was that Merritt was now in the throes of heroin addiction. It was a struggle which would send his once promising career into a tailspin and ultimately consume his life.
It was more than three months before Merritt would emerge again. He appeared on a short exhibition tour during the winter months of 1971/72 with Muhammad Ali. In between exhibition bouts with Ali he lived in a rundown hotel in South Beach. He had sent his family home because he couldn't afford to support them. He complained that the syndicate which controlled his contract had devolved into infighting and lost interest in his career while Chris Dundee was struggling to keep his lease on the Miami Convention Center. All of this made it nearly impossible for him to get fights even though his suspension was up. The only thing that kept him struggling along were the handouts that Angelo Dundee would give him whenever Merritt showed up to half heartedly train.
In March he joined the training camp of Vicente Rondon who was training for his light heavyweight unification bout with Bob Foster. He gave Rondon such a battering in sparring that when Foster stopped him easily in two rounds Rondon's promoter Mickey Duff, seated ringside, remarked "How they hell do they expect him to have any confidence after Jeff Merritt killed him for two weeks?"
The following month Merritt had his first bout in nearly a year, knocking out Junior Grant but months of on and off drug abuse had left him at the lowest weight of his career and he admitted that his timing was off. Despite this, his performance was good enough to interest a wealthy local businessman, Jules Freeman, to take over his management. Merritt expressed optimism and high hopes for the future but three months later, with no fights under his belt, Merritt was described by the Miami News as in poor shape physically and emotionally "and probably through" as a fighter.
In the fall of 1972 Paul Mitrano, a successful Boston car dealer and fight bug, took over Merritt's management. His first order of business was to move Merritt back to New York and place him under the guidance of Sugar Ray Robinson's former trainer George Gainford. Any hope that a change of scenery and management would get Merritt's career back on track was misplaced. He begged out of a late January fight in Las Vegas and a month later was arrested in New York for burglary. It had been a year since Jeff had been in the ring and not just his career but his entire life seemed in free fall.
Still believing in Merritt's potential Bundini put him in contact with a man he'd met through Muhammad Ali. Don King was an emerging player in boxing. He had recently purchased the contracts of light heavyweight Ray Anderson and heavyweight power puncher Earnie Shavers, both based in King's native Ohio. King had heard all about Merritt's potential and all about his problems. He spoke to Jeff and despite all of Merritt's baggage he convinced himself that this was a fighter he could work with. King, a product of Cleveland's streets and a former felon himself could understand and communicate with Merritt in a way that none of the businessmen who had managed him in the past could. He decided to take a gamble on the wayward fighter. While in New York for Earnie Shavers' fight with Jimmy Ellis King filed managerial contracts with the New York State Athletic Commission. It was the beginning of the most vibrant year of Merritt's career.
King immediately went to work rebuilding Merritt's confidence and body. He talked to him on a philosophical level about where he'd come from, how he got where he found himself, and what he wanted for his future. Merritt responded to King's Svengali charms and rededicated himself to training. He was sent to Earnie Shavers' training camp at Grossinger's where Shavers was preparing for the biggest test of his career, a showdown with Irish Jerry Quarry. Merritt quickly found that he had a lot of work to do in order to get back into fighting form. Shavers, who was never one to pull his punches in sparring, battered Merritt. Merritt resented this treatment and as he rounded back to form their sparring sessions became hellacious.
According to Larry Holmes, Jeff quickly developed resentment toward Shavers born out of jealousy. He resented the attention Don King paid Earnie. Those tensions flared in mid-July when, with King away from camp, Archie Moore, who had been hired to train Shavers, let a sparring session with Merritt and Shavers get out of hand. During one heated exchange Shavers, who had been warned several times against keeping his mouth open, was caught with a combination by Merritt that broke his jaw in two places and forced a cancellation of the Quarry fight. King was furious. He immediately fired Moore and, making lemonade out of lemons, used the publicity to get Merritt a marquee fight at Madison Square Garden against former WBA heavyweight champion Ernie Terrell. Merritt was immediately back in the limelight.
When Merritt signed with King he weighed 200 pounds, had visible needle tracks on his arms, and was a physical wreck. When he stepped into the ring with Terrell he was a muscular and healthy 221¼ pounds and a force to be reckoned with. The fight would serve as a live undercard to the closed circuit telecast being beamed into the garden of the Muhammad Ali-Ken Norton rematch. Terrell, who eight years earlier had been dubbed 'the octopus' by Muhammad Ali, rushed out and grabbed Merritt in a vice like bear hug. After the referee broke them several more waltzes followed before Merritt landed a dynamite left hook that sent Terrell spinning. Candy Slim pounced on his dazed opponent and chased him around the ring with a torrent of punches. Arthur Mercante tried to jump between the fighters but Merritt continued his assault, forcing the stoppage. The official time was two minutes and forty-two seconds of the first round and Merritt was back to being a sensation.
The win over Terrell was the most publicized win of Merritt's career to date. Forgotten was the fact that Terrell's performance had been so bad that the New York State Athletic Commission had revoked his license and forcibly retired him due to the deterioration in his skills over the previous two years. After the success of the Terrell fight Don King moved Merritt back to Cleveland with him and for a time allowed Jeff to stay at his home. King provided Merritt a car and even purchased a home in Kansas City for Jeff's mother on Woodland Avenue. It was the first home she had ever owned. For the first time in a long time, maybe in his entire life, everything seemed to be coming together for Merritt.
In order to keep Jeff out of trouble you had to keep him busy. To that end, one month after the Terrell fight, Merritt was matched with Ron Stander. Like Terrell, Stander was in a different class from Merritt's previous opponents. Stander was a short, squat heavyweight. What he lacked in skill he made up for in heart and durability. In the first year of his career he had stopped Merritt's stablemate Earnie Shavers and only a year and a half earlier he had challenged Joe Frazier for the heavyweight championship and despite losing in four one-sided rounds he gave a great showing of determination and grit. Yet by Stander's own admission he had dissipated after the loss to Frazier. Drunk on the career high purse he received and copious amounts of beer and wine, his weight had steadily climbed. Never svelte at an advertised height of five foot eleven (but closer to five foot nine), Stander was now a blob of a man, in no condition for a serious contest against a man knocking on the door of the contender class.
When Stander arrived in Cleveland his weight was announced as 233 lbs but reporters made note of his heft, his unwillingness to train, and his prodigious appetite. One paper stated that in the days before the fight he dined on steak and wine and gained a remarkable 13 pounds the day before the fight to come in at a career high 245 pounds. Regardless of when or how Stander gained the weight he was a jiggling mass of flesh when he came to meet Merritt ring center and had no business anywhere near a boxing ring.
Merritt approached his quarry like a butcher approaches a fatted calf. Stander feigned confidence and bravado but he would later admit he took the fight just for the payday. Merritt was confident as well and went right after Stander. In the early moments of the contest Stander landed a glancing right that sent Merritt into a clinch. Merritt's tendency to give up his height advantage allowed Stander to land the occasional punch but Merritt answered back, eventually finding his range with hard jabs and driving hooks deep into Stander's soft midsection. In close Merritt, angered by Stander's trash talking, began raking him with lefts to the head and body, reddening Stander's face. As the round drew to a close Merritt landed a hard hook to Stander's face causing Stander to dramatically shake his head in the fashion of Ali, denying he was hurt but it was evident that he was tiring rapidly. The round ended with the fighters trading punches after the bell and Stander dismissively waving Merritt off.
As the second round opened Stander tried for a Hail Mary right hand that missed wildly. Merritt quickly took over and before the round was a minute old he snapped Standers head back violently with a powerful left hook. Both fighters traded low blows and then Merritt shoved Stander into his own corner and began to cannonade his pudgy adversary. A left sent Stander down for what was reported to be the first time in his career. Stander argued angrily with referee Lew Eskin that he had slipped on the wet canvas but moments later a series of punches sent Stander down again and this time when he tried to rise he fell flat on his face. There was no denying that he had been hurt. Merritt went back to chopping Stander down and violent spun him into the ropes. With the audience screaming wildly a series of unanswered blows sent his defenseless opponent down. Eskin rushed in to stop the fight and Merritt raised his hands in victory, spit his mouthpiece out, and marched around the ring to soak up the adulation of the crowd as seconds and officials filled the ring.
As Bundini Brown, Don King, and co-trainer Richie Giachetti embraced their victorious charge referee Eskin approached and notified them that the round had ended before he had stopped the contest. The fight would continue. It was academic. When the third round belatedly began Merritt resumed his slaughter and quickly sent Stander, bleeding and mouth agape, reeling into the ropes. Eskin jumped in once again and rescued him on his feet.
Jeff was joined by Don King and Earnie Shavers at King's Sheraton Inn headquarters. Merritt looked pleased with himself as he spoke to a small gathering of reporters from the podium. Dressed in an imperial purple jump suit and wearing a shy smile on his face he remarked simply that "I trained to fight the guy and that's what I did."
Check out more boxing news on video at The Boxing Channel
BJ Saunders Improves to 30-0 at the Expense of Mildewed Martin Murray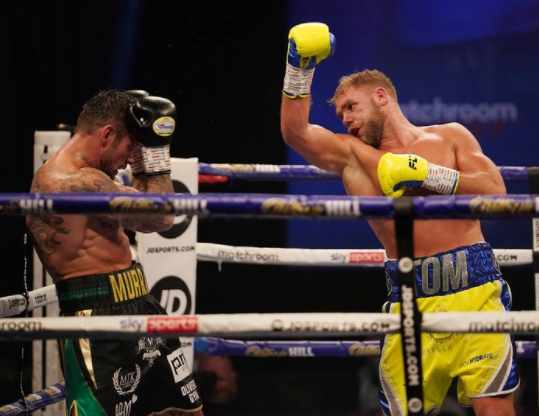 There was a time several months ago when it appeared that Billy Joe Saunders was in the driver's seat as far as securing a match with Canelo Alvarez. The lucrative assignment went to BJ's countryman Callum Smith, but there's a strong possibility that Saunders and Canelo will lock horns in 2021. If so, Saunders will bring an unblemished record. Tonight, behind closed doors at Wembley Arena he advanced his ledger to 30-0 (14) with a predictably one-sided decision over UK veteran Martin Murray. Saunders was appearing in his seventh world title fight and making the second defense of his WBO 168-pound belt.
Saunders, a close friend and training partner of fellow Traveller Tyson Fury, represented England in the Beijing Olympics at the tender age of 17. Now 31 years old (but with the emotional maturity of an adolescent) he is the classic example of a cagey southpaw.  That's another way of saying that while a purist can appreciate his artistry, he doesn't have a fan-friendly style. He is the British equivalent of Demetrius Andrade.
Martin Murray was making his fifth stab at a world title. The 38-year-old campaigner from St. Helens, near Liverpool, previously fought Felix Sturm and Arthur Abraham in Germany, Sergio Martinez in Argentina, and Gennadiy Golovkin in Monte Carlo. His fight with Sturm ended in a draw, but that was back in 2011 and Murray has put a lot of mileage on his odometer in the interim. Tonight, that showed as he did not instinctively let his hands go when he saw an opening. The scorecards read 118-110, and 120-109 twice. Those scorecards were similar to Saunders' tour-de-force vs. David Lemeiux, but that was an unexpected eye-opener, whereas tonight Billy Joe was expected to win as he pleased.
This may have been the last rodeo for Murray (39-6-1), five times a bridesmaid. He can leave with his head held high. Always in shape, only Golovkin was able to stop  him and it took GGG 11 rounds. BJ Saunders hopes to fight the winner of Canelo vs. Callum Smith, but there is also talk of a rematch with Chris Eubank Jr who gave him his toughest test back in 2014.
Co-Feature
In a lightweight match framed as a WBA title eliminator, James Tennyson (28-3, 24 KOs) blasted out previously undefeated Josh O'Reilly, now 16-1, in the opening round. It was the sixth straight win by TKO for Belfast's Tennyson who moved up in weight after being stopped in the 4th round at Boston in a bid for Tevin Farmer's IBF 130-pound title. O'Reilly, a Hamilton, Ontario native appearing in his first fight outside Canada, was on the deck twice before the referee waived off the mismatch. The official time was 2:14.
More
Twenty-eight-year-old London light heavyweight Lerrone Richards improved to 14-0 (3) in a monotonous 8-round contest with 36-year-old Finland journeyman Timo Laine, 28-14 (15). Laine fought to survive, not to win, and Richards won every round on the referee's card.
Undefeated super middleweight Zach Parker (19-0) was scheduled to fight former Edgar Berlanga victim Cesar Nunez, a 35-year-old Spaniard, but the fight fell out when a member of Nunez's team tested positive for the coronavirus. Parker is ranked #2 by the WBO.
Photo credit: Dave Thompson / Matchroom Boxing
Check out more boxing news on video at the Boxing Channel 
To comment on this story in the Fight Forum CLICK HERE
Boxing Exhibitions: Side Show, New Angle, or Something Else? Part Two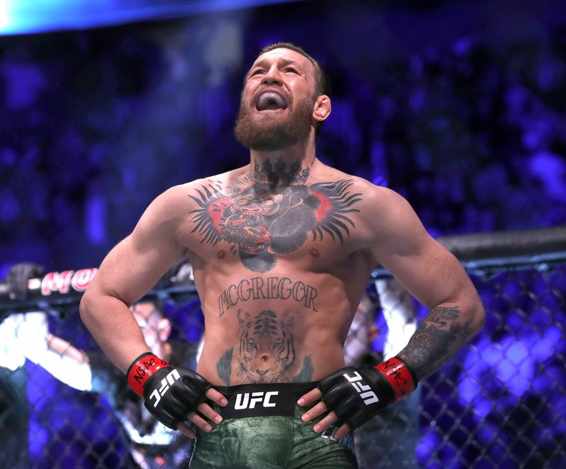 Boxing Exhibitions: Side Show, New Angle, or Something Else? Part Two
YouTuber Jake Paul (2-0) says he wants to fight English YouTuber KSI, and then maybe Ryan Garcia, Conor McGregor, and some of the top UFC fighters (using boxing rules). This comes after his recent coldcocking of former NBA star Nate Robinson.
"There is a long list of opponents that I want, you know Conor McGregor, Dillon Danis. I'm going to knock them both out."– Paul
Jake and his brother Logan are participants in a continuing side show and the more attention they get, the more this freak show will last. In that vein, this writer will no longer mention them except to quote the following from a poster named VashDBasher: "Hopefully these exhibition matches with these retired fighters don't get out of hand. Not to mention these youtubers with single digit fights making more money than a lot of top prospects and contenders. Boxing is turning into a sham with…"
Exhibitions: The Fire Has Been Ignited; Will It Burn?
Jorge Arce and Julio Cesar Chavez, Sr. launched the tour when they faced off in September in Tijuana but it was done under the radar.
The super-hyped and much anticipated Tyson-Jones exhibition is now in the past, but already it appears that many others will take place. After all, this one—though a stylistic stinker– reportedly pulled in close to 1.2 million PPV buys!
"There's a sucker born every minute." – usually attributed to P. T. Barnum
Mike Tyson, coming in at a svelte 220 pounds wants to continue and asserts "my body feels splendid. I want to beat it up some more…I will do it again." If he does, it may well happen in Europe.
Others are coming out of the woodwork sniffing around like dogs smelling Purina chow but the chow in this case is money and plenty of it. Suddenly, the "seniors tour" seems to enjoy the certainty of a Cher's final tour. Ex- fighters like Glen McCrory, Lennox Lewis, Riddick Bowe, Johnny Nelson, Buster Douglas, Shannon Briggs, Erik Morales, Evander Holyfield, Marco António Barrera, and possibly Oscar De La Hoya (in a traditional comeback rather than an exhibition) are all looking to get in on the action.
 "The rumors are true, and I'm going to start sparring in the next few weeks." –De La Hoya
The usually quiet Holyfield in particular has made a lot of noise saying among other things that, "Roy Jones was a good local opponent for Tyson, but a fight with me would be a global event and the only one fight that anyone wants to see is a fight between us. There is absolutely no reason why we shouldn't make it happen…"
But the "Real Deal" also has said he won't fight for less than 25 million which is pretty much tantamount to saying he doesn't want to fight.
Tyson vs. Holyfield III? Don't bet on this one happening.
However, if there is money to be made, Floyd Mayweather Jr will be hovering about like a helicopter perhaps looking to fight Manny Pacquiao in a mega fight, but Manny may be looking to fight everybody's favorite opponent, UFC star Conor McGregor. A real fight involving Floyd against a risky opponent would be of enormous interest, but keeping in mind that one of his mottos has been "my health is my wealth," that is not something to bet on.
Ted Sares can be reached at  tedsares@roadrunner.com
To comment on this story in the Fight Forum CLICK HERE
Errol Spence Jr's Near-Death Experience Has Made Him More Well-Grounded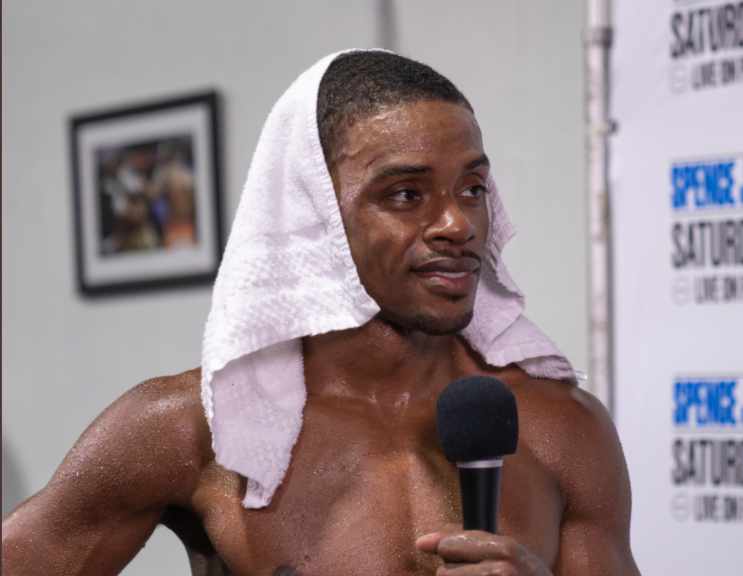 Maybe it's a good thing that Errol Spence Jr. had to learn the hard way that talent, like life, is a perishable commodity. Even so accomplished a world boxing champion as Spence had to discover that harsh reality in the blink of an eye, or however long as it took for his fast-moving sports car to veer out of control and produce a knockdown far more perilous than anything the man known as "The Truth" ever has had to face in the ring, or likely ever will.
The Errol Spence Jr. (26-0, 21 KOs) who puts his IBF and WBC welterweight championships on the line against two-division former titlist Danny "Swift" Garcia (36-2, 21 KOs) Saturday night in AT&T Stadium in Arlington, Texas, could have, and maybe even should have, died in the early morning hours of October 10, 2019, on a virtually open stretch of highway near Interstate 30 in downtown Dallas. Spence's white Ferrari, capable of hitting speeds up to 200 mph, went over the center median and flipped over several times. It seemed miraculous that Spence (who was cited for misdemeanor driving under the influence), who sustained significant injuries, could be ejected from the car yet somehow recover to the point where he could fight another day.
"It's just a miracle for things to turn out like they did," Spence has said. "For anybody to be ejected out of a Ferrari … I mean, it could have been so much worse. I could have lost a leg, an arm. I could have been paralyzed or had brain damage. I could have been killed right then and there. But I didn't have to deal with any of that. I'm just blessed. I'm definitely going to heed this warning. You go through what I did, you definitely don't take things for granted as I once did."
His professional return Saturday night will not only be met with as much public anticipation as is standard for fighters occupying as elite a level as does Spence, but even more so given his career-long 14½-month layoff (his most recent bout was a 12-round split decision over Shawn Porter on September 28, 2019) and questions attendant to how well he has recovered from his near-catastrophic experience. Has the ordeal in any way diminished him physically or psychologically? Was he imprudent in choosing to forego a less-risky tune-up fight for a matchup with the very formidable Garcia, who previously has held the WBC and WBA super lightweight and WBC welterweight belts? Can he demonstrate that he still is as special a fighter as he had been before his car crashed? Or maybe even better?
Not all of the answers will be provided in the Showtime Pay-Per-View main event, but enough will be to ascertain whether Spence can still claim to be the best 147-pound fighter on the planet (as listed in The Ring magazine ratings) or, even if victorious, reveal himself to be at least somewhat damaged goods.
Not that he was prone to preening and chest-thumping before, but, if anything, Spence, although highly confident he will come away with his undefeated record extended, still presents a public posture similar to that of his understated trainer, Derrick James. That is a stark contrast to the bombast for which Garcia's father-trainer, Angel Garcia, is noted, and has even ratcheted up a notch for this fight. Angel has even gone on record as predicting that Danny will stop Spence in seven rounds.
"He's going to go out there and show the world what true champions are made of," Angel said of what he expects from his son, a +340 underdog in contrast to Spence's -450 favoritism. "Danny don't just know how to win, he knows how to kick your ass."
Noting that his date with Spence had already been twice-delayed, the 32-year-old Danny figures all good things come to those who wait, and his patience is about to be rewarded. "Boxing is a sport of timing," he said. "And the time is now. I feel great. I had a tremendous camp and did everything I'm supposed to do. Now it's time to go out there and do what I do best, and win.
"I've been the underdog in many fights. I don't worry about the critics or the media. I know that I'm a great champion, and a great fighter. And that's what I'm going to prove Saturday night."
James, for his part, is only too glad to yield the megaphone to Angel Garcia. He's not about to talk smack about the Garcias because, well, he believes no good can come for those who brag about what they expect to do before they do it.
"I don't make predictions for myself or my guy, but (Angel Garcia) is supposed to believe in himself," James said. "He's supposed to believe in what he thinks his son is going to do. Why wouldn't he? At the same time, we feel the exact same way. I don't go in there saying we are going to get a knockout. I can't predict anything like that. But I can predict that we will be victorious.
"My guy's quiet, I'm quiet. If you believe in yourself, you don't have to talk about it."
Any changes in Spence might not be obvious inside the ropes, but he insists his lifestyle has undergone a radical makeover that can only serve to benefit him in the time he has left at or near the top of a brutal sport that chews up and spits out those who can't appreciate that today's glory can soon become tomorrow's memory.  For one thing, he has traded a Ferrari's massive horsepower for, well, a different sort of horse power.
"I think it did renew my focus and got me back to the thing that got me to the top of the mountain," he said of his reconfigured priorities stemming from the accident. "After a fight I started taking a week off, then two weeks off to a month off. Now I'm grinding hard again. You realize that having this time on earth is a luxury. Being young (Spence was 29 at the time of the crash, and is now 30), you think you're invincible. You think nothing bad can happen to you. But when something does happen to you, you realize that time is important, especially time spent with your family and loved ones.
"That's why I actually moved out of downtown (Dallas), got a ranch with horses, cattle and things like that. I got a pool and I'm outside with my kids. I just had a newborn son."
Still, Spence knows that saying he's as good, or better, than he previously had been is not going to convince any doubting Thomases until he delivers the goods. Danny Garcia, proud and tough, poses the test he needs to pass before any lingering suspicions can be laid to rest.
"I'm a realist," Spence said. "I know people have a lot of questions. Am I still the same? Am I a shadow of myself? Those are questions that need to be answered."
Check out more boxing news on video at the Boxing Channel 
To comment on this story in the Fight Forum CLICK HERE