Jeff "Candy Slim" Merritt: A Fighter's Life (Part Two of a Three-Part Series)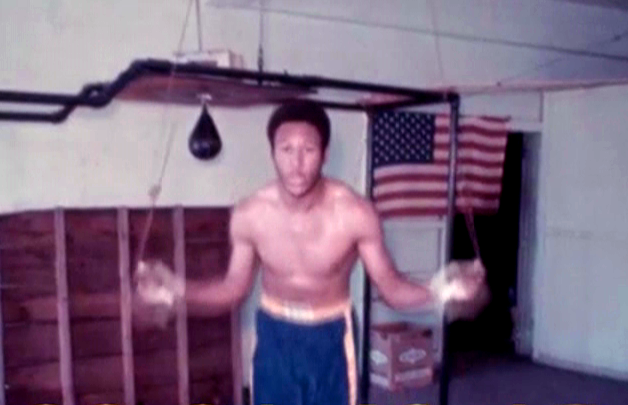 NOTE: When we left Jeff Merritt, he had just advanced his record to 11-1 with an 8-round unanimous decision over Henry Clark, his most seasoned opponent. The match played out at Madison Square Garden on a show headlined by George Foreman vs. Chuck Wepner. It was Merritt's fourth appearance at the Garden under the aegis of his sponsor, the National Maritime Union.
Merritt was quickly matched for another bout in the Garden's Felt Forum but the fight never came off. Within a few months Merritt's contract had been purchased from the Union by a ten man syndicate calling itself U.S. Championships, Inc. which included Bob Arum, Joe Louis, Norman King, Henny Youngman, William B. Williams, David Popsfsky, and William Walters. Muhammad Ali's former court jester Drew 'Bundini' Brown was in town for the Joe Frazier-Jimmy Ellis heavyweight unification and looking to attach himself to a new fighter on the upswing with his former meal ticket in exile. He was given managerial and training duties over Merritt with Angelo Dundee.
Merritt's new agreement gave him a $150 a week salary, living expenses, a car, and 50% of his purses. The syndicate would also pay for his training expenses, management fees, and transportation out of their share. In order to manufacture some cheap publicity they carted Merritt to the New York State Athletic Commission offices to file the contract. Accompanying the group was a belly dancer named Leila Sohl who they announced would be Merritt's trainer. They invited a bevy of photographers who popped flashbulbs as Merritt and his "trainer" danced and gyrated to the horror of the commission members. The photos and Merritt's story appeared in newspapers across the country. Bundini then rebranded Merritt "Candy Slim" because he was slim and had the sweetest left hook since Sugar Ray. It was a name that stayed with Merritt the rest of his life.
The syndicate immediately made the decision to send Merritt south to Miami where Angelo and Bundini would polish their new diamond in the rough at Chris Dundee's 5th Street Gym (Chris was Angelo's brother). Just over a month after arriving at Miami Merritt headlined his first card with a devastating two round knockout over Johnny Hudgins. Candy Slim pounded Hudgins mercilessly before finally lifting him off the canvas with an uppercut that left him glassy eyed and confused on the canvas for well over the ten seconds required to end the contest.
One day in April or May of 1970 while Merritt trained at Dundee's Fifth St. Gym, Muhammad Ali, still in exile due to his stance over the Vietnam War, decided to test himself against one of the young guns in the gym. He selected Jeff Merritt as his foil. Accounts differ as to the outcome (Ali said by the end of the session he was able to figure out Merritt; Merritt claimed he hit Ali so hard he knocked his headgear off, forcing Dundee to call a halt to the session). Whatever the outcome, Ali and Merritt struck up an association that would last several years.
Over May and June of 1970 Merritt reeled off two more impressive victories over Eddie Vick and Charlie Polite but a series of opportunities at wider exposure failed to materialize. Merritt was scheduled to appear against Sylvester Dullaire but begged out of the contest when he was offered the opportunity to appear on the undercard of the Emile Griffith-Dick Tiger fight at Madison Square Garden. Merritt was also scheduled to appear in an exhibition bout with Muhammad Ali in Charleston, South Carolina which would be Ali's first public appearance in a boxing ring since his exile began three years earlier. However, the day before the Ali exhibition opposition to Ali's stance proved so great that promoters were forced to cancel the bout. Two days later Merritt was injured in training forcing him to pull out of his bout with Al 'Blue' Lewis on the Griffith-Tiger card. It would be nearly a year before Merritt would reappear in a boxing ring.
Jeff returned home to Kansas City for an extended stay where he capped off 1970 by marrying Bernice Cox just before Christmas. The following spring he returned to Miami with his new bride and her young son to resume training. He opened his campaign stating that he intended to fight every three weeks until the end of the year in order to crack the top ten but his ambition was short lived. He bowled over two cannon fodder opponents, George Dulaire and Willie McMillan, in the span of three weeks (a fight against Stamford Harris that appears on his record sandwiched between these two never took place) but Merritt pulled out of his next bout citing food poisoning despite going through with an exhibition bout against Muhammad Ali the following day.
At the end of July Merritt travelled to Houston with Jimmy Ellis to serve as sparring partner while Ellis trained for his upcoming bout with Muhammad Ali (a fight against Ollie Wilson that appears on Merritt's record at this time never took place). Bob Arum, who was a part of the syndicate that owned Merritt's contract and was promoting the Ali-Ellis card, found room for Merritt on the undercard. Chris Dundee offered Olympic heavyweight champion George Foreman $50,000 to fight Merritt on the card but Foreman's manager Dick Sadler declined. Instead Merritt faced Al Banks who he stopped in two rounds.
Merritt returned to Miami for a scheduled 10 rounder against Leroy Caldwell, who was a late substitute for Wendell Newton. The night of the fight Jeff Merritt was nowhere to be found. As Angelo Dundee grew frantic he sent another of his fighters, Vern McIntosh, to the hotel where Merritt was living only to find that Bernice had no idea where Jeff was. In order to save the show Dundee put McIntosh in Merritt's place and Vern proceeded to knock out Caldwell in six exciting rounds. The following day the Miami boxing commission suspended Merritt's license. The fans were told that Merritt had refused to fight because he "felt weak." What the fans weren't told, and what wasn't revealed until later, was that Merritt was now in the throes of heroin addiction. It was a struggle which would send his once promising career into a tailspin and ultimately consume his life.
It was more than three months before Merritt would emerge again. He appeared on a short exhibition tour during the winter months of 1971/72 with Muhammad Ali. In between exhibition bouts with Ali he lived in a rundown hotel in South Beach. He had sent his family home because he couldn't afford to support them. He complained that the syndicate which controlled his contract had devolved into infighting and lost interest in his career while Chris Dundee was struggling to keep his lease on the Miami Convention Center. All of this made it nearly impossible for him to get fights even though his suspension was up. The only thing that kept him struggling along were the handouts that Angelo Dundee would give him whenever Merritt showed up to half heartedly train.
In March he joined the training camp of Vicente Rondon who was training for his light heavyweight unification bout with Bob Foster. He gave Rondon such a battering in sparring that when Foster stopped him easily in two rounds Rondon's promoter Mickey Duff, seated ringside, remarked "How they hell do they expect him to have any confidence after Jeff Merritt killed him for two weeks?"
The following month Merritt had his first bout in nearly a year, knocking out Junior Grant but months of on and off drug abuse had left him at the lowest weight of his career and he admitted that his timing was off. Despite this, his performance was good enough to interest a wealthy local businessman, Jules Freeman, to take over his management. Merritt expressed optimism and high hopes for the future but three months later, with no fights under his belt, Merritt was described by the Miami News as in poor shape physically and emotionally "and probably through" as a fighter.
In the fall of 1972 Paul Mitrano, a successful Boston car dealer and fight bug, took over Merritt's management. His first order of business was to move Merritt back to New York and place him under the guidance of Sugar Ray Robinson's former trainer George Gainford. Any hope that a change of scenery and management would get Merritt's career back on track was misplaced. He begged out of a late January fight in Las Vegas and a month later was arrested in New York for burglary. It had been a year since Jeff had been in the ring and not just his career but his entire life seemed in free fall.
Still believing in Merritt's potential Bundini put him in contact with a man he'd met through Muhammad Ali. Don King was an emerging player in boxing. He had recently purchased the contracts of light heavyweight Ray Anderson and heavyweight power puncher Earnie Shavers, both based in King's native Ohio. King had heard all about Merritt's potential and all about his problems. He spoke to Jeff and despite all of Merritt's baggage he convinced himself that this was a fighter he could work with. King, a product of Cleveland's streets and a former felon himself could understand and communicate with Merritt in a way that none of the businessmen who had managed him in the past could. He decided to take a gamble on the wayward fighter. While in New York for Earnie Shavers' fight with Jimmy Ellis King filed managerial contracts with the New York State Athletic Commission. It was the beginning of the most vibrant year of Merritt's career.
King immediately went to work rebuilding Merritt's confidence and body. He talked to him on a philosophical level about where he'd come from, how he got where he found himself, and what he wanted for his future. Merritt responded to King's Svengali charms and rededicated himself to training. He was sent to Earnie Shavers' training camp at Grossinger's where Shavers was preparing for the biggest test of his career, a showdown with Irish Jerry Quarry. Merritt quickly found that he had a lot of work to do in order to get back into fighting form. Shavers, who was never one to pull his punches in sparring, battered Merritt. Merritt resented this treatment and as he rounded back to form their sparring sessions became hellacious.
According to Larry Holmes, Jeff quickly developed resentment toward Shavers born out of jealousy. He resented the attention Don King paid Earnie. Those tensions flared in mid-July when, with King away from camp, Archie Moore, who had been hired to train Shavers, let a sparring session with Merritt and Shavers get out of hand. During one heated exchange Shavers, who had been warned several times against keeping his mouth open, was caught with a combination by Merritt that broke his jaw in two places and forced a cancellation of the Quarry fight. King was furious. He immediately fired Moore and, making lemonade out of lemons, used the publicity to get Merritt a marquee fight at Madison Square Garden against former WBA heavyweight champion Ernie Terrell. Merritt was immediately back in the limelight.
When Merritt signed with King he weighed 200 pounds, had visible needle tracks on his arms, and was a physical wreck. When he stepped into the ring with Terrell he was a muscular and healthy 221¼ pounds and a force to be reckoned with. The fight would serve as a live undercard to the closed circuit telecast being beamed into the garden of the Muhammad Ali-Ken Norton rematch. Terrell, who eight years earlier had been dubbed 'the octopus' by Muhammad Ali, rushed out and grabbed Merritt in a vice like bear hug. After the referee broke them several more waltzes followed before Merritt landed a dynamite left hook that sent Terrell spinning. Candy Slim pounced on his dazed opponent and chased him around the ring with a torrent of punches. Arthur Mercante tried to jump between the fighters but Merritt continued his assault, forcing the stoppage. The official time was two minutes and forty-two seconds of the first round and Merritt was back to being a sensation.
The win over Terrell was the most publicized win of Merritt's career to date. Forgotten was the fact that Terrell's performance had been so bad that the New York State Athletic Commission had revoked his license and forcibly retired him due to the deterioration in his skills over the previous two years. After the success of the Terrell fight Don King moved Merritt back to Cleveland with him and for a time allowed Jeff to stay at his home. King provided Merritt a car and even purchased a home in Kansas City for Jeff's mother on Woodland Avenue. It was the first home she had ever owned. For the first time in a long time, maybe in his entire life, everything seemed to be coming together for Merritt.
In order to keep Jeff out of trouble you had to keep him busy. To that end, one month after the Terrell fight, Merritt was matched with Ron Stander. Like Terrell, Stander was in a different class from Merritt's previous opponents. Stander was a short, squat heavyweight. What he lacked in skill he made up for in heart and durability. In the first year of his career he had stopped Merritt's stablemate Earnie Shavers and only a year and a half earlier he had challenged Joe Frazier for the heavyweight championship and despite losing in four one-sided rounds he gave a great showing of determination and grit. Yet by Stander's own admission he had dissipated after the loss to Frazier. Drunk on the career high purse he received and copious amounts of beer and wine, his weight had steadily climbed. Never svelte at an advertised height of five foot eleven (but closer to five foot nine), Stander was now a blob of a man, in no condition for a serious contest against a man knocking on the door of the contender class.
When Stander arrived in Cleveland his weight was announced as 233 lbs but reporters made note of his heft, his unwillingness to train, and his prodigious appetite. One paper stated that in the days before the fight he dined on steak and wine and gained a remarkable 13 pounds the day before the fight to come in at a career high 245 pounds. Regardless of when or how Stander gained the weight he was a jiggling mass of flesh when he came to meet Merritt ring center and had no business anywhere near a boxing ring.
Merritt approached his quarry like a butcher approaches a fatted calf. Stander feigned confidence and bravado but he would later admit he took the fight just for the payday. Merritt was confident as well and went right after Stander. In the early moments of the contest Stander landed a glancing right that sent Merritt into a clinch. Merritt's tendency to give up his height advantage allowed Stander to land the occasional punch but Merritt answered back, eventually finding his range with hard jabs and driving hooks deep into Stander's soft midsection. In close Merritt, angered by Stander's trash talking, began raking him with lefts to the head and body, reddening Stander's face. As the round drew to a close Merritt landed a hard hook to Stander's face causing Stander to dramatically shake his head in the fashion of Ali, denying he was hurt but it was evident that he was tiring rapidly. The round ended with the fighters trading punches after the bell and Stander dismissively waving Merritt off.
As the second round opened Stander tried for a Hail Mary right hand that missed wildly. Merritt quickly took over and before the round was a minute old he snapped Standers head back violently with a powerful left hook. Both fighters traded low blows and then Merritt shoved Stander into his own corner and began to cannonade his pudgy adversary. A left sent Stander down for what was reported to be the first time in his career. Stander argued angrily with referee Lew Eskin that he had slipped on the wet canvas but moments later a series of punches sent Stander down again and this time when he tried to rise he fell flat on his face. There was no denying that he had been hurt. Merritt went back to chopping Stander down and violent spun him into the ropes. With the audience screaming wildly a series of unanswered blows sent his defenseless opponent down. Eskin rushed in to stop the fight and Merritt raised his hands in victory, spit his mouthpiece out, and marched around the ring to soak up the adulation of the crowd as seconds and officials filled the ring.
As Bundini Brown, Don King, and co-trainer Richie Giachetti embraced their victorious charge referee Eskin approached and notified them that the round had ended before he had stopped the contest. The fight would continue. It was academic. When the third round belatedly began Merritt resumed his slaughter and quickly sent Stander, bleeding and mouth agape, reeling into the ropes. Eskin jumped in once again and rescued him on his feet.
Jeff was joined by Don King and Earnie Shavers at King's Sheraton Inn headquarters. Merritt looked pleased with himself as he spoke to a small gathering of reporters from the podium. Dressed in an imperial purple jump suit and wearing a shy smile on his face he remarked simply that "I trained to fight the guy and that's what I did."
Check out more boxing news on video at The Boxing Channel
The Sweet Science Rankings: Week of June 5th, 2023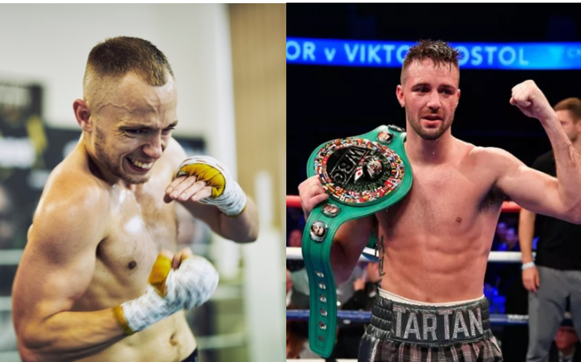 The Sweet Science Rankings: Week of June 5th, 2023
For the first time there are no changes in this week's TSS Rankings. Two fighters ranked #1 in their weight class are in action this Saturday. Sunny Edwards, the top dog at 112 pounds, defends his belt against Chile's Andres Campos at Wembley Arena in London. In a match with far more intrigue, Josh Taylor, the topmost fighter at 140, meets Teofimo Lopez at Madison Square Garden.
Pound-for-Pound
01 – Naoya Inoue
02 – Oleksandr Usyk
03 – Juan Francisco Estrada
04 – Dmitry Bivol
05 – Terence Crawford
06 – Errol Spence Jnr.
07 – Tyson Fury
08 – Saul Alvarez
09 – Artur Beterbiev
10 – Shakur Stevenson
105lbs
1            Knockout CP Freshmart (Thailand)
2            Petchmanee CP Freshmart (Thailand)
3            Oscar Collazo (USA)*
4            Ginjiro Shigeoka (Japan)
5            Wanheng Menayothin (Thailand)
6            Daniel Valladares (Mexico)
7            Yudai Shigeoka (Japan)
8            Melvin Jerusalem (Philippines)
9            Masataka Taniguchi (Japan)
10          Rene Mark Cuarto (Philippines)
108lbs
1            Kenshiro Teraji (Japan)
2            Jonathan Gonzalez (Puerto Rico)
3            Masamichi Yabuki (Japan)
4            Hekkie Budler (South Africa)
5            Sivenathi Nontshinga (South Africa)
6            Elwin Soto (Mexico)
7            Daniel Matellon (Cuba)
8            Reggie Suganob (Philippines)
9            Shokichi Iwata (Japan)
10          Esteban Bermudez (Mexico)
112lbs
1            Sunny Edwards (England)
2            Artem Dalakian (Ukraine)
3            Julio Cesar Martinez (Mexico)
4            Angel Ayala Lardizabal (Mexico)
5            David Jimenez (Costa Rica)
6            Jesse Rodriguez (USA)
7            Ricardo Sandoval (USA)
8            Felix Alvarado (Nicaragua)
9            Seigo Yuri Akui (Japan)
10          Cristofer Rosales (Nicaragua)
115lbs
1            Juan Francisco Estrada (Mexico)
2            Roman Gonzalez (Nicaragua)
3            Jesse Rodriguez (USA)
4            Kazuto Ioka (Japan)
5            Joshua Franco (USA)
6            Junto Nakatani (Japan)
7            Fernando Martinez (Argentina)
8            Srisaket Sor Rungvisai (Thailand)
9            Kosei Tanaka (Japan)
10          Andrew Moloney (Australia)
118lbs
1            Emmanuel Rodriguez (Puerto Rico)
2            Jason Moloney (Australia)
3            Nonito Donaire (Philippines)
4            Vincent Astrolabio (Philippines)
5            Gary Antonio Russell (USA)
6            Takuma Inoue (Japan)
7            Alexandro Santiago (Mexico)
8           Ryosuke Nishida (Japan)
9            Keita Kurihara (Japan)
10          Paul Butler (England)
122lbs
1            Stephen Fulton (USA)
2            Marlon Tapales (Philippines)
3            Luis Nery (Mexico)
4            Murodjon Akhmadaliev (Uzbekistan)
5            Ra'eese Aleem (USA)
6            Azat Hovhannisyan (Armenia)
7            Kevin Gonzalez (Mexico)
8            Takuma Inoue (Japan)
9            John Riel Casimero (Philippines)
10          Fillipus Nghitumbwa (Namibia)
 126lbs
1            Luis Alberto Lopez (Mexico)
2           Leigh Wood (England)
3            Brandon Figueroa (USA)
4            Rey Vargas (Mexico)
5            Mauricio Lara (Mexico)
6            Mark Magsayo (Philippines)
7            Josh Warrington (England)
8            Robeisy Ramirez (Cuba)
9            Reiya Abe (Japan)
10          Otabek Kholmatov (Uzbekistan)
 130lbs
1            Joe Cordina (Wales)
2            Oscar Valdez (Mexico)
3            Hector Garcia (Dominican Republic)
4            O'Shaquie Foster (USA)
5            Shavkatdzhon Rakhimov (Tajikistan)
6            Roger Gutierrez (Venezuela)
7            Lamont Roach (USA)
8            Eduardo Ramirez (Mexico)
9            Kenichi Ogawa (Japan)
10          Robson Conceicao (Brazil)
135lbs
1            Devin Haney (USA)
2            Gervonta Davis (USA)
3            Vasily Lomachenko (Ukraine)
4            Isaac Cruz (Mexico)
5            William Zepeda Segura (Mexico)
6            Frank Martin (USA)
7            George Kambosos Jnr (Australia)
8            Shakur Stevenson (USA)
9            Raymond Muratalla (USA)
10          Keyshawn Davis (USA)
140lbs
1            Josh Taylor (Scotland)
2            Regis Prograis (USA)
3            Jose Ramirez (USA)
4            Jose Zepeda (USA)
5            Jack Catterall (England)
6            Subriel Matias (Puerto Rico)
7            Arnold Barboza Jr. (USA)
8            Gary Antuanne Russell (USA)
9            Zhankosh Turarov (Kazakhstan)
10          Shohjahon Ergashev (Uzbekistan)
 147lbs
1            Errol Spence (USA)
2            Terence Crawford (USA)
3            Yordenis Ugas (Cuba)
4            Vergil Ortiz Jr. (USA)
5            Jaron Ennis (USA)
6            Eimantas Stanionis (Lithuania)
7            David Avanesyan (Russia)
8            Cody Crowley (Canada)
9            Roiman Villa (Columbia)
10          Alexis Rocha (USA)
 154lbs
1            Jermell Charlo (USA)
2           Tim Tszyu (Australia)
3            Brian Castano (Argentina)
4            Brian Mendoza (USA)
5            Liam Smith (England)
6            Jesus Alejandro Ramos (USA)
7            Sebastian Fundora (USA)
8            Michel Soro (Ivory Coast)
9            Erickson Lubin (USA)
10          Magomed Kurbanov (Russia)
 160lbs
1            Gennady Golovkin (Kazakhstan)
2            Jaime Munguia (Mexico)
3            Carlos Adames (Dominican Republic)
4            Janibek Alimkhanuly (Kazakhstan)
5            Liam Smith (England)
6            Erislandy Lara (USA)
7            Sergiy Derevyanchenko (Ukraine)
8            Felix Cash (England)
9            Esquiva Falcao (Brazil)
10          Chris Eubank Jnr. (Poland)
168lbs
1            Canelo Alvarez (Mexico)
2            David Benavidez (USA)
3            Caleb Plant (USA)
4            Christian Mbilli (France)
5            David Morrell (Cuba)
6            John Ryder (England)
7            Pavel Silyagin (Russia)
8            Vladimir Shishkin (Russia)
9            Carlos Gongora (Ecuador)
10          Demetrius Andrade (USA)
175lbs
1            Dmitry Bivol (Russia)
2            Artur Beterbiev (Canada)
3            Joshua Buatsi (England)
4            Callum Smith (England)
5            Joe Smith Jr. (USA)
6            Gilberto Ramirez (Mexico)
7            Anthony Yarde (England)
8           Dan Azeez (England)
9            Craig Richards (England)
10          Michael Eifert (Germany)
200lbs
1            Jai Opetaia (Australia)
2            Mairis Breidis (Latvia)
3            Chris Billam-Smith (England)
4            Richard Riakporhe (England)
5            Aleksei Papin (Russia)
6            Badou Jack (Sweden)
7            Arsen Goulamirian (France)
8            Lawrence Okolie (England)
9            Yuniel Dorticos (Cuba)
10          Mateusz Masternak (Poland)
Unlimited
1            Tyson Fury (England)
2            Oleksandr Usyk (Ukraine)
3            Zhilei Zhang (China)
4            Deontay Wilder (USA)
5            Anthony Joshua (England)
6            Andy Ruiz (USA)
7            Filip Hrgovic (Croatia)
8            Joe Joyce (England)
9            Dillian Whyte (England)
10          Frank Sanchez (Cuba)
To comment on this story in the Fight Forum CLICK HERE
The Follies of Gervonta Davis: They Gave Him the Key to the City and Now He's in the Slammer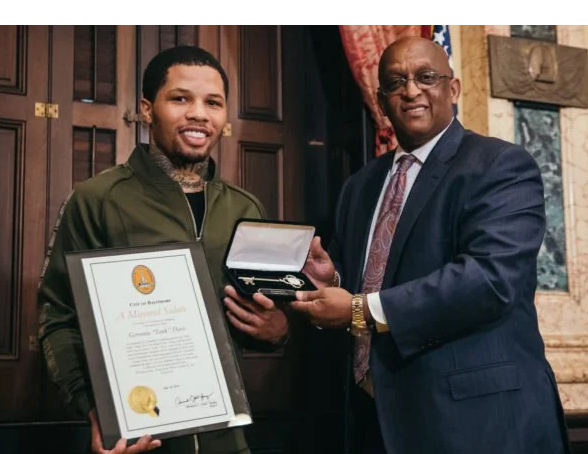 One surmises that Baltimore City Circuit Court judge Althea Handy has a lot of guts. When the 65-year-old jurist rescinded her decision to allow Gervonta "Tank" Davis to serve his 90-day sentence at the home of his trainer Calvin Ford and remanded him to the jailhouse, that undoubtedly didn't sit well with some of the poobahs in Maryland's largest city. After all, it wasn't that long ago that Davis was presented with a key to the city and a parade was held in his honor.
Davis appeared before Judge Handy on May 5. He had already pleaded guilty to each of four counts stemming from a hit-and-run accident that happened shortly before 2 a.m. on the morning of Nov. 5, 2020. After running a red light, Davis crashed his Lamborghini into another vehicle before crashing into the fence of a 7-eleven. The four occupants of the other vehicle, including a pregnant woman, required medical attention. Gervonta and his two passengers fled the scene in another car.
The four charges to which he pled guilty, eschewing a jury trial, included driving on a revoked license. Had Judge Handy thrown the book at him, she could have packed him off to prison for a term of four years and two months. Instead, she sentenced him to 90 days home detention, three years' probation, and 200 hours of community service.
Davis owns a home in tony Broward County in South Florida. If it had been his decision, that's where he would have served his 90 days. But Handy had visions of the boxer lounging by the pool and wouldn't allow it. She insisted that he serve out his sentence in his native Baltimore.
It was agreed that Davis would be confined to the home of his longtime coach Calvin Ford for the duration of his sentence. The head trainer at the Upton Boxing Center in impoverished West Baltimore and the inspiration for the Dennis "Cutty" Wise character in the HBO series "The Wire," Coach Calvin, as he is called, has been a father figure to Gervonta Davis and countless other boys. Gervonta was living with his grandmother after bouncing around between foster homes when he wandered into Upton at the age of seven. The boxer credits his coach with instilling within him the discipline needed to stay off the streets.
There was one small problem. Calvin Ford's home had only one bedroom. It was far too small for the boxer and his entourage.
Davis needed to find a new crash pad. Being the resourceful type, he moved his tack to Baltimore's luxurious Four Seasons Hotel before plunking down a reported $3.4 million on a 5,000-square-foot high-rise penthouse. When informed that the boxer had taken it upon himself to recalibrate his "punishment," Judge Handy said, "not on my watch" or words to this effect, and had the boxer hauled off to the slammer.
—
Gervonta Davis was boxing's youngest American-born world champion when he won his first title in 2017. On July 24, 2019, three days before his homecoming fight with Ricardo Nunez – his fifth 130-pound world title defense – he was presented the keys to the city by then mayor Bernard C. "Jack" Young in a ceremony at City Hall. "Welcome Home….We're so proud of you!", read the proclamation. Later that year, on Oct. 26, the boxer was feted with a parade in his old neighborhood.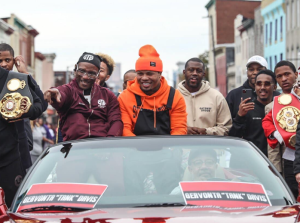 In his most recent bout, a non-title affair contested at the catch-weight of 136 pounds, Davis stopped Ryan Garcia in the seventh round to advance his record to 29-0. The fight played out before an SRO crowd of 20,000-plus at the T-Mobile Arena in Las Vegas. In his four fights prior to that, Davis drew capacity or near-capacity crowds to NBA arenas in Atlanta, Los Angeles, Brooklyn, and Washington, DC. When it comes to putting asses in seats, no other American boxer can match him.
—-
Davis turned pro under Floyd Mayweather Jr's "Money Team" banner. As recounted in a previous story, Mayweather's influence was pervasive. Gervonta came to mimicking Floyd's lifestyle, reflected in what normal people would see as reckless spending, manifested in bling and in his growing collection of rare and expensive automobiles. The parallels are striking and to that list we can now add one more. When Gervonta emerges from his current abode he will have spent almost exactly as many days behind bars as his former promoter. Mayweather was sentenced to 90 days for domestic battery in 2012 and with time off for good behavior was out of jail in two months.
When Davis gets out, will his boxing tools be as sharp as ever? Based on Mayweather's experience, his fans have nothing to worry about.
During Mayweather's incarceration, his lawyer and personal physician submitted a document to the court in hopes of securing an early release. "Jail food and water," it said, "didn't meet Mayweather's dietary needs and lack of exercise space in a cramped cell of fewer than 98 square feet threatened his health and fitness."
Not to worry. Floyd had some of his best moments after he was set free, although it may be worth noting that he stopped knocking people out.
Floyd was 35 years old when he regained his freedom. Gervonta Davis will be 28. There's no reason to think that he won't be as good as ever, but that's assuming that he keeps his nose clean. He doesn't need any more of these kinds of distractions.
To comment on this story in the Fight Forum CLICK HERE
Claressa Shields Defeats Maricela Cornejo in Detroit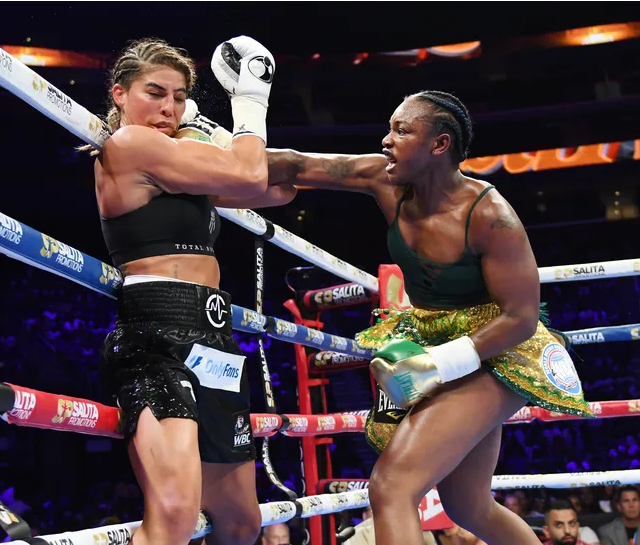 In front of a Detroit crowd familiar with boxing legends, Claressa Shields demonstrated her place among the legends with a start-to-finish win over number one contender Maricela Cornejo to retain her middleweight world championship on Saturday.
"Maricela is just super tough. She was just in shape and knew how to get away from shots," said Shields
More than 10,000 fans entered Little Caesars Arena and witnessed the fight.
Despite last-minute changes in opposition, Shields (14-0, 2 KOs) accepted always strong Cornejo (16-6, 6 KOs) and proved that former Detroit boxing legends such as Sugar Ray Robinson, Joe Louis and Tommy Hearns need to move over.
The champion wasted little time in opening-up with looping overhand rights that barely missed the mark. Cornejo was careful to avoid the bombs. Though few punches landed it was clear that Shields was on the attack.
Cornejo was scheduled to fight another foe and had been preparing in Las Vegas with famed trainer Ismael Salas. She was fully prepared to face anyone, but Shields is not anyone. Her defense was on point but the speed ratio of Shields punches is almost impossible to practice.
Still, Cornejo did enough by connecting with a strong right cross that kept Shields from overwhelming her.
"Just stay smart and not get hit with her big right hand," said Shields about her battle plan against Cornejo who replaced Hanna Gabriels who failed a PED test.
Though Cornejo had two inches height advantage, Shields had faced others that were taller before such as Christina Hammer and Savannah Marshall. Shields adjusted well.
"Height don't matter, power don't matter," Shields said. "It's all about skills and wills and I always have more."
Over the years Shields has carefully added more ammunition to her offensive arsenal and fighting a taller opponent with power has become second nature. Shields kept a perfect distance at all times and made it difficult for Cornejo to time her attacks with a big right cross.
Cornejo jabbed her way trying to close the distance, but Shields agility and reflexes kept the taller fighter from her goal. Shields snapped Cornejo's head back numerous times during the fight, but the Mexican-American fighter from the state of Washington has always shown to have one of the best chins in women's boxing. No one has ever knocked her down.
Shields came close, especially in the seventh round. Cornejo opened the frame with a strong right lead that seemed to awaken the gates. Shields unleashed the blinding combinations that have bewildered every foe she's ever faced since childhood. The speed and fury of the blows forced Cornejo to hold and maneuver out of range. She survived the onslaught but if it had been a three-minute round the fight might have been over. Instead, after the two-minute round expired, Cornejo had survived.
Shields had expended a lot of energy attempting the knockout. It takes a lot of to fire off dozens of blows with blinding speed and accuracy. Most of the eighth round was fought by both at a much slower tempo, until the last 20 seconds when Shields and Cornejo opened up the guns.
After saving energy in the prior round, Shields stunned Cornejo with a strong one-two that snapped the head of the challenger. Shields kept on the attack but in measured tones. Though she won every round it was evident that Cornejo was looking for one big counter shot that could turn the momentum.
It did not happen. Shields kept control of the fight until the very end. After 10 rounds both hugged each other in respect and the judges gave their verdict 100-89, 100-90 twice for Shields who keeps the middleweight world championship.
"I felt great. I won every round like I knew I could," said Shields. "I tried for the KO, but Maricela was tough, had a strong right hand."
For Shields it was her sixth defense of the middleweight championship.
"I thought I looked really, really good," said a very content Shields. "Thank you for coming out."
Other Bouts
Local fighter Ardreal Holmes (14-0) defeated Haiti's Wendy Toussaint (14-2) by technical split decision after the fight was stopped early due to a bad cut following a clash of heads in the super welterweight match.
Toussaint was the aggressor through most of the fight but when a savage cut opened up above his forehead the referee stopped the fight though the ringside physician had given approval to continue.
The fight was stopped at 1:54 of the eighth round and Holmes won 76-75, 77-74, 74-77. The Detroit crowd booed the decision loudly.
A middleweight contest saw Michigan's Joseph Hicks (7-0, 5 KOs) use his height and reach to dominate Atlanta's Antonio Todd (14-8) from the outside. All three judges scored it 80-72 for Hicks.
To comment on this story in the Fight Forum CLICK HERE