A Panel of Media Titans Scopes Out the New Face of Boxing in the Digital Era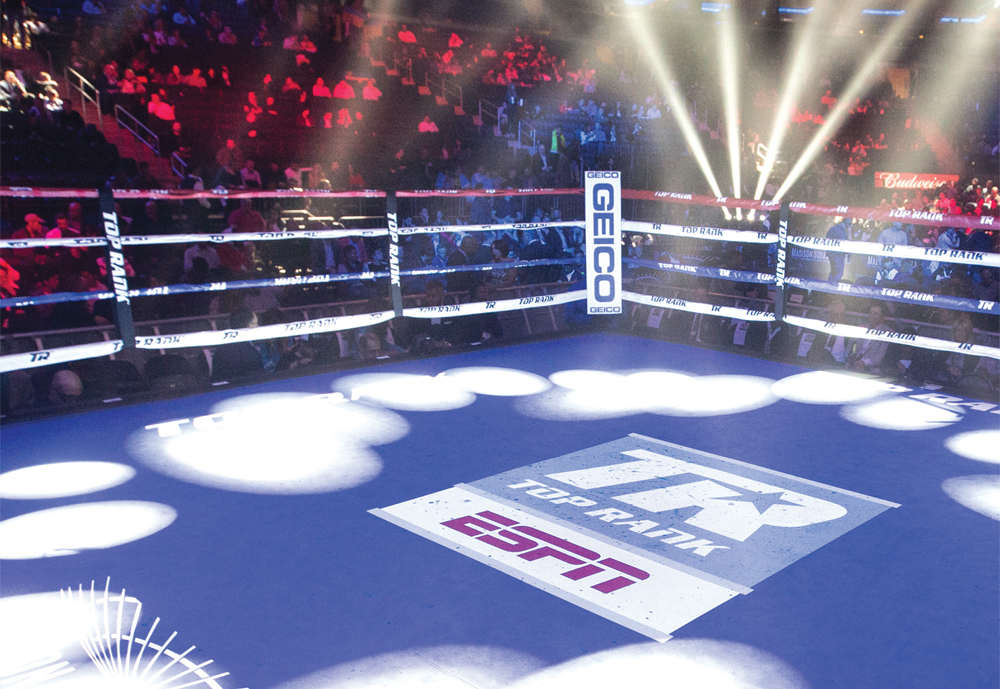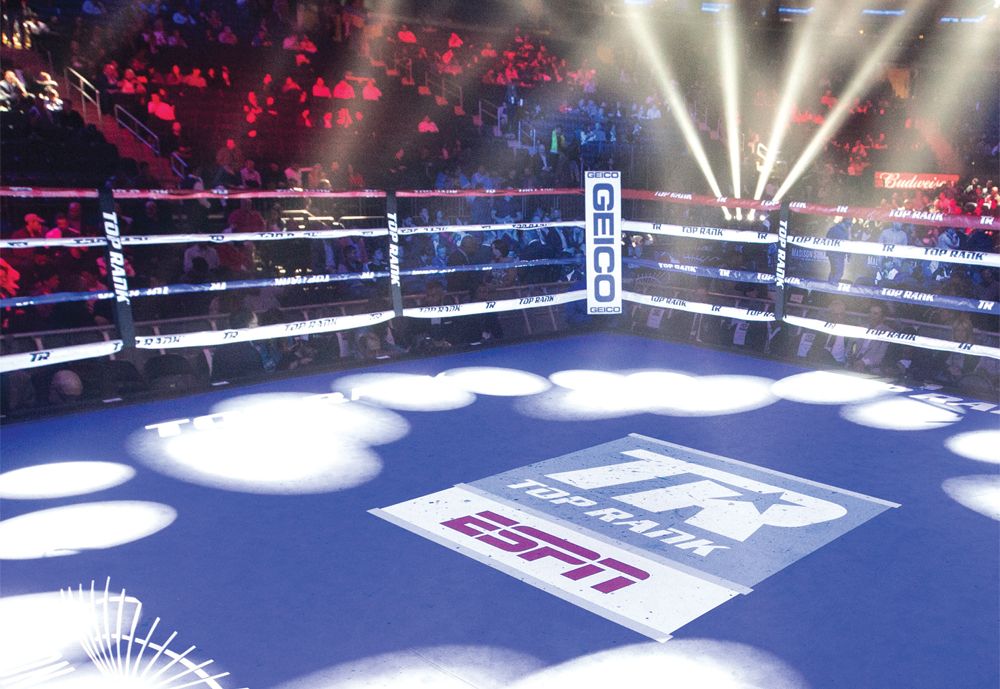 On Wednesday, October 17, HBO Sports vice president Peter Nelson showed up to the Marriott Marquis in midtown Manhattan to partake in a panel on "storytelling" in documentary film, as part of the Sports Business Journal's annual media conference. Among the topics that Nelson broached were the record viewership that tuned into "Andre the Giant" and the inception of "Barbershop," the new chat show produced by and featuring Lebron James.
But looming over the discussion like a dark cloud was the recent news that HBO Sports would forgo live boxing from their programming slate starting in 2019 — a shocking, although not completely unforeseen, announcement. Between budget cuts, expanded competition, and the exodus of elite talent, boxing at HBO had been on the decline for several years. Still for more than 40 years, the two were inextricable. Household names like Sugar Ray Leonard, Mike Tyson, Roy Jones Jr., Oscar de la Hoya, Manny Pacquiao, and Floyd Mayweather Jr. all, at one point, captured the zeitgeist by fighting on the premium channel. Indeed, long before its scripted series began stockpiling Emmys, HBO was associated with two things: movie reruns and boxing.
So finally, right before the end of the panel, the host, SBJ's John Ourand, prodded Nelson to address the ungainly elephant in the room. "The idea of boxing not being on HBO is something that's almost unthinkable," began Ourand. "It's been such a rich part of the network's legacy. Take us through that decision. Why did you decide to step away?"
"Sure," Nelson said, as he adjusted himself in his seat, "it wasn't a subjective decision…"
Meanwhile that same day, 10 blocks south at Madison Square Garden, Mexican superstar Saul "Canelo" Alvarez was preparing for a press conference to announce his New York City debut on December 15 against Rocky Fielding. That was just the teaser. The real headline was that Alvarez had signed with the streaming platform DAZN for a staggering $365 million for 11 fights, or five years. John Skipper, DAZN executive chairman and ex-ESPN head, opened the presser by declaring that "Today represents a major shift in over-the-top sports content." Alvarez, the biggest active draw in North America, has appeared exclusively on PPV — mostly on HBO — for the past five years going back to his fight with Floyd Mayweather Jr. in 2013. To see Alvarez fight once meant viewers had to pay upwards of $85, a hefty financial proposition. Now, it would cost viewers $10, or the price of a monthly subscription fee to DAZN.
"The only way to watch this fight is to download the DAZN app and activate it," Skipper told The Sweet Science. "The first one's free. The next ten, you'll need to be a subscriber to DAZN to watch the fight."
In a time in which cordcutting and rising rights fees have battered the traditional television model, streaming, or OTT, has been hailed as the new frontier of the sports media landscape. For the most part, its adherents are still striving to find the right balance between content and monetization. In the case of DAZN, the company is also at pains to create a public profile, as it remains virtually unknown in the United States, unlike, say, ESPN+, which benefits from its association with "The World Wide Leader in Sports." That said, DAZN is fairly well known internationally, in countries such as Italy and Japan, where the company owns extensive baseball and soccer rights. The Alvarez signing, to some extent, provides an instant stimulus for their US enterprise.
DAZN is betting that they can convert the Alvarez PPV buyer into a DAZN subscriber. The logic, after all, is in their favor. Why pay $85 to see Alvarez fight once, when you can pay a fraction of that for not only Alvarez, but a host of other combat sports content for an entire month? (DAZN also owns global rights to Bellator). Skipper, though, acknowledged the marketing hurdles ahead. "We still have to find those (potential subscribers), activate them," admitted Skipper. "But I think if you believe that the three plus million people (in his last three fights combined) who paid $85 dollars to watch 'Canelo' fight would be willing to pay a lot less to watch him fight, I think this is a game changer."
In years past it would have been unfathomable to imagine boxing without HBO at its helm. But there it was, on Wednesday, in striking juxtaposition, a glimpse at the future of the sport without the premium cable giant: Alvarez leaping headlong into the booming streaming business with a quarter-billion dollar contract in his pocket; the HBO Sport head talking about documentaries at an industry convention.
Yet, as always, the sport moves on. The emergence of Fox as a boxing player, the continued commitment from Showtime, the growth of ESPN and ESPN+, and the arrival of well-heeled disruptors like DAZN, are signs that the business is more than prepared to fill the void left by HBO. Indeed, the shifting landscape in the sport is a microcosm of a larger ongoing media trend, and boxing, in many respects, finds itself in the middle of the mainstream muddle. To this end, the two-day SBJ conference in New York afforded a chance to view the latest developments in boxing from a more holistic perspective, to see it in relation to the larger sports world. The Sweet Science was on hand to listen to — and on occasion, speak with — top sports media executives from across the spectrum.
An Appetite for Live Sports
What was perhaps most ironic about the presence of Nelson at the conference was that for the most part his fellow speakers were evangelists for live sports programming. ESPN head Jimmy Pitaro set the tone when he declared, "Everybody in this room knows how important live sports are. Live sports are moving the needle more than anything else. Look at what the top 10, top 20 shows are every week."
MLS Senior vice president Seth Bacon reiterated this belief. "Live sports are the center from which all cross-promotional content —storytelling, fandom — come back to," said Bacon.
And Mark Shuken, president of Pac-12 Networks, expressed much of the same: "People like to talk about the DVR-proof nature of live sports, but I think it is that immediacy, that communal nature that you gotta be there now to see it. How are you taking part in the tribal nature of sports? People want to talk about it, especially in today's landscape, sports are a great distraction."
Given the current market for live sports, then, it is little wonder that those who own the content wield considerable leverage. "Rights holders are in the driver's seat," said Lindsey Ross, director of rights for FloSports. Most executives on hand see rights fees only continuing to rise. "I feel bad for some of my colleagues up here," one executive joked. "Sports rights are expensive."
In boxing, the bustling streaming market has been a boon to boxers. Previously unconnected boxers, like Tevin Farmer and Danny Roman, are now making career purses after signing with DAZN. For the first time in decades, the highest payday for a boxer — at any level — is no longer tied to an appearance on HBO or, for that matter, Showtime.
Of course, HBO's reasons for leaving boxing are well justified. Citing internal research, Nelson suggested that boxing not only mattered very little to HBO subscribers, but that buying more fights would not improve the overall subscribership."So in looking at that," Nelson told Ourand, "it became impossible to ignore. You know, the old Peter Drucker line 'there's nothing so useless as doing efficiently that which should not be done at all.'"
Since DAZN began in September, few weekends have gone in which there were not multiple boxing cards occurring — sometimes concurrently — from all around the world, from a variety of competing platforms. Some observers are convinced that boxing has turned over a new leaf and that the latest streaming ventures are evidence of a healthy sport. But it remains to be seen how long this level of pace and volume will last.
Boxing "Beachhead"
During a panel on direct-to-consumer relations, Brian Socolow, legal counsel for DAZN and co-chair at the firm Loeb & Loeb, had this to say: "DAZN wants to be the Netflix of sports, not just boxing." The statement is illuminating for a couple reasons. One, it shows that DAZN regards boxing as a steppingstone, albeit a very expensive one. Two, the comparison to the entertainment giant shows just how ambitious the company plans to be. (DAZN is owned by billionaire Len Blavatnik.)
"Certainly the consumer wants fighting sports," continued Socolow, " but the consumer also wants a whole lot more than that and you probably need that as a business model to expand beyond that."
The expectation is that once major rights are up for negotiation, DAZN will bid aggressively for pieces of mainstream sports, like the NFL, NBA, and MLB. In the meantime, that is where boxing comes in.
Talking about DAZN's entry into the US market through boxing and MMA, Socolow referred to the move as "beachhead," business shorthand for the type of strategy in which an investment is made in small markets before pursuing larger ones. "Right now [DAZN's] focus has been on boxing and fighting sports," said Socolow. "I think it's a good way as they come into the United States and get the beachhead (for combat sports). But I think the intent there is to grow beyond that. I think they have to."
But there are big question marks as to whether DAZN will be able to carve out what they require from boxing, a perennially hostile territory. The list of failed endeavors in boxing, after all, from crass peddlers to honest do-gooders, runs longer than most Senate bills. For all the ballyhoo that accompanied their US announcement earlier in the spring, the first card DAZN launched featured Jessie Vargas against Thomas Dulorme in boxing-averse Chicago. And despite the bellicose courting from Hearn, DAZN was unable to persuade some of the biggest names aligned with the PBC, including Adrien Broner, Gervonta Davis, and the Charlo twins, to join its ranks. No doubt, DAZN has dramatically improved its standing with the signing of Alvarez, and together with the UK's Anthony Joshua, the platform can claim to have the exclusive rights to the two biggest box office stars on both sides of the Atlantic. Outside of those fighters, however, their roster quickly thins out. The November 17 card featuring Brandon Rios and Gabriel Rosado, two fighters way past their primes, is a tacky exercise in hodgepodge and mediocrity, and characteristic of some of DAZN's bottom-heavy rotation.
Yet part of their strategy seems to be working, at least as it pertains to the middleweight division. Three of the four major title belts belong to Alvarez and new signee Demetrius Andrade. The other title holder, Danny Jacobs, is currently a network free agent, but as he is promoted by Hearn, it is expected he will appear on DAZN before long. And if Gennady Golovkin decides to join as well, as reports indicate, his presence would then give DAZN a veritable hold on one of the more intriguing and competitive divisions in boxing.
Silicon Valley "Experiments"
Not everyone is as aggressive as DAZN.
When asked about the pressure to compete with highly-strapped competitors like DAZN, Portia Archer, NBC vice president of direct-to-consumer services, told The Sweet Science, "We're not in the business of they do 65 (million), we'll do 70 (million)." (Sports Gold, NBC's subscription over-the-top service, currently offers ten sports, with three more soon to be added. While Archer acknowledged that her colleagues were currently working out a potential deal with promoter Main Events, boxing is not on the radar for the app).
Such sentiment extends beyond the traditional power players.
In a recent SBJ article, Ourand pointed out how Silicon Valley titans have yet to pursue sports rights in a vigorous way and remain generally in the experimental stage. "Amazon, Facebook, Twitter and Youtube have made sports investments in the United States," wrote Ourand. "But they view those investments more as market tests than full-blown business strategies."
This scenario largely describes what is going on at Facebook through its free VOD service Facebook Watch. Currently, Facebook, which also owns Instagram, has rights deals with the MLB, LPGA, Golden Boy Promotions, high school football games in Florida, and various soccer leagues.
Peter Hutton, Facebook's newly-hired head of live sports programming, was on hand for the conference, and while he pointed out that the company was "very much [at] a listen, learn, watch, experiment stage," he also insisted that their involvement with sports was not just a casual dalliance. "Whether it is South American soccer or whether it is major league baseball here in the US, there's clearly a few bets being made and we're looking at the data on the back of that," Hutton told The Sweet Science. "I think it's more important to say how do we integrate ourselves with a sport on a long time basis."
Speaking specifically about boxing, Hutton explained that Facebook was not looking at boxing as "a short term, one fight, two fight sort of an experiment" and that he sees a natural affinity between the two.
"Boxing and Facebook is a quite an interesting story going forward," Hutton explained. "If you think about the power of boxing it's very much about creating stories and creating credibility about fights and therefore that social engagement around the fight is something that I think Facebook and Instagram and the rest of our platform can really be a part of. You need a dripfeed of information, you need that sense that what you're going to watch is important and helping the boxers to tell that story and put regular content out before a fight and develop that route through watching a live experience. I think that is a really good balance, the sport and the social networks."
One of the questions brought up in Ourand's article is if social media companies actually need to own the content to live sports. Sports-leaning social media users, after all, constantly engage with sports content that is not owned by Facebook, like the NBA and NFL, say. Hutton believes that there are clear advantages to owning the content outright. In the case of boxing, given its relatively simple structure — a small circumscribed ring and two righters — Hutton sees an opportunity for Facebook to experiment with the actual live experience with their robust virtual reality technology. Facebook owns the virtual reality company Oculus and has bought hundreds of patents related to VR and augmented reality technology. In the end, Hutton wants to offer a sports product that is sui generis, that only Facebook can offer.
"We'll look at the data through the deals that we've got through Golden Boy and see the popularity of the sport and how well it works," said Hutton. "We don't just want to show sport, we want to show sport that gives viewers a better experience and we want it to be positive. We don't want it to be a worse version of what we've had historically."
(Part of the Alvarez-DAZN signing called for guaranteed Golden Boy dates, so it is not immediately clear if Golden Boy will continue to work with Facebook.)
ESPN and "Audience Expansion"
Drawing more viewers and subscribers is the mandate for any platform. But for a fixture like ESPN that has seen its viewership dwindle rapidly in recent years, the issue is existential. But during an interview with Ourand, Pitaro had some good news to share: For four quarters in a row, ESPN had seen a net subscriber decline. In other words, ESPN is still losing subscribers, just not as quickly as they once were.
One reason for that is likely because of ESPN+. Of all the streaming platforms operating in the United States, ESPN+ currently has the largest and most diverse portfolio of live sports under its belt. This includes mainstream sports such as NCAA basketball, NHL, MLB, and college football but also what ESPN head Pitaro, in a rare public appearance on the second day of the conference, described as "niche sports."
"We're interested in the pure point of big needle movers but we're also just as interested in what's now in the smaller niche sports," said Pitaro. "So if you look on ESPN+ right now we have rugby, we have cricket, we have lacrosse, we have partnership with the Ivy League network."
This also includes boxing — that is, Top Rank Boxing. The deal, struck back in 2017, was a major improvement on the usual club-fare shows that ESPN produced, namely through its Friday Night Fights series. ESPN would support Top Rank boxing through ancillary programming and a slew of primetime dates. Both parties seem to be enjoying a measure of success. Most recently in October, Terence Crawford-Jose Benavidez Jr. averaged 2.2 million viewers on a Saturday night, the second highest Top Rank-ESPN telecast since the beginning of their deal in 2017. Earlier this year, Top Rank and ESPN renewed their partnership with a seven year extension to showcase 54 live events through 2025.
Surprised by ESPN's decision to strike up rights deals with combat sports entities, Ourand asked Pitaro, "If you would have told me 5 years ago that ESPN would have boxing programming and doing a deal with UFC I never have thought that would happen. What happened?
"Audience expansion," Pitaro stated. "The main driver behind that deal was expanding our audience and presenting content that we think will speak to a younger generation."
Pitaro singled out Top Rank president Todd duBoef for understanding exactly what their boxing programming needs to look like in order to attract more subscribers.
"Top Rank is run by a very progressive, a very intelligent guy named Todd duBoef," said Pitaro, "and Todd is correctly focused on all the right things including expanding the reach, making boxing more popular around the globe and he believed that the best way to do that was partnering with ESPN."
On ESPN+, Top Rank has shown fight cards from around the world, as far flung as Japan, Bulgaria and England. It also recently inked a deal with UK promoter Frank Warren to stream all of his fights on the app. All of which to say that there is an explicit corporate agenda in place for Top Rank, unlike its tenure with HBO, and that is to ensure that their fights drive subscribers to ESPN and ESPN+. So far, the results have been positive. In September, ESPN announced that the app had surpassed the one million subscriber mark, which many pundits considered impressive. (It should be pointed out that a reported roughly 300,000 of those subscriptions were brought in through ESPN's existing paywall service, Insider).
Fragmentation
The current economic upswing in boxing — "it's a great time to be a fighter," is a common refrain heard around the industry — may taper out as initial investments flounder and the market comes back down to reality. Some executives were skeptical that the current proliferation of streaming platforms could be sustained in the long haul. "I don't believe we're going to find people who want 14 different type of OTT services," said Hania Poole, vice president of BR Live, during a panel. Poole predicts that a degree of consolidation will be in order. "I think we're going to go back to where television started with 3 or 4 networks. Sports becomes a premium piece of that package. Kind of like what the old world looked like but with a new delivery service, with one billing system, one password. I don't see how this fragmentation can continue."
NBC's Archer was also similarly skeptical, but believed that the new model that streaming presents is here to stay. "Our fans are focused on customization and personalization. They really want something that is for them. I don't see the interest in recreating something that they formally had. If we could keep that principle in mind and figure out what the right mix is so that you don't have 15, or 20 or some unmanageable number (of apps), then perhaps (that will work).
The last thing an unregulated sport like boxing needs is more fragmentation, but the early signs suggest that the latest streaming deals have only reified the grand old political divisions. With Matchroom (and perhaps Golden Boy) now working exclusively with DAZN, Top Rank with ESPN, and PBC with Showtime and Fox, the current climate discourages collaboration. For example, neither a Terence Crawford vs. Errol Spence Jr. or an Anthony Joshua vs. Deontay Wilder fight is likely to materialize anytime soon because of conflicting broadcast alliances. Such conflicts are nothing new, but with promoters now incentivized to spur the subscriber base of their respective broadcasters, there is one less reason to come to together at the table. DAZN, for example, is not about to let Joshua, its marquee signee, hop over to Showtime/Fox to fight Wilder — not when it has a business to build.
Back in May, The Sweet Science asked Top Rank's Todd duBoef if he had any intention to let 140-pound champion Jose Ramirez participate in the WBSS series to face the other top fighters in the division. duBeof's response was instructive. "I'm building an enterprise here," he answered. "Why would I work five years developing a product just to give it away?" If Top Rank feels that strongly about Ramirez, why should it be any different with Crawford?
HBO is gone, yes, and the boxing landscape may look more different than ever, but the same problems appear no closer to being solved.
Check out more boxing news on video at The Boxing Channel
WBO Title-holder Emanuel Navarrete Defends at Banc of California Stadium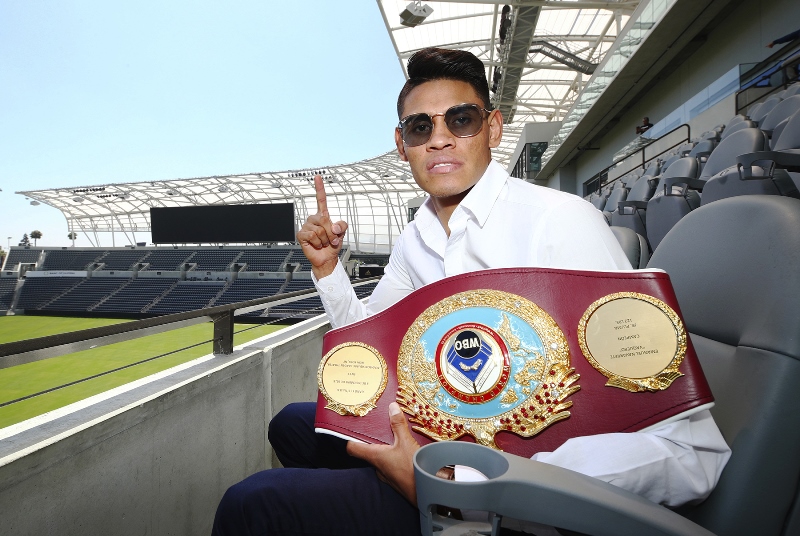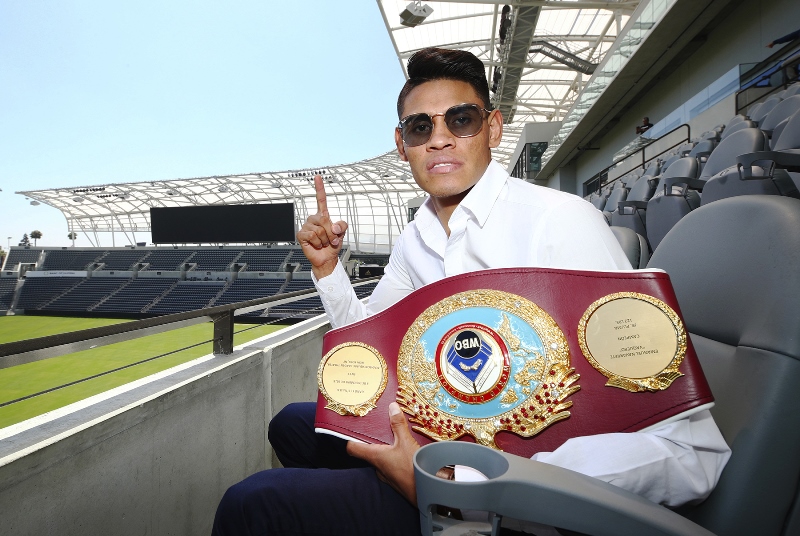 WBO Title-holder Emanuel Navarrete Defends at Banc of California Stadium
LOS ANGELES-World champions are gathering at a busy street corner of Los Angeles that has been the site of numerous heroic, villainous and emotional moments in the history of the second largest city in the USA.
Two full scale riots erupted and flamed out on that corner of Martin Luther King Boulevard and Figueroa Avenue in the 60s and 90s.
A presidential debate took place between John F. Kennedy and Richard M. Nixon on those same grounds when they were running in 1960.
NBA superstars Jerry West, Elgin Baylor and Michael Jordan performed their magic on that corner too.
On Saturday, WBO super bantamweight titlist Emanuel Navarrete (27-1, 23 KOs) defends against Arizona's Francisco De Vaca (20-0, 5 KOs) in the main event at the sparkling new Banc of California Stadium. ESPN will show the Top Rank fight card.
The stadium stands on the same location where the LA Memorial Sports Arena once stood proudly until it fell into disarray and was torn down several years back.
Sixty years ago, the first world championship boxing match was held on these same grounds and fans saw France's Alphonse Halimi lose to Mexico's Jose Becerra by fifth round knockout at the LA Memorial Sports Arena. Seven months later they fought again next door at the LA Coliseum and Becerra won by knockout again.
That was only the beginning, others like Muhammad Ali, Archie Moore, Sugar Ray Robinson, Bobby Chacon, Jerry Quarry, Danny "Lil Red" Lopez, Ruben Olivares, Roman "Chocolatito" Gonzalez and Amir Khan all fought on those same grounds.
Imagine, when Navarrete (pictured above) rises from his corner to fight Phoenix's De Vaca on Saturday, he will be continuing the ever-growing streak of civil and professional fights that took place on that same historic street corner.
WBO Super Bantamweight Title
Navarrete erupted on the fight scene like a ghost when he first defeated Isaac Dogboe last December at Madison Square Garden. It was supposed to be a Broadway opening for Dogboe, but instead turned into a horror story as those long arms of the Mexican fighter proved perplexing. The rematch was even more horrific for Dogboe.
Now the Mexico City fighter meets little known challenger De Vaca, who comes from an area that has recently been developing boxing talent in the desert city of Phoenix.
"The truth is that it doesn't matter who is my opponent. I always prepare 100 percent for each of my fights, and this was no exception," said Navarrete, 24, who is making his second defense of the WBO title. "We already did the hard work in the gym, and we are ready for a great fight. If De Vaca comes to fight hard, I am prepared to go even harder. I'm ready to give a great battle to all the fans."
Can De Vaca do what Navarrete did to Dogboe last year?
"I wanted to fight for a world title since I was 5 years old, and now that we have the opportunity, we are going to make our dream come true this Saturday," said De Vaca, 24, who fought once in Southern California back in 2016. "Come Saturday, there will be a new world champ for Phoenix and Michoacán. I'm coming for that world title."
Co-Main
Former super bantamweight titlist Jessie Magdaleno (26-1, 18 KOs) meets Rafael Rivera (27-3-2, 18 KOs) in a featherweight match set for 10 rounds. After struggling to make the 122-pound super bantamweight limit, the Las Vegas southpaw now fights at 126 pounds. It's made a difference.
"He's a totally different person at 126 pounds," said Frank Espinoza who manages Magdaleno. "Even the way he talks and thinks is different. Who would have thought four pounds would make such a difference."
Magdaleno, the former WBO super bantamweight titlist, now meets Tijuana's Rivera who never fails to provide high intensity fisticuffs.
"I don't take none of these guys lightly. Every opponent is difficult. He's fought great fighters. He's been in there with great fighters and done a hell of a job. I can't overlook him because he's here to put on a great show as well," said Magdaleno, 27. "He throws a lot of punches, and he's quick. That's what I am, and that's what is going to make a hell of a fight for this fight card."
Rivera fought featherweight champion Leo Santa Cruz earlier this year. Though he lost by decision, he gained fans for his ferocity.
"I've been fighting against top-level fighters for a long time, so I feel confident and secure that whether it's against a world champion or a former champion, I'll put up a good fight," said Rivera, 25. "Jessie is a good fighter. I've seen him fight before. He's an aggressive fighter, but I'm just here to do my work."
It's a rather strong and lengthy fight card to baptize the new stadium into the world of prizefighting. Expect a lengthy line of fans on the same corner where many historic events have taken place.
Boxing has returned to the same street corner where legends like Ali, Sugar Ray, Quarry and Schoolboy Chacon previously performed. It's a corner with many memories, both pleasant and notorious.
Photo credit: Hector De La Cruz
Check out more boxing news on video at The Boxing Channel  
To comment on this story in The Fight Forum CLICK HERE
Ruiz vs. Joshua: Enough is Enough; Let's Get it On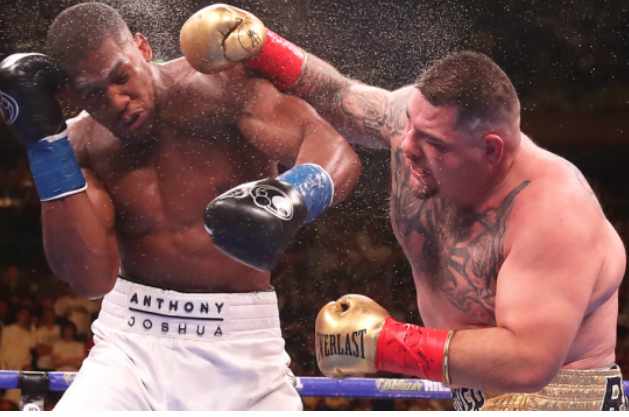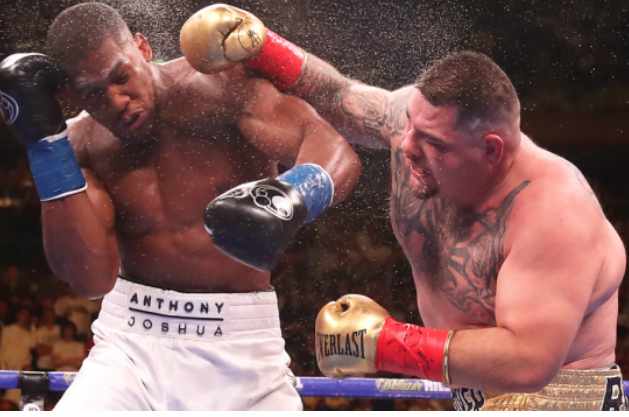 Ruiz vs. Joshua: Enough is Enough; Let's Get it On
In October of 1974, when Muhammad Ali was in Kinshasa, Zaire (now the Democratic Republic of the Congo) to fight George Foreman in the "Rumble in the Jungle," the people cheered him as he trained on the roads. They backed off when Big George walked his menacing German Shepard. It was love vs. fear and fear never had a chance.
When Foreman hit the big bag, there was no "Night Train' playing in the background; it just went "Thump, Thump Thump" and it was ominous.
As Jonathan Snowden wrote, "Far from the charming infomercial king who would later grow rich selling American electric grills bearing his name, this Foreman was hard to reach—a mystery not just to white sports writers of the time, but to his African hosts as well."
He added, "Two African-American fighters were competing, for the first time, in the heart of Africa, under the watchful eye of military strong man Joseph Mobutu." Mobutu guaranteed the combatants upfront money. His goal was to put his country on the global map.
Upon visiting Mobutu's palace, Drew "Bundini" Brown said, "All my life I've been hearing about the White House, today I visited the Black House."
Among other things, Mobutu was famous for corruption and nepotism while the people of Zaire suffered from poverty and human rights abuses.
Meanwhile Don King made his bones as a promoter and James Brown did his thing. An international press corps that included literary heavyweights George Plimpton and Norman Mailer enjoyed the scene. It was one big party. It was "When We Were Kings." It was grand.
During the fight—one in which many feared for Ali's life—Muhammed taunted with "Is that all you got, George?" In the end, Ali's "rope-a-dope" strategy paid off. As Archie Moore related, "Ali had him thinking and worrying, and he wasted too much ammunition on Ali's arms…And when George got tired against a skilled warrior like Ali, that was the beginning of the end."
The end came in the eighth round when Ali knocked out a discouraged, depleted and tired Foreman. Let the celebrations begin. "Ali bomaye!"
The fact that this spectacular event took place in an edgy country with a reputation for corruptness did not amount to a hill of beans in the final analysis. After all, this was boxing.
Fast Forward
"We wanted to go somewhere that believed in the sport of boxing, which had a vision. We already knew Saudi Arabia was for real and knew they were investing in the sport of boxing. That was very important for us." — Eddie Hearn
Now, like Mobutu, Saudi authorities will try to improve their image on human rights by hosting—or at least trying to host– the Anthony Joshua vs. Andy Ruiz rematch in what has been billed as the "Clash on the Dunes." The event will unfold in Diriyah, a town on the outskirts of Riyadh, Saudi Arabia's capitol and largest city.
A brand-new term has entered the language to explain the actions of the Saudi authorities: "Sportswash." If fact, that's exactly what Mobutu did before the term was invented.
"If Saudi Arabia is going to invest in these fights, with the population they have, with the potential to grow the sport of boxing, you could be seeing a big change in the dynamics of the sport, which truly excites me." — Hearn.
Boxing is a tough way to make a living and many fighters end up badly damaged. Relatively few ever get an opportunity to make life-changing money. Ruiz and AJ, like Ali and Foreman, should be able to do their thing without the self-righteous nonsense. Heck, when did integrity ever get in the way of the boxing community ever doing anything? Ruiz and Joshua have nothing to do with the way people live in the Arabian nations.
Enough is enough. Let's get it on.
Ted Sares is a lifetime member of Ring 10, and a member of Ring 4 and its Boxing Hall of Fame. He also is an Auxiliary Member of the Boxing Writers Association of America (BWAA). He is an active power lifter and Strongman competitor in the Master Class.
Check out more boxing news on video at The Boxing Channel  
To comment on this story in The Fight Forum CLICK HERE
From Child Prodigy to Elite Trainer, ex-Champ Bones Adams has had a Bumpy Ride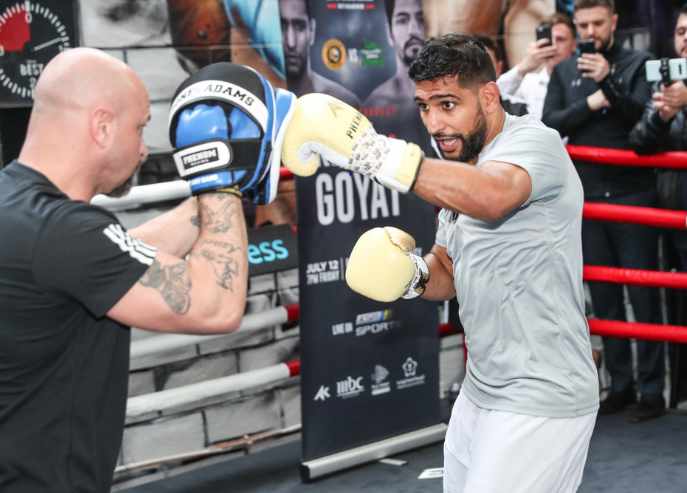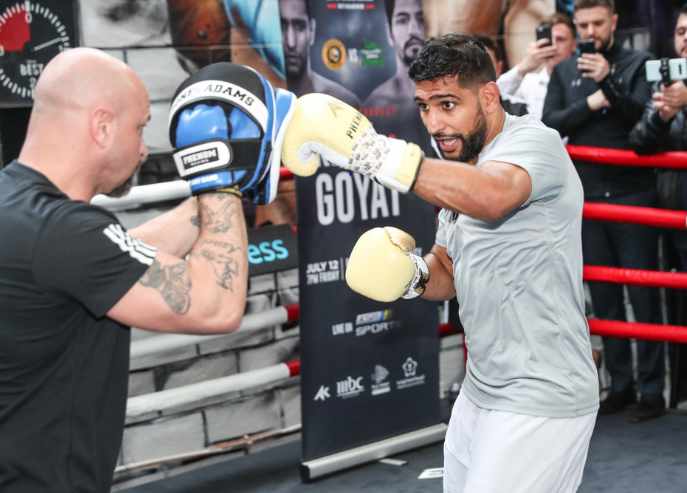 PART ONE OF A TWO-PART STORY — Las Vegas boxing trainer Clarence "Bones" Adams (pictured working the mitts with Amir Khan) has something in common with Tiger Woods. Both appeared on the TV show "That's Incredible." The show, co-hosted by former NFL quarterback Fran Tarkenton, had a five-year run (1980-84) on ABC.
Tiger hadn't even started kindergarten when his father brought him on the show to show off his acuity at hitting golf balls into a cup. Many viewers undoubtedly wondered if this painfully shy five-year-old kid would hit his peak as a golfer before he hit puberty.
Bones Adams wasn't as cuddly cute as Tiger when he appeared on the show, his small hands encased in oversized boxing gloves, but, of course, he was a lot older. The precocious puncher was eight.
Precocious indeed. Reportedly 176-4 as an amateur, Adams was 15 years old when he made his pro debut on April 3, 1990 in Memphis, Tennessee. In the opposite corner was Simmie Black, a veteran of 158 fights.
Black was a professional loser of the stripe that has become virtually extinct in the United States, but he was 37 years old and had swapped punches with several top-shelf fighters, and here he was matched against a 15-year-old kid with no professional boxing experience whatsoever.
The kid won a 4-round unanimous decision and several years later, at age 18, he would fight a future Hall of Famer for the bantamweight championship of the world.
Clarence Richard Adams Jr has been called Bones ever since he was a little boy. The nickname was attached to him because someone said he was all skin and bones and he embraced it because he always hated the name Clarence. He spent his formative years in Henderson, Kentucky, where his father was a truck driver until blood clots in his legs forced him to quit. New employment was hard to find. Tobacco and coal, the prime economic movers in the growth of Henderson County, were in decline.
For a time, the family lived in Smith Mills, Kentucky, in a house without electricity and running water. To help out his parents, Bones worked in the fields, picking soybeans, corn, and tobacco. Working in the fields and honing his skills as a boxer – the gym was in Evansville, Indiana, 11 miles from Henderson – left little time for school. He dropped out in the eighth grade.
"No disrespect intended," says Bones, "but the kids in the projects in the inner cities had it easy compared to us."
The Adams' later moved to Detroit where they lived along 7 Mile Road, the grittiest corridor in the city. They then settled in the town of Carmi in southern Illinois (a little more than an hour's drive from their ancestral home in Henderson) where Bones' father, since deceased, ran pizza parlors. Bones was living in Carmi when he turned pro.
Bones brought a 26-0-1 record into his March 27, 1993 bout with IBF world bantamweight champion Orlando Canizales at Evian les Bains, France. But it was a soft 26-0-1, a record forged against no-name opponents in tank towns like Greenville, South Carolina, Saint Joseph, Missouri, and Eldorado, Illinois. At this stage of his development he had no business being in the same ring with Canizales, the pride of Laredo, Texas, who was making the 12th defense of his title and would come to be regarded in many quarters as the top bantamweight of the modern era.
"When the fight was pitched to me," says Bones, "I was told that the venue was neutral, but when I got over there I saw people coming up to Canizales saying 'how nice to see you again' and I learned that one of the judges was from Texas."
The previous year, Canizales had twice defended his title in France. The Texas judge, Ronnie Ralston, was working his fourth Canizales title fight. (Astoundingly – but hey, maybe not; this is boxing – when Canizales lost three years later to Junior "Poison" Jones in a bid for the IBF super bantamweight title, Ronnie Ralston scored the fight 119-109 for Canizales. The other judges had Jones winning by six and seven points.)
Bones was being thrown to the wolves, but he was no pushover. Canizales broke Bones' jaw in the third round, but the kid kept plugging away. After ten frames, Canizales led by two points on all three cards; the fight still hung in the balance. But in the 11th, Bones' father, who had no boxing experience but was working his corner, tossed in the towel.
Canizales vs Adams was held in a classy joint, the Casino Royale resort overlooking Lake Geneva, a favorite getaway for European bluebloods. This was quite a departure for Bones who was only a few years removed from scrounging through dumpsters for aluminum cans and other stuff that could be sold to a recycling center or a junk dealer. But the luxurious accommodations were no consolation. At an age when many young men are hijinking through their freshman year of college, here was Bones Adams nursing a painfully broken jaw on a long flight home across the Atlantic, a jaw that would be surgically repaired at his own expense.
In both of his next two fights, Bones dislocated his left shoulder and was forced to shut it down. With three straight losses, all inside the distance, his future looked grim. But Bones persevered and in 1995 was accorded a match in Las Vegas with Kevin Kelley on the undercard of the world lightweight title fight between Oscar De La Hoya and LA-area rival Genero "Chicanito" Hernandez.
They fought outdoors at Caesars Palace in the early evening on a swelteringly hot day. Fighting for a purse of $40,000, Bones fought the last four rounds of the 12-round fight with a badly swollen left eye that appeared to ringsiders, but not referee Mitch Halpern, to be the result of an accidental head butt. When the smoke cleared, veteran Las Vegas judge Bill Graham had it 116-112 for Bones Adams, but he was overruled by Art Lurie, another local man, and Rhode Island import Clark Sammartino who both had it 114-114 and it went into the books as a draw.
A former featherweight champion, Kevin Kelley, the Flushing Flash, was 43-1-2 going in. He was one of the great action fighters of his day, but this particular fight was rather dull. "And that tells you right there I got screwed," says Bones. "I controlled the ring, I made him fight my fight."
Bones would be on the wrong side of another questionable decision in an even bigger fight, but prior to that disappointment, all of his hard work finally paid off and he experienced the highest high of his boxing career.
On March 4, 2000, at the Mandalay Bay Events Center in Las Vegas, Adams deposed WBA super bantamweight champion Nestor Garza. Although he broke his hand in the eighth round, he won a wide decision.
"I was having a lot of aches and pains," Bones recalled, "but when I woke up on the morning of the fight, I felt great, I felt very strong. I called all my friends and told them to bet on me. I had a lot of friends that night."
Bones says that going into the fight he had only $980 to his name. He bet $900 on himself and says he secured 8/1 odds. (In truth, Garza wasn't quite that big a favorite. In boxing, upsets invariably become bigger upsets in the re-telling and with the passage of time.)
After two successful title defenses, Bones returned to Mandalay Bay to oppose Paulie Ayala. Bones held the WBA 122-pound title, Ayala was that organization's 118-pound champion, and yet there was no title at stake, save that of a fringe organization (we wouldn't even try to explain how that came about – hey, this is boxing).
Title or no title, the fight created a lot of buzz. Wladimir Klitschko's WBO title defense against Charles Shufford was relegated to the undercard. And the bout was a humdinger that went to the scorecards after 12 nip-and-tuck rounds. Bones won the last round on the card of all three judges, but that wasn't sufficient to get him over the hump. Ayala won a split decision.
Bones didn't bring the same fire into his rematch with Paulie Ayala who was returned a clear winner after 12 rounds. He felt that he deserved no less than a draw in his next fight, a 12-round featherweight contest with tough Guty Espadas Jr, but that fight too ended with Bones on the wrong side of a split decision. For this bout, Bones had a 12-week camp in Big Bear and felt that he had over-trained.
He would go on to have six more fights for small purses before calling it quits, retiring with a record of 44-7-4. When he left the sport, he wasn't yet 26 years old, but he had a lot of mileage on his odometer – as a pro, he had answered the bell for 344 rounds – and it was time to say goodbye.
Bones concedes that he began to make some bad choices following his first loss to Paulie Ayala, for example using recreational drugs as a crutch to uplift his spirits. He then made a whopper of a bad choice when he accepted an offer of employment from the predatory Charles Horky.  To be continued……
Check out more boxing news on video at The Boxing Channel  
To comment on this story in The Fight Forum CLICK HERE