A Panel of Media Titans Scopes Out the New Face of Boxing in the Digital Era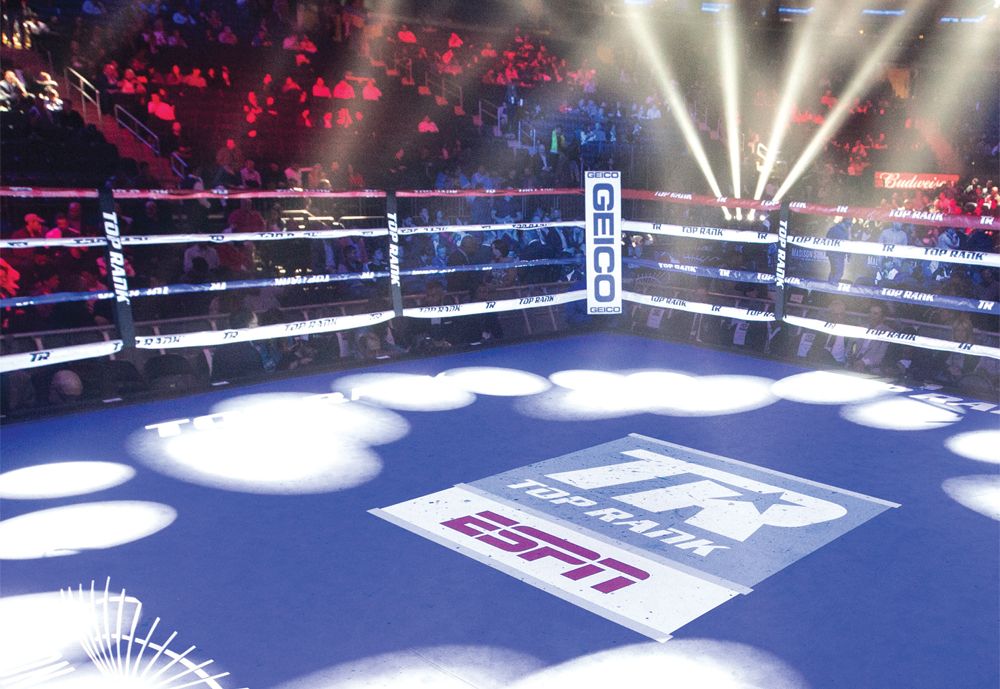 On Wednesday, October 17, HBO Sports vice president Peter Nelson showed up to the Marriott Marquis in midtown Manhattan to partake in a panel on "storytelling" in documentary film, as part of the Sports Business Journal's annual media conference. Among the topics that Nelson broached were the record viewership that tuned into "Andre the Giant" and the inception of "Barbershop," the new chat show produced by and featuring Lebron James.
But looming over the discussion like a dark cloud was the recent news that HBO Sports would forgo live boxing from their programming slate starting in 2019 — a shocking, although not completely unforeseen, announcement. Between budget cuts, expanded competition, and the exodus of elite talent, boxing at HBO had been on the decline for several years. Still for more than 40 years, the two were inextricable. Household names like Sugar Ray Leonard, Mike Tyson, Roy Jones Jr., Oscar de la Hoya, Manny Pacquiao, and Floyd Mayweather Jr. all, at one point, captured the zeitgeist by fighting on the premium channel. Indeed, long before its scripted series began stockpiling Emmys, HBO was associated with two things: movie reruns and boxing.
So finally, right before the end of the panel, the host, SBJ's John Ourand, prodded Nelson to address the ungainly elephant in the room. "The idea of boxing not being on HBO is something that's almost unthinkable," began Ourand. "It's been such a rich part of the network's legacy. Take us through that decision. Why did you decide to step away?"
"Sure," Nelson said, as he adjusted himself in his seat, "it wasn't a subjective decision…"
Meanwhile that same day, 10 blocks south at Madison Square Garden, Mexican superstar Saul "Canelo" Alvarez was preparing for a press conference to announce his New York City debut on December 15 against Rocky Fielding. That was just the teaser. The real headline was that Alvarez had signed with the streaming platform DAZN for a staggering $365 million for 11 fights, or five years. John Skipper, DAZN executive chairman and ex-ESPN head, opened the presser by declaring that "Today represents a major shift in over-the-top sports content." Alvarez, the biggest active draw in North America, has appeared exclusively on PPV — mostly on HBO — for the past five years going back to his fight with Floyd Mayweather Jr. in 2013. To see Alvarez fight once meant viewers had to pay upwards of $85, a hefty financial proposition. Now, it would cost viewers $10, or the price of a monthly subscription fee to DAZN.
"The only way to watch this fight is to download the DAZN app and activate it," Skipper told The Sweet Science. "The first one's free. The next ten, you'll need to be a subscriber to DAZN to watch the fight."
In a time in which cordcutting and rising rights fees have battered the traditional television model, streaming, or OTT, has been hailed as the new frontier of the sports media landscape. For the most part, its adherents are still striving to find the right balance between content and monetization. In the case of DAZN, the company is also at pains to create a public profile, as it remains virtually unknown in the United States, unlike, say, ESPN+, which benefits from its association with "The World Wide Leader in Sports." That said, DAZN is fairly well known internationally, in countries such as Italy and Japan, where the company owns extensive baseball and soccer rights. The Alvarez signing, to some extent, provides an instant stimulus for their US enterprise.
DAZN is betting that they can convert the Alvarez PPV buyer into a DAZN subscriber. The logic, after all, is in their favor. Why pay $85 to see Alvarez fight once, when you can pay a fraction of that for not only Alvarez, but a host of other combat sports content for an entire month? (DAZN also owns global rights to Bellator). Skipper, though, acknowledged the marketing hurdles ahead. "We still have to find those (potential subscribers), activate them," admitted Skipper. "But I think if you believe that the three plus million people (in his last three fights combined) who paid $85 dollars to watch 'Canelo' fight would be willing to pay a lot less to watch him fight, I think this is a game changer."
In years past it would have been unfathomable to imagine boxing without HBO at its helm. But there it was, on Wednesday, in striking juxtaposition, a glimpse at the future of the sport without the premium cable giant: Alvarez leaping headlong into the booming streaming business with a quarter-billion dollar contract in his pocket; the HBO Sport head talking about documentaries at an industry convention.
Yet, as always, the sport moves on. The emergence of Fox as a boxing player, the continued commitment from Showtime, the growth of ESPN and ESPN+, and the arrival of well-heeled disruptors like DAZN, are signs that the business is more than prepared to fill the void left by HBO. Indeed, the shifting landscape in the sport is a microcosm of a larger ongoing media trend, and boxing, in many respects, finds itself in the middle of the mainstream muddle. To this end, the two-day SBJ conference in New York afforded a chance to view the latest developments in boxing from a more holistic perspective, to see it in relation to the larger sports world. The Sweet Science was on hand to listen to — and on occasion, speak with — top sports media executives from across the spectrum.
An Appetite for Live Sports
What was perhaps most ironic about the presence of Nelson at the conference was that for the most part his fellow speakers were evangelists for live sports programming. ESPN head Jimmy Pitaro set the tone when he declared, "Everybody in this room knows how important live sports are. Live sports are moving the needle more than anything else. Look at what the top 10, top 20 shows are every week."
MLS Senior vice president Seth Bacon reiterated this belief. "Live sports are the center from which all cross-promotional content —storytelling, fandom — come back to," said Bacon.
And Mark Shuken, president of Pac-12 Networks, expressed much of the same: "People like to talk about the DVR-proof nature of live sports, but I think it is that immediacy, that communal nature that you gotta be there now to see it. How are you taking part in the tribal nature of sports? People want to talk about it, especially in today's landscape, sports are a great distraction."
Given the current market for live sports, then, it is little wonder that those who own the content wield considerable leverage. "Rights holders are in the driver's seat," said Lindsey Ross, director of rights for FloSports. Most executives on hand see rights fees only continuing to rise. "I feel bad for some of my colleagues up here," one executive joked. "Sports rights are expensive."
In boxing, the bustling streaming market has been a boon to boxers. Previously unconnected boxers, like Tevin Farmer and Danny Roman, are now making career purses after signing with DAZN. For the first time in decades, the highest payday for a boxer — at any level — is no longer tied to an appearance on HBO or, for that matter, Showtime.
Of course, HBO's reasons for leaving boxing are well justified. Citing internal research, Nelson suggested that boxing not only mattered very little to HBO subscribers, but that buying more fights would not improve the overall subscribership."So in looking at that," Nelson told Ourand, "it became impossible to ignore. You know, the old Peter Drucker line 'there's nothing so useless as doing efficiently that which should not be done at all.'"
Since DAZN began in September, few weekends have gone in which there were not multiple boxing cards occurring — sometimes concurrently — from all around the world, from a variety of competing platforms. Some observers are convinced that boxing has turned over a new leaf and that the latest streaming ventures are evidence of a healthy sport. But it remains to be seen how long this level of pace and volume will last.
Boxing "Beachhead"
During a panel on direct-to-consumer relations, Brian Socolow, legal counsel for DAZN and co-chair at the firm Loeb & Loeb, had this to say: "DAZN wants to be the Netflix of sports, not just boxing." The statement is illuminating for a couple reasons. One, it shows that DAZN regards boxing as a steppingstone, albeit a very expensive one. Two, the comparison to the entertainment giant shows just how ambitious the company plans to be. (DAZN is owned by billionaire Len Blavatnik.)
"Certainly the consumer wants fighting sports," continued Socolow, " but the consumer also wants a whole lot more than that and you probably need that as a business model to expand beyond that."
The expectation is that once major rights are up for negotiation, DAZN will bid aggressively for pieces of mainstream sports, like the NFL, NBA, and MLB. In the meantime, that is where boxing comes in.
Talking about DAZN's entry into the US market through boxing and MMA, Socolow referred to the move as "beachhead," business shorthand for the type of strategy in which an investment is made in small markets before pursuing larger ones. "Right now [DAZN's] focus has been on boxing and fighting sports," said Socolow. "I think it's a good way as they come into the United States and get the beachhead (for combat sports). But I think the intent there is to grow beyond that. I think they have to."
But there are big question marks as to whether DAZN will be able to carve out what they require from boxing, a perennially hostile territory. The list of failed endeavors in boxing, after all, from crass peddlers to honest do-gooders, runs longer than most Senate bills. For all the ballyhoo that accompanied their US announcement earlier in the spring, the first card DAZN launched featured Jessie Vargas against Thomas Dulorme in boxing-averse Chicago. And despite the bellicose courting from Hearn, DAZN was unable to persuade some of the biggest names aligned with the PBC, including Adrien Broner, Gervonta Davis, and the Charlo twins, to join its ranks. No doubt, DAZN has dramatically improved its standing with the signing of Alvarez, and together with the UK's Anthony Joshua, the platform can claim to have the exclusive rights to the two biggest box office stars on both sides of the Atlantic. Outside of those fighters, however, their roster quickly thins out. The November 17 card featuring Brandon Rios and Gabriel Rosado, two fighters way past their primes, is a tacky exercise in hodgepodge and mediocrity, and characteristic of some of DAZN's bottom-heavy rotation.
Yet part of their strategy seems to be working, at least as it pertains to the middleweight division. Three of the four major title belts belong to Alvarez and new signee Demetrius Andrade. The other title holder, Danny Jacobs, is currently a network free agent, but as he is promoted by Hearn, it is expected he will appear on DAZN before long. And if Gennady Golovkin decides to join as well, as reports indicate, his presence would then give DAZN a veritable hold on one of the more intriguing and competitive divisions in boxing.
Silicon Valley "Experiments"
Not everyone is as aggressive as DAZN.
When asked about the pressure to compete with highly-strapped competitors like DAZN, Portia Archer, NBC vice president of direct-to-consumer services, told The Sweet Science, "We're not in the business of they do 65 (million), we'll do 70 (million)." (Sports Gold, NBC's subscription over-the-top service, currently offers ten sports, with three more soon to be added. While Archer acknowledged that her colleagues were currently working out a potential deal with promoter Main Events, boxing is not on the radar for the app).
Such sentiment extends beyond the traditional power players.
In a recent SBJ article, Ourand pointed out how Silicon Valley titans have yet to pursue sports rights in a vigorous way and remain generally in the experimental stage. "Amazon, Facebook, Twitter and Youtube have made sports investments in the United States," wrote Ourand. "But they view those investments more as market tests than full-blown business strategies."
This scenario largely describes what is going on at Facebook through its free VOD service Facebook Watch. Currently, Facebook, which also owns Instagram, has rights deals with the MLB, LPGA, Golden Boy Promotions, high school football games in Florida, and various soccer leagues.
Peter Hutton, Facebook's newly-hired head of live sports programming, was on hand for the conference, and while he pointed out that the company was "very much [at] a listen, learn, watch, experiment stage," he also insisted that their involvement with sports was not just a casual dalliance. "Whether it is South American soccer or whether it is major league baseball here in the US, there's clearly a few bets being made and we're looking at the data on the back of that," Hutton told The Sweet Science. "I think it's more important to say how do we integrate ourselves with a sport on a long time basis."
Speaking specifically about boxing, Hutton explained that Facebook was not looking at boxing as "a short term, one fight, two fight sort of an experiment" and that he sees a natural affinity between the two.
"Boxing and Facebook is a quite an interesting story going forward," Hutton explained. "If you think about the power of boxing it's very much about creating stories and creating credibility about fights and therefore that social engagement around the fight is something that I think Facebook and Instagram and the rest of our platform can really be a part of. You need a dripfeed of information, you need that sense that what you're going to watch is important and helping the boxers to tell that story and put regular content out before a fight and develop that route through watching a live experience. I think that is a really good balance, the sport and the social networks."
One of the questions brought up in Ourand's article is if social media companies actually need to own the content to live sports. Sports-leaning social media users, after all, constantly engage with sports content that is not owned by Facebook, like the NBA and NFL, say. Hutton believes that there are clear advantages to owning the content outright. In the case of boxing, given its relatively simple structure — a small circumscribed ring and two righters — Hutton sees an opportunity for Facebook to experiment with the actual live experience with their robust virtual reality technology. Facebook owns the virtual reality company Oculus and has bought hundreds of patents related to VR and augmented reality technology. In the end, Hutton wants to offer a sports product that is sui generis, that only Facebook can offer.
"We'll look at the data through the deals that we've got through Golden Boy and see the popularity of the sport and how well it works," said Hutton. "We don't just want to show sport, we want to show sport that gives viewers a better experience and we want it to be positive. We don't want it to be a worse version of what we've had historically."
(Part of the Alvarez-DAZN signing called for guaranteed Golden Boy dates, so it is not immediately clear if Golden Boy will continue to work with Facebook.)
ESPN and "Audience Expansion"
Drawing more viewers and subscribers is the mandate for any platform. But for a fixture like ESPN that has seen its viewership dwindle rapidly in recent years, the issue is existential. But during an interview with Ourand, Pitaro had some good news to share: For four quarters in a row, ESPN had seen a net subscriber decline. In other words, ESPN is still losing subscribers, just not as quickly as they once were.
One reason for that is likely because of ESPN+. Of all the streaming platforms operating in the United States, ESPN+ currently has the largest and most diverse portfolio of live sports under its belt. This includes mainstream sports such as NCAA basketball, NHL, MLB, and college football but also what ESPN head Pitaro, in a rare public appearance on the second day of the conference, described as "niche sports."
"We're interested in the pure point of big needle movers but we're also just as interested in what's now in the smaller niche sports," said Pitaro. "So if you look on ESPN+ right now we have rugby, we have cricket, we have lacrosse, we have partnership with the Ivy League network."
This also includes boxing — that is, Top Rank Boxing. The deal, struck back in 2017, was a major improvement on the usual club-fare shows that ESPN produced, namely through its Friday Night Fights series. ESPN would support Top Rank boxing through ancillary programming and a slew of primetime dates. Both parties seem to be enjoying a measure of success. Most recently in October, Terence Crawford-Jose Benavidez Jr. averaged 2.2 million viewers on a Saturday night, the second highest Top Rank-ESPN telecast since the beginning of their deal in 2017. Earlier this year, Top Rank and ESPN renewed their partnership with a seven year extension to showcase 54 live events through 2025.
Surprised by ESPN's decision to strike up rights deals with combat sports entities, Ourand asked Pitaro, "If you would have told me 5 years ago that ESPN would have boxing programming and doing a deal with UFC I never have thought that would happen. What happened?
"Audience expansion," Pitaro stated. "The main driver behind that deal was expanding our audience and presenting content that we think will speak to a younger generation."
Pitaro singled out Top Rank president Todd duBoef for understanding exactly what their boxing programming needs to look like in order to attract more subscribers.
"Top Rank is run by a very progressive, a very intelligent guy named Todd duBoef," said Pitaro, "and Todd is correctly focused on all the right things including expanding the reach, making boxing more popular around the globe and he believed that the best way to do that was partnering with ESPN."
On ESPN+, Top Rank has shown fight cards from around the world, as far flung as Japan, Bulgaria and England. It also recently inked a deal with UK promoter Frank Warren to stream all of his fights on the app. All of which to say that there is an explicit corporate agenda in place for Top Rank, unlike its tenure with HBO, and that is to ensure that their fights drive subscribers to ESPN and ESPN+. So far, the results have been positive. In September, ESPN announced that the app had surpassed the one million subscriber mark, which many pundits considered impressive. (It should be pointed out that a reported roughly 300,000 of those subscriptions were brought in through ESPN's existing paywall service, Insider).
Fragmentation
The current economic upswing in boxing — "it's a great time to be a fighter," is a common refrain heard around the industry — may taper out as initial investments flounder and the market comes back down to reality. Some executives were skeptical that the current proliferation of streaming platforms could be sustained in the long haul. "I don't believe we're going to find people who want 14 different type of OTT services," said Hania Poole, vice president of BR Live, during a panel. Poole predicts that a degree of consolidation will be in order. "I think we're going to go back to where television started with 3 or 4 networks. Sports becomes a premium piece of that package. Kind of like what the old world looked like but with a new delivery service, with one billing system, one password. I don't see how this fragmentation can continue."
NBC's Archer was also similarly skeptical, but believed that the new model that streaming presents is here to stay. "Our fans are focused on customization and personalization. They really want something that is for them. I don't see the interest in recreating something that they formally had. If we could keep that principle in mind and figure out what the right mix is so that you don't have 15, or 20 or some unmanageable number (of apps), then perhaps (that will work).
The last thing an unregulated sport like boxing needs is more fragmentation, but the early signs suggest that the latest streaming deals have only reified the grand old political divisions. With Matchroom (and perhaps Golden Boy) now working exclusively with DAZN, Top Rank with ESPN, and PBC with Showtime and Fox, the current climate discourages collaboration. For example, neither a Terence Crawford vs. Errol Spence Jr. or an Anthony Joshua vs. Deontay Wilder fight is likely to materialize anytime soon because of conflicting broadcast alliances. Such conflicts are nothing new, but with promoters now incentivized to spur the subscriber base of their respective broadcasters, there is one less reason to come to together at the table. DAZN, for example, is not about to let Joshua, its marquee signee, hop over to Showtime/Fox to fight Wilder — not when it has a business to build.
Back in May, The Sweet Science asked Top Rank's Todd duBoef if he had any intention to let 140-pound champion Jose Ramirez participate in the WBSS series to face the other top fighters in the division. duBeof's response was instructive. "I'm building an enterprise here," he answered. "Why would I work five years developing a product just to give it away?" If Top Rank feels that strongly about Ramirez, why should it be any different with Crawford?
HBO is gone, yes, and the boxing landscape may look more different than ever, but the same problems appear no closer to being solved.
Check out more boxing news on video at The Boxing Channel
Ramirez vs. Taylor Adds Luster to an Already Strong Boxing Slate in May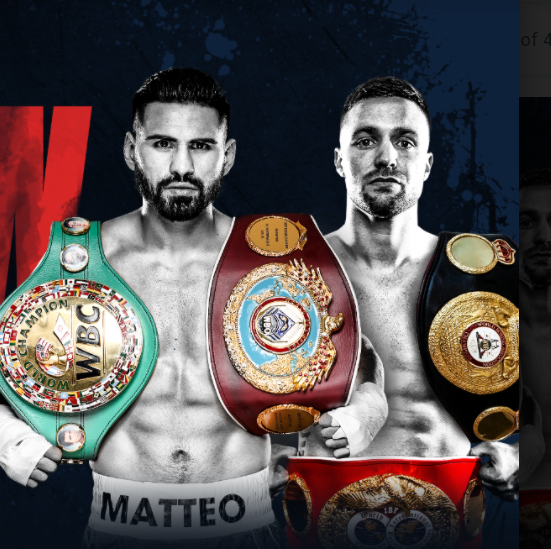 Boxing will heat up big-time in May. Canelo Alvarez will defend his WBC 168-pound title on May 8 against Billy Joe Saunders. Two weeks later, WBC/WBO 140-pound champion Jose Ramirez (26-0, 17 KOs) meets his IBF/WBA counterpart Josh Taylor (17-0, 13 KOs). Teofimo Lopez's title defense against George Kambosos may transpire in May and now there's talk that Manny Pacquiao will also return in May with Mikey Garcia in the opposite corner.
The Ramirez-Taylor fight was announced today (March 2). The match between the undefeated belt-holders, both former Olympians, will produce the fifth unified champion of the four-belt error. Middleweights Bernard Hopkins and Jermain Taylor, junior welterweight Terence Crawford, and cruiserweight Oleksandr Usyk are the only boxers to have held this distinction.
Ramirez vs. Taylor will be on ESPN. The fight appears headed to an MGM Grand property in Las Vegas. The T-Mobile Arena, the city's largest indoor sports arena, is likely in the running. The arena houses the city's professional hockey team, the Golden Knights, which played their first game in many moons with fans in attendance on Monday. Attendance was capped at 15 percent of capacity and the game was a "sellout" with all 2,605 available seats attracting occupants.
Josh Taylor, who made his pro debut in El Paso, of all places, will be making his second appearance in Las Vegas, assuming the fight transpires there. The Tartan Tornado appeared at the MGM Grand Garden on Jan. 28, 2017, on a card topped by the WBA featherweight title rematch between Carl Frampton and Leo Santa Cruz. Taylor and Frampton then shared the same trainer, Shane McGuigan.
In the words of Bob Arum, "Ramirez vs. Taylor is the best boxing has to offer, two elite fighters in the prime of their careers colliding in a legacy-defining matchup for the undisputed championship of the world. It's a true 50-50 fight…."
In boxing, unlike other sports, anything under 2-to-1 is basically a "pick-'em" fight, so Arum isn't far off the mark. For the record, however, the first betting lines to appear show the Scotsman the favorite in the 7-to-4 range, a price obviously based on the assumption that the fight will be held in Nevada, or at least anywhere other than Glasgow or Fresno.
Ramirez didn't look sharp in his last outing when he scored a majority decision over Victor Postol at the MGM Bubble. Ramirez said he was burned-out after a long training camp – the fight was postponed twice – and said he thought the sterile atmosphere affected him; he was used to feeding off the energy of a crowd. Josh Taylor also had a tough time with Postol when they met in a 12-round bout at Glasgow on June 23, 2018 (the gritty Ukrainian is a tough nut to crack), but one would not have gleaned that from the scorecards which were soaked with hometown bias.
Josh Taylor's last fight was at fan-less York Hall in London. The Scotch southpaw was entitled to a breather after his epic encounter with Regis Prograis and the IBF had just the ticket in mandatory challenger Apinun Khonsong. Taylor dismissed the overmatched Thai in the opening round with a body punch. This was Taylor's first fight with new trainer Ben Davison.
The last time that Arum called an upcoming match a 50-50 fight, he was hyping the all-Mexican showdown between Miguel Berchelt and Oscar Valdez. That was no 50-50 fight, Berchelt was a solid favorite, but as it turned out, the pricemakers had underestimated the underdog who delivered the goods in a wildly entertaining skirmish.
On paper, Ramirez vs. Taylor will also be a very entertaining affair.
Check out more boxing news on video at the Boxing Channel
To comment on this story in the Fight Forum CLICK HERE
From the Desert, Jack Dempsey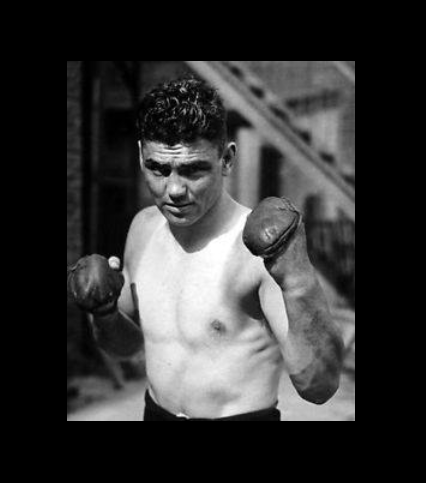 Jack Dempsey, who has been matched by Jack Goodfriend to fight at the Hippodrome Monday, May 31 is expected to arrive from Reno within a day or two.  The match will be a ten round contest and preceded by a couple of good preliminaries. (The Goldfield News, May 22nd, 1915.)
In May of 1915 Jack Dempsey found himself trapped in Nevada and between purses. Fifty miles from his payday with no rail to ride, he walked out of the desert and into Goldfield, stuck the bewildered promoter for an advance and hired a sparring partner, knocked the sparring partner out and hired another.
Walking in ninety-five-degree weather can be dangerous for even an experienced athlete, but it seemed to agree with Jack. He had marched into Goldfield to meet a light-heavyweight named Johnny Sudenberg, a game but limited battler who had for the first time strung a decent run of wins together, all of them fought in the desert Dempsey travailed on foot. Dempsey had scored a series of knockout wins in Salt Lake City, enough that his name was known and interest in his proposed match with the local man stoked.
"Jack Dempsey, the husky Pueblo middleweight, who will meet Johnny Sudenberg at the Hippodrome next Monday night in a ten round bout arrived in camp this morning," reported regional press. "Several local men have seen Dempsey in action…and all [are] united in the prediction that Johnny had better be 'right' when he crawls through the ropes."
It speaks of boxing's burgeoning's status in the United States that there were two gymnasiums in Goldfield capable of staging training. Dempsey worked out at the Unity Club, little more than a middleweight, perhaps not least because of his fifty-mile travail through the desert earlier that week. He boxed a local footnote named Dick Trounce and he may also have boxed some rounds with the world class bantamweight Roy Moore.
Sudenberg, stung by assertions that it was Dempsey, not he, who was the puncher in the fight, bristled and demanded of himself a knockout while training down the street in the Northern Gymnasium.
There is a divergence now between Dempsey's recollection of the fight and the newspaper reporting of the day. Before the fight, although he may have shared a ring with Jack Dempsey, not known for his tender attentions of even much smaller sparring partners, Roy Moore advised his sparring partner to steer clear. "Don't slug with Sudenberg.  He's awful strong. Stay away from him."
Dempsey claims to have dismissed this advice, telling Roger Kahn, author of A Flame of Pure Fire, that the match was a brutal slugfest from the first. Local press though reported on a fight that was marked by cautious sparring early, and that after "feeling each other out" for two rounds that Dempsey dominated, it was Sudenberg who changed the pattern and "owing to the greater height and reach" Dempsey possessed, brought the fight to the inside. A fine battle resulted and one that saw Dempsey descend into total chaos for the first time, a feeling that would become as familiar to him as slipping on a pair of old shoes.
"I just kept swinging. Sometimes I think I saw a face in front of me, sometimes I didn't. I kept swinging."
Dempsey claimed he could remember nothing after the fifth.
A rematch was not immediately slated, but the failure of a potential Sudenberg opponent to deliver on a sidebet let Dempsey back in just days later. Dempsey moved a bit further north with the purses, his second battle with Sudenberg staged in Tonopah. Still years from the three-ringed circus his career would become, there was interest surrounding the young scrapper who trained for the fight in the town's casino. Tonopah was a young but bustling setting, festooned with banks and lawyers and saloons as money poured in from Nevada's second largest silver strike. By 1920 they had pulled $121m out of the ground and Dempsey was there to pull out his own piece.
"A great many were dissatisfied with the decision last Monday," wrote the Tonopah Daily upon the fight's announcement. "Dempsey gave Sudenberg the best fight he has had in this part of the country."
Sudenberg, who seems to have been a prickly character, held the power in his relationship with Dempsey and so clearly backed himself to win a rematch. A fascinating aspect of the fight is their respective sizes. Dempsey was referred to as a middleweight in the earliest dispatches surrounding the fight, but in the ring made an impression upon ringsiders as the bigger man. Taller, rangier, it is possible he was already the heavier of the two or it may be that his trek through the surrounding desert left an early impression of litheness which slipped away as Dempsey, holding cash, boxed and ate his way to a size advantage during the build-up. The Goldfield News described him upon entering the ring for the rematch as looking "more like an overgrown schoolboy than a fighter" as he stepped on the canvas before noting wryly that he "proved otherwise."
The fight quite literally drew from miles around, with "Goldfield well represented at ringside" and "eight to ten auto loads" appearing from nearby mines. Dempsey grabbed their attention early, a man you will recognise, coming out of his corner like a rocket and deploying what the Tonopah Daily Bonanza named "Dempsey's mass attack," presumably an early incarnation of the terrible beating he would inflict upon Jess Willard in Toledo with the world's title at stake. Indeed, Sudenberg does appear to have visited the canvas in that first round, but Dempsey, over-eager, under-seasoned, missed with key punches following up his advantage and the canny Sudenberg survived a round of murderous intent.
Papers also report the use of straight punches by Dempsey, that he preferred range and looked to that superior range to dominate. Early Dempsey contests fascinate me in that they repeatedly throw up this story, of a fighter who at just 6'1 was able to dominate most of the desert's pugs with height and reach. Here he plays the role that would later be played by Willard, Carl Morris and Fred Fulton, longer men trying to control the range while Dempsey tormented them with slips and punches.  Here it was Sudenberg who in the third and fourth seemed to do something of a job, getting inside and hitting to the belly while the two accused each other of low blows.
Dempsey is a victim of some criticism over his own use of low blows, alleged or otherwise, in huge fights with Tommy Gibbons and Jack Sharkey. It should be remembered always that he learned his trade in spots like Tonopah and Goldfield where local referees were not sympathetic to pleas for justice to be dispensed. Dempsey fought like a fistic savage because he was raised as one.
After just four rounds in Tonopah, he was tired, feeling the effects of a difficult month and a fast fight. "Dempsey takes punishment well and ducks cleverly," noted The Bonanza, while The News saw Dempsey holding on a good deal more in the second half of the fight.
By round eight, Sudenberg began to show the effects of Dempsey's right hand which he worked "like a sledgehammer" while Sudenberg "lands heavily on Dempsey's digestive apparatus." At the final bell the two worked one another mercilessly in search of the decision, but they were greeted by a draw.
Under a more modern ruleset I suspect that Dempsey would have received the nod. He crushed Sudenberg in the early part of the fight and more than matched him late, but with the referee acting as a single judge, draws in fights where a winner was not inarguably apparent were common.  Fighters expected it and pressmen expected it, which is perhaps why some of those in attendance saw the result as eminently reasonable. Dempsey clearly landed the better shots, but Sudenberg was rewarded for his gameness in "carrying the fight" a tenet of the era.
Dempsey had impressed though. "In Dempsey, who gives the promise of developing into a heavyweight," stated The News, "there is room for a world of improvement, and with the experience he will gain during the next few years he should make a formidable opponent for any scrapper."
Portentous words.
When Dempsey left Tonopah – history does not record whether he walked out – he was mere days from his twentieth birthday, an overgrown schoolboy appearing on the good end of draws against older, more experienced men, already determined to become heavyweight champion, already of the belief he would become one. History tells of a third fight between he and Sudenberg the following February, a more mature Dempsey thrashing a cowed Sudenberg in two rounds.
I spoke to Dempsey scholar and author of the outstanding In The Ring series, Adam Pollack. "Didn't happen," was his verdict.  "I am certain it didn't take place."
It is nice to have this one cleared up. Dempsey did not need to defeat Sudenberg to leave him behind. Dempsey, like any heavyweight champion has his obsessed fans – among them the men who developed a single thin thread concerning a third Sudenberg match and turned it into a truth that was reported in A Flame of Pure Fire and elsewhere – and obsessed haters, but there is no denying what he did. Irresistible and eternal, people will generate and propagate myths about Jack Dempsey for as long as there is fighting.
This story is about his beginnings – see the single-minded determination that saw him walk fifty miles through a desert? See the legendary fast start in the second fight? The mid-round sag that would lead Jack Johnson to label him a three-round fighter? His bending of the rules? Then again, what of his seeming determination to box against a smaller opponent? This was something he abandoned in time to avoid disaster against geniuses like Tommy Gibbons although it would not be enough to save his weary legs from Gene Tunney's escape.
Dempsey's matches with Sudenberg were his emergence from the desert in more ways than one.  They were where his pursuit in earnest of the world's heavyweight title began. These were his first major steps outside of Salt Lake City where his ambitions were as penned as Sudenberg's were in the desert; the defining series of an emergent Jack Dempsey.
Check out more boxing news on video at the Boxing Channel
To comment on this story in the Fight Forum CLICK HERE
Jerry Forrest: When Heart Counts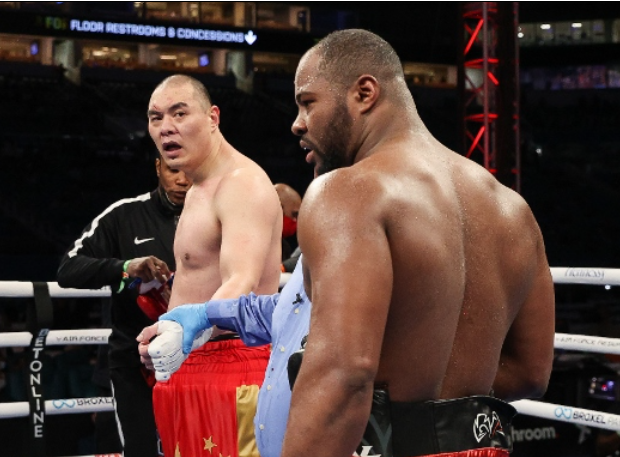 While many Canelo fights end up in some fan's memory bank, that probably won't be the case given what occurred this past Saturday night in Miami. However, the show was salvaged by the entertaining heavyweight draw between China's Zhilei "Big Bang" Zhang (22-0-1) and Jerry "Slugger" Forrest (26-4-1) on the undercard. This one had the fans up and roaring but for different reasons.
The 6'6" Zhang (with excellent amateur credentials) floored the American once in each of the first three rounds and the crowd sensed a stunning KO was on the way. But lo and behold, it didn't come.
Then things began to change, subtle at first, as a determined Forrest survived the onslaught and began to fight back working well inside and landing shots both upstairs and to the body.
A Shift in Momentum
The momentum clearly changed in the fifth as Zhang used his body to lean on "Slugger" to tire him out, but in the process he didn't mix and thereby lost rounds. Soon this strategy (albeit illegal) backfired and served to tire "Big Bang" more than Forrest and making matters worse for Zhang, he was deducted a point in the ninth by referee Frank Gentile for holding. (Given that he had been holding since the fifth round, the deduction was spot-on and could well have come earlier.)
Going into the last round, the fight seemed to be up for grabs and the fresher Forrest obliged as he landed crunching shots that had the fickle fans (are there any others?) now in is corner. He was actually chasing the gassed Chinese monster at the end and had the fight gone another minute, "Slugger" likely would have lived up to his moniker.
"For Jerry Forrest, this is a momentous result after a terrible start, and keeps him in the mix as a high-level gatekeeper, someone who will take on basically anyone and give it the effort. He's a danger to prospects and mid-tier veterans alike," wrote prominent boxing writer Scott Christ.
The scores were 95-93 Forrest and 93-93 twice for a majority draw. Zhang was lucky to keep his undefeated record intact.
Jerry Forrest showed a tremendous amount of heart. Hopefully, when folks look back at this card, Canelo's blowout of Avni Yildirim won't completely overshadow this entertaining heavyweight match.
(Note: Zhang was taken to a hospital for observation when his handlers noticed some concerning symptoms in the locker room after the fight. According to a published statement from Terry Lane of Lane Brothers Management, Zhang was found to be "suffering from anemia, high enzyme levels, and low-level renal failure, which may have been caused by severe dehydration. The good news is that all of his neurological signs are clear…Credit and respect to a game Jerry Forrest who battled back for a ten-round draw…Zhilei will be back.")
Photo credit: Ed Mulholland / Matchroom
Ted Sares can be reached at tedsares@roadrunner.com
Check out more boxing news on video at the Boxing Channel
To comment on this story in the Fight Forum CLICK HERE