A Panel of Media Titans Scopes Out the New Face of Boxing in the Digital Era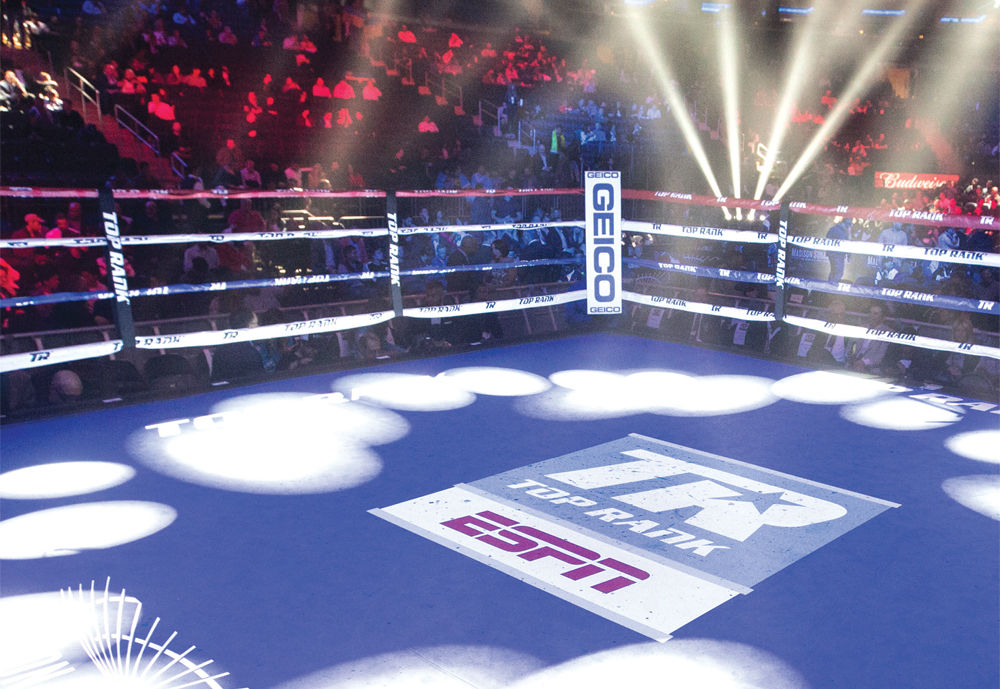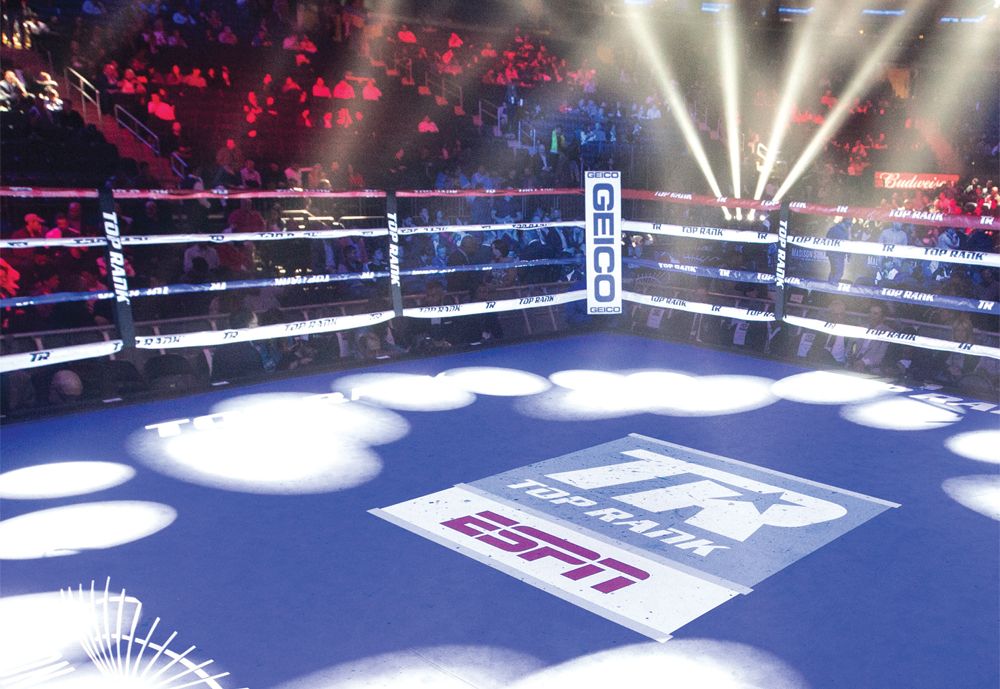 On Wednesday, October 17, HBO Sports vice president Peter Nelson showed up to the Marriott Marquis in midtown Manhattan to partake in a panel on "storytelling" in documentary film, as part of the Sports Business Journal's annual media conference. Among the topics that Nelson broached were the record viewership that tuned into "Andre the Giant" and the inception of "Barbershop," the new chat show produced by and featuring Lebron James.
But looming over the discussion like a dark cloud was the recent news that HBO Sports would forgo live boxing from their programming slate starting in 2019 — a shocking, although not completely unforeseen, announcement. Between budget cuts, expanded competition, and the exodus of elite talent, boxing at HBO had been on the decline for several years. Still for more than 40 years, the two were inextricable. Household names like Sugar Ray Leonard, Mike Tyson, Roy Jones Jr., Oscar de la Hoya, Manny Pacquiao, and Floyd Mayweather Jr. all, at one point, captured the zeitgeist by fighting on the premium channel. Indeed, long before its scripted series began stockpiling Emmys, HBO was associated with two things: movie reruns and boxing.
So finally, right before the end of the panel, the host, SBJ's John Ourand, prodded Nelson to address the ungainly elephant in the room. "The idea of boxing not being on HBO is something that's almost unthinkable," began Ourand. "It's been such a rich part of the network's legacy. Take us through that decision. Why did you decide to step away?"
"Sure," Nelson said, as he adjusted himself in his seat, "it wasn't a subjective decision…"
Meanwhile that same day, 10 blocks south at Madison Square Garden, Mexican superstar Saul "Canelo" Alvarez was preparing for a press conference to announce his New York City debut on December 15 against Rocky Fielding. That was just the teaser. The real headline was that Alvarez had signed with the streaming platform DAZN for a staggering $365 million for 11 fights, or five years. John Skipper, DAZN executive chairman and ex-ESPN head, opened the presser by declaring that "Today represents a major shift in over-the-top sports content." Alvarez, the biggest active draw in North America, has appeared exclusively on PPV — mostly on HBO — for the past five years going back to his fight with Floyd Mayweather Jr. in 2013. To see Alvarez fight once meant viewers had to pay upwards of $85, a hefty financial proposition. Now, it would cost viewers $10, or the price of a monthly subscription fee to DAZN.
"The only way to watch this fight is to download the DAZN app and activate it," Skipper told The Sweet Science. "The first one's free. The next ten, you'll need to be a subscriber to DAZN to watch the fight."
In a time in which cordcutting and rising rights fees have battered the traditional television model, streaming, or OTT, has been hailed as the new frontier of the sports media landscape. For the most part, its adherents are still striving to find the right balance between content and monetization. In the case of DAZN, the company is also at pains to create a public profile, as it remains virtually unknown in the United States, unlike, say, ESPN+, which benefits from its association with "The World Wide Leader in Sports." That said, DAZN is fairly well known internationally, in countries such as Italy and Japan, where the company owns extensive baseball and soccer rights. The Alvarez signing, to some extent, provides an instant stimulus for their US enterprise.
DAZN is betting that they can convert the Alvarez PPV buyer into a DAZN subscriber. The logic, after all, is in their favor. Why pay $85 to see Alvarez fight once, when you can pay a fraction of that for not only Alvarez, but a host of other combat sports content for an entire month? (DAZN also owns global rights to Bellator). Skipper, though, acknowledged the marketing hurdles ahead. "We still have to find those (potential subscribers), activate them," admitted Skipper. "But I think if you believe that the three plus million people (in his last three fights combined) who paid $85 dollars to watch 'Canelo' fight would be willing to pay a lot less to watch him fight, I think this is a game changer."
In years past it would have been unfathomable to imagine boxing without HBO at its helm. But there it was, on Wednesday, in striking juxtaposition, a glimpse at the future of the sport without the premium cable giant: Alvarez leaping headlong into the booming streaming business with a quarter-billion dollar contract in his pocket; the HBO Sport head talking about documentaries at an industry convention.
Yet, as always, the sport moves on. The emergence of Fox as a boxing player, the continued commitment from Showtime, the growth of ESPN and ESPN+, and the arrival of well-heeled disruptors like DAZN, are signs that the business is more than prepared to fill the void left by HBO. Indeed, the shifting landscape in the sport is a microcosm of a larger ongoing media trend, and boxing, in many respects, finds itself in the middle of the mainstream muddle. To this end, the two-day SBJ conference in New York afforded a chance to view the latest developments in boxing from a more holistic perspective, to see it in relation to the larger sports world. The Sweet Science was on hand to listen to — and on occasion, speak with — top sports media executives from across the spectrum.
An Appetite for Live Sports
What was perhaps most ironic about the presence of Nelson at the conference was that for the most part his fellow speakers were evangelists for live sports programming. ESPN head Jimmy Pitaro set the tone when he declared, "Everybody in this room knows how important live sports are. Live sports are moving the needle more than anything else. Look at what the top 10, top 20 shows are every week."
MLS Senior vice president Seth Bacon reiterated this belief. "Live sports are the center from which all cross-promotional content —storytelling, fandom — come back to," said Bacon.
And Mark Shuken, president of Pac-12 Networks, expressed much of the same: "People like to talk about the DVR-proof nature of live sports, but I think it is that immediacy, that communal nature that you gotta be there now to see it. How are you taking part in the tribal nature of sports? People want to talk about it, especially in today's landscape, sports are a great distraction."
Given the current market for live sports, then, it is little wonder that those who own the content wield considerable leverage. "Rights holders are in the driver's seat," said Lindsey Ross, director of rights for FloSports. Most executives on hand see rights fees only continuing to rise. "I feel bad for some of my colleagues up here," one executive joked. "Sports rights are expensive."
In boxing, the bustling streaming market has been a boon to boxers. Previously unconnected boxers, like Tevin Farmer and Danny Roman, are now making career purses after signing with DAZN. For the first time in decades, the highest payday for a boxer — at any level — is no longer tied to an appearance on HBO or, for that matter, Showtime.
Of course, HBO's reasons for leaving boxing are well justified. Citing internal research, Nelson suggested that boxing not only mattered very little to HBO subscribers, but that buying more fights would not improve the overall subscribership."So in looking at that," Nelson told Ourand, "it became impossible to ignore. You know, the old Peter Drucker line 'there's nothing so useless as doing efficiently that which should not be done at all.'"
Since DAZN began in September, few weekends have gone in which there were not multiple boxing cards occurring — sometimes concurrently — from all around the world, from a variety of competing platforms. Some observers are convinced that boxing has turned over a new leaf and that the latest streaming ventures are evidence of a healthy sport. But it remains to be seen how long this level of pace and volume will last.
Boxing "Beachhead"
During a panel on direct-to-consumer relations, Brian Socolow, legal counsel for DAZN and co-chair at the firm Loeb & Loeb, had this to say: "DAZN wants to be the Netflix of sports, not just boxing." The statement is illuminating for a couple reasons. One, it shows that DAZN regards boxing as a steppingstone, albeit a very expensive one. Two, the comparison to the entertainment giant shows just how ambitious the company plans to be. (DAZN is owned by billionaire Len Blavatnik.)
"Certainly the consumer wants fighting sports," continued Socolow, " but the consumer also wants a whole lot more than that and you probably need that as a business model to expand beyond that."
The expectation is that once major rights are up for negotiation, DAZN will bid aggressively for pieces of mainstream sports, like the NFL, NBA, and MLB. In the meantime, that is where boxing comes in.
Talking about DAZN's entry into the US market through boxing and MMA, Socolow referred to the move as "beachhead," business shorthand for the type of strategy in which an investment is made in small markets before pursuing larger ones. "Right now [DAZN's] focus has been on boxing and fighting sports," said Socolow. "I think it's a good way as they come into the United States and get the beachhead (for combat sports). But I think the intent there is to grow beyond that. I think they have to."
But there are big question marks as to whether DAZN will be able to carve out what they require from boxing, a perennially hostile territory. The list of failed endeavors in boxing, after all, from crass peddlers to honest do-gooders, runs longer than most Senate bills. For all the ballyhoo that accompanied their US announcement earlier in the spring, the first card DAZN launched featured Jessie Vargas against Thomas Dulorme in boxing-averse Chicago. And despite the bellicose courting from Hearn, DAZN was unable to persuade some of the biggest names aligned with the PBC, including Adrien Broner, Gervonta Davis, and the Charlo twins, to join its ranks. No doubt, DAZN has dramatically improved its standing with the signing of Alvarez, and together with the UK's Anthony Joshua, the platform can claim to have the exclusive rights to the two biggest box office stars on both sides of the Atlantic. Outside of those fighters, however, their roster quickly thins out. The November 17 card featuring Brandon Rios and Gabriel Rosado, two fighters way past their primes, is a tacky exercise in hodgepodge and mediocrity, and characteristic of some of DAZN's bottom-heavy rotation.
Yet part of their strategy seems to be working, at least as it pertains to the middleweight division. Three of the four major title belts belong to Alvarez and new signee Demetrius Andrade. The other title holder, Danny Jacobs, is currently a network free agent, but as he is promoted by Hearn, it is expected he will appear on DAZN before long. And if Gennady Golovkin decides to join as well, as reports indicate, his presence would then give DAZN a veritable hold on one of the more intriguing and competitive divisions in boxing.
Silicon Valley "Experiments"
Not everyone is as aggressive as DAZN.
When asked about the pressure to compete with highly-strapped competitors like DAZN, Portia Archer, NBC vice president of direct-to-consumer services, told The Sweet Science, "We're not in the business of they do 65 (million), we'll do 70 (million)." (Sports Gold, NBC's subscription over-the-top service, currently offers ten sports, with three more soon to be added. While Archer acknowledged that her colleagues were currently working out a potential deal with promoter Main Events, boxing is not on the radar for the app).
Such sentiment extends beyond the traditional power players.
In a recent SBJ article, Ourand pointed out how Silicon Valley titans have yet to pursue sports rights in a vigorous way and remain generally in the experimental stage. "Amazon, Facebook, Twitter and Youtube have made sports investments in the United States," wrote Ourand. "But they view those investments more as market tests than full-blown business strategies."
This scenario largely describes what is going on at Facebook through its free VOD service Facebook Watch. Currently, Facebook, which also owns Instagram, has rights deals with the MLB, LPGA, Golden Boy Promotions, high school football games in Florida, and various soccer leagues.
Peter Hutton, Facebook's newly-hired head of live sports programming, was on hand for the conference, and while he pointed out that the company was "very much [at] a listen, learn, watch, experiment stage," he also insisted that their involvement with sports was not just a casual dalliance. "Whether it is South American soccer or whether it is major league baseball here in the US, there's clearly a few bets being made and we're looking at the data on the back of that," Hutton told The Sweet Science. "I think it's more important to say how do we integrate ourselves with a sport on a long time basis."
Speaking specifically about boxing, Hutton explained that Facebook was not looking at boxing as "a short term, one fight, two fight sort of an experiment" and that he sees a natural affinity between the two.
"Boxing and Facebook is a quite an interesting story going forward," Hutton explained. "If you think about the power of boxing it's very much about creating stories and creating credibility about fights and therefore that social engagement around the fight is something that I think Facebook and Instagram and the rest of our platform can really be a part of. You need a dripfeed of information, you need that sense that what you're going to watch is important and helping the boxers to tell that story and put regular content out before a fight and develop that route through watching a live experience. I think that is a really good balance, the sport and the social networks."
One of the questions brought up in Ourand's article is if social media companies actually need to own the content to live sports. Sports-leaning social media users, after all, constantly engage with sports content that is not owned by Facebook, like the NBA and NFL, say. Hutton believes that there are clear advantages to owning the content outright. In the case of boxing, given its relatively simple structure — a small circumscribed ring and two righters — Hutton sees an opportunity for Facebook to experiment with the actual live experience with their robust virtual reality technology. Facebook owns the virtual reality company Oculus and has bought hundreds of patents related to VR and augmented reality technology. In the end, Hutton wants to offer a sports product that is sui generis, that only Facebook can offer.
"We'll look at the data through the deals that we've got through Golden Boy and see the popularity of the sport and how well it works," said Hutton. "We don't just want to show sport, we want to show sport that gives viewers a better experience and we want it to be positive. We don't want it to be a worse version of what we've had historically."
(Part of the Alvarez-DAZN signing called for guaranteed Golden Boy dates, so it is not immediately clear if Golden Boy will continue to work with Facebook.)
ESPN and "Audience Expansion"
Drawing more viewers and subscribers is the mandate for any platform. But for a fixture like ESPN that has seen its viewership dwindle rapidly in recent years, the issue is existential. But during an interview with Ourand, Pitaro had some good news to share: For four quarters in a row, ESPN had seen a net subscriber decline. In other words, ESPN is still losing subscribers, just not as quickly as they once were.
One reason for that is likely because of ESPN+. Of all the streaming platforms operating in the United States, ESPN+ currently has the largest and most diverse portfolio of live sports under its belt. This includes mainstream sports such as NCAA basketball, NHL, MLB, and college football but also what ESPN head Pitaro, in a rare public appearance on the second day of the conference, described as "niche sports."
"We're interested in the pure point of big needle movers but we're also just as interested in what's now in the smaller niche sports," said Pitaro. "So if you look on ESPN+ right now we have rugby, we have cricket, we have lacrosse, we have partnership with the Ivy League network."
This also includes boxing — that is, Top Rank Boxing. The deal, struck back in 2017, was a major improvement on the usual club-fare shows that ESPN produced, namely through its Friday Night Fights series. ESPN would support Top Rank boxing through ancillary programming and a slew of primetime dates. Both parties seem to be enjoying a measure of success. Most recently in October, Terence Crawford-Jose Benavidez Jr. averaged 2.2 million viewers on a Saturday night, the second highest Top Rank-ESPN telecast since the beginning of their deal in 2017. Earlier this year, Top Rank and ESPN renewed their partnership with a seven year extension to showcase 54 live events through 2025.
Surprised by ESPN's decision to strike up rights deals with combat sports entities, Ourand asked Pitaro, "If you would have told me 5 years ago that ESPN would have boxing programming and doing a deal with UFC I never have thought that would happen. What happened?
"Audience expansion," Pitaro stated. "The main driver behind that deal was expanding our audience and presenting content that we think will speak to a younger generation."
Pitaro singled out Top Rank president Todd duBoef for understanding exactly what their boxing programming needs to look like in order to attract more subscribers.
"Top Rank is run by a very progressive, a very intelligent guy named Todd duBoef," said Pitaro, "and Todd is correctly focused on all the right things including expanding the reach, making boxing more popular around the globe and he believed that the best way to do that was partnering with ESPN."
On ESPN+, Top Rank has shown fight cards from around the world, as far flung as Japan, Bulgaria and England. It also recently inked a deal with UK promoter Frank Warren to stream all of his fights on the app. All of which to say that there is an explicit corporate agenda in place for Top Rank, unlike its tenure with HBO, and that is to ensure that their fights drive subscribers to ESPN and ESPN+. So far, the results have been positive. In September, ESPN announced that the app had surpassed the one million subscriber mark, which many pundits considered impressive. (It should be pointed out that a reported roughly 300,000 of those subscriptions were brought in through ESPN's existing paywall service, Insider).
Fragmentation
The current economic upswing in boxing — "it's a great time to be a fighter," is a common refrain heard around the industry — may taper out as initial investments flounder and the market comes back down to reality. Some executives were skeptical that the current proliferation of streaming platforms could be sustained in the long haul. "I don't believe we're going to find people who want 14 different type of OTT services," said Hania Poole, vice president of BR Live, during a panel. Poole predicts that a degree of consolidation will be in order. "I think we're going to go back to where television started with 3 or 4 networks. Sports becomes a premium piece of that package. Kind of like what the old world looked like but with a new delivery service, with one billing system, one password. I don't see how this fragmentation can continue."
NBC's Archer was also similarly skeptical, but believed that the new model that streaming presents is here to stay. "Our fans are focused on customization and personalization. They really want something that is for them. I don't see the interest in recreating something that they formally had. If we could keep that principle in mind and figure out what the right mix is so that you don't have 15, or 20 or some unmanageable number (of apps), then perhaps (that will work).
The last thing an unregulated sport like boxing needs is more fragmentation, but the early signs suggest that the latest streaming deals have only reified the grand old political divisions. With Matchroom (and perhaps Golden Boy) now working exclusively with DAZN, Top Rank with ESPN, and PBC with Showtime and Fox, the current climate discourages collaboration. For example, neither a Terence Crawford vs. Errol Spence Jr. or an Anthony Joshua vs. Deontay Wilder fight is likely to materialize anytime soon because of conflicting broadcast alliances. Such conflicts are nothing new, but with promoters now incentivized to spur the subscriber base of their respective broadcasters, there is one less reason to come to together at the table. DAZN, for example, is not about to let Joshua, its marquee signee, hop over to Showtime/Fox to fight Wilder — not when it has a business to build.
Back in May, The Sweet Science asked Top Rank's Todd duBoef if he had any intention to let 140-pound champion Jose Ramirez participate in the WBSS series to face the other top fighters in the division. duBeof's response was instructive. "I'm building an enterprise here," he answered. "Why would I work five years developing a product just to give it away?" If Top Rank feels that strongly about Ramirez, why should it be any different with Crawford?
HBO is gone, yes, and the boxing landscape may look more different than ever, but the same problems appear no closer to being solved.
Check out more boxing news on video at The Boxing Channel
Looking Ahead to Canelo-Kovalev, Looking Back at Robinson-Maxim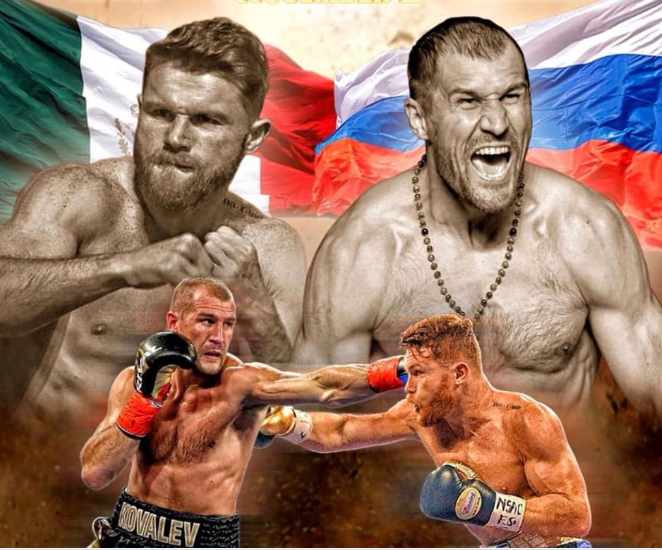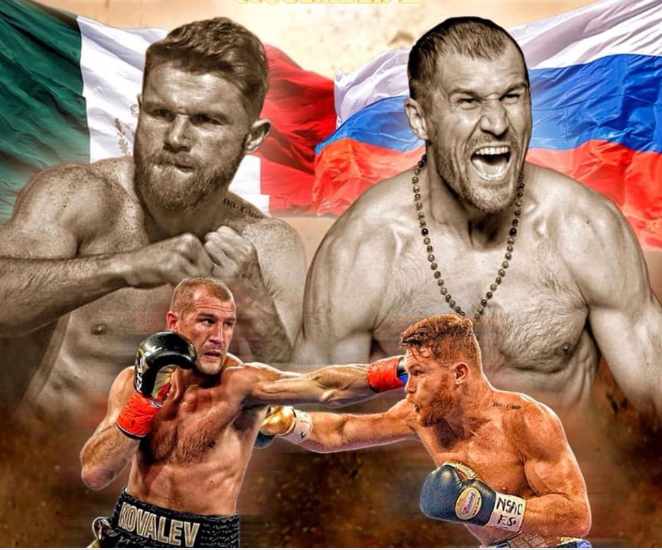 Looking Ahead to Canelo-Kovalev, Looking Back at Robinson-Maxim
Will boxing history repeat itself again? 
In modern era prizefighting it is almost unheard of for a reigning middleweight champion to challenge a reigning light heavyweight champion for his title. It's a fifteen pound climb on the scales; the second biggest weight gap between any of boxing's eight original weight classes.
Undisputed middleweight champion Marvelous Marvin Hagler was wise to resist the temptation; choosing to let Michael Spinks go up 25 pounds to heavyweight rather than moving up himself to challenge the then undefeated Spinks "Jinx" for his unified light heavyweight titles.
As it turns out, Michael could handle the heavyweights. He beat Larry Holmes twice and blitzed Gerry Cooney. He might well have handed Hagler an ugly loss, maybe even one by knockout.
Bernard Hopkins moved up to light heavyweight a year after losing his middleweight titles. He won some and lost some before being knocked out of the ring, and out of boxing, by Joe Smith Jr.  James Toney went from middleweight to heavyweight but he did it slowly over two decades.
CHAMPIONSHIP POUNDS
More often than not, it is the natural middleweight champion (160) fielding challenges from welterweight (147) or junior middleweight (154) while today's light heavyweight champions (175) sometimes see action from the super middleweights (168) who pack on seven extra pounds.
The most recent example of a middleweight champion moving up in weight to box a defending light heavyweight champion for his title is still Sugar Ray Robinson's ill-fated challenge of Joey Maxim at Yankee Stadium in New York City on June 25, 1952. Theirs was one hell of a fight.
According to the United Press, the summer heat in the outdoor ring reached 104 degrees Fahrenheit. Robinson weighed-in at just 157; Maxim at 173. Robinson was better, quicker, and more skilled. Maxim was stronger and he took a much better punch than the lighter Sugar Ray.
"Time after time [Robinson] danced into the attack with his stinging combinations and slipped away from Maxim's jab," penned Jack Hand from ringside for the St. Petersburg Times sports page. "But the time came when he could dance no more. As the 13th ended, he collapsed wobbling against the ropes near a neutral corner and had to be dragged to his own stool."
Robinson retired in the corner after the thirteenth round‒well ahead on points. Referee Ruby Goldstein also failed to go the distance due to desert-like temperatures and dehydration. Ruby was replaced by referee Ray Miller after an especially sweat-drenched tenth frame.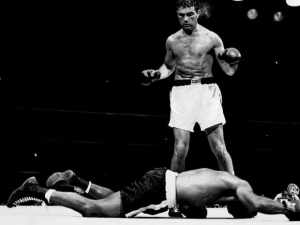 The only one in the ring who could take the literal and proverbial heat was Maxim, thus he became the only fighter to stop Robinson, the greatest pound-for-pounder of all time, before going on to engage in a trilogy with Archie Moore; losing all three bouts by unanimous decision.
Robinson retired but came back three years later in 1955, actively competing until 1965.
As a middleweight.
HISTORY AWAITS…
On November 2 in Las Vegas, Nevada at the MGM Grand Garden Arena, Golden Boy's superstar "Canelo" Alvarez will challenge WBO light heavyweight champion Sergey Kovalev.
The unique move by Alvarez comes after an anticipated third fight with Gennady Golovkin failed to materialize in 2019. Airing on DAZN, there is no catchweight BS and Kovalev (1-1 against Latinos named Alvarez) will be allowed to box without having a hand tied behind his back.
Whether he gets fair officiating in Vegas is another story. Canelo, like Robinson, will be attempting to make history by winning a third world title in as many weight classes but can he pull it off? Is Canelo finally biting off more than he can chew after gradually easing into middleweight and then seizing the crown last September from the long reigning Triple G?
"Historic fights have been a hallmark of this company and we are pleased to once again live up to the high expectations we've set for fans. The best pound-for-pound fighter is also boxing's biggest star. I am certain he will stop Kovalev," predicts Canelo's promoter Oscar De La Hoya.
Oddsmakers have already installed Canelo as the betting favorite (4 to 1 on some books) just as they did in 1952 when Robinson was favored (13 to 10) to defeat the then 78-18-4 Maxim.
With all due respect to Vasyl Lomachenko and with all promotional hyperbole aside, Canelo is arguably the top rated P4P boxer in the world today with decision victories over Gennady Golovkin, Miguel Cotto, Erislandy Lara, Austin Trout, and Danny Jacobs on his record.
His lone loss to Floyd Mayweather Jr. made him a better boxer, particularly on defense. The skilled redhead is now 52-1-2 with 35 knockouts. He rolls with the punches like 'Money May' and by that I mean to say he shoulder-rolls and parries like no Mexican fighter I know of.
RISKY BUSINESS
"The second phase of my career is continuing as planned," says Canelo. Whether or not that includes a third fight with GGG remains to be seen but Kovalev's Main Events promoter Kathy Duva is happy to see Golovkin wait. "Canelo is to be praised for challenging Krusher Kovalev. Win or lose, he will make history and Sergey is extremely pleased to get the chance to test his mettle against another future Hall-of-Famer. I have a feeling that this will be one for the ages."
Last month against Anthony Yarde, Kovalev, 36, showed that he is still very vulnerable to the body. During the eighth round of his WBO title bout in his Russian hometown of Chelyabinsk, Kovalev's abdomen came under attack from Yarde who almost did what Andre Ward did in his rematch with Kovalev; namely buckle the big guy over and make him quit from bodyshots.
Kovalev weathered the storm and used his long stiff jab to put Yarde down and out in the 11th.
Canelo, 29, is coming off a May win against Danny Jacobs, a unanimous decision in which he proved beyond a shadow of any doubt that as the one who beat Golovkin, he is the best and most accomplished middleweight in the world‒the legitimate world champion of the division.
There's really nothing left to prove there.
"I want to be remembered as one of the greats in boxing and that is why I continue to work hard and continue to take on these type of fights, so that I can keep on writing my own history. That is why I've decided to jump two weight classes. Kovalev is a dangerous puncher, and he's a naturally bigger man but those are the kinds of challenges and risks that I like to face."
"In order to be the best you have to beat the best," acknowledges the 34-3-1 (29) Kovalev. "I always tried to fight the toughest opponents in my division. Canelo wanted to fight me; to step up to a higher weight and challenge for my belt. I will be ready on November 2nd," he promises.
If he hopes to beat Canelo and redeem himself for the technical knockout losses to Ward (in 2017) and Eleider Alvarez (in 2018), Kovalev will have to be in the best shape of his ten-year career and more ready than he's been recently to go hard for the full twelve rounds.
Poor stamina must not be an issue again. It's time to put down the vodka and pay close attention to trainer Buddy McGirt. "He still has that fire inside to be the best," insists Buddy.
Alvarez is a thunderous body puncher and the best counterpuncher in the game today. But it's hard to land downstairs or counter to the head effectively when you're being kept at a safe distance by a bigger, stronger man using his long reach and superior power to his advantage.
Kovalev pumps an outstanding jab and it's his most important weapon for upsetting Alvarez.
While one can see Canelo working his way inside and crushing a tiring Kovalev's body, one can also see a motivated Kovalev taking advantage of this golden opportunity to remind us all of the talented fighting machine who beat Bernard Hopkins and appeared to have done enough to deserve the judges' decision in his first encounter with the now retired P4P star Andre Ward.
BACK TO THE FUTURE
They say that history is written by the winners but in the case of Robinson-Maxim, it appears to have been written by the loser, or at the very least by those sympathetic to him. Ask anyone about the fight today and all you'll hear about is how Robinson wilted like a raisin in the sun.
Maxim gets little to no credit.
But according to Maxim's manager Jack Kearns, all the hot talk was just hot air, an excuse.
"Robinson was nailed good in the belly in the tenth and again in the twelfth. And he got a left hook and a right to the head at the end of the thirteenth when he was on the ropes. If the bell hadn't rang he'd be dead," he said. "We had Joey lay back and let Robinson punch himself out."
Who's to say it didn't work?
If Canelo's plan is to wait until Kovalev gets winded and then go to work on his body like Ward and Yarde, he might be able to achieve what even the great Sugar Ray Robinson was unable to accomplish. And if Kovalev is fit and ready on fight night as promised, he has the physical tools to win; proving that a good big man almost always beats a good (even GOAT) small man.
Canelo-Kovalev is a real fight.
May the best man win.
*****
Boxing Writer Jeffrey Freeman grew up in the City of Champions, Brockton, Massachusetts from 1973 to 1987, during the Marvelous career of Marvin Hagler. JFree then lived in Lowell, Mass during the best years of Irish Micky Ward's illustrious career. A new member of the Boxing Writers Association of America and a Bernie Award Winner in the Category of Feature Under 1500 Words, Freeman covers boxing for The Sweet Science in New England.
Check out more boxing news on video at The Boxing Channel  
To comment on this story in The Fight Forum CLICK HERE
The Avila Perspective, Chap 65: September's Dueling Fight Cards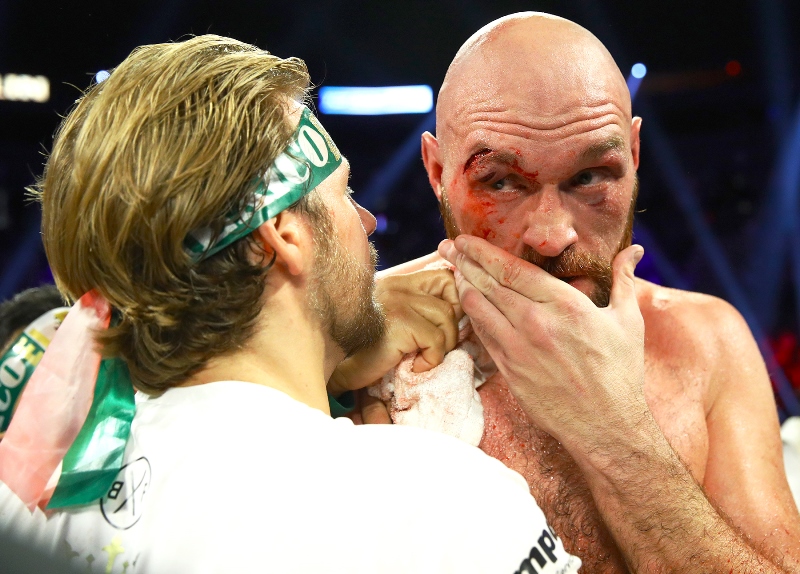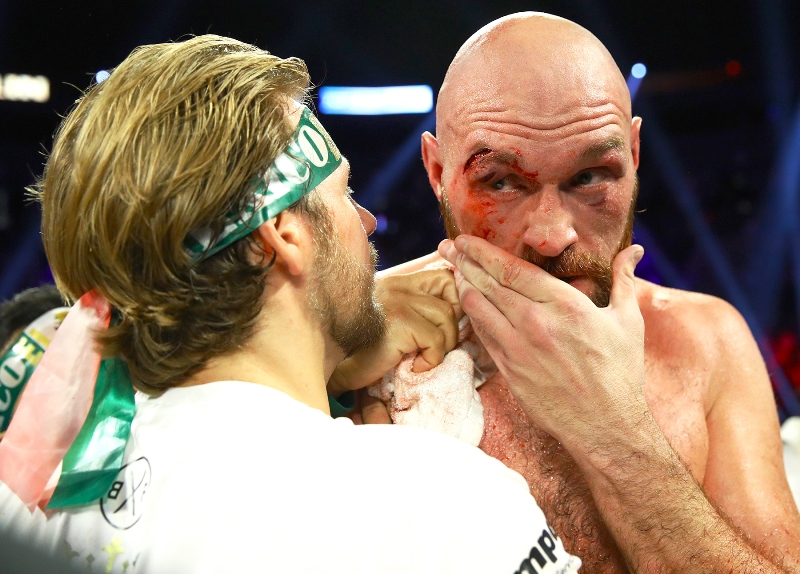 Rivaling fight cards in Los Angeles and Las Vegas last weekend still managed to attract more than 7,000 fans in each location.
Tyson Fury, the lineal heavyweight champion, headed the pseudo Mexican lineup at T-Mobile Arena and brought more than 9,000 fans into its vast accommodations. Jaime Munguia, the super welterweight titlist from Tijuana, Mexico brought more than 7,100 followers to the Dignity Health Sports Park.
Both cards were streamed by ESPN+ and DAZN respectively. The beauty of streaming is that fans individually can see them whenever and wherever they are as long as there is phone reception.
Fury's return to the actual heavyweight throne was nearly derailed by Sweden's Otto Wallin, proving that anything can happen in a prize fight. The punch that opened up a cut near Fury's eye almost stopped his potential mega fight with Deontay Wilder early next year.
Top Rank probably envisioned dollar bills floating toward an incinerator when Fury's blood dripped during the fight. Luckily the referee was Tony Weeks and he's a fighter's referee who doesn't mind inside fighting or bloody fights. In my estimation he's the best referee in Nevada and one of the best in the world.
A day earlier Devin Haney showed off his fighting abilities at Madison Square Garden Theater with some flashy weaponry. The Las Vegas prizefighter with the sizzling combinations demonstrated his defensive wizardry too in immobilizing Zaur Abdullaev and battering the Russian lightweight.
"I'm not a prospect," insisted Haney when an interviewer injected that phrase. "I'm a champion."
Last year, he met former world title challenger Juan Carlos Burgos at Pechanga Resort and Casino and proved his pedigree with a dominating performance. That's when his prospect status ended for me. You don't dominate a guy like Burgos who went the distance with Mikey Garcia and Japan's Hozumi Hasegawa. Burgos only lost to those guys and now to Haney. Burgos used every trick he knew and invented a few more but Haney kept his cool and convincingly defeated Burgos.
The Las Vegas kid is for real.
Thompson Boxing Promotions, the Little Giant
This Friday the Southern California based outfit Thompson Boxing Promotions has two fight cards it's co-promoting, one in Texas that can been seen on Showtime and another in Ontario, California that will be streamed on RingTV.com.
Featherweight prospect Ruben Villa (16-0) meets Jose Durantes Vivas (17-0) in the main event of a ShoBox card on Showtime in Midland, Texas. Villa is no stranger to televised bouts and once again he's facing an undefeated opponent. Durantes now lives and trains in Southern California and recently fought on a Garcia Promotions card in San Bernardino.
On the same Texas card, Michael Dutchover (10-0, 7 KOs) returns to his hometown and meets once beaten Thomas Mattice (14-1-1) in a lightweight clash. The native Texan trains in Santa Fe Springs, California and has a five-fight knockout streak. He's very aggressive but has learned to patiently weave his way through his opponent's defense. This time he faces a veteran with plenty of skills.
On the same night, Thompson Boxing stages a boxing card in its regular location, the Doubletree Hotel in Ontario, where many of its former discoveries like Timothy Bradley, Mauricio Herrera, Josesito Lopez and Yonnhy Perez performed before headlining major boxing cards.
Petr Petrov (40-6-2, 21 KOs) headlines the Southern California card and faces Dedrick Bell (23-30-1) of  Memphis, Tennessee in the main event set for eight rounds.
Others on the card include Isaac Zarate, Anthony Chavez, Arnold Dinong, and Mario Hernandez.
Doors open at 6:30 and the fights begin at 8 p.m. For more information call (714) 935-0900.
Commerce
On Friday night about 50 miles west, Bash Promotions has a lengthy boxing card at Commerce Casino in Commerce, featuring top prospects Christopher Zavala, Miguel Contreras, Narek Abgaryan and others. A flash sale that gives 50 percent off ticket prices is available when you purchase online at Bashboxing.com and mention FLASH. Nine bouts are currently scheduled.
For more information call (844) 662-8499.
Bakersfield
Alfredo "Perro" Angulo (25-7, 21KOs) has a very tough test when he fights Peter "Kid Chocolate" Quillin (34-1-1) in a super middleweight fight set for 10 rounds at Rabobank Theater in Bakersfield, Calif. FOX Sports 1 will televise the PBC boxing card.
Angulo has been training in Big Bear with Abel Sanchez and won his last fight via knockout at Dignity Health Sports Park last April. It was his first win in four years. Now he faces a former world champion in Quillin.
Quillin, 36, was KOed by Daniel Jacobs four years ago and hasn't been very active since then. But he's always been a very skillful fighter and we will see if Angulo's working with Sanchez will be a factor in this super middleweight fight.
It's a massive boxing card scheduled for 16 pro fights. Reminds me of the old Don King Production fights of the past that would begin at 10 a.m. and end at 1 a.m. the next day. Truth.
Also on the PBC card in Bakersfield are Thomas Dulorme, Gary Antonio Russell, Francisco Ochoa, Gary Antuanne Russell and many more.
Fights to Watch
Fri. Ringtv.com 8 p.m. Petr Petrov (40-6-2) vs Dedrick Bell (23-30-1).
Fri. Showtime 10 p.m. Michael Dutchover (13-0) vs Thomas Mattice (14-1-1); Ruben Villa (16-0) vs Jose Durantes Vivas (17-0).
Saturday Fox Sports 1 5 p.m. Thomas Dulorme (24-3-1) vs Terrel Williams (18-0); Peter Quillen (34-1-1) vs Alfredo Angulo (25-7).
Photo credit: Mikey Williams for Top Rank
Check out more boxing news on video at The Boxing Channel  
To comment on this story in The Fight Forum CLICK HERE
Shawn Porter Explains Why He Isn't in Over His Head Against Errol Spence Jr.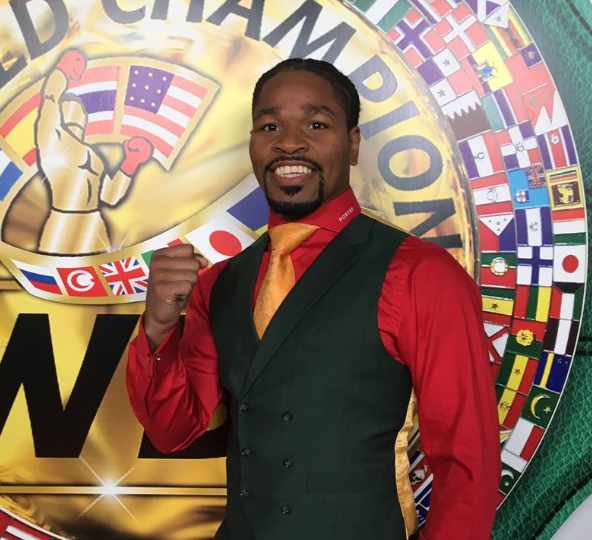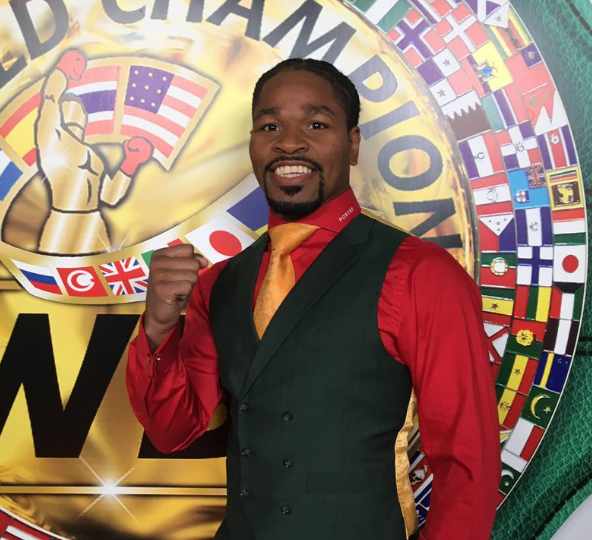 There sometimes can be a thin line separating child abuse and a demanding parent's version of tough love. Twenty years or so ago, the way Kenny Porter elected to draw out the athletic excellence and mental fortitude that he imagined existed within his grade-school-age son Shawn might have been misinterpreted, had their relationship drawn the scrutiny of a case worker for Summit County Children Services in the Porters' hometown of Akron, Ohio. Not that Kenny ever laid a hand on Shawn in a brutal or excessive way, but an equivalent level of treatment might have been looked upon negatively by a child protective care professional objecting to the kid routinely being thrown into the deep end of the pool to fend for himself, or more to the point onto football fields where he was regularly required to compete against bigger, stronger and older boys not disposed to take it easy on the little guy.
"It's how I grew up. It's how my dad raised me and it's where I come from. We were never allowed to shy away from any challenge and that's how I lived my life," Shawn Porter, now the WBC welterweight champion, said of his upbringing under Kenny, a relentless daily grind which also helped other would-be child athletic prodigies (like two-time Olympic gold medalist and current WBC/WBA/WBO lightweight titlist Vassiliy Lomachenko) rise to giddy heights while those made of less resilient stuff (see former USC and Los Angeles Raiders quarterback Todd Marinovich, profiled by TSS on Jan. 14) psychologically unraveled to the point they wanted nothing more than to cease trying to constantly please a parent for whom a merely good effort was never good enough.
"I was 10 years old playing football against guys who were 12 and 13 years old," continued Porter (30-2-1, 17 KOs), who will be asked to tackle another herculean task Sept. 28 when he takes on the heavily favored IBF 147-pound titlist, Errol Spence Jr. (25-0, 21 KOs) in a unification showdown to be televised via Fox Pay Per View from the Staples Center in Los Angeles. "It doesn't sound like that big a deal now, but back then when you're 10 going up against preteens it is a big deal. So even at that young age my dad has always challenged me and made sure I not only put out my best but I was going against the best. I'm 31 now and this is 100% familiar territory because it's where I come from."
Although Shawn Porter now resides in Las Vegas, a tough town in a glitzier sort of way, his formative years were spent in northeast Ohio, a gritty, blue-collar region where working men in hard hats and dingy dungarees made their livings in steel mills or, more specifically to Akron, the factories that led to the Rust Belt city being labeled the "rubber capital of the world." Porter likes to note that Akron also is the hometown of NBA superstar LeBron James, who as a child and adolescent also regularly went up against older boys, although in LBJ's case he was nonetheless the taller, stronger, faster and more dominant player on just about every court he ever set foot upon.
Unlike youth-league football, where apparently age and size differences were sometimes overlooked in the leagues in which Shawn participated, amateur boxing required him to compete against kids more or less his own proportions. But there was still a way for Kenny Porter to ensure that his boy continued to test himself in trials by fire against those whose physical capabilities and potential seemingly dwarfed his son's. A natural welter now as an adult, the 5-foot-7 Shawn Porter bulked up to an above-his-weight-class 165 pounds to throw down with future middleweight world titlists Daniel Jacobs and Demetrius Andrade and – talk about a relative David and Goliath matchup – undisputed cruiserweight champ Oleksandr Usyk, the 2018 Boxing Writers Association of America's Fighter of the Year. Usyk (16-0, 12 KOs) is 6-foot-3 and makes his heavyweight debut on Nov. 12 in Chicago against Tyrone Spong, with the celebrated Ukrainian likely to be in the 215-pound range, or maybe even a bit higher.
So how did Porter fare in the land of the larger? Better than many might expect.
"I have wins against Jacobs and Andrade," he said. "Me and Andrade were 1-1 in the amateurs. The last time we fought we were 165 pounds and I beat him. The experience is there. The experience against taller, bigger opponents is there."
None bigger in retrospect, of course, than Usyk, whose skill set, southpaw stance and high ranking on almost everyone's current pound-for-pound list are close approximations of Spence, if Spence were being viewed through a magnifying glass.
"I fought Usyk at 165 pounds back in the day when we were about 20 years old," Porter recalled with obvious pride. "I beat him."
Given his history, it seems somewhat odd that Porter, who has slain more than his share of fire-breathing dragons both in the amateurs and in the pros (most notably Danny Garcia), is such a significant underdog against Spence. Unless the betting line shifts in a major way, Spence will go off in the neighborhood of -800 (meaning you'd have to bet $800 to win $100) while Porter is +450. Not that a Porter victory would be considered an upset along the lines of Buster Douglas over Mike Tyson or Andy Ruiz Jr. over Anthony Joshua, but still…
Porter, not unexpectedly, does not consider Spence, who comes in with advantages of three inches in height and 2½ inches in reach, to pose a physical mismatch for him, be it by scale or tools.
"Looking at Errol Spence, I don't think he's a bigger guy than me," Porter reasons. "I don't think he's one of the bigger guys in the division. I think that he's been matched up against guys who have made him look a lot more powerful and bigger and stronger than he is.
"I'm comfortable with the knowledge of what I can do. Errol's really good, but I think I match him speed for speed, quickness for quickness, power for power. The big question that needs to be answered the night of the fight is can he handle my aggression, my punch output? We're banking on his not being able to handle my pressure and some of my other attributes."
Spence has expressed the opinion that Porter is a "dirty" fighter, or something akin to a rule-bender if not exactly a rules-breaker, which to Porter sounds very much like he is getting into the Texan's head where the seeds of doubt are sown.
"Errol is very driven and competitive, I get that," Porter said. "I think he may be trying to psych himself up into thinking he can (become the first fighter to knock out Porter). If he can't handle my pressure then you will find out real soon, if that's what's working for us, that's what we'll do. We'll be rough, we'll be hard, we'll be rugged. We'll keep the pressure on him and we all know pressure bursts pipes.
"I think he's in trouble. The world is about to be shocked. I know how it feels to prove people wrong. I know what it feels like to do the impossible, things that people don't expect you to do."
Doing the impossible is an instinct that has been bred into Shawn and nurtured almost from birth by Kenny, who, as his son's manager and trainer, remains his most ardent proponent and closest confidante. It doesn't always work out that way, of course, but this is one father-son relationship in boxing that has deepened rather than divided.
Errol Spence Jr. might not be the highest mountain Shawn Porter ever has been tasked to climb. It remains to be seen if he is the steepest and most hazardous.
Check out more boxing news on video at The Boxing Channel  
To comment on this story in The Fight Forum CLICK HERE