Deontay Wilder is a One-Man Rolling Tide in His Own Right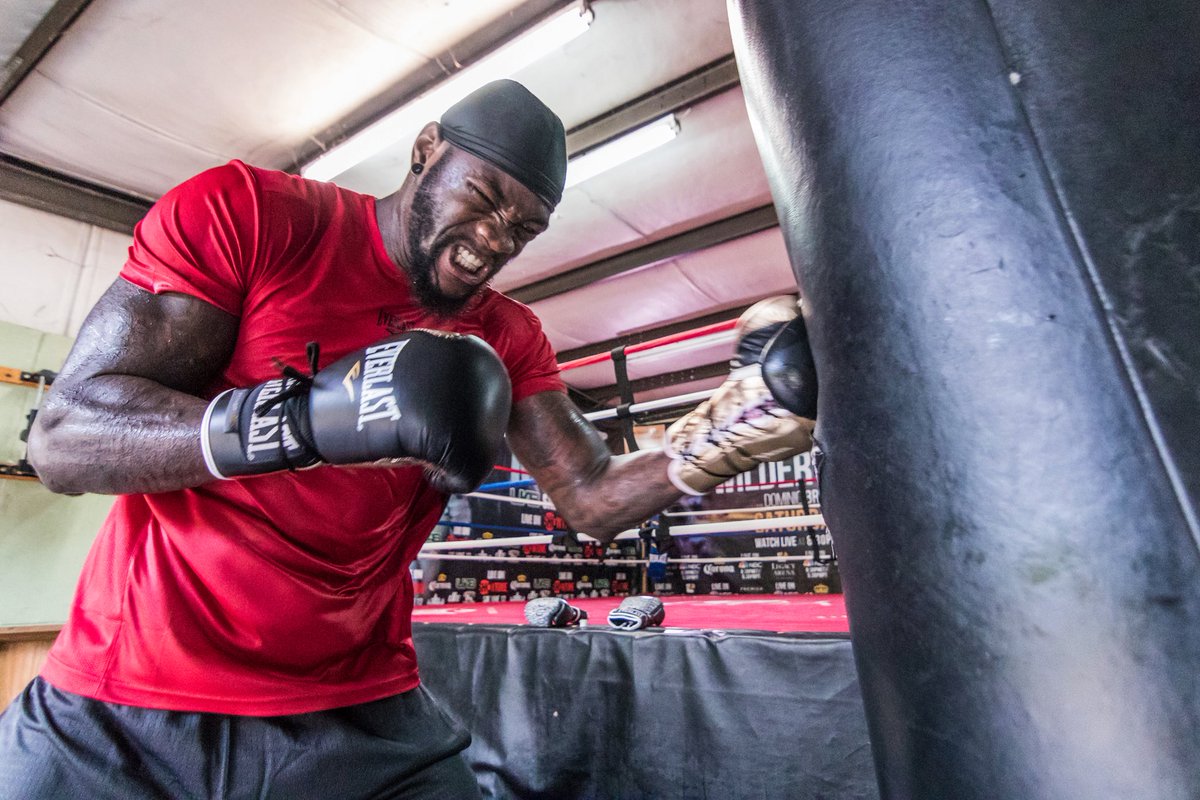 As a first-semester freshman at Shelton Community College in his hometown of Tuscaloosa, Ala., Deontay Wilder had the same dream that many boys and young men in that state have harbored almost since birth. Tall, lean and athletically gifted, he would earn an associate degree at Shelton CC, then walk on at the University of Alabama where he could imagine himself starring for his beloved Crimson Tide as a wide receiver on the football team or a forward on the basketball squad. Maybe, he dared to believe, he could play and excel in both sports en route to being awarded the college degree his mother fervently hoped would be her son's ticket to a better life.
But destiny had other plans for Wilder. His infant daughter, Naieya, was diagnosed with spina bifida, a congenital condition that affects the spine and usually is apparent at birth. Raised to believe that a real man is responsible for taking care of his children, Wilder dropped out of Shelton and took jobs that paid actual money, if not a whole lot of it, rather than hope to be drafted by the NFL or NBA, a long shot dependent, of course, on his even making one of Alabama's varsity rosters and doing well enough to draw pro scouts' attention.
It has been a meandering road for Wilder from former community college student to IHOP waiter to Red Lobster kitchen worker to Olympic bronze medalist in boxing and, since his unanimous decision over Bermane Stiverne on Jan. 16, 2015, WBC heavyweight champion. The kid who once fantasized about catching touchdown passes and sinking jump shots in the cauldron of Southeastern Conference competition is now 33 years old, a multimillionaire and emerging state treasure famous enough to have been asked by Alabama football coach Nick Saban, who has led the powerhouse Tide to five national titles in the last 11 years and is bearing down on a sixth this season with a top-rated, undefeated team, to occasionally deliver motivational speeches to the red-clad players to whose ranks Wilder once hoped to join.
It wouldn't be all that surprising if Saban again brought Wilder (40-0, 39 KOs) — who makes the eighth defense of his WBC title Saturday night against former champ Tyson Fury (27-0, 19 KOs) at the Staples Center in Los Angeles — to give another rah-rah pep talk to the Crimson Tide if they make it to the national championship game on Jan. 7 in Santa Clara, Calif. After all, Wilder has shone on a stage that stretches beyond the boundaries of his state or even his country. It has been said that the heavyweight champion of the world holds the most prestigious title any athlete can have, although the proliferation of sanctioning bodies and multiple claimants to that distinction have diluted its historical importance. But a victory over former lineal champ Fury, and especially if it comes in the form of another exclamation-point knockout, would do much to bolster Wilder's contention that he truly is the best of the best, the "baddest man on the planet," and worthy of being mentioned in the same breath with some of the greatest champions and hardest punchers ever to have graced the division.
"Alabama is the national champion," noted Jay Deas, Wilder's co-trainer and the man who introduced him to all the possibilities that a foray into boxing might offer someone with his signature skill. "Deontay is a world champion."
And not just some itinerant holder of an alphabet title whose place in boxing history is written in pencil and not indelible ink. To Wilder's way of thinking, it is the awesome power he brings to his work – primarily packed in an overhand right that can instantly turn an opponent into a twitching heap of humanity  – that stamps him as a special fighter, worthy of taking his eventual place in the pantheon of such big-man blasters as Mike Tyson, Sonny Liston, Joe Louis, George Foreman, Rocky Marciano, Earnie Shavers, Jack Dempsey, Joe Frazier and Lennox Lewis. Put it this way: Wilder has no intention of letting the outcome of his high-visibility pairing with Fury rest in the hands of the judges.
"I say I'm the best. I say I hit the hardest. I say I'm the baddest man on the planet, and I believe every word that I say," the confident-to-the-point-of-cockiness Wilder said of the great equalizer he possesses and will neutralize anything Fury might have going for him because, well, when hasn't it? "I'm all about devastating knockouts. That's what I do.  (Fury) knows he's going to get knocked out. So he can whoop and he can holler, he can build himself up. But he'd better meditate on this situation because he's going to feel pain that he never felt before."
High-volume knockout heavyweights come in all shapes and sizes, and the power source from which they draw is not always readily evident to the untrained eye. Some fighters have ripped physiques that look more appropriate for contestants in a Mr. Universe contest, but they don't hit especially hard, the impressively muscled Shavers being a notable exception. Foreman and Liston had thicker bodies and huge fists capable of almost casually dispensing blunt-force trauma. Tyson, Frazier and Marciano were stumpy, short-armed guys who could knock a brick building down with a single shot. And Wilder? Well, he's 6-foot-7, with a stretched-out weight distribution that suggests an Olympic swimming champion more than a fighter capable of knocking larger men silly. To some – like, for instance, Fury, who at 6-foot-9 and 260 or so pounds is anything but lean – the WBC champ looks almost gaunt.
"How am I going to let this little, skinny spaghetti hoot beat me?" Fury asked, rhetorically.
Wilder doesn't necessarily dispute the notion that he is pretty much a lightweight for a heavyweight in an era where more and more of the sport's big boys are beginning to resemble the Alabama defensive ends that he could never have been unless he wolfed down maybe six or seven carb-loaded meals a day. A bronze medalist at the 2008 Beijing Olympics, hence his nickname of the "Bronze Bomber," the closest physical approximation to Wilder might be the welterweight version of Thomas "Hit Man" Hearns, who also had a spindly build but a sledgehammer of a right hand.
"I don't care how big he is," Wilder said of the taller (by two inches), much heftier Fury. "I done fought big fighters. Everybody I've fought has outweighed me. (Actually, it's only 35 of 40.) But when you possess my kind of power, you don't worry about a lot of things, man. I got the killer instinct. I got the most feared, the most dangerous killer instinct in the boxing game. It's natural. It's born."
It is axiomatic that big hitters are born, not made, which might not be entirely accurate when you consider that the very young Tommy Hearns, who found his way into the late, great Emanuel Steward's Kronk Gym in Detroit, didn't have much pop until he learned some of the finer points of power punching, like hip rotation and turning your fist over at the moment of impact. But Wilder was basically a grown man of 20 when he checked out Deas' gym in Tuscaloosa and learned, as Deas soon did, that the tall, skinny guy had a gift that might translate into something of value greater than a weekly $400 check from Red Lobster.
After taking a bronze in Beijing as a relative neophyte (he had an OK but hardly extraordinary 30-5 amateur record), the still-learning Wilder turned pro at 23 with a second-round knockout of Ethan Cox on Nov. 15, 2008, in Nashville, Tenn. Wilder weighed a career-low 207¼ pounds for his debut and, in what would become something of an oddity, actually outweighed Cox by 6½ pounds. Over the course of his 10-year pro career, Wilder – who has come in for three fights at a career-high of 229 pounds – has averaged 220.2 pounds per bout to 242.9 for the guys he's been blasting out, although that gap might not be quite so wide were it not for the two chubbos who made the scales groan at 398 and 352½, respectively, that a still-rough-around-the-edges Wilder got out of there in the first round.
Only one opponent – then-WBC champ Stiverne, whom Wilder dethroned – has gone the distance with the "Bronze Bomber," but Stiverne was decked three times in losing a one-round quickie on Nov. 4, 2017, meaning that the heavyweight champion with the highest career knockout percentage has kayoed every man he has been paired with as a pro. True, Wilder's victims haven't all been top-shelf, but that hasn't been for a lack of trying. Fury's scoffing putdown that 35 of Wilder's 40 victories have come against "total tomato cans who can't fight back" notwithstanding, Deas correctly points out that Wilder was poised to go to Moscow to fight the very formidable Russian Alexander Povetkin, a bout that went by the wayside when Povetkin tested positive for a banned substance, and he was insistent on proceeding with a twice-postponed matchup with the even more formidable Cuban southpaw Luis Ortiz after Ortiz twice tested positive for performance-enhancing drugs. Wilder, who was in trouble himself in the seventh round, won that slugfest on a 10th-round KO on March 3.
"Deontay and Tyson Fury both let their representatives know this was the fight they wanted, this was the fight the public wanted," Deas said in holding the bout up as proof that his guy was willing to fight anyone, at any time and any place. "It's a huge fight between undefeated fighters. Both guys should be commended for stepping up and giving the fans a fight they really want to see.
"But that's Deontay Wilder. He will be involved in the two biggest heavyweight fights of 2018, having fought Ortiz and Fury. Nobody can match that resume. Joshua fighting (Joseph) Parker and Povetkin just doesn't stack up. And if – when – Deontay beats Fury, I think he deserves to be recognized as Fighter of the Year."
It is reasonable to believe Wilder will be one of two finalists for all the Fighter of the Year awards on the strength of wins over Ortiz and Fury, if he survives the upcoming test, arguably the biggest challenge of his career to date. His primary rival as the top fighter of 2018 would be undisputed cruiserweight ruler Oleksandr Usyk, who also has had a very commendable year with victories over quality opponents Mairis Breidis, Murat Gassiev and Tony Bellew.
But, as the recent mid-term U.S. elections should have demonstrated, the only sure thing in boxing, as in politics, is that there are no sure things. It's wonderful to have confidence in yourself, but Wilder's pronouncements of virtual invincibility call to mind Mike Tyson's mistaken belief that he, too, was too good to ever lose to anyone inside a roped-off swatch of canvas. That idea went by the boards, of course, when Tyson was felled by 42-1 longshot Buster Douglas in Tokyo.
Reminded that Fury has always had a difficult style to decipher, Fury said with a vintage Mike Tyson-level of imperiousness, "I will figure him out. I don't know when it's coming, but when it does come, it's good night, baby. I'm a true champion. A true champion knows how to adjust to anybody, any style. Fury has a lot of great attributes, but I'm the best in the world. And I'm going to prove it again. My confidence is over the roof."
Whoever survives Saturday night's fight likely moves on to a clear-the-decks showdown with WBA/WBO/IBF heavyweight champ Antony Joshua in 2019. But that won't just be a fight to determine the best heavyweight of the here and now; to the winner likely goes the opportunity to sit at a table reserved only for the bluest-blooded members of heavyweight royalty. It's a highly exclusive club, and Wilder is impatient to receive his invitation.
"I've worked my ass off to get to this very point in my life," he said. "And now I'm here."
Bernard Fernandez is the retired boxing writer for the Philadelphia Daily News. He is a five-term former president of the Boxing Writers Association of America, an inductee into the Pennsylvania, New Jersey and Atlantic City Boxing Halls of Fame and the recipient of the Nat Fleischer Award for Excellence in Boxing Journalism and the Barney Nagler Award for Long and Meritorious Service to Boxing.
Check out more boxing news on video at The Boxing Channel
To comment on this article at The Fight Forum, CLICK HERE
Jermell Charlo Unifies Super Welterweights Via Solar Plexus Punch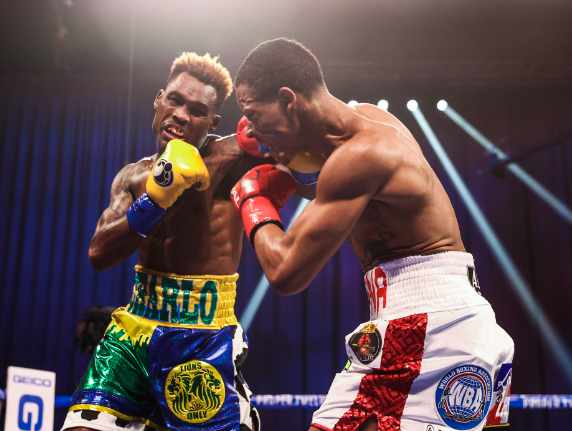 WBC super welterweight titlist Jermell Charlo knocked out IBF and WBA titlist Jeison Rosario with a knockout punch delivered to the solar plexus on Saturday to add two more belts to his collection.
"I'm definitely bringing home the straps," said Charlo.
Shades of Bob Fitzsimmons.
Back in 1897, Fitzsimmons used the same solar plexus punch to dethrone Gentleman James Corbett for the heavyweight title in Carson City, Nevada.
In another casino city Charlo (34-1, 18 KOs) floored Dominican Republic's Rosario (20-2-1, 14 KOs) three times at the Mohegan Sun Casino in Uncasville, Conn. He and his brother co-headlined a heavy duty pay-per-view card with no fans in attendance on the Premier Boxing Champions card.
Charlo jumped on Rosario quickly in the first round when he charged and clipped him with a left hook to the temple. Down went the two-belt champion for the count. But he got up seemingly unfazed.
For the next several rounds Rosario was the aggressor and put the pressure on Charlo who was content to allow the Dominican to fire away. Occasionally the Houston fighter jabbed but allowed Rosario to pound up and down with both fists.
After allowing Rosario to get comfortable with his attack, suddenly Charlo stopped moving and connected with a short crisp counter left hook and right cross in the sixth round. Down went Rosario again and he got up before the count of 10.
Charlo said it was part of the game plan.
"I'm growing and I realize that the knockout will just come," he said.
Charlo was in control with a patient style and allowed Rosario to come forward. But the Dominican was more cautious in the seventh.
In the eighth round Charlo jabbed to the head and then jabbed hard to Rosario's stomach. The Dominican fighter dropped down on his seat as if felled by a gun shot. He could not get up and convulsed while on the floor. The referee Harvey Dock counted him out at 21 seconds of round eight.
"That jab that got to him must have landed in a vital point," said Charlo after the fight. "I hope he recovers and bounces back."
Charlo now has three of the four major super welterweight world titles.
WBC Super Bantamweight Title
Luis Nery (31-0, 24 KOs) captured the WBC super bantamweight title by unanimous decision over fellow Mexican Aaron Alameda (25-1, 13 KOs) in a battle between southpaws. The war between border town fighters was intense.
Nery, a former bantamweight world titlist, moved up a weight division and found Alameda to be a slick southpaw with an outstanding jab. At first the Tijuana fighter was a little puzzled how to attack but found his groove in the fourth round.
But Alameda, who fights out of Nogales, Mexico, began using combinations and finding success.  A crafty counter left uppercut caught Nery charging in a few times, but he managed to walk through them.
In the final two rounds Nery picked up the action and increased the pressure against the slick fighting Alameda, He forced the Nogales fighter to fight defensively and that proved enough to give the last two rounds for Nery and the victory by unanimous decision. The scores were 115-113, 116-112 and 118-110 for Nery who now holds the WBC super bantamweight world title. He formerly held the WBC bantamweight title.
Roman Wins
Danny "Baby-Faced Assassin" Roman (28-3-1, 10 KOs) managed to rally from behind and defeat Juan Carlos Payano (21-4, 9 KOs) in a battle between former world champions in a nontitle super bantamweight clash. It wasn't easy.
Once again Roman fought a talented southpaw and in this fight Payano, a former bantamweight titlist, moved up in weight and kept Roman off balance for the first half of the fight. The jab and movement by the Dominican fighter seemed to keep Roman out of sync.
Roman, who fights out of Los Angeles, used a constant body attack to wear down the 35-year-old Payano and it paid off in the second half. Then the former unified world champion Roman began to pinpoint more blows to the body and head. With seconds left in the 12th and final round, a left hook delivered Payano down and through the ropes. Sadly, the referee missed the knockdown. It didn't matter as all three judges scored it identical at 116-112 for Roman after 12 rounds.
"I made some adjustments and picked up the pace and got the win," said Roman who formerly held the WBA and IBF super bantamweight world titles.
Photo credit: Amanda Westcott / SHOWTIME
Check out more boxing news on video at the Boxing Channel 
To comment on this story in the Fight Forum CLICK HERE
Jermall Charlo UD 12 Derevyanchenko; Figueroa and Casimero Also Triumphant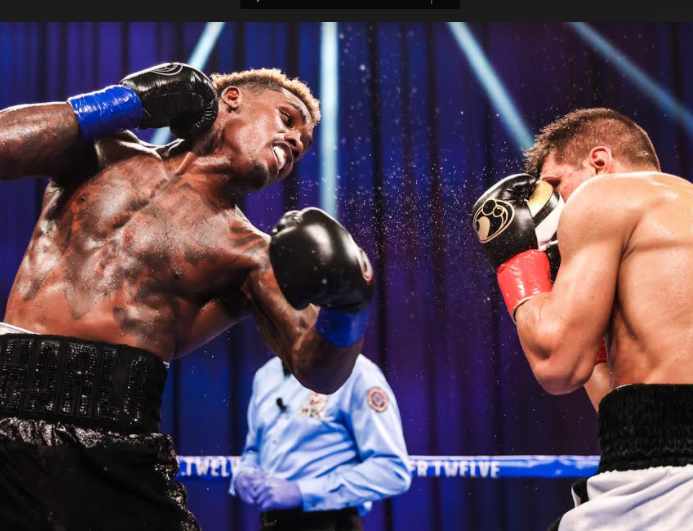 Jermall Charlo UD 12 Derevyanchenko; Figueroa and Casimero Also Triumphant
The Mohegan Sun Casino in Uncasville, Connecticut, was the site of the first pay-per-view boxing event in the United States since the Fury-Wilder rematch on Feb. 22. There were six fights in all, five of which were title fights and the other a title-eliminator. They were divided into two tiers but bundled into a package that cost approximately a dollar a round with a facile intermission tossed in at no extra charge.
The headline attraction of the first "three-pack" – and the most anticipated fight of the evening – found WBC world middleweight champion Jermall Charlo defending his title against Sergiy Derevyanchenko. The Ukrainian gave Gennady Golovkin a hard tussle when they fought in November of last year at Madison Square Garden – GGG won a unanimous decision but the scores were tight and many thought Derevyanchenko deserved the decision – and the expectation was that tonight's match would also be very competitive.  But it really wasn't although the rugged Derevyanchenko rarely took a backward step.
The fight went the distance and there were no knockdowns, but Charlo buckled his knees at the end of round three and Derevyanchenko ended the fight with cuts above both eyes. The judges had it 118-110, 117-111, and 116-112.
With Canelo Alvarez apparently headed to 168 and GGG showing his age at 38, one can make a strong case that the undefeated 30-year-old Jermall Charlo (31-0, 22 KOs) is now the top middleweight in the world. Derevyanchenko, who was 23-1 in the semi-pro World Series of Boxing before turning pro, saw his pro record decline to 13-3 with all three losses in middleweight title fights.
—
The middle fight of the first tier was a lusty encounter between Mexican-American super bantamweights Brandon Figueroa and Damien Vazquez. Figueroa, one of two fighting brothers from the Mexican border town of Weslaco, Texas, was a huge favorite over Vazquez, a Colorado native who moved to Las Vegas as a freshman in high school and had fought extensively in Mexico where he made his pro debut at age 16. But Vazquez, the nephew of former three-time world super bantamweight title-holder Israel Vazquez, came to fight and gave a good effort until the fight turned lopsidedly against him.
In the middle rounds, Figueroa's high-pressure attack began to wear Vazquez down. Vazquez had a few good moments in rounds six and eight, but when his right eye began swelling from the cut above it, he was fighting an uphill battle. He took a lot of punishment before referee Gary Rosato halted it at the 1:18 mark of round 10.
Figueroa, 23, successfully defended his WBA 122-pound title while improving his record to 21-0-1 with his 16th KO. Vazquez declined to 15-2-1.
—
The lid-lifter was a WBO bantamweight title defense by John Riel Casimero with Duke Micah in the opposite corner. Micah, from Accra, Ghana, came in undefeated at 24-0, but Casimero had faced a far stronger schedule and was a substantial favorite.
A Filipino who was been training in Las Vegas under Bones Adams, Casimero took Micah out in the third round. The Brooklyn-based Micah was somewhat busier in the opening frame, but the tide turned quickly in favor of the Filipino. Casimero hurt Micah with a left hook in round two and went for the kill. He wasn't able to finish him, but Micah was on a short leash and referee Steve Willis was quick to step in when Casimero resumed his attack after the break. The official time was 0:54.
Casimero (30-4, 21 KOs) was defending the title he won last November with a third-round knockout of favored Zolani Tete in Birmingham, England. He was slated to fight this past April in Las Vegas against Naoya Inoue, but that fight evaporated as a result of the coronavirus. After the bout, Casimero called out Inoue (and others): "I'm the real monster," he said. "Naoya Inoue is scared of me. You're next. I would have knocked out anyone today. If Inoue doesn't fight me, then I'll fight Guillermo Rigondeaux, Luis Nery, or any of the top fighters."
Check back shortly for David Avila's summaries of the remaining fights.
Photo credit: Amanda Westcott / SHOWTIME
Check out more boxing news on video at the Boxing Channel 
To comment on this story in the Fight Forum CLICK HERE
Mairis Briedis and Josh Taylor Impress on a Busy Fight Day in Europe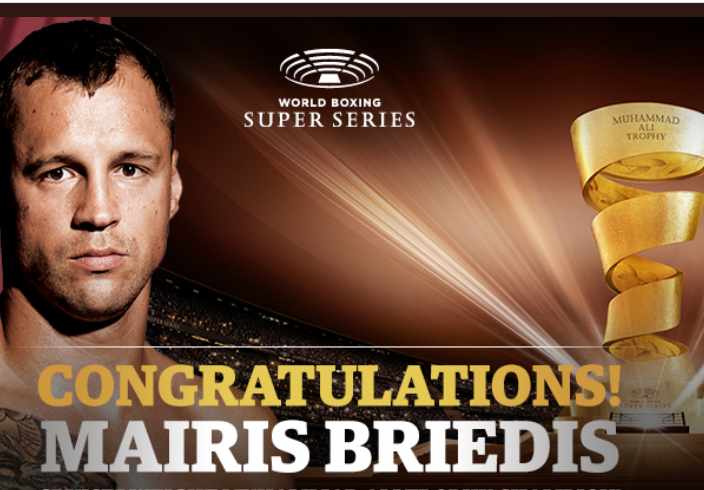 In the busiest weekend of boxing thus far in 2020, there were fights of note all over the map in Europe. The most compelling was held at the Plazamedia Broadcasting Center in Munich where the long-delayed WBSS cruiserweight final pit IBF world cruiserweight title-holder Yuniel Dorticos against Mairis Briedis. Both had only one loss on their ledger, that coming in a semifinal of Season One of the WBSS tourney.
Heading in, Briedis was recognized as the more well-rounder boxer. Dorticos had a style somewhat similar to Deontay Wilder, meaning that he was over-dependent on his big right hand. It figured that Briedis would fight with extreme caution, using his faster hands and superior footwork to keep out of harm's way, but to the contrary he wasn't afraid to trade with Dorticos and actually landed the harder punches. At the end, he captured the IBF belt and the more coveted Muhammad Ali Trophy with a majority decision. The judges had it 117-111, 117-111, and a confounding 114-114.
The first fighter from Latvia to win a world title, Briedis (27-1, 19 KOs) is now a two-time world cruiserweight champion. He previously held the WBO cruiserweight belt, but vacated it rather than adhere to the organization's mandate that he give Krzysztof Glowacki a rematch. (Their first fight, a TKO 3 for Briedis, was very messy and he was fortunate that he wasn't disqualified.) Dorticos, the Cuban defector, returns to his adopted home in Miami with a 24-2 record.
Briedis, 35, may own only one piece of the world cruiserweight title, but at the moment he is clearly the topmost fighter in the division.
York Hall, London
Apinun Khongsong's first engagement outside the Orient didn't go well for him. The 24-year-old Thai boxer with an Muay Thai background was out of his element against WBA/IBF champion Josh Taylor who dismissed him in a hurry with a "solar plexus punch" that would have made Bob Fitzsimmons proud. The punch from the left-handed Scotsman sent Khongsong to the canvas writhing in pain and he was down for several minutes before he was able to stand upright. The official time was 2:41 of the opening round.
Taylor, the Tartan Tornado, was making his first start since October of last year when he won a 12-round majority decision over Regis Prograis in a Fight of the Year candidate. His next fight may be a full unification of the 140-pound belt with Jose Carlos Ramirez in the opposite corner. Both he and Khangsong entered today's fight with 16-0 records, but Taylor, who scored his 13th knockout, was in a different league.
Undercard Bouts of Note
In a 10-round bantamweight contest, Charlie Edwards (16-1, 1 NC, 6 KOs) out-classed British countryman Kyle Williams (11-3). The referee awarded Edwards nine of the 10 rounds. Edwards, 27, previously held the WBC 112-pound title but was forced to relinquish it because he had trouble making the weight.
York Hall has been a jinx for David Oliver Joyce, the 33-year-old super bantamweight from Mullinger, Ireland, who is 0-2 in this building and 12-0 elsewhere. Joyce failed to last three rounds today in his match with Ionut Baluta. A Romanian who fights out of Bilbao, Spain, Baluta knocked Joyce down with a big left hook and then swarmed all over him when he arose, forcing the referee to intervene. The official time was 1:49 of round three.
It was the sixth straight win for Baluta (14-2, 3 KOs) and his third straight over a once-beaten opponent.
Riga, Latvia
Riga native Richard Bilotniks successfully defended his version of the European 175-pound title and advanced to the finals of the Golden Contract Light Heavyweight Tournament with a one-sided 10-round decision over Hosea Burton. A late bloomer who won only four of his first eight pro fights, Bilotnicks 30, won every round on one of the scorecards and eight rounds on the others to advance record to 17-5-1. Burton, who lost for the second time in 27 starts, let down his cousin Tyson Fury who flew to Latvia to cheer him on.
Struer, Denmark
At an arena in the city of Struer, hometown lass Dina Thorslund had a harder time than expected with Nina Radovanovic, but the Serb got no respect from the judges who didn't see fit to award her a single round. Thorslund (15-0, 6 KOs) successfully defended her WBO world 122-pound title.
In the chief undercard bout, heavyweight Filip Hrgovic (11-0, 9 KOs) moved a step closer to a world title opportunity with a second-round blast-out of late sub Alexandre Kartozia. There was no need to count when Hrgovic leveled Kartozia with a big right hand.
Check out more boxing news on video at the Boxing Channel 
To comment on this story in the Fight Forum CLICK HERE