Floyd Mayweather Fined $600K by the Securities and Exchange Commission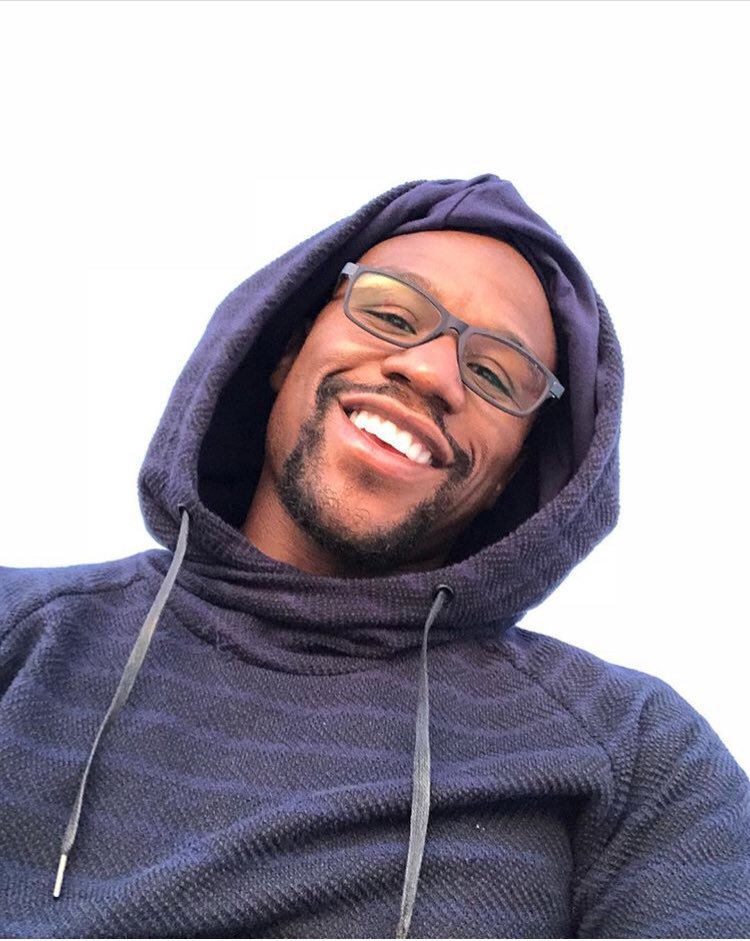 On Thursday afternoon, Nov. 29, the United States Securities and Exchange Commission announced that a settlement had been reached with boxer Floyd "Money" Mayweather regarding his endorsement of a shady cryptocurrency start-up. The fine, totaling $614,775, was $300,000 for "disgorgement," a $300,000 penalty, and $14,775 in interest.
The figure amounts to a drop in the bucket for Mayweather who has been named the highest paid athlete in the world by Forbes four times in the last seven years.
Cryptocurrency is digital cash. It is an alternate form of currency. The leading purveyor, trailblazing Bitcoin, founded in 2009, spawned a wave of imitators that currently number more than 200.
In 2017 the SEC ruled that initial offerings in cryptocurrency fell under the rubric of securities and thus anyone promoting them must disclose his financial relationship to the company. As an investment, cryptocurrencies are known for being highly volatile. Leading internet platforms in the United States, China, and Japan have banned cryptocurrency advertisements.
Mayweather allegedly received $100,000 each from three different cryptocurrency start-ups, but at the heart of the SEC lawsuit was his failure to disclose his payment from a company called Centra Tech Inc. Mayweather, who reportedly has 22.3 million followers on Instagram and 7.85 million followers on Twitter, touted Centra Tech as a sure thing. "Get yours (Centra tokens) before they sell out," he wrote. "I got mine and as usual I'm going to win big with this one."
Mayweather's paid endorsement was credited with helping Centra Tech raise $32 million with their initial coin offering. However, an expose by Nathaniel Popper, published in the New York Times on Oct. 27 of last year, revealed that all was not kosher at the company's Miami Beach headquarters.
The company claimed they were working with Visa and Mastercard to issue a Centra Tech debit card. This was false. A senior executive pictured in the company's prospectus was fictitious. Moreover, 25-year-old co-founder Suhrab "Sam" Sharma had had numerous brushes with the authorities in Miami "on allegations of unpaid bills and business deals gone sour; Twice, people have accused him in court of trying to fraudulently sell or lend them cars that he didn't own and twice he has been evicted for claims that he failed to pay rent."
The Times article gave rise to a class action lawsuit. In April of this year, Sharma and co-founder Robert Farkas were arrested on federal charges of wire fraud and related activities.
In Las Vegas, there has always been speculation that Mayweather has a hidden interest in V.I.P. Sports, a telemarketing company whose office sits adjacent to the Mayweather Gym in a Chinatown industrial park. Employees of V.I.P. Sports use high-pressure sales tactics to sell "winning" selections to gamblers. Mayweather has never officially endorsed V.I.P. Sports, which was once the subject of a short-lived reality show on CNBC, but he did appear in one of the company's podcasts.
V.I.P. Sports is run by Darin Notaro who uses the name Steve Stevens for business purposes. On Aug. 25, 1999, a story in the Las Vegas Sun reported that Notaro was sentenced by a district judge to one year in jail for a telemarketing scam whereby folks were told that they had won a valuable prize which they could unlock by sending him a sum of money. According to the story, the investors, primarily elderly people, were bilked of at least $234,000.
Other celebrities have endorsed cryptocurrency and one surmises they are now in the crosshairs. As terms of his settlement with the SEC, Mayweather neither admits nor denies the allegations against him. However, he is prohibited from promoting securities, digital or otherwise, for a period of three years.
Check out more boxing news on video at The Boxing Channel
To comment on this article at The Fight Forum, CLICK HERE
South African Trailblazer Peter Mathebula Dead at Age 67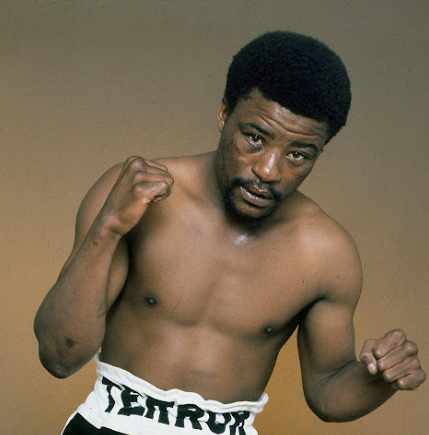 Peter Mathebula wasn't a great fighter. He suffered nine losses during his 45-bout career. He was stopped five times. But Mathebula, who died yesterday (Jan. 18) at age 67, was a historically important fighter. He was the first black South African to win a world title. He was the first South African boxer of any color to win a world title on foreign soil. His predecessors, bantamweights Vic Toweel and Arnold Taylor, won their titles in Johannesburg. Mathebula won his in Los Angeles.
Mathebula took the WBA flyweight title on a split decision from Korea's Tae-Shik Kim on Dec. 12, 1980 at LA's Olympic Auditorium. The fight was originally headed to Seoul but Mathebula was denied a visa.
In those days, South Korea barred tourists from South Africa as a protest against that country's policy of apartheid. Mathebula was a victim of apartheid, but that made no difference as the ban was a blanket ban, covering all South Africans, regardless of color.
Olympic Auditorium matchmaker Don Fraser acquired the orphanded fight. Southern California had a large Korean population and Fraser thought the fight would go over big with this demographic.
The fabled Olympic Auditorium was noted for raucous SRO crowds. But not on this particular night. The crowd was overwhelmingly Korean-American, but there weren't more than 3,000 in attendance. Kim vs. Mathebula didn't resonate with the Olympic Auditorium regulars.
The fight was very close but most thought the decision was fair. The Korean started fast, wrote LA Times ringside reporter Mark Heisler, but Mathebula fought his way back into the fight in the middle rounds and won the 14th and 15th stanzas on his card, sufficient he thought to secure the win.
The victory made Mathebula a big star in South Africa. His purse for the fight with Tae-Shik Kim was only $7,500 (approximately $23,500 in today's dollars) but he made up for it in endorsements. He appeared in ads for automobiles, Old Buck Gin, Bostonian shoes and a line of splashy clothes according to Joseph Lelyveld, the New York Times man on the scene.
Mathebula's celebrityhood crossed racial lines. Newspapers that took little cognizance of goings-on in the black community showered Mathebula with a copious amount of ink. When he defended his title against Argentina's Santos Laciar, it was front page news in white and black newspapers.
Mathebula opposed Laciar a mere 13 weeks after winning his title in Los Angeles. The match was held in Soweto's Orlando Stadium, a facility built to house the Pirates, Soweto's all-black soccer team. Three years earlier, South Africa had legalized interracial sporting events but few whites dared venture into Soweto which was ground zero for anti-apartheid demonstrations.
Despite the great esteem in which Mathebula was held, the fight wasn't a sellout. A local black nationalist organization launched a campaign to boycott the fight on the grounds that the government, which paid to set up Mathebula in a fancy hotel and paid for his motorcades, was using international mixed-race sporting events as a propaganda tool, an early illustration of what has come to be called "sportswashing."
Peter Mathebula couldn't catch a break and that may have impacted his performance against the Argentine. It was woeful. Laciar knocked him down in the fifth and then bull-rushed him out of the ring (the ref called it a push) and the bout was stopped in the eighth with Mathebula complaining that his vision was compromised.
Before the year was out, Mathebula lost twice more. Fighting on hostile turf in Venezuela, he was stopped twice by Betulio Gonzalez, first in the 10th and then in the sixth. A three-time world title-holder, Gonzalez had a great career but he was approaching his 32nd birthday, old for a flyweight, and his best days were behind him.
In the span of less than 10 full months, Peter Mathebula went from the penthouse to the proverbial outhouse, but with the passage of time his people remembered his historic achievement in Los Angeles and pretty much forgot the slew of disappointments that quickly followed. The word "legend" suffuses reports of his death in South African papers.
Mathebula reportedly had multiple health issues and spent the last three weeks of his life in Leratong Hospital in the province of Gauteng, not far from the all-black township where he was born. May he rest in rest in peace.
Check out more boxing news on video at The Boxing Channel 
To comment on this story in The Fight Forum CLICK HERE
Ringside in Verona: Alvarez Capsizes Seals Plus Undercard Results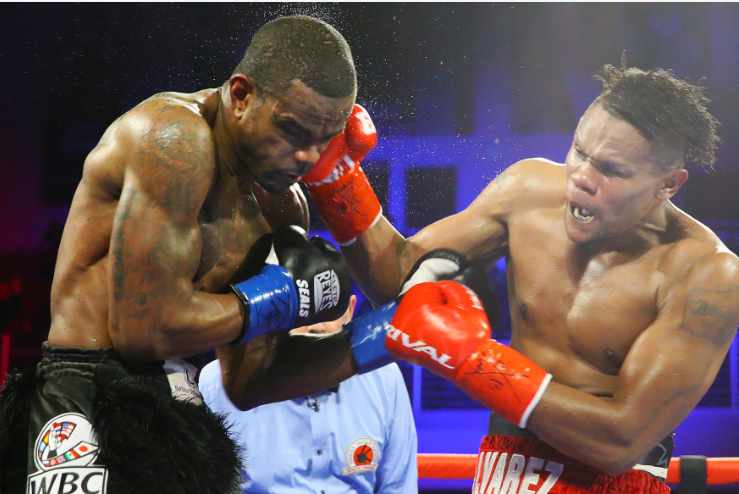 VERONA, NY — The main event of an ESPN televised card at the Turning Stone Resort Casino in Verona, NY between light heavyweight contenders Eleider Alvarez (25-1, 13 KO's) and Michael Seals (24-3, 18 KO's) started with a whimper but ended with a bang. After six-plus rounds of lackadaisical action, Alvarez scored a stunning sensational one punch knockout just before the end of the seventh round of their scheduled ten round fight.
The first three rounds saw more clinches than punches landed. Seals seemed to be looking to land one perfect punch and in doing so barely unleashed any punches. Alvarez, for his part, was not very active in these rounds but certainly moved his hands more and landed more than Seals.
In round four, Seals came out much more aggressive and had his best round of the fight. But in the fifth, Seals went back to looking for that one punch and Alvarez took back control of the action. Toward the end of the round, Alvarez staggered Seals with a right hand.
Alvarez continued to be in control of the fight in rounds six and seven by simply moving his hands more. And then towards the end of round seven, Alvarez connected with a picture perfect overhand right that sent Seals crashing to the canvas. Referee Danny Schiavone did not reach a full 10-count before waiving the fight off.
For Alvarez, this was a big bounce-back win after his loss to Sergey Kovalev in their light heavyweight title rematch last February. With the light heavyweight division flush with talent, it seems Alvarez is in prime position to get a big opportunity his next time out.
In the co-feature, lightweight contender Felix Verdejo (26-1, 16 KO's) put on a workmanlike effort in winning a wide ten round unanimous decision against Manuel Rey Rojas (18-4, 5 KO's). While Verdejo was in complete control of the contest from the opening bell, the performance certainly lacked sizzle and may raise even more questions on the potential of the once can't-miss prospect.
Verdejo utilized a very patient approach throughout the night working behind the left jab. While the jab was effective, Verdejo only occasionally looked to unleash power punches behind that jab. Reyes, for his part, played mostly defense keeping a very tight guard and looking to selectively counter Verdejo's jab.
Verdejo's defense, which had been criticized in the past, looked better but still showed some leaks. In the fifth round, Reyes landed a sharp right hand flush on the jaw of Verdejo that seemed to momentarily get Verdejo's attention. And in the ninth, Reyes landed a hard right that snapped Verdejo's head back. If Reyes could punch harder, either of those two rights may have altered the course of the fight.
But aside from those brief moments from Reyes, Verdejo dictated all the action. He easily out-worked and out-landed the mostly defensive minded Reyes. In the end it is a win for Verdejo and he can proceed forward towards what he hopes will be an eventual title shot in the lightweight division.
In a bizarre heavyweight fight between two former 2004 Olympians, Devin Vargas (22-6, 9 KO's) was awarded a disqualification victory in the eighth and final round against Victor Bisbal (23-5, 17 KO's). Bisbal scored a knockdown in round two with a left hook but was deducted two points in round four for various infractions.  Aside from the knockdown round, Vargas seemed to out-hustle and out-land Bisbal. Ahead on all three scorecards (67-63 twice and 66 -64) entering the final round, Vargas absorbed a low blow from Bisbal. At this point, referee Michael Ortega decided to disqualify Bisbal.
Abraham Nova (18-0, 14 KO's) scored a one-sided fourth-round TKO of tough veteran Pedro Navarette (30-25-3, 19 KO's) in a lightweight contest that was scheduled for eight rounds. Nova scored knockdowns in rounds two, three and four before the fight was waived off.
Knockout out artist Jonathan Guzman (24-1, 23 KO's) rose from the canvas to score a fourth-round knockout of Rodolfo Hernandez (30-10-1, 28 KO's) in a 122-pound slugfest. The heavily favored Guzman scored two knockdowns with body shots in the opening stanza and appeared on his way to an easy win. But Hernandez flipped the script in round three with a hard right hand just before the bell sounded that put Guzman on the canvas and nearly out. The two went toe to toe in the fourth when a vicious left hook to the body from Guzman put Hernandez down and this time out for good.
In a battle of former world title challengers, Freddie Roach trained Christopher Diaz (25-2, 16 KO's) scored a wide eight round unanimous against Adeilson Dos Santos (19-8, 15 KO's) in a featherweight contest. Diaz dominated the fight from the opening bell and hurt Dos Santos on a few occasions but ultimately had to settle for the decision victory.
The opening fight of the night saw heavyweight prospect Jared Anderson (3-0, 3 KO's) easily dispatch Andrew Satterfield (5-4, 3 KO's) in the first round of their scheduled four round fight. Anderson scored two knockdowns in what was a dominant performance.
Photo credit: Mikey Williams for Top Rank
Check out more boxing news on video at The Boxing Channel 
To comment on this story in The Fight Forum CLICK HERE
Fast Results from Philadelphia: Rosario TKOs 'J-Rock' in a Shocker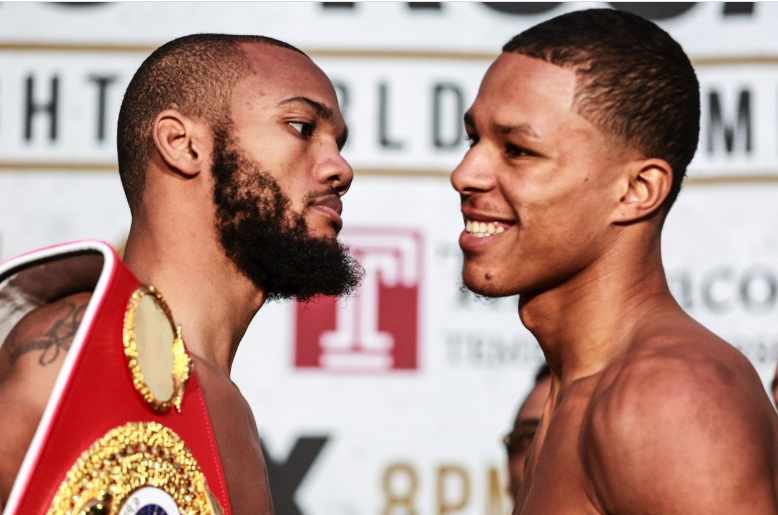 Born and bred in Philadelphia, Julian "J-Rock" Williams had fought only twice in his hometown prior to this evening, most recently back in 2011 when he was still a 6-round fighter. Tonight he topped the marquee, defending his WBA/IBF super welterweight titles at the 10,000-seat Liacouras Center on the campus of Temple University.
A successful homecoming for Williams, who was making the first defense of the titles he won last May with a hard but well-deserved unanimous decision over Jarrett Hurd, seemed like a foregone conclusion, but in a shocker Jeison Rosario of the Dominican Republic spoiled the soup, taking away Williams' titles with a fifth round stoppage.
It was a mammoth upset.
In round two, Rosario (20-1-1, 14 KOs) caught Williams with a punch that left a cut over his left eyelid. In the fifth, the challenger, ahead on the scorecards after a slow start, stunned "J-Rock" with a volley of punches starting with a hard right hand and then, after Williams lost his balance, followed up with several hard punches, notably a wicked uppercut that left Williams (27-2-1) all at sea. The stoppage by referee Benjy Estevez met with the disapproval of the pro-Williams crowd, but it was clearly the right call. The official time was 1:17 of round five.
After the fight, Williams indicated that there was a rematch clause in the contract that he intends to activate.
Co-Feature
In a fight billed for the WBA interim super featherweight title, Brooklyn's Chris Colbert (14-0, 5 KOs) stepped up in class and won a clear-cut 12-round decision over Panamanian southpaw Jezreel Corrales (23-4), a former WBA 130-pound title-holder. The cat-quick Colbert, 23, scored the bout's lone knockdown, sending Corrales to the canvas in the 10th round with a short overhand right. The scores were 116-111 and 117-110 twice.
Kiddie Corps
In a humdrum fight slated for six rounds, 19-year-old super welterweight Joey Spencer (who is rapidly out-growing the division), won every round against Erik Spring, a 35-year-old champion kickboxer from Reading, PA. Spencer, whose style and body type has drawn comparisons to a young Canelo Alvarez, didn't fight with his usual aggression, but advanced his record to 10-0. A southpaw, Spring (13-4-2) brought little to the table but maintained his distinction of having never been stopped.
In a four-round welterweight match, 17-year-old high school senior Vito "White Magic" Mielnicki Jr advanced to 4-0 but was extended the distance for the first time by overmatched but brave Preston Wilson (6-4-1), a boxer from Parkersburg, W. Va. In his first three pro fights, Mielnicki had answered the bell for only four rounds.
Also
In a super welterweight contest slated for 10 rounds, Mexican veteran Jorge Cota (30-4, 17 KOs) had too much firepower for Thomas "Cornflake" LaManna. There were no knockdowns, but LaManna ate a lot of leather before the referee intervened at 1:22 of the fifth. The crowd thought the stoppage was premature, but it met with the approval of LaManna's cornermen.
In an all-Philadelphia affair between super welterweights, Paul Kroll (7-0, 6 KOs) scored a fourth-round stoppage of Marcel Rivers. (7-3). Kroll knocked Rivers down in the third and twice more in the fourth, but Rivers was on his feet when the referee thought it prudent to call it off. Kroll, 25, made the 2016 U.S. Olympic team but was eliminated at an international qualifying tournament and the U.S. competed in Rio without a representative in his weight class.
Check out more boxing news on video at The Boxing Channel 
To comment on this story in The Fight Forum CLICK HERE
Photo credit: Stephanie Trapp / TGB Promotions