The Hauser Report: USADA, VADA, and the State Athletic Commissions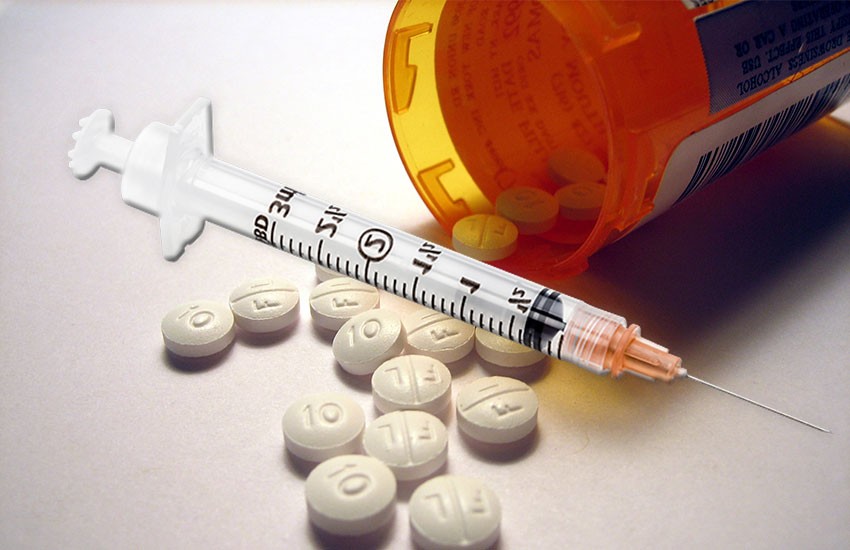 On September 7 of this year, I posted an investigative report on this website entitled "1,501 Tests, One Reported Positive? What's Going On with USADA and Boxing?"
The article was based on data taken from USADA's own website in addition to interviews with state athletic commission personnel and experts in the field of performance enhancing drugs. It raised troubling questions regarding the role that USADA plays in boxing today.
USADA has been testing professional boxers for performance enhancing drugs since 2010. As of September 6, 2018, its website stated that it had administered 1,501 tests on 128 professional boxers through August 22 of this year. Yet in all these years, USADA had reported only one adverse finding regarding a professional boxer to a governing state athletic commission.
By way of comparison, Dr. Margaret Goodman (president of the Voluntary Anti-Doping Association, which is widely regarded as the most credible testing organization in professional boxing) reported that close to four percent of the tests for illegal performance enhancing drugs conducted by VADA come back positive. Using the four-percent benchmark, one would have expected that 60 of the 1,501 tests conducted by USADA would have yielded a positive result.
Virtually all of USADA's tests were administered in conjunction with fights in which companies controlled by Al Haymon had a vested financial interest. The most common venues for the fights in question were Nevada, California, and New York.
What has happened since then?
First, USADA has now conceded to multiple third parties (who request that their names not be mentioned in this article) that there was more than one positive test result but that USADA chose to adjudicate these matters internally without reporting the positive test result to the opposing fighter's camp or state athletic commission that had oversight responsibility with regard to a given fight.
This is consistent with many of USADA's contracts, which purport to allow it to adjudicate positive test results without notice to persons and entities with a legitimate interest in the outcome of these tests. However, it runs contrary to the rule in many states that, in the event of a positive drug test, judgments regarding mitigating circumstances must be left to the governing state athletic commission.
As recently as November 23 of this year, Bob Bennett (executive director of the Nevada State Athletic Commission) stated unequivocally that the NSAC must be notified of any adverse findings related to PED tests in and out of competition and that the NSAC has jurisdiction over all adverse findings for PED's.
It should also be noted that it appears as though every positive test result adjudicated internally by USADA with regard to a professional boxer was adjudicated in favor of the boxer, since there have been no reported adverse findings other than the acknowledgement, after the news leaked on the internet, that Erik Morales tested positive for clenbutereol in 2012.
Second, and equally significant, it appears as though USADA – for the time being at least – has stopped testing professional boxers for performance enhancing drugs.
According to postings on the USADA website (updated through December 7), the most recent tests conducted on professional boxers by USADA were administered to Danny Garcia and Shawn Porter, who fought each other at Barclay's Center on September 8, one day after this writer's investigative report was posted.
In other words, a company that tested more than fifteen hundred professional boxers over the course of eight years appears to have suddenly stopped testing professional boxers.
In recent years, USADA has charged in excess of $30,000 for drug testing for each fight. The amount was $150,000 for Floyd Mayweather vs. Manny Pacquiao. Multiply these numbers by more than 1,500 tests and it's a lot of money to walk away from. Did USADA decide that the spotlight was getting too bright?
The Voluntary Anti-Doping Association (VADA) doesn't catch all of boxing's drug cheats any more than the Internal Revenue Service catches all tax cheats. But it catches some of them.
On September 20, 2018, it was announced that a test for performance enhancing drugs conducted on Manuel Charr by VADA had come back positive for epitrenbolone and drostanolone (banned anabolic steroids).
On September 27, it was revealed that a test administered to Billy Joe Saunders by VADA had come back positive for oxilofrine (a banned stimulant).
In other words, VADA reported more positive tests for banned PEDs to supervising state athletic commissions in eight days than USADA has reported in eight years.
Given the fact that USADA charges roughly twice the amount for PED testing that VADA charges, one might ask why anyone in professional boxing would test with USADA. Unless a "get-out-of-jail-free" card comes with the test results.
Andy Foster is executive officer of the California State Athletic Commission. In recent years, he has evinced an admirable commitment to the health and safety of fighters and the integrity of boxing.
Multiple sources say that Foster has made it clear to promoters that he is uncomfortable with the pattern of USADA's reported test results for boxing and would prefer that promoters use VADA or another reliable testing agency until the issue is resolved. On December 5, Foster told this writer, "It's the weirdest thing. USADA has reported lots of positive test results for MMA but none for boxing. When it comes to boxing, I feel much more comfortable with VADA."
The recent PED controversy involving Canelo Alvarez is also instructive.
Alvarez was scheduled to fight a lucrative rematch against Gennady Golovkin in Las Vegas on May 5, 2018. But on March 5, it was revealed that urine samples taken from Canelo by VADA on February 17 and February 20 had tested positive for clenbuterol. Alvarez said that the positive tests were the result of his having inadvertently eaten contaminated meat. But the Golovkin camp refused to let the matter rest and pressed the issue with the Nevada State Athletic Commission.
A March 15 letter sent on behalf of Golovkin to the NSAC and VADA demanded that the commission hold Alvarez to a standard of strict liability insofar as the presence of clenbuterol in his system was concerned. The letter also asked that the NSAC conduct an investigation and hold a full hearing with regard to possible performance enhancing drug use by Canelo.
On March 20, Golovkin raised the ante further when he met with reporters and declared, "I'm a clean athlete. After the first fight, I knew he was not clean. It's not Mexican meat. Canelo is cheating. They're using these drugs and everybody is just trying to pretend it's not happening."
On March 23, the Nevada State Athletic Commission announced that Alvarez had been temporarily suspended as a consequence of the two positive tests and that the matter would be finally adjudicated at an April 10 commission meeting. On April 3, Canelo announced that he was withdrawing from the fight. Then, on April 18, the NSAC voted unanimously to approve a settlement agreed to by Alvarez that called for Canelo to be suspended for six months retroactive to the date (February 17) of his first positive test for clenbuterol. There was no admission of wrongdoing on Canelo's part. But there was an acknowledgement that clenbuterol had been present in his system.
On May 15, Alvarez signed up for a full year of VADA testing and paid the $50,000 cost out of his own pocket. His rematch against Golovkin was rescheduled for September 15 and Canelo emerged with a majority-decision triumph.
So let's look at what happened. A positive test result was properly reported. There was a sanction. Alvarez then came back, tested clean twenty times in an enhanced VADA program, and beat Golovkin.
Now suppose hypothetically that Alvarez had been tested by USADA, not VADA. Suppose USADA advised the Canelo camp of his positive test for clenbuterol and was told, "Canelo says he never used clenbuterol. It must have come from contaminated beef." And suppose further that USADA said, "That sounds like a reasonable explanation. We'll adjudicate this internally and give the fighter an inadvertent use waiver. There's no need to report it to the Golovkin camp and Nevada State Athletic Commission and bring the fight down."
That would have avoided interfering with a major promotion. But it would also have overlooked the presence of an illegal performance enhancing drug in a fighter's system.
Unfortunately, some jurisdictions still don't understand the implications inherent in the use of illegal performance enhancing drugs. Others would rather pay lip service to the issue than deal forcefully with it. And there are significant loopholes in some testing protocols.
Jermall Charlo and Jermell Charlo are two of the most talented fighters in boxing today. Jermall is the World Boxing Council "interim" middleweight champion. Jermell holds the WBC 154-pound belt. As such, the Charlos are subject to the World Boxing Council Clean Boxing Program which requires them to keep VADA apprised of their whereabouts, be reachable by telephone at all times, and be subject to spot testing for performance enhancing drugs at any time.
On November 1, 2018, VADA collection officers went to pick up blood and urine samples from Jermall and Jermell Charlo at their respective homes and were told that neither brother was at home nor would they be at the gym that day. Neither brother picked up his phone at the contact number given to VADA when he was called. And no one could (or would) tell the collection officers where Jermall and Jermell Charlo were.
This is known in drug-testing as a "missed test" or "unsuccessful collection attempt."
As per the terms of the World Boxing Council Clean Boxing Program, VADA immediately notified the WBC, the Association of Boxing Commissions, and Al Haymon (who represents the Charlos). Because the Charlos are scheduled to fight in separate bouts at Barclays Center in Brooklyn on December 22, VADA also notified Kim Sumbler (executive director of the New York State Athletic Commission) Nitin Sethi (the commission's chief medical officer), and Tom Brown (who is promoting the December 22 fights).
The WBC Clean Boxing Program is an important initiative. The sanctioning body deserves credit for setting up a PED-testing program with protocols pursuant to which missed tests and positive test results are reported to the governing state athletic commission and other appropriate parties. But the WBC program allows for two missed tests within a one-year period without the imposition of a significant penalty (such as a fighter being stripped of his title).
On November 28, the WBC issued a statement that read in part, "Every single fighter who is enrolled in the WBC Clean Boxing Program is responsible for his acts. It is important for the WBC to clarify that both Charlos have been tested in the past and that the infraction they are facing is a missed test which has been acknowledged and they will be responsible to pay the corresponding fine. It is very simple. If you are chosen for testing and are not available for the collector to test you, you will be incurring a missed test penalty. It is of extreme importance that every fighter updates their whereabouts forms with VADA at all times."
The WBC declined to reveal the amount of the fine imposed on the Charlos. But in a November 29 email, Alberto Leon (chief legal counsel for the WBC) advised, "In general, for a first whereabouts failure, the fine is limited to the actual costs of collection incurred which so far have fluctuated between $750 and $950 depending on the location of the collection effort."
In today's world of microdosing, many illegal PEDs leave an athlete's system within twenty-four hours. The unfortunate message sent by the WBC regarding the Charlos is, hypothetically speaking, if a fighter takes an illegal performance enhancing drug and, by chance, VADA shows up to test him while the drug is still in his system, the fighter can simply "miss" his test and pay a small fine.
But the matter didn't end there. On November 27, Jermall Charlo tweeted, "Missed the Test not Failed you idiots. It's Random and wbc program or Whoever they are Randomly chose a day we were out of town doing promotional stuff on Fox for the Next fight. Get ya facts straight. I like I said Haters must Hate it's the job."
As previously noted, the Charlos are scheduled to fight at Barclays Center on December 22. The New York State Athletic Commission acknowledges having been advised of the missed tests but initially maintained in a November 30 email that "The VADA and WADA [World Anti-Doping Agency] programs are separate from the New York State Athletic Commission's Rules & Regulations."
In other words, according to the New York State Athletic Commission, the missed tests were a matter for the WBC, not the NYSAC, to resolve. That was a ludicrous position and, three days later, the commission backtracked, saying, "The NYSAC is indeed investigating this matter fully and takes it very seriously. We are undertaking specific actions as part of this investigation and are in regular contact with the promoter, the combatants involved, and their seconds."
These "specific actions" are said to include additional tests administered to the Charlos at the direction of the NYSAC. That's a case of too little too late given the transitory nature of performance enhancing drugs in a fighter's system.
The NYSAC should have acted on the Charlos' situation in early November. Then, if it felt that a remedy similar to Nevada's handling of Canelo Alvarez was warranted, the December 22 fight card could have been reconfigured. At this late date, no one expects the NYSAC to interfere with the card.
But let's follow up with a few questions in response to Jermall Charlo's tweet. Questions that the New York State Athletic Commission should ask at a hearing with Jermall and Jermell Charlo under oath.
Where were the Charlos doing their out-of-town promotional work for Fox? Presumably, there's a record of their travel. What, specifically, was the promotional work? Who did they meet with? Why didn't they answer their phones when the VADA collection officers attempted to reach them? VADA could have sent collection officers to collect blood and urine samples in whatever city the Charlos were in. Jermall and Jermell Charlo might be totally innocent of any wrongdoing. But suppose it turns out that they weren't out of town that day? That would be a problem, wouldn't it?"
Meanwhile, after Jarrett Hurd knocked out Jason Welborn on the undercard of Deontay Wilder vs. Tyson Fury at Staples Center on December 1, Jermell Charlo climbed into the ring to challenge Hurd. The two men jawed back and forth with Hurd saying, "Answer the phone. I got the date."
"My phone is always on," Charlo responded.
Except when a VADA collection officer calls.
As noted earlier, virtually all of the tests that USADA has administered with regard to professional boxing have been in conjunction with fights in which companies controlled by Al Haymon had a vested financial interest. Haymon is known for looking after his fighters' best financial interests. But he has a fiduciary duty to all of the fighters he represents, not just the A-side fighters. This fiduciary duty should include taking all reasonable steps to ensure that none of his fighters are put in the ring to face opponents who have increased their punching power through the use of illegal performance enhancing drugs.
Like the Charlos, Errol Spence is an Al Haymon fighter. He's also deservedly near the top of most pound-for-pound lists.
According to postings on the USADA website, Errol Spence has been tested 35 times by USADA. Did any of these tests come back positive? Were there any "missed" tests? Did USADA ever give Spence a therapeutic use exemption or inadvertent use waiver?
One person who'd like to know the answer to these questions is Victor Conte.
Conte was first known to sports fans as the mastermind behind the BALCO scandal. In recent years, he has been a positive force for education and reform and now works with athletes as a conditioner and nutritionist at a facility in San Carlos, California, known as SNAC (an acronym for Scientific Nutrition for Advanced Conditioning).
In late-October, Conte agreed to help Mikey Garcia prepare for a scheduled March 16, 2019, fight against Errol Spence. But he made it a precondition to his involvement that both Garcia and Spence enroll in VADA.
"So far," Conte says, "Mikey has been willing to enroll, and Errol has been dragging his feet. Now I'm told that Errol and Al Haymon will agree to ten weeks of testing starting on January 5th. Ten weeks of VADA testing is better than none. But why the wait?"
"It's common knowledge," Conte continues, "that the benefit an athlete retains from using certain performance enhancing drugs carries over for months. In fact, you don't perform at your best when you're actually on the drugs. You get maximum benefit after the use stops. It all depends on what an athlete was taking, how much he was taking, how long he was taking, and when he cycled off. So my question is, 'If Errol Spence and Al Haymon aren't hiding anything, why couldn't VADA testing have started in November?'"
"And there's another point I'd like to make about Errol," Conte continues. "When a person uses testosterone, part of it converts to dihydrotestosterone and the rest converts to estrogen. And when that happens, it can cause the tissue around the nipples to swell. Technically, the condition is called gynecomastia. Some people who use testosterone get gynecomastia. Others don't. It depends on one's genetic disposition. Body-builders treat the condition by using Tamoxifen or Arimidex to shrink the tissue."
And what does that have to do with Spence?
"I was in Las Vegas on September 15 and went to something called the Boxing Fan Expo," Conte answers. "Errol was there. I got within a few feet of him. He was wearing a white shirt, and I saw what I believe were signs of gynecomastia. If you've seen a fighter in the past without gynecomastia and then you see him with it, it causes suspicion. Errol is a hell of a fighter. I have no reason to not like him and I'm not saying that Errol is using anything inappropriate. But I'm suspicious, and Errol knows it."
At present, many state athletic commissions are reluctant to push hard on the issue of performance enhancing drugs because they fear that doing so will lead promoters to take big fights to other jurisdictions. But illegal PED use is analogous to fighting with loaded gloves. In each instance, the aim is to gain a competitive advantage and inflict more physical damage on an opponent by cheating. Everyone in boxing who lets this issue slide is complicit.
It's ridiculous to think that Margaret Goodman and VADA can put a thumb in the dike and stop the flow of illegal performance enhancing drugs in boxing. Accomplishing this end will take a concerted effort by state athletic commission officials, sanctioning body officials, promoters, managers, fighters, members of the media, and law enforcement authorities.
Meanwhile, as an interim step, the New York, California, and Nevada state athletic commissions should ask USADA for the following:
(1) Copies of all contracts entered into by USADA for the testing of any professional boxer in conjunction with any fight that has taken place in their jurisdiction since January 1, 2016.
(2) Copies of all test results (complete test results, not just summaries) and all other documents that embody the results of tests conducted pursuant to these contracts.
(3) Copies of all documents that relate to instances, if any, where USADA, pursuant to these contracts, adjudicated issues that arose in conjunction with a positive test for one or more substances that are prohibited under the WADA code.
(4) Copies of all documents that relate to any instance where, pursuant to these contracts, USADA departed from World Anti-Doping Agency standards in adjusting the permissible level of any drug that might be found, or was found, in a professional boxer.
To help evaluate this data, USADA should also be asked with regard to all fights that have taken place in each respective state since January 1, 2016:
(1) On how many occasions has the "A" sample of a professional boxer tested by USADA come back positive for a substance that is prohibited under the WADA code?
(2) On how many occasions has a professional boxer "missed" a test?
USADA is skating on thin ice when it comes to boxing. An exploration of its conduct here might provide a window onto its testing of other athletes. For example, United States Olympic athletes.
If a government entity with subpoena power decides to seriously investigate, the implications could extend far beyond boxing. Maybe USADA will test clean. Maybe not.
Thomas Hauser can be reached by email at thauser@rcn.com. His next book – Protect Yourself At All Times – was published by the University of Arkansas Press this past autumn. In 2004, the Boxing Writers Association of America honored Hauser with the Nat Fleischer Award for career excellence in boxing journalism.
Check out more boxing news on video at The Boxing Channel
To comment on this article at The Fight Forum, CLICK HERE
Remembering 'Rocky Estafire,' One Tough Syrian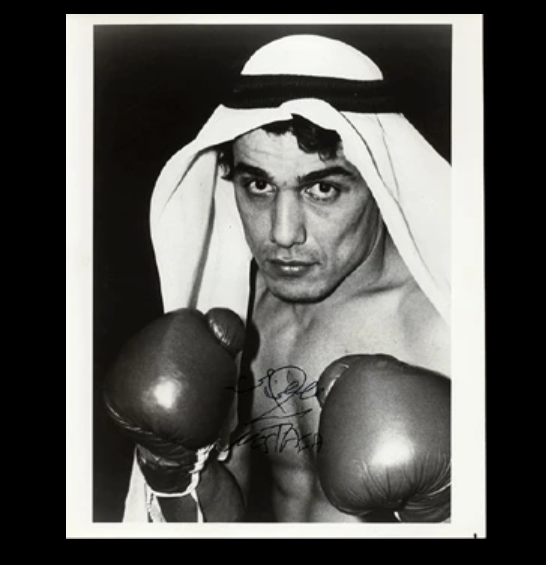 On Sept. 9, 1978, a Bayonne, New Jersey brawler who was billed as Rocky Estafire when he was first starting out, stopped slick Bobby "Boogaloo" Watts in Jersey City giving notice that he was becoming a force to be reckoned with in the middleweight division. Watts was no slouch having split a pair with Marvelous Marvin Hagler.
"Strictly LaMotta style," said Paddy Flood of his fighter who would come to be known by his real name, Mustafa Hamsho.
In 1980, he beat undefeated Wilford Scypion and followed that up with close wins over Curtis Parker and Alan Minter in 1981 leading to his first of two title clashes with Hagler. This bloody encounter, won by Hagler on an 11th-round TKO, left both fighters needing stiches.
"Throughout Hagler's nonstop, 11th-round barrage, Hamsho kept coming on. He didn't win a round, but he did take the battle of the stitches, 55-5," wrote Pat Putnam in Sports Illustrated. "I don't know what his corner was waiting for…The meat from his eyes was hanging down. But I can't let that bother me. I just have to think, better him than me," said Hagler.
More from Putnam: "When Hagler had left the hospital, the doctors were still working over Hamsho, who, until his trainer, Al Braverman, jumped into the ring to stop the fight, looked as though he would run out of blood before he ran out of heart. He was badly cut under both brows: Each wound was at least two inches long and half an inch wide. There was another slice under his left eye. He didn't win a round from any of the three officials."
Al Braverman, who co-managed Hamsho with the aforementioned Flood, once described the Syrian's style as follows: "…."He's got no style. He just wades in, throwing punches from any angle."  He also possessed great stamina, a granite chin and incredible courage, along with head and shoulder butts, elbows, low blows, shoves, holding, chops behind the head, and whatever he could get away with.
The Matinee Idol
Bobby Czyz was 20-0 when he met Hamsho at the Convention Center in Atlantic City on Nov. 20, 1982. The undefeated New Jersey lad with the somewhat strange moniker of "Matinee Idol" and the high IQ had solid wins over Danny Long, Teddy Mann, Oscar Albarado, Elisha Obed, and Robbie Sims. Against Hamsho he was stepping up in class but he was a solid opponent for the Syrian who was 34-2-2 coming in.
If Bobby won, he would position himself for a shot at Marvelous Marvin, but Hamsho mauled and mugged the future world light heavyweight champion over ten rounds and won a convincing UD. (The rest of the Bobby Czyz story is told in "The Boxer Who Became a Bagger," a remarkable and poignant article by sports columnist Steve Politi that first appeared in the Newark Star-Ledger.)
Wilfred Benitez
HIs UD victory over Wilfred Benitez (45-2-1) in 1883 was pure Hamsho featuring elbows, butts, and low blows. The third round was difficult to watch as the compact Syrian rendered a brutal beating on "El Radar," using accurate nonstop shots coming from all directions. Between slips and knockdowns, Wilfred hit the deck four times.
Clearly, Benitez had faded, but Hamsho hastened the process and helped point the legendary Puerto Rican in a downward direction. Wilfred looked sluggish and poorly conditioned; he was not the same Benitez who knocked out Maurice Hope in spectacular fashion or out-boxed Roberto Duran for 15 rounds. Something was wrong.
But even in top shape, Benitez would have struggled against Hamsho with his mauling, brawling, non-stop pressure. Hamsho could make anyone look bad.  (Wilfred Benitez would lose several more outings after the Hamsho beatdown. Matthew Hilton finished the job with a terrifying KO in 1986. Wilfred's story is a terribly sad one as he now requires constant care.)
Hamsho would lose another fight with Hagler—this time quickly and badly– and then go 6-2 before retiring in 1989 with a record of 44-5-2.
Those who were fortunate enough to see him fight remember a fan-pleasing, all-action combination of Vito Antuofermo, Michael Katsidis, Antonio Margarito, and Gene Fullmer.
Amir Khan and Prince Naseem Hamed are two very high profile, proud Muslim fighters. Mustafa Hamsho's name can be added.
Ted Sares can be reached at tedsares@roadrunner.com
Check out more boxing news on video at the Boxing Channel
To comment on this story in the Fight Forum CLICK HERE
Miguel Madueno Scores His 12th Straight Knockout at Ontario, Calif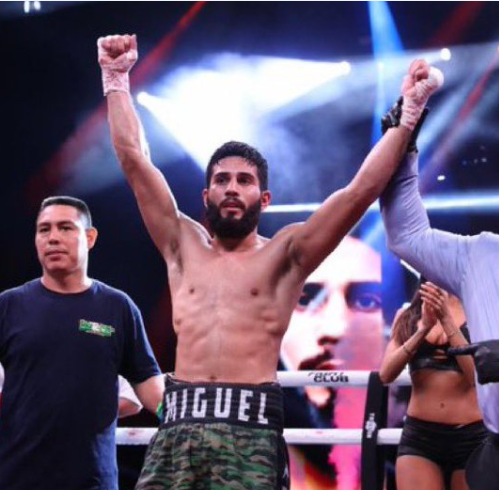 Ontario, CA — A return of fans to the Inland Empire saw Mexico's Miguel Madueno extend his consecutive knockout streak to a dozen at the Doubletree Hotel in Ontario, California on Friday.
It was the first fan-filled event for a Thompson Boxing card in the "I.E." in almost two years.
Lightweight contender Madueno (26-0, 24 KOs) of Culiacan powered his way to his 12th consecutive knockout and this came at the expense of fellow Mexican Jose Luis Rodriguez (25-15-1, 13 KOs) with a focused attack to the body.
Rodriguez was clever and tough and would not allow Madueno to overwhelm him during the first four rounds. But in the fifth he was not as lucky as a four-punch barrage to the body sent him to one knee. He beat the count but was overwhelmed by Madueno who forced referee Raul Caiz to end the fight at 2:46 of the fifth round.
"In reality I thought I would end it early," said Madueno about seeking an early knockout. "But he could take it."
In the co-main event Japan's Katsuma Akitsugi (7-0) outhustled Northern California's Eros Correa (10-1) after eight rounds in a bantamweight scrap to win by majority decision.
Akitsugi, a southpaw, and Correa both showed quick hands and good chins. But the Japanese fighter was always on attack and Correa resorted to holding from the second round on. He was never warned by the referee for excessive holding. It could have helped him get back in the fight.
Every time Akitsugi entered the danger zone Correa would grab ahold like an MMA fighter instead of fighting on the inside. While Correa held Akitsugi punched and that proved the difference as two judges scored it 78-74 for Akitsugi, while a third saw it 76-76.
"I could not box my style at all," said Akitsugi, 23. "I'm glad I brought the win home."
Other Bouts
San Bernardino's Esteban Munoz (5-1, 3 KOs) knocked out Tijuana's Manuel Martinez (6-5-4) with a body shot in the first round. He could not beat the count. Munoz had stunned Martinez earlier with a counter right. Then he found an opening to the body and delivered a right to the gut and down went Martinez. He was counted out at 1:50 of the first round.
Coachella's Lazaro Vargas (4-0) out-worked Ulises Rosales (0-5) over four rounds of a super bantamweight match to win by unanimous decision 40-36 on all three cards.
Check out more boxing news on video at the Boxing Channel
To comment on this story in the Fight Forum CLICK HERE
Oscar Rivas is Boxing's First Bridgerweight Champ; Tops Spunky Ryan Rozicki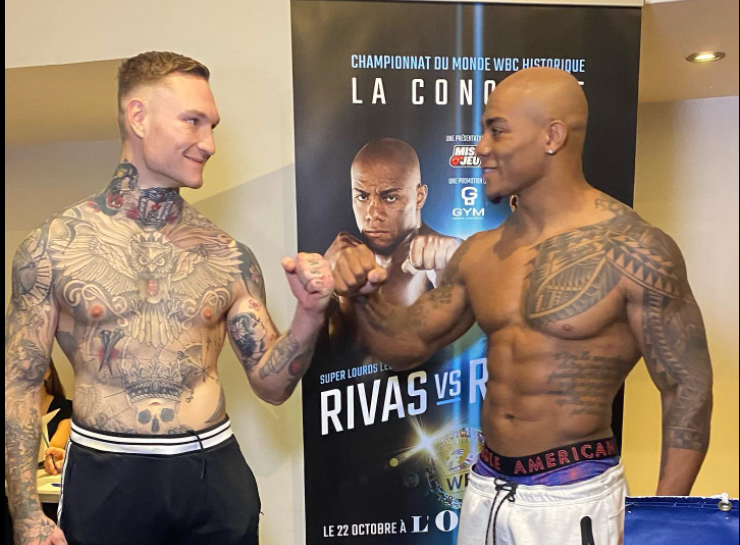 Back in January, the World Boxing Council announced that they were creating a new weight division. Tailored to boxers weighing between 200 and 224 pounds, they named it Bridgerweight. Tonight, at the Olympia Theatre in Montreal, the first WBC bridgerweight champion was crowned. Montreal-based Oscar Rivas, a 2008 Olympian representing his native Columbia, turned the trick with a unanimous 12-round decision over fellow Canadian Ryan Rozicki, advancing his record to 28-1 (19).
Rozicki, who is from Nova Scotia, out-performed expectations. Although he had knocked out all 13 of his opponents since turning pro in 2016, he hadn't defeated anyone of note and hadn't fought beyond six rounds. He drew the assignment when Rivas's original opponent Bryant Jennings was scratched because of his refusal to accept Canada's COVID protocols for unvaccinated foreigners. (A match between Rivas and Jennings would have been a rematch of their Jan. 18, 2019 contest in Verona, New York, a rather ho-hum match that had a dramatic ending when Rivas turned up the heat in the 12th round.)
Rivas, 34, was making his second start since suffering his lone defeat, a setback on points in a 12-round contest with Dillian Whyte in London. The heavier man by 19 pounds, he dominated the first two frames, rocking Rozicki in the opening stanza, but the Nova Scotian clawed his way back into the fight. Rivas had a strong penultimate round and although he had a point deducted for holding in the final stanza, it did not factor into the outcome. The judges had it 116-111 and 115-112.
What's next for Oscar Rivas? Logically a bout with Evgeny Romanov. A 36-year-old Russian with a 16-0 (11-0 mark), Romanov was ranked #2 behind Rivas in the WBC's latest set of bridgerweight rankings. Romanov's claim to fame is that he TKOed Deontay Wilder is in amateur days, but that was way back in 2008.
Another possibility, and one likely to attract more buzz, would be a bout with Alen Babic. A 30-year-old Brit by way of Croatia, the colorful, free-swinging Babic (8-0, 8 KOs) has a date later this month in London with Texas trial horse Eric Molina.
The best guess, however, is that Rivas will discard the belt and go back to competing as a heavyweight. The bridgerweight title, we suspect, like many of the lesser titles, will be perpetually vacant, which likely wouldn't trouble the WBC at all as they will gather up a sanctioning fee from a bridgerweight title fight whether there is an incumbent or not.
There were two 8-rounders offering chief support, but both were cancelled when the opponents failed to pass muster. Left in the lurch were "A side" Canadians Sebastien Bouchard, a welterweight, and Steve Rolls, a middleweight.
Check out more boxing news on video at the Boxing Channel
To comment on this story in the Fight Forum CLICK HERE