2018 Awards Rush: Some Worthy Candidates Too Late to Join Party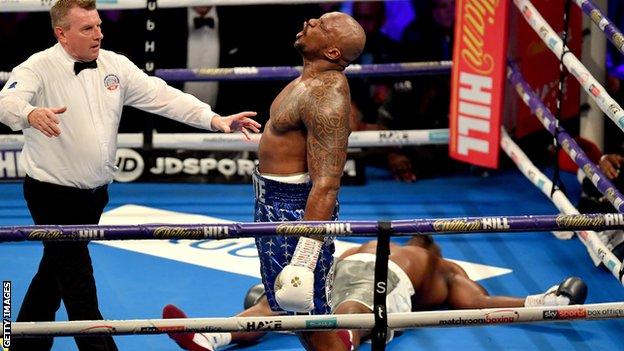 There was a commercial for a particular brand of coffee that once advised the public that its brewed product was "good to the last drop."
And so it is with the overseers of many boxing publications and web sites, who, best intentions aside, might now seem oblivious to the fact that the Chicago Tribune, in its haste to be first at the possible expense of being right, infamously printed the front-page headline that "Dewey Defeats Truman" in its Nov. 3, 1948, editions. Oops, Harry S Truman, not Thomas Dewey, actually won that presidential election when all of the nation's votes were counted.
The Tribune's legendary rush to judgment, alas, has been repeated or at least hinted at in years since, reinforcing the late Spanish philosopher and essayist George Santayana's sage observation that those who cannot remember the past are doomed to repeat it. On July 6, 2004, the New York Post, based on supposedly unimpeachable sources, "beat" all other news outlets when it ran a front-page headline advising readers that Democratic presidential candidate John Kerry had chosen Missouri Congressman Richard Gephardt to be his running mate. But as is the case in Aesop's Fables, in which the slow and steady tortoise finds a way to beat the hare to the finish line, some races do not go to the swift; the following day the Post sheepishly joined all those smug stragglers in revealing that Kerry's actual pick was North Carolina Senator John Edwards.
The far-flung events of Dec. 22, in boxing rings in America and the United Kingdom, again demonstrated that a calendar year consists of 365 days, not 355, and it might be best not to make any announcements until all the precincts have reported and the New Year is ushered in by that big ball dropping in Times Square at the stroke of midnight.
In keeping with tradition that might now need to be reconsidered, the Boxing Writers Association of America, which I once served as president and continue to serve as awards chairman, held separate business meetings in Los Angeles and New York in December in which nominations for the BWAA's annual awards were submitted by members in attendance. The votes from both meetings are the basis for formulating final ballots in each of the categories. For what it's worth, there is a time imperative to start the ball rolling some weeks before the end of the year, the better to begin the process of collecting the votes of eligible electors, announcing the winners and, in the BWAA's case, arranging for said winners to attend the BWAA Awards Dinner, the date and site of which usually have not been determined that far in advance. Some awards require significant lead time to prepare.
The Sweet Science also has its "Best of" awards in any given year, as do ESPN, The Ring and any number of other media outlets that don't want somebody else, or several somebodies, to jump to the front of the line. It's understandable, and it explains why, on election night, major news networks project certain candidates to be winners even if small percentages of the votes have been tabulated. Usain Bolt might not have won all those Olympic gold medals if other sprinters were allowed to get away with false starts. And, far more often than not, getting there first often is still the correct call.
But Dec. 22 proved that the current system employed by many media outlets is not infallible. TSS' choice for Knockout of the Year, 21-year-old lightweight Teofimo Lopez's first-round knockout of Mason Menard on Dec. 8, was posted on this site on Dec. 20 and under normal circumstances might be considered a no-brainer. Lopez's overhand right landed with such concussive force that Menard was out cold before he plunged on the canvas in the first round, a kayo so emphatic that it reinforced Lopez's burgeoning reputation as a big hitter and star-in-the-making. Only two weeks later, however, highly regarded heavyweight contender Dillian Whyte, who had traded bombs with Dereck Chisora from the opening bell, delivered a turn-out-the-lights left hook in the 11th round in London that sent Chisora sprawling onto his back, every bit as knocked out as Menard had been.
As exclamation-point finishes go, there might not be much to choose between Lopez's crushing of Menard and Whyte's wipeout of a very game Chisora. But consider this: Whyte trailed, 95-94, on two of the three official scorecards at the time he landed that haymaker of a hook (Chisora was ahead by the same margin on the other card), and with the victory he might have vaulted ahead of Jarrell "Big Baby" Miller as the next opponent to be faced by IBF/WBA/WBO heavyweight champion Anthony Joshua on April 13 in London's Wembley Stadium. Given the possible implications of a Joshua-Whyte rematch – Joshua stopped Whyte in a dandy fight for the vacant British heavyweight title on Dec. 12, 2015 – would that have been enough to have slid Whyte-Chisora II (another rematch of an exciting original)  in ahead of Lopez-Menard? It's a moot point now, but worth considering.
Nor is Whyte-Chisora II a candidate for BWAA Fight of the Year, which most might assume would have been the case if that ballot had not been finalized beforehand. TSS' pick for Fight of the Year, the Gennady Golovkin-Canelo Alvarez rematch, is a reasonable enough choice, and that hugely consequential clash for middleweight supremacy  likely will go head-to-head for the designation from the BWAA with the epic Deontay Wilder-Tyson Fury draw and Jarrett Hurd's rousing, split decision over Erislandy Lara  in their super welterweight unification showdown.
At least Wilder-Fury has a chance at being voted BWAA Fight of the Year. For the fighters themselves, mere participation in such a classic apparently doesn't count for much, as is often the case when draws are involved. Although attendees at both BWAA business meetings, which took place prior to Wilder-Fury, nominated the winner for a place on the Fighter of the Year ballot, there was no winner, although backers of each man have their own thoughts about that. If nothing else, Wilder-Fury I – there has to be a do-over soon, right? – proved that it is possible to not only have an individual or a team lose on a tie, but for both parties to do so.
At least TSS' Upset of the Year – Eleider Alvarez's seventh-round knockout of favored WBO light heavyweight titlist Sergey Kovalev – left no doubt as to whom the winner was, or deserved to be. Were it not for the way that fight ended, Tony Harrison's disputed unanimous- decision dethronement of WBC super welterweight champion Jermell Charlo, also on Dec. 22, and in Brooklyn's Barclays Center, might have entered into the discussion.
No system for determining, well, anything is flawless. There isn't always enough time to do a job perfectly, no matter how much we might wish to, not with budget restrictions and deadline pressure complicating the process. On Dec. 22, a day that might have altered at least some people's perception of a couple of End-of-Year awards, 96.98 percent of the year's boxing business already had been concluded. It might not seem like there was much time to squeeze in a very late surprise here or there, but it left a heck of a lot more room for revision than is given to anyone who purchases a Powerball Lottery ticket.
But someone occasionally wins the big Powerball prize, and maybe even will do so when the numbered ping pong balls come up again on Dec. 26. A hopeful ticket holder could learn that his longest of long shot dreams have come true the day after Christmas, but so what? Like they say, better late than never.
Bernard Fernandez is the retired boxing writer for the Philadelphia Daily News. He is a five-term former president of the Boxing Writers Association of America, an inductee into the Pennsylvania, New Jersey and Atlantic City Boxing Halls of Fame and the recipient of the Nat Fleischer Award for Excellence in Boxing Journalism and the Barney Nagler Award for Long and Meritorious Service to Boxing.
Check out more boxing news on video at The Boxing Channel
To comment on this article in the Fight Forum, CLICK HERE
Fast Results from the Bubble: Pedraza Punishes LesPierre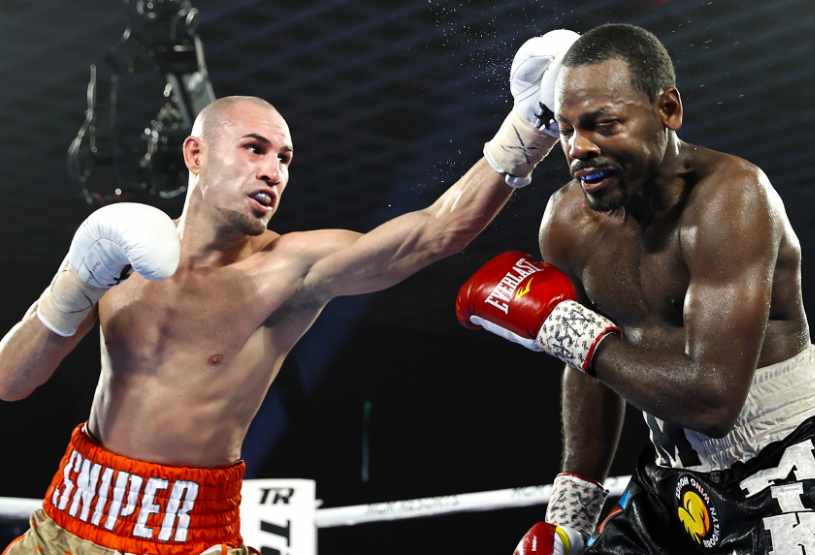 Former two-division world title holder Jose Pedraza (27-3) fought his way back into title contention tonight with a lopsided 10-round decision over Mikkel LesPierre (22-2-1). The bout, rescheduled from June 18, was fought at the catchweight of 144 pounds inside "The Bubble" at the MGM Grand Conference Center in Las Vegas.
Pedraza took charge from the opening bell. The fight appeared in danger of being stopped in round two and again in round 10. In the second round Pedraza landed perhaps 30 unanswered rapid-fire punches as LesPierre had his back to the ropes. In the 10th, Pedraza put him in the canvas with a left-right combination and repeatedly strafed him with clean shots, but LesPierre, a Brooklynite born in Trinidad and Tobago, was game to the core and did some good work in the final seconds.
It appeared that both fighters scored knockdowns in the fifth, but referee Kenny Bayless, after consulting with the replay officials, expunged the first knockdown and ruled it a slip. Pedraza's feet were tangled with those of LesPierre when LesPierre caught him with a glancing left hand. The replay didn't appear conclusive (Bayless was seemingly right the first time), but it was a moot point as Pedraza would have won by a comfortable margin regardless. The scores were 100-88 and 99-89 twice.
Other Bouts
In a fight without an indelible moment, Toledo lightweight Albert Bell (16-0, 5 KOs) "pitched a shutout" over Mark Bernaldez (20-4) of the Philippines, winning all 10 rounds on all three scorecards. The rangy Bell had a 6-inch height advantage and a 6-inch reach advantage and kept Bernaldez at the end of his stick throughout. Bell hurt his right hand late in the ninth round and threw only one right hand in the 10th, but won the round anyway.
Freddie Roach protégé Elvis Rodriguez, 7-0-1 (7 KOs), a 24-year-old southpaw from the Dominican Republic, scored an impressive one-punch knockout over New Jersey's Dan Murray (5-4). A straight right hand, basically just a hard jab, sent Murray sprawling the through the ropes with an apparent fractured orbital bone. The official time was 2:13 of round one.
In a 6-round between two ponderous 284-pound heavyweights, Kingsley Ibeh was awarded a majority decision over Patrick Mailata. It was a quick turnaround for Nigeria-born Ibeh (5-1) who appeared in this same ring last week. Mailata, a Samoa-born New Zealander, fell to 4-1.
The scores were 57-57 and 58-56 twice. Judge Patricia Morse-Jarman had it 57-57 and that was the most appropriate tally as neither man did enough to win.
In the TV opener, Robeisy Ramirez, a two-time Olympic gold medalist for Cuba, improved to 4-0 with a 6-round unanimous decision over Denver's Adan Gonzales (5-3-2).  Ramirez avenged a shocking defeat in his pro debut. The judges had it 60-54 across the board.
Off TV
In what was perhaps the best fight of the night, Jose Enrique Vivas scored a mild upset with a unanimous 10-round decision over previously undefeated Carlos Jackson. The scores were 97-93 across the board according to ESPN's lead announcer Joe Tessitore.
Vivas, a native of Mexico now residing in Montebello, California, improved to 19-1. The 31-year-old Jackson (16-1) fights out of Atlanta but has fought extensively in the Dominican Republic.
Photo credit: Mikey Williams for Top Rank
Check out more boxing news on video at The Boxing Channel 
To comment on this story in The Sweet Science CLICK HERE
Fast Results from the Bubble: A Clean Sweep for the A-Side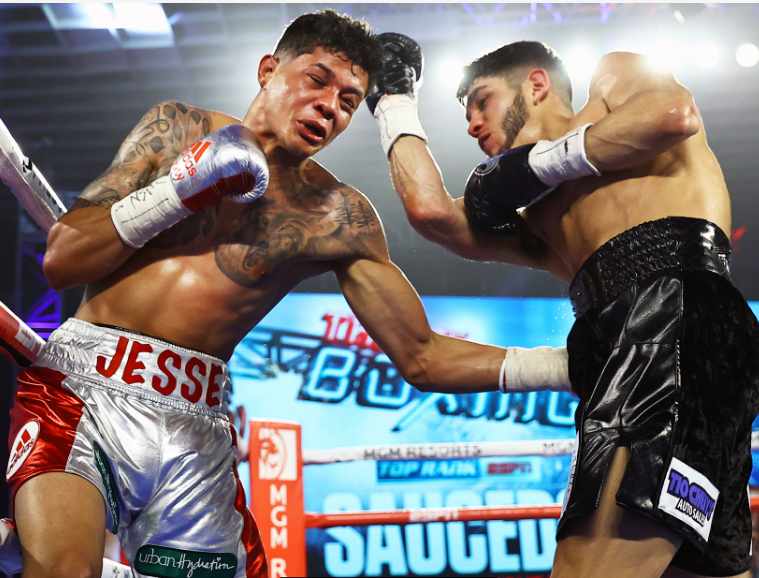 Top Rank was back inside the MGM Grand "Bubble" tonight with another installment of their semi-weekly summer series on ESPN. The four-fight card included three matches in the 140-pound weight class.
In his second fight back since getting stopped in the seventh round by defending WBA 140-pound champion Maurice Hooker, Oklahoma City's Alex Saucedo won a lopsided 10-round decision over Toledo's Sonny Frederickson. Saucedo pressed the action from the opening gun and Frederickson was complicit in his defeat, spending too much of the fight with his back against the ropes. Although his defense still needs tightening, overall it was a good performance for Saucedo (pictured in the black trunks) who turned pro at age 17 and was formerly trained by Ronnie Shields and Abel Sanchez, the latter of whom he faulted for his bad showing vs. Hooker, his lone defeat in 30 pro fights.
The scorecards read 100-90, 99-91, and 98-92. The lanky, light-hitting Frederickson slipped to 21-3.
Other Bouts
Josue Vargas, a southpaw from the Bronx, born in Puerto Rico, outclassed Guadalajara's Salvador Briceno in the 10-round co-feature. Briceno (17-6) seldom took a backward step, but his punches caught mostly air. Vargas, who defeated Shakur Stevenson as an amateur, was making his first fight without his father and coach in the corner. The elder Vargas ventured outside the Bubble and had his "passport" confiscated. Vargas (17-1) suffered his lone defeat by disqualification when he was under contract to Floyd Mayweather.
In an 8-round fight, southpaw John Bauza, a 22-year-old New Jersey-based Puerto Rican, improved to 14-0 with a wide unanimous decision over hard-trying but limited Larry Fryars (11-3), a carpenter by trade from New York via Clones, Ireland. The scores were 79-73 and 80-72 twice.
The TV opener was a dull 6-round middleweight match between Detroit's Isiah Jones and Donte Stubbs from Riverside, CA. It was a quick turnaround for Jones, the grandson of world title challenger David Braxton, who fought here two weeks ago, losing a 6-round decision to Nikoloz Sekhniashvili. He made a far better showing tonight, advancing his record to 9-2 with a majority decision. The scores were 59-55. 58-56, and 57-57. It was the first loss for Stubbs (6-1), a Navy veteran with an MMA background.
Photo credit: Mikey Williams for Top Rank
Check out more boxing news on video at The Boxing Channel 
To comment on this story in the Fight Forum CLICK HERE
Matchroom Boxing USA Returns in August with a Big Outdoor Show in Tulsa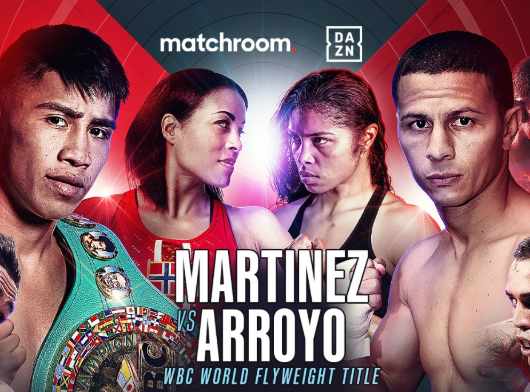 PRESS RELEASE — Julio Cesar Martinez will defend his WBC World Flyweight title against #1 ranked McWilliams Arroyo as Eddie Hearn's Matchroom Boxing USA return to action in Tulsa, Oklahoma on Saturday August 15, exclusively live on DAZN in the US.
Martinez (16-1 12 KOs) makes the second defense of his crown against Arroyo, in a main event brought to you in association with Canelo Promotions, Golden Boy Promotions and Miguel Cotto Promotions, having thrilled Texas with his first defense of the belt in Matchroom Boxing's last show before the COVID-19 pandemic in February, coming out on top of an enthralling 12 round battle with Welshman Jay Harris.
The 25 year old Mexican landed the title with a ninth round KO win in a ferocious clash with former champion Cristofer Rosales, and the champion is honored to be topping the return of Hearn's outfit in the States as he looks to cement his place in the division and move towards unification battles.
"I am so happy to be back in the ring again and I promise you another war on August 15," said Martinez. "With the unification fights ahead of me, it is important to take care of my mandatory challengers and I expect a tough fight with Arroyo. I believe 2020 and 2021 will see me unify and become undisputed and I can't wait put a smile back on boxing fans faces."
Arroyo (20-4 15 KOs) challenges for a 112lb World title for the third time in his career as he looks to finally get a World strap around his waist. The decorated Puerto Rican amateur was edged out via split decision by IBF champion Amnat Ruenroeng in September 2014 and then fell to pound-for -pound star Roman 'Chocolatito' Gonzalez in April 2016 for the WBC and Ring Magazine crowns in California.
The 34 year old ranked at number one in the WBC enters the bout on the back of three wins in 2019 having returned to Flyweight from a brief stint at Super-Fly, and the former World Amateur Champion is determined to end the talented Mexican's reign in Tulsa.
"I am very happy with this opportunity that my promoters Miguel Cotto Promotions, H2 Entertainment and Golden Boy Promotions have given me since I am ranked number #1 in the WBC and I am following my dream of becoming a World champion," said Arroyo.
"I think Julio Cesar Martinez is a great champion the fans will see a fight full of action due to the styles of both of us. It is very good for boxing Puerto Rico vs. Mexico and I am eager to take the belt"
Prior to the lockdown, Cecilia Baekhus was set to defend her undisputed Welterweight championship in Maryland against Jessica McCaskill, and that fight is the co-main feature in Tulsa.
Braekhus (36-0 9 KOs) has dominated the Welterweight division for 11 years and victory over McCaskill would see the Norwegian sensation break Joe Louis' record of 25 consecutive World title defenses, with the 38 year old's record stretching back to her first World title fight in her 11thpro outing in March 2009.
'The First Lady' still holds the same ambitions from when she first became a World ruler, and with a long camp behind her in Big Bear, California with new trainer Abel Sanchez, Braekhus is itching to get back into action and defend her belts in style.
"Finally we have a new fight date and I cannot wait to return to battle," said Braekhus. "It's been an extended camp in Big Bear with my new trainer Abel Sanchez and I'm very excited to defend my world titles against Jessica on August 15. I know how tough of a fight this is and will be well prepared for victory.
"Thanks very much to Abel, the Matchroom Boxing Team and Tom Loeffler for all of their support during these unique times. And to my fans in Norway, the United States and all over the world, thanks so much for continuing to inspire me, I hear you loud and clear."
It's fitting that McCaskill (8-2 3 KOs) marks the return of Matchroom Boxing USA on DAZN from the lockdown as the Chicago ace won her WBC World Super-Lightweight title in Hearn's first ever show on the groundbreaking streaming network in America in her hometown in October 2018 against Erica Farias.
'CasKILLA' went on to unify the division by taking the WBA crown from Farias fellow Argentine Anahi Sanchez in May 2019 in Maryland before putting both belts on the line in a rematch with Farias in her Windy City home, edging out her old foe via majority decision.
The 35 year old now meets the Norwegian superstar for the undisputed title in just her 11th fight, and McCaskill is determined to keep her fairytale story going and end Braekhus supremacy.
"I'm just looking to make history and shock the world as I usually do every time," said McCaskill. "I'm expecting to knock out Cecilia. I don't know what round, but this extra time we've got to train before the fight is definitely going to make us a lot sharper and a lot stronger and smarter overall.
I've been in the gym every day for multiple workouts and I can't wait to show what we've been working on."
Shakhram Giyasov continues to rise up the Super-Lightweight rankings and the Uzbekistan talent – one of three from the emerging boxing powerhouse under the spotlight in Matchroom Boxing's latest YouTube feature– defends his WBA International Super-Lightweight title against Francisco Rojo.
Giyasov (9-0 7 KOs) picked up the strap he defends in Tulsa in April 2019 with victory over Emanuel Taylor in California, and in his first defense certainly saw the boxing world stand up and take notice as he obliterated former World champion Darleys Perez inside 30 seconds of the fight.
The highly decorated amateur is ranked at number seven in the WBA and a second successful defense of his belt would move him into a great position to land a shot at the World title in the future.
"I'm very excited to defend my title on August 15 against Francisco Rojo," said Giyasov. "I know how tough of a fight this is and have already started training with Coach Diaz in Southern California to prepare for victory.
"Huge thanks to my team at World of Boxing and Vadim Kornilov along with Matchroom Boxing and DAZN for this tremendous opportunity."
Rojo (22-3 15 KOs) returns to action following a brief spell on the sidelines and looking to spoil Giyasov's rise. The Mexican has a wealth of experience from his 25 fight pro career, and the 29 year old is confident of causing an upset against the 26 year old.
"What a wonderful opportunity," said Rojo. "My gym is now open and I will be well prepared. I showed American fans I could fight when I fought Ryan Martin in Las Vegas and I'll remind them again when I beat Giyasov."
Three of Hearn's talented youngster's complete the line-up, and it promises to be a memorable night for amateur standout Marc Castro as he makes his pro debut alongside rising starlets Nikita Ababiy and Raymond Ford.
Hearn beat off fierce competition to ink a deal with Castro, with the 20 year old turning over with an amateur record of 177 wins and 7 losses with a stellar 48-1 record in international and national competition, and in addition to being a two-time Amateur World Champion, Castro is a 16-time National Champion, three-time National Silver Gloves champion, and two-time National Junior Olympics Champion.
I'm excited so start my professional journey to becoming a World champion," said Castro. "The extra time has just made me even hungrier to get my career going and I cannot wait to showcase what I will bring to the pro game."
Ababiy (8-0 6 KOs) fights for the ninth time in the paid ranks and for the first time since a controversial DQ win over Jonathan Batista at the Staples Center in Los Angeles gave 'White Chocolate' a sixth win inside the distance since turning pro as one of Hearn's first US signings in October 2018.
"I'm excited to light up that ring, it's been way too long," said Ababiy. "I've been working hard behind the scenes and I will be looking to steal the show on August 16 – White Chocolate is back!"
Ford (5-0 2 KOs) will taste his sixth action as a pro and for the 'Savage', it's a chance to unleash the frustrations of two-thirds of a year on the sidelines since the 21 year old from Camden, New Jersey recorded his second win inside the distance from his five pro fights to date in Phoenix in December 2019.
Due to injuries and this pandemic it will be eight months before I fight again," said Ford. "It feels great to finally get back in the ring. It's been hard during the pandemic, but I used this time to work on my craft and it made me go harder in the gym. On August 15 I will show the world why I'm the BEST prospect in boxing."
The announcement of Hearn's return to boxing in the States comes hot on the heels of the promoter releasing details of four stacked and ultra-competitive fight cards in Britain over four weeks in the unique setting of the grounds of the company's Essex headquarters.
Hearn is following that bold move with more ambitious plans for his American return, with the elite-level bill set to have a unique setting in Tulsa unveiled soon.
"We are ready to return in the States and just like Fight Camp in the UK, we plan to do things differently," said Hearn. "We are heading outdoors in Tulsa, Oklahoma and we're planning something unique and special for this double World championship header that should both thrill in the ring.
"Julio Cesar Martinez is a beast and one of the most exciting World champions in boxing. It's Mexico v Puerto Rico as he faces mandatory challenger McWilliams Arroyo in a guaranteed thriller. In the co-main event, we stage the Undisputed Welterweight championship between Cecilia and Jessica which promises to be an electric pace between two great champions.
"Beneath them, 'Wonder Boy' Shakhram Giyasov steps up the gears as he homes in on a 140lbs World title shot and US amateur sensation Marc Castro makes his professional debut. Rising US stars Nikita Ababiy and Raymond Ford step up the opposition as they continue their rise to the top."
Check out more boxing news on video at The Boxing Channel 
To comment on this story in the Fight Forum CLICK HERE