Ailing Marv Marinovich Should Have Realized He Had a Son, Not a Science Project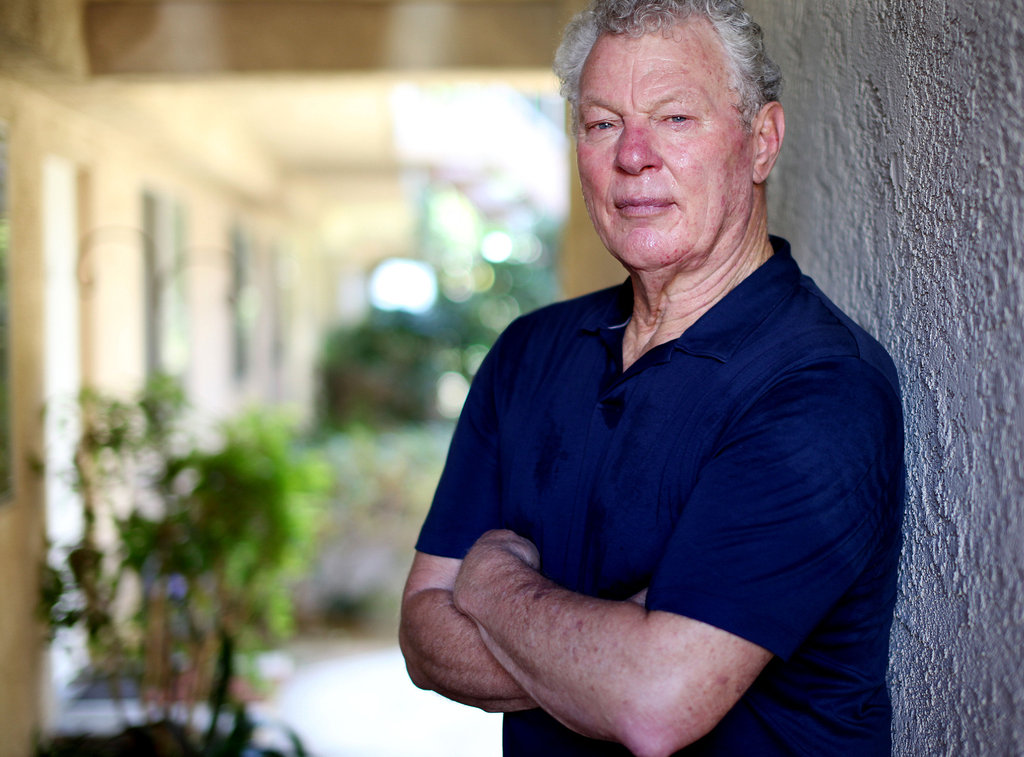 The father, now 79, has a memory being wiped slowly clean by the ravages of Alzheimer's disease, so perhaps he remains oblivious to the horrific damage done to his family by his selfish if perhaps well-intentioned plan for creating an athletically flawless son. Then again, human history should have alerted Marv Marinovich to the folly of conducting scientific experimentation in flesh and blood, an exercise in self-aggrandizement periodically repeated by tyrants and madmen who thought it was all right for them to attempt to play God. The difference is that slaveholders intent on breeding their fittest specimens like cattle, and Hitler's blueprint for creating a master race through a form of mass murder known as ethnic cleansing, did not involve the ongoing infliction of abuse and paralyzing pressure upon someone the obsessed experimenter purported to love more than anyone or anything.
Maybe Marv Marinovich really has loved his son, Todd, now 49, whom the father was always intent, even before his wife's pregnancy, on making not just into a quarterback, but one crafted over time to someday represent perfection at the position. But it was not simply for Todd Marinovich's own sake that so much time, effort and money was poured into an ultimately failed project; the companion goal all along was for Marv to be recognized and hailed as the genius he imagined himself to be.
The sad, tragic saga of the Marinoviches has been examined at length at various stages, through alternating moments of giddy highs and plunging lows. But the full extent of what went wrong has been laid bare in the current issue of Sports Illustrated, in a lengthy article authored by Michael Rosenberg. Entitled Learning to be Human, it is a follow-up to a similar SI story, Bred to be a Superstar, that appeared in the magazine's Feb. 22, 1998, issue. Twenty years ago some particulars of Todd's slide from grace, a downward spiral that saw him go from a first-round draft choice of the then-Los Angeles Raiders in 1991 (he was selected ahead of some guy named Brett Favre) and even deeper into drug addiction, were mentioned, but so too were elements of the big lie that still persisted at that time. If Todd had not capitalized as much as he might have on the advantages afforded him by his tunnel-visioned and deep-pocketed father, then at least some of the blame had to be his own fault, right?
Genetically well-suited for the kind of success plotted by Marv (more on that later), and relentlessly poked and prodded by the 14 specialists employed by the father, including biochemists and psychologists, to help squeeze out every ounce of the kid's performance potential, Todd eventually was done in by a more gentle side of his nature.  An introvert, he liked football well enough, but he found a more satisfying way of expressing himself through his fine art studies at USC.  Then again, Marv hadn't set out to create an improved version of Picasso or Monet, and try as he might no amount of parental bullying was going to instill into the son the same competitive fire that was forever raging inside Daddy Dearest's internal blast furnace. It therefore should not have come as a shock to the psychologists on Team Todd that the young man nicknamed "Robo QB" began self-medicating himself in high school with all manner of pharmaceutical substances, eventually graduating from marijuana to cocaine, LSD and heroin while at USC.
As recently as eight years ago, an emotionally wrecked Todd still was delusional enough to parrot the key element of the big lie, that he had been a willing and even eager participant in a joint venture with his control-freak father that hadn't really been foisted upon him since birth. "Someday people will realize what a genius you are," Esquire quoted him as telling Marv.
But now those segments of the big lie that haven't already been exposed as false are being revealed for what they were. The oft-repeated mantra that Todd had never consumed any unhealthy fast foods, carbonated beverages or desserts with refined sugar? The kid greedily gorged on Big Macs and Oreos slipped to him on the sly by his maternal grandparents, who wanted the boy to enjoy some small semblance of a "normal" childhood denied him by the son-in-law they also had come to fear. The whopper of a mendacity that Marv, under the guise of raising his only son with a brand of tough love that never crossed the line into brutality? The reality was that Marv smacked Todd around as if he were a sparring partner who was never allowed to strike back or even brook dissent. All it took to initiate a beating was for Marv to determine that Todd had not performed perfectly in that particular day's practice or game, and he never did, at least not to his demanding father's satisfaction.
As the father of two children that he fears he never will be able to raise as well as he knows he should, given that his own life is a perpetual morass of personal weaknesses and jagged scars upon his psyche, Todd at least has come to terms with the realization that continuing to repeat the big lie does no one any good. He now describes his father as a "raging beast" whose dictums he was powerless to reject or resist.
Only some of the facts of the Marinoviches' tortured relationship were available to me when I interviewed Marv, who then was training MMA superstar BJ Penn, in advance of Penn's main-event bout against Kenny Florian for UFC 101 on Aug. 8, 2009, the first such event to be held in the Wachovia (now Wells Fargo) Center in Philadelphia. Penn – who forced Florian to tap out on a rear-naked choke hold in the third round – was effusive in his praise of Marv's somewhat unorthodox techniques.
"Everything happens the way it should. If I had won my last fight (a fourth-round stoppage loss to Georges St. Pierre in UFC 94 on Jan. 31, 2009), I probably wouldn't have wound up with Marv," Penn said. "But being that I did lose, I started thinking about going in another direction. I was frustrated; some people were beginning to question my desire.
"Then some buddies of mine introduced me to Marv, and it's like losing my last fight was a blessing in disguise. I've always trained hard, but I trained like everyone else trained. Marv has opened my eyes to a different way, a better way."
The Marv I interviewed then – by phone, as he had not traveled to Philadelphia with Penn – did not come across as a raging beast. Then again, Penn was merely his client, not the son whom he was doggedly determined to make over into his own image.
"BJ had some definite physical weaknesses," Marv pointed out. "If you compete with weak links, you have to compensate and maybe even overcompensate for those problem areas. It can lead to injuries and stamina issues. Without question it can and does affect overall efficiency.
"They say athletic training in the past was prehistoric. I think it's still prehistoric. Coaches in all sports – basketball, football, baseball, whatever – still believe the ability to lift heavy weights slowly is going to make you explosive and fast and increase limb speed. Nothing can be further from the truth. That's why you don't see boxers do traditional weightlifting. All that does is slow down the rate of muscular contraction. Bench-pressing, squatting and dead-lifting not only puts your body out of balance, it destroys limb speed. If you want to jump high and run fast, lifting heavy weights is not the answer. But people over here (in America) still think that it does. You've got strength-and-conditioning coaches all over the country who cling to the old methods."
The training methods espoused by Marv Marinovich leaned heavily toward those devised by his counterparts in Soviet Bloc countries, which is hardly surprising. His over-the-top obsessive-compulsive personality might owe in large part to genetic makeup; his Croatian grandfather, J.G. Marinovich, is said to have been in the Russian Army and overseen the battlefield amputation of his own arm. Marv thus was raised to believe that he was from a line that was tougher than tough, so therefore his mission in life was to perpetuate the family tradition of absolute dedication to whichever task its members sought to undertake. And for Marv, the path to the higher purpose that defined his existence was on a football field. He was a starting guard on the USC Trojans' undefeated national championship squad in 1962, a relentlessly driven and vocal leader so intense that his teammates voted him "most inspirational."
It hardly mattered to Marv that his own NFL career with the Oakland Raiders lasted only three disappointing seasons and was marked by frequent injuries stemming from overtraining. He simply would funnel all the hopes and ambitions he once reserved for himself into the son he knew would be special, having specifically selected a USC swimmer, Trudi Fertig, as his bride not only because of her athletic  makeup but because she was the sister of his Trojans teammate, quarterback Craig Fertig. How could Marv's yet-unborn son be anything but great with all that going for him, and especially with the expert technical assistance Marv planned to introduce into the child's upbringing?
"It's very sick," Marv's other child, a daughter, Traci, whom he shamefully neglected while solely focusing on Todd, said of a dysfunctional family dynamic that saw the father's volcanic temper erupt with disconcerting regularity. It was one thing for Marv to lash out at strangers with balled fists, quite another when he took out his frustrations on Todd and Trudi, whom he once picked up and threw across a room onto a dining room table. The couple divorced in 1985.
So immersed in the notion of athletic dominance within his family circle was Marv that, when Traci got married in 1988, he refused to give her away and almost skipped the ceremony. His objection: Traci's fiancé, Rick Grove, was not athletic enough. Marv even refused to shake his new son-in-law's hand, or to be there for the births of the three children that Traci bore.
Imitation being the most common form of flattery, you have to wonder what might have been the result had an undamaged Todd blossomed into the superstar quarterback he was supposed to become instead of the drug-addled head case that now stands as a cautionary tale to all fathers who might otherwise be inclined to follow the Marv Marinovich playbook in the raising of their children. Even as Todd was refining his footwork and arm-angle release of his passes under the watchful eye of the experts brought in by Marv, the Robo QB was emotionally coming apart at the seams, an inevitable dissolution which must have been apparent to everyone but his father. Todd played only eight unspectacular games over two seasons with the Raiders prior to his release, and in 2004 the editors of ESPN.com placed him fourth on their list of all-time sports flops. One ESPN columnist absolved Todd of at least some of the blame, chastising Marv, with ample justification, as one of the worst sports dads ever.
While the road to ruin trod by the Marinoviches – forget football stardom, Todd may never become a fully functional human being and the Alzheimer's-stricken Marv no longer can bathe himself without assistance or control his bodily functions – represents something of a worst-case scenario, theirs is a story that was, is and again will be played out by others, more than a few of whom have ties to boxing. It is a fine line that separates necessary commitment to the achieving of a goal and borderline insanity, and examples of those who tight-rope walk along that border are legion.
The pitched battles between International Boxing Hall of Famer Wilfred Benitez and his trainer-father, Gregorio, are the stuff of legend and caused Teddy Brenner, the late, great matchmaker at Madison Square Garden, to weigh in on a topic of eternal interest. Just who does or should run the show once a son, so used to acquiescing to his father's unyielding discipline, decides he must live his own life?
"I've noticed it since (Wilfred) won the title and people began to pat him on the back and he realized he was an individual," Brenner said. "Rebellion sets in. It happens all the time in the boxing business between father and son. Never fails."
Former heavyweight contender Gerry Cooney, now 62, had an ironworker father, Tony, whose  implementation of parental authority was nearly as stern as Marv Marinovich's, minus the bloated crew of technical advisers. Author Charles Euchner, in an article entitled The Rise, Fall and Redemption of Gerry Cooney, examined the conflict faced daily by young Gerry, a gregarious sort who long sought the love of his dad, who either chose not to acknowledge his son's needs or didn't know how to.
"Sons with troubled relationships with fathers struggle to develop their own identity," Euhner wrote. "They desperately want attention and approval, but they also want separation and independence. When they get too far away, they veer back toward their dads, no matter how much pain they get for the effort."
Said Cooney, of his subsequent battles with depression, alcoholism and drugs, twisted relationships and squandered possibilities: "(Tony) would belt me with his hands, his belt. How do you do that to your kids? He drank and was very physical. He kept us under control. He kept us (Gerry is one of Tony's eight kids, including three brothers) separated. We all had different hiding places. Mine was in the basement."
It is a terrible thing when a bond that should have been based in love takes on the trappings of hatred, even if the end result is not always totally negative. Rosalio Pacquiao, father of Manny, took his son's dog away from him, cooked it and ate it in front of him, inciting a traumatized Manny years later to run away on a ship headed to Manila where he turned to boxing; Fernando Vargas and James Toney so detested their absentee fathers that they imagined every opponent to be the man who had abandoned them, further fueling their desire to inflict beatdowns; and Shane Mosley, Roy Jones Jr. and Floyd Mayweather Jr. all fired their trainer-dads.
Nor is Marv Marinovich's smothering obsession a detrimental trait exclusive to fathers who were absent the day patience, understanding and compassion were handed out. Masha Godkin, now a psychologist specializing in counseling performers, remembers what it was like to be constantly dragged to auditions by a stage mother who wanted to live out her dreams through a daughter who simply wanted a regular childhood.
"I felt if I didn't get roles, I wasn't good enough," Godkin said. "Everything revolved around pleasing my mother. She wanted to be an actress. She assumed I did, too."
Few if any magazine articles about sports are as significant as the one about the Marinoviches. After all, what is the most important job any man can have? President of the United States? Well, maybe. But with the possible exception of confirmed bachelors with playboy tendencies, for most males it is the linked responsibilities of being a husband and father. As the former for 50 years, and the father of four children (two sons and two daughters), I know I have not fulfilled those duties as well as I might have, but I hope to God I have met at least an acceptable standard in each instance. Both my sons are around Todd Marinovich's age. I count myself fortunate that they sought and found their own path, and not one I attempted to force upon them.
Bernard Fernandez is the retired boxing writer for the Philadelphia Daily News. He is a five-term former president of the Boxing Writers Association of America, an inductee into the Pennsylvania, New Jersey and Atlantic City Boxing Halls of Fame and the recipient of the Nat Fleischer Award for Excellence in Boxing Journalism and the Barney Nagler Award for Long and Meritorious Service to Boxing.
Check out more boxing news on video at The Boxing Channel
To comment on this article in The Fight Forum, CLICK HERE
Results from Auckland: Parker UD 12 Fa; Ahio KO 7 Long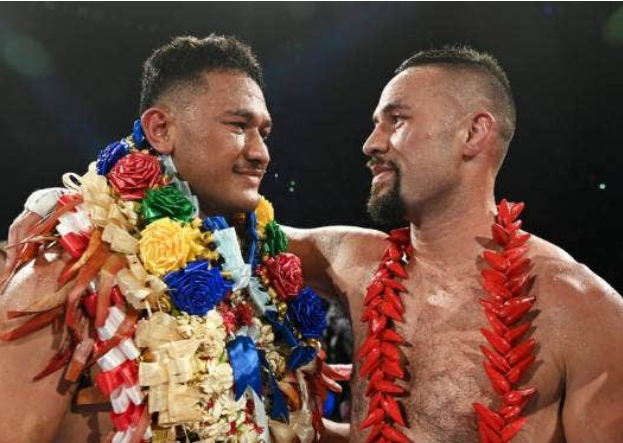 New Zealand heavyweights Joseph Parker and Junior Fa met four times as amateurs and each man won twice. On Saturday night in Auckland, they met for the first time as professionals and the heavily favored Parker broke the deadlock with a 12-round unanimous decision.
The bout beat the clock, in a fashion. During the match the crowd at the waterfront arena, estimated at 8,500, was informed that Auckland was reverting to Phase Three effective at 6:00 in the morning, following the discovery of a new Covid-19 infection. That meant, among other things, that public gatherings would be restricted to 10 people and schools would be open only to the children of essential workers.
The fight was a rather drab affair in which both men had trouble landing clean punches, perhaps owing partly to ring rust. Parker (28-2, 21 KOs) was making his first start in 12 months; Fa (19-1, 10 KOs) had been inactive since November of 2019.
Parker, the former world title challenger who went the distance with Anthony Joshua, had the upper hand in the early rounds and opened a small cut over Fa's left eye in the seventh round, perhaps the result of an errant elbow. The cut became larger and bled profusely as the bout continued but it was never in danger of being stopped.
Parker had a worried look on his face as he awaited the reading of the scores, but he had nothing to fear. The judges had it 115-113, 117-111, and a head-scratching 119-109.
After the fight, Parker said, "It was a lot closer than we expected."
Ahio vs. Long
The undercard was rubbish, but the Ahio-Long fight warrants a mention. A stablemate of Junior Fa, Hemi Ahio improved to 17-0 (12) with a wicked seventh-round knockout of Julius Long who was thoroughly gassed when Ahio caught him against the ropes and landed his haymaker. They had previously met in a 6-round affair that went the distance.
If the name Julius Long sounds vaguely familiar, that's because he's been around since 2001. Listed at seven-foot-one but likely an inch or two shorter, the boxer nicknamed the Towering Inferno came to New Zealand in 2013 to serve as a sparring partner for David Tua and never left.
Nearly 15 full years have elapsed since Long was whacked out in the opening round by Samuel Peter on a Duva Promotions card at Connecticut's Mohegan Sun Casino.
George Kimball was ringside for TSS and described the scene: "The overmatched Long had already been down once when Peter smashed him with a left-right combination…(Long) hit the ropes with such force that he shot back off them like he was bouncing from a trampoline. Unfortunately for Long, the slingshot effect propelled him straight into the path of the right hand Peter had dispatched toward his head, effectively doubling the force of the blow. Long went down as if he had been whacked with a sledgehammer and lay motionless on the canvas. Referee Arthur Mercante Jr waved it off without a count, but he could have counted to 100."
Long is now 43 years old. Since his crushing defeat by Samuel Peter, he is 4-17-1 and counting his defeat last night has been stopped seven more times. For his rematch with Akio, he weighed in at 326 ¾ pounds, more than 100 pounds more than his opponent.
In his adopted home, Julius Long, who grew up in Detroit, is a qualified chef, an occupation that requires an apprenticeship and many hours of training. He supplements his income moonlighting as a freelance prizefighter. By all accounts, he's a very likeable man, but someone needs to take away his boxing gloves and burn them.
Check out more boxing news on video at the Boxing Channel
To comment on this story in the Fight Forum CLICK HERE
The Winning Purse Bid for Teofimo's Next Fight has the Boxing World Buzzing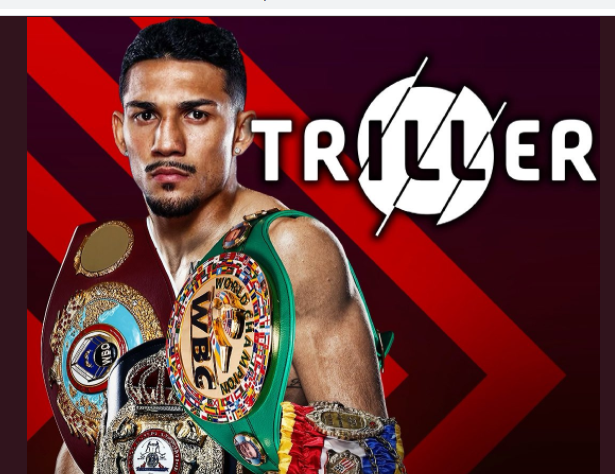 The big buzz this week in boxing was the enormous fee ponied up by the video-sharing, social-networking service Triller to lasso Teofimo Lopez's lightweight title defense against IBF mandatory challenger George Kambosos. Triller didn't merely out-bid Eddie Hearn's Matchroom and Bob Arum's Top Rank, but out-bid them by a whopping margin. Triller's purse bid was $6.02 million compared with $3.51 million for Matchroom and $2.32 million for Top Rank.
Triller's initial venture into boxing was the Nov. 28, 2020 show at the Staples Center in Los Angeles, a three-hour boxing and music festival, the centerpiece of which was an 8-round exhibition between 55-year-old Mike Tyson and 51-year-old Roy Jones Jr. There were four legitimate supporting bouts — legitimate in the sense that the competitors were active professional boxers – plus a freak fight between YouTuber Jake Paul and former NBA point guard Nate Robinson.
When the event was announced, it was panned by hard-core boxing fans, but it was slickly promoted and received a considerable amount of ink from both mainstream sports and gossip magazines. At a list price of $49.99, the event purportedly attracted 1.8 million pay-per-view buys which translated into a gross profit of more than $80 million. The honchos at Triller gambled that folks were still infatuated with Mike Tyson, an astute apprehension, but hedged their bets by conjoining the exhibition with non-traditional boxing fare and they came out a big winner.
Tyson vs. Jones was a pop culture event and the shebang itself, noted Thomas Hauser, was best understood as an infomercial. Triller's core demographic is urbanites aged 15 to 27, the so-called hip-hop generation, and the company is playing catch-up in a fierce two-horse race for market share with China-based TikTok, an Internet phenomenon.
The driving force behind Triller is 47-year-old Hollywood hustler Ryan Kavanaugh who made it big with Relativity Media, a firm that arranged financing for movie projects, but left a few bodies in its wake. The firm filed for Chapter 11 bankruptcy in 2015 and again in 2018.
Kavanaugh's business dealings came under scrutiny again this month when Universal Music Group, the world's largest record company, pulled its catalog from Triller because Triller wasn't paying its artists. In its response, Triller noted that many of the top earners in MSG are shareholders in Triller. Triller's most prominent shareholder is rapper Snoop Dogg whose waggish commentary for the Tyson-Jones exhibition was widely hailed as the highlight of the telecast.
When the Teofimo vs. Kombosos match was announced, it was immediately speculated that it would be hinged to another Mike Tyson exhibition, perhaps against his nemesis Evander Holyfield. Kavanaugh insists that won't happen. As for the date and location, that too is up in the air with the best guess being that it will be anchored in Miami, likely in May. It can't happen in Australia, where Kambosos resides, unless the authorities relax the rule that requires visitors to quarantine for 14 days upon arriving in the country.
The deal with Triller may mark the end of Teofimo's partnership with Top Rank. If so, Bob Arum is nonplussed. By rule, Teofimo Lopez, as the defending champion, is entitled to 65 percent of the purse. He is contractually obligated to give Top Rank 20 percent, nearly $800,000. Lou DiBella, who promotes George Kambosos, also comes out a big winner.
Who is George Kambosos?
The headline in an English-language, on-line publication directed at the Greek community reads "Undefeated Greek boxing sensation…." That's over the top. In the click-bait era, words like "sensation" have wide currency.
Kambosos, born and raised in Sydney, Australia, of Greek ancestry (his grandparents are from Sparta) is indeed undefeated: 19-0 (10 KOs). But until recently he was best known as Manny Pacquaio's sparring partner. He worked in three of Pacquiao's camps and, by his reckoning, sparred about 250 rounds with the Filipino legend.
Kambosos won his last two fights by split decision. On Dec. 14, 2019, he outpointed former IBF world lightweight champion Mickey Bey at Madison Square Garden. On Oct. 31 of last year, he outpointed former IBF featherweight champion Lee Selby at Wembley Arena. Neither bout was the featured attraction. Kambosos vs. Bey was underneath Terence Crawford vs. Egidijus Kavaliauskas. Kambosos vs. Selby was the chief supporting bout to the heavyweight contest between Oleksandr Usyk and Dereck Chisora.
Kambosos punctuated his win over Bey with a knockdown in the final round, but would have prevailed without it. There was no controversy when his hand was raised. Similarly, his triumph over Selby was generally well-received although few fans would have quibbled if the match had been scored a draw.
In a 2019 interview, Freddie Roach said of Kambosos that he was very quick with hand-speed on a par with PacMan. The biggest difference between the two, said Roach, was Pacquiao's superior footwork.
Roach may have been diplomatic when he said that the Aussie had the potential to go all the way as Kambosos will be a big underdog when he steps into the ring against Teofimo Lopez who figures to close in the 12/1 range. And the pre-fight pub will be all about Teofimo, in common with the Tyson-Jones exhibition where all the pre-fight hype was about Iron Mike.
—
This reporter bumped into Mickey Bey yesterday afternoon. Bey noted that he was hampered going into his fight with George Kambosos as he did not have the benefit of a full training camp. He took the fight on three-and-a-half weeks notice and had been out of the ring for 14 months.
The personable Bey, who is transitioning to the role of a trainer, waxed euphoric about Devin Haney who he regards as a once-in-a-generation talent. "I really believe he has a chance to surpass Floyd," he said, referencing Floyd Mayweather's 50-0 mark. "Haney is better right now than Floyd was at the same age."
That's open to debate, but Devin Haney, currently 25-0, is halfway there and he's only 22 years old. Whether he stays at 135 or moves up to 140, he will have to run through a gauntlet to get through the next few years unscathed. Both divisions are brimming with talent.
Check out more boxing news on video at the Boxing Channel
To comment on this story in the Fight Forum CLICK HERE
Avila Perspective, Chap 125: Canelo and other 4-Division Title-holders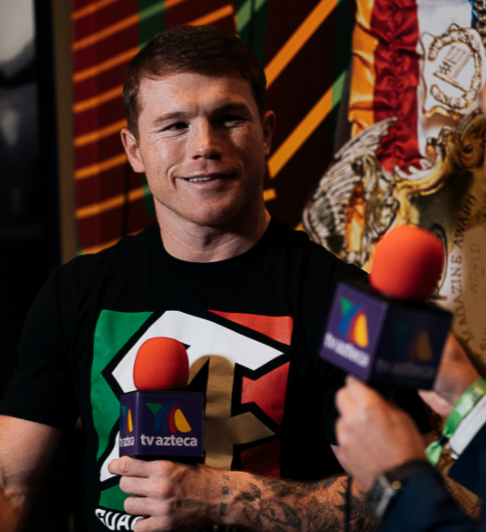 Mexico's Saul "Canelo" Alvarez (54-1-2, 36 KOs) defends the WBA and WBC super middleweight titles against Avni Yildirim (21-2, 12 KOs) on Saturday Feb. 27, at the Hard Rock Stadium in Miami, Florida. DAZN will stream the fight card.
For the second consecutive week a four-division world champion performs.
"I always imagined the best for myself but never to this magnitude," said Alvarez, 30. "I want to keep making history."
Last week four-division titlist Adrien "The Problem" Broner returned to the boxing ring after a two-year absence and defeated Jovanie Santiago by unanimous decision. It was a battle designed for Broner to shake off the cobwebs developed since his prior fight against Manny Pacquiao.
Fans forget Broner captured world titles in four divisions. It's quite an accomplishment for any fighter to win world titles in multiple divisions. For a fan to deride or devalue either Broner's or Canelo Alvarez's accomplishment of four-division world titles means only one thing said one true expert:
"They don't know s*** about boxing," said the late great Roger Mayweather. His words and overall boxing wisdom remain strong in my memory.
One of my goals whenever I hit Las Vegas in the past was to visit two-division world champ Roger Mayweather. If you ever had a chance to converse with any of the Mayweathers you know what I mean; they have deep-rooted knowledge about the history of the fight game.
Once at the Top Rank Gym, probably around 2007, I was chatting with Mayweather in the office with another boxing writer who was discrediting Oscar De La Hoya's accomplishments as a multi-division world champion.
Mayweather straightened up from his chair and looked dead in the guy's eyes and said to the writer "you ever fight in the ring?"
The writer shook his head.
Mayweather waved both his hands at him and said his now legendary line "you don't know s*** about boxing." He further explained that anytime you win a world title is a big thing. And if you win world titles in multiple divisions well that's super human. He called them special fighters. They don't come along very often.
Roger Mayweather passed away last March 17. It was a great loss to the boxing world. I'll never forget his words on multiple-division winners. Mayweather captured world titles in the super featherweight and super lightweight divisions. If you consider the IBO title legitimate, Mayweather also won the welterweight title.
I can imagine Mayweather telling today's fans and writers that they don't know boxing if they think winning world titles in four divisions is nothing.
Roger Mayweather was one of the smartest boxing people I ever met and one heck of a fighter who sold out venues like the Inglewood Forum. As trainer for "Money" Mayweather he was very under-rated in my opinion. And gone too soon.
More Broner and Alvarez.
The first world title achieved by Broner was the WBO super featherweight title by knockout of Vicente Rodriguez in November 2011. Then he moved up a division and defeated Mexico's super tough Antonio DeMarco for the WBO lightweight title by stoppage in November 2012. Broner jumped up again in weight to challenge Paul Malignaggi for the WBA welterweight title and squeaked out a split decision over the Brooklyn fighter in June 2013. After losing to Marcos Maidana in December 2013, he dropped down to super lightweight and defeated Khabib Allakhverdiev for the WBA world title by technical knockout in the 12th round October 2015. He eventually lost a version of the title by decision to Mikey Garcia on July 2017.
At 30 years old, Canelo has now entered his prime years. He grabbed his first world title in March 2011 beating Ricky Hatton for the WBC super welterweight title. He lost that title to Floyd Mayweather in 2013. Not until November 2015 did he move up to take the WBC middleweight title from Miguel Cotto. Alvarez then fought Gennady Golovkin twice, and Julio Cesar Chavez Jr. before moving up to win the WBA super middleweight title from Rocky Fielding in December 2018. Then Canelo moved up to light heavyweight in November 2019 and knocked out Sergey Kovalev.
Alvarez now has won four division world titles like Broner and is poised to defend the super middleweight titles against Yildirum on Saturday. Two months ago, Alvarez handed Callum Smith his first professional defeat while taking away his WBA title and adding the WBC. The Mexican redhead continues to make history.
"It's really important for me to leave a legacy in this sport," said Alvarez. "There are still many milestones I have to achieve."
Four-Titles or More Club
Among those with four or more division world titles are:
Leo Gamez (1985-2005) minimum weight, light flyweight, flyweight, and super flyweight
Jorge Arce (1996-2014) light flyweight, super flyweight, bantamweight and super bantamweight.
Roman Gonzalez (2005-present) minimum weight, light flyweight, flyweight and super flyweight
Nonito Donaire (2003-present) flyweight, bantamweight, super bantamweight and featherweight
Miguel Cotto (2001-2015) super lightweight, welterweight, super welterweight and middleweight
Juan Manuel Marquez (1993-2014) featherweight, super featherweight, lightweight, and super lightweight.
Erik Morales (1993-2011) super bantamweight, featherweight, super featherweight and super lightweight
Pernell Whitaker (1984-2001) lightweight, super lightweight, welterweight and super welterweight
Roberto Duran (1968-2001) lightweight, welterweight, super welterweight and middleweight
Roy Jones Jr. (1988-present) middleweight, super middleweight, light heavyweight and heavyweight.
Five-Titles Club
Sugar Ray Leonard (1977-1997) welterweight, super welterweight, middleweight, super middleweight and light heavyweight
Tommy Hearns (1977-2006) welterweight, super welterweight, middleweight, super middleweight, light heavyweight
Floyd Mayweather Jr. (1996-present) super featherweight, lightweight, super lightweight, welterweight and super welterweight
Naoko Fujioka (2009-present) minimum weight, light flyweight, flyweight, super flyweight and bantamweight.
Six-Titles Club
Oscar De La Hoya (1992-2008) super featherweight, lightweight, super lightweight, welterweight, super welterweight and middleweight
Seven-Titles Club
Amanda Serrano (2009-present) super flyweight, bantamweight, super bantamweight, featherweight, super featherweight, lightweight and super lightweight
Eight-Titles Club
Manny Pacquiao (1995-present) flyweight, super bantamweight, featherweight, super featherweight, lightweight, super lightweight, welterweight, and super welterweight
Straw Stirrers
New WBC super featherweight titlist Oscar Valdez joined the unique list of fighters who are in position to dictate their respective weight divisions in a big way. I call them the straw stirrers or to mimic New York Yankee great Reggie Jackson's famous quote "the straw that stirs the drink."
Valdez's knockout win over the heavily favored Miguel Berchelt last week to win the WBC world title was one of those moments that captivates the world on multiple levels:
First, Valdez was not supposed to win according to the experts. Second, his emphatic one-punch knockout win via the vaunted Mexican left hook was a moment that will be viewed more than a million times on YouTube.com. Third, the super featherweight division is crackling with talent and gate attractions like Jojo Diaz, Jamel Herring, Tevin Farmer, Carl Frampton, Leo Santa Cruz, Vasyl Lomachenko and Shakur Stevenson. And if Valdez seeks an even bigger payday he can move up one division where he will definitely find big money guys like Gervonta Davis, Ryan Garcia, Devin Haney, and the other straw stirrer Teofimo Lopez.
At the moment, Valdez holds the key to stirring the super featherweight drink.
Fights to Watch
Sat. 5 p.m. FOX Anthony Dirrell (33-2-1) vs Kyrone Davis (15-2).
Sat. 5 p.m. DAZN Saul Alvarez (54-1-2) vs Avni Yildirim (21-2).
Check out more boxing news on video at the Boxing Channel
To comment on this story in the Fight Forum CLICK HERE