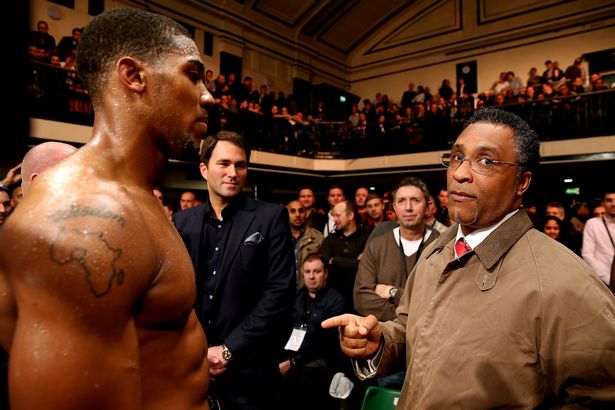 Heroes put others first. Heroes sacrifice—sometimes with their lives.
NFL player Pat Tillman was not a boxer but he was a legitimate hero having been killed in Afghanistan under especially tragic circumstances. Notre Dame's Rocky Bleier, having been drafted, survived the Vietnam War but was badly wounded twice on a mission to extract wounded and dead. He went on to a successful football career with the Pittsburgh Steelers. The highly decorated Don Steinbrenner and Bob Kasul, the only professional football players to have been killed in action in Vietnam, were not so fortunate.
Stephen Williford, a 55-year-old plumber, chased down and caused the demise of a mass shooter in 2017 who had just slaughtered 26 people in a Sutherland Springs, Texas church. Stephen Williford was a hero.
When Egypt's Anwar Sadat and Israel's Menachem Begin reached for each other to negotiate a peace treaty, they both became instant heroes not to mention Nobel Peace Prize winners. Both put others first. Sadat would pay with his life.
Martin Luther King Jr. lived his life in an heroic manner and so did Nelson Mandela and Steve Biko as they fought Jim Crow and apartheid, respectively. Dr. King and Steve Biko paid dearly. JFK also paid, suggesting that heroes seldom live a full life.
Some names are automatically associated with heroism such as Jesse Owens who won four gold medals in the 1936 Olympics. However, when a boxer is referred to as a hero, far more often than not this label is being misused.
Boxing
When Joe Louis destroyed Max Schmeling in their rematch in Yankee Stadium on June 22, 1938, the fight carried with it major international implications. It was more than just a fight and Joe became America's hero. Poor Max really wasn't the enemy at that time but he was perceived as such and perception is often a big part of reality.
Prominent boxing writer Nigel Collins summed it up nicely:
"The fight also fanned the flame of hope that was lit for millions of black Americans when Louis first became champion. There was no instant paradigm shift in race relations, but the second Schmeling fight and Louis' lengthy and highly successful reign nudged more and more people into reconsidering their view of their black brothers and sisters. If nothing else, Louis gave people a reason and an opportunity to change."
                                                         ***************
"After World War II, everything in life is a cakewalk."- Danny Nardico
There are many perceived heroes in boxing, but relatively few real ones. The spectacle of muscular Danny Nardico and Charlie Norkus engaging in one of the greatest Pier Six brawls in history belied the fact that each was a veteran and one, Nardico, was highly decorated. Here were two ex-Marines, both possessing paralyzing power, meeting in Miami Beach in 1954 and there was palpable anticipation of a great fight. What the fans got went well beyond that.
                                                          ***************
Muhammad Ali's refusal to be drafted under arguments that were later affirmed by the Supreme Court gave him hero stature to many—but not all. Later, however, and as he moved to a centrist position in his beliefs, the heroism of what he did began to cast itself in history.
                ***************
"To be honest, a few months before I started training for the marathon, I could hardly walk across my bedroom without falling over."-Michael Watson
Michael Watson boxed in a fast and furious lane, along with Nigel Benn, Carl Thompson, and Chris Eubank, but Watson, known as the "Force," stood out, not just for his boxing achievements, which were considerable, but for something else. In an incredible back-and-forth classic with Eubank in 1991 (it was Britain's version of Hagler-Hearns) Watson, ahead on points, was nailed with a paralyzing uppercut and hit the back of his head against the second strand of ropes.
Fast forward.
The "Force" spent over a month in a coma, had six brain operations, and then spent over a year in intensive care and rehabilitation and six more grueling years in a wheelchair while he ever-so-gradually recovered some movements and regained the ability to speak and write.
No one really expected him to live, much less talk or write, yet against all odds he finished the London Marathon on April 19, 2003, capturing the hearts and emotions of an entire nation. As people wept in joy and urged him on, he walked six days. He reached his goal after twelve long years, too many operations and hospitals, and years in a wheelchair. But he trained for months and completed his goal of 26 miles and 385 yards.
If heroism is measured by an incredible fighting heart and the inspiration it spawned, then Michael Watson (pictured in 2013 with Anthony Joshua) is indeed a hero.
"Getting angry won't correct the past." – Watson
                  ***************
Cornelius Johannes "Corrie" Sanders, best known for beating Wladimir Klitschko in 2003 for the WBO heavyweight title, died in September 2012, the victim of a a shooting during an armed robbery at a restaurant in South Africa where he was celebrating his nephew's 21st birthday. The former champion heroically used his body to protect his daughter from the flying bullets. He was 46. Ironically, the S.A. headlines read "Ring hero Sanders killed." They might well have read "South African Ring great Sanders died a hero."
     ***************
Curiously, three-time world champion Bobby Czyz, now 56, carried the nickname "Matinee Idol," but Bobby has now hit some rough times. If someone in boxing would step up and help him, that someone just might be a real life hero. This holds true for many other ex-fighters who have stumbled along the way. Heroes are in short supply when it comes to helping ex-boxers, but there are some organizations that provide support. Iceman John Scully quickly comes to mind as someone out there helping ex-boxers find their way.
     ***************
The late Vernon Forrest embraced the value of giving back. A great boxer, he was also known for his humanitarian work for the non-profit and still thriving organization Destiny's Child. Vernon possessed great core values.
Former U.S. Olympic boxing team head coach Al Mitchell once said, "I really believe he's not going to be known for his boxing skills…I think he'll be known for the way he gave outside his sport. He was just an unbelievable person."
"He almost went broke," continued Mitchell. "He borrowed money to make it work. He never looked for a profit out of it. It was just something he did. Vernon's willingness to give back went beyond his former schools. He gave money to different gyms and boxing-related programs."
Vernon Forrest was special in many ways, He inspired people. There are few heroes out there but Vernon was one.
"The people I work with have been abused and neglected…These are people that society turned their back on. Everybody needs help and everybody needs love." Vernon Forrest
     ***************
Manny Pacquiao's rise from abject poverty and street urchin to Senator and idolized boxer in the Philippines is not heroic in itself but his giving back to his people makes him one of the few boxers who earned that stature. Yes, he went through a period of "wicked ways," but he has redeemed himself in those respects and has become the quintessential shooting star.
"One hundred million people now drop everything to watch him fight."
Can you think of other boxers– past or present– who meet your definition of a hero?
Ted Sares is one of the world's oldest active power lifters and Strongman competitors and may compete in the Ukraine in 2019. He is a lifetime member of Ring 10, and a member of Ring 4 and its Boxing Hall of Fame. He also is an Auxiliary Member of the Boxing Writers Association of America (BWAA).
Check out more boxing news on video at The Boxing Channel
To comment on this story in The Fight Forum, CLICK HERE
Avila Perspective, Chap 111: Munguia, Tank and The Monster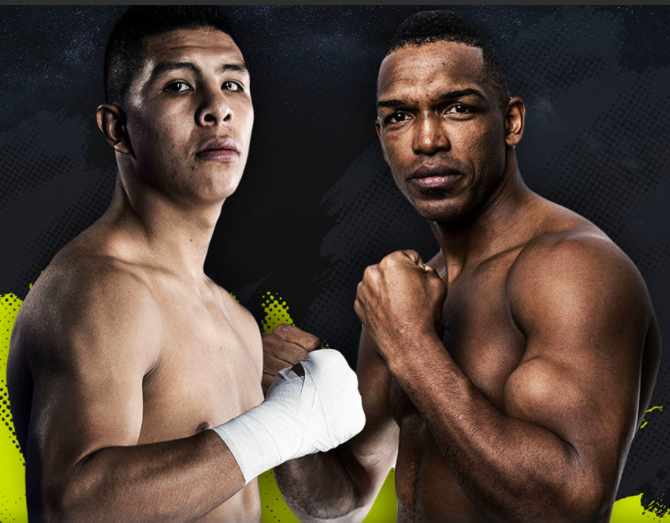 Avila Perspective, Chap 111: Munguia, Tank and The Monster
Here come some more hardcore fights.
As the end of the year approaches contracts must be honored. That's a good thing for fight fans even during a pandemic.
Golden Boy Promotions brings a loaded fight card led by Mexican swing-from-the-heels fighter Jaime Munguia (35-0, 28 KOs) moving into the middleweight division against Tureano Johnson (21-2-1, 15 KOs) at Fantasy Springs Casino in Indio, California. DAZN will stream the Friday night fight card on Oct. 30.
Munguia (pictured opposite Johnson) just recently turned 24 years old; a couple of weeks ago. The former super welterweight world titlist out of Tijuana grew out of the division and now is mentored by boxing great Erik "El Terrible" Morales. No more swinging at anything that moves. Now it's technical savagery.
Johnson, 36, hasn't fought in over a year but in that last fight he knocked off Ireland's undefeated Jason Quigley. That was not supposed to happen. The Bahamian native only has two losses and those were stoppages in the last round by Sergiy Derevyanchenko and Curtis Stevens. He has the technique, but does he have the chin?
Another savage battle involves welterweights.
New England's Rashidi "Speedy" Ellis (22-0, 14 KOs) faces Orange County's Alexis Rocha (16-0, 10 KOs) a hard-hitting southpaw in a showdown set for 12 rounds. Will it go that long?
Both have power and I doubt the fight goes beyond seven rounds. Both have ended fights in the opening rounds before. If someone blinks at the wrong time it could be over quickly.
Others on the card including super featherweight contender Lamont Roach and super middleweight prospect Bektemir Melikuziev. Also, female contenders Sulem Urbina and Marlen Esparza square off. Opening bout begins at 5 p.m. Pacific Time.
Crazy Saturday
A Matchroom Boxing fight card stemming from England showcases a Southern California-based world champion Oleksandr Usyk (17-0, 13 KOs) meeting Dereck Chisora (32-9, 23 KOs) in the heavyweight main event.
Usyk, now 33, just recently conquered the cruiserweight division and was undisputed world champion and now deigns to move up in weight where the money is much better fighting the big boys. He's a speedy Ukrainian southpaw who uses plenty of movement and has shocking power when he sets his feet.
Chisora, 36, has fought all of the top European heavyweights including another Ukrainian heavyweight named Vitali Klitschko. Though it hasn't always been violets and roses for Chisora, he does pack a wallop and if he catches Usyk it could be all over. But his feet are made of stone and he will have problems moving in rhythm with the fleet-footed Usyk.
A co-main event features lightweight contenders Lee Selby (28-2, 9 KOs) pitted against George Kambosos Jr. (18-0, 10 KOs) in a Great Britain versus Australia battle.
Two female bouts with extra power are also on the card as Savannah Marshall (8-0) battles Hannah Rankin (9-4) for the vacant WBO middleweight title; and Amy Timlin (4-0) meets Carly Skelly (3-0) in a battle of undefeated super bantamweights.
The fight card will be streamed on DAZN at 11 a.m. Pacific Time.
Showtime
World champions collide with three-division world champion Leo Santa Cruz daring to move up yet another weight division and challenge the ultimate danger in super featherweight and lightweight world titlist Gervonta "Tank" Davis for his titles.
Danger is written all over this Showtime pay-per-view card on Saturday Oct. 31.
Davis (23-0, 22 KOs) has yet to be truly challenged by anyone. Santa Cruz (37-1-1, 19 KOs) has always been a risk taker and could be going way over his limit against Tank.
"I'm facing the best fighter in the division. If you want to be the best, you have to beat the best. I have to go against the best fighter," said Santa Cruz. "I wanted to challenge myself. I know this is a dangerous fight for me, but I want to test myself."
If Santa Cruz is still standing after 12 rounds then a big salute to him. Davis won't allow that to happen. He's not a guy who looks to win by decision. Tank looks to knock opponents unconscious so he can take pictures of them asleep.
"I don't think I have to knock him out, I just have to go out there and be great. Forget everything else, I just have to go out there and show everyone that I'm the top guy in the boxing world. That's my main goal," said Davis.
Right.
It's not the only good fight on the card.
Mario Barrios (25-0, 16 KOs) defends the WBA super lightweight title against Ryan Karl (18-2) in the co-main event.
Also, on the same card Regis Prograis (24-1, 20 KOs) meets Juan Heraldez (16-0-1, 10KOs) in a super lightweight matchup. Whoever wins will probably meet Barrios for his title soon after. That's if Barrios beats Karl.
It's a boxing card that could see the end of the line for one or two of the fighters.
Monster and Mayer
Japan's Naoya Inoue (19-0, 16 KOs) defends the WBA and IBF bantamweight world titles against Australia's Jason Moloney (21-1, 18 KOs) at the MGM Grand Bubble in Las Vegas on Saturday October 31. It will be his Las Vegas debut and will be televised on ESPN+.
Inoue will be a big favorite and how can you blame odds makers when Moloney's only loss was to Emmanuel Rodriguez who was blown out by the Monster?
But you never know.
"There are a lot of expectations, and I want to meet those expectations. I take those big expectations, and I use them as motivation and power to keep getting better with every fight," said Inoue.
Inoue's last fight nearly a year ago was an epic clash against Nonito Donaire in a classic battle that saw both deliver bombs and take them in a 12-round fight that ended in a close but unanimous victory for the Japanese star.
Boy was it close.
Until the 11th round it was nip and tuck as Donaire proved why he is destined to be a surefire Hall of Fame inductee when he retires.
Both punished each other and during their confrontation it was evident that Inoue does indeed have a solid chin. One big question will be if Inoue took too much punishment and can he handle a rough customer like Moloney.
"Every fighter should want to fight the best. That's why we're in this sport. My dream and my goal is to be the best bantamweight in the world, and the only way to make that happen is to beat Inoue," said Moloney.
It should be an interesting match.
Also, female American Olympian Mikaela Mayer (13-0) challenges Poland's Ewa Brodnicka (19-0) for the WBO super featherweight world title. Expect no quarter given by Mayer who has been gunning for a title challenge for the past two years with most of the titleholders in Europe ignoring her.
Brodnicka expects a tough fight.
"I have a lot of things against me. But I'm ready. I don't care if she says that she doesn't respect me. She makes a lot of mistakes, and I'm going to take advantage of all of them," Brodnicka said.
Mayer is not in a good mood.
"I have been calling out the champs for a while. It's been something I feel like I've been ready for a few fights, but now in hindsight looking back, I think everything worked out perfectly. Like Bob Arum said, I've had some really great fights, and I've really been able to settle in to my pro style. I'm more ready than ever to take on these world champions. I feel like I'm the best in this division," said Mayer.
Sunday
A Sunday afternoon boxing card by Thompson Boxing Promotions takes place at the Omega Products International in Corona, CA but will not include fans.
Undefeated lightweights Mike Sanchez (6-0-1, 2 KOs) faces Israel Mercado (8-0, 7 KOs) in the main event on Sunday Nov. 1. It will stream on Thompson Boxing Promotions web page and also on its Facebook page beginning at 4 p.m. PT.
Go to this link to watch the fight card: www.thompsonboxing.com
Check out more boxing news on video at the Boxing Channel 
To comment on this story in the Fight Forum CLICK HERE
Usyk vs. Chisora Sets the Table for a Strong Night of Boxing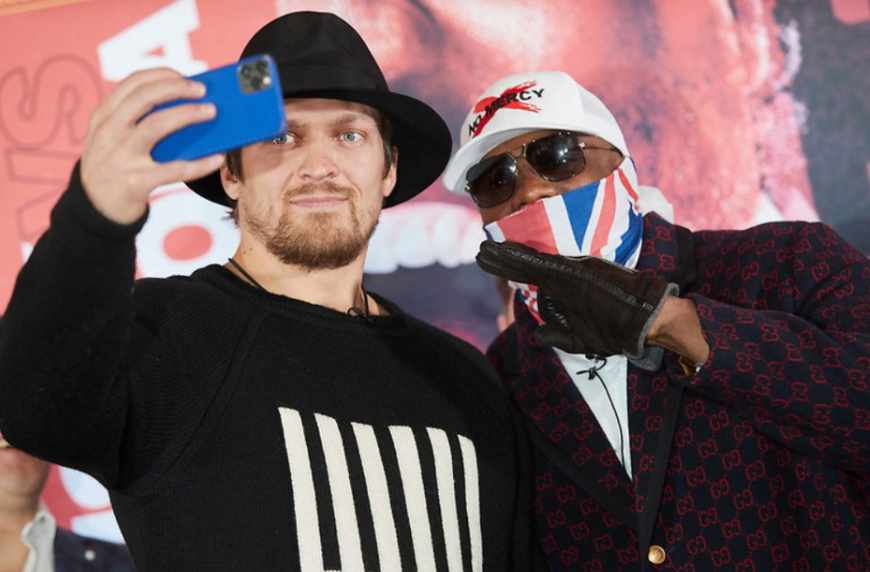 It's been largely lost in the ragout, at least on this side of the pond, but Saturday's busy fight docket includes the return of Oleksandr Usyk, the former Olympic gold medalist who left the cruiserweight ranks as a legitimate four-belt champion. The 33-year-old Usyk (17-0, 13 KOs), opposes tough but erratic Dereck Chisora, a 36-year old Londoner by way of Zimbabwe. Chisora (32-9, 23 KOs), has won five of his last six, the setback occurring in his second encounter with arch-rival Dillian Whyte.
Usyk vs. Chisora, a Matchroom promotion, will play out at Wembley Arena with no fans in attendance. The Ukrainian southpaw is ranked among the top three heavyweight contenders by all four major sanctioning bodies although he has fought only once as a heavyweight, turning away under-trained late sub Chazz Witherspoon who was all in after seven frames. Usyk weighed 215 for that contest and is expected to come in about 230 for Chisora.
Usyk, who has anglicized his first name to Alexander on his English-language twitter feed, is a big favorite, but this is a tricky fight for him. The consensus 2018 Fighter of the Year, Usyk has fought only twice since unifying the cruiserweight title with a lopsided decision over Murat Gassiev in July of that year and 55 weeks have elapsed since his last start. If he needs the early rounds to shake off ring rust, he could find himself clawing out of a hole, and sometimes the hole is too deep as Usyk's stablemate Vasiliy Lomachenko can attest. Moreover, Usyk has yet to face a naturally bigger man who can bang as hard as "Del Boy."
The Usyk-Chisora card will air in North America on DAZN with the main event ring walks anticipated about 6 pm ET.
The tiff is hitched to an interesting undercard. Once-beaten Welshman Lee Selby, briefly the IBF featherweight champion, tangles with Australia's undefeated (18-0) George Kambosos Jr. Savannah Marshall, who saddled Claressa Shields with her only amateur loss, meets former Shields opponent Hannah Rankin with a vacant world middleweight title at stake, Belfast's Tommy McCarthy opposes Belgium's Bilal Laggoune for a domestic cruiserweight title, and then there's the heavyweight fight attracting buzz between popular Yorkshireman David Allen and Christopher Lovejoy.
The buzz surrounds the mysterious 36-year-old Lovejoy who is 19-0 as a pro with all but two of those KOs coming in the opening round.
All of Lovejoy's fights were staged in Tijuana. Only one of his opponents brought a winning record. For a certain stripe of fighter, Tijuana is the equivalent of a feed lot, a place where livestock go to get fattened up before they are sent off to the slaughterhouse. David Allen is limited, but the most likely scenario in this fight is that it ends with Lovejoy sitting on his stool.
Check out more boxing news on video at the Boxing Channel 
To comment on this post in the Fight Forum CLICK HERE
Diego Magdaleno is Locked and Loaded for Saturday's Fray in San Antonio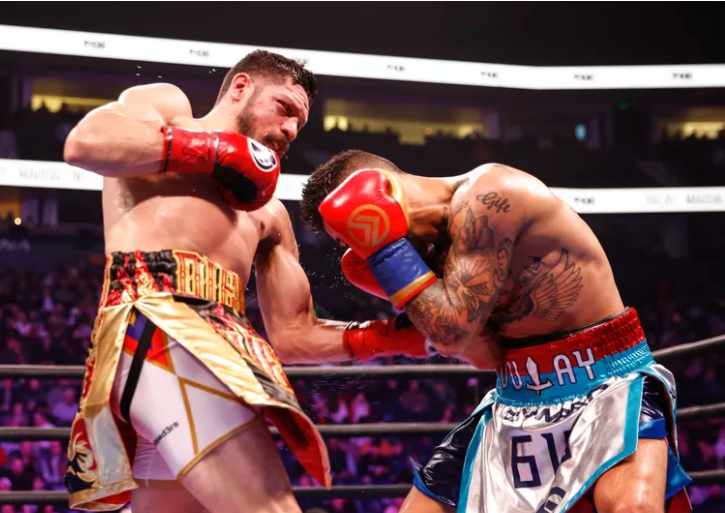 Diego Armando Magdaleno, the son of a former semi-pro soccer player, was named for Argentine soccer star Diego Armando Maradona. But Diego's father Jesus is hardly disappointed that his son devoted his energies to a different sport than soccer as Diego, the oldest of Jesus's three boys, has carved out a nice career as a boxer. On Saturday, he faces Isaac Cruz at the San Antonio Alamodome and a win could thrust him into a third crack at a world lightweight title. Magdaleno vs. Cruz will be televised as part of a SHOWTIME PPV event anchored by a battle between title-holders Gervonta "Tank" Davis and Leo Santa Cruz.
The bookies don't know what to do with the Magdaleno-Cruz matchup. One can find odds on fights of lesser importance, but with the fight only four days away the pricemakers were in quandary. Team Magdaleno, however, is approaching the fight as if they are the "B" side. Mexico City's Isaac Cruz, who boasts a 19-1-1 record and is undefeated in his last 15 starts, has a fan-friendly style and is only 22 years old. In theory, he has more value to the promoter going forward than Magdaleno (32-3, 13 KOs) who turns 34 this week.
Magdaleno relishes the underdog role. He was the "B" side in his most recent fight when he opposed Austin Dulay in Dulay's hometown of Nashville, Tennessee, and he carved out a clear-cut 10-round decision. Dulay, the younger man by nine years and less experienced at the pro level, was in over his head. Their fight was nationally televised on FOX.
Diego Magdaleno was born in Beverly Hills, California, but unlike many folks born there wasn't born with a silver spoon in his mouth. "We were more like the Beverly Hillbillies," says Diego, a reference to the popular sitcom that ran on CBS from 1962 to 1971.
For many years, Diego's father, an immigrant from Sahuayo in the Mexican state of Michoacan, worked at the flagship West LA branch of an iconic Greater Los Angeles hamburger chain. Diego's parents now manage a 7-11 in Las Vegas.
When Magdaleno first laced on the gloves it was at the Brooklyn Avenue boxing gym in the gritty Boyle Heights section of Los Angeles, the same gym where Oscar De La Hoya trained for the Olympic Trials. He continued with the sport after his family – he has three older sisters – moved to Las Vegas.
Diego influenced both of his younger brothers to become boxers. Jessie Magdaleno surpassed him in name recognition when he upset Nonito Nonaire in November of 2016, earning him the WBO world super bantamweight title. Jessie lost the belt in his second defense, succumbing to Isaac Dogboe, but has won three straight since that mishap, advancing his record to 28-1. The youngest Magdaleno brother, Marco, was 4-0 as a pro when he abandoned the sport, having secured a job with good pay and benefits in the construction field.
Diego has applied some of his ring earnings toward a real estate investment in Scipio, Utah, where he owns a parcel of land adjacent to a pioneer home. Scipio is a four-hour drive from Las Vegas and figuratively a million miles away. What does one do for fun in Scipio, pop. 288? The first thing that popped up in our internet search was to go grab a sandwich at the Burger Barn.
There's a back story there. The pioneer home, built in 1886, was recently purchased by Diego's fiancée Shannon Torres, a descendent of one of Scipio's founding families. She and Diego are restoring it. Diego professes to be amazed at the craftsmanship. "When we pulled up the carpets," he said, "the original hardwood floors were still in great condition."
Shannon Torres has a boxing background, having fought as an amateur and having sparred with the likes of Mia St. John. She is also a nutritionist. Diego confesses to having a sweet tooth, being fond of cheesecake and anything with peanut butter. "She knows how to make those things for me so they are not as unhealthy," he says.
Magdaleno's first loss came in April of 2013 when he lost a split decision to Ramon Martinez in Macau. Diego thought he won the fight, but only one of the judges concurred. At stake was Martinez's WBO 130-pound world title. His second world title opportunity came against WBO lightweight champ Terry Flanagan on Flanagan's turf in Manchester, England. That didn't go well.
"When I got in the ring, it felt like there was sand under my shoes," said Diego. "My right foot was sliding underneath me. I overcompensated and that caused me trouble." Magdaleno loaded up on his punches, a fatal mistake, and was knocked out in the second round.
Top Rank dropped Magdaleno after that fight but would eventually bring him back to fight their rising star Teofimo Lopez. His fight with Austin Dulay was his first fight back after his loss to Lopez (TKO by 7) and his first with new trainer Bones Adams (pictured on the left) in his corner.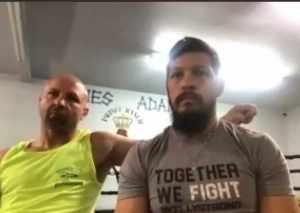 Isaac Cruz poses a different threat than Dulay partly because Cruz, who stands only 5'4 ½", is a lot shorter. But Magdaleno is confident the result will be the same.
"His style is attack, attack, attack; it's one-dimensional," says Diego. "I have been in there and done things that this kid has never seen. I am a big step up for him."
Unlike many prizefighters, Diego Magdaleno knows where he is heading after his career is finished; he is already a licensed real estate salesman with one listing to his credit. He's bi-lingual despite having spent only three months living in Mexico, that as a first-grader, and his linguistic versatility will come in handy in his second career. "I know just enough Spanish to get by," he says, but having heard him speak in his parents' native tongue we can attest that he's being much too modest.
For the time being, however, Diego isn't looking past Saturday night. Magdaleno vs. Cruz is expected to go first on the four-fight PPV portion of the card which kicks off at 9:00 p.m. ET/6:00 p.m. PT.
Magdaleno/Dulay photo credit: Stephanie Trapp
Check out more boxing news on video at the Boxing Channel 
To comment on this story in the Fight Forum CLICK HERE