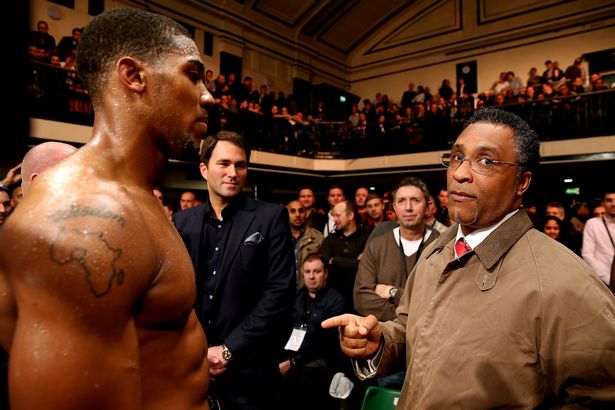 Heroes put others first. Heroes sacrifice—sometimes with their lives.
NFL player Pat Tillman was not a boxer but he was a legitimate hero having been killed in Afghanistan under especially tragic circumstances. Notre Dame's Rocky Bleier, having been drafted, survived the Vietnam War but was badly wounded twice on a mission to extract wounded and dead. He went on to a successful football career with the Pittsburgh Steelers. The highly decorated Don Steinbrenner and Bob Kasul, the only professional football players to have been killed in action in Vietnam, were not so fortunate.
Stephen Williford, a 55-year-old plumber, chased down and caused the demise of a mass shooter in 2017 who had just slaughtered 26 people in a Sutherland Springs, Texas church. Stephen Williford was a hero.
When Egypt's Anwar Sadat and Israel's Menachem Begin reached for each other to negotiate a peace treaty, they both became instant heroes not to mention Nobel Peace Prize winners. Both put others first. Sadat would pay with his life.
Martin Luther King Jr. lived his life in an heroic manner and so did Nelson Mandela and Steve Biko as they fought Jim Crow and apartheid, respectively. Dr. King and Steve Biko paid dearly. JFK also paid, suggesting that heroes seldom live a full life.
Some names are automatically associated with heroism such as Jesse Owens who won four gold medals in the 1936 Olympics. However, when a boxer is referred to as a hero, far more often than not this label is being misused.
Boxing
When Joe Louis destroyed Max Schmeling in their rematch in Yankee Stadium on June 22, 1938, the fight carried with it major international implications. It was more than just a fight and Joe became America's hero. Poor Max really wasn't the enemy at that time but he was perceived as such and perception is often a big part of reality.
Prominent boxing writer Nigel Collins summed it up nicely:
"The fight also fanned the flame of hope that was lit for millions of black Americans when Louis first became champion. There was no instant paradigm shift in race relations, but the second Schmeling fight and Louis' lengthy and highly successful reign nudged more and more people into reconsidering their view of their black brothers and sisters. If nothing else, Louis gave people a reason and an opportunity to change."
 ***************
"After World War II, everything in life is a cakewalk."- Danny Nardico
There are many perceived heroes in boxing, but relatively few real ones. The spectacle of muscular Danny Nardico and Charlie Norkus engaging in one of the greatest Pier Six brawls in history belied the fact that each was a veteran and one, Nardico, was highly decorated. Here were two ex-Marines, both possessing paralyzing power, meeting in Miami Beach in 1954 and there was palpable anticipation of a great fight. What the fans got went well beyond that.
 ***************
Muhammad Ali's refusal to be drafted under arguments that were later affirmed by the Supreme Court gave him hero stature to many—but not all. Later, however, and as he moved to a centrist position in his beliefs, the heroism of what he did began to cast itself in history.
 ***************
"To be honest, a few months before I started training for the marathon, I could hardly walk across my bedroom without falling over."-Michael Watson
Michael Watson boxed in a fast and furious lane, along with Nigel Benn, Carl Thompson, and Chris Eubank, but Watson, known as the "Force," stood out, not just for his boxing achievements, which were considerable, but for something else. In an incredible back-and-forth classic with Eubank in 1991 (it was Britain's version of Hagler-Hearns) Watson, ahead on points, was nailed with a paralyzing uppercut and hit the back of his head against the second strand of ropes.
Fast forward.
The "Force" spent over a month in a coma, had six brain operations, and then spent over a year in intensive care and rehabilitation and six more grueling years in a wheelchair while he ever-so-gradually recovered some movements and regained the ability to speak and write.
No one really expected him to live, much less talk or write, yet against all odds he finished the London Marathon on April 19, 2003, capturing the hearts and emotions of an entire nation. As people wept in joy and urged him on, he walked six days. He reached his goal after twelve long years, too many operations and hospitals, and years in a wheelchair. But he trained for months and completed his goal of 26 miles and 385 yards.
If heroism is measured by an incredible fighting heart and the inspiration it spawned, then Michael Watson (pictured in 2013 with Anthony Joshua) is indeed a hero.
"Getting angry won't correct the past." – Watson
 ***************
Cornelius Johannes "Corrie" Sanders, best known for beating Wladimir Klitschko in 2003 for the WBO heavyweight title, died in September 2012, the victim of a a shooting during an armed robbery at a restaurant in South Africa where he was celebrating his nephew's 21st birthday. The former champion heroically used his body to protect his daughter from the flying bullets. He was 46. Ironically, the S.A. headlines read "Ring hero Sanders killed." They might well have read "South African Ring great Sanders died a hero."
 ***************
Curiously, three-time world champion Bobby Czyz, now 56, carried the nickname "Matinee Idol," but Bobby has now hit some rough times. If someone in boxing would step up and help him, that someone just might be a real life hero. This holds true for many other ex-fighters who have stumbled along the way. Heroes are in short supply when it comes to helping ex-boxers, but there are some organizations that provide support. Iceman John Scully quickly comes to mind as someone out there helping ex-boxers find their way.
 ***************
The late Vernon Forrest embraced the value of giving back. A great boxer, he was also known for his humanitarian work for the non-profit and still thriving organization Destiny's Child. Vernon possessed great core values.
Former U.S. Olympic boxing team head coach Al Mitchell once said, "I really believe he's not going to be known for his boxing skills…I think he'll be known for the way he gave outside his sport. He was just an unbelievable person."
"He almost went broke," continued Mitchell. "He borrowed money to make it work. He never looked for a profit out of it. It was just something he did. Vernon's willingness to give back went beyond his former schools. He gave money to different gyms and boxing-related programs."
Vernon Forrest was special in many ways, He inspired people. There are few heroes out there but Vernon was one.
"The people I work with have been abused and neglected…These are people that society turned their back on. Everybody needs help and everybody needs love." Vernon Forrest
 ***************
Manny Pacquiao's rise from abject poverty and street urchin to Senator and idolized boxer in the Philippines is not heroic in itself but his giving back to his people makes him one of the few boxers who earned that stature. Yes, he went through a period of "wicked ways," but he has redeemed himself in those respects and has become the quintessential shooting star.
"One hundred million people now drop everything to watch him fight."
Can you think of other boxers– past or present– who meet your definition of a hero?
Ted Sares is one of the world's oldest active power lifters and Strongman competitors and may compete in the Ukraine in 2019. He is a lifetime member of Ring 10, and a member of Ring 4 and its Boxing Hall of Fame. He also is an Auxiliary Member of the Boxing Writers Association of America (BWAA).
Check out more boxing news on video at The Boxing Channel
To comment on this story in The Fight Forum, CLICK HERE
The Hauser Report: Wilder-Fury II in Perspective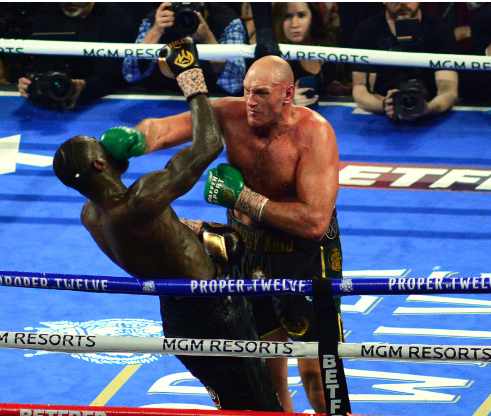 On Saturday night, February 22, at the MGM Grand in Las Vegas, Tyson Fury knocked out Deontay Wilder in round seven of a rematch of their December 1, 2018, draw. With Anthony Joshua having faltered as a fighter since his comeback victory over Wladimir Klitschko three years ago, the consensus is that Fury is now the #1 heavyweight in the world.
Wilder-Fury II shaped up from the start as an intriguing drama. Fury has a fighter's name (first and last). "Deontay" sounds like a fashion designer's moniker. But don't be misled. Wilder has an aura of menace about him. In the ring, he evokes images of a deadly raptor ripping its prey to shreds with a single strike.
Fury has an erratic persona. By his own admission, he has struggled with severe depression for most of his life. On November 28, 2015, he decisioned Wladimir Klitschko to claim the WBA, IBF, and WBO belts. Then he began spouting homophobic, misogynist, anti-Semitic dogma before abandoning boxing to deal with his emotional problems.
"Part of the attraction with Fury," British journalist Ron Lewis writes, "has always been, you genuinely don't know what he is going to say. Sometimes he will just make stuff up. In the modern boxing media where video journalists generally outnumber writers, the soundbite is king. Soundbites are rolled out and the outlandish remarks are gobbled up as good material. And Fury gives good soundbites. Whether they are true or not doesn't really matter. What counts is that people click."
Fury returned to the ring in 2018 after a thirty-month absence and notched lackluster victories over Sefer Seferi and Francesco Pianeta. On December 1, 2018, he survived ninth and twelfth-round knockdowns en route to a draw against Wilder. Less-than-impressive triumphs over Tom Schwarz and Otto Wallin followed.
In his most recent ring appearance, Tyson journeyed to Saudi Arabia for an October 31, 2019, staged wrestling spectacle that pitted him against WWE strongman Braun Strowman.
Fury has good boxing skills for a man his size. He stands close to 6-feet-9-inches tall and fights in the neighborhood of a non-svelt 260 pounds. There's a lot of jiggling when he moves around the canvas. At age 31, he entered the ring for Wilder-Fury II as an undefeated professional boxer with 29 wins, 20 knockouts, and a draw in 30 fights.
Wilder captured a bronze medal at the 2008 Olympics as a raw 23-year-old. Seven years later, he annexed the WBC heavyweight title by decision over Bermane Stiverne. Since then, he has successfully defended his belt ten times against mostly pedestrian opposition. His most credible opponents were Luis Ortiz (twice) and Fury.
Deontay has made some good life choices and also some bad ones. There have been incidents of violence outside the ring and public utterances that made him look and sound like a bully. There's a nagging feeling that he unwisely left a lot of money on table and lost an opportunity to consolidate all four heavyweight championship belts when he blew off a three-fight $100 million offer from DAZN last year.
That said; Wilder can punch. Bigtime. Entering the ring on February 22, he had 40 knockout victories in 42 fights, with only Fury and Stiverne having gone the distance against him. And Stiverne was obliterated on a first-round knockout when they met in the ring for the second time.
As writer Carlos Acevedo noted, "There is no softening-up process necessary for Wilder to demolish an opponent. Cumulative damage is not a prerequisite. He picks his high-spots (moments when he fully commits to his bludgeonous right hand) with care, and few can withstand its direct impact."
Fighters are associated with certain phrases . . . Joe Louis: "He can run but he can't hide" . . . Mike Tyson: "They all have a plan until they get hit" . . .
Wilder sums up nicely when he says of each opponent, "He has to be perfect for twelve rounds. I have to be perfect for two seconds."
Let's say it again. Wilder can punch. His right hand is devastating. And not only isn't he afraid to throw it; his entire fight plan (at the risk of losing round after round on the judges' scorecards) is about trying to land it. His conventional boxing skills are limited. His chin is suspect, but he has learned to use his height and reach to protect it. Give him time to set up and proceed at his leisure, and he will destroy you.
Moreover, Wilder carries his power late. As Fury found out in round twelve of their first encounter, Deontay is dangerous until the final bell.
"This is a gladiator sport," Wilder says. "It ain't no room for weakness in this sport, especially when you're a champion because you'll always be a target. You're always gonna have a bullseye on your back. So you've gotta have a mentality like that. It's good to be nice and kind and shit like that. But when it comes to boxing, you can't show no weakness. You've gotta show that you're a savage, that you ain't nothing to be messed with, and that's what I show. Put fear in these guys' hearts and really mean it. When you fight Deontay Wilder, I take something from you. I take years from your life."
As for Fury's psychiatric issues, Wilder acknowledged, "We all have mental problems. Ain't nobody one hundred percent. I'm crazy at times. I go do things at times. I been had a gun in my hand before thinking about committing suicide. I mean, shit. It ain't no different. I can be a role model, but you have to accept me and embrace me for who I am. I may say some crazy stuff. I may make up my own words at times. I'm human. I don't walk a straight path and a lot of things may go wrong in my life and it's going to be up to me to correct them. I just tell people to accept me for who I am. I am who I am. I'm not perfect."
For a while, Wilder was skeptical that the rematch would take place.
"Fury doesn't want to fight me again," Deontay said. "He's satisfied with the draw and he wants to run with a moral victory." That was followed by reference to Fury rising from the canvas after what initially seemed to be a fight-ending knockout: "I knocked some marbles out his head. When a man doesn't know how he got knocked onto the ground or how he got up, that ain't no good sign. His family don't even want him to fight me again. He don't want to either, but he's got to."
In due course, the rematch was signed with the two sides agreeing to a 50-50 revenue split.
It would be Wilder (backed by Premier Boxing Champions and FOX) versus Fury (in league with Top Rank and ESPN). Thereafter, Top Rank CEO Bob Arum predicted that Wilder-Fury II would engender two million pay-per-view buys. That left a left of observers willing to bet the "under," since Wilder-Fury I was generously estimated to have generated 325,000.
In truth, neither Fury or Wilder had sold well to the public in the past.
Wilder had headlined two previous fight cards in Las Vegas. According to numbers released by the Nevada State Athletic Commission, 4,074 tickets resulting in a live gate of $755,200 were sold for his 2015 outing against Bermane Stiverne. Deontay's 2019 rematch against Luis Ortiz generated a live gate of $4,063,141 on 7,403 tickets sold. Depending on whom one believes, Wilder-Ortiz II (which was distributed on pay-per-view by Fox) engendered between 225,000 and 275,000 buys. Since FOX is reported to have guaranteed 500,000 buys for Wilder-Ortiz II, that translated into a lot of red ink.
Meanwhile, the live gate for Fury-Schwarz at the MGM Grand was $882,145 with 5,489 tickets sold. The live gate for Fury-Wallin at T-Mobile Arena was $999,723 with 3,577 tickets purchased. There were more comps (3,898) for Fury-Wallin than tickets sold.
To state the obvious, these are not good numbers. But ESPN and FOX (which jointly handled the pay-per-view for Wilder-Fury II) went all-in on promotion of the rematch.
FOX is available in 120 million American homes. ESPN has 83 million domestic subscribers. ESPN put the promotion into high gear on December 28 when Fury appeared on its College Gameday program prior to the Bowl Championship Series semi-final football game between LSU and Oklahoma. Then, on February 2, FOX broadcast two Wilder-Fury II commercials during Super Bowl LIV. According to Nielsen Media Research, the first Super Bowl promo (which ran at 8:02 PM eastern time) was seen by 103.5 million viewers. The second (which aired 35 minutes later) drew 101.1 million. There were also seven pre-game promotional spots that averaged 18 million viewers each.
Given the fact that in-game Super Bowl commercials normally cost advertisers as much as $10 million a minute, this marked a significant investment by FOX in the promotion.
The lead-up to Wilder-Fury II was marked (and sometimes marred) by back-and-forth utterances between the fighters.
Fury did his part to debase the public dialogue during a media scrum immediately after the January 13 kick-off press conference in Los Angeles. Discussing his preparation for the rematch, he declared, "I'm masturbating seven times a day to keep my testosterone pumping. Pump it, pump it, pump it, pump it up! Don'tcha know! I gotta to keep active and the testosterone flowing for the fight."
Later, Tyson declared, "I look at Wilder and I don't see a tough fight. I see a long-legged pussy that I'm going to break in. A big 6-foot-7-inch virgin that ain't been rodded before. I'm going to bend him over and scuttle him backwards nice and slowly."
Fury further pledged, "After this fight, I'm going to binge on cocaine and hookers. Is there anything better than cocaine and hookers? I go to the cheap thirty-dollar ones. Always give yourself a shot of penicillin before shagging 'em. If you haven't got the penicillin, always double-bag up."
Wilder responded more simply, saying, "This is unfinished business that I will finish. Come February 22, I'm going to rip his head off his body. The first fight was a very controversial fight. We left people confused about who won. This is where we come and settle everything. This is judgment day."
When fight week arrived, the hype machine went into in overdrive, proclaiming that Wilder-Fury II was one of the most anticipated heavyweight championship matches of all time. There was a massive amount of network shoulder programming including extensive on-site coverage from February 18 until fight night.
ESPN and FOX, which talk breathlessly about "unified titles" when match-ups like Vasyl Lomachenko vs. Jose Pedraza occur, suddenly forgot that the WBA, WBO, and IBF (each of which recognizes Anthony Joshua as its heavyweight champion) exist. Also forgotten was the fact that, in Wilder-Fury I, the fighters had landed a total of only 155 punches between them. That's six punches per fighter per round.
No matter. The twelfth-round knockdown and Fury getting up from it had elevated Wilder-Fury II as a commercial attraction. The fight sparked high interest in the boxing community. Whether or not this interest was spilling over to general sports fans and beyond was a separate issue. Tickets were available at list price until three days before the fight.
Fury predicted that he'd knock Wilder out in the second round. That earned a scornful rejoinder from Deontay, who proclaimed, "Fury has got pillows as fists. We all know he don't have no power. He's just a tall big man that can move around a ring and that's about it. As far as him knocking me out, he don't believe that himself. He can't even see that in his dreams."
There was the usual idiotic (and dangerous) shoving and shouting at the final pre-fight press conference on Wednesday, all of which was gleefully distributed as a marketing tool by the promotion (except for the part where Wilder and Fury trashed each other as being unmarketable).
Among other things, Wilder berated Fury, saying, "When I found you, you was strung out on coke. When I found you, you was big as a house, contemplating about killing yourself. So don't you ever forget who brought you to bigtime boxing. I brought you back. I put food on your table for your family to eat. Don't you ever forget that."
On Thursday, to its credit, the Nevada State Athletic Commission ruled that, for security reasons, the fighters would not be allowed to engage in the ritual staredown at the close of Friday's weigh-in. Arum complained about the ruling, but all was not lost. After the weigh-in, as Fury and Wilder stood on opposite sides of the stage with six commission inspectors between them, Fury gave Wilder the finger and Deontay responded by grabbing his crotch.
For their first encounter, Wilder had weighed in at 212-1/2 pounds. This time, he tipped the scales at 231 (his heaviest ever). Fury had weighed 256-1/2 pounds the first time around. Now it was 273 (three pounds less than his all-time high). The general feeling was that the extra weight would help Wilder and hurt Fury.
It was a pick 'em fight with a slight edge in the odds, if any, toward Wilder. Looking at the two bouts that each man had engaged in subsequent to their first encounter, Deontay had seemed to be improving (against Dominic Breazeale and Luis Ortiz). Fury, on the other hand, had appeared to be stagnating (against Tom Schwarz and Otto Wallin).
"Deontay does not get the credit that he deserves for the improvement," Jay Deas (Wilder's co-trainer and adviser) said in a February 12 media conference call. "I don't think people totally get what they're seeing, and sometimes they don't understand the nuances of the sport. We do what we call a six-month test. Every six months, we ask ourselves, 'Would you right now beat you from six months ago?' And I can answer one hundred percent honestly that, since the beginning of the first day that he came in the gym, that answer has been yes. He keeps getting better and better and better and smarter and refined with the technique. The things that people don't really get is the timing, the distance, the spacing, the positioning, all those things that allow you to land those big punches. That's skill. And he wants to learn. He's the kind of guy that is still hungry to get better and better."
ESPN commentator Teddy Atlas was in accord, saying, "I feel like Wilder has added something. He's added a delivery system where he mesmerizes you with the jab and then BOP, the right hand is right behind it, George Foreman did it, Teofilo Stevenson did it. They lie to you. They make you think you're safe because they're only throwing the jab three-quarters so you think that's the end of the line for danger. But it's not. It's about three inches further because they didn't extend the jab. And Wilder has learned how to do that by making you think you're safe. You cooperate a little, and then BOOM!"
In December, Fury announced that he was replacing trainer Ben Davison with Sugar Hill and that Stitch Duran (not Jorge Capetillo) would be his cutman for the February 22 rematch. Fury and Hill soon began talking about tapping into a new reserve of power. But as Don Turner (who trained Evander Holyfield and Larry Holmes late in their respective ring careers) observed, "You don't take a fighter in his thirties, change his style, and teach him to punch with more power in an eight-week training camp. The fighter makes the fighter. The trainer only helps."
Those who picked Wilder to win the rematch noted that, as Wilder-Fury I progressed, Deontay seemed to figure Tyson out. He'd knocked Fury down in both the ninth and twelfth rounds and was likely to set up his punches more effectively the second time around.
Also, there was the matter of "the cut." Fury had suffered a gruesome gash along his right eyebrow courtesy of a left hook from Wallin in round three of their September 14 bout. The cut bled profusely throughout the fight and required 47 stitches to close.
The scar tissue from that cut would be an attractive target for Wilder. "No matter what he does," Deontay said, "when he fights me, it's going to open right back up. I'm going to pop it right back open. He can get plastic surgery, duct tape or staples, super glue or hot glue, cement glue. Shit, he can go get some of that flex glue. It ain't gonna to matter. I definitely look forward to re-cutting open that eye."
And finally, there was the biggest factor of all – Wilder's power.
"I've never seen anything like it," Bob Arum (who co-promotes Fury with Frank Warren) said. "It's actually accentuated by the fact he doesn't know how to box. He's a horrible boxer. He puts on a clinic of how not to box, but he has that right hand."
"For one punch," Teddy Atlas added, "just one punch, I think Wilder is the hardest puncher in the history of the sport."
Yes, Wilder was a one-trick pony. But it was quite a trick.
Meanwhile, the case for a Fury victory began with Wilder's limited repertoire. Bart Barry spoke for many when he wrote, "Wilder only took what he did best and committed to doing it better. If the holes in his style aren't any larger now than when he started, they are, surprisingly, no smaller."
Fury's partisans also reasoned that their man would be in better shape for the rematch than for the first fight and wouldn't tire down the stretch as he had before. Also, they were confident that, this time, in addition to making Wilder miss, he'd make Deontay pay when he missed.
Asked what he'd learned from Wilder-Fury I, Tyson responded, "He's got a big right hand and that's it. He's a one-dimensional fighter. The biggest mistake I made last time was not making him pay when he was hurt. I didn't know what I had in the tank last time. This time, I know I can go the distance. I'll throw everything but the kitchen sink at him, and he won't know what hit him."
As for the knockdown in round twelve of their first encounter, Fury explained, "I backed up in a straight line and got clipped with a right hand and it was good night, Vienna. That was all she wrote. But then I rose from the canvas like a phoenix from the ashes to get back into it, take him up, and finish the fight the stronger man."
There were a host of battles between ESPN and FOX behind the scenes with regard to a whole range of issues. Finally, it was agreed as to on-air talent that Joe Tessitore (ESPN) would call the blow by blow with expert commentary from Lennox Lewis (FOX) and Andre Ward (ESPN). Host Brian Kenny (FOX) would be joined at the fight-night desk by Max Kellerman (ESPN), Shawn Porter (FOX), and Timothy Bradley (ESPN). In addition, Mark Kriegel (ESPN), Kate Abdo (FOX), and Bernardo Osuna (ESPN) would serve as ringside reporters while Larry Hazzard (FOX) would be the unofficial scorer and rules expert.
There was a lot of chatter during the televised portion of the pay-per-view undercard about how this would be Wilder's eleventh consecutive heavyweight title defense, breaking a tie that he'd held with Muhammad Ali. This ignored the fact that Ali was the undisputed heavyweight champion of the world during his reign while Deontay was one of many. Max Kellerman then analogized Fury's boxing skills and elusiveness in the ring to that of Wilfred Benitez and Willie Pep.
Viewers were also told that the live gate for Wilder-Fury II had surpassed $17 million which made it the largest live gate in the history of heavyweight boxing in Nevada. Lewis-Holyfield II in 1999 had grossed $16.86 million. Of course, accounting for inflation, $16.86 million in 1999 would be worth $26.28 million today.
Fury, wearing a red velour robe and sitting on a throne, was wheeled to the ring by four buxom women while a recording of Crazy sung by Patsy Cline played over the public address system. Wilder's opted for glitzy black body armor accessorized by a black mask during his ring walk with rapper D Smoke providing the soundtrack.
Then came the moment of reckoning.
Fury dominated the action from beginning to end. He came out aggressively in the first two rounds, stalking and outjabbing Wilder, who hardly jabbed at all. As is usually the case, Deontay did little to set up his punches and looked simply to land the big one. His deficiencies as a boxer showed.
Boxing Fury is a bit like boxing a mountain. Wilder was having trouble coping with a bigger man who chose this time to come right at him, throwing punches.
With 38 seconds left in round three, Fury dropped Wilder with a clubbing overhand right that landed on Deontay's left ear. If Wilder had looked bad before, from that point on, he looked awful. His legs were weak. His balance was unsteady. He bled profusely from his left ear and seemed confused if not dazed. He wasn't just losing rounds. For the first time in his career, he was getting beaten up.
Referee Kenny Bayless helped Wilder a bit by breaking the fighters at times when Fury was working effectively inside. Then, not long after Tyson dropped Deontay with a hook to the body in round five, Bayless (without previous warning) took a point away from Fury for hitting on the break.
By round six, Wilder was fighting like he was out on his feet. And more significantly, his power had deserted him. It no longer looked as though he had the ability to change the course of the fight with one punch. It was then that Fury had the poor taste to lick Deontay's neck during a clinch to taste the blood that was flowing from his ear.
The mauling continued. One minute 37 seconds into round seven, with Wilder trapped in a neutral corner and Fury pounding away, Mark Breland (Deontay's chief second) threw in the towel.
"Things like this happen," Wilder said in a post-fight interview with Bernardo Osuna. "The best man won tonight. I just wish my corner would have let me go out on my shield."
He's fortunate that they didn't.
Fury's story is a remarkable tale of redemption given the mental health issues that forced his hiatus from the ring four years ago. As for what comes next; Wilder has thirty days to exercise a rematch clause for a third fight that would be contested with a 60-40 revenue split in favor of Team Fury.
Meanwhile, in the weeks ahead, there will be a lot of talk about "greatness." Thus, it's worth considering the thoughts of Carlos Acevedo who wrote, "Of all the concepts, phrases, and words that have devolved in boxing over the years, none has slipped so drastically as the notion of greatness. Writers and reporters take many of their cues directly from press releases, publicists, promoters, and network puffers. This is like taking advice from a three-card monte dealer on where the queen of hearts may be."
In his most recent fight preceding Wilder-Fury II, Fury struggled against Otto Wallin. Against Wilder on Saturday night, at times he looked sloppy. Two victories – against Wladimir Klitschko and now Wilder – don't qualify a fighter for greatness.
Fury himself seems to understand that notion. During a media conference call to promote Wilder-Fury II, he declared, "The only thing that means anything to me is winning these fights. That's it, period. I'm a purebred fighting man through and through. And when it's over, it's over. I'm not really concerned about the legacy. I'm not overly concerned about what happens when I'm done. We can only take one chapter of our lives at a time, and I'm just enjoying living in the moment right now. I'm living my dream, my childhood dream, my young adult dream, and my midlife dream. I really don't care about legacy because what somebody thinks of me when I'm finished is unimportant. It's all sticks and stones. Whether it's good or bad, everyone is entitled to their opinion. And there will be somebody else to replace me just like every other champion."
Photo credit: Al Applerose
Thomas Hauser's email address is thomashauserwriter@gmail.com. His most recent book – A Dangerous Journey: Another Year Inside Boxing– was published by the University of Arkansas Press. In 2004, the Boxing Writers Association of America honored Hauser with the Nat Fleischer Award for career excellence in boxing journalism. On June 14, 2020, he will be inducted into the International Boxing Hall of Fame.
To comment on this story in The Fight Forum CLICK HERE
Three Punch Combo: The Fight That Could Steal the Show This Weekend and More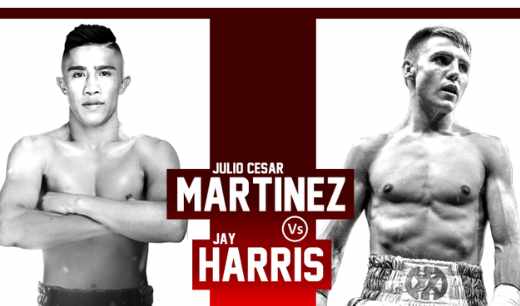 THREE PUNCH COMBO — Boxing returns to DAZN on Saturday with a massive card from The Ford Center at the Star in Frisco, TX. This venue, which serves as the indoor practice facility for the Dallas Cowboys, will play host to a significant welterweight bout when Mikey Garcia (39-1, 30 KO's) returns to the ring to face Jessie Vargas (29-2-2, 11 KO's). Also on the docket is a much anticipated 115-pound title fight between champion Khalid Yafai (26-0, 15 KO's) and former pound for pound king Roman "Chocolatito" Gonzalez (48-2, 40 KO's). While I love both of these contests, it is another title fight on this card that I think may steal the show.
Fresh off his destruction in December of Cristofer Rosales to capture the WBC flyweight crown, Julio Cesar Martinez (15-1, 12 KO's) returns to the ring to make his first title defense against the undefeated Jay Harris (17-0, 9 KO's).  Given their respective styles, we are all but guaranteed to see non-stop action from the opening bell to whenever the contest concludes.
As I have previously noted in these pages, Martinez is an absolute non-stop pressure fighter who rarely takes his foot off the gas. Possessing above average hand speed and heavy-handed power, he simply looks to break his opposition down with his combination of pressure and power. And thus far it has worked to the tune of him becoming a world champion in just 16 fights.
One difference between Martinez and other pressure fighters is the way that Martinez uses angles to find ways to land precision power shots. He will often switch fluidly between the orthodox and southpaw stances to create these angles.
Like many other pressure fighters, Martinez has a tendency to abandon defense for his own offense. He actually takes it to the extreme, often coming forward with his hands down along with no head movement. At some point, he is going to pay for this lack of attention to defense. Could it come against Harris?
After a short but solid amateur career, Harris turned pro at 23 in 2013 and has moved along steadily. He is coming off his two best wins against former world title challenger Angel Moreno and former amateur standout Paddy Barnes. In each of those fights, Harris showed steady progression and seems well poised for that next big step-up in competition.
Harris is a traditional boxer-puncher by trade but has shown tendencies to get into firefights. He is technically sound and likes to work behind a solid left jab to set up his power punching combinations. Harris possesses decent hand speed and, like Martinez, can be a solid accurate puncher.
In the aforementioned fight against Barnes, Harris showed some solid power in his left hook. He knocked Barnes down twice with the left hooks to the body, the second of which finished him off in the fourth round.
Martinez is going to bring the fight to Harris. But I think Harris is skilled enough to provide resistance and give back as good as he gets. If I am right, this is going to be one fan-friendly fight that could ultimately compete for fight of the year.
Some Thoughts on the Judging of McKenna-Mimoune
For those not familiar, MTK Global is running eight-man single elimination tournaments across several different weight classes in the UK with the winner in each weight class being awarded a lucrative management contract. This past Friday in London saw the semi-finals in both the featherweight and 140- pound divisions. And as so often happens in boxing, one of the contests, a 140-pound bout between Tyrone McKenna (21-1-1, 6 KO's) and Mohamed Mimoune (22-4, 3 KO's), ended in a controversial decision. McKenna was the beneficiary, winning the ten-round fight on all three cards.
My card sided with Mimoune. I had the fight 96-94 in his favor. However, unlike the commentators and many on social media, I was far from outraged that McKenna was given the nod.
This may sound overly simplistic, but we need to keep in mind that fights are scored on a round by round basis. Each round is its own separate entity. And sometimes a round is won big by a fighter but scored just 10-9 in their favor without knockdowns. This would be the same score if that same fighter had just edged out that round.
In the case of McKenna-Mimoune, we saw Mimoune take control of the fight late and win many of those later rounds by a substantial margin. To be honest he completely dominated those rounds.
But in the early going, there were many close rounds that were hard to score. McKenna seemed to edge a couple and some were frankly a coin flip. If the judges sided with McKenna for those close rounds, and it appears they did just that, then there is a clear path to him getting the decision.
For me, this was somewhat reminiscent of Foreman-Briggs which I also thought was not a robbery. Maybe the scoring system in boxing needs to be changed but that is a topic for another day. I don't think given the scoring system in place for this sport that the McKenna-Mimoune decision was all that outrageous.
What's Next For Emanuel Navarrete?
This past Saturday, on the undercard of Wilder-Fury II, 122-pound champion Emanuel Navarrete (31-1, 27 KO's) stopped tough Jeo Santisima (19-3, 16 KO's) in the eleventh round. It was Navarrete's fifth title defense in less than a year. So, what is next for the popular and busy Navarrete?
First off, I think we have seen the last of Navarrete at 122. It was well documented during the PPV broadcast that Navarrete was struggling to make the weight. In addition, there are political boundaries that need to be crossed in order to make any big fights for Navarrete at 122. So, a move north to featherweight is seemingly inevitable.
Top Rank, which co-promotes Navarrete, does have a champion at featherweight in Shakur Stevenson. But Stevenson is a prized young fighter and there is no way Top Rank puts him anywhere near Navarrete. Not in a few months or even a few years. And as with the 122-pound division, there are political boundaries standing in the way of putting Navarrete in with the other featherweight champions at this time.
So, with no immediate title fight realistically available for Navarrete at featherweight, I think Top Rank looks to put him in with a ranked contender. And I think the most logical option is Christopher Diaz (25-2, 16 KO's) who is also tied in with Top Rank.
Diaz himself was once a highly-thought-of young fighter but an upset loss to Masayuki Ito for a 130-pound title belt in 2018 sent Diaz's career sideways. He dropped down to featherweight after that loss where he has two wins sandwiched around a one-sided loss on points in a ten-round contest with the aforementioned Stevenson.
Diaz needs a jolt to his career and, frankly, Top Rank is probably nearing the end of the road with him. So, this can be viewed as a final opportunity for Diaz and a fight I think he jumps at if offered. And it's an easy sell to the fans as Diaz on paper would certainly represent the best opponent for Navarrete since his two fights with Isaac Dogboe.
I think it's very likely that we see this fight on a Top Rank platform sometime this spring or summer.
Check out more boxing news on video at The Boxing Channel 
To comment on this story in The Fight Forum CLICK HERE
The Gypsy King Destroys Wilder; Wins on a TKO in 7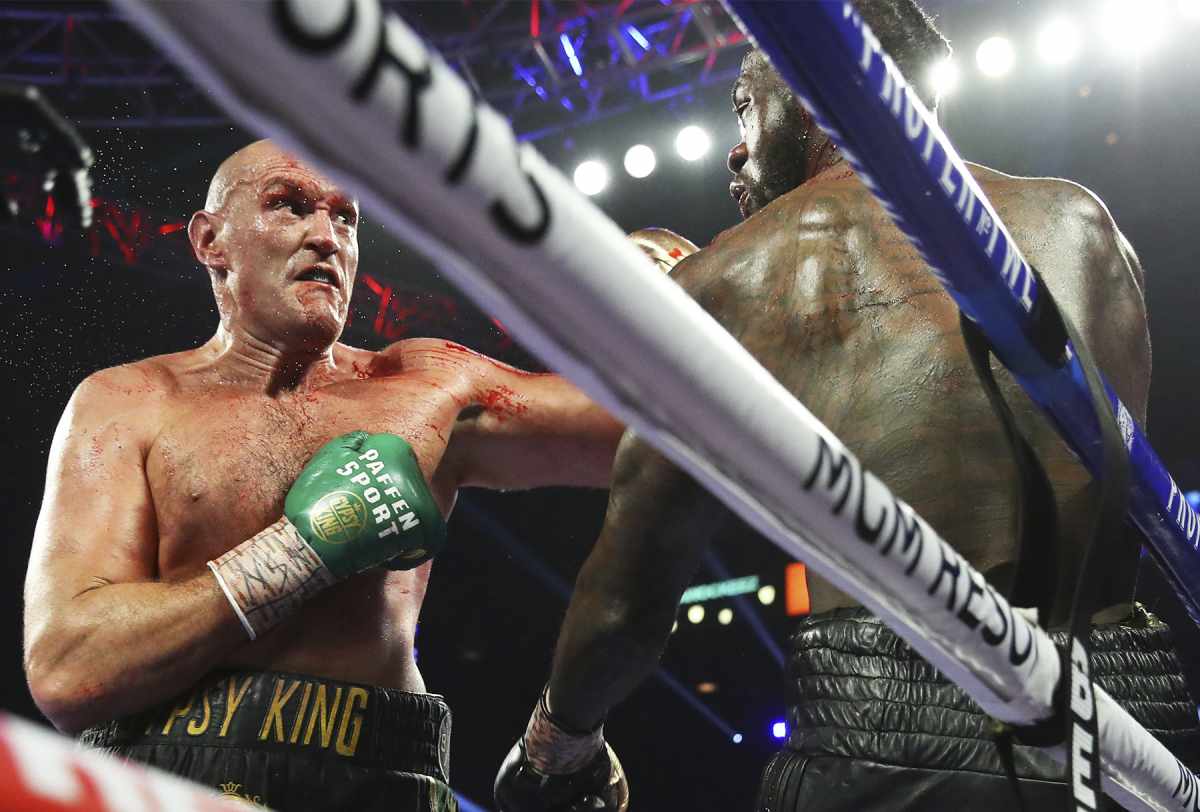 Fury Destroys Wilder; Wins on a TKO in 7
Las Vegas, NV — The late New York sportswriter Dick Young once wrote that there is no greater drama than in the moments preceding the opening bell of a world heavyweight title fight. In Young's day, there weren't four world sanctioning bodies, let alone three, and a world heavyweight title fight was front page news in all the tabloids.
Tonight, there was only one title belt at stake (okay, two if one counts the lineal diadem), but the tension was thick inside the MGM Grand Garden arena as Deontay Wilder and Tyson Fury, recognized in many quarters as the two best heavyweights in the world, made their ring entrances.
Fury entered the ring on a throne to the tune of Patsy Cline's "Crazy," an odd choice but somehow appropriate. It was an entrance that set a new bar for flamboyance. He looked supremely confident and with his namesake "Iron" Mike Tyson looking on, he delivered the goods with a smashing performance that ended at the 1:37 mark of round seven when the white towel of surrender was thrown in from Wilder's corner.
At the opening bell, Fury came out of his corner with a rush and had Wilder fighting off his back foot. In round three, the Gypsy King decked Wilder with a punch that seemed to land behind his ear and may have resulted in Wilder suffering a busted eardrum.
Fury scored another knockdown in round five with a left to the body. Later in the round, referee Kenny Bayless docked Fury a point for what was apparently hitting on the break.
Fury dominated the sixth and it was more of the same in the seventh until Wilder's corner saved him from suffering more punishment. Fury improved to 30-0-1 with his 21st knockout. Wilder suffered his first defeat in 44 pro starts.
The crowd was pro-Fury and typical of any boxing crowd with a large body of Brits, very boisterous. At the conclusion, many sang along as the Gypsy King serenaded the crowd with a version of Don McLean's "American Pie." It was an event that will linger long in memory.
Photo credit: Mikey Williams for Top Rank
Check out more boxing news on video at The Boxing Channel 
To comment on this story in The Fight Forum CLICK HERE