Beat The Press: Awkward Moments with Problematic Boxers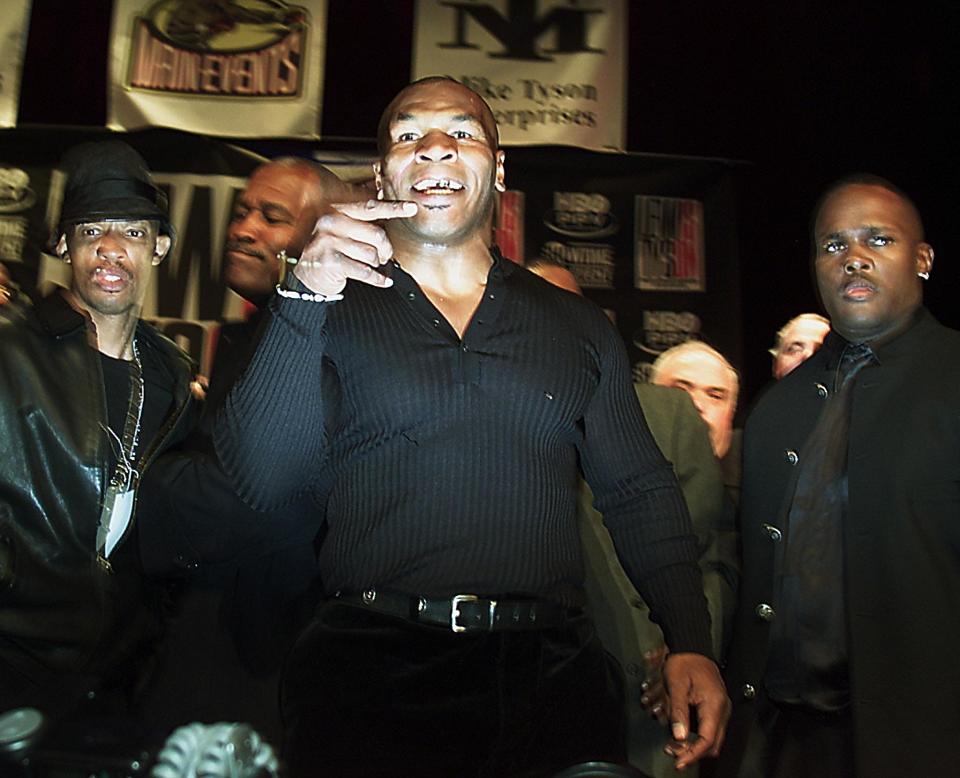 "Get him a straitjacket!"
That's how all this craziness started.
In 2002, boxing writer Mark 'Scoop' Malinowski stood at the back of a Mike Tyson press conference in New York City and shouted his exasperation at the former baddest man on the planet. Tyson, having just bitten Lennox Lewis on the leg during a media face-off gone horribly wrong, was livid. Hearing what Malinowski said, Tyson turned his attention to the fedora-clad reporter and let loose with one of the most vulgar diatribes ever heard in professional sports.
"Put your mother in a straitjacket," the crazy-eyed Tyson screamed back at the "white boy" newshound best known (until this moment) for his informative Biofile write-ups about boxers. It only got so much worse from there with a totally unhinged Iron Mike threatening to sodomize Malinowski in public.
Seventeen years later, it's becoming more and more common for angry boxers to take their frustrations out on credentialed media members charged with asking them questions and covering the sport on their behalf. It's happened to me on conference calls and at live events, most memorably with Andre Berto in the lead-up to his 2011 bout with Jan Zaveck. Triggered by my suggestion that he was now at risk of becoming a forgotten fighter, Berto got pugnacious.
"Is that what it is?" Berto responded to me on the media teleconference. "You lose one fight and now you're forgotten about? Saying that kind of thing just blows my mind about you reporters."
Berto continued to let me have it.
"You've seen a guy like Shane Mosley resurrect his career three or four times, a guy like Bernard Hopkins and all these other guys, and they have four, five, six losses. I went through a tough defeat. I had a bad night. I don't care about what people think or what you're gonna write. I'm doing this for me, my family, and the real Berto fans out there and that's it."
I definitely got under his skin.
Last week in Las Vegas, Adrien Broner got into beefs with Showtime's Al Bernstein and with ESPN's Dan Rafael. Before his January 19th PPV non-effort against Manny Pacquiao, Broner refused to answer softball questions tossed by Bernstein during the final press conference.
It was an ugly scene, AB vs. AB.
Bernstein, miffed but maintaining his professionalism, backed down when Broner disrespectfully told him he had nothing to say to him, calling him a "bitch ass nigga" and saying that he'd rather be questioned by Roy Jones Jr. or Stephen A. Smith.
No less indignant after losing a unanimous decision to Pacquiao, Broner was asked by Rafael if he really believed what he was saying about being robbed. Broner went for the low-hanging fruit.
He fat shamed Big Dan Rafael. "Hell ya I believe I won that fight," he told the plus-sized writer. "It's like when you believe you want cheese on that burger." Broner, giggling like a goof, amused by his own mean-spirited sense of humor, threatened to go even lower before the mic was passed to South Central News.
Why are these confrontations with the fight media happening? Is it just a case of "fake news" getting what's rightfully coming back at them by those they insult and otherwise misrepresent? Clearly, the days of Muhammad Ali verbally sparring with Howard Cosell and harmlessly playing with the man's toupée are long gone. Is social media to blame or is it all just a sign of the times?
I don't have all the answers.
What I do have are questions. That's how this job is supposed to work for any working journalist. We ask you. You answer us. We then report to our readers and/or followers, the boxing fans.
Unfortunately, this dynamic is dying if it's not already dead. Perhaps fighters no longer feel they need the boxing media to get their message out, particularly when they (like any President or entertainer) can use Twitter to say whatever the heck they want, whenever the hell they like.
Before going any further let me just say that the vast majority of boxers are exceedingly polite in their interactions with the media but boxing is a sport where passions run deep and tempers often flare. Sometimes we wordsmiths get burned. Here then are five infamous instances of boxers behaving truculently in the presence of writers, reporters, and television/radio announcers.
James Toney vs. Jim Gray: After becoming one of only two men to stop Evander Holyfield, 'Lights Out' Toney gave Showtime's Jim Gray a little taste of the streets. Gray, interviewing Toney in the ring after the 2003 upset in Las Vegas, asked the tough talking former middleweight champion of the world if he was just "too quick and too fast" for the aging Holyfield. It seemed like a legitimate question but Toney responded as if Gray had personally disrespected him. "Don't come up in here trying to give me no bad ass questions, trying to degrade me."
Undeterred, Gray pressed on but to no avail. "I ain't gotta answer nobody's questions," said Toney before knocking the mic out of Gray's hand and onto the canvas; then turning his back on the announcer and starting to walk away. As Gray went to recover his fallen tool of the trade, Toney spun back around to accost Gray for "walking up" on him. "I don't like you," griped Toney.
Deontay Wilder vs. Radio Raheem: In L.A. last year to cover Wilder-Fury for the website Seconds Out, boxing personality Radio Raheem quickly fell afoul of the 'Bronze Bomber' at the final fight week press conference following Wilder's face-off with Tyson Fury. Raheem made the mistake of bringing up the history of slavery. He reminded Wilder of comments he had made but had not elaborated on. "You said your people have been fighting for four hundred years…"
This upset Wilder more than Fury ever could.
"They your people too," Wilder sneered at his brother from another mother. Raheem asked for clarification but Wilder was fuming, accusing the reporter of trying to "bait" him. Raheem asked again for an explanation. "I don't have to explain what's understood," dismissed Wilder, now mocking 'Radio Raheem' for his on-air name. "Go Google that shit," he angrily instructed. Wilder ripped off his own glasses and then asked Raheem how he could dare ask such a thing, getting in his face with a loud rant about their people still fighting "to this day, to this day, to this day!"
Tyson Fury vs. Elie Seckbach: The comebacking 'Gypsy King' won respect and admiration from the mainstream media for his brutal honesty about addiction and depression, but he got off on the wrong foot with American boxing media veteran and YouTube sensation Elie Seckbach.
During an in-ring media event held to promote his then upcoming WBC heavyweight title fight with Deontay Wilder, Fury was introduced to Seckbach and encouraged to be interviewed by him. Fury was having none of it. He waved his finger at Seckbach and told him to leave the ring immediately. The publicist in charge of media relations was surprised at Fury's attitude towards the videographer. "I don't want him," Fury bluntly blurted. The publicist tried to tell Fury how good Seckbach had been for the fight's promotion but Fury's mind was already made up about him.
"Elie is a wanker, that's who he is."
"He's a hater," said Fury.
Floyd Mayweather Jr. vs. Larry Merchant: After winning an ugly dog fight on HBO PPV against Victor Ortiz by using a well-deserved cheap shot to win the WBC welterweight title by knockout, Mayweather took a few more cheap shots at Merchant during the post-fight interview. The result was a spectacularly uncomfortable exchange between a fighter and an announcer.
With Merchant congratulating the winner and commenting on how he was "in charge" of the fight, Mayweather suddenly snapped. "You never give me a fair shake," he said. "HBO needs to fire you, you don't know shit about boxing." The deer in the headlights look on Merchant's face told the whole story. "You ain't shit," Mayweather repeatedly told the 80-year-old broadcasting legend. Protecting himself at all times, Merchant shot back with a line that's sure to go down in history as one of the great comebacks. "I wish I was 50 years younger, I'd kick your ass!"
Mayweather wasn't done feuding with the media. In 2015, he revoked the May-Pac press credentials for three journos whose applications for press passes had already been approved. They were CNN's Rachel Nichols, ESPN's Michelle Beadle and TSS's own Thomas Hauser.
Victor Ortiz vs. Joel Sebastianelli: More amusing than obnoxious, this case of vicious fighter versus writer happened in 2011, just five months before the aforementioned Mayweather-Ortiz bout. The scene was the MGM Grand at Foxwoods in Connecticut. Ortiz had just won the WBC welterweight title; defeating Andre Berto in the 'Fight of the Year' on HBO. The post-fight press conference was buzzing with media eager to question the new champ. Then it happened.
A baby-faced writer for Ring News 24 stood up and put a well-crafted question to Ortiz. It had to do with Ortiz overcoming adversity in this fight after he'd failed to overcome it against Marcos Maidana two years prior. Stupefied by such an inquiry, Ortiz ducked the question and threatened to come down off the stage to "spank" the teenaged cub reporter with his newly won green belt.
Everyone laughed. Next question please.
I later hired that kid to do KO Digest interviews including fully fleshed out Q&A's with Wladimir Klitschko, Ray Mancini, Keith Thurman, Paulie Malignaggi, Marlon Starling, Shannon Briggs, Steve Cunningham, Jeff Fenech, Virgil Hill, Mike Alvarado, and Mike Weaver among others.
Way to go Scoop, way to go!
Boxing writer Jeffrey Freeman grew up in the City of Champions, Brockton, Massachusetts from 1973 to 1987, during the marvelous career of Marvin Hagler. He then lived in Lowell, Mass during the best years of Micky Ward's illustrious career. A new member of the Boxing Writers Association of America, Freeman covers boxing for The Sweet Science in New England.
Check out more boxing news on video at The Boxing Channel
To comment on this story in The Fight Forum CLICK HERE
Daniel Jacobs Edges Past Gabe Rosado on a Matchroom card in Florida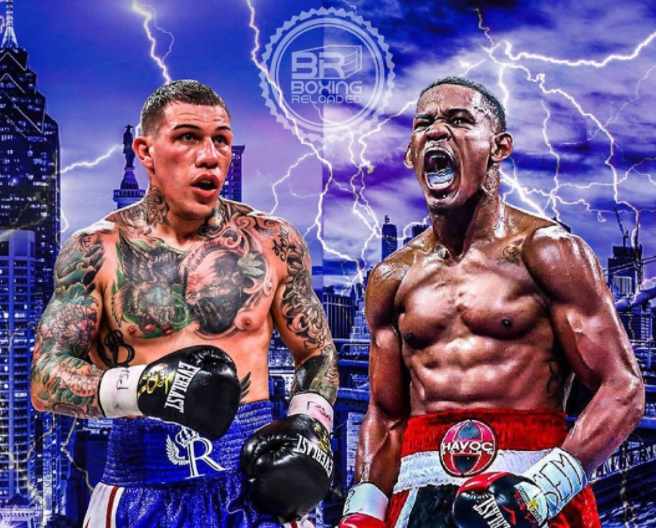 Former world champion Daniel Jacobs needed the last round to win by split decision against upset-minded Gabe Rosado and keep his place in line on Friday for lucrative super middleweight matchups.
But when the ring announcer erroneously announced the winner was from Philadelphia, confusion reigned for a moment until Jacobs was correctly called the winner.
Brooklyn's Jacobs (37-3, 30 KOs) jumped out ahead against Philly fighter Rosado (25-13-1, 14 KOs) and held on for the win in front of no fans at the Seminole Hard Rock Hotel and Casino in Hollywood, Florida. For a second, many thought Rosado had won.
Both were careful during the first three rounds measuring each other's distance and looking for openings to counter. There were very few.
It was the kind of fight expected by those who know boxing: two veterans with immense experience against top-flight world champions. Mistakes were few.
Jacobs, a former middleweight world champion, had fought Saul "Canelo" Alvarez and Gennady "GGG" Golovkin in close but losing efforts.
Rosado had battled Golovkin too, six years ago in a bloody affair that ended in a loss. He had also lost to other champions like Peter Quillin and Jermell Charlo. But none were able to knock him out.
Both were aware of each other's reputation. Bitter words had been exchanged for years and now they finally got their chance to prove their mettle and they did.
Though Jacobs was recognized as a knockout puncher, Rosado's resilience was just as well known. Both neutralized each other for most of the fight with their feints and jabs to the body. Neither was willing to leave openings for each other.
Jacobs scored big with a left uppercut at the end of the seventh round. While Rosado wowed viewers with a sizzling right cross in the 11th round.
It was 1950s style, boxing with intelligence. Each found it difficult to land combinations, let alone find openings to score knockout blows. Instead, they had to be satisfied with scoring enough to convince three judges the actual winner.
Neither was able to pull out ahead with any conviction.
After 12 rounds one judge saw Rosado the winner 115-113 while two others saw Jacobs the winner 115-113 to give him the win by split decision.
"It felt just a little weird. It felt like a sparring match," said Jacobs about fighting without fans in the audience. "This wasn't a valiant effort."
Rosado was certain he was the true winner.
"I thought I won the fight. I surprised him," said Rosado who trained with Freddie Roach for this fight. "I'm a veteran, I know how to fight."
Indeed, he does.
Jacobs now stands poised to fight one of many super middleweight champions in need of a marquee name.
"I live to see another day," he said honestly.
Other Bouts
Kazakhstan's Daniyar Yeleussinov (10-0, 6 KOs) proved he was not an easy touch and knocked out former world champion Julius Indongo (23-3, 12 KOs) to march forward in the welterweight division while grabbing the vacant IBF Inter-Continental title.
In a fight featuring southpaw versus southpaw Yeleussinov caught Indongo with a roundhouse left the first time they exchanged and down went the former super lightweight world champion. Indongo beat the count and survived the round.
Indongo wasn't as lucky in the second round as Yeleussinov again connected with a left and down went the fighter from Namibia again. He would not get up at 1:24 of round two giving the knockout win for Yeleussinov.
A battle between undefeated heavyweights saw Azerbaijan's Mahammadrasul Majidov (3-0, 3 KOs) use roundhouse rights to stagger the heavier Sahret Delgado (8-1) to win by knockout in the third round. Majidov actually helped Delgado get to his stool after knocking him out on his feet at 47 seconds of the third round.
Emmanuel Tagoe (32-1) defeated Mason Menard (36-5) by majority decision after a 10- round lightweight fight that saw a lot of clinching and leaning.
Nikita "White Chocolate" Ababiy (10-0) out-fought Detroit's Brandon Maddox (7-4-1) to win by unanimous decision after six rounds in a middleweight clash. Ababiy hurt Maddox with body shots but found Maddox more resilient than expected.
Check out more boxing news on video at the Boxing Channel 
To comment on this story in the Fight Forum CLICK HERE.
Pradabsri Upsets Menayothin, Ends the Longest Unbeaten Streak of Modern Times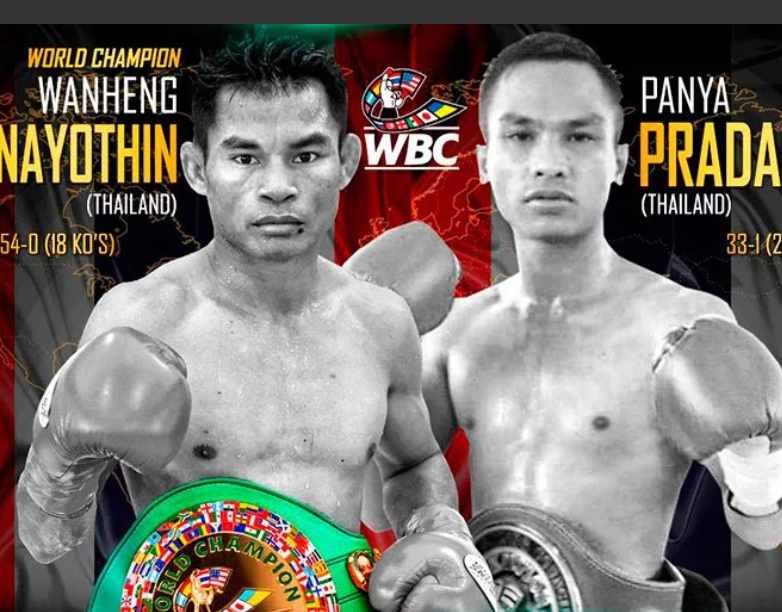 During the wee hours in the Americas, a big upset was brewing in Thailand. In Nakhon Sawan, a city roughly 150 miles north of Bangkok, Panya Pradabsri (aka Petchmanee CP Freshmart) out-pointed Wanheng Menayothin (aka Chayaphon Moonsri) in a domestic clash with international significance. Manayothin entered the bout with a 54-0 (18) record and was making the 13th defense of his WBC world minimumweight title.
Pradabsri had been defeated only once in 35 previous starts, but only 11 of his 34 victories had come against fighters with winning records. According to ringside reports, he kept Menayothin at bay with good fundamentals, a stiff jab, and good lateral movement. All three judges had it 115-113. The fight wasn't without controversy as Menayothin finished stronger and many folks scoring off the live video thought that he had done just enough to retain his title.
How good was/is Menayothin? That's a question that serious boxing fans will likely debate for decades.
In the summer of 2019, Menayothin signed a co-promotional deal with Oscar De La Hoya's Golden Boy Promotions. At time, GBP president Eric Gomez described him as one of the best fighters in the world. "We really want to bring him to the U.S. so people can see how talented he really is," Gomez told England's Sky Sports.
Menayothin was expected to make his U.S. debut in April of this year, but the pandemic ruined that plan. Earlier this year, he announced his retirement, but rescinded it after only two days.
Scottish boxing historian Matt McGrain, who has an exclusive arrangement with this web site, had lukewarm opinion of the Thai mighty-mite although he rated him the second-best 105-pound boxer of the decade, trailing only his countryman Thammanoon Niyomtrong (aka Knockout CP Freshmart).
"He is disciplined, strong, brings good pressure and is armed with a very decent range of punches," said McGrain, "(but his record) is comprised mostly of men any competent fighter would be expected to beat."
Although only one boxer from Thailand has been inducted into the International Boxing Hall of Fame (Khaosai Galaxy, class of 1999), the Southeast Asia nation has produced some outstanding boxers over the years – Chartchoi Chionoi, Sot Chitalada, Pongsaklek Wonjongkam, and Srisaket Sor Rungvisai to name just a few. The difference between these fighters and Wanheng Menayothin is that they all left the comfort zone of their homeland to score one or more important wins on foreign soil.
Menayothin may yet display his wares in a U.S. ring. But at age 35, an advanced age for small fighters in particular, we won't get to see him at his best and now that his bubble has been burst, disinviting further comparisons to Mayweather and Marciano, the curiosity factor has been tempered.
To comment on this story in the Fight Forum CLICK HERE
Yoka vs. Hammer Kicks Off the Thanksgiving Weekend Slate on ESPN+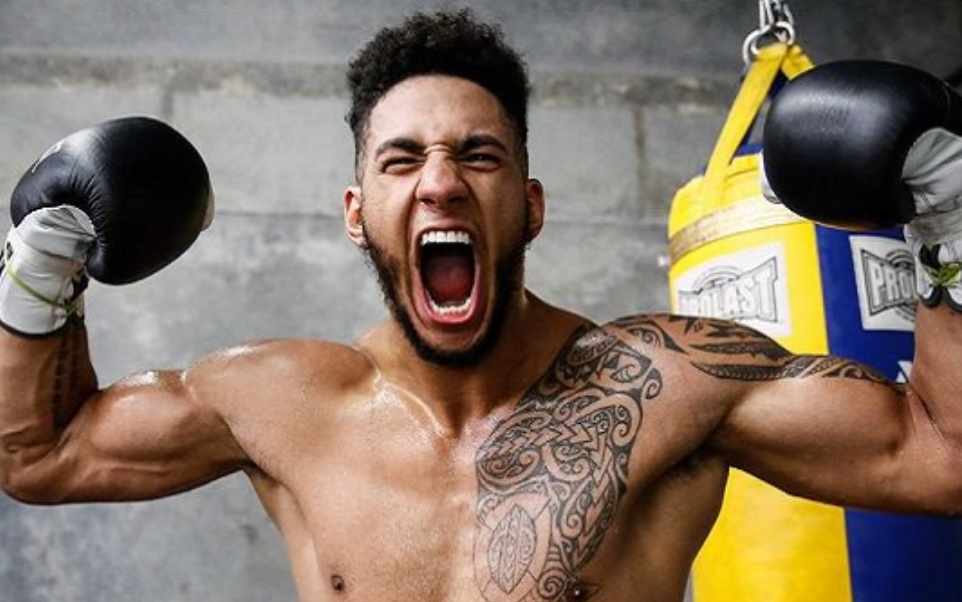 PRESS RELEASE— Tony Yoka, the dynamic heavyweight punching Parisian, aims to impress in his ESPN platform debut. Yoka, who won a super heavyweight gold medal for France at the 2016 Rio Olympics, will fight veteran Christian Hammer in a 10-rounder Friday at H Arena in Nantes, France.
Yoka-Hammer will stream live and exclusively this Friday, Nov. 27 in the United States on ESPN+ beginning at 2:55 p.m. ET/11:55 a.m. PT.
The ESPN+ stream will also include the return of unbeaten 2016 French Olympic gold medalist Estelle Yoka-Mossely against Pasa Malagic in an eight-round lightweight bout. Yoka and Yoka-Mossely, who have been married since 2018, welcomed their second child in May.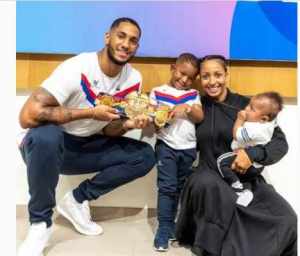 Earlier this year, Yoka inked a promotional agreement with Top Rank, which will co-promote him with Ringstar France.
"Tony Yoka's potential is limitless, and he is a grounded young man who is motivated to be a great professional fighter," said Top Rank chairman Bob Arum. "France has never had a world heavyweight champion, and I believe Tony is the one to bring the sport's biggest honor home."
The 28-year-old Yoka's stellar amateur run included a berth at the 2012 London Olympics and gold medals at the 2015 World Championships and 2010 Youth Olympic Games. Before his triumph in Rio, he'd already defeated the likes of former heavyweight world champion Joseph Parker and current undefeated prospects Joe Joyce and Ivan Dychko. At the Rio Olympics, he defeated Croatian standout Filip Hrgović in the semifinals and edged Joyce in the gold medal match.
As a professional, Yoka (8-0, 7 KOs) made his debut in June 2017 with a second-round stoppage over the previously undefeated Travis Clark. Apart from a decision win over Jonathan Rice in his second outing, Yoka has stopped every foe, including durable Englishman David "White Rhino" Allen and former European champion Alexander Dimitrenko. He made his 2020 debut Sept. 25 and stopped former world title challenger Johann Duhaupas in one round.
Hammer (25-6, 15 KOs) has fought many of the leading heavyweight names during his 12-year career, falling short against Tyson Fury, Luis Ortiz and Alexander Povetkin. He's notched myriad upset victories, including a highlight-reel knockout over David Price and a 2016 split decision over Erkan Teper for the WBO European belt. In March 2019, he went the 10-round distance against Ortiz and has not been stopped since Fury forced him to retire on his stool after eight rounds in their February 2015 clash.
Check out more boxing news on video at the Boxing Channel 
To comment on this story in the Fight Forum CLICK HERE