Beat The Press: Awkward Moments with Problematic Boxers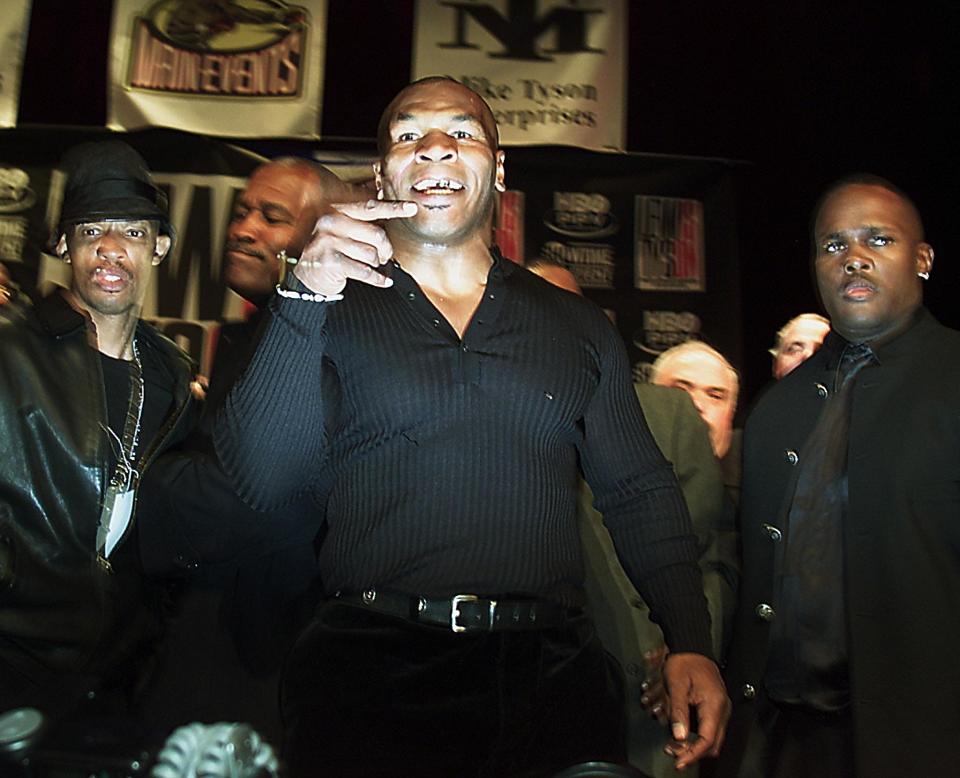 "Get him a straitjacket!"
That's how all this craziness started.
In 2002, boxing writer Mark 'Scoop' Malinowski stood at the back of a Mike Tyson press conference in New York City and shouted his exasperation at the former baddest man on the planet. Tyson, having just bitten Lennox Lewis on the leg during a media face-off gone horribly wrong, was livid. Hearing what Malinowski said, Tyson turned his attention to the fedora-clad reporter and let loose with one of the most vulgar diatribes ever heard in professional sports.
"Put your mother in a straitjacket," the crazy-eyed Tyson screamed back at the "white boy" newshound best known (until this moment) for his informative Biofile write-ups about boxers. It only got so much worse from there with a totally unhinged Iron Mike threatening to sodomize Malinowski in public.
Seventeen years later, it's becoming more and more common for angry boxers to take their frustrations out on credentialed media members charged with asking them questions and covering the sport on their behalf. It's happened to me on conference calls and at live events, most memorably with Andre Berto in the lead-up to his 2011 bout with Jan Zaveck. Triggered by my suggestion that he was now at risk of becoming a forgotten fighter, Berto got pugnacious.
"Is that what it is?" Berto responded to me on the media teleconference. "You lose one fight and now you're forgotten about? Saying that kind of thing just blows my mind about you reporters."
Berto continued to let me have it.
"You've seen a guy like Shane Mosley resurrect his career three or four times, a guy like Bernard Hopkins and all these other guys, and they have four, five, six losses. I went through a tough defeat. I had a bad night. I don't care about what people think or what you're gonna write. I'm doing this for me, my family, and the real Berto fans out there and that's it."
I definitely got under his skin.
Last week in Las Vegas, Adrien Broner got into beefs with Showtime's Al Bernstein and with ESPN's Dan Rafael. Before his January 19th PPV non-effort against Manny Pacquiao, Broner refused to answer softball questions tossed by Bernstein during the final press conference.
It was an ugly scene, AB vs. AB.
Bernstein, miffed but maintaining his professionalism, backed down when Broner disrespectfully told him he had nothing to say to him, calling him a "bitch ass nigga" and saying that he'd rather be questioned by Roy Jones Jr. or Stephen A. Smith.
No less indignant after losing a unanimous decision to Pacquiao, Broner was asked by Rafael if he really believed what he was saying about being robbed. Broner went for the low-hanging fruit.
He fat shamed Big Dan Rafael. "Hell ya I believe I won that fight," he told the plus-sized writer. "It's like when you believe you want cheese on that burger." Broner, giggling like a goof, amused by his own mean-spirited sense of humor, threatened to go even lower before the mic was passed to South Central News.
Why are these confrontations with the fight media happening? Is it just a case of "fake news" getting what's rightfully coming back at them by those they insult and otherwise misrepresent? Clearly, the days of Muhammad Ali verbally sparring with Howard Cosell and harmlessly playing with the man's toupée are long gone. Is social media to blame or is it all just a sign of the times?
I don't have all the answers.
What I do have are questions. That's how this job is supposed to work for any working journalist. We ask you. You answer us. We then report to our readers and/or followers, the boxing fans.
Unfortunately, this dynamic is dying if it's not already dead. Perhaps fighters no longer feel they need the boxing media to get their message out, particularly when they (like any President or entertainer) can use Twitter to say whatever the heck they want, whenever the hell they like.
Before going any further let me just say that the vast majority of boxers are exceedingly polite in their interactions with the media but boxing is a sport where passions run deep and tempers often flare. Sometimes we wordsmiths get burned. Here then are five infamous instances of boxers behaving truculently in the presence of writers, reporters, and television/radio announcers.
James Toney vs. Jim Gray: After becoming one of only two men to stop Evander Holyfield, 'Lights Out' Toney gave Showtime's Jim Gray a little taste of the streets. Gray, interviewing Toney in the ring after the 2003 upset in Las Vegas, asked the tough talking former middleweight champion of the world if he was just "too quick and too fast" for the aging Holyfield. It seemed like a legitimate question but Toney responded as if Gray had personally disrespected him. "Don't come up in here trying to give me no bad ass questions, trying to degrade me."
Undeterred, Gray pressed on but to no avail. "I ain't gotta answer nobody's questions," said Toney before knocking the mic out of Gray's hand and onto the canvas; then turning his back on the announcer and starting to walk away. As Gray went to recover his fallen tool of the trade, Toney spun back around to accost Gray for "walking up" on him. "I don't like you," griped Toney.
Deontay Wilder vs. Radio Raheem: In L.A. last year to cover Wilder-Fury for the website Seconds Out, boxing personality Radio Raheem quickly fell afoul of the 'Bronze Bomber' at the final fight week press conference following Wilder's face-off with Tyson Fury. Raheem made the mistake of bringing up the history of slavery. He reminded Wilder of comments he had made but had not elaborated on. "You said your people have been fighting for four hundred years…"
This upset Wilder more than Fury ever could.
"They your people too," Wilder sneered at his brother from another mother. Raheem asked for clarification but Wilder was fuming, accusing the reporter of trying to "bait" him. Raheem asked again for an explanation. "I don't have to explain what's understood," dismissed Wilder, now mocking 'Radio Raheem' for his on-air name. "Go Google that shit," he angrily instructed. Wilder ripped off his own glasses and then asked Raheem how he could dare ask such a thing, getting in his face with a loud rant about their people still fighting "to this day, to this day, to this day!"
Tyson Fury vs. Elie Seckbach: The comebacking 'Gypsy King' won respect and admiration from the mainstream media for his brutal honesty about addiction and depression, but he got off on the wrong foot with American boxing media veteran and YouTube sensation Elie Seckbach.
During an in-ring media event held to promote his then upcoming WBC heavyweight title fight with Deontay Wilder, Fury was introduced to Seckbach and encouraged to be interviewed by him. Fury was having none of it. He waved his finger at Seckbach and told him to leave the ring immediately. The publicist in charge of media relations was surprised at Fury's attitude towards the videographer. "I don't want him," Fury bluntly blurted. The publicist tried to tell Fury how good Seckbach had been for the fight's promotion but Fury's mind was already made up about him.
"Elie is a wanker, that's who he is."
"He's a hater," said Fury.
Floyd Mayweather Jr. vs. Larry Merchant: After winning an ugly dog fight on HBO PPV against Victor Ortiz by using a well-deserved cheap shot to win the WBC welterweight title by knockout, Mayweather took a few more cheap shots at Merchant during the post-fight interview. The result was a spectacularly uncomfortable exchange between a fighter and an announcer.
With Merchant congratulating the winner and commenting on how he was "in charge" of the fight, Mayweather suddenly snapped. "You never give me a fair shake," he said. "HBO needs to fire you, you don't know shit about boxing." The deer in the headlights look on Merchant's face told the whole story. "You ain't shit," Mayweather repeatedly told the 80-year-old broadcasting legend. Protecting himself at all times, Merchant shot back with a line that's sure to go down in history as one of the great comebacks. "I wish I was 50 years younger, I'd kick your ass!"
Mayweather wasn't done feuding with the media. In 2015, he revoked the May-Pac press credentials for three journos whose applications for press passes had already been approved. They were CNN's Rachel Nichols, ESPN's Michelle Beadle and TSS's own Thomas Hauser.
Victor Ortiz vs. Joel Sebastianelli: More amusing than obnoxious, this case of vicious fighter versus writer happened in 2011, just five months before the aforementioned Mayweather-Ortiz bout. The scene was the MGM Grand at Foxwoods in Connecticut. Ortiz had just won the WBC welterweight title; defeating Andre Berto in the 'Fight of the Year' on HBO. The post-fight press conference was buzzing with media eager to question the new champ. Then it happened.
A baby-faced writer for Ring News 24 stood up and put a well-crafted question to Ortiz. It had to do with Ortiz overcoming adversity in this fight after he'd failed to overcome it against Marcos Maidana two years prior. Stupefied by such an inquiry, Ortiz ducked the question and threatened to come down off the stage to "spank" the teenaged cub reporter with his newly won green belt.
Everyone laughed. Next question please.
I later hired that kid to do KO Digest interviews including fully fleshed out Q&A's with Wladimir Klitschko, Ray Mancini, Keith Thurman, Paulie Malignaggi, Marlon Starling, Shannon Briggs, Steve Cunningham, Jeff Fenech, Virgil Hill, Mike Alvarado, and Mike Weaver among others.
Way to go Scoop, way to go!
Boxing writer Jeffrey Freeman grew up in the City of Champions, Brockton, Massachusetts from 1973 to 1987, during the marvelous career of Marvin Hagler. He then lived in Lowell, Mass during the best years of Micky Ward's illustrious career. A new member of the Boxing Writers Association of America, Freeman covers boxing for The Sweet Science in New England.
Check out more boxing news on video at The Boxing Channel
To comment on this story in The Fight Forum CLICK HERE
The Hauser Report: Garcia-Redkach and More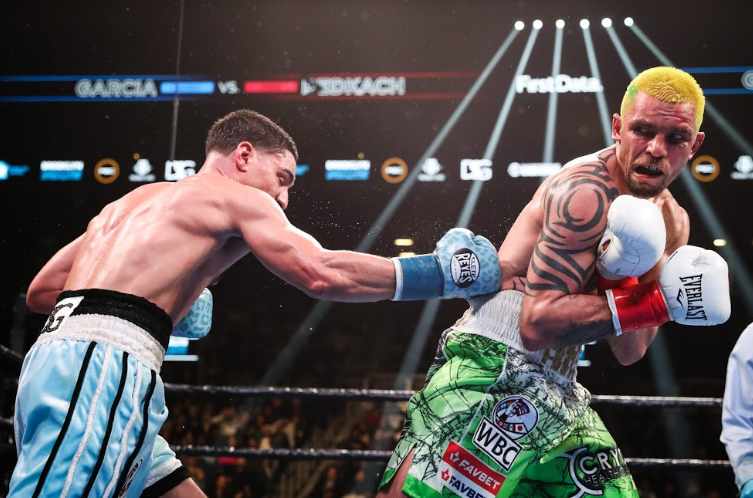 Boxing made its debut at Barclays Center on October 20, 2012, with a fight card headlined by four world title bouts. Danny Garcia, Erik Morales, Paulie Malignaggi, Peter Quillin, Devon Alexander, Danny Jacobs, and Luis Collazo were in the ring that night. The franchise grew nicely. Fans who went to Barclays saw good featured fights with solid undercard bouts. But as of late, the arena's fistic offerings have faded.
Barclays cast its lot with Premier Boxing Champions. And PBC has moved its prime content to greener pastures (green being the color of money). There were five fight cards at Barclays Center in 2019. Each one struggled to sell tickets.
January 25 marked the thirty-ninth fight card at Barclays. The arena was half empty. The announced attendance was 8,217 but that included a lot of freebies. There were six fights on the card. As expected, fighters coming out of the blue corner won all of them. That's what happens when 6-0 squares off against 2-10-1.
Three of the fights were televised by Showtime Championship Boxing, which has also been diminished as a consequence of a multi-year output deal with PBC.
In the first of these bouts, Stephen Fulton (17-0, 8 KOs) and Ukrainian-born Arnold Khegai (16-0, 10 KOs) met in a junior-featherweight bout. Each had fought the usual suspects en route to their confrontation. There was a lot of holding and rabbit-punching which referee Steve Willis ignored. Eventually, Fulton pulled away for a unanimous-decision triumph.
Next up, Jarrett Hurd (23-1, 16 KOs) took on Francisco Santana (25-7, 12 KOs).
Hurd is a big junior-middleweight who held the WBA and IBF 154-pound titles until losing to Julian Williams last year. Santana is a career welterweight who had lost three of his most recent four fights and had won only three times in the last five years.
Hurd was expected to walk through Santana. But he was strangely passive for much of the fight, which led to the strange spectacle of Santana (the noticeably smaller, lighter-punching man) walking Jarrett down for long stretches of time. Francisco is a one-dimensional fighter and was there to be hit. When Jarrett let his hands go, he hit him. But he fought like a man who didn't want to fight and didn't let his hands go often enough.
By round seven, the boos and jeers were raining down. Hurd won a unanimous decision but looked mediocre. That's the most honest way to put it. One wonders what tricks losing to Julian Williams last year played with his mind.
Also, it should be noted that, when the winning fighter thanks God in a post-fight interview and the crowd (which supported Jarrett at the start of the bout) boos at the mention of The Almighty, there's a problem.
"The crowd didn't love it," Hurd acknowledged afterward. "But you gotta understand; I got the unanimous decision and I did what I wanted to do."
The main event matched Danny Garcia (35-2, 21 KOs) against Ivan Redkach (23-4-1, 18 KOs).
Garcia had a nice run early in his career, winning belts at 140 and 147 pounds. But later, he came out on the losing end of decisions against Keith Thurman and Shawn Porter. Other than that, he has gone in soft for the past five years.
Redkach is a junior-welterweight who had won 5 of 10 fights during the same five-year time frame.
There was the usual pre-fight nonsense with Garcia telling reporters, "We picked Redkach because he's dangerous and we knew he'd be tough." But in truth, Redkach had been whitewashed by Tevin Farmer at 135 pounds and was knocked out at the same weight by John Molina Jr (who never won again).
Garcia, like Hurd, was a 30-to-1 betting favorite.
Redkach fought a safety-first fight. Also, safety second and third. There wasn't one second when it looked as though he had a realistic chance of winning the fight or fought like he did.
One of the few proactive things that Ivan did do was stick out his tongue from time to time when Garcia hit him. Then, at the end of round eight, he bit Danny on the shoulder while they were in a clinch. At that point, one might have expected referee Benjy Esteves to disqualify Redkach. But Esteves seemed to not notice.
Rather than go for the kill after the bite, Garcia eased up and cruised to a unanimous decision. Meanwhile, by round eleven, the crowd was streaming for the exits. Most of the fans were gone by the time the decision was announced.
Garcia and Hurd had set-up showcase fights scheduled for them. And neither man delivered the way he should have.
Meanwhile, a final thought . . . Sunday, January 26, would have been Harold Lederman's eightieth birthday.
Harold was the quintessential boxing fan and loved the sport more than anyone I've known. He never missed a fight at Barclays Center unless his health prevented him from coming or he was on the road for HBO. He died eight months ago.
As Saturday night's fight card unfolded, I imagined Harold sitting beside me. He would have had a kind word for everyone who came over to say hello and loved every minute of it. Harold Lederman at the fights was a happy man.
Photo credit: Amanda Westcott
Thomas Hauser's email address is thomashauserwriter@gmail.com. His most recent book — A Dangerous Journey: Another Year Inside Boxing — was published by the University of Arkansas Press. In 2004, the Boxing Writers Association of America honored Hauser with the Nat Fleischer Award for career excellence in boxing journalism. On June 14, 2020, he will be inducted into the International Boxing Hall of Fame.
Check out more boxing news on video at The Boxing Channel 
To comment on this article in The Fight Forum CLICK HERE
Fast Results from Brooklyn: No Surprises as Garcia and Hurd Win Lopsidedly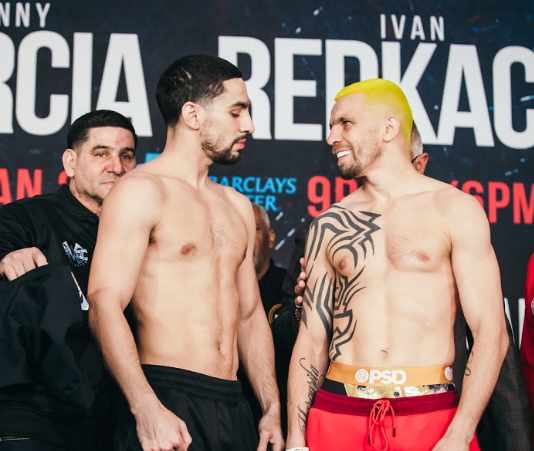 Tonight, Philadelphia's Danny Garcia made his eighth appearance at Barclays Center. Garcia's 2017 fight with Keith Thurman drew 16,533, the attendance high for a boxing show at the arena. A far smaller crowd was in attendance tonight to see Garcia take on Ivan Redkach in a non-title fight slated for 12 rounds.
Redkach, a 33-year-old LA-based Ukrainian, is a southpaw. That's no coincidence. Garcia hopes to land big-money fights with Errol Spence and/or Manny Pacquiao, both southpaws.
Redkach (23-4-1 coming in) turned his career around in his last fight with a career-best performance, a sixth-round stoppage of former two-division title-holder Devon Alexander, a 15-year pro who hadn't previously been stopped. But there was a class difference between he and Danny Garcia, a former WBA and WBC 140-pound world title-holder and former WBC 147-pound champion.
Garcia (35-2, 21 KOs) was simply sharper. His workrate slowed late in the fight, allowing the game Redkach to steal a few rounds, but at the final gun he was relatively unmarked whereas Redkach was conspicuously bruised. The scores were 118-110 and 117-111 twice. The crowd booed at intervals, understandable as they were subject to a drab 6-fight card that was even less interesting than it was on paper.
Co-Feature
In the 10-round co-feature, Jarrett Hurd, making his first start since losing his WBA/IBF super welterweight title to Julian Williams last May, went on cruise control from the opening bell and jabbed his way to a lopsided 10-round decision over Francisco Santana. Hurd, who improved to 24-1, finally let loose late in the 10th frame, putting Santana (25-8-1) on the canvas with a succession of left hooks, but by then many in the crowd had probably nodded off.
This was Hurd's first fight with new trainer Kay Koroma who has drawn raves for his work with America's elite amateurs. The scores were 97-92 and 99-90 twice. SoCal's Santana has now lost five of his last eight.
The opening bout on the main TV portion of the card was a 12-round super bantamweight contest between Philadelphia's Stephen Fulton and fellow unbeaten Arnold Khegai who currently trains in Philadelphia.
Fulton (18-0, 8 KOs) simply had too much class for Khegai (16-1-1), a Ukrainian of Korean heritage. Although Khegai frequently backed Fulton into the ropes, the Philadelphian had an air-tight defense and connected with many more punches. The fight went the full 12 with Fulton prevailing by scores of 116-112 and 117-111 twice.
If the WBO has its way, Fulton will proceed to a fight with Emanuel Navarrete, but don't hold your breath as Navarrete is promoted by Bob Arum who undoubtedly wants to extract more mileage from him before letting him risk his belt against a crafty fighter like Stephen Fulton.
Photo credit: Amanda Westcott / SHOWTIME
Check out more boxing news on video at The Boxing Channel 
To comment on this story in The Fight Forum CLICK HERE
Sacramento Honors Diego 'Chico' Corrales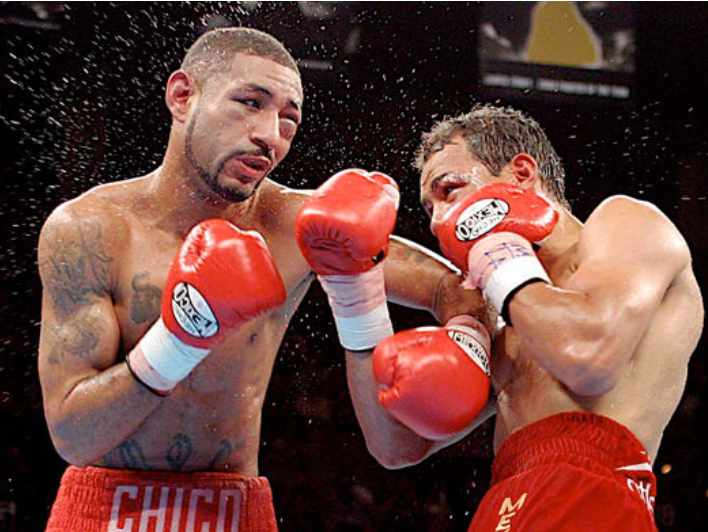 Tonight (Saturday, Jan. 25) former two-division world boxing champion Diego "Chico" Corrales will be posthumously inducted into the Sacramento Sports Hall of Fame at the organization's eighth annual induction ceremony at the Thunder Valley Casino Resort.
Corrales, who grew up in Sacramento, the son of a Columbian father and a Mexican mother, turned pro at age 18 and went on to compile a record of 40-5 (33 KOs). He won his first title in 1999 with a seventh-round stoppage of previously undefeated Robert Garcia. Now recognized as one of boxing's top trainers, Garcia was making the fourth defense of his IBF 130-pound title.
Five years later, Corrales won the WBO world lightweight title with a 10th-round stoppage of Brazil's previously undefeated Acelino Freitas. That set up a unification fight with the WBC belt-holder Jose Luis Castillo.
Corrales and Castillo met on May 7, 2005, at Mandalay Bay in Las Vegas. To say they put on a great fight would be an understatement. The boxing writers in attendance will tell you that this was the greatest fight of all time. It was named Fight of the Decade by The Ring magazine.
The final round, the 10th, was unbelievable. Heading into the round, Corrales was ahead on two of the three scorecards, but his left eye was swollen nearly shut and during the round he was knocked down twice. No one would have faulted referee Tony Weeks for stopping the fight after the second knockdown. But, somehow, Corrales was able to rally, pulling the fight out of the fire with a barrage of punches that had Castillo out on his feet when Weeks waived it off.
Two years to the very day of this iconic fight, Diego "Chico" Corrales died in a motorcycle accident in his adopted hometown of Las Vegas when he rear-ended a car while traveling at a high rate of speed. He was 29 years old.
Corrales was a thrill-seeker. In a 2006 profile, Las Vegas Review-Journal boxing writer Kevin Iole enumerated these among Castillo's hobbies: jumping out of planes from 14,000 feet, bungee jumping from 400 feet, snowboarding in treacherous terrain and scuba diving amid a school of sharks. "He lived his life the same way he fought," said his promoter Gary Shaw, "with reckless abandon."
It might seem odd that it took so long for Corrales to be recognized by the Sacramento Sports Hall of Fame, but there was a period when Corrales's name was mud in his hometown and perhaps the organization's founder, Las Vegas sports radio personality T.C. Martin, a Sacramento native, thought it appropriate to let old wounds heal.
In 2001, shortly after suffering his first pro loss at the hands of Floyd Mayweather, Corrales pled guilty to felony domestic violence in the beating of his first wife and would serve 14 months in prison. "The whole family has worn a black eye for it," Diego's brother Esteban Corrales told Sacramento Bee reporter Marcos Bretan.
For all his recklessness, the incident didn't jibe with his persona. In the company of Las Vegas sportswriters, the soft-spoken and well-spoken Corrales came across as polite and humble.
Corrales, one of five inductees in the 2020 class, joins three other boxers already installed in the Sacramento Hall: Pete Ranzany, Loreto Garza, and Tony "Tiger" Lopez.
Ranzany, a welterweight, fought four former or future world champions and was a fixture in Sacramento rings in the late 1970's. Garza wrested the WBA super lightweight title from Argentina's Juan Martin Coggi in France and successfully defended the belt here in Sacramento with a one-sided conquest of Vinny Pazienza. Lopez, Sacramento's most popular fighter ever, made the turnstiles hum at the city's largest arena where he fought eight of his 14 world title fights beginning with his 1988 humdinger with defending IBF 130-pound champion Rocky Lockridge.
Among the speakers at tonight's confab will be Kenny Adams. Perhaps best known as the head trainer for the 1988 U.S. Olympic team that won eight medals in Seoul, Adams currently trains Nonito Donaire. He was with Diego Corrales for 24 fights, during which Corrales was 23-1, avenging the lone defeat by Joel Casamayor. Festivities start at 7 pm.
Check out more boxing news on video at The Boxing Channel 
To comment on this story in The Fight Forum CLICK HERE