Ringside at the Toyota Center: Munguia Rebuffs Relentless Inoue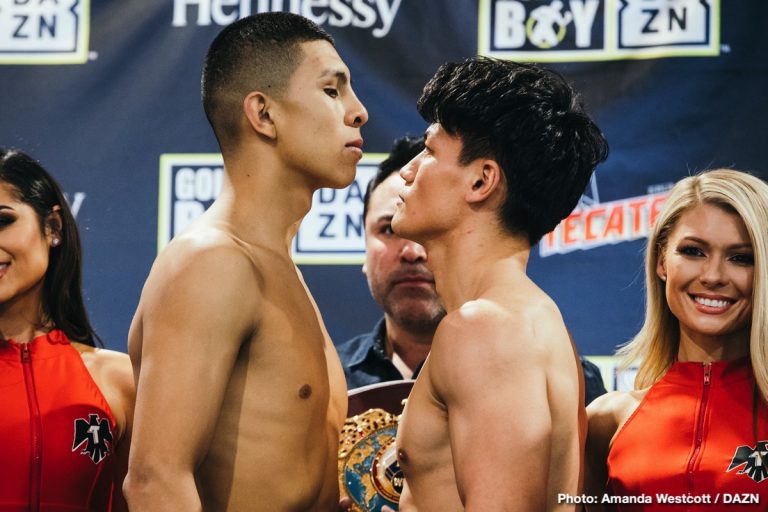 Houston, TX — Undefeated WBO junior middleweight champion Jaime Munguia found himself in the pit of hell against previously unknown Japanese pressure cooker Takeshi Inoue on Saturday night at the Toyota Center in Houston. Inoue forced Munguia to dig deep over the course of 12 grueling rounds, which saw both fighters swing for the fences for all three minutes of just about every round.
At the end of a hard-fought battle, Munguia (32-0, 26 KOs) survived his third, and most difficult, title defense, winning the action-packed fight by scores of 120-108, 120-108 and 119-109. While the scores might seem too wide to some observers, it's important to note that not all close fights are scored that way in boxing.
Munguia began his professional prizefighting career at the tender age of 16 in Tijuana, Mexico. Almost six years later, averaging a grueling schedule of five fights a year, primarily within the confines of the city limits in which he was born, Munguia entered the ring having essentially punched his way out of Tijuanan obscurity into the new global sports streaming space pioneered by sudden industry leader DAZN.
Inoue (13-1-1, 7 KOs) didn't care about any of that. All the 29-year-old stocky puncher seemed concerned with heading into the biggest fight of his prizefighting life was shocking the world.
Having seen Munguia's monstrous frame tower over his comparatively diminutive opponent during prefight festivities, when the two met in the center of the ring, it looked a lot like what one might expect when seeing a parent pick up a child after school.
Except that when the bell rang here, it wasn't going to be an audio cue for the kids to pack up their books and saunter toward the exits. Instead, the bell's ominous toll meant it was time for Munguia to wreck Inoue with what might as well be G-O-D-Z-I-L-L-A emblazoned across his trunks.
Come to think of it, this fight seemed at the outset to be the shortest, most unnecessary portion of the Godzilla movie franchise yet. Bring forth the army! Call forth the National Guard! Nah, nevermind. Just bring in this lonely little man in the center of the ring far from home with nowhere to run.
Except that Inoue did run, and it was right into the action. He was a brave, defiant challenger leaving everything he had of himself inside the ring during every round.
Overall, the fight boiled down to what happened during the first round repeating itself over and over again. Munguia was content to box from a distance, throwing hard jabs, deep left hooks and sizzling straight right hands all over his would-be usurper's head and body.
But Inoue was undeterred. He lunged forward like an angry bear, landing hard punches coming from wide, looping angles whenever he could get close enough to Munguia to land them, which had to be way more often than Munguia had hoped.
Munguia took the best of Inoue when he could stay off the ropes and out of the corner, but Inoue seemed to get him in one or both of those places for at least some portion of every round.
Both landed hellacious shots. At times, they took turns snapping each other's head back, only to realize when their heads came back down that both them and their opponent was somehow still standing right there.
The fight was simply this: hard punch, defiant smirk, rinse and repeat. Over and over and over again, Munguia boxed with precision, power and class. Over and over and over again, Inoue kept charging forward.
Munguia came very close to getting the defining moment he probably wanted when he countered Inoue almost into oblivion. But almost is never good enough in a fight like this, and Inoue withstood the storm with just seconds left in the round.
Both men fought bravely. If the wideness of the scores bothers Inoue, it shouldn't. That's just how math sometimes works in fights where one fighter just happens to edge out most all of the rounds by a hair. Inoue fought excellently and should be commended for the amazing performance, as should Munguia who had clearly just been in the fight of his life.
If you think about it, Munguia was the anti-Inoue of 2018. Like Inoue, the Mexican was also an unknown when he was presented to the Nevada State Athletic Commission as a possible opponent for Gennady Golovkin in May.
But unlike Inoue, fate kept Munguia out of harm's way when the NSAC wouldn't authorize him as a credible opponent. Or maybe it was just Nevada.
Because in retrospect Inoue's resume looks way worse than Munguia's did. How was this fight approved while the other one wasn't? Would Nevada have sanctioned this one? Most anyone who witnessed what happened in Houston was probably glad they didn't have the say.
Perhaps the most amazing thing is that Inoue, who incidentally isn't related at all to bantamweight superstar Naoya Inoue, had no credible wins–at least at the world level–on his resume before bravely storming across the Pacific Ocean to make his American boxing debut.
The fact that Inoue was able to compete for Munguia's world title at all is an example of how politics almost always trumps perceived fair play in the grand, ole sport of professional boxing, and sometimes that might not be a bad thing.
Because Inoue didn't look like a worthy challenger. He didn't win his first fight, a six-round draw against Daishi Nagata in 2014 and hadn't fought outside his home country of Japan except once.
Inoue's last three wins didn't look great on paper either. He had notched victories over two single-digit win fighters, Niwat Kongkan and Iku Nagahama, and a 41-year-old Yuki Nonaka.
And Munguia?
His rise had been fast and furious in a way that bookmakers tabbed him a -5000 favorite against Inoue. A 22-year-old world champion going from zero to hero in less than a year, title belt in tow with a lucrative opportunity to help usher in this new global boxing streaming age was surely going to wreck this no-hope fighter from all the way around the world.
Wasn't he?
But that's not what happened. Munguia, perhaps destined to become boxing's next big thing, and Inoue, a fighter some considered just a Japanese club fighter flown in specifically so he could be butchered for the sake of some predetermined, 10-second-or-less, Mungia-hyping video assets, fought an excellent fight that no one saw coming.
Can Upsets Rojas for WBA title
Nobody expected featherweight Xu Can to defeat Jesus Rojas in the co-main event of Munguia-Inoue, but Xu used relentless combinations and old-fashioned stick-to-itiveness to secure his first world title honor.
Rojas, 32, had the odd displeasure of defending his secondary WBA featherweight world title right after losing his last fight, a 12-round unanimous decision to Joseph Diaz in August 2018. But Diaz missed weight for the fight, so despite grabbing the win, he didn't walk away with Rojas' title.
So Rojas made good on the opportunity created by the WBA rule, which allowed him to stay champion despite the loss, and Can, 24, made good on the wishes of a surprisingly strong and vocal contingent of Chinese fans to produce some stylistically scintillating action on the way to the upset victory.
Rojas is an aggressive, come-forward fighter who only moves back at times to catch his breath. Can is more of a boxer, but really lets his hands go both inside and out. The result was some true featherweight fireworks in a fight DAZN's Chris Mannix called an early Fight of the Year candidate for 2019.
Both fighters fought to win, but neither possessed enough power really to hurt the other significantly. The judges favored Can (16-2, 2 KOs) because of his harder thrown punches and the way he kept the pedal to the metal when Rojas (26-3-3, 19 KOs) would tire.
Judges scored the fight 118-110, 117-111 and 116-112 for Can.
Ortiz Jr. Continues KO Streak
Junior welterweight prospect Vergil Ortiz Jr. defeated Jesus Valdez by fifth-round knockout running his impressive stoppage streak to 12 KOs in 12 fights. Ortiz (12-0, 12 KOS) might only be 20 years old, but he fights with an aggressive sort of patience befitting an older, more experienced fighter. The Dallas native sure looks like he's on his way to a bright future.
Ortiz wore Valdez (23-5-1, 12 KOs) down, battered him into a bloody mess and secured the stoppage win when the referee had seen enough of Valdez's blood hit the canvas. Ortiz is a hard puncher, but more impressive is the gumption with which he instigates the action and his ability to counter his opponent's combinations.
Those are the kinds of things that bode well for the prospect's future. Before the fight, Ortiz said he intends to challenge for a world title by the end of 2019. He's probably not quite ready for that, but he could be with a few more of the right kinds of fights in the near future.
Other Undercard Bouts
Junior featherweight prospect Alberto Melian (4-0, 2 KOs) stopped Mexico's Edgar Ortega (10-2-2, 5 KOs) in the 10th round to remain unbeaten. The fight started rough for the Argentinian, but Melian's Olympic pedigree came through as the fight progressed to the later rounds.
Dallas-based junior middleweight prospect Alex Rincon, 23, beat a very game, Jeremy Ramos in a six rounder. Rincon (6-0, 5Os) had to work hard but stayed unbeaten by steadily outworking Ramos (10-6, 4 KOs).
His older brother, George Rincon (6-0, 3 KOs), knocked out Emmanuel Valadez (5-7, 4 KOs) in the first round of the opener. Rincon, 27, dropped Valadez less than a minute into the fight. The bout was halted soon after.
Photo credit: Amanda Westcott
Check out more boxing news on video at The Boxing Channel
To comment on this article in The Fight Forum CLICK HERE
Reconfiguring the Championship Rounds: What if There'd Been 3 More or 3 Less?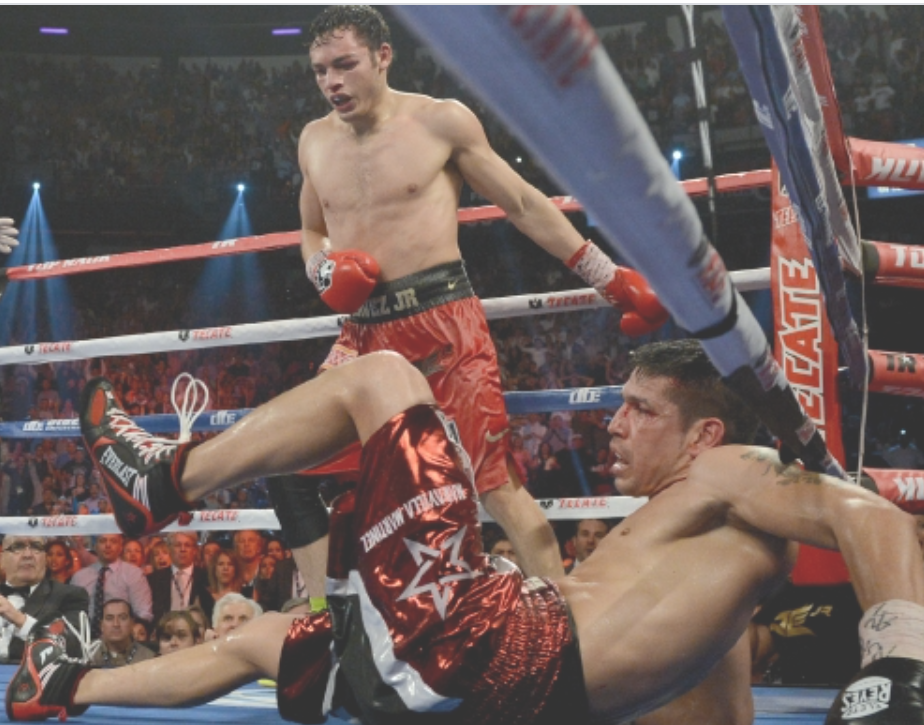 The true championship distance is 15 rounds insisted Ray "Boom Boom" Mancini when pressed about it. "I have a problem with guys who only had to go 12 and got into the Boxing Hall of Fame before guys who went 15. I lost against Alexis Arguello and Livingstone Bramble," he said, "(but) I was winning after 12. So if it's only 12 rounds, I'm undefeated! What would they say now if I beat those legends?"
Good question Good Son.
They'd say that Arguello folded you to a knee with a perfectly timed right cross at the very end of the 12th round and that had it been correctly ruled a knockdown, you'd have lost a 12-round decision to the defending WBC champion. They'd also say that Bramble got you in the rematch.
Still, the former lightweight champion from Youngstown, Ohio makes a fan friendly point that goes to the hypothetical heart of the '12 versus 15 rounds' debate. How would boxing history be viewed differently if certain 15-round fights had been scheduled for 12 rounds and vice-versa?
Let's look at 10 such fights and ask, what if?
Joe Louis KO 13 Billy Conn, 1941: Famously, the undersized underdog title challenger was ahead on two judges' scorecards after 12 rounds and even on the third. If title bouts in the 40's were 12-round affairs, the "Pittsburg Kid" might have danced off with Joe's heavyweight championship of the world but no, he found out that you can run—but you cannot hide. Louis knocked Conn out in the 13th round and then again in the 8th round of their 1946 rematch.
Would three more rounds have made any difference for Anthony Joshua against Oleksander Usyk last Saturday in Tottenham, U.K.? Far behind on two of three scorecards after 12, the real question is would AJ have had the stamina to go 15 and/or would Usyk have stopped him?
Rocky Marciano KO 13 Jersey Joe Walcott, 1952: Arguably the most important of all "come from behind" knockouts, the determined challenger from Brockton, Mass was down on all three judges' scorecards after 12 rounds were complete in Philadelphia but unfortunately for Walcott, this was still the era of 15-round world title fights. What if Marciano-Walcott was only scheduled for 12 rounds? Rocky either loses a unanimous decision and never becomes world heavyweight champion or he adjusts to the shorter distance and gets Walcott out of there sooner like he did in the rematch, blowing Walcott away in just 2 minutes and 25 seconds.
Mike Weaver KO 15 John Tate, 1980: As WBA heavyweight champion, John Tate knew nothing of 12- round title fights. He beat Gerrie Coetzee via 15-round decision to claim the vacant title and his first defense against Mike Weaver was scheduled for 15. Knowing he was behind on the cards and that he stood no chance of winning the title by decision, "Hercules" Weaver flattened Tate in the 15th and final round for a memorable come from behind KO. What if this particular bout was scheduled for 12 rounds? Tate would have probably retained his title by decision and possibly gone on to defend against Muhammad Ali. It might've been Tate who put the final touches on Ali and retired him for good. Instead it was Trevor Berbick who did the job.
Sugar Ray Leonard vs. Thomas Hearns I & II, 1981—1989: When these welterweight champions first faced off in 1981, 15-round world title fights were still very much the norm in boxing. Ahead on points after 12 rounds, Hearns gave up the lead (and the superfight) by collapsing in the "true" championship rounds. Score it a TKO 14 for Sugar Ray Leonard. In the sequel eight years later, 12-round title fights were the new normal. Sugar Ray sure needed those three rounds back! If he'd had them, he might have chased a badly tiring Hearns out of the ring again for another "championship rounds" stoppage, instead he was saved by a Vegas draw while Hearns was arguably saved by the bell to end their rematch's 12th and final round. The what if's abound! In an alternate boxing universe, Hearns beat Leonard by decision in 1981 then gets knocked out in the 14th round of their 1989 rematch. What would they say now Ray?
Ray Mancini KO 14 Deuk Koo Kim, 1982: Widely credited with being the catalyst for the abolition of 15 round fights in boxing, Mancini-Kim was a "ring death" played out on national television. What if this WBA lightweight title fight was instead a 12-rounder? Mancini would still have kept his championship but perhaps Kim would still be alive. The worst of the abuse Kim absorbed from "Boom Boom" came in the 13th and 14th rounds of their "kill or be killed" war.
What if nobody had to die that day?
Marvin Hagler UD 15 Roberto Duran, 1983: After 12 close rounds in Vegas, the late great "Marvelous One" was down by enough points on the judges' scorecards that had it gone to their totals after 12 rather than 15, Duran would have been declared new world middleweight champion, a feat he pulled off six years later in 1989 when he decisioned Iran Barkley over 12 to win the WBC middleweight title. Hagler got busy in the championship rounds to hold off the attempted coup and earn a 'much closer than it should've been' 15-round unanimous decision.
What if they'd robbed Hagler in a 12-rounder against Duran? My guess is that Hagler would've retired in 1984 and left Sugar Ray to wonder what might have happened if they'd ever fought.
Sugar Ray Leonard SD 12 Marvin Hagler, 1987: Of the many concessions made by Hagler to make the Superfight with Sugar Ray happen was an agreement to go 12 not 15 rounds. Both were experienced 15- round fighters but as the active, defending champion, it was Hagler who was more "tuned-in" for 15 rounders than his comebacking challenger. Could a tiring Leonard have gone three more rounds? He won the 10th and 11th but then gave away the 12th. Could Hagler have rallied in the "championship rounds" as he did against Duran four years prior? The thought of three more rounds excites me in a way the prospect of the fight itself once did.
But unfortunately, it'll never happen.
Julio Cesar Chavez TKO 12 Meldrick Taylor, 1990: There was so much at stake when these two undefeated junior welterweight champions clashed that it should have been scheduled for 15. This was the best fighting the best. We all know what happened. Chavez was being given a boxing lesson by a brave Philly fighter but it hardly mattered because the beating he was laying on Taylor could no longer be ignored, even by the HBO crew who tried their gosh darndest. With 2 seconds left in a 12-round fight in which Taylor was way ahead (!) on two of three scorecards, referee Richard Steele cut through the 'what if's' by stopping the fight with a badly busted up Taylor out on his feet after getting up from a dramatic knockdown in the bout's final ten seconds.
What if Steele had let Meldrick go on knowing there were three more rounds scheduled and this was an elite unification match? Could Taylor hold on to his "lead" and finish the fight? I doubt it.
Sergio Martinez UD 12 Julio Cesar Chavez Jr., 2012: For ten rounds, the defending world middleweight champion was toying with the son of a legend. It was fun to watch. Then as if animated by performance enhancing DNA, Chavez Jr. almost duplicated the famous feat of his father. Hurting Martinez in the 11th and dropping him hard in the 12th, Chavez Jr. attacked like a manchild possessed. Martinez got up, punched back, and the final bell rang. What if there were three more rounds to go? Would Martinez have still survived the bigger man? We'll never know. For Chavez the father and Chavez the son, the mas importante championship round was the 12th.
What's the hook that connects Martinez-Chavez Jr. to Marciano-Walcott? It's the late WBC President José Sulaimán. The familial godfather of Chavez Jr., Sulaimán came to Brockton in 2012 in the wake of the Martinez-Chavez fight to christen the new Rocky Marciano statue and to comment on the WBC middleweight title bout, telling me he believed it was well scored.
Now let me shock you.
After being mugged at Madison Square Garden in 2014 by Miguel Cotto, "Maravilla" Martinez retired to the land of misfit toys. You know that part. But did you also know that he fought twice last year and once last weekend against Brian Rose, winning all three? He looks good for 46!
What if Golovkin-Martinez finally happens?
And what does Boxing Hall of Famer "Good Son" Ray Mancini really think about the change from his era's 15-rounders to today's 12-round title fights? Was it all because he "killed" Kim?
"That was a TV decision not a medical decision. They wanted 12-round fights so they had an opening and a closing if the fight went the distance so it wouldn't go over into the local newscast. Once people understand that, then they'll understand why it's 12 rounds now. I've talked to neurologists and brain surgeons. I've found out there is no proof that more damage is done in the last three rounds as opposed to the first 12. There have been fatalities in 12 round fights too."
Will 10-round title fights be next?
Chavez Jr / Martinez photo credit: Naoki Fukuda
Boxing Writer Jeffrey Freeman grew up in the City of Champions, Brockton, Massachusetts from 1973 to 1987, during the Marvelous career of Marvin Hagler. JFree then lived in Lowell, Mass during the best years of Irish Micky Ward's illustrious career. A former member of the Boxing Writers Association of America and a Bernie Award Winner in the Category of Feature Story Under 1500 Words. Freeman covers boxing for The Sweet Science in New England.
Check out more boxing news on video at the Boxing Channel
To comment on this story in the Fight Forum CLICK HERE
The Hauser Report: Oleksandr Usyk Upsets the Applecart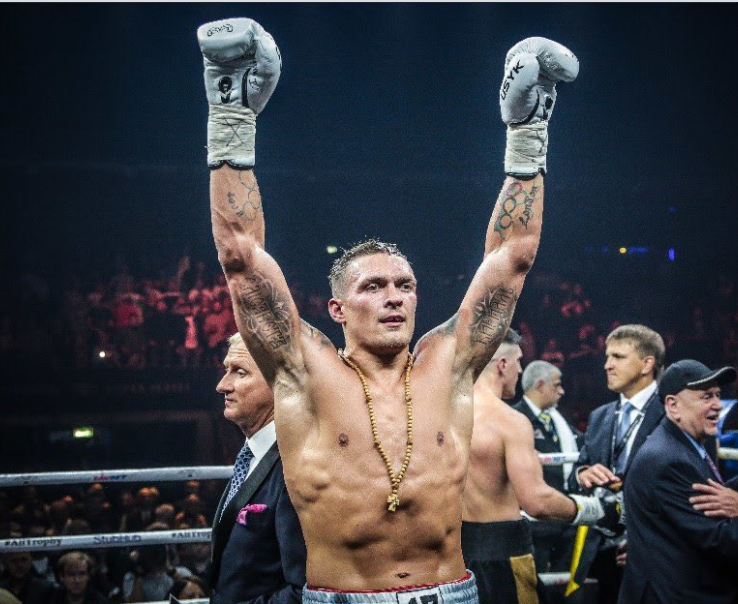 On Saturday night, Oleksandr Usyk won a unanimous decision over Anthony Joshua at Tottenham Hotspur Stadium in London to claim the WBA, IBF, and WBO heavyweight titles. With that victory, Usyk follows in the footsteps of Vitali and Wladimir Klitschko to become the third heavyweight beltholder from Ukraine.
Joshua has an elegance about him. Unlike some heavyweights at the top of today's class, he seems rational and sincere when he speaks. "The world is cruel," he told Sky Sports a year ago. "You've got to have a thick skin. One minute you're on top of the world, and the next minute you're not. That's the name of the game we're in."
"AJ" has accomplished a lot in the past ten years. He won a gold medal in the super-heavyweight division at the 2012 London Olympics, became enormously popular in his homeland, and has earned tens of millions of dollars fighting. What he hasn't done is prove himself to be a great fighter. The promise that seemed to be there after he climbed off the canvas to beat Wladimir Klitschko in an enthralling spectacle before 90,000 screaming fans at Wembley Stadium in 2017 never fully blossomed.
The Klitschko fight changed Joshua. Instead of gaining confidence from walking through fire and prevailing, he seemed to be a more tentative and vulnerable fighter afterward. Less-than-scintillating victories over Carlos Takam, Joseph Parker, and Alexander Povetkin followed. Then promoter Eddie Hearn brought Joshua to America to showcase him at Madison Square Garden against the corpulent Andy Ruiz. Shockingly, Ruiz knocked AJ down four times and stopped him in seven rounds.
Six months later in Saudi Arabia, Joshua gained a measure of revenge when he outboxed a grossly-out-of-shape Ruiz to reclaim his belts. But AJ hardly looked like a conqueror. A good jab doesn't just score points and keep an opponent at bay. It cuts; it hurts; it shakes up the opponent. Against Ruiz the second time around, Joshua threw a stay-away-from-me jab all night. As Jimmy Tobin wrote, it was as though he'd been transformed "from wild boar to truffle pig."
A cautiously-fought victory over Kubrat Pulev followed. "It's easy to watch on YouTube and be confident," Joshua said afterward. "Easy to watch from the outside. But when you're in front of someone, actually in the ring, it's a completely different ballgame."
Usyk, like Joshua, won a gold medal at the 2012 Olympics (Oleksandr's was in the heavyweight division). He'd distinguished himself in the professional ranks by unifying the cruiserweight titles and had become the mandatory challenger for AJ's IBF belt by virtue of lackluster victories over Chazz Witherspoon and Dereck Chisora.
Joshua was a 5-to-2 betting favorite. Usyk is a tricky southpaw with a 18-0 (13 KOs) professional record. But AJ has heavy hands and a devastating uppercut. Twenty-two of his 24 victories had come by knockout. His chin is suspect but Oleksandr was deemed ill-equipped to exploit that vulnerability. All one had to do was watch Usyk struggle against Witherspoon and Chisora to conclude that AJ was too big a mountain for him to climb. There's a reason that there are weight classes in boxing.
At the weigh-in, Joshua was twenty pounds heavier than Usyk. It was, one observer opined, "a fight between a heavyweight and a wanna-be heavyweight." The greatest threat to Joshua seemed to be Joshua.
One day before the bout, AJ was asked what would be next on his schedule after fighting Usyk. The assumption was that his next opponent would be the winner of Tyson Fury vs. Deontay Wilder (who are scheduled to fight on October 9).
"I've got a rematch clause if the worst happens," Joshua answered. "So, if I lose, I'm fighting Usyk again; the undisputed gets put on hold. If I win, I'll fight either one of them. If Fury wins, I'll fight Fury. If Wilder wins, I'll fight Wilder."
That answer was remarkable. Fighters often hype their opponent to build a promotion. But the phrase "if I lose" rarely escapes their lips.
On fight night, the atmosphere was electric. The 65,000-seat Tottenham Hotspur Stadium had been sold out within twenty-four hours of tickets going on sale.
On DAZN's televised undercard, Florian Marku won a split decision over Maxim Prodan. Then Callum Smith scored a scary one-punch knockout of Lenin Castillo. Next up, Sonni Martinez (a 2-and-4 fighter whose victories had come against fighters with 4 wins in 20 fights) exposed Campbell Hatton's deficiencies as a fighter and also Marcus McDonnell's deficiencies as a referee and judge. McDonnell's 58-57 scorecard (he was the sole arbiter) in Hatton's favor was disgusting. After that, Lawrence Okolie predictably knocked out an overmatched Dilan Prasovic in three rounds.
Joshua seemed to enjoy the fireworks and blaring music that accompanied his ring walk. It had been a long time since he'd fought before a large roaring crowd in England. The stage was set. Then the fight started.
For Joshua loyalists, the contest was akin to opening a beautifully-wrapped present on Christmas morning and finding bath towels inside instead of a much-desired stylish coat.
Usyk began cautiously, moving around the ring, throwing jabs like a pesky fly. AJ looked clumsy and a bit befuddled. Oleksandr's southpaw style was giving him trouble. The proceedings brought to mind the advice that trainer Emanuel Steward gave to Lennox Lewis on the night that Lewis fought Ray Mercer. The plan that night had been for Lennox to outbox Mercer. Except the plan wasn't working. In the middle rounds, sensing that the fight was slipping away, Steward told Lewis, "Just f***ing fight him." Lennox did as instructed and won a narrow decision.
Rob McCracken (Joshua's trainer) should have given AJ the same advice. When AJ went to Usyk's body (which was hittable), he seemed to hurt him. But he didn't do it often enough. Instead of trading with Usyk, for most of the night Joshua seemed reluctant to let his hands go and looked less interested in hitting than concerned about getting hit.
Joshua came on a bit in the middle rounds but then relinquished control again. He needed to impose his size and strength on Usyk but didn't. He didn't fight like a heavyweight champion is supposed to fight.
As the bout progressed, Usyk suffered cuts above and below his right eye. AJ's nose was bloodied and there was a pronounced swelling beneath his right eye.
Usyk fought the final two rounds as though he needed them to win. Joshua fought the final two rounds like a beaten fighter and was in trouble at the final bell.
Give the judges credit for honest scoring. Their 117-112, 116-112, 115-113 scorecards were on the mark.
"This was the biggest fight in my career, but it wasn't the hardest," Usyk said afterward. "There were a couple of moments where Anthony pushed me hard but nothing special."
So much for the megafight between Joshua and the winner of Tyson Fury vs. Deontay Wilder. If the scenario that unfolded in Tottenham Hotspur Stadium on Saturday night seemed similar to Joshua-Ruiz I upending the planned megafight between Joshua and Wilder two years ago, that's because it was.
The loss to Ruiz raised questions about Joshua. Joshua-Usyk answered them. AJ is a good heavyweight, not a great one.
Photo credit: Mark Robinson / Matchroom
Thomas Hauser's email address is thomashauserwriter@gmail.com. His next book – Broken Dreams: Another Year Inside Boxing – will be published in October by the University of Arkansas Press. In 2004, the Boxing Writers Association of America honored Hauser with the Nat Fleischer Award for career excellence in boxing journalism. In 2019, Hauser was selected for boxing's highest honor – induction into the International Boxing Hall of Fame.
Check out more boxing news on video at the Boxing Channel
To comment on this story in the Fight Forum CLICK HERE
Adelaida Ruiz Grabs WBC Silver Title in Pico Rivera and More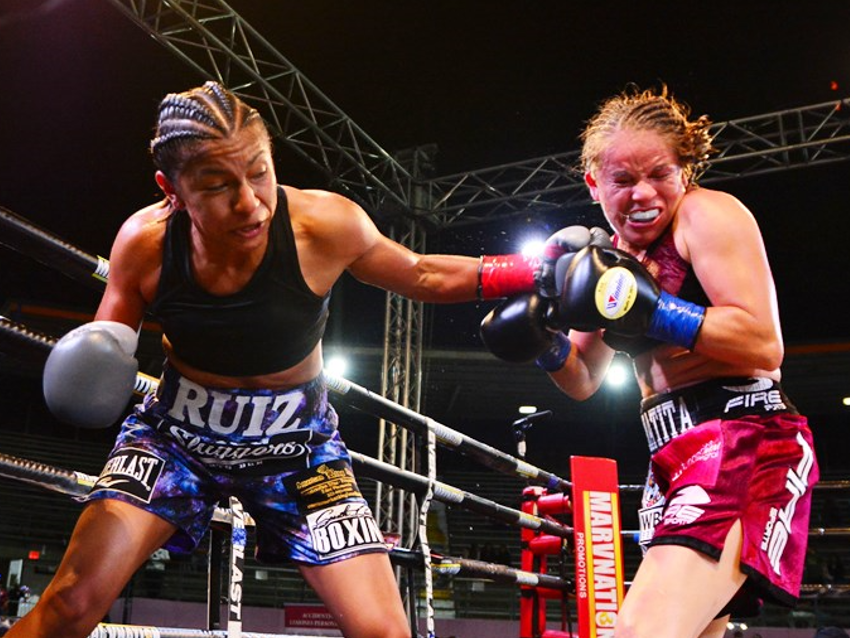 Adelaida Ruiz Grabs WBC Silver Title in Pico Rivera and More
Finally.
Adelaida "La Cobra" Ruiz grabbed the WBC Silver super flyweight title with an emphatic beating of veteran Mexican fighter Nancy Franco by late stoppage on Saturday night.
After waiting for most of her adult life to win a title, Ruiz (10-0-1, 5 KOs) showed off her superiority with a nonstop barrage of blows to power pass Franco (19-15-2) in front of more than 1,400 fans at the Pico Rivera Sports Arena in Pico Rivera.
Six months ago, Ruiz thought she had an opportunity to win a title against Sonia Osorio, but a clash of heads early in the fight forced a stoppage due to an ugly cut. That fight ended in the second round in a technical draw according to WBC rules.
No cuts this time.
Ruiz flashed those quick three-punch combinations and whenever Franco returned fire it was never enough. Round after round the Los Angeles fighter who could not fight for 10 years due to parenting duties caring for three children, would batter Franco to show off the ability to slip or move just out of range.
In the eighth round Ruiz did not stop after her regular three-punch combinations and delivered an intense six-punch blast of fire that had Franco reeling. It looked like the end was coming soon but the Mexican fighter survived.
Franco was not so lucky in the ninth round. Ruiz continued the assault with a nonstop barrage and Franco tried to reciprocate, but it was not an even exchange. The pure savagery of the attack by the L.A. fighter forced referee Raul Caiz Jr. to inch closer and when a blow connected flush the experienced referee stepped in and stopped the assault at 1:20 of the ninth round.
Ruiz finally could claim a title.
It was a good stoppage especially after the boxing world lost a young fighter several weeks ago named Jeanette Zacarias Zarate. She was only 18 and was unable to succumb to injuries in the prize ring. During intermission a moment of silence was given in honor of the Mexican fighter.
Maricela Wins
Maricela Cornejo (14-5, 5 KOs) returned to action with a six-round decision win over Florida's gritty Miranda Barber (2-3) who recently fought and won by first round knockout in New York three weeks ago. Not this time.
Cornejo continues to add new elements to her game. In front of a supportive audience the Mexican-American fighter was rarely in trouble against Barber who never slowed down her attack. Though Cornejo connected often, Barber only increased her attack whenever hit with a big blow. But it was never enough against the seasoned Cornejo.
The middleweight contender looked calm and professional throughout the six round fight that pleased the loud audience that included boxing great Claressa Shields sitting a few rows away from the ring. A match between the two has been talked about ever since Shields entered the professional scene in 2016 after her second Olympic gold medal win. This could be a future battle soon. Cornejo has shown that she can drop down to 154 where Shields currently dominates.
Other Bouts
Rudy Garcia (12-0) had little trouble against Mexico's Ronaldo Solis (4-2-1) in a winning a decision after six one-sided rounds of a featherweight clash.
Ernesto Mercado (2-0) won by stoppage in the first round after Osmel Mayorga (2-2) was floored and unable to continue after the first round of a super lightweight fight.
Tenichtitlan Nava (8-2-1) and Adrian Leyva (2-2-1) were evenly matched featherweights and it ended in a split draw.
Tyrell Washington (4-0) continued his undefeated streak with a win by unanimous decision over Rodrigo Solis (4-8-1) after six rounds in a welterweight bout.
Japhethlee Llamido (5-0) defeated Victor Saravia (1-2) by unanimous decision in a fight that was competitive in each round. Llamido was a former sparring partner for Japan's Naoya "Monster" Inoue.
Other winners were Carlos Rodriguez (1-0) and Alejandro Reyes (4-0).
Photo credit: Al Applerose
Check out more boxing news on video at the Boxing Channel
To comment on this story in the Fight Forum CLICK HERE