The Weekend That Was: Some Good Fights, Some Big Upsets and a lot of Junk
There were no mega-fights on the final weekend of January, but there were several interesting fights and several potentially uninteresting fights that played out in an interesting fashion.
Keith Thurman was a massive favorite over Josesito Lopez, notwithstanding the fact that Thurman has been out of action for 22 months while rehabbing injuries to his right shoulder and right hand. The odds suggested a one-sided and potentially humdrum fight, but there was a moment of high drama in the seventh round when the spunky Lopez staggered Thurman and chased him all over the ring. For a moment, it appeared that the fight would be stopped.
Thurman re-grouped and won a majority decision that should have been unanimous, but Lopez came to fight and put on a good show.
In the co-feature, pudgy Adam Kownacki improved his stock enormously while delighting his partisans with a quick demolition of Gerald Washington. Kownacki's nickname is Baby Face and it fits. As someone commented on another web site, he looks like he came off the screen of one of those "Nutty Professor" movies where an addled chemist stumbles on the formula for turning a baby into a giant.
Kownacki is rough around the edges but he's fun to watch. He has now eliminated two of Deontay Wilder's former opponents – Artur Szpilka and Washington – in half the time that it took Wilder. But it doesn't bode well for him that one of the few punches that Washington landed opened a cut over his left eye. Fighters with his pale hue are thought to be especially prone to cut.
There was an upset on the undercard that attracted considerable buzz although few people actually witnessed it live as it came early on a deep card while the arena was still mostly empty. Marsellos Wilder, the younger brother of Deontay Wilder, was handily winning his 4-round bout with Nebraska journeyman William Deets when, out of the blue, Deets landed a clean three-punch combination that put Wilder on the mat. He beat the count but had trouble keeping his balance and the fight was stopped.
Marsellos can take solace in the fact that his older brother was knocked out in his amateur days and went on to make a ton of money. But there was always the nagging suspicion that the younger Wilder brother, a former Jackson State and semi-pro wide receiver, would have been better served if he had put more effort into football.
The defeat knocked Wilder off the Feb. 23 DeGale-Eubank card in London. By rule in New York, a fighter who suffers a knockout receives an indefinite suspension. Eddie Hearn, the promoter, has indicated that he will honor it.
– – –
By all indications, the fight in Houston between defending WBO 154-pound champion Jaime Munguia and challenger Takeshi Inoue was a very good fight.
The scorecards said otherwise. Munguia won every round on two of the cards and 11 rounds on the other. However, the theme of every ringside report, including that of TSS correspondent Kelsey McCarson, was that the perspicacious Inoue made Munguia dig deep for his bone.
We have a seen a few fights like that; competitive fights that yielded lopsided scores that were not off the mark. If a fighter wins each round by a razor-thin margin he rightfully gets credit for pitching a shutout even if the overall impression is different. We didn't see the fight so we have no quibble with the judges, but we're compelled to ask how the Texas Athletic Commission could have assigned three judges with Hispanic surnames to a fight in which one of the combatants was Mexican.
The co-main produced a big upset when obscure Xu Can wrested the WBA featherweight title from Jesus Rojas. Can entered the contest with a 15-2 record that included only two wins by knockout. In his lone previous engagement on U.S. soil he labored to win a split decision in an 8-round fight with a journeyman.
The presumption was that Can had no business in the same ring with Puerto Rico's Rojas. But he out-fought the champion, winning by margins of 4, 6, and 8 points. In so doing, Can, the son of pastry chefs, became the third fighter from China to win a world title following former WBO flyweight champion Zou Shiming and former WBC minimumweight champion Xiong Chaozhong.
– – –
No details have emerged in English language papers regarding Saturday's all-Canada showdown in Montreal between Calgary's Steve Claggett (27-5-1) and Montreal's Mathieu Germain (16-0). On paper the 10-round bout, contested at 140 pounds, was an evenly matched fight and it played out that way, ending in a draw (95-95, 96-94, 94-96).
On the undercard, mammoth Russian heavyweight Arslanbek Makhmudov, who carries 260 pounds on a 6'5 ½" frame, knocked out journeyman Jason Bergman in the opening round.
Makhmudov entered the pro ranks well-touted. "(He has) enormous size, prodigious strength, and frightening power," wrote Matt McGrain. This was his sixth pro fight and sixth knockout. In total, he has answered the bell for only seven rounds.
When Makhmodov turned pro he relocated to Toronto to be near his friend and former amateur teammate Artur Beterbiev. As for Bergman, who also tips the scales in the 260 pound range, he brought a 27-14-2 record but had come up the ladder on the grungy West Virginia circuit.
– – –
At the Mohegan Sun Casino in Connecticut, welterweight Cletus Seldin, the Hebrew Hammer, blew away Adam Mate, knocking him down twice before the bout was halted after 48 seconds.
Mate entered the contest with a record of 28-13, but a closer inspection of his record showed that all of his wins had come in his native Hungary and that outside this pod he had been stopped nine times, five times in the very first round.
The resourceful Hungarian found an uncommon way to see the world on someone else's dime. His itinerary has taken him to London, Edinburgh, Madrid, Los Angeles, Las Vegas, New York, and Washington, DC, among other places. Perhaps someday he will write a book about his adventures.
We don't begrudge him that; we wish that we had seen more of the world in our younger days. But as prizefighters go, Mate is an imposter and it's time for him to come up with a new ruse to feed his wanderlust.
Promoters like Seldin's promoter Joe DeGuardia are the lifeblood of the sport, but they don't get a pass when they manufacture junk and this wasn't the first time that DeGuardia arrived at the Mohegan Sun bearing junk. In June of last year he matched the top dog of his stable, Joe Smith Jr., against an unskilled 39-year-old Kentuckian, Melvin Russell, the self-styled Romantic Redneck. Smith took him out in the opening round.
– – –
On Saturday at a dance club in Managua, Nicaragua, Costa Rica's Hannah Gabriels successfully defended her WBA world female super welterweight title with a unanimous 10-round decision over Australia's Sarah Dwyer.
"Hannah lacked efficiency and precision on her punches (but) her experience allowed her to work her opponent's body and wear her out," wrote Laura Alvarado in the Costa Rica Star who noted that a movie about Gabriels' life is in post-production with a scheduled release date of Feb. 28.
Gabriels improved to 19-2-1. Dwyer declined to 3-5-2 and that's no typo.
We don't want to belittle Gabriels accomplishments. The lady is dedicated to her craft, has paid her dues, and she can really fight. Back in June she gave young gun Claressa Shields her hardest test, knocking the two-time Olympic gold medalist down in the opening round before losing a unanimous decision. However, the fact remains that Gabriels was thrust against an opponent that had won only one-third of her nine pro fights and the shameless World Boxing Association saw fit to sanction it as a world title fight.
Sarah Dwyer wasn't junk. You Tube snippets of her in training show a woman whose punches carry more authority than female boxers with much glossier records. But in our estimation, the belt for which she competed – indeed any item that bears the WBA logo – is just a piece of junk.
– – –
Finally, we have run out of patience awaiting results of Friday's show in Bolivia so we will share them with you anyway although we can't say for certain that the event actually took place.
The main go pitted Brockton, Massachusetts court officer Vinnie Carita (19-1-1, 18 KOs) against a local man, Eddy Salvatierra (21-6-2, 17 KOs). Salvatierra, like many of Carita's former opponents, is a little long in the tooth. He is 43 years old.
In the co-main, Saul Farah (67-23-3) was pitted against a fellow Bolivian, Jorge Urquiza Anez (7-4). Farah, alias Saul Becerra Gil, weighed 264 ½ pounds in his most recent start. Although he has outgrown the division, Anez is still listed as a super welterweight on BoxRec.
By some coincidence, the promoter of this show was Carita's father, Vincenzo Carita Sr. The matchmaker was none other than Saul Farah. Ergo, Carita and Farah were victorious. If not, we're betting that the sun will rise in the west tomorrow.
Check out more boxing news on video at The Boxing Channel
To comment on this article in The Fight Forum, CLICK HERE
Vergil Ortiz Jr KOs Brad Solomon at Fantasy Springs (plus Undercard Results)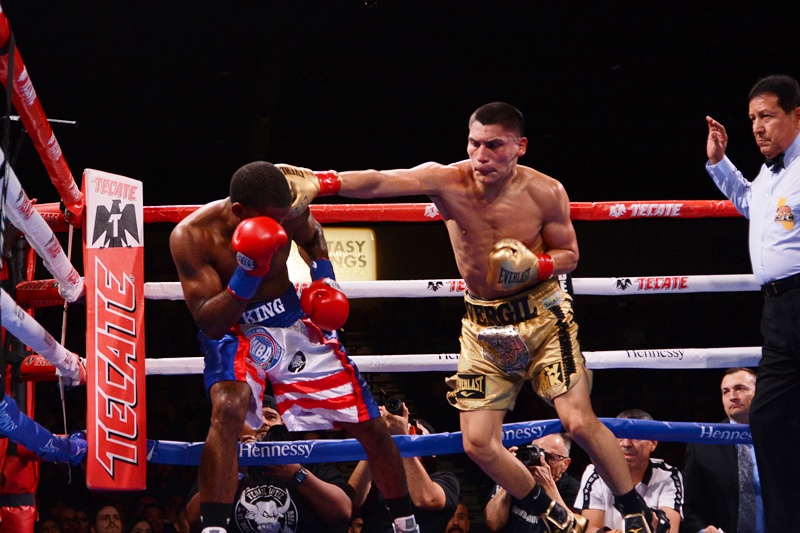 INDIO, Calif.-Vergil Ortiz Jr hunted and pursued the elusive Brad Solomon for several rounds before lowering the boom with three knockdowns and ultimately stopping the formerly unstoppable fighter for a knockout victory on Friday.
It's on to bigger and better things.
Ortiz (15-0, 15 KOs) proved that styles didn't matter and Solomon's (28-2, 9 KOs) slippery moves couldn't prevent the brutal outcome before several hundred fans and two Boxing Hall of Famers at Fantasy Springs Casino. It was Solomon's first ever loss by knockout.
Despite winning all of his previous fights by stoppage, the lean Texan who trains in Riverside, Calif. had never fought a boxer with the pedigree of Solomon. It was the main question remaining for Ortiz. Could he figure out the winning equation to defeat a pure boxer?
He had the answer in his pocket all of the time.
Solomon moved smoothly around the ring from the opening bell. Ortiz followed with his tight guard and snap quick punches to the body and head. The first round revealed that Ortiz's quick hands were just as quick as Solomon's and much more powerful.
"I had to utilize my jab, figure out the right time to throw a punch," said Ortiz. "He came to fight."
After three rounds of chase and pursue, both fighters exchanged briefly and a body shot by Ortiz convinced the fleet opponent to go back on his toes. While trying to move away Ortiz fired a stiff left jab and down went Solomon. Body shots followed and Solomon was visibly affected by them. On one occasion he feigned a low blow but referee Raul Caiz ruled it was a clean blow.
"I can't lie. I don't think he was hurt right there," said Ortiz of the jab knockdown. "
The subsequent blows would prove otherwise in the next round.
Ortiz opened up the fifth round at a rapid pace and though Solomon tried evasive maneuvering, it all proved in vain especially after a six-punch volley by Ortiz. Down went Solomon in the corner but he was able to beat the count. Solomon got up and tried to use his quickness to avoid Ortiz's charge but a double left hook to the head sent him down once again. Referee Caiz waved the fight over at 2:22 of the fifth round to give Ortiz the knockout win and retain the WBA Gold welterweight title.
"I just took my time," said Ortiz. "He's difficult to figure out and made me use my brain."
Ortiz, 21, continued his domination of the welterweight division though many felt Solomon could stall his rapid ascent to the top.
El Flaco
Serhii "Flaco" Bohachuk (17-0, 17 KOs) continued his knockout streak but needed a little time to figure out the switching tactics of Colombia's Carlos Galvan (17-10-1, 16 KOs). But after five rounds he discovered that the body attack was the key. Bohachuk floored Galvan three times in the fifth round, two by body shots and the end came at 1:40 of the fifth round.
Other Bouts
Puerto Rico's Alberto "El Explosivo" Machado (22-2, 18 KOs) snapped a two-fight losing streak by moving up to the lightweight division and knocking out Dominican Republic's Luis Porozo (14-2, 7 KOs) with body shots in the second round. Machado had problems making the 130-pound super featherweight limit and showed a move up in weight was beneficial as he dropped Porozo three times until referee Tom Taylor ended the fight at 2:59 of the second round for a win by knockout.
Machado is co-promoted by Miguel Cotto Promotions and Golden Boy Promotions.
Alexis Rocha (15-0, 10 KOs) withstood an all-out assault from Mexico's Robert Valenzuela Jr. (17-2, 16 KOs) early in the welterweight title fight and used a withering body attack to break down the taller fighter. After that it was all downhill sledding for the Santa Ana fighter who broke the will of Valenzuela with bludgeoning blows to the left and right side of the body.
"I was being lazy to be honest, so it's my fault," said Rocha on being bloodied by a counter uppercut while punching. "It's very important, I came to fight and throw body punches to wear my opponent down. I think that's very key in boxing in general."
At the end of the fifth round the Mexican fighter was holding on. The fight was stopped at the end of the fifth round giving Rocha the win by knockout and he retains the WBC Continental Americas title in the welterweight division.
"I knew the body shots were taking a toll on him," Rocha said. "Today was a good learning experience."
Bektemir Melikuziev (4-0, 3 KOs) boxed his way to a unanimous decision victory over Vaughn Alexander (15-4, 9 KOs) in a 10-round fight for the WBA Continental Americas title. But it was sort of strange to see a guy nicknamed "the Bully" dance around the ring avoiding contact. Still, he won every round but disenchanted fans with his unwillingness to exchange with the muscular Alexander. No knockdowns were scored in the fight. All three judges saw it 100-90 for Melikuziev.
Luis Feliciano (14-0, 8 KOs) knocked down Herbert Acevedo (16-3-1, 6 KOs) early in the 10 round NABF super lightweight title fight and then cruised to victory by unanimous decision. The Puerto Rican who trains in Southern California pummeled Acevedo's body before delivering a two-punch combination that sent the challenger to the deck. It was Feliciano's first defense of the title he captured by decision over talented Genaro Gamez.
"I give props to Herbert Acevedo. He's a tough and rugged fighter. I thought he was out when I dropped him in the third round. I tried to get the finish, but he weathered the storm," said Feliciano. "I'm happy to finish the year with a win, and we are on to the next."
A super welterweight fight saw Ferdinand Kerobyan (13-1) destroy Fernando Carcamo (23-11) with two knockdowns in the first round and the fight was stopped at 1:46 of the first round.
A super middleweight match ended in the third round by knockout win for Erik Bazinyan (24-0) over Saul Roman (46-14),
Hall of Fame
Also present at the Golden Boy Promotions boxing card were Oscar De La Hoya and Bernard Hopkins who was recently voted into the International Boxing Hall of Fame by the boxing writers. He will join De La Hoya who was inducted several years ago.
Hopkins was selected last week along with Sugar Shane Mosley and Juan Manuel Marquez. Their induction takes place next June in Canastota, New York. It's quite an honor and well deserved for one of the greatest middleweights in the history of the sport. He also captured the light heavyweight world title. We will have more on this great Philadelphia prizefighter in the coming months.
Photo credit: Al Applerose
Check out more boxing news on video at The Boxing Channel 
To comment on this story in The Fight Forum CLICK HERE
Frank Erne Enters the Boxing Hall of Fame, a Well-Deserved Honor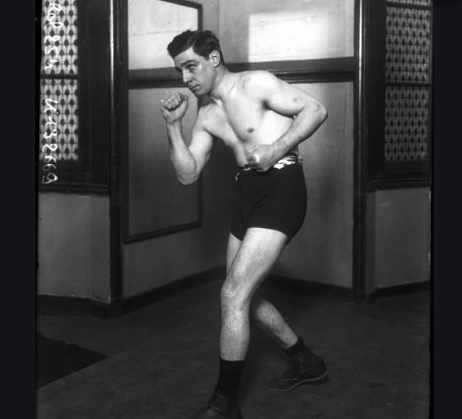 Former featherweight and lightweight champion Frank Erne was back in the news last week with the announcement that he is entering the International Boxing Hall of Fame. Erne and the other members of the newest class will be formally enshrined on Sunday, June 14, 2020.
Mr. Erne won't be able to attend the induction ceremony. He's been dead since 1954. However, were he alive, he would have the satisfaction of knowing that this honor is well-deserved.
Frank Erne competed from 1892 to 1908. Of his 53 documented fights, 21 were slated for 20 rounds or more. His opponents included George Dixon, Terry McGovern, and Joe Gans, all of whom went into the Hall of Fame with the inaugural class of 1990. Dixon, a bantamweight, McGovern, a featherweight, and Gans, a lightweight, are widely considered the best of all time in their respective weight classes. Erne defeated Dixon and Gans although both turned the table in rematches.
Frank Erne becomes the first fighter born in Switzerland to enter the IBHOF. When he was six or seven years old (reports vary) his parents moved to Buffalo, New York. In his early teens, he found work as a pinsetter in a bowling alley that was part of a larger complex that included a boxing gym. An instructor there, a boxing professor as they were called back then, took Erne under his wing.
Erne had his early fights in Buffalo. In 1895, he went to New York and attracted national notice with back-to-back knockouts of Jack Skelly. A Brooklyn man, Skelly was such an outstanding amateur that there was little backlash when he was sent in against featherweight champion George Dixon in his very first pro fight (the opening match in the Carnival of Champions at New Orleans, an event climaxed by the historic fight between John L. Sullivan and James J. Corbett).
Skelly was no match for Dixon and ultimately no match for Frank Erne. Two months after their second meeting, Erne had his first of three encounters with Dixon. Their initial go was a 10-rounder that was fairly ruled a draw. The rematch was set for 20 rounds with Dixon's title on the line.
Here's Nat Fleischer's post factum: "Erne proved to be in every respect a superior boxer on this occasion for he outpointed Dixon at long range, beat him decisively at in-fighting, had it all over Dixon in ring generalship, besides possessing courage and fearlessness." The ringside correspondent for the Brooklyn Daily Eagle, more measured in his assessment, called it "one of the fiercest and cleanest fights, as well as one of the most scientific, that has ever been seen."
Dixon had lost only twice previously, the first by disqualification and the other in a 4-round contest, and would win back his title in the rubber match, clearly out-pointing Erne in a match that went 25 rounds.
Making weight was always a problem for Frank Erne. After surrendering his title to Dixon, he moved up to lightweight and challenged George "Kid" Lavigne. They fought twice.
In their first meeting, Lavigne, the fabled "Saginaw Kid," retained his title thanks to a generous referee who scored the fight a draw, but justice was served in the rematch which was staged at an outdoor arena on the outskirts of Buffalo on the day preceding the Fourth of July,1899. Despite injuring his hand in the seventh frame, Erne gave Lavigne a good drubbing and had his hand raised at the conclusion of the 20-round match. He now had the distinction of winning world titles in two separate weight classes.
Erne first met Joe Gans in March of 1900 when Gans was still in his prime. The match, slated for 25 rounds, ended in the 12th when Gans suffered a terrible injury to his left eye – some reports say the eye was knocked out of its socket – from an accidental clash of heads. The referee ruled that Gans was at fault and awarded the contest to Erne. Based on newspaper reports, that was a fair adjudication as Erne, the defending champion, had all the best of it, leaving Gans in great distress at the end of the previous round.
Gans avenged the defeat 26 months later, knocking out Erne in the opening round at Fort Erie, Ontario, Canada, across the Niagara River from Buffalo. Erne's unrelenting battle with the scales had finally caught up with him.
Erne retired the following year, but returned five years later and had one more fight, winning a 10-round decision in Paris over British veteran Curly Watson in a fight billed for the welterweight championship of France. He remained in the French capitol for some time thereafter, working as a boxing instructor and promoting a few fights before returning to the United States and taking up residence in New York City.
Unlike most of his contemporaries, Frank Erne was no fool with his money, but the stock market crash of 1929 dealt him a severe blow and he was forced to seek regular employment. He became a salesman for a fuel company.
Erne won't be around for his formal IBHOF induction, but he wasn't completely forgotten in his dotage. On Jan. 9, 1951, the day after his 76th birthday, he received a special award at the silver anniversary dinner of the Boxing Writers Association, a gala affair held in the posh Starlight Room of the Waldorf-Astoria with entertainment provided by Jimmy Durante and other nightclub headliners.
Erne wasn't honored only for his in-ring exploits, but for his good character. During World War II and again during the Korean War, it was common for famous boxers of yesteryear to visit wounded soldiers in VA hospitals and regale them with stories from their fighting days to boost their spirits. Frank Erne, although he had some infirmities, was especially active in this regard, "indefatigable" said New York Times sports editor Arthur Daley.
Frank Erne, it says here, is a worthy addition to the International Boxing Hall of Fame. Kudos to the electors who placed him on their ballot.
Check out more boxing news on video at The Boxing Channel 
To comment on this story in The Fight Forum CLICK HERE
Avila Perspective, Chap. 76: Welterweights Vergil, Terence and More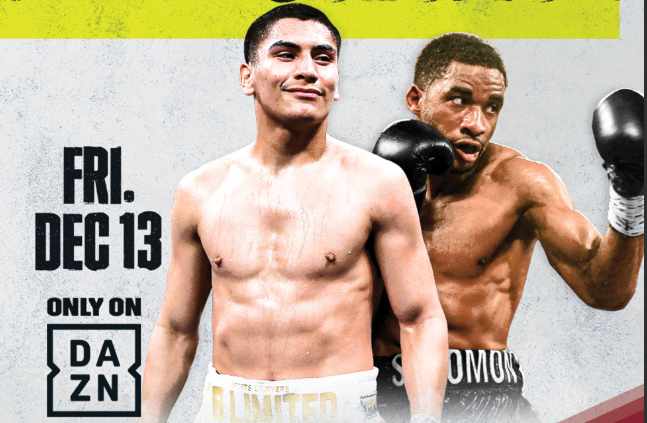 In the words of many boxing journalists, fighters, trainers and promoters "styles make fights," and those differences can lead to unpredictable outcomes. The weekend brings a few stylish welterweights on display from California to New York.
Welterweight ingénue Vergil Ortiz Jr. (14-0, 14 KOs) enters the world of unpredictability when he meets Brad Solomon (28-1, 9 KOs) a swift-moving veteran on Friday, Dec. 13, at Fantasy Springs Casino in Indio, Calif. DAZN will show the loaded Golden Boy Promotions fight card.
It's Ortiz's third year as a professional and fifth time performing at the Indio casino. It's also where he made his pro debut back in July 2016 when he began his remarkable string of 14 consecutive knockout wins.
Solomon, 36, has made a career of fighting pressure fighters and making them miss or defusing their power. Only Russia's Konstantin Ponomarev, who was trained at the time by Abel Sanchez, was able to hang a loss on the Georgia fighter's ledger.
Can Ortiz handle the style difference?
"Vergil can do more than people think," said Vergil Ortiz Sr., father of the lanky welterweight slugger. "He can box any style."
As a professional, Ortiz has yet to fight someone like Solomon with his juke and move style of fighting. As an amateur he did face speedsters like Ryan Garcia. As a pro, this will mark his first in the prize ring. It should be interesting.
Power Packed Support
Knockout artist Ortiz leads a power packed-boxing card that includes a number of Golden Boy's best knockout punchers like Bektemir Melikuziev, Alberto Machado and Luis Feliciano. All of these guys can punch and are looking to put the cap on 2019.
That's a lot of firepower.
But also on the card is someone fighting for 360 Promotions named Serhii Bohachuk, otherwise known as "El Flaco." Just like Ortiz, Bohachuk has never allowed the final bell to be rung against 16 foes so far. He is going for 17 when he fights Carlos Galvan (17-9-1) in a super welterweight fight set for eight rounds. Don't expect to hear the final bell whenever the Ukrainian trained by Mexican style coach Abel Sanchez gets in the ring.
Bohachuk could be following in the footsteps of another guy formerly trained by Abel Sanchez named Gennady Golovkin. It's still too early, but he looks pretty good so far.
New York City
Top welterweight Terence Crawford (35-0, 26 KOs) defends the WBO welterweight title against Lithuania's Egidijus "Mean Machine" Kavaliauskas (21-0-1, 17 KOs) on Saturday, Dec. 14, at Madison Square Garden in Manhattan. ESPN will televise the Top Rank card.
In the crowded and talented world of the welterweights, Crawford could very well be the best of them all. If only he could prove it. The Omaha-Nebraska prizefighter has tried every enticement possible to lure Errol Spence Jr., Danny "Swift" Garcia, Shawn Porter and Manny Pacquiao. Nothing works.
What does work for Crawford has been a reputation as one of the best prizefighters in the world pound for pound. Some tab him as the very best especially when it comes to speed, agility and the ability to innovate on the spot. He has few peers.
Facing Crawford will be Kavaliauskas who trains in Oxnard with a number of Eastern Europeans including Vasyl Lomachenko. They share the same management. He's never faced anyone close in talent to Crawford. Except, maybe inside of his own gym.
"I'm not focused on no other opponent besides the opponent that's in front of me. My goal is to make sure I get the victory come this weekend, and that's the only person I'm focused on now," said Crawford. "Anyone else is talk. It goes in one ear and out the other. He's young, hungry and I'm not taking him lightly."
Crawford has been chasing stardom for a number of years. What better place than New York City's Madison Square Garden to showcase his skills to the public. At age 32, Crawford is running out of sand.
Lightweight Title Fight
The co-main event on Saturday at Madison Square Garden features IBF lightweight titlist Richard Commey (29-2, 26 KOs) defending against wunderkind Teofimo Lopez (14-0, 11 KOs).
But this weekend truly belongs to the welterweights.
Next Week
Southern California will be packed with boxing. It's a last gasp before the end of 2019.
Ontario, California will be hosting a very large Premier Boxing Champions fight card at the Toyota Center on Saturday Dec. 21.
WBC super welterweight titlist Tony Harrison finally defends against Jermall Charlo in a rematch and it won't be friendly. These guys hate each other.
"He's fake," said Harrison when they last met in Los Angeles for a press conference.
It won't be pretty when they meet next week.
Tickets are on sale. Go to this link for more information: https://www.toyota-arena.com/events/detail/premier-boxing-champions
Fights to Watch
Fri. DAZN 4:30 p.m. Vergil Ortiz (14-0) vs Brad Solomon (28-1); Serhii Bohachuk (16-0) vs Carlos Galvan (17-9-1).
Sat. Facebook 5 p.m. Diego De La Hoya (21-1) vs Renson Robles (16-6).
Sat. ESPN 6 p.m. Terence Crawford (35-0) vs Egidijus Kaviliauskas (21-0-1); Teofimo Lopez (14-0) vs Richard Commey (29-2).
Check out more boxing news on video at The Boxing Channel 
To comment on this story in The Fight Forum CLICK HERE