Andrew Cancio Rips WBA Title From Machado by KO and Other Results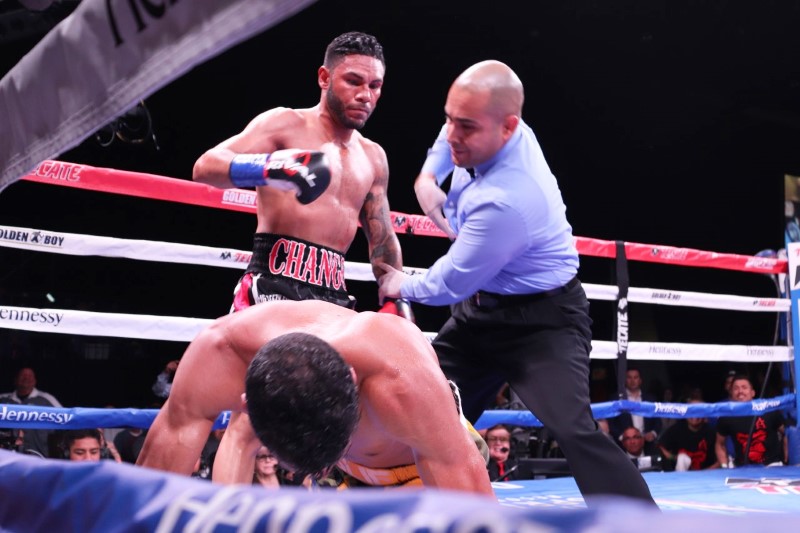 INDIO, Calif.-Underdog Andrew Cancio ripped away the WBA super featherweight world title from Puerto Rico's Alberto Machado with a murderous body attack and became the first and only world champion from the small desert town of Blythe, California on Saturday.
More than 100 loud screaming fans from Blythe were present to witness the event.
Cancio (20-4-2, 15 KOs) survived a first round knockdown against Machado (21-1, 17 KOs) then showed why fans follow him whenever he fights with a furious rally in front of a near sold-out crowd at Fantasy Springs Casino. Pure delirium followed the change of world title ownership.
As soon as the two combatants stepped in the boxing ring Machado looked much larger against the smaller frame of Cancio. And when the Puerto Rican southpaw slugger connected with a left uppercut in the first round, he seemed too powerful even for Cancio.
"I had been there before. I know what to do when I get knocked down," said Cancio, who now lives in Ventura but has family still in Blythe. "I was even able to score some punches. I didn't cover up or hold."
Cancio had shown a penchant for surviving slugfests against Rocky Juarez, Dardan (Zenunaj) and Rene Alvarado and for digging deep. Once again he displayed that same determination.
The father of two, who works for a utility company, stepped on the gas in the second round and never took his foot off the pedal with a grinding attack to the head and body of Machado. The Puerto Rican fighter had no idea how to defend the blistering blows coming his way.
Machado tried to stymie Cancio's momentum but just when it looked like the storm was over, the California desert fighter would batter the body relentless from one side to the other. The screams from the crowd seemed to add more fuel to Cancio's fire in the third round.
The loud cheers penetrated the arena. It seemed like all 19,000 residents of the desert town near the Colorado River were present.
"They really motivate me," Cancio said who was fighting for the 10th time at the Indio casino.
Cancio moved in for another attack somewhat cautiously in the fourth round. Then the murderous machine-like attack to the body began penetrating through Machado's defense and the Puerto Rican dropped to a single knee and took an eight-count. The fight continued and Cancio was like a hungry wolf chasing injured prey. Machado tried to fend off the attack but again blows to the body sent him down again. He beat the count and rose with Cancio charging in again with arms pumping and connected again. Referee Raul Caiz Jr. waved the fight over at 2:16 of the fourth round. The desert town of Blythe had its first world champion.
"This was the fight of my life. I feel extremely great winning this world title by knockout," said Cancio. "It's been a long road and it felt like we thought it would: unbelievable. For me to execute a plan like we did feels great."
Machado said the weight loss may have contributed to his poor showing.
"I felt weak in there," Machado said. "I think I have to move up from 130 pounds."
Still, it was a great moment for Cancio who almost retired more than a year ago.
"I'm extremely happy," he said. "I wasn't going to fail."
WBC Super Bantam Title Fight
WBC super bantamweight world titlist Rey Vargas (33-0, 22 KOs) hung on to the title literally with an unpopular hit and hold formula against Venezuela's rugged Franklin Manzanilla (18-5, 17 KOs), especially after tasting the canvas.
Manzanilla caught Vargas with a left hook to the chin in the second round after a brief exchange and after that, the tall skinny Mexican fighter grabbed hold of the Venezuelan whenever he got within grasping distance.
Vargas was never penalized for the excessive holding but Manzanilla was not so lucky with his tactics of trying to break the constrictor like grip of the champion. Manzanilla was deducted points in the seventh round for supposedly hitting on the break and again in the eighth. Meanwhile Vargas continued to hold throughout the fight with impunity. After 12 rounds all three judges saw it 117-108 for Vargas who retains the world title. The crowd was not pleased with the decision or the champion's tactics.
South El Monte's Jojo Diaz (28-1, 14 KOs) moved up in weight to the super featherweight division and found it advantageous in defeating local rival Charles Huerta (20-6, 12 KOs) by unanimous decision after 10 rounds.
"This will be my weight unless some of the bigger names like Leo Santa Cruz or Oscar Valdez want to fight me," said Diaz a former two-time challenger for the featherweight world title. "Then I'll fight at 126."
Huerta couldn't match Diaz's speed but hung in against the speedy southpaw for all 10 rounds.
"I had him hurt a few times, but I couldn't finish him because he's such a great warrior," Diaz said.
Other Bouts
A battle between Mexican lightweights saw Nuevo Leon's Adrian Estrella (29-3, 24 KOs) use a lot of movement to befuddle Parral's Oscar Duarte (15-1-1, 10 KOs) and win the vacant WBC Continental America's title by a disputed split decision.
Duarte must have been surprised to see Estrella box and move despite sporting an impressive knockout record. It took Duarte, who trains in Indio with Joel Diaz, several rounds to move within punching distance. He never figured out how to cut off the ring against Estrella who benefited from the lapse. After 10 rounds one judge saw Duarte the winner by 97-93, but two others saw it 98-92 and 96-94 for Estrella. The crowd was not pleased.
Former contender Tureano Johnson (20-2-1, 14 KOs) found a difficult opponent in Mexico's Fernando Castaneda (26-13-1, 17 KOs) who despite a so-so record was coming to win. Both found success throughout the super middleweight fight. Johnson was dominant with right uppercuts and Castaneda found success early with overhand rights and left hooks. Neither was seriously hurt but after eight rounds the fight was ruled a split draw 77-75, 75-77, 76-76 when the scores were read.
"My opponent did an awesome job," said Johnson after the entertaining back and forth fight.
Castaneda felt he had won but was more than happy that the crowd appreciated his effort.
"I'm very happy to have the crowd support me," said Castaneda of Aguascalientes, Mexico. "I want a rematch."
Azat Hovhannisyan (16-3, 13 KOs) utilized body shots to stop Lolito Sonsona (22-3-4, 9 KOs) in the fifth round of their super bantamweight match. Early in the fight, Hovhannisyan dropped the Filipino fighter with a left to the body but was deducted a point for an alleged low blow. It was a borderline punch but signified to the Armenian fighter to continue targeting the abdomen.
Hovhannisyan continued the pressure and though he battered Sonsona to the head repeatedly, nothing seemed to faze the Filipino fighter. But when he drifted to the body that's where the fierce Armenian fighter found a weakness, Rights to the left side of Sonsona's body floored the Filipino twice in the fifth round. At 2:23 Sonsona did not beat the count of 10 after the second body shot put him down on the ground. Referee Eddie Hernandez stopped the fight.
Local fighter Rommel Caballero (5-0, 4 KOs) knocked out Javier Rojas (1-3) in the first round of their super featherweight fight.
The fights can be seen on DAZN.
Photo credit: Alonzo Coston
Check out more boxing news on video at The Boxing Channel
To comment on this story in The Fight Forum CLICK HERE
This Former College Cheerleader Just May be Boxing's Second-Best Heavyweight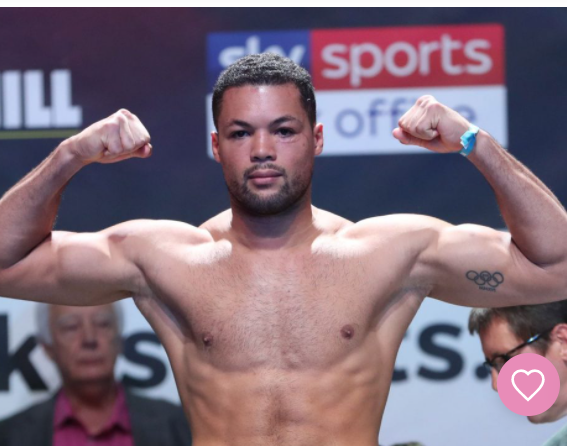 Here's something that you probably don't know about Joe Joyce. The British bomber was once an exchange student at California's Sacramento State University and during his enrollment, which was in the fall semester (football and basketball season), he joined the cheerleading squad.
Wish we had a picture to share, but we don't. In general, male cheerleaders tend to be not much taller than their female counterparts — think the body type of a gymnast – and the six-foot-six Joyce, whose thick torso appears to have been hewn from oak, must have been quite the sight.
Joyce studied fine arts at Sac State, his major at London's Middlesex University where he earned his degree. As an exchange student in California, it figured that Joyce would find a physical activity to keep him occupied when he wasn't studying or in class. He's an accomplished painter, we have been told, but one doesn't associate him with an activity that one performs while sitting down.
Currently ranked #1 by the WBO and #3 by the WBA, the undefeated (13-0, 12 KOs) Joyce, a former Olympic silver medalist, has the most diversified athletic background of any boxer on the planet. Before boxing became all-consuming, he was immersed in rugby, swimming, track and field ("long jump, triple jump, shot put, you name it") and martial arts.
It's hard to transition into boxing from a different sport – there are very few success stories – but apparently having sampled a wide range of athletic endeavors is useful. A match between Joe and 10-0 Jared Anderson, whose exertions have been applied exclusively to boxing, would provide an interesting contrast.
Anderson would have youth on his side, but the nectar of youth was of no help to Daniel Dubois when Joe Joyce caught up with him last November at the historic Church House in Westminster. Dubois, 12 years the younger man, had no antidote for Joe's steady diet of left jabs and bowed out in the 10th round with a busted eye socket. The upset earned Joyce, now 36 years old, the British, European, and Commonwealth heavyweight titles.
A fight between Juggernaut Joe and Jared Anderson is unlikely to happen anytime soon, if ever. Rematches with Anthony Joshua and Oleksandr Usyk are closer at hand.
Rematches?
Indeed. One can find 66 amateur bouts for Joe Joyce documented at boxrec. The first entry is Anthony Joshua. They met back in 2011 and Joyce failed to survive the opening round. Three standing 8-counts terminated the match.
Joyce recalls that he made the mistake of circling into Joshua's line of fire, rather than away from it. He had just got done fighting a southpaw on the same bill and had precious little time to recalibrate for an opponent with an orthodox style.
Joyce opposed Oleksandr Usyk in March of 2013 in an England vs. Ukraine event at London's venerated York Hall and lost a 5-round decision. This would be one of only two setbacks he suffered in 16 engagements under the rubric of the World Series of Boxing.
Joyce didn't expect Usyk to beat Joshua when they met this past September before a crowd of 65,000 at Tottenham Hotspur Stadium. "I imagined Joshua was a bit too strong for him," he says. But Joe wasn't greatly surprised either. "After the first round, I could see how it would go. Usyk makes you box how he wants you to box."
Joyce doesn't yet have an opponent for his next fight. There are reports that it will be Kubrat Pulev, but Joe says all he knows is what he's read on social media. Tony Yoka's name has also been bandied about. A match between him and the 29-year-old Frenchman, currently 11-0, would also profit from the rematch-angle.
Joyce was the busier fighter when he fought Yoka in the finals of the super heavyweight division at the 2016 Rio Summer Games, but Yoka walked away with the gold medal by virtue of winning a split decision.
"I could sense something dodgy was going on in the dressing room [before the fight]," he told this reporter. And while he refused to say flat-out that he thought the fight was fixed, he didn't have to, as Joyce vs. Yoka was one of 11 cited by Canadian law professor Richard McLaren in his blockbuster 2021 report which gave credence to the scuttlebutt that the outcomes of some of the matches in Rio were manipulated for money or political favors.
Joe Joyce's biggest fan is his mother, Marvel Opara, and it's a mutual admiration society. Joe proudly notes that she has hiked Mount Kilimanjaro and ridden with Joe on a tandem bicycle through the streets of Thailand despite being almost completely blind. She raised Joe and his little brother by herself when her Scotch-Irish husband left the fold, but Joe and his father Philip — who remarried and established a new family – have a warm relationship. After his parents split, Joe saw his dad every Wednesday and every other weekend.
Joyce signed with David Haye's Hayemaker Ringstar Promotions coming out of the amateur ranks. Haye was still active, having returned to the sport after a 42-month hiatus, and Ismael Salas was training him. The globetrotting Salas, a legend in his native Cuba, prepared Joyce for his match with Daniel Dubois but wasn't around to work the corner, having been detached by the authorities after testing positive for COVID.
Joyce and Salas have hooked up again in Las Vegas where Salas, who is none the worse for wear, operates a boxing academy. Joyce and his attractive girlfriend Nadine Davison arrived in Las Vegas in mid-November for a month-long stay. Salas puts Joe through his paces each afternoon. Here in the states, Joe previously trained at Abel Sanchez's compound in Big Bear.
Joe Joyce isn't getting any younger, but heavyweights tend to have a longer shelf life than fighters in other divisions and Joe anticipates that he will keep fighting until the age of 40. And then what?
"I have thought about getting into coaching [when I leave the sport]," he says. "I can earn money selling my paintings and perhaps I have a future in punditry." (The reference here is to employment as TV color commentator for which Joyce would seem to be ideally suited, although being naturally soft-spoken, he would probably have to ratchet his voice up a notch.)
We would suggest another alternative, graduate school at Sacramento State University. We hear there's an opening on the cheerleading squad.
Check out more boxing news on video at the Boxing Channel
To comment on this story in the Fight Forum CLICK HERE
The Day Canelo Got Buzzed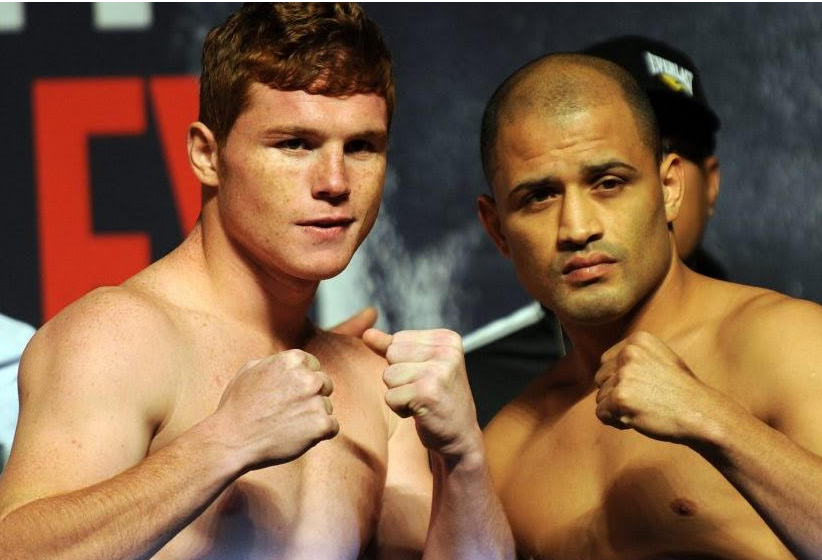 The Day Canelo Got Buzzed
Puerto Rican Jose Miguel Cotto, the older brother of future Hall of Famer Miguel Cotto, retired in 2012 with a fine record of 33-4-1. He was stopped just once, by streaking Juan Diaz (28-0 at the time) and fought a number of high-level competitors including Shane Gannon (22-6), Freddy Cruz (51-19-8), Pantan Narongwet (30-2-1), Ilido Julio (39-15-1), and later Paulie Malignaggi (28-4).
On May 1, 2010, his opponent was Saul Alvarez (31-0-1). Cotto (31-1-1 coming in) was short and stocky, fought in an orthodox style, and possessed a strong chin. It would turn out to be Jose's career-defining battle.
The fight was televised on HBO PPV from the MGM Grand in Las Vegas and was designed as a coming out party for the young Alvarez—hereafter to be known as "Canelo." The fight was the co-feature to the Floyd Mayweather vs. Shane Mosley fight on a Cinco De Mayo weekend and garnered tremendous exposure.
Once the fight started, the fans received an early shock as Cotto caught the young Mexican redhead flush with a left-hook at the round's half-way point. It sent Canelo stumbling back into the ropes—in fact, had the ropes not held him up, it could have been ruled a knockdown by referee Tony Weeks. Sensing the kill, Cotto attacked with several follow-up shots, including at least two right hands that landed flush from the other side.
Everyone invested in this fight (and in Canelo), not to mention his rabid Mexican fans and this writer, were watching in disbelief. How could this be happening? Canelo had just been buzzed and almost decked. Was an upset in the making? Was the build-up bogus?
"I know the first round was a little scary but I gained my confidence as the rounds went on." — Canelo
And come back he did as he regrouped and floored Cotto in round two with what would later become his signature punch—the uppercut. Alvarez then picked up the pace, breaking down the rugged Cotto with great combos and accurate power shots. The fight soon became one-sided. Finally, in the ninth round, Canelo maneuvered his opponent into a corner, trapped and stunned him and then launched a barrage of malefic right hands (more than a dozen, interspersed with a few set-up lefts). The one-sided barrage forced Weeks to step in and end matters. The scorecards through the completed rounds read 78-73 across the board, all for Canelo Alvarez.
Canelo is currently 57-1-2 and is the top PFP fighter in boxing. He holds the WBA, WBC, IBF, and WBO world super middleweight titles and seems poised to move up to cruiserweight and fight Ilunga Makabu for the WBC cruiserweight title. If he does and wins, he will become a five-division titleholder. And yet despite this rugged schedule, Saul "Canelo" Alvarez has been "buzzed" only once.
"Miguel Cotto's brother can make you do the chicken dance, but I can't? Okay." — Caleb Plant
Ted Sares enjoys writing about boxing. He can be reached at tedsares@roadrunner.com
Check out more boxing news on video at the Boxing Channel
To comment on this story in the Fight Forum CLICK HERE
It's Just Another Day for Birthday Boy Ben Davison, Boxing's Hottest Young Trainer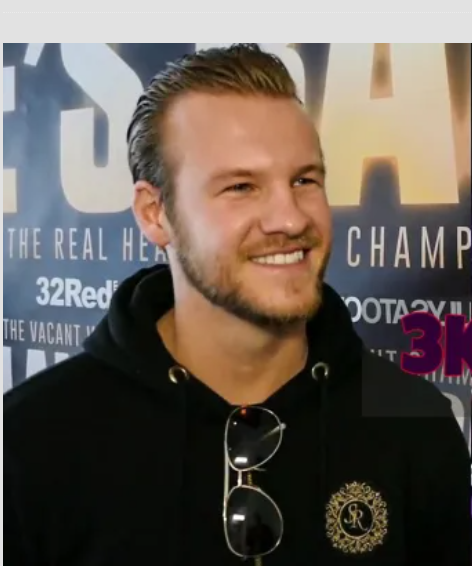 Happy birthday to British boxing coach Ben Davison who turned 29 today, Nov. 29. Davison is in Las Vegas where many people come to celebrate a birthday, but for him it's merely another day at the office.
Actually, he's currently plying his trade at two "offices." In the morning, he's at the Top Rank gym where his main focus is preparing unified 140-pound world champion Josh Taylor for his Feb. 26 title defense in Glasgow against Jack Catterall. In the afternoon he joins the horde at Bones Adams gym where Devin Haney is putting the finishing touches on his preparation for Saturday's encounter with Jojo Diaz at the MGM Grand Garden, a Matchroom promotion that will be live-streamed around the world on DAZN. Davison will be in Haney's corner assisting Haney's dad Bill Haney.
Few people had heard of Ben Davison before April of 2018 when Tyson Fury introduced Ben as his new trainer at a glitzy London press conference to announce Fury's comeback fight with sacrificial lamb Sefer Seferi. At that juncture, the Gypsy King had been out of the ring for 30 months during which he battled depression and addictions and allowed his weight to balloon to almost 400 pounds.
It seemed odd to many people that Fury, who was previously trained by his uncle Peter Fury, would choose an obscure trainer, a man younger than himself, to prepare him for his comeback. The presumption was that he was throwing a bone to the fellow that helped him get back in shape.
Broadly speaking, there are two types of boxing trainers. One is primarily a conditioner and the other a strategist whose strength is devising a battle plan. Boxing pundits, who knew little about Ben Davison other than his connection to Tyson Fury, rucked Ben into the first category.
Davison lived in Tyson Fury's home for 14 months during which he oversaw the greatest renaissance in boxing history in the words of Daily Mail writer Simon Jones. But Davison was no generic physical fitness instructor. "I would study two, three, four fights of Deontay Wilder every day," he told this reporter, recollecting the months he spent with Fury preceding the first Fury-Wilder fight.
When viewing a tape, says Davison, it's important to throw out all preconceptions regarding what a fighter does well and what he does not do so well. "Casual fans tend to see only the punches," he says. "They miss the subtleties."
This doesn't sound like the musing of a one-dimensional boxing coach.
Following his bout with Otto Wallin, Fury replaced Davison with SugarHill Steward, previously known as Javan "Sugar" Hill, the nephew and protégé of the renowned Kronk Gym maestro Emanuel Steward. Ben's pride was wounded, but he did not let the disappointment color his feelings about Tyson Fury. "We will always be friends," he says.
Davison could have stayed on with Team Fury, albeit in a secondary role to Steward, but he had another fighter under his wing in Fury's cousin, Billy Joe Saunders, and new opportunities were opening up. He chose to move on.
A bantamweight from Glasgow, Scotland, Lee McGregor, had approached him about becoming his primary coach. Davison was now free to give McGregor the proper attention. And as luck would have it, McGregor's best buddy was Josh Taylor who had become disenchanted with his father/son management team of Barry McGuigan and trainer Shane McGuigan.
Lee McGregor was 9-0 when Davison entered the picture. He's now 11-0 and set to defend his European title on Dec. 18 with Armenia's Narek Abgaryan in the opposite corner. Josh Taylor was fresh off his grueling battle with Regis Prograis in the finals of the World Boxing Super Series when he severed his tie with the McGuigans. The Scotsman then owned two pieces of the 140-pound world title and under Davison's tutelage he went on to win a hard-earned decision over Jose Ramirez, thereby acquiring the other two pieces and becoming only the sixth boxer of the four-belt era to become an undisputed champion.
Nottingham's Leigh Wood would be Ben's next title-holder. On July 31 of this year, in his second fight with Davison, Wood wrested the WBA world featherweight diadem from Can Xu with a 12th-round stoppage. Wood was comfortably ahead on the cards going into the final round.
Davison's relationship with Devin Haney was born out of a chance encounter with the boxer at Jorge Capetillo's gym in Las Vegas. Capetillo was Tyson Fury's cut man for Fury's bout with Otto Wallin.
Ben struck up a conversation with Devin after watching the fighter beat the tar out of two sparring partners. As they were discussing the finer points of boxing, Haney called his dad over to give a listen. The elder Haney was impressed and when Devin entered the ring to fight Jorge Linares, there was Ben Davison working alongside Bill Haney in Devin Haney's corner.
It has been noted that all of Davison's marquee fighters were well-formed when he took them under his wing. For example, Leigh Wood had been a pro for almost 10 years before hooking up with him. This has led skeptics to wonder if he can build a fighter from scratch. Mark Dickinson, one of Ben's newest charges, may provide the answer.
A highly decorated amateur, Dickinson has only one pro fight under his belt. He eliminated his opponent in 36 seconds. His potential is such that Davison did not leave him behind when he jetted off to Las Vegas with Team Josh Taylor.
There have been two important fights during Davison's current stateside stay, both of which have implications for fighters with whom he is involved.
There has been talk of Josh Taylor moving up to welterweight to challenge Terence Crawford. That match may yet to come to fruition although Davison concedes that it became a harder fight to make when Crawford announced that he was leaving Top Rank.
Many people were upset at Kenny Porter, Shawn Porter's father and trainer, for stopping the Crawford-Porter fight. The stoppage, which came in round 10, struck many as premature and the elder Porter made no friends when he rationalized his behavior by saying that he wasn't satisfied with the way that his son had prepared.
Davison is of the opinion that father knew best. "We don't know what went on at Shawn's training camp. Kenny may have seen some things that he hadn't seen before. Shawn was becoming fatigued and when a fighter becomes fatigued, he becomes more reckless and is thus more vulnerable. So, what was the point of continuing?"
Davison also refuses to say anything negative about Teofimo Lopez who was on the wrong end of a big upset this past Saturday in New York. "I would never kick a man while he is down," says Davison. "He probably had a lot going on outside the ring the last year."
The Lopez- Kambosos shocker opened new vistas, at least in theory.
Before he stepped into the ring with boxing's newest Cinderella Man, Teofimo was contemplating a move to 140 where his most attractive opponent would have been Josh Taylor (assuming Taylor gets by Jack Catterall). That match is still live, but now Devin Haney suddenly has a new option should he get by Jojo Diaz on Saturday. A match between Haney and multiple-belt champion George Kambosos would be a delicious pairing and the Aussie appears to be on board with it although he would be chalked the underdog. In fact, Matchroom has arranged a meet-and-greet between Kambosos and credentialed media this coming Thursday in Las Vegas.
—
Back in London, more exactly Essex, Ben Davison runs the MTK Performance Center, a gym that shares space in the same building with the electrical testing company founded by his father. Ben spends a lot of time on the road, needless to say, but he's reached the stage in his career when he can afford to hire someone to mind the store when he is out of town and pay several assistants to lighten his workload wherever he happens to be.
One of those assistants is Lee Wylie whose primary role is that of a video analyst. If the name seems familiar, that's because Wylie's byline has appeared in several online boxing magazines, including right here at The Sweet Science! In common with former TSS writer Frank Lotierzo, Wylie has a keen eye; he sees things when he watches a fight that aren't apparent to laymen and Ben Davison is now the beneficiary of his insights.
If you happen to see Mr. Davison in the next few days, wish him a belated happy birthday. Enjoy the tailpiece of your twenties, sir, life comes at you fast.
Check out more boxing news on video at the Boxing Channel
To comment on this story in the Fight Forum CLICK HERE