Andrew Cancio Rips WBA Title From Machado by KO and Other Results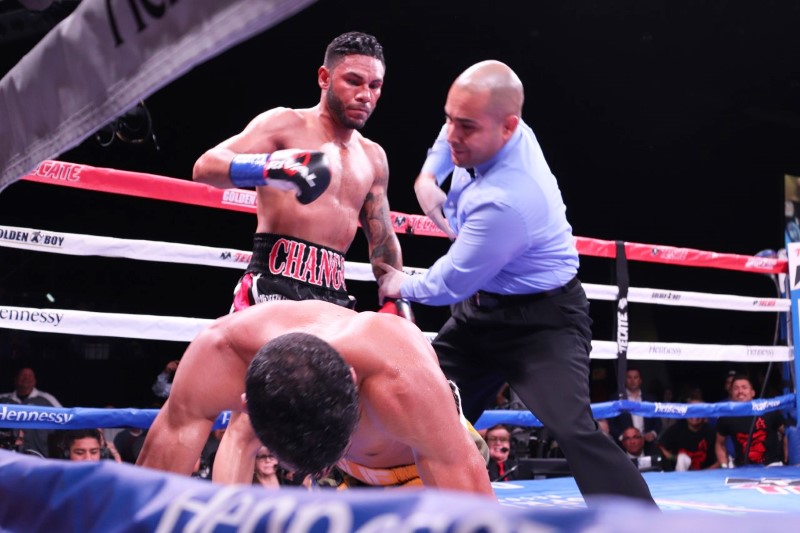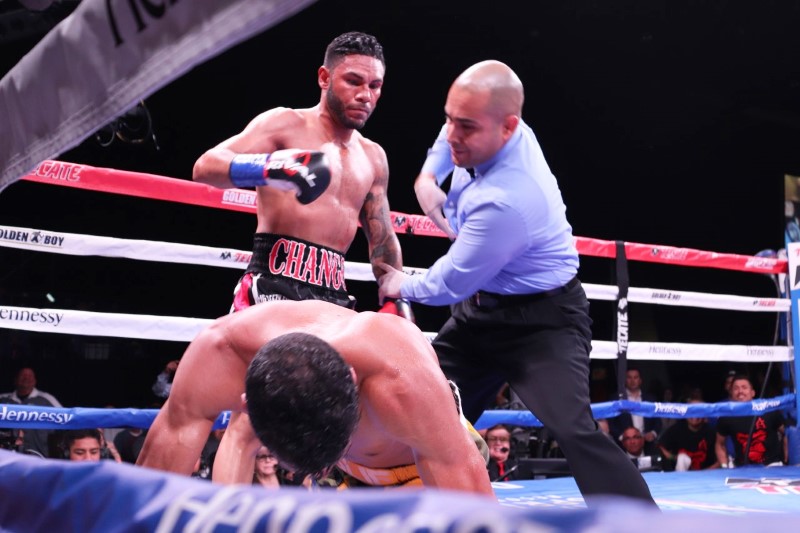 INDIO, Calif.-Underdog Andrew Cancio ripped away the WBA super featherweight world title from Puerto Rico's Alberto Machado with a murderous body attack and became the first and only world champion from the small desert town of Blythe, California on Saturday.
More than 100 loud screaming fans from Blythe were present to witness the event.
Cancio (20-4-2, 15 KOs) survived a first round knockdown against Machado (21-1, 17 KOs) then showed why fans follow him whenever he fights with a furious rally in front of a near sold-out crowd at Fantasy Springs Casino. Pure delirium followed the change of world title ownership.
As soon as the two combatants stepped in the boxing ring Machado looked much larger against the smaller frame of Cancio. And when the Puerto Rican southpaw slugger connected with a left uppercut in the first round, he seemed too powerful even for Cancio.
"I had been there before. I know what to do when I get knocked down," said Cancio, who now lives in Ventura but has family still in Blythe. "I was even able to score some punches. I didn't cover up or hold."
Cancio had shown a penchant for surviving slugfests against Rocky Juarez, Dardan (Zenunaj) and Rene Alvarado and for digging deep. Once again he displayed that same determination.
The father of two, who works for a utility company, stepped on the gas in the second round and never took his foot off the pedal with a grinding attack to the head and body of Machado. The Puerto Rican fighter had no idea how to defend the blistering blows coming his way.
Machado tried to stymie Cancio's momentum but just when it looked like the storm was over, the California desert fighter would batter the body relentless from one side to the other. The screams from the crowd seemed to add more fuel to Cancio's fire in the third round.
The loud cheers penetrated the arena. It seemed like all 19,000 residents of the desert town near the Colorado River were present.
"They really motivate me," Cancio said who was fighting for the 10th time at the Indio casino.
Cancio moved in for another attack somewhat cautiously in the fourth round. Then the murderous machine-like attack to the body began penetrating through Machado's defense and the Puerto Rican dropped to a single knee and took an eight-count. The fight continued and Cancio was like a hungry wolf chasing injured prey. Machado tried to fend off the attack but again blows to the body sent him down again. He beat the count and rose with Cancio charging in again with arms pumping and connected again. Referee Raul Caiz Jr. waved the fight over at 2:16 of the fourth round. The desert town of Blythe had its first world champion.
"This was the fight of my life. I feel extremely great winning this world title by knockout," said Cancio. "It's been a long road and it felt like we thought it would: unbelievable. For me to execute a plan like we did feels great."
Machado said the weight loss may have contributed to his poor showing.
"I felt weak in there," Machado said. "I think I have to move up from 130 pounds."
Still, it was a great moment for Cancio who almost retired more than a year ago.
"I'm extremely happy," he said. "I wasn't going to fail."
WBC Super Bantam Title Fight
WBC super bantamweight world titlist Rey Vargas (33-0, 22 KOs) hung on to the title literally with an unpopular hit and hold formula against Venezuela's rugged Franklin Manzanilla (18-5, 17 KOs), especially after tasting the canvas.
Manzanilla caught Vargas with a left hook to the chin in the second round after a brief exchange and after that, the tall skinny Mexican fighter grabbed hold of the Venezuelan whenever he got within grasping distance.
Vargas was never penalized for the excessive holding but Manzanilla was not so lucky with his tactics of trying to break the constrictor like grip of the champion. Manzanilla was deducted points in the seventh round for supposedly hitting on the break and again in the eighth. Meanwhile Vargas continued to hold throughout the fight with impunity. After 12 rounds all three judges saw it 117-108 for Vargas who retains the world title. The crowd was not pleased with the decision or the champion's tactics.
South El Monte's Jojo Diaz (28-1, 14 KOs) moved up in weight to the super featherweight division and found it advantageous in defeating local rival Charles Huerta (20-6, 12 KOs) by unanimous decision after 10 rounds.
"This will be my weight unless some of the bigger names like Leo Santa Cruz or Oscar Valdez want to fight me," said Diaz a former two-time challenger for the featherweight world title. "Then I'll fight at 126."
Huerta couldn't match Diaz's speed but hung in against the speedy southpaw for all 10 rounds.
"I had him hurt a few times, but I couldn't finish him because he's such a great warrior," Diaz said.
Other Bouts
A battle between Mexican lightweights saw Nuevo Leon's Adrian Estrella (29-3, 24 KOs) use a lot of movement to befuddle Parral's Oscar Duarte (15-1-1, 10 KOs) and win the vacant WBC Continental America's title by a disputed split decision.
Duarte must have been surprised to see Estrella box and move despite sporting an impressive knockout record. It took Duarte, who trains in Indio with Joel Diaz, several rounds to move within punching distance. He never figured out how to cut off the ring against Estrella who benefited from the lapse. After 10 rounds one judge saw Duarte the winner by 97-93, but two others saw it 98-92 and 96-94 for Estrella. The crowd was not pleased.
Former contender Tureano Johnson (20-2-1, 14 KOs) found a difficult opponent in Mexico's Fernando Castaneda (26-13-1, 17 KOs) who despite a so-so record was coming to win. Both found success throughout the super middleweight fight. Johnson was dominant with right uppercuts and Castaneda found success early with overhand rights and left hooks. Neither was seriously hurt but after eight rounds the fight was ruled a split draw 77-75, 75-77, 76-76 when the scores were read.
"My opponent did an awesome job," said Johnson after the entertaining back and forth fight.
Castaneda felt he had won but was more than happy that the crowd appreciated his effort.
"I'm very happy to have the crowd support me," said Castaneda of Aguascalientes, Mexico. "I want a rematch."
Azat Hovhannisyan (16-3, 13 KOs) utilized body shots to stop Lolito Sonsona (22-3-4, 9 KOs) in the fifth round of their super bantamweight match. Early in the fight, Hovhannisyan dropped the Filipino fighter with a left to the body but was deducted a point for an alleged low blow. It was a borderline punch but signified to the Armenian fighter to continue targeting the abdomen.
Hovhannisyan continued the pressure and though he battered Sonsona to the head repeatedly, nothing seemed to faze the Filipino fighter. But when he drifted to the body that's where the fierce Armenian fighter found a weakness, Rights to the left side of Sonsona's body floored the Filipino twice in the fifth round. At 2:23 Sonsona did not beat the count of 10 after the second body shot put him down on the ground. Referee Eddie Hernandez stopped the fight.
Local fighter Rommel Caballero (5-0, 4 KOs) knocked out Javier Rojas (1-3) in the first round of their super featherweight fight.
The fights can be seen on DAZN.
Photo credit: Alonzo Coston
Check out more boxing news on video at The Boxing Channel
To comment on this story in The Fight Forum CLICK HERE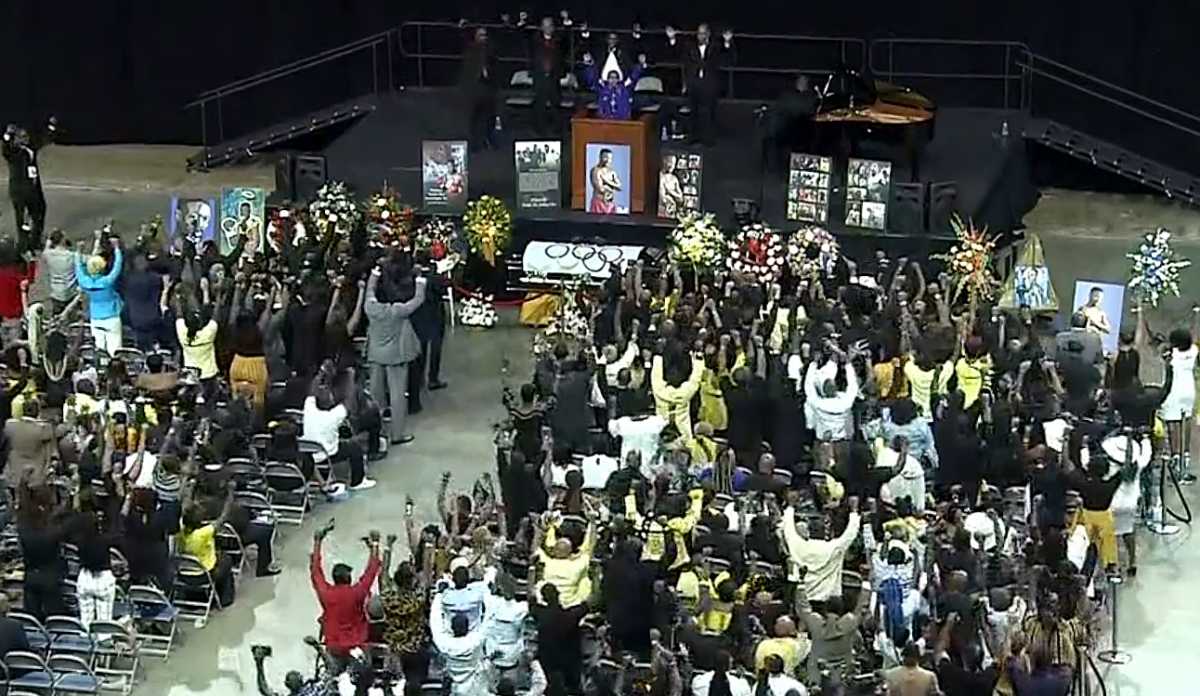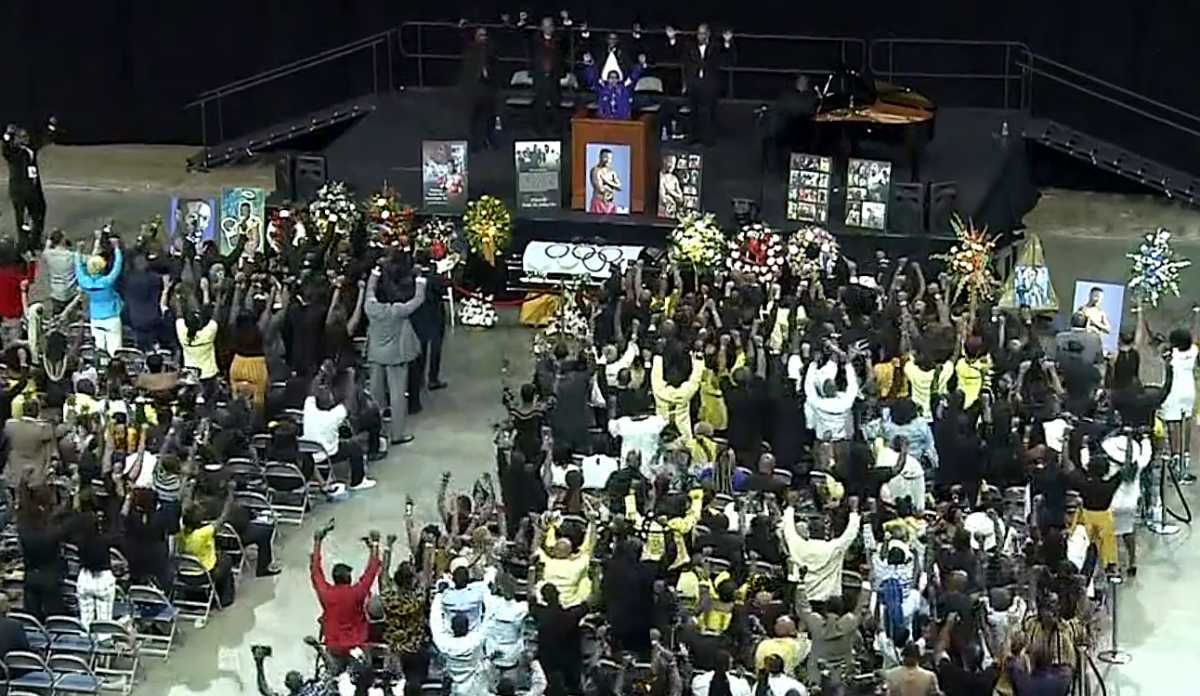 Good Night, Sweet Pea
Bishop James E. Jones Jr.'s booming baritone was rising up through the rafters at the Scope Arena in Norfolk, Virginia. He was preaching about hands—your neighbor's hands, the hand in yours now, the Father's hands into which Jesus commended his spirit from the cross. "Sweet Pea's HANDS," he shouted, "took him to places HIS EYES NEVER IMAGINED!"
Pernell "Sweet Pea" Whitaker, the greatest pure boxer since Willie Pep, lay in repose at the foot of the stage, his hands crossed at his belt. His coffin was black. An Olympic flag was draped over it and boxing gloves carefully arranged on top. The few thousand who attended his Saturday morning memorial service came to mourn and to celebrate a perfect fighter, an imperfect man, and a community that has long-since learned to look up no matter what.
Mark Breland was there. He came down from New York to honor the captain of an Olympic boxing team that won nine gold medals in 1984. Long gone is the fresh-faced amateur smiling under a laurel wreath, but Breland remains reed thin. He stood at the podium in a gray suit with a powder blue shirt and was too overwhelmed with grief to say much. "We knew him differently," he said.
Kathy Duva, now a promoter, then his publicist, was there too. "Pound-for-pound," she said. "That's how he signed his autographs." And that's exactly what he was: the pound-for-pound best boxer in the world from September 1993 through March 1996, despite performances that struck the unsophisticated as pusillanimous. "He simply chose not to engage in outright brutality," Duva said. "It was so much more fun to tease and toy with his opponents." Whitaker teased and toyed with everyone, including a young Floyd Mayweather Jr. who, she said, "could not lay a glove on him" even as he sparred with those hands of his behind his back in 1996. Whitaker brought laughter into the midst of danger because of his cosmic level of skill, and because it kept boredom at bay. Merely making world-class fighters miss wasn't enough; so he'd dart behind them and as they looked around to see where he went, he'd tap them on the rear end. When Roger Mayweather was known as "Black Mamba" and feared for his right hand, Whitaker—fighting here at the Norfolk Scope—yanked his trunks down in the middle of the sixth round.
"An imp with gold teeth," said one wit during his glory days, "floating around that blue canvas like a cloud," added Duva.
No one could outbox him. It isn't easy to settle firmly on a lightweight in history who could. But the product of Young Park, a housing project just east of the Scope, wasn't raised to shrink from violence. As a child, his father wouldn't tolerate tears when he was hurt by neighborhood bullies. He'd turn him around. "Go back," he'd say. "Give them everything you got." When he was eight, he and nine-year-old Mario Cuffee got into a street fight and Clyde Taylor, a mailman who moonlighted as the neighborhood's recreation director, hustled over and grabbed both by the scruff of the neck. "Do your fighting in the gym," he said, and with permission from the boys' parents, restaged the fight in the ring, with boxing gloves that looked like balloons. Whitaker lost that one, but found a mentor who began the process of transforming an undersized project kid into a giant of boxing and boxing history. Whitaker credited Cuffee almost as much. "Come to think of it," Cuffee told me Monday, "I beat him that first fight, though I gotta come clean, he got me back a few years later." When Whitaker fought Greg Haugen at the Coliseum in 1989, Cuffee bought a ticket and made his way across the Hampton Roads Beltway through a blizzard to see Haugen lose every round. At the post-fight press conference, Cuffee was standing in the back, "in cognito." Whitaker spotted him and told the story of their fateful childhood fight. "Thanks Mario," he said. Haugen, his face scuffed and swollen, looked up. "Yeah," he said. "Thanks Mario."
In Detroit, while still an amateur, he was invited to spar with Hector Camacho just as Floyd Mayweather was later invited to spar with him. Camacho couldn't land a glove on him either. "He got mad and started fighting dirty," Whitaker told the Newport News. "He grabbed me behind the head, pulled it down, and hit me with an uppercut. Then I grabbed him and threw him to the canvas and we started wrestling and fell out of the ring." Whitaker offered to take it outside. Camacho talked a lot but never went near him again.
In 1984, after the Duvas had convinced Whitaker to throw in with Main Events, they introduced him to trainer George Benton. Benton, who understood the science of belligerent invisibility like no one else, took what Taylor had begun and finished it. He taught him to stop running around the ring, to stand on a dime; to see the difference between wasting energy and ducking and slipping just enough to let punches graze your hair or flick your ear. Benton made sure he became, in his words, "harder to hit than the numbers," and a master at punching around, between, over, and under what's coming in. "When I talk he stands and listens like a private would a general," he said in 1986. "Sweet Pea's going to be one of the best fighters ever."
Seven years later, Whitaker swaggered into the ring against Julio Cesar Chavez, then 87-0 and rated by The Ring as the best pound-for-pound fighter in the world. Whitaker fought him on a dime—twisting, rolling, fast-stepping outside his lead foot, and punching around, between, over, and under whatever came in. He had a trick that kept working. He'd turn his right shoulder in to narrow himself and hide his left until the moment it clubbed Chavez on the side of the head. You could hear it land—"whump!"—and it landed all night. In the ninth round, he was outfighting Chavez on the inside—"whump, whump!"—which no one had ever done. Chavez was befuddled and —"whump!"—puffing up. And then, at the end, 59,000 witnessed one of boxing history's most egregious heists. Two of the three judges called the fight a draw. That's what we were told anyway. Josè Sulaimàn, WBC president, countryman of Chavez, and favorite stooge of Don King, was seen collecting the scorecards after every round that night.
It is a grandiose irony. Whitaker put an exclamation point on Benton's prediction in two fights he didn't win. The second one was nearly as bad as the first.
At 33, he faced a 24-year-old Oscar De La Hoya, then 23-0 and rated by The Ring as the second best pound-for-pound fighter behind Roy Jones Jr. Whitaker made him look like a golem and won that fight too despite an official loss that stinks to this day. "The world saw it," he said afterward, and smiled anyway, gold teeth gleaming. "The people saw it."
Bishop Jones saw it. He remembered him standing triumphantly on the ropes before the decision against him was announced. He remembered it well.
"What I loved most about Sweet Pea Whitaker," he told the mourners at the Norfolk Scope,
".…was when he KNEW he had won the fight he DIDN'T WAIT on the referee to hold up his hands. He didn't WAIT on the THE JUDGES to tell him whether or not he had won the fight, but if you look on the back of your programs, there's a SIGNATURE MOVE that the champ would always do when he knew he had WON THE FIGHT. Family! HE WOULD THROW UP BOTH HIS HANDS!"
With that, Jones stepped back from the podium and thrust both hands in the air. When the people saw that, they roared as one. But Jones was just getting started, the crescendo wasn't reached, not yet. He stopped them short. "EXODUS CHAPTER SEVENTEEN, VERSE ELEVEN! Whenever Moses held up…" and stepping back again, struck the same pose, "…HIS HANDS the people always had the victory…if the champ could hold up his hands in the middle of his fight, then SURELY you and I ought to HOLD UP OUR HANDS!"
Mario Cuffee jumped to his feet and thrust both hands in the air. Thousands, dressed in their best on the hottest day yet this year, rose as one and thrust both hands in the air. Whitaker's signature move, multiplied. It was a transcendent moment; the spirit of a man—a father, a brother, a friend, a neighbor—merging with the spirit of the city he loved.
Bishop Jones lowered his gaze to the black coffin at the center of it all. "SWEET PEA!" he thundered as if to wake him up, "That one is for you! You got the victory! CHAMP!"
I closed my eyes and somewhere, I know, Whitaker opened his.
"—YOU GOT THE VICTORY!"
___________________
Special thanks to Dr. James E. Jones Jr. senior pastor and founder of Greater Grace Church in Portsmouth, VA.
 Springs Toledo is the author of Smokestack Lightning: Harry Greb, 1919, now available in paperback.
Check out more boxing news on video at The Boxing Channel
To comment on this story in The Fight Forum CLICK HERE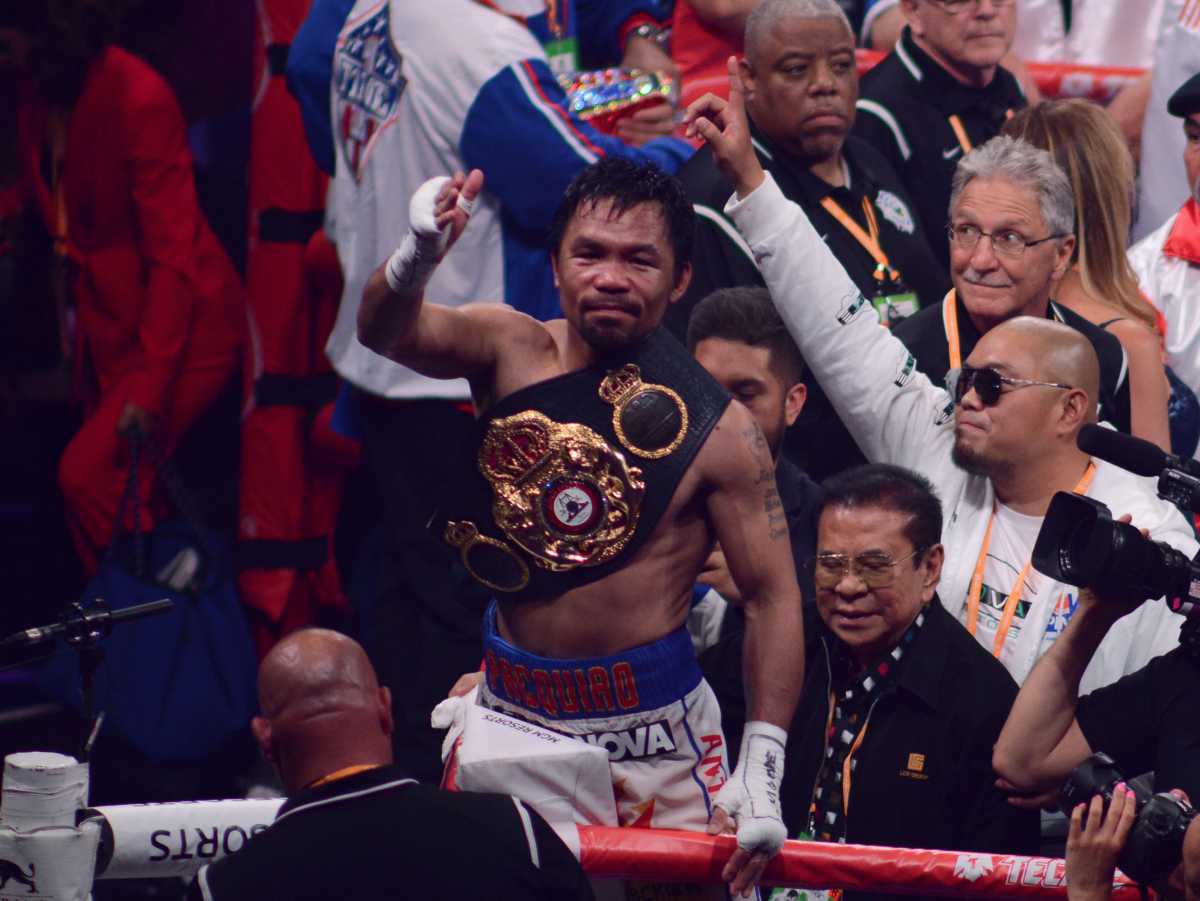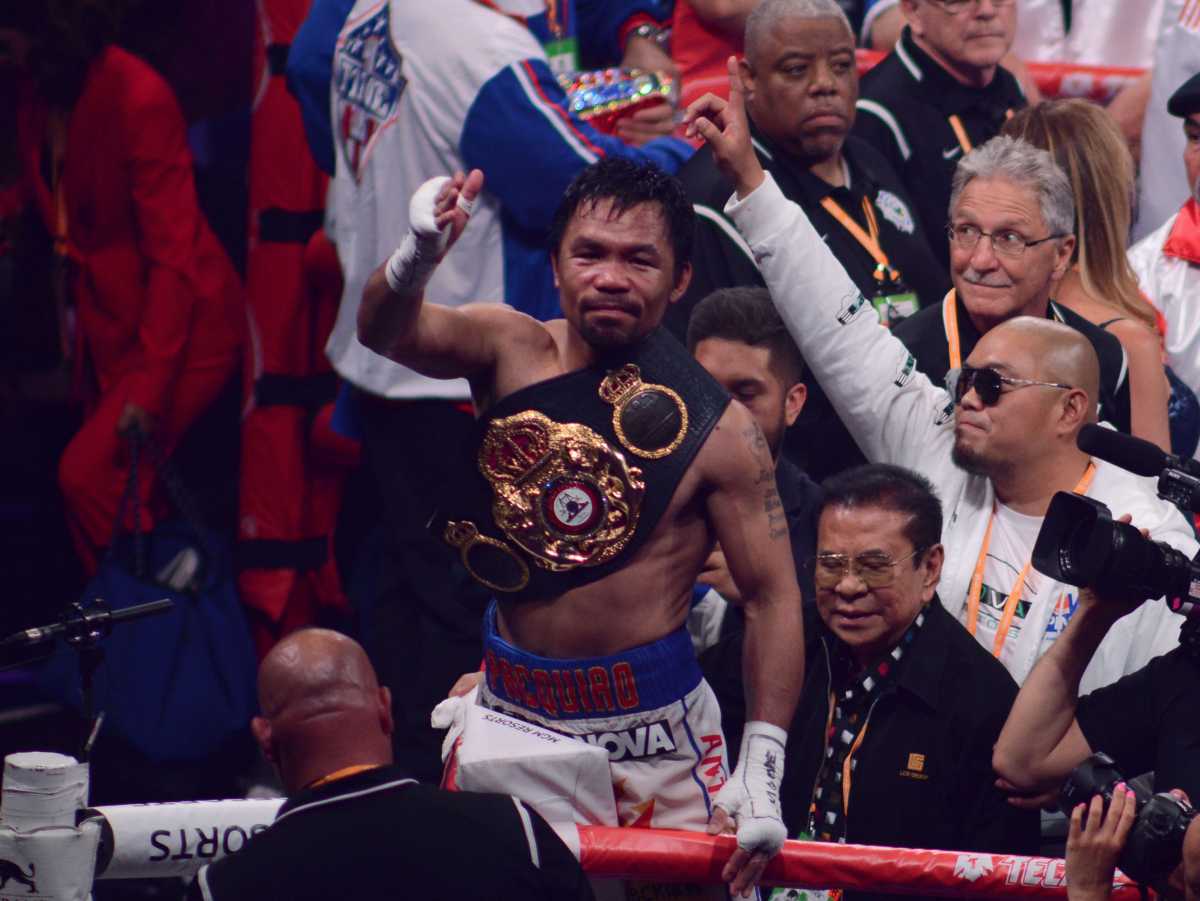 The crowd chants "Manny, Manny, Manny" at the weigh-in at the MGM Grand Garden Arena in Las Vegas and Pacquaio's beloved Pinoy fans are going wild. It's a BIG event, bigger even than many heavyweight title fights.
Max
Meanwhile, Maxim "Mad Max" Dadashev's wife Elizabeth is flying from her home in St. Petersburg, Russia, to be with her husband at a hospital in Maryland. Dadashev was critically injured on Friday night while suffering an upset loss to heavy-handed Puerto Rican bomber Subriel Matias at another MGM property, the MGM National Harbor in Oxon Hill, Maryland.
Dadashev, 28, was 281-20 as an amateur, undefeated in 13 professional fights, and the IBF's third-ranked junior welterweight, but Matias had his number and dominated throughout in a tough and grinding affair.
At the end of the 11th round, Buddy McGirt told his fighter, "I'm going to stop it, Max." Dadashev protested. Maybe Max's brain signaled no, maybe not. But his heart surely said "I'm not done."
McGirt overruled him, a sage move, but unbeknownst to anyone the damage had been done and it was severe.
"He had one hell of a fight," McGirt told the Washington Post. "Tough fight, tough fight; took a lot of tough body shots. I just think it was time to stop it. He was getting hit with too many shots. I said to him, 'I'm stopping it.' He said, 'No, don't.'"
The scores at the time of the stoppage were 109-100, 108-101 and 107-102 in favor of Matias. According to CompuBox, Matias out-landed Dadashev 319-157; 112 of Matias' punches were body shots.
Max was stretchered out of the arena and rushed to UM Prince George's Hospital where his skull was opened up to relieve the pressure caused by bleeding. The cavity reveals brain damage, and memories of Mago surface. The dreaded and familiar scenario then begins as he is put into an induced coma. Hopefully, the swelling goes down, the bleeding stops, and no blood clot appears as the later would make a terrible situation grave. In any event, Max will never box again. His well-publicized dream to win a world title will not be fulfilled.
In a post-fight interview, ESPN's ringside analyst Tim Bradley said, "That's a scary situation and every time you step foot in the ring you know that was always the talk that I would have with my wife. You know before I would step foot in the ring, I would sit her down, I would look at her and I would say, 'Look at me, honey. Take a good look at me, open your eyes wide open because I might not come out the ring, for one, and I know I'm not coming out of the ring the same way that I came in.'"
Manny
Back to the big fight the following evening:
The crowd chants "Manny, Manny, Manny" as he enters the ring to battle Keith Thurman for still another championship as his worshipers are now virtually in a state of mass hysteria and begin singing and cheering loudly. The scene borders on the surreal.
Across the Pond
Earlier on Saturday, across the pond in London, heavyweight David Allen took a bad beating from 6'9" David Price and required oxygen. He also was stretchered out and sent to a hospital, adding to the angst. But he will be okay. According to his promoter, Eddie Hearn, Allen had a broken orbital bone and a damaged tongue, but brain scans suggested he was okay.
David Allen — "Very happy and proud of David Price. I will be okay, but the last 12 months or so my health has been deteriorating and I'm glad I hung on, took the chance, and made money. [I'm] now probably done."
"Manny, Manny, Manny"
In Las Vegas, Manny has decked Thurman in the first round and the place is delirious. The crowd senses that this is his night although Thurman is not backing up. In the tenth, Pac almost puts "One Time" away after landing a devastating body punch.
Finally, the fight is over and Manny is declared the winner. The decibel count goes off the chart as the Pinoys sing "We Are The Champions." Viewers hit the mute button. These are not fans as much as they are cultists. One wonders if those who are chanting even know that this has been a week where boxing exposed its grim side.
Photo credit: Al Applerose
Ted Sares is a member of Ring 8, a lifetime member of Ring 10, and a member of Ring 4 and its Boxing Hall of Fame. He also is an Auxiliary Member of the Boxing Writers Association of America (BWAA). He is an active power lifter and Strongman competitor in the Master Class.
Check out more boxing news on video at The Boxing Channel
To comment on this story in The Fight Forum CLICK HERE
The Hauser Report: Caleb Plant is Making His Mark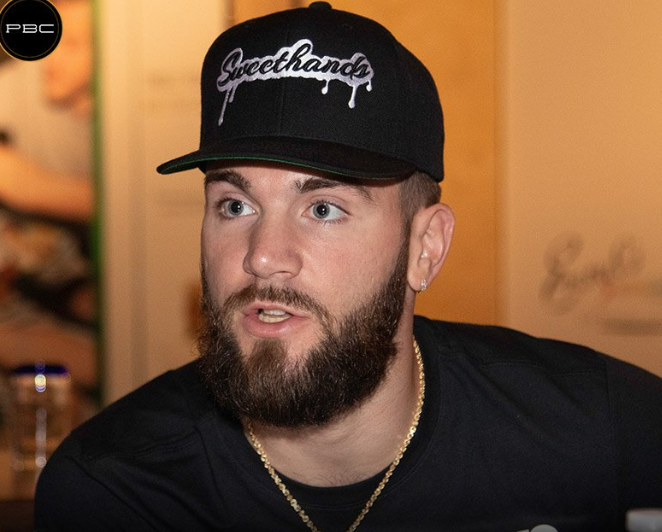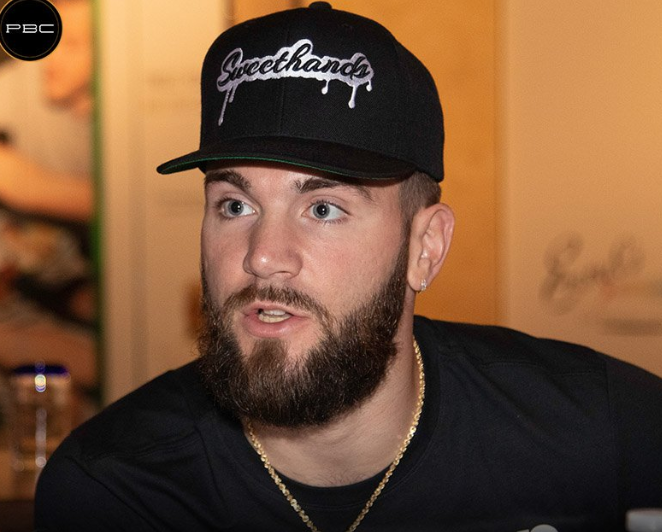 The July 20 IBF 168-pound title fight between Caleb Plant and Mike Lee wasn't expected to be competitive. But it was a coming out party for one of boxing's more compelling personalities.
Plant was born and raised in Tennessee. As his ring career progressed, he moved to Henderson on the outskirts of Las Vegas to hone his craft. On January 13 of this year, he scored an upset decision victory over Jose Uzcategui to claim the IBF belt and bring his record to 18-0 with 10 KOs. Prior to that, his hardscrabble origins had been scarred by tragedy.
Plant grew up in a home where alcohol and drug abuse were common. His own daughter, Alia, was born with severe brain damage.
"She had zero motor skills," Caleb recounted last year. "She couldn't sit up. She couldn't hold her head up. She couldn't lift her arm. She couldn't eat. She ate through a tube in her stomach. I didn't know if she was gonna know who I was. I didn't know if she knew that I loved her. She was never gonna stand and say 'I love you, dad' or 'Merry Christmas, dad.' She's not gonna know what it's like to have friends. But what if I could just give her a nice life, a life that I didn't have. What if I could work so hard that I can give her a life and things that I never had as a kid. We won't be able to have the relationship that I had with my dad. But I'll give her my all, my best, no matter what. This is what I can try to give her. A roof over her head; food in her stomach even if it's not through her mouth."
In 2015, at nineteen months of age, Alia was in the hospital on life support for the fifth and final time in her young life. Plant's words speak for themselves.
"The doctors were telling me, 'Mr. Plant, your daughter is gonna pass away. That's a tough conversation to have. She was slowly going down and down and down and down. I went to her. It was just me, and I said, 'You know, this has been a long nineteen months, and I know you have to be tired. And if you are over this, then I'm okay with that. I'm not gonna be mad at you. I'm not gonna be disappointed in you. I'm not gonna be upset with you. If you're tired of this and you're done and you don't want to do this anymore, then your daddy supports you. And I'm gonna be right here.' And right after that conversation – a conversation that I had never had with her before because, every time before, it was 'No, this is not gonna happen' – she started going down. I said, 'I want you guys to take this stuff off of her because I don't want her to pass with these tubes down her throat and an EEG machine on her head and sticky and all that stuff.' They took all that stuff out. They cleaned her off and washed her hair. They took everything out. I got to sit there with her. She took her last breath at 10:55. And I just sat with her there for a long while."
Adding to the tragedy in Plant's life, his mother was shot and killed by a police officer in March of this year. According to the Tennessee Bureau of investigation, Beth Plant was being taken to a hospital by ambulance when she became unruly and pulled a knife from her backpack. The driver pulled over to the side of the road and called for assistance from law enforcement. When a policeman arrived, Plant came toward him brandishing the knife and he shot her.
After Plant's mother died, Caleb posted a message on Facebook that read, "Love you forever and always momma. You always said 'work hard bubba' and I did. I know that we spent a lot of time wishing the relationship we had was different but you was still my momma. We both wished we could start from scratch so we could go back and you could have a fresh start with me and Maddie. Regardless you was one of the sweetest ladies I've ever come across. You had your demons but you'd give the shoes off your feet and your last dollar to someone who needed it less than you. I love you momma and I know you are up there with Alia now and her and grandma finally get to spend time together like we talked about way back. You are the first one out of all of us to see what Alia is really like so make the most of that and kiss her up and tell her that her daddy loves and misses her. I know in the end it's your demons we always talked about that got the best of you. Maybe you always told me because you knew I'd understand because we shared some of the same ones."
The saving grace in Plant's life has been boxing.
"I've been boxing since I was nine years old," Caleb says. "There ain't never been a Plan B. Not to go to college. Not to get a nine-to-five. Not to get a job. Not to be in the NFL. Not any of that. All I've ever had is boxing. I'm from the metho-heroin capital of the U.S. where a mother will sell her child's last toy for one Xanex. Where a mother will lock her son and her daughter in a room for hours, not taking care of them, just so she can be locked away in her room doing her own stuff. I'm from where the Bethesda Center gives out-of-date canned food to you because you ain't got no food. There ain't no Plan B."
Elaborating on that theme during a July 1 media conference call, Plant declared, "Boxing has always been like a sanctuary for me. It's been a place that I could go and be somebody. As a kid, I was somebody that nobody would want to be, living in a place where nobody would want to be in. When I got to go to the gym, then I got to be somebody that everybody wanted to be. Grown men looking up to me, oohing and ahhing. And once I got back out of those doors, I had to go back to being that kid that nobody wanted to be. So that became like an addiction for me, to want to be there, want to be in the gym."
"Through everything that came and left in my life," Plant continued. "Through all the things that I've lost, through all the things I've been deprived of or haven't had, boxing has always stood by my side. Boxing has always been there for me through thick and thin. Boxing is like a woman. If you treat her right and you do good by her, then she'll stand by you and she'll do right by you. But she's a jealous woman. And the difference between me and my opponent is, I haven't glanced off of her. I haven't endeavored into other things."
Mike Lee comes from a world that Caleb Plant is unfamiliar with.
Lee went to high school at the Benet Academy in Lisle, Illinois. Virtually all of Benet's students go on to college. Lee spent a year at the University of Missouri before transferring to Notre Dame, where he graduated with a degree in finance. "I relax by watching CNBC," he told writer Kieran Mulvaney several years ago. "And I like reading the Wall Street Journal."
For most of Lee's ring career, he was well marketed and well protected by Top Rank. At one point, he parlayed his Notre Dame pedigree into a much-commented-upon Subway commercial. Recently, he left Top Rank to campaign under the Premier Boxing Champions banner. Now 32 (five years older than Plant), he came into Saturday night's fight with a 21-0 (11 KOs) record and had fought his entire career at light-heavyweight or a shade higher.
Plant's opposition had been suspect prior to his victory over Uzcategui. Lee's opposition had been worse. "The typical Mike Lee opponent," one matchmaker observed, "has had ten fights and won all but nine of them."
Kick-off press conferences are usually characterized by the lack of anything eloquent being said. The May 21 press conference for Plant-Lee was different. Lee spoke first, voicing the usual platitudes.
"Every single fight is different. I don't really care what his other opponents have done in or out of the ring. It doesn't matter. On fight night, the bell rings, it's just me and him. The best man will win. I've been in so many press conferences where opponents either talk shit or they're dismissive or they're respectful. I've beat them all. This is an incredible opportunity and I will make the most of it. I'm going to shock a lot of people"
Then it was Plant's turn.
"I've been boxing my whole life," Caleb said. "No college degree for me. No high school sports. No acting gigs. No Subway commercials. Just boxing, day in and day out, rain, sleet, or snow. He may have a financial degree. But in boxing I have a Ph.D and that's something he don't know anything about. Something else I have a Ph.D in is being cold and being hungry and being deprived, coming from very rock bottom. That's something he don't know anything about. So if this guy ever thought for one second that I would let him mess this up for me and send me back there; unlike him, I have everything to lose. This is how I keep a roof over my head and food in my belly. That's something he don't know anything about. So if he thinks he's going to mess this up for me, he's not half as educated as I thought he was."
At times, the dialogue seemed to verge on class warfare. And it continued in that vein through fight week.
"There are zoo lions and there are jungle lions," Plant said at the final pre-fight press conference two days before the bout. "The zoo lion will look at the jungle lion and think they're the same thing. And from a distance they look the same. Until it's time to eat or be eaten."
"The trash talking goes back and forth," Lee responded. "That's as old as time. Nothing he's saying is new. It's all recycled stuff he's heard on TV or heard in movies. It's nothing new to me. It doesn't even bother me. I laugh at it."
Plant-Lee was broadcast live on Fox as a lead-in to the Pacquiao-Thurman pay-per-view card. Lee was a 15-to-1 underdog. The consensus was that he had as much chance of beating Plant in a boxing match as Yale would have of beating Notre Dame in football.
Nevada's choice of 76-year-old referee Robert Byrd as third man in the ring was a bit of a surprise. Byrd was once a capable referee, but his performance in recent years has been erratic. The most egregious example of this was his mishandling of the June 15 World Boxing Super Series cruiserweight semi-final bout between Mairis Briedis and Krzysztof Glowacki.
Byrd is past the point where he can move nimbly around the ring and was out of position for much of Briedis-Glowacki. His judgment was also faulty. In round two while the fighters were in a clinch, Glowacki hit Breidis in the back of the head with a rabbit punch. Briedis retaliated by flagrantly smashing an elbow into Glowacki's face, driving the Pole to the canvas. In a post-fight in-the-ring interview on DAZN, Briedis acknowledged the foul, saying, "I did a little bit dirty."
Glowacki, for his part, noted, "The elbow was really strong and clear to the chin. I did not know what happened. I do not remember a lot after that."
Byrd deducted a point from Briedis but didn't give Glowacki additional time to recover. Still hurt, Glowacki was knocked down fifteen seconds later by a two-punch combination that ended with a right hand to the back of the head. He rose. The bell rang to end the round. And Byrd didn't hear it.
"The bell's gone," DAZN blow-by-blow commentator Jim Rosenthal shouted. "They're carrying on. Come on, referee. I can hear it. Get in there."
But Byrd allowed the action to continue. With people at ringside waving their arms and screaming at him that the round had ended, he allowed Briedis to batter Glowacki for another eight seconds until Mairis scored another knockdown.
"He's gone down after the bell," Rosenthal proclaimed. "What is occurring in there? What is occurring? That bell was ringing for ages. It's farcical. He's saying he couldn't hear the bell. He must have been the only one in the arena."
A badly damaged Glowacki was allowed out of his corner for round three but the fight was stopped twenty seconds later. In the same post-fight interview on DAZN, Briedis conceded that he'd heard the bell ending round two but kept punching.
As for Plant-Lee, the fight lived down to expectations. Lee tried to fight aggressively but didn't have the tools to do it. Plant was the faster, stronger, tougher, better schooled fighter. He dropped Lee with a lead left hook late in round one, dug effectively to the body throughout, and put Lee on the canvas thrice more in the third stanza. After the final knockdown, Byrd stopped the mismatch. According to CompuBox, Lee landed just eight punches in the entire bout.
It will be interesting to see how Plant progresses from here, in and out of the ring. In that regard, it should be noted that writer Jeremy Herriges talked at length recently with Carman Jean Briscoe-Lee (Alia's mother, who was once Caleb's companion). Thereafter, Herriges wrote a thought-provoking article for NY Fights that calls portions of Plant's narrative into question.
Meanwhile, Caleb remains a work in progress.
"I'm not a grown man," he said during a July 1 media conference call. "I'm a growing man. So I'm going to continue to become better in the ring. I'm going to continue to become a better man outside the ring. Thus far, I think I've done a good job of handling that responsibility. If I just continue to follow what I've done, I think I'll be on the right path."
Let's see how the journey unfolds.
Thomas Hauser's new email address is thomashauserwriter@gmail.com. His next book – A Dangerous Journey: Another Year Inside Boxing  – will published this autumn by the University of Arkansas Press. In 2004, the Boxing Writers Association of America honored Hauser with the Nat Fleischer Award for career excellence in boxing journalism.
Check out more boxing news on video at The Boxing Channel
To comment on this story in The Fight Forum CLICK HERE