Winning but Losing: Illustrations from the Flip Side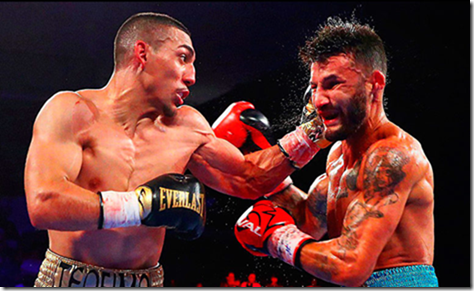 "Losing but Winning" was the title of one of my most recent TSS stories. The theme was that sometimes a fighter loses but leaves the ring more respected than when he entered it. One of the examples cited was Paulie Malignaggi's courageous performance in losing to heavily favored Miguel Cotto.
But what about the flip side; that is, when a fighter wins but leaves the ring with less than that with which he entered? A recent one comes to mind.
Teófimo López vs. Diego Magdaleno
Maybe Lopez's moniker should be "Terrifying Teófimo" based on the way he rendered Mason Menard unconscious and then how he savagely knocked out veteran Magdaleno who deserved better from his "brave" corner and from recalcitrant referee Gregorio Alvarez.
And then, wrote boxing reporter Scott Christ, "Lopez also stirred up some controversy after the fight, doing a huge celebration (including an incredible backflip) in the ring, leading to Diego's brother Jessie, a former super bantamweight titleholder, trying to go after Lopez. Jessie was held back successfully, meaning we got no in-ring riot at least."
It was a sophomoric way to celebrate a great win.
Showing disrespect to a beaten fighter is not the way to win over fans and many on social media reacted harshly to Lopez's theatrics. When a boxer disrespects an opponent, he or she disrespects boxing. Teofimo needs to rein it in.
Jermall Charlo vs. Julian Williams (Dec. 10, 2016)
Charlo retained his IBF junior middleweight title by stopping the undefeated Williams in the fifth round after having dominated throughout. Williams went over to congratulate Charlo, but Charlo refused and said, "I don't want your congratulations, I want your apology." The crowd then began to boo Charlo and that little attitudinal hiccup has stayed with him ever since.
Jermell Charlo vs. Erickson Lubin (Oct. 14, 2017)
After his sudden KO of highly touted Lubin, Jermell Charlo, Jarmall's twin brother, strutted around the ring like a peacock in jubilation. At some point during Jermell's celebration, he even got involved in a bit of a fracas with members of Erickson Lubin's entourage.
Maybe it's in their genes, but the Charlo twins, while super talented, always seem to be edgy and cocky and that persona can scar them with a reputation of poor sportsmanship.  Disdain for an opponent, if kept under wraps, can work for a fighter, but the key is to keep it suppressed.
Vinny Pazienza vs. Dana Rosenblatt (Aug. 23, 1996)
"Dangerous" Dana is articulate, gentlemanly, affable and was a college student to boot (he is now an announcer on NESN) and that seemed to fuel Vinny's over-the-top dislike for him. "My hatred for him is true," said the flamboyant Pazienza…."I could break every bone in his body and feel no remorse. He's a condescending little punk with that community college degree and I hate every ounce of him. I hate him for all the s— he said about me back when I was supporting him. He hasn't earned the right to talk like that. He ain't been there, done that."
Author Eric Hoffer once said: "You can discover what your enemy fears most by observing the means he uses to frighten you." Maybe Rosenblatt was paying attention.
At any rate, Dana did a number on Paz during the first three rounds and was in control until he was caught by an overhand right and that was that as Paz floored him and then mugged him until the fight was stopped– but Vinny kept on going after him and had to be pulled away before a ring riot started. Later, he was fined $5,000 and suspended for 90 days by New Jersey boxing commissioner Larry Hazzard for punching referee Tony Orlando who had stepped in to stop the fight and was floored by Paz in an attempt to add more punishment to his already beaten foe. It was ugly and did nothing to buff Pazienza's already well-hewn abrasive style.
As for Dana, he said to TV commentator Sean O'Grady during the post-fight interview that "the better man won tonight and I give him credit for doing all the things he said he was going to do."
Rosenblatt won the rematch.
Ann Wolfe vs Vonda Ward (May 8, 2004)
After the 5'9" Wolfe scored the most spectacular KO in female boxing history and one of the most spectacular of all time, male or female, she danced for joy but way too close to her stricken 6'6" foe. Ann should have kept her celebration at a respectful distance. This was not one of her better moments.
Ann later said, "(Ward) pissed me off. That's why she ended up getting knocked out like that. She told people, 'I'm gonna be outside signing autographs after this fight.' "
An overly gaunt Ward sustained a neck concussion when she fell and was hospitalized. Amazingly, however, Vonda came back to win her final five bouts and finished her career with a 23-1 mark.
Legendary football coach Paul Brown once said "If you get into the end zone, act like you've been there before."
A couple of obvious offenders (and Mike Tyson is not one of them) have been omitted from this story but the fuel that turbo-charged their theatrics was pure hype and that doesn't belong given the context of the aforementioned.
Can you name some others?
Ted Sares is one of the world's oldest active power lifters and Strongman competitors and plans to compete in at least three events in 2019. He is a lifetime member of Ring 10, and a member of Ring 4 and its Boxing Hall of Fame. He also is an Auxiliary Member of the Boxing Writers Association of America (BWAA).
Check out more boxing news on video at The Boxing Channel
To comment on this story in The Fight Forum CLICK HERE
Lipinets and Clayton Battle to a Draw at the Mohegan Sun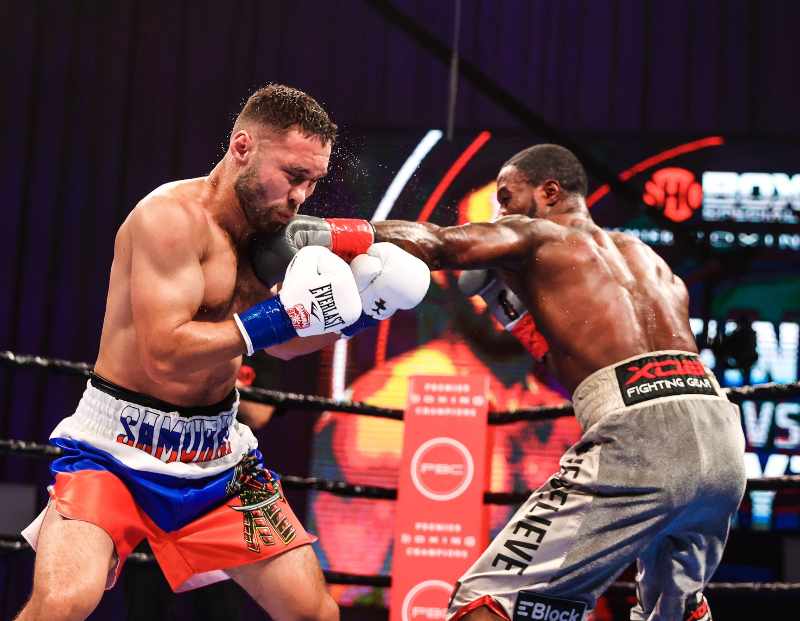 Tonight's PBC show at Connecticut's Mohegan Sun Casino, billed as a "Showtime Special Edition," was to feature Sergey Lipinets against Kudratillo Abdukakhorov in the main event. That match-up would have pit fighters born in neighboring countries in Central Asia, the first major fight of its kind on American soil, but Uzbekistan's Abdukakhorov had visa problems and a Canadian filled the breach.
Custio Clayton, whose 18-0 record was suspect because he had done all his fighting in Eastern Canada, proved to be more than just a worthy opponent. The 33-year-old ex-Olympian from Dartmouth, Nova Scotia held Lipinets (now 16-1-1) to a draw and the general feeling was that he had done just enough to edge it out. Don Trella scored the 12-round welterweight bout for him (115-113), but Trella's counterparts Glen Feldman and Tom Schreck both had it even at 114 apiece.
Conspicuously bigger than Lipinets – to the eyes if not on the scale – Clayton did his best work in the late rounds. Lipinets, briefly the IBF world 140-pound title-holder (he lost the belt to Mikey Garcia; no shame there) is something of a one-dimensional fighter and as the rounds wore on he connected with fewer punches on the more multi-dimensional Canadian.
In theory, the winner would have been in line for a match with Errol Spence.
Martinez-Marrero
Prior to tonight, Sacramento junior lightweight Xavier Martinez had never fought beyond the eighth round and tonight it appeared that he wouldn't see the ninth. He was on the deck twice in round eight and nearly didn't make it to the bell. But he lasted the full 12 to win a well-earned unanimous decision over Claudio Marrero
Marrero, a 31-year-old southpaw from Santo Domingo, DR, was well behind on the scorecards when he caught Martinez with a big right hook shortly after the start of the eighth round. He pressed his advantage and knocked him down again with a flurry of punches. But Martinez recuperated and prevailed on scores of 115-111, 114-112, and 114-112 to keep his undefeated record intact, advancing to 16-0.
This was quite a departure from Martinez's previous bout when he knocked out his opponent in 21 seconds. Marrero (24-5) lost for the fourth time in his last five outings. The match was billed as a WBA 130-pound title eliminator.
Matias-Hawkins
The TV opener was a 10-round junior lightweight contest between Malik Hawkins and Subriel Matias. Hawkins, a former National Golden Gloves champion from the same Baltimore gym that produced Gervonta Davis, came in undefeated (18-0). Puerto Rico's Matias, who opened his career with 15 straight knockouts, was looking to rebound from his first defeat, having lost a 10-round decision to Petros Ananyan on the Wilder-Fury 11 undercard.
Matias's bout with Ananyan was his first start since his match will ill-fated Maxim Dadashev. The Dadashev tragedy may have preyed on his mind, but according to his promoter Juan Orengo, he was lax in his training for Ananyan. Whatever the case, Matias rebounded from that defeat tonight, saddling Hawkins with his first pro loss.
Matias forged ahead in the sixth, knocking Hawkins to his knees and then pursuing him around the ring to apply the finisher. Hawkins survived the onslaught but had no argument when he was pulled out by the ring physician before the next frame.
Photo credit: Amanda Westcott / SHOWTIME
Check out more boxing news on video at the Boxing Channel 
To comment on this story in the Fight Forum CLICK HERE
Juan Francisco Estrada KOs Carlos Cuadras; Chocolatito Wins Too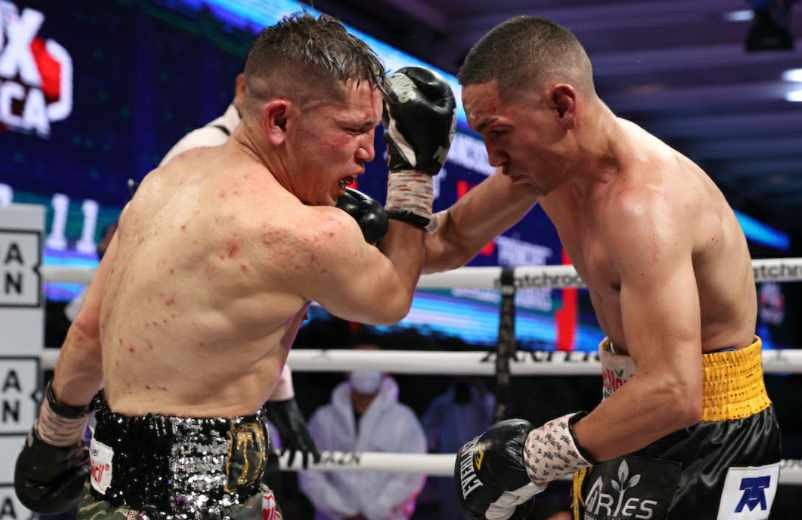 WBC super flyweight world titlist Juan Francisco Estrada led a triumvirate of world title fights with a sizzling knockout victory over Mexican rival Carlos Cuadras to retain the world title and set up a future clash with former foe Roman "Chocolatito" Gonzalez who won his bout in the co-feature.
In front of a small Mexico City crowd Estrada (41-3, 28 KOs) proved he could defeat Cuadras (39-4-1, 27 KOs) again and did it emphatically to retain his title by knockout. There was no squabbling about scorecards in this clash like their first encounter in 2017 that ended with Estrada by decision.
It did not begin well for Estrada who endured Cuadras imposing his strength and speed behind a very strong left jab in the first three rounds. And then a sneaky right uppercut followed by a left hook sent Estrada down for the count in the third round.
But that only proved to be a spark for the fighter known as "El Gallo."
Estrada realized he was falling behind, especially after the knockdown. Instead of counter-punching, the boxer from Sonora, Mexico began moving forward and became an aggressor. The dynamics of the fight changed suddenly.
Cuadras was hurt by a body shot in the sixth round and spent most of his time looking to avoid more contact. Estrada was in full control.
Despite the change in momentum no round was easy for either Mexican pugilist. Both exchanged freely always looking to end the fight with a big blow. Though each were hurt at times, neither showed signs of relenting.
From the eighth through the 10th round Cuadras seemed to find a second wind, or maybe it was desperation. The Mexico City native known as "Principe" fought possessed and managed to swing the momentum back toward his way for maybe two of those rounds.
In the 11th round both exchanged blows and Estrada connected with a left and right and down went Cuadras. The former world champion got up and was then floored with a counter right cross. He got up again a little shaky and Estrada attacked with a four-punch combination that forced referee Lupe Garcia to stop the fight for a technical knockout at 2:22 of the round.
Estrada retained the WBC super flyweight world title and will now meet Chocolatito.
Chocolatito
Nicaragua's Roman "Chocolatito" Gonzalez (50-2, 41 KOs) proved that an opponent like Mexico's Israel Gonzalez (25-3) can be faster, taller, longer and younger but the Nicaraguan will find a way to beat you. He did that with a convincing unanimous decision win after 12 rounds to retain the WBA super flyweight world title.
Chocolatito will now probably meet Juan Francisco Estrada for a long-expected rematch. In their first encounter back in 2012, the Nicaraguan won by decision in Los Angeles.
Chocolatito looked dominant in his ability to deflect the speedy combinations by the young Mexican fighter Gonzalez. Nothing worked against the Nicaraguan who skillfully manipulated his way through barrage after barrage and connected inside with body shots and uppercuts.
It was a masterful performance.
JC Martinez
Mexico City's Julio Cesar Martinez (17-1, 13 KOs) was defending his WBC flyweight world title against Moises Calleros (33-10-1) a virtual bantamweight weighing more than 7 pounds over the 112-pound flyweight limit. Even the extra weight could not help him.
In the first round, Martinez exploded with a blistering three-punch combination the sent Calleros to the floor dazed and confused. He beat the count and survived the round.
The second round wasn't too kind for Calleros who became the punching bag for the quick-fisted Martinez who opened up with a nine-punch salvo that forced the referee Cesar Castanon to end the slaughter at 2:42 of the second round.
Other Bouts
Diego Pacheco (10-0, 8 KOs) used his height and reach to score a knockout with a snapping right uppercut to the chin of Mexico's Juan Mendez (12-3-2) in a super middleweight fight. The end came at 2:02 of the second round with Mexican referee Rafael Saldana stopping the fight at the perfect moment.
Austin "Ammo" Williams (6-0, 5 KOs) powered through Esau Herrera (19-12-1) with body shots and combination punches to win by knockout in a middleweight battle. The end came at 1:36 of the fifth round.
Otha Jones III (5-0-1, 2 KOs) and Mexico City fighter Kevin Montiel (6-0-1) fought to a split draw after six rounds in a super featherweight clash. Both fighters started quickly with Jones having good rounds in the middle portion of the six-round fight, but he tired and allowed Montiel to rally from behind. The scores were split with 58-56 for Jones, 58-56 for Montiel and 57-57.
Photo credit: Ed Mulholland / Matchroom
Check out more boxing news on video at the Boxing Channel 
To comment on this story in the Fight Forum CLICK HERE
Boxing Odds and Ends: Fury's Next Opponent, Lomachenko Redux and More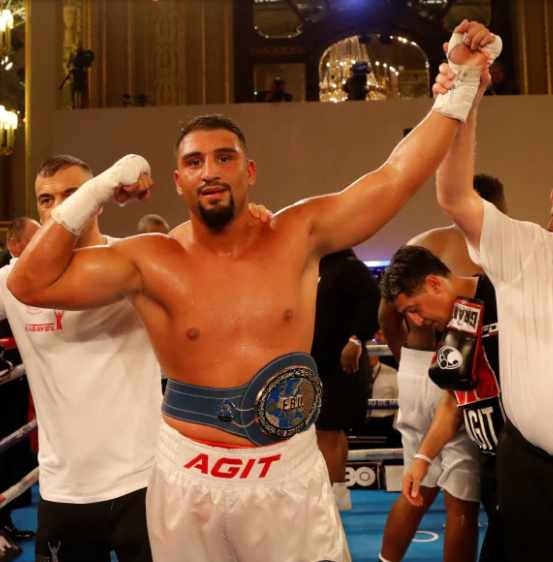 Boxing Odds and Ends: Fury's Next Opponent, Lomachenko Redux and More
It wasn't long ago that Bob Arum was talking about potting Fury-Wilder III at Las Vegas' new Allegiant Stadium in December. But Arum and his business partner Frank Warren have switched gears. Fury-Wilder III is on hold indefinitely.
According to Team Fury, Wilder invalidated the rematch clause in the Articles of Agreement for Wilder-Fury II by failing to activate it within the required time frame. That opened the door for Fury to choose a different opponent for his next fight. The frontrunners are reportedly Agit Kabayel and Carlos Takam. The fight is expected to come off in December in London.
Agit Kabayel, a 28-year-old German of Kurdish descent, is 20-0 (13 KOs). He came to the fore in November of 2017 when he upset dangerous but erratic Dereck Chisora, winning a 12-round decision at the Casino in Monte Carlo. In his most recent fight, in July of this year, he won a lopsided 10-round decision over an obscure opponent before a small gathering (per COVID policy) at a public park in Magdeburg.
Carlos Takam (39-5-1, 28 KOs) is best known for taking Anthony Joshua into the 10th frame before succumbing when they met three years ago this month at Principality Stadium in Wales. Takam was called in from the bullpen when Kubrat Pulev was forced to pull out with a shoulder injury.
In his most recent fight, the 39-year-old French-Cameroonian won a 10-round decision over unheralded Jerry Forrest at the MGM Bubble. As had been true when he was matched up against Joshua, Takam got the call when his opponent's original opponent fell out. Takam replaced Jarrell "Big Baby" Miller who failed his pre-fight drug test, as was his custom.
In the words of fight writer Kenneth Friedman, regardless of whether it's Kabayel (pictured) or Takam, "this will be a stay busy fight for Fury, and not one meant to be serious entertainment for the boxing public."
We appreciate boxing writers who refuse to sugarcoat, but this strikes us as a bit harsh. Kabayel can fight more than a little, and should he get the call he may prove to be as pesky as Otto Wallin.
Lomachenko
It has come out that Vasiliy Lomachenko was damaged goods heading into his bout with Teofimo Lopez. He had a shoulder ailment that forced him to miss a week of training in the gym. This past Monday, Oct. 20, the noted orthopedic surgeon Dr. Neal S. ElAttrache – the head team physician for the LA Dodgers and LA Rams – put Lomachenko under the knife.
Dr. ElAttrache told Yahoo! boxing writer Kevin Iole that Loma had a bruised rotator cuff and a chipped piece of cartilage and that the injury was in the same area in his right shoulder where Vasiliy suffered a torn labrum in his bout with Jorge Linares in May of 2018.
Lomachenko's promoter Bob Arum said he had no knowledge that the Ukrainian was less than 100 percent. Neither did the bettors. Had the word got out, the wiseguys would have "steamed" the underdog.
We're reminded of the 1995 fight at the Caesars Palace outdoor arena between Oscar De La Hoya and the late Genaro "Chicanito" Hernandez. It leaked out that Hernandez had suffered a broken nose in his final sparring session and the odds favoring De La Hoya zoomed from 4/1 to 17/2.
In the sixth round, a punch from Oscar broke Hernandez's fragile nose. The blood came down in torrents, Hernandez quit at the conclusion at the round, and the bookies took a bath.
From a betting standpoint, injuries are far more relevant in an individual sport such as boxing than in a team sport. A heavy sports gambler of our acquaintance, now deceased, invariably bet on an NFL team missing one or more key players. "The back-ups were All-Americans too," he said by way of explanation.
The contract for Lomachenko-Lopez did not include a rematch clause. Teofimo has no interest in a rematch and has earned the right to move on. However, we would bet that most fight fans would love to see them go at it again. Lomachenko is expected to be fit to resume his regular training regimen in January.
Davis vs. Santa Cruz
"In what is being billed as a 50/50 fight…." reads a SHOWTIME press release heralding the forthcoming match between Gervonta "Tank" Davis and Leo Santa Cruz.
What an interesting choice of words. Who exactly is it that is billing this as a 50/50 fight? Certainly not the bookies. As of Friday, Oct. 23, Davis was anywhere from a minus-460 to minus-680 favorite at prominent betting establishments offshore. (For the sake of convenience, let's just say that Gervonta is a 5/1 favorite.)
No, this is hardly a 50/50 fight, at least not in the view of the bet-takers who have no choice but to be transparent. But in defense of SHOWTIME, this is an intriguing contest between a brash upstart who has yet to taste defeat and a 32-year-old veteran who has suffered only one defeat in 39 starts, a defeat that he avenged.
Gervonta Davis (23-0, 22 KOs) will walk right through Leo Santa Cruz if he fights as well as he did against Jose Pedraza in 2017. But if "Tank" fights as he did later that year against Francisco Fonseca, Santa Cruz (37-1-1, 19 KOs) will make it warm for him.
Davis vs. Santa Cruz will play out on Halloween before a live audience in the San Antonio Alamodome. It is the main attraction of a PPV event with a suggested list price of $74.99. It will be interesting to see what numbers it draws since the show goes head-to-head against an ESPN+ card featuring the U.S. debut of Naoya "Monster" Inoue.
Leonard Ellerbe, the CEO of Mayweather Promotions, which handles Tank Davis, has predicted that Davis will someday command "Mayweather money." He bases this not merely on Davis's talent, but on his large social media following. The 25-year-old Baltimorean has a big presence among the hip-hop crowd.
At stake in the Davis vs. Santa Cruz fight are a pair of WBA titles hitched to different weight classes. One of the belts at stake is the WBA lightweight title.
Hey, wait a second, didn't Teofimo Lopez just win this very same title?
In Deadwood, South Dakota, one can visit the saloon where Wild Bill Hickock was shot dead while playing poker. Or one can walk down the street and visit a different saloon that claims to be the place where Hickock was shot dead while playing poker.
WBA president Gilberto Mendoza doesn't own those two saloons, but he could have.
Check out more boxing news on video at the Boxing Channel 
To comment on this story in the Fight Forum CLICK HERE