The Annunciation of Efe Ajagba, an Emerging Shark in the Heavyweight Pool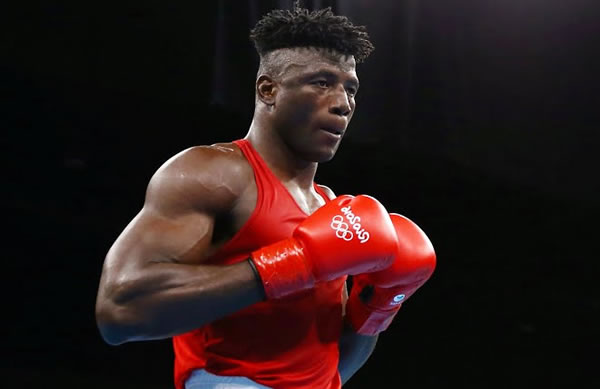 "This guy is definitely going to be heavyweight champion of the world."
That's a bold proclamation about a 24-year-old heavyweight prospect named Efe Ajagba, one that borders on the type of emotional heraldry more often found adorning the lips of promoters and managers and publicists rather than coming from a man who had previously worked in the corners for legendary heavyweight champions like Evander Holyfield and Mike Tyson.
But coming from the mouth Ajagba's trainer, Ronnie Shields, a man who's never uttered anything close to that seemingly unearned lofty praise about any of the other top prospects, world champions or Hall of Fame fighters I've interviewed him about over the last ten years, the declaration beckons forth some very serious contemplation.
It's not the first time one of Ajagba's evangelical emissaries had appeared before me. Two years prior, before anyone had ever really seen or even heard of this great and terrible plague that now descends upon our suddenly quite interesting heavyweight landscape, I enjoyed a casual conversation with a local strength and conditioning guru, Danny Arnold, in which Arnold immediately forewent our traditional small talk pleasantries in order to announce his amazement about a new fighter in town.
"Come with me," Arnold said with his eyes uncharacteristically bulging out his head as if he'd just witnessed the second coming. "I want to show you something."
There they were. Two strong-looking fellows, one standing over the other the way a marble statue of a Greek God must have looked while overshadowing and dwarfing its maker.
"The tall one: that's Efe Ajagba. He's the one."
I honestly don't remember who the other fighter was. I remember he was talking up to Ajagba with a gleam in his eye the way a pauper might address a kindly prince, but for some reason or another, Ajagba's name just always stuck in mind.
He just seemed different, and judging by what has transpired over the last two years, which includes Shields comparing the relatively unknown Ajagba to George Foreman as well as one of the oddest scenes in boxing history, where one of Ajagba's opponents, Curtis Harper, walked out of the ring in apparent horror at the mere sight of him, maybe it's because I was seeing something I'd never seen before and might never see again.
Is he a superhero?
"He got in a fight on the soccer field one day and somebody suggested to him he should start boxing, so he did," said Shields the way one comic book reader might inform another about a new title character's origin story. "And in his first year, he went all the way to the 2016 Olympics. How crazy is that?"
Speaking by phone earlier this week, Arnold seemed just as impressed with Ajagba as he was that first day we talked about him, even after observing the countless number of workouts Ajagba's completed since 2017 at Arnold's training facility, Plex, in Houston.
"By far, he's much more athletic than all other boxers that have come through here," said Arnold. "In comparison to a professional football player, I'm telling you, he's right there. He has the athletic ability of a defensive end."
Arnold went so far as to compare Ajagba to the All-Pro defensive end for the Houston Texans, Jadeveon Clowney, a specimen of humanity whose 2014 NFL combine results caused SBNation's Jeff Gray to write Clowney was "bigger and stronger than just about everyone [in the world], and… much faster than all of us, too."
"Right now, probably the best athlete I have out here is Clowney who is built very similarly to Efe," said Arnold. "They're very similar to each other. I would say there is a good comparison between the two in terms of athleticism."
But it isn't just that.
While Ajagba is indeed a physical marvel, perhaps a true testament to what it would be like to have a god walking among us mere mortals, a 6-foot 6, 240-pound powerhouse, with NFL-level athleticism to go along with an 88-inch reach, he's also a hardworking and passionate learner eager to hone his craft.
"He's so into boxing," said Shields. "He does everything I ask him to do. He's just a great guy. He trains hard, and he wants to learn the sport."
Despite having fought less than 12 full rounds over the course of eight professional fights, Ajagba has already displayed the types of straight punches, swift foot movement and dedication to nuance that only the most elite prizefighters are capable of producing.
That doesn't mean he's ready to compete for a world championship right now. Ajagba is still growing and learning his trade. He doesn't possess fluid fighting movements, which is the hallmark of veteran professionals, and it's not really known yet how well this African Adonis can take a punch.
But with Hall of Fame manager Shelly Finkel and old-school veteran trainer Shields guiding his path toward stardom, Ajagba appears to be steadily striding on predestined steps toward heavyweight supremacy.
"You have to remember something," said Shields. "This guy is only 24 years old. We're not in a rush to just go ahead and get him rated as a top contender right now. He's still learning on the job."
Ajagba's next day at work is to annihilate 46-year-old veteran gatekeeper Amir Mansour, his opponent this coming Saturday at Dignity Health Sports Park in Carson, California. While the southpaw slugger will represent the most experienced competitor to date to have answered The Ajagba Challenge (assuming, of course, he doesn't leave the ring before a single punch is thrown), Shields indicated he's hoping Mansour can help his young heavyweight prospect by facilitating more than just one or two rounds.
"That's the only reason we're fighting Mansour," said Shields. "We figure we'll get a few rounds out of him. But I know once Efe hits him with a clean shot, it's going to be over."
Shields said the fight could go one of two ways. Either Mansour moves around the ring and chooses survival over trying to win the fight, or he comes forward and tries to push Ajagba backward. The latter would be far more appealing to anyone other than Mansour's nuclear family, but Shields said that either way his fighter was going to keep moving forward.
In that way, perhaps Saturday night's fight serves as a metaphor to the larger heavyweight picture in general. Regardless of any other heavyweight's choice in the matter, the sobering reality of the situation at hand is that there's a new heavyweight boogeyman in boxing, a nightmare from Nigeria nicknamed "The One and Only".
Check out more boxing news on video at The Boxing Channel
To comment on this story in The Fight Forum CLICK HERE
Will Leo Santa Cruz's High Volume Punching Stymie Big Hitter 'Tank' Davis?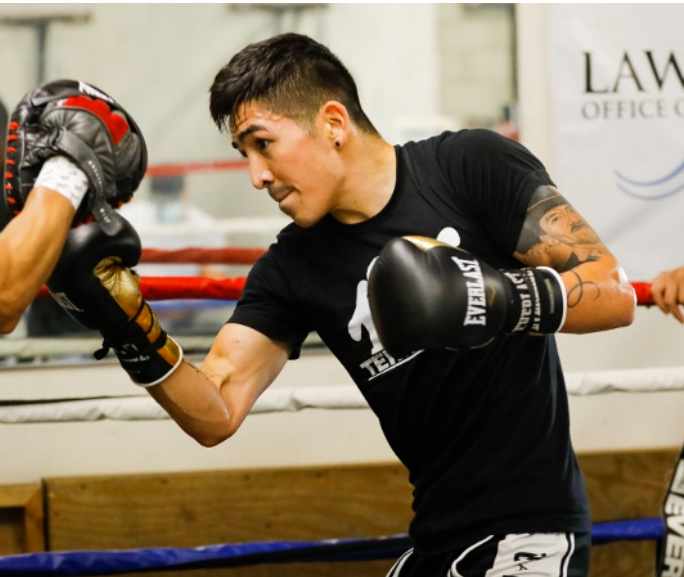 WBA "super" 130-pound champion Gervonta "Tank" Davis, short (5'5½"), short-armed (a 67½-inch reach) and powerful, has been described by some as a miniature Mike Tyson, which seems reasonable for an undefeated fighter who has won all but one of his 23 professional bouts inside the distance, more than a few of those knockouts of the spectacular variety. And if Davis' comparisons to "Iron Mike" weren't enough to stamp him as an emerging superstar, there is also the fact that he is a protégé of Floyd Mayweather Jr., the vainglorious owner of a 50-0 record and distinction as the richest prizefighter ever to lace up a pair of padded gloves. "Money" bills himself as TBE, "The Best Ever," and he goes so far as to suggest that the big-hitting southpaw from Baltimore for whom he has such high hopes might someday approach his status as a cash-cow and true icon of the ring.
"The ultimate goal is to get him to surpass me," the 43-year-old and ostensibly retired Mayweather said of the financial and fistic potential of Davis, who turns 26 on Nov. 7 and arguably is in the early stages of his prime. "I've been his age. Where he's trying to go to, and what he's trying to accomplish, I've already accomplished."
Although Davis has appeared on the undercard of two Pay-Per-View shows headlined by his famous and fabulously wealthy mentor, both he and Mayweather consider his watershed Halloween night confrontation with WBA "super" featherweight titlist Leo Santa Cruz (37-1-1, 19 KOs), in San Antonio's Alamodome, as Tank's real coming-out party. It is, after all, Davis' first time atop his own Showtime PPV event, perhaps the first of several such marquee appearances if the level of public interest in him continues to spike. Ascending to PPV status is a rite of passage both men consider to be a significant key to all the boxing kingdom has to offer, an exclusive club to which many aspire but only a chosen few are allowed to join. The tariff to boxing fans is a $74.95 subscription fee.
"I said, `Tank, you under Mayweather Promotions. So, it's May-Per-View," Mayweather told the kid who would be he during the first episode of Showtime's "All-Access," the infomercial whose purpose is to help convince pandemic-strapped fight fans to open their wallets.
"I'm grateful for what Floyd did for me, as far as opening doors," said Davis, who signed with Mayweather Promotions in 2015. "If it wasn't for Floyd, I wouldn't have been a champion at 22. He gave me a chance to fight on his Pay-Per-View card. Now I'm here, on my own Pay-Per-View."
To hear Mayweather and Davis tell it, it is Tank's singular, reputation-boosting turn in the spotlight, with Santa Cruz more or less along for the ride. The Vegas sports books seemingly are complicit in that perception, with Tank anywhere from a -$350 to a whopping -$710 favorite, odds which could fluctuate throughout the rest of the week as more and larger wagers are placed. Despite his being a four-division world champion, Santa Cruz, the 32-year-old, Mexican-born resident of Rosemead, Calif., whose current title is that of WBA "super" super feather ruler, also considers this particular bout to be historic as it is also his first PPV appearance. And, no, he isn't bothered by the long odds against him (which range from +260 to +475) or Davis' reputation as a compact instrument of pugilistic destruction.
"Nobody believes in me," he said, almost reveling in his rare role as an underdog. "They think I'm this other guy. But I asked for this fight for a reason 'cause I want to prove myself. I'm going to compete and give my all. I'm not scared.
"Gervonta Davis is a great fighter with great skills, great power. I think he's the most dangerous fighter in the division. Why not go after him? To prove to the people that I'm not scared of nobody."
Santa Cruz might not pack as much power as Davis, but his forte is high-volume punching. When he defeated Vusi Malinga via 12-round unanimous decision for the vacant IBF bantamweight strap on June 2, 2012, in Carson, Calif., CompuBox statistics revealed he had unfurled a remarkable 1,350 punches, an average of just under 113 per round. Nor were those numbers an aberration for the human perpetual motion machine; in his two confrontations with Abner Mares, both of which were won on points by Santa Cruz, the read-out showed Leo connecting on a combined 730 of 2,115. Many opponents scarcely have time to think, much less react, when Santa Cruz is firing shots with machine-gun rapidity. No wonder he dares to believe Davis will be similarly flustered.
"I think so," Santa Cruz said when asked if the quantity of his fusillade will more than offset Davis' superior quality in terms of power. "When you have a fighter on top of you, throwing punches, he's not letting you think; he's frustrating you. He's not letting you do nothing.
"If I do that, it could be dangerous 'cause he'll be waiting to counterpunch me, to land those big shots, the uppercuts and hooks. So, I got to do a very smart fight, a perfect fight, to beat him."
For TV purposes, the storyline outside the ropes sometimes is nearly as important in selling the product as what takes place inside them. In that regard Davis and Santa Cruz, so seemingly different in some regards, are strikingly similar in that they were children of poverty, hardly unusual for a sport where years of deprivation can stoke a burning desire to succeed. Santa Cruz's motivation might even be hiked a bit higher because of the ongoing medical circumstances of his trainer-father, Jose Santa Cruz Sr.
Jose Sr. could be the star of his own medical reality series, the most recent episode being his near-death brush with COVID-19. But the patriarch of a boxing family (brothers Jose Jr., Antonio and Roberto are also involved in Leo's career) had previously survived a bout with sepsis, a potentially life-threatening infection, and, in 2016, the diagnosis of Stage 3 myeloma, a blood cancer, that invaded his bones. The father had to undergo weeks of radiation and chemotherapy, and although he pulled through Leo cited concerns for his dad's health as a contributing factor in his sole pro defeat, in which he relinquished his WBA super featherweight title, by 12-round majority decision, to England's Carl Frampton on July 30, 2016. Santa Cruz avenged that setback, also by majority decision, six months later.
Jose Sr. continues to serve as Leo's trainer, but so many medical crises have been met and overcome by the father that the son has learned, as best he can, to cope.
And the COVID-19 which again could have brought Jose Sr. the eternal 10-count?
"When he went (into the hospital), they gave us little hope," Leo said of his dad's most recent downward plunge on an emotional roller-coaster on which the entire family has been obliged to have seats. "They said he was going to pass away, that he wasn't going to last the night. We were all depressed and crying. His lungs were failing, his heart was failing. He coded two times; he died and they brought him back to life.
"I had memories of when he used to go on the bus with me, pushing me in the gym, telling me what to do. All those memories were playing in my mind. I really didn't think he was going to make it. I thought they were going to call us and say, `Hey, your dad passed away.' But we prayed, we had hope. Thank God, the next day we were told our dad was still in critical condition, but he was doing a little bit better. Day by day he improved. God listened. He made a miracle. My dad survived. Even the doctors were saying that they didn't know how that happened."
As was the case with Santa Cruz, who recalls the occasions when the family's electricity was shut off because of unpaid bills, Davis' childhood also was hardly a real-life version of Leave It To Beaver. In 1999, while his father was in prison and his mom was battling drug addition, he was placed into child protective services at the age of five. For the next several years he shuttled between foster homes and shelters. But then, at seven, he found his way into the boxing gym run by Calvin Grove, who knew the pitfalls of life on the streets (he had served 10 years behind bars on drug offenses) as well as the need throw-away children such as Gervonta Davis had to finding someone and something to believe in. Ford, now 56, is so much more than Tank's trainer now; he also is his father-figure and inspiration not to become another faceless, nameless crime statistic.
"Boxing, I would say, saved my life," Davis said. "All the guys I came up with that were older than me, they got killed. If you got one foot in the street and one foot in the gym, it's not going to work. You got to be all the way committed with something.
"When I came to the gym, I felt the love that I needed as a child. Calvin basically raised me. What I been through and what I seen coming up, I knew I don't want to go backwards in life. I know what that brings."
In addition to Davis-Santa Cruz, the PPV portion of the undercard features the return, after a layoff of 13 months, of former WBA and WBC Diamond super lightweight champion Regis "Rougaroo" Prograis (24-1, 20 KOs), in a 10-rounder against Juan Heraldez (16-0-1, 10 KOs); the WBA junior welterweight title matchup of San Antonio's Mario Barrios (25-0, 16 KOs) vs. Ryan Karl (18-2, 12 KOs), and a lightweight scrap pitting Diego Magdaleno (32-3, 13 KOs) against Isaac Cruz Gonzalez (19-1-1, 14 KOs).
Photo credit: Esther Lin / Mayweather Promotions
Check out more boxing news on video at the Boxing Channel 
To comment on this story in the Fight Forum CLICK HERE
HITS and MISSES from Another Weekend on the Boxing Beat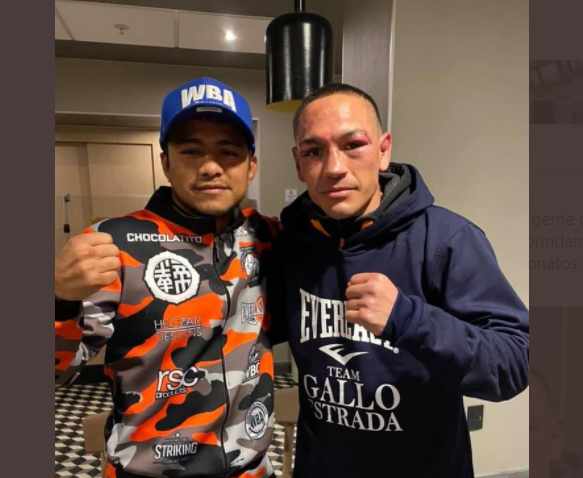 Unlike last weekend, there wasn't just one big fight card for everyone to watch. Instead, the boxing audience in the United States primarily had two separate fight cards to enjoy, one on Friday night from Mexico City featuring stalwart super flyweights, and another one on Saturday night from Mohegan Sun Casino in Connecticut featuring an important welterweight matchup between hopeful contenders.
Here are boxing's latest HITS and MISSES from this weekend.
HIT: The Super Super Flyweights
Two of boxing's best were on display when Juan Francisco Estrada stopped Carlos Cuadras in the 11th round of the main event in Mexico and Roman Gonzalez won a unanimous decision over Israel Gonzalez in the co-feature.
Both Estrada and Gonzalez are exceptional talents who have accomplished more during their impressive careers than most fighters could dream. The two rivals were thought to be on the way to an important rematch against each other a few years ago when Wisaksil Wangek, who fights under the name Srisaket Sor Rungvisai, burst onto the scene in 2017 to shockingly hand Gonzalez the first two losses of his Hall of Fame career as well as Estrada his first loss since Gonzalez defeated him by decision six years prior.
But Estrada has won five straight now, including his rematch against Sor Rungvisai last year, to set up one of the most scintillating fights in the super flyweight division in ages. Gonzalez is already considered by most to be an all-time great, and Estrada isn't far behind him. After both won their latest fights, it looks like a rematch between the two is finally going to happen.
MISS: Long Delays for Viewers Between Bouts
It boggles my mind how none of the various television networks and streaming platforms in the sport have figured out anything to do worthwhile when fights end sooner than their scheduled number of rounds. It happens so often in the sport that it would seem reasonable to suggest somebody would have come along by now with some kind of plan. Just a few years ago, it seemed swing bouts were still on the table. What happened to those?
On Friday night, if one tuned in to watch the main card tripleheader on DAZN, one was presented with over 45 minutes of waiting around for the next fight to happen after WBC flyweight champ Julio Cesar Martinez needed just two rounds to stop Moises Calleros.
The single most frustrating part of the equation, which has probably been mentioned in this column before, is that Dana White and the UFC pulls it off every single fight card. So, the template already exists, but boxing television partners, even on ESPN where both the UFC and Top Rank coexist, refuse to use it.
HIT: DAZN's Todd Grisham and Sergio Mora Impromptu Roadshow
Regardless, while I don't believe it's reasonable to hope for the beautiful accident that was Friday night on DAZN for every card, I could hardly be mad when DAZN's dead air was filled with the antics of Todd Grisham and Sergio Mora, who were calling the action on the night. Both are probably underrated at what they do.
Their sometimes jovial, sometimes hostile banter is fun. No, people don't tune in to hear these guys go back and forth with each other, but it was at least entertaining to hear their near-comedic and entirely impromptu routine, especially because it also surrounded the surreal experience of watching WBC president Mauricio Sulaiman make his in-ring television interview debut with boxing titleholders Mikey Garcia and Emanuel Navarrete.
Boxing is a strange culture. Sometimes even the bad parts of the sport can be good.
MISS: Lip Service from Everyone About Boxing's Biggest Issue
One of the biggest boxing stories of the weekend was when retired boxing champ Floyd Mayweather ranted against title belts. Indeed, one of the most difficult things to explain to any outsider about the sport is how boxing's complicated and somewhat absurd championship system works.
Of course, Mayweather is right about there being too many world champions in boxing. But the problem is that people who might actually be able to make those kinds of changes in the sport say things like that without actually doing anything about it. Heck, even WBO president Paco Valcarcel publicly stated that he agreed with Mayweather, even though that sanctioning organization now offers something called a WBO "Global" belt.
Mayweather, Valcarcel and others can't simply point their fingers about the issue in hopes of getting it fixed. Instead, both men (and others) who wield actual money, power and influence in the sport, would be better served by actually taking measures to change things.
Mayweather, as a promoter, could keep his fighters from the alphabet gang altogether. And Valcarcel? The shortest and easiest path for him to help, short of shutting the WBO down right now, is to stop offering so many titles.
HIT: Matchmaking for Showtime's Tripleheader
The matchmaker listed at BoxRec for Showtime's tripleheader was Tom Brown, and it really should be pointed out what a terrific job he did in putting last Saturday's card together. Of the three fights we saw on our televisions on Saturday night, all six fighters competing had a legitimate chance to win.
There were no gimmes on this card, and that's rarely the case.
In fact, all the so-called A-sides had rough nights. Undefeated junior lightweight prospect Malik Hawkins suffered the first loss of his career via stoppage to Puerto Rico's Subriel Matias. Rising 130-pounder Xavier Martinez almost did the same when he was knocked down twice in one round by Claudio Marrero before digging down deep to earn the decision. And the main event? Sergey Lipinets vs. Custio Clayton was such a hotly contested fight that it was scored a split-draw. So, Showtime's latest card was a breath of fresh air in a sport sometimes too obsessed with promoting future fights over present matters.
Check out more boxing news on video at the Boxing Channel 
To comment on this story in the Fight Forum CLICK HERE
A Fistful of Murder: The Fights and Crimes of Carlos Monzon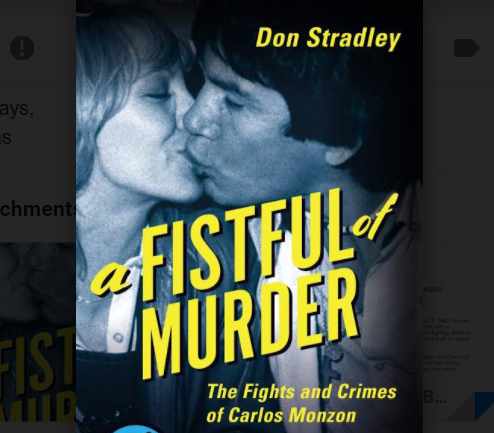 Book Review by Thomas Hauser — Carlos Monzon was born into extreme poverty in Argentina on August 7, 1942. He was mean, violent, surly, brutal, arrogant, occasionally charming, handsome with a smoldering sensuality, and remorseless. His life was marked by street fighting, drunken behavior, domestic violence, and more than forty arrests. In the midst of it all, he found boxing.
Monzon's story is told by Don Stradley in A Fistful of Murder: The Fights and Crimes of Carlos Monzon. It's the latest in a series of short books from Hamilcar Publications published under the imprint Hamilcar Noir that deal with boxers whose lives were marked and often terminated by violent crime. Told in 128 pages, the story moves at a brisk pace.
Monzon had one hundred professional fights in a career that began in 1962. He reigned as middleweight champion from 1970 until his retirement in 1977 and was honored as the 1972 "Fighter of the Year" by the Boxing Writers Association of America. All told, he compiled an 87-3-9 (59 KOs) record with 1 no contest. The three losses came during the first two years of his career when he was a novice.
Monzon was a big, strong, tough fighter with a good chin and a basic skill set: stand tall, throw a sharp jab, and follow with a hard right behind it. Mark Kram described him as "a perfectly shaped middleweight, tall with long arms and with style running through every sinew up to his dramatic Belmondo face."
By contrast, British boxing commentator Reg Gutteridge described Monzon as having "little ring grace" and added "he clubs as if wearing a Roman cestus on his fist."
Those who question Monzon's greatness point to the fact that the best of the fighters he beat were past their prime (e.g. Nino Benvenuti) or past their prime and naturally smaller men (e.g. Emile Griffith and Jose Napoles). Monzon was also held to a draw by Benny Briscoe before besting Briscoe on a close decision in a rematch. And he only narrowly defeated Rodrigo Valdez in the last two fights of his ring career.
But as Stradley writes, "A strange thing happened to Monzon in retirement. He became a better fighter. The boxer who had often been dismissed as a classless thug was now revered as an all-time great. During the next decade when lists were made of the top middleweights or of great championship reigns, Monzon's name would always be near the top."
How good was Monzon?
Hall of Fame matchmaker Bruce Trampler says that he would have been competitive with any middleweight in any era. More significantly, in 2007, I had a conversation with Bernard Hopkins in which I asked Bernard to speculate as to how he would have fared in the ring against Sugar Ray Robinson, Marvin Hagler, and Monzon. Hopkins' answer is instructive:
"Sugar Ray Robinson at 147 pounds was close to perfect," Bernard said. "But at middleweight, he was beatable. I would have fought Ray Robinson in close and not given him room to do his thing. He'd make me pay a physical price. But at middleweight, I think I'd wear him down and win. Me and Marvin Hagler would have been a war. We'd both be in the hospital afterward with straws in our mouth. We'd destroy each other. My game-plan would be, rough him up, box, rough him up, box. You wouldn't use judges for that fight. You'd go by the doctors' reports. Carlos Monzon? I could lose that fight. Monzon was tall, rangy, did everything right. I see myself losing that fight more than winning it."
Stradley's recounting of Monzon's ring career is largely pro forma. The more compelling portions of the book lie in the portrait he paints of Monzon's personal life.
Monzon had virtually no formal education and was close to illiterate. At age 19, he married 15-year-old Mercedes Beatriz Garcia. The newly-wed couple lived with her family in a two-room shack where they slept on a mattress on the floor.
"In many ways," Stradley writes, "Monzon was the typical wife abuser. He was obsessed with control; he had an evil temper; he drank too much." In 1973, Mercedes shot her husband in the arm and shoulder after a quarrel between them.
Monzon's pattern of physically abusing women, assaulting people in public, reckless driving, and other anti-social acts was a constant in his life before, during, and after his championship reign. But as his fame grew, so did his following.
"Monzon," Stradley notes, "didn't look like other fighters of the day. He was photographed to look like a stylish Latin pop star, usually in a long leather coat, with plenty of gold jewelry. Argentina's El Grafico [a popular magazine] treated Monzon like a model, featuring him in regular photo spreads."
In 1974, while married to Mercedes, Monzon met Susana Gimenez (a popular actress and talk show host). Soon, they were involved in a torrid affair that lasted for four years. At one point, Mercedes complained to her husband about Susana and he punched her in the face, breaking the superciliary arch above her eye. Monzon was arrested and avoided a prison term by pleading temporary insanity. A divorce followed.
Susana's film credits included adult-oriented comedies. In Stradley's words, "Monzon had abandoned the mother of his children for a slutty clown. It didn't help that her sartorial sense ran towards pink denim."
Even so, Stradley recounts, "Monzon and Susana were now the most photographed twosome in Argentina. Journalist Alfredo Serra estimated they appeared on more than three hundred magazine covers, describing the pair as combining 'the strength, beauty, fame and glamour of the world in a single couple.'"
During his championship reign, Monzon parleyed his fame as a fighter into several film roles. Then he retired; his relationship with Susana ended; and he met Alicia Muniz Calatayud.
Alicia had worked as a model and belly dancer in addition to once managing a hair salon. She and Monzon married in Miami because his divorce from Mercedes wasn't recognized under Argentine law. They lived together from May 1979 through August 1986 and again during a brief reconciliation in 1987. On several occasions, Alicia filed complaints with the police alleging that Monzon had beaten her.
By 1988, Stradley writes, "Monzon was still famous but no longer important. Most of the time he was drunk."
On February 14, 1988, during a weekend they were spending together, Monzon murdered his estranged wife.
"Here's what probably happened," Stradley posits. "When Alicia came for the weekend, she reminded him that he was late with his monthly payments [for child support]. They returned from their night out, a night where they'd been unfriendly to each other and a witness had seen Monzon hitting Alicia. At some point before 6 a.m., she said something that made the dynamite in his head go off."
Monzon told conflicting stories after Alicia's death, all of which centered on the claim that she'd accidentally fallen over a balcony railing during an argument between them. Then an autopsy report revealed that Alicia had been strangled to death.
"Medical examiners," Stradley recounts, "estimated thirty-five pounds of pressure or more had been applied to Alicia's throat. Strangling only requires eleven pounds. They estimated it had been done with a two-fingered grip, probably thumb and forefinger in a kind of one-handed death clamp. It takes only twenty seconds or so to strangle someone into unconsciousness. The damage to Alicia's throat would take much longer. It wasn't done by accident or in the heat of the moment. It took a few minutes of full-on rage. Alicia had been strangled long after she had passed out. It's also rare that a strangling victim has visible marks on the neck or throat. The imprints on Alicia were clear and deep, as if someone had tried to squeeze her head off at the neck. He dumped her body over the balcony to make it look like she'd fallen."
Monzon was charged with murder. The trial was broadcast live on radio throughout Argentina. Monzon testified that he and Alicia had argued about money and admitted that he had slapped her. "I have hit women on other occasions and nothing happened to any of them," he told the court. "I hit all of my women except one. My mother."
A three-judge panel found Monzon guilty of murder. He was sentenced to eleven years in prison with the possibility of time off for good behavior.
By 1993, Monzon was allowed to spend daytime hours and weekends outside of prison. On Sunday, January 8, 1995, after attending a barbeque, he was behind the wheel of a car, probably drunk and definitely speeding.
"By the rules of his furlough agreement," Stradley writes, "he had to be back at the Las Flores prison by 8 p.m. He didn't want to risk being late. He only had a short time left to serve on his sentence and didn't want any infractions on his record. So he drove fast. He'd always been a terrible driver. Being in prison hadn't made him any better at it."
While speeding back to the prison, Monzon lost control of the vehicle which turned over multiple times, killing him instantly. Two other passengers also died in the accident. He was 52 years old.
After Monzon's death, his body lay in state at City Hall in his hometown of Santa Fe. An estimated ten thousand people filed past it. Twenty thousand more lined the route to the Municipal Cemetery while six thousand mourners waited at the cemetery entrance.
Argentine president Carlos Menem told the nation. "Remember Carlos Monzon as a champion, not as a man jailed for murder." But Argentinian journalist and political commentator Bernardo Neustadt took a contrary view, declaring, "We are a macho society that idolizes a man who beats or violates a woman; a macho society that taught Monzon to dress up, to speak a bit better, but didn't teach him to think; a macho society that wasn't horrified when Monzon said he beat all his women."
Thomas Hauser's email address is thomashauserwriter@gmail.com. His next book – Staredown: Another Year Inside Boxing – will be published by the University of Arkansas Press this autumn. In 2004, the Boxing Writers Association of America honored Hauser with the Nat Fleischer Award for career excellence in boxing journalism. He will be inducted into the International Boxing Hall of Fame with the Class of 2020.
Check out more boxing news on video at the Boxing Channel 
To comment on this story in the Fight Forum CLICK HERE