The Annunciation of Efe Ajagba, an Emerging Shark in the Heavyweight Pool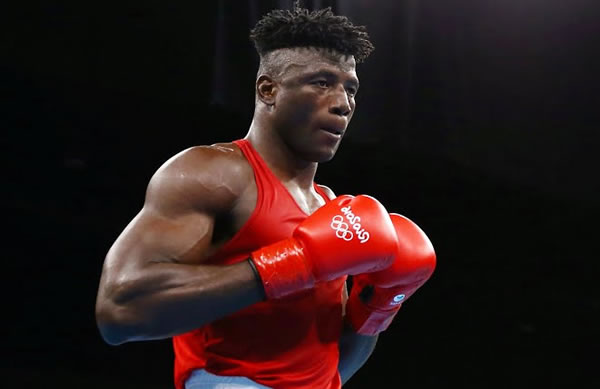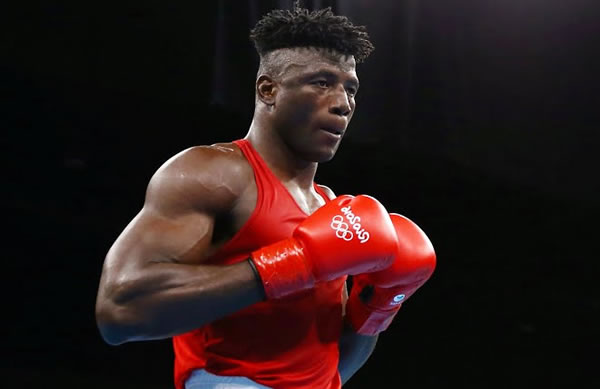 "This guy is definitely going to be heavyweight champion of the world."
That's a bold proclamation about a 24-year-old heavyweight prospect named Efe Ajagba, one that borders on the type of emotional heraldry more often found adorning the lips of promoters and managers and publicists rather than coming from a man who had previously worked in the corners for legendary heavyweight champions like Evander Holyfield and Mike Tyson.
But coming from the mouth Ajagba's trainer, Ronnie Shields, a man who's never uttered anything close to that seemingly unearned lofty praise about any of the other top prospects, world champions or Hall of Fame fighters I've interviewed him about over the last ten years, the declaration beckons forth some very serious contemplation.
It's not the first time one of Ajagba's evangelical emissaries had appeared before me. Two years prior, before anyone had ever really seen or even heard of this great and terrible plague that now descends upon our suddenly quite interesting heavyweight landscape, I enjoyed a casual conversation with a local strength and conditioning guru, Danny Arnold, in which Arnold immediately forewent our traditional small talk pleasantries in order to announce his amazement about a new fighter in town.
"Come with me," Arnold said with his eyes uncharacteristically bulging out his head as if he'd just witnessed the second coming. "I want to show you something."
There they were. Two strong-looking fellows, one standing over the other the way a marble statue of a Greek God must have looked while overshadowing and dwarfing its maker.
"The tall one: that's Efe Ajagba. He's the one."
I honestly don't remember who the other fighter was. I remember he was talking up to Ajagba with a gleam in his eye the way a pauper might address a kindly prince, but for some reason or another, Ajagba's name just always stuck in mind.
He just seemed different, and judging by what has transpired over the last two years, which includes Shields comparing the relatively unknown Ajagba to George Foreman as well as one of the oddest scenes in boxing history, where one of Ajagba's opponents, Curtis Harper, walked out of the ring in apparent horror at the mere sight of him, maybe it's because I was seeing something I'd never seen before and might never see again.
Is he a superhero?
"He got in a fight on the soccer field one day and somebody suggested to him he should start boxing, so he did," said Shields the way one comic book reader might inform another about a new title character's origin story. "And in his first year, he went all the way to the 2016 Olympics. How crazy is that?"
Speaking by phone earlier this week, Arnold seemed just as impressed with Ajagba as he was that first day we talked about him, even after observing the countless number of workouts Ajagba's completed since 2017 at Arnold's training facility, Plex, in Houston.
"By far, he's much more athletic than all other boxers that have come through here," said Arnold. "In comparison to a professional football player, I'm telling you, he's right there. He has the athletic ability of a defensive end."
Arnold went so far as to compare Ajagba to the All-Pro defensive end for the Houston Texans, Jadeveon Clowney, a specimen of humanity whose 2014 NFL combine results caused SBNation's Jeff Gray to write Clowney was "bigger and stronger than just about everyone [in the world], and… much faster than all of us, too."
"Right now, probably the best athlete I have out here is Clowney who is built very similarly to Efe," said Arnold. "They're very similar to each other. I would say there is a good comparison between the two in terms of athleticism."
But it isn't just that.
While Ajagba is indeed a physical marvel, perhaps a true testament to what it would be like to have a god walking among us mere mortals, a 6-foot 6, 240-pound powerhouse, with NFL-level athleticism to go along with an 88-inch reach, he's also a hardworking and passionate learner eager to hone his craft.
"He's so into boxing," said Shields. "He does everything I ask him to do. He's just a great guy. He trains hard, and he wants to learn the sport."
Despite having fought less than 12 full rounds over the course of eight professional fights, Ajagba has already displayed the types of straight punches, swift foot movement and dedication to nuance that only the most elite prizefighters are capable of producing.
That doesn't mean he's ready to compete for a world championship right now. Ajagba is still growing and learning his trade. He doesn't possess fluid fighting movements, which is the hallmark of veteran professionals, and it's not really known yet how well this African Adonis can take a punch.
But with Hall of Fame manager Shelly Finkel and old-school veteran trainer Shields guiding his path toward stardom, Ajagba appears to be steadily striding on predestined steps toward heavyweight supremacy.
"You have to remember something," said Shields. "This guy is only 24 years old. We're not in a rush to just go ahead and get him rated as a top contender right now. He's still learning on the job."
Ajagba's next day at work is to annihilate 46-year-old veteran gatekeeper Amir Mansour, his opponent this coming Saturday at Dignity Health Sports Park in Carson, California. While the southpaw slugger will represent the most experienced competitor to date to have answered The Ajagba Challenge (assuming, of course, he doesn't leave the ring before a single punch is thrown), Shields indicated he's hoping Mansour can help his young heavyweight prospect by facilitating more than just one or two rounds.
"That's the only reason we're fighting Mansour," said Shields. "We figure we'll get a few rounds out of him. But I know once Efe hits him with a clean shot, it's going to be over."
Shields said the fight could go one of two ways. Either Mansour moves around the ring and chooses survival over trying to win the fight, or he comes forward and tries to push Ajagba backward. The latter would be far more appealing to anyone other than Mansour's nuclear family, but Shields said that either way his fighter was going to keep moving forward.
In that way, perhaps Saturday night's fight serves as a metaphor to the larger heavyweight picture in general. Regardless of any other heavyweight's choice in the matter, the sobering reality of the situation at hand is that there's a new heavyweight boogeyman in boxing, a nightmare from Nigeria nicknamed "The One and Only".
Check out more boxing news on video at The Boxing Channel
To comment on this story in The Fight Forum CLICK HERE
Hughie Fury vs. Alexander Povetkin: At the Crossroads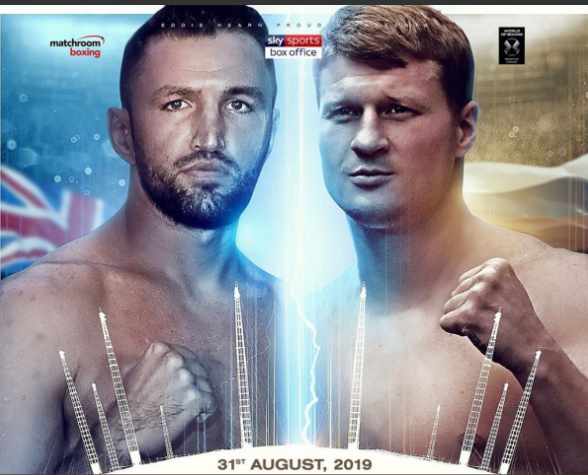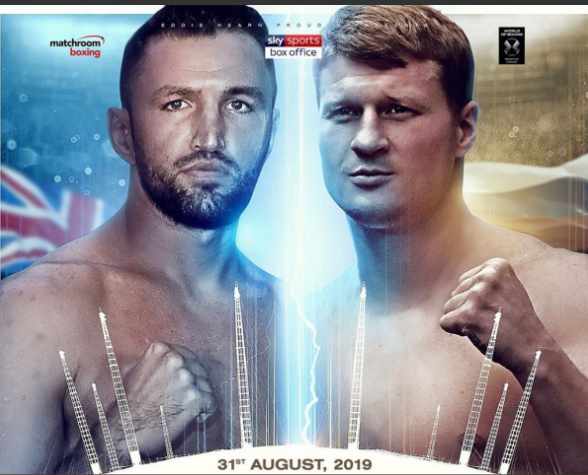 Hughie Fury vs Alexander Povetkin will be on the undercard of the Vasiliy Lomachenko vs Luke Campbell world lightweight title fight on August 31 at the O2 in London.
Fury is 23-2 while the Russian is 34-2 but these records somewhat hide the fact that the loser will need to reevaluate things while the winner can move on to bigger things. In short, a win can catapult Hughie (Tyson Fury's cousin) to the world stage, but a loss in this, his Matchroom debut, can be disastrous, especially coming after his ugly win against a bloated Samuel Peter in a foul-fest this past July.
Said promoter Eddie Hearn, "Hughie will have to come through fire in this fight to win but, if he does, the rewards are huge."
That's a big "if."
Povetkin turns 40 in a few weeks. Father time takes no prisoners and Povetkin is hardly the Povetkin of old. He was dismantled by Anthony Joshua and was even in trouble against big David Price. But "Sasha" has fought much stiffer opposition and is heavy-handed with many notable wins on his resume.
Fury himself said, "You can't underestimate Povetkin. One [wrong] move and you get your head taken off."
So, the two will be at the crossroads. And Robert Johnson said it best in these lines from his iconic "Cross Road Blues":
I went to the crossroad, fell down on my knees
I went to the crossroad, fell down on my knees
Asked the Lord above "have mercy, now save poor Bob, if you please"
Ooh, standin' at the crossroad, tried to flag a ride
Ooh-ee, I tried to flag a ride
Didn't nobody seem to know me, babe, everybody pass me by
Many pundits (but not this one) think Fury, being the younger and fresher man, will prevail in the fight as youth trumps experience, but others, including the oddsmakers that made Povetkin the favorite, assert that the more experienced Russian is stronger and more dangerous and will not stop moving forward.
Fury adds, "My mind is good at the moment….I've had a bit of bad luck with boxing, health issues and all that….It has been frustrating at times but that's all behind me now and we've got a good team behind me. We're ready now….Nobody has got the experience I have at my age. I've fought all over the world and I haven't been protected. I've had experience that nobody else has ever had, especially at my age."
However, his last effort against former titleholder but now woefully dreadful Samuel Peter in Jeddah, Saudi Arabia was, well, dreadful. BLH's Scott Christ nailed it: "The cousin of Tyson Fury is not known as one of the world's more exciting heavyweights, to put it kindly, but he's a good technician who understands how to use his physical advantages, and he kept range easily against Peter, who was never much of a mover and at this point has cinder blocks for feet."
One notable thing the combatants have done is signed on to be tested by VADA, both before and after their fight. "It is impossible to say in advance how many doping samples will be collected in total," Povetkin's promoter Vadim Kornilov told TASS. Given Povetkin's record on this account, the VADA tests are a welcomed addition.
Ted Sares is a lifetime member of Ring 10, and a member of Ring 4 and its Boxing Hall of Fame. He also is an Auxiliary Member of the Boxing Writers Association of America (BWAA). He is an active power lifter and Strongman competitor in the Master Class.
Check out more boxing news on video at The Boxing Channel  
To comment on this story in The Fight Forum CLICK HERE
Three Punch Combo: Observations on Kovalev vs Yarde and other Upcoming Fights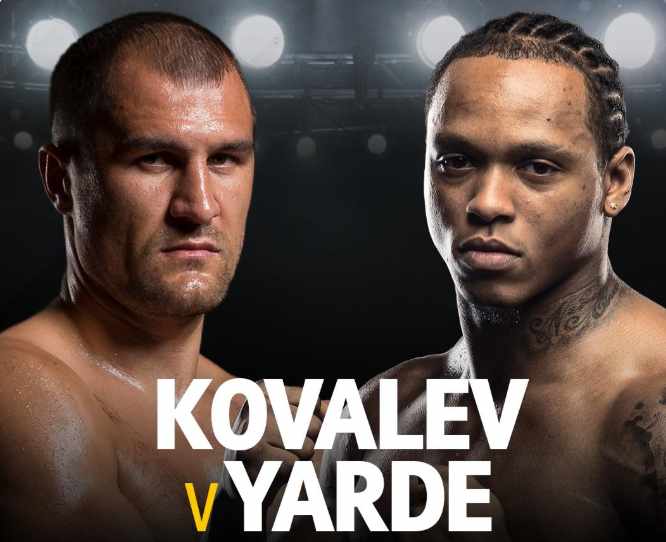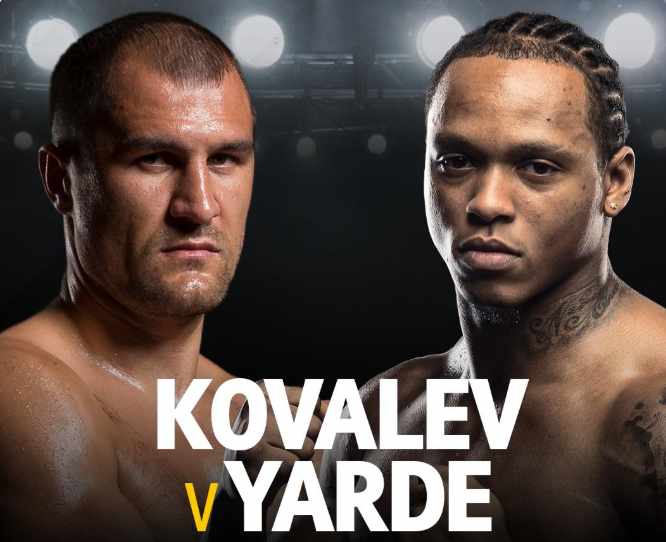 THREE PUNCH COMBO — Light heavyweight champion Sergey Kovalev (33-3-1, 28 KO's) returns to the ring on Saturday in his native Russia to face mandatory challenger Anthony Yarde (18-0, 17 KO's). Kovalev is coming off an impressive victory in his rematch with Eleider Alvarez, but was that performance a mirage and is the resurrection of the now 36-year-old Kovalev for real?
It's funny how quickly perceptions can change in boxing. When Kovalev was knocked out by Alvarez in August of 2018, many thought Kovalev's career as an upper echelon fighter was done. But when Kovalev out-boxed Alvarez in the rematch six months later, many thought Kovalev was back amongst the elite in the light heavyweight division.
In order to better gauge just where Kovalev is at in his career, we need to take a closer look at both of those fights.
Per CompuBox, Kovalev averaged throwing 48 punches per round (21 were jabs) to Alvarez's 36 (17 were jabs) in their first fight. Most ringsiders had that fight fairly close through six rounds with maybe a slight edge to Kovalev. Then in round seven, Alvarez landed the overhand right that put Kovalev down and turned the tide.
In the second fight, per CombuBox, Kovalev averaged 68 punches per round (32 were jabs) to Alvarez's 31 (17 were jabs). So Kovalev's overall volume increased drastically while Alvarez's volume remained relatively the same. In this fight, Kovalev essentially coasted to an easy victory.
In the first fight, it appeared that in round seven Kovalev began to look fatigued. But despite throwing a much higher volume of punches in the second fight, Kovalev never really looked fatigued or took his foot off the gas. So, what changed?
Re-watching both fights, it is clear that in the first fight Kovalev loaded up on almost everything he threw at Alvarez. But in the second fight, Kovalev didn't load up that often. Instead, he used his jab more. By doing so, he was able to pace himself while displaying excellent overall boxing skills.
Kovalev changed his style in the second fight and clearly it worked. Coming up the ladder, Kovalev always had the raw power but early in his career he displayed very good boxing skills. As his career progressed, he began falling more and more in love with his power, often times abandoning those boxing skills. But his new trainer for that second fight with Alvarez, Buddy McGirt, helped bring back those boxing skills and we saw the results.
So, is this resurrection of Kovalev for real? Yes, I believe so, if he continues to focus on what worked for him in that second fight with Eleider Alvarez. The boxing skills can be elite and there is still the raw power. Light heavyweight is deep but I think this resurrected version of Kovalev can still defeat anyone in the division.
ShoBox Returns
ShoBox returns on Friday with a tripleheader from Main Street in Broken Arrow, OK. The card will be headlined by fast-rising 168-pound prospect Vladimir Shishkin (8-0, 5 KO's) who will be taking a big step up in competition in facing DeAndre Ware (13-1-2, 8 KO's) in a bout scheduled for 10 rounds. Also featured on the card will be the return of Shohjahon Ergashev (16-0, 14 KO's) who will face the tough Abdiel Ramirez (24-4-1, 22 KO's) in a scheduled ten at 140 pounds.
Shishkin, 28, turned pro in July of 2016 after a solid amateur career. He is coming off a career best win last October when he stopped former world title challenger Nadjib Mohammedi in the 10th round of their scheduled 12-round fight. Now Shishkin will come to the U.S. for the first time to face an even stiffer test in Ware.
Ware, 31, is coming off a career-best performance himself in February when he scored a surprise 10- round majority decision over the previously undefeated Ronald Ellis. Ware once held Shishkin's status as a rising super middleweight then took a step back with a bad performance in 2018 against Cem Kilic. He can reclaim his stature in the division with a victory on Friday.
Ergashev, featured earlier this year as a break-out candidate, is coming off a rather pedestrian performance in February when he won a 10-round decision against awkward Mykal Fox. Prior to that performance, Ergashev had been putting on some dominant performances, flashing a tantalizing skill set along with devastating power.
Ramirez is a tough aggressive veteran who pulled a big surprise last December when he stopped former contender Michael Perez. He is certainly no pushover and his aggressive style should at the very least make for an entertaining fight.
ShoBox continues to deliver in 2019 and I expect no different from this event on Friday. While both Shishkin and Ergashev will enter the ring as favorites, they are certainly not in easy, and it's this type of matchmaking that continues to make the series a big hit.
Under the Radar Fight
DAZN returns on Saturday from Mexico with a card headlined by 115-pound champion Juan Francisco Estrada (39-3, 26 KO's) who will be making the first defense of the title he won in April when he takes on Dewayne Beamon (16-1-1, 11 KO's). While this fight will grab much of the publicity surrounding this card, there is an intriguing undercard fight pitting fast-rising 140-pound prospect Shakhram Giyasov (8-0, 6 KO's) against veteran Darleys Perez (34-4-2, 22 KO's).
Giyasov, 26, had a stellar amateur background that included winning a silver medal for Uzbekistan at the 2016 Olympics. He turned pro in 2018 and has been moved along at a very brisk pace. He is coming off a 10-round unanimous decision in April against veteran Emanuel Taylor and seems poised to quickly move into contender status at 140.
Giyasov can best be described as an aggressive boxer puncher. He throws very fluid combinations to both the head and body. His footwork is excellent and he is very adept at setting precision angles to land his heavy-handed shots with maximum impact. And though he is comfortable coming forward, Giyasov has also proven to be a very effective counter-puncher in the early stages of his pro career.
As with many up-and-coming young fighters, Giyasov does have some defensive holes. Most notably he has a habit of carrying his left hand at his hip and pulling straight back with his hands down. In his fight against Taylor, Giyasov was buzzed by a left hook in the first round while pulling straight back.
Perez, 35, is a hard-nosed skilled veteran and this is clearly a big step up in competition for Giyasov. Perez has tested up-and-coming fighters in the past and has shown a knack for exposing their weaknesses. In 2016, he pushed future world champion Maurice Hooker to the limit in what ended in a controversial 10-round split draw (most ringside observers felt Perez clearly deserved the nod). Perez has shown recently that he still has plenty in the tank and hopes to position himself back in contention in the deep 140-pound division.
Shakhram Giyasov has plenty of talent but also plenty of questions. Can he rise to the occasion and show his full potential against Darleys Perez or will he be exposed?  This is a very intriguing crossroads fight between a savvy skilled veteran and an elite young prospect.
Check out more boxing news on video at The Boxing Channel  
To comment on this story in The Fight Forum CLICK HERE
The Bones Adams Story (Part Two)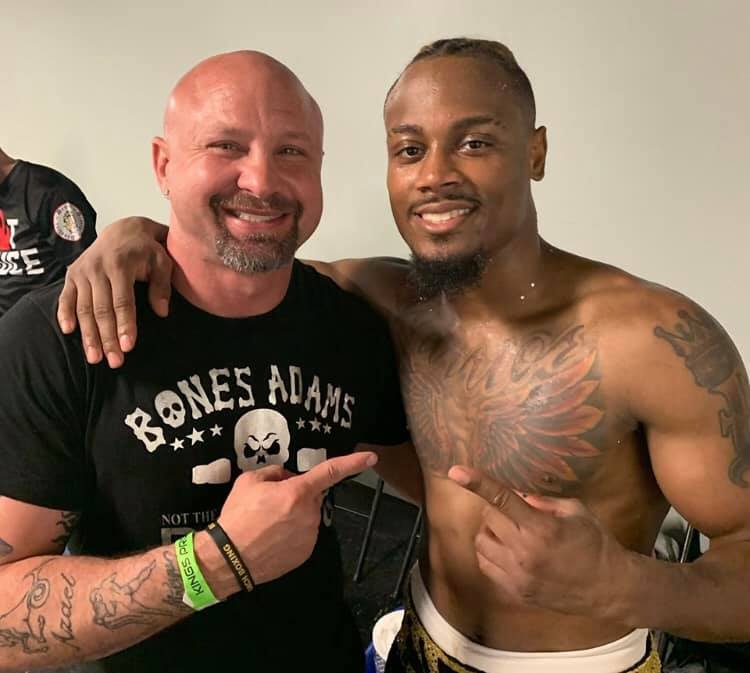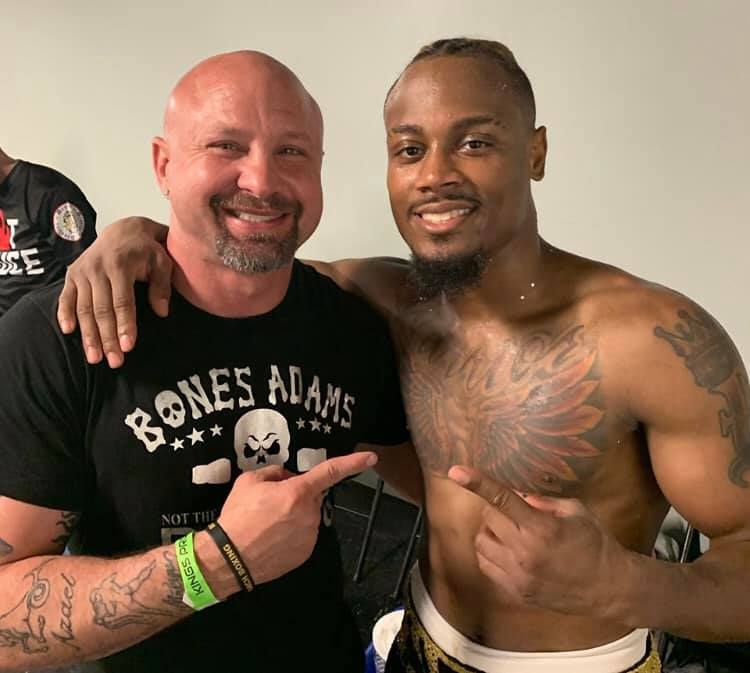 When Bones Adams retired from boxing, he was still in his mid-twenties. The kid from Henderson, Kentucky, now lived in Henderson, Nevada, a suburb of Las Vegas, and before leaving the sport he had made enough money to go on a home-buying spree.
Real estate in the form of rental homes was a sound investment, or so everyone told him. But that was before the Great Recession, a scourge that clobbered real estate speculators and new homeowners, hitting Las Vegas especially hard.
"Suddenly," says Bones, looking back, "a house next door to one of my mine, a house that looked a lot like mine, was on the market for half the price that I paid for mine. I didn't have the equity to ride out the storm."
One of Bones' best friends worked as a limousine driver for Charles Horky. The friend suggested that Bones join the team. Horky, a big fight fan, hired him in a flash.
Horky was an American success story. Starting with one limousine, he built a mini-empire. His fleet serviced the MGM Grand properties, of which there were eight on the Las Vegas Strip. Many of his regular clients were celebrities.
A town like Las Vegas attracts a lot of predators. Charles Horky fit right in. The FBI would allege that he didn't merely turn a blind eye when his drivers supplied hookers and drugs – cocaine, meth, Ecstasy – to his customers, but that he encouraged it and demanded a cut of the action. Then there was the little matter of unauthorized charges on credit cards, a common scam in Vegas, particularly in "gentleman's" clubs. "What happens in Las Vegas, stays in Las Vegas," goes the slogan, and what often stays is a lot more money than a visitor remembers spending.
On Dec. 13, 2012, the FBI arrested Charles Horky and eight of his employees or associates, including four limousine drivers, on racketeering charges. Clarence "Bones" Adams, identified in the papers as one of the limousine drivers, was caught up in the sting.
"I did some stuff I shouldn't have," Bones acknowledged when this reporter broached the subject. But he says he wasn't a limousine driver except on his first day of work because Horky thought he was more valuable out in the field working as a starter, a person that works with the concierge at a hotel. (In Las Vegas, a taxi driver is prohibited from carrying more than five passengers. For larger parties, it's often cheaper to hire a limo than taking multiple cabs.)
At his initial hearing, Bones pleaded not guilty. The attorney he hired, confident that he would receive only a slap on the wrist, got him to change his plea. Indeed, probation was what the prosecutors recommended. But the judge thought otherwise and Bones would serve six months at the federal correctional institution in Taft, California.
– – –
When we caught up with Bones Adams last week, he had just returned from shepherding his three youngest children to school (Bones has a daughter, Alexa, from a previous marriage). It entailed three stops – a high school, a middle school, and an elementary school. The school buses don't service his neighborhood, an upper-middle-class neighborhood in the southwest part of Las Vegas.
The home that Adams shares with Millette, his wife of 14 years, and their children has a very deep back yard. Situated at the end of the long driveway is a 3,200-square foot building that houses a two-car garage and the boxing gym. The previous owner was a custom glass maker. This was his workshop.
Bones Adams doesn't speak well of his former manager Cameron Dunkin, but Bones concedes that Dunkin did him a big favor when he sold his contract to James Prince. The change-over was made shortly after Bones' first match with Paulie Ayala.
Prince, the Houston-based rap music mogul, was previously involved in the careers of Floyd Mayweather Jr, with whom he had a big falling out, and Andre Ward, among others. Today he is connected to a stable of boxers in Las Vegas who compete under the Prince Ranch insignia, the most notable of whom is former U.S. Olympian Michael Hunter who meets undefeated Sergey Kuzmin at Madison Square Garden on Sept. 13 in a match that will leave the winner well-positioned for a shot at a world heavyweight title.  Undefeated super bantamweight Raeese Aleem (pictured with Bones) is one of several rising contenders.
The gym that sits in Bones' backyard was designed for Prince Ranch fighters but isn't exclusively for them. "Basically," says Bones, "whenever there is a really big fight in town, one of the fighters comes here." Amir Khan used the gym to put the final touches on his preparation for Canelo Alvarez. Daniel Jacobs did likewise. More recently, Manny Pacquiao and his trainer Freddie Roach were here during the final days preceding PacMan's fight with Keith Thurman. Tucked away in a quiet residential neighborhood, the gym offers a marquee fighter a level of privacy he is unlikely to find elsewhere.
When Khan was here in May of 2016, Bones Adams wasn't yet immersed in the daily routine of a trainer. It would be more accurate to say that he was the facility's caretaker. But he and Khan forged a relationship and when Khan was in the market for a new trainer – having left Virgil Hunter, who trained him for his bout with Terence Crawford — he thought of his new buddy back in Las Vegas.
Amir Khan is no longer an "A side" fighter in the United States. Canelo Alvarez starched him with one punch and he was flayed on social media for his weak showing against Crawford. But Khan, an Olympic silver medalist for England at age 17, remains one of the most well-known sporting personalities in the U.K. His supposedly tempestuous relationship with his attractive American-born wife has been a steady source of fodder for the tabloids.
Bones spent two-and-a-half weeks with Khan in Khan's hometown of Bolton and another two-and-a-half weeks in Jeddah, Saudi Arabia, where Khan finished his training for his fight with Billy Dib, a late sub for India's Neeraj Gorat who had to pull out after being injured in a car crash. The fight was hyped as a landmark event that would pave the way to a succession of bigger fights in Saudi Arabia.
The Arab nation has been in the news lately and we asked Bones for a few tips on the unlikely chance that we would ever go there. "I was told that I shouldn't strike up a conversation with a woman I didn't know, but what I found was that things had loosened up," he said. "However, 'no touching' is still the rule (a no-no that covers everything from a handshake to a hug). The people over there were very warm. We were treated very well."
Late in his boxing career, Bones' hairline began to recede. The recession has now completed its journey, perhaps with a little assistance from a barber, and Bones is fashionably bald. But he looks younger than his age; the muscles in his arms are taut, fittingly so for a man who preaches that a boxing-themed workout is the best workout of all for a man that wants to stay physically fit.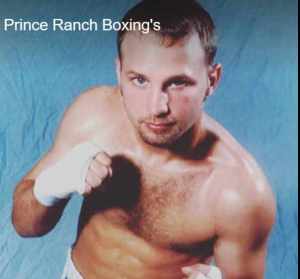 When Bones looks back on his boxing career, he thinks about what might have been if those that had influence over his career had done a better job of looking out for his interests and if the deck hadn't been rigged against him in several of his most important fights. But the bitterness has long since dissipated, usurped by an understanding that there were times when his life could have spiraled completely out of control and an appreciation for those that reeled him back in. Foremost is his wife Millette, whose name Bones spells out to make certain the reporter gets it right.
It's been a bumpy ride for Clarence "Bones" Adams, but he is now in a good place. Back in the day, the WBA stripped him of his title for no good reason other than they could, but looking back Bones can see that owning all the title belts in the world wouldn't have amounted to a hill of beans if he hadn't met Millette who has stood by his side through thick and thin.
Check out more boxing news on video at The Boxing Channel  
To comment on this story in The Fight Forum CLICK HERE