The Fearsome Sonny Liston was a Man of Mystery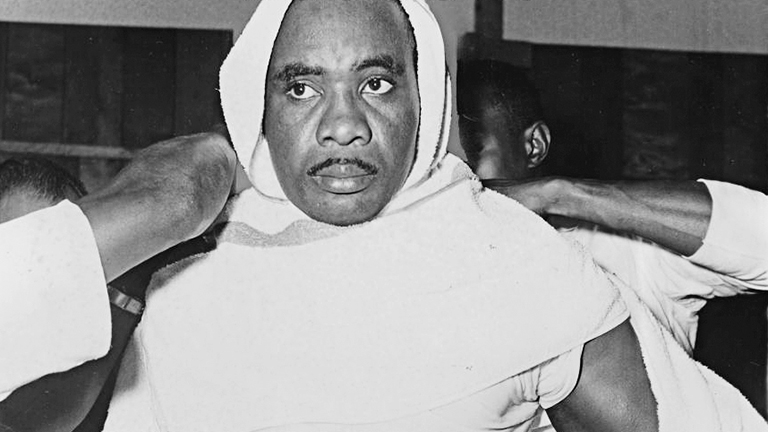 If physical presence and demeanor were the only factors that determine which boxer prevails inside the ring, Sonny Liston would have been undefeated.
It was said of Jack Dempsey that his opponents were already beaten before he stepped into the ring. The same could be said of Mike Tyson, tabbed "Kid Dynamite" by Sports Illustrated when he was only 15 fights into his pro career. Until he was knocked out by James "Buster" Douglas in February of 1990, no one really wanted any part of Tyson, knowing an early dispatch was likely.
Liston, hardly tall by heavyweight standards at 6-foot-1, was all that and more at the peak of his prowess.
Liston, who usually tipped the scale at 215 pounds, was a mass of raw musculature, especially across his broad shoulders and neck. Add to the equation Liston's fists, which measured 14 inches, the biggest ever by a heavyweight, and then toss in an incredible 84-inch reach.
When Liston laid a glove on an opponent, he knew that he had been hit with raw power, or maybe a sledge hammer. "In the ring," said Johnny Tocco, one of Liston's early trainers, "Sonny was a killing machine."  But Liston's scowl was equally intimidating and went a long way in helping the former Missouri State Penitentiary inmate finish with 50 victories in 54 fights and 39 knockouts over a 17-year professional career.
Sonny Liston was born in Sand Slough, Arkansas to a sharecropper, Tobey Liston, who fathered 25 children, the second youngest of whom was Charles, Sonny's real name, born from Tobey's marriage to Helen Baskin, a woman nearly three decades younger than he. But the year of Sonny's birth, like the circumstances of his death, remain a mystery.
Many boxers come from impoverished backgrounds, but Liston's was worse than most. "I had nothing when I was a kid but a lot of brothers and sisters, a helpless mother and a father who didn't care about any of us," he said. "We grew up with few clothes, no shoes, little to eat. My father worked me hard and whupped me hard."
The many whippings that Tobey administered on him had a lasting effect. "The only thing my old man ever gave me was a beating," said Liston, who claimed to be born in 1932.
Liston's mother fled to St. Louis when Liston was about 13 years old and in time Sonny would follow her there. Schoolwork was difficult for him and because he couldn't read or write, he was unable to find decent work.
Seeing a very limited future, Liston gravitated toward a world of crime that included muggings and armed robberies. He went to the well one too many times and in early 1950 was caught and sentenced to five years in the Missouri State Penitentiary. His stretch began in June of that year.
In prison, fate would intervene in the person of the penitentiary's athletic director Alois Stevens, a Catholic priest, who told the young inmate that he should try boxing.
Liston took Father Stevens advice and showed real promise while sparring with Thurman Wilson, a professional heavyweight. The session lasted two rounds and Wilson was glad to leave the ring in one piece after the pounding Liston gave him.
Liston's amateur career wasn't very long, but was memorable. In March of 1953 he won the Chicago Golden Gloves Tournament of Champions with a win over Ed Sanders, the 1952 Olympic champion. Later that month, he outpointed Julius Griffin, the winner of the New York Golden Gloves Championship and captured the Intercity Golden Gloves title. In that encounter, Liston was knocked down in the opening round, but rallied to take the second and third rounds with Griffin holding on for dear life.
Liston also participated in the 1953 Amateur Athletic Union tourney and lost in the quarterfinals to Jimmy McCarter, who became one of Liston's sparring partners. Liston then boxed in the International Golden Gloves Tournament at Kiel Auditorium in St. Louis, knocking out West Germany's Hermann Schreibauer in the opening round in June. The previous month, Schreibauer had won the bronze medal at the European Championships.
With nothing more to prove, Liston turned pro.  Because of his checkered past, few wanted to invest in him. Liston would get backers, but they would be men known to be mobsters.
Sonny made his pro debut in September 1953 with a first-round technical knockout over Don Smith at the St. Louis Arena. Six wins followed until Liston lost an eight-round split decision to journeyman Marty Marshall at the Motor City Arena in Detroit in September 1954.
This setback would prove to be an aberration as Liston would meet Marshall two more times. Liston earned a TKO win in the sixth round in April 1955 in Kiel Auditorium and a unanimous decision victory over 10 rounds in March 1956 at Pittsburgh Gardens.
In April 1959, Liston snatched a TKO win in the third round over Cleveland "Big Cat" Williams in Miami Beach and beat Williams again in March 1960 by TKO in the second round at the Sam Houston Coliseum in Texas. Liston then added five more wins to his ledger, including four early knockouts, to earn a date with Floyd Patterson, the reigning heavyweight champion.
On September 25, 1962 Liston took apart and then knocked out Patterson with a left hook to the jaw in the first round to begin his title reign.
Proud of his accomplishment, Liston was told by boxing writer and confidant Jack McKinney on the flight back to Philadelphia, his adopted home, that a warm reception would greet him. But when the plane landed and Liston looked for the adoring throng, there was none, save for some reporters and airline workers.
Larry Merchant, the longtime analyst for HBO Boxing, but then writing for the Philadelphia Daily News, penned this line: "A celebration for Philadelphia's first heavyweight champ is now in order," he wrote. "Emily Post would probably recommend a ticker-tape parade. For confetti we can use shredded warrants of arrest."
Ten months later, Liston once again battered Patterson, knocking him down three times in the opening round at the Convention Center in Las Vegas, retaining his belt and adding the inaugural World Boxing Council bauble. But the title and its significance never really gained traction with boxing fans as Liston became the anti-hero.
Even President John F. Kennedy made it known that he was rooting for Patterson, in essence because he represented all that was good while Liston represented all that was bad. And the NAACP also shied away from Liston because of his shady past, saying at this time in America's history Sonny was the last person it wanted to represent its people as king of the heavyweight division.
Columnist Jim Murray, writing in the Los Angeles Times, said of Liston, the ex-convict, "It was like waking up and finding a live bat on a string under your Christmas tree."
Liston resigned himself to his fate, accepting the notion that he was the villain. "A boxing match is like a cowboy movie," he said. "There's got to be good guys and there's got to be bad guys. And that's what people pay for – to see the bad guys get beat."
Liston's next fight after demolishing Patterson in their rematch was a title defense against a 22-year-old named Cassius Clay, the "Louisville Lip," who came into the bout in Miami Beach on February 25, 1964 as a 7-1 betting underdog despite a flawless 19-0 record. In what turned out to be a shocker for the ages, Clay, with a 78-inch reach, out-boxed, out-jabbed and out-fought Liston, who failed to answer the bell for the seventh round.
Fifteen months later, at St. Dominic's Hall  in Lewiston, Maine, in a clash that ended in the first round, Clay, who had changed his name to Muhammad Ali after winning the title, once again prevailed, but this time with a single shot. The knockout punch, a short chopping right to Liston's head, was described by New York columnist Jimmy Cannon, as "not having enough power to squash a grape."
Even ringsiders were without a clue as to what actually happened.
Many years later, in an interview with Mark Kram, the boxing writer for Sports Illustrated, Liston admitted to taking a fall. "That guy [Ali] was crazy," he said. "I didn't want anything to do with him. And the Muslims were coming up. Who needed that? So I went down. I wasn't hit."
Were those fights predetermined in Ali's favor, or where they legitimate?  More than a half century has passed since those two fights and there are as many questions as answers about them and about Liston, the man.
Following his second loss to Muhammad Ali, Liston soldiered on, winning 14 fights until meeting former sparring partner Leotis Martin in what would be his next-to-last fight at the Hilton International Hotel in Las Vegas in December 1969. Sonny was knocked out in the ninth round. Six months later, he stopped Chuck Wepner in the ninth round at the National Guard Armory in Jersey City, New Jersey.
In January of 1971, Liston was found dead by his wife Geraldine at his home in Las Vegas. Was he a victim of foul play? Shaun Assael, in his book "The Murder Of Sonny Liston: Las Vegas, Heroin And Heavyweights," argues that Liston was murdered. All that is known for certain is that the coroner recorded his death as a drug overdose.
Novelist James Baldwin was sent to the Windy City by Nugget Magazine to cover the first Liston-Patterson tussle and knew very little about boxing, which probably helped him.
Upon meeting Liston, Baldwin wasn't taken aback by his physical presence, his menacing stare or his lack of education.
"He is inarticulate in the way we all are when more has happened to us than we know how to express," Baldwin wrote, "and inarticulate in a particularly Negro way – he has a long tale to tell which no one wants to hear."
It seems that Baldwin, himself black, hit the proverbial nail on the head.
Check out more boxing news on video at The Boxing Channel
To comment on this story in The Fight Forum CLICK HERE
Tyson Fury Returns on Saturday with a Familiar Foe in the Opposite Corner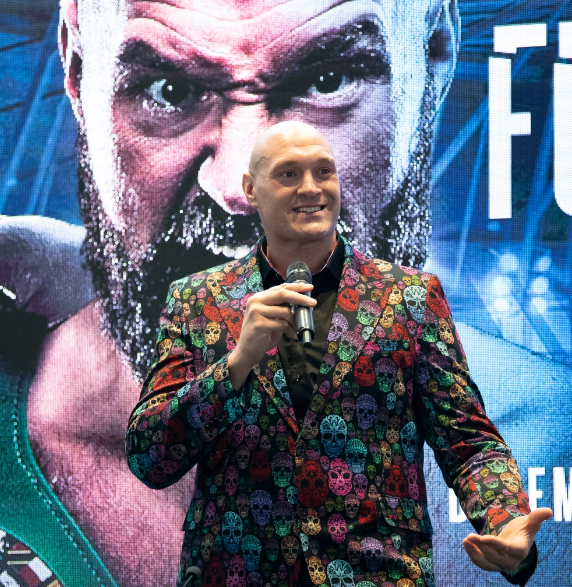 "Tyson Fury made a name for himself last night, one that already has a ready-made ring about it and will be destined to become familiar in boxing." Alan Hubbard, a ringside correspondent for The (London) Examiner wrote those words after Fury wrested the British and Commonwealth heavyweight titles from Derek Chisora with a comprehensive 12-round decision on July 23, 2011.
Those words were prescient. Tyson Fury did go on to become a familiar name in the sport. Indeed, one could argue that at this moment in history no active boxer is more famous.
More than 11 full years have elapsed since Fury toppled Chisora. In the ensuing years, the Gypsy King outpointed Wladimir Klitschko in Germany to win the world heavyweight title, battled personal demons that sidelined him for two-and-half years, returned to the ring with a flourish, ultimately regaining the world heavyweight title, or at least a version of it, in the second chapter of his memorable trilogy with Deontay Wilder, and rising so high in the opinion of boxing enthusiasts that he would be favored over any other boxer on the planet.
Oh, and lest we forget, since defeating Chisora in 2011, Fury whipped Chisora again, stopping him after 10 one-sided frames in 2014. Fury's eight-inch height advantage enabled him to control the distance vs. "Dell Boy" who was never knocked down but who absorbed a great deal of punishment before his chief second said, "no mas."
A third meeting between Fury (32-0-1, 23 KOs) and the soon-to-be-39-year-old Chisora (33-12) would seem to be superfluous. Del Boy, coming off a narrow win over Kubrat Pulev, has lost three of his last four. But on Saturday, Dec. 3, they will go at it again. The venue is London's Tottenham Hotspur Stadium, capacity 62,850, and by all indications, despite a chill in the air (the temperature is expected to hover around 40 degrees), there won't be too many empty seats.
For promoter Frank Warren, Fury vs Chisora is Plan B – he was hoping to match Fury against Anthony Joshua – but he believes that Fury has become so popular that he can make a tidy profit no matter who is in the opposite corner. The Gypsy King, once referenced as the enfant terrible of British boxing, has toned down his rhetoric (one might say that he proactively distanced himself from Kanye West) and become almost cuddly, a source of inspiration for many Brits, the first member of the black sheep Traveler community about whom this could ever be said.
Fury, needless to say, is a heavy favorite. The odds are in the 25/1 range. The co-feature is likewise looked upon as a mismatch. Daniel Dubois, who shares the diluted WBA heavyweight title with Oleksandr Usyk, is a consensus 16/1 favorite over Kevin Lerena (28-1, 19 KOs) who rides in on a 17-fight winning streak. The six-foot-one Lerena carried a career-high 234 pounds for his last assignment against ancient Mariusz Wach, but the South African southpaw has fought most of his career as a cruiserweight.
The undercard includes featherweight Isaac Lowe, Tyson Fury's bosom buddy, and Hosea Burton, Fury's cousin, both of whom appear to be matched soft in scheduled six-rounders, plus 18-year-old phenom Royston Barney Smith in a 4-rounder against a transplanted Nicaraguan.
This is a pay-per-view event in the UK, but U.S. fight fans who subscribe to ESPN+ can see it for free. The ring walks for the main event are expected to go about 4 pm ET.
To comment on this story in the Fight Forum CLICK HERE
What Path will Yokasta Valle Choose Next?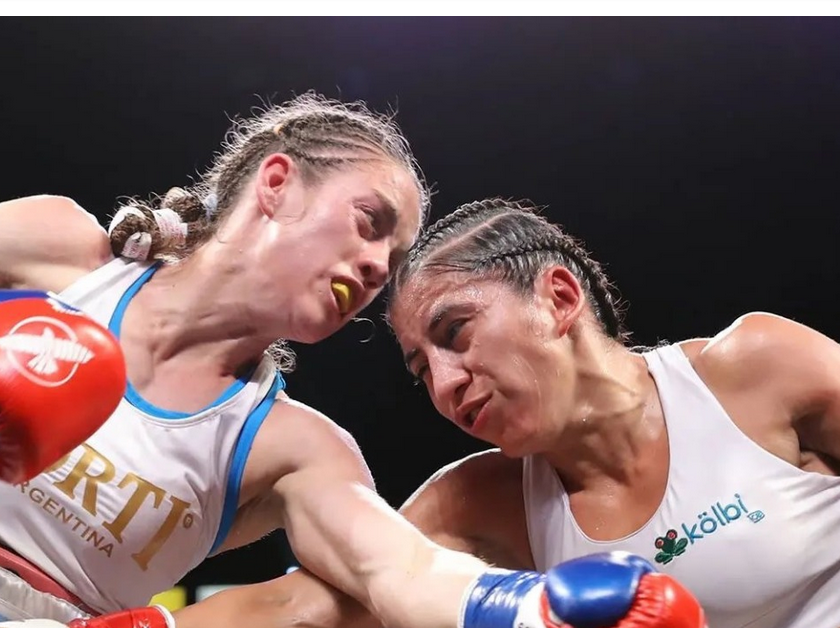 After the recent controversial ruling that made her a world champion in three different divisions, the fans of the Costa Rican Yokasta Valle are wondering: What path will the successful boxer choose next?
On Saturday, November 26th, in a fight of continuous exchanges with the then undefeated Argentine Evelyn Bermúdez (17-1-1, 6 KOs), "Yoka" Valle (27-2, 9 KOs) came out with her arm raised at the Dignity Health Sports Park in Carson, California, where she won the IBF and WBO belts, which Bermúdez was defending for the seventh and second time, respectively.
Although the Costa Rican fighter (pictured on the right) went on the attack for practically the entire 10 rounds, the exchanges were even, give and take, with good moments for both fighters, which made it difficult to evaluate each round. Hence the discomfort of many fans, especially in the Bermúdez camp, with the card of judge Adalaide Byrd (99-91), which apparently had Bermúdez prevailing in only one round. Neither did Judge Daniel Sandoval's card (97-93) represent what transpired in the ring, while Zachary Young's score of 95-95 was more accurate, distributing five rounds for each combatant.
In the case of Byrd, she also received innumerable criticism in the first fight between Saúl "Canelo" Álvarez and Gennady "GGG" Golovkin, which was held in September 2017 at the T-Mobile Arena in Las Vegas and which ended with a favorable scorecard for each boxer and another of 114-114.
At that time, Byrd had judged more than 400 fights over a 20-year span, and her discordant scorecard of 118-110 reflected Canelo winning 10 rounds and GGG only two (the fourth and the seventh). Dave Moretti leaned towards Golovkin (115-113), while Don Trella (114-114) saw it even.
CHAMPION IN THREE CATEGORIES
Born in Matagalpa, Nicaragua on August 28, 1992 and living in Costa Rica since her childhood, Valle made her boxing debut at the age of 22 in the light flyweight category. In that first experience at the pro level, she defeated Mexican María Guadalupe Gómez by unanimous decision in four rounds, on July 26, 2014, in Alajuela, Costa Rica.
Two years later, in her twelfth fight, she conquered the IBF title at 102 pounds by split decision against Ana Victoria Polo in San José, Costa Rica. In December 2017, Valle suffered her first professional failure against the local Naoko Fujioka, who won by unanimous decision at Korakuén Hall in Tokyo where they fought for the vacant WBO light flyweight belt.
Six months later, on June 16, 2018, Valle lost again by unanimous decision against German Christina Rupprecht (11-0-1, 3 KOs) in Munich, a duel that was for the WBO strawweight interim belt. Rupprecht maintains that belt and is again in Valle's sights.
Following those two setbacks, "Yoka" Valle compiled 14 victories, including the one she obtained in Marbella against Spaniard Joana Pastrana in August 2019, which she won by split decision securing the IBF 105-pound belt.
More recently, on September 8th in Costa Rica, Valle became a two-division champion at 105 pounds, by unanimously prevailing (the three judges scored the fight 100-90) over Vietnamese Thi Thu Nhi Nguyen, who ceded the WBO title. And then with her success against Bermúdez last weekend, Valle made history in Costa Rican boxing by adding her third crown in three different divisions (102, 105 and 108 pounds).
WHERE WILL YOKASTA VALLE GO NEXT?
Valle, who now owns two light flyweight titles (IBF and WBO) could next go in search of unification with Mexican Jéssica Nery (WBA super champion) or with Canadian Kim Clavel, who holds the WBC title. (Clavel and Nery collide on Thursday in Laval, Quebec.)
However, a more viable option would be to return to 105 pounds and seek a fight with American Seniesa Estrada (23-0, 9 KOs), who maintains the WBA belt, or with Rupprecht, who remains unbeaten. That seemed to be Valle's immediate objective, as she affirmed it in the ring after defeating Nguyen. In an indirect reference to Seniesa Estrada and Tina Rupprecht, Valle said "I want the belts. I've been saying it from the beginning, I want the WBC and WBA next, whoever has 'em."
At Friday's weigh-in for her fight with Bermúdez, Valle stated "I want to fight the best. I want to be undisputed. When Tina (Rupprecht) and Seniesa (Estrada) were not available, my team and I made the decision to move up in weight and challenge Evelyn for her world title belts. I have to fight. [MarvNation CEO] Marvin Rodriguez presented this fight to me. This is the type of fight I want. It is champion versus champion. I want to give the fans these types of fights."
EDITOR'S NOTE: Kim Clavel caught the flu and pulled out on Wednesday just prior to the weigh-in. Her match with Jessica Nery was rescheduled for Jan. 13.
Photo credit: Tom Hogan / Hogan Photos
Article submitted by Jorge Juan Alvarez in Spanish
Please note any adjustments made for clarification purposes and any errors in translation were unintentional.
To comment on this story in the Fight Forum CLICK HERE
Regis Prograis Knocks Out José Zepeda and Clears the Way for José Ramírez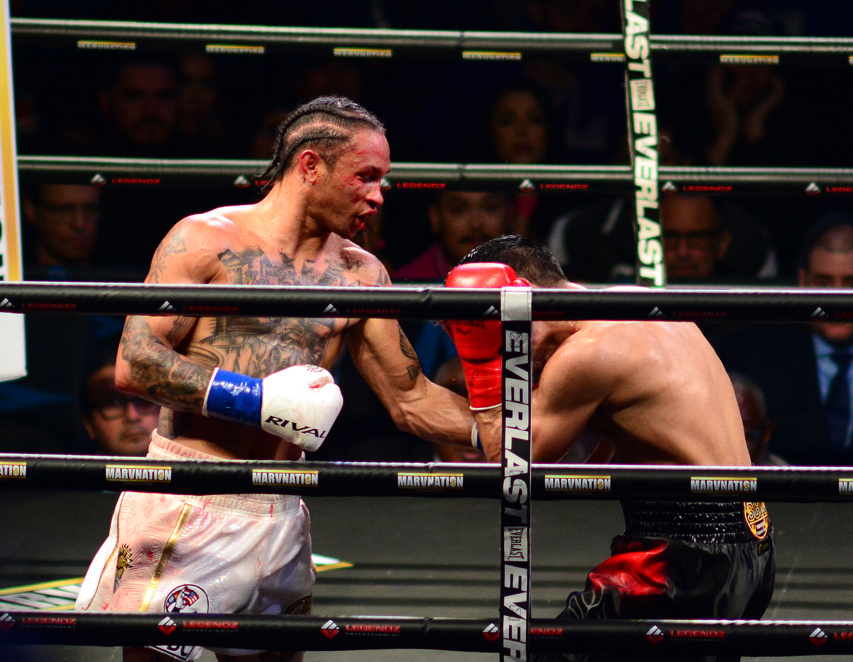 American Regis Prograis had to wait three years and a month for the opportunity to hold a world crown once again. On Saturday, November 26, at the Dignity Health Sports Park, in Carson, California, Prograis faced José Zepeda for the vacant WBC junior welterweight belt. Prograis was victorious by applying chloroform to Zepeda in the eleventh round.
Previously, on October 26, 2019, Prograis (28-1, 24 KOs) had lost the WBA junior welterweight belt by majority decision to Scotsman Josh Taylor at the 02 Arena in England.
Since then, the thirty-three-year-old Prograis who is based in Houston, Texas has obtained four wins (including vs Zepeda), all before the limit, as proof of the devilish power of his powerful fists, especially the left one.
Prior to the duel with Zepeda (35-2, 27 KOs), most experts favored Prograis, who after winning the intense battle, recognized that it was the most demanding fight of his career. "That dude is tough, tough, tough. He came to fight, he probably gave me one of my hardest fights, I'm not even gonna lie," said Prograis. "This dude is tough, bro. I've got so much respect for you. You prepared me to get this belt and hold this belt. I congratulate you. All the best to you, bro. Don't stop, I feel like you can still be a world champion."
Almost from the very beginning of the fight, Prograis showed greater speed with his hands and legs, and a general sense of technical superiority over Zepeda, who in the second round opened up a wound above his left eye with a legal blow.
From then on, Prograis's strong impacts gradually undermined Zepeda's resistance. Zepeda arrived totally exhausted in the eleventh round, where he received a straight left to the face, putting him in poor condition. A run with both fists from Prograis knocked him down and referee Ray Corona called the match with 59 seconds remaining in the round. This is the first setback that Zepeda has suffered by knockout in professional boxing.
On several occasions, Prograis has stated that he wants revenge against the undefeated Taylor (19-0, 13 KOs), but now, by order of the WBC, he must face American José Carlos Ramírez (27-1, 17 KOs).
Ramírez, 30 years old, is currently ranked second by the WBC. In February of 2019, in his second defense of his 140-pound belt, he defeated Zepeda by majority decision.
Twenty-five months later, Ramírez succumbed by unanimous decision to Taylor at the Virgin Hotels in Las Vegas, enabling the Scotsman to become the undisputed king of the category by winning the four most prestigious belts (WBA, WBC, WBO, IBF).
Recently, Ramírez expressed an interest in dueling with the main 140-pound contenders, including a second fight with Zepeda; although he did not rule out clashing with Prograis or Taylor. "Every fighter has the same amount of risk," said Ramirez. "We're a little under-promoted compared to other weight classes but I think that the best fights are at 140. You see guys fighting twice or three times, doing a trilogy. Honestly, I would love to face Regis, because I've never faced him. I would love to make the rematch with Zepeda, because he's such a good fighter. Obviously I want Josh Taylor, man. I want Josh Taylor bad."
Photo credit: Al Applerose
Article submitted by Jorge Juan Alvarez in Spanish.
Please note any adjustments made were for clarification purposes and any errors in translation were unintentional.
To comment on this story in the Fight Forum CLICK HERE