Undercard Results from the Spence-Garcia Card in Texas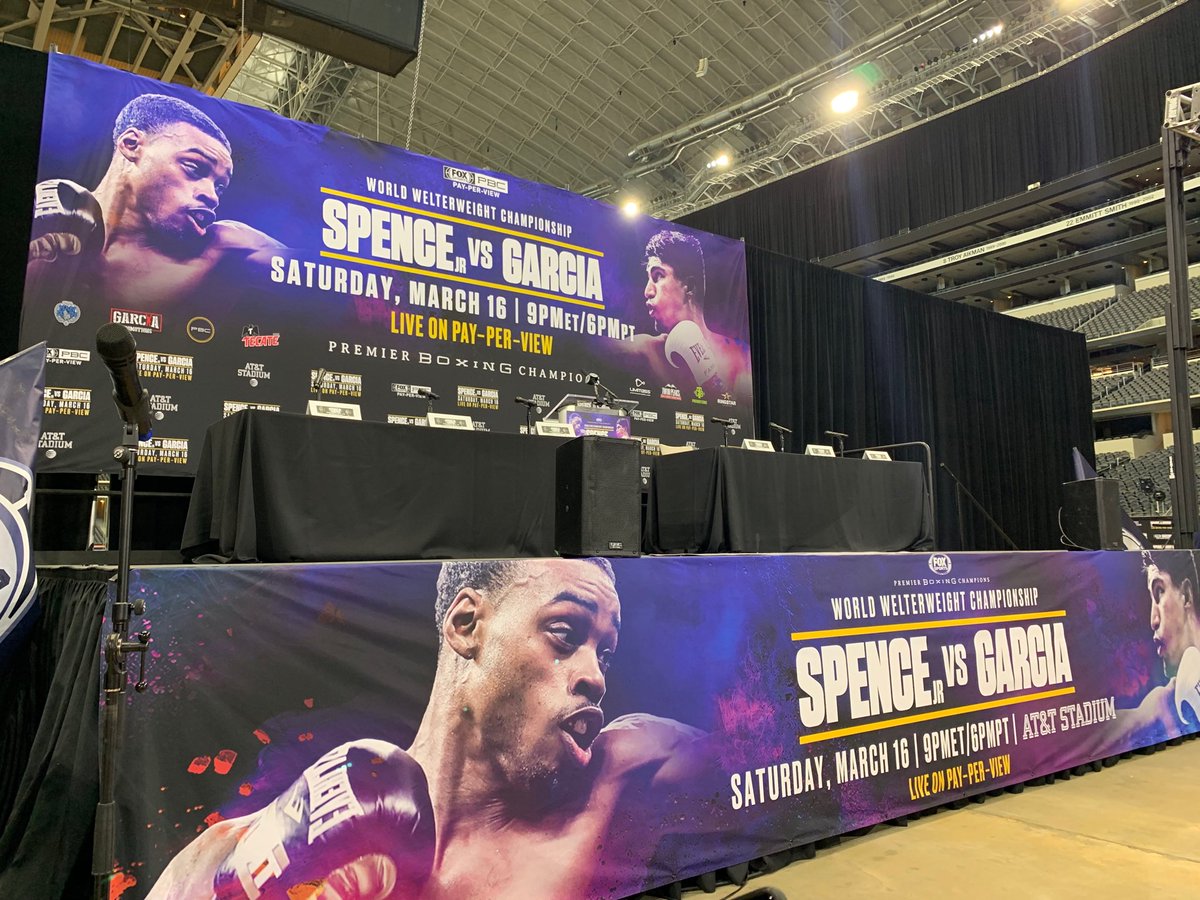 The eyes of the boxing world are on Arlington, Texas, tonight where Mikey Garcia bids to become a title-holder in a fifth weight class. If Garcia can navigate his way past Errol Spence Jr, he will become only the third former featherweight champion to gather in a world welterweight title belt which would put him on the same pedestal with legends Henry Armstrong and Manny Pacquiao. But that's a tall order as the undefeated Spence is bigger and is generally considered to pack a more powerful punch. The PPV mega-fight is noosed to an extremely deep undercard.
Refresh This Page Frequently as We Keep You Abreast of the Action.
Undercard Results
In a heavyweight fight that aired on FS1, it was four-strikes-and-you're-out for previously undefeated Gregory Corbin who was disqualified in the eighth round after having a point deducted for a low blow in rounds 4, 5, and 6. Former IBF heavy-weight title-holder Charles Martin, who suffered a cut on the corner of his left eye in the fourth round from a head butt, improved to 26-2-1 (23). Corbin suffered his first loss after opening his career 15-0 against a motley bunch of opponents.
This was an inelegant scuffle between two fighters who had a little too much suet in their midsections. The 38-year-old Corbin had no snap in his punches and was credited with landing only 26 punches the entire fight.
In a swing fight that was added to the PPV telecast, Mexico's Lindolfo Delgado stopped James Roach of Grove, Oklahoma with one second remaining in the opening round. A 2016 Olympian, the undefeated Delgado, a junior welterweight, has won all nine of his pro fights by knockout.
Welterweight Amon Rashidi, a stablemate of Errol Spence, improved to 6-0 (4) with a TKO over El Paso's overmatched Gabriel Gutierrez (5-8). Rashidi scored three knockdowns before the bout was halted in the sixth and final round.
In an 8-round contest in the flyweight class, Jesse Rodriguez, a 19-year-old southpaw from San Antonio, improved to 9-0 (5) with a third round stoppage of Rauf Aghayev (26-7) who fell to his knees with an apparent injury after absorbing a combination. A 35-year-old Azerbaijian, Aghayev was making his U.S. debut.
In an entertaining 6-rounder, North Las Vegas middleweight Thomas Hill  (8-2) won a split decision over Limberth Ponce (17-4). Hill wobbled Ponce in the final round. Take away that punch and the match would have theoretically ended in a draw. Ponce, who fights out of Rock Island, IL, had won seven straight coming in.
In a 6-round bantamweight fight, Oklahoma City's Aaron Morales dominated Fernando Robles of Brownsville, TX, en route to winning a unanimous decision. Morales (6-0) knocked Robles (2-1) to the canvas in the second round and triumphed on scores of 59-54 and 60-53 twice.
In a 4-round fight, local cruiserweight Adrian Taylor improved to 9-1 with a 4-round unanimous decision over Nebraska's William Deets (aka William Quintana). The scores read 39-37 and 40-36 twice. Deets, who upset Deontay Wilder's brother in his last start, declines to 7-13.
In a 6-round lightweight clash, Luis Coria (11-2, 6 KOs) stopped Omar Garcia (6-8) in the second round. Coria dropped Garcia in the opening stanza and kept up the pressure in the following round which compelled the referee to intervene. Mexico's Garcia has lost six straight and seven of his last eight.
Super middleweight Burley Brooks, who has sparred with Errol Spence and Jermell Charlo, was successful in his pro debut. Brooks stopped 18-year-old Randy Mast at the 76 second mark of the opening round.
In the lid-lifter, Robert Rodriguez (3-0) of San Antonio spoiled Fernando Ibarra's pro debut, winning a unanimous decision in a 4-round bantamweight match.
Check out more boxing news on video at The Boxing Channel
To comment on this story in The Fight Forum CLICK HERE
Avila Perspective, Chap. 96: The Return of Boxing, NVHOF and Machete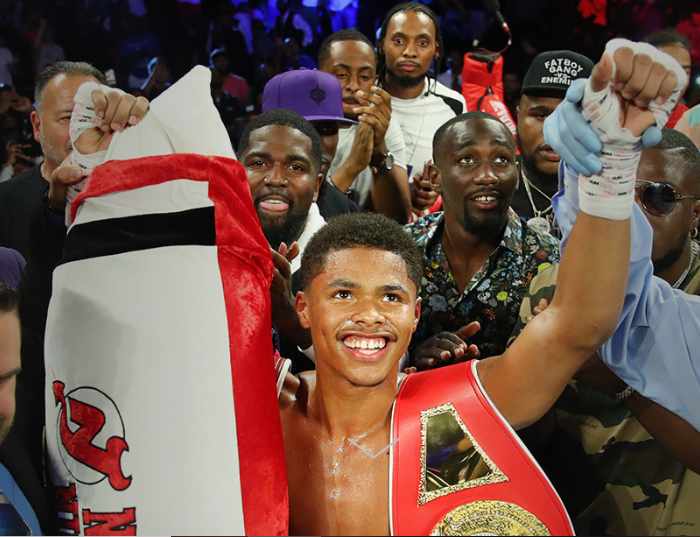 If all goes according to Hoyle, it looks like Shakur Stevenson will be the first to shake out the cob webs of boxing when he fights early next month.
Las Vegas seems to be the target site on June 9, as WBO featherweight titlist Stevenson (13-0, 7 KOs) appears in a non-title fight against an opponent to be named after Mexico's Rafael Rivera (27-4-2, 18 KOs) was forced to withdraw because of immigration  issues related to the pandemic.
Nothing is etched in stone. If it takes place, the Top Rank show will be shown by ESPN.
It makes sense to open up in the Nevada casino city whose economy depends mostly on live gambling and the people who arrive ready to spend money on hotels, restaurants, and various forms of entertainment. Boxing has always been a lure for Las Vegas.
The lure is Shakur you could say for prizefighting.
Twenty-two year old Stevenson just could be the next great boxer with his mix of height, build, and scintillating fighting tools that have enabled him to burst on the professional fight scene after a successful amateur phase.
He could be the one.
Sadly, fans won't be allowed in the venue due to new medical protocol because of the corona virus and it remains to be seen if any media outside of ESPN will be admitted.
Still, Las Vegas is opening and that's a good sign for the city of 1 million when its hotels are full. Gambling and sports are what keep the casino city alive.
Female star Mikaela Mayer the number one ranked super featherweight in the world is also slated to perform on the same boxing card. At press time Mayer agreed to fight Helen Joseph but contracts had not been finalized.
Let's keep our fingers crossed.
Nevada Boxing Hall of Fame
A casualty of the pandemic will be this year's scheduled ceremony for the Nevada Boxing Hall of Fame. It has been canceled.
The eighth annual NVBOF ceremony was scheduled for August 7 and 8 at the Red Rock Hotel in Las Vegas.
"We waited as long as possible before making this difficult final decision," stated Michelle Corrales-Lewis. "Our induction weekend features numerous events that require close proximity of our devoted boxing fans with honorees. Hundreds of fans mix with our inductees, champions, and celebrities where hand-shaking, hugging, picture-taking, autograph-signing, and close-in dining are all part of the experience."
Among those expected to be inducted this year were James "Lights Out" Toney, Miguel Cotto, Fernando Vargas, Danny "Lil Red" Lopez, Andre Ward, Azumah Nelson, Mark "Too Sharp" Johnson, Jose Luis Castillo, Clarence "Bones" Adams, Julian Jackson, Jose Sulaiman, Carlos Padilla, Sammy Macias and Lorenzo Fertitta.
It's an extremely impressive class and sure to attract thousands to its ceremony when it eventually takes place. I can't remember any class in any Hall of Fame as powerful as those who were to be honored this year.
Toney's exploits alone were enough to guarantee a class to remember. The former middleweight, super middleweight, cruiserweight and heavyweight titlist in my estimation is the greatest fighter in the last 60 years. He could have fought in any era and matched with any fighter from middleweight up to heavyweight.
It's going to have to wait until next year.
According to the officers of the NVBHOF the list of this year's class will be added to those voted in next year's class.
"We do not want to reduce the quality and emotion of the weekend for our Inductees, and certainly do not want to put anyone's health in jeopardy because of the nature of our event," said Corrales-Lewis.
For more information call (702) 368-2463.
Machete
Motion picture star Danny "Machete" Trejo revealed during a Spanish language boxing show that the sweet science paved the way for him to eventually find a way into Hollywood and fame.
"When I was eight or nine, my uncle fought in the Golden Gloves and even at that age I was his sparring partner-slash-punching bag! But even back then he really taught me how to box so when I started getting into trouble and going to juvenile hall and the joint, they knew I boxed so I always fought in the joint and became champion of every institution I was in," said Trejo on Peleamundo the Spanish language boxing show streamed by Matchroom Boxing's on Youtube.com.
Trejo owns Trejo Tacos and still works in the film industry. The episode hosted by former world champion Jessie Vargas also features Erik Morales.
Check out more boxing news on video at The Boxing Channel 
To comment on this story in The Fight Forum CLICK HERE
Book Review: Bernard Fernandez's "Championship Rounds"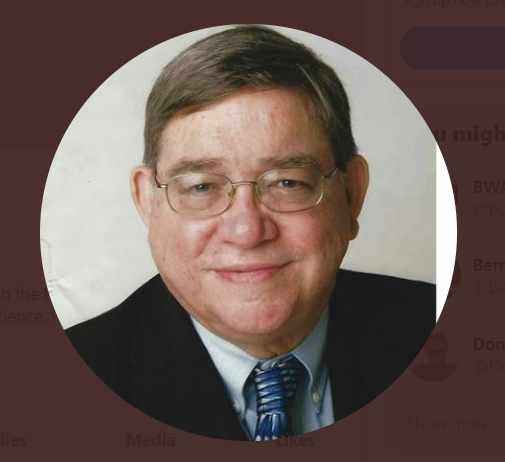 When a man retires after a lengthy career in an interesting occupation, he feels a tug to write his memoir. If he happened to be a journalist, the memoir can take the form of an anthology. Bernard Fernandez's "Championship Rounds," released this month, is an anthology – a compendium of previously published material – but it also veers off at times into a memoir, which is a very good thing. It could not be otherwise as Fernandez had a front row seat at the circus and the permit to poke around behind the scenes.
For the uninitiated, Bernard Fernandez spent 43 years as a sportswriter, the last 28 with the Philadelphia Daily News before retiring in 2012. Although he was occasionally assigned to other beats, he was foremost the paper's boxing guy. When he started with the Daily News, many established papers had a full-time boxing writer. Today they are as scarce as professional typewriter repairmen.
Various honors came Fernandez's way during his newspaper career, the most recent of which, for a boxing writer, is the ultimate, enshrinement in the International Boxing Hall of Fame. Fernandez was voted into the Hall in the Observer category last year.
There are 35 stories in "Championship Rounds" sorted into six sections. Eighteen of these stories appeared at The Sweet Science. Among the boxers profiled are Ali and Frazier, Jake LaMotta (who Fernandez interviewed for the second time when Jake was 94 years old), Archie Moore, Tex Cobb, Arturo Gatti ("the boxing franchise in Atlantic City"), and the Spinks brothers – Michael, who "wrung every ounce from his considerable boxing gifts," and Leon, his mirror opposite, "perpetually distracted."
Many of the giants of the modern era turn up in "Championship Rounds," but also some cult figures and even Jack Obermayer, somewhat less than a cult figure save among his peers who were awed by his stamina and cherished his friendship. A familiar face at diners up and down the east coast, Obermayer likely attended more boxing shows than any man ever born, 3,514 in total scattered across 400-plus cities in 49 states, all but Alaska. He devoted himself, says Fernandez, "to the proposition that every fight card, no matter how unimportant or seemingly insignificant, required his presence at ringside to be fully validated."
The best boxing writers understand that boxing is an ecosystem and that some of the best stories are found outside the ropes.
Fernandez was writing about women's boxing before it was fashionable to write about women's boxing. It's doubtful the name Jackie Tonawanda rings a bell, but she was a trailblazer in women's boxing and Fernandez brings her to life in a story that appeared in these pages back in 2009. I had no clue that the fight between Laila Ali and Jackie Frazier-Lyde created such a stir until I read "Ali-Frazier IV." Held at the Turning Stone Casino and Resort in Verona, a little town in upstate New York, the event attracted a media throng of 300-plus from around the world.
Bernard Fernandez is a big movie buff. "I've frequently imagined that, were I not covering boxing matches and football and basketball games for my weekly recompense, I'd be a movie reviewer," he writes.
The big screen and the lowbrow amusement of celebrity boxing intersect in "I Tanya…," a 2019 story inspired by the Tonya Harding biopic starring Margot Robbie and Alison Janney. The movie transported Fernandez back to Portland, Oregon, and the maddeningly unfruitful scrums that bespattered "the worst week of my newspaper career."
Being a newspaper reporter who racks up frequent flyer miles isn't all that glamorous as Fernandez showed in that story, but even the most unpleasant episodes can be fun in the re-telling. And sometimes the hassle of getting somewhere is redeemed by a surprising turn of events at the destination. Fernandez's trip to Tokyo in 1990 was grueling at both ends of the continuum — from the Eastern seaboard, one crosses 14 time zones – but he would be one of the few American scribes to witness live and in color, as they say, the most famous upset in the annals of boxing.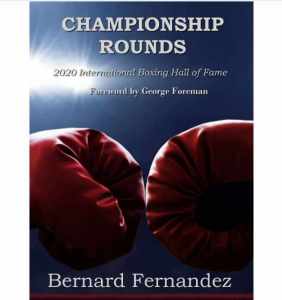 Mike Tyson's 2002 match with Lennox Lewis wasn't nearly as momentous – at least not after the bell rang – but Fernandez's excursion to Memphis, the host city, yielded a story too good to be left on the cutting room floor. The highlight for me was his interview with a tourist from Switzerland as they watched the city's oddest must-see attraction, the march of the ducks in the ornate lobby of the Peabody Hotel.
Of the 35 entries in the book, my personal favorites are the two that are the most poignant. Bernard Hopkins' truth-is-stranger-than-fiction life story has been well-documented, but one acquires a greater appreciation of B-Hop while reading about the special bond that he forged with a terminally ill teenage fan. In the book's final entry, Fernandez pays homage to his late father who instilled within him his love of boxing. Bernard Fernandez Sr., who had a brief pro career under the name Jack Fernandez, was a much-decorated New Orleans police captain who passed away in 1994 at age 75. "It is said that an honest man's pillow is his peace of mind," writes Fernandez, "and my father never spent a conflicted night."
Bernard Fernandez is a friend of mine, something I probably should have acknowledged earlier. Moreover, for the past several years, I have been his editor here at The Sweet Science.
Editors, many of whom exemplify the Peter Principle, are faultfinders by temperament and tutelage, and I would be remiss if I didn't find something to quibble about.
When writing a feature story about a boxer or boxing personality, Fernandez will sometimes open with a parallelism. For example, a certain boxer may summon up the name of a historical figure with whom he shares characteristics in common. The parallel in a piece about Wladimir Klitschko is Al Davis, the former owner of the Oakland Raiders whose mantra, "Just win, baby," became the enduring catchphrase of Raider Nation.
I thought the comparison was labored and that Fernandez exhausted too many words about Davis and his team before getting to the gist of his story.
With that nitpicking yammer, I likely just got on the wrong side of George Foreman which is never a smart thing to do. "Writers come and go," says Foreman in the foreword to the book, "but the special ones (like Bernard Fernandez) stand the test of time."
On this matter, Big George and me are in perfect accord.
Bravo, Bernard, it was a most enjoyable read and if there is a sequel in the hopper, please don't let it languish.
For more information about "Championship Rounds" including where to purchase the book CLICK HERE.
Check out more boxing news on video at The Boxing Channel 
To comment on this story in The Fight Forum CLICK HERE
Five Fights That Produced Controversial Decisions to be Replayed on ESPN2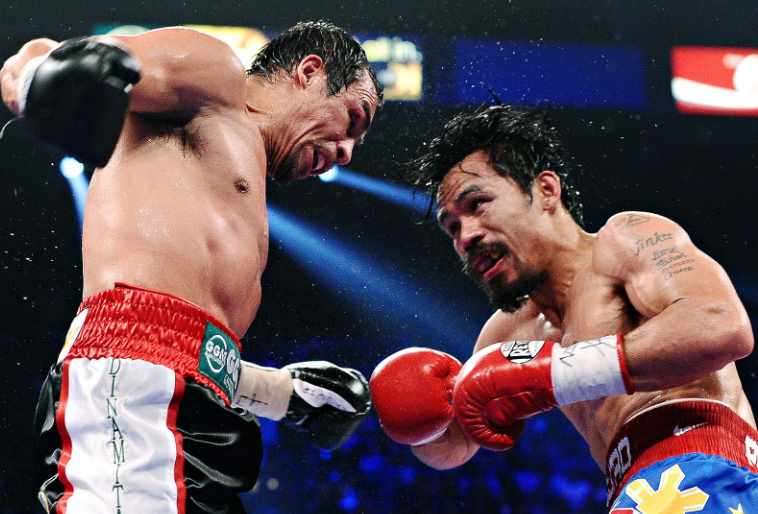 Five Fights That Produced Controversial Decisions to be Replayed on ESPN2
PRESS RELEASE – Wednesday, May 20, will be a night of boxing on ESPN2 when the network airs four consecutive hours of the sweet science featuring some of the sport's most debated decisions. The action will begin at 7 p.m. ET with Oscar De La Hoya vs. Felix Trinidad.
In addition to the linear telecast, all these fights are also available on ESPN+. Exclusively available to subscribers, ESPN+ features a library of hundreds of the most Important fights in boxing history.
THE LINEUP
Oscar De La Hoya vs. Felix Trinidad (7 P.M. ET)
The long-reigning welterweight champions and pound-for-pound greats met in the "Fight of the Millennium" on Sept. 18, 1999, with De La Hoya defending his WBC title and Trinidad defending his IBF title. De La Hoya landed 97 more punches (263 to 166) but after 12 tensely fought rounds, Trinidad was controversially scored the winner by majority decision. The bout set a pay-per-view record for a non-heavyweight fight with 1.4 million buys, a mark that stood until it was broken by De La Hoya-Mayweather on May 5, 2007.
Oscar De La Hoya vs. Shane Mosley II (8 P.M. ET)
In a rematch of their first bout in June 2000 — won by Mosley via split decision – De La Hoya put his WBA and WBC super welterweight world titles on the line against the former welterweight and lightweight world champion. According to CompuBox, De La Hoya landed more punches (221-127) and was the more accurate puncher (36%-26%). Despite De La Hoya winning in the eyes of most boxing experts, Mosley was declared the winner in a controversial unanimous decision.
Manny Pacquiao vs. Juan Manuel Marquez III (9 P.M. ET)
The only fight of the four between them not to feature a knockdown, Pacquiao and Marquez once again went to a decision in this WBO welterweight title fight. Pacquiao was making the third defense of the title and landed more punches (176-138), but Marquez was the more accurate of the two fighters, according to CompuBox (32%-30%). The bout generated 1.4 million pay-per-view buys in the United States which was Pacquiao's best pay-per-view total until his 2015 mega-fight with Floyd Mayweather.
Marvin Hagler vs. Sugar Ray Leonard (10 P.M. ET)
Longtime middleweight champion Hagler had made 12 successful defenses of his world title before facing the returning Sugar Ray Leonard who had not fought in almost three years. Leonard, who was attempting to win a world title in a third weight class, built an early lead but Hagler came on strong late. Ring Magazine named Hagler-Leonard the 1987 Fight of the Year, and the split decision victory for Leonard cemented a comeback for the ages.
Floyd Mayweather Jr. vs. Jose Luis Castillo I (11 P.M. ET)
After eight successful defenses of his super featherweight title, Mayweather moved up in weight for his lightweight debut against Castillo, who was making the fourth defense of his WBC title. According to CompuBox, Castillo outlanded Mayweather 203-157. HBO's ringside judge, the late Harold Lederman, scored the fight for Castillo by four points. The official judges, however, scored it unanimously in Mayweather's favor.
ESPN+ features a library of hundreds of the most important fights in boxing history, as well as recent Top Rank on ESPN cards for replay, all streaming on demand. The historic fights on ESPN+ include legendary heavyweight showdowns like Ali vs. Frazier III, Ali vs. George Foreman, Joe Louis vs. Billy Conn, Tyson vs. Holmes, Jack Dempsey vs. Gene Tunney, Max Baer vs. James J. Braddock, Ali vs. Sonny Liston I & II, Wilder vs. Fury II and many more.
Check out more boxing news on video at The Boxing Channel 
To comment on this story in The Fight Forum CLICK HERE