The Death of Olli Maki Unleashed a Flood of Bittersweet Memories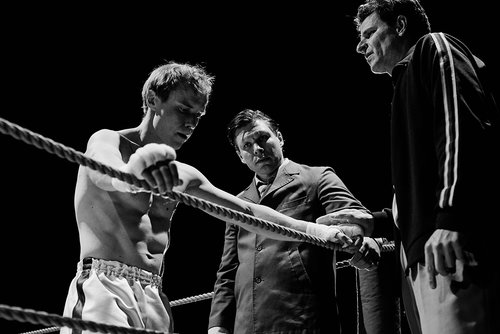 Olli Maki, a former European junior welterweight champion, died earlier this month at a nursing home in a Helsinki suburb at age 82. News of his passing on April 6 unleashed a flood of bittersweet memories.
Maki wasn't a great fighter. He finished his career with a record of 28-14-8. But he participated in an historic fight and he and his opponent Davey Moore became parcels of popular culture, transcending boxing, in Moore's case posthumously.
Maki, a Finn, a baker by trade, was the house fighter in the first world title fight ever staged in Scandinavia. The date was August 17, 1962, and the venue was Helsinki's Olympic Stadium.
Although Maki had a strong amateur background, he had only 11 pro fights under his belt. Moore, the reigning world featherweight champion, hailing from Springfield, Ohio, was 56-6-1 and making his fifth title defense.
Making matters even more daunting for Maki, he wasn't a natural featherweight. He had to boil off considerable weight to make 126 pounds and the endeavor eroded much of his strength. This was of little concern to the promoter, however. A local man, his priority was in creating a grand event, a spectacle. He picked Davey Moore not only because Moore held the title but because his name resonated with many of the locals. Davey had participated in the 1952 Helsinki Olympics, advancing to the third round.
As a spectacle, Maki vs. Moore turned out pretty well. The event attracted more than 25,000 (23,643 paid). As a fair competition, however, the contest failed miserably; Olli Maki had no business being in the same ring with Davey Moore. The Finn was blasted out in the second round, a left-right combination knocking him on the seat of his pants and a second one-two putting him down again and leaving him too woozy to continue.
If you're thinking of moving to Finland, the country has many plusses. There's very little crime, health care costs are low, life expectancy is high and Finland, home to Nokia, is one of the most technologically advanced countries in the world. But be advised that it gets cold there. The average high temperature in Helsinki in August is 66 degrees and this is the second warmest month of the year.
Although Maki vs. Moore was held in mid-August, there was a chill in the air. In fact, referee Barney Ross was shivering as he stood at the back of the ground level seats waiting for the ring to be cleared following the last preliminary bout. Yes, this was that Barney Ross, the former lightweight, welterweight, and junior welterweight world champion.
To ward off the chill, Ross started shadow boxing. This elicited a great roar from the crowd. "I didn't know what they were cheering about and then I figured out it was me," said Ross, reminiscing. "I still can't get over it. It's like giving an ovation to a baseball umpire."
The Finns were in a festive mood but had nothing to cheer about from that point on.
– – – –
When the Moore-Maki fight was announced, boxing aficionados groaned. They were hoping that Moore would proceed straightaway to a match with a young Cuban fighter turning heads, Ultiminio "Sugar" Ramos. The clamor for a Moore-Ramos fight was most intense in Ramos's adopted home of Mexico City where a powerful new organization was emerging to challenge the hegemony of the WBA, the World Boxing Council (the IBF and WBO hadn't yet been born).
Moore vs. Ramos came to fruition on Thursday, May 21, 1963 at Dodger Stadium in Los Angeles. The bout was witnessed by an announced crowd of 28,800 and a national television audience. Both the WBA and WBC belts were at stake. While other entities such as the New York and Pennsylvania commissions had flouted the WBA and ordained their own "world champions," this was the first true unification fight in the featherweight division.
Sugar Ramos, 21, was 38-1-3 with 29 knockouts. His only loss came by disqualification. But Moore, 29, was riding a 20-fight winning streak and was chalked the favorite.
The fight was a humdinger. Moore had Ramos down and almost out in the second and seventh stanzas, but the young Cuban emigrant had more fuel in his tank and came back to stop Moore in the 10th. The final punch knocked Moore into the ropes, causing the ropes to vibrate. As he fell, the nape of his neck struck the bottom strand of ropes. He was saved by the bell but his manager Willie Ketchum decided that Moore had had enough and called the fight off.
Forty minutes after the fight, after conversing with reporters, Moore collapsed and was rushed to White Memorial Hospital where doctors determined that the comatose fighter, the son of a minister, had swelling on his brain stem consistent with a whiplash injury. His wife of 11 years, Geraldine, the mother of his five children, was with him in Los Angeles but hadn't attended the fight. She could never bear to watch her husband fight. At the hospital, she maintained a bedside vigil.
Sugar Ramos was distraught. Dan Smith, a stringer for the LA Times, shadowed Ramos as the fighter entered the hospital through a rear entrance to avoid TV crews and captured this poignant scene as Ramos grieved with Geraldine:
I am very sorry the young man whispered in a choked voice. Then Ramos bowed his head, unable to go on. He began to sob softly.
I want you to understand I'm not blaming you for anything, replied Mrs. Moore. It was God's act.
I'm praying every night, said Ramos, and I'll continue to pray every night. I want to help in any possible way for Davey to recover. With that, the saddened fighter began to weep again.
Davey Moore never regained consciousness. He died at 2:20 am on Sunday morning, March 25. (An unrelated Davey Moore won the WBA super welterweight title in 1982.)
– – –
Moore's death inspired two protest songs, most notably "Who Killed Davey Moore?" by the folk singer Bob Dylan. The song, an indictment of boxing where no one accepts culpability for a ring death, is one of Dylan's more obscure renderings but that did not keep Sports Illustrated senior editor Greg Kelly from putting "Who Killed Davey Moore?" at the top of his list of the best sports songs of all time in a story that ran in the July 4, 2011 issue of that publication. (#2 on Kelly's list was "Surfin' USA" by the Beach Boys, a weird juxtaposition.)
Ultiminio "Sugar" Ramos and Moore's widow Geraldine would hook up once again and here the bitter saga of Davey Moore is leavened with sweetness. In 2013, 50 years after Moore's fatal injury, Ramos, then 71 years old (he died in 2017), was inspired to go to Moore's grave and pay his respects. It was on his bucket list.
He contacted Geraldine Moore who still resided in Springfield and learned that a statue of Moore would be unveiled in September. Ramos promised to be there at the unveiling.
It was a long and arduous trip from Mexico City, what with airplane transfers and the drive in from Indianapolis, 130 miles away. Along the way, Ramos picked up a friend, Luigi Meglioli, a man with a better command of English. Meglioli owned a ceramic tile company in Tijuana. When they arrived in Springfield at the meeting place, Ramos was holding a bouquet for Geraldine and Meglioli a pot of lilies to be laid at Davey Moore's cemetery plot.
The great Dayton Daily News columnist Tom Archdeacon, the dean of sportswriters in southwestern Ohio, led the fund-raising campaign to have the statue sculpted and then have it bronzed. This took a while. Clark County, home to Springfield, sits in America's Rust Belt and has seen better days.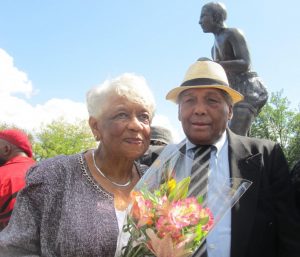 Archdeacon was there to record the moment when Sugar Ramos and Geraldine Moore were reunited after all those many years and this too was a poignant moment. Ramos was apprehensive. Davey Moore's children were all grown now. How would they react to the man whose fists had killed their father? But when the little man in the straw fedora emerged from his vehicle, his countenance betraying his qualms, Geraldine recognized him and rushed to greet him, to assure him that he come to a place where he was welcome. When the tarp was removed from the statue, they stood side-by-side, their arms linked, their faces streaked with blissful tears.
– – –
Olli Maki persevered after being shellacked by Davey Moore. Eighteen months later, fighting at his more natural weight, he won the European 140-pound title with a 15-round decision over Germany's Conny Rudhof. He lost the title in a rematch with Rudhof and failed to regain it when he lost a 15-round decision to the artful Spanish campaigner Pedro Carrasco who was in the midst of a 91-fight unbeaten streak. In retirement, Maki kept his hand in the sport as a coach and boxing official.
In the days leading up to his fight with Moore, Olli Maki was a national hero, as celebrated as the famous long distance runner Paavo Nurmi. His story touched a nerve with Juho Kuosmanen, a young Finnish filmmaker. Kuosmanen directed and co-wrote "The Happiest Day in the Life of Olli Maki" which won a major award at the 2016 Cannes Film Festival.
I have not seen the movie, but I gather that the title was meant to be ironic. As the fight draws near, Maki, played by Jarkko Lahti (pictured), feels more and more put-upon as he is hustled from one meet-and-greet to another by the venal promoter as he puts the finishing touches on the advertising campaign. The frenetic schedule imposed upon him leaves him virtually no time to spend with Raija, the girl with whom he has fallen in love. At its heart, "The Happiest Day…." isn't a boxing movie but a love story. "Raging Bull" it is not. The real Olli Maki and his wife Raija make a cameo appearance at the end of the movie.
Back in 1962 when they crossed paths in Helsinki, no one would have guessed that someday songs would be written about Davey Moore and that a statue, 8-feet-tall, would be erected to honor him. Nor would anyone have suspected that many years later Olli Maki would be immortalized in a critically acclaimed movie that had his name in the title.
Boxing is funny that way. With the passage of time, some seemingly ordinary events become larger, perhaps even monumental. And when they do, they invariably awaken bittersweet memories.
Check out more boxing news on video at The Boxing Channel
To comment on this story in The Fight Forum CLICK HERE
Avila Perspective, Chap. 81: Robert Garcia's Boxing Academy, 'J-Rock' and More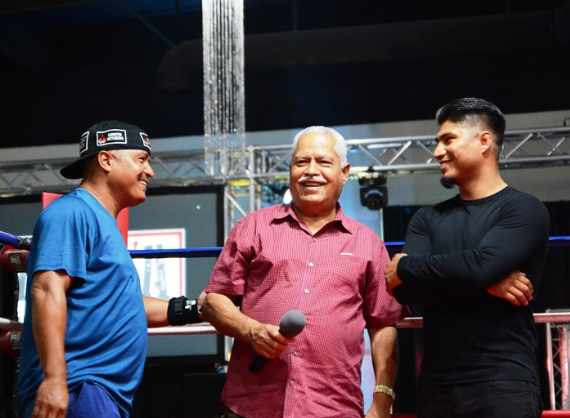 Stacked cars block the long entrance to Robert Garcia Boxing Academy where many of the best prizefighters in the Southwest prepare.
It's Wednesday afternoon and the first shift has arrived.
Just last weekend two RGBA-trained fighters Hector Tanajara Jr. and Joshua Franco returned to their native area San Antonio, Texas and showed off their fighting skills polished in the hills of Riverside, California. It's a human factory of prizefighters of all sizes and ethnicities.
Trainer Robert Garcia, with help from his sons, runs the sizeable gym that includes three boxing rings like a choreographer. He doesn't need charts or tablets, he simply directs the fighters to the ring and tells them the number of rounds they will be trading punches.
Gabriel Flores Jr. of Stockton is chosen to open up the sparring. He's a 19-year-old speedy lightweight from Stockton, Calif. and so far has remained undefeated after 16 pro bouts.
First to spar with the Stockton fighter was Saul "Neno" Rodriguez, the slim power-punching super featherweight from Riverside. Early in his career he was trained by Garcia, first in Oxnard, then, when the Riverside operation was opened, he made the transition too. For more than two years Rodriguez had trained elsewhere but has returned to the Garcia machine. It's hard to get better training.
Flores and Rodriguez sparred for multiple rounds of action that featured what each fighter does best. One is a counter-puncher and the other stalks and punishes. One utilizes speed and agility to offset attacks and the other pressures and pursues while looking for openings and mistakes.
It's a perfect mesh of styles.
Next up was Luis Coria another lightweight with speed and aggressiveness like a wound-up top.
Coria was scheduled to fight Adam Lopez last November in Las Vegas, but when the main event featuring former WBO featherweight titlist Oscar Valdez fell out due to the opponent weighing 10 pounds over the limit, Lopez was asked to step in. That left Coria without an opponent.
"He was well paid to step aside," said Robert Garcia trainer and manager for Coria.
That night Lopez impressed the boxing world by flooring Valdez although eventually losing by stoppage. That could have been Coria. No problem, he will be fighting soon enough.
Coria sparred several rounds with Flores and both showed speed and a contrast in styles.
The gym always operates at crank level and somebody is always preparing for the next big fight. Coming up soon will be WBC and WBO super lightweight titlist Jose Carlos Ramirez who will be traveling to China to defend against Viktor Postol on Feb. 2.
Later in February, Mikey Garcia returns to the ring for the first time since last March. The former featherweight, super featherweight, lightweight, and super lightweight titlist is set to meet former super lightweight and welterweight titlist Jessie Vargas on Feb. 29, at Frisco, Texas.
Pick any season in the year and RGBA is always humming.
J-Rock
WBA, IBF and IBO super welterweight titlist Julian "J-Rock" Williams (27-1-1, 16 KOs) finally returns to the ring and makes his first defense against Jeison Rosario (19-1-1, 13 KOs) on Saturday Jan. 18, in Philadelphia. FOX will televise.
It's homecoming for Williams who grabbed the title with a riveting win over former champion Jarrett Hurd in what I felt was the Fight of the Year in 2019. Both engaged in trench warfare and exhibited the beautiful art of inside fighting rarely seen or allowed by trigger-happy referees anxious to create space. Close-quarter fighting takes talent.
Fighting in front of friends and family can be pretty stressful. Philadelphia is a true fight town and it could be an added distraction for Philly boxer J Rock.
"I try to just block myself from the world. Especially with a hometown fight, people are pulling you 50 different ways, tickets, asking me stupid questions. It's crazy, so I just try to block myself from the world," said Williams about the upcoming fight with Rosario. "Rosario brings ambition to the table. I think he's an ambitious kid. I don't think it's a difficult fight (for me), to be quite honest. I just think it's a matter of being focused and on top of my game, and I think I'll take care of him. I don't think it's difficult, though. He's a decent fighter. We're not going to make him out to be Ray Robinson."
Top Rank in NY
If you are one of the many who wondered whatever happened to Puerto Rico's Felix Verdejo here's your chance to watch the former phenom in action as he meets Manuel Rey Rojas (18-3, 5 KOs) at Turning Stone Resort and Casino in Verona, NY. ESPN+ will stream the Top Rank card.
Verdejo (25-1, 16 KOs) fought once in 2019 and defeated cagey veteran Bryan Vasquez by decision last April in New York City. He remains a big draw but since turning pro nearly 10 years ago has failed to live up to expectations as the next Felix Trinidad. There's only one "Tito" Trinidad.
Rumors abound when it comes to Verdejo who was supposedly involved in a motorcycle accident and other escapades. Life can get in the way. Here he is now 26 years old and looking to conjure up some of that old fervor he had as a teen.
Fights to Watch
Fri. Showtime 7 p.m. Shojahon Ergashev (17-0) vs Adrian Estrella (29-4).
Sat. ESPN 4 p.m. Eleider Alvarez (24-1) vs Michael Seals (24-2); Felix Verdejo (25-1) vs Manuel Rey Rojas (18-3).
Sat. FOX, 5 p.m. Julian Williams (27-1-1) vs Jeison Rosario (19-1-1); Chris Colbert (13-0) vs Jezzrel Corrales (23-3).
Photo: Eduardo Garcia, the Garcia family patriarch, is flanked by sons Robert and Mikey. Photo by Al Applerose.
Check out more boxing news on video at The Boxing Channel 
To comment on this story in The Fight Forum CLICK HERE
Julian "J-Rock" Williams: From a Homeless Teenager to a World Boxing Champ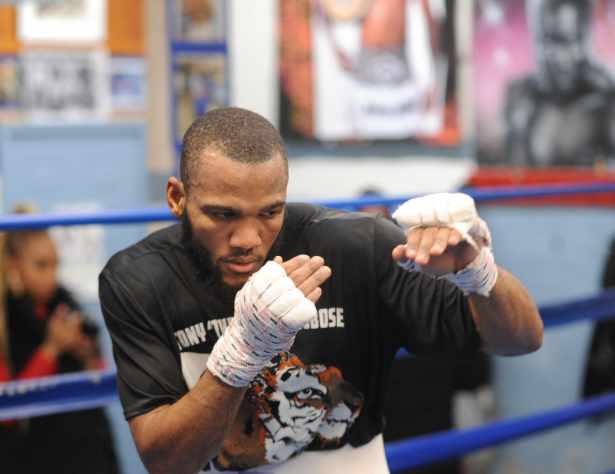 Last weekend was a mixed bag for Philadelphia fighters. Undefeated welterweight Jaron "Boots" Ennis looked sensational on Friday while scoring a fourth-round stoppage of Bakhtiyar Eyubov. The next night, a raggedy performance by Jesse Hart in a super middleweight contest with Joe Smith Jr scraped away some of the city's prestige as an incubator of great fistic talent. (Thirteen fighters identified with Philadelphia are in the International Boxing Hall of Fame; bet you can't name seven.)
On Saturday at Philadelphia's Liacouras Center, WBA/IBF 154-pound world title-holder Julian "J-Rock" Williams (27-1-1, 1 NC, 16 KOs) seeks to right the ship, so to speak, when he opposes Jeison Rosario (19-1-1, 13 KOs) in the first defense of the titles he won from Jarrett Hurd last May in one of the most entertaining fights of 2019. It's a homecoming for Williams, 29, who trains at the James Shuler Memorial Gym, named for the former middleweight contender who died at age 26 in a 1986 motorcycle accident. "J-Rock" last fought in Philly in 2011 at a small show at a National Guard armory when he was still a 6-round fighter.
Williams, like so many professional boxers, had a rough upbringing. According to an article by Frank Fitzpatrick in the Philadelphia Inquirer, during his school days Williams lived in an old motel that had been converted into a homeless shelter. His mother battled substance abuse and his father was in prison.
The shelter was located a long distance from his high school, Overbrook, in gritty West Philadelphia. Getting there required a trip on two buses sandwiched around a ride on the "el" train.
The faculty at Overbrook High School, who work in a 95-year-old building, face all the challenges that are endemic to inner-city schools populated by students from economically disadvantaged homes. But the school is famous because of the achievements of certain alumni. The great NBA player Wilt Chamberlain went to Overbrook High, as did the actor Will Smith and Guion S. Bluford Jr, America's first African-American astronaut. If "J-Rock" can keep winning, he may etch his name on that roster.
Williams will go to post a big favorite over Rosario, a 24-year-old Miami-based fighter from the Dominican Republic. They have a common opponent in Nathaniel Gallimore who was out-pointed by Williams after previously saddling Rosario with his lone defeat (TKO by 6). Rosario got this coming assignment when Jarrett Hurd changed his mind, declining a rematch with Williams after initially activating his rematch clause. (Hurd has a stay-busy fight later this month on the undercard of the Danny Garcia vs. Ivan Redkach bout at Brooklyn's Barclays Center.)
Williams vs. Rosario will air on FOX and FOX Deportes as part of a triple-header. In the co-feature, 23-year-old Brooklyn super featherweight Chris Colbert (13-0, 5 KOs) is matched against Panamanian southpaw Jezzrel Corrales (23-3, 9 KOs) in a match billed for an interim WBA title. The flashy Colbert, reportedly 103-3 as an amateur, has a big upside if he can improve his punching power.
As for Julian Williams, down the road he figures to meet up with Jermell Charlo who recently recaptured his WBC 154-pound title while avenging a controversial loss to Tony Harrison. Williams' lone defeat was inflicted by Jermell's twin brother Jermall Charlo who now competes a weight class up at 160. If that fight materializes, "J-Rock" would be the second person to lock horns with both Charlo twins at the pro level following Austin Trout.
That may be putting the cart before the horse, but Williams, who is a good interview because of his forthrightness, is supremely confident. "I don't think it's a difficult fight for me, to be quite honest," he says. "We're not going to make (Rosario) out to be (Sugar) Ray Robinson. But he has the ambition to win, so you can't underestimate him."
Considering the obstacles that "J-Rock" has already overcome, it would seemingly be foolish to bet against him.
– – –
Philadelphia fighters in the International Boxing Hall of Fame listed in order of their year of induction: Joe Frazier (1990), Tommy Loughran (1991), Philadelphia Jack O'Brien (1991), Joey Giardello (1993), Harold Johnson (1993), Bob Montgomery (1995), Matthew Saad Muhammad (1998), Lew Tendler (1999), Battling Levinsky (2000), Jeff Chandler (2000), Benny Bass (2002), Harry Lewis (2008), Bernard Hopkins (2020).
Photo credit: Darryl Cobb / TGB Promotions
Check out more boxing news on video at The Boxing Channel 
To comment on this story in The Fight Forum CLICK HERE
Tyson Fury's Daffy Training Regimen has Nat Fleischer Spinning in his Grave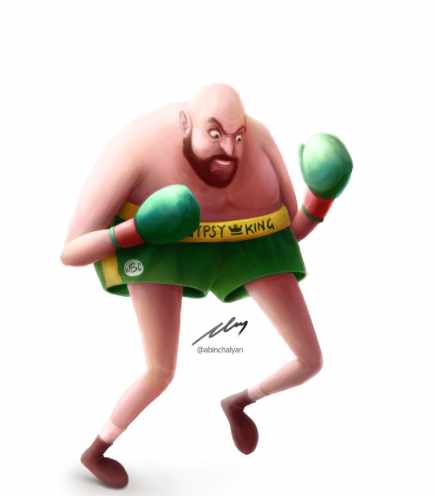 The late Nat Fleischer, the co-founder and publisher of The Ring magazine, the self-proclaimed Bible of Boxing, was regarded in his day as the world's foremost authority on all things fistic.
In addition to looking after his monthly magazine, Fleischer wrote many books. Most were small biographies of famous fighters but there were also instructional manuals for boys and young men interested in learning the science of pugilism. In fact, Fleischer's first book was a training manual. First published in 1929, "Training for Boxers" (with a foreword by Jack Dempsey) sold more than one million copies at $1 each according to Fleischer's 1972 obit in the New York Times.
Fleischer's three "how to" books for aspiring boxers were heavy on the importance of leading a virtuous life outside the ring. Don't masturbate, he commanded his readers. Masturbation, in Fleischer's view, was the scourge of civilization.
The same admonition against "self-abuse" was found in the Boy Scouts Handbook. British military officer Lord Robert Baden-Powell, credited with founding the world-wide Boy Scouts movement, also railed against this temptation. The son of a clergyman, Baden-Powell didn't invent the popular saying "idle hands are the devil's workshop," but, among other things, His Lordship believed that excessive masturbation led to idiocy.
If that were true, that doesn't bode well for Tyson Fury (insert your own joke here). At Monday's press conference in Los Angeles, Fury said that as part of his preparation for his rematch with Deontay Wilder, he would be masturbating seven times a day. "I have to keep my testosterone pumping," said Fury by way of explanation.
Fury's impulsion flouts conventional wisdom. Old-time trainers believed that masturbation and sex in general were to be avoided in the days preceding a fight. Celibacy was useful for keeping a fighter focused on the task at hand and the retention of semen was thought to be useful for keeping a boxer on edge so that when the battle commenced, he had a reservoir of pent-up energy ready to be unleashed.
It was written that Primo Carnera's trainers tied a string around his penis when he went to bed at night to keep him from having a wet dream. Like so much that was written about the Ambling Alp, this was assuredly nonsense. However, fanciful yarns like this exposed the mindset of many old trainers whose philosophies, however quaint, were passed on to future generations of boxers and trainers including some who are active today.
Muhammad Ali said that he stopped having sex six weeks before a fight. Freddie Roach has been quoted as saying that he exhorts his fighters to "practice discipline" for 10 days before a bout. This was never an issue with Manny Pacquiao who reportedly adhered to a higher standard, eschewing sex for 21 days.
David Haye, who held world titles at cruiserweight and heavyweight before retiring in 2018, remains active in the sport as a manager and promoter. When it comes to his views on getting ready for a fight, the "Hayemaker" is a throwback.
I don't ejaculate for six weeks before the fight. No sex, no masturbation, no nothing. It releases too much tension. It releases a lot of minerals and nutrients that your body needs, and it releases them cheaply. – David Haye
 For the record, although the evidence is slim, Haye's beliefs lack scientific support. In fact, a 1999 Italian study found that testosterone levels actually increase as sexual activity increases.
That finding suggests, egads, that the Gypsy King may actually be on to something. However, the view from here is that whether Tyson Fury masturbates 70 times a day, if that were humanly possible, or masturbates not at all, it won't matter a bit if Deontay Wilder lands his Sunday punch flush on his jaw. He's going down and the ghost of Nat Fleischer will then hover over the ring and bellow, "I told you so, you big lug, now go home and be a good role model and from now on keep your hands away from that appendage in your quiet hours."
Check out more boxing news on video at The Boxing Channel 
To comment on this story in The Fight Forum CLICK HERE