The Hauser Report: Jarrell Miller, PEDs, and Boxing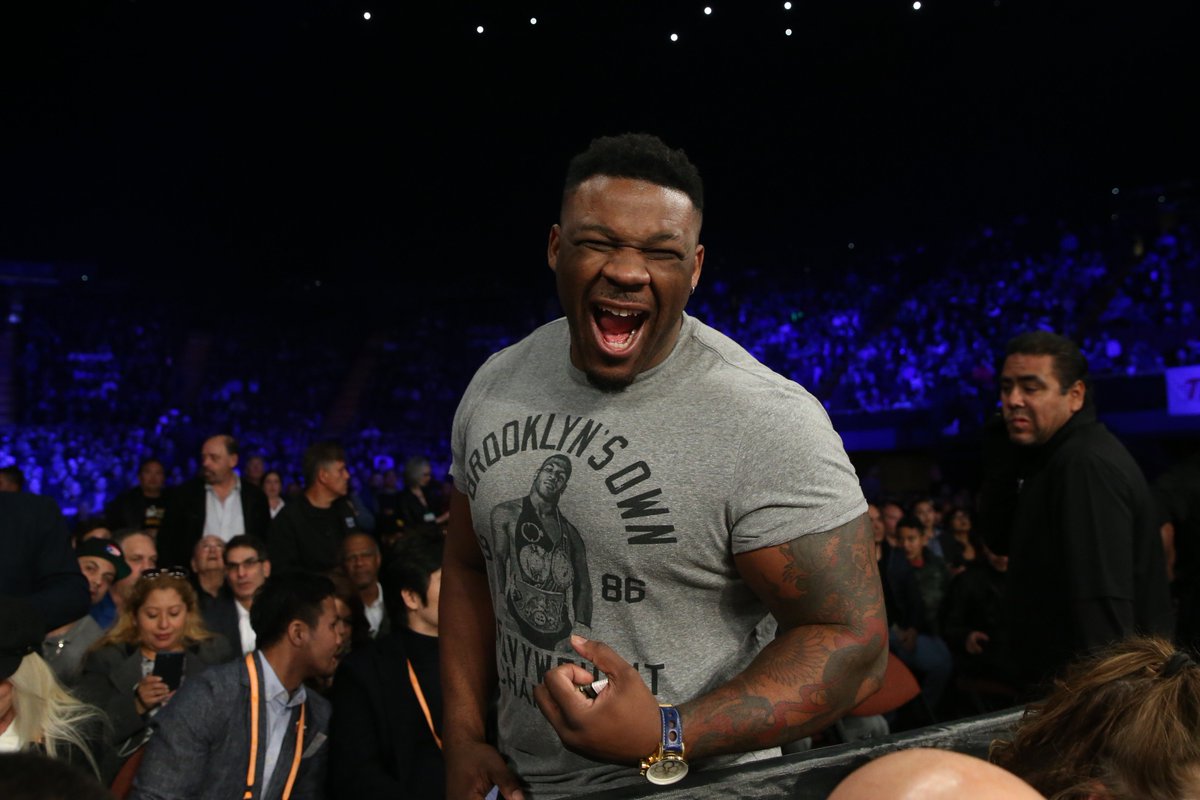 Jarrell Miller is the poster boy this week for the use of banned performance enhancing drugs in boxing. But there's plenty of blame to go around and people who are more culpable than Miller.
Let's start with some facts.
Miller was suspended by the California State Athletic Commission in 2014 after testing positive for methylhexaneamine following a Glory 17 kickboxing event. More recently, he was dropped from the World Boxing Council rankings because he refused to join the WBC Clean Boxing Program. When it was time to sign up for PED testing by the Voluntary Anti-Doping Association (VADA) as required by his contract to fight Anthony Joshua at Madison Square Garden on June 1, Jarrell dragged his heels before submitting the necessary paperwork. Meanwhile, at press conferences in New York and London to promote the bout, he accused Joshua of using illegal performance enhancing drugs.
On April 16, it was revealed that a urine sample taken from Miller by a VADA collection officer on March 20 had tested positive for GW1516 (a banned substance also known as Cardarine and Endurobol). GW1516 was developed in the 1990s to treat diabetes, obesity, and cardiovascular disease. Its use was largely discontinued in 2007 after it was linked to the development of cancer during trials on mice. It's not classified as an anabolic steroid but is considered an anabolic compound and has anabolic properties because it helps build muscle mass. Essentially, it forces skeletal muscle to use fat rather than carbohydrates as an energy source and is also an endurance aid.
On April 17, the New York State Athletic Commission denied Miller's request for a license that would have allowed him to fight Joshua. In so doing, the commission indicated that, if the B-sample taken from Jarrell on March 20 were tested and came back negative, he could reapply for the license.
That same day, Team Miller formally requested that Jarrell's B-sample be tested, and Miller posted a statement on social media that read, "I am absolutely devastated upon hearing the news my boxing license has been revoked in NY State and I will be vigorously appealing this decision. I have NEVER knowingly taken any banned substance and, when I found out the news, I was totally shocked. My team and I stand for integrity, decency & honesty and together we will stand to fight this with everything we have! This was a voluntarily test that I was very happy to do and these results came just one week after another voluntarily test that I had taken which was completely clean. I refuse to just lie down and let my dream be taken away from me when I know in my heart that I've done nothing wrong. 15 years of hard work. I'm WARRIOR. I don't need a banned substance."
One day later, on April 18, VADA notified the New York State Athletic Commission, promoter Eddie Hearn, and both the Joshua and Miller camps that a blood sample taken from Jarrell on March 31 had tested positive for human growth hormone, another banned substance.
On April 19, Miller hit the trifecta when it was announced that a urine sample taken from him by VADA on March 31 had come back positive for EPO (erythropoietin), a banned performance enhancing drug that stimulates the production of red blood cells.
That evening, Miller posted a video on social media in which he acknowledged, "This is your boy, 'Big Baby' Miller here, A lot can be said right now. I'ma get straight to the point, I messed up. I messed up. I made a bad call. A lot of ways to handle a situation. I handled it wrongly. And I'm paying the price for it. Missed out on a big opportunity and I'm hurtin' on the inside. My heart is bleeding right now. I hurt my family, my friends, my team, my supporters. But I'm gonna own up to it. I'm gonna deal with it, I'ma correct it and I'm gonna come back better. I'm humbled by the experience, I understand how to handle certain things. I'm gonna leave it at that. I love you guys and I appreciate you guys out there, and as fighters we go through a lot, I don't wanna make it a bad name for ourselves. It's time to do right and get right. So I thank you guys."
Miller got caught, but he wasn't alone in his wrongdoing. Forty years ago, Ken Norton was known for his chiseled physique. In boxing's current PED era, most elite fighters are more chiseled than Norton ever was. They aren't all clean.
It's a matter of record that numerous fighters have had "adverse findings" with regard to the use of performance enhancing drugs. The list includes – but is not limited to – Luis Ortiz, Alexander Povetkin, Antonio Tarver, Lamont Peterson, Andre Berto, James Toney, Shannon Briggs, Tyson Fury, Ricardo Mayorga, Lucas Browne, Fernando Vargas, Frans Botha, J'Leon Love, Orlando Salido, Brandon Rios, and Canelo Alvarez. In addition, suspicions have been raised with regard to stars like Floyd Mayweather, Manny Pacquiao, Shane Mosley, and Evander Holyfield.
The United States Anti-Doping Agency began testing professional boxers for performance enhancing drugs in 2010. USADA could have been instrumental in cracking down on the use of PEDs in boxing. Instead, it became an instrument of accommodation. USADA's website states that it administered 1,501 tests on 128 professional boxers. Yet it reported only one adverse finding regarding a professional boxer to a governing state athletic commission.
By way of comparison, Dr Margaret Goodman (president of the Voluntary Anti-Doping Association) says that close to four percent of the tests for illegal performance enhancing drugs conducted by VADA come back positive. Using the four-percent benchmark, one would expect that 60 of the 1,501 tests conducted by USADA would have yielded a positive result.
In recent months, USADA has conceded to multiple third parties that there was more than one positive test result with regard to a professional boxer but that it chose to "adjudicate these matters internally" without reporting the positive result to the opposing fighter's camp or state athletic commission that had oversight responsibility with regard to a given fight.
Moreover, it appears as though USADA – with public scrutiny focusing on its test results – has stopped testing professional boxers for PEDs. According to the USADA website (updated through April 20, 2019), the most recent tests conducted on professional boxers by USADA were administered to Danny Garcia and Shawn Porter, who fought each other at Barclay's Center on September 8, 2018.
In other words, a company that conducted more than fifteen hundred tests on professional boxers over the course of eight years (and reaped hundreds of thousands, if not millions, of dollars from the procedure) suddenly stopped testing professional boxers.
Good riddance.
The various state athletic commissions have also been delinquent in their oversight responsibilities as they relate to illegal performance enhancing drugs. Not one commission has developed the expertise, committed the financial resources, and otherwise demonstrated the resolve to eliminate the use of illegal PEDs.
Four of Miller's most recent six fights have been under the jurisdiction of the New York State Athletic Commission. One can speculate that Jarrell didn't suddenly decide to load up on a cornucopia of banned performance enhancing drugs for his fight against Anthony Joshua without having tried any of them before. Hypothetically speaking, he could have been using the same banned substances prior to all of his recent fights.
VADA president Dr. Margaret Goodman says that, had Miller's samples been collected by the New York State Athletic Commission and tested pursuant to current NYSAC protocols, none of the three banned substances would have been detected. It's unlikely that the three drugs would have been detected pursuant to the PED testing protocols of any other state athletic commission either unless the tests were administered by VADA.
Does the attention focused recently on Jarrell Miller represent an opportunity to change the culture of PED use in boxing? And if so, how can the culture be changed?
No one entity can rid boxing of performance enhancing drugs. But a coordinated effort by the powers that be can take significant steps in the right direction.
First, a shout out to Margaret Goodman and VADA. Dr. Goodman has waged a courageous, often lonely struggle against the spread of performance enhancing drugs in boxing. She has put an enormous amount of time and quite a bit of her own money into the cause.
Each state athletic commission should demand that a fighter submit to VADA testing as a prerequisite to that fighter being licensed within its jurisdiction. The Association of Boxing Commissions should encourage its members to adopt this policy. If the various state athletic commissions act in concert, it will preclude forum shopping by PED users.
State athletic commissions should also, where appropriate, enlist the aid of law enforcement authorities.
Government entities don't effectively combat heroin use by prosecuting addicts. In addition to providing treatment for addiction, they combat heroin use by prosecuting the drug traffickers.
There are gyms in the United States that are known as distribution centers for illegal performance enhancing drugs. There are physical conditioners who have a known affinity for these substances. Fighters who have tested positive for illegal PEDs should be asked under oath, "Where did the drugs come from? Who, what, how, when, and where?" We already know why.
The New York State Athletic Commission might try to wash its hands of Miller. The commission might say, "We denied Jarrell a license. He's not a licensee. Therefore, we have no further jurisdiction over him."
That would be consistent with the NYSAC looking the other way when Jermall and Jermell Charlo "missed" drug tests prior to fighting at Barclays Center last December.
The NYSAC might also feel that it doesn't have counsel capable of properly handling the matter. Ryan Sakacs (who previously served as counsel to the commission) once served as a criminal prosecutor and has expertise in drug cases. The current commission counsel seems less suited to the task. But the NYSAC could reach beyond its immediate staff to find more experienced counsel in the New York State Department of State or Attorney General's Office. The NYSAC could also reach out to Sakacs and retain his services on an hourly basis (which was his arrangement with the commission prior to his departure).
Promoters should encourage VADA testing to protect their clean fighters. In that regard, a special message is in order for Premier Boxing Champions and Al Haymon. They haven't done the majority of their fighters any favors by steering them clear of meaningful VADA testing. What they have done is ensure that many PBC fighters are getting hit in the head harder than would otherwise be the case.
The television networks and streaming video channels that now provide the bulk of the money for boxing should require VADA testing for every fighter who appears in a main event or co-featured bout on their network.
The world sanctioning organizations should follow the lead of the World Boxing Council and institute drug-testing programs similar to the WBC Clean Boxing Program.
The media has to be more vigilant and more involved in exposing the use of illegal performance enhancing drugs in boxing.
And most important, fighters should demand VADA testing. They're the ones who are most at risk.
Right now, many elite fighters feel that they have to use performance enhancing drugs to be competitive against other fighters who are juicing. But as years pass, this escalation of weaponry will take a hideous toll on them.
Credible PED testing is expensive. It's impractical to think that it can be put in place for every fighter and every fight. But spot testing is a partial deterrent. Some of the hundreds of millions of dollars being poured into boxing now by DAZN, ESPN, and Fox should be used to fund VADA PED-testing programs.
Talking about performance enhancing drugs several months ago, Jarrell Miller said, "Your life is on the line. Your career is at stake. Guys are gonna do what they gotta do."
So a thought in closing.
The Bible tells us that Jesus told those who would stone an adulteress, "He that is without sin among you, let him first cast a stone (John, Chapter 8, Verse 7).
Let's adapt that thought for today's fighters: "He that is without sin among you, let him sign up for VADA testing."
Thomas Hauser's email address is thomashauserwriter@gmail.com. His most recent book – Protect Yourself at All Times – was published by the University of Arkansas Press. In 2004, the Boxing Writers Association of America honored Hauser with the Nat Fleischer Award for career excellence in boxing journalism.
Check out more boxing news on video at The Boxing Channel
To comment on this story in The Fight Forum CLICK HERE
Avila Perspective, Chap. 82: Jason Quigley Returns to SoCal and More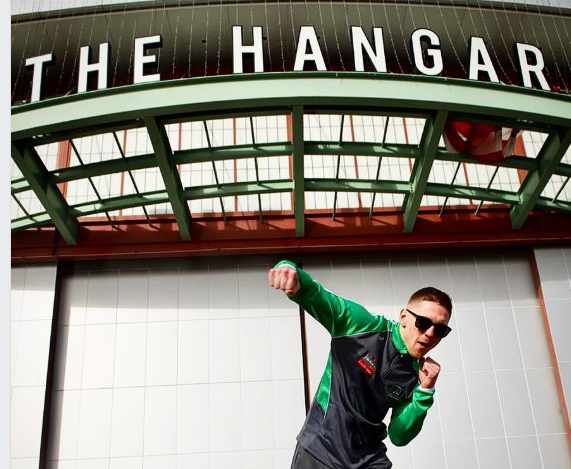 Southern California prizefighting heats up with Jason Quigley headlining a fight card in Orange County and then, two days later, another fight card takes place in the heart of Los Angeles.
Irelands Quigley (17-1, 13 KOs) faces Mexico's Fernando Marin (16-4-3, 12 KOs) on Thursday Jan. 23, at the OC Hangar in Costa Mesa, Calif. DAZN will stream the Golden Boy Promotions fight card live.
Quigley, 28, seeks to reclaim territory lost when he suffered a defeat last July against Tureano Johnson. Ironically, Marin would lose 10 days later in Hollywood to super welterweight contender Serhii Bohachuk.
For several years Quigley had trained in Southern California but decided to change trainers and location. He moved to Great Britain and still prepares near his native country but primarily fights in the U.S.
At one time Quigley clamored for a match against Gennady "GGG" Golovkin or Saul "Canelo" Alvarez but now finds himself trying to prove he belongs in the upper tier of the middleweight division. It's loaded with talent.
Also on the same fight card will be popular North Hollywood super welterweight Ferdinand Kerobyan who was headed to contender status when he ran into Blair "the Flair" Cobbs. At the time Cobbs was an unknown quantity but no longer.
Kerobyan (13-1, 8 KOs) meets Azael Cosio (21-8-2) in an eight-round clash in the semi-main event at OC Hangar. Doors open at 5 p.m.
Red Boxing International
On Saturday Jan. 27, Red Boxing International hosts its first boxing card of the year at Leonardo's Night Club located at 6617 Wilson Ave. L.A. 90001. Doors open at 5 p.m.
Super welterweight Bryan Flores (13-1, 6 KOs) meets Brandon Baue (15-17) in the main event  in the first event of the year for the ambitious promotion company. For the past two years Flores fought primarily in Tijuana, Mexico where he racked up six wins. Now he's back on Southern California soil.
Another match features lightweights Angel Israel Rodriguez (5-0) facing off against Braulio Avila (3-6) in a six-round fight.
Rodriguez fights out of Pico Rivera, Calif. but recently fought in Costa Rica where he won by first round knockout in November. He will be fighting Avila who just fought two weeks ago at the Chumash Casino in Santa Ynez, Calif.
It's a long fight card with 11 bouts on the schedule.
JRock and Rosario
Boxing fans received another lesson on never underestimating a ranked contender regardless of the name recognition.
Jeison Rosario knocked out Julian "J Rock" Williams who was making the first defense of the WBA and IBF super welterweight world titles he won last year in my selection as "Fight of the Year."
Rosario walked in with little recognition and was thought to be a soggy piece of bread for Williams. The long armed Dominican fighter walloped Williams in front of his hometown fans in Philadelphia. It was yet another warning for fans to understand that anyone who steps in the boxing ring ranked as a contender can do the unthinkable. In this case Rosario knocked out the champion in five rounds.
Many felt Williams was far too skilled, especially on the inside where he showcased those skills last May against former titlist Jarret Hurd. It was a remarkable display of the art of inside fighting. But against Rosario, he never got a chance to exhibit those skills.
The loaded super welterweight division has another dangerous champion in Rosario.
Fights to Watch
Thurs. 6 p.m. DAZN – Jason Quigley (17-1) vs Fernando Marin (16-4-3).
Sat. 6 p.m. Showtime – Danny Garcia (35-2) vs Ivan Redkach (23-4-1).
Check out more boxing news on video at The Boxing Channel 
To comment on this story in The Fight Forum CLICK HERE
Recalling Three Big Fights in Miami, the Site of Super Bowl LIV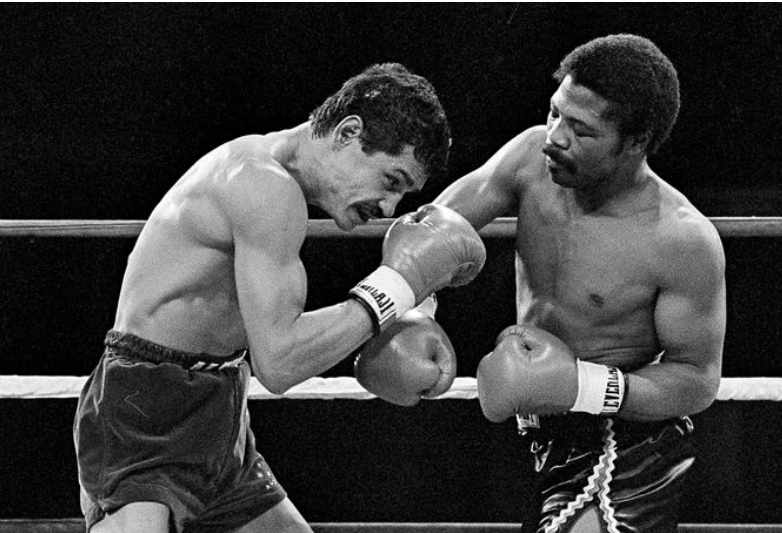 The San Francisco 49ers and Kansas City Chiefs collide on Feb. 2 in Miami in Super Bowl LIV (54) in what will assuredly be the biggest betting event to ever play out on American soil. It's the 10th Super Bowl for the South Florida metropolis which ties it with New Orleans as the most frequent destination for football's premier attraction.
With its heavily Latin population, Miami would seem to be natural for big fights. However, this hasn't been the case. Several great champions fought here, including Roberto Duran who twice defended his world lightweight title in these parts, but these weren't big fights. In the case of Duran, his opponents were lightly regarded and the Panamanian legend was still three years away from his first encounter with Sugar Ray Leonard, a match that increased his name recognition a hundred-fold.
There were, however, three fights in Miami that summoned the interest of virtually all of America's A-list sportswriters. Here they are in reverse chronological order.
Aaron Pryor vs. Alexis Arguello (Nov. 12, 1982)
Alexis Arguello (72-5) was bidding to become boxing's first four-division champion. In his way stood WBA junior welterweight title-holder Aaron Pryor (31-0, 29 KOs), a man now widely regarded as the best 140-pound boxer of all time.
Arguello, a Miami resident, having been exiled from his Nicaraguan homeland by the Sandanista rebel occupation, was a textbook boxer who defeated his opponents with surgical efficiency. Pryor was a typhoon. He mowed down his opponents with relentless pressure. It was a great style match-up and it didn't disappoint. Contested before nearly 30,000 at Miami's iconic Orange Bowl, Pryor vs. Arguello was a fight for the ages.
"There was power, finesse, poise, courage and a tremendous ebb and flow," said Associated Press writer Ed Schuyler who dubbed it Manila in Miniature. In the ninth, 11th, and particularly the 13th rounds, Arguello hit Pryor with straight right hands that would have felled an ordinary fighter, but Pryor had an iron chin.
In the 14th, Pryor buckled Arguello's knees with a straight right hand and then unloaded a furious combination as Arguello fell back against the ropes. He was out on feet when referee Stanley Cristodoulou intervened and he would lay prone on the canvas for several minutes before he could be removed to his dressing room.
Sonny Liston vs. Muhammad Ali (Feb. 25, 1964)
If you happen to find a poster for this fight with the name Muhammad Ali on it, don't buy it. It's bogus. Liston met up with Muhammad Ali in their second fight. In their first encounter, Liston opposed Cassius Clay.
Clay's Louisville sponsors, after a brief flirtation with Archie Moore, settled on Angelo Dundee as his trainer. Angelo operated out of his brother Chris Dundee's gym located at the corner of 5th Street and Washington Avenue in Miami Beach. The fighter who took the name Muhammad Ali trained here and kept a home in Miami for most of his first six years as a pro.
Clay/Ali was 22 years old and had only 19 fights under his belt when he was thrust against heavyweight champion Sonny Liston at the Miami Beach Convention Center. Liston was riding a 28-fight winning streak after back-to-back first-round blowouts of Floyd Patterson.
In a UPI survey, 43 of 46 boxing writers picked Liston. "Clay has no more chance of stopping Liston than the old red barn had of impeding a tornado," wrote Nat Fleischer, the publisher of The Ring magazine.
This would be the first of many famous fights for Muhammad Ali who emerged victorious when Liston quit after the sixth frame citing an injured shoulder. What is not widely known, however, is that the fight, which was shown on closed-circuit in the U.S. and Canada, was a bust at the gate. The 16,448-seat Convention Center was only half full.
The expectation that Liston would take the lippy kid out in a hurry depressed sales, as did sky-high ticket prices ($250 tops when $100 was the norm). And there may have been more subtle factors. "This may not be the best place for a fight between two Negroes," wrote Robert Lipsyte of the New York Times, cognizant that people of color were not welcome as guests at the ritzy beachfront hotels along Collins Avenue.
Jack Sharkey vs. W. L. (Young) Stribling (Feb. 27, 1929)
A big fight, as I define it, doesn't have to be a blockbuster. An important fight that produces an upset automatically becomes a bigger fight in hindsight. The Sharkey-Stribling fight of 1929 didn't draw an immense crowd by Jack Dempsey standards, but the turnout, reportedly 35,000, far exceeded expectations and the fight – which preceded Miami's first Orange Bowl football game by six years — really established Miami as a potentially good place for a big sporting event.
Promoted by the Madison Square Garden Corporation, the bout was originally headed to a dog racing track but it quickly became obvious that a larger venue was needed. A stadium was erected on a Miami Beach polo field, taking the name Flamingo Park (not to be confused with the thoroughbred track of the same name).
Slated for 10 rounds, the bout was conceived as one of two "eliminators" to find a successor to Gene Tunney who had retired. What gave the fight it's primary allure, however, was the North-South angle. Sharkey, born Joseph Zukauskas, hailed from Boston. Stribling, born into a family that traveled the fair circuit with a variety act, was from Macon, Georgia.
The fight, which aired on the NBC radio network, was a dud, a drab affair won by Sharkey who had the best of it in virtually every round. Both went on to fight Max Schmeling for the world heavyweight title. Stribling, dubbed the "King of the Canebrakes" by Damon Runyon, lost by TKO in fight that was stopped late in the 15th round. Sharkey took the title from Schmeling on a split decision after losing their first meeting on a foul.
Young Stribling died in a motorcycle crash at age 28, by which time he had engaged in 251 documented bouts, the great majority of which were set-ups. Jack Sharkey lived to be 91.
—-
The strong earnings of the Sharkey-Stribling bout inevitably drew the Madison Square Garden Corporation back to Miami for an encore. On Feb. 27, 1930, Jack Sharkey opposed England's "Fainting" Phil Scott. Four years later, on March 1, 1834, Primo Carnera defended his world heavyweight title here against former light heavyweight champion Tommy Loughran, the Philadelphia Phantom.
Both bouts were big money losers, as were the great majority of major fights during this period. Eight months after the Sharkey-Stribling cash cow, the stock market crashed, plunging the United States into the Great Depression. Few Americans could afford to vacation in Florida, let alone travel anywhere for a big fight.
Check out more boxing news on video at The Boxing Channel 
To comment on this story in The Fight Forum CLICK HERE
Star Power: Ryan Garcia and Oscar De La Hoya at West L.A. Gym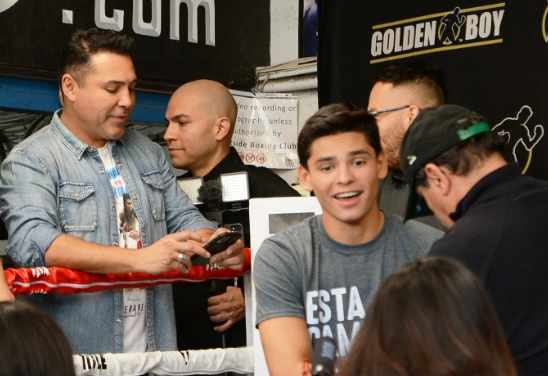 Under gray skies and very cool temperatures Ryan Garcia arrived with his father and a couple of others at the Westside Boxing Gym on Monday.
Waiting anxiously were about 100 people comprised of mostly videographers and photographers who had already surrounded Oscar De La Hoya who arrived earlier.
Golden Boy greets the Flash.
Garcia (19-0, 16 KOs) has a fight coming soon against Nicaragua's Francisco Fonseca (25-2-2, 19 KOs) on Friday Feb. 14, at the Honda Center in Anaheim, Calif. The Golden Boy Promotions show will be streamed by DAZN.
"I'm ready for this fight," Garcia said quickly.
Some say it has been a rather quick road for the fighter from Victorville known as the Flash. But if you ask Garcia, it has been too slow.
"I think he (Garcia) will be world champion this year," said De La Hoya, CEO of Golden Boy Promotions.
Years ago, De La Hoya arrived with the same hoopla but his travel to the top seemed even faster. By his fifth pro fight he was matched with Jeff Mayweather. Yes, those Mayweathers. At the time Mayweather had fought 27 professional fights and had only two losses. De La Hoya stopped him in four.
In his eighth pro fight De La Hoya met Troy Dorsey, a tough Texan who had formerly held the IBF featherweight world title and who would later win a super featherweight world title. De La Hoya stopped him in one round.
Two years after winning the Olympic gold medal in Barcelona, the Golden Boy met WBO world titlist Jimmi Bredahl at the Olympic Auditorium and after dropping him several times finally stopped him in the 10th round. It was De La Hoya's first world title and he was 21 years old.
Garcia is now 21 and ready to test the loaded lightweight division waters. For a while he was fighting at super featherweight, a division loaded with talent. But lightweights are the Maginot Line when it comes to boxing's big hitters. Everybody can punch in the 135-pound limit lightweight division.
When Garcia met Romero Duno last November in Las Vegas many expected the speedy Victorville fighter to get his come-uppance. Instead the lanky slugger lit up the strong Filipino fighter and dropped him into the ether world.
It was mesmerizing stuff.
Now he's back with a load of credibility after shutting down detractors with his devastating knockout win over Duno. It wasn't supposed to be that easy. Just like it wasn't supposed to be that easy when De La Hoya raced by world champions like Secretariat did in the Kentucky Derby decades ago. It's not supposed to be that easy, but for some it truly is.
Garcia seems to be headed for a journey so remarkable that he has other world champions like WBC titlist Devin Haney eyeing him for their next challenges. It barely results in a yawn for the fighter who will be facing a very credible foe in Fonseca next month.
"I'm not even the champion and he's calling me out," said Garcia with a whatever kind of look.
Other fighters and promoters can see what Garcia represents and want to get a slice of it too. Its intangible yet most of the boxing world can sense something is coming and Garcia might be part of it.
That's called star power and it's difficult to explain. Some have it, many want it and others have no chance of ever attaining it.
Time will tell how far Garcia's star power will venture.
One man lived that life and, in a sense, still lives that life and that is De La Hoya. Even he senses a déjà vu moment with Garcia.
"It's why we made him one of the richest young prospects in boxing today," De La Hoya said.
Expect several thousand ardent fans of Garcia to fill the seats on Valentine's Day. How else can you explain it but, star power.
Photo credit: Al Applerose
Check out more boxing news on video at The Boxing Channel 
To comment on this story in The Fight Forum CLICK HERE