Abel Sanchez is the Latest Top-Tier Trainer to Be Bruised by a Ruptured Bond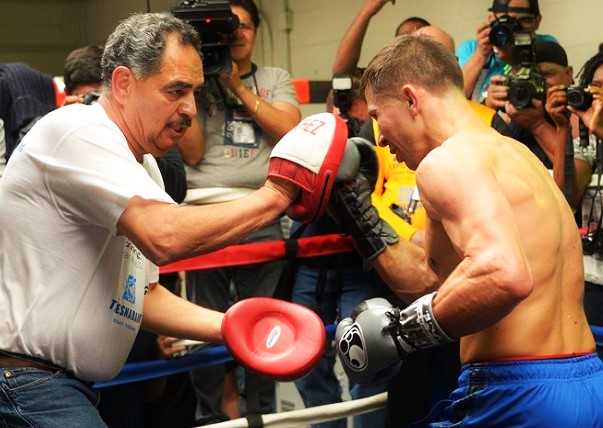 Before his death at the age of 75 on Feb. 3, 2016, Richie Giachetti, the longest-tenured of longtime heavyweight champion Larry Holmes' chief seconds, proudly spoke of the many contributions he had made in helping make the "Easton Assassin" the great fighter that he was. For his part, Holmes agreed with Giachetti's glowing self-assessment, but only to a point. Although Holmes described Giachetti as a "master motivator" who deserves to be inducted into the International Boxing Hall of Fame (something that has yet to happen), he declined to give him nearly as much credit as Giachetti reserved for himself.
"I think a trainer is very important at the beginning of a fighter's career," Holmes once said of his own professional evolution, and that of any champion who lingers long in the game and has used those years of experience to hone his craft to a point where nearly everything is done instinctively. "Over time, you don't really need a trainer. You've got to train yourself. You've got to motivate yourself. And I don't think anybody can put that in you but you. I don't have trainers who want hundreds of thousands of dollars to train me."
The bond between fighter and trainer can be strong and seemingly as unbreakable as forged steel, and it can be as tenuous as a slender and fraying thread. Sometimes, at alternate junctures in a shared journey, it can be both, as again was made evident when long-reigning former middleweight champion Gennady Golovkin chose to end what had been a highly successful and mutually  beneficial nine-year relationship with trainer Abel Sanchez. At first glance, the break seems as shocking as the announcement in April 1970 that John Lennon and Paul McCartney had had a falling out and no longer would be making music together as Beatles.
In a prepared statement that was publicly released on Tuesday, the 37-year-old Golovkin, who on March 12 met with the media to announce that he had signed a lucrative contract with DAZN to fight six times for the subscriber-based streaming service through the end of 2021, said his long run with Sanchez had concluded. Sanchez was at "GGG's" side for that occasion, but it now appears that that was the final time they would ever appear together as teammates, as it were, on a common quest.
"I would like to announce that I have made a major decision for myself and for my career," Golovkin's statement began. "I want to build on what I have already achieved and continue to better myself. Therefore, I will not be training with Abel Sanchez. This was not an easy decision for me and it is not a reflection of Abel's professional abilities. He is a great trainer, a loyal trainer, and a Hall of Fame trainer.
"I will be announcing my new trainer at a later date. But today I want to thank Abel for the lessons he taught me in boxing."
If the kind words of appreciation attributed to Golovkin sounded scripted, it's because they probably were. The cold termination of what had seemed to be a warm and almost familial association is reminiscent of one of those old TV game shows where a departing contestant is handed a "nice parting gift" that isn't really all that nice.
Contacted by RingTV.com, Sanchez said it was his belief that he was jettisoned for the same reason that so many other trainers in similar situations have been handed their walking papers. As Larry Holmes once noted, once you've attained a certain level in your career, why pay hundreds of thousands of dollars to someone who has already taught you all you need to know?
"Money. That's what the nature of it is, money," Sanchez, hardly sounding conciliatory toward his now-former top pupil, said when asked for a reason that might have precipitated a breakup the trainer neither sought nor wanted. He said Golovkin's new deal with DAZN would pay him just one-fifth of the cut of the Kazakhstan native's purses he normally received.
"My dignity and pride wouldn't allow me to do that after nine years of total commitment and taking him to where I've taken him. I don't think I deserved that so I turned it down," continued Sanchez, the Boxing Writers Association of America's 2015 winner of the Eddie Futch Award as Trainer of the Year due largely to his work with Golovkin.
"Everything has been on a handshake basis, on a truthful basis. To be blindsided like this, it's heartbreaking."
Sanchez said that, over a period of about three weeks after the announcement of the deal with DAZN, he had an inkling of what eventually would go down. He said the decision to cut him loose was less GGG's than of some members of the fighter's inner circle.
There are, of course, legitimate and understandable reasons why fighters change trainers. And the reverse is also true, with trainers ditching fighters when it suits their purpose. Teddy Atlas, for one, has walked away from any number of fighters, including champions, because they could or would not adhere to his rigid dictums.  Money is a frequent cause for such professional divorces, as is the question of control.
Here are several examples of instances where well-known trainers were told by their equally or more famous fighters – and sometimes the other way around — that all good things at some point must come to an end:
Angelo Dundee ends long relationship with Sugar Ray Leonard
Leonard was coming off one of the most significant victories of his career, shocking middleweight champion Marvelous Marvin Hagler after a five-year layoff, when Dundee said he'd been vastly underpaid for that fight, for which he didn't have a contract, and would only consent to be a part of the Sugar man's challenge of WBC light heavyweight titlist Donny Lalonde (the vacant WBC super middleweight belt also was on the line) on Nov. 11, 1988, if he had a signed contract and thus would know beforehand what his financial compensation would be.
"Evidently I'm not necessary in the corner," Dundee said of the dispute.  "They were offended because I had the audacity to have my lawyer call Mike Trainer's office asking when I was going to be paid. I left it up to them for the Hagler fight. I depended on their generosity and I got one percent (of Leonard's purse)."
Countered Leonard: "I'll miss him. But what bothers me the most is the fact that I thought we had a special relationship. By the way things happened, I really don't know if that relationship was valid at first. He's like a family member to me. But when you hurt or destroy friendship, you lose it. It's over."
Although Dundee and Leonard never patched things up in a professional sense, they were able to let bygones be bygones. Leonard attended a 90th birthday celebration for Dundee on Aug. 30, 2011, five months before Angelo passed away.
"We talked about life. We talked about the fight game and reminisced about the special moments," Leonard said of the restoration of their deep and abiding friendship. "He was a great guy to hang around with. You didn't have to press a button to get him started, or to pause. Losing him puts into perspective how precious life is. I never thought we'd lose him, even at the age of 90. He had so much zest, so much enthusiasm about life, his next project, next fight or fighter and who he was helping to either remain or become a champion."
Freddie Roach fired by Manny Pacquiao
The relationship of Roach and Pacquiao lasted much longer – almost twice as long, in fact, at 16 years – as that between Sanchez and Golovkin. But "Pac-Man" apparently took umbrage to a suggestion from Roach after he lost a close and disputed unanimous decision, and his WBO welterweight title, to Jeff Horn on July 2, 2017, in Horn's hometown of Brisbane, Australia.  Roach's transgression? Suggesting that Pacquiao's roles as a legendary fighter and a senator in the Philippines each might be so demanding that he could not do justice to both, and thus would be well-advised to choose one or the other.
"Being a prize fighter is difficult, but being a world champion is so incredibly difficult," Roach reasoned. "It takes just about all of your time and focus and energy, and I can't imagine being able to do it and having another job.
"I didn't know Manny was mad about that when I said it. I wish he had said something to me about it so we could have spoken to each other. But I have no complaints because my life is so much better in so many ways because of Manny Pacquiao."
With Roach removed, Pacquiao's good friend, Buboy Fernandez, was his trainer for his next bout, a seventh-round stoppage of Lucas Matthysse. But Roach would not be away for long, nor did many people familiar with their bond anticipate that that would be the case. "They're like a married couple and it's like they had a trial separation," opined Justin Fortune, Pacquiao's strength and conditioning coach. So Roach was back for Pacquiao's most recent bout, a wide points nod over Adrien Broner, but in an advisory role with Fernandez remaining the trainer of record. That again will be the case should the proposed pairing of Pacquiao, the "regular" WBA welterweight champion, and WBA "super" welterweight ruler Keith Thurman be finalized.
Bouie Fisher, Bernard Hopkins clash over compensation
Despite once describing long-enduring middleweight champion Bernard Hopkins as "like my son," veteran Philadelphia trainer Bouie Fisher sided with his actual sons, James and Andre, in a dispute with B-Hop over how much money Fisher should have received for services already rendered or to be rendered in the future.
"Bernard is a difficult person to deal with," Fisher said in 2005, after being fired by Hopkins. "He wants all the glory, he wants all the credit, he wants all the money. It's all about him, him, him."
That is not how Hopkins saw it, and, as was the case with Angelo Dundee's late reconciliation with Sugar Ray Leonard, the fighter was there when his former trainer and father figure was hospitalized and close to death shortly before he passed away, at 83, on June 30, 2011. When Fisher briefly opened his eyes, Hopkins stepped back and began shadowboxing, the older man's eyes suggesting a glint of recognition.
"Even though me and Bouie fell out – me and his sons fell out even more – I had mad respect for what I've been taught (by Fisher)," Hopkins said. "I looked at Bouie Fisher like a father, and I still do. I learned a lot from him. I don't let disagreements and stuff outside of boxing overshadow years, even decades, of the good."
Floyd Mayweather Sr. fired by Floyd Mayweather Jr.
The elder Mayweather had trained his son from an early age, but all that changed when Floyd Sr. was found guilty of illegal drug trafficking in 1993 and sent to prison. Floyd Sr.'s brother, former super featherweight and super lightweight champion Roger Mayweather, took over as Floyd Jr.'s trainer and he guided the 1996 Olympic bronze medalist to the WBC super featherweight  championship, his  first world title, in 1998. But upon Floyd Sr.'s release he resumed the handling of his son's career, and some of past friction between them soon became apparent.
At the beginning of 2000, Floyd Jr. fired his father as his manager. After one more fight together, Floyd Jr. also fired him as his trainer. Not only that, but the son banned his dad from his training facility, evicted him from a home Floyd Jr. owned and repossessed the car Floyd Sr. was driving. They didn't speak again for nearly seven years although, in a sure sign that blood really is thicker than water, they again came together much deeper into Floyd Jr.'s record-setting career as the highest-grossing boxer ever.
Jack Mosley fired by son Shane Mosley
In more than a few instances, the trainer becomes a handy scapegoat, and a handy candidate to get pinned with the blame when a fighter's career takes a downward turn. That can even happen when the trainer is the fighter's father. "Sugar" Shane Mosley had lost three of his four most recent bouts when he decided he needed to go in a different direction, and in March 2004 he dismissed his father, Jack Mosley, as his trainer. Jack had trained Shane from the time he laced up his first pair of gloves at the age of eight.
In a prepared statement, Shane wrote that "I am going to miss working with my father. Together, we scaled many mountains and I would never have had the success I have had if he had not been there to guide and teach me every step of the way. He is, without question, one of the all-time great trainers. More importantly, he is has been a great father who I love very much.
"However, the time has come for my father and I to sever our professional relationship so that I can try some new avenues designed to give my fans the Sugar Shane Mosley they deserve."
Tyson Fury cans his uncle, Peter Fury
Peter Fury, Tyson Fury's uncle, was there for the crowning moment of his nephew's boxing career, on Nov. 28, 2016, when the "Gypsy King" stunned the world by scoring a unanimous decision over IBF/WBA/WBO heavyweight champion Wladimir Klitschko in Dusseldorf, Germany.
"Happiest times of our lives," the uncle said of the conquest of the long-reigning Klitschko.
But Peter's influence didn't extend so far that he could prevent Tyson from going on an epic binge of overeating, boozing and cocaine snorting that turned his moment of glory into an ongoing train wreck. Peter said he did what he could to halt the freefall, but Tyson had fallen under the spell of "unscrupulous mates" who got him drunk and high every night.
Maybe that's why, when Tyson decided to get serious again about boxing, he rid himself of a hundred or so excess pounds, his taste for nose candy and alcoholic beverages, and, oh, yes, the uncle-trainer who had taken him to the top of the boxing mountain.  Peter was replaced as chief second by the much-younger Ben Davison, whom Tyson has referred to as the "Energizer bunny."
"Peter is my uncle and I'll do anything for him," the cleaned-up Tyson Fury said of the change in his corner. "We worked together well, but sometimes a change is as good as anything else. We were maybe getting a bit stale in the gym, going through the same things over. We're still talking, we haven't fell out. I'm just branching out a little bit. For sure, I may work with Peter again. He has the experience, the knowledge. But at the moment, (Davison) is the man in charge."
Mike Tyson fires Kevin Rooney
Tyson was coming off his signature victory, the first-round knockout of Michael Spinks on June 27, 1988, in Atlantic City's Boardwalk Hall, and the trainer who had been with him since the launching of his pro career a little more than three years earlier was there to soak in more of the adulation both had become accustomed to. But little did Rooney know that his giddy ride with Tyson was about to end, ostensibly because Tyson's promoter, Don King, was laying the groundwork to get rid of the trainer – the last link to Tyson's past and his late mentor, Cus D'Amato – and replace him with the tag team of King sycophants Aaron Snowell and Jay Bright.
Rooney didn't help his cause with his determination to fill a bigger cup with the flood of money being generated by Tyson, a not unreasonable expectation that one writer described as his being "financially ambitious." So Rooney and his ambition were soon gone, any hope of his ever being replaced forever shattered when, on Oct. 1, 1996, a court ordered Tyson to pay his former trainer $4.4 million for breach of contract.
Bernard Fernandez is the retired boxing writer for the Philadelphia Daily News. He is a five-term former president of the Boxing Writers Association of America, an inductee into the Pennsylvania, New Jersey and Atlantic City Boxing Halls of Fame and the recipient of the Nat Fleischer Award for Excellence in Boxing Journalism and the Barney Nagler Award for Long and Meritorious Service to Boxing.
Check out more boxing news on video at The Boxing Channel
To comment on this story in The Fight Forum CLICK HERE
Remembering 'Rocky Estafire,' One Tough Syrian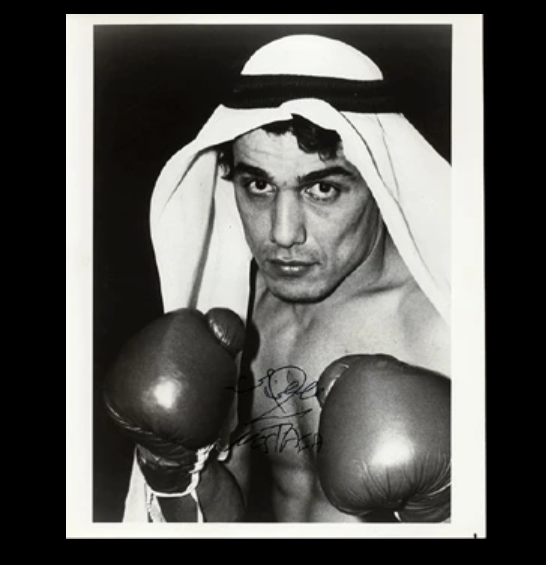 On Sept. 9, 1978, a Bayonne, New Jersey brawler who was billed as Rocky Estafire when he was first starting out, stopped slick Bobby "Boogaloo" Watts in Jersey City giving notice that he was becoming a force to be reckoned with in the middleweight division. Watts was no slouch having split a pair with Marvelous Marvin Hagler.
"Strictly LaMotta style," said Paddy Flood of his fighter who would come to be known by his real name, Mustafa Hamsho.
In 1980, he beat undefeated Wilford Scypion and followed that up with close wins over Curtis Parker and Alan Minter in 1981 leading to his first of two title clashes with Hagler. This bloody encounter, won by Hagler on an 11th-round TKO, left both fighters needing stiches.
"Throughout Hagler's nonstop, 11th-round barrage, Hamsho kept coming on. He didn't win a round, but he did take the battle of the stitches, 55-5," wrote Pat Putnam in Sports Illustrated. "I don't know what his corner was waiting for…The meat from his eyes was hanging down. But I can't let that bother me. I just have to think, better him than me," said Hagler.
More from Putnam: "When Hagler had left the hospital, the doctors were still working over Hamsho, who, until his trainer, Al Braverman, jumped into the ring to stop the fight, looked as though he would run out of blood before he ran out of heart. He was badly cut under both brows: Each wound was at least two inches long and half an inch wide. There was another slice under his left eye. He didn't win a round from any of the three officials."
Al Braverman, who co-managed Hamsho with the aforementioned Flood, once described the Syrian's style as follows: "…."He's got no style. He just wades in, throwing punches from any angle."  He also possessed great stamina, a granite chin and incredible courage, along with head and shoulder butts, elbows, low blows, shoves, holding, chops behind the head, and whatever he could get away with.
The Matinee Idol
Bobby Czyz was 20-0 when he met Hamsho at the Convention Center in Atlantic City on Nov. 20, 1982. The undefeated New Jersey lad with the somewhat strange moniker of "Matinee Idol" and the high IQ had solid wins over Danny Long, Teddy Mann, Oscar Albarado, Elisha Obed, and Robbie Sims. Against Hamsho he was stepping up in class but he was a solid opponent for the Syrian who was 34-2-2 coming in.
If Bobby won, he would position himself for a shot at Marvelous Marvin, but Hamsho mauled and mugged the future world light heavyweight champion over ten rounds and won a convincing UD. (The rest of the Bobby Czyz story is told in "The Boxer Who Became a Bagger," a remarkable and poignant article by sports columnist Steve Politi that first appeared in the Newark Star-Ledger.)
Wilfred Benitez
HIs UD victory over Wilfred Benitez (45-2-1) in 1883 was pure Hamsho featuring elbows, butts, and low blows. The third round was difficult to watch as the compact Syrian rendered a brutal beating on "El Radar," using accurate nonstop shots coming from all directions. Between slips and knockdowns, Wilfred hit the deck four times.
Clearly, Benitez had faded, but Hamsho hastened the process and helped point the legendary Puerto Rican in a downward direction. Wilfred looked sluggish and poorly conditioned; he was not the same Benitez who knocked out Maurice Hope in spectacular fashion or out-boxed Roberto Duran for 15 rounds. Something was wrong.
But even in top shape, Benitez would have struggled against Hamsho with his mauling, brawling, non-stop pressure. Hamsho could make anyone look bad.  (Wilfred Benitez would lose several more outings after the Hamsho beatdown. Matthew Hilton finished the job with a terrifying KO in 1986. Wilfred's story is a terribly sad one as he now requires constant care.)
Hamsho would lose another fight with Hagler—this time quickly and badly– and then go 6-2 before retiring in 1989 with a record of 44-5-2.
Those who were fortunate enough to see him fight remember a fan-pleasing, all-action combination of Vito Antuofermo, Michael Katsidis, Antonio Margarito, and Gene Fullmer.
Amir Khan and Prince Naseem Hamed are two very high profile, proud Muslim fighters. Mustafa Hamsho's name can be added.
Ted Sares can be reached at tedsares@roadrunner.com
Check out more boxing news on video at the Boxing Channel
To comment on this story in the Fight Forum CLICK HERE
Miguel Madueno Scores His 12th Straight Knockout at Ontario, Calif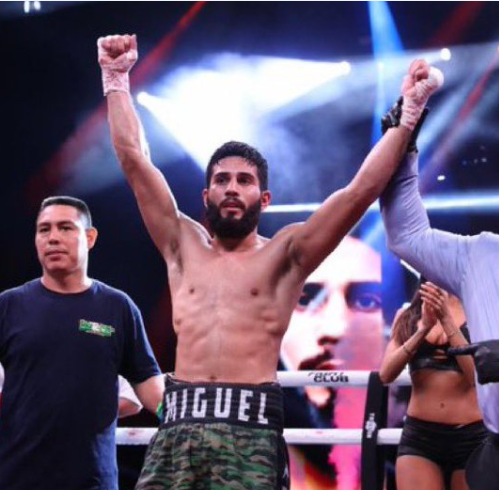 Ontario, CA — A return of fans to the Inland Empire saw Mexico's Miguel Madueno extend his consecutive knockout streak to a dozen at the Doubletree Hotel in Ontario, California on Friday.
It was the first fan-filled event for a Thompson Boxing card in the "I.E." in almost two years.
Lightweight contender Madueno (26-0, 24 KOs) of Culiacan powered his way to his 12th consecutive knockout and this came at the expense of fellow Mexican Jose Luis Rodriguez (25-15-1, 13 KOs) with a focused attack to the body.
Rodriguez was clever and tough and would not allow Madueno to overwhelm him during the first four rounds. But in the fifth he was not as lucky as a four-punch barrage to the body sent him to one knee. He beat the count but was overwhelmed by Madueno who forced referee Raul Caiz to end the fight at 2:46 of the fifth round.
"In reality I thought I would end it early," said Madueno about seeking an early knockout. "But he could take it."
In the co-main event Japan's Katsuma Akitsugi (7-0) outhustled Northern California's Eros Correa (10-1) after eight rounds in a bantamweight scrap to win by majority decision.
Akitsugi, a southpaw, and Correa both showed quick hands and good chins. But the Japanese fighter was always on attack and Correa resorted to holding from the second round on. He was never warned by the referee for excessive holding. It could have helped him get back in the fight.
Every time Akitsugi entered the danger zone Correa would grab ahold like an MMA fighter instead of fighting on the inside. While Correa held Akitsugi punched and that proved the difference as two judges scored it 78-74 for Akitsugi, while a third saw it 76-76.
"I could not box my style at all," said Akitsugi, 23. "I'm glad I brought the win home."
Other Bouts
San Bernardino's Esteban Munoz (5-1, 3 KOs) knocked out Tijuana's Manuel Martinez (6-5-4) with a body shot in the first round. He could not beat the count. Munoz had stunned Martinez earlier with a counter right. Then he found an opening to the body and delivered a right to the gut and down went Martinez. He was counted out at 1:50 of the first round.
Coachella's Lazaro Vargas (4-0) out-worked Ulises Rosales (0-5) over four rounds of a super bantamweight match to win by unanimous decision 40-36 on all three cards.
Check out more boxing news on video at the Boxing Channel
To comment on this story in the Fight Forum CLICK HERE
Oscar Rivas is Boxing's First Bridgerweight Champ; Tops Spunky Ryan Rozicki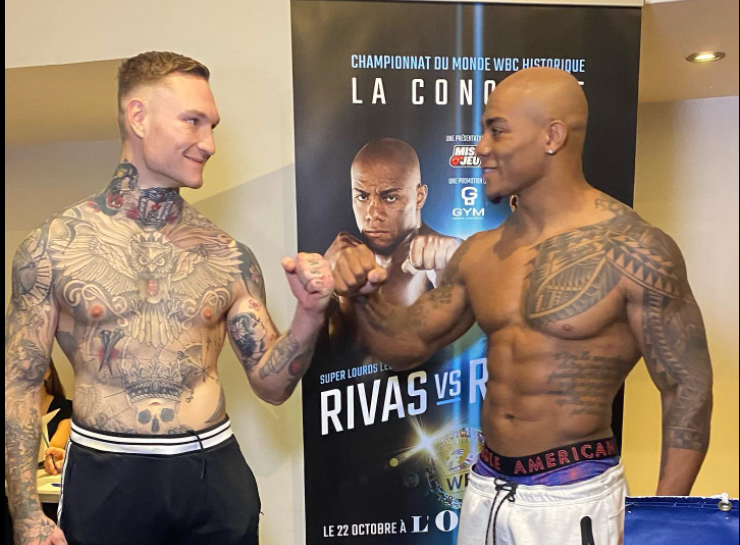 Back in January, the World Boxing Council announced that they were creating a new weight division. Tailored to boxers weighing between 200 and 224 pounds, they named it Bridgerweight. Tonight, at the Olympia Theatre in Montreal, the first WBC bridgerweight champion was crowned. Montreal-based Oscar Rivas, a 2008 Olympian representing his native Columbia, turned the trick with a unanimous 12-round decision over fellow Canadian Ryan Rozicki, advancing his record to 28-1 (19).
Rozicki, who is from Nova Scotia, out-performed expectations. Although he had knocked out all 13 of his opponents since turning pro in 2016, he hadn't defeated anyone of note and hadn't fought beyond six rounds. He drew the assignment when Rivas's original opponent Bryant Jennings was scratched because of his refusal to accept Canada's COVID protocols for unvaccinated foreigners. (A match between Rivas and Jennings would have been a rematch of their Jan. 18, 2019 contest in Verona, New York, a rather ho-hum match that had a dramatic ending when Rivas turned up the heat in the 12th round.)
Rivas, 34, was making his second start since suffering his lone defeat, a setback on points in a 12-round contest with Dillian Whyte in London. The heavier man by 19 pounds, he dominated the first two frames, rocking Rozicki in the opening stanza, but the Nova Scotian clawed his way back into the fight. Rivas had a strong penultimate round and although he had a point deducted for holding in the final stanza, it did not factor into the outcome. The judges had it 116-111 and 115-112.
What's next for Oscar Rivas? Logically a bout with Evgeny Romanov. A 36-year-old Russian with a 16-0 (11-0 mark), Romanov was ranked #2 behind Rivas in the WBC's latest set of bridgerweight rankings. Romanov's claim to fame is that he TKOed Deontay Wilder is in amateur days, but that was way back in 2008.
Another possibility, and one likely to attract more buzz, would be a bout with Alen Babic. A 30-year-old Brit by way of Croatia, the colorful, free-swinging Babic (8-0, 8 KOs) has a date later this month in London with Texas trial horse Eric Molina.
The best guess, however, is that Rivas will discard the belt and go back to competing as a heavyweight. The bridgerweight title, we suspect, like many of the lesser titles, will be perpetually vacant, which likely wouldn't trouble the WBC at all as they will gather up a sanctioning fee from a bridgerweight title fight whether there is an incumbent or not.
There were two 8-rounders offering chief support, but both were cancelled when the opponents failed to pass muster. Left in the lurch were "A side" Canadians Sebastien Bouchard, a welterweight, and Steve Rolls, a middleweight.
Check out more boxing news on video at the Boxing Channel
To comment on this story in the Fight Forum CLICK HERE