Abel Sanchez is the Latest Top-Tier Trainer to Be Bruised by a Ruptured Bond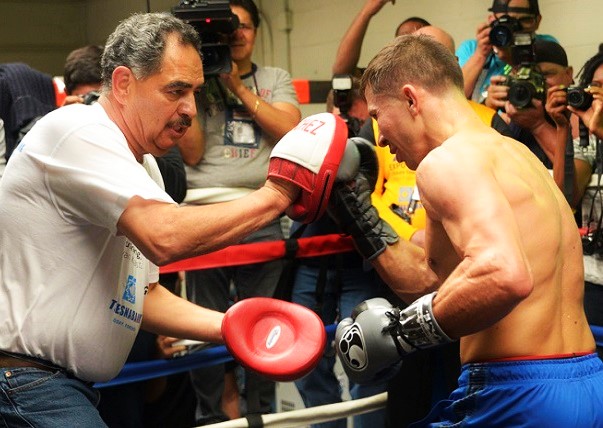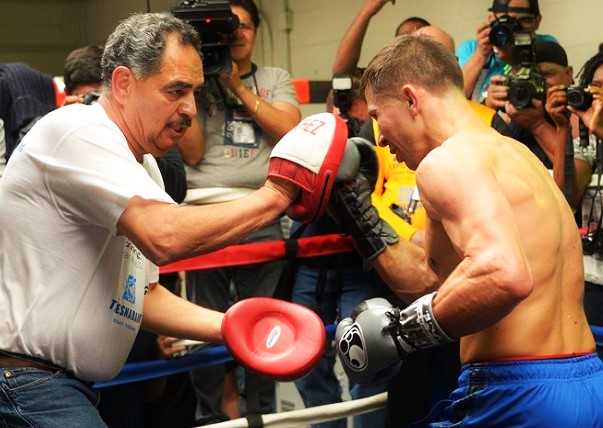 Before his death at the age of 75 on Feb. 3, 2016, Richie Giachetti, the longest-tenured of longtime heavyweight champion Larry Holmes' chief seconds, proudly spoke of the many contributions he had made in helping make the "Easton Assassin" the great fighter that he was. For his part, Holmes agreed with Giachetti's glowing self-assessment, but only to a point. Although Holmes described Giachetti as a "master motivator" who deserves to be inducted into the International Boxing Hall of Fame (something that has yet to happen), he declined to give him nearly as much credit as Giachetti reserved for himself.
"I think a trainer is very important at the beginning of a fighter's career," Holmes once said of his own professional evolution, and that of any champion who lingers long in the game and has used those years of experience to hone his craft to a point where nearly everything is done instinctively. "Over time, you don't really need a trainer. You've got to train yourself. You've got to motivate yourself. And I don't think anybody can put that in you but you. I don't have trainers who want hundreds of thousands of dollars to train me."
The bond between fighter and trainer can be strong and seemingly as unbreakable as forged steel, and it can be as tenuous as a slender and fraying thread. Sometimes, at alternate junctures in a shared journey, it can be both, as again was made evident when long-reigning former middleweight champion Gennady Golovkin chose to end what had been a highly successful and mutually  beneficial nine-year relationship with trainer Abel Sanchez. At first glance, the break seems as shocking as the announcement in April 1970 that John Lennon and Paul McCartney had had a falling out and no longer would be making music together as Beatles.
In a prepared statement that was publicly released on Tuesday, the 37-year-old Golovkin, who on March 12 met with the media to announce that he had signed a lucrative contract with DAZN to fight six times for the subscriber-based streaming service through the end of 2021, said his long run with Sanchez had concluded. Sanchez was at "GGG's" side for that occasion, but it now appears that that was the final time they would ever appear together as teammates, as it were, on a common quest.
"I would like to announce that I have made a major decision for myself and for my career," Golovkin's statement began. "I want to build on what I have already achieved and continue to better myself. Therefore, I will not be training with Abel Sanchez. This was not an easy decision for me and it is not a reflection of Abel's professional abilities. He is a great trainer, a loyal trainer, and a Hall of Fame trainer.
"I will be announcing my new trainer at a later date. But today I want to thank Abel for the lessons he taught me in boxing."
If the kind words of appreciation attributed to Golovkin sounded scripted, it's because they probably were. The cold termination of what had seemed to be a warm and almost familial association is reminiscent of one of those old TV game shows where a departing contestant is handed a "nice parting gift" that isn't really all that nice.
Contacted by RingTV.com, Sanchez said it was his belief that he was jettisoned for the same reason that so many other trainers in similar situations have been handed their walking papers. As Larry Holmes once noted, once you've attained a certain level in your career, why pay hundreds of thousands of dollars to someone who has already taught you all you need to know?
"Money. That's what the nature of it is, money," Sanchez, hardly sounding conciliatory toward his now-former top pupil, said when asked for a reason that might have precipitated a breakup the trainer neither sought nor wanted. He said Golovkin's new deal with DAZN would pay him just one-fifth of the cut of the Kazakhstan native's purses he normally received.
"My dignity and pride wouldn't allow me to do that after nine years of total commitment and taking him to where I've taken him. I don't think I deserved that so I turned it down," continued Sanchez, the Boxing Writers Association of America's 2015 winner of the Eddie Futch Award as Trainer of the Year due largely to his work with Golovkin.
"Everything has been on a handshake basis, on a truthful basis. To be blindsided like this, it's heartbreaking."
Sanchez said that, over a period of about three weeks after the announcement of the deal with DAZN, he had an inkling of what eventually would go down. He said the decision to cut him loose was less GGG's than of some members of the fighter's inner circle.
There are, of course, legitimate and understandable reasons why fighters change trainers. And the reverse is also true, with trainers ditching fighters when it suits their purpose. Teddy Atlas, for one, has walked away from any number of fighters, including champions, because they could or would not adhere to his rigid dictums.  Money is a frequent cause for such professional divorces, as is the question of control.
Here are several examples of instances where well-known trainers were told by their equally or more famous fighters – and sometimes the other way around — that all good things at some point must come to an end:
Angelo Dundee ends long relationship with Sugar Ray Leonard
Leonard was coming off one of the most significant victories of his career, shocking middleweight champion Marvelous Marvin Hagler after a five-year layoff, when Dundee said he'd been vastly underpaid for that fight, for which he didn't have a contract, and would only consent to be a part of the Sugar man's challenge of WBC light heavyweight titlist Donny Lalonde (the vacant WBC super middleweight belt also was on the line) on Nov. 11, 1988, if he had a signed contract and thus would know beforehand what his financial compensation would be.
"Evidently I'm not necessary in the corner," Dundee said of the dispute.  "They were offended because I had the audacity to have my lawyer call Mike Trainer's office asking when I was going to be paid. I left it up to them for the Hagler fight. I depended on their generosity and I got one percent (of Leonard's purse)."
Countered Leonard: "I'll miss him. But what bothers me the most is the fact that I thought we had a special relationship. By the way things happened, I really don't know if that relationship was valid at first. He's like a family member to me. But when you hurt or destroy friendship, you lose it. It's over."
Although Dundee and Leonard never patched things up in a professional sense, they were able to let bygones be bygones. Leonard attended a 90th birthday celebration for Dundee on Aug. 30, 2011, five months before Angelo passed away.
"We talked about life. We talked about the fight game and reminisced about the special moments," Leonard said of the restoration of their deep and abiding friendship. "He was a great guy to hang around with. You didn't have to press a button to get him started, or to pause. Losing him puts into perspective how precious life is. I never thought we'd lose him, even at the age of 90. He had so much zest, so much enthusiasm about life, his next project, next fight or fighter and who he was helping to either remain or become a champion."
Freddie Roach fired by Manny Pacquiao
The relationship of Roach and Pacquiao lasted much longer – almost twice as long, in fact, at 16 years – as that between Sanchez and Golovkin. But "Pac-Man" apparently took umbrage to a suggestion from Roach after he lost a close and disputed unanimous decision, and his WBO welterweight title, to Jeff Horn on July 2, 2017, in Horn's hometown of Brisbane, Australia.  Roach's transgression? Suggesting that Pacquiao's roles as a legendary fighter and a senator in the Philippines each might be so demanding that he could not do justice to both, and thus would be well-advised to choose one or the other.
"Being a prize fighter is difficult, but being a world champion is so incredibly difficult," Roach reasoned. "It takes just about all of your time and focus and energy, and I can't imagine being able to do it and having another job.
"I didn't know Manny was mad about that when I said it. I wish he had said something to me about it so we could have spoken to each other. But I have no complaints because my life is so much better in so many ways because of Manny Pacquiao."
With Roach removed, Pacquiao's good friend, Buboy Fernandez, was his trainer for his next bout, a seventh-round stoppage of Lucas Matthysse. But Roach would not be away for long, nor did many people familiar with their bond anticipate that that would be the case. "They're like a married couple and it's like they had a trial separation," opined Justin Fortune, Pacquiao's strength and conditioning coach. So Roach was back for Pacquiao's most recent bout, a wide points nod over Adrien Broner, but in an advisory role with Fernandez remaining the trainer of record. That again will be the case should the proposed pairing of Pacquiao, the "regular" WBA welterweight champion, and WBA "super" welterweight ruler Keith Thurman be finalized.
Bouie Fisher, Bernard Hopkins clash over compensation
Despite once describing long-enduring middleweight champion Bernard Hopkins as "like my son," veteran Philadelphia trainer Bouie Fisher sided with his actual sons, James and Andre, in a dispute with B-Hop over how much money Fisher should have received for services already rendered or to be rendered in the future.
"Bernard is a difficult person to deal with," Fisher said in 2005, after being fired by Hopkins. "He wants all the glory, he wants all the credit, he wants all the money. It's all about him, him, him."
That is not how Hopkins saw it, and, as was the case with Angelo Dundee's late reconciliation with Sugar Ray Leonard, the fighter was there when his former trainer and father figure was hospitalized and close to death shortly before he passed away, at 83, on June 30, 2011. When Fisher briefly opened his eyes, Hopkins stepped back and began shadowboxing, the older man's eyes suggesting a glint of recognition.
"Even though me and Bouie fell out – me and his sons fell out even more – I had mad respect for what I've been taught (by Fisher)," Hopkins said. "I looked at Bouie Fisher like a father, and I still do. I learned a lot from him. I don't let disagreements and stuff outside of boxing overshadow years, even decades, of the good."
Floyd Mayweather Sr. fired by Floyd Mayweather Jr.
The elder Mayweather had trained his son from an early age, but all that changed when Floyd Sr. was found guilty of illegal drug trafficking in 1993 and sent to prison. Floyd Sr.'s brother, former super featherweight and super lightweight champion Roger Mayweather, took over as Floyd Jr.'s trainer and he guided the 1996 Olympic bronze medalist to the WBC super featherweight  championship, his  first world title, in 1998. But upon Floyd Sr.'s release he resumed the handling of his son's career, and some of past friction between them soon became apparent.
At the beginning of 2000, Floyd Jr. fired his father as his manager. After one more fight together, Floyd Jr. also fired him as his trainer. Not only that, but the son banned his dad from his training facility, evicted him from a home Floyd Jr. owned and repossessed the car Floyd Sr. was driving. They didn't speak again for nearly seven years although, in a sure sign that blood really is thicker than water, they again came together much deeper into Floyd Jr.'s record-setting career as the highest-grossing boxer ever.
Jack Mosley fired by son Shane Mosley
In more than a few instances, the trainer becomes a handy scapegoat, and a handy candidate to get pinned with the blame when a fighter's career takes a downward turn. That can even happen when the trainer is the fighter's father. "Sugar" Shane Mosley had lost three of his four most recent bouts when he decided he needed to go in a different direction, and in March 2004 he dismissed his father, Jack Mosley, as his trainer. Jack had trained Shane from the time he laced up his first pair of gloves at the age of eight.
In a prepared statement, Shane wrote that "I am going to miss working with my father. Together, we scaled many mountains and I would never have had the success I have had if he had not been there to guide and teach me every step of the way. He is, without question, one of the all-time great trainers. More importantly, he is has been a great father who I love very much.
"However, the time has come for my father and I to sever our professional relationship so that I can try some new avenues designed to give my fans the Sugar Shane Mosley they deserve."
Tyson Fury cans his uncle, Peter Fury
Peter Fury, Tyson Fury's uncle, was there for the crowning moment of his nephew's boxing career, on Nov. 28, 2016, when the "Gypsy King" stunned the world by scoring a unanimous decision over IBF/WBA/WBO heavyweight champion Wladimir Klitschko in Dusseldorf, Germany.
"Happiest times of our lives," the uncle said of the conquest of the long-reigning Klitschko.
But Peter's influence didn't extend so far that he could prevent Tyson from going on an epic binge of overeating, boozing and cocaine snorting that turned his moment of glory into an ongoing train wreck. Peter said he did what he could to halt the freefall, but Tyson had fallen under the spell of "unscrupulous mates" who got him drunk and high every night.
Maybe that's why, when Tyson decided to get serious again about boxing, he rid himself of a hundred or so excess pounds, his taste for nose candy and alcoholic beverages, and, oh, yes, the uncle-trainer who had taken him to the top of the boxing mountain.  Peter was replaced as chief second by the much-younger Ben Davison, whom Tyson has referred to as the "Energizer bunny."
"Peter is my uncle and I'll do anything for him," the cleaned-up Tyson Fury said of the change in his corner. "We worked together well, but sometimes a change is as good as anything else. We were maybe getting a bit stale in the gym, going through the same things over. We're still talking, we haven't fell out. I'm just branching out a little bit. For sure, I may work with Peter again. He has the experience, the knowledge. But at the moment, (Davison) is the man in charge."
Mike Tyson fires Kevin Rooney
Tyson was coming off his signature victory, the first-round knockout of Michael Spinks on June 27, 1988, in Atlantic City's Boardwalk Hall, and the trainer who had been with him since the launching of his pro career a little more than three years earlier was there to soak in more of the adulation both had become accustomed to. But little did Rooney know that his giddy ride with Tyson was about to end, ostensibly because Tyson's promoter, Don King, was laying the groundwork to get rid of the trainer – the last link to Tyson's past and his late mentor, Cus D'Amato – and replace him with the tag team of King sycophants Aaron Snowell and Jay Bright.
Rooney didn't help his cause with his determination to fill a bigger cup with the flood of money being generated by Tyson, a not unreasonable expectation that one writer described as his being "financially ambitious." So Rooney and his ambition were soon gone, any hope of his ever being replaced forever shattered when, on Oct. 1, 1996, a court ordered Tyson to pay his former trainer $4.4 million for breach of contract.
Bernard Fernandez is the retired boxing writer for the Philadelphia Daily News. He is a five-term former president of the Boxing Writers Association of America, an inductee into the Pennsylvania, New Jersey and Atlantic City Boxing Halls of Fame and the recipient of the Nat Fleischer Award for Excellence in Boxing Journalism and the Barney Nagler Award for Long and Meritorious Service to Boxing.
Check out more boxing news on video at The Boxing Channel
To comment on this story in The Fight Forum CLICK HERE
Pernell Whitaker, Short List All Time Great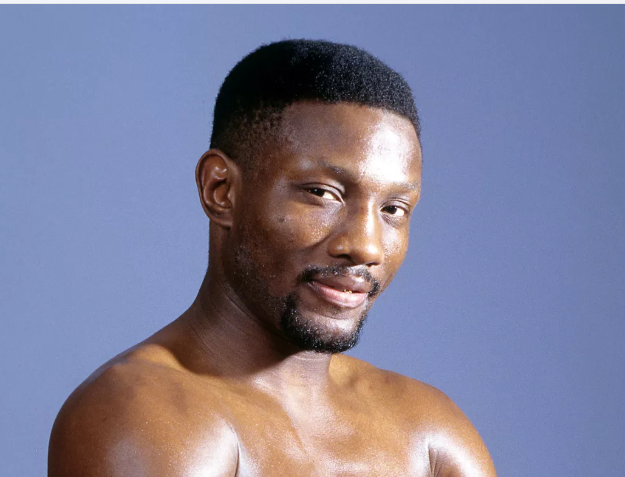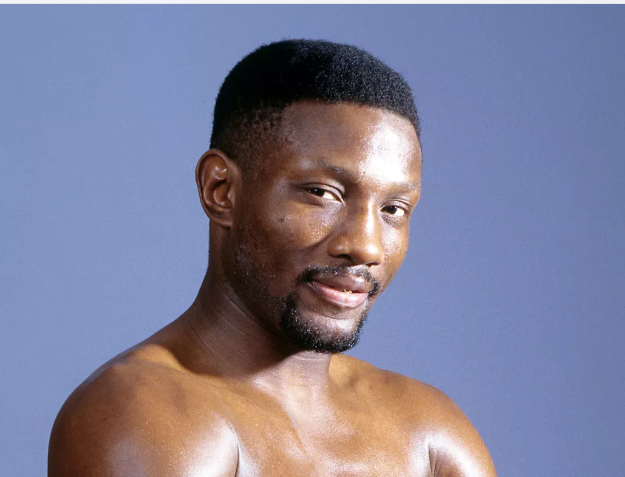 Pernell Whitaker was, by most accounts, the best defensive fighter since Willie Pep, maybe even better. His ability to stay in the pocket and make frustrated opponents hit nothing but air, answering their misfires with stinging counterpunches, was a form of pugilistic genius beyond replication until Floyd Mayweather Jr. came along. But even Mayweather might not have matched Pernell "Sweet Pea" Whitaker's uncanny gift for ducking and dodging incoming shots, Matrix-style. It was almost as if he were in a rainstorm without an umbrella, yet somehow able to avoid getting wet.
All right, so even a legendary fighter's quick-twitch reflexes figure to slow nearly two decades after his retirement from the ring. Whitaker was 55 and well removed from his remarkable prime when he was struck by a car while crossing a Virginia Beach, Va., street Sunday night, sustaining fatal injuries.  But here's the thing: the driver whose vehicle slammed into the four-division former world champion didn't swerve out of control, and he apparently wasn't exceeding the posted speed limit. There is no fleeing villain for Whitaker's many admirers to castigate (the driver, who stayed with Whitaker, has not been charged with a crime), and emergency medical personnel were quickly on the scene to render whatever assistance they could, to no avail.
Pernell Whitaker, who was to hit-and-not-be-hit boxing what baseball's Ozzie Smith was to art of playing shortstop, was pronounced dead at the scene. His official time of passing was listed as 10:04 p.m. EDT.
The only possible explanation is familiar to all boxers who were surprised to find themselves on the canvas, woozy, and being counted out. The blow that is most apt to result in a knockout is the stealthy one you don't see coming. It's just that this knockout, steel against flesh and bone, was forever.
Kathy Duva, the Main Events CEO who has known Whitaker even before the clever southpaw, a gold medalist at the 1984 Los Angeles Olympics, signed with her now-deceased husband Dan's promotional company as part of arguably the greatest crop of U.S. boxers ever to come out of the same Olympiad, finds it as ironic as it is tragic that someone known for being nearly untouchable inside the ropes could have forgotten the first safety rule for all pedestrians: Look both ways before stepping onto any roadway, especially if it's late at night and that roadway is not particularly well-illuminated.
"For a guy who almost never got hit to die that way … It's insane. Ironic. I guess that's the only word for it," said Duva, still nearly overwrought with emotion 12 hours after a fighter she so liked and respected, and with whom she had remained in fairly regular contact, perished so unexpectedly.
Asked if she thought Whitaker's face belonged on a figurative Mount Rushmore of the greatest defensive fighters ever, Duva said, "Oh, absolutely. And, really, he's on a lot of people's lists of the greatest fighters of all time, and not just for his defense. He belongs there, too."
Over the course of his 17-year pro career, Whitaker won world titles as a lightweight, junior welterweight, welterweight and junior middleweight. Considering the high level of competition he routinely faced, his 40-4-1 record, with 17 KOs and one no-decision, would be impressive, but it is even more so upon closer examination. His first "loss," by split decision to WBC lightweight champion Jose Luis Ramirez in Paris on March 12, 1988, was a heist by pencil so blatant wanted posters should have been distributed seeking the arrests of judges Newton Campos and Louis Michel for crimes against sensibility.
After winning a one-sided unanimous decision over IBF lightweight titlist Greg Haugen (Whitaker won 35 of the 36 rounds on the three judges' combined scorecards), he exacted his revenge upon Ramirez on Aug. 20, 1989, in Whitaker's hometown of Norfolk, Va., retaining his IBF strap while adding the vacant WBC belt on a UD so obviously in his favor that it could have been scored by Ray Charles, Stevie Wonder and Ronnie Milsap. This time Whitaker was only marginally less dominant than he had been against Haugen, winning 33 of 36 rounds on the cards.
"Sweet Pea's" emergence as boxing's top pound-for-pound performer earned him recognition as 1989's Fighter of the Year from both the Boxing Writers Association of America and The Ring magazine, but his skyrocketing confidence in his own ability, almost bordering on arrogance, was tempered by his lingering belief that powerful, behind-the-scenes players not only were hesitant to give him his due, but were actively plotting to stick it to him again as had been the case in the first Ramirez bout.
That sense of foreboding appeared at least somewhat justified the night of Sept. 10, 1993, in San Antonio's Alamodome, when he defended his WBC welterweight championship against Mexican superstar Julio Cesar Chavez, who came in 87-0 and had the crowd of nearly 60,000 squarely behind him. But Whitaker did to Chavez that night what he had done to so many other opponents, which was to confuse and frustrate El Gran Campeon with an unorthodox fight plan that had him frequently going down onto his haunches, the most successful bit of duckwalking since Chuck Berry was strutting along 1950s stages, playing his guitar just like ringing a bell and belting out Johnny B. Goode.
Although almost everyone in the press section had Whitaker winning eight to 10 of the 12 rounds, judges Mickey Vann and Franz Marti each saw the fight as a 115-115 standoff (the third judge, Jack Woodruff, had Whitaker ahead by 115-113), making for a hugely controversial majority draw that again left the American feeling as if he'd been gut-shot.
"I knew this might happen, but still it was like a bad dream," a disbelieving Whitaker said. "It was like someone put a knife in me and twisted it.
"I whipped his ass, and easily. I mentally and physically beat him. I put an old-fashioned project beating on him. A housing authority beating. A ghetto beating."
There were those who predicted the draw was designed to set the stage for an even bigger rematch, but neither Kathy Duva nor I believed it. Chavez, also a great fighter, might have wanted a do-over as much as Whitaker, but his promoter Don King would decide who he would fight going forward, and His Hairness understood that Whitaker's unorthodox and impenetrable style was always going to be problematic for JCC.
Did his disappointment over the disputed outcome of the fight with Chavez weigh so heavily on Whitaker that it affected him throughout the remainder of his career? Maybe, maybe not. He strung together an eight-fight winning streak after Chavez, but lost a relatively wide unanimous decision to Oscar De La Hoya in a fight that seemed much closer, and to some people's way of thinking could have gone the other way.
Convinced he had been shafted again, Whitaker followed the De La Hoya fight with a close, 12-round points nod over Andrey Pestryaev in a WBA welterweight elimination bout, which was later changed to a no-decision when Whitaker tested positive for cocaine. He did not fight again for 16 months, and when he returned it was for a beatdown at the hands of IBF welterweight champ Felix Trinidad, in which Whitaker suffered a broken jaw. Disregarding the pain, Whitaker went the distance, whereupon he again put himself on a shelf for 26 months, coming back for a scheduled 10-rounder against journeyman Carlos Bojorquez on April 27, 2001, in which Whitaker was stopped in the fourth round on the advice of ring physician Dr. Margaret Goodman when it became clear that Whitaker was a one-armed fighter unable to deal with the effects of a broken clavicle.
Finally, it was over. Whitaker went back home to Norfolk, where he occasionally trained fighters, but largely stayed under the radar, his once-gleaming reputation tarnished by occasional reports of his ongoing brushes with the law over his cocaine habit. In June 2002, he was convicted of cocaine possession after a judge found he had violated terms of a previous sentence by overdosing on cocaine in March of that year.
"He had demons, but when he was in the ring that was when he was in control and when he was happy and when he was the very best at what he did, and he wanted to show that to everybody," Duva said in another interview, with ESPN.
By all accounts, however, Whitaker had exorcised many of the demons that had made him an unhappy semi-recluse. A first-ballot inductee into the International Boxing Hall of Fame in 2007, he returned to Canastota, N.Y., in June to participate in the festivities for the 2019 induction ceremonies and took delight in being greeted warmly by fight fans. He also had accepted an invitation to leave for Las Vegas on Thursday to do a similar meet-and-greet with the public at the MGM Grand in advance of Saturday's big PBC on Fox Sports PPPV fight between Manny Pacquiao and Keith Thurman.
All of which makes his sudden death so much more shocking to those who were encouraged that he was finding his way back to a better life in and out of boxing, a life that always should have been afforded him by virtue of his rare and special gift.
Los Angeles Lakers legend Magic Johnson, a big boxing buff and as much an artist in his own sphere as Whitaker had been in his, tweeted, "Pernell `Sweet Pea' Whitaker was in the class of Muhammad Ali and Sugar Ray Leonard as one of the most entertaining fighters of my lifetime."
Former ESPN boxing analyst Max Kellerman, now with ESPN, also ladled out the praise, tweeting, "The best lightweight I ever saw passed away (Sunday night). Yes, that includes Roberto Duran, Floyd Mayweather, Ike Williams and anyone else you want to mention … He was one of the three greatest pure boxers who ever lived."
For those who always want to remember the best of Pernell Whitaker, there is consolation knowing that his passing appears to be nothing more than a terrible accident, the kind that can happen on any street, at any time, and to anyone.
"I guess he was wearing dark clothes, the road was dark and the driver didn't see him," Devon Whitaker, 27, the youngest of Pernell's four surviving children, said of what he thought might have happened. Virginia Beach Police spokesperson Linda Kuehn noted that the investigation is still ongoing, "However, it does not appear that drugs, alcohol or speed were factors in the crash."
Rest in peace, Sweet Pea. It was my pleasure watching you work.
Check out more boxing news on video at The Boxing Channel
To comment on this story in The Fight Forum CLICK HERE
Pacquiao vs. Thurman: A Case Study on Two Types of Atrophy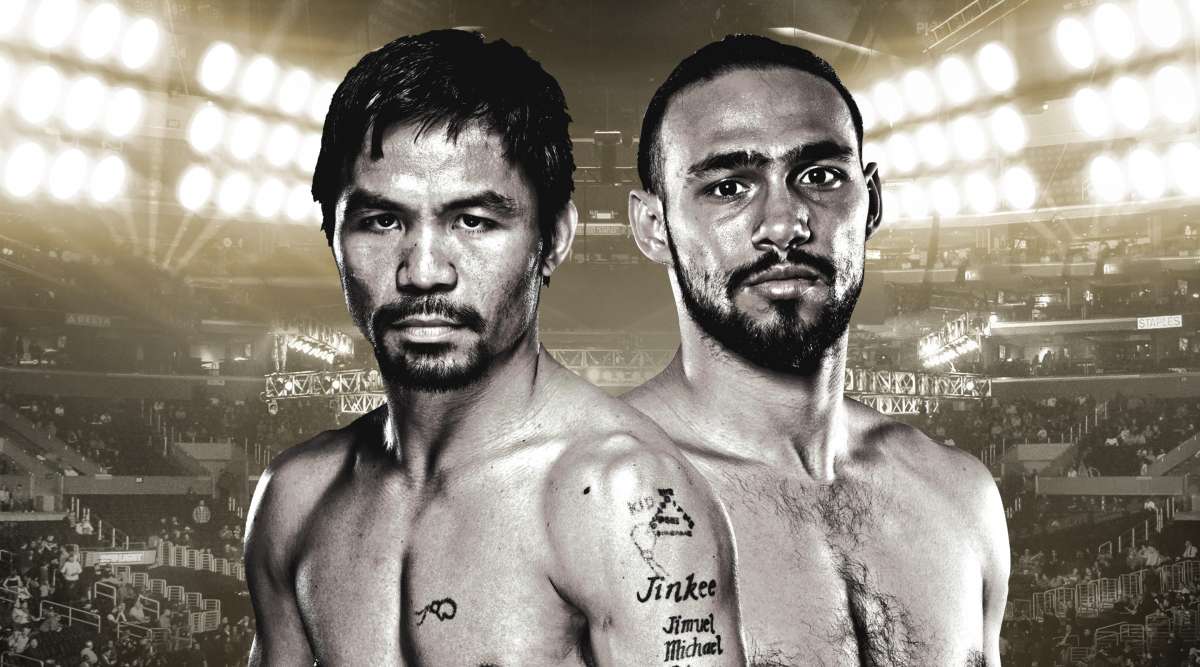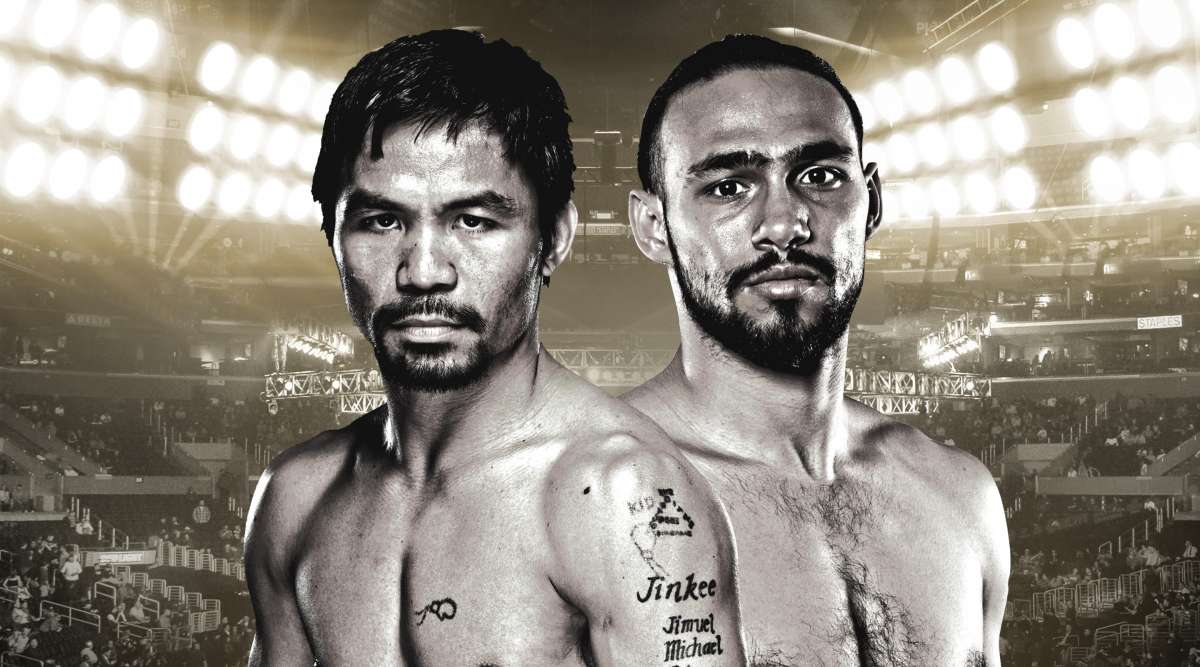 Pacquiao vs. Thurman: A Case Study on Two Types of Atrophy
Manny Pacquiao's historic welterweight showdown against WBA titleholder Keith Thurman on July 20 is a case study on two types of atrophy which can negatively influence a professional fighter's career.
One happens because of age; the other due to inactivity.
Pacquiao is 40 now. Eventually, what happens in every fighter's life is the same thing that will happen to Pacquiao and relatively soon, whether against Thurman or sometime later. Pacquiao's body will just stop working, at least in comparison to how it did before, and while the fighter can keep working hard at the gym, the return he receives will slowly diminish until all of a sudden Pacquiao can no longer compete with the best.
That same kind of thing happens to everyone in life, but it's more apparent in boxing because instead of not being able to do something mundane anymore like easily bend over to pick up the keys you just dropped, the consequence is a black eye, a bloody nose and a view of the lights hanging above the boxing ring that you never really wanted to see (and probably won't remember).
It's strange then that Pacquiao is slightly favored by bookmakers over a talented and undefeated world champion ten years his junior in what's easily the most important fight of that champion's career.
While few fighters in boxing history have achieved as much as Pacquiao has over the course of his 24-year career, fewer still have been able to consistently defeat quality opponents at Pacquiao's advanced age.
And can we just let that sink in for a second? Pacquaio's prizefighting career has spanned almost a quarter-century!
Sure, Pacquiao has still looked pretty elite in recent outings. But after stopping Lucas Matthysse in July 2018 and scoring a dominant decision win over Adrien Broner in January 2019, it's fair to wonder if he'll finally hit the wall against the younger and naturally larger Thurman.
Thurman, 30, from Clearwater, Florida, is undefeated through 29 professional fights and, at first glance, he appears to be sitting on the right side of a crossroads fight. But a closer inspection of the situation reveals that might not actually be the case. Because where Pacquiao might be fighting a losing battle against age, Thurman has most definitely been losing a winnable battle against inactivity.
Here's what happens all too often in boxing (whether it's happening at the present to Thurman or not). A fighter puts in years and years of work only to stop doing all the things he did to get there once he reaches a comfortable position in the sport, usually a world title or two, numerous TV appearances and a boatload of money.
It's conceivable that what is going on with Thurman right now is exactly that. Because even in somehow managing to maintain his title status with the WBA, Thurman hasn't really been what most would consider an active fighter over the past few years.
In fact, the last time Thurman fought more than twice in a year was all the way back in 2012. The enigmatic champion only fought once each in 2016 and 2017, was out of boxing all of 2018 and didn't appear to be the fighter he was before that long break earlier this year in his majority decision win over Josesito Lopez.
To be fair to the fighter, Thurman did suffer an elbow injury which required surgery after his title unifying split-decision win against Danny Garcia in March 2017. He also suffered a deep bone bruise to his left hand which led to the cancellation of a 2018 return bout against an opponent that was somewhat suspiciously never named.
To be even more fair to Thurman, at least in regards to this particular fight, Pacquiao hasn't really been all that active in recent years either. But Pacquiao has 70 professional prizefights on his ledger, is ten years older than Thurman and has won world titles in eight different divisions.
It seems more reasonable that Pacquiao would be more selective about his fights these days, especially when you consider he was already a sure-fire Hall of Famer over a decade ago. Thurman, on the other hand, hasn't even yet proved to be the best welterweight signed by Al Haymon, much less in the whole shebang.
Regardless, it's a bit troubling that Thurman is seemingly unaware of how prolonged inactivity can negatively impact a fighter's career. According to Thurman, in fact, he basically trained for his last fight on a spin bike at L.A. Fitness, and that was the reason, at least in Thurman's mind, that Lopez was so competitive against him six months ago.
Obviously, Thurman knows he can't do the same thing against Pacquiao. But the thing about not using a skill or a gift for a prolonged period of time is that it tends to recede in a person even while that person remains unaware. It's entirely possible that Thurman has lost the best parts of his fighting ability and doesn't even know it yet.
No one can ever really predict these types of things, but it will be interesting to see how things play out. If Pacquiao is suddenly old and frail, it won't really matter how little Thurman has trained over the last couple of years. But if Pacquiao is anything like the fighter we saw against Broner and Matthysse, and Thurman comes into the fight looking like he did against Lopez, there's no telling how bad things could get for the younger fighter.
All this to say that the only way to combat atrophy, whether it's the inevitable kind that comes with getting older or the preventable kind that comes with not using something, is by staying active and engaged. As it stands at the present, it seems clear from the outside looking in that one fighter, Pacquiao, has done all he can do to be at his very best on Saturday night in Las Vegas, while the other, Thurman, has needlessly rolled the dice.
Use it or lose it. That's what people say, but only when they're still young enough to pick up their keys.
Check out more boxing news on video at The Boxing Channel
To comment on this story in The Fight Forum CLICK HERE
3 Punch Combo: Scoping Out Teofimo vs Nakatani, Ajagba vs Demirezen and More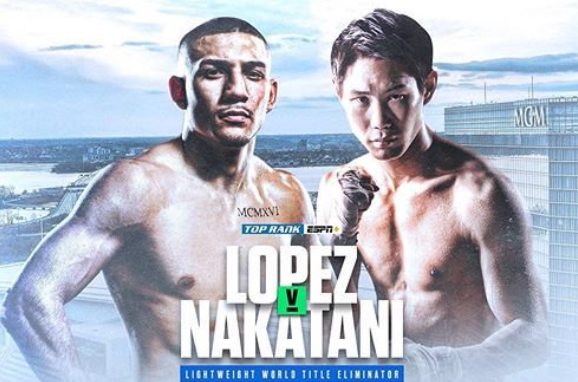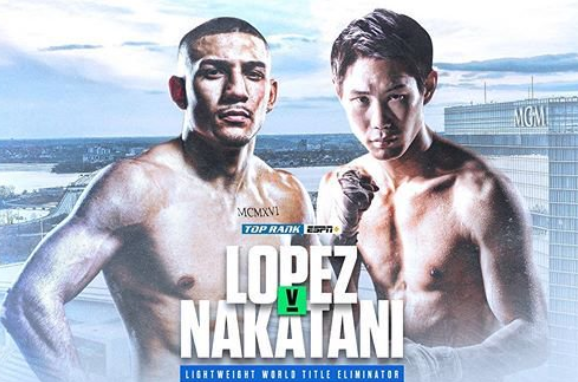 THREE PUNCH COMBO — Boxing on ESPN+ returns this Friday with a card from the MGM National Harbor in Oxon Hill, MD headlined by the fast-rising lightweight sensation Teofimo Lopez (13-0, 11 KO's). Lopez will be facing the undefeated Masayoshi Nakatani (18-0, 12 KO's) of Japan in a final IBF eliminator to become the mandatory challenger for champion Richard Commey (29-2, 26 KO's). While Lopez is a known commodity to most boxing fans, the same cannot be said of Nakatani. So just who is this unheralded fighter from Japan and does he pose any threat to Lopez?
Nakatani, 30, turned pro in 2011 after an amateur career that by most accounts consisted of somewhere between 50 and 60 bouts. As a pro, he has never fought more than three times a year and never outside of Japan, but by managing to stay undefeated he has crept into the Top 15 rankings of three of the four major sanctioning bodies in the lightweight division.
Looking closer Nakatani's resume, the overall level of his competition is highly questionable.  Probably his best win was in his eighth pro fight when he won a 12-round unanimous decision against Ricky Sismundo. Sismundo has sprung some surprises in the past and as a matter of fact gave undefeated rising contender Maxim Dadashev a scare earlier this year, but this is the same Ricky Sismundo who was defeated by Ruslan Madiyev last week in California, bringing his record to 35-14-3.
Other than Sismundo, the names on Nakatani's resume are hardly recognizable.
Nakatani, an orthodox fighter, is tall for the lightweight division standing nearly six feet in height. As such, he likes to work behind the left jab. However, that jab is not very sharp or powerful, but used as more of a range finder and to set up his right hand. Sometimes he will follow the right with a left hook but his primary offense is the left jab followed by the right.
Nakatani is not that athletic or quick inside the ring. His hand speed is below average for the division. He is also not a powerful or heavy handed puncher. The knockouts are more from his level of competition than anything else.
Here are a few other notes on Nakatani based on my observations: He does not like to fight on the inside and will initiate clinches when his opponent closes the distance. And he has a habit of trying to avoid punches with his legs, often times pulling straight back with his hands down. He has gotten clipped quite a few times but fortunately for him those fighters that have done so have not possessed big punching power.
I actually do think Nakatani is the strongest opponent for Lopez to date. That being said, however, I do not think he will give Lopez much trouble. Teofimo may get frustrated some by Nakatani's constant clinching on the inside, and he may get hit with a few range finding jabs, but expect another Lopez knockout here sometime in the first half of the fight.
Under The Radar Fight
The attention of the boxing world this week is going to be focused on the big welterweight pay-per-view title fight between Manny Pacquiao (61-7-2, 39 KO's) and Keith Thurman (29-0, 22 KO's). Also on the show is an intriguing heavyweight fight that is falling deep under the radar between a pair of 2016 Olympians in Efe Ajagba (10-0, 9 KO's) and Ali Eren Demirezen (11-0, 10 KO's).
Ajagba, 25, represented his native country of Nigeria in the Super Heavyweight division of the 2016 Olympics where he lost to Ivan Dychko in the quarterfinals. Since turning pro, he has really turned heads, building a reputation as a fearsome puncher.
Ajagba is a big imposing heavyweight. He stands 6'5" tall and possesses a massive 85-inch reach. Best described as an aggressive boxer puncher, he will press the action, often times behind a very stiff and powerful left jab from the orthodox stance. Very athletic for a man his size, he possesses above average hand speed for the heavyweight division. His best trait is his power; he possesses legitimate one punch knockout power in both fists. The natural tools are all there for Ajagba to potentially one day be a dominant force in the division.
But there are things Ajagba needs to work on, namely his defense. Right now, he lacks any sort of head movement and often poses in front of his opponents after punching them to admire his work. He hasn't paid yet for his lack of attention to defense but that may change as his competition rises.
Demirezen, 29, represented Turkey in the Super Heavyweight division of the 2016 Olympics where he lost to Filip Hrgovic in his opening fight. Since turning pro he hasn't had much fanfare, but has amassed quite an impressive early pro record while fighting mostly in Germany.
Though he may not have the imposing physique of Ajagba, Demirezen possesses some solid skills as well as some surprising athleticism. As a matter of fact, I'd go so far as to call him a poor man's version of Andy Ruiz Jr.
Demirezen will look to apply pressure behind the left jab and work combinations with his quick hands behind that jab. He does not really possess one-punch power but is heavy handed and his punches can take a cumulative effect on his opponents. His best punch is a quick left hook to the body that he often lands with precision.
If physiques won a boxing match, this would be no contest. But as we saw with Joshua-Ruiz, physiques don't always win. Ajagba will be favored and rightfully so, but Demirezen can fight. This is an interesting fight between two undefeated heavyweight prospects who were recent Olympians and one that I am very much looking forward to on Saturday.
Prospect Watch – Luis Arcon
 There is a lot that gets me excited about the future of the sport. Not only is the sport being broadcast like it never has before but we have many good prospects who are beaming with talent. So many good prospects, as a matter of fact, that some very talented young fighters are falling a bit under the radar. One such fighter is junior welterweight Luis Arcon who moved to 8-0 with 8 knockouts this past Friday with a third-round knockout of Mario Lozano.
Like many of today's top prospects, Arcon has a strong amateur pedigree. His amateur background includes representing his native country of Venezuela in the 2016 Olympics.
Arcon, 27, turned pro in March of 2018 in Mexico. So far he has breezed through his competition though it must be noted that he hasn't faced the toughest of challenges. But he has looked very good so far in his early pro career and has been flashing some incredible talent.
Fighting from the orthodox stance, Arcon likes to work behind a well-timed and very powerful left jab. His footwork is excellent and he often positions himself at the right angles to land combinations behind that jab. He possesses very fast hands and can often fire off a volley of power shots before his opponent can react.
And then there is the power. Perhaps this is what stands out most when watching Arcon on video. Granted, as noted earlier, the competition has not been the stiffest, but he has displayed devastating knockout power in both fists. His best punch is the left hook to the body which often has a paralyzing effect on his opposition.
With his amateur background, Arcon is ready to take the next step in his career. His game is polished and he possesses massive power in both of his hands. He belongs on all top prospect lists and has a bright future in this sport.
Check out more boxing news on video at The Boxing Channel
To comment on this story in The Fight Forum CLICK HERE