R.I.P. Former Heavyweight Contender "Smokin'" Bert Cooper, Dead at 53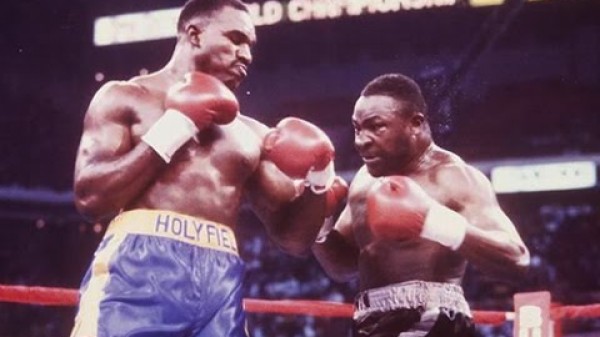 "Smokin'" Bert Cooper, the Joe Frazier lookalike who patterned his own boxing style after that of his idol, mentor and former manager, was 53 when he lost his battle with pancreatic cancer on Friday. Best-known for his knockdown of IBF/WBA heavyweight champion Evander Holyfield in their title bout in Holyfield's hometown of Atlanta, Cooper, a 32-to-1 underdog from the Philadelphia suburb of Sharon Hill, Pa., might have pulled off the biggest upset since Buster Douglas' shocker over Mike Tyson when, in the third round of the Nov. 23, 1991, bout at The Omni, he landed an explosive overhand right to the titlist's jaw.
Holyfield stumbled backward into the ropes as Cooper rushed forward to follow up with a barrage of punches. A clearly buzzed Holyfield was sent sagging, his right knee brushing the canvas. Referee Mills Lane, having decided that Holyfield was being held up by the ropes, immediately jumped in, signaled a knockdown and gave him a standing-eight count.
"The Real Deal's" undefeated record (he had come in 26-0 with 21 KOs) and championship reign might well have gone up in, well, smoke were it not for those few seconds of rest. When an overanxious Cooper rushed in again to seal the deal, Holyfield – whose recuperative powers were well-documented – answered with a barrage of his own that carried him to the end of the shakiest round of his professional career to that point.
"My heart started to go boom, boom, boom," Cooper said when asked for his reaction to the sight of Holyfield in trouble. "I thought I was the heavyweight champion of the world. I said to myself, `Oh, boy, this is it.'"
Except that it wasn't. With the bell ending the round, the window of opportunity closed for Cooper. Holyfield began to reassert control in the fourth round and, as the seventh round was nearing a close, he landed 25 unanswered punches. Lane wrapped his arms around the bloodied Cooper and waved the fight to a halt after an elapsed time of 2 minutes, 58 seconds. Former heavyweight champion George Foreman, a color analyst for HBO's telecast, said the fight was "the best I've seen," but he criticized Lane's actions in both the third and seventh rounds.
"He saved Evander Holyfield (in the third round), yet, when he stopped the fight, he didn't give the other guy a standing eight-count," Foreman said. Lane said he couldn't have given Cooper a standing eight-count in any case; IBF rules, under which the fight was held, did not allow for such. Holyfield was given an eight-count since he had been knocked down.
So, just how close had Holyfield come to relinquishing his titles to a man who was a substitute for a substitute, called off the scrap heap to replace the injured Francesco Damiani just a week before the bout? Damiani, for his part, was a substitute for Mike Tyson, who also had to withdraw with an injury that, coupled with his subsequent conviction for rape, would put him on ice for nearly four years.
It would be easy now for those who never saw Bert Cooper at his grittiest to dismiss him as just another journeyman who got a dream shot he didn't really deserve, someone who should have counted himself fortunate to simply not to be embarrassed by a vastly superior champion. Cooper's record would seem to support such an allegation: he retired after a sixth-round stoppage loss to Carl Davis on Sept. 8, 2012, with a 38-25 record, 31 of the victories coming inside the distance. He also lost by KO or TKO 16 times.
But even in his declining phase as a steppingstone, a guy with some residual name value to be added to the resume of champions or near-champions on their way down or young guns on the way up, Cooper always posed a threat to upset the applecart. Although he was just 11-17 in his final 28 fights, the first of which was another near-miss bid for a heavyweight title, in this instance the vacant WBO belt won by Michael Moorer in an Atlantic City slugfest in which each man went down twice, his setbacks at least came against some of the division's brighter lights. In addition to Moorer, Cooper's list of conquerors included Mike Weaver, Corrie Sanders, Larry Donald, Jeremy Williams, Alexander Zolkin, Chris Byrd, Samson Po'uha, Derrick Jefferson, Fres Oquendo, Joe Mesi and Luis Ortiz.
That he fought as long as he did, and as reasonably well, while struggling with the dual demons of drug and alcohol addictions makes his journey to the outer fringes of stardom as remarkable as it is sad. It was Cooper's inability to hide his out-of-the-ring struggles from Joe Frazier that led to their breakup.
"Pop looked upon Bert almost as a member of the family," Joe's son, former heavyweight contender Marvis Frazier, recalled in November 1991. "He treated him better than he did me. Well, almost."
It was the realization of Cooper's drug use that was partly responsible for Joe Frazier quitting as his protégé's manager after Cooper was stopped in seven rounds by Carl "The Truth" Williams for the vacant USBA heavyweight title on June 21, 1987, in Atlantic City. The 5-foot-11 Cooper, who previously had competed as a cruiserweight, claimed he had been forced to move up to heavyweight by Frazier, who had mandated the change because he wanted to relive his championship glory through Cooper.
"I realized (after the Williams fight) I'm not a heavyweight," Cooper said. "I put on a lot of phony weight just eating sloppy stuff, junk food. Joe wanted me to be a heavyweight, just like he did with Marvis. Joe wants someone with a world title belt just like he had."
To go public with a statement like that, Marvis said, committed a betrayal of trust in Joe's eyes. Those in the inner circle knew better than to air dirty laundry in the media. And so, days after Cooper's loss to Williams, Joe informed him that he no longer could serve as his manager. Joe's daughter, Jacqui Frazier-Lyde, said the best thing Cooper could do for her father would be to drop the "Smokin'" nickname.
What might Cooper have become had he not fallen under the sway of drugs and booze? Or alienated himself from the man he so deeply admired and whose life story he so desperately wanted to replicate? Cooper was just 12 years old when he decided what he was going to be when he grew up: he would become a boxer, a world champion, the toughest of the tough.
So Cooper started making daily trips from his Sharon Hill home to North Philadelphia, where his hero and role model, Joe Frazier, was operating a gym.  It was there that he would learn – about life, about the fight game – at the foot of the master. But Joe Frazier, who lived clean and fought hard, was a proponent of tough love. Those who accepted his affection would also have to accept his discipline, and there were rules Joe had set down that could never be broached. Cross the line and violators ran the risk of alienation.
When Damiani fell out shortly after Tyson, promoter Dan Duva did not have to go rummaging at the bottom of the proverbial barrel for someone to fight Holyfield. At 5-11 and a taut 211 pounds, Cooper not only was a physical prototype of Joe Frazier, but of Tyson, whom Holyfield had trained for in the first place.
"I guess all the work Evander put in getting ready for Tyson won't go to waste now," said George Benton, Holyfield's trainer. "Fighting Cooper is a lot like fighting Tyson. They're both short, strong guys who come straight at you and try to rough you up. They both have that kill-or-be-killed attitude.
"I don't know if Cooper is the closest thing to Tyson, although he's pretty damn close in some ways. But let's be honest. In other ways they don't really compare at all. Cooper doesn't punch as fast or as hard as Tyson, and he doesn't take a shot nearly as well. Tyson does a lot of smart things for a slugger. Cooper basically is a brawler. Tyson is the real thing. Cooper is not on the same level."
But Cooper came ever so close to doing to Holyfield what Tyson – who, to be fair, was not at his snarling best following his incarceration – could not do in their two fights. It's possible that Bert Cooper might have found the inner conviction he needed to pull himself together, had he won beaten Holyfield, and gone on to a Hall of Fame career more prestigious than his 2017 induction into the Pennsylvania Boxing HOF. It is also possible he would have flamed out in exactly the same manner than he eventually did. It is one of those questions that will always be left open to speculation.
Cooper entered the ring against Holyfield wearing a satin jacket with "The Smoke is No Joke" stitched across the back. At least that much is true. For all the intrigue and insults he so readily attracted, for a precious moment in time there was absolutely no one that was laughing at the supposedly no-chance challenger from just outside of Philadelphia.
Bernard Fernandez is the retired boxing writer for the Philadelphia Daily News. He is a five-term former president of the Boxing Writers Association of America, an inductee into the Pennsylvania, New Jersey and Atlantic City Boxing Halls of Fame and the recipient of the Nat Fleischer Award for Excellence in Boxing Journalism and the Barney Nagler Award for Long and Meritorious Service to Boxing.
Check out more boxing news on video at The Boxing Channel
To comment on this story in The Fight Forum CLICK HERE
New Zealand Heavyweights Fa and Ahio Have a Home Field Advantage in Utah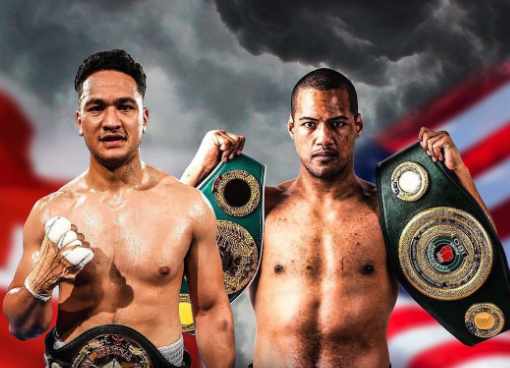 "Go West, young man," said Andrew Greeley, a New Hampshire man by birth best remembered as the founder and publisher of the New York Tribune. Boxing promoter Lou DiBella, a hard-shell New Yorker, is the latest to heed Greeley's famous admonition. This Friday, Nov. 15, DiBella is anchoring his long-running Broadway Boxing series in Salt Lake City.
With heavyweights Junior Fa and Hemi Ahio appearing in the main bouts, the Utah city was a natural destination. Fa (18-0, 10 KOs) and Ahio (15-0, 10 KOs) are New Zealanders, but their family roots are in the kingdom of Tonga.
Approximately one in every four Tongan-Americans resides in Utah. There are more than 9,000 Tongans in Salt Lake County, roughly a third of whom reside in Salt Lake City proper.
The presence of a large body of Tongans in Utah is a residue of the work of Mormon missionaries in Polynesia in the late 19th century. The population of Tonga is now about 60 percent Mormon. As a percentage of the population, Tonga ranks #1 in Mormons (more formally members of the Church of Jesus Christ of Latter Day Saints). Regional rival Samoa is #2.
It figured that when land became hard to acquire in Tonga, an agricultural nation, many emigrants would choose to settle in Utah where they knew they would be welcome.
In Utah, Tongan and Samoan males are noted for their prowess on the football field. The best high school players in the Beehive State are disproportionately Polynesian, and overwhelmingly Polynesian in the offensive and defensive lines. There's now a fierce tug-of-war for their services between Utah's two major universities and out-of-state schools, particularly schools in Washington, Oregon, and California. The head football coach at BYU, Kalani Sitake, was born in Tonga, but even he has had limited success in slaking the scattering of standout Polynesian players to out-of-state schools.
Tonga is a small country, so it's no surprise that few Tongans have made their mark in professional boxing. Paea Wolfgramm was an Olympic silver medalist whose pro career never did gain traction. He retired with a pro record of 20-4 after getting stopped by Corrie Sanders. Samson Po'uha, who fought out of St. George, Utah, was a great prospect who lacked the discipline to maximize his potential. He was stopped by journeymen Jesse Ferguson and Craig Payne and by Andrew Golota.
As weird as it sounds, if Junior Fa and Hemi Ahio are looking for a former boxer to serve as a role model, we would suggest Vai Sikahema. Yes, the same Vai Sikahema who set NCAA records for punt returns at BYU, was a great special teams player in the NFL and, in retirement, settled into a nice career as a TV personality in Philadelphia.
Sikahema, who was born in Tonga, boxed in the amateurs. In 2008, 15 years after he left the NFL, Sikahema was matched against former baseball star Jose Canseco in a celebrity fight in Atlantic City. Sikahema gave away seven inches in height and 40 pounds, but he blew right through Canseco, knocking him down twice before the bout was stopped in the very first round.
Of the two Kiwi heavyweights on DiBella's Salt Lake City show, Junior Fa is the most advanced. As an amateur, Fa, now 30 years old, split four fights with fellow New Zealander Joseph Parker who went on to win the WBO version of the world heavyweight title. He twice represented Tonga in the Commonwealth Games and had eight bouts in the semi-pro World Series of Boxing where he defeated highly touted Arslanbek Makhmudov and lost a 5-round decision to Oleksandr Usyk.
In his last two starts, Fa knocked out Neufel Ouatah, a hapless Frenchman, in the opening round and was extended the full 10 by ancient Dominic Guinn. For the Guinn fight, he carried 259 ½ pounds on his six-foot-five frame.
On Friday, Fa is matched against Toledo's Devin Vargas, a former U.S. Olympian. As a pro, Vargas's career was moving along smoothly until he was stopped in the sixth round by Kevin Johnson. By all appearances, Vargas then lost his passion for boxing. Fighting sporadically, he's 4-4 since then with all four losses coming inside the distance. But in his last fight in August in Massachusetts, Vargas stopped house fighter Niall Kennedy so perhaps his enthusiasm for boxing has been re-kindled.
Hemi Ahio, 29, kas fought once previously in the United States, stopping unnoteworthy Ed Fountain on a DiBella show in Columbus, Ohio. His last start was in Saudi Arabia where he knocked out an undefeated (7-0) fighter from Germany who had previously fought only cadavers.
Short for a modern era heavyweight at 6'0", Hemi's torso coupled with his aggressive style of fighting has led some to anoint him the Tongan Tyson. He's matched against fluffy Joshua Tufte (19-3, 9 KOs) who hails from Kernersville, North Carolina, and probably would have no stronger chance of winning if the fight were being held in Kernersville.
The Nov. 15 edition of Broadway Boxing will be live streamed on UFC Fight Pass starting at 8 pm PST/11 pm EST. Topping the undercard is a 10-round welterweight contest between Brooklyn-based-Ukrainian Ivan Golub (17-1, 13 KOs) and Columbia's Janer Gonzalez (19-2-1, 15 KOs).
There's something intrinsically magnetic about an undefeated heavyweight who may have a big upside, even if he's being thrust against an opponent with scant chance of causing a derailment. On Friday we get two for the money and considering the venue, it's a safe bet that both will bring their "A" game.
Check out more boxing news on video at The Boxing Channel 
To comment on this story in The Fight Forum CLICK HERE
Avila Perspective, Chap 73: Gesta vs Morales, Celebrity Boxing, Liston and More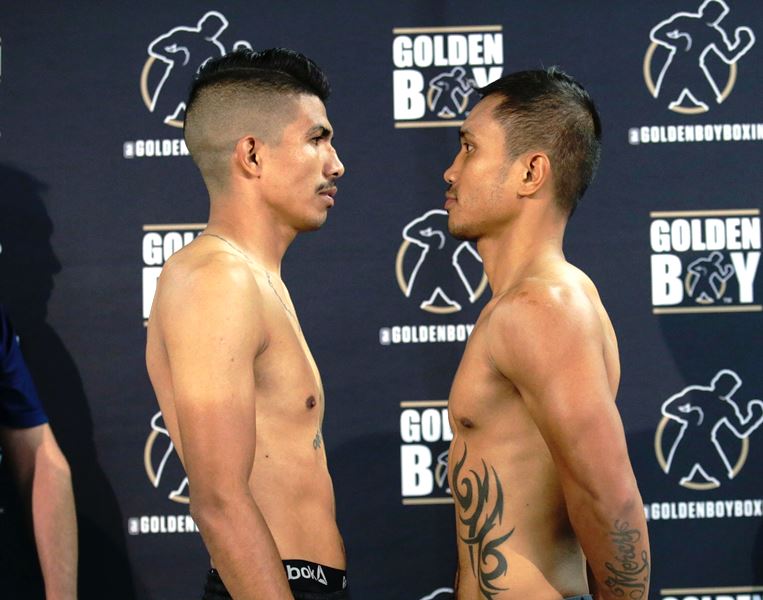 One of the rewards for journalists following smaller boxing cards is watching new talent emerge. Every so often you spot the gold nuggets among the heap.
Some fighters stand out immediately before even stepping in the prize ring. Others walk in hesitantly with dirty towels wrapped around their shoulders.
On Thursday, Carlos "The Solution" Morales (19-4-3, 8 KOs) and Mercito "No Mercy" Gesta (32-3-2, 17 KOs), who arrived on the hard road of boxing, meet in a lightweight match set for 10 rounds at Belasco Theater in downtown L.A. DAZN will stream live.
Two classier guys you will never meet than Gesta and Morales.
Gesta, a southpaw from Cebu, Philippines, arrived in 2007 and immediately found work on casino fight cards in Arizona, California and Nevada. His athleticism was obvious and he raced through competition till he met Mexico's Miguel Vazquez for the IBF lightweight world title.
In that first loss, fans learned what Gesta was all about. He was gracious in defeat and fans loved his character. From that point on more people wanted to see the Filipino lefty perform. After Top Rank let him go, Golden Boy Promotions picked up his contract and he became a staple on the Southern California fight scene.
Win or lose, fans adore Gesta who was trained by Freddie Roach at the Wild Card Boxing club in Hollywood but now works with Marvin Sonorio. A decision loss to WBA lightweight titlist Jorge Linares at the Inglewood Forum did nothing to diminish Gesta's fan base.
"I need challenges and I like challenges," said Gesta during an interview with Beto Duran on Golden Boy's Ring Side show. "I still feel great and still feel in the game."
How could you not like a fighter like Gesta?
On the opposite corner at Belasco Theater will be "The Solution" Morales.
When Morales first entered the professional fight scene he stumbled a bit with a loss then three consecutive draws. I saw all four fights in person. The Mexican-born fighter needed about two years to figure out what worked for him.
He's found it.
Morales, a gym rat if I ever saw one, purchased his own gym in the Alhambra area. He's a family man, worker and businessman all rolled into one. The Mexican fighter needed time to discover his assets in the ring and use them in a productive manner.
Though he's lost three of his last six fights they all came against top competition such as world champion Alberto Machado, ranked contender Rene Alvarado and current star Ryan Garcia. In each and every one of those fights Morales was up to his neck in battle.
"I definitely need a win over a name like Mercito Gesta," said Morales. "He's been in the game a long time."
In local gyms he spars with many of the best and on occasion they understand what "the Solution" is all about.
"He is very, very good," said one visiting Japanese fighter who witnessed Morales knock out a sparring partner in one particular session. "A very professional style."
Both Gesta and Morales represent the side of Los Angeles most fans don't get to see. Once upon a time, matchups like these were common in the L.A. area. Golden Boy Promotions has been slowly building up these local fighters and if you have paid attention you know this will be a firecracker of a show.
This is a 1930s kind of match you used to see at the old Olympic Auditorium or Hollywood Legion Stadium when guys like Speedy Dado, Baby Arizmendi, Chalky Wright and Newsboy Brown would fight each other and fill the arena. Dado would bring the Filipino crowd, Arizmendi the Mexican crowd, Wright the African- American fans, Newsboy Brown the Jewish fans and so on.
Gesta versus Morales has that 1930s flavor. If you close your eyes you might expect a ghost or two from boxing's past to be in attendance at Belasco Theater. It's an old venue where famous bandleaders like Duke Ellington once played. It's got a lot of history and this fight was tailor-made for the old stylish building.
Celebrity Boxing
Nowadays celebrities come from different directions.
Last week, celebrities who gained fame via social media avenues like YouTube.com, Twitter and Instagram, arrived at the Staples Center in Los Angeles with hands wrapped, gloves on and a license to box professionally.
Their names were not familiar to regular boxing fans, but to millions of youngsters and young adults who do not normally follow boxing, these guys named Logan Paul, KSI and Joshua Brueckner were super stars.
It was a massive hit according to DAZN and Matchroom Boxing, the promoters.
I walked around the arena to take a look at the people arriving to see the boxing card. What I saw were moms and their sons and daughters, groups of girls in their early teens, and pale boys who normally don't see much sun because they're usually planted behind a computer playing video games. They all had a blast.
Most of these fans had never seen live boxing and got their first glimpse of prizefighting at a high level when Ronny Rios defended his WBA Gold super bantamweight title against Colombia's Hugo Berrio. The Santa Ana fighter Rios came out firing thudding body shots that echoed in the arena. You could hear the responses from the new fans who openly expressed their amazement with a roar of applause at the display of power.
It's one thing to see a fight but a whole new thing to hear power shots bouncing off another human being. Rios pummeled Berrio up and down and eventually knocked out the Colombian with a three-punch combination in the fourth round. Fans were awestruck.
You never forget your first live prizefight. It burns in your memory forever. All of these new fans will never forget watching a live boxing card.
Watching the responses of the new kind of crowd was an experience in itself. Many of these fans will return for more. Their excitement was pure and untainted.
Showtime
A feature documentary visiting the life of Sonny Liston called "Pariah: The Lives and Deaths of Sonny Liston" makes its debut on Friday Nov. 15 on Showtime at 9 p.m. (PT).
Liston was one of the most mysterious and feared heavyweight champions of all time. Read the story by Bernard Fernandez to get a preview of what to expect from the documentary. It's riveting stuff: https://tss.ib.tv/boxing/featured-boxing-articles-boxing-news-videos-rankings-and-results/61445-from-womb-to-tomb-the-fate-of-sonny-liston-was-seemingly-preordained
Though Liston died 49 years ago in December 1970, he's still discussed by boxing people especially in Las Vegas where he lived and died.
Fights to Watch (all times Pacific Coast time)
Thurs. DAZN 7 p.m. Mercito Gesta (32-3-2) vs Carlos Morales (19-4-3).
Fri. ESPN+ 12 p.m. Rocky Fielding (27-2) vs Abdallah Paziwapazi (26-6-1).
Fri. Showtime 7:30 p.m. Erik Ortiz (16-0) vs Alberto Palmetta (12-1).
Sat. ESPN+ 12 p.m. Lee McGregor (7-0) vs Kash Farooq (13-0).
Photo credit: Kyte Monroe
Check out more boxing news on video at The Boxing Channel 
To comment on this story in The Fight Forum CLICK HERE
Ortiz Accuses Wilder of 'Borderline Criminal' Tactics; Wilder Takes Umbrage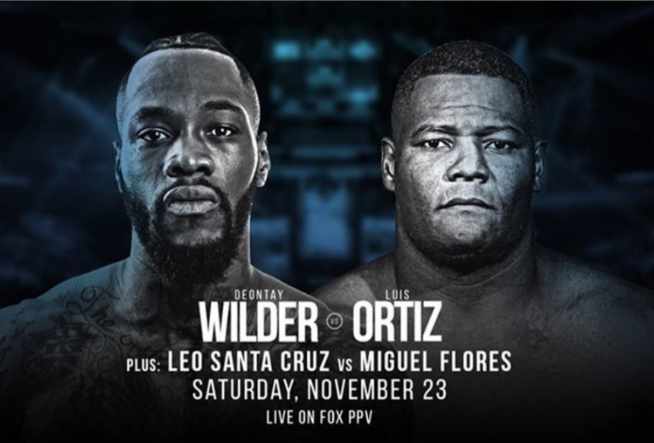 Yes, Deontay Wilder still wants to knock out each and every man he faces in the ring. But a bond the WBC heavyweight champion has shared with his Nov. 23 rematch rival and fellow family man, Luis Ortiz, had caused Wilder to have a somewhat more conciliatory feeling toward the Cuban southpaw given the fact that each power puncher knows what it's like to deal with a child facing significant health issues.
But Wilder's small but oft-expressed well of goodwill toward Ortiz may have dried up Tuesday afternoon after he learned of derogatory comments Ortiz had made about him during a teleconference with the media, prior to Wilder joining the call. Ortiz (31-1, 26 KOs), who had Wilder (41-0-1, 40 KOs) in the danger zone in the seventh round of their first bout, on March 3, 2018, at Brooklyn's Barclays Center, couldn't seal the deal and went down and out himself in the 10th round. All three judges had Wilder ahead by the same razor-thin margin, 85-84, when the end came.
The do-over will take place at the MGM Grand in Las Vegas and will be televised via Fox Pay-Per-View
Wilder, although promising to win inside the distance as he always does, again gave props to the 40-year-old Ortiz, a father of three whose daughter Lismercedes suffers from epidermolysis bullosa, a painful skin condition. That struck a sympathetic chord with Wilder, who has eight children, one of whom, daughter Naieya, was born in 2005 with spina bifida.
"Ortiz has a family," Wilder said when it was his turn to answer reporters' questions. "I grew a great bond with Ortiz the first time with his child. My child was born with a disorder as well. I know personally how hard it is and how much it takes to take care of a child with a disorder. It takes a lot of money and it takes a lot of care, so I wanted to bless him again (by granting him a rematch) – not only for being a great warrior, one of the best in the world, but also for his family."
Wilder had scarcely finished lauding Ortiz as a fighter and a father when he was told that his ring tactics had been characterized by Ortiz in less than flattering terms.
"Some of the antics that Wilder does, like the illegal blows that he throws with the inside of his fists and punching from the top of the head down … all kinds of craziness," Ortiz, who does not speak English, said through his trainer/translator, Herman Caicedo. "It makes it very difficult to get settled in. Quite frankly, that stuff is borderline criminal."
Wilder, who figured he had "blessed" Ortiz by granting him a high-visibility, good-paying shot at his title 20 months ago, and was doing so again, seemed taken aback by the suggestion that his free-swinging ways and code of ethics had been called into question.
"I never heard of that," Wilder said. "I think he's being sarcastic. The only thing that's criminal is me hitting people with the right hand and almost killing them.
"Someone will have to ask him to clarify what he meant by that. I would like to know myself. If it was something to tear me down, I would feel some type of negative vibe toward him, after I've blessed him twice. That'll make me want to hurt him more than I want to do now. Because when I get mad, it's over.
"Right now, I've been very respectful to him. He don't want me to take this wrong because then I'd really want to beat his ass."
Boxing being what it is, mutual respect tends to be put on hold in any case when the action gets hot and heavy. It was pretty intense in the first time around, the seventh round representing the most perilous spot Wilder has been in since turning pro after taking a bronze medal at the 2008 Beijing Olympics. But "The Bronze Bomber," as Wilder is known, said that being taken to the brink and fighting his way out of trouble is as big a plus as any of his exclamation-point KO victories.
"That seventh round was an amazing time for me," he said. "It allowed me to see what I'm really made of. I was very proud of myself to be able to handle that situation, and go be able to go into the fight with the flu. Proper protocol is to (postpone) that and wait 'til a later date when you're healthy. But being me, I'm hard-headed and that makes me different from the rest."
Ailing daughters or not, it really would not make that much of a difference had Ortiz tossed verbal bouquets at Wilder instead of incendiary accusations. Wilder, who will be making the 10th defense of the WBC championship he won on a 12-round decision over then-titlist Bermane Stiverne on Jan. 17, 2015, believes that, at 34, he is the best heavyweight on the planet, worthy of discussion as one of the best big men ever to lace up a pair of gloves, and arguably the most devastating puncher ever.
"We already know I'm the hardest hitter probably in boxing history," he said with typical immodesty. "I see this fight going only one way, and that's Deontay Wilder knocking out Luis Ortiz. He knows it, and I know it."
Well, maybe Ortiz isn't quite convinced of the inevitability of his getting starched again.  He was a live underdog the first time he and Wilder swapped haymakers, and he's a live underdog again. His dream is to become the first Cuban heavyweight champion, and he insists he is as mentally and physically prepared as he's ever been for a fight.
"He can bring whatever he's going to bring, no problem," Ortiz said of Wilder.
Could Ortiz have been playing standard-issue mind games by claiming the champion's style is almost felonious? Maybe. But if he really wanted to get under Wilder's skin, he could have said something about how much he enjoyed LSU knocking off the Alabama Crimson Tide this past Saturday. Wilder, a native of Tuscaloosa, Ala., who grew up dreaming of someday playing football for his hometown university, would instantly have been whipped into a frothing rage.
Check out more boxing news on video at The Boxing Channel 
To comment on this story in The Fight Forum CLICK HERE