R.I.P. Former Heavyweight Contender "Smokin'" Bert Cooper, Dead at 53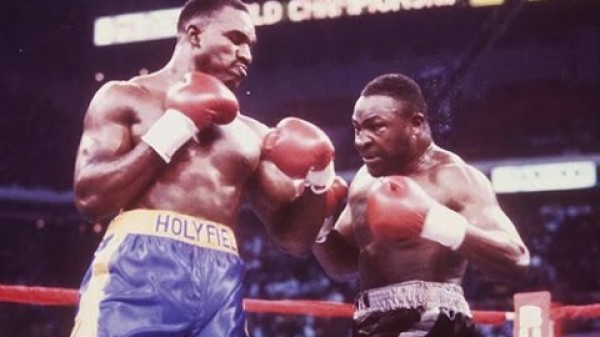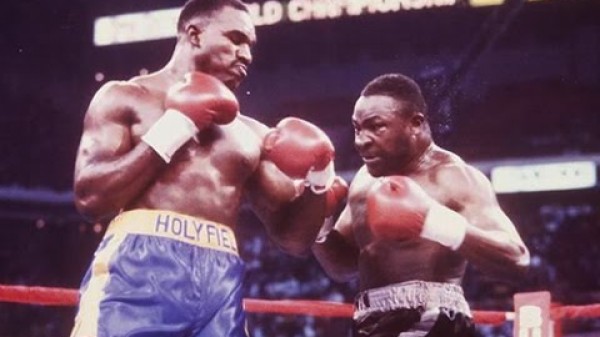 "Smokin'" Bert Cooper, the Joe Frazier lookalike who patterned his own boxing style after that of his idol, mentor and former manager, was 53 when he lost his battle with pancreatic cancer on Friday. Best-known for his knockdown of IBF/WBA heavyweight champion Evander Holyfield in their title bout in Holyfield's hometown of Atlanta, Cooper, a 32-to-1 underdog from the Philadelphia suburb of Sharon Hill, Pa., might have pulled off the biggest upset since Buster Douglas' shocker over Mike Tyson when, in the third round of the Nov. 23, 1991, bout at The Omni, he landed an explosive overhand right to the titlist's jaw.
Holyfield stumbled backward into the ropes as Cooper rushed forward to follow up with a barrage of punches. A clearly buzzed Holyfield was sent sagging, his right knee brushing the canvas. Referee Mills Lane, having decided that Holyfield was being held up by the ropes, immediately jumped in, signaled a knockdown and gave him a standing-eight count.
"The Real Deal's" undefeated record (he had come in 26-0 with 21 KOs) and championship reign might well have gone up in, well, smoke were it not for those few seconds of rest. When an overanxious Cooper rushed in again to seal the deal, Holyfield – whose recuperative powers were well-documented – answered with a barrage of his own that carried him to the end of the shakiest round of his professional career to that point.
"My heart started to go boom, boom, boom," Cooper said when asked for his reaction to the sight of Holyfield in trouble. "I thought I was the heavyweight champion of the world. I said to myself, `Oh, boy, this is it.'"
Except that it wasn't. With the bell ending the round, the window of opportunity closed for Cooper. Holyfield began to reassert control in the fourth round and, as the seventh round was nearing a close, he landed 25 unanswered punches. Lane wrapped his arms around the bloodied Cooper and waved the fight to a halt after an elapsed time of 2 minutes, 58 seconds. Former heavyweight champion George Foreman, a color analyst for HBO's telecast, said the fight was "the best I've seen," but he criticized Lane's actions in both the third and seventh rounds.
"He saved Evander Holyfield (in the third round), yet, when he stopped the fight, he didn't give the other guy a standing eight-count," Foreman said. Lane said he couldn't have given Cooper a standing eight-count in any case; IBF rules, under which the fight was held, did not allow for such. Holyfield was given an eight-count since he had been knocked down.
So, just how close had Holyfield come to relinquishing his titles to a man who was a substitute for a substitute, called off the scrap heap to replace the injured Francesco Damiani just a week before the bout? Damiani, for his part, was a substitute for Mike Tyson, who also had to withdraw with an injury that, coupled with his subsequent conviction for rape, would put him on ice for nearly four years.
It would be easy now for those who never saw Bert Cooper at his grittiest to dismiss him as just another journeyman who got a dream shot he didn't really deserve, someone who should have counted himself fortunate to simply not to be embarrassed by a vastly superior champion. Cooper's record would seem to support such an allegation: he retired after a sixth-round stoppage loss to Carl Davis on Sept. 8, 2012, with a 38-25 record, 31 of the victories coming inside the distance. He also lost by KO or TKO 16 times.
But even in his declining phase as a steppingstone, a guy with some residual name value to be added to the resume of champions or near-champions on their way down or young guns on the way up, Cooper always posed a threat to upset the applecart. Although he was just 11-17 in his final 28 fights, the first of which was another near-miss bid for a heavyweight title, in this instance the vacant WBO belt won by Michael Moorer in an Atlantic City slugfest in which each man went down twice, his setbacks at least came against some of the division's brighter lights. In addition to Moorer, Cooper's list of conquerors included Mike Weaver, Corrie Sanders, Larry Donald, Jeremy Williams, Alexander Zolkin, Chris Byrd, Samson Po'uha, Derrick Jefferson, Fres Oquendo, Joe Mesi and Luis Ortiz.
That he fought as long as he did, and as reasonably well, while struggling with the dual demons of drug and alcohol addictions makes his journey to the outer fringes of stardom as remarkable as it is sad. It was Cooper's inability to hide his out-of-the-ring struggles from Joe Frazier that led to their breakup.
"Pop looked upon Bert almost as a member of the family," Joe's son, former heavyweight contender Marvis Frazier, recalled in November 1991. "He treated him better than he did me. Well, almost."
It was the realization of Cooper's drug use that was partly responsible for Joe Frazier quitting as his protégé's manager after Cooper was stopped in seven rounds by Carl "The Truth" Williams for the vacant USBA heavyweight title on June 21, 1987, in Atlantic City. The 5-foot-11 Cooper, who previously had competed as a cruiserweight, claimed he had been forced to move up to heavyweight by Frazier, who had mandated the change because he wanted to relive his championship glory through Cooper.
"I realized (after the Williams fight) I'm not a heavyweight," Cooper said. "I put on a lot of phony weight just eating sloppy stuff, junk food. Joe wanted me to be a heavyweight, just like he did with Marvis. Joe wants someone with a world title belt just like he had."
To go public with a statement like that, Marvis said, committed a betrayal of trust in Joe's eyes. Those in the inner circle knew better than to air dirty laundry in the media. And so, days after Cooper's loss to Williams, Joe informed him that he no longer could serve as his manager. Joe's daughter, Jacqui Frazier-Lyde, said the best thing Cooper could do for her father would be to drop the "Smokin'" nickname.
What might Cooper have become had he not fallen under the sway of drugs and booze? Or alienated himself from the man he so deeply admired and whose life story he so desperately wanted to replicate? Cooper was just 12 years old when he decided what he was going to be when he grew up: he would become a boxer, a world champion, the toughest of the tough.
So Cooper started making daily trips from his Sharon Hill home to North Philadelphia, where his hero and role model, Joe Frazier, was operating a gym.  It was there that he would learn – about life, about the fight game – at the foot of the master. But Joe Frazier, who lived clean and fought hard, was a proponent of tough love. Those who accepted his affection would also have to accept his discipline, and there were rules Joe had set down that could never be broached. Cross the line and violators ran the risk of alienation.
When Damiani fell out shortly after Tyson, promoter Dan Duva did not have to go rummaging at the bottom of the proverbial barrel for someone to fight Holyfield. At 5-11 and a taut 211 pounds, Cooper not only was a physical prototype of Joe Frazier, but of Tyson, whom Holyfield had trained for in the first place.
"I guess all the work Evander put in getting ready for Tyson won't go to waste now," said George Benton, Holyfield's trainer. "Fighting Cooper is a lot like fighting Tyson. They're both short, strong guys who come straight at you and try to rough you up. They both have that kill-or-be-killed attitude.
"I don't know if Cooper is the closest thing to Tyson, although he's pretty damn close in some ways. But let's be honest. In other ways they don't really compare at all. Cooper doesn't punch as fast or as hard as Tyson, and he doesn't take a shot nearly as well. Tyson does a lot of smart things for a slugger. Cooper basically is a brawler. Tyson is the real thing. Cooper is not on the same level."
But Cooper came ever so close to doing to Holyfield what Tyson – who, to be fair, was not at his snarling best following his incarceration – could not do in their two fights. It's possible that Bert Cooper might have found the inner conviction he needed to pull himself together, had he won beaten Holyfield, and gone on to a Hall of Fame career more prestigious than his 2017 induction into the Pennsylvania Boxing HOF. It is also possible he would have flamed out in exactly the same manner than he eventually did. It is one of those questions that will always be left open to speculation.
Cooper entered the ring against Holyfield wearing a satin jacket with "The Smoke is No Joke" stitched across the back. At least that much is true. For all the intrigue and insults he so readily attracted, for a precious moment in time there was absolutely no one that was laughing at the supposedly no-chance challenger from just outside of Philadelphia.
Bernard Fernandez is the retired boxing writer for the Philadelphia Daily News. He is a five-term former president of the Boxing Writers Association of America, an inductee into the Pennsylvania, New Jersey and Atlantic City Boxing Halls of Fame and the recipient of the Nat Fleischer Award for Excellence in Boxing Journalism and the Barney Nagler Award for Long and Meritorious Service to Boxing.
Check out more boxing news on video at The Boxing Channel
To comment on this story in The Fight Forum CLICK HERE
Pico Rivera Summer Fights See Cruz, Vega and Flores Win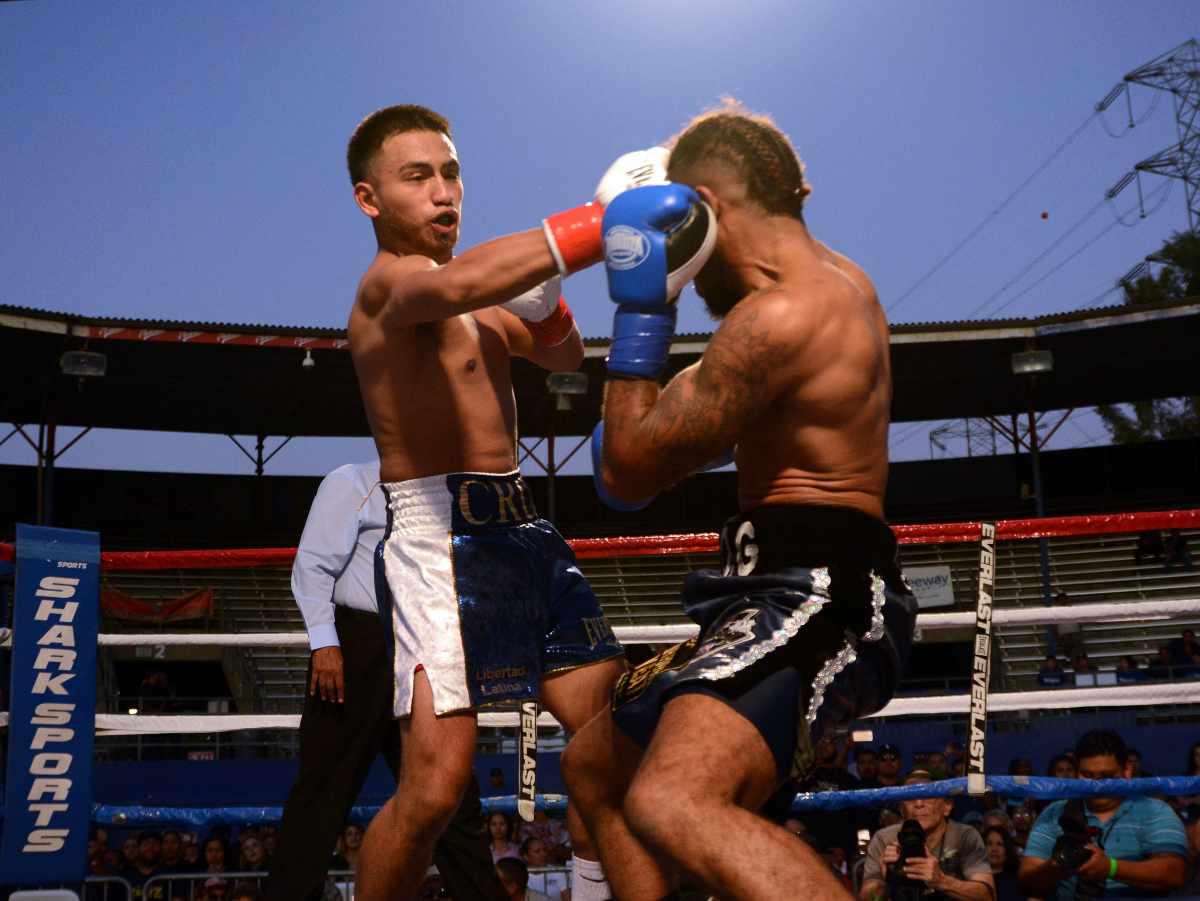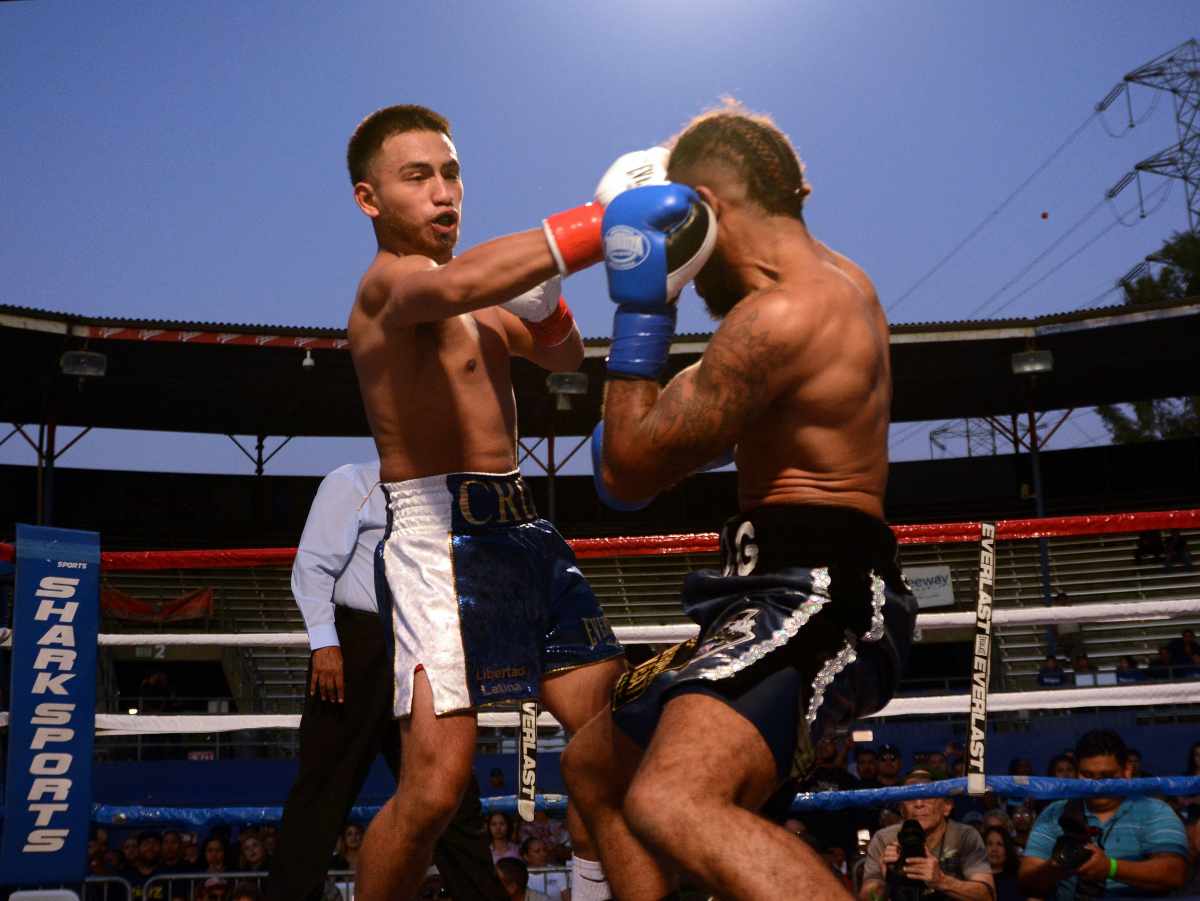 PICO RIVERA, Ca.-Along the San Gabriel River on a soft summer evening, Red Boxing Promotions brought another slew of hot local prospects to the forefront on Saturday.
Chino's Daniel "Cuetito" Cruz (3-0) burst into the fight like an energy bomb and simply overwhelmed southpaw Phillip Bounds (0-4) with lightning combinations to win by unanimous decision. More than 700 fans saw the Red Boxing fight card.
Though it was only his third pro fight, the high intensity prizefighter Cruz (pictured on the left) exhibited a level of confidence that allowed him to attack with impunity for the first two rounds.
Cruz switched to southpaw and had even more success against the lefty Bounds. The speed of Cruz proved too much to overcome for Bounds who tried different approaches but couldn't find an antidote for Cruz who won by unanimous decision 40-36 on all three cards in the super lightweight match.
"I'm excited, I wanted to put on a good show," said Cruz, 20. "I'm coming for all of the big names. Cuetito is here."
Andre Marquez (2-1) overwhelmed the much taller Alvin Brown (0-8) from Louisiana with a whirlwind style that ended in a knockout in the fourth and final round of their super featherweight match. A left hook caught Brown flush and Marquez followed up with four more blows, forcing Brown to take a knee at 1:41 of the fourth round. Marquez was ruled the winner by knockout by referee Sharon Sands.
"My plan was to work his body," said Marquez. "It worked out perfectly."
Welterweights Bradley Pena (0-0-1) and Ed Nunez (0-0-1) blasted each other for four rounds, with Pena starting fast and Nunez ending strong. No knockdowns were scored in the fight that started the night and ended in a draw.
Main Bouts
A light flyweight clash saw Axel Vega (13-2-1, 8 KOs) of Ensenada, Mexico knock out Tijuana's Giovanni Noriega (2-5-2) with a triple left hook in the second round. Vega, 19, trained out of Compton for this fight.
Welterweight prospect Steven Rodriguez (8-0) suffered a cut on his forehead due to a clash of heads but still managed to out-perform Las Vegas fighter Ryan Picou (3-12-1) after four rounds. All three judges scored the fight 40-36 in favor of Rodriguez. But Picou gave a stubborn defense against the constant rushes of Rodriguez and was able to score on occasion.
Santa Barbara's Angel Flores (6-0, 4 KOs) defeated Mexico's Roberto Almazan (9-12) by unanimous decision after six rounds in a super lightweight contest. Flores knocked down Almazan twice in the last round to clinch the win and get the victory by a landslide.
In the audience was former world champion Arturo Frias of East Los Angeles who won the WBA world lightweight title in 1982 and fought numerous times at LA's  fabled Olympic Auditorium. Also in attendance was current super flyweight contender Adelaida "La Cobra" Ruiz of Los Angeles who is scheduled to fight on October 12 at the same Pico Rivera Sports Arena. Red Boxing Promotions will be staging the event.
Photo credit: Al Applerose
Check out more boxing news on video at The Boxing Channel  
To comment on this story in The Fight Forum CLICK HERE
Fast Results from Russia: Kovalev KOs Yarde in the 11th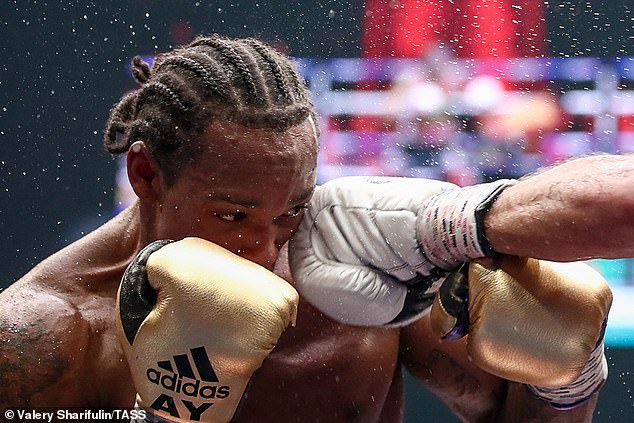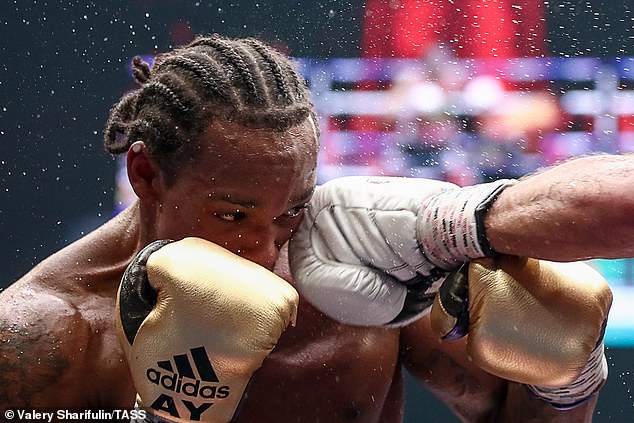 The consensus of opinion regarding tonight's fight at Chelyabinsk between Sergey Kovalev and Anthony Yarde was that….well, there was no consensus, save that it would not bode well for Yarde if both fighters were still standing at the final bell. Fighting in his hometown, and with a monster payday reportedly looming against Canelo Alvarez should he win, "Krusher" was unlikely to get the worst of it if the fight went to the scorecards. But there would be no controversial decision. In a fight that started slowly and then shifted Yarde's way, Kovalev stemmed the momentum, took charge in the 10th, and then closed the show in the next round with a scorching left hand that left Yarde flat on his back, gasping for air.
In handicapping the fight, Kovalev certainly had more check marks in the plus column. A former three belt champion and the reigning WBO 175-pound title-holder, Kovalev would be appearing in his 16th world title fight, his second with Hall of Fame trainer Buddy McGirt, with whom he had great rapport. By contrast, Yarde, although undefeated (18-0), had answered the bell for only 51 rounds and had defeated only nine fighters with winning records. Moreover, the Englishman had fought only 12 amateur fights before turning pro.
However, at age 36, Kovalev was getting long in the tooth and in some of his more recent fights he had stamina issues. Moreover, there was a school of thought that Yarde was a beast. In his 30 fights, amateur and pro, he had scored 28 knockouts.
Yarde's first good round was the seventh and he followed that up with a very strong eighth in which he hurt Kovalev and had the Krusher looking tired. But the assumption that he had paced himself brilliantly proved to be a mirage. As the bout moved into the home stretch, it was the younger man that was more fatigued.
Kovalev backed Yarde against the ropes and hurt him in the 10th. The Russian repeatedly had success with his hard left jab (shades of Larry Holmes) and it was a jab that ended it. Yarde was too exhausted to make it to his feet and was counted out.
Kovalev reportedly has already agreed to meet Canelo in November or December. Tonight he may have added an extra zero to his purse.
Kovalev vs. Canelo, likely at the T-Mobile Arena in Las Vegas, will be a blockbuster. Let the hype begin.
Co-Feature
The co-feature between knockout artists Aleksei Papin and Ilunga Makabu wasn't expected to last the distance, but it went the full 12 and was a highly entertaining affair climaxed by a great 12th round. When the smoke cleared, Ilunga, who went to post a slight favorite, improved to 26-2 (24) by dint of winning a majority decision. It was the second straight win on Russian soil for the Congolese southpaw who fights out of Johannesburg. In his previous go, he stopped Dmitry Kudryashov in the fifth round at Ekaterinburg.
Papin was 11-0 going in with 10 knockouts but the 31-year-old Russian, a former kickboxing champion, was moving up in class against Makabu, a former world title challenger. In the 12th, Makabu scored a knockdown with a straight left after buzzing Papin with a left-right combination, but Papin wasn't badly hurt and came back to rock him in the final seconds. The knockdown seemingly spelled the difference as two judges had it 115-113 with the third scoring it even (113-113).
Check out more boxing news on video at The Boxing Channel  
To comment on this story in The Fight Forum CLICK HERE
Tanaka and Hatanaka Stay Undefeated in Nagoya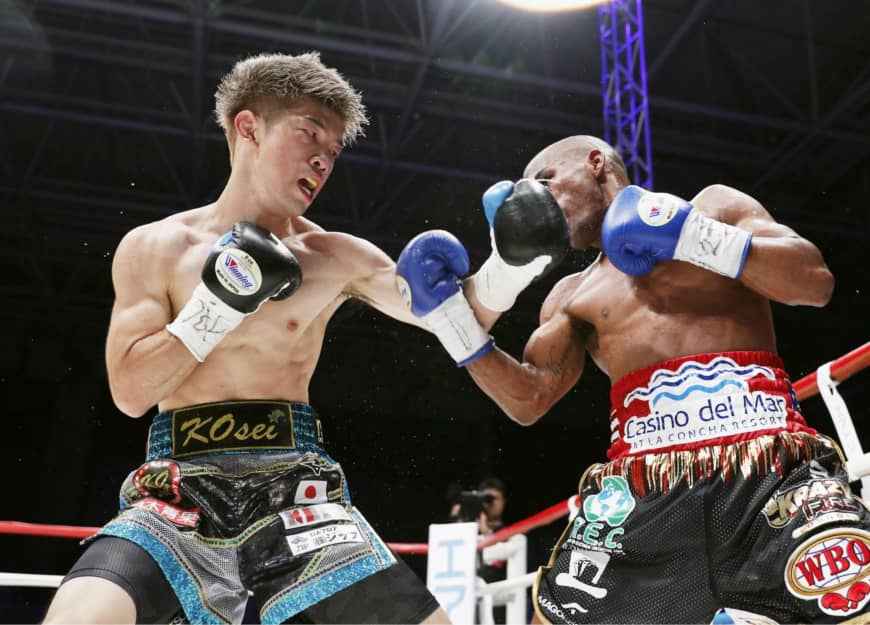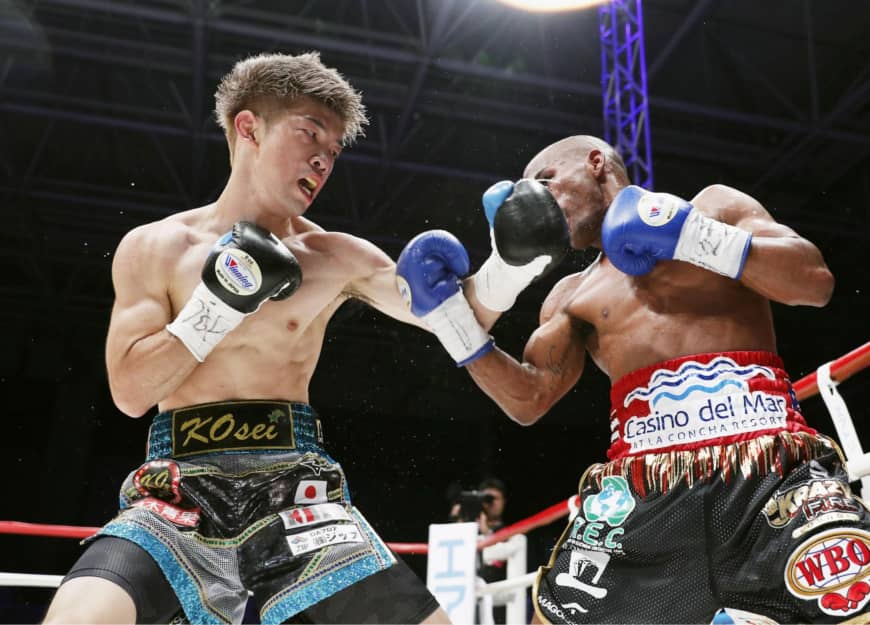 Kiyoshi Hatanaka, the former world super bantamweight champion, now runs a boxing gym and promotes fights in his hometown of Nagoya. The top fighters in his gym are 24-year-old Kosei Tanaka, who has already won world titles in three weight classes, and Kento Hatanaka, Kyoshi's 21-year-old son. Both were in action today and both were victorious, but not without anxious moments.
Tanaka, the reigning WBO 112-pound champion, improved to 14-0 (8 KOs) with a seventh-round TKO of Jonathan Gonzalez (22-3-1) in an action-packed bout. There were five knockdowns in all, four by Tanaka, before the referee waved it off with merely a second remaining in the seventh stanza.
Gonzalez took a knee after being hurt by a body punch in round three. But he returned the favor, knocking Tanaka down with a counterpunch in the next stanza, and seemingly had the fight in hand when he dominated the fifth. But Tanaka regained the momentum and scored three knockdowns in Round 7 to close the show.
Kosei Tanaka is overshadowed as a sports personality by countryman Naoya "Monster" Inoue, but is carving out quite a legacy. At age 19, in only his fifth pro fight, he defeated WBO minimumweight (105 pound) champion Julian Yadras of Mexico. He then gathered in titles at 108 and 112, accomplishing the hat trick in only his 12th pro fight, tying Vasiliy Lomachenko's record.
With only a few pounds separating each of the lowest weight classes, Tanaka likely isn't done jumping up in weight. There's already talk of a showdown with 115-pound title-holder Kazuto Ioka. But Tanaka has indicated that he wants to expand his opportunities overseas, following the example of Inoue. There are still holes in his defense, but that makes for exciting fights and a match between him and someone like "Chocolatito" Gonzalez would be worth the price of admission.
Jonathan Gonzalez, a southpaw with a good amateur pedigree, had fought his previous three fights in Kissimmee, Florida. When in his native Puerto Rico, he trains in the same gym as former super bantamweight and featherweight champion Juan Manuel Lopez. We certainly haven't seen the last of him.
The 10-round co-feature between super flyweights Kento Hatanaka and Jaysever Abcede was also a crowd pleaser that saw both combatants score knockdowns. Hatanaka improved to 10-0 but was extended the distance for the first time in his pro career. Abcede, a noted spoiler from the Philippines, saw his winning streak end at four and fell to 19-9. The scores were 95-93, 96-93, and 96-92.
Check out more boxing news on video at The Boxing Channel  
To comment on this story in The Fight Forum CLICK HERE