Sugar Ray Leonard and Marvin Hagler Stood Tall in an Era of Epic Battles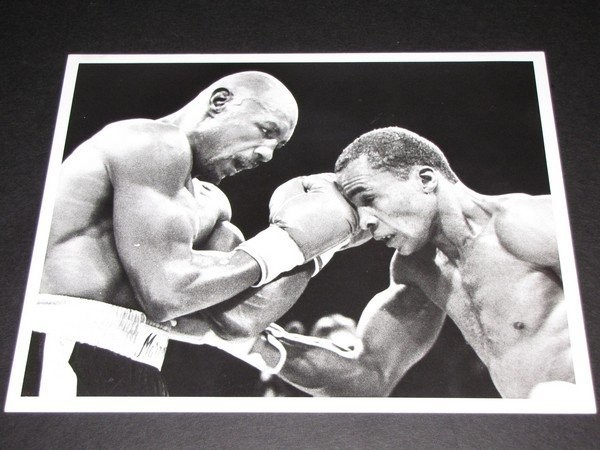 It's been said — and it applies to all sports, but especially boxing — that in order to be great, one has to face great competition.
During the 1980s, in what many consider boxing's "Golden Age," several epic battles were waged between Roberto Duran, Thomas Hearns, Marvin Hagler and Ray Leonard, which helped drive the sport's appeal after Muhammad Ali's retirement in 1981.
All four are enshrined in the International Boxing Hall of Fame, but Leonard and Hagler stood the tallest.
With each celebrating birthdays this month – Leonard turned 63 on Friday, May 17,   and Hagler turns 65 on Thursday, May 23 –  this seems like the perfect opportunity to reflect on their legendary careers.
Leonard, who would become a world champion in five weight classes, was a nonpareil ring craftsman who could box with absolute ease and also unload the heavy artillery.
Some said slick marketing after claiming the Gold Medal at the 1976 Montreal Olympics as a junior welterweight helped Leonard vault to fame. Sugar Ray had the look, personality and charm to attract a large fan base, but did he have what it takes to hold his own against the top welterweights?
The answer was yes, but it wasn't until Leonard stopped Wilfred Benitez in the 15th round for the World Boxing Council and lineal welterweight title in November 1979 at Caesars Palace, that he would be given his due.
Entering the fight, Benitez had a 38-0-1 record and was a two-division world champion.
In the opening frame, Leonard drilled Benitez with a left hook after tossing a jab and a right cross.
Two rounds later, Leonard knocked Benitez on his backside with a rattling jab. "I wasn't aware I was in a championship fight early because I hit him so easy," said Leonard, who was named Fighter of the Year by The Ring magazine in 1979 and 1981, but then he adjusted to my style. It was like looking in a mirror."
Leonard knocked Benitez down with a thunderous left in the 15th, but couldn't put him away until the referee called it off with six seconds left.
"No one, I mean no one, can make me miss punches like that," said Leonard of Benitez, who is also in the IBHOF.
In June 1980, Leonard, who went 36-3-1 with 25 knockouts, returned to the Canadian city where he first gained fame and faced the indestructible Duran, the former lightweight king, who came into the bout with a 71-1 record and was regarded as the best pound-for-pound boxer in the world.
The fight drew international attention and although Leonard lost, his showing removed any and all doubts about his greatness.
With 46,317 inside Olympic Stadium, Duran dictated the early pace by cutting off the ring and not allowing Leonard to extend his arms.
For four rounds, Duran didn't give Leonard enough room to move and unload any significant blows.
Leonard finally came alive in the fifth and unleashed numerous combinations. The remainder of the fight saw Leonard score, but it was Duran who looked stronger and sharper.
William Nack, writing in Sports Illustrated described it thusly: "It was, from almost the opening salvo, a fight that belonged to Duran. The Panamanian seized the evening and gave it what shape and momentum it had. He took control, attacking and driving Leonard against the ropes, bulling him back, hitting him with lefts and rights to the body as he maneuvered the champion against the ropes from corner to corner. Always moving forward, he mauled and wrestled Leonard, scoring inside with hooks and rights."
After 15 rounds, Duran won a very narrow but unanimous decision, handing Leonard his first setback after opening his pro career with 27 wins.
Angelo Dundee, Leonard's trainer, had advised him to stick and move against Duran who wanted to brawl. But Duran was able to get inside Leonard's head and Leonard, wanting to prove his toughness, did not follow Dundee's advice.
Leonard realized his error and vowed not to make the same mistake if he met Duran again. And they did meet again, five months later, before a national television audience with 25,038 looking on at the New Orleans Superdome.
This time Leonard would fight his fight and not Duran's. "The whole fight, I was moving, I was moving," he said, "and voom! I snapped his head back with a jab. Voom! I snapped it back again. He tried to get me against the ropes, I'd pivot, spin off and pow! Come under with a punch."
Late in a memorable seventh round, Leonard wound up his right hand as if to throw a bolo punch but instead tagged Duran's face with a sharp jab.
Leonard then taunted him, sticking out his chin and daring Duran to hit it. The taunting continued as Leonard moved around the ring.
It was clear Leonard was ahead on all three scorecards, but it was still close, and Duran, though not hurt, seemed to lack real punching power and probably felt humiliated.
Toward the end of the eighth round, Duran turned his back to Leonard and uttered the now famous line "no mas" (no more).
It was over with 16 seconds left as Leonard regained the WBC and lineal welterweight belts.
Duran said he quit because of stomach cramps after overeating following the weigh-in. To which Leonard replied, "I made him quit…to make Roberto Duran quit was better than knocking him out."
Leonard then agreed to meet Hearns in order to unify the welterweight title. They met on September 16, 1981, a sweltering night in Las Vegas, at an outdoor arena at Caesars Palace before 23,618. Hearns walked into the ring with a 32-0 mark and 30 knockouts, while Leonard had a 31-1 record with 22 knockouts.
In the early stages, Leonard stayed away and boxed while Hearns tried to find a hole in Leonard's defense.
After five rounds, Leonard was trailing on the cards and had a swelling under his left eye. In the sixth, Leonard found his range and landed a left hook to the face and he was again the aggressor in the seventh.
Hearns decided to box and piled up points while Leonard wanted to unload the heavy guns.
Hearns dominated rounds nine through 12. But just before round 13, Dundee said to Leonard, "you're blowing it, son! You're blowing it!"
For the 13th, Leonard, who now had a badly swollen left eye, caught Hearns with a stunning right and then landed a clean combination as Hearns was on wobbly legs.
Hearns went through the ropes, but it wasn't ruled a knockdown by referee Davey Pearl because it wasn't a punch that sent him there.
Late in the same round, Hearns was decked after Leonard connected with multiple blows.
In round 14, with Hearns leading on all three cards but clearly out of gas, Leonard seized control with a sizzling overhand right and a combination that saw Pearl call a stop to the action.
A third round TKO over Bruce Finch in February 1982 with the WBA, WBC, and lineal welterweight titles on the table, was followed by a scheduled fight with Roger Stafford.
While in training, Leonard had problems with his vision. He was diagnosed with a detached retina which was repaired in May of that year.
In November 1982, at a charity event in Maryland, Leonard announced he was retiring from boxing.
Twenty-seven months passed before Leonard returned to the ring in May 1984, when he faced Kevin Howard in a non-title match.
In the fourth round, Leonard was knocked down for the first time in his career. He went on to win, TKOing Howard in the ninth, but then shocked everyone at the post-fight press conference by announcing he was calling it a career once again.
Leonard sat ringside for the Hagler-John Mugabi fight in Las Vegas in March 1986 and was surprised to see Mugabi actually outbox Hagler for much of the contest before succumbing in the 11th round.
Leonard had seen enough and announced two months later he was coming back and that his next opponent would be none other than the great Hagler who would be making the 13th defense of his middleweight title.
The fight was set for April 6, 1987 at Caesars Palace. Hagler opened a 4-to-1 favorite.
Leonard won the first two rounds on all three judges' scorecards as Hagler, a natural left-hander, fought in an orthodox stance.
In the third round, Hagler switched to southpaw and fared much better, but Leonard remained in control with the help of superior hand and foot speed.
Leonard started to tire by the fifth as Hagler buckled his knees with an uppercut toward the close of the frame.
Hagler scored well in the sixth round, but Leonard also had effective moments.
Hagler did well in the seventh and eighth as he landed his jab while Leonard wasn't able to counter.
The ninth round was the most exciting with Hagler stunning Leonard with a left cross and had him pinned in the corner.
Leonard was able to escape and though each looked sharp, Hagler's punches were crisper and more resounding.
The 10th round wasn't as dramatic, but Hagler took that stanza, while Leonard boxed sharply in the 11th.
In the fight's final round, the 12th, Hagler landed a tremendous left hand that backed Leonard into the corner.
Leonard threw a flurry of punches and the round concluded with each fighter exchanging blows along the ropes.
The final CompuBox stats had Leonard landing 306 of 629 punches for 48.6 percent and Hagler connecting on 291 of 792 for 36.7 percent.
The fight was very close. Lou Filippo had it 115-113 for Hagler but was out-voted by Dave Moretti and Jose Guerra who had it for Leonard by scores of 115-113 and 118-110 respectively.
Hagler, who closed his career with a 62-3-2 mark and 52 knockouts, insisted he won the fight.
This was Hagler's final time inside the ring and he would eventually move to Italy.
Prior to his famous battle with Sugar Ray, Hagler scored two of the biggest wins of his career, scoring a unanimous decision over Roberto Duran in November 1983 and stopping Thomas Hearns in the third round in April 1985. Both bouts were at Caesars Palace.
Here is Pat Putnam's lead graph of the classic Hagler-Hearns fight as it appeared in Sports Illustrated: "There was a strong wind blowing through Las Vegas Monday night, but it could not sweep away the smell of raw violence as Marvelous Marvin Hagler and Thomas Hearns hammered at each other with a fury that spent itself only after Hearns had been saved by the protecting arms of referee Richard Steele. The fight in a ring set upon the tennis courts at Caesars Palace lasted only one second longer than eight minutes, but for those who saw it, the memory of its nonstop savagery will remain forever."
After upsetting Hagler, Leonard waited 19 months before getting back in the ring. In November 1988, he defeated WBC light heavyweight title-holder Donny Lalonde via a ninth round TKO. The WBC also sanctioned this fight for their inaugural super middleweight title.
Leonard then faced Hearns in a rematch in June 1989 at Caesars Palace and though it was ruled a draw, many at ringside thought that Hearns, who knocked Leonard down twice, deserved the decision.
Six months later, at the Mirage in Las Vegas, Leonard met Roberto Duran in a rubber match. Leonard prevailed over Duran by unanimous decision.
There would be two more fights for Leonard before he retired from boxing for good. In February 1991 at Madison Square Garden he lost a unanimous decision to Terry Norris in a clash for the WBC junior middleweight crown.
Another retirement followed, but his career wouldn't officially be over until March 1997 at Convention Hall in Atlantic City, New Jersey, when Leonard, now 40 years old, was stopped in the fifth round by Hector Camacho with a fringe middleweight title at stake.
These last two fights were aberrations compared to Leonard's glory days when he was the undisputed ruler of the welterweight division.
Few who watched Sugar Ray Leonard and Marvelous Marvin Hagler at their peaks will ever forget what they brought into the ring. No, they didn't do it alone, but it's unlikely anyone better than these two titans will appear any time soon.
Check out more boxing news on video at The Boxing Channel
To comment on this story in The Fight Forum CLICK HERE
Remembering Hedgemon Lewis (1946-2020); Welterweight Champ, Hollywood Pet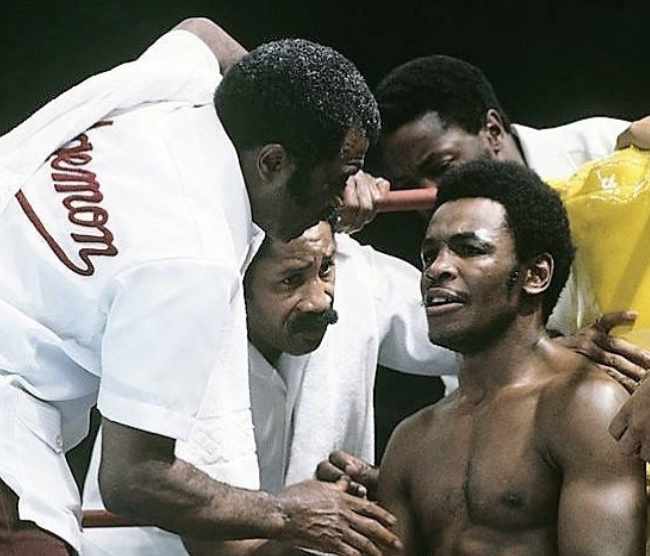 Hedgemon Lewis, who came up short in three stabs at the world welterweight title but won the New York version of this diadem, died on Sunday, March 30, at an assisted living facility in Detroit. Lewis, who was 74, had health issues in recent years that made him vulnerable to COVID-19, and that vulnerability was compounded by residing in Detroit which has become one of the epicenters of the scourge. The evil pathogen sought him out and in his debilitated condition it wasn't a fair fight.
Lewis was 72-6 as an amateur and won a National Golden Gloves title as a lightweight and AAU and National Golden Gloves titles at welterweight. He was 53-7-2 (26 KOs) as a pro. But those numbers barely tell the story of a fighter who led an interesting life and was admired by his peers for what he accomplished outside the ring.
Hedgemon Lewis turned pro in 1966 under the guidance of Luther Burgess who would be best remembered as one of Emanuel Steward's chief lieutenant's at Detroit's fabled Kronk Gym. Burgess, a fine featherweight in his fighting days, had been trained and managed by Eddie Futch.
Lewis was eight fights into his pro career and not quite 21 years old when Burgess brought him to Los Angeles where Futch was then plying his trade. Futch loved what he saw and Burgess left his young fighter in the care of his former mentor who was better able to "move" Lewis as the Southern California fight scene was then percolating.
Undoubtedly it wasn't merely Hedgemon's potential that excited Eddie Futch. The two had much in common. Both had been born in small towns in the Jim Crow South and had spent their formative years in Detroit. Moreover, a Futch Fighter was a fighter who conducted himself like a gentleman outside the ring and Hedgemon Lewis fit that mold. Futch had no tolerance for loudmouths.
Hedgemon became a staple at the Olympic Auditorium where he had 15 pro fights. When paired against a top-shelf opponent with a Mexican bloodline, these bouts drew big crowds. An estimated 4,000 were turned away when he fought Ernie "Indian Red" Lopez on July 18, 1968. The teak tough Lopez, then ranked #2 in the world, saddled Hedgemon with his first defeat, winning by TKO 9. The bout was so exciting that Lopez's manager and chief cornerman Howie Steindler fainted during the battle and would be taken to a hospital for observation.
By then, Hedgemon had wealthy backers that allowed him to give boxing his full attention, or we should say his full attention when he wasn't studying for his real estate license or taking classes in speech and drama at Los Angeles City College.
When Muhammad Ali and Joe Frazier turned pro, they both had syndicate backing. The syndicates were comprised of wealthy businessmen in Louisville and Philadelphia, respectively. A California man named Dell Jackson put together a syndicate to back the next world heavyweight champion but with no good heavyweights available, the consortium settled on Hedgemon Lewis.
Jackson had friends in show business. The actor Ryan O'Neal, the comedian Bill Cosby, and the Broadway star and recording artist Robert Goulet hopped on board. The Hoover Street Gym, where Lewis trained and where his backers were constantly popping in to check on their investment, became a hot spot for the paparazzi. Lewis always looked good in the gym because he was a stylish fighter (which curried no sway with the legendary LA Times columnist Jim Murray who was partial to boxers of the blood-and-guts stripe; Murray did Hedgemon Lewis no favors when he described Hedgemon's style as "mostly ballet.")
Lewis won six straight after his setback to Indian Red, advancing his record to 28-1. The sixth was a rematch with Lopez wherein he avenged his lone defeat, winning a close but unanimous decision, but Indian Red won the rubber match, stopping Hedgemon in the 10th at the LA Sports Arena.
The top gun of the welterweight division in those days was Jose Napoles, a fighter of consummate skill who left Cuba when Fidel Castro came to power and settled in Mexico City. Napoles held both of the meaningful welterweight belts when Hedgemon caught up with him on Dec. 14, 1971 at the Inglewood Forum. Napoles prevailed in one of his toughest fights. Had he not won the final round, the bout would have been scored a draw.
They would fight again 32 months later in Mexico City and this would be a much easier fight for Napoles who scored a ninth round TKO. Between these two world title fights, Hedgemon had two 15-round affairs with Billy Backus on Backus's turf in Syracuse, New York. Lewis won both by unanimous decision, winning the second fight by a more lopsided margin than the first.
Backus, the nephew of the great Carmen Basilio, had dethroned Napoles in December of 1970 in a fight stopped on cuts, some say prematurely. It was The Ring magazine Upset of the Year. In a better measure of their respective skills, Napoles dominated the rematch. Backus was a bloody mess when the bout was stopped in the eighth round.
The New York State Athletic Commission, in their infinite wisdom, demanded a rubber match. When Napoles refused, the NYSAC stripped him of his title. Both of Hedgemon Lewis's bouts with Billy Backus were billed for the New York version of the world welterweight title, which was something of a joke although in an earlier day the New York version of a title had considerable cachet.
Lewis's third stab at the world welterweight title came in what would what be his final bout. He walked away from the sport after suffering a 10th round stoppage at the hands of John H. Stracey in London.
Unlike so many fighters, he knew when it was time to say goodbye. "It's such a strange thing when that happens to you," Hedgemon told LA Times sportswriter John Hall, reflecting on his match with Stracey. "I trained well. I felt good. But once the fight began, it all went in an instant. Nothing worked. My legs, my hands. Suddenly I was a stranger in my own body."
In retirement, Lewis became an assistant trainer under Eddie Futch, dabbled in fight promotions, and looked after his real estate investments. And he remained great friends with Ryan O'Neal who stayed with Lewis until the very end as other members of the syndicate dropped out.
Hedgemon Lewis was the oldest child and only boy of his mother's five children. She raised her children alone after her husband walked out one day, never to be seen again. Lewis was very close to his mother and his sisters and when his mom took ill, circa 2002, he returned to Detroit to live out his days. Mrs. Lewis died in 2017.
—
This reporter first met Hedgemon Lewis in the late 1980s when Team Futch – Eddie Futch, Thell Torrence, Hedgemon, and the tyro, Freddie Roach, were training Virgil Hill at the long-gone Golden Gloves Gym in Las Vegas. In hindsight, I have come to be believe that this quartet was the greatest team of trainers ever assembled. If not, it was undoubtedly the team with the best chemistry. "Everything we did was formulated around Eddie's knowledge and techniques," said Torrence.
The news of Lewis's death prompted a call to Torrence. Eighty-three years young and still in-demand as a boxing coach, he had just gotten off the phone with Ryan O'Neal, informing him of the sad news. And he was kicking himself for not following through on the recent promise that he had made to himself to go visit his friend and former associate in Detroit. "And now it's too late," he rued.
Thell Torrence believes that Hedgemon left the sport in better shape financially than any boxer in his weight class who had a similar career. He credits O'Neal with making this possible, although when Lewis invested in a parcel of real estate, he had done his homework.
Lewis allowed himself a few luxuries. "He drove the first Mercedes I had ever seen," said Torrence, and when he started to make good money, he moved into a fancy apartment in fancy Malibu. But he could have had many more luxuries if he had not felt an obligation to help out his family. He purchased a home for his mother in Detroit and, according to Torrence, put several of his sisters through college.
Hedgemon Lewis was inducted into the California Boxing Hall of Fame in 2006 and into the Alabama Boxing Hall of Fame — he was born in Greensboro – last year. Health problems prevented him from attending the induction ceremony in Tuscaloosa. Two of his sisters accepted the honor for him.
To reiterate, Hedgemon Lewis was 72-6 as an amateur and 53-7-2 as a pro. And that barely touches the surface of a very good fighter who was a credit to his sport.
R.I.P. Champ.
Check out more boxing news on video at The Boxing Channel 
To comment on this story in The Fight Forum CLICK HERE
Don Dunphy:  Simply the Best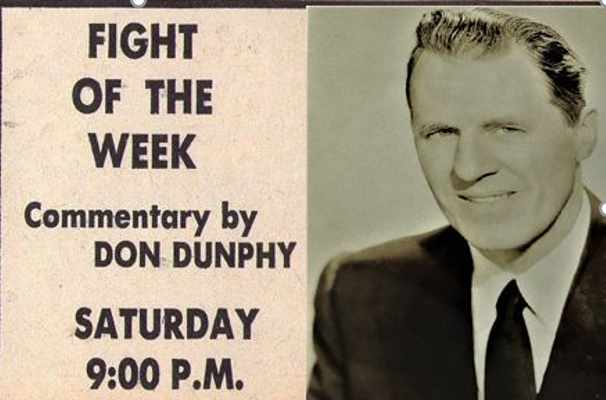 Don Dunphy once said, "When two or more people do blow by blow….they overtalk and emphasize too much." He was responding in 1996 to the issue of modern television's insistence on multiple announcers at ringside.
Don was unique. He had a clear, no-nonsense delivery, "pungent phrasing," and just the right sense of drama (without faking it). His voice was crystal-clear with a noirish tang of his New York City roots.
Dunphy's distinct and informative style was not limited to boxing, but boxing was his thing – his signature sport, marked by his election to ten halls of fame (Don was 90 when he passed away in 1998).
Dunphy called the blow-by-blow for more than 2000 fights, 200 or so for titles and 50, or thereabouts, for the heavyweight championship. It was his nasal-voiced staccato style that gave him unique status among announcers back in the day. (I dearly liked Jimmy Powers but I loved Don as his clear voice made following a fight an easy and enjoyable experience on the radio. Win Elliott filled in nicely between rounds.)
"Don Dunphy was boxing" – Marv Albert
Don was the master of brevity. He would allow long periods of time to pass without saying anything, interjecting just enough to add to the drama and not interrupt it. He was indeed the golden voice of boxing. His announcing style was like a well-timed left hook, short and crisp.
More importantly, Don never let himself become the focus. It was never about him.
His first blow-by-blow broadcasts came in 1939, but his fame came two years later when the Gillette Razor Company began its marvelous Friday night tradition.
Here's what Don's son, Bob, had to say during a telephone conversation: "My father had tremendous respect for the fighters and he always knew what his role was in relation to the event. On radio broadcast that was to give a total blow by blow description of what was happening in the ring. On TV he felt it was unnecessary to repeat what the viewer could see for himself and looked to call attention to what was not so obvious. Simply put, nobody did it better.
Don was Boxing's answer to Baseball's Mel Allen.
Along with ring announcer Johnny Addie who never used fake or manufactured enthusiasm, timekeeper Fred Abbatiello, and judge Artie Aidala, the fans were treated to the very best. As much as Dunphy knew about boxing, he never came across as if he knew more than his audience. He made us feel that we were all enjoying the fights together.
Compared with Don Dunphy, the screamers of today are sometimes like a bunch of guys in the front row standing up on every occasion and blocking the view. Unlike these shrill announcers (some of whom have been very fine like Jim Lampley who is one of the most intelligent, humble, and accessible boxing announcers you will ever meet), Dunphy gave viewers only the information they needed. He was a host first and, as the fights unfolded, his calls punctuated the drama.
I grew up listening to Dunphy. He was very much a part of my childhood. His voice, the Gillette jingle, Johnny Addie and peripheral figures like trainer Whitey Bimstein will always be among the highlights and fond memories of my life.
Don Dunphy was inducted into the International Boxing Hall of Fame in 1993.
Ted Sares can be reached at tedsares@roadrunner.com
Check out more boxing news on video at The Boxing Channel 
To comment on this story in The Fight Forum CLICK HERE
Noted Boxing Buffs Name Their Favorite Boxing Book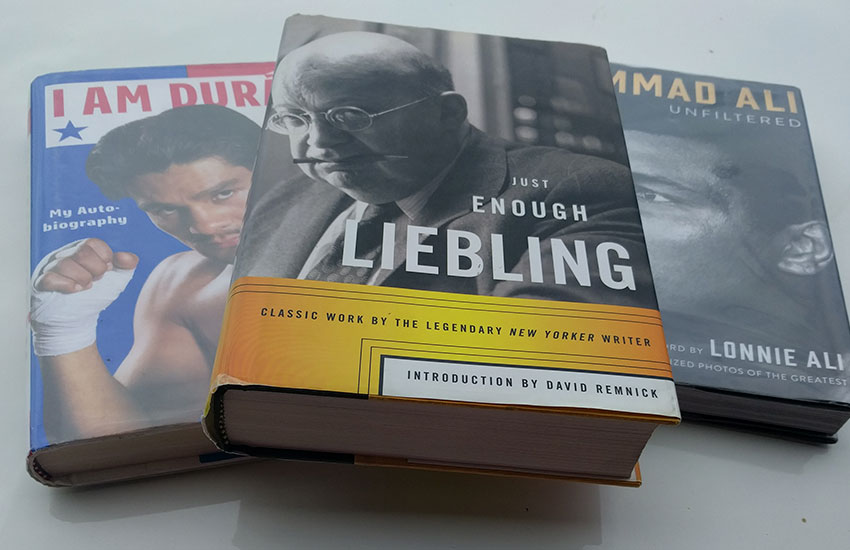 If you happen to have a lot of time on your hands (and, unfortunately, many of us do) this might be a good time to cuddle up with a good book. If you are like us, you promised yourself that you would get acquainted with a particular author, but somehow never found the time. Well, now just may be the right time to fulfill that promise.
And it just so happens that we have a ready-made list of recommendations.
In August of 2017, TSS writer Ted Sares reached out to more than two dozen noted boxing buffs and asked them to name their favorite boxing book. Many felt compelled to name more than one, which was fine with us. We thought this would be a good time to re-visit Ted's survey.
Yes, we know that bookstores and libraries are closed right now throughout most of the English-speaking world, but almost every title can be found on Amazon and some of the classics – even books prized by collectors – can be acquired very cheaply from independent online booksellers who specialize in used books. Their ranks have mushroomed in recent years.
We listed Ted's correspondents alphabetically by their last name. Here are their picks:
JIM AMATO (writer, historian): A.J. Liebling's "The Sweet Science."
RUSS ANBER (elite trainer, corner man, and TV personality): "Joe Louis -Black Hero in White America" by Chris Mead. I remember reading this from cover to cover, unable to put it down. Others: "The Greatest Fight of Our Generation" by Lewis A. Erenberg, "The Sixteenth Round" by Rubin "Hurricane" Carter, "Beyond Glory" by David Margolick.
JOE BRUNO (former New York Tribune sportswriter; author of more than 45 crime-related books, including true crime, novels and screenplays): AJ Liebling's "The Sweet Science."
TRACY CALLIS (eminent boxing historian, writer, and journalist): Seven come quickly to mind. I love to read about boxing so I like almost any book about the game.
"A Man among Men" by Kelly Richard Nicholson
"Chicago's Greatest Sportsman" by Mark T. Dunn
"Hitters, Dancers and Ring Magicians" by Kelly Richard Nicholson
"In the Ring with Bob Fitzsimmons" by Adam Pollack
"In the Ring with James J. Jeffries" by Adam Pollack
"The Choynski Chronicles" by Chris LaForce
"Ultimate Tough Guy" by Jim Carney Jr.
STEVE CANTON (A member of the International Boxing Research Organization, Steve has been involved in every aspect of boxing for more than 52 years): There are so many excellent boxing books. "Only The Ring Was Square" by Teddy Brenner with Barney Nagler was outstanding. "Bummy Davis vs. Murder Inc." by Ron Ross, "Boxing Babylon" by Nigel Collins, just to name a few.
WILLIAM DETLOFF (former amateur boxer, author, editor of Ringside Seat magazine): I'll go with Liebling's "The Sweet Science." Wiley's anthology is certainly up there. It's underrated.
JILL DIAMOND (boxing writer, official, and matchmaker): BOX: "The Face of Boxing" by Holgar Keifel because I love a good photography book. "Four Kings" by George Kimball. In fiction, "The Harder They Fall" by Budd Schulberg. There are so many others.
BERNARD FERNANDEZ (boxing writer and lifetime member of the BWAA): It's a tough call. There are a lot of good ones floating around, but I'll go with John Schulian's "Writers' Fighters and Other Sweet Scientists." But then I'm kind of biased as John, a colleague of mine for a time at the Philadelphia Daily News, is a friend.
IVAN GOLDMAN (ex-Washington Post and LA Times newspaperman, boxing writer, novelist): I humbly submit my novel "The Barfighter" for consideration.
Dr. MARGARET GOODMAN (President of VADA, former Nevada boxing official, neurologist, author): Actually my novel "Death in Vegas" is my favorite book as it tells the truth about the sport via thinly-veiled fiction. Writing it was very cathartic.
LEE GROVES (boxing writer, author): If I had to pick one, it would be "McIlvanney on Boxing" by Hugh McIlvanney. Anytime I want to get a booster shot of excellent, muscular prose, that's what I read. The two A.J. Liebling books "The Sweet Science" and "The Neutral Corner" also provide inspiration.
KEVIN IOLE (Yahoo combat sports writer): I loved "The Fight" by Norman Mailer, which I found to be a well-reported, gripping tale of one of the seminal events of my youth. I also loved "Muhammad Ali: His Life and Times" by Thomas Hauser and "Fight of the Century" by Michael Arkush.
MIGUEL ITURRATE (TSS writer and Senior Archivist at The Boxing Channel): I really enjoy the history books, especially biographies. Battling Nelson's autobiography is a good one. I also really enjoyed "Muldoon: The Solid Man of Sport" by Edward Van Every.
Dr. STUART KIRSCHENBAUM (former amateur boxer; co-founder National Association of Boxing Commissioners): "Empire of Deceit" by Dean Allison. It's a fascinating true story of the Wells Fargo Bank embezzlement by boxing promoter Harold Smith. I had dealings with him while I was the head of the boxing commission in Michigan. He promoted several Kronk championship fights. Cast of characters include Muhammad Ali, Thomas Hearns, and a who's who of that era. Only in America and only in boxing… crime does pay.
HAROLD LEDERMAN (famous boxing judge, member of HBO team, and 2016 IBHOF inductee): "All Time Greats Of Boxing" by Peter Arnold is my favorite boxing book because it's a great book.
FRANK LOTIERZO: (TSS writer emeritus): I can't pick a favorite….so I'll give you a few of my favorites that I've read this summer. "In This Corner" by Peter Heller which I read for the third time; "Sugar Ray Robinson" with Dave Anderson, "Joe Louis: The Great Black Hope" by Richard Bak, "Hard Luck: The Triumph and Tragedy of Jerry Quarry" by Steve Springer and Blake Chavez
ARNE LANG (historian, author, editor-in-chief of The Sweet Science): Many years ago I stumbled on a book called "Bella of Blackfriars" in a used book store in Carlsbad, California. Bella was Bella Burge, the widow of Dick Burge, an English middleweight champion who went to prison for eight years in a massive bank fraud. From her husband's death in 1918 until 1940, Bella ran "The Ring," a boxing house in a circular building on Blackfriars Road in London that was originally an Anglican chapel. I would liken "The Ring" to the Olympic Auditorium in LA. It didn't get the biggest fights but housed many important fights and attracted a loyal clientele that included some salty characters. I found the book a great window into the world of boxing in London. By the way, The Ring had fallen on hard times when it was reduced to rubble by the German Luftwaffe in 1940. I never tire of reading A.J. Liebling, whether he's writing about boxing or Louisiana politics or whatever. I read Liebling for pleasure and also in hopes that some of his skill as a wordsmith will rub off on me but it never has.
RON LIPTON (world class referee): I enjoyed "Jersey Boy: The Life and Mob Slaying of Frankie DePaula" and "Dick Tiger: The Life and Times of a Boxing Immortal," both by Adeyinka Makinde, and the Rocky Graziano biography "Somebody Up There Likes Me." Also, anything by Ted Sares, Springs Toledo, Mike Silver, and William Detloff.
GORDON MARINO (philosophy professor, Wall Street Journal boxing writer, trainer): I guess I would go with Carlo Rotella's "Cut Time" and Roger Kahn's "A Flame of Pure Fire: Jack Dempsey and the Roaring 20's."
ROBERT MLADINICH (former NYPD police detective, author, boxing writer): "Writers, Fighters and Other Sweet Scientists" by John Schulian. It is a collection of his columns from the Chicago Sun-Times and there is not a weak story in the batch. He is a master storyteller and my favorite boxing writer. I also immensely enjoyed "Beyond Glory: Joe Louis vs. Max Schmeling and a World on the Brink" by David Margolick for its historical and social significance and the underrated but exceptional "Weigh-In: The Selling of a Middleweight" by title challenger Fraser Scott.
TED SARES (TSS writer) Ralph Wiley's "Serenity: A Boxing Memoir." I also enjoyed Mike Silver's "The Arc of Boxing: The Rise and Decline of the Sweet Science" for the primary reason that it stirred up a lot of much needed debate between Old School and New School.
JOHN SCULLY (elite trainer, former world title challenger): My favorite boxing book is one that I believe to be one of the greatest books ever written on the inside of boxing called "The Black Lights" by Thomas Hauser. It was actually sent to me by Mike Jones back in 1988 when he was trying to sign me to a professional contract. He sent me the book I assumed as a way to show me how he deals in the boxing game as it is centered around his fighter, Billy Costello. It is a truly great book.
MIKE SILVER (boxing historian; author): I could easily name at least a dozen truly outstanding boxing books that are my favorites, but if asked to name just one I would place David Margolick's "Beyond Glory Joe Louis vs. Max Schmeling and a World on the Brink" in the top spot. Another all-time favorite is the great Nat Fleischer's "50 Years at Ringside."
CARYN A. TATE (boxing writer) While it encompasses more than boxing, Bruce Lee's "Tao of Jeet Kune Do" is probably my favorite book on combat. The book is filled with priceless instruction that is relevant and insightful. Lee was a great admirer of many Western boxers and incorporated some of their techniques into the martial art he founded. More than just an instruction manual, the book fuses technique with philosophy and real world psychology. The book shows that Lee was on the same page with great minds in boxing like Emanuel Steward and Cus D'Amato.
BRUCE TRAMPLER (Top Rank matchmaker; a member of the International Boxing Hall of Fame): Off the top of my head, "The Professional" by W.C. Heinz, "Fat City" by Leonard Gardner, "A Boxing Companion" by Richard O'Brien, "Only The Ring Was Square," and "James Norris and the Decline of Boxing" by Barney Nagler.
GARY "DIGITAL" WILLIAMS: (boxing writer, blogger and "Master of the Beltway"): I have two. Jack Newfield's "Only in America: The Life and Crimes of Don King" is one of the great investigative books of all time. It was riveting. Also, Brad Berkwitt's "Boxing Interviews of a Lifetime." I love the range of people — in and out of the sport — that he interviews in the book.
PETER WOOD: (former boxer, author): My favorite iconic boxing books are "The Sweet Science" by A.J. Liebling and "The Harder They Fall" by Budd Schulberg. My favorite non-fiction boxing books are "Weigh-In" by Fraser Scott; "In This Corner" by Peter Heller, "Atlas" by Teddy Atlas, and "The Raging Bull" by Joseph Carter and Peter Savage. My favorite fictional boxing books are "My Father's Fighter" by Ronald K. Fried and "The Professional" by W.C. Heinz.
Special Mention goes to "Flash Gordon's 1970 East Coast Boxing Yearbook" with Johnny Bos and Bruce Trampler. My all-time favorite boxing autobiography is "Confessions of a Fighter" by Peter W. Wood.
EDITOR'S NOTE: Several interesting books have been published since Ted Sares conducted this survey. A new publishing house in Boston, Hamilcar Publications, released several boxing books, both hardcover and paperback, with more on the way. One of Hamilcar's initial offerings was a reprint of Donald McRae's 1997 opus "Dark Trade: Lost in Boxing," which many consider one of the best boxing books of all time. The Hamilcar edition, with a new chapter by the author, clocks in at 552 pages.
Each year during the holiday season, Hall of Fame boxing writer Thomas Hauser publishes a list of what he considers the best books on boxing. It's a long list. Here's a recent compilation.
Check out more boxing news on video at The Boxing Channel 
To comment on this story in The Fight Forum CLICK HERE