What the "F" is Paulie Malignaggi Thinking ?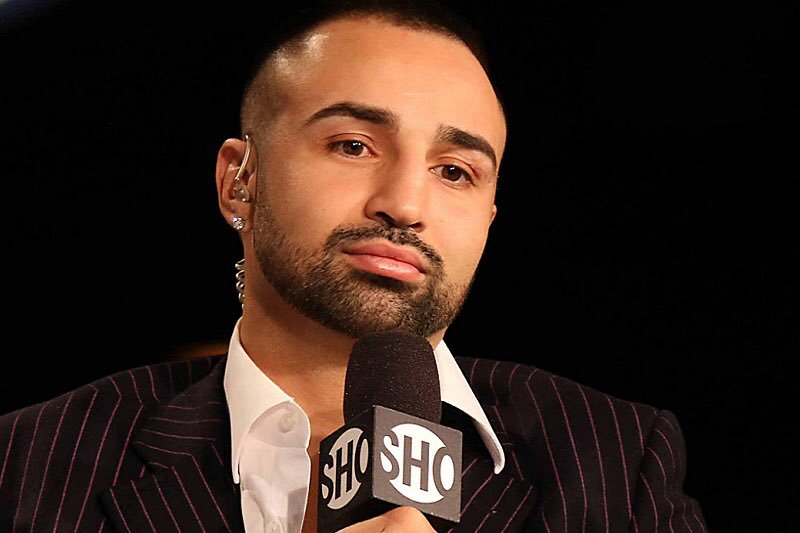 On June 22, Paulie Malignaggi and Artem Lobov will meet in a ring at the Florida State Fairgrounds Entertainment Hall in Tampa in what is being styled as a Bare Knuckle Fighting Championship (BKFC) grudge match. Under BKFC rules, fights are contested in a circular ring with a 22-foot diameter. Combatants can throw punches in a clinch or while grabbing the back of an opponent's neck. No kneeing, elbowing, or kicking is allowed. The contract weight is 155 pounds.
Malignaggi is well known to boxing fans. He's 38 years old and, when he enters the ring to face Lobov, it will have been 27 months since he saw combat. His last ring foray ended poorly when he was knocked out by Sam Eggington in eight rounds.
Lobov, age 32, is a mixed martial artist who has fought for various MMA promoters (most notably UFC) en route to a 16-15-1 record with one no contest. He has also had one fight in bare knuckle competition which he won by decision on April 6 of this year.
Lobov is friends with Conor McGregor and was a training partner with McGregor when the Irishman was preparing to fight Floyd Mayweather in 2017. During that time, Malignaggi was brought into camp to work briefly with McGregor as a sparring partner. Therein the story lies.
Malignaggi-Lobov moved onto the radar screen at a May 20 kick-off press conference in New York where Paulie was a poster boy for bad behavior. He spat on Lobov and tried to hit Artem on the head with a hand-held microphone. At various times, he called Lobov "a pussy hypocrit f—, a hypocrit pussy f—, a bitch-ass pussy f—, and a piece of s—." Other thoughts he uttered included:
*         "My hands are like razor blades. Get a good look at this guy's face right now because next month I'm gonna make it all look like a road map. Permanently, because these scars are not gonna go away."
*          "You're a piece of s— and I'm gonna treat you like the dirtbag that you are. After I beat the s— out of you, I'm gonna spit on you. I might take out my dick and piss on you. I'm gonna take out my dick after I knock your teeth out and piss in that toothless mouth of yours. You got five weeks to live, motherf—–."
*          "Next month, I'm gonna put this guy in a f—— coma."
The following day, for good measure, Paulie refered to Lobov and the mixed martial arts community as "your piece of s— community and your piece of s— people."
Most of the reaction to Malignaggi's conduct at the press conference has ranged from disappointment to condemnation. There are concerns that he's acting in a self-destructive manner and adding to the ugliness that permeates public dialogue today. Others are worried that his actions might jeopardize his credibility as a Showtime and Sky Sports commentator.
There are two issues: (1) Paulie's decision to fight again, and (2) his conduct in the build-up to the fight. Let's start with his decision to fight.
On the surface, Paulie appears to have it made. He earned good money in boxing and kept a lot of it. He's one of the best expert analysts in the business with several lucrative commentating contracts. And he retired from boxing with his faculties intact (although one might argue that his foray into bare-knuckle fighting contradicts that assumption).
Bare knuckle fighting is a huge step down in platform for a man who was at the center of the boxing world when he fought in main events at Madison Square Garden, Barclays Center, and the MGM Grand Garden Arena. So why is Paulie fighting Lobov?
One theory is that Paulie is a junkie for combat sports. That it's not enough for him to call the action from ringside; he has to be in the ring. But after his loss to Eggington, he could no longer compete at a high level in boxing so he found a smaller pond where he's still a big fish.
I spoke with Paulie at length this week, and he disputed that notion. He was calm and rational throughout our conversation. His primary reason for fighting, he said, is money. He doesn't need it. But like most of us, he likes it.
"There's a price for everything where you calculate risk-reward," Paulie told me. "I'm making a lot of money for this fight. A lot of money. They came to me with a deal that was too good to turn down. There's a big guarantee and, if the pay-per-view goes well, it will be one of my biggest paydays ever."
"People say I shouldn't be boxing anymore," Paulie continued. "But at the end of my boxing career, my legs were the big issue. For short periods, my legs are still good. This fight is five two-minute rounds. I can go at an intense level for that. And maybe my reflexes aren't quite as sharp as they used to be. But I don't see me being at risk in this fight. If Lobov was a real boxer, I wouldn't be doing this. But he isn't. I think he'll go wild and crazy at the start. And then, when I stuff my jab in his face a couple of times and hit him with some body shots, either he'll just try to survive or fold completely. I look at this as a lot of money for an easy outing."
And what about Paulie's conduct at the kick-off press conference?
As noted above, Malignaggi sparred briefly with Conor McGregor two years ago. Thereafter, McGregor claimed to have gotten the better of him and released a snippet of video footage to bolster that apparently spurious claim. As time went by, Paulie felt more and more humiliated by the situation. Lobov, who piled on in support of McGregor, is a proxy for Conor and, in Paulie's mind, worthy of scorn in his own right.
"This is bringing out a side of me that I thought I'd left in my past," Malignaggi told me. "It's a response to the lies and humiliation and pain to me and my family and everything else that this guy and his piece-of-s— friend Conor McGregor caused to be dumped on me. It reminds me of why I became a fighter."
"I grew up in a not very nice place," Paulie elaborated. "And I'm not talking about the neighborhood. I'm talking about what my life was like and the abuse I took. I went into boxing to get away from that place and to deal with the anger that I had inside me in an acceptable way."
"You have to put the press conference in context," Paulie continued. "There's a whole back story that people don't understand. I wish I'd never gone to spar with McGregor. They treated me like s— when I was there. Then they lied and dumped s— on my reputation afterward. But I did go spar with him and you can't undo the past. And I still have to deal with it. You should have seen the social media after I sparred with McGregor. His idiot fans calling me a faggot, a little Dago, things they wouldn't have the courage to come up to me on the street and say to my face. And they don't just put it on their sites. They put it all over my social media pages. I can post a photo of me at the beach and, a day later, there's all sorts of ugly s— attached to it. I have a young niece and nephew who read this s— about me. My mother sees it. It's been two years since I sparred with that scumbag and this s— still follows me every day."
And the comment about putting Lobov in a coma?
"I don't usually wish anything bad for anybody," Paulie answered. "And I certainly don't want to see anybody hurt in that way. Usually. But this guy has been part of causing so much pain for me and my family. And he has talked so much s— about boxing. So do I actively want to put him in a coma? No. But if it happened, I wouldn't care."
I've been around boxing long enough now to have seen a lot of promising young fighters become champions and then grow old. I've followed the trajectory of Paulie's career from the beginning. I remember sitting opposite him at the Brooklyn Diner in Manhattan shortly before his 2001 pro debut against Thadeus Parker. I remember talking with him for hours in my apartment before his 2006 fight against Miguel Cotto. I've been in his dressing room before and after hard-fought victories and heart-breaking defeats. We've always been honest with each other and respect each other's point of view when our views differ.
There was a time when the stars were properly aligned and Paulie could command seven-figure purses. His last payday at that level came in 2015 when he fought Danny Garcia at Barclays Center. One year later, fighting in the same arena against Gabriel Bracero, his purse was $150,000.
I've been told in confidence what Paulie has been guaranteed and the per-view upside he can earn for fighting Lobov if the promotion does well. It's good money. But is it worth the cost? A source with knowledge of the inner workings at Showtime says that the network pays Paulie well in excess of $10,000 per telecast to serve as an expert analyst. His Showtime earnings are supplemented by his work for Sky Sports. And Paulie saved money when he was fighting. He wasn't a profligate spender.
Years ago, Paulie told me, "I hope to get old some day, but it won't be in the ring."
But in the ring, Paulie is now old. He's confident that Lobov doesn't box well enough to find him or hit hard enough to hurt him. Don't forget; for sixteen years, Paulie fought skilled craftsmen like Miguel Cotto, Ricky Hatton, Shawn Porter, and Danny Garcia. Lobov isn't anywhere near their league as a boxer or a puncher.
But Paulie already has physical issues (such as nerve damage in his face) as a consequence of boxing that will shadow him for the rest of his life. His hands have been a problem throughout his career. Now he'll be fighting with no handwraps and no gloves. He thinks he can slap Lobov silly, go the body, and take something off his punches to the head. But Lobov is likely to be in his face all night. Paulie wants the money. Lobov needs it. There are those who think that Paulie is walking into this fight with his hands down and his chin up in the air.
I hope Paulie has a letter of credit for his guarantee. I hope the check clears for whatever upside on the pay-per-view he might be entitled to. And by the way; if an iron-clad letter of credit isn't in place before the fight, what does Paulie do? He should pull out. But if he does, social media (which played a role in Paulie's decision to fight Lobov and also his meltdown at the May 20 press conference) will be unkind to him.
Society today is plagued by an ugly lack of civility. We're living in an age when people hide behind the anonymity of social media and say things that they wouldn't dare say face-to-face to another person. Racism, misogyny, and homophobia are extolled as virtues in some quarters.
In theory, Paulie's hatred for McGregor and Lobov and his reference to MMA fans as a "piece of s— community" will help engender PPV buys. But it will also further antagonize MMA fans against Paulie and ensure more social media attacks. And it brings to mind the admonition of Charles Horton Cooley, who a century ago observed, "Hatred floods your mind with the idea of the one you hate. Your thoughts reflect his, and you act in his spirit. If you wish to be like your enemy, to be wholly his, hate him."
Paulie has lamented the fact that his niece, nephew and mother have been exposed on an ongoing basis to the ugliness leveled against him on social media. But what will his niece, nephew, and mother think if they watch a video of Paulie at the May 20 press conference?
"After I beat the s— out of you, I'm gonna spit on you. I might take out my dick and piss on you. I'm gonna take out my dick after I knock your teeth out and piss in that toothless mouth of yours. You got five weeks to live, motherf—–."
Life is about choices. On January 30, 2008, Paulie and I went to a meeting at St. Francis College in Brooklyn. Frank Macchiarola (then president of St. Francis) was there with two administrators. Paulie had won the IBF 140-pound title on a 12-round decision over Lovemore Ndou the previous June and defended it successfully against Hermann Ngoudjo twenty-five days before the meeting.
Macchiarola saw untapped potential in Paulie. He offered to enroll him free of charge in a St. Francis College program that would help him earn a high school graduation equivalency diploma. Then Paulie could work toward a college degree.
"All your life, there have been people in school who told you you're stupid," Macchiarola said to Paulie. "You're not. I know enough about you to know that you're a very smart guy. There's nothing you can't do in the classroom if you put your mind to it. An education will give you options in life that you might not otherwise have. And it will give you tools to make better choices."
It was a wide-ranging conversation. At one point one of the administrators told Paulie, "You're a pretty important person. There aren't many world champions. At St. Francis, people will know who you are but you'll be treated like everyone else."
Macchiarola also talked a bit about the philosophy behind the school athletic program. "I call it bait and switch," he said with a twinkle in his eye. "Kids come here thinking they're coming to play basketball, and then we give them an education."
Paulie set up an appointment to take evaluation tests in English and math to determine what skills he needed to work on in preparation for his high school graduation equivalency examination. Then a tutoring program consistent with the demands that being a fighter put upon him would be implemented.
But the planning ended. Paulie decided to go in a different direction, one that he felt was better for him.
Now Paulie has another choice to make. Like a lot of people, I feel that the best place for him in combat sports in 2019 is behind a microphone.
Certain people are of unique value. Harold Lederman was like that. He created a role – the unofficial ringside judge – and made it his own. There have been dozens of "unofficial" scorers at ringside" on telecasts since then. In some instances, their scoring has been just as good as Harold's. But none of them have become an integral part of the boxing scene. Harold was special. He had a passion for boxing. He loved the fights – not just the main events, all fights. He was accessible, not just to the powers that be but to everyday boxing fans. He was a boxing feel-good story.
Paulie has qualities that could enable him to help fill the void left by Harold's passing. In some ways, Paulie and Harold are as different as night and day. Harold would not have threatened to knock out someone's teeth, spit on him, and, while his victim was unconscious, urinate into his open mouth.
But Paulie, like Harold, is exceptionally knowledgeable about boxing and communicates information well. He treats four-round preliminary fighters with the same respect that he evinces for pound-for-pound contenders. He loves talking about boxing, has a unique style, and has a wellspring of good qualities in him. He could have a huge positive impact on boxing as a ringside commentator. But instead, he's risking his health unnecessarily and becoming a poster boy for antisocial behavior. He's justifiably angry about the ugliness that has been heaped upon him. But now he's spewing more of the same into the public discourse. By giving vent to his anger in the way that he has, he has contributed to the ugliness. That's a shame. Paulie can't clean up the cesspool by himself. But he shouldn't contribute to it.
And a final thought. I can't say that my heart will be in Paulie's gloves on June 22 because he won't be wearing gloves. But I'll be rooting for him.
Thomas Hauser's email address is thomashauserwriter@gmail.com. His most recent book – Protect Yourself at All Times – was published by the University of Arkansas Press. In 2004, the Boxing Writers Association of America honored Hauser with the Nat Fleischer Award for career excellence in boxing journalism.
Check out more boxing news on video at The Boxing Channel
To comment on this story in The Fight Forum CLICK HERE
Tyson Fury Returns on Saturday with a Familiar Foe in the Opposite Corner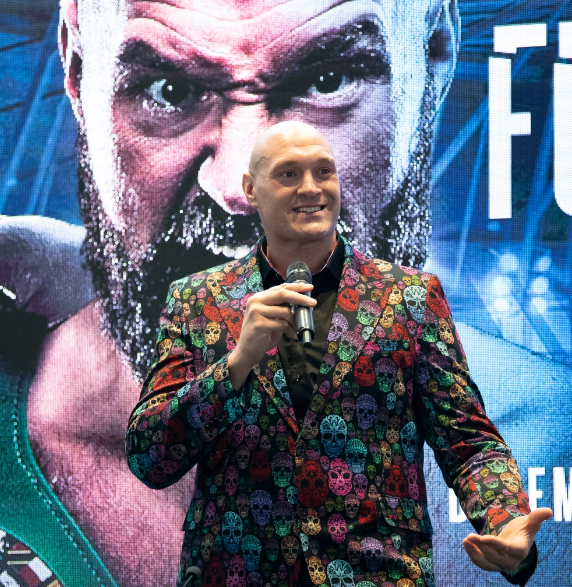 "Tyson Fury made a name for himself last night, one that already has a ready-made ring about it and will be destined to become familiar in boxing." Alan Hubbard, a ringside correspondent for The (London) Examiner wrote those words after Fury wrested the British and Commonwealth heavyweight titles from Derek Chisora with a comprehensive 12-round decision on July 23, 2011.
Those words were prescient. Tyson Fury did go on to become a familiar name in the sport. Indeed, one could argue that at this moment in history no active boxer is more famous.
More than 11 full years have elapsed since Fury toppled Chisora. In the ensuing years, the Gypsy King outpointed Wladimir Klitschko in Germany to win the world heavyweight title, battled personal demons that sidelined him for two-and-half years, returned to the ring with a flourish, ultimately regaining the world heavyweight title, or at least a version of it, in the second chapter of his memorable trilogy with Deontay Wilder, and rising so high in the opinion of boxing enthusiasts that he would be favored over any other boxer on the planet.
Oh, and lest we forget, since defeating Chisora in 2011, Fury whipped Chisora again, stopping him after 10 one-sided frames in 2014. Fury's eight-inch height advantage enabled him to control the distance vs. "Dell Boy" who was never knocked down but who absorbed a great deal of punishment before his chief second said, "no mas."
A third meeting between Fury (32-0-1, 23 KOs) and the soon-to-be-39-year-old Chisora (33-12) would seem to be superfluous. Del Boy, coming off a narrow win over Kubrat Pulev, has lost three of his last four. But on Saturday, Dec. 3, they will go at it again. The venue is London's Tottenham Hotspur Stadium, capacity 62,850, and by all indications, despite a chill in the air (the temperature is expected to hover around 40 degrees), there won't be too many empty seats.
For promoter Frank Warren, Fury vs Chisora is Plan B – he was hoping to match Fury against Anthony Joshua – but he believes that Fury has become so popular that he can make a tidy profit no matter who is in the opposite corner. The Gypsy King, once referenced as the enfant terrible of British boxing, has toned down his rhetoric (one might say that he proactively distanced himself from Kanye West) and become almost cuddly, a source of inspiration for many Brits, the first member of the black sheep Traveler community about whom this could ever be said.
Fury, needless to say, is a heavy favorite. The odds are in the 25/1 range. The co-feature is likewise looked upon as a mismatch. Daniel Dubois, who shares the diluted WBA heavyweight title with Oleksandr Usyk, is a consensus 16/1 favorite over Kevin Lerena (28-1, 19 KOs) who rides in on a 17-fight winning streak. The six-foot-one Lerena carried a career-high 234 pounds for his last assignment against ancient Mariusz Wach, but the South African southpaw has fought most of his career as a cruiserweight.
The undercard includes featherweight Isaac Lowe, Tyson Fury's bosom buddy, and Hosea Burton, Fury's cousin, both of whom appear to be matched soft in scheduled six-rounders, plus 18-year-old phenom Royston Barney Smith in a 4-rounder against a transplanted Nicaraguan.
This is a pay-per-view event in the UK, but U.S. fight fans who subscribe to ESPN+ can see it for free. The ring walks for the main event are expected to go about 4 pm ET.
To comment on this story in the Fight Forum CLICK HERE
What Path will Yokasta Valle Choose Next?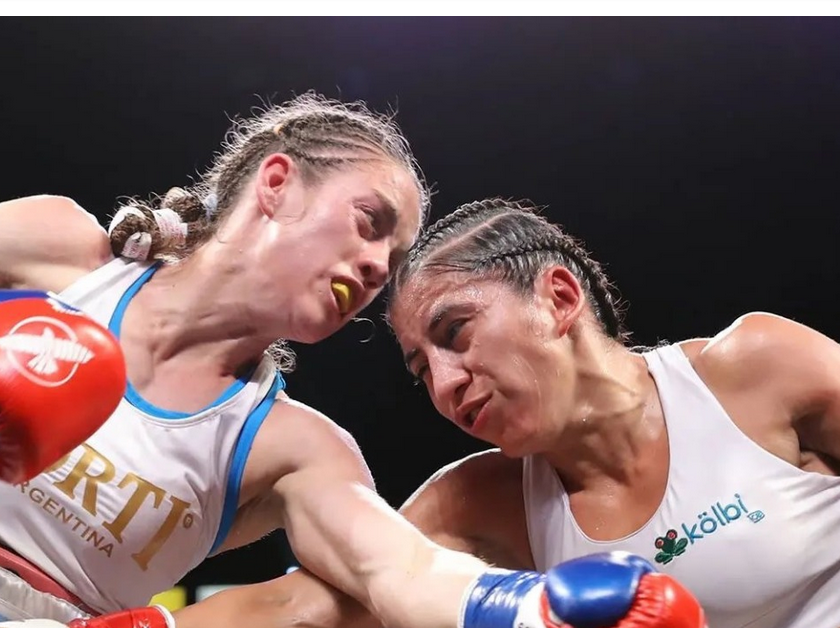 After the recent controversial ruling that made her a world champion in three different divisions, the fans of the Costa Rican Yokasta Valle are wondering: What path will the successful boxer choose next?
On Saturday, November 26th, in a fight of continuous exchanges with the then undefeated Argentine Evelyn Bermúdez (17-1-1, 6 KOs), "Yoka" Valle (27-2, 9 KOs) came out with her arm raised at the Dignity Health Sports Park in Carson, California, where she won the IBF and WBO belts, which Bermúdez was defending for the seventh and second time, respectively.
Although the Costa Rican fighter (pictured on the right) went on the attack for practically the entire 10 rounds, the exchanges were even, give and take, with good moments for both fighters, which made it difficult to evaluate each round. Hence the discomfort of many fans, especially in the Bermúdez camp, with the card of judge Adalaide Byrd (99-91), which apparently had Bermúdez prevailing in only one round. Neither did Judge Daniel Sandoval's card (97-93) represent what transpired in the ring, while Zachary Young's score of 95-95 was more accurate, distributing five rounds for each combatant.
In the case of Byrd, she also received innumerable criticism in the first fight between Saúl "Canelo" Álvarez and Gennady "GGG" Golovkin, which was held in September 2017 at the T-Mobile Arena in Las Vegas and which ended with a favorable scorecard for each boxer and another of 114-114.
At that time, Byrd had judged more than 400 fights over a 20-year span, and her discordant scorecard of 118-110 reflected Canelo winning 10 rounds and GGG only two (the fourth and the seventh). Dave Moretti leaned towards Golovkin (115-113), while Don Trella (114-114) saw it even.
CHAMPION IN THREE CATEGORIES
Born in Matagalpa, Nicaragua on August 28, 1992 and living in Costa Rica since her childhood, Valle made her boxing debut at the age of 22 in the light flyweight category. In that first experience at the pro level, she defeated Mexican María Guadalupe Gómez by unanimous decision in four rounds, on July 26, 2014, in Alajuela, Costa Rica.
Two years later, in her twelfth fight, she conquered the IBF title at 102 pounds by split decision against Ana Victoria Polo in San José, Costa Rica. In December 2017, Valle suffered her first professional failure against the local Naoko Fujioka, who won by unanimous decision at Korakuén Hall in Tokyo where they fought for the vacant WBO light flyweight belt.
Six months later, on June 16, 2018, Valle lost again by unanimous decision against German Christina Rupprecht (11-0-1, 3 KOs) in Munich, a duel that was for the WBO strawweight interim belt. Rupprecht maintains that belt and is again in Valle's sights.
Following those two setbacks, "Yoka" Valle compiled 14 victories, including the one she obtained in Marbella against Spaniard Joana Pastrana in August 2019, which she won by split decision securing the IBF 105-pound belt.
More recently, on September 8th in Costa Rica, Valle became a two-division champion at 105 pounds, by unanimously prevailing (the three judges scored the fight 100-90) over Vietnamese Thi Thu Nhi Nguyen, who ceded the WBO title. And then with her success against Bermúdez last weekend, Valle made history in Costa Rican boxing by adding her third crown in three different divisions (102, 105 and 108 pounds).
WHERE WILL YOKASTA VALLE GO NEXT?
Valle, who now owns two light flyweight titles (IBF and WBO) could next go in search of unification with Mexican Jéssica Nery (WBA super champion) or with Canadian Kim Clavel, who holds the WBC title. (Clavel and Nery collide on Thursday in Laval, Quebec.)
However, a more viable option would be to return to 105 pounds and seek a fight with American Seniesa Estrada (23-0, 9 KOs), who maintains the WBA belt, or with Rupprecht, who remains unbeaten. That seemed to be Valle's immediate objective, as she affirmed it in the ring after defeating Nguyen. In an indirect reference to Seniesa Estrada and Tina Rupprecht, Valle said "I want the belts. I've been saying it from the beginning, I want the WBC and WBA next, whoever has 'em."
At Friday's weigh-in for her fight with Bermúdez, Valle stated "I want to fight the best. I want to be undisputed. When Tina (Rupprecht) and Seniesa (Estrada) were not available, my team and I made the decision to move up in weight and challenge Evelyn for her world title belts. I have to fight. [MarvNation CEO] Marvin Rodriguez presented this fight to me. This is the type of fight I want. It is champion versus champion. I want to give the fans these types of fights."
EDITOR'S NOTE: Kim Clavel caught the flu and pulled out on Wednesday just prior to the weigh-in. Her match with Jessica Nery was rescheduled for Jan. 13.
Photo credit: Tom Hogan / Hogan Photos
Article submitted by Jorge Juan Alvarez in Spanish
Please note any adjustments made for clarification purposes and any errors in translation were unintentional.
To comment on this story in the Fight Forum CLICK HERE
Regis Prograis Knocks Out José Zepeda and Clears the Way for José Ramírez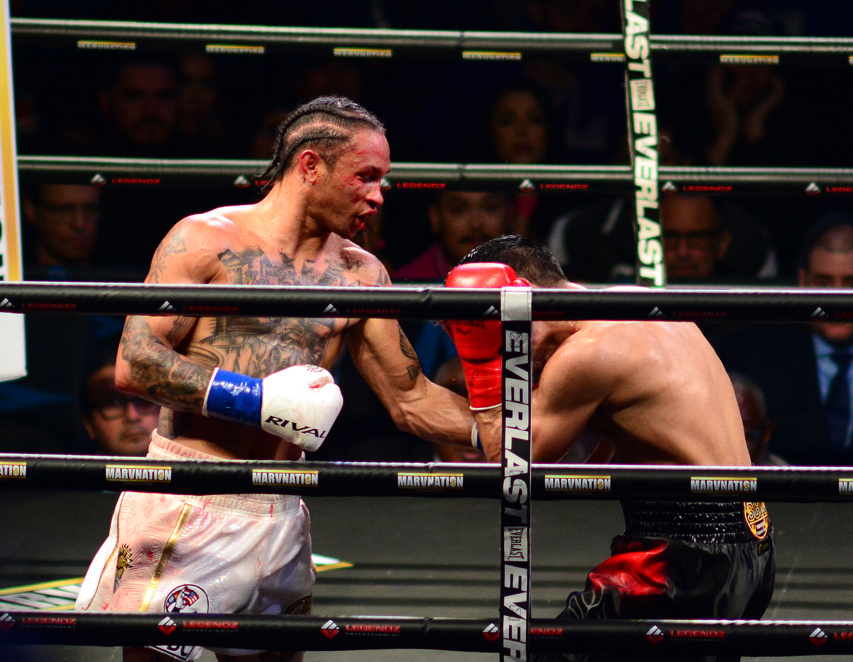 American Regis Prograis had to wait three years and a month for the opportunity to hold a world crown once again. On Saturday, November 26, at the Dignity Health Sports Park, in Carson, California, Prograis faced José Zepeda for the vacant WBC junior welterweight belt. Prograis was victorious by applying chloroform to Zepeda in the eleventh round.
Previously, on October 26, 2019, Prograis (28-1, 24 KOs) had lost the WBA junior welterweight belt by majority decision to Scotsman Josh Taylor at the 02 Arena in England.
Since then, the thirty-three-year-old Prograis who is based in Houston, Texas has obtained four wins (including vs Zepeda), all before the limit, as proof of the devilish power of his powerful fists, especially the left one.
Prior to the duel with Zepeda (35-2, 27 KOs), most experts favored Prograis, who after winning the intense battle, recognized that it was the most demanding fight of his career. "That dude is tough, tough, tough. He came to fight, he probably gave me one of my hardest fights, I'm not even gonna lie," said Prograis. "This dude is tough, bro. I've got so much respect for you. You prepared me to get this belt and hold this belt. I congratulate you. All the best to you, bro. Don't stop, I feel like you can still be a world champion."
Almost from the very beginning of the fight, Prograis showed greater speed with his hands and legs, and a general sense of technical superiority over Zepeda, who in the second round opened up a wound above his left eye with a legal blow.
From then on, Prograis's strong impacts gradually undermined Zepeda's resistance. Zepeda arrived totally exhausted in the eleventh round, where he received a straight left to the face, putting him in poor condition. A run with both fists from Prograis knocked him down and referee Ray Corona called the match with 59 seconds remaining in the round. This is the first setback that Zepeda has suffered by knockout in professional boxing.
On several occasions, Prograis has stated that he wants revenge against the undefeated Taylor (19-0, 13 KOs), but now, by order of the WBC, he must face American José Carlos Ramírez (27-1, 17 KOs).
Ramírez, 30 years old, is currently ranked second by the WBC. In February of 2019, in his second defense of his 140-pound belt, he defeated Zepeda by majority decision.
Twenty-five months later, Ramírez succumbed by unanimous decision to Taylor at the Virgin Hotels in Las Vegas, enabling the Scotsman to become the undisputed king of the category by winning the four most prestigious belts (WBA, WBC, WBO, IBF).
Recently, Ramírez expressed an interest in dueling with the main 140-pound contenders, including a second fight with Zepeda; although he did not rule out clashing with Prograis or Taylor. "Every fighter has the same amount of risk," said Ramirez. "We're a little under-promoted compared to other weight classes but I think that the best fights are at 140. You see guys fighting twice or three times, doing a trilogy. Honestly, I would love to face Regis, because I've never faced him. I would love to make the rematch with Zepeda, because he's such a good fighter. Obviously I want Josh Taylor, man. I want Josh Taylor bad."
Photo credit: Al Applerose
Article submitted by Jorge Juan Alvarez in Spanish.
Please note any adjustments made were for clarification purposes and any errors in translation were unintentional.
To comment on this story in the Fight Forum CLICK HERE