What the "F" is Paulie Malignaggi Thinking ?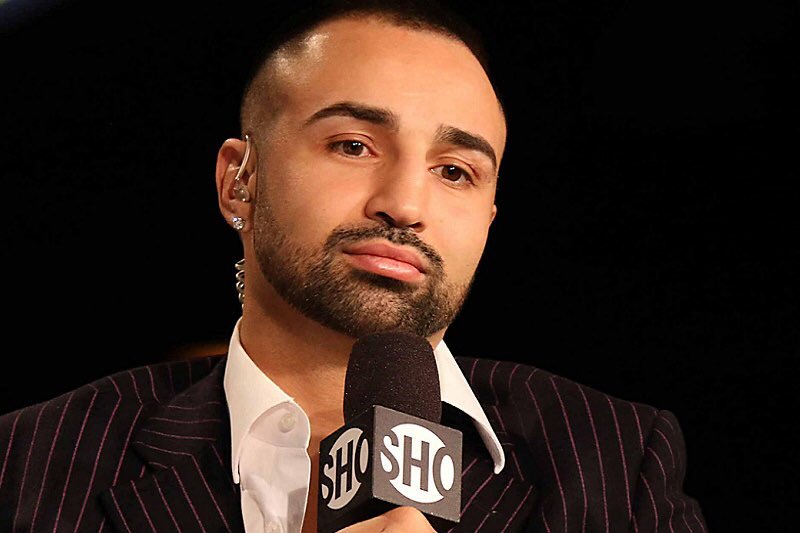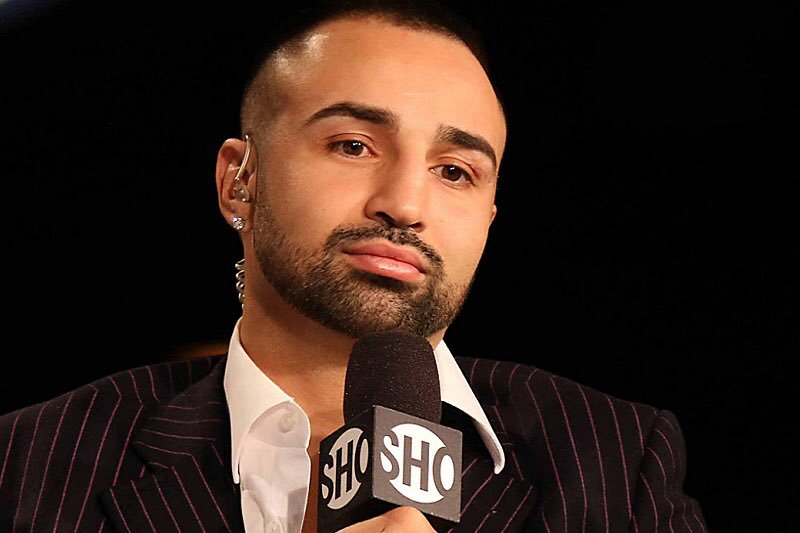 On June 22, Paulie Malignaggi and Artem Lobov will meet in a ring at the Florida State Fairgrounds Entertainment Hall in Tampa in what is being styled as a Bare Knuckle Fighting Championship (BKFC) grudge match. Under BKFC rules, fights are contested in a circular ring with a 22-foot diameter. Combatants can throw punches in a clinch or while grabbing the back of an opponent's neck. No kneeing, elbowing, or kicking is allowed. The contract weight is 155 pounds.
Malignaggi is well known to boxing fans. He's 38 years old and, when he enters the ring to face Lobov, it will have been 27 months since he saw combat. His last ring foray ended poorly when he was knocked out by Sam Eggington in eight rounds.
Lobov, age 32, is a mixed martial artist who has fought for various MMA promoters (most notably UFC) en route to a 16-15-1 record with one no contest. He has also had one fight in bare knuckle competition which he won by decision on April 6 of this year.
Lobov is friends with Conor McGregor and was a training partner with McGregor when the Irishman was preparing to fight Floyd Mayweather in 2017. During that time, Malignaggi was brought into camp to work briefly with McGregor as a sparring partner. Therein the story lies.
Malignaggi-Lobov moved onto the radar screen at a May 20 kick-off press conference in New York where Paulie was a poster boy for bad behavior. He spat on Lobov and tried to hit Artem on the head with a hand-held microphone. At various times, he called Lobov "a pussy hypocrit f—, a hypocrit pussy f—, a bitch-ass pussy f—, and a piece of s—." Other thoughts he uttered included:
*         "My hands are like razor blades. Get a good look at this guy's face right now because next month I'm gonna make it all look like a road map. Permanently, because these scars are not gonna go away."
*          "You're a piece of s— and I'm gonna treat you like the dirtbag that you are. After I beat the s— out of you, I'm gonna spit on you. I might take out my dick and piss on you. I'm gonna take out my dick after I knock your teeth out and piss in that toothless mouth of yours. You got five weeks to live, motherf—–."
*          "Next month, I'm gonna put this guy in a f—— coma."
The following day, for good measure, Paulie refered to Lobov and the mixed martial arts community as "your piece of s— community and your piece of s— people."
Most of the reaction to Malignaggi's conduct at the press conference has ranged from disappointment to condemnation. There are concerns that he's acting in a self-destructive manner and adding to the ugliness that permeates public dialogue today. Others are worried that his actions might jeopardize his credibility as a Showtime and Sky Sports commentator.
There are two issues: (1) Paulie's decision to fight again, and (2) his conduct in the build-up to the fight. Let's start with his decision to fight.
On the surface, Paulie appears to have it made. He earned good money in boxing and kept a lot of it. He's one of the best expert analysts in the business with several lucrative commentating contracts. And he retired from boxing with his faculties intact (although one might argue that his foray into bare-knuckle fighting contradicts that assumption).
Bare knuckle fighting is a huge step down in platform for a man who was at the center of the boxing world when he fought in main events at Madison Square Garden, Barclays Center, and the MGM Grand Garden Arena. So why is Paulie fighting Lobov?
One theory is that Paulie is a junkie for combat sports. That it's not enough for him to call the action from ringside; he has to be in the ring. But after his loss to Eggington, he could no longer compete at a high level in boxing so he found a smaller pond where he's still a big fish.
I spoke with Paulie at length this week, and he disputed that notion. He was calm and rational throughout our conversation. His primary reason for fighting, he said, is money. He doesn't need it. But like most of us, he likes it.
"There's a price for everything where you calculate risk-reward," Paulie told me. "I'm making a lot of money for this fight. A lot of money. They came to me with a deal that was too good to turn down. There's a big guarantee and, if the pay-per-view goes well, it will be one of my biggest paydays ever."
"People say I shouldn't be boxing anymore," Paulie continued. "But at the end of my boxing career, my legs were the big issue. For short periods, my legs are still good. This fight is five two-minute rounds. I can go at an intense level for that. And maybe my reflexes aren't quite as sharp as they used to be. But I don't see me being at risk in this fight. If Lobov was a real boxer, I wouldn't be doing this. But he isn't. I think he'll go wild and crazy at the start. And then, when I stuff my jab in his face a couple of times and hit him with some body shots, either he'll just try to survive or fold completely. I look at this as a lot of money for an easy outing."
And what about Paulie's conduct at the kick-off press conference?
As noted above, Malignaggi sparred briefly with Conor McGregor two years ago. Thereafter, McGregor claimed to have gotten the better of him and released a snippet of video footage to bolster that apparently spurious claim. As time went by, Paulie felt more and more humiliated by the situation. Lobov, who piled on in support of McGregor, is a proxy for Conor and, in Paulie's mind, worthy of scorn in his own right.
"This is bringing out a side of me that I thought I'd left in my past," Malignaggi told me. "It's a response to the lies and humiliation and pain to me and my family and everything else that this guy and his piece-of-s— friend Conor McGregor caused to be dumped on me. It reminds me of why I became a fighter."
"I grew up in a not very nice place," Paulie elaborated. "And I'm not talking about the neighborhood. I'm talking about what my life was like and the abuse I took. I went into boxing to get away from that place and to deal with the anger that I had inside me in an acceptable way."
"You have to put the press conference in context," Paulie continued. "There's a whole back story that people don't understand. I wish I'd never gone to spar with McGregor. They treated me like s— when I was there. Then they lied and dumped s— on my reputation afterward. But I did go spar with him and you can't undo the past. And I still have to deal with it. You should have seen the social media after I sparred with McGregor. His idiot fans calling me a faggot, a little Dago, things they wouldn't have the courage to come up to me on the street and say to my face. And they don't just put it on their sites. They put it all over my social media pages. I can post a photo of me at the beach and, a day later, there's all sorts of ugly s— attached to it. I have a young niece and nephew who read this s— about me. My mother sees it. It's been two years since I sparred with that scumbag and this s— still follows me every day."
And the comment about putting Lobov in a coma?
"I don't usually wish anything bad for anybody," Paulie answered. "And I certainly don't want to see anybody hurt in that way. Usually. But this guy has been part of causing so much pain for me and my family. And he has talked so much s— about boxing. So do I actively want to put him in a coma? No. But if it happened, I wouldn't care."
I've been around boxing long enough now to have seen a lot of promising young fighters become champions and then grow old. I've followed the trajectory of Paulie's career from the beginning. I remember sitting opposite him at the Brooklyn Diner in Manhattan shortly before his 2001 pro debut against Thadeus Parker. I remember talking with him for hours in my apartment before his 2006 fight against Miguel Cotto. I've been in his dressing room before and after hard-fought victories and heart-breaking defeats. We've always been honest with each other and respect each other's point of view when our views differ.
There was a time when the stars were properly aligned and Paulie could command seven-figure purses. His last payday at that level came in 2015 when he fought Danny Garcia at Barclays Center. One year later, fighting in the same arena against Gabriel Bracero, his purse was $150,000.
I've been told in confidence what Paulie has been guaranteed and the per-view upside he can earn for fighting Lobov if the promotion does well. It's good money. But is it worth the cost? A source with knowledge of the inner workings at Showtime says that the network pays Paulie well in excess of $10,000 per telecast to serve as an expert analyst. His Showtime earnings are supplemented by his work for Sky Sports. And Paulie saved money when he was fighting. He wasn't a profligate spender.
Years ago, Paulie told me, "I hope to get old some day, but it won't be in the ring."
But in the ring, Paulie is now old. He's confident that Lobov doesn't box well enough to find him or hit hard enough to hurt him. Don't forget; for sixteen years, Paulie fought skilled craftsmen like Miguel Cotto, Ricky Hatton, Shawn Porter, and Danny Garcia. Lobov isn't anywhere near their league as a boxer or a puncher.
But Paulie already has physical issues (such as nerve damage in his face) as a consequence of boxing that will shadow him for the rest of his life. His hands have been a problem throughout his career. Now he'll be fighting with no handwraps and no gloves. He thinks he can slap Lobov silly, go the body, and take something off his punches to the head. But Lobov is likely to be in his face all night. Paulie wants the money. Lobov needs it. There are those who think that Paulie is walking into this fight with his hands down and his chin up in the air.
I hope Paulie has a letter of credit for his guarantee. I hope the check clears for whatever upside on the pay-per-view he might be entitled to. And by the way; if an iron-clad letter of credit isn't in place before the fight, what does Paulie do? He should pull out. But if he does, social media (which played a role in Paulie's decision to fight Lobov and also his meltdown at the May 20 press conference) will be unkind to him.
Society today is plagued by an ugly lack of civility. We're living in an age when people hide behind the anonymity of social media and say things that they wouldn't dare say face-to-face to another person. Racism, misogyny, and homophobia are extolled as virtues in some quarters.
In theory, Paulie's hatred for McGregor and Lobov and his reference to MMA fans as a "piece of s— community" will help engender PPV buys. But it will also further antagonize MMA fans against Paulie and ensure more social media attacks. And it brings to mind the admonition of Charles Horton Cooley, who a century ago observed, "Hatred floods your mind with the idea of the one you hate. Your thoughts reflect his, and you act in his spirit. If you wish to be like your enemy, to be wholly his, hate him."
Paulie has lamented the fact that his niece, nephew and mother have been exposed on an ongoing basis to the ugliness leveled against him on social media. But what will his niece, nephew, and mother think if they watch a video of Paulie at the May 20 press conference?
"After I beat the s— out of you, I'm gonna spit on you. I might take out my dick and piss on you. I'm gonna take out my dick after I knock your teeth out and piss in that toothless mouth of yours. You got five weeks to live, motherf—–."
Life is about choices. On January 30, 2008, Paulie and I went to a meeting at St. Francis College in Brooklyn. Frank Macchiarola (then president of St. Francis) was there with two administrators. Paulie had won the IBF 140-pound title on a 12-round decision over Lovemore Ndou the previous June and defended it successfully against Hermann Ngoudjo twenty-five days before the meeting.
Macchiarola saw untapped potential in Paulie. He offered to enroll him free of charge in a St. Francis College program that would help him earn a high school graduation equivalency diploma. Then Paulie could work toward a college degree.
"All your life, there have been people in school who told you you're stupid," Macchiarola said to Paulie. "You're not. I know enough about you to know that you're a very smart guy. There's nothing you can't do in the classroom if you put your mind to it. An education will give you options in life that you might not otherwise have. And it will give you tools to make better choices."
It was a wide-ranging conversation. At one point one of the administrators told Paulie, "You're a pretty important person. There aren't many world champions. At St. Francis, people will know who you are but you'll be treated like everyone else."
Macchiarola also talked a bit about the philosophy behind the school athletic program. "I call it bait and switch," he said with a twinkle in his eye. "Kids come here thinking they're coming to play basketball, and then we give them an education."
Paulie set up an appointment to take evaluation tests in English and math to determine what skills he needed to work on in preparation for his high school graduation equivalency examination. Then a tutoring program consistent with the demands that being a fighter put upon him would be implemented.
But the planning ended. Paulie decided to go in a different direction, one that he felt was better for him.
Now Paulie has another choice to make. Like a lot of people, I feel that the best place for him in combat sports in 2019 is behind a microphone.
Certain people are of unique value. Harold Lederman was like that. He created a role – the unofficial ringside judge – and made it his own. There have been dozens of "unofficial" scorers at ringside" on telecasts since then. In some instances, their scoring has been just as good as Harold's. But none of them have become an integral part of the boxing scene. Harold was special. He had a passion for boxing. He loved the fights – not just the main events, all fights. He was accessible, not just to the powers that be but to everyday boxing fans. He was a boxing feel-good story.
Paulie has qualities that could enable him to help fill the void left by Harold's passing. In some ways, Paulie and Harold are as different as night and day. Harold would not have threatened to knock out someone's teeth, spit on him, and, while his victim was unconscious, urinate into his open mouth.
But Paulie, like Harold, is exceptionally knowledgeable about boxing and communicates information well. He treats four-round preliminary fighters with the same respect that he evinces for pound-for-pound contenders. He loves talking about boxing, has a unique style, and has a wellspring of good qualities in him. He could have a huge positive impact on boxing as a ringside commentator. But instead, he's risking his health unnecessarily and becoming a poster boy for antisocial behavior. He's justifiably angry about the ugliness that has been heaped upon him. But now he's spewing more of the same into the public discourse. By giving vent to his anger in the way that he has, he has contributed to the ugliness. That's a shame. Paulie can't clean up the cesspool by himself. But he shouldn't contribute to it.
And a final thought. I can't say that my heart will be in Paulie's gloves on June 22 because he won't be wearing gloves. But I'll be rooting for him.
Thomas Hauser's email address is thomashauserwriter@gmail.com. His most recent book – Protect Yourself at All Times – was published by the University of Arkansas Press. In 2004, the Boxing Writers Association of America honored Hauser with the Nat Fleischer Award for career excellence in boxing journalism.
Check out more boxing news on video at The Boxing Channel
To comment on this story in The Fight Forum CLICK HERE
Pernell Whitaker, Short List All Time Great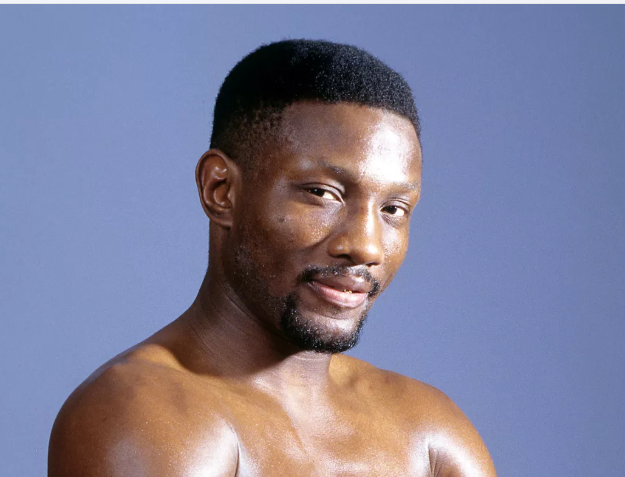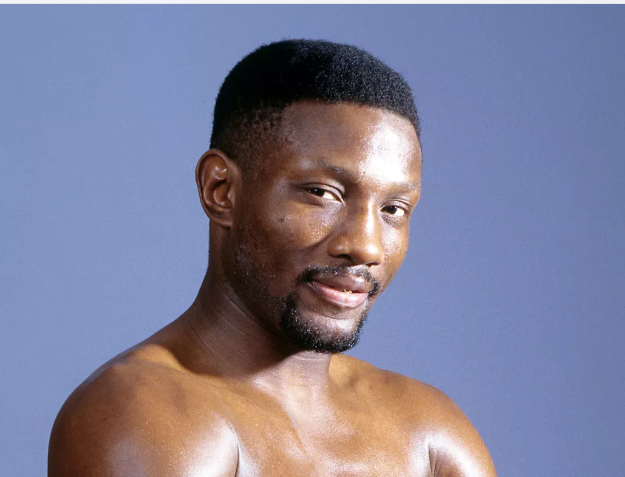 Pernell Whitaker was, by most accounts, the best defensive fighter since Willie Pep, maybe even better. His ability to stay in the pocket and make frustrated opponents hit nothing but air, answering their misfires with stinging counterpunches, was a form of pugilistic genius beyond replication until Floyd Mayweather Jr. came along. But even Mayweather might not have matched Pernell "Sweet Pea" Whitaker's uncanny gift for ducking and dodging incoming shots, Matrix-style. It was almost as if he were in a rainstorm without an umbrella, yet somehow able to avoid getting wet.
All right, so even a legendary fighter's quick-twitch reflexes figure to slow nearly two decades after his retirement from the ring. Whitaker was 55 and well removed from his remarkable prime when he was struck by a car while crossing a Virginia Beach, Va., street Sunday night, sustaining fatal injuries.  But here's the thing: the driver whose vehicle slammed into the four-division former world champion didn't swerve out of control, and he apparently wasn't exceeding the posted speed limit. There is no fleeing villain for Whitaker's many admirers to castigate (the driver, who stayed with Whitaker, has not been charged with a crime), and emergency medical personnel were quickly on the scene to render whatever assistance they could, to no avail.
Pernell Whitaker, who was to hit-and-not-be-hit boxing what baseball's Ozzie Smith was to art of playing shortstop, was pronounced dead at the scene. His official time of passing was listed as 10:04 p.m. EDT.
The only possible explanation is familiar to all boxers who were surprised to find themselves on the canvas, woozy, and being counted out. The blow that is most apt to result in a knockout is the stealthy one you don't see coming. It's just that this knockout, steel against flesh and bone, was forever.
Kathy Duva, the Main Events CEO who has known Whitaker even before the clever southpaw, a gold medalist at the 1984 Los Angeles Olympics, signed with her now-deceased husband Dan's promotional company as part of arguably the greatest crop of U.S. boxers ever to come out of the same Olympiad, finds it as ironic as it is tragic that someone known for being nearly untouchable inside the ropes could have forgotten the first safety rule for all pedestrians: Look both ways before stepping onto any roadway, especially if it's late at night and that roadway is not particularly well-illuminated.
"For a guy who almost never got hit to die that way … It's insane. Ironic. I guess that's the only word for it," said Duva, still nearly overwrought with emotion 12 hours after a fighter she so liked and respected, and with whom she had remained in fairly regular contact, perished so unexpectedly.
Asked if she thought Whitaker's face belonged on a figurative Mount Rushmore of the greatest defensive fighters ever, Duva said, "Oh, absolutely. And, really, he's on a lot of people's lists of the greatest fighters of all time, and not just for his defense. He belongs there, too."
Over the course of his 17-year pro career, Whitaker won world titles as a lightweight, junior welterweight, welterweight and junior middleweight. Considering the high level of competition he routinely faced, his 40-4-1 record, with 17 KOs and one no-decision, would be impressive, but it is even more so upon closer examination. His first "loss," by split decision to WBC lightweight champion Jose Luis Ramirez in Paris on March 12, 1988, was a heist by pencil so blatant wanted posters should have been distributed seeking the arrests of judges Newton Campos and Louis Michel for crimes against sensibility.
After winning a one-sided unanimous decision over IBF lightweight titlist Greg Haugen (Whitaker won 35 of the 36 rounds on the three judges' combined scorecards), he exacted his revenge upon Ramirez on Aug. 20, 1989, in Whitaker's hometown of Norfolk, Va., retaining his IBF strap while adding the vacant WBC belt on a UD so obviously in his favor that it could have been scored by Ray Charles, Stevie Wonder and Ronnie Milsap. This time Whitaker was only marginally less dominant than he had been against Haugen, winning 33 of 36 rounds on the cards.
"Sweet Pea's" emergence as boxing's top pound-for-pound performer earned him recognition as 1989's Fighter of the Year from both the Boxing Writers Association of America and The Ring magazine, but his skyrocketing confidence in his own ability, almost bordering on arrogance, was tempered by his lingering belief that powerful, behind-the-scenes players not only were hesitant to give him his due, but were actively plotting to stick it to him again as had been the case in the first Ramirez bout.
That sense of foreboding appeared at least somewhat justified the night of Sept. 10, 1993, in San Antonio's Alamodome, when he defended his WBC welterweight championship against Mexican superstar Julio Cesar Chavez, who came in 87-0 and had the crowd of nearly 60,000 squarely behind him. But Whitaker did to Chavez that night what he had done to so many other opponents, which was to confuse and frustrate El Gran Campeon with an unorthodox fight plan that had him frequently going down onto his haunches, the most successful bit of duckwalking since Chuck Berry was strutting along 1950s stages, playing his guitar just like ringing a bell and belting out Johnny B. Goode.
Although almost everyone in the press section had Whitaker winning eight to 10 of the 12 rounds, judges Mickey Vann and Franz Marti each saw the fight as a 115-115 standoff (the third judge, Jack Woodruff, had Whitaker ahead by 115-113), making for a hugely controversial majority draw that again left the American feeling as if he'd been gut-shot.
"I knew this might happen, but still it was like a bad dream," a disbelieving Whitaker said. "It was like someone put a knife in me and twisted it.
"I whipped his ass, and easily. I mentally and physically beat him. I put an old-fashioned project beating on him. A housing authority beating. A ghetto beating."
There were those who predicted the draw was designed to set the stage for an even bigger rematch, but neither Kathy Duva nor I believed it. Chavez, also a great fighter, might have wanted a do-over as much as Whitaker, but his promoter Don King would decide who he would fight going forward, and His Hairness understood that Whitaker's unorthodox and impenetrable style was always going to be problematic for JCC.
Did his disappointment over the disputed outcome of the fight with Chavez weigh so heavily on Whitaker that it affected him throughout the remainder of his career? Maybe, maybe not. He strung together an eight-fight winning streak after Chavez, but lost a relatively wide unanimous decision to Oscar De La Hoya in a fight that seemed much closer, and to some people's way of thinking could have gone the other way.
Convinced he had been shafted again, Whitaker followed the De La Hoya fight with a close, 12-round points nod over Andrey Pestryaev in a WBA welterweight elimination bout, which was later changed to a no-decision when Whitaker tested positive for cocaine. He did not fight again for 16 months, and when he returned it was for a beatdown at the hands of IBF welterweight champ Felix Trinidad, in which Whitaker suffered a broken jaw. Disregarding the pain, Whitaker went the distance, whereupon he again put himself on a shelf for 26 months, coming back for a scheduled 10-rounder against journeyman Carlos Bojorquez on April 27, 2001, in which Whitaker was stopped in the fourth round on the advice of ring physician Dr. Margaret Goodman when it became clear that Whitaker was a one-armed fighter unable to deal with the effects of a broken clavicle.
Finally, it was over. Whitaker went back home to Norfolk, where he occasionally trained fighters, but largely stayed under the radar, his once-gleaming reputation tarnished by occasional reports of his ongoing brushes with the law over his cocaine habit. In June 2002, he was convicted of cocaine possession after a judge found he had violated terms of a previous sentence by overdosing on cocaine in March of that year.
"He had demons, but when he was in the ring that was when he was in control and when he was happy and when he was the very best at what he did, and he wanted to show that to everybody," Duva said in another interview, with ESPN.
By all accounts, however, Whitaker had exorcised many of the demons that had made him an unhappy semi-recluse. A first-ballot inductee into the International Boxing Hall of Fame in 2007, he returned to Canastota, N.Y., in June to participate in the festivities for the 2019 induction ceremonies and took delight in being greeted warmly by fight fans. He also had accepted an invitation to leave for Las Vegas on Thursday to do a similar meet-and-greet with the public at the MGM Grand in advance of Saturday's big PBC on Fox Sports PPPV fight between Manny Pacquiao and Keith Thurman.
All of which makes his sudden death so much more shocking to those who were encouraged that he was finding his way back to a better life in and out of boxing, a life that always should have been afforded him by virtue of his rare and special gift.
Los Angeles Lakers legend Magic Johnson, a big boxing buff and as much an artist in his own sphere as Whitaker had been in his, tweeted, "Pernell `Sweet Pea' Whitaker was in the class of Muhammad Ali and Sugar Ray Leonard as one of the most entertaining fighters of my lifetime."
Former ESPN boxing analyst Max Kellerman, now with ESPN, also ladled out the praise, tweeting, "The best lightweight I ever saw passed away (Sunday night). Yes, that includes Roberto Duran, Floyd Mayweather, Ike Williams and anyone else you want to mention … He was one of the three greatest pure boxers who ever lived."
For those who always want to remember the best of Pernell Whitaker, there is consolation knowing that his passing appears to be nothing more than a terrible accident, the kind that can happen on any street, at any time, and to anyone.
"I guess he was wearing dark clothes, the road was dark and the driver didn't see him," Devon Whitaker, 27, the youngest of Pernell's four surviving children, said of what he thought might have happened. Virginia Beach Police spokesperson Linda Kuehn noted that the investigation is still ongoing, "However, it does not appear that drugs, alcohol or speed were factors in the crash."
Rest in peace, Sweet Pea. It was my pleasure watching you work.
Check out more boxing news on video at The Boxing Channel
To comment on this story in The Fight Forum CLICK HERE
Pacquiao vs. Thurman: A Case Study on Two Types of Atrophy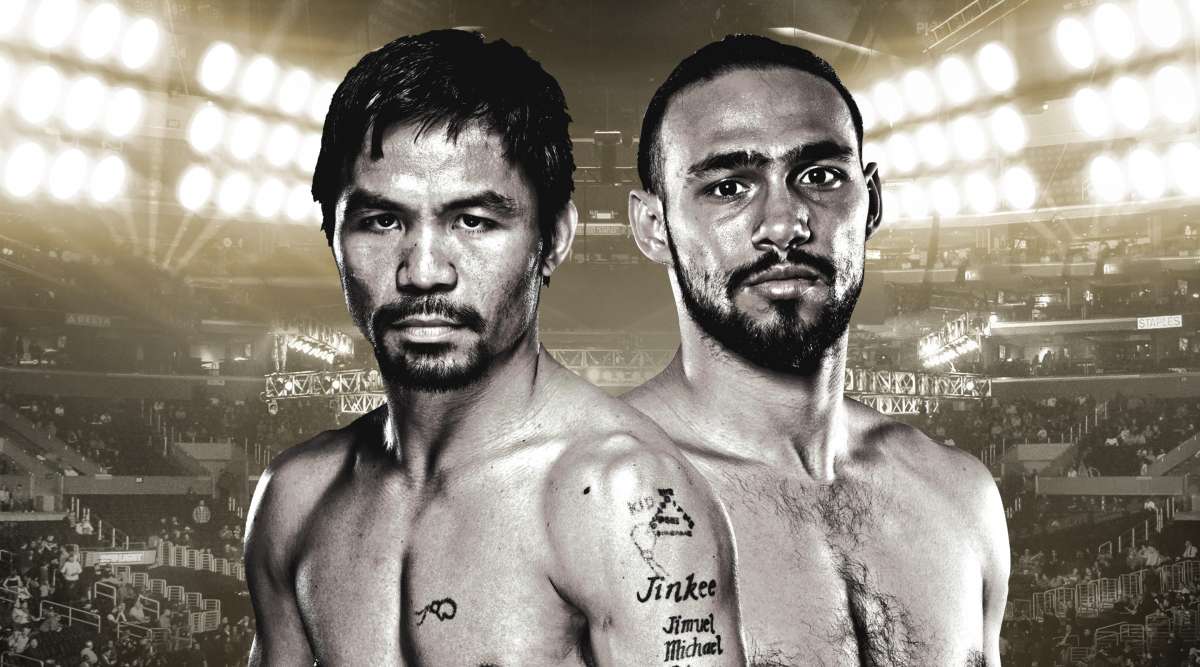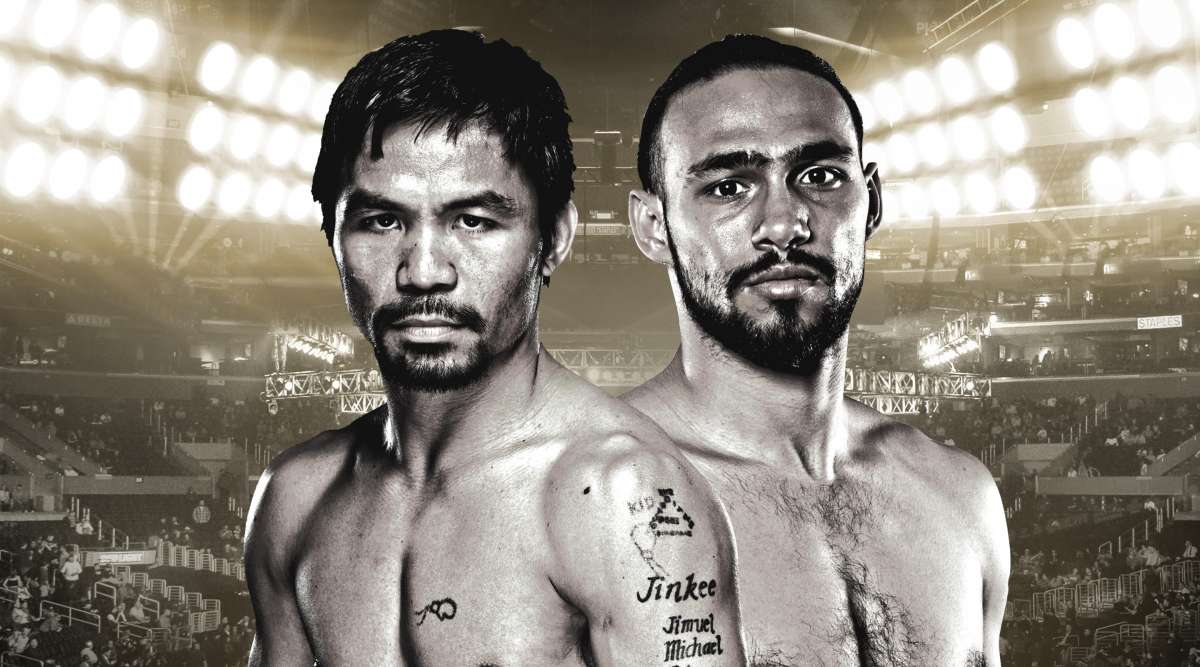 Pacquiao vs. Thurman: A Case Study on Two Types of Atrophy
Manny Pacquiao's historic welterweight showdown against WBA titleholder Keith Thurman on July 20 is a case study on two types of atrophy which can negatively influence a professional fighter's career.
One happens because of age; the other due to inactivity.
Pacquiao is 40 now. Eventually, what happens in every fighter's life is the same thing that will happen to Pacquiao and relatively soon, whether against Thurman or sometime later. Pacquiao's body will just stop working, at least in comparison to how it did before, and while the fighter can keep working hard at the gym, the return he receives will slowly diminish until all of a sudden Pacquiao can no longer compete with the best.
That same kind of thing happens to everyone in life, but it's more apparent in boxing because instead of not being able to do something mundane anymore like easily bend over to pick up the keys you just dropped, the consequence is a black eye, a bloody nose and a view of the lights hanging above the boxing ring that you never really wanted to see (and probably won't remember).
It's strange then that Pacquiao is slightly favored by bookmakers over a talented and undefeated world champion ten years his junior in what's easily the most important fight of that champion's career.
While few fighters in boxing history have achieved as much as Pacquiao has over the course of his 24-year career, fewer still have been able to consistently defeat quality opponents at Pacquiao's advanced age.
And can we just let that sink in for a second? Pacquaio's prizefighting career has spanned almost a quarter-century!
Sure, Pacquiao has still looked pretty elite in recent outings. But after stopping Lucas Matthysse in July 2018 and scoring a dominant decision win over Adrien Broner in January 2019, it's fair to wonder if he'll finally hit the wall against the younger and naturally larger Thurman.
Thurman, 30, from Clearwater, Florida, is undefeated through 29 professional fights and, at first glance, he appears to be sitting on the right side of a crossroads fight. But a closer inspection of the situation reveals that might not actually be the case. Because where Pacquiao might be fighting a losing battle against age, Thurman has most definitely been losing a winnable battle against inactivity.
Here's what happens all too often in boxing (whether it's happening at the present to Thurman or not). A fighter puts in years and years of work only to stop doing all the things he did to get there once he reaches a comfortable position in the sport, usually a world title or two, numerous TV appearances and a boatload of money.
It's conceivable that what is going on with Thurman right now is exactly that. Because even in somehow managing to maintain his title status with the WBA, Thurman hasn't really been what most would consider an active fighter over the past few years.
In fact, the last time Thurman fought more than twice in a year was all the way back in 2012. The enigmatic champion only fought once each in 2016 and 2017, was out of boxing all of 2018 and didn't appear to be the fighter he was before that long break earlier this year in his majority decision win over Josesito Lopez.
To be fair to the fighter, Thurman did suffer an elbow injury which required surgery after his title unifying split-decision win against Danny Garcia in March 2017. He also suffered a deep bone bruise to his left hand which led to the cancellation of a 2018 return bout against an opponent that was somewhat suspiciously never named.
To be even more fair to Thurman, at least in regards to this particular fight, Pacquiao hasn't really been all that active in recent years either. But Pacquiao has 70 professional prizefights on his ledger, is ten years older than Thurman and has won world titles in eight different divisions.
It seems more reasonable that Pacquiao would be more selective about his fights these days, especially when you consider he was already a sure-fire Hall of Famer over a decade ago. Thurman, on the other hand, hasn't even yet proved to be the best welterweight signed by Al Haymon, much less in the whole shebang.
Regardless, it's a bit troubling that Thurman is seemingly unaware of how prolonged inactivity can negatively impact a fighter's career. According to Thurman, in fact, he basically trained for his last fight on a spin bike at L.A. Fitness, and that was the reason, at least in Thurman's mind, that Lopez was so competitive against him six months ago.
Obviously, Thurman knows he can't do the same thing against Pacquiao. But the thing about not using a skill or a gift for a prolonged period of time is that it tends to recede in a person even while that person remains unaware. It's entirely possible that Thurman has lost the best parts of his fighting ability and doesn't even know it yet.
No one can ever really predict these types of things, but it will be interesting to see how things play out. If Pacquiao is suddenly old and frail, it won't really matter how little Thurman has trained over the last couple of years. But if Pacquiao is anything like the fighter we saw against Broner and Matthysse, and Thurman comes into the fight looking like he did against Lopez, there's no telling how bad things could get for the younger fighter.
All this to say that the only way to combat atrophy, whether it's the inevitable kind that comes with getting older or the preventable kind that comes with not using something, is by staying active and engaged. As it stands at the present, it seems clear from the outside looking in that one fighter, Pacquiao, has done all he can do to be at his very best on Saturday night in Las Vegas, while the other, Thurman, has needlessly rolled the dice.
Use it or lose it. That's what people say, but only when they're still young enough to pick up their keys.
Check out more boxing news on video at The Boxing Channel
To comment on this story in The Fight Forum CLICK HERE
3 Punch Combo: Scoping Out Teofimo vs Nakatani, Ajagba vs Demirezen and More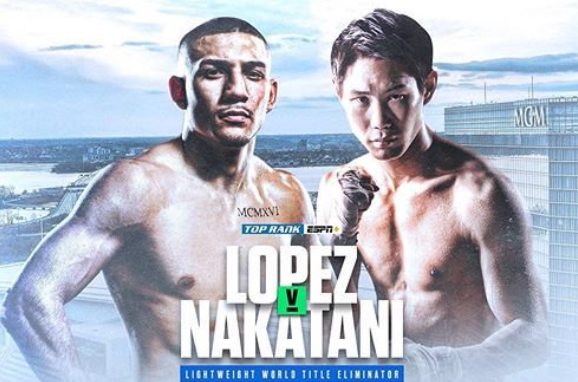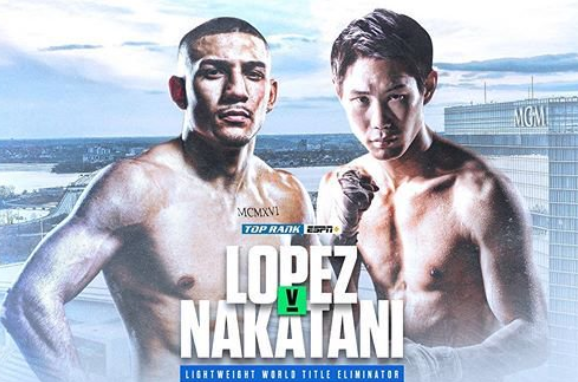 THREE PUNCH COMBO — Boxing on ESPN+ returns this Friday with a card from the MGM National Harbor in Oxon Hill, MD headlined by the fast-rising lightweight sensation Teofimo Lopez (13-0, 11 KO's). Lopez will be facing the undefeated Masayoshi Nakatani (18-0, 12 KO's) of Japan in a final IBF eliminator to become the mandatory challenger for champion Richard Commey (29-2, 26 KO's). While Lopez is a known commodity to most boxing fans, the same cannot be said of Nakatani. So just who is this unheralded fighter from Japan and does he pose any threat to Lopez?
Nakatani, 30, turned pro in 2011 after an amateur career that by most accounts consisted of somewhere between 50 and 60 bouts. As a pro, he has never fought more than three times a year and never outside of Japan, but by managing to stay undefeated he has crept into the Top 15 rankings of three of the four major sanctioning bodies in the lightweight division.
Looking closer Nakatani's resume, the overall level of his competition is highly questionable.  Probably his best win was in his eighth pro fight when he won a 12-round unanimous decision against Ricky Sismundo. Sismundo has sprung some surprises in the past and as a matter of fact gave undefeated rising contender Maxim Dadashev a scare earlier this year, but this is the same Ricky Sismundo who was defeated by Ruslan Madiyev last week in California, bringing his record to 35-14-3.
Other than Sismundo, the names on Nakatani's resume are hardly recognizable.
Nakatani, an orthodox fighter, is tall for the lightweight division standing nearly six feet in height. As such, he likes to work behind the left jab. However, that jab is not very sharp or powerful, but used as more of a range finder and to set up his right hand. Sometimes he will follow the right with a left hook but his primary offense is the left jab followed by the right.
Nakatani is not that athletic or quick inside the ring. His hand speed is below average for the division. He is also not a powerful or heavy handed puncher. The knockouts are more from his level of competition than anything else.
Here are a few other notes on Nakatani based on my observations: He does not like to fight on the inside and will initiate clinches when his opponent closes the distance. And he has a habit of trying to avoid punches with his legs, often times pulling straight back with his hands down. He has gotten clipped quite a few times but fortunately for him those fighters that have done so have not possessed big punching power.
I actually do think Nakatani is the strongest opponent for Lopez to date. That being said, however, I do not think he will give Lopez much trouble. Teofimo may get frustrated some by Nakatani's constant clinching on the inside, and he may get hit with a few range finding jabs, but expect another Lopez knockout here sometime in the first half of the fight.
Under The Radar Fight
The attention of the boxing world this week is going to be focused on the big welterweight pay-per-view title fight between Manny Pacquiao (61-7-2, 39 KO's) and Keith Thurman (29-0, 22 KO's). Also on the show is an intriguing heavyweight fight that is falling deep under the radar between a pair of 2016 Olympians in Efe Ajagba (10-0, 9 KO's) and Ali Eren Demirezen (11-0, 10 KO's).
Ajagba, 25, represented his native country of Nigeria in the Super Heavyweight division of the 2016 Olympics where he lost to Ivan Dychko in the quarterfinals. Since turning pro, he has really turned heads, building a reputation as a fearsome puncher.
Ajagba is a big imposing heavyweight. He stands 6'5" tall and possesses a massive 85-inch reach. Best described as an aggressive boxer puncher, he will press the action, often times behind a very stiff and powerful left jab from the orthodox stance. Very athletic for a man his size, he possesses above average hand speed for the heavyweight division. His best trait is his power; he possesses legitimate one punch knockout power in both fists. The natural tools are all there for Ajagba to potentially one day be a dominant force in the division.
But there are things Ajagba needs to work on, namely his defense. Right now, he lacks any sort of head movement and often poses in front of his opponents after punching them to admire his work. He hasn't paid yet for his lack of attention to defense but that may change as his competition rises.
Demirezen, 29, represented Turkey in the Super Heavyweight division of the 2016 Olympics where he lost to Filip Hrgovic in his opening fight. Since turning pro he hasn't had much fanfare, but has amassed quite an impressive early pro record while fighting mostly in Germany.
Though he may not have the imposing physique of Ajagba, Demirezen possesses some solid skills as well as some surprising athleticism. As a matter of fact, I'd go so far as to call him a poor man's version of Andy Ruiz Jr.
Demirezen will look to apply pressure behind the left jab and work combinations with his quick hands behind that jab. He does not really possess one-punch power but is heavy handed and his punches can take a cumulative effect on his opponents. His best punch is a quick left hook to the body that he often lands with precision.
If physiques won a boxing match, this would be no contest. But as we saw with Joshua-Ruiz, physiques don't always win. Ajagba will be favored and rightfully so, but Demirezen can fight. This is an interesting fight between two undefeated heavyweight prospects who were recent Olympians and one that I am very much looking forward to on Saturday.
Prospect Watch – Luis Arcon
 There is a lot that gets me excited about the future of the sport. Not only is the sport being broadcast like it never has before but we have many good prospects who are beaming with talent. So many good prospects, as a matter of fact, that some very talented young fighters are falling a bit under the radar. One such fighter is junior welterweight Luis Arcon who moved to 8-0 with 8 knockouts this past Friday with a third-round knockout of Mario Lozano.
Like many of today's top prospects, Arcon has a strong amateur pedigree. His amateur background includes representing his native country of Venezuela in the 2016 Olympics.
Arcon, 27, turned pro in March of 2018 in Mexico. So far he has breezed through his competition though it must be noted that he hasn't faced the toughest of challenges. But he has looked very good so far in his early pro career and has been flashing some incredible talent.
Fighting from the orthodox stance, Arcon likes to work behind a well-timed and very powerful left jab. His footwork is excellent and he often positions himself at the right angles to land combinations behind that jab. He possesses very fast hands and can often fire off a volley of power shots before his opponent can react.
And then there is the power. Perhaps this is what stands out most when watching Arcon on video. Granted, as noted earlier, the competition has not been the stiffest, but he has displayed devastating knockout power in both fists. His best punch is the left hook to the body which often has a paralyzing effect on his opposition.
With his amateur background, Arcon is ready to take the next step in his career. His game is polished and he possesses massive power in both of his hands. He belongs on all top prospect lists and has a bright future in this sport.
Check out more boxing news on video at The Boxing Channel
To comment on this story in The Fight Forum CLICK HERE