Re-Visiting Ten Fascinating Heavyweight Prospects One Year Later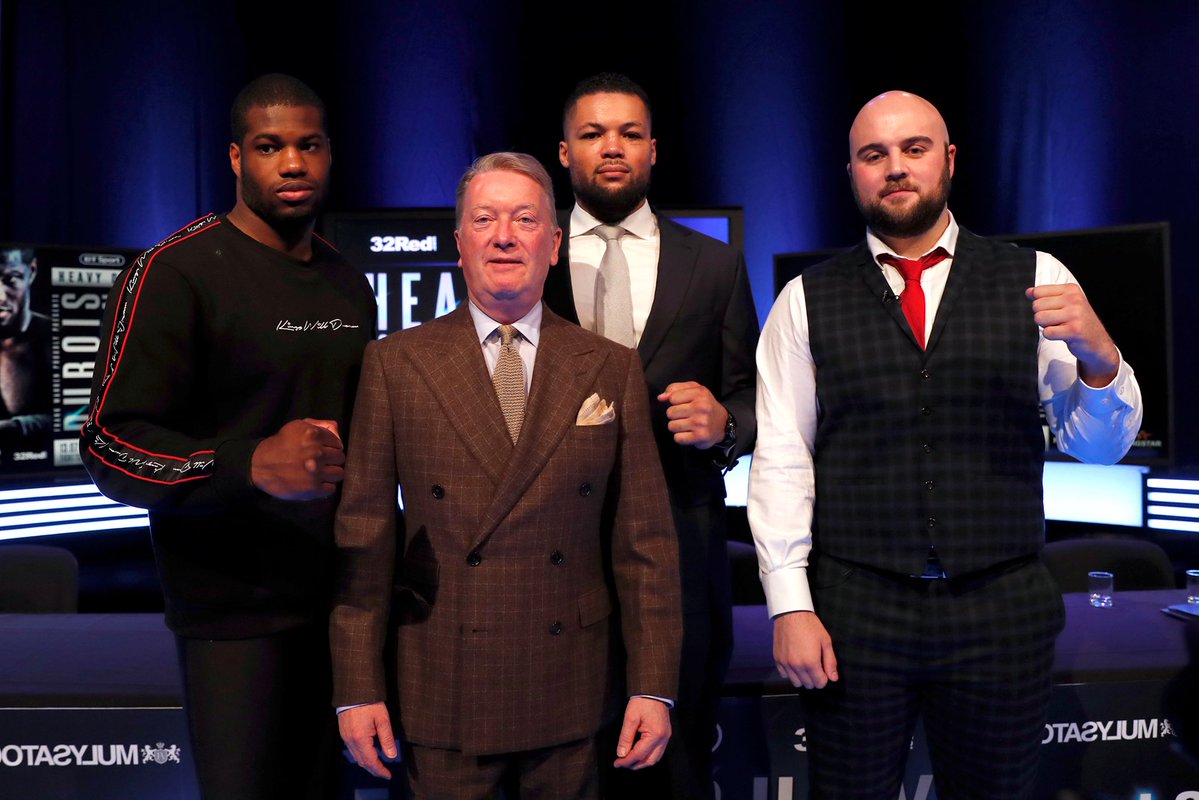 Back in the summer of 2018 we took a look at ten selected heavyweight prospects and put them under the microscope, an article you can see here.
One year later we are re-visiting the ten selected heavies to see who has done what to whom and why; who has been moved along too quickly and who not at all; who is positioned for a title shot, and when it is likely to come.
It doesn't always make for pretty reading. Last time around we came across some fighters of walloping potential who found themselves mired in professional-loser hell and for some the year gone by has made little difference. Faceless opponents slip by unremembered and unmotivated, satisfied at a brief brush with potential greatness, apparently not unlike some of the associated promoters. But it's not all bad news. We now have a national champion among the ten; others are following a well trodden path to a title shot via alphabet escalator. And two of the below men are even fighting each other, which is more old school than any training method or punch selection more likely to be named as such.
A quick reminder that this isn't a "top ten", just a fascinating ten, some more fascinating than others, most more fascinating than they were in 2018.
THE COLOSSUS: ARSLANBEK MAKHMUDOV
FROM: Russia HEIGHT: 6'5.5 WEIGHT IN SHAPE: 250lbs AGE: 29 RECORD: 8-0 with 8 KOs
"It sounds ridiculous given that he has only fought three contests," I last wrote of Arslanbek Makhmudov, a supplanted Russian boxing out of Canada, "but Arslanbek Makhmudov isn't being moved fast enough."
In part, this was due to his age. Makhmudov is thirty this week.
Happily, this gargantuan heavyweight has been moved along apace since last year, even finding some fighters who were able to extend him beyond the one minute mark. Emelio Zarate, the owner of the most spectacularly broken nose in the whole division, managed to take him as far as the second round in his fourth contest; Zarate had previously extended the debuting Sergey Kuzmin the six round distance.
Later, Jason Bergman, who once survived Joseph Parker for eight rounds, resumed normal service for Makhmudov opposition, flattened in a round, the left hand this time playing its part (Makhmudov is better known for his prestigious right). There are small gains on display here.
Most recently, in May of last year, Makhmudov stepped up to the ten round distance and identified his preferred ABC, fighting for something called the "World Boxing Council Continental Americas Heavyweight Title". His opponent was a respectable one, the American Jonathan Rice, a fighter who had previously taken prospect Tony Yoka the distance over in Paris and a fighter who had never been stopped.
Makhmudov crushed him in seconds.
The Colossus has had a good year. He's moved up in class and there has been no affect upon either his power or his person. Next year should see him ranked in the WBC top ten; the one after that will see him dueling legitimate top ten contenders.
SIX NINE: IVAN DYCHKO
FROM: Kazakhstan HEIGHT: 6'9 WEIGHT IN SHAPE: 250lbs AGE: 28 RECORD: 8-0 with 8 KOs
It's been a bad, bad year for the six foot nine inch Ivan Dychko.
"But wait a moment Matt!" I hear you cry, "Ivan has won every fight he's been in by knockout since last June. How can that be a bad year?"
Firstly, Dychko has only been out of the garage three times in comparison to Makhmudov's five; he's boxed only five rounds in those three fights against opponents with a shared loss ledger numbering thirty-eight. The best of his paid victims was the fighter formerly known as Ray Austin, now aged forty-eight and with a record of 1-5 from his last six coming into his contest with Dychko.
In fairness, the Kazakhstani looked slick and hard-handed while beating up the blubbery, stumbling former contender, who was pulled with an arm injury in round three; but the sight was too sad to enjoy.
Dychko was complaining this time last year about the miserable level of his opposition, and if anything, it's dropped off. The highlight of his year has been the miniscule level of attention he generated when bizarrely volunteering to replace Jarrell Miller against Anthony Joshua based upon their amateur rivalry.
If he was unhappy in 2018, he must be beside himself now. His Australian promotion team is failing him.
THE QUIET ONE: DANIEL DUBOIS
FROM: Great Britain HEIGHT: 6'5 WEIGHT IN SHAPE: 239lbs AGE: 21 RECORD: 11-0 with 10 KOs
Daniel Dubois has had perhaps the finest year of any of our heavyweight prospects, going 4-0 against steadily improving opposition. He also got priceless, priceless rounds under his belt when veteran spoiler Kevin Johnson took him the ten last October and what is more he won every one of them.  Johnson, who has fought a who's who of heavyweights, was impressed.
"His jab got the power of a right hand," Johnsons said after their contest. "I could not get past that jab."
In additionally rating Dubois jab superior to Vitali Klitschko, Johnson has made quite the statement.  Johnson did also express reservations, however, not least over Dubois' explosiveness; the veteran found it lacking. This illustrates further concerns over Dubois' paucity of handspeed. It hasn't cost him yet but the giant Englishman is not blessed with quick mitts. Speed can be improved, especially in a young fighter, especially when it comes to knitting punches together in bunches, but this prospect's has not improved. Sometimes I feel he looks slower.
This just hasn't mattered so far; not when he met the onramp to the WBO title path; not when he blasted out Razvan Cojanu, a former victim of both Luis Ortiz (KO2) and Joseph Parker (UD12) in just two rounds; and he will hope not when he meets fellow UK prospect Nathan Gorman next month.
Dubois and Gorman clash on the thirteenth in London when they will become the first two men from this list of prospects to meet. The winner will become the pre-eminent name among his peers.
THE BRUTE: SERGEY KUZMIN
FROM: Russia HEIGHT: 6'3.5 WEIGHT IN SHAPE: 245lbs AGE: 31 RECORD: 15-0 with 11 KOs
"Sergey Kuzmin," I wrote last year, "is a pressure fighter with a stylistically stated preference for power-punches.  He throws with bad intentions, sometimes wildly, while tucking his head into chest and giving the impression that he would rather be smaller than bigger."
That was probably the best summary I wrote and it remains as true now as it was then.
Kuzmin has on paper had a quiet year compared to many of the others listed here, but at 15-0 is assuming the tone of a fighter no longer a prospect. His opponents have improved accordingly.  David Price was an interesting and sensible opponent, a vulnerable giant with good name recognition in a new market for the Russian. His trip to the UK sadly ended in Price's withdrawal with an arm injury rather than with the hoped-for knockout, but Kuzmin took it in his stride and flew back to the USA where he matched the 6'4 240lb fleet-footed LaRon Mitchell. Kuzmin hunted him down in six brutal rounds, ostensibly stopping him with an eye-watering uppercut but really stopping him with a summary attack that he sustained from beginning to end.
Then came Kuzmin's match with Joey Dawejko in March of this year. I thought the judges had it a little too close across the board and the majority decision in favor of Kuzmin favored Dawejko in my opinion, but it is nevertheless a fact that Dawejko did give Kuzmin some problems he did not entirely overcome. Given that there are many levels between Dawejko and the best opponents Kuzmin will meet in the next two years, his team may have cause to worry; the Russian looked occasionally bereft of ideas during these ten absorbing rounds.
He nevertheless remains the most spiteful piece of work on this list.  I'll stick my neck out and nominate him to be the third to achieve a TBRB ranking, too.
THE AMERICAN: DARMANI ROCK
FROM: USA HEIGHT: 6'5 WEIGHT IN SHAPE: 240lbs AGE: 23 RECORD: 15-0 with 10 KOs
He's from the right country, is the right age, has the right name and the right physical attributes, but still the silence around Darmani Rock remains deafening. I can't quite decide if his promotional team is being very, very smart or very, very dumb; time, I suppose, will tell.
And Rock has plenty of it. Aged just twenty-three, moving him slowly is valid, and for all the impatience of the iPhone era, a reasonable approach to developing a fighter. That said it is a little disturbing to me that so little is said about him even when he is moved on, as he was against Pedro Rodriguez last October. Rodriguez, perhaps, is the wrong side of shot having been the discerning prospect's opponent since 2012, but up until very recently he has been beaten only by the best. At the very least he had more name recognition than typical Rock fare.
I would describe the fourth round stoppage for you, but I've never seen it. I'm not even sure that the fight was televised and if it was the internet does not appear to be carrying it, almost unheard of.
Again: very smart, or very dumb?  That is yet to be revealed, but I don't think we can expect much movement from Rock over the next twelve months.
MY FAVORITE: FILIP HRGOVIC
FROM: Croatia HEIGHT: 6'6 WEIGHT IN SHAPE: 230lbs AGE: 26 RECORD: 8-0 with 6 KOs
Technically proficient, quick of hand and thought, physically imposing and clearly in great shape, Filip Hrgovic is confirmed as having everything he needs to be a champion in the heavyweight division except the important ones: chin and stamina. These still remain unconfirmed, although his adventures in the WSB suggest he owns a sturdy mandible at the very least.
Hrgovic was scheduled to fight ten rounds with a name opponent last September and it seemed we might get to find out about his stamina, too. Amir Mansour, after all, had yet to be stopped in nearly thirty contests except by a self-inflicted injury to his tongue.
Hrgovic changed all that. With a Klitschko-like control of range and tempo, Hrgovic dominated the fight from beginning to end. Then, in a style all of his own, he closed the blinds on Mansour in just three rounds in what was a physical and technical mismatch.
Defensively we have also seen some improvement though neither in parrying or blocking, but rather in the form of generalship and so the old concern is also the new concern. Hrgovic may find himself in unnecessary firefights, something I can't say I'm anything but delighted about except to say that it may at some time cost him.
Hrgovic followed this up with an eight round decision victory over Kevin Johnson in December and then a gorgeous one round destruction of American Gregory Corbin. Corbin had been disqualified for a single loss in his sixteen fight career but three right hands, all different, all delivered with the same withering certitude to different parts of Corbin's anatomy, saw him exit the Hrgovic story stage left.
Hrgovic has no fight scheduled currently. My prediction is that he will be ranked in either the TBRB or Ring rankings before we speak again.
HAYMAKING: JOE JOYCE
FROM: Great Britain HEIGHT: 6'6 WEIGHT IN SHAPE: 255lbs AGE: 33 RECORD: 9-0 with 9 KOs
"Joyce in many ways is the most interesting fighter on this list," was my claim this time last year, "because he probably will not be in competition with the other men listed but rather with the current generation of heavies. I suspect Joyce will find his way into the ring with an international class opponent before he hits 10-0 and a world level fighter before he hits 15-0.  This is likely a space worth watching."
Sure enough, Joyce is slated to meet Bryant Jennings in his tenth professional contest in London next month. In actual fact though, Joyce pre-dated my prediction by two fights, thrashing Bermane Stiverne in six rounds this past February. Those who wish, understandably, to write off Stiverne as washed up should keep in mind that his previous opponent was Deontay Wilder. Joyce is mixing it with fighters who have recently mixed with the elite, and David Haye and his promotional team are to be lauded for the speed with which they are moving a heavyweight who is in his mid-thirties.
Jennings may provide a different and stiffer test and is an even braver piece of match-making. Joyce has the same problem as Dubois: his hands are slow, and sometimes it seems they are comically so.
But he has an elite level workrate and excellent accuracy. If you can control your positioning and are defensively aware, this can go a long way to making up for physical shortcomings.
Joyce will need this and more on July thirteenth. Should he win, a fast-burning addition to the heavyweight melting pot is complete. I make Joyce a slight favorite in what is absolutely a legitimate graduation night, and given the speed with which he is being matched, I think you can expect to see him in with a legitimately ranked opponent before summer 2020.
THE PUB BOUNCER: NATHAN GORMAN
FROM: Great Britain HEIGHT: 6'3 WEIGHT IN SHAPE: 250lbs AGE: 22 RECORD: 16-0 with 11 KOs
"Nathan Gorman isn't really a pub bouncer," I explained last year, "but because he looks a little like one, he's been consistently overlooked as a heavyweight prospect in the UK in favor of the ripped Joe Joyce and the less tubby Daniel Dubois.  This is unfair."
Gorman will get to show how unfair or otherwise it is on the thirteenth of July when he meets Daniel Dubois ring center in London's O2 Arena.  It's a fascinating tussle not too unlike the recent Joshua-Ruiz upset; Dubois, the enormous, chiseled, money-maker has been pitted against a smaller, less svelte fighter with quicker hands.
The Dubois fight is everything to Gorman. There will be no unearned second coming should he lose, just a long and difficult slog back to where he is now followed by the real work. Gorman, for all that he could be another all-action feel-good story with all the benefits that brings, has it all on the line in a way that Dubois, perhaps, does not.
And I really think he might win. His strengths line up well with Dubois' weaknesses. One thing is for sure though: Gorman's status next time we check in with him will be more dramatically affected by his next fight than every other man on this list.
THE LITTLE GUY: OLEKSANDER USYK
FROM: Ukraine HEIGHT: 6'3 WEIGHT IN SHAPE: 220lbs AGE: 32 RECORD: 16-0 with 12 KOs
To our great frustration, Usyk pulled out of his heavyweight debut, scheduled to take place in the United States late last month. The proposed opponent was a legitimate one, specifically Carlos Takam who had previously given Anthony Joshua one or two moments.
Truthfully though, he was perfect for Oleksander Usyk. Quick feet, quick hands, legitimate mobility and the generalship and gas tank to utilize it are going to be the antidote to many of the turgid heavyweights that swarm just outside the top ten.
More disturbing than Usyk's injury is talk of his moving between cruiserweight and heavyweight for a period. That seems unwise. Freeing the body up to unlimited before packing it back in a cruiserweight box could be detrimental to both Usyk's performance and his potential heavyweight ranking. Hopefully this time next year Usyk will have bid adieu to 200lbs and begun his assault upon the biggest division in earnest.
It wouldn't surprise me if he has come into possession of some minor strap by next June.
AT THE SCHOOL OF MANNY STEWARD: VLAD SIRENKO
FROM: Ukraine HEIGHT: 6'3.5 WEIGHT IN SHAPE: 243lbs AGE: 24 RECORD: 11-0 with 10 KOs
Former Manny Steward disciple James Bashir went a long way to train Vlad Sirenko; Sirenko's steady improvements have been their dual reward.
Sirenko had a big 2018/19, moving out of South Africa where he boxed his apprenticeship and into his home of Ukraine and to Germany, where his mid-term future may lie.
In terms of opposition there has been little offered with the Congolese African champion Rocky Kaleng the probable high mark. Kaleng hadn't been stopped since 2010 in just his fourth contest.  What's more, he actually gave Sirenko a little fright, landing a series of stern left hooks in the opening minute as the Ukrainian looked to out-squabble his opponent in close. It was in close, too, that an overeager Sirenko landed a clunking rabbit-punch and the fight immediately drifted from Kaleng's forty-year old legs. Sirenko ended matter with his own left hook moments later, although there was some ambiguity regarding the veracity of the stoppage; was the rabbit-punch, the menacing left hook of Sirenko or Kaleng's age most culpable for the first round knockout victory?
There was no ambiguity where Sirenko's knockout of Leonardo Robutti in Germany for the national belt of that country was concerned, however. The three piece combination to finish that fight would make the highlight reel of any active heavyweight.
Of all the fighters on our list though, Sirenko has the most work to do. He is too upright and Kaleng showed him vulnerable to the left-hook. There is no hiding this footage which is readily available online; look for every new opponent to land their own high left hands early. It's the job of James Bashir to stop them.
THIS TIME NEXT YEAR
Zero losses and a raft of victories is what our heavyweight prospects have delivered over the last twelve months.  I can guarantee that the next time we check in, losses will have been suffered.  Even if Dubois and Gorman stage an unsatisfactory draw, Joyce, Usyk, Hrgovic and Kuzmin, at a minimum, will be keeping serious company going forward; I would also expect the winner of Dubois-Gorman to be matched heavy in the months after their contest.
Dychko, Rock and Sirenko will likely continue to tread water, in the case of Dychko, itching for a shot at Anthony Joshua, seemingly very much against his will; meanwhile Makhmudov holds perhaps the most interesting hand of all. He's ready, he's been creeping forward at a more measured pace, but whether or not he will move up in class and out of his Canadian stronghold is unclear.
This time next year, we'll break it down again and see what has transpired.
Photo left to right: Daniel Dubois, promoter Frank Warren, Joe Joyce, Nathan Gorman
Check out more boxing news on video at The Boxing Channel
To comment on this story in The Fight Forum CLICK HERE
Berchelt TKOs Valenzuela in Mexico City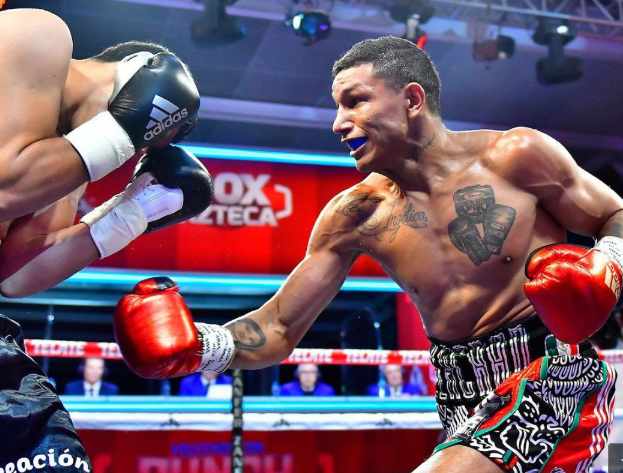 Mexico's Miguel Berchelt hammered his way to a decisive knockout victory over fellow Mexican Eleazar Valenzuela in a non-title light fight on Saturday.
After nearly nine months off, WBC super featherweight titlist Berchelt (38-1, 34 KOs) unraveled a withering body attack including numerous low blows but Valenzuela remained upright in front of a sparse TV studio audience until he could take it no longer.
Berchelt used a seven-punch combination to knock the senses out of the very tough Valenzuela who hails from Sinaloa. The referee saw enough and stopped the fight with Valenzuela leaning against the ropes with a dazed look.
The champion from Cancun used a triple left hook in the first round to floor Valenzuela and it looked like the fight would not last more than two rounds. But Valenzuela, a sturdy veteran, bored into Berchelt to keep him off balance and was able to stop the momentum.
It did not last.
A vicious attack to the body sapped the energy from Valenzuela who has fought many elite fighters in the past, but none like Berchelt. He was able to batter the veteran round after round.
Valenzuela sought to reverse the momentum with some combinations of his own. Berchelt opened up with some combinations from the outside and cracked his foe with some skull-numbing blows that clearly affected Valenzuela's senses. The referee wisely stopped the fight at 1:03 of the sixth round to give the win to Berchelt by knockout.
The victory opens the door to a potential clash with featherweight world titlist Oscar Valdez of Nogales, Mexico who has a fight of his own planned next month. Both champions are promoted by Top Rank.
Other Bouts       
Omar Aguilar (18-0, 17 KOs) bushwacked veteran Dante Jardon (32-7, 23 KOs) within a minute of the first round to win by technical knockout. A barrage of blows by Ensenada's Aguilar opened up the fight and a four-punch combination forced the referee to stop the super lightweight fight with Mexico City's Jardon against the ropes.
A battle between super bantamweights saw the taller Alan Picasso (14-1) out-hustle Florentino Perez (14-6-2) in an eight round clash between Mexican fighters. Mexico City's Picasso fought effectively inside against the shorter Perez of Monterrey and was able to maintain a consistent pace. Neither fighter approved the use of a jab but Picasso was more effective inside with body shots and uppercuts and dominated the last half of the fight.  The six judges scored in favor of Picasso.
The WBC instituted the extra judges as a means of tabulating score cards efficiently. Three judges scored from the television studios and another three judges scored from the USA. It was the second time WBC judges officiated remotely and all six scorecards were official.
Photo credit: Zanfer Promotions
To comment on this story in The Fight Forum CLICK HERE
Boxing Odds and Ends: Big Baby Miller, Roberto Duran and More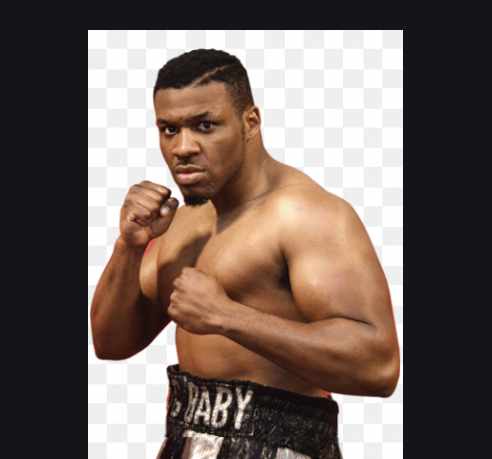 Jarrell "Big Baby" Miller just can't keep his hands out of the cookie jar. It was announced today (Saturday, June 27) that the jumbo-sized heavyweight from Brooklyn tested positive for a banned substance, forcing him out of a July 9 fight at the MGM Grand "Bubble" against Jerry Forrest. The story was broken by Mike Coppinger of The Athletic who breaks more hard news stories than any other boxing writer.
Miller, needless to say is a repeat offender. He failed three different PED tests in a span of three days for three different banned substances leading into his planned June 2019 match at Madison Square Garden with WBA/IBF/WBO world heavyweight champion Anthony Joshua. That cost him the fight and a reported $5 million-plus payday. Andy Ruiz filled the void and scored an historic upset.
When the first test came back positive, Miller wailed that he was the victim of a faulty test. "My team and I stand for integrity, decency and honesty and will fight this with everything we have," he said in a prepared statement. He later changed his tune. "I messed up," he said.
In a story that appeared on these pages, Thomas Hauser noted that Big Baby had a history of PED use dating to 2014. In that year, he was slapped with a nine-month suspension by the California Athletic Commission following a kickboxing event in Los Angeles.
Counting this latest revelation, it's five strikes for Big Baby. He's taking quite a roasting right now on social media. Some of the harshest criticism is coming from his fellow boxers.
Assuming that Top Rank can't find a replacement for Miller, this is another tough break for Jerry Forrest, a 32-year-old southpaw from Virginia with a 26-3 (20) record. Forrest was scheduled to fight hot prospect Filip Hrgovic on April 17 on a card at the MGM National Harbor in Oxon Hill, Maryland, a show swept away by the coronavirus outbreak. Forrest has been matched very soft throughout his career, but he acquitted himself well in his lone previous TV appearance, losing a split decision to undefeated Jermaine Franklin on "Showtime: The New Generation." The decision was controversial.
There's talk now that Carlos Takam is angling to replace Big Baby. The French-Cameroonian, a former world title challenger who turns 40 in December, was billed out of Henderson, Nevada, in his last ring appearance that saw him winning a unanimous decision over fellow greybeard Fabio Maldonado in Huntington, NY.
—-
When it comes to Murphy's Law ("anything that can go wrong, will"), there's no sport quite like boxing. Just ask Bob Arum. The most mouth-watering matchup in his ESPN "summer series" fell out this week when Eleider Alvarez suffered a shoulder injury in training, forcing a postponement of his July 16 date with Joe Smith Jr. The match between Alvarez (25-1, 13 KOs) and Smith (25-3, 20 KOs) would have been a 12-rounder with the winner guaranteed a shot at the vacant WBO light heavyweight title, a diadem that Alvarez previously owned.
Joe Smith Jr, a Long Island construction worker once dismissed as nothing more than a club fighter, won legions of new fans in his last start, a one-sided (to everyone except one myopic judge) win over Jesse Hart in Atlantic City.
Cancelled matches have become a recurrent theme in ESPN's semi-weekly boxing series. The very first card in the series lost what shaped up as its most competitive fight when Mikaela Mayer tested positive for COVID-19, scuttling her bout with Helen Joseph. In subsequent weeks, the manager of Mikkel Les Pierre tested positive for COVID-19 as did WBO junior lightweight champion Jamel Herring. Those bad test results forced the postponement of two main events. Then earlier this week, hot lightweight prospect Joseph Adorno was lopped off Tuesday's card after feeling sick after coming in overweight at the previous day's weigh-in.
The undercards of the Tuesday/Thursday ESPN fights have left something to be desired, but that's understandable. As Bob Arum noted in a conversation with veteran boxing scribe Keith Idec, Top Rank's matchmakers Bruce Trampler and Brad "Abdul" Goodman have had a hard time fleshing out the cards because with so many gyms closed there's a shortage of boxers who are in shape to fight on short notice. Then there are the COVID-19 travel restrictions and (something Arum did not acknowledge) budgetary restrictions more severe than an ordinary Top Rank card. Most of the undercard fighters have come from neighboring states such as Utah, saving Top Rank the cost of air fare. Fighters from faraway places, with some exceptions, were already training in Las Vegas.
Kudos to the entire Top Rank staff for keeping boxing alive during these challenging times.
—
It's old news now, but Panamanian boxing legend Roberto Duran, 69, tested positive for the coronavirus and was hospitalized in Panama City with a viral infection. There's been no update on his condition but his son Robin Duran wrote on Instagram that his father is not having any symptoms beyond those associated with a common cold. We will update you when new details become available.
Duran's hospitalization came just a few days after the 40th anniversary of his first fight with Sugar Ray Leonard in what would say was Duran's finest hour. They met on June 20, 1980 at Olympic Stadium in Montreal.
Duran won a unanimous decision. Converting the "10-point must" system into rounds, Duran prevailed by scores of 3-2-10, 6-5-4, and 6-4-5. As Yogi would have said, you could look it up.
Check out more boxing news on video at The Boxing Channel 
To comment on this story in the Fight Forum CLICK HERE
Fast Results from the Bubble: Jason Moloney TKOs Baez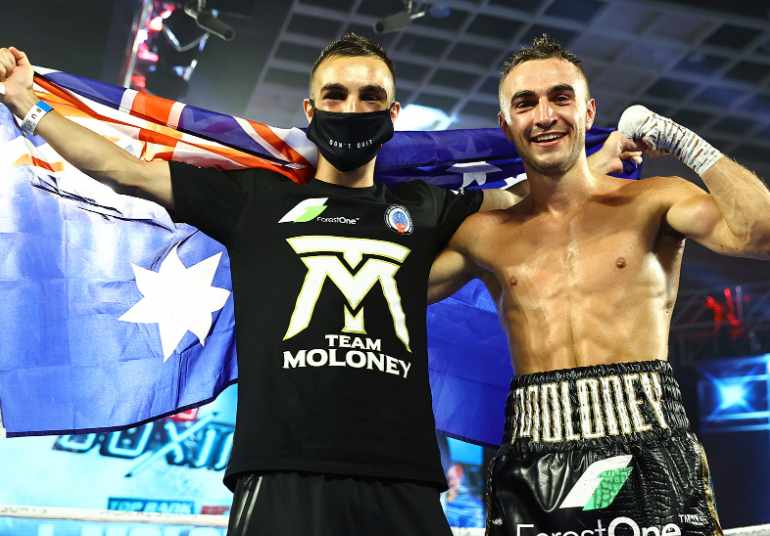 Top Rank was back inside the MGM Grand "Bubble" tonight for chapter six of their semi-weekly ESPN summer series. Jason Moloney, one-half of Australia's Moloney twins, accomplished what his brother Andrew Moloney was unable to accomplish in this ring on Tuesday night, adding a "W" to his ledger and looking good doing it. It came at the expense of Mexicali's Leonardo Baez.
It was Jason Moloney's second start on U.S. soil after coming up just a tad short in a bid for the vacant IBF world bantamweight title at Orlando in October of 2018. Against Baez, he fought a smart tactical fight, blunting the Mexican's superior reach by fighting him at close quarters. Baez fought from the third round on with a cut over his right eye and then suffered a cut over his left eye in the seventh round. By then the fight was becoming increasingly one-sided and Baez's corner did not let him come out for round eight.
Jason Moloney improved to 21-1 with his 18th knockout. Leonardo Baez, who took the fight on short notice after Maloney's original opponent Oscar Negrete was forced to withdraw with a detached retina, slumped to 18-3.
Co-Feature
In the 10-round co-feature, Abraham Nova advanced to 19-0 with a unanimous decision over Philadelphia's Avery Sparrow but won no new fans with a lackadaisical performance. Nova, born in Puerto Rico to parents from the Dominican Republic and raised in Albany, NY, showed little but his jab through the first seven rounds until hurting Sparrow with a big right hand in the eighth. The judges had it 96-94, 97-93, and 99-91.
Sparrow (10-2), whose lone previous loss was by disqualification, was making his first start in 15 months. He was slated to fight Ryan Garcia in Los Angeles last Sept. 14 but never made it to the weigh-in after being arrested by U.S. marshals on a charge of threatening a woman with a gun after she threw his clothes out the window…
Other Bouts
In an 8-round featherweight contest, Puerto Rican southpaw Orlando Gonzalez advanced to 15-0 with a unanimous decision over Ecuador's Luis Porozo (15-3). The scores were 76-74 and 77-73 twice.
Gonzalez wasn't particularly impressive although he did score two knockdowns. He decked Porozo near the end of round two with a left hook following a straight left and decked him again near the end of round seven with a left uppercut to the body.
In a rather ho-hum fight, welterweight Vlad Panin improved to 8-1 with 6-round majority decision over San Antonio's 36-year-old Benjamin Whitaker (13-4). Panin, a Belarusian who grew up in Las Vegas and earned a BA in English from UCLA, has a good back story but seemingly a limited upside in the fight game.
In an entertaining 6-round welterweight clash, Filipino campaigner Reymond Yanon improved to 11-5-1 with a split decision (59-55, 58-56, 56-58) over Clay Burns. A 33-year-old ex-Marine from Fort Worth, Burns declined to 9-8-2.
The opener, a heavyweight bout slated for six rounds, matched two Phoenix-based fighters in a rematch. Kingsley Ibeh, a former standout defensive lineman for the Washburn College Ichabods, avenged his lone defeat and improved to 4-1 with a fourth-round stoppage of Waldo Cortes (5-3). Ibeh, who at 286 had a 39-pound weight advantage, softened Cortes up with a series of uppercuts and Cortes was on his way down when he was tagged with a glancing left hand. He got to his feet, but referee Vic Drakulich waived it off. The official time was 1:41.
Photo credit: Mikey Williams for Top Rank
Check out more boxing news on video at The Boxing Channel 
To comment on this story in The Fight Forum CLICK HERE