Re-Visiting Ten Fascinating Heavyweight Prospects One Year Later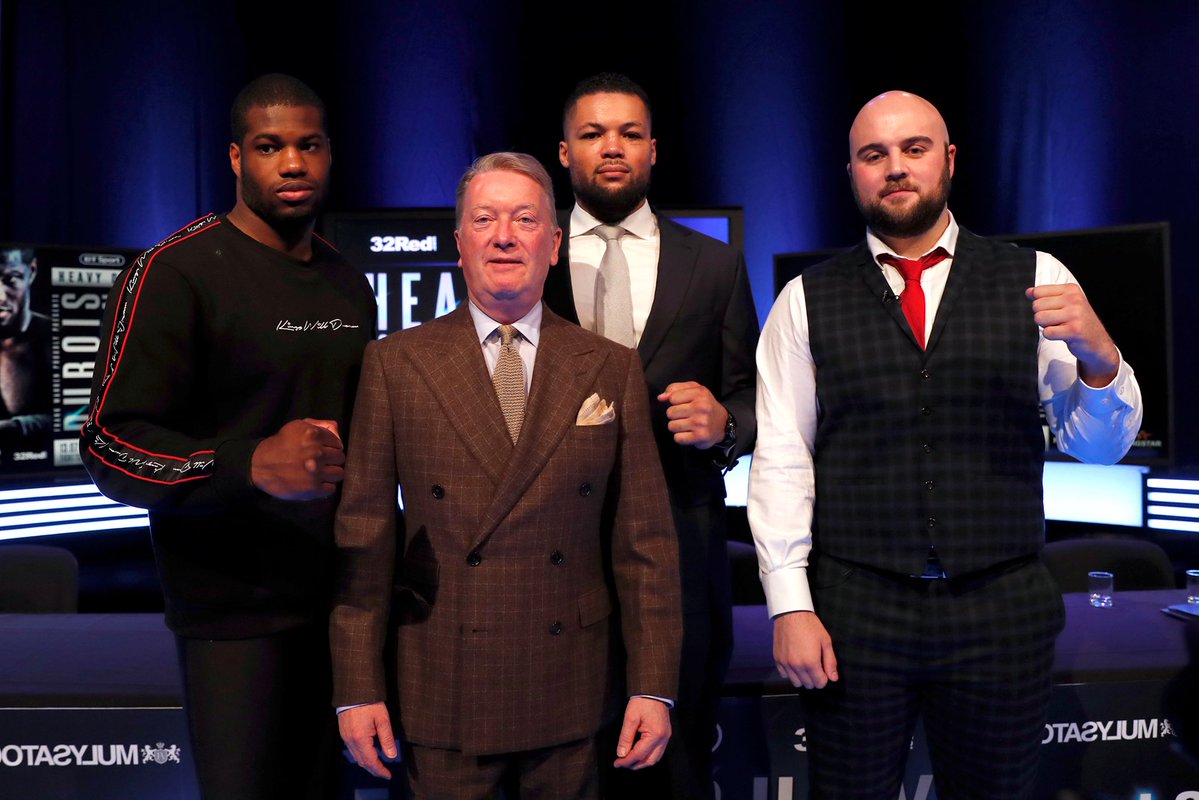 Back in the summer of 2018 we took a look at ten selected heavyweight prospects and put them under the microscope, an article you can see here.
One year later we are re-visiting the ten selected heavies to see who has done what to whom and why; who has been moved along too quickly and who not at all; who is positioned for a title shot, and when it is likely to come.
It doesn't always make for pretty reading. Last time around we came across some fighters of walloping potential who found themselves mired in professional-loser hell and for some the year gone by has made little difference. Faceless opponents slip by unremembered and unmotivated, satisfied at a brief brush with potential greatness, apparently not unlike some of the associated promoters. But it's not all bad news. We now have a national champion among the ten; others are following a well trodden path to a title shot via alphabet escalator. And two of the below men are even fighting each other, which is more old school than any training method or punch selection more likely to be named as such.
A quick reminder that this isn't a "top ten", just a fascinating ten, some more fascinating than others, most more fascinating than they were in 2018.
THE COLOSSUS: ARSLANBEK MAKHMUDOV
FROM: Russia HEIGHT: 6'5.5 WEIGHT IN SHAPE: 250lbs AGE: 29 RECORD: 8-0 with 8 KOs
"It sounds ridiculous given that he has only fought three contests," I last wrote of Arslanbek Makhmudov, a supplanted Russian boxing out of Canada, "but Arslanbek Makhmudov isn't being moved fast enough."
In part, this was due to his age. Makhmudov is thirty this week.
Happily, this gargantuan heavyweight has been moved along apace since last year, even finding some fighters who were able to extend him beyond the one minute mark. Emelio Zarate, the owner of the most spectacularly broken nose in the whole division, managed to take him as far as the second round in his fourth contest; Zarate had previously extended the debuting Sergey Kuzmin the six round distance.
Later, Jason Bergman, who once survived Joseph Parker for eight rounds, resumed normal service for Makhmudov opposition, flattened in a round, the left hand this time playing its part (Makhmudov is better known for his prestigious right). There are small gains on display here.
Most recently, in May of last year, Makhmudov stepped up to the ten round distance and identified his preferred ABC, fighting for something called the "World Boxing Council Continental Americas Heavyweight Title". His opponent was a respectable one, the American Jonathan Rice, a fighter who had previously taken prospect Tony Yoka the distance over in Paris and a fighter who had never been stopped.
Makhmudov crushed him in seconds.
The Colossus has had a good year. He's moved up in class and there has been no affect upon either his power or his person. Next year should see him ranked in the WBC top ten; the one after that will see him dueling legitimate top ten contenders.
SIX NINE: IVAN DYCHKO
FROM: Kazakhstan HEIGHT: 6'9 WEIGHT IN SHAPE: 250lbs AGE: 28 RECORD: 8-0 with 8 KOs
It's been a bad, bad year for the six foot nine inch Ivan Dychko.
"But wait a moment Matt!" I hear you cry, "Ivan has won every fight he's been in by knockout since last June. How can that be a bad year?"
Firstly, Dychko has only been out of the garage three times in comparison to Makhmudov's five; he's boxed only five rounds in those three fights against opponents with a shared loss ledger numbering thirty-eight. The best of his paid victims was the fighter formerly known as Ray Austin, now aged forty-eight and with a record of 1-5 from his last six coming into his contest with Dychko.
In fairness, the Kazakhstani looked slick and hard-handed while beating up the blubbery, stumbling former contender, who was pulled with an arm injury in round three; but the sight was too sad to enjoy.
Dychko was complaining this time last year about the miserable level of his opposition, and if anything, it's dropped off. The highlight of his year has been the miniscule level of attention he generated when bizarrely volunteering to replace Jarrell Miller against Anthony Joshua based upon their amateur rivalry.
If he was unhappy in 2018, he must be beside himself now. His Australian promotion team is failing him.
THE QUIET ONE: DANIEL DUBOIS
FROM: Great Britain HEIGHT: 6'5 WEIGHT IN SHAPE: 239lbs AGE: 21 RECORD: 11-0 with 10 KOs
Daniel Dubois has had perhaps the finest year of any of our heavyweight prospects, going 4-0 against steadily improving opposition. He also got priceless, priceless rounds under his belt when veteran spoiler Kevin Johnson took him the ten last October and what is more he won every one of them.  Johnson, who has fought a who's who of heavyweights, was impressed.
"His jab got the power of a right hand," Johnsons said after their contest. "I could not get past that jab."
In additionally rating Dubois jab superior to Vitali Klitschko, Johnson has made quite the statement.  Johnson did also express reservations, however, not least over Dubois' explosiveness; the veteran found it lacking. This illustrates further concerns over Dubois' paucity of handspeed. It hasn't cost him yet but the giant Englishman is not blessed with quick mitts. Speed can be improved, especially in a young fighter, especially when it comes to knitting punches together in bunches, but this prospect's has not improved. Sometimes I feel he looks slower.
This just hasn't mattered so far; not when he met the onramp to the WBO title path; not when he blasted out Razvan Cojanu, a former victim of both Luis Ortiz (KO2) and Joseph Parker (UD12) in just two rounds; and he will hope not when he meets fellow UK prospect Nathan Gorman next month.
Dubois and Gorman clash on the thirteenth in London when they will become the first two men from this list of prospects to meet. The winner will become the pre-eminent name among his peers.
THE BRUTE: SERGEY KUZMIN
FROM: Russia HEIGHT: 6'3.5 WEIGHT IN SHAPE: 245lbs AGE: 31 RECORD: 15-0 with 11 KOs
"Sergey Kuzmin," I wrote last year, "is a pressure fighter with a stylistically stated preference for power-punches.  He throws with bad intentions, sometimes wildly, while tucking his head into chest and giving the impression that he would rather be smaller than bigger."
That was probably the best summary I wrote and it remains as true now as it was then.
Kuzmin has on paper had a quiet year compared to many of the others listed here, but at 15-0 is assuming the tone of a fighter no longer a prospect. His opponents have improved accordingly.  David Price was an interesting and sensible opponent, a vulnerable giant with good name recognition in a new market for the Russian. His trip to the UK sadly ended in Price's withdrawal with an arm injury rather than with the hoped-for knockout, but Kuzmin took it in his stride and flew back to the USA where he matched the 6'4 240lb fleet-footed LaRon Mitchell. Kuzmin hunted him down in six brutal rounds, ostensibly stopping him with an eye-watering uppercut but really stopping him with a summary attack that he sustained from beginning to end.
Then came Kuzmin's match with Joey Dawejko in March of this year. I thought the judges had it a little too close across the board and the majority decision in favor of Kuzmin favored Dawejko in my opinion, but it is nevertheless a fact that Dawejko did give Kuzmin some problems he did not entirely overcome. Given that there are many levels between Dawejko and the best opponents Kuzmin will meet in the next two years, his team may have cause to worry; the Russian looked occasionally bereft of ideas during these ten absorbing rounds.
He nevertheless remains the most spiteful piece of work on this list.  I'll stick my neck out and nominate him to be the third to achieve a TBRB ranking, too.
THE AMERICAN: DARMANI ROCK
FROM: USA HEIGHT: 6'5 WEIGHT IN SHAPE: 240lbs AGE: 23 RECORD: 15-0 with 10 KOs
He's from the right country, is the right age, has the right name and the right physical attributes, but still the silence around Darmani Rock remains deafening. I can't quite decide if his promotional team is being very, very smart or very, very dumb; time, I suppose, will tell.
And Rock has plenty of it. Aged just twenty-three, moving him slowly is valid, and for all the impatience of the iPhone era, a reasonable approach to developing a fighter. That said it is a little disturbing to me that so little is said about him even when he is moved on, as he was against Pedro Rodriguez last October. Rodriguez, perhaps, is the wrong side of shot having been the discerning prospect's opponent since 2012, but up until very recently he has been beaten only by the best. At the very least he had more name recognition than typical Rock fare.
I would describe the fourth round stoppage for you, but I've never seen it. I'm not even sure that the fight was televised and if it was the internet does not appear to be carrying it, almost unheard of.
Again: very smart, or very dumb?  That is yet to be revealed, but I don't think we can expect much movement from Rock over the next twelve months.
MY FAVORITE: FILIP HRGOVIC
FROM: Croatia HEIGHT: 6'6 WEIGHT IN SHAPE: 230lbs AGE: 26 RECORD: 8-0 with 6 KOs
Technically proficient, quick of hand and thought, physically imposing and clearly in great shape, Filip Hrgovic is confirmed as having everything he needs to be a champion in the heavyweight division except the important ones: chin and stamina. These still remain unconfirmed, although his adventures in the WSB suggest he owns a sturdy mandible at the very least.
Hrgovic was scheduled to fight ten rounds with a name opponent last September and it seemed we might get to find out about his stamina, too. Amir Mansour, after all, had yet to be stopped in nearly thirty contests except by a self-inflicted injury to his tongue.
Hrgovic changed all that. With a Klitschko-like control of range and tempo, Hrgovic dominated the fight from beginning to end. Then, in a style all of his own, he closed the blinds on Mansour in just three rounds in what was a physical and technical mismatch.
Defensively we have also seen some improvement though neither in parrying or blocking, but rather in the form of generalship and so the old concern is also the new concern. Hrgovic may find himself in unnecessary firefights, something I can't say I'm anything but delighted about except to say that it may at some time cost him.
Hrgovic followed this up with an eight round decision victory over Kevin Johnson in December and then a gorgeous one round destruction of American Gregory Corbin. Corbin had been disqualified for a single loss in his sixteen fight career but three right hands, all different, all delivered with the same withering certitude to different parts of Corbin's anatomy, saw him exit the Hrgovic story stage left.
Hrgovic has no fight scheduled currently. My prediction is that he will be ranked in either the TBRB or Ring rankings before we speak again.
HAYMAKING: JOE JOYCE
FROM: Great Britain HEIGHT: 6'6 WEIGHT IN SHAPE: 255lbs AGE: 33 RECORD: 9-0 with 9 KOs
"Joyce in many ways is the most interesting fighter on this list," was my claim this time last year, "because he probably will not be in competition with the other men listed but rather with the current generation of heavies. I suspect Joyce will find his way into the ring with an international class opponent before he hits 10-0 and a world level fighter before he hits 15-0.  This is likely a space worth watching."
Sure enough, Joyce is slated to meet Bryant Jennings in his tenth professional contest in London next month. In actual fact though, Joyce pre-dated my prediction by two fights, thrashing Bermane Stiverne in six rounds this past February. Those who wish, understandably, to write off Stiverne as washed up should keep in mind that his previous opponent was Deontay Wilder. Joyce is mixing it with fighters who have recently mixed with the elite, and David Haye and his promotional team are to be lauded for the speed with which they are moving a heavyweight who is in his mid-thirties.
Jennings may provide a different and stiffer test and is an even braver piece of match-making. Joyce has the same problem as Dubois: his hands are slow, and sometimes it seems they are comically so.
But he has an elite level workrate and excellent accuracy. If you can control your positioning and are defensively aware, this can go a long way to making up for physical shortcomings.
Joyce will need this and more on July thirteenth. Should he win, a fast-burning addition to the heavyweight melting pot is complete. I make Joyce a slight favorite in what is absolutely a legitimate graduation night, and given the speed with which he is being matched, I think you can expect to see him in with a legitimately ranked opponent before summer 2020.
THE PUB BOUNCER: NATHAN GORMAN
FROM: Great Britain HEIGHT: 6'3 WEIGHT IN SHAPE: 250lbs AGE: 22 RECORD: 16-0 with 11 KOs
"Nathan Gorman isn't really a pub bouncer," I explained last year, "but because he looks a little like one, he's been consistently overlooked as a heavyweight prospect in the UK in favor of the ripped Joe Joyce and the less tubby Daniel Dubois.  This is unfair."
Gorman will get to show how unfair or otherwise it is on the thirteenth of July when he meets Daniel Dubois ring center in London's O2 Arena.  It's a fascinating tussle not too unlike the recent Joshua-Ruiz upset; Dubois, the enormous, chiseled, money-maker has been pitted against a smaller, less svelte fighter with quicker hands.
The Dubois fight is everything to Gorman. There will be no unearned second coming should he lose, just a long and difficult slog back to where he is now followed by the real work. Gorman, for all that he could be another all-action feel-good story with all the benefits that brings, has it all on the line in a way that Dubois, perhaps, does not.
And I really think he might win. His strengths line up well with Dubois' weaknesses. One thing is for sure though: Gorman's status next time we check in with him will be more dramatically affected by his next fight than every other man on this list.
THE LITTLE GUY: OLEKSANDER USYK
FROM: Ukraine HEIGHT: 6'3 WEIGHT IN SHAPE: 220lbs AGE: 32 RECORD: 16-0 with 12 KOs
To our great frustration, Usyk pulled out of his heavyweight debut, scheduled to take place in the United States late last month. The proposed opponent was a legitimate one, specifically Carlos Takam who had previously given Anthony Joshua one or two moments.
Truthfully though, he was perfect for Oleksander Usyk. Quick feet, quick hands, legitimate mobility and the generalship and gas tank to utilize it are going to be the antidote to many of the turgid heavyweights that swarm just outside the top ten.
More disturbing than Usyk's injury is talk of his moving between cruiserweight and heavyweight for a period. That seems unwise. Freeing the body up to unlimited before packing it back in a cruiserweight box could be detrimental to both Usyk's performance and his potential heavyweight ranking. Hopefully this time next year Usyk will have bid adieu to 200lbs and begun his assault upon the biggest division in earnest.
It wouldn't surprise me if he has come into possession of some minor strap by next June.
AT THE SCHOOL OF MANNY STEWARD: VLAD SIRENKO
FROM: Ukraine HEIGHT: 6'3.5 WEIGHT IN SHAPE: 243lbs AGE: 24 RECORD: 11-0 with 10 KOs
Former Manny Steward disciple James Bashir went a long way to train Vlad Sirenko; Sirenko's steady improvements have been their dual reward.
Sirenko had a big 2018/19, moving out of South Africa where he boxed his apprenticeship and into his home of Ukraine and to Germany, where his mid-term future may lie.
In terms of opposition there has been little offered with the Congolese African champion Rocky Kaleng the probable high mark. Kaleng hadn't been stopped since 2010 in just his fourth contest.  What's more, he actually gave Sirenko a little fright, landing a series of stern left hooks in the opening minute as the Ukrainian looked to out-squabble his opponent in close. It was in close, too, that an overeager Sirenko landed a clunking rabbit-punch and the fight immediately drifted from Kaleng's forty-year old legs. Sirenko ended matter with his own left hook moments later, although there was some ambiguity regarding the veracity of the stoppage; was the rabbit-punch, the menacing left hook of Sirenko or Kaleng's age most culpable for the first round knockout victory?
There was no ambiguity where Sirenko's knockout of Leonardo Robutti in Germany for the national belt of that country was concerned, however. The three piece combination to finish that fight would make the highlight reel of any active heavyweight.
Of all the fighters on our list though, Sirenko has the most work to do. He is too upright and Kaleng showed him vulnerable to the left-hook. There is no hiding this footage which is readily available online; look for every new opponent to land their own high left hands early. It's the job of James Bashir to stop them.
THIS TIME NEXT YEAR
Zero losses and a raft of victories is what our heavyweight prospects have delivered over the last twelve months.  I can guarantee that the next time we check in, losses will have been suffered.  Even if Dubois and Gorman stage an unsatisfactory draw, Joyce, Usyk, Hrgovic and Kuzmin, at a minimum, will be keeping serious company going forward; I would also expect the winner of Dubois-Gorman to be matched heavy in the months after their contest.
Dychko, Rock and Sirenko will likely continue to tread water, in the case of Dychko, itching for a shot at Anthony Joshua, seemingly very much against his will; meanwhile Makhmudov holds perhaps the most interesting hand of all. He's ready, he's been creeping forward at a more measured pace, but whether or not he will move up in class and out of his Canadian stronghold is unclear.
This time next year, we'll break it down again and see what has transpired.
Photo left to right: Daniel Dubois, promoter Frank Warren, Joe Joyce, Nathan Gorman
Check out more boxing news on video at The Boxing Channel
To comment on this story in The Fight Forum CLICK HERE
Mercito Gesta Victorious Over Jojo Diaz at the Long Beach Pyramid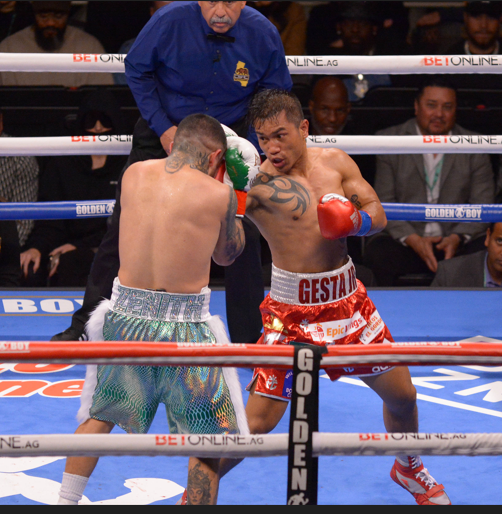 LONG BEACH, CA.-Those in the know knew Mercito Gesta and Jojo Diaz would be a fight to watch and they delivered.
Gesta emerged the winner in a super lightweight clash between southpaws that saw the judges favor his busier style over Diaz's body attack and bigger shots and win by split decision on Saturday.
Despite losing the main event because the star was overweight, Gesta (34-3-3, 17 KOs) used an outside method of tactic to edge past former world champion Diaz (32-4-1, 15 KOs) in front of more than 5,000 fans at the Pyramid.
The speedy Gesta opened up the fight with combination punching up and down against the peek-a-boo style of Diaz. For the first two rounds the San Diego fighter overwhelmed Diaz though none of the blows were impactful.
In the third round Diaz finally began unloading his own combinations and displaying the fast hands that helped him win world titles in two divisions. Gesta seemed stunned by the blows, but his chin held up. The counter right hook was Diaz's best weapon and snapped Gesta's head back several times.
Gesta regained control in the fifth round after absorbing big blows from Diaz. He seemed to get angry that he was hurt and opened up with even more blows to send Diaz backpedaling.
Diaz targeted his attack to Gesta's body and that seemed to slow down Gesta. But only for a round.
From the seventh until the 10th each fighter tried to impose their style with Gesta opening up with fast flurries and Diaz using right hooks to connect with solid shots. They continued their method of attack until the final bell. All that mattered was what the judges preferred.
After 10 rounds one judge saw Diaz the winner 97-93 but two others saw Gesta the winner 99-91, 98-92. It was a close and interesting fight.
"I was expecting nothing. I was the victor in this fight and we gave a good fight," said Gesta. "It's not an easy fight and Jojo gave his best."
Diaz was surprised by the outcome but accepted the verdict.
Everything was going good. I thought I was landing good body shots," said Diaz. "I was pretty comfortable."
Other Bouts
Mexico's Oscar Duarte (25-1-1, 20 KOs) knocked out Chicago's Alex Martin (18-5, 6 KOs) with a counter right hand after dropping him earlier in the fourth round. The super lightweight fight was stopped at 1:14 of the round.
A battle between undefeated super welterweights saw Florida's Eric Tudor (8-0, 6 KOs) emerge the winner by unanimous decision after eight rounds versus Oakland's Damoni Cato-Cain.
The taller Tudor showed polished skill and was not bothered by a large cut on his forehead caused by an accidental clash of heads. He used his jab and lead rights to defuse the attacks of the quick-fisted southpaw Cato-Cain. The judges scored the fight 80-72 and 78-74 twice for Tudor.
San Diego's Jorge Chavez (5-0, 4 KOs) needed less than one round to figure out Nicaragua's Bryan Perez (12-17-1, 11 KOs) and send him into dreamland with a three-punch combination. No need to count as referee Ray Corona waved the fight over. Perez shot a vicious right followed by another right and then a see-you-later left hook at 3.00 of the first round of the super featherweight match.
Photo credit: Al Applerose
Jojo Diaz's Slump Continues; Mercito Gesta Prevails on a Split Decision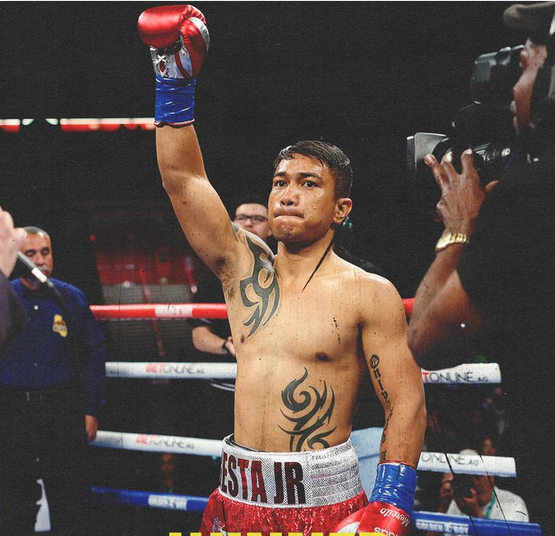 At age 30, Jojo Diaz's career is on the skids. The 2012 U.S. Olympian, a former world title holder at 126 and 130 pounds and an interim title holder at 135, Diaz suffered his third straight loss tonight, upset by Mercito Gesta who won a split decision at the Walter Pyramid in Long Beach, CA.. The scoring was strange with Gesta winning nine of the 10 rounds on one of the cards and only three rounds on another. The tie-breaker, as it were, was a 98-92 tally for Gesta and even that didn't capture the flavor of what was a closely-contested fight.
Originally listed as a 12-rounder, the match was reduced to 10 and that, it turned out, did Diaz no favors. However, it's hard to feel sorry for the former Olympian as he came in overweight once again, having lost his 130-pound title on the scales in February of 2021.
Diaz also has issues outside the ropes. Best elucidated by prominent boxing writer Jake Donovan, they include a cluster of legal problems stemming from an arrest for drunk driving on Feb. 27 in the LA suburb of Claremont.
With the defeat, Diaz's ledger declined to 32-4-1. His prior losses came at the hands of Gary Russell Jr, Devin Haney, and William Zepeda, boxers who are collectively 83-2. Mercito Gesta, a 35-year-old San Diego-based Filipino, improved to 34-3-3.
Co-Feature
Chihuahua, Mexico super lightweight Oscar Duarte has now won nine straight inside the distance after stopping 33-year-old Chicago southpaw Alex Martin in the eighth frame. Duarte, the busier fighter, had Martin on the deck twice in round eight before the fight was waived off.
Duarte improved to 25-1-1 (20). Martin, who reportedly won six national titles as an amateur and was once looked upon as a promising prospect, declined to 18-5.
Other Bouts of Note
New Golden Boy signee Eric Tudor, a 21-year-old super welterweight from Fort Lauderdale, overcame a bad laceration over his right eye, the result of an accidental clash of heads in round four, to stay unbeaten, advancing to 8-0 (6) with a hard-fought unanimous 8-round decision over Oakland's Damoni Cato-Cain. The judges had it 80-72 and 78-74 twice. It was the first pro loss for Cato-Cain (7-1-1) who had his first five fights in Tijuana.
In the DAZN opener, lanky Hawaian lightweight Dalis Kaleiopu went the distance for the first time in his young career, improving to 4-0 (3) with a unanimous decision over 36-year-old Colombian trial horse Jonathan Perez (40-35). The scores were 60-52 across the board. There were no knockdowns, but Perez, who gave up almost six inches in height, had a point deducted for a rabbit punch and another point for deducted for holding.
To comment on this story in the Fight Forum CLICK HERE
'Big Baby' Wins the Battle of Behemoths; TKOs 'Big Daddy' in 6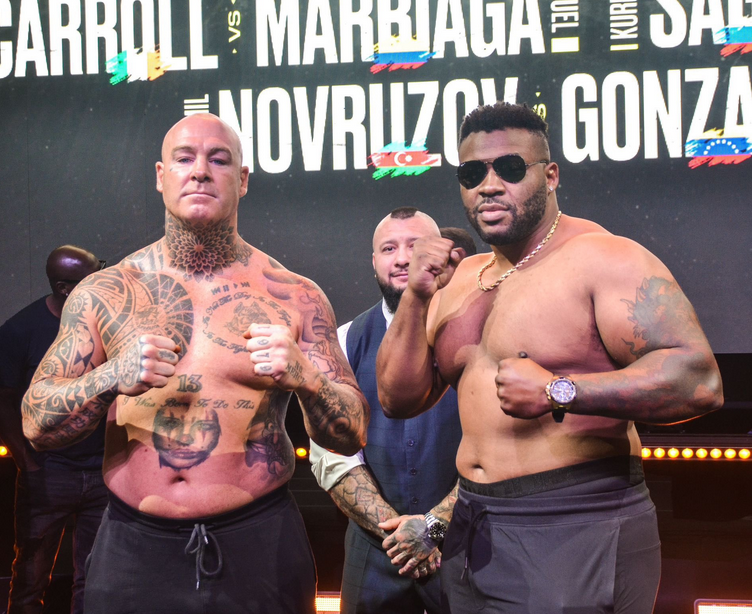 Lucas "Big Daddy" Browne weighed in at a career-high 277 pounds for today's battle in Dubai with Jarrell "Big Baby" Miller, but he was the lighter man by 56 pounds. It figured that one or both would gas out if the bout lasted more than a few stanzas.
It was a war of attrition with both men looking exhausted at times, and when the end came it was Miller, at age 34 the younger man by nine years, who had his hand raised.
Browne was the busier man, but Miller, whose physique invites comparison with a rhinoceros, hardly blinked as he was tattooed with an assortment of punches. He hurt 'Bid Daddy' in round four, but the Aussie held his own in the next frame, perhaps even forging ahead on the cards, but only postponing the inevitable.
In round six, a succession of right hands knocked Browne on the seat of his pants. He beat the count, but another barrage from Miller impelled the referee to intervene. The official time was 2:33. It was the 21st straight win for Miller (26-0-1, 22 KOs). Browne declined to 31-4 and, for his own sake, ought not fight again. All four of his losses have come inside the distance, some brutally.
The consensus of those that caught the livestream was that Floyd Mayweather Jr's commentary was an annoying distraction that marred what was otherwise an entertaining show.
As for what's next for "Big Baby" Miller, that's hard to decipher as he has burned his bridges with the sport's most powerful promoters. One possibility is Mahmoud Charr who, like Miller, has a big gap in his boxing timeline. Now 38 years old, Charr – who has a tenuous claim on a WBA world title (don't we all?) —  has reportedly taken up residence in Dubai.
Other Bouts of Note
In a 10-round cruiserweight affair, Suslan Asbarov, a 30-year-old Russian, advanced to 4-0 (1) with a hard-fought majority decision over Brandon Glanton. The judges had it 98-92, 97-93, and a more reasonable 95-95.
Asbarov was 12-9 in documented amateur fights and 1-0 in a sanctioned bare-knuckle fight, all in Moscow, entering this match. He bears watching, however, as Glanton (18-2) would be a tough out for almost anyone in his weight class. In his previous fight, at Plant City, Florida, Glanton lost a controversial decision to David Light, an undefeated Australian who challenges WBO world title-holder Lawrence Okolie at Manchester, England next week.
A 10-round super featherweight match between former world title challengers Jono Carroll and Miguel Marriaga preceded the semi-windup. Carroll, a 30-year-old Dublin southpaw, overcame a cut over his left eye suffered in the second round to win a wide unanimous decision in a fairly entertaining fight.
It was the sixth straight win for Carroll (24-2-1, 7 KOs) who elevated his game after serving as a sparring partner for Devin Haney. Marriaga, a 36-year-old Colombian, lost for the fourth time in his last five outings, declining to 30-7.
To comment on this story in the Fight Forum CLICK HERE