Re-Visiting Ten Fascinating Heavyweight Prospects One Year Later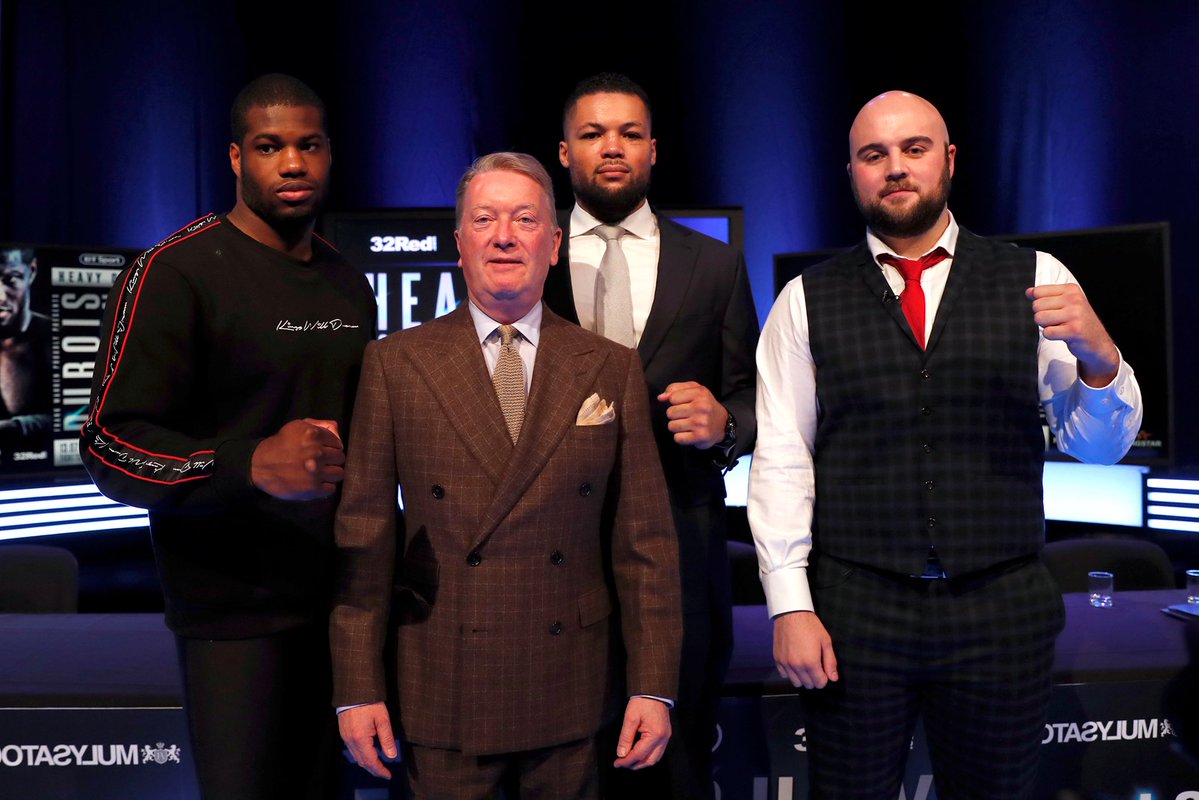 Back in the summer of 2018 we took a look at ten selected heavyweight prospects and put them under the microscope, an article you can see here.
One year later we are re-visiting the ten selected heavies to see who has done what to whom and why; who has been moved along too quickly and who not at all; who is positioned for a title shot, and when it is likely to come.
It doesn't always make for pretty reading. Last time around we came across some fighters of walloping potential who found themselves mired in professional-loser hell and for some the year gone by has made little difference. Faceless opponents slip by unremembered and unmotivated, satisfied at a brief brush with potential greatness, apparently not unlike some of the associated promoters. But it's not all bad news. We now have a national champion among the ten; others are following a well trodden path to a title shot via alphabet escalator. And two of the below men are even fighting each other, which is more old school than any training method or punch selection more likely to be named as such.
A quick reminder that this isn't a "top ten", just a fascinating ten, some more fascinating than others, most more fascinating than they were in 2018.
THE COLOSSUS: ARSLANBEK MAKHMUDOV
FROM: Russia HEIGHT: 6'5.5 WEIGHT IN SHAPE: 250lbs AGE: 29 RECORD: 8-0 with 8 KOs
"It sounds ridiculous given that he has only fought three contests," I last wrote of Arslanbek Makhmudov, a supplanted Russian boxing out of Canada, "but Arslanbek Makhmudov isn't being moved fast enough."
In part, this was due to his age. Makhmudov is thirty this week.
Happily, this gargantuan heavyweight has been moved along apace since last year, even finding some fighters who were able to extend him beyond the one minute mark. Emelio Zarate, the owner of the most spectacularly broken nose in the whole division, managed to take him as far as the second round in his fourth contest; Zarate had previously extended the debuting Sergey Kuzmin the six round distance.
Later, Jason Bergman, who once survived Joseph Parker for eight rounds, resumed normal service for Makhmudov opposition, flattened in a round, the left hand this time playing its part (Makhmudov is better known for his prestigious right). There are small gains on display here.
Most recently, in May of last year, Makhmudov stepped up to the ten round distance and identified his preferred ABC, fighting for something called the "World Boxing Council Continental Americas Heavyweight Title". His opponent was a respectable one, the American Jonathan Rice, a fighter who had previously taken prospect Tony Yoka the distance over in Paris and a fighter who had never been stopped.
Makhmudov crushed him in seconds.
The Colossus has had a good year. He's moved up in class and there has been no affect upon either his power or his person. Next year should see him ranked in the WBC top ten; the one after that will see him dueling legitimate top ten contenders.
SIX NINE: IVAN DYCHKO
FROM: Kazakhstan HEIGHT: 6'9 WEIGHT IN SHAPE: 250lbs AGE: 28 RECORD: 8-0 with 8 KOs
It's been a bad, bad year for the six foot nine inch Ivan Dychko.
"But wait a moment Matt!" I hear you cry, "Ivan has won every fight he's been in by knockout since last June. How can that be a bad year?"
Firstly, Dychko has only been out of the garage three times in comparison to Makhmudov's five; he's boxed only five rounds in those three fights against opponents with a shared loss ledger numbering thirty-eight. The best of his paid victims was the fighter formerly known as Ray Austin, now aged forty-eight and with a record of 1-5 from his last six coming into his contest with Dychko.
In fairness, the Kazakhstani looked slick and hard-handed while beating up the blubbery, stumbling former contender, who was pulled with an arm injury in round three; but the sight was too sad to enjoy.
Dychko was complaining this time last year about the miserable level of his opposition, and if anything, it's dropped off. The highlight of his year has been the miniscule level of attention he generated when bizarrely volunteering to replace Jarrell Miller against Anthony Joshua based upon their amateur rivalry.
If he was unhappy in 2018, he must be beside himself now. His Australian promotion team is failing him.
THE QUIET ONE: DANIEL DUBOIS
FROM: Great Britain HEIGHT: 6'5 WEIGHT IN SHAPE: 239lbs AGE: 21 RECORD: 11-0 with 10 KOs
Daniel Dubois has had perhaps the finest year of any of our heavyweight prospects, going 4-0 against steadily improving opposition. He also got priceless, priceless rounds under his belt when veteran spoiler Kevin Johnson took him the ten last October and what is more he won every one of them.  Johnson, who has fought a who's who of heavyweights, was impressed.
"His jab got the power of a right hand," Johnsons said after their contest. "I could not get past that jab."
In additionally rating Dubois jab superior to Vitali Klitschko, Johnson has made quite the statement.  Johnson did also express reservations, however, not least over Dubois' explosiveness; the veteran found it lacking. This illustrates further concerns over Dubois' paucity of handspeed. It hasn't cost him yet but the giant Englishman is not blessed with quick mitts. Speed can be improved, especially in a young fighter, especially when it comes to knitting punches together in bunches, but this prospect's has not improved. Sometimes I feel he looks slower.
This just hasn't mattered so far; not when he met the onramp to the WBO title path; not when he blasted out Razvan Cojanu, a former victim of both Luis Ortiz (KO2) and Joseph Parker (UD12) in just two rounds; and he will hope not when he meets fellow UK prospect Nathan Gorman next month.
Dubois and Gorman clash on the thirteenth in London when they will become the first two men from this list of prospects to meet. The winner will become the pre-eminent name among his peers.
THE BRUTE: SERGEY KUZMIN
FROM: Russia HEIGHT: 6'3.5 WEIGHT IN SHAPE: 245lbs AGE: 31 RECORD: 15-0 with 11 KOs
"Sergey Kuzmin," I wrote last year, "is a pressure fighter with a stylistically stated preference for power-punches.  He throws with bad intentions, sometimes wildly, while tucking his head into chest and giving the impression that he would rather be smaller than bigger."
That was probably the best summary I wrote and it remains as true now as it was then.
Kuzmin has on paper had a quiet year compared to many of the others listed here, but at 15-0 is assuming the tone of a fighter no longer a prospect. His opponents have improved accordingly.  David Price was an interesting and sensible opponent, a vulnerable giant with good name recognition in a new market for the Russian. His trip to the UK sadly ended in Price's withdrawal with an arm injury rather than with the hoped-for knockout, but Kuzmin took it in his stride and flew back to the USA where he matched the 6'4 240lb fleet-footed LaRon Mitchell. Kuzmin hunted him down in six brutal rounds, ostensibly stopping him with an eye-watering uppercut but really stopping him with a summary attack that he sustained from beginning to end.
Then came Kuzmin's match with Joey Dawejko in March of this year. I thought the judges had it a little too close across the board and the majority decision in favor of Kuzmin favored Dawejko in my opinion, but it is nevertheless a fact that Dawejko did give Kuzmin some problems he did not entirely overcome. Given that there are many levels between Dawejko and the best opponents Kuzmin will meet in the next two years, his team may have cause to worry; the Russian looked occasionally bereft of ideas during these ten absorbing rounds.
He nevertheless remains the most spiteful piece of work on this list.  I'll stick my neck out and nominate him to be the third to achieve a TBRB ranking, too.
THE AMERICAN: DARMANI ROCK
FROM: USA HEIGHT: 6'5 WEIGHT IN SHAPE: 240lbs AGE: 23 RECORD: 15-0 with 10 KOs
He's from the right country, is the right age, has the right name and the right physical attributes, but still the silence around Darmani Rock remains deafening. I can't quite decide if his promotional team is being very, very smart or very, very dumb; time, I suppose, will tell.
And Rock has plenty of it. Aged just twenty-three, moving him slowly is valid, and for all the impatience of the iPhone era, a reasonable approach to developing a fighter. That said it is a little disturbing to me that so little is said about him even when he is moved on, as he was against Pedro Rodriguez last October. Rodriguez, perhaps, is the wrong side of shot having been the discerning prospect's opponent since 2012, but up until very recently he has been beaten only by the best. At the very least he had more name recognition than typical Rock fare.
I would describe the fourth round stoppage for you, but I've never seen it. I'm not even sure that the fight was televised and if it was the internet does not appear to be carrying it, almost unheard of.
Again: very smart, or very dumb?  That is yet to be revealed, but I don't think we can expect much movement from Rock over the next twelve months.
MY FAVORITE: FILIP HRGOVIC
FROM: Croatia HEIGHT: 6'6 WEIGHT IN SHAPE: 230lbs AGE: 26 RECORD: 8-0 with 6 KOs
Technically proficient, quick of hand and thought, physically imposing and clearly in great shape, Filip Hrgovic is confirmed as having everything he needs to be a champion in the heavyweight division except the important ones: chin and stamina. These still remain unconfirmed, although his adventures in the WSB suggest he owns a sturdy mandible at the very least.
Hrgovic was scheduled to fight ten rounds with a name opponent last September and it seemed we might get to find out about his stamina, too. Amir Mansour, after all, had yet to be stopped in nearly thirty contests except by a self-inflicted injury to his tongue.
Hrgovic changed all that. With a Klitschko-like control of range and tempo, Hrgovic dominated the fight from beginning to end. Then, in a style all of his own, he closed the blinds on Mansour in just three rounds in what was a physical and technical mismatch.
Defensively we have also seen some improvement though neither in parrying or blocking, but rather in the form of generalship and so the old concern is also the new concern. Hrgovic may find himself in unnecessary firefights, something I can't say I'm anything but delighted about except to say that it may at some time cost him.
Hrgovic followed this up with an eight round decision victory over Kevin Johnson in December and then a gorgeous one round destruction of American Gregory Corbin. Corbin had been disqualified for a single loss in his sixteen fight career but three right hands, all different, all delivered with the same withering certitude to different parts of Corbin's anatomy, saw him exit the Hrgovic story stage left.
Hrgovic has no fight scheduled currently. My prediction is that he will be ranked in either the TBRB or Ring rankings before we speak again.
HAYMAKING: JOE JOYCE
FROM: Great Britain HEIGHT: 6'6 WEIGHT IN SHAPE: 255lbs AGE: 33 RECORD: 9-0 with 9 KOs
"Joyce in many ways is the most interesting fighter on this list," was my claim this time last year, "because he probably will not be in competition with the other men listed but rather with the current generation of heavies. I suspect Joyce will find his way into the ring with an international class opponent before he hits 10-0 and a world level fighter before he hits 15-0.  This is likely a space worth watching."
Sure enough, Joyce is slated to meet Bryant Jennings in his tenth professional contest in London next month. In actual fact though, Joyce pre-dated my prediction by two fights, thrashing Bermane Stiverne in six rounds this past February. Those who wish, understandably, to write off Stiverne as washed up should keep in mind that his previous opponent was Deontay Wilder. Joyce is mixing it with fighters who have recently mixed with the elite, and David Haye and his promotional team are to be lauded for the speed with which they are moving a heavyweight who is in his mid-thirties.
Jennings may provide a different and stiffer test and is an even braver piece of match-making. Joyce has the same problem as Dubois: his hands are slow, and sometimes it seems they are comically so.
But he has an elite level workrate and excellent accuracy. If you can control your positioning and are defensively aware, this can go a long way to making up for physical shortcomings.
Joyce will need this and more on July thirteenth. Should he win, a fast-burning addition to the heavyweight melting pot is complete. I make Joyce a slight favorite in what is absolutely a legitimate graduation night, and given the speed with which he is being matched, I think you can expect to see him in with a legitimately ranked opponent before summer 2020.
THE PUB BOUNCER: NATHAN GORMAN
FROM: Great Britain HEIGHT: 6'3 WEIGHT IN SHAPE: 250lbs AGE: 22 RECORD: 16-0 with 11 KOs
"Nathan Gorman isn't really a pub bouncer," I explained last year, "but because he looks a little like one, he's been consistently overlooked as a heavyweight prospect in the UK in favor of the ripped Joe Joyce and the less tubby Daniel Dubois.  This is unfair."
Gorman will get to show how unfair or otherwise it is on the thirteenth of July when he meets Daniel Dubois ring center in London's O2 Arena.  It's a fascinating tussle not too unlike the recent Joshua-Ruiz upset; Dubois, the enormous, chiseled, money-maker has been pitted against a smaller, less svelte fighter with quicker hands.
The Dubois fight is everything to Gorman. There will be no unearned second coming should he lose, just a long and difficult slog back to where he is now followed by the real work. Gorman, for all that he could be another all-action feel-good story with all the benefits that brings, has it all on the line in a way that Dubois, perhaps, does not.
And I really think he might win. His strengths line up well with Dubois' weaknesses. One thing is for sure though: Gorman's status next time we check in with him will be more dramatically affected by his next fight than every other man on this list.
THE LITTLE GUY: OLEKSANDER USYK
FROM: Ukraine HEIGHT: 6'3 WEIGHT IN SHAPE: 220lbs AGE: 32 RECORD: 16-0 with 12 KOs
To our great frustration, Usyk pulled out of his heavyweight debut, scheduled to take place in the United States late last month. The proposed opponent was a legitimate one, specifically Carlos Takam who had previously given Anthony Joshua one or two moments.
Truthfully though, he was perfect for Oleksander Usyk. Quick feet, quick hands, legitimate mobility and the generalship and gas tank to utilize it are going to be the antidote to many of the turgid heavyweights that swarm just outside the top ten.
More disturbing than Usyk's injury is talk of his moving between cruiserweight and heavyweight for a period. That seems unwise. Freeing the body up to unlimited before packing it back in a cruiserweight box could be detrimental to both Usyk's performance and his potential heavyweight ranking. Hopefully this time next year Usyk will have bid adieu to 200lbs and begun his assault upon the biggest division in earnest.
It wouldn't surprise me if he has come into possession of some minor strap by next June.
AT THE SCHOOL OF MANNY STEWARD: VLAD SIRENKO
FROM: Ukraine HEIGHT: 6'3.5 WEIGHT IN SHAPE: 243lbs AGE: 24 RECORD: 11-0 with 10 KOs
Former Manny Steward disciple James Bashir went a long way to train Vlad Sirenko; Sirenko's steady improvements have been their dual reward.
Sirenko had a big 2018/19, moving out of South Africa where he boxed his apprenticeship and into his home of Ukraine and to Germany, where his mid-term future may lie.
In terms of opposition there has been little offered with the Congolese African champion Rocky Kaleng the probable high mark. Kaleng hadn't been stopped since 2010 in just his fourth contest.  What's more, he actually gave Sirenko a little fright, landing a series of stern left hooks in the opening minute as the Ukrainian looked to out-squabble his opponent in close. It was in close, too, that an overeager Sirenko landed a clunking rabbit-punch and the fight immediately drifted from Kaleng's forty-year old legs. Sirenko ended matter with his own left hook moments later, although there was some ambiguity regarding the veracity of the stoppage; was the rabbit-punch, the menacing left hook of Sirenko or Kaleng's age most culpable for the first round knockout victory?
There was no ambiguity where Sirenko's knockout of Leonardo Robutti in Germany for the national belt of that country was concerned, however. The three piece combination to finish that fight would make the highlight reel of any active heavyweight.
Of all the fighters on our list though, Sirenko has the most work to do. He is too upright and Kaleng showed him vulnerable to the left-hook. There is no hiding this footage which is readily available online; look for every new opponent to land their own high left hands early. It's the job of James Bashir to stop them.
THIS TIME NEXT YEAR
Zero losses and a raft of victories is what our heavyweight prospects have delivered over the last twelve months.  I can guarantee that the next time we check in, losses will have been suffered.  Even if Dubois and Gorman stage an unsatisfactory draw, Joyce, Usyk, Hrgovic and Kuzmin, at a minimum, will be keeping serious company going forward; I would also expect the winner of Dubois-Gorman to be matched heavy in the months after their contest.
Dychko, Rock and Sirenko will likely continue to tread water, in the case of Dychko, itching for a shot at Anthony Joshua, seemingly very much against his will; meanwhile Makhmudov holds perhaps the most interesting hand of all. He's ready, he's been creeping forward at a more measured pace, but whether or not he will move up in class and out of his Canadian stronghold is unclear.
This time next year, we'll break it down again and see what has transpired.
Photo left to right: Daniel Dubois, promoter Frank Warren, Joe Joyce, Nathan Gorman
Check out more boxing news on video at The Boxing Channel
To comment on this story in The Fight Forum CLICK HERE
Abel Sanchez Had a Very Pleasant Trip to Paris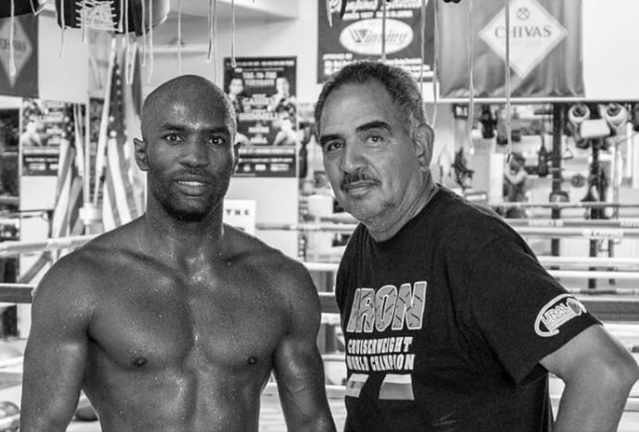 Abel Sanchez, the veteran trainer best known for his nine-year run with Gennady Golovkin, was in Paris this weekend and had a very enjoyable time. Abel wasn't there to sight-see, although for all we know he took a few selfies at the Eiffel Tower; he was there to see two of his fighters, junior middleweight Michel Soro and cruiserweight Arsen Goulamirian, win important fights and they accommodated him with impressive showings.
It's been reported that 220 different languages are spoken in California. Sometimes it seems that all of them are spoken at The Summit, the name of Sanchez's pine-scented compound in Big Bear Lake, California. Michel Soro is a Frenchman by way of the Ivory Coast where French is the official language. Arsen Goulamirian speaks French too — he resides in France when he's not in Big Bear — but his native tongue is Albanian.
Soro (35-2-1, 24 KOs) was pitted against countryman Cedric Vitu, a solid pro who had won 47 of his 50 pro fights. Vitu was known as a durable sort, but it didn't take long for Soro to break him down. Vitu was out on his feet when the referee waved it off in the fifth round.
Soro's lone defeats came on the road in Croatia against Zaurbek Baysangurov who retired with a 29-1 record and to Argentina's Bryan Castano who won a split decision over Soro in July of 2017 and then declined a rematch. The win over Vitu positions Soro for a match with Cuban-American veteran Erislandy Lara who shares a version of the WBA world title with Julian "J Rock" Williams.
Arsen Goulamirian (25-0, 17 KOs) had a less daunting assignment against 37-year-old Australian Kane Watts. Goulamirian dominated Watts from the get-go and brought the fight to a finish in round four when he put the Aussie down for the count with a left hook to the body.
Goulamirian was making his first start in 13 months. A fight with Denis Lebedev fell out when Lebedev retired (he would subsequently un-retire) and a fight with Beibut Shumenov fell out when Don King, who won the purse bid, wasn't able to lock in a satisfactory venue.
The WBA, which throws around titles like confetti, recognizes Goulamirian and Shumenov as their world cruiserweight title-holders. A match between them may yet get re-kindled, but a more attractive option for Goulamirian would be a match with the winner of the forthcoming unification fight between Maris Breidis and the KO Doctor, Yunier Dorticos. Although not official yet, they will reportedly meet on Dec. 14 in Breidis's hometown of Riga, Latvia. The fight will close the curtain on the second season of the World Boxing Super Series.
Whomever Soro and Goulamirian fight next, Abel Sanchez, who keeps his passport handy, will be there. Sanchez lost a lot of dough when Golovkin flew the coop, but he remains in heavy demand and is as busy as ever.
_ _ _
While we're talking cruiserweights, a fighter to keep an eye on is Jai Opetaia. The handsome 24-year-old Australian improved to 19-0 with his 15th knockout today, stopping countryman Mark Flanagan (24-8) who was down twice before retiring after the eighth round. A six-foot-two southpaw of Samoan extraction, born in Sydney, Opetaia qualified for the 2012 Olympics at the age of 16, making him the youngest Australian boxer ever to achieve this distinction.
Check out more boxing news on video at The Boxing Channel 
To comment on this story in The Fight Forum CLICK HERE
From Womb to Tomb, Sonny Liston's Fate Was Seemingly Preordained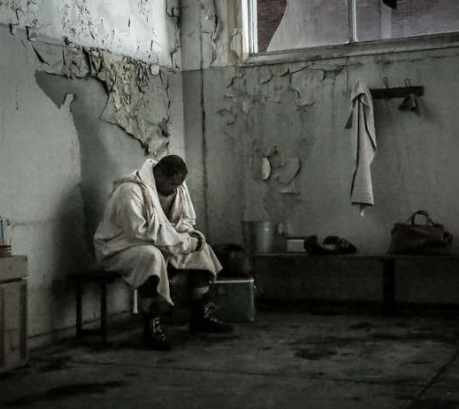 In Pariah: The Lives and Deaths of Sonny Liston, a remarkable 90-minute documentary on the rise and fall of former heavyweight champion Charles "Sonny" Liston, viewers are apt to discover that any preconceived notions they might have had about the baddest man in boxing history are, by turns, both legitimate and misinformed.
No matter what fight fans think they know of Liston, it's a fairly safe bet more opinions will be shaped by watching the Nov. 15 premiere of Pariah (9 p.m EST and PST) on Showtime. While questions about how and why Liston died remain a source of speculation, the disparate elements of his conflicted, turbulent life suggest that much of the actual truth about him, good and bad, is forever destined to be a riddle wrapped in a mystery inside an enigma.
Inspired by The Murder of Sonny Liston: Las Vegas, Heroin and Heavyweights, a book authored by Shaun Assael, the documentary examines the pros and cons of the oft-arrested, twice-incarcerated, mobbed-up wrecking machine who did not so much defeat opponents as to eviscerate them. Viewers – especially white people old enough to be familiar with the era in which he rose to prominence — are left to decide for themselves if Liston really was or deserved to be representative of their deepest fears, or a frequent victim of circumstance who wanted nothing more than some positive acceptance instead of the widespread loathing to which he had become accustomed.
But the journey from villain to hero is never smooth for someone with Liston's checkered background, and especially so given the social unrest of the late 1950s and early '60s. Hasan Jeffries, a black assistant professor of history at Ohio State University, said that Liston, a product of the Jim Crow South, was widely considered to be "America's worst nightmare" and a "literally dangerous Negro," someone who was "unafraid of white people as demonstrated by his consistent encounters with police."
When he returned to his adopted hometown of Philadelphia after his title-winning, one-round blowout of popular but hopelessly outclassed champion Floyd Patterson, and discovered that there was no one at the airport to celebrate his triumph or to finally recognize him as something more than a glowering bully with a lengthy rap sheet, an increasingly bitter Liston decided that he might as well settle for being who and what the masses thought he was instead of trying to change millions of minds that had long since been made up.
Liston's sudden embrace of his malevolent reputation reminded me of a line of dialogue from The Vikings, a 1958 movie in which a fierce Norse warrior, played by Kirk Douglas, is unable to win the affection of a captured British beauty played by Janet Leigh. "If I can't have your love," Douglas, as Einar, defiantly tells Leigh's Morgana, "I'll take your hate."
Not that Liston, the 24th of 25 children born to an Arkansas sharecropper who was less a father than a tyrannical family overseer, ever chose to be hated. But neither was he apt to be idolized in the manner of, say, Joe Louis, Rocky Marciano or the man who would ultimately succeed him upon the heavyweight throne, Muhammad Ali. Liston, who could neither read nor write, lacked the basic communication skills that might have gained him a bit more favorable press, and his personification of danger was accentuated by a withering glare that left more than a few opponents frozen with fear before the opening bell rang.
"He was a real badass, a real menacing force," Mike Tyson, a future heavyweight champion with a similar gift for intimidation, said of Liston. "Sonny could pull it off. I could pull it off. Not a lot of people could pull it off."
It would be a disservice to Liston, however, to say that the main weapon in his arsenal was a gift for winning staredowns. Scary as Liston was simply by standing there, he was so much more so when he began whaling away at flesh and bone as might a burly lumberjack chopping down a thin tree. Forget so-called experts' arbitrary rankings of the hardest punchers ever to lace up a pair of padded gloves; Liston's knockouts were spectacular for their savagery, toppled foes crashing to the canvas as if they would never again get up. He needed only 69 seconds of the first round to put a decent journeyman, Wayne Bethea, down and motionless, in the process dislodging 16 of Bethea's teeth. Nobody in the fight game supplied oral surgeons with more patients in need of emergency treatment than Sonny Liston.
By reputation, Liston, who compiled a 50-4 record with 39 KOs from 1953 to 1970, was a huge heavyweight for his era, but he stood just 6-foot-1 and weighed in around 215 pounds during his prime. Then again, Liston's unextraordinary height and heft were not his measurements of consequence. His 86-inch reach, those incredibly long arms extending down to massive fists the size of a catcher's mitt, were. Liston might have had the most devastating jab ever, as accurate as Larry Holmes', only harder. Sonny could use that jab as a range-finder when necessary, but its concussive force was such that the numbers-crunchers at CompuBox today would be obliged to categorize it as a power punch. He could knock a man down and even out with that jolting jab, and sometimes did.
"Sonny's left jab was a nose-cracking, teeth-busting experience," offered Randy Roberts, a boxing buff and assistant professor at Purdue University who serves as one of the documentary's talking heads. "They said getting hit with his jab was like getting hit with a pole."
Liston's penchant for destruction inside the ropes, had he not come along when he did, might have made him as rich and celebrated as Tyson would become 50 years later. So why wasn't he? Liston had so many brushes with police that fibers from their blue serge uniforms clung to him like permanent lint. Not only was he arrested 19 times and did two prison stretches, but cops in St. Louis and Philly, cities that for a time served as his home bases, tracked his movements as a meteorologist would an impending storm. Perhaps all that extra attention was justified at times, but Liston's freedom of movement was so inhibited that he often felt as if he were somehow encased in an invisible jail.
"There was nothing they didn't pick me up for," Liston once complained. "If I was to go into a store for a stick of gum, they'd say it was a stick-up."
It was to Liston's benefit and detriment to have turned his career over to organized crime figures Frankie Carbo and Blinky Palermo, boxing manipulators who had enough clout to not only advance his career but to get him sprung earlier from prison sentences that would surely have been longer were he not a possible future heavyweight champion. The downside of the arrangement is that the Feds spent a lot of time looking into the nefarious activities of Carbo and Palermo, which meant they also had a thick dossier on Liston. It did not escape the FBI's attention that the non-boxing "jobs" for Liston lined up by his influential backers to gain him early release were something less than fully above board.
"He's a leg-breaker for the mob, he's an alley-dweller," Roberts noted. "Sonny never walked on well-lit streets. Sonny lived in darkness."
Maybe so, but there are more than a few boxing historians who have tried to determine what made Liston tick. A case can be made that inside those shadows in which he was obliged to exist there was a better, brighter version of himself almost desperate to break out.
"I don't think the general public ever knew the real Sonny Liston," opined Nigel Collins, former editor of The Ring magazine. "They knew the persona, the thug-like guy who just knocked everybody out, was associated with the mob and had been in jail. He wasn't really that. That was a front. That was what he needed to protect himself, and also to intimidate his opponent. He was a very sensitive person. He could be hurt easily."
That description of Liston was seconded by his wife, Geraldine, who described her husband as "a good man and a kind man, and worthy of a chance to contribute to society."
To Sonny's way of thinking, his ticket to validation as a human being was to gain the heavyweight championship then held by Floyd Patterson, a nice guy but lesser fighter whom Roberts called the "Sidney Poitier of boxing." It wasn't necessarily a compliment. Patterson's shrewd manager-trainer, Cus D'Amato, had managed to supply Patterson with a steady stream of marginally qualified and eminently beatable challengers, but D'Amato wanted no part of Liston. The first of the two title bouts between Patterson and Liston came about only because Floyd, embarrassed by the spreading public perception that he was more protected than the gold in Fort Knox, demanded that Liston be given the chance at the title he had earned with those ham hock fists.
Jerry Izenberg, the esteemed sports columnist for the Newark Star-Ledger, visited Patterson's well-manicured rural training camp before checking in on Liston's, which was urban, grittier and unquestionably better suited to a reformed leg-breaker on a mission.
"He's got two chances – slim and none," Izenberg said in recalling his impressions of Patterson's preparations for a fight few gave him a chance to win, or even to finish in an upright position. After Izenberg got a glimpse of Liston's laser-beam focus, he amended his original assessment. "I'm saying those two chances for Floyd, slim and none? Slim just went out the door."
The fight, such as it was, took place on Sept. 25, 1962, at Chicago's Comiskey Park. Custer had a better chance at the Little Bighorn than Patterson did against Sonny. The annihilation required only 2 minutes, 6 seconds to complete, whereupon the humiliated Patterson snuck out of the arena in disguise, and Liston returned to Philadelphia, foolishly expecting the hero's welcome he believed to be his reward for all those hard years of poverty and dues-paying.
"There are people who don't want me to be there (as champion)," Liston upon attaining the title. "Regardless of them, I intend to stay there and I promise everyone that I will be a decent, respectable champion."
Jack McKinney, then the Philadelphia Daily News boxing writer and the only media person in town who had earned Liston's trust, called City Hall to see if a group of dignitaries could be on hand to greet the new champ. But there was no brass band at the airport, no cheering fans, no smiling politicians to pat the not-favorite son on the back and say that all had been forgiven. Nor was the reaction to his seemingly improved lot in life any warmer elsewhere.
"I didn't expect the President to invite me into the White House, but I sure didn't expect to be treated like no sewer rat," Liston grumbled.
The chip on his shoulder now the size of a log, Liston showed up for the July 22, 1963, rematch at the Las Vegas Convention Center more determined than ever to cruelly demonstrate his superiority over Patterson and any other heavyweight that might be foolish enough to share the ring with him. Like Kirk Douglas' Einar, if he was unable to win the public's love, he would revel in its hate. Again Patterson was destroyed in the first round, the fight a virtual replica of the original.
"The only difference," Collins said of the do-over, "is that it lasted four seconds longer."
No one could have known it at the time, but the second demolition of Patterson would be Liston's only winning defense of the title he had so relentlessly sought and, many figured, would hold in a vise-grip for at least the next five years. But even before Liston left the ring, a conqueror beyond compare, an audacious young upstart entered his space and loudly berated the newly crowned champion. His name, at least at for the time being, was Cassius Clay.
"I want you! I want you! You ugly!" Clay yelled at a seemingly bemused Liston, who regarded the impudent kid as he might a Martian who had just stepped off a spaceship. But Clay kept up his campaign to force a showdown with Liston where it counted. In the weeks that followed, he repeatedly demeaned Liston in newspapers and on TV. And if those affronts weren't enough to produce the desired effect, Clay went so far as to physically confront the man he had dubbed the "big, ugly bear" in Vegas, a mob town to which Sonny had relocated and enjoyed a level of tolerance he had been unable to find in St. Louis or Philly. Clearly Liston would have no peace of mind until he did unto this loudmouth what he had twice done unto Patterson. He was a 7-to-1 favorite to do just that when the fight took place on Feb. 25, 1964. Some media members were concerned that Liston was determined to, and quite capable of, literally beating Clay to death.
But on a night where one legend died and another was birthed, Clay fought through a tense fourth round in which an astringent that had gotten into his eyes and made it difficult for him to see. Flashing the speed of hand and foot for which he would become renowned, Clay, his vision cleared, increasingly took control of the contest until Liston, gashed below the right eye and with a large mouse under his left eye, declined to come out for the seventh round. He cited a shoulder injury as the reason he was unable to continue.
In boxing, it is one thing to lose. It is quite another for a fighter, especially a champion of Liston's magnitude, to surrender. Author Robert Lipsyte was among those who took him to task, saying, "If you're heavyweight champion, you die trying. But he just kind of sat there. He gave up. Why did he give up? This, of course, is the mystery at the heart of it all. Did he give up because he was in such terrible agony he couldn't move? Did he give up because he suddenly realized he couldn't win this fight? Did he give up because he'd been paid to dump it? Who knows?"
But the plot, as the saying goes, soon thickened. Cassius Clay announced the following day that he was a member of the Nation of Islam, more commonly known as the Black Muslims, and now wanted to be known as Cassius X, a stopover on the way to a more permanent identification as Muhammad Ali. It was as if he had become the bad guy, at least to a segment of the American populace, with the disgraced Liston now viewed as the possible savior and re-capturer of a championship that had fallen into presumably radical hands. The rematch was to take place on June 25, 1965, in Lewiston, Maine, a sleepy outpost (the town was mostly known for its factory that manufactured bedspreads) near the Canadian border which stepped up when Boston, the originally announced site, bailed.
"Liston got more cheers than Ali," recalled journalist Don Majeski of the fighters' respective ring walks. "They finally said, `Well, between these two, the lesser of the two evils is Sonny Liston,' so we'll cheer this ex-convict who lost his title on his stool rather than to root for a guy who says he's a Black Muslim separatist. (Liston) enjoyed that. He sort of basked in that kind of glory for the first time in his life."
Or he did, for a fleeting moment.
"But then what happened was the Kennedy assassination of boxing," Majeski continued. "Everyone has an idea, but nobody knows the truth."
What happened was that Ali landed (or missed) with a flicking right hand in the first round that sent Liston careening to the canvas, where he floundered around like a reeled-in fish tossed onto the bottom of a bass boat. To this day there are those who are convinced that Liston, for reasons unknown, took a dive, an argument countered by Ali loyalists who insist that the punch was legitimate and powerful enough to fell even a big, ugly bear.
Assael straddles no fences on the issue. His position is that Liston purposefully went into the tank.
"Why fix the fight?" Assael asks, rhetorically. "That's where the secret percentage theory comes in, which is that Sonny had agreed to an under-the-table deal to get a cut of Ali's future earnings if he went down. It's exactly what a mobster would have done, and it's exactly what I think Sonny did do."
In any case, Liston – whom former fight fixer Charles Farrell insists was "the greatest heavyweight who ever lived … a bonafide monster" – had taken a downward turn from which there could be no recovery. He would fight 16 more times over the next five years, winning 15, but he was, as the documentary's title attests, a pariah.
"After the second fight (with Ali), Sonny's a dead man," Assael said. "He's not only just reviled, he can't even get a job. Boxing commissions won't license him … Sonny was toxic. I mean, really radioactive."
The mystery of Sonny Liston took an even more tragic turn when his decomposing body was discovered at his Las Vegas home on Jan. 5, 1971. An autopsy indicated his death might have owed to an overdose of heroin, which those who knew him well insist could not have been the case because Liston was almost paranoid in his fear of being stuck by a needle.
"The medical examiner called it natural causes, but nobody around Sonny believed that," Assael said. "Everybody believed he was murdered. So many people wanted Sonny dead. The only question was, who got to him first?"
Larry Gandy, a Vegas cop, was among those who saw the body. "It didn't even look like Liston, he'd been dead for so long," Gandy said. "He'd been dead four or five days. He was bloated, full of methane gas. It really made me sick to my stomach because he'd been such a predominant figure in the sports world. It was a terrible, disrespectful way for him to go."
Gandy's expression of compassion might or might not be genuine since the documentary hints at the possibility of his having some measure of culpability in Liston's demise, in mob retaliation for Liston's final fight, on June 29, 1970, in which he defeated Chuck "The Bayonne Bleeder" Wepner on a ninth-round stoppage brought about by numerous and severe cuts to Wepner's well-sutured face.
"Liston was not brought into that fight to win," said Farrell. "I believe the Wepner fight was a deal that went terribly, terribly wrong.
"As the rounds went by, Liston couldn't find a place to fall, Wepner's increasingly beat up and eventually the fight gets stopped because of the cuts. Liston won the fight. It's a series of miscommunications where nobody does exactly what they're supposed to do. The mob lost a lot of money and there were dire circumstances."
In the end, all that is left of Sonny Liston is a headstone in a Las Vegas cemetery and a raft of recriminations and might-have-beens. For every boxing historian who includes him among the greatest and most fearsome heavyweight champions of all time, there is another who sees only the warts and blemishes of perceived transgressions committed both inside and outside the ring. The International Boxing Hall of Fame seemingly leans more toward the former, as evidenced by Liston's 1991 induction.
"You can always make a case for someone's exclusion," Bert Randolph Sugar, then the publisher of Boxing Illustrated, told me for a story I did on Liston's posthumous enshrinement by the IBHOF. "It depends on how moralistic you want to be. But remember, this is boxing we're talking about."
Upon reflection, it is somewhat curious that Ali, who generated so much fear and mistrust for the rematch with Liston in Lewiston, and for some time thereafter, evolved into such a sympathetic and beloved figure, widely acknowledged as the GOAT (Greatest of All Time). Also, upon reflection you have to wonder how the career paths of he and Liston would have proceeded had a semi-blinded Ali's demand that trainer Angelo Dundee cut off his gloves before the fifth round of his first fight with Liston been granted.
What is indisputable is that boxing, so rich in stories about great and flawed fighting men, needs more documentaries of this quality that peer behind the curtain of what fans only see on fight night, giving insight into the whole person. Then again, how many prospective subjects are capable of taking viewers on the kind of roller-coaster ride that Sonny Liston's tumultuous journey did?
"There was one thing that Sonny was better at than boxing, and that was compartmentalizing himself," Assael said. "He could be a loving husband, he could be a womanizer, he could be a criminal, he could be a boxer. That's what he was a master at – boxing and being able to lead so many different lives. There were so many men inside that one man."
Check out more boxing news on video at The Boxing Channel 
To comment on this story in The Fight Forum CLICK HERE
Tony Harrison and Jermell Charlo; They Just Don't Like Each Other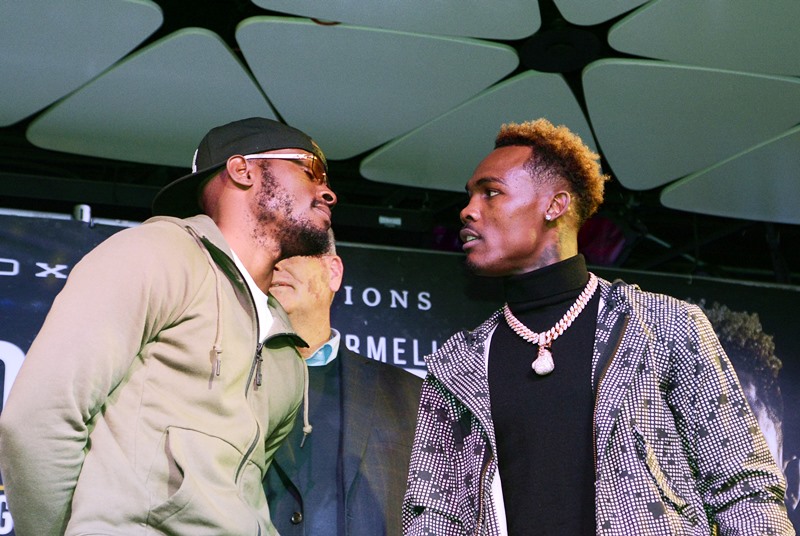 Tony Harrison and Jermell Charlo; They Just Don't Like Each Other
LOS ANGELES-If somebody told me that, I don't know what I'd do.
Well, somebody said it, and now Detroit's WBC super welterweight titlist Tony Harrison (28-2, 21 KOs) and Houston's former titlist Jermell Charlo (32-1, 16 KOs) are about to do something about it on Dec. 21 at Toyota Arena in Ontario, Calif.
It seemed to be a north-south thing but they're bringing it to the Wild West where there are more boxing gyms than anywhere else in the world.
Charlo, he hates him.
Both met on Thursday in downtown Los Angeles, the city of the Angels, and both were downright sinful in their opinions of each other. Harrison defeated Charlo by unanimous decision last December in Brooklyn. A rematch was scheduled for this past June but an injury to Harrison forced a postponement.
Standing next to each other on a stage at the Conga Room in LA Live, you could tell they wanted to play bongos on each other's head.
"You saw what I did to Cota," yelled Charlo to his nemesis regarding his knockout win over Jorge Cota last June. "You saw what I'm going to do to you."
You could see the veins in Charlo's neck swelling.
Harrison sat calmly on his chair like a beatnik contemplating a poem.
"Every time I see Jermell I just feel like he's pretending. He's convinced everyone he's the toughest guy in the world. He gets up here and barks and makes excuses," said Harrison peering over his sunglasses. "I beat you the first time and I'm here again."
Charlo seem angered that they had to return to the Conga Room once again. Back in May both were in the same spot saying almost the same things. The Houston prizefighter seemed frustrated that he had to look at the Detroit fighter again who he openly despises.
"I am who I am, I can't change my persona," said Charlo. "We're in a hurt business. We're Roughriders in this sport."
Harrison scoffed at Charlo's statement.
"His words definitely sparked the fuel in me, that's on fire now," said Harrison. "He talks loud, but he's not going to do anything. He doesn't have the skill set to beat me."
Tom Brown of TGB Promotions, said the venue has been successful in the past for his former shows. Among those in the past held at the same venue were Chris Arreola vs Bermane Stiverne; Robert "The Ghost Guerrero vs Andre Berto; and Alfredo Angulo vs Joel Julio.
"The Southern California fight fans are going to get another great fight here at the end of the year in Ontario. The 154-pound division is one of the hottest in boxing but first it's time to settle this rivalry. This is a fight that promises nothing but fireworks," said Brown.
Brown said a number of Riverside prizefighters will be added to the card.
"It should be amazing," said Brown.
Charlo and Harrison can't stand to even look at each other. And what was it that was actually said to set them off?
It doesn't even matter now.
"They just don't like each other," said TV emcee Ray Flores.
Photo credit: Al Applerose
Check out more boxing news on video at The Boxing Channel 
To comment on this story in The Fight Forum CLICK HERE