Re-Visiting Ten Fascinating Heavyweight Prospects One Year Later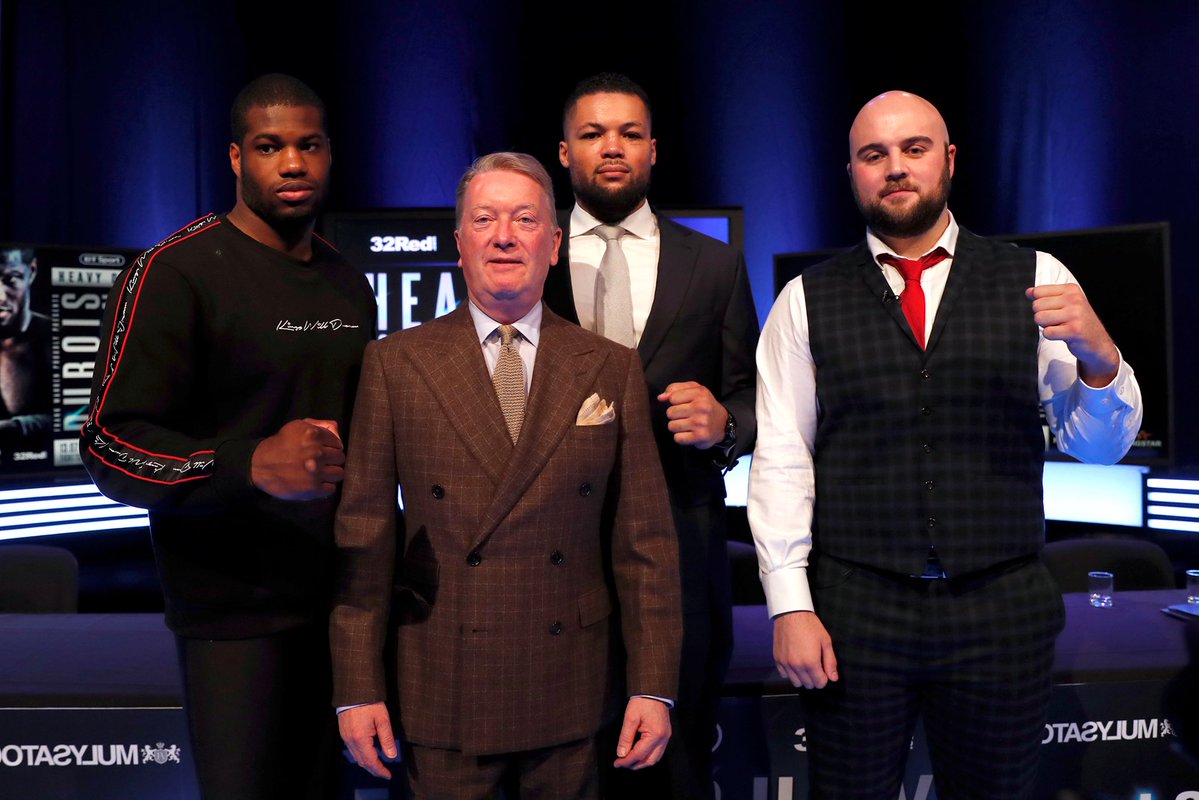 Back in the summer of 2018 we took a look at ten selected heavyweight prospects and put them under the microscope, an article you can see here.
One year later we are re-visiting the ten selected heavies to see who has done what to whom and why; who has been moved along too quickly and who not at all; who is positioned for a title shot, and when it is likely to come.
It doesn't always make for pretty reading. Last time around we came across some fighters of walloping potential who found themselves mired in professional-loser hell and for some the year gone by has made little difference. Faceless opponents slip by unremembered and unmotivated, satisfied at a brief brush with potential greatness, apparently not unlike some of the associated promoters. But it's not all bad news. We now have a national champion among the ten; others are following a well trodden path to a title shot via alphabet escalator. And two of the below men are even fighting each other, which is more old school than any training method or punch selection more likely to be named as such.
A quick reminder that this isn't a "top ten", just a fascinating ten, some more fascinating than others, most more fascinating than they were in 2018.
THE COLOSSUS: ARSLANBEK MAKHMUDOV
FROM: Russia HEIGHT: 6'5.5 WEIGHT IN SHAPE: 250lbs AGE: 29 RECORD: 8-0 with 8 KOs
"It sounds ridiculous given that he has only fought three contests," I last wrote of Arslanbek Makhmudov, a supplanted Russian boxing out of Canada, "but Arslanbek Makhmudov isn't being moved fast enough."
In part, this was due to his age. Makhmudov is thirty this week.
Happily, this gargantuan heavyweight has been moved along apace since last year, even finding some fighters who were able to extend him beyond the one minute mark. Emelio Zarate, the owner of the most spectacularly broken nose in the whole division, managed to take him as far as the second round in his fourth contest; Zarate had previously extended the debuting Sergey Kuzmin the six round distance.
Later, Jason Bergman, who once survived Joseph Parker for eight rounds, resumed normal service for Makhmudov opposition, flattened in a round, the left hand this time playing its part (Makhmudov is better known for his prestigious right). There are small gains on display here.
Most recently, in May of last year, Makhmudov stepped up to the ten round distance and identified his preferred ABC, fighting for something called the "World Boxing Council Continental Americas Heavyweight Title". His opponent was a respectable one, the American Jonathan Rice, a fighter who had previously taken prospect Tony Yoka the distance over in Paris and a fighter who had never been stopped.
Makhmudov crushed him in seconds.
The Colossus has had a good year. He's moved up in class and there has been no affect upon either his power or his person. Next year should see him ranked in the WBC top ten; the one after that will see him dueling legitimate top ten contenders.
SIX NINE: IVAN DYCHKO
FROM: Kazakhstan HEIGHT: 6'9 WEIGHT IN SHAPE: 250lbs AGE: 28 RECORD: 8-0 with 8 KOs
It's been a bad, bad year for the six foot nine inch Ivan Dychko.
"But wait a moment Matt!" I hear you cry, "Ivan has won every fight he's been in by knockout since last June. How can that be a bad year?"
Firstly, Dychko has only been out of the garage three times in comparison to Makhmudov's five; he's boxed only five rounds in those three fights against opponents with a shared loss ledger numbering thirty-eight. The best of his paid victims was the fighter formerly known as Ray Austin, now aged forty-eight and with a record of 1-5 from his last six coming into his contest with Dychko.
In fairness, the Kazakhstani looked slick and hard-handed while beating up the blubbery, stumbling former contender, who was pulled with an arm injury in round three; but the sight was too sad to enjoy.
Dychko was complaining this time last year about the miserable level of his opposition, and if anything, it's dropped off. The highlight of his year has been the miniscule level of attention he generated when bizarrely volunteering to replace Jarrell Miller against Anthony Joshua based upon their amateur rivalry.
If he was unhappy in 2018, he must be beside himself now. His Australian promotion team is failing him.
THE QUIET ONE: DANIEL DUBOIS
FROM: Great Britain HEIGHT: 6'5 WEIGHT IN SHAPE: 239lbs AGE: 21 RECORD: 11-0 with 10 KOs
Daniel Dubois has had perhaps the finest year of any of our heavyweight prospects, going 4-0 against steadily improving opposition. He also got priceless, priceless rounds under his belt when veteran spoiler Kevin Johnson took him the ten last October and what is more he won every one of them.  Johnson, who has fought a who's who of heavyweights, was impressed.
"His jab got the power of a right hand," Johnsons said after their contest. "I could not get past that jab."
In additionally rating Dubois jab superior to Vitali Klitschko, Johnson has made quite the statement.  Johnson did also express reservations, however, not least over Dubois' explosiveness; the veteran found it lacking. This illustrates further concerns over Dubois' paucity of handspeed. It hasn't cost him yet but the giant Englishman is not blessed with quick mitts. Speed can be improved, especially in a young fighter, especially when it comes to knitting punches together in bunches, but this prospect's has not improved. Sometimes I feel he looks slower.
This just hasn't mattered so far; not when he met the onramp to the WBO title path; not when he blasted out Razvan Cojanu, a former victim of both Luis Ortiz (KO2) and Joseph Parker (UD12) in just two rounds; and he will hope not when he meets fellow UK prospect Nathan Gorman next month.
Dubois and Gorman clash on the thirteenth in London when they will become the first two men from this list of prospects to meet. The winner will become the pre-eminent name among his peers.
THE BRUTE: SERGEY KUZMIN
FROM: Russia HEIGHT: 6'3.5 WEIGHT IN SHAPE: 245lbs AGE: 31 RECORD: 15-0 with 11 KOs
"Sergey Kuzmin," I wrote last year, "is a pressure fighter with a stylistically stated preference for power-punches.  He throws with bad intentions, sometimes wildly, while tucking his head into chest and giving the impression that he would rather be smaller than bigger."
That was probably the best summary I wrote and it remains as true now as it was then.
Kuzmin has on paper had a quiet year compared to many of the others listed here, but at 15-0 is assuming the tone of a fighter no longer a prospect. His opponents have improved accordingly.  David Price was an interesting and sensible opponent, a vulnerable giant with good name recognition in a new market for the Russian. His trip to the UK sadly ended in Price's withdrawal with an arm injury rather than with the hoped-for knockout, but Kuzmin took it in his stride and flew back to the USA where he matched the 6'4 240lb fleet-footed LaRon Mitchell. Kuzmin hunted him down in six brutal rounds, ostensibly stopping him with an eye-watering uppercut but really stopping him with a summary attack that he sustained from beginning to end.
Then came Kuzmin's match with Joey Dawejko in March of this year. I thought the judges had it a little too close across the board and the majority decision in favor of Kuzmin favored Dawejko in my opinion, but it is nevertheless a fact that Dawejko did give Kuzmin some problems he did not entirely overcome. Given that there are many levels between Dawejko and the best opponents Kuzmin will meet in the next two years, his team may have cause to worry; the Russian looked occasionally bereft of ideas during these ten absorbing rounds.
He nevertheless remains the most spiteful piece of work on this list.  I'll stick my neck out and nominate him to be the third to achieve a TBRB ranking, too.
THE AMERICAN: DARMANI ROCK
FROM: USA HEIGHT: 6'5 WEIGHT IN SHAPE: 240lbs AGE: 23 RECORD: 15-0 with 10 KOs
He's from the right country, is the right age, has the right name and the right physical attributes, but still the silence around Darmani Rock remains deafening. I can't quite decide if his promotional team is being very, very smart or very, very dumb; time, I suppose, will tell.
And Rock has plenty of it. Aged just twenty-three, moving him slowly is valid, and for all the impatience of the iPhone era, a reasonable approach to developing a fighter. That said it is a little disturbing to me that so little is said about him even when he is moved on, as he was against Pedro Rodriguez last October. Rodriguez, perhaps, is the wrong side of shot having been the discerning prospect's opponent since 2012, but up until very recently he has been beaten only by the best. At the very least he had more name recognition than typical Rock fare.
I would describe the fourth round stoppage for you, but I've never seen it. I'm not even sure that the fight was televised and if it was the internet does not appear to be carrying it, almost unheard of.
Again: very smart, or very dumb?  That is yet to be revealed, but I don't think we can expect much movement from Rock over the next twelve months.
MY FAVORITE: FILIP HRGOVIC
FROM: Croatia HEIGHT: 6'6 WEIGHT IN SHAPE: 230lbs AGE: 26 RECORD: 8-0 with 6 KOs
Technically proficient, quick of hand and thought, physically imposing and clearly in great shape, Filip Hrgovic is confirmed as having everything he needs to be a champion in the heavyweight division except the important ones: chin and stamina. These still remain unconfirmed, although his adventures in the WSB suggest he owns a sturdy mandible at the very least.
Hrgovic was scheduled to fight ten rounds with a name opponent last September and it seemed we might get to find out about his stamina, too. Amir Mansour, after all, had yet to be stopped in nearly thirty contests except by a self-inflicted injury to his tongue.
Hrgovic changed all that. With a Klitschko-like control of range and tempo, Hrgovic dominated the fight from beginning to end. Then, in a style all of his own, he closed the blinds on Mansour in just three rounds in what was a physical and technical mismatch.
Defensively we have also seen some improvement though neither in parrying or blocking, but rather in the form of generalship and so the old concern is also the new concern. Hrgovic may find himself in unnecessary firefights, something I can't say I'm anything but delighted about except to say that it may at some time cost him.
Hrgovic followed this up with an eight round decision victory over Kevin Johnson in December and then a gorgeous one round destruction of American Gregory Corbin. Corbin had been disqualified for a single loss in his sixteen fight career but three right hands, all different, all delivered with the same withering certitude to different parts of Corbin's anatomy, saw him exit the Hrgovic story stage left.
Hrgovic has no fight scheduled currently. My prediction is that he will be ranked in either the TBRB or Ring rankings before we speak again.
HAYMAKING: JOE JOYCE
FROM: Great Britain HEIGHT: 6'6 WEIGHT IN SHAPE: 255lbs AGE: 33 RECORD: 9-0 with 9 KOs
"Joyce in many ways is the most interesting fighter on this list," was my claim this time last year, "because he probably will not be in competition with the other men listed but rather with the current generation of heavies. I suspect Joyce will find his way into the ring with an international class opponent before he hits 10-0 and a world level fighter before he hits 15-0.  This is likely a space worth watching."
Sure enough, Joyce is slated to meet Bryant Jennings in his tenth professional contest in London next month. In actual fact though, Joyce pre-dated my prediction by two fights, thrashing Bermane Stiverne in six rounds this past February. Those who wish, understandably, to write off Stiverne as washed up should keep in mind that his previous opponent was Deontay Wilder. Joyce is mixing it with fighters who have recently mixed with the elite, and David Haye and his promotional team are to be lauded for the speed with which they are moving a heavyweight who is in his mid-thirties.
Jennings may provide a different and stiffer test and is an even braver piece of match-making. Joyce has the same problem as Dubois: his hands are slow, and sometimes it seems they are comically so.
But he has an elite level workrate and excellent accuracy. If you can control your positioning and are defensively aware, this can go a long way to making up for physical shortcomings.
Joyce will need this and more on July thirteenth. Should he win, a fast-burning addition to the heavyweight melting pot is complete. I make Joyce a slight favorite in what is absolutely a legitimate graduation night, and given the speed with which he is being matched, I think you can expect to see him in with a legitimately ranked opponent before summer 2020.
THE PUB BOUNCER: NATHAN GORMAN
FROM: Great Britain HEIGHT: 6'3 WEIGHT IN SHAPE: 250lbs AGE: 22 RECORD: 16-0 with 11 KOs
"Nathan Gorman isn't really a pub bouncer," I explained last year, "but because he looks a little like one, he's been consistently overlooked as a heavyweight prospect in the UK in favor of the ripped Joe Joyce and the less tubby Daniel Dubois.  This is unfair."
Gorman will get to show how unfair or otherwise it is on the thirteenth of July when he meets Daniel Dubois ring center in London's O2 Arena.  It's a fascinating tussle not too unlike the recent Joshua-Ruiz upset; Dubois, the enormous, chiseled, money-maker has been pitted against a smaller, less svelte fighter with quicker hands.
The Dubois fight is everything to Gorman. There will be no unearned second coming should he lose, just a long and difficult slog back to where he is now followed by the real work. Gorman, for all that he could be another all-action feel-good story with all the benefits that brings, has it all on the line in a way that Dubois, perhaps, does not.
And I really think he might win. His strengths line up well with Dubois' weaknesses. One thing is for sure though: Gorman's status next time we check in with him will be more dramatically affected by his next fight than every other man on this list.
THE LITTLE GUY: OLEKSANDER USYK
FROM: Ukraine HEIGHT: 6'3 WEIGHT IN SHAPE: 220lbs AGE: 32 RECORD: 16-0 with 12 KOs
To our great frustration, Usyk pulled out of his heavyweight debut, scheduled to take place in the United States late last month. The proposed opponent was a legitimate one, specifically Carlos Takam who had previously given Anthony Joshua one or two moments.
Truthfully though, he was perfect for Oleksander Usyk. Quick feet, quick hands, legitimate mobility and the generalship and gas tank to utilize it are going to be the antidote to many of the turgid heavyweights that swarm just outside the top ten.
More disturbing than Usyk's injury is talk of his moving between cruiserweight and heavyweight for a period. That seems unwise. Freeing the body up to unlimited before packing it back in a cruiserweight box could be detrimental to both Usyk's performance and his potential heavyweight ranking. Hopefully this time next year Usyk will have bid adieu to 200lbs and begun his assault upon the biggest division in earnest.
It wouldn't surprise me if he has come into possession of some minor strap by next June.
AT THE SCHOOL OF MANNY STEWARD: VLAD SIRENKO
FROM: Ukraine HEIGHT: 6'3.5 WEIGHT IN SHAPE: 243lbs AGE: 24 RECORD: 11-0 with 10 KOs
Former Manny Steward disciple James Bashir went a long way to train Vlad Sirenko; Sirenko's steady improvements have been their dual reward.
Sirenko had a big 2018/19, moving out of South Africa where he boxed his apprenticeship and into his home of Ukraine and to Germany, where his mid-term future may lie.
In terms of opposition there has been little offered with the Congolese African champion Rocky Kaleng the probable high mark. Kaleng hadn't been stopped since 2010 in just his fourth contest.  What's more, he actually gave Sirenko a little fright, landing a series of stern left hooks in the opening minute as the Ukrainian looked to out-squabble his opponent in close. It was in close, too, that an overeager Sirenko landed a clunking rabbit-punch and the fight immediately drifted from Kaleng's forty-year old legs. Sirenko ended matter with his own left hook moments later, although there was some ambiguity regarding the veracity of the stoppage; was the rabbit-punch, the menacing left hook of Sirenko or Kaleng's age most culpable for the first round knockout victory?
There was no ambiguity where Sirenko's knockout of Leonardo Robutti in Germany for the national belt of that country was concerned, however. The three piece combination to finish that fight would make the highlight reel of any active heavyweight.
Of all the fighters on our list though, Sirenko has the most work to do. He is too upright and Kaleng showed him vulnerable to the left-hook. There is no hiding this footage which is readily available online; look for every new opponent to land their own high left hands early. It's the job of James Bashir to stop them.
THIS TIME NEXT YEAR
Zero losses and a raft of victories is what our heavyweight prospects have delivered over the last twelve months.  I can guarantee that the next time we check in, losses will have been suffered.  Even if Dubois and Gorman stage an unsatisfactory draw, Joyce, Usyk, Hrgovic and Kuzmin, at a minimum, will be keeping serious company going forward; I would also expect the winner of Dubois-Gorman to be matched heavy in the months after their contest.
Dychko, Rock and Sirenko will likely continue to tread water, in the case of Dychko, itching for a shot at Anthony Joshua, seemingly very much against his will; meanwhile Makhmudov holds perhaps the most interesting hand of all. He's ready, he's been creeping forward at a more measured pace, but whether or not he will move up in class and out of his Canadian stronghold is unclear.
This time next year, we'll break it down again and see what has transpired.
Photo left to right: Daniel Dubois, promoter Frank Warren, Joe Joyce, Nathan Gorman
Check out more boxing news on video at The Boxing Channel
To comment on this story in The Fight Forum CLICK HERE
Johnny Famechon was a Hero in Australia Where Willie Pep Had a Bad Night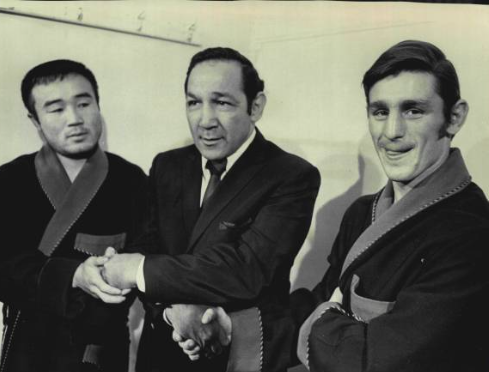 Willie Pep was good at boxing. He wasn't so good at math. Ah, but hold the phone; we are getting ahead of ourselves. This isn't a story about Willie Pep, but about former world featherweight champion Johnny Famechon who passed away last Thursday, Aug. 4, in Melbourne, Australia, at age 77.
Famechon was five years old when his parents left his birthplace in Paris and settled in Melbourne. He came to the fore in an era when boxing was still a mainstream sport and home-grown champions were national idols. The locals turned out in droves for the parade in Johnny's honor when he returned to Melbourne after taking the featherweight crown from the Cuban-born Spaniard Jose Legra in a big upset at London's Prince Albert Hall.
Famechon's first title defense came against Japan's Fighting Harada. They met in Sydney, Australia, on July 28, 1969.
At age 26, Harada was a battle-tested veteran. He previously held world titles at flyweight and bantamweight and would be remembered as the only man to defeat the great Brazilian boxer Eder Jofre, a feat he accomplished not once, but twice.
Only two boxers in history – Bob Fitzsimmons and Henry Armstrong – had won world titles in three of the eight classic weight divisions. Harada, who entered the International Boxing Hall of Fame in 1995, was bidding to become the third.
Team Harada insisted on a neutral referee. The British promoters chose Willie Pep. A legend in the sport, Pep had previously shared a ring with another Famechon, having out-pointed Johnny's uncle Ray Famechon in a featherweight title defense at Madison Square Garden in 1950.
Some thought that Pep would favor Fighting Harada. American referees put a higher premium on aggression than did their foreign counterparts and Harada was a little buzzsaw who rarely took a backward step. But others thought that Pep's selection favored Famechon, an elusive counterpuncher with whom the Connecticut "Will-'o-Wisp" could identify; their styles were similar.
Pep had been the third man in the ring for four previous title fights, three in Jamaica and one in Brazil. But this fight would be different. He would be the sole arbiter. If the fight went the full 15 rounds, Willie Pep would be the judge and jury.
During the bout, Famechon scored one knockdown, sending Harada to the canvas in round five, but Harada scored three, knocking Famechon down in rounds two, 11, and 14. The last of the three knockdowns was the harshest, but Famechon made it to the final bell.
The fight ended in a clinch. Immediately upon separating the fighters, Pep raised both of their hands, a signal that the fight was a draw.
Fighting Harada's handlers were outraged and demanded to see the scorecard. A policeman at ringside was empowered to give it a look-over (Australia had no boxing commission). What the policeman found was that there was indeed a discrepancy. However, it was the opposite of what Team Harada anticipated!
The fight was scored on the antiquated system whereby the winner of a round was awarded five points and the loser four points or less. In the case of an even round, both fighters got five points.
After 13 rounds, Fighting Harada had amassed 59 points on Pep's card. He won the 14th round, giving him an aggregate total of 64 points. But when Pep added up the numbers "59" and "5" in the column where he kept the aggregate total, he came up with "65."
Oops.
When Pep signaled that the fight was a draw, people stormed the ring from all sides. Newspaper reports said the belligerents were about evenly divided. Famechon, the Aussie, was the crowd favorite, but Fighting Harada was well-backed in the betting markets, a very big industry in Australia. Many were even angrier when Famechon was summoned back to the ring to have his hand raised.
The Famechon-Harada fight aired live on Japanese television. In Japan, there was a great outpouring of outrage. Pep had been instructed to score a round 5-4 if the round was narrow and 5-3 if there was a clear-cut winner. Despite the knockdowns, Pep scored every round 5-4 or 5-5. In the revised tally, he had Famechon winning 6-5-4 in rounds.
"Harada loses to referee" was the headline in Japan's leading sports daily. Willie Pep made no friends in Australia either. There were shouts of "Yankee go home" as he left the ring.
Famechon and Harada met again five months later in Tokyo. One would assume that Fighting Harada proved superior and got a fair shake, winning the third title denied him in Sydney. But don't assume.
Harada was well ahead after ten rounds but faded. On the deck in round 10, Famachon returned the favor three rounds later, knocking Harada down hard with a perfectly placed left hook. Harada was in dire straights when he came out for round 14 and Famechon put him away.
Harada never fought again and Famechon left the sport six months later after losing his crown to Vicente Saldivar. Johnny was only 25 years old, but had crammed 67 fights into a nine-year pro career and said enough is enough.
Famechon's post-boxing life took a tragic turn in 1991 when he was hit by a car while out jogging on a Sydney highway. He spent several weeks in a coma and several years in a wheelchair but eventually recovered most of his motor skills and regained his speech to the point where he could serve as a boxing color commentator on television. In 2018, a larger-than- life statue of Famechon was unveiled at a public park in the Melbourne suburb of Frankston where he was a longtime resident.
For the record, Johnny Famechon finished his career with a record of 56-5-6 with 20 KOs. We here at The Sweet Science send our condolences to his loved ones.
Arne K. Lang's latest book, titled "George Dixon, Terry McGovern and the Culture of Boxing in America, 1890-1910," will shortly roll off the press. The book, published by McFarland, can be pre-ordered directly from the publisher (https://mcfarlandbooks.com/product/clashof-the-little-giants) or via Amazon.
To comment on this story in the Fight Forum CLICK HERE
Fast Results from Fort Worth Where Vergil Ortiz Jr Won His 19th Straight by KO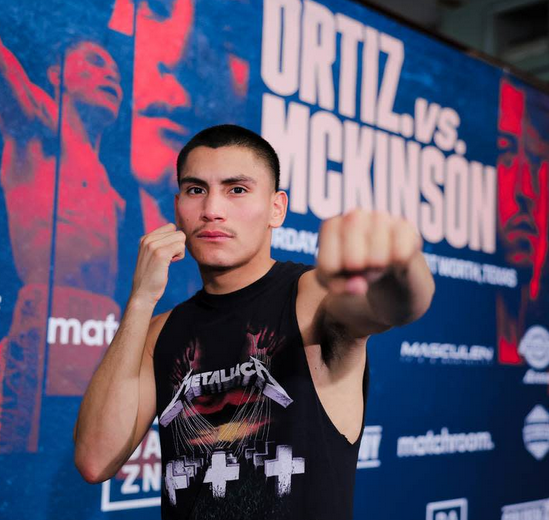 In a match pushed back from March 19, Vergil Ortiz Jr moved one step closer to a mega-fight with Terence "Bud" Crawford or Errol Spence Jr or Boots Ennis with a ninth-round stoppage of England's feather-fisted Michael McKinson. The end came 20 seconds into round nine when McKinson appeared to injure his knee as he fell to the canvas, an apparent residue of the body punch that put him on the deck late in the previous stanza. To that point, Ortiz had seemingly won every round.
It was the 19th win inside the distance in as many opportunities for Ortiz who resides in nearby Grand Prairie and was making his first start with new trainer Manny Robles. McKinson was undefeated heading in, but had scored only two knockouts while building his record to 22-0.
Ortiz, ranked #1 at welterweight by the WBA and the WBO, pulled out of the March 19 bout after being diagnosed with rhabdomyolysis, a muscle disorder associated with over-training.
Ortiz's promoter, Oscar De La Hoya, says that Ortiz will fight the winner of Errol Spence vs Terence Crawford next assuming that the fight gets made, and if doesn't get made, Ortiz's next fight will be with one or the other. The WBA, which stamped tonight's fight an eliminator, may push to have Ortiz fight their secondary title-holder, Eimantas Stanionis.
Co-Feature
Houston's Marlen Esparza (13-1, 1 KO) successfully defended her WBA/WBC world flyweight title with a unanimous decision over plucky 4'11 ½" Venezuelan southpaw Eva Guzman who had won 14 straight coming in, albeit against soft opposition. The judges had it 98-92 and 99-91 twice.
Guzman (19-2-1) was game, but just didn't have the physical tools to overcome Esparza whose lone defeat came at the hands of talented Seneisa Estrada.
Other Fights of Note
In a 10-round match contested at the catchweight of 150 pounds, Blair "The Flair" Cobbs rebounded from his first defeat with a career-best performance, a wide decision over former WBO 140-pound world titlist Maurice Hooker. It was the second straight loss for Hooker who returned to the ring after a 17-month hiatus and came out flat. Cobbs put him on the canvas in the opening frame with a combination and decked him twice more with straight lefts in round two.
Things got somewhat dicey for Cobbs in round five when he suffered a bad gash on his forehead from an accidental head butt, but Hooker, who had stablemate Bud Crawford in his corner, hesitated to let his hands go and couldn't reverse the tide. The judges had it 96-91 and 97-90 twice for the flamboyant Cobbs who improved to 16-1-1 (10). Hooker, a consensus 5/2 favorite, lost for the third time in his last five starts and slumped to 27-3-3.
In the opener to the main portion of the DAZN card, Uzbekistan's Bektimir Melikuziev (10-1, 8 KOs), a super middleweight growing into a light heavyweight, dominated and stopped overmatched Sladan Janjanin. Melikuziev put Janjanin down with a body punch in the opening minute of the fight and scored two more knockdowns before the bout was halted at the 2:18 mark of round three.
This was Melikuziev's third fight back after his shocking one-punch annihilation by Gabriel Rosado. Janjanin, a well-traveled Bosnian who fought three weeks ago in Massachusetts, declined to 32-12 and was stopped for the eighth time.
Also
Chicago welterweight Alex Martin (18-4, 6 KOs) overcame a first-round knockdown to win a unanimous decision over 38-year-old Philadelphia journeyman Henry Lundy. The judges had it an unexpectedly wide 98-91, 97-92, 97-92.
Martin was coming off a points loss to McKinson and this bout was his reward for taking that fight on short notice. Lundy (31-11-1) has lost five of his last seven.
Floyd "Austin Kid" Schofield, a lightweight who appears to have a big upside, advanced to 11-0 (9 KOs) at the expense of Mexican trial horse Rodrigo Guerrero whose corner wisely pulled him out after five one-sided rounds. It was the ninth straight loss for Guerrero (26-15).
To comment on this story in the Fight Forum CLICK HERE
Conlan Wins His Belfast Homecoming; Breezes Past Lackadaisical Marriaga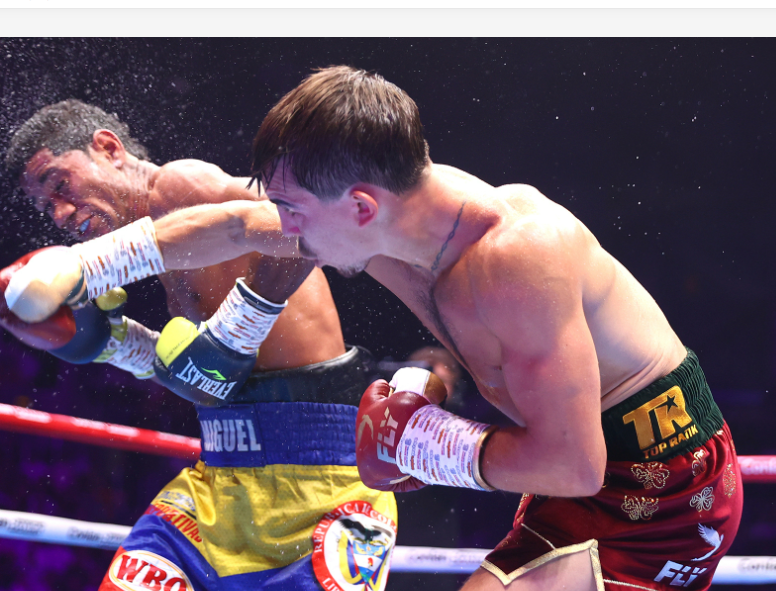 "The Return of the Mick" was the label attached to tonight's show at the SSE Arena in Belfast, Northern Ireland. The reference was to local fan favorite Michael "Mick" Conlan who returned to his hometown in hopes of jump-starting his career after suffering his first pro loss in a brutal encounter with Leigh Wood.
In that bout, a strong "Fight of the Year contender, Conlan was narrowly ahead on all three cards heading into the 12th and final round when the roof fell in. Wood, who was making the first defense of his WBA world featherweight title on his home turf in Nottingham, knocked the favored Conlan unconscious and clear out of the ring.
This was the sort of fight that can shorten a man's career. Hence the intrigue in Conlan's homecoming fight tonight against Miguel Marriaga. On paper, the Colombian, a three-time world title challenger, was a stern test considering the circumstances.
To the contrary, Marriaga had no fire in his belly until the final round when he hit Conlan with a shot that buckled his knees. But, by then Conlan was so far ahead without overly exerting himself that there was virtually no chance of another meltdown.
While Conlan won lopsidedly, the scores – 99-89 and 99-88 twice – were somewhat misleading. True, "Mick" had Marriaga on the deck in rounds 7, 8, and 9, but the punches that put him there did not look particularly hard.
Conlan, 30, improved to 17-1 (8). Marriaga, 35, declined to 30-6.
After the fight, Conlan expressed the hope that Leigh Wood would give him a rematch.
Other Bouts of Note
In an entertaining 10-round welterweight scrap that could have gone either way, Belfast's Tyrone McKenna (23-3-1, 6 KOs) rebounded from his defeat in Dubai to Regis Prograis (TKO by 6) with a hard-fought unanimous decision over 33-year-old Welshman Chris Jenkins (23-6-3). The judges favored the local fighter by scores of 97-94 and 96-95 twice.
Jenkins, a former British and Commonwealth title-holder, had the best of the early going, working the body effectively while frequently finding a home for his uppercut, but he could not sustain his advantage.
Thirty-four-year-old Belfast super middleweight Padraig McCrory who got a late start in boxing, scored the most important win of his career with a fifth-round stoppage of Marco Antonio Periban, a former world title challenger. McCrory had Periban on the deck three times – once in the second and twice in the fifth – before the bout was halted at the 2:14 mark of round five.
It was the fourth straight win inside the distance for McCrory who improved to 14-0 (8 KOs). Mexico's Periban, who returned to the sport in April after missing all of 2020 and 2021, fell to 26-6-1.
Highly-touted welterweight Paddy Donovan improved to 9-0 (6) with an 8-round unanimous decision over Yorkshireman Tom Hall (10-3). The referee scored every round for Donovan, an Irish Traveler trained by Tyson Fury's bosom buddy Andy Lee, the former world middleweight title-holder.
Photo credit: Mikey Williams / Top Rank via Getty Images
To comment on this story in the Fight Forum CLICK HERE