A Tale of Two Mexican Style Fighters- GGG & Oscar Valdez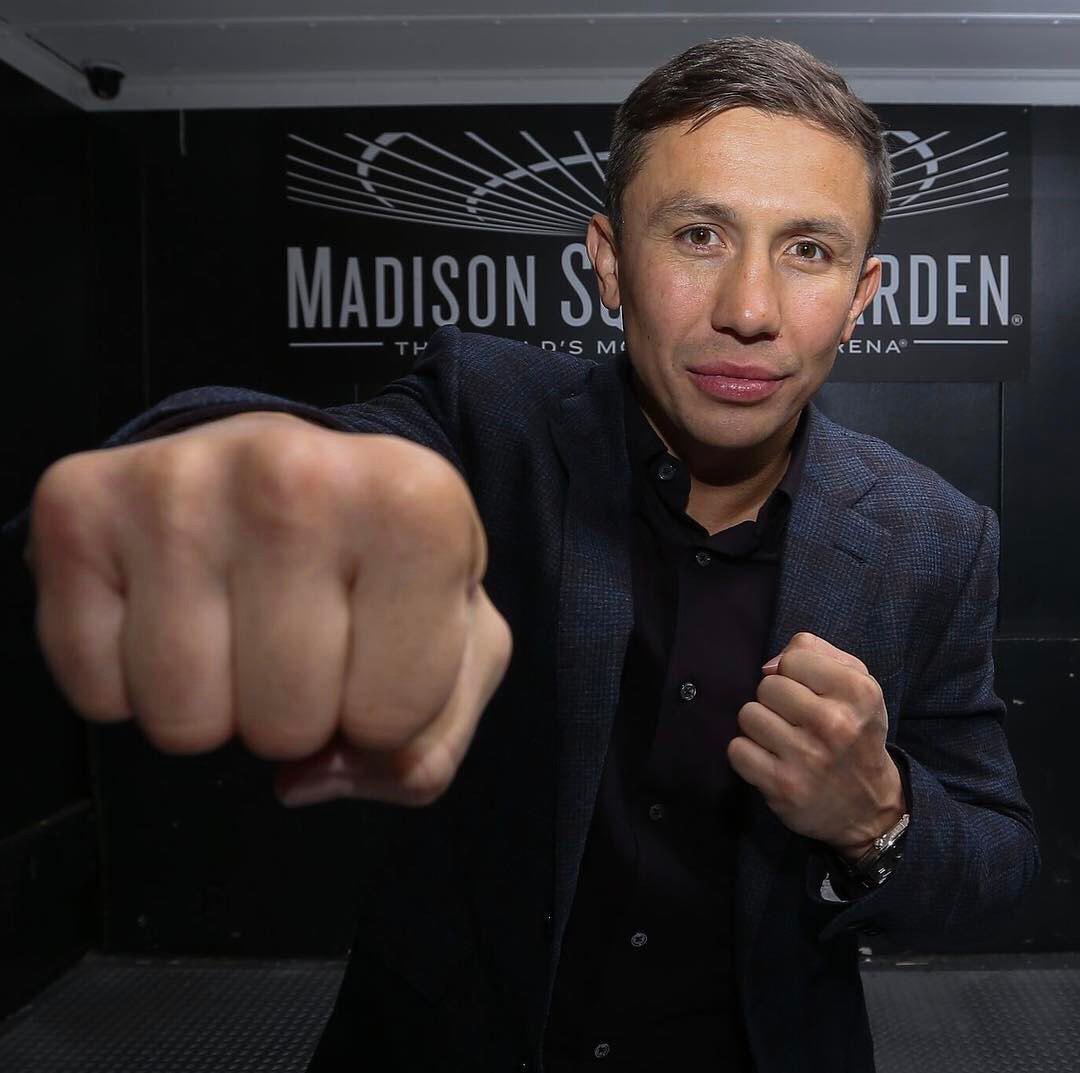 To be or not to be – Mexican style, that is the question. Was it William Shakespeare who said that "tis nobler in the mind to suffer the slings and arrows of outrageous fortune, or to take arms against a sea of troubles, and by opposing, end them?" That is the conundrum facing two world champions Gennady "GGG" Golovkin and Oscar Valdez, both known for adopting Mexican style fighting and winning world titles under its aggressive unrelenting philosophy. Both fight on Saturday with change in mind.
In New York City, former middleweight world champ Golovkin (38-1-1, 34 KOs) walks into the boxing ring against Steve Rolls (19-0, 10 KOs) at Madison Square Garden on Saturday June 8. DAZN will stream the non-title fight live.
Golovkin, 37, will be fighting under a new trainer and without the umbrella of the Mexican style philosophy. It served him well for nearly 10 years. Can he adopt a new fighting system favored by Johnathan Banks?
Since 2010 the Kazakhstan prizefighter ravaged the middleweight division like a 21st century Attila the Hun with his two-fisted, unmerciful style of attack that he made famous by calling it "Mexican style" to the delight of his fans. It also endeared him to the boxing crazed ethnic Mexican fans that quickly began following the Kazakh trained by Abel Sanchez.
But after a draw and a loss that saw Golovkin absorb more punishment than ever against Saul "Canelo" Alvarez, and then recently presented with a new contract by DAZN, whether it was money or a change in fighting philosophy a new trainer was brought in and the old one cast aside.
Fans, many of them Mexican, were left with their mouths wide open.
Golovkin has taken the reactions in stride and now enters the boxing ring with a new boxing philosophy after training more than a month in the mountain area of Big Bear; a mere one block away from his old mentor Sanchez's camp.
"He had big experience with a lot of guys and I like his style," said Golovkin of Banks. "For my next step I don't have a lot of time."
Banks has blended seamlessly with Golovkin.
"I see the hunger. I see the passion," said Banks who trained Golovkin at Shane Mosley's camp in Big Bear. "You see the energy and that's what I like."
And what about the Mexican fans that helped him become a draw?
"I am not changing my style, I am adding to it," said Golovkin regarding his style that appealed to many fans. "I can't desert that audience."
Golovkin will remain in stalking mode.
Valdez
In Reno, Nevada, the WBO featherweight titlist Oscar Valdez (25-0, 20 KOs) defends against Jason Sanchez (14-0, 7 KOs) at the Reno-Sparks Convention Center on Saturday June 8. ESPN will televise and stream the Top Rank card.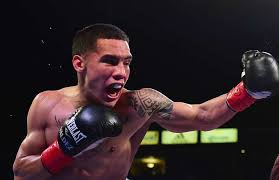 The native Mexican will be fighting for only the second time under his new team headed by trainer Eddy Reynoso who also coaches Saul "Canelo" Alvarez and Ryan "The Flash" Garcia. Though all three are ethnic Mexican fighters, none adopt the "Mexican style" philosophy of pressure fighting and never going backwards. The Reynoso method has always adopted a boxer-puncher philosophy.
Is it working for Valdez whose whole life has been pressure fighting?
After suffering a broken jaw against Scott Quigg who vastly out-weighed him in their non-title fight in March 2018, the fighter from Nogales departed from trainer Manny Robles and signed with Reynoso. Ironically, Robles began working with heavyweight contender Andy Ruiz who is now the talk of the boxing world and the new multi-titlist heavyweight champion of the world.
What irony.
Mexican style worked for the new heavyweight champion Ruiz and had led Valdez to the WBO world title that he still holds, but can he effectively learn the new philosophy espoused by Reynoso.
"We've worked very hard in the gym," said Valdez. "We have to give a good fight for the crowd, for the fans all over the world that are watching. That's what we plan to do, so I'm very excited for this fight, to be honest."
Valdez trained in San Diego in a training camp where few reporters are able to gain access. Before, he trained in Norwalk and was accessible to an army of reporters that could stop by at any time. Is training under a veil of invisibility worth the change of trainers and locale?
As Shakespeare said 400 years ago: "tis nobler in the mind to suffer the slings and arrows of outrageous fortune."
Check out more boxing news on video at The Boxing Channel
To comment on this story in The Fight Forum CLICK HERE
'Tank' Davis has a lot in common with his FORMER Promoter Floyd Mayweather
The first big boxing card of 2023 takes place on Jan. 7 in Washington, D.C., where Gervonta "Tank" Davis defends his WBA world lightweight title against Hector Garcia with Jaron "Boots" Ennis and Demetrius "Boo Boo" Andrade, among others, in supporting bouts. It's a SHOWTIME ppv.
In the past, Davis has split his training camp between Baltimore and Las Vegas where he conducts his workouts at the gym owned by his mentor, Floyd Mayweather Jr. However, that relationship has been severed. Speaking to a FightHype reporter at a press conference in Washington, Davis confirmed that he was free agent. Although it was common knowledge that they had been feuding, it was apparently an amicable break-up. "Much love to Mayweather promotions," said Tank diplomatically.
Mayweather was still an active boxer when he took Davis under his wing. "The ultimate goal," said Mayweather, "is for him to break all of my records." Currently 27-0 with 25 KOs, Gervonta is a shade more than halfway there.
Floyd did more than groom Davis to be a future world champion. As noted in a widely- circulated 2015 story, Davis, then 20 years old, "traveled on Floyd's private jet, participated in Mayweather's public appearances, observed his business dealings, and took a ride with him on his yacht."
It was inevitable that Davis, raised in a West Baltimore slum, would inherit Mayweather's zest for the high life. He shares his mentor's fondness for bling and for bodacious wheels. Within the last three months, he purchased a customized McLaren 765LT Coupe, one of only 765 manufactured by the British auto-maker, and a widebody Lamborghini Urus.
One surmises that he purchased the Urus to replace the Lamborghini SUV that was damaged in a hit-and-run accident in Baltimore in the early morning hours of Nov. 5, 2020. Four individuals in another vehicle were injured when Davis or his driver ran a red light and left the scene without stopping to render aid. Gervonta will have his day in court on Feb. 16 and the outcome could potentially scupper a Spring megafight with Ryan Garcia.
This was not Davis's first brush with the law and in this way too his career has paralleled that of his mentor.
In 2015, he was charged with aggravated assault for sucker-punching a childhood friend at his home gym in Baltimore. In November of last year, police in Coral Gables, Florida, charged him with Simple Battery Domestic Violence after a video surfaced of him grabbing his former girlfriend and mother of his child by the neck at a charity basketball game.
As for Floyd Mayweather Jr, he continues to keep his name in the news for reasons that have nothing to do with boxing. Earlier this month, TMZ reported that he visited an art gallery in Miami and spent $3.1 million for "between 10 and 12" paintings including four by Andy Warhol. Yesterday it was reported that the semi-retired, 45-year- old boxer had an interest in purchasing an NBA team and that he had a $2 billion offer on the table to acquire a franchise he would not identify.
Previously he got involved in the sport of NASCAR. Mayweather's The Money Team (TMT) Racing co-sponsored Conor Daly, a star driver from the IndyCar circuit who finished 35th in his NASCAR cup series debut at the Charlotte Motor Speedway on Oct. 8.
Mayweather's partner in his Conor Daly "investment" is Milton "Todd" Ault III, the founder of a company called BitNile, described as "a diversified holding company specializing in disruptive technologies, including cryptocurrencies and innovations in the field of decentralized finance."
On web sites and in disreputable business magazines, Ault is described as a "successful investor, entrepreneur, CEO, social media personality, motivational speaker and mentor." In 2009, various publications reported that he was being sued by a group of 12 international hedge funds for bilking them out of $4.2 million, money ostensibly intended for developing a software program for stock trading and instead used to fund "pornographic-related endeavors" including a ''swingers' ranch" in the Catskill Mountains.
To comment on this story in the Fight Forum CLICK HERE
Tiger Jack Fox took a Circuitous Route to the International Boxing Hall of Fame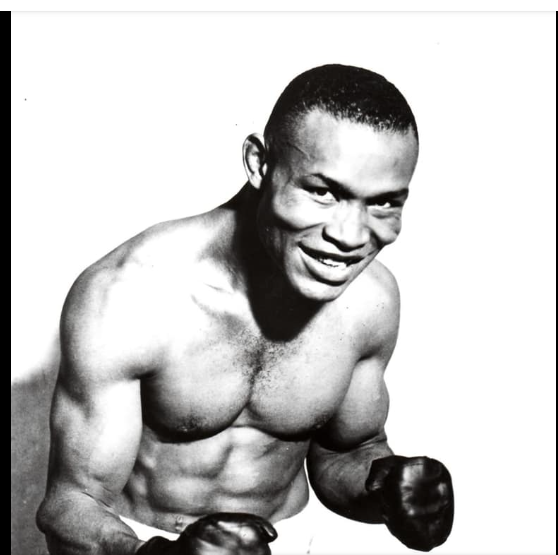 Tiger Jack Fox was 47 years old, or thereabouts, when he suffered a fatal heart attack in front of a movie theater in his adopted hometown of Spokane, Washington. Three years earlier, he suffered a stroke that left him partially paralyzed. He died broke.
Fox's memorial service was held at 8 am on a Friday morning at Spokane's landmark Lady of Lourdes Cathedral. It attracted a small turnout. Most of those in attendance were schoolchildren from the school that sat next door and was run by the Diocese. They likely knew nothing about the decedent who had passed away three days earlier on April 6, 1954.
A significantly larger turnout will pay homage to Fox this coming June during Hall of Fame Weekend in Canastota, New York. This morning, Dec. 7, it was announced that Fox, who fought mostly as a light heavyweight, would be going into the International Boxing Hall of Fame in the Old Timer's category. He will join a long list of posthumous honorees who died in relative obscurity.
There's a lot of mystery — not to mention a lot of poppycock — surrounding the man born John Linwood Fox, not only his true age but his birthplace: Georgia? Indiana? Minnesota? He had his earliest confirmed fight in 1928 and fought until 1950, amassing a record of 138-24-12 with 91 KOs in documented fights. The key word here is "documented." In his early years when he tramped about the northwest and southwest, many of his fights were off the grid, so to speak. This was true of many fighters of his era, especially journeymen that shared his pigmentation.
Professional boxers and wrestlers that plied the hinterland customarily roamed from territory to territory, hunkering down with a local promoter until they exhausted their pull. At various times, Fox hung his hat in Picher, Oklahoma, Springfield, Missouri, Terre Haute, Indiana, Salt Lake City and Portland, Oregon before taking up residence in Spokane where he had 11 fights in 1936-37 and several more in neighboring Idaho.
It was during his Terre Haute phase that Fox had one of his more interesting bouts, a 10-round contest in Indianapolis with veteran George Godfrey, the Leiperville Shadow, a former sparring partner of Jack Dempsey. The bout was billed for the World Colored Heavyweight Title.
Godfrey, who out-weighed Tiger Jack 257-181, was too big for Fox and got the decision in an uninteresting fight, keeping the gold-tinted belt that was put on display in the window of a drug store for promotional purposes.
Fox had at least 90 fights under his belt when he made his New York debut at Madison Square Garden in 1937. His match with unheralded Elton "Tex" Irwin was relegated to the walk-out fight following a middleweight title tiff between Freddie Steele and Babe Risko. Fox had Irwin on the canvas three times before the match was halted 29 seconds into the second round.
Fox had 11 more fights in New York before the year was out, seven at Rockland Palace, a Harlem dance hall, and was undefeated in New York rings prior to his 1939 engagement at Madison Square Garden with Melio Bettina in a bout sanctioned for the New York version of the world light heavyweight title. Fox was favored but didn't bring his "A" game and was stopped in the ninth frame.
Fox, who fought only in spurts, had a handy excuse for his poor showing. Two months earlier, uptown in Harlem, he was stabbed in the chest by a woman wielding a 10-inch razor knife as he left a late-night party. He lost a considerable amount of blood and according to some reports suffered a punctured lung.
It was at Rockland Palace that Fox scored what in hindsight would come to be seen as one of his biggest wins. On May 22, 1937, he stopped Jersey Joe Walcott in the eighth round, knocking him down for the count with a right cross to the jaw. Twelve months later, he defeated Jersey Joe again, winning a clear 10-round decision on Walcott's turf in Camden, New Jersey.
These two wins undoubtedly got Tiger Jack over the hump with the IBHOF electorate. A late bloomer, Walcott went on to win the world heavyweight title and preceded Fox into the Canastota shrine by 33 years.
Some of Fox's setbacks were likely pre-arranged. Against white opponents, black fighters often had to "do business" to keep the checks rolling in. When fighting members of their own race for a percentage of the gate, black boxers often tailored their exertions to how much money was in the till. Fox fought many stinkers and it didn't help that he was by nature a counter-puncher whose style – notwithstanding all those knockouts – wasn't particularly fan-friendly.
This was the second straight year that the Old Timer's committee selected a fighter identified with the state of Washington. Last year, the honor went to Sequim native Tod Morgan who like Tiger Jack Fox died young (he was 50) and died a pauper. Only one other Apple State fighter is in the Hall of Fame, the aforementioned Freddie Steele, the pride of Tacoma, inducted in 1999.
Arne K. Lang's latest book, titled "George Dixon, Terry McGovern and the Culture of Boxing in America, 1890-1910," has rolled off the press. Published by McFarland, the book can be ordered directly from the publisher (https://mcfarlandbooks.com/product/clash-of-the-little-giants) or via Amazon.
To comment on this story in the Fight Forum CLICK HERE
R.I.P. Hall of Fame Referee Mills Lane whose Life Story was Worthy of a Big Screen Biopic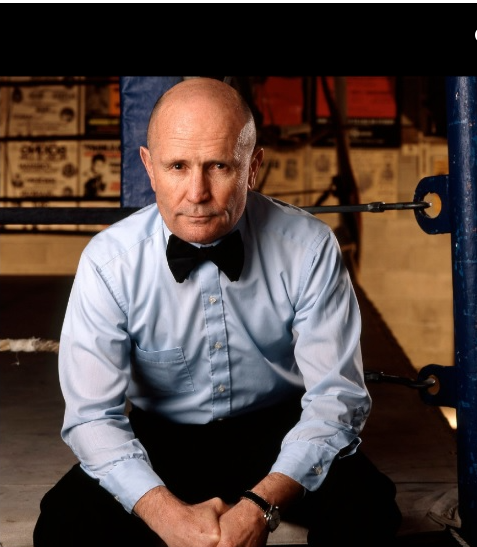 He probably never should have lasted as long as he did. After famed boxing referee Mills Bee Lane III suffered a debilitating stroke in March 2002, which left him partially paralyzed and unable to speak, the consensus medical opinion was that he it would be touch-and-go for him to survive the first few weeks. Even when he did make it through that critical early stage of recovery, it seemed a medical certainty that the feisty former Marine, at 65, could expect no more than a life expectancy of five years, tops, and most likely as a virtual prisoner in his own body.
But Mills Lane had been the third man in the ring long enough to discern when certain fighters, well behind on the scorecards and unlikely to find a path to victory, had shown enough resolve and moxie to go the distance if possible and make it to the final bell. It is a disposition of proud defiance he admired in others, and had exhibited himself on numerous occasions as an unapologetic free spirit. On those occasions when one must choose to be a leader or a follower, the little guy with the bald head and raspy voice always chose to stride boldly to the front.
For 20 years Lane was unable to verbally communicate with the family he so dearly loved, but there are some things, including goodbye, that a father need not express in words to make his feelings known. And, so, Mills Lane, at 85, silently took his leave of a life that mostly had been well spent in the early morning hours of Tuesday, Dec. 6, with his wife, Kaye, and sons Terry and Tommy, and their wives, at his bedside in the patriarch's adopted hometown of Reno, Nev.
"He was on hospice at home, in Reno, with the family around him when he passed away between 2 and 2:30 in the morning, but his time of death wasn't officially recorded until 3:16," older son Terry noted. "He had a rough couple of days. It all kind of came out of nowhere and things progressed quickly. My brother and I got back to Reno this past Thursday to be with my mother at Dad's bedside. Monday was one of the worst days of my life. Dad was just out of it. All we could do was whatever we could to make him comfortable.
"The reason we put him on hospice was he was beginning to have renal failure. I presume the stroke he suffered in 2002 was a contributing factor because he was in a pretty poor condition for 20 years."
That Mills Lane was a respected and highly regarded referee is a given, and not just because he was inducted into the International Boxing Hall of Fame in the Non-Participant category in 2013, which in and of itself is a story that bears telling. But it is the winding road this son of Deep South wealth and privilege undertook to success on his own terms that makes him unique, so much so that his history of obstinate self-discovery almost screams out for close-examination by a Hollywood screenwriter.
Mills Lane began life as the patrician scion of a banking dynasty in Savannah, Ga., with extensive holdings in South Carolina. How wealthy were the Lanes? So much so that the Mills B. Lane House in historic downtown Savannah, completed in 1907, was hailed as a "jewel of the antebellum South" when it was placed on the market in 2007 with an asking price of $7.6 million. It seems a safe bet that no other future referee was raised in a mansion that boasted a marble entrance, Corinthian columns, parquet floors, 29 handcrafted canvas murals, nine fireplaces, five bedrooms, eight full baths, three half-baths and a large, in-ground pool.
Young Mills' father went so far as to have already paid his son's tuition at a prestigious Midwestern university, where he was to study agriculture. But being a banker and/or gentleman farmer didn't especially appeal to the son, so he chucked it all in 1958 to enlist in the Marines. He took up boxing during his service stint, becoming All-Far East welterweight champion. When his hitch was up, he enrolled at the University of Nevada in Reno which was reputed to have a boxing team of some repute. He won an NCAA boxing championship at UNR, went 10-1 as a pro and from there continued to make his mark as a deputy sheriff, district attorney, two-time judge of Washoe County Circuit Court and, of course, boxing referee.
It was as a referee, however, that Mills Lane began to make his mark not only nationally, but internationally, working such high-profile and controversial bouts as Muhammad Ali-Bob Foster (1972), Larry Holmes-Gerry Cooney (1982), the Evander Holyfield-Riddick Bowe II "Fan Man" fight (1993), Oliver McCall's crying jag against Lennox Lewis (1997) and, most notably, the Evander Holyfield-Mike Tyson II "Bite Fight" (1997). It might have been coincidence or possibly fate when Lane got the assignment for Holyfield-Tyson II when the originally tapped ref, Mitch Halpern, backed out when Tyson's handlers objected to him and was replaced by the guy known as a lightning rod for fights sure to be branded into the public's memory.
"The visibility of the `Bite Fight' made Mills even more mainstream," recalled Marc Ratner, former executive director of the Nevada State Athletic Commission. "It almost seemed like he worked all the Super Bowls of crazy fights."
Terry Lane said that the visibility of the "Bite Fight" was such that the producers of the (eventual) Judge Mills Lane TV show decided that their courtroom arbiter of justice just might be the same guy that had the stones to disqualify Tyson.
It was while at home in Reno, by himself, that Lane suffered the stroke that made him voiceless, unable to call out for assistance. Terry Lane is unsure how long he lay on the floor of his home, but the delay did not help.
"A few months earlier, our family had become bicoastal," Terry Lane recalled for a story that appeared for TSS in 2014. "My brother had just begun high school in New York City after moving there from Reno. All of us were kind of going back and forth between Reno and New York. I had just started college in New York around that time. My mom, my brother and I were all back East and my dad was in Reno, by himself. We really don't know how long it was before he was found. It might have been a day possibly as long as two days. We don't know for sure."
As if all that he already was facing weren't enough, Mills had a fall in June 2013, almost to the day a full year before he was to be inducted into the IBHOF. His attendance for that event, which would have been considered extremely unlikely in any case, suddenly appeared to be impossible.
"When I got the call (from IBHOF executive director) Ed Brophy, I just assumed it would be Tommy and me going to Canastota and making a quick thank-you like we've done dozens of times before," Terry said in 2014. "But Dad was really into it. I know he was very happy to be inducted into the Hall of Fame. He can't speak, but he still can emote and be expressive."
Amazingly – well, maybe not so amazingly given who and what Mills Lane always had been before the stroke – he threw himself into the task of learning how to walk again, however haltingly. And when the Lanes accompanied their father to central New York, the miracle that couldn't possibly happen became reality.
"I could not believe that we were able to attend," Terry said. "Ed Brophy and his team, God bless 'em, made our lives so much easier at that time. It was a highlight for Dad to be there during a time when he truly was a prisoner in his own body.
"When he first had the stroke in 2002, we were told that his life expectancy was five years, maybe. Another massive stroke, which was always possible, would just take him out. So, in our own way, our family has been mentally prepared for this moment for 20 years. But then my dad never followed any accepted timeframe from for the living of his life. He lived way beyond any doctor's expectations, and in that time, he still was someone who not only was a disabled stroke victim, but he was getting older. He turned 85 on Nov. 12 of this year."
In other words, what the stroke started finally was finished by the aging process that affects everyone. Rest in peace, Mr. Lane. In sickness and in health, you stood as a beacon of hope for everyone who understands that every fight is capable of being won to some degree.
To comment on this story in the Fight Forum CLICK HERE