Fast Results from Madison Square Garden: GGG KOs Rolls, Eyes Canelo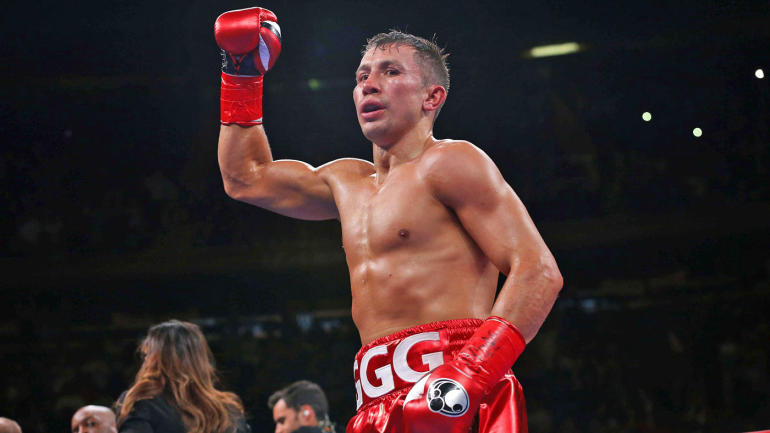 A week ago, tonight's bout between Gennady Golovkin and Steve Rolls, a non-title affair slated for 12 rounds at a catchweight 164 pounds, had no intrigue whatsoever. The 35-year-old Rolls, although undefeated (19-0, 10 KOs), was widely considered the least talented opponent that GGG has faced since winning his first title, a notch below such overmatched foes as Willie Monroe Jr and Dominic Wade. But then Andy Ruiz pulled an upset for the ages in this same building and suddenly the thought of Rolls winning didn't seem like such a pipe dream.
But Rolls, a native of Chatham, Ontario, was a much bigger underdog than Andy Ruiz was against Anthony Joshua, and as he discovered to his mortification, lightning doesn't always strike twice. Rolls held his own for the first three rounds, but it was curtains for the Canadian in round four when GGG backed him into the ropes and felled him for the count with a devastating overhand left. Rolls pitched face first to the canvas, unable to beat the count, another highlight reel knockout for the former unified middleweight champion who improved his ledger to 38-1-1 (35 KOs).
GGG, who turned 37 in April, was making his first start since suffering his first defeat last September. This was also his first fight with new trainer Johnathon Banks and the first fight of a reported six-fight deal with the live streaming service DAZN.
Asked before the fight what the odds were of a third fight with Canelo Alvarez in September, GGG said 99 percent.
Other Bouts
Super middleweight Ali Akhmedov, a stablemate of countryman GGG and a product of Abel Sanchez's fight factory in Big Bear, made a strong impression with a third round stoppage of New Orleans' previously undefeated Marcus McDaniel (15-1). A big right hand spelled the end for the 35-year-old McDaniel who returned to the ring in February after a nearly three-year absence during which he was injured in a drive-by shooting. He was on his feet but in no mood to continue when the referee called a halt. Akhmedov, 23, improved to 15-0 with his 11th knockout.
In a fight that was rather one-sided but yet very entertaining, undefeated Brooklyn welterweight Brian Ceballo (9-0, 4 KOs) scored an 8-round unanimous decision over previously undefeated Bakhtiyar Eyubov (14-1-1, 1 NC). Ceballo, who won 17 tournaments as an amateur, was simply too well-rounded for the Kazakh slugger. The scores were 80-72, 79-73, and 78-74.
Uzbekistan's Israil Madrimov, who is being fast-tracked to a world title shot, is now 3-0 (3) after scoring a sixth round stoppage of Mexico's faded Norberto Gonzalez (24-13) in a 154-pound contest slated for 10 rounds. Madrimov, whose first two opponents were a combined 34-4, dominated the proceedings before a flurry of unanswered punches led the referee to intervene. Gonzalez, who always gives an honest effort, has now lost five of his last six but has been matched tough throughout his career.
In his first scheduled 10-rounder, Cleveland super welterweight Charles Conwell  improved to 10-0 (7) with a unanimous decision over Brooklyn's Courtney Pennington (12-4-3). The scores were 96-93 and 97-92 twice.  A former National Golden Gloves champion, Conwell was the youngest member of the 2016 U.S. Olympic team. Pennington had a point deducted for excessive holding.
Nikita Ababiy, a 20-year-old middleweight of Russian extraction, needed only 41 seconds to polish off Mexico's Juan Francisco Barajas whose 5-0 record was built against opponents who were a combined 1-22. Although Ababiy was fed a softie, this kid from Brooklyn, nicknamed White Chocolate, is a budding star. He's 5-0 now as a pro and the longest any opponent has lasted with him is three minutes and 26 seconds.
The opening bout on the card, a 4-round welterweight match between Johnathan Arroyo (3-0-1) and Jordan Morales, was cancelled when the boxing commission denied Morales a license. A journeyman MMA fighter, Morales is 3-7 as a conventional boxer. Arroyo, a 32-year-old southpaw, hails from Brentwood, Long Island, the hometown of 2019 IBHOF inductee James "Buddy" McGirt.
Check out more boxing news on video at The Boxing Channel
To comment on this story in The Fight Forum CLICK HERE
The Peculiar Career of Marcos Geraldo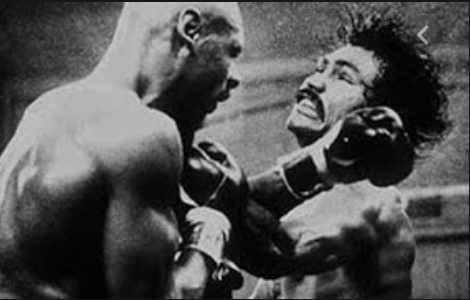 If you play word association with retired boxer Marcos Geraldo, you might come up with "chinny," or "easy work." But if you did, you would be wrong.
This extremely active Mexican boxer fought out of Baja California but was a staple in Nevada and Southern California and was 38-12 before he ventured outside these regions
Many saw Geraldo as easy work because of the 21 KOs he suffered but what they missed was the fact he had 50 KOs of his own and that made him an ultra-exciting type of fighter–and it guaranteed him plenty of marquee events. If you didn't get Marcos, he was likely to get you. That translated to bringing in fans. He also was an active fighter and fought, for example, 12 times in 1972 alone. He also toiled 25 times at the Silver Slipper in Las Vegas—yes, 25 times—and he went 21-4!
Along the way, Geraldo (who at various times was the middleweight and light heavyweight champion of Mexico) did battle with four Hall of Famers — Sugar Ray Leonard, Marvin Hagler, Thomas Hearns, and Virgil Hill — several world champions, and numerous title contenders. (Michael Nunn, another stiff opponent, could someday become a member of the Hall as well.)
As his career progressed, the level of his opposition became stiffer. Listed in the order of appearance, these are the records of some of his opponents at the time that he fought them: Peter Cobblah (48-46-5), Angel Robinson Garcia (138-80-21), Armando Muniz (32-6-1), George Cooper (49-4-3), Sugar Ray Leonard (21-0), John LoCicero (15-3), Marvin Hagler (48-2-2), Caveman Lee (13-2), Thomas Hearns (33-1), Fred Hutchings (20-1), Ron Wilson (71-33-7), Prince Mama Muhammad (29-1-1), Michael Nunn (7-0), Tony Willis (9-0), Chris Reid (14-0-1), Virgil Hill (16-0), Jesus Gallardo (16-1), Antoine Byrd (6-1-1).
Whew!
In 1979, Geraldo went the distance with Sugar Ray Leonard which surprised boxing buffs though Ray had previously been extended by others.
The following year he gave Marvelous Marvin Hagler all he could handle while losing a unanimous but close decision in a surprisingly tough thriller.
Hagler (May 1980)
Hagler pressed the action in-close but surprisingly was met with strong counterpunching. Both did plenty of shoe shining. First Hagler; then Geraldo. It was tit for tat and the fans roared their approval. What won the fight for Hagler was his stamina and harder punching which enabled him to tire the tough Mexican, but he never managed to break him down.
The scoring was Duane Ford 97-93, Art Lurie 97-94, and Chuck Minker 97-95.
The fans at Caesars Palace in Las Vegas gave both fighters a standing ovation as they raised each other's arm up in a marvelous (no pun intended) show of mutual respect. The media framed it it as a "great" fight. It defined "fan–friendly."
Geraldo had stopped Bomber John LoCicero before the Hagler fight, but was KOd in round one by both Caveman Lee and Thomas Hearns subsequent to Hagler. And then he was stopped much later by Michael Nunn and Virgil Hill.
His final slate was 71-28-1 — 100 bouts put him in rarefied company. Also, seven of those 21 KO losses came in his last eight fights.
After a very close review of his career, the word association that could more appropriately fit might be "incongruity," or "action, or "resilient," or even "peculiar."
Sadly, he was always one big win away from entering the top tier.
Ted Sares can be reached at tedsares@roadrunner.com
Check out more boxing news on video at the Boxing Channel 
To comment on this story in the Fight Forum CLICK HERE
HITS and MISSES: Javier Fortuna Shines and More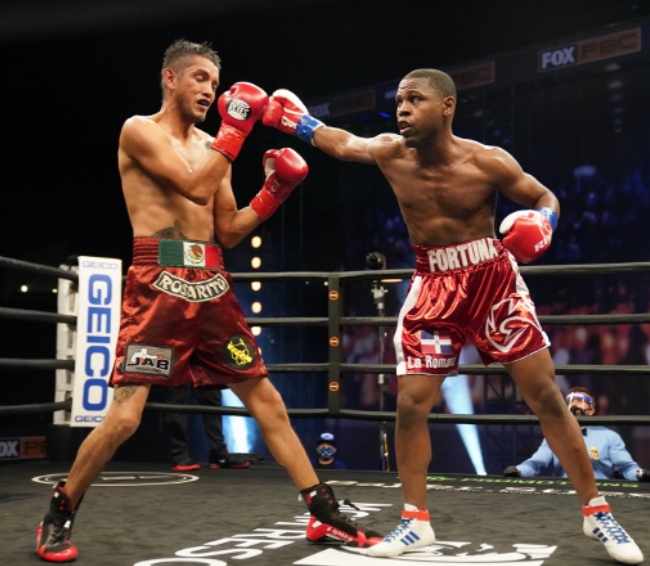 HITS and MISSES: Javier Fortuna Shines and More
The boxing schedule continued during the penultimate week of November though there seemed a little less action over the weekend than prior weeks. Still, important contests took place featuring some of the top fighters in the sport.
Here are the biggest HITS and MISSES from another week on the boxing beat.
HIT: Future Fortunes of Javier Fortuna 
Perhaps it's just my affinity for southpaws, but Javier Fortuna looked sensational on Saturday night in the main event of an FS1 PBC Fight Night card.
Fortuna, 31, from the Dominican Republic, is a legit threat in the 135-pound division. His sole loss since moving up to lightweight was a split-decision to former titleholder Robert Easter in a fight that could have been scored either way, and his athletic and unorthodox style will just about always make him a problem for anyone.
Alongside being tied to Al Haymon's PBC group, Fortuna is promoted by Sampson Lewkowicz, whose most famous recent client is probably former middleweight champion Sergio Martinez. Like Martinez, Fortuna is the type of talent who could unexpectedly make some legitimate noise in his division during the latter part of his career.
MISS: Austin Delay's Emotional Reactions to Accidental Headbutts
Despite the two losses on his record, there's a lot to like about lightweight prospect Austin Dulay. The 25-year-old from Nashville defeated Jose Luis Gallegos in a 10-round decision in the co-feature of the PBC card on Saturday night in Los Angeles.
Dulay's a sharp-fisted, crafty southpaw with fast hands and good feet. While his win over Gallegos absolutely proved he possesses some upside as a rising talent in the sport, his emotional responses to the three accidental headbutts in the fight gives his team plenty to work on with the fighter as he progresses.
Referee Thomas Taylor did a great job explaining the key concept to him. "It happens," Taylor reminded Dulay at least twice in the fight after the clashes of heads. Indeed, it does happen, and that's especially true in southpaw vs. orthodox matchups.
After the second headbutt in the fight, which happened in the sixth round, Dulay angrily gunned for the knockout. Everyone loves action like that, but reactive responses to innocuous events aren't on the path to the highest levels in the sport. Dulay needs to reel his emotions back in during those types of moments if he hopes to become a world champion.
HIT: The Savagery of Alen Babic vs. Tom Little
Hopefully, you've witnessed the majesty of Alen Babic by now. The 30-year-old from Croatia is the type of heavyweight you'd better enjoy now on the way up the ranks because, let's face it, Babic's style and skill set make him likely to be exposed as he climbs higher up the ladder.
Until that time comes, though, Babic is must-see TV. The savagery of seeing a volume punching heavyweight who throws just about every single punch with serious emotional intent is a wonder to behold.
For his part, Tom Little did his best to turn the Babic tide back. In fact, the 33-year-old was the first fighter to weather Babic's early storm and offer a return, but Babic ultimately dumped him down for the third-round knockout.
By the way, that's faster than Daniel Dubois and Filip Hrgovic did it.
MISS: Terence Crawford and Errol Spence Not Making Superfight Priority
What shouldn't be lost in the Terence Crawford vs. Errol Spence debate is how both fighters would rather fight Manny Pacquiao instead of each other.
I had the chance to speak with both elite welterweight champions within the past week, and both men told me the same thing in regards to their focus on making one fight happen. Crawford wants Pacquiao next. Spence does, too.
While it's completely understandable why these guys would seek the bigger payday against the legendary future Hall of Famer, something would seem to be broken in boxing overall when arguably the best and most important fight in the sport doesn't even seem to have a tiny chance of happening anytime soon.
HIT: The Professional Amateur Conor Benn
Imagine having just around 20 amateur bouts and trying to put together a world-level professional boxing career. Now, imagine also trying to follow in the footsteps of your father, himself a former world champion.
But rising welterweight contender Conor Benn seems to be on his way to giving that run a serious go. Benn, 24, from England, defeated Germany's Sebastian Formella in the main event of a Matchroom Boxing card on DAZN on Saturday.
While Benn doesn't exactly have the look of a can't-miss prospect destined for greatness, he does at least possess some of the qualities that could lead him to the top of the sport. Certainly, Benn believes it.
After beating Formella, Benn argued he'd done it just as good as two-time welterweight titleholder Shawn Porter had done.
"I beat him just as good," Benn said during his post-fight interview.
He wasn't wrong about that, and neither was his father, Nigel Benn, for lavishing praise on his son after his big win.
"Well done, son. I'm proud of you," Nigel Benn said.
Benn has a tough road ahead of him. He's basically been a professional amateur up to this point, a fighter getting paid professional money to employ an amateur skill set on fight night.
But he's improving at a rate that suggests that might not be the case soon.
Photo credit: Sean Michael Ham / TGB Promotions
Check out more boxing news on video at the Boxing Channel 
To comment on this story in the Fight Forum CLICK HERE
Boxing Odds and Ends: Filip Hrgovic vs. Efe Ajagba, Dame Helen Mirren and More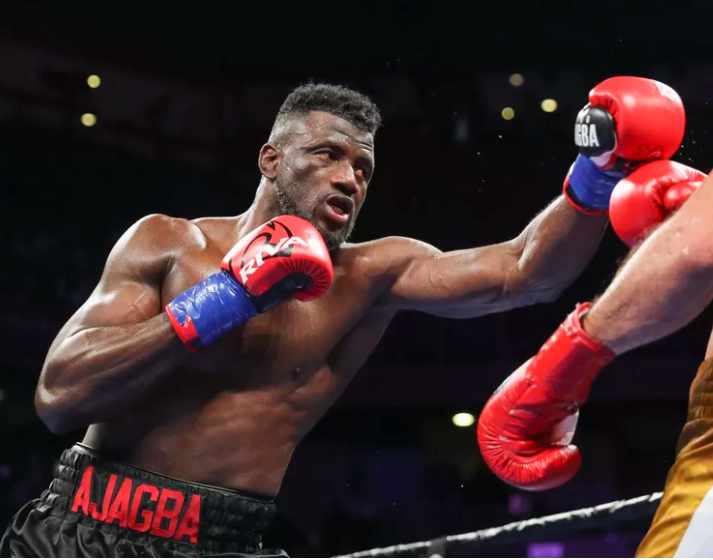 There's a battalion of young heavyweights ready to make their mark when Tyson Fury and Anthony Joshua and their cohorts leave the scene. There's Daniel Dubois and Tony Yoka and Filip Hrgovic and Efe Ajagba to name just four.
When one thinks of a fantasy fight, one usually thinks of a "what if?" match between two all-time greats. But one can also contrive a fantasy fight out of two young guns who have a high probability of meeting down the road.
Filip Hrgovic (12-0, 10 KOs) and Efe Ajagba (14-0, 11 KOs) are at a similar stage of development. Both fought in the 2016 Olympics – Hrgovic for Croatia and Ajagba for Nigeria – and both have been touted as future champions. Ajagba's former trainer Ronnie Shields, not a man given to hyperbole, compared him to a young George Foreman.
Who would win if Filip Hrgovic were to meet up with Efe Ejagba?
We posed this question to Jonnie Rice who is quite familiar with both fighters. Rice sparred with Ajagba and then went 10 rounds with him at the MGM Bubble on Sept. 19. Shortly thereafter, he was off to Florida to help Hrgovic prepare for his bout earlier this month with Rydell Booker. Rice sparred frequently with Hrgovic during the three weeks he spent in the Croatian's training camp.
"You have to respect Efe's power," Rice told us, "but I would have to go with Filip because he throws more punches and has better footwork."
Jonnie Rice, by the way, is improving at age 33 although one wouldn't assume that from his 13-6-1 record. He was outpointed by Ajagba but had several good moments late in the fight.
Helen Mirren
Andrew Moloney failed to recapture his WBA world super flyweight title in his rematch with Joshua Franco on Nov. 14, but won legions of new fans. In case you missed it, the fight was stopped after only two rounds because Franco's right eye was swollen shut. Referee Russell Mora ruled that the damage was caused by an accidental head butt which meant that the fight would go into the books as a "no-decision" and Franco would keep the title.
It took the Nevada Athletic Commission 26 minutes to confirm Mora's ruling. During the lacuna, the abbreviated fight was replayed over and over again for folks tuning in on ESPN. There was no visible head butt, at least not one that could have produced this result, and the TV talking heads, lead announcer Joe Tessitore the most vocal among them, were adamant that Moloney, who clearly won the first two rounds, was the victim of a grave injustice.
Many well-known people took to social media to weigh in on the "villainy," none more famous than Helen Mirren, Dame Helen Mirren, if you please, having been invested with that title during a 2003 ceremony at Buckingham Palace. The multi-decorated British-American actress (she holds dual citizenship), who won both a Tony and a Best Actress Oscar for her portrayal of Queen Elizabeth II, wrote "Moloney was clearly robbed in Vegas tonight. Shame on the Nevada boxing organisation" on her Instagram platform which reportedly has 903,000 followers.
Many people were surprised to learn that a classy Dame like Mirren, now 75 years old, had any interest in pugilistic affairs, but maybe that shouldn't have been so surprising considering that Mirren once had an affair with the ill-fated Argentine boxer Oscar Bonavena.
I had best re-phrase that. Her screen character had the affair.
The movie was called "Love Shack." In the 2010 film, directed by Mirren's husband Taylor Hackford — who shared a producing credit with Lou DiBella — Mirren played Sally Conforte, the wife of Joe Conforte, the keeper of Nevada's most infamous brothel, the Mustang Ranch on the outskirts of Reno. In 1976, the rugged Bonavena, who twice went the distance with Joe Frazier and took Muhammad Ali into the 15th round, was working there as a bouncer when he was fatally shot by one of Joe's henchmen, a killing supposedly sparked by Joe's jealousy over Sally's affair with the 33-year-old bruiser whose 38-vehicle funeral procession through the streets of Buenos Aires would reportedly attract more than 150,000 onlookers.
The movie seemingly couldn't miss. It had a compelling storyline based on real-life events and two stars in the leading roles, with Joe Pesci smartly cast as Joe Conforte. However, the movie got lukewarm reviews and died a quick death.
Mirren's hubby, by the way, is helming the big screen biopic of Mike Tyson with Jamie Foxx portraying Iron Mike. The movie, as they say, is in pre-production.
Literally Matched Soft
In case you missed it, former IBF light-heavyweight title-holder Tavoris Cloud returned to the ring this past Friday after a six-year absence. Cloud was matched Soft, and yes, that's Soft with a capital "S."
Cloud's opponent, a Sioux Indian from Rapid City, South Dakota, fights under the name Ryan Soft. He brought a 4-11-1 record and had been stopped eight times. Cloud made it "9", stopping the softie in the third round on a show in Daytona Beach, Florida.
Cloud, who was managed by Don King for much of his career, opened his career with 25 straight wins that included four successful defenses of his IBF belt. He lost his title to 48-year-old Bernard Hopkins, was stopped by Adonis Stevenson and Artur Beterbiev in his next two fights, and then disappeared. At age 38 and without a lot of mileage on his odometer, he may be young enough to snag a few decent paydays before he calls it quits for good.
The Upside of Covid-19
Five games in college football's top division were postponed this past Saturday, including two games vs. Top 5 teams. Also, there was a hastily arranged boxing card this past Saturday on the Fox Sports 1 network.
These developments were interrelated and they point out that this terrible scourge called Covid-19 hasn't been all bad for boxing. As other kinds of sporting events are postponed or cancelled with little advance warning, boxing stands poised to fill the void. The mushrooming sports channels need content.
The ever-expanding number of weight divisions in pro boxing pales alongside the glut of bowl games in college football. Counting the national title game and the semifinals bleeding into it, there will be 37 bowl games this year. The games are splayed across a 22-day window straddling New Year's Day and it all starts with the ludicrous Tropical Smoothie Café Bowl on Dec. 19 in Frisco, Texas.
Correction: There would be 37 bowl games if they all get played. But many will be cancelled. That opens the door to enterprising boxing promoters.
On balance, of course, the pandemic has been terrible for all sports that depend in whole or in part on gate receipts, without which they are not sustainable. By and large, the boxers that have appeared in "bubble fights" have been working on the cheap. But for some, the pandemic has provided an opportunity for exposure they would not have otherwise received, and that will pay dividends down the road when the world returns to normal.
Check out more boxing news on video at the Boxing Channel 
To comment on this story in the Fight Forum CLICK HERE