The Patterson vs Johansson Fight That Could Never Happen Now as it Did Then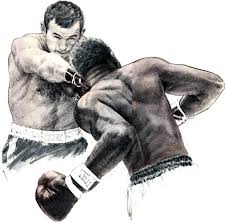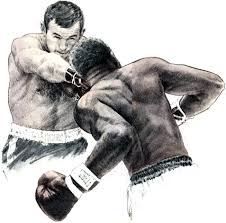 Dr. Margaret Goodman, the Las Vegas-based neurologist and former chief ringside physician for the Nevada State Athletic Commission, has never seen the tape of the first of three Floyd Patterson-Ingemar Johansson fights, which took place on June 26, 1959, in Yankee Stadium. But she has heard the details of the remarkable third round of that heavyweight championship bout and, as a tireless crusader for increased safety in boxing, she never does want to see it.
The mere idea of Patterson, the about-to-be-dethroned champ, being floored seven times in a single round, and clearly discombobulated after the first of those floorings, is enough to make the good doctor, recipient of the 2016 Boxing Writers Association of America's Barney Nagler Award for long and meritorious service to the sport, cringe.
"Seven knockdowns in one round are obviously excessive," she said. "Thank goodness times have changed, but I still see some fights now that I think should have been stopped a lot earlier. (Anthony) Joshua was knocked down four times against (Andy) Ruiz and he was quoted as saying he didn't remember what happened after the second knockdown, or maybe it was the third.
"The standard for the way things were handled back then (1959) were different. There was a greater likelihood of allowing a fighter to continue taking that kind of punishment. How horrible is that?
"Is boxing safer today? I think maybe it is in some ways. Maybe we're just more aware of what's going on. I do wish fighters were evaluated more closely. And it's not just the number of knockdowns that matter; one knockdown can be just as much of a concern in some instances. And so much depends on other factors. What is a fighter's prefight history? Was he taking multiple shots in the gym that went unrecognized that might have contributed to his being knocked down more readily in an actual fight? Then there's hereditary factors, genetic factors. There are a lot of questions that aren't always answered. I'd much rather see a fighter quickly knocked out than to suffer blow after blow after blow to the head."
This story was to have been a simple look back at a classic fight that is fast approaching its 60-year anniversary. Johansson – Sweden's once-disgraced heavyweight silver medalist at the 1952 Helsinki Olympics – would ride the momentum of those seven knockdowns, squeezed into just 123 elapsed seconds of round three, into one of the most bountiful hauls of honors any fighter has ever received for a single performance.  The handsome, charming 26-year-old, dubbed "boxing's Cary Grant" by one publication, would be awarded the Hickok Belt as the top professional athlete of 1959 as well as being named Associated Press Athlete of the Year and Sports Illustrated Sportsman of the Year. His smiling face appeared on the covers of SI and Life magazines, the latter also adorned by Ingo's smokin' hot Swedish girlfriend, Birgit Lundgren.  Johansson also snagged a role in a Hollywood movie, 1960's All the Young Men, in which he played a U.S. Marine during the Korean War, albeit one with a distinctly Scandinavian accent, in support of leads Alan Ladd and Sidney Poitier.
There would be no such high-profile victory tour for the vanquished Patterson, but he would get the better of Johansson in two subsequent bouts, each by knockout. And although both men would go on to be inducted into the International Boxing Hall of Fame, Patterson in 1991 and Johansson in 2002, the consensus among historians of the sport is that neither was as accomplished enough a heavyweight to be considered among the division's all-time best. Patterson, a quiet and dignified gentleman outside the ring, and Ingo, the international bon vivant, were probably fortunate to have found each other during a comparatively fallow period for big-man boxing.
But one person's snack is another's feast, and especially so if the feaster is an 11-year-old boy whose dad, a former pro welterweight, was treating his only son to his first fight telecast at a closed-circuit venue, then the cutting edge of late 1950s technology.  Instead of watching Patterson-Johansson at home on a small black-and-white television with a blurry screen, I got to see it in New Orleans' magnificent Saenger Theater, in black-and-white on a much larger, blurry screen. When it was over and Ingo anointed as the new king of the heavyweights, the love affair I already had with boxing, which began years earlier with Friday night telecasts of the Gillette Cavalcade of Sports, had deepened into what would become a life-long obsession.
The way a child looks at something, however, often differs from the way an adult does, and maybe even more so when your grown-up self is a veteran sports reporter who is paid to look beyond the surface to discern some greater truth, if there is one. The adrenaline rush I got at 11 from seeing seven quick knockdowns has since been tempered by asking myself the type of questions Dr. Goodman wishes would be asked and answered before any fighter steps inside the ropes.
Was Ruby Goldstein, then 51 and a former fighter who was one of high-level boxing's most distinguished referees, remiss for allowing a dazed and stumbling Patterson to keep being battered as if he were a human piñata? By today's more stringent safety standards, absolutely. Johansson was a fighter of relatively limited skills, but he was possessed of an overhand right so powerful that it bore three nicknames – the "Hammer of Thor," "Ingo's Bingo" and, when spoken in English coated by Johansson's Swedish accent, "Toonder and Lightning," the toonder a reference to thunder. When the challenger came straight down the pike with that three-headed monster of a right and it landed flush to the jaw, Patterson went down as he were a ship at port's dropped anchor.
Floyd beat the count, but he was so hurt and flummoxed that he thought the round was over. He turned to scuffle back to his corner, presenting the opportunity for Johansson to run up alongside him and score knockdown No 2 with an uncontested left hook to the side of the head, followed up by a right to the back of the head. After that the fight resembled a basketball game, with Ingo making like Boston Celtics guard Bob Cousy and bouncing Patterson up and down off the canvas. This went on until even Goldstein had seen enough and waved off the massacre after an elapsed time of 2 minutes, 3 seconds.
It should be noted that Goldstein, a 1994 inductee into the IBHOF, was the referee for the March 24, 1962, death match in which Benny "Kid" Paret, hung up on the ropes in the 12th round, was pummeled into unconsciousness by Emile Griffith's blistering, two-handed attack. He remained in a coma until his death 10 days later. Goldstein, remorseful that he was slow to react to Paret's fast-worsening circumstances, never again served as the third man in the ring. I wonder if, in retrospect, he had misgivings about allowing the third round of Patterson-Johansson I to continue past a point when it was obvious to everyone, even an 11-year-old boy in a movie theater in New Orleans, that the champion had nothing left to give, much less any hope of mounting a miraculous comeback.
You also wonder whether Patterson and Johansson, if they could have peered into the future and seen how their lives would eventually play out, would still have chosen to make their mark in a blood sport that demands so much, and sometimes all, of its participants. Probably they would have; asked the same question, Muhammad Ali, his voice all but stilled by Parkinson's Syndrome, said he wouldn't have changed anything about a life lived larger than most people could ever imagine. Told once that he held the dubious record of being knocked down 17 times in heavyweight title bouts, nine of those coming against Johansson, Patterson said, "That's true, but I also hold the record for getting up the most times."
Floyd Patterson was 71 when he passed away on May 11, 2006, in New Paltz, N.Y. A two-term head of the New York State Athletic Commission, he resigned that post years earlier when subordinates began to notice that their boss could no longer remember the name of his secretary, or even that of his wife. Alzheimer's disease had had the chilling effect of erasing most of his memories even before prostate cancer served to hasten the 10-count he never received from the recalcitrant Goldstein that fateful summer night in 1959.
Johansson's death, at 76 on Jan. 30, 2009, in a nursing home in Kungsbacka, Sweden, mirrored that of his onetime arch-rival. Like Patterson, he spent his earthly championship rounds in a sort of netherworld, slipping ever deeper into the dark cave of Alzheimer's and dementia. Ingo was too ill to attend his IBHOF induction, and he was two years gone when his hometown of Gothenburg unveiled a statue of him in 2011, outside the Ullevi stadium where, on Sept. 14, 1958, he had earned the shot at Patterson's title by scoring a first-round knockout of highly ranked American contender Eddie Machen, before 53,615 screaming Swedes.
It is a testament to the unifying bonds of boxing that two men who had taken each other to hell and back could later become fast friends, forever to be linked in death as they for so long were linked in life. That is not always the case, of course, but then almost from the beginning Floyd and Ingo seemed to recognize that they were more alike than different, two sides of the same coin, too similar in many ways to be separated by skin color, lifestyle or an ocean.
Check out more boxing news on video at The Boxing Channel
To comment on this story in The Fight Forum CLICK HERE
Fast Results from Las Vegas: Tyson Fury Overcomes Doughty Otto Wallin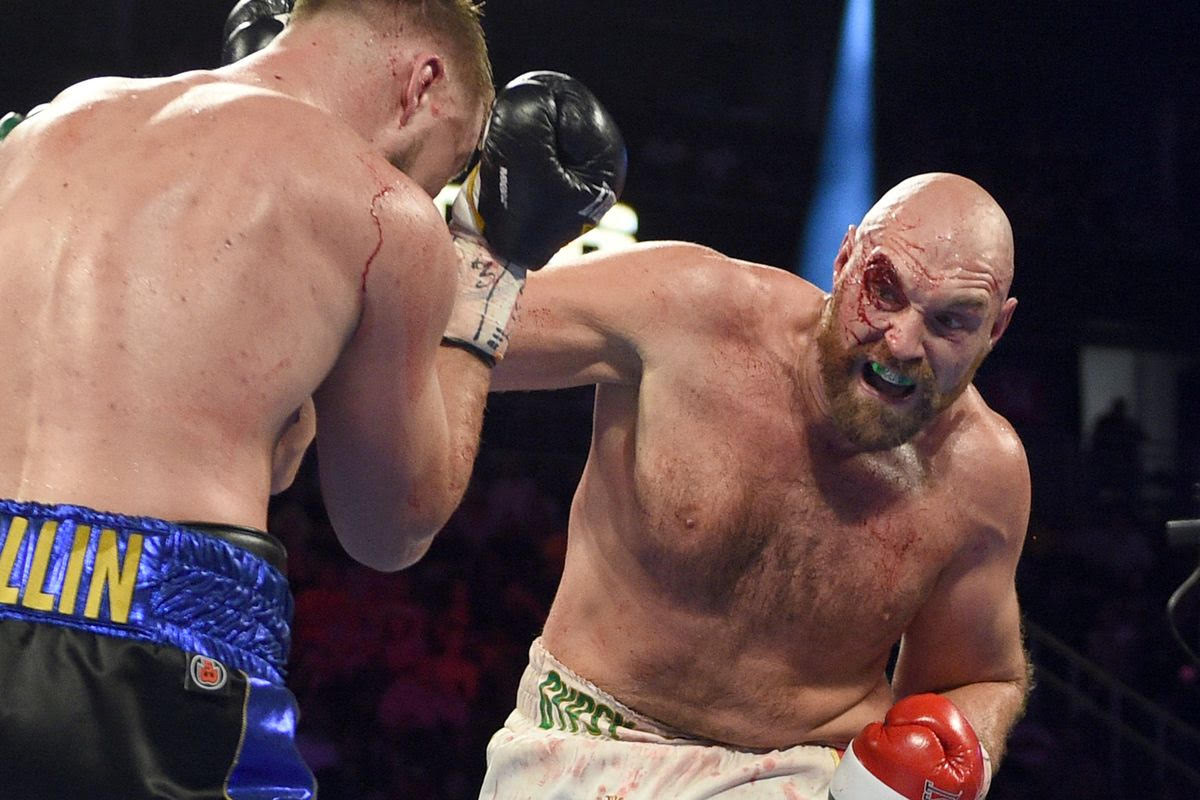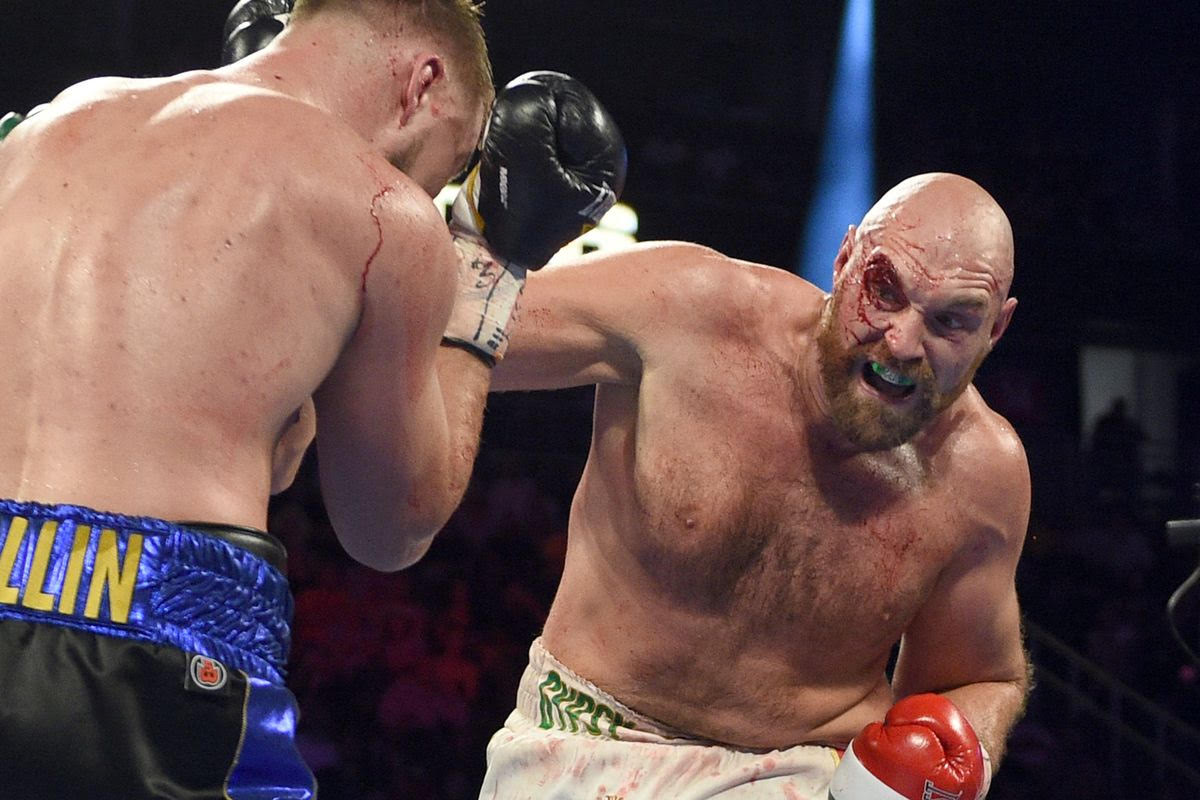 LAS VEGAS, NV — Otto Wallin proved to be a more formidable opponent than Tyson Fury's last victim, Tom Schwarz, by a long shot. One could sense that this wouldn't be a walkover for the Gypsy King when Wallin backed Fury into a neutral corner in round two and got off a good volley of punches.
Wallin opened what became a very nasty gash over Fury's right eye in round four. Fury pawed at it continually throughout the fight which went the full distance. Fury seemed to think that the cut resulted from a clash of heads, but the replay indicated otherwise. Near the end of round six, Wallin rubbed the cut with the laces of his gloves, earning a stern but silent rebuke from Fury and referee Tony Weeks who did not deduct a point.
Fury prefers to fight off the back foot until he has his opponent hurt, but with the cut he fought with more of a sense of urgency, pressing forward. The fight turned messy over the final third as the contest turned into somewhat of a hug-fest.
Wallin, who came in undefeated (20-0), landed some hard shots in the final round, but by then he needed a knockout to win. The final scores were 116-112, 117-111, and 118-110. The 118-110 tally was overly severe, distorting the fact that this was a hard fight for the Gypsy King  who improved his ledger to 29-0-1.
The promoters say the rematch with Deontay Wilder, the second bout of a planned trilogy, is set for February but Wallin may have wrecked those plans. It would seem that Fury will need more time to heal that cut.
Co-Feature
Based on raw numbers, it figured that the fight between defending WBO world 122-pound champion Emanuel Navarrete and Juan Miguel Elorde would be competitive. Both had identical records (28-1) and both were riding long winning streaks; 23 straight wins for Navarrete and 18 straight for Elorde. But the son of Filipino boxing legend Flash Elorde was out of his league. Navarette, who is a big featherweight, was too strong for him. Near the end of round three, Elorde received a standing 8-count when he landed against the ropes, which kept him upright. Twenty-six seconds into the next round it was all over, with referee Russell Mora halting the bout to protect Elorde from taking more punishment.
The victorious Navarette, from Mexican City, was making the third defense of the title he won from Isaac Dogboe. Las Vegas hasn't been good to Elorde whose lone prior defeat came at nearby Mandalay Bay in a 4-round contest.
Other Bouts
In a mild upset, Jose Zepeda, won a 10-round unanimous decision over Jose Pedraza. A 2008 Olympian for Puerto Rico and former two-division belt-holder, Pedraza declined to 26-3.
Zepeda (33-2), a native Californian who entered the ring draped in the Mexican flag, did his best work early and late. In the middle rounds it appeared that Pedraza was taking control with superior marksmanship but he couldn't sustain it. The seventh round was furious as were the waning moments of the 10th. All three judges had it 97-93.
In an 8-round featherweight bout, Isaac Lowe, a fellow Traveler and stablemate of Tyson Fury, remained undefeated with an 8-round unanimous decision over Mexico City's Ruben Hernandez. The scores were 78-74 and 77-75 twice.
Lowe, who showed good boxing skills but isn't a hard puncher, improved to 19-0-2 (6 KOs). Hernandez falls to 25-5-2.
In the first walk-out fight, Guido Vianello, a 6'4″, 240-pound heavyweight from Rome, Italy, improved to 5-0 (5 KOs) at the expense of Cassius Anderson,  a 35-year-old former Toledo U. linebacker, whose corner pulled him out after the fourth round. Vianello knocked Anderson down in the first few seconds of the fight, but Anderson wasn't of a mind to leave that quick.
Check out more boxing news on video at The Boxing Channel  
To comment on this story in The Fight Forum CLICK HERE
Fast Results from The Big Apple: Haney, Hunter, and Serrano Win Handily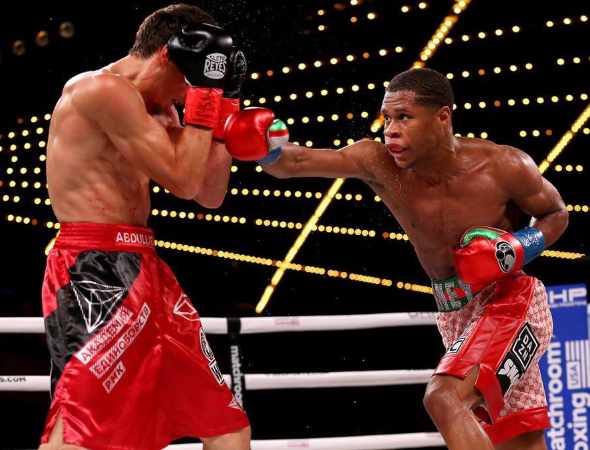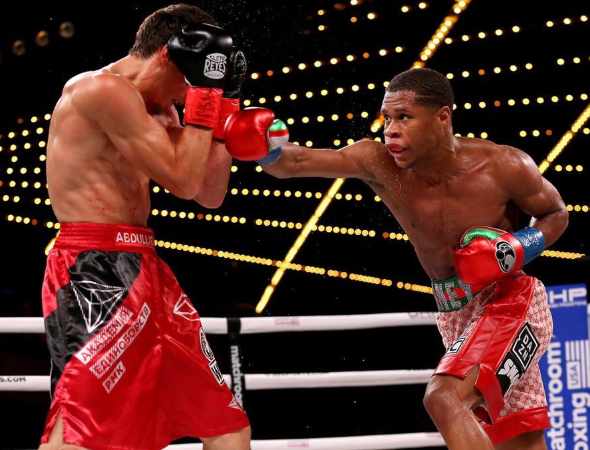 Eddie Hearn's Matchroom Promotions was at the Hulu Theater at Madison Square Garden tonight with a 10-bout card that produced no surprises. In the featured bout, 20-year-old lightweight Devin Haney stayed on course for a hoped-for showdown with Vassiliy Lomachenko with a dominant performance over Russia's little-known Zaur Abdullaev. The fight was stopped after four one-sided rounds with Abdullaev apparently suffering from a fractured cheekbone.
Haney (23-0, 15 KOs) was far more athletic. Abdullaev, who brought an 11-0 record into his U.S. debut, had trouble handling Haney's speed and was simply overwhelmed by Haney who was the far busier fighter.
Co-Features
Amanda Serrano, who has won more titles in more weight classes than Carter has pills, added the WBO world featherweight title to her dossier with a lopsided decision over fellow Brooklynite Heather Hardy. This fight appeared that it would end early; Serrano's punches were harder and cleaner. But Hardy, seven years older at age 37, refused to fold and actually did some good work in the middle rounds. The scores were 98-92 and 98-91 twice.
Serrano improved to 37-1-1. It was the first pro loss for Hardy who fell to 22-1.
In a 12-round heavyweight contest, Michael Hunter won his sixth straight, improving to 18-1, with a 12-round unanimous decision over previously unbeaten Sergey Kuzmin (15-1). Although Hunter is on a nice roll, this was not the sort of performance likely to win him any new fans. His best moment came in round five when he knocked Kuzmin flat on his back with a left hook, but from that point on, he seemed content to out-box his Russian adversary who had a 37-pound advantage but was conspicuously slower.
All three judges had it 117-110. After the bout, Hunter expressed a desire to fight Alexander Povetkin on the Joshua-Ruiz II card in Saudi Arabia on Dec. 7.
Other Bouts of Note
It was a mixed bag for 32-year-old Azerbaijan heavyweight Magomedrasul Majidov who won his pro debut with a fourth-round stoppage of Ed Fountain but didn't look all that impressive. More was expected of Majidov, a three-time world amateur champion who scored three wins over Anthony Joshua as an amateur. Fountain (12-7) lost his fifth straight.
Kazakh welterweight Daniyar Yeleussinov, a two-time Olympian and 2016 gold medalist, looked sensational while advancing his record to 8-0 (4) with a vicious first-round knockout of Reshard Hicks. Yeleussinov, who is trained by his father, knocked Hicks to the the canvas twice, the second of which left Hicks face down, forcing referee Ron Lipton to end the bout without the formality of a count. It was the first pro loss for Hicks (12-1-1), a 34-year-old ex-G.I. from Killeen, Texas.
Uzbekistan super bantamweight Murodjon Akhmadaliev improved to 7-0 (6 KOs) with a fourth-round stoppage of Columbia's Wilner Soto (22-7). This was a stay-busy fight for the 24-year-old former Olympian who was originally slated to challenge WBA/IBF title-holder Daniel Roman who had to withdraw because of a shoulder injury suffered in sparring. Akhmadaliev toyed with the overmatched Soto for the first three rounds before unleashing the heavy artillery.
Photo credit: Ed Mulholland / Matchroom Boxing USA
Check out more boxing news on video at The Boxing Channel  
To comment on this story in The Fight Forum CLICK HERE
The Avila Perspective, Chap. 64: New York, L.A. and Las Vegas Fights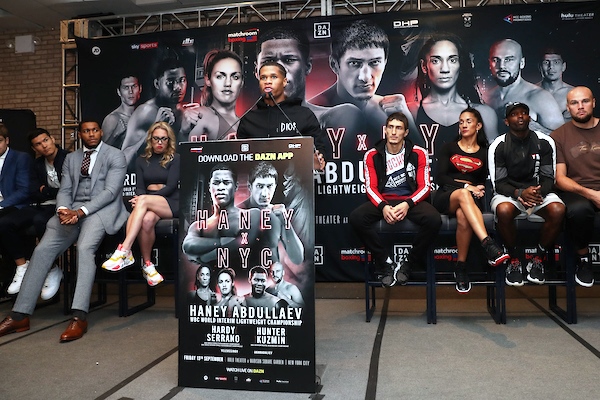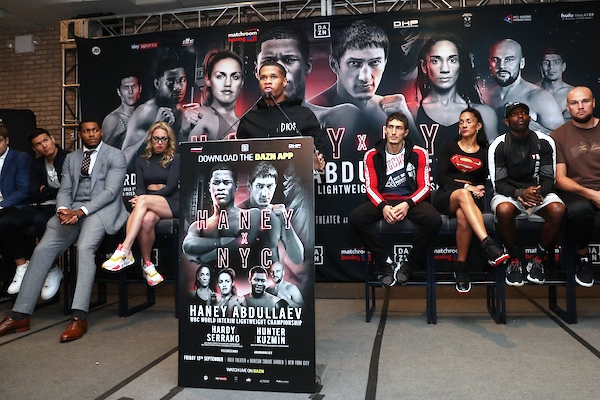 Three of the Big Four promoters in prizefighting are showcasing young and old talent in the next two days from New York City to Los Angeles.
Las Vegas speedster Devin Haney (22-0, 14 KOs) headlines a Matchroom Boxing card at Madison Square Theater in Manhattan when he fights Russia's Zaur Abdullaev (11-0, 7 KOs) on Friday Sept. 13. DAZN will stream the boxing card live.
Dripping with talent, Haney has passed all of the tests so far in his brief and meteoric career including rumbling with Mexican tough guys like Juan Carlos Burgos and obliterating Antonio Moran.
But like all prospects and young contenders, the big question always is can he take a punch?
Abdullaev only has 11 fights and though he has seven knockouts, he has yet to face quality opposition. But his backers say he can fight and that's all anyone can hope to see.
The fight native New Yorkers and followers of the female fight world want to see is the world title clash between Brooklyn's undefeated Heather Hardy (22-0, 4 KOs) defending the WBO featherweight strap against Brooklyn's Amanda Serrano (36-1-1, 27 KOs) in a 10 round semi-main event. It's going to be a dog fight.
The WBC Diamond belt will be another reward for the winner. Both girls will be tested for PEDs in accordance with WBC rules. For years female prizefighters were virtually untested.
Los Angeles – Munguia, Ryan Garcia and Franchon
WBO super welterweight titlist Jaime Munguia (33-0, 26 KOs) of Mexico meets Ghana's Patrick Alottey (40-3, 30 KOs) in a world title challenge on Saturday Sept. 14, at Dignity Health Sports Park in Carson, California. This Golden Boy Promotions card will be part of the Mexican Independence Day weekend celebration and also Munguia's last foray in the 154-pound weight class.
Munguia's lack of defense has made every fight a 50/50 proposition and even this fight against the shorter Alottey could test the Mexican's chin. The Ghanaian fighter has 30 knockouts on his resume with all wins taking place in Africa.
Ryan "The Flash" Garcia will bring his army of fans to the outdoor arena once again. The last time he fought at Dignity Health Sports Park it was called the StubHub Center and he slugged it out with the very tough Puerto Rican Jayson Velez in May 2018. That night the slender fighter won by decision.
For about a year Garcia has been working under the tutelage of Eddy Reynoso in San Diego and the change was immediately visible. The head trainer for Saul "Canelo" Alvarez has tweaked Garcia's defense and head movement. He has also polished the vast offensive weaponry the 21-year-old possesses. He's still learning.
Garcia (18-0, 15 KOs) faces Philadelphia's Avery Sparrow (10-1, 3 KOs) who walked into a press conference in the Golden Boy Building with singing artist Usher. The big question most are asking is if Usher will be present at the fight on Saturday. That's not Garcia's query.
"Avery can fight and he's got skills. He's no pushover," said Garcia, adding that the lightweight division is growing with young budding talent. "The new generation is here with Teofimo (Lopez), Devin (Haney), I'm excited and want to be in the best fights to show that I belong with these other fighters."
Also on the boxing card will be women's WBC super middleweight titlist Franchon Crews (5-1) who was scheduled to face WBC heavyweight world titlist Alejandra Jimenez who was dropping down in weight for the fight. But the Mexican fighter was allegedly unable to obtain a visa and could possibly be replaced by former foe Maricela Cornejo (13-3, 5 KOs).
Crews defeated the classy Cornejo for the world title a year ago in Las Vegas and the Mexican middleweight had sought a rematch. Cornejo was recently posting photos of herself in Israel on her social media accounts. If she does accept the fight it definitely shows Cornejo has confidence and that's a big plus. One of the remarkable things from their first fight was watching Cornejo clapping and congratulating Crews in earnest after their fight. It was a sincere gesture and made me appreciate Cornejo even more.
Las Vegas – Fury, Navarrete
England's Tyson Fury, the lineal heavyweight world champion, meets Sweden's Otto Wallin in a battle of undefeated heavyweights at T-Mobile Arena in Las Vegas, Nevada on Saturday Sept. 14. ESPN will show and stream the Top Rank fight card.
Fury (28-0-1, 20 KOs) who defeated Wladimir Klitschko for all of the titles back in November 2015, then dropped out of the boxing world for a few years. He has returned to activity and is changing the boxing landscape with both his charisma and fighting skills. His fight against Deontay Wilder last December was one of the more memorable heavyweight world title fights in the last 30 years.
Wallin (20-0, 13 KOs) is a southpaw who can crack as almost all heavyweights can. He's represented by Mark Taffet, the former HBO executive who leads the career of female star Claressa Shields. That should say a lot about the big Swede's talent.
Also on the card is Emanuel Navarrete (28-1, 24 KOs), the WBO super bantamweight titlist who fought just last month in Los Angeles against Francisco De Vaca and knocked him out in three rounds. He defeated Isaac Dogboe for the title last December and then stopped him in the rematch last May. He's an angular looking fighter with long arms, incredible stamina and knockout power. He will be meeting Juan Miguel Elorde (28-1, 15 KOs) of the Philippines in another world title fight.
Fights to Watch
Fri. 6 p.m. PT DAZN – Devin Haney (22-0) vs Zaur Abdullaev (11-0), Heather Hardy (22-0) vs Amanda Serrano (36-1-1).
Sat. 3:30 p.m. PT DAZN – Jaime Munguia (33-0) vs Patrick Alottey (40-3), Ryan Garcia (18-0) vs Avery Sparrow (10-1), Franchon Crews (5-1) vs Maricela Cornejo (13-3).
Sat. 4:30 p.m. PT ESPN+ – Tyson Fury (28-0-1) vs Otto Wallin (20-0), Emanuel Navarrete (28-1) vs Juan Miguel Elorde (28-1).
Photo credit: Ed Mulholland / Matchroom Boxing
Check out more boxing news on video at The Boxing Channel  
To comment on this story in The Fight Forum CLICK HERE