The Patterson vs Johansson Fight That Could Never Happen Now as it Did Then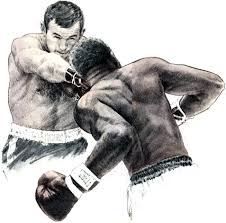 Dr. Margaret Goodman, the Las Vegas-based neurologist and former chief ringside physician for the Nevada State Athletic Commission, has never seen the tape of the first of three Floyd Patterson-Ingemar Johansson fights, which took place on June 26, 1959, in Yankee Stadium. But she has heard the details of the remarkable third round of that heavyweight championship bout and, as a tireless crusader for increased safety in boxing, she never does want to see it.
The mere idea of Patterson, the about-to-be-dethroned champ, being floored seven times in a single round, and clearly discombobulated after the first of those floorings, is enough to make the good doctor, recipient of the 2016 Boxing Writers Association of America's Barney Nagler Award for long and meritorious service to the sport, cringe.
"Seven knockdowns in one round are obviously excessive," she said. "Thank goodness times have changed, but I still see some fights now that I think should have been stopped a lot earlier. (Anthony) Joshua was knocked down four times against (Andy) Ruiz and he was quoted as saying he didn't remember what happened after the second knockdown, or maybe it was the third.
"The standard for the way things were handled back then (1959) were different. There was a greater likelihood of allowing a fighter to continue taking that kind of punishment. How horrible is that?
"Is boxing safer today? I think maybe it is in some ways. Maybe we're just more aware of what's going on. I do wish fighters were evaluated more closely. And it's not just the number of knockdowns that matter; one knockdown can be just as much of a concern in some instances. And so much depends on other factors. What is a fighter's prefight history? Was he taking multiple shots in the gym that went unrecognized that might have contributed to his being knocked down more readily in an actual fight? Then there's hereditary factors, genetic factors. There are a lot of questions that aren't always answered. I'd much rather see a fighter quickly knocked out than to suffer blow after blow after blow to the head."
This story was to have been a simple look back at a classic fight that is fast approaching its 60-year anniversary. Johansson – Sweden's once-disgraced heavyweight silver medalist at the 1952 Helsinki Olympics – would ride the momentum of those seven knockdowns, squeezed into just 123 elapsed seconds of round three, into one of the most bountiful hauls of honors any fighter has ever received for a single performance.  The handsome, charming 26-year-old, dubbed "boxing's Cary Grant" by one publication, would be awarded the Hickok Belt as the top professional athlete of 1959 as well as being named Associated Press Athlete of the Year and Sports Illustrated Sportsman of the Year. His smiling face appeared on the covers of SI and Life magazines, the latter also adorned by Ingo's smokin' hot Swedish girlfriend, Birgit Lundgren.  Johansson also snagged a role in a Hollywood movie, 1960's All the Young Men, in which he played a U.S. Marine during the Korean War, albeit one with a distinctly Scandinavian accent, in support of leads Alan Ladd and Sidney Poitier.
There would be no such high-profile victory tour for the vanquished Patterson, but he would get the better of Johansson in two subsequent bouts, each by knockout. And although both men would go on to be inducted into the International Boxing Hall of Fame, Patterson in 1991 and Johansson in 2002, the consensus among historians of the sport is that neither was as accomplished enough a heavyweight to be considered among the division's all-time best. Patterson, a quiet and dignified gentleman outside the ring, and Ingo, the international bon vivant, were probably fortunate to have found each other during a comparatively fallow period for big-man boxing.
But one person's snack is another's feast, and especially so if the feaster is an 11-year-old boy whose dad, a former pro welterweight, was treating his only son to his first fight telecast at a closed-circuit venue, then the cutting edge of late 1950s technology.  Instead of watching Patterson-Johansson at home on a small black-and-white television with a blurry screen, I got to see it in New Orleans' magnificent Saenger Theater, in black-and-white on a much larger, blurry screen. When it was over and Ingo anointed as the new king of the heavyweights, the love affair I already had with boxing, which began years earlier with Friday night telecasts of the Gillette Cavalcade of Sports, had deepened into what would become a life-long obsession.
The way a child looks at something, however, often differs from the way an adult does, and maybe even more so when your grown-up self is a veteran sports reporter who is paid to look beyond the surface to discern some greater truth, if there is one. The adrenaline rush I got at 11 from seeing seven quick knockdowns has since been tempered by asking myself the type of questions Dr. Goodman wishes would be asked and answered before any fighter steps inside the ropes.
Was Ruby Goldstein, then 51 and a former fighter who was one of high-level boxing's most distinguished referees, remiss for allowing a dazed and stumbling Patterson to keep being battered as if he were a human piñata? By today's more stringent safety standards, absolutely. Johansson was a fighter of relatively limited skills, but he was possessed of an overhand right so powerful that it bore three nicknames – the "Hammer of Thor," "Ingo's Bingo" and, when spoken in English coated by Johansson's Swedish accent, "Toonder and Lightning," the toonder a reference to thunder. When the challenger came straight down the pike with that three-headed monster of a right and it landed flush to the jaw, Patterson went down as he were a ship at port's dropped anchor.
Floyd beat the count, but he was so hurt and flummoxed that he thought the round was over. He turned to scuffle back to his corner, presenting the opportunity for Johansson to run up alongside him and score knockdown No 2 with an uncontested left hook to the side of the head, followed up by a right to the back of the head. After that the fight resembled a basketball game, with Ingo making like Boston Celtics guard Bob Cousy and bouncing Patterson up and down off the canvas. This went on until even Goldstein had seen enough and waved off the massacre after an elapsed time of 2 minutes, 3 seconds.
It should be noted that Goldstein, a 1994 inductee into the IBHOF, was the referee for the March 24, 1962, death match in which Benny "Kid" Paret, hung up on the ropes in the 12th round, was pummeled into unconsciousness by Emile Griffith's blistering, two-handed attack. He remained in a coma until his death 10 days later. Goldstein, remorseful that he was slow to react to Paret's fast-worsening circumstances, never again served as the third man in the ring. I wonder if, in retrospect, he had misgivings about allowing the third round of Patterson-Johansson I to continue past a point when it was obvious to everyone, even an 11-year-old boy in a movie theater in New Orleans, that the champion had nothing left to give, much less any hope of mounting a miraculous comeback.
You also wonder whether Patterson and Johansson, if they could have peered into the future and seen how their lives would eventually play out, would still have chosen to make their mark in a blood sport that demands so much, and sometimes all, of its participants. Probably they would have; asked the same question, Muhammad Ali, his voice all but stilled by Parkinson's Syndrome, said he wouldn't have changed anything about a life lived larger than most people could ever imagine. Told once that he held the dubious record of being knocked down 17 times in heavyweight title bouts, nine of those coming against Johansson, Patterson said, "That's true, but I also hold the record for getting up the most times."
Floyd Patterson was 71 when he passed away on May 11, 2006, in New Paltz, N.Y. A two-term head of the New York State Athletic Commission, he resigned that post years earlier when subordinates began to notice that their boss could no longer remember the name of his secretary, or even that of his wife. Alzheimer's disease had had the chilling effect of erasing most of his memories even before prostate cancer served to hasten the 10-count he never received from the recalcitrant Goldstein that fateful summer night in 1959.
Johansson's death, at 76 on Jan. 30, 2009, in a nursing home in Kungsbacka, Sweden, mirrored that of his onetime arch-rival. Like Patterson, he spent his earthly championship rounds in a sort of netherworld, slipping ever deeper into the dark cave of Alzheimer's and dementia. Ingo was too ill to attend his IBHOF induction, and he was two years gone when his hometown of Gothenburg unveiled a statue of him in 2011, outside the Ullevi stadium where, on Sept. 14, 1958, he had earned the shot at Patterson's title by scoring a first-round knockout of highly ranked American contender Eddie Machen, before 53,615 screaming Swedes.
It is a testament to the unifying bonds of boxing that two men who had taken each other to hell and back could later become fast friends, forever to be linked in death as they for so long were linked in life. That is not always the case, of course, but then almost from the beginning Floyd and Ingo seemed to recognize that they were more alike than different, two sides of the same coin, too similar in many ways to be separated by skin color, lifestyle or an ocean.
Check out more boxing news on video at The Boxing Channel
To comment on this story in The Fight Forum CLICK HERE
Star Power: Ryan Garcia and Oscar De La Hoya at West L.A. Gym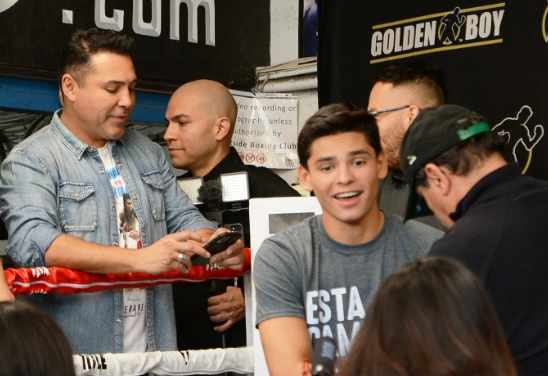 Under gray skies and very cool temperatures Ryan Garcia arrived with his father and a couple of others at the Westside Boxing Gym on Monday.
Waiting anxiously were about 100 people comprised of mostly videographers and photographers who had already surrounded Oscar De La Hoya who arrived earlier.
Golden Boy greets the Flash.
Garcia (19-0, 16 KOs) has a fight coming soon against Nicaragua's Francisco Fonseca (25-2-2, 19 KOs) on Friday Feb. 14, at the Honda Center in Anaheim, Calif. The Golden Boy Promotions show will be streamed by DAZN.
"I'm ready for this fight," Garcia said quickly.
Some say it has been a rather quick road for the fighter from Victorville known as the Flash. But if you ask Garcia, it has been too slow.
"I think he (Garcia) will be world champion this year," said De La Hoya, CEO of Golden Boy Promotions.
Years ago, De La Hoya arrived with the same hoopla but his travel to the top seemed even faster. By his fifth pro fight he was matched with Jeff Mayweather. Yes, those Mayweathers. At the time Mayweather had fought 27 professional fights and had only two losses. De La Hoya stopped him in four.
In his eighth pro fight De La Hoya met Troy Dorsey, a tough Texan who had formerly held the IBF featherweight world title and who would later win a super featherweight world title. De La Hoya stopped him in one round.
Two years after winning the Olympic gold medal in Barcelona, the Golden Boy met WBO world titlist Jimmi Bredahl at the Olympic Auditorium and after dropping him several times finally stopped him in the 10th round. It was De La Hoya's first world title and he was 21 years old.
Garcia is now 21 and ready to test the loaded lightweight division waters. For a while he was fighting at super featherweight, a division loaded with talent. But lightweights are the Maginot Line when it comes to boxing's big hitters. Everybody can punch in the 135-pound limit lightweight division.
When Garcia met Romero Duno last November in Las Vegas many expected the speedy Victorville fighter to get his come-uppance. Instead the lanky slugger lit up the strong Filipino fighter and dropped him into the ether world.
It was mesmerizing stuff.
Now he's back with a load of credibility after shutting down detractors with his devastating knockout win over Duno. It wasn't supposed to be that easy. Just like it wasn't supposed to be that easy when De La Hoya raced by world champions like Secretariat did in the Kentucky Derby decades ago. It's not supposed to be that easy, but for some it truly is.
Garcia seems to be headed for a journey so remarkable that he has other world champions like WBC titlist Devin Haney eyeing him for their next challenges. It barely results in a yawn for the fighter who will be facing a very credible foe in Fonseca next month.
"I'm not even the champion and he's calling me out," said Garcia with a whatever kind of look.
Other fighters and promoters can see what Garcia represents and want to get a slice of it too. Its intangible yet most of the boxing world can sense something is coming and Garcia might be part of it.
That's called star power and it's difficult to explain. Some have it, many want it and others have no chance of ever attaining it.
Time will tell how far Garcia's star power will venture.
One man lived that life and, in a sense, still lives that life and that is De La Hoya. Even he senses a déjà vu moment with Garcia.
"It's why we made him one of the richest young prospects in boxing today," De La Hoya said.
Expect several thousand ardent fans of Garcia to fill the seats on Valentine's Day. How else can you explain it but, star power.
Photo credit: Al Applerose
Check out more boxing news on video at The Boxing Channel 
To comment on this story in The Fight Forum CLICK HERE
The Much Maligned Boxing Judge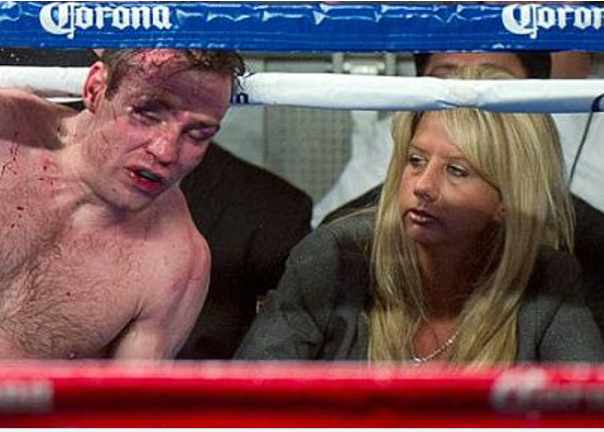 Identifying bad judges is pretty easy, but that's not the purpose of this essay. To the contrary, the emphasis here is on fine judges and the many ways they can be unjustly labeled.
Now to name a few of today's best boxing judges is to risk excluding others and that's admittedly unfair but space is limited. Quickly coming to mind, however, are these judges, all currently active: Julie Lederman (pictured), Steve Weisfeld, Glen Feldman, Dave Moretti, Glenn Trowbridge, Joe Pasquale, Max DeLuca, Hubert Earle, Benoit Roussel, Burt Clements, Tom Shreck, Don Trella, Gary Ritter, Patricia Morse Jarman, Pat Russell, Pinit Prayadsab, Raúl Caiz, Jr., and, of course, the South African legend Stanley Christodoulou.
Boxing judges, unlike referees, are far easier to criticize because the average fan can score a fight using whatever criteria he or she selects and the view from a TV is pretty good. This contributes to the relatively high number of maligned boxing judges.
Being a boxing judge is a thankless endeavor where attention is received only when something controversial and/or negative occurs. And once a judgment is made about a bad job, that judgment influences future perceptions. This is known as "confirmation bias." Thus, when a boxing commentator like the outspoken Teddy Atlas launches into a tirade over the judging in a particular fight, he may be engaging in confirmation bias—a kind of "See, I told you so." Those who might criticize based on one poor performance may feel their suspicion of botched judging confirmed. Thus, the tagged judges' reputation may be unfairly tarnished in the future.
Out-of-town fighters going to Texas to fight are aware of the risks based on the post-fight rants of Paulie Malignaggi, Atlas and many others. If so, the solution is to use out-of-state judges or avoid Texas altogether.
However, even if the elite judges make one "questionable" call in the eyes of fans and certain boxing commentators (or have an off day) they can be labeled as "bad" judges while simultaneously serving as a dart board for Bob Arum's selective and quite nasty criticism.
No judge is perfect. They deal in a subjective world. Even the legendary IBHOF member Harold Lederman was harshly criticized for his scoring in the Maurice Harris vs. Larry Holmes fight in 1997. And even his daughter Julie has served as a target for some of Arum's especially vicious criticism.
"She is the best judge in our household"—Harold Lederman
"You have people who are concentrating for three minutes, looking at nothing but the gloves, nothing but the punches. These other people are judging from TV, they're judging from twenty rows back and they don't see the effect of the punches all the time."—Dave Moretti
"It's easy to criticize boxing judges. But it's not that easy to have a sound basis for the criticism. One needs to see the fight the judge saw to be in the position to rightly criticize. Critics should temper criticisms in light of the situations boxing judges are in when judging fights. And judges should likewise understand criticisms from the boxing public, however baseless these may seem.  — Epifanio M. Almeda (PhilBoxing.com)
All it Takes Is One Bad Apple
In the recent Jesse Hart vs. Joe Smith Jr. fight in Atlantic City, a somewhat under-the-radar judge got it terribly wrong. Two judges had it for Smith, 98-91 and 97-92, but the judge in question shockingly had it 95-94 for Hart. He was scorned, tagged, labeled and God knows what. The criticism took on the form of a tsunami.
Bob Arum had this to say: "That judge should be banned from scoring a fight — and I promote Hart. How can you ever score that fight for Jesse Hart? It was a terrific fight, good for boxing, good action fight, and then you have a damn judge who screws it up."
Al Bernstein added, "…He should never be allowed to judge again…."
A look at his past record as a judge since 2015 doesn't reveal anything untoward. But he has now been tagged—perhaps justifiably so– and if he somehow gets through this and slips up again, there will be one very loud "we told you so." It's the nature of the beast; It is what it is.
The Pod Index
Matt Podgorski (a former boxing official) came up with a method to evaluate the performance of judges worldwide by determining the percentage of instances his or her scores are consistent with the other two judges working the same fights. He calls it the Pod Index. "Boxing and MMA judges are often evaluated based on whether or not they have had a controversial decision. This is a poor way to assign and regard professional judges," said Podgorski in an interview with former RingTV editor Michael Rosenthal.
Matt's Disclaimer: "We are not claiming that judges with low Pod Index scores are bad judges. The Pod Index is simply a measurement of round by round variation compared to other judges."
Steve Farhood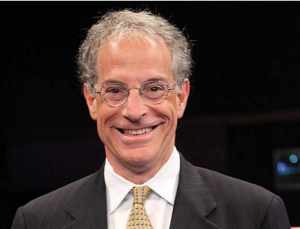 2017 International Boxing Hall of Fame inductee Steve Farhood is a lot of things: analyst, writer, historian, commentator, and an unofficial judge for Showtime fights. If he were an official judge, his Pod Index score would undoubtedly be at or near the top. Steve seldom gets it wrong. He may be the best "judge" in boxing.
Ted Sares can be reached at tedsares@roadrunner.com
Check out more boxing news on video at The Boxing Channel 
To comment on this story in The Fight Forum CLICK HERE
Jeison Rosario's Upset Crowns This Week's Edition of HITS and MISSES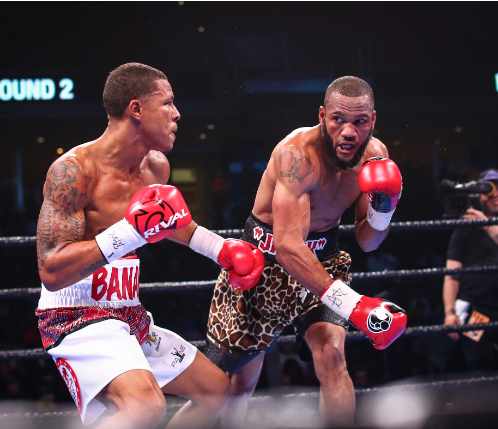 Jeison Rosario's Upset Crowns This Week's Edition of HITS and MISSES
There's was plenty of quality boxing action available for consumption this weekend in the U.S., particularly on Saturday evening because of the competing cards put forth by the PBC on FOX and Top Rank on ESPN crews that have become chief rivals over the last year.
But what were the biggest HITS and MISSES seen during all the action? That's what you're here to find out.
HIT – Jeison Rosario's Stunning Upset for two 154-pound Titles
Nobody expected Rosario to dethrone unified junior middleweight champion Julian Williams on Saturday night at the Liacouras Center in Philadelphia, but the massive underdog overcame the situation anyway to vault himself to the top of the junior middleweight division. The thing that saved Rosario was his stunning power. He appeared to be out-boxed by Williams early in the fight, but that changed just as soon as it became apparent Williams was slinging only his fists while Rosario was working with sledgehammers. Now the division has become more crowded than ever at the top with all roads amazingly leading to Rosario, the little known 24-year-old from the Dominican Republic who now owns the WBA and IBF titles.
MISS – Chris Colbert's Fail to Impress
Junior lightweight prospect Chris Colbert was given a great chance by the PBC to impress fight fans on national television on the undercard of Williams-Rosario, but the talented 23-year-old didn't make the most of the opportunity. Sure, Colbert was taking a step up in competition by taking on former world titleholder Jezreel Corrales for a vacant interim belt, but Colbert mostly came across as a talented fighter who just doesn't seem quite capable of putting it all together yet. Colbert won the fight, but it wasn't interesting or noteworthy in any way. Judging by how the PBC has worked in the past, he'll get plenty more chances to shine, but I'm not sure anyone but the people who stand to gain monetarily from the fighter's success will be looking forward to it.
HIT –  Eleider Alvarez's Epic KO of Michael Seals
Former light heavyweight titleholder Alvarez scored the early leader for knockout of the year against Seals in the main event at Turning Stone Resort Casino in Verona, New York. The fight was fairly lackluster until the explosive ending in the seventh round. It was an important victory for Alvarez, who was coming off losing his title to Sergey Kovalev via decision last February. Alvarez is 35, so it was imperative for him to get back to action and remind people he's still a viable contender in the 175-pound ranks. And there's no better way to do that in boxing than by thunderous knockout.
MISS – Felix Verdejo's Fresh Start Starts Stale
Verdejo is still only 26 years old, but after defeating Manuel Rojas in a lightweight bout at Turning Stone, the once highly regarded prospect doesn't appear to be any closer today than he was yesterday to living up to the tremendous promise he once possessed. To be completely fair to Verdejo, it was only his first fight under new trainer Ismael Salas and the fighter still has time on his side. Still, there appears to be plenty of work to do if Verdejo is ever to become a world champion. In fact, he didn't look all that materially different from the fighter who was knocked out in 2018.
HIT – Floyd Mayweather Wins Prestigious BWAA Award 
I honestly had some concern that Mayweather wouldn't win the BWAA's Fighter of the Decade award before it was announced on Friday via press release. After all, Mayweather lost the previous decade's top honor to Manny Pacquiao in 2010, and Sports Illustrated had just named Andre Ward its Fighter of the Decade winner the week prior. It's only one person's opinion, of course, but I think there would have been something wrong with Mayweather not picking up the honor at least once in the last two decades. After all, he's quite easily the generation's best overall fighter and he's transcended the sport to mainstream celebrity status, too. Congrats to Mayweather for winning the well-deserved honor.
Photo credit: Stephanie Trapp / TGB Promotions
Check out more boxing news on video at The Boxing Channel 
To comment on this story in The Fight Forum CLICK HERE