Aging Legend Manny Pacquiao Fighting Father Time as Much as Keith Thurman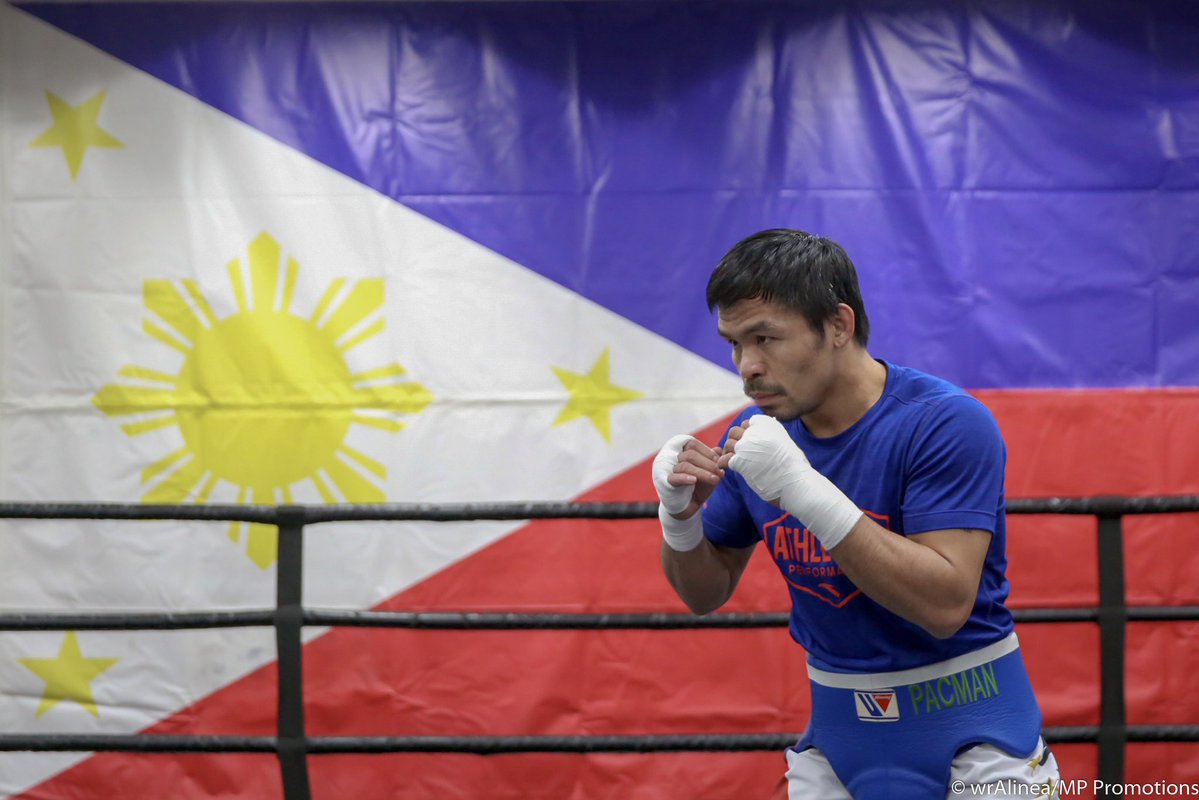 The great Sugar Ray Leonard, he of the five retirements from boxing that didn't stick, was musing about the reasons why aging boxers of all levels of accomplishment find it so difficult to quit the ring. His thoughts on the subject might not be of particular interest to another legendary fighter, 40-year-old Manny Pacquiao, who takes on WBA welterweight champion Keith Thurman, 10 years his junior and still presumably at or near the top of his game, in the PBC on Fox Pay-Per View main event on July 20 at Las Vegas' MGM Grand. But if history tells us anything about the natural laws of diminishing returns, "Pac Man" would be well-advised to take note of what Leonard said of his own personal experience.
"You always think of yourself as the best you ever were," Leonard offered. "That's human nature. And that's not just how highly successful people think. Everybody thinks that way. Most fighters come back for the money. They need another payday and there are people around them feeding their egos, telling them how good they still are, because they want a piece of the action. Maybe they come back because they really don't know anything but boxing and they're apprehensive about entering the next phase of their lives that doesn't include it.
"But even if money is not an issue, and you have other options, you never lose that belief in yourself as a fighter, particularly if you've been to the very top of the mountain. (Being retired) eats at you. It's hard to find anything else that can give you that high."
The Sugar Man, one of the finest fighters of his or any era, knows of whence he speaks. Everyone – well, almost everyone – thought he was off his rocker to try to come back after 35 months of inactivity to challenge seemingly invincible middleweight champion Marvelous Marvin Hagler on April 6, 1987. But Leonard, whose list of defeated opponents includes such stellar names as Wilfred Benitez, Thomas Hearns (against whom he was 1-0-1), Roberto Duran (2-1), and a significantly larger Donny Lalonde, reached back in time to dethrone Hagler via split decision, albeit a controversial one, in the process showing flashes of his electrifying former self.
No wonder Leonard allowed himself the luxury of believing that he was somehow immune to the bits and pieces of excellence that Father Time siphons from top-tier fighters who linger too long in a brutal profession. But then, why shouldn't he have thought that? When he shocked Hagler, Leonard was still a month shy of his 31st birthday.
It should have gloriously ended there for one of the all-time greats, just as it should have ended on a similarly high note for Muhammad Ali after his epic conquest of George Foreman in Africa. But when you've been to the very top of the mountain and remained there long enough to savor the view, it's easy to convince yourself you're still as good as you ever were. After a nearly four-year hiatus, the 35-year-old Leonard came back again on March 1, 1997, and took a frightful beating from an updated version of himself, 23-year-old WBC super welterweight champion Terry Norris, who floored him twice en route to winning a lopsided unanimous decision at Madison Square Garden. It is a testament to how much fans continued to love and believe in Leonard that he actually went off as the betting favorite that night. As was the case when a depleted Ali was battered into submission by Larry Holmes in Las Vegas, some Leonard devotees were seen weeping as they left the Garden.
There was, of course, one final act that had to be played out before Sugar Ray could come to grips with the realization that there was no more magic for him to make inside the ropes. Then a nearly 41-year-old grandfather and coming off a six-year layoff, Leonard was stopped in five rounds by light-punching Hector "Macho" Camacho on March 1, 1997, in Atlantic City.
"This is indeed my last fight, my last venture into the boxing ring," Leonard announced of the retirement that finally was written in fast-drying concrete instead of wet sand. He had been away so long that the five-year mandatory waiting period for induction into the International Boxing Hall of Fame had passed and he would be enshrined a little more than three months later in Canastota, N.Y.
Almost all truly special fighters – with the exception of Rocky Marciano, Hagler and Lennox Lewis, who stepped away while still at or near the top of their game and somehow were able to resist the urge to again lace up the gloves – yield to the temptation to try to relive past glories. Just as Napoleon had his Waterloo, a depleted Joe Louis was confronted with harsh reality in the form of the younger, powerful Marciano and Bernard Hopkins' personal Fountain of Youth at long last dried up against construction worker Joe Smith Jr.
Which brings us back to Pacquiao, the Fab Filipino who is the only fighter ever to win world championships in eight weight classes. He is a mortal-lock first-ballot Hall of Famer and a source of wonderment to those who have followed his remarkable career. Nothing that happens going forward can detract from that gleaming legacy. But consider the mounting evidence that Manny the Magnificent has been a downgraded version of himself for quite a while. The whirling dervish and three-time Boxing Writers Association of America Fighter of the Year who pummeled, among others, Oscar De La Hoya, Ricky Hatton, Marco Antonio Barrera, Erik Morales and Miguel Cotto has won only one of his last 16 bouts inside the distance, a seventh-round stoppage of Lucas Matthysse on July 15 of last year, which snapped a nine-year, 15-fight KO-less streak in which he was defeated four times, including a one-punch knockout in his fourth meeting with Juan Manuel Marquez.
The Pacquiao (61-7-2, 39 KOs) who will swap punches with Keith "One Time" Thurman (29-0, 22 KOs) remains as imperious and defiant as ever, and he points to his most recent ring appearance, a wide decision over Adrien Broner on Jan. 19, as proof that any erosion is minimal, if at all.
"I'm never scared or intimidated by any opponent," Pacquiao said of the rarity of going into a fight as an underdog. "My time is not yet over. My journey will continue. That's what I will prove on July 20.
"The feeling that I have right now, I don't feel this since the De La Hoya fight. I feel like I'm fighting with De La Hoya again. I'm excited and I like being the underdog for this fight. Sometimes in the past I became careless and overconfident because I am favored in nearly every fight. This time is different. I chose Keith Thurman because he's undefeated and I want to prove that at the age of 40 I can still beat an undefeated fighter like Keith."
Not unexpectedly, Thurman has a different vision of how his matchup with the living legend will end. "I've never lost to a fighter who's lost seven times," said Thurman, who obviously has yet to lose to anyone. "I have no intention of losing to Manny Pacquiao. I don't see him winning in any way, shape or form. He's 40, I'm 30. I want to show him I ain't Adrien Broner.
"This most likely will be Manny Pacquiao's last fight. In the welterweight division, the king was Floyd Mayweather. He is gone. The legend, Pacquiao, he's here. Come July 20, he will be gone, too."
Maybe so, and maybe not. It is difficult for any unabashed fan to acknowledge the rust spots on a favorite fighter, and particularly so if you feel as if that individual should forever remain as fresh and unsullied in our memory as when we first detected whatever qualities that so obviously set him apart. For me, that initial glimpse came on June 23, 2001, at the MGM Grand. A 22-year-old Pacquiao, whose 32 previous pro bouts had all been staged in his native Philippines or Japan, was making his United States debut as the virtually anonymous challenger to IBF super bantamweight champion Lehlo Ledwaba of South Africa. They met on the undercard of a show headlined by De La Hoya's dethronement of WBC super welterweight titlist Javier Castillejo.
Although the announced attendance for the main event was 12,480, maybe only a third of that number were in their seats for the opening bell of Ledwaba-Pacquiao. Even the press section was mostly empty. But I nonetheless was moved to compliment the new champ, who stopped Ledwaba in six rounds, in my story for the Philadelphia Daily News. I wrote that Pacquiao had "electrified the crowd," what little there was of it, while "flooring Ledwaba three times and beating him bloody." I remember thinking, "Geez, this guy is really, really good. He could be something special." As it turned out, he has been all that, and more.
In 1972's Academy Award-winning film The Godfather, there is a scene in which temporarily exiled American Michael Corleone is walking the hills in Sicily with two bodyguards when he glimpses the lovely Apollonia and is instantly mesmerized. It might be the best example ever captured on celluloid of someone falling in love at first sight.
"I think you got hit by the thunderbolt," one of the bodyguards tells the smitten Michael.
My "discovery" of Pacquiao was not the first time I was so immediately taken by an athlete that he would forever occupy a place in my heart and mind. It began when I was nine years old, in 1957, when I decided that St. Louis Cardinals superstar Stan Musial, then in his 15th major league season and on his way to winning his seventh and last National League batting championship, would be my personal hero. In Stan the Man's final season, 1963, the Cardinals won 19 of 20 late in the season to close within a game of pennant-winning Los Angeles, but they were swept by the Dodgers in a three-game series, denying Musial, 42, a return to the World Series he had not appeared in since 1946, the year before I was born. I would have sold my soul, or at least rented it out, had it meant Stan would get to take his cuts in the Fall Classic against the New York Yankees.
There would be athletes in other sports who also would move me to such a degree: Billy Cannon, the All-America halfback of the national championship LSU Tigers in 1958, and the 1959 Heisman Trophy winner; quarterback Roger Staubach when he played at Navy; Walter Payton, whom I came across when he was a sophomore at Jackson State and I was a young sports writer in Jackson, Miss. I did a story for The Sporting News before the 1975 NFL draft in which I asserted that Payton would be much better in the pros than two-time Heisman winner Archie Griffin of Ohio State, which prompted a deluge of hate mail from Buckeyes boosters. In time, I believed I would be proven correct, and I was.
No matter how much we might wish it weren't so, the inexorable march of time serves as a diminisher of skills and reflexes. Those who make it to the pinnacle of their profession at some point are obliged to begin their descent. Three years ago I authored another story, perhaps a tad prematurely, the gist of which was that Manny Pacquiao no longer was the Manny Pacquiao he had been. He was 37 then, dropping the occasional hint that he was as human and thus as vulnerable as the rest of us. It gave me no pleasure to make the case that "Pac Man" had entered his exit stage. This is how I put it:
The encroachment of age is something no boxer can stave off indefinitely. At first, it approaches even the finest practitioners of the pugilistic arts almost imperceptibly, on little cat's paws, but the sound eventually becomes noisy enough that it can no longer be disregarded.
One has to wonder if the sound of those little cat's paws in the mind of 37-year-old Manny Pacquiao has been replaced by the clamor of a snarling, charging tiger. No fighter wants to entertain doubts about his athletic mortality, and that is especially so for those who know the giddy feeling of having been touched by greatness. The best of the best are almost always adherents to the message of resistance authored by British poet Dylan Thomas, who wrote:
Do not go gentle into that good night,
Old age should burn and rave at close of day;
Rage, rage against the dying of the light.
Pacquiao had enough gas in the tank then to outpoint Timothy Bradley Jr. in their rubber match, and the knockout of a faded Matthysse and the points nod over Broner (a gifted head case who increasingly is demonstrating that he might always have been at least somewhat overrated), could be enough to convince Manny's most ardent supporters that there is more success to be wrung from the caboose of his lengthy train of once-dominant ring performances.
Trainer Freddie Roach, back in Pacquiao's corner as his chief second, is convinced his guy can and will reveal himself as the goods, and he's prepared to put his money where his mouth is.
"I haven't made a bet in a long time, but the oddsmakers brought me back," Roach said. "I'm going to make a huge score betting on Manny in this fight. Manny loves beating undefeated fighters, especially the younger ones. That makes it fun for Manny, and when Manny is having fun, his opponents had better watch out."
Roach's optimism is countered by Bob Arum, Pacquiao's longtime former promoter, who is concerned that his onetime drawing card might find out that he is risking more than the mere outcome of a mere boxing match.
"I love Manny Pacquiao. I have a whole lot of history with Manny Pacquiao. I'm really rooting for Manny Pacquiao," said Arum. "But you have to realize he's 40 years of age. When a fighter passes his late 30s he's not going to be as good as he was in his prime."
Check out more boxing news on video at The Boxing Channel
To comment on this story in The Fight Forum CLICK HERE
Daniel Jacobs Edges Past Gabe Rosado on a Matchroom card in Florida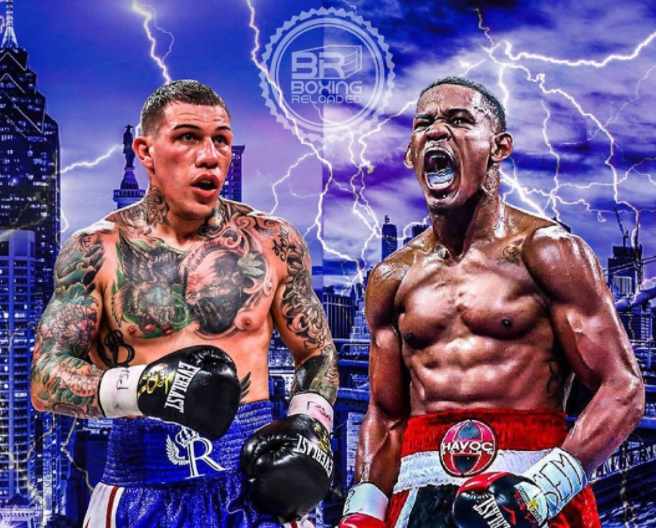 Former world champion Daniel Jacobs needed the last round to win by split decision against upset-minded Gabe Rosado and keep his place in line on Friday for lucrative super middleweight matchups.
But when the ring announcer erroneously announced the winner was from Philadelphia, confusion reigned for a moment until Jacobs was correctly called the winner.
Brooklyn's Jacobs (37-3, 30 KOs) jumped out ahead against Philly fighter Rosado (25-13-1, 14 KOs) and held on for the win in front of no fans at the Seminole Hard Rock Hotel and Casino in Hollywood, Florida. For a second, many thought Rosado had won.
Both were careful during the first three rounds measuring each other's distance and looking for openings to counter. There were very few.
It was the kind of fight expected by those who know boxing: two veterans with immense experience against top-flight world champions. Mistakes were few.
Jacobs, a former middleweight world champion, had fought Saul "Canelo" Alvarez and Gennady "GGG" Golovkin in close but losing efforts.
Rosado had battled Golovkin too, six years ago in a bloody affair that ended in a loss. He had also lost to other champions like Peter Quillin and Jermell Charlo. But none were able to knock him out.
Both were aware of each other's reputation. Bitter words had been exchanged for years and now they finally got their chance to prove their mettle and they did.
Though Jacobs was recognized as a knockout puncher, Rosado's resilience was just as well known. Both neutralized each other for most of the fight with their feints and jabs to the body. Neither was willing to leave openings for each other.
Jacobs scored big with a left uppercut at the end of the seventh round. While Rosado wowed viewers with a sizzling right cross in the 11th round.
It was 1950s style, boxing with intelligence. Each found it difficult to land combinations, let alone find openings to score knockout blows. Instead, they had to be satisfied with scoring enough to convince three judges the actual winner.
Neither was able to pull out ahead with any conviction.
After 12 rounds one judge saw Rosado the winner 115-113 while two others saw Jacobs the winner 115-113 to give him the win by split decision.
"It felt just a little weird. It felt like a sparring match," said Jacobs about fighting without fans in the audience. "This wasn't a valiant effort."
Rosado was certain he was the true winner.
"I thought I won the fight. I surprised him," said Rosado who trained with Freddie Roach for this fight. "I'm a veteran, I know how to fight."
Indeed, he does.
Jacobs now stands poised to fight one of many super middleweight champions in need of a marquee name.
"I live to see another day," he said honestly.
Other Bouts
Kazakhstan's Daniyar Yeleussinov (10-0, 6 KOs) proved he was not an easy touch and knocked out former world champion Julius Indongo (23-3, 12 KOs) to march forward in the welterweight division while grabbing the vacant IBF Inter-Continental title.
In a fight featuring southpaw versus southpaw Yeleussinov caught Indongo with a roundhouse left the first time they exchanged and down went the former super lightweight world champion. Indongo beat the count and survived the round.
Indongo wasn't as lucky in the second round as Yeleussinov again connected with a left and down went the fighter from Namibia again. He would not get up at 1:24 of round two giving the knockout win for Yeleussinov.
A battle between undefeated heavyweights saw Azerbaijan's Mahammadrasul Majidov (3-0, 3 KOs) use roundhouse rights to stagger the heavier Sahret Delgado (8-1) to win by knockout in the third round. Majidov actually helped Delgado get to his stool after knocking him out on his feet at 47 seconds of the third round.
Emmanuel Tagoe (32-1) defeated Mason Menard (36-5) by majority decision after a 10- round lightweight fight that saw a lot of clinching and leaning.
Nikita "White Chocolate" Ababiy (10-0) out-fought Detroit's Brandon Maddox (7-4-1) to win by unanimous decision after six rounds in a middleweight clash. Ababiy hurt Maddox with body shots but found Maddox more resilient than expected.
Check out more boxing news on video at the Boxing Channel 
To comment on this story in the Fight Forum CLICK HERE.
Pradabsri Upsets Menayothin, Ends the Longest Unbeaten Streak of Modern Times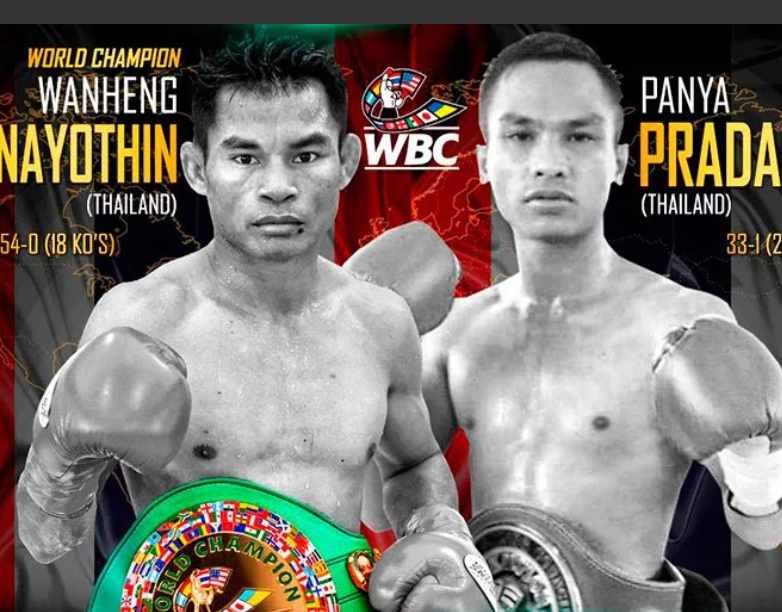 During the wee hours in the Americas, a big upset was brewing in Thailand. In Nakhon Sawan, a city roughly 150 miles north of Bangkok, Panya Pradabsri (aka Petchmanee CP Freshmart) out-pointed Wanheng Menayothin (aka Chayaphon Moonsri) in a domestic clash with international significance. Manayothin entered the bout with a 54-0 (18) record and was making the 13th defense of his WBC world minimumweight title.
Pradabsri had been defeated only once in 35 previous starts, but only 11 of his 34 victories had come against fighters with winning records. According to ringside reports, he kept Menayothin at bay with good fundamentals, a stiff jab, and good lateral movement. All three judges had it 115-113. The fight wasn't without controversy as Menayothin finished stronger and many folks scoring off the live video thought that he had done just enough to retain his title.
How good was/is Menayothin? That's a question that serious boxing fans will likely debate for decades.
In the summer of 2019, Menayothin signed a co-promotional deal with Oscar De La Hoya's Golden Boy Promotions. At time, GBP president Eric Gomez described him as one of the best fighters in the world. "We really want to bring him to the U.S. so people can see how talented he really is," Gomez told England's Sky Sports.
Menayothin was expected to make his U.S. debut in April of this year, but the pandemic ruined that plan. Earlier this year, he announced his retirement, but rescinded it after only two days.
Scottish boxing historian Matt McGrain, who has an exclusive arrangement with this web site, had lukewarm opinion of the Thai mighty-mite although he rated him the second-best 105-pound boxer of the decade, trailing only his countryman Thammanoon Niyomtrong (aka Knockout CP Freshmart).
"He is disciplined, strong, brings good pressure and is armed with a very decent range of punches," said McGrain, "(but his record) is comprised mostly of men any competent fighter would be expected to beat."
Although only one boxer from Thailand has been inducted into the International Boxing Hall of Fame (Khaosai Galaxy, class of 1999), the Southeast Asia nation has produced some outstanding boxers over the years – Chartchoi Chionoi, Sot Chitalada, Pongsaklek Wonjongkam, and Srisaket Sor Rungvisai to name just a few. The difference between these fighters and Wanheng Menayothin is that they all left the comfort zone of their homeland to score one or more important wins on foreign soil.
Menayothin may yet display his wares in a U.S. ring. But at age 35, an advanced age for small fighters in particular, we won't get to see him at his best and now that his bubble has been burst, disinviting further comparisons to Mayweather and Marciano, the curiosity factor has been tempered.
To comment on this story in the Fight Forum CLICK HERE
Yoka vs. Hammer Kicks Off the Thanksgiving Weekend Slate on ESPN+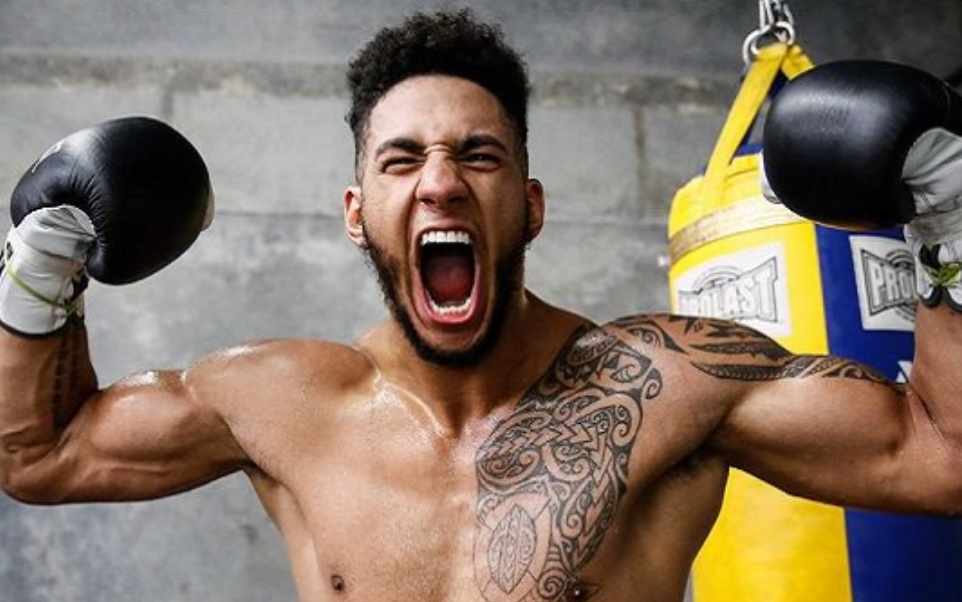 PRESS RELEASE— Tony Yoka, the dynamic heavyweight punching Parisian, aims to impress in his ESPN platform debut. Yoka, who won a super heavyweight gold medal for France at the 2016 Rio Olympics, will fight veteran Christian Hammer in a 10-rounder Friday at H Arena in Nantes, France.
Yoka-Hammer will stream live and exclusively this Friday, Nov. 27 in the United States on ESPN+ beginning at 2:55 p.m. ET/11:55 a.m. PT.
The ESPN+ stream will also include the return of unbeaten 2016 French Olympic gold medalist Estelle Yoka-Mossely against Pasa Malagic in an eight-round lightweight bout. Yoka and Yoka-Mossely, who have been married since 2018, welcomed their second child in May.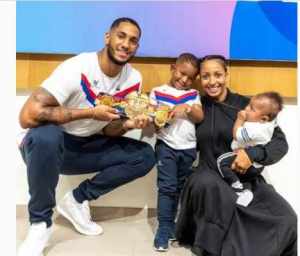 Earlier this year, Yoka inked a promotional agreement with Top Rank, which will co-promote him with Ringstar France.
"Tony Yoka's potential is limitless, and he is a grounded young man who is motivated to be a great professional fighter," said Top Rank chairman Bob Arum. "France has never had a world heavyweight champion, and I believe Tony is the one to bring the sport's biggest honor home."
The 28-year-old Yoka's stellar amateur run included a berth at the 2012 London Olympics and gold medals at the 2015 World Championships and 2010 Youth Olympic Games. Before his triumph in Rio, he'd already defeated the likes of former heavyweight world champion Joseph Parker and current undefeated prospects Joe Joyce and Ivan Dychko. At the Rio Olympics, he defeated Croatian standout Filip Hrgović in the semifinals and edged Joyce in the gold medal match.
As a professional, Yoka (8-0, 7 KOs) made his debut in June 2017 with a second-round stoppage over the previously undefeated Travis Clark. Apart from a decision win over Jonathan Rice in his second outing, Yoka has stopped every foe, including durable Englishman David "White Rhino" Allen and former European champion Alexander Dimitrenko. He made his 2020 debut Sept. 25 and stopped former world title challenger Johann Duhaupas in one round.
Hammer (25-6, 15 KOs) has fought many of the leading heavyweight names during his 12-year career, falling short against Tyson Fury, Luis Ortiz and Alexander Povetkin. He's notched myriad upset victories, including a highlight-reel knockout over David Price and a 2016 split decision over Erkan Teper for the WBO European belt. In March 2019, he went the 10-round distance against Ortiz and has not been stopped since Fury forced him to retire on his stool after eight rounds in their February 2015 clash.
Check out more boxing news on video at the Boxing Channel 
To comment on this story in the Fight Forum CLICK HERE