Aging Legend Manny Pacquiao Fighting Father Time as Much as Keith Thurman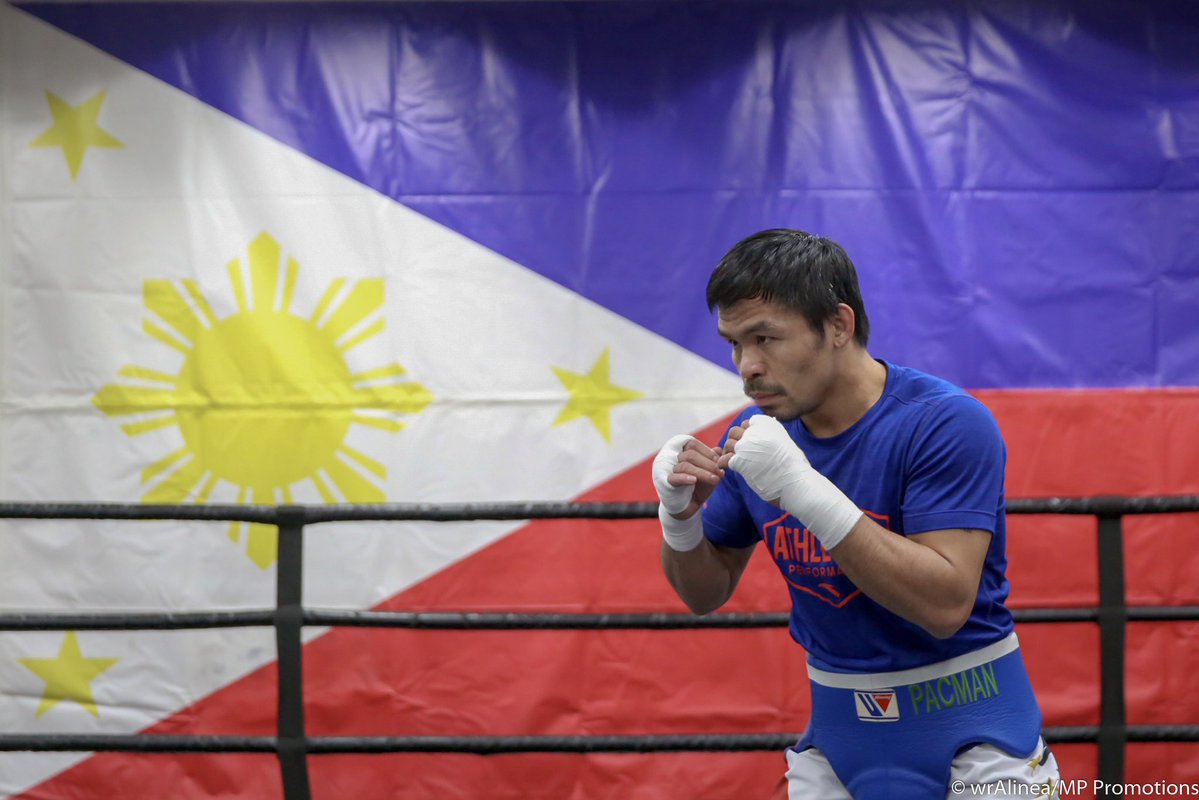 The great Sugar Ray Leonard, he of the five retirements from boxing that didn't stick, was musing about the reasons why aging boxers of all levels of accomplishment find it so difficult to quit the ring. His thoughts on the subject might not be of particular interest to another legendary fighter, 40-year-old Manny Pacquiao, who takes on WBA welterweight champion Keith Thurman, 10 years his junior and still presumably at or near the top of his game, in the PBC on Fox Pay-Per View main event on July 20 at Las Vegas' MGM Grand. But if history tells us anything about the natural laws of diminishing returns, "Pac Man" would be well-advised to take note of what Leonard said of his own personal experience.
"You always think of yourself as the best you ever were," Leonard offered. "That's human nature. And that's not just how highly successful people think. Everybody thinks that way. Most fighters come back for the money. They need another payday and there are people around them feeding their egos, telling them how good they still are, because they want a piece of the action. Maybe they come back because they really don't know anything but boxing and they're apprehensive about entering the next phase of their lives that doesn't include it.
"But even if money is not an issue, and you have other options, you never lose that belief in yourself as a fighter, particularly if you've been to the very top of the mountain. (Being retired) eats at you. It's hard to find anything else that can give you that high."
The Sugar Man, one of the finest fighters of his or any era, knows of whence he speaks. Everyone – well, almost everyone – thought he was off his rocker to try to come back after 35 months of inactivity to challenge seemingly invincible middleweight champion Marvelous Marvin Hagler on April 6, 1987. But Leonard, whose list of defeated opponents includes such stellar names as Wilfred Benitez, Thomas Hearns (against whom he was 1-0-1), Roberto Duran (2-1), and a significantly larger Donny Lalonde, reached back in time to dethrone Hagler via split decision, albeit a controversial one, in the process showing flashes of his electrifying former self.
No wonder Leonard allowed himself the luxury of believing that he was somehow immune to the bits and pieces of excellence that Father Time siphons from top-tier fighters who linger too long in a brutal profession. But then, why shouldn't he have thought that? When he shocked Hagler, Leonard was still a month shy of his 31st birthday.
It should have gloriously ended there for one of the all-time greats, just as it should have ended on a similarly high note for Muhammad Ali after his epic conquest of George Foreman in Africa. But when you've been to the very top of the mountain and remained there long enough to savor the view, it's easy to convince yourself you're still as good as you ever were. After a nearly four-year hiatus, the 35-year-old Leonard came back again on March 1, 1997, and took a frightful beating from an updated version of himself, 23-year-old WBC super welterweight champion Terry Norris, who floored him twice en route to winning a lopsided unanimous decision at Madison Square Garden. It is a testament to how much fans continued to love and believe in Leonard that he actually went off as the betting favorite that night. As was the case when a depleted Ali was battered into submission by Larry Holmes in Las Vegas, some Leonard devotees were seen weeping as they left the Garden.
There was, of course, one final act that had to be played out before Sugar Ray could come to grips with the realization that there was no more magic for him to make inside the ropes. Then a nearly 41-year-old grandfather and coming off a six-year layoff, Leonard was stopped in five rounds by light-punching Hector "Macho" Camacho on March 1, 1997, in Atlantic City.
"This is indeed my last fight, my last venture into the boxing ring," Leonard announced of the retirement that finally was written in fast-drying concrete instead of wet sand. He had been away so long that the five-year mandatory waiting period for induction into the International Boxing Hall of Fame had passed and he would be enshrined a little more than three months later in Canastota, N.Y.
Almost all truly special fighters – with the exception of Rocky Marciano, Hagler and Lennox Lewis, who stepped away while still at or near the top of their game and somehow were able to resist the urge to again lace up the gloves – yield to the temptation to try to relive past glories. Just as Napoleon had his Waterloo, a depleted Joe Louis was confronted with harsh reality in the form of the younger, powerful Marciano and Bernard Hopkins' personal Fountain of Youth at long last dried up against construction worker Joe Smith Jr.
Which brings us back to Pacquiao, the Fab Filipino who is the only fighter ever to win world championships in eight weight classes. He is a mortal-lock first-ballot Hall of Famer and a source of wonderment to those who have followed his remarkable career. Nothing that happens going forward can detract from that gleaming legacy. But consider the mounting evidence that Manny the Magnificent has been a downgraded version of himself for quite a while. The whirling dervish and three-time Boxing Writers Association of America Fighter of the Year who pummeled, among others, Oscar De La Hoya, Ricky Hatton, Marco Antonio Barrera, Erik Morales and Miguel Cotto has won only one of his last 16 bouts inside the distance, a seventh-round stoppage of Lucas Matthysse on July 15 of last year, which snapped a nine-year, 15-fight KO-less streak in which he was defeated four times, including a one-punch knockout in his fourth meeting with Juan Manuel Marquez.
The Pacquiao (61-7-2, 39 KOs) who will swap punches with Keith "One Time" Thurman (29-0, 22 KOs) remains as imperious and defiant as ever, and he points to his most recent ring appearance, a wide decision over Adrien Broner on Jan. 19, as proof that any erosion is minimal, if at all.
"I'm never scared or intimidated by any opponent," Pacquiao said of the rarity of going into a fight as an underdog. "My time is not yet over. My journey will continue. That's what I will prove on July 20.
"The feeling that I have right now, I don't feel this since the De La Hoya fight. I feel like I'm fighting with De La Hoya again. I'm excited and I like being the underdog for this fight. Sometimes in the past I became careless and overconfident because I am favored in nearly every fight. This time is different. I chose Keith Thurman because he's undefeated and I want to prove that at the age of 40 I can still beat an undefeated fighter like Keith."
Not unexpectedly, Thurman has a different vision of how his matchup with the living legend will end. "I've never lost to a fighter who's lost seven times," said Thurman, who obviously has yet to lose to anyone. "I have no intention of losing to Manny Pacquiao. I don't see him winning in any way, shape or form. He's 40, I'm 30. I want to show him I ain't Adrien Broner.
"This most likely will be Manny Pacquiao's last fight. In the welterweight division, the king was Floyd Mayweather. He is gone. The legend, Pacquiao, he's here. Come July 20, he will be gone, too."
Maybe so, and maybe not. It is difficult for any unabashed fan to acknowledge the rust spots on a favorite fighter, and particularly so if you feel as if that individual should forever remain as fresh and unsullied in our memory as when we first detected whatever qualities that so obviously set him apart. For me, that initial glimpse came on June 23, 2001, at the MGM Grand. A 22-year-old Pacquiao, whose 32 previous pro bouts had all been staged in his native Philippines or Japan, was making his United States debut as the virtually anonymous challenger to IBF super bantamweight champion Lehlo Ledwaba of South Africa. They met on the undercard of a show headlined by De La Hoya's dethronement of WBC super welterweight titlist Javier Castillejo.
Although the announced attendance for the main event was 12,480, maybe only a third of that number were in their seats for the opening bell of Ledwaba-Pacquiao. Even the press section was mostly empty. But I nonetheless was moved to compliment the new champ, who stopped Ledwaba in six rounds, in my story for the Philadelphia Daily News. I wrote that Pacquiao had "electrified the crowd," what little there was of it, while "flooring Ledwaba three times and beating him bloody." I remember thinking, "Geez, this guy is really, really good. He could be something special." As it turned out, he has been all that, and more.
In 1972's Academy Award-winning film The Godfather, there is a scene in which temporarily exiled American Michael Corleone is walking the hills in Sicily with two bodyguards when he glimpses the lovely Apollonia and is instantly mesmerized. It might be the best example ever captured on celluloid of someone falling in love at first sight.
"I think you got hit by the thunderbolt," one of the bodyguards tells the smitten Michael.
My "discovery" of Pacquiao was not the first time I was so immediately taken by an athlete that he would forever occupy a place in my heart and mind. It began when I was nine years old, in 1957, when I decided that St. Louis Cardinals superstar Stan Musial, then in his 15th major league season and on his way to winning his seventh and last National League batting championship, would be my personal hero. In Stan the Man's final season, 1963, the Cardinals won 19 of 20 late in the season to close within a game of pennant-winning Los Angeles, but they were swept by the Dodgers in a three-game series, denying Musial, 42, a return to the World Series he had not appeared in since 1946, the year before I was born. I would have sold my soul, or at least rented it out, had it meant Stan would get to take his cuts in the Fall Classic against the New York Yankees.
There would be athletes in other sports who also would move me to such a degree: Billy Cannon, the All-America halfback of the national championship LSU Tigers in 1958, and the 1959 Heisman Trophy winner; quarterback Roger Staubach when he played at Navy; Walter Payton, whom I came across when he was a sophomore at Jackson State and I was a young sports writer in Jackson, Miss. I did a story for The Sporting News before the 1975 NFL draft in which I asserted that Payton would be much better in the pros than two-time Heisman winner Archie Griffin of Ohio State, which prompted a deluge of hate mail from Buckeyes boosters. In time, I believed I would be proven correct, and I was.
No matter how much we might wish it weren't so, the inexorable march of time serves as a diminisher of skills and reflexes. Those who make it to the pinnacle of their profession at some point are obliged to begin their descent. Three years ago I authored another story, perhaps a tad prematurely, the gist of which was that Manny Pacquiao no longer was the Manny Pacquiao he had been. He was 37 then, dropping the occasional hint that he was as human and thus as vulnerable as the rest of us. It gave me no pleasure to make the case that "Pac Man" had entered his exit stage. This is how I put it:
The encroachment of age is something no boxer can stave off indefinitely. At first, it approaches even the finest practitioners of the pugilistic arts almost imperceptibly, on little cat's paws, but the sound eventually becomes noisy enough that it can no longer be disregarded.
One has to wonder if the sound of those little cat's paws in the mind of 37-year-old Manny Pacquiao has been replaced by the clamor of a snarling, charging tiger. No fighter wants to entertain doubts about his athletic mortality, and that is especially so for those who know the giddy feeling of having been touched by greatness. The best of the best are almost always adherents to the message of resistance authored by British poet Dylan Thomas, who wrote:
Do not go gentle into that good night,
Old age should burn and rave at close of day;
Rage, rage against the dying of the light.
Pacquiao had enough gas in the tank then to outpoint Timothy Bradley Jr. in their rubber match, and the knockout of a faded Matthysse and the points nod over Broner (a gifted head case who increasingly is demonstrating that he might always have been at least somewhat overrated), could be enough to convince Manny's most ardent supporters that there is more success to be wrung from the caboose of his lengthy train of once-dominant ring performances.
Trainer Freddie Roach, back in Pacquiao's corner as his chief second, is convinced his guy can and will reveal himself as the goods, and he's prepared to put his money where his mouth is.
"I haven't made a bet in a long time, but the oddsmakers brought me back," Roach said. "I'm going to make a huge score betting on Manny in this fight. Manny loves beating undefeated fighters, especially the younger ones. That makes it fun for Manny, and when Manny is having fun, his opponents had better watch out."
Roach's optimism is countered by Bob Arum, Pacquiao's longtime former promoter, who is concerned that his onetime drawing card might find out that he is risking more than the mere outcome of a mere boxing match.
"I love Manny Pacquiao. I have a whole lot of history with Manny Pacquiao. I'm really rooting for Manny Pacquiao," said Arum. "But you have to realize he's 40 years of age. When a fighter passes his late 30s he's not going to be as good as he was in his prime."
Check out more boxing news on video at The Boxing Channel
To comment on this story in The Fight Forum CLICK HERE
Juan Francisco Estrada Holds Off 'Chocolatito' Again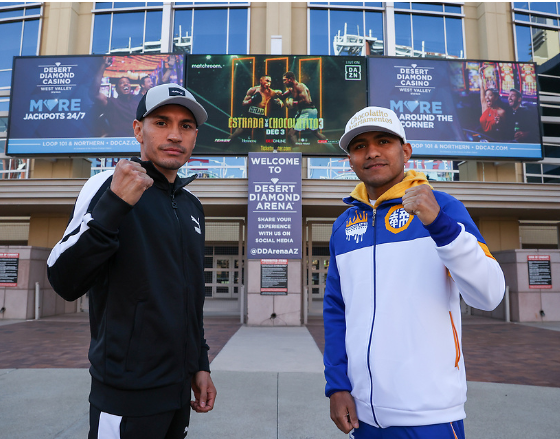 Once again Juan Francisco Estrada jumped out in front early and Roman "Chocolatito" Gonzalez needed time to crank up the engine, but fell too far behind as the Mexican fighter won the vacant WBC flyweight world title on Saturday.
Estrada wins the trilogy 10 years in the making.
Once again Estrada (44-3, 28 KOs) surged ahead early in the fight against Nicaragua's Gonzalez (51-4, 41 KOs) and then navigated toward another win, this time at the Gila River Arena in Glendale, Arizona on the Matchroom Boxing card.
"We had excellent preparation at high altitude and I think we left the fight clear on who won the fight this time," said Estrada about the third encounter.
Ten years ago, the trilogy began in Los Angeles as "Chocolatito" confronted an unknown fighter at the time in Estrada. The two surprised the crowd who expected Gonzalez to destroy yet another Mexican fighter. But it did not happen that night though Chocolatito proved too experienced and battered his way to victory in a light flyweight world title clash.
Then, in March 2021, Estrada finally fought Gonzalez in a rematch and the two engaged in a closely-fought super flyweight world title match. This time Estrada proved slightly better according to the judges and won by split decision in Dallas, Texas.
Few knew what to expect in a third encounter.
At first the coronavirus stalled plans for the trifecta so Chocolatito fought a replacement and dominated. Meanwhile Estrada fought another Mexican and did not look good.
On Saturday, a decade after their first encounter, Estrada looked fluid and accurate in dominating the first six rounds of the fight. Though he did not hurt Gonzalez, he was repeatedly scoring at will.
Gonzalez woke up around the seventh round.
Suddenly the Nicaraguan who was once considered the best fighter Pound for Pound showed up and fired rapid combinations. The spring in his legs suddenly appeared and the energy level was cranked up high after nearly being on idle.
Estrada suddenly found himself against the ropes forced to slip and slide away from Gonzalez's powerful combination punches. A real fight suddenly erupted during the final six rounds.
"All fights are different and all fights are difficult and this was the most difficult one," said Gonzalez, a four-division world champion.
Though neither fighter was ever visibly hurt, Gonzalez's pressure kept Estrada expending too much energy trying to evade the Nicaraguan's traps during the final six rounds.
"He always goes 100 miles an hour," said Estrada of his nemesis.
Estrada used uppercuts and slide steps to maneuver against Gonzalez's hard charges. It seemed to work and allowed the Mexican fighter more room and time to apply counter-measures.
In the final round, those maneuvers allowed Estrada to connect with a hard punch to the body that forced Chocolatito to cover up. It also allowed Estrada to unravel a combination that gave him the last round if needed. After 12 rounds one judge scored it 114-114, while two others saw it 116-112, 115-113 for Estrada who becomes the new WBC super flyweight world titlist.
"We did an excellent fight and I got the victory," said Estrada. "I've always said Chocolatito is a future Hall of Famer."
Gonzalez was gracious in defeat.
"What is important is we gave that good fight to the fans and we came out in good health," Gonzalez said.
There is even talk of a fourth fight.
"As long as they pay well, of course," said Gonzalez.
Other Fights
Julio Cesar Martinez (19-2, 14 KOs) retained the WBC flyweight world title by majority decision over Spain's Samuel Carmona (8-1) in a rather dull affair. Mexico's Martinez chased Carmon all 12 rounds in a fight that saw Carmona slap and run, then hold.
No knockdowns were scored and Martinez won 114-114, 117-111, 116-112.
Diego Pacheco (17-0, 14 KOs) ran over Mexico's Adrian Luna (24-9-2) with three knockdowns in winning by stoppage in the second round of the super middleweight fight. It was no surprise.
The 21-year-old from South Central L.A. once again showed that despite his youth his power seems to be continually increasing as evident in the knockout win.
Now training with Team David Benavidez, the young super middleweight looked sharp, especially with the lead overhand right that floored Luna in the second round. Luna was floored two more times and the fight was wisely stopped by his own corner.
"You put in the hard work then you come in here and shine," said Pacheco. "I joined team Benavidez this year."
Nicaragua's former world titlist Cristofer Rosales (35-6, 21 KOs) won a dog fight over Mexico's Joselito Velasquez (15-1-1, 10 KOs) by unanimous decision after 10 rounds in a flyweight clash.
It was a back-and-forth struggle that saw the taller Rosales take over in the second half of the fight and win by simply out-punching Velasquez and handing the Mexican his first loss as a professional by scores 97-93 three times.
Photo credit: Milena Pizano
To comment on this story in the Fight Forum CLICK HERE
Tyson Fury TKOs Derek Chisora in Round 10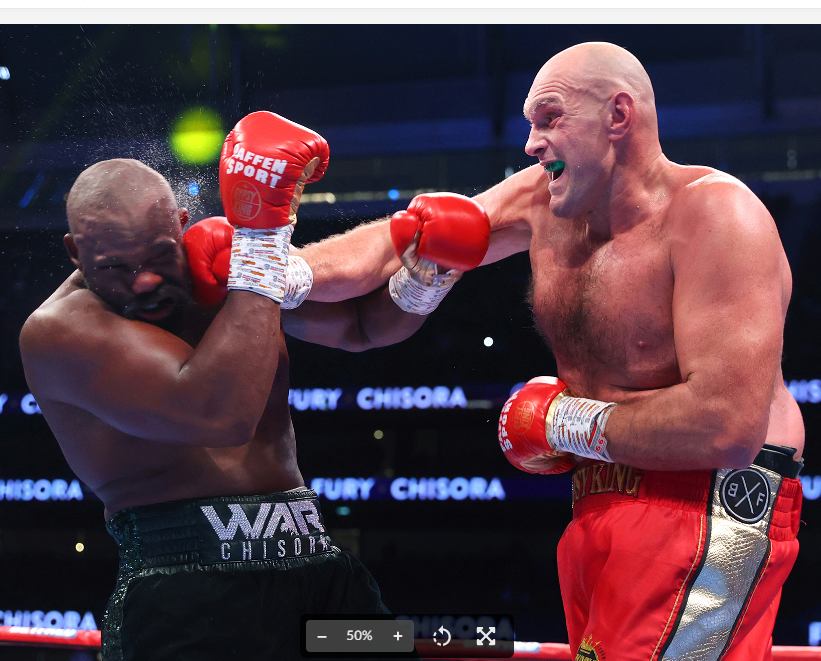 It was a chilly night in London but that didn't deter a near-capacity crowd from turning out at Tottenham Hotspur Stadium to witness the third rumble between Tyson Fury and Derek Chisora. The Gypsy King was heavily favored to retain his WBC and lineal heavyweight title and performed as expected. Indeed, this fight closely resembled their second encounter back in 2014.
In that bout, Chisora absorbed a terrific amount of punishment before his corner pulled him out at the conclusion of the 10th round. Tonight's fight ended nine seconds earlier at the 2:51 mark of round 10 and it was the referee who terminated the match.
When is a heavyweight not a heavyweight? When the man in the opposite corner is substantially bigger. With an 8-inch height advantage and a 15-inch reach advantage, the six-foot-nine Fury was simply too big a mountain to climb for the brave Derek Chisora, a fighter who changed his nickname in mid-career, transitioning from "Dell Boy" to "War."
Fury dominated round two, especially the last minute, a round in which he was credited with landing 18 power punches. The writing was on the wall for Chisora who ate a lot of thudding uppercuts in the ensuing rounds and ended the contest with a badly swollen right eye and a bloody mouth. With the victory, Fury improved his ledger to 32-0-1 with his 24th win inside the distance. The Zimbabwe-born Chisora falls to 33-13.
Oleksandr Usyk and Joe Joyce were in attendance and the Gypsy King addressed both before he left the ring. Calling Usyk "The Rabbit," he indicated that he would fight Usyk next in a true unification fight, but said if there were a snag in negotiations he wouldn't mind trading blows with the Juggernaut, Joe Joyce, who wore down and stopped former heavyweight title-holder Joseph Parker, a former Fury sparring partner, in his most recent engagement. However, Fury also revealed that he had an issue with his right elbow that may require surgery.
Co-Feature
In a heavyweight match that lasted only three rounds but was chock-full of action, Daniel Dubois overcame three knockdowns to retain his secondary WBA heavyweight title he won at the expense Trevor Bryan with a third-round stoppage of upset-minded Kevin Lerena.
In the opening stanza, Johannesburg's Lerena, landed an overhand left on the top of Dubois's head that put the Englishman on the canvas and left him all at sea. He went down twice more before the round was over, the first time of his own volition when he took a knee (reminiscent of his match with Joe Joyce) and the second from a glancing blow.
Dubois, whose legs are spindly for a man of his poundage, had trouble regaining his equilibrium in round two, but Lerena didn't press his advantage. In the next frame, a short right from Dubois penetrated Lerena's guard and down went the South African. Smelling blood, Dubois knocked him down again and was pummeling him against the ropes when the referee interceded just as it appeared that Lerena would be saved by the bell.
It was the fourth straight win for Dubois (19-1, 18 KOs) since his mishap versus Joyce. Lerena, who entered the bout on a 17-fight winning streak, lost for the second time in 30 fights.
Also
In a ho-hum affair, Denis Berinchyk, a 24-year-old Ukrainian, captured the European lightweight title and remained undefeated with a unanimous decision over French-Senagalese warhorse Ivan Mendy. Berinchyk (17-0, 9 KOs) was making his first appearance in London since winning a silver medal at the 2012 Olympics where he was a teammate of Oleksandr Usyk and Vasiliy Lomachenko.
The judges had it 117-112 and 116-112 twice for the Ukrainian. The 37-year-old Mendy, who has answered the bell for 380 rounds, falls to 47-6-1.
Photo credit: Mikey Williams / Top Rank via Getty Images
To comment on this story in the Fight Forum CLICK HERE
Light Nips Glanton in Florida; across the pond, Kelly UD 12 Williamson in Newcastle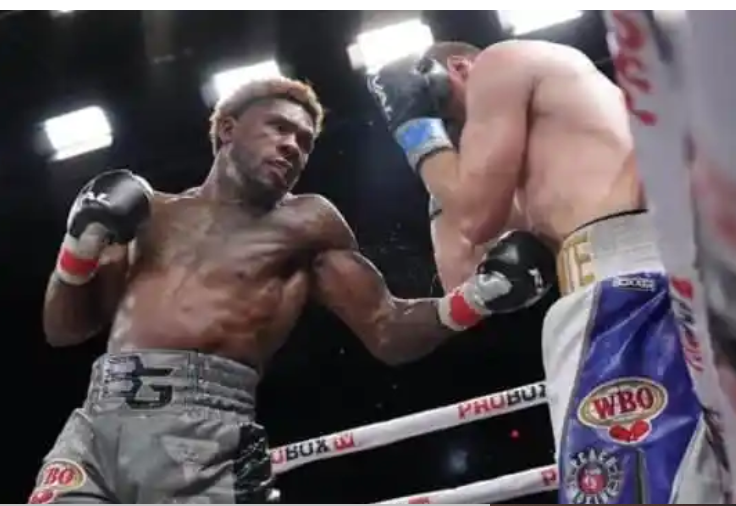 ProBox TV, a fledgling promotional group co-founded by former world champions Roy Jones Jr, Juan Manuel Marquez, and Paulie Malignaggi, has found a home for their bi-monthly shows at an events center in Plant City, Florida, near Tampa. The main event of last night's show (Friday, Dec. 2) was a well-matched 10-rounder between world ranked cruiserweights Brandon Glanton (pictured on the left) and David Light, both undefeated.
Light, a 31-year-old New Zealander who was 19-0 (12 KOs) heading in, had a strong amateur background that included a silver medal at the 2014 Commonwealth Games, but was virtually unknown outside the Antipodes, having fought almost exclusively on small shows in Auckland. Glanton, a 30-year-old Atlanta native who had trimmed down considerably since his days as a defensive lineman at HBCU Albany State, had caught the eye of hardcore fight fans with a thrilling split decision over previously unbeaten Efetobor Apochi on a TBS show in Minneapolis.
The oddsmakers made Glanton (17-0, 14 KOs heading in) a small favorite and after 10 hard rounds there were many who thought he deserved the nod. He turned the fight into a "phone booth" affair, pressing the action while working the body effectively, and scored the bout's lone knockdown, knocking Light off his pins (he wasn't badly hurt) in the final frame with what appeared to be a glancing blow. But two of the judges were more impressed by Light's counter-punching, scoring the bout 97-92 and 95-94 for the kiwi, overruling the dissenter who had it 95-94 for Blanton.
It was the sort of fight that cries out for a rematch, but David Light will undoubtedly go in a different direction. Both he and Glanton were pointing toward a match with WBO title-holder Lawrence Okolie.
Newcastle
Earlier on Friday, across the pond in Newcastle, England, former Olympian Josh Kelly got the signature win that had eluded him with a lopsided 12-round decision over defending British 154-pound title-holder and former amateur teammate Troy Williamson.
This was Kelly's third fight since David Avanesyan burst his bubble in a welterweight affair, stopping Kelly in the sixth stanza. The local fighter, who boosted his record to 13-1-1 (7) blamed his poor performance on his struggle to make weight.
The previously undefeated Williamson, 19-0-1 heading in, was making the second defense of the title he won in a barnburner with Ted Cheeseman. He went to post a small favorite, but was outclassed by Kelly who won by scores of 119-109, 119-111, and 118-110.
In the co-feature, Manchester's Lyndon Arthur (21-1, 15 KOs) stayed relevant in the light heavyweight division with a second-round stoppage of overmatched Joel McIntyre (20-5). In his lone defeat, Arthur was TKOed by revenge-minded Anthony Yarde.
To comment on this story in the Fight Forum CLICK HERE