R.I.P. Willie the Worm and Billy Joiner, Emblems of a Bright and Bygone Era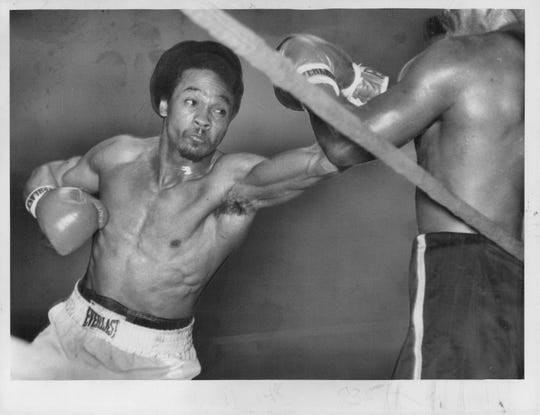 The recent deaths of two former ring personalities went largely unnoticed. On June 26, Willie "The Worm" Monroe passed away at age seventy-three. Three weeks earlier, Billy Joiner drew his last breath at age eighty-one. Neither won a world title and Joiner was a mere journeyman, but both shared the ring with giants of their craft in one of boxing's brightest eras.
Willie the Worm, who was born in Alabama, the fifth-youngest of 17 children, learned the rudiments of boxing in Rochester, New York, where he reputedly carved out a 43-0 mark as an amateur, and then plied his trade in his second adopted home, Philadelphia, where he trained in Joe Frazier's gym under the watchful eye, at various times, of three of the sport's greatest trainers: Yank Durham, Eddie Futch, and George Benton. Durham reputedly gave Willie (pictured) his nickname, likening his fighting style to a sleek and slippery worm. But Willie also packed a knockout punch. He stopped 26 of his 51 opponents, concluding his career with a record of 40-10-1.
Twenty-nine of Monroe's 51 pro fights were in Philadelphia where he made his pro debut at the legendary Blue Horizon. In Philly, he didn't have to go far to find a good sparring partner; the city was a hornet's nest of top-shelf middleweights. Bennie Briscoe, Eugene "Cyclone" Hart, Bobby "Boogaloo" Watts, and Stanley "Kitten" Hayward were contemporaries. Their gym wars were legendary.
Monroe defeated Hart and Hayward, but was never better than on the night of March 9, 1976, when he scored a 10-round decision over Marvin Hagler at the Spectrum, Philadelphia's largest sports arena. Monroe was a clear winner, punctuating his performance with a strong 10th round. In the fifth round of that fight, he hit Hagler with three consecutive uppercuts, knocking his mouthpiece out and leaving Hagler with a bloody nose that never went away.
Hagler suffered only three defeats in 67 starts. His first loss, in Philadelphia to the aforementioned Bobby Watts, was assailed as a rip-off. His third loss, to Sugar Ray Leonard in his final pro fight, was highly controversial.
Willie the Worm, rest his soul, remains the only man to defeat Hagler decisively. Unfortunately, few got to see it. Philadelphia was strafed by a late winter snowstorm on the day of the fight, hurting attendance and preventing the film crew from getting to the Spectrum. There is no video footage of the fight.
(In common with the great Joe Louis, Marvin Hagler was lethal in rematches. He would twice avenge his loss to Willie the Worm, first on a 12th round TKO in Boston in a good back-and-forth fight, and then taking him out in the second round in the rubber match at the Spectrum. Between his setbacks to Monroe and Leonard, Marvelous Marvin went 11 years without tasting defeat, a stretch of 37 fights.)
In retirement, Willie Monroe drove a delivery truck for the Philadelphia Inquirer, worked as a security guard at Garden State Racetrack, and for a time was a professional boxing referee. His death in the Philadelphia suburb of Sicklerville, New Jersey, was attributed to complications of Alzheimer's. He is survived by his wife of 51 years, two daughters, and three grandchildren. Willie Monroe Jr, a former two-time world title challenger currently campaigning as a super middleweight, is Willie the Worm's great nephew.
Billy Joiner
Summon up BoxRec and dial in "Billy Joiner" and what you will find is a fighter who compiled a pro record of 12-13-3 and was stopped five times. And if that's all you learned about Billy Joiner, then you wouldn't know even half the story. Joiner was the only man to fight Muhammad Ali and Sonny Liston twice.
Cincinnati has a rich amateur boxing history dating back to the days of Ezzard Charles. Billy Joiner's father, John Joiner, trained 1948 Olympian Wallace "Bud" Smith, a future lightweight champion, and the younger Joiner followed Smith's footsteps into a decorated amateur career.
A three-time finalist in the National Golden Gloves Tournament in a day when the annual event in Chicago was attended by some of America's best-known sportswriters, Joiner won the competition in 1962 in the 178-pound weight class and, for good measure, went on to win the AAU tournament before turning pro under the management of George Gainford who also handled Sugar Ray Robinson.
Joiner's two fights with Ali came as an amateur, long before Ali adopted his Muslim name. In a 2016 interview with Peter Wood, Joiner said that both losses were by one point, which is entirely plausible. Their second meeting was at an outdoor show in Toledo, Ohio, perhaps Ali's last fight before heading off to the Rome Olympics, as he had already secured that berth.
They also met up again as professionals. On Dec. 8, 1969, they appeared at a press conference in Tulsa, Oklahoma, to announce their forthcoming fight to be held on Jan. 10, 1970, at a 4,000-seat privately-owned rodeo corral on the outskirts of Tulsa. Blackballed for his refusal to be drafted into the Army, this would be Ali's first fight in almost three years.
Oklahoma was picked because the state had no boxing commission. In theory, Ali could not be denied a license to fight because there was no licensing agency. To make the fight more palatable to local authorities, it was announced that the proceeds would be donated to a charity benefiting retarded children. But commission or no commission, the authorities killed the fight, yielding to pressure from veterans' groups. Ten more months would elapse before Ali finally got back in the ring, launching his second coming in Atlanta against Jerry Quarry. (For all the books that have been written about him, his aborted 1970 fight with Billy Joiner remains a little-known incident in Ali's career.)
Joiner sparred with Sonny Liston in the post-Ali phase of Liston's career before their two meetings. They fought at LA's Olympic Auditorium in May of 1968 and then again 10 months later in St. Louis. Liston won the first fight on a seventh round TKO but the rematch went the full distance, ending Liston's skein of 11 straight knockouts. Joiner subsequently fought Larry Holmes (L TKO 3) on a show in Puerto Rico that included future Hall of Famers Roberto Duran and Wilfredo Gomez and went 10 rounds with rugged Argentine bruiser Oscar Bonavena in Bonavena's final fight.
It would be said of Billy Joiner that he never lived up to his promise, but if he had come along today he likely would have made his mark as a cruiserweight, a division that did not exist in his day. He was simply too small to compete successfully with the top heavyweights in an era of outstanding heavyweights. In his two fights with Sonny Liston, Billy was out-weighed by margins of 32 ½ and 24 pounds.
In retirement, Joiner spent 30 years with the Ohio State Highway Maintenance Department, rising to the position of superintendent. At the time of his death, the Queen City native resided in Springdale, a Cincinnati suburb.
Check out more boxing news on video at The Boxing Channel
To comment on this story in The Fight Forum CLICK HERE
Recalling Three Big Fights in Miami, the Site of Super Bowl LIV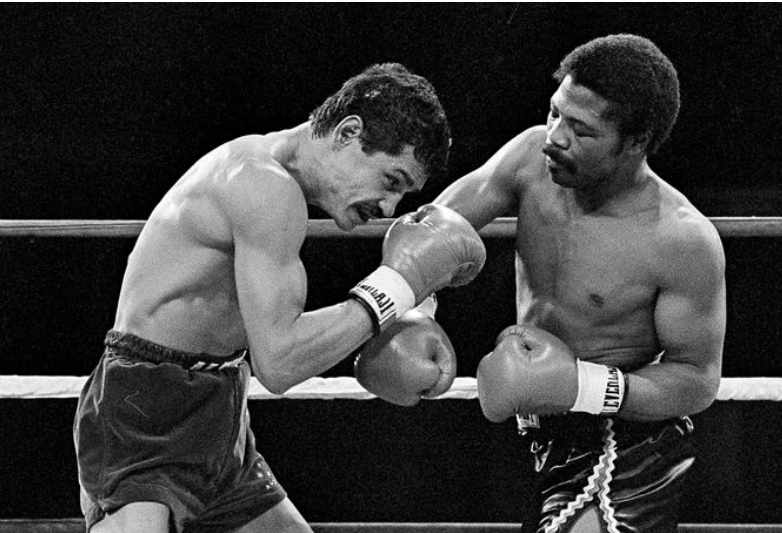 The San Francisco 49ers and Kansas City Chiefs collide on Feb. 2 in Miami in Super Bowl LIV (54) in what will assuredly be the biggest betting event to ever play out on American soil. It's the 10th Super Bowl for the South Florida metropolis which ties it with New Orleans as the most frequent destination for football's premier attraction.
With its heavily Latin population, Miami would seem to be natural for big fights. However, this hasn't been the case. Several great champions fought here, including Roberto Duran who twice defended his world lightweight title in these parts, but these weren't big fights. In the case of Duran, his opponents were lightly regarded and the Panamanian legend was still three years away from his first encounter with Sugar Ray Leonard, a match that increased his name recognition a hundred-fold.
There were, however, three fights in Miami that summoned the interest of virtually all of America's A-list sportswriters. Here they are in reverse chronological order.
Aaron Pryor vs. Alexis Arguello (Nov. 12, 1982)
Alexis Arguello (72-5) was bidding to become boxing's first four-division champion. In his way stood WBA junior welterweight title-holder Aaron Pryor (31-0, 29 KOs), a man now widely regarded as the best 140-pound boxer of all time.
Arguello, a Miami resident, having been exiled from his Nicaraguan homeland by the Sandanista rebel occupation, was a textbook boxer who defeated his opponents with surgical efficiency. Pryor was a typhoon. He mowed down his opponents with relentless pressure. It was a great style match-up and it didn't disappoint. Contested before nearly 30,000 at Miami's iconic Orange Bowl, Pryor vs. Arguello was a fight for the ages.
"There was power, finesse, poise, courage and a tremendous ebb and flow," said Associated Press writer Ed Schuyler who dubbed it Manila in Miniature. In the ninth, 11th, and particularly the 13th rounds, Arguello hit Pryor with straight right hands that would have felled an ordinary fighter, but Pryor had an iron chin.
In the 14th, Pryor buckled Arguello's knees with a straight right hand and then unloaded a furious combination as Arguello fell back against the ropes. He was out on feet when referee Stanley Cristodoulou intervened and he would lay prone on the canvas for several minutes before he could be removed to his dressing room.
Sonny Liston vs. Muhammad Ali (Feb. 25, 1964)
If you happen to find a poster for this fight with the name Muhammad Ali on it, don't buy it. It's bogus. Liston met up with Muhammad Ali in their second fight. In their first encounter, Liston opposed Cassius Clay.
Clay's Louisville sponsors, after a brief flirtation with Archie Moore, settled on Angelo Dundee as his trainer. Angelo operated out of his brother Chris Dundee's gym located at the corner of 5th Street and Washington Avenue in Miami Beach. The fighter who took the name Muhammad Ali trained here and kept a home in Miami for most of his first six years as a pro.
Clay/Ali was 22 years old and had only 19 fights under his belt when he was thrust against heavyweight champion Sonny Liston at the Miami Beach Convention Center. Liston was riding a 28-fight winning streak after back-to-back first-round blowouts of Floyd Patterson.
In a UPI survey, 43 of 46 boxing writers picked Liston. "Clay has no more chance of stopping Liston than the old red barn had of impeding a tornado," wrote Nat Fleischer, the publisher of The Ring magazine.
This would be the first of many famous fights for Muhammad Ali who emerged victorious when Liston quit after the sixth frame citing an injured shoulder. What is not widely known, however, is that the fight, which was shown on closed-circuit in the U.S. and Canada, was a bust at the gate. The 16,448-seat Convention Center was only half full.
The expectation that Liston would take the lippy kid out in a hurry depressed sales, as did sky-high ticket prices ($250 tops when $100 was the norm). And there may have been more subtle factors. "This may not be the best place for a fight between two Negroes," wrote Robert Lipsyte of the New York Times, cognizant that people of color were not welcome as guests at the ritzy beachfront hotels along Collins Avenue.
Jack Sharkey vs. W. L. (Young) Stribling (Feb. 27, 1929)
A big fight, as I define it, doesn't have to be a blockbuster. An important fight that produces an upset automatically becomes a bigger fight in hindsight. The Sharkey-Stribling fight of 1929 didn't draw an immense crowd by Jack Dempsey standards, but the turnout, reportedly 35,000, far exceeded expectations and the fight – which preceded Miami's first Orange Bowl football game by six years — really established Miami as a potentially good place for a big sporting event.
Promoted by the Madison Square Garden Corporation, the bout was originally headed to a dog racing track but it quickly became obvious that a larger venue was needed. A stadium was erected on a Miami Beach polo field, taking the name Flamingo Park (not to be confused with the thoroughbred track of the same name).
Slated for 10 rounds, the bout was conceived as one of two "eliminators" to find a successor to Gene Tunney who had retired. What gave the fight it's primary allure, however, was the North-South angle. Sharkey, born Joseph Zukauskas, hailed from Boston. Stribling, born into a family that traveled the fair circuit with a variety act, was from Macon, Georgia.
The fight, which aired on the NBC radio network, was a dud, a drab affair won by Sharkey who had the best of it in virtually every round. Both went on to fight Max Schmeling for the world heavyweight title. Stribling, dubbed the "King of the Canebrakes" by Damon Runyon, lost by TKO in fight that was stopped late in the 15th round. Sharkey took the title from Schmeling on a split decision after losing their first meeting on a foul.
Young Stribling died in a motorcycle crash at age 28, by which time he had engaged in 251 documented bouts, the great majority of which were set-ups. Jack Sharkey lived to be 91.
—-
The strong earnings of the Sharkey-Stribling bout inevitably drew the Madison Square Garden Corporation back to Miami for an encore. On Feb. 27, 1930, Jack Sharkey opposed England's "Fainting" Phil Scott. Four years later, on March 1, 1834, Primo Carnera defended his world heavyweight title here against former light heavyweight champion Tommy Loughran, the Philadelphia Phantom.
Both bouts were big money losers, as were the great majority of major fights during this period. Eight months after the Sharkey-Stribling cash cow, the stock market crashed, plunging the United States into the Great Depression. Few Americans could afford to vacation in Florida, let alone travel anywhere for a big fight.
Check out more boxing news on video at The Boxing Channel 
To comment on this story in The Fight Forum CLICK HERE
Star Power: Ryan Garcia and Oscar De La Hoya at West L.A. Gym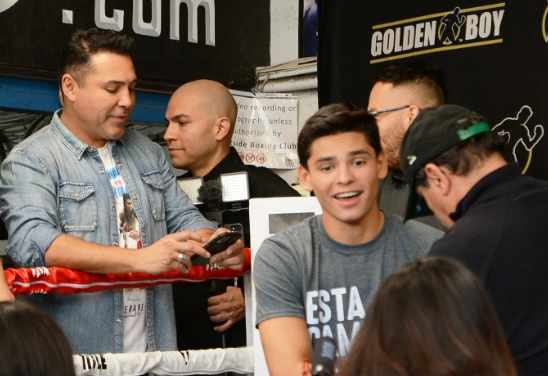 Under gray skies and very cool temperatures Ryan Garcia arrived with his father and a couple of others at the Westside Boxing Gym on Monday.
Waiting anxiously were about 100 people comprised of mostly videographers and photographers who had already surrounded Oscar De La Hoya who arrived earlier.
Golden Boy greets the Flash.
Garcia (19-0, 16 KOs) has a fight coming soon against Nicaragua's Francisco Fonseca (25-2-2, 19 KOs) on Friday Feb. 14, at the Honda Center in Anaheim, Calif. The Golden Boy Promotions show will be streamed by DAZN.
"I'm ready for this fight," Garcia said quickly.
Some say it has been a rather quick road for the fighter from Victorville known as the Flash. But if you ask Garcia, it has been too slow.
"I think he (Garcia) will be world champion this year," said De La Hoya, CEO of Golden Boy Promotions.
Years ago, De La Hoya arrived with the same hoopla but his travel to the top seemed even faster. By his fifth pro fight he was matched with Jeff Mayweather. Yes, those Mayweathers. At the time Mayweather had fought 27 professional fights and had only two losses. De La Hoya stopped him in four.
In his eighth pro fight De La Hoya met Troy Dorsey, a tough Texan who had formerly held the IBF featherweight world title and who would later win a super featherweight world title. De La Hoya stopped him in one round.
Two years after winning the Olympic gold medal in Barcelona, the Golden Boy met WBO world titlist Jimmi Bredahl at the Olympic Auditorium and after dropping him several times finally stopped him in the 10th round. It was De La Hoya's first world title and he was 21 years old.
Garcia is now 21 and ready to test the loaded lightweight division waters. For a while he was fighting at super featherweight, a division loaded with talent. But lightweights are the Maginot Line when it comes to boxing's big hitters. Everybody can punch in the 135-pound limit lightweight division.
When Garcia met Romero Duno last November in Las Vegas many expected the speedy Victorville fighter to get his come-uppance. Instead the lanky slugger lit up the strong Filipino fighter and dropped him into the ether world.
It was mesmerizing stuff.
Now he's back with a load of credibility after shutting down detractors with his devastating knockout win over Duno. It wasn't supposed to be that easy. Just like it wasn't supposed to be that easy when De La Hoya raced by world champions like Secretariat did in the Kentucky Derby decades ago. It's not supposed to be that easy, but for some it truly is.
Garcia seems to be headed for a journey so remarkable that he has other world champions like WBC titlist Devin Haney eyeing him for their next challenges. It barely results in a yawn for the fighter who will be facing a very credible foe in Fonseca next month.
"I'm not even the champion and he's calling me out," said Garcia with a whatever kind of look.
Other fighters and promoters can see what Garcia represents and want to get a slice of it too. Its intangible yet most of the boxing world can sense something is coming and Garcia might be part of it.
That's called star power and it's difficult to explain. Some have it, many want it and others have no chance of ever attaining it.
Time will tell how far Garcia's star power will venture.
One man lived that life and, in a sense, still lives that life and that is De La Hoya. Even he senses a déjà vu moment with Garcia.
"It's why we made him one of the richest young prospects in boxing today," De La Hoya said.
Expect several thousand ardent fans of Garcia to fill the seats on Valentine's Day. How else can you explain it but, star power.
Photo credit: Al Applerose
Check out more boxing news on video at The Boxing Channel 
To comment on this story in The Fight Forum CLICK HERE
The Much Maligned Boxing Judge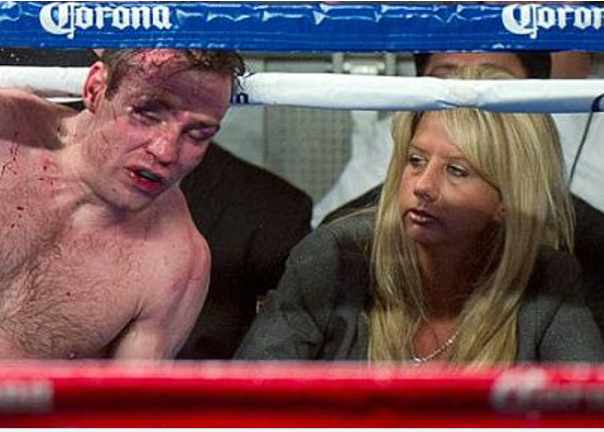 Identifying bad judges is pretty easy, but that's not the purpose of this essay. To the contrary, the emphasis here is on fine judges and the many ways they can be unjustly labeled.
Now to name a few of today's best boxing judges is to risk excluding others and that's admittedly unfair but space is limited. Quickly coming to mind, however, are these judges, all currently active: Julie Lederman (pictured), Steve Weisfeld, Glen Feldman, Dave Moretti, Glenn Trowbridge, Joe Pasquale, Max DeLuca, Hubert Earle, Benoit Roussel, Burt Clements, Tom Shreck, Don Trella, Gary Ritter, Patricia Morse Jarman, Pat Russell, Pinit Prayadsab, Raúl Caiz, Jr., and, of course, the South African legend Stanley Christodoulou.
Boxing judges, unlike referees, are far easier to criticize because the average fan can score a fight using whatever criteria he or she selects and the view from a TV is pretty good. This contributes to the relatively high number of maligned boxing judges.
Being a boxing judge is a thankless endeavor where attention is received only when something controversial and/or negative occurs. And once a judgment is made about a bad job, that judgment influences future perceptions. This is known as "confirmation bias." Thus, when a boxing commentator like the outspoken Teddy Atlas launches into a tirade over the judging in a particular fight, he may be engaging in confirmation bias—a kind of "See, I told you so." Those who might criticize based on one poor performance may feel their suspicion of botched judging confirmed. Thus, the tagged judges' reputation may be unfairly tarnished in the future.
Out-of-town fighters going to Texas to fight are aware of the risks based on the post-fight rants of Paulie Malignaggi, Atlas and many others. If so, the solution is to use out-of-state judges or avoid Texas altogether.
However, even if the elite judges make one "questionable" call in the eyes of fans and certain boxing commentators (or have an off day) they can be labeled as "bad" judges while simultaneously serving as a dart board for Bob Arum's selective and quite nasty criticism.
No judge is perfect. They deal in a subjective world. Even the legendary IBHOF member Harold Lederman was harshly criticized for his scoring in the Maurice Harris vs. Larry Holmes fight in 1997. And even his daughter Julie has served as a target for some of Arum's especially vicious criticism.
"She is the best judge in our household"—Harold Lederman
"You have people who are concentrating for three minutes, looking at nothing but the gloves, nothing but the punches. These other people are judging from TV, they're judging from twenty rows back and they don't see the effect of the punches all the time."—Dave Moretti
"It's easy to criticize boxing judges. But it's not that easy to have a sound basis for the criticism. One needs to see the fight the judge saw to be in the position to rightly criticize. Critics should temper criticisms in light of the situations boxing judges are in when judging fights. And judges should likewise understand criticisms from the boxing public, however baseless these may seem.  — Epifanio M. Almeda (PhilBoxing.com)
All it Takes Is One Bad Apple
In the recent Jesse Hart vs. Joe Smith Jr. fight in Atlantic City, a somewhat under-the-radar judge got it terribly wrong. Two judges had it for Smith, 98-91 and 97-92, but the judge in question shockingly had it 95-94 for Hart. He was scorned, tagged, labeled and God knows what. The criticism took on the form of a tsunami.
Bob Arum had this to say: "That judge should be banned from scoring a fight — and I promote Hart. How can you ever score that fight for Jesse Hart? It was a terrific fight, good for boxing, good action fight, and then you have a damn judge who screws it up."
Al Bernstein added, "…He should never be allowed to judge again…."
A look at his past record as a judge since 2015 doesn't reveal anything untoward. But he has now been tagged—perhaps justifiably so– and if he somehow gets through this and slips up again, there will be one very loud "we told you so." It's the nature of the beast; It is what it is.
The Pod Index
Matt Podgorski (a former boxing official) came up with a method to evaluate the performance of judges worldwide by determining the percentage of instances his or her scores are consistent with the other two judges working the same fights. He calls it the Pod Index. "Boxing and MMA judges are often evaluated based on whether or not they have had a controversial decision. This is a poor way to assign and regard professional judges," said Podgorski in an interview with former RingTV editor Michael Rosenthal.
Matt's Disclaimer: "We are not claiming that judges with low Pod Index scores are bad judges. The Pod Index is simply a measurement of round by round variation compared to other judges."
Steve Farhood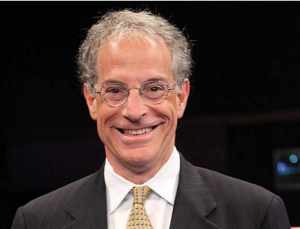 2017 International Boxing Hall of Fame inductee Steve Farhood is a lot of things: analyst, writer, historian, commentator, and an unofficial judge for Showtime fights. If he were an official judge, his Pod Index score would undoubtedly be at or near the top. Steve seldom gets it wrong. He may be the best "judge" in boxing.
Ted Sares can be reached at tedsares@roadrunner.com
Check out more boxing news on video at The Boxing Channel 
To comment on this story in The Fight Forum CLICK HERE