Avila Perspective, Chap 55: Japan Calling, Mioletti and Competing Cards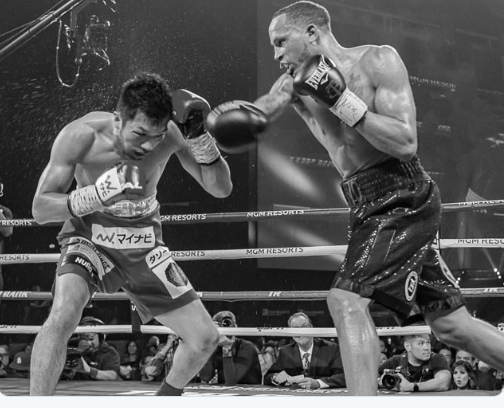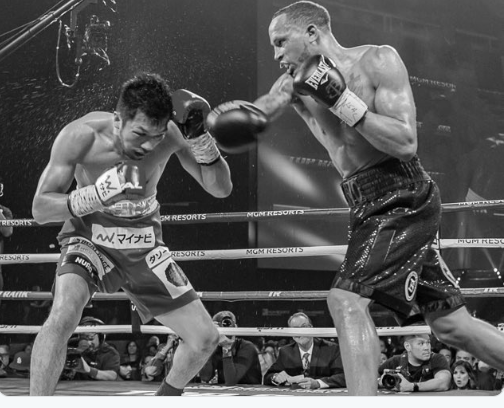 Japan's revered Ryota Murata entered the Park Theater to a large contingent of Japanese fans who traveled across the Pacific Ocean to see him vanquish the American in Las Vegas. That was last October.
An expected victory for Murata meant a ticket to face Gennady "GGG" Golovkin in a massive fight at the Tokyo Dome. All the pieces were in place and it seemed a mere formality to see the Japanese fighter's hand raised at the end.
After 12 shocking rounds little known Rob Brant out-boxed, out-foxed and out-fought Murata and the expected coronation turned into a curtain dropping flop.
Here we are eight months later on the other side of the Pacific. Does geography make a difference?
Murata (14-2, 11 KOs) now challenges WBA middleweight titlist Brant (25-1, 17 KOs) on Friday, July 12, at the Edion Arena in Osaka, Japan. It's not the Tokyo Dome but an expected sold out crowd of 8,000 should fill it up. ESPN+ will stream live.
Excuses and rationalizations were not spouted by Murata who won an Olympic gold medal in 2012. But losing to Brant was clearly not expected.
"Rob Brant beat me fair and square, but I am ready to get revenge," Murata, 33, said.
Brant, 28, a seemingly always smiling fighter out of Dallas, Texas, expected this rematch and expects a better performance from Murata.
"I am very excited to be defending my title in Japan against Ryota Murata. Ever since I beat him for the belt, I have always known this fight was on the horizon," Brant said. "I feel Murata is only at his full potential while in front of his people."
In their first encounter Brant surprised Murata with his ability to avoid big blows and when they did land the American shrugged them off. Offensively the Japanese slugger was unable to fend off the overwhelming and unorthodox attacks by Brant. Though never seemingly hurt by the blows, Murata never could mount a consistent attack and lost by unanimous decision. Some rounds were seemingly close.
"I want to show everyone the real Ryota Murata and regain my world title in spectacular fashion. I took some time off after my last fight, but I never lost my fighting desire. In fact, I am more motivated than ever," Murata said.
Brant relishes the opportunity.
"This fight is me showing the world that I can bring my full potential with me wherever I go," he said.
Will Japanese home cooking prove the difference?
For those living in the West Coast this fight card begins at 4 a.m. PT. pm ESPN+. If it's anything close to their first encounter it should be a bloody and bruising rematch.
Giovanni Mioletti
A Midwest prodigy, Giovanni Mioletti, will be in a battle of undefeated super featherweights when he meets Ecuador's Luis Porozo on Friday July 12, at Emerald Queen Casino in Tacoma. Showtime will televise.
Mioletti (16-0, 7 KOs) is a 24-year-old southpaw from Chicago and has a few victories over solid competition including wins over Recky Dulay and Roberto Meza. He meets Porozo (14-0, 7 KOs), 29, a late bloomer, who began prizefighting a mere three and a half years ago.
It's the type of battle that draws fans to watch when you have undefeated prospects willing to face each other. A victory moves them through the door to contention and that's exactly what prizefighting is all about.
Competing Cards
While WBC super bantamweight titlist Rey Vargas clashes with Japan's Tomoki Kameda in Los Angeles, on the other side of the US on Saturday a featherweight clash pits former Olympian Shakur Stevenson against Alberto Guevara in New Jersey.
Once again promoters face off.
Top Rank's Stevenson (11-0, 6 KOs) and his wealth of talent defends his regional titles against late replacement Guevara (27-4, 12 KOs) of Mexico who hopes to put up enough of a challenge. ESPN will televise the fight but don't expect it to last.
Stevenson, 22, exudes talent and has quickly picked up the professional style of fighting after years of amateur boxing. It's not easy to do. I truly do not expect any featherweight to prove a challenge unless he fights Leo Santa Cruz or Gary Russell Jr. And that's not going to happen with this Top Rank fighter, at least not any time soon.
In the Los Angeles area, Golden Boy Promotions will be pitting its prospects to the test especially with Diego De La Hoya (21-0, 10 KOs) meeting Ronny Rios (30-3, 14 KOs)  in a featherweight clash set for 10 rounds at Dignity Health Sports Park, formerly named the StubHub Center. DAZN will stream the card.
De La Hoya has had problems making weight and Rios has made one failed attempt at a world title and now tests the cousin of the boss Oscar De La Hoya. Sometimes styles make fights and both fighters are well schooled. De La Hoya is 24 and Rios 29.
Another battle of Golden Boy prospects pits Joet Gonzalez (22-0, 13 KOs) against Manuel Avila (23-1-1, 8 KOs) in another 10-round featherweight battle.
Northern California's Avila had problems in his last fight against Mexico's Jose Santos Gonzalez who took the fight inside and wouldn't allow breathing room. It ended in a draw. Before that, Avila lost to Jojo Diaz and that's not an embarrassment.
Southern California's Gonzalez had problems with Mexico's Rafael Rivera a year ago but won an extremely close split decision. But at the time nobody knew much of Rivera who would later battle featherweight champion Leo Santa Cruz for 12 rounds last February. Gonzalez has eliminated his last two foes by knockout.
Akhmadaliev to fight WBA champ Danny Roman
WBA and IBF super bantamweight titlist Danny Roman will be fighting number one contender of the WBA Murodjon Akhmadaliev by September 30, 2019. A purse bid was held in Panama City on Tuesday and was won by World of Boxing.
World champion Roman is promoted by Thompson Boxing Promotions and Banner Promotions. The challenger Akhmadaliev has defeated two fighters from those co-promoters by knockout. Last November he stopped Isaac Zarate and this past April knocked out Carlos Carlson.
Roman captured the IBF title to add to the WBA super bantamweight title with a thrilling clash against TJ Doheny that could easily be a candidate for Fight of the Year this past April. He has quickly become one of boxing's most exciting fighters.
Fights to watch
Fri. July 12, 4 a.m. PT on ESPN+ – Rob Brant (25-1) vs Ryota Murata (14-2), Ken Shiro (15-0) vs. Jonathan Taconing (28-3-1).
Fri. July 12, Showtime 7 p.m. PT – Giovanni Mioletti (16-0) vs. Luis Porozo (14-0).
Fri. July 12, Telemundo, 11 p.m. PT – Derrick Cuevas (21-0-1) vs Jesus Beltran (17-2-2).
Sat. July 13, DAZN 4 p.m. PT – Rey Vargas (33-0) vs Tomoki Kameda (36-2)
Sat. July 13, ESPN 5 p.m. PT – Shakur Stevenson (11-0) vs. Alberto Guevara (27-4).
Check out more boxing news on video at The Boxing Channel
To comment on this story in The Fight Forum CLICK HERE
WBO Title-holder Emanuel Navarrete Defends at Banc of California Stadium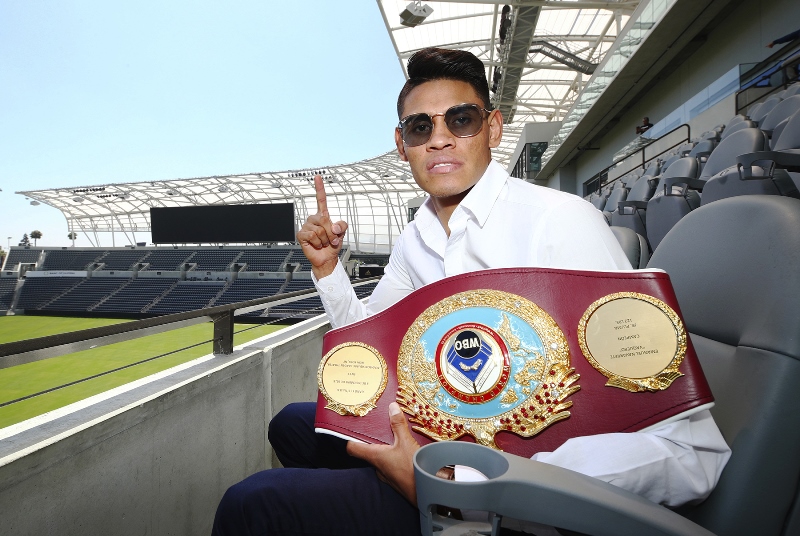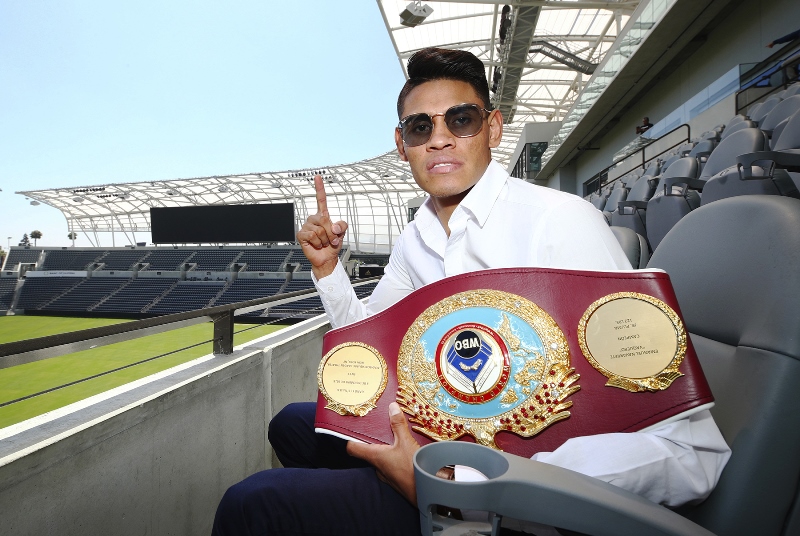 WBO Title-holder Emanuel Navarrete Defends at Banc of California Stadium
LOS ANGELES-World champions are gathering at a busy street corner of Los Angeles that has been the site of numerous heroic, villainous and emotional moments in the history of the second largest city in the USA.
Two full scale riots erupted and flamed out on that corner of Martin Luther King Boulevard and Figueroa Avenue in the 60s and 90s.
A presidential debate took place between John F. Kennedy and Richard M. Nixon on those same grounds when they were running in 1960.
NBA superstars Jerry West, Elgin Baylor and Michael Jordan performed their magic on that corner too.
On Saturday, WBO super bantamweight titlist Emanuel Navarrete (27-1, 23 KOs) defends against Arizona's Francisco De Vaca (20-0, 5 KOs) in the main event at the sparkling new Banc of California Stadium. ESPN will show the Top Rank fight card.
The stadium stands on the same location where the LA Memorial Sports Arena once stood proudly until it fell into disarray and was torn down several years back.
Sixty years ago, the first world championship boxing match was held on these same grounds and fans saw France's Alphonse Halimi lose to Mexico's Jose Becerra by fifth round knockout at the LA Memorial Sports Arena. Seven months later they fought again next door at the LA Coliseum and Becerra won by knockout again.
That was only the beginning, others like Muhammad Ali, Archie Moore, Sugar Ray Robinson, Bobby Chacon, Jerry Quarry, Danny "Lil Red" Lopez, Ruben Olivares, Roman "Chocolatito" Gonzalez and Amir Khan all fought on those same grounds.
Imagine, when Navarrete (pictured above) rises from his corner to fight Phoenix's De Vaca on Saturday, he will be continuing the ever-growing streak of civil and professional fights that took place on that same historic street corner.
WBO Super Bantamweight Title
Navarrete erupted on the fight scene like a ghost when he first defeated Isaac Dogboe last December at Madison Square Garden. It was supposed to be a Broadway opening for Dogboe, but instead turned into a horror story as those long arms of the Mexican fighter proved perplexing. The rematch was even more horrific for Dogboe.
Now the Mexico City fighter meets little known challenger De Vaca, who comes from an area that has recently been developing boxing talent in the desert city of Phoenix.
"The truth is that it doesn't matter who is my opponent. I always prepare 100 percent for each of my fights, and this was no exception," said Navarrete, 24, who is making his second defense of the WBO title. "We already did the hard work in the gym, and we are ready for a great fight. If De Vaca comes to fight hard, I am prepared to go even harder. I'm ready to give a great battle to all the fans."
Can De Vaca do what Navarrete did to Dogboe last year?
"I wanted to fight for a world title since I was 5 years old, and now that we have the opportunity, we are going to make our dream come true this Saturday," said De Vaca, 24, who fought once in Southern California back in 2016. "Come Saturday, there will be a new world champ for Phoenix and Michoacán. I'm coming for that world title."
Co-Main
Former super bantamweight titlist Jessie Magdaleno (26-1, 18 KOs) meets Rafael Rivera (27-3-2, 18 KOs) in a featherweight match set for 10 rounds. After struggling to make the 122-pound super bantamweight limit, the Las Vegas southpaw now fights at 126 pounds. It's made a difference.
"He's a totally different person at 126 pounds," said Frank Espinoza who manages Magdaleno. "Even the way he talks and thinks is different. Who would have thought four pounds would make such a difference."
Magdaleno, the former WBO super bantamweight titlist, now meets Tijuana's Rivera who never fails to provide high intensity fisticuffs.
"I don't take none of these guys lightly. Every opponent is difficult. He's fought great fighters. He's been in there with great fighters and done a hell of a job. I can't overlook him because he's here to put on a great show as well," said Magdaleno, 27. "He throws a lot of punches, and he's quick. That's what I am, and that's what is going to make a hell of a fight for this fight card."
Rivera fought featherweight champion Leo Santa Cruz earlier this year. Though he lost by decision, he gained fans for his ferocity.
"I've been fighting against top-level fighters for a long time, so I feel confident and secure that whether it's against a world champion or a former champion, I'll put up a good fight," said Rivera, 25. "Jessie is a good fighter. I've seen him fight before. He's an aggressive fighter, but I'm just here to do my work."
It's a rather strong and lengthy fight card to baptize the new stadium into the world of prizefighting. Expect a lengthy line of fans on the same corner where many historic events have taken place.
Boxing has returned to the same street corner where legends like Ali, Sugar Ray, Quarry and Schoolboy Chacon previously performed. It's a corner with many memories, both pleasant and notorious.
Photo credit: Hector De La Cruz
Check out more boxing news on video at The Boxing Channel  
To comment on this story in The Fight Forum CLICK HERE
Ruiz vs. Joshua: Enough is Enough; Let's Get it On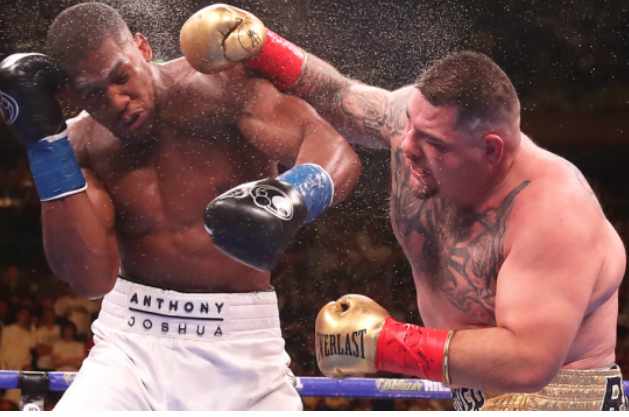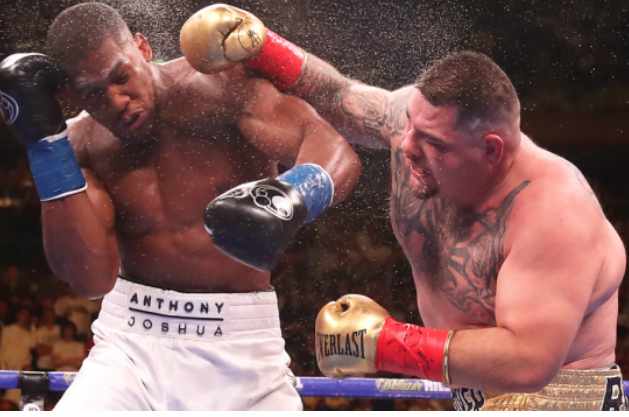 Ruiz vs. Joshua: Enough is Enough; Let's Get it On
In October of 1974, when Muhammad Ali was in Kinshasa, Zaire (now the Democratic Republic of the Congo) to fight George Foreman in the "Rumble in the Jungle," the people cheered him as he trained on the roads. They backed off when Big George walked his menacing German Shepard. It was love vs. fear and fear never had a chance.
When Foreman hit the big bag, there was no "Night Train' playing in the background; it just went "Thump, Thump Thump" and it was ominous.
As Jonathan Snowden wrote, "Far from the charming infomercial king who would later grow rich selling American electric grills bearing his name, this Foreman was hard to reach—a mystery not just to white sports writers of the time, but to his African hosts as well."
He added, "Two African-American fighters were competing, for the first time, in the heart of Africa, under the watchful eye of military strong man Joseph Mobutu." Mobutu guaranteed the combatants upfront money. His goal was to put his country on the global map.
Upon visiting Mobutu's palace, Drew "Bundini" Brown said, "All my life I've been hearing about the White House, today I visited the Black House."
Among other things, Mobutu was famous for corruption and nepotism while the people of Zaire suffered from poverty and human rights abuses.
Meanwhile Don King made his bones as a promoter and James Brown did his thing. An international press corps that included literary heavyweights George Plimpton and Norman Mailer enjoyed the scene. It was one big party. It was "When We Were Kings." It was grand.
During the fight—one in which many feared for Ali's life—Muhammed taunted with "Is that all you got, George?" In the end, Ali's "rope-a-dope" strategy paid off. As Archie Moore related, "Ali had him thinking and worrying, and he wasted too much ammunition on Ali's arms…And when George got tired against a skilled warrior like Ali, that was the beginning of the end."
The end came in the eighth round when Ali knocked out a discouraged, depleted and tired Foreman. Let the celebrations begin. "Ali bomaye!"
The fact that this spectacular event took place in an edgy country with a reputation for corruptness did not amount to a hill of beans in the final analysis. After all, this was boxing.
Fast Forward
"We wanted to go somewhere that believed in the sport of boxing, which had a vision. We already knew Saudi Arabia was for real and knew they were investing in the sport of boxing. That was very important for us." — Eddie Hearn
Now, like Mobutu, Saudi authorities will try to improve their image on human rights by hosting—or at least trying to host– the Anthony Joshua vs. Andy Ruiz rematch in what has been billed as the "Clash on the Dunes." The event will unfold in Diriyah, a town on the outskirts of Riyadh, Saudi Arabia's capitol and largest city.
A brand-new term has entered the language to explain the actions of the Saudi authorities: "Sportswash." If fact, that's exactly what Mobutu did before the term was invented.
"If Saudi Arabia is going to invest in these fights, with the population they have, with the potential to grow the sport of boxing, you could be seeing a big change in the dynamics of the sport, which truly excites me." — Hearn.
Boxing is a tough way to make a living and many fighters end up badly damaged. Relatively few ever get an opportunity to make life-changing money. Ruiz and AJ, like Ali and Foreman, should be able to do their thing without the self-righteous nonsense. Heck, when did integrity ever get in the way of the boxing community ever doing anything? Ruiz and Joshua have nothing to do with the way people live in the Arabian nations.
Enough is enough. Let's get it on.
Ted Sares is a lifetime member of Ring 10, and a member of Ring 4 and its Boxing Hall of Fame. He also is an Auxiliary Member of the Boxing Writers Association of America (BWAA). He is an active power lifter and Strongman competitor in the Master Class.
Check out more boxing news on video at The Boxing Channel  
To comment on this story in The Fight Forum CLICK HERE
From Child Prodigy to Elite Trainer, ex-Champ Bones Adams has had a Bumpy Ride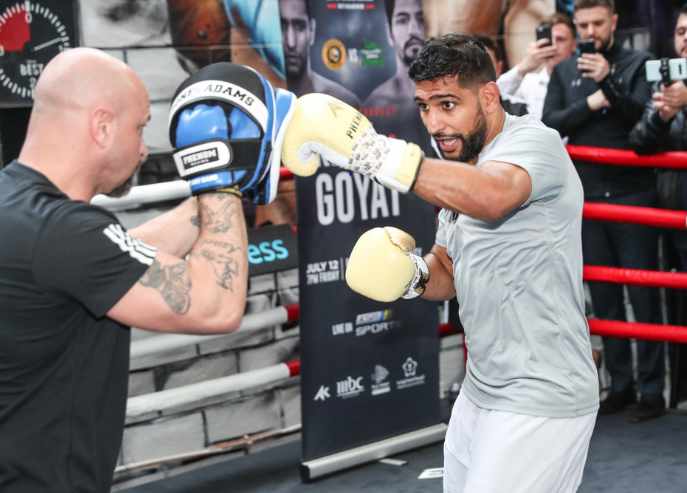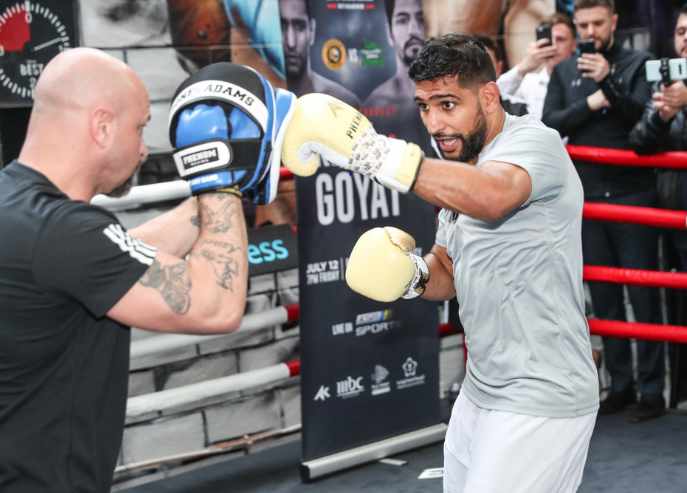 PART ONE OF A TWO-PART STORY — Las Vegas boxing trainer Clarence "Bones" Adams (pictured working the mitts with Amir Khan) has something in common with Tiger Woods. Both appeared on the TV show "That's Incredible." The show, co-hosted by former NFL quarterback Fran Tarkenton, had a five-year run (1980-84) on ABC.
Tiger hadn't even started kindergarten when his father brought him on the show to show off his acuity at hitting golf balls into a cup. Many viewers undoubtedly wondered if this painfully shy five-year-old kid would hit his peak as a golfer before he hit puberty.
Bones Adams wasn't as cuddly cute as Tiger when he appeared on the show, his small hands encased in oversized boxing gloves, but, of course, he was a lot older. The precocious puncher was eight.
Precocious indeed. Reportedly 176-4 as an amateur, Adams was 15 years old when he made his pro debut on April 3, 1990 in Memphis, Tennessee. In the opposite corner was Simmie Black, a veteran of 158 fights.
Black was a professional loser of the stripe that has become virtually extinct in the United States, but he was 37 years old and had swapped punches with several top-shelf fighters, and here he was matched against a 15-year-old kid with no professional boxing experience whatsoever.
The kid won a 4-round unanimous decision and several years later, at age 18, he would fight a future Hall of Famer for the bantamweight championship of the world.
Clarence Richard Adams Jr has been called Bones ever since he was a little boy. The nickname was attached to him because someone said he was all skin and bones and he embraced it because he always hated the name Clarence. He spent his formative years in Henderson, Kentucky, where his father was a truck driver until blood clots in his legs forced him to quit. New employment was hard to find. Tobacco and coal, the prime economic movers in the growth of Henderson County, were in decline.
For a time, the family lived in Smith Mills, Kentucky, in a house without electricity and running water. To help out his parents, Bones worked in the fields, picking soybeans, corn, and tobacco. Working in the fields and honing his skills as a boxer – the gym was in Evansville, Indiana, 11 miles from Henderson – left little time for school. He dropped out in the eighth grade.
"No disrespect intended," says Bones, "but the kids in the projects in the inner cities had it easy compared to us."
The Adams' later moved to Detroit where they lived along 7 Mile Road, the grittiest corridor in the city. They then settled in the town of Carmi in southern Illinois (a little more than an hour's drive from their ancestral home in Henderson) where Bones' father, since deceased, ran pizza parlors. Bones was living in Carmi when he turned pro.
Bones brought a 26-0-1 record into his March 27, 1993 bout with IBF world bantamweight champion Orlando Canizales at Evian les Bains, France. But it was a soft 26-0-1, a record forged against no-name opponents in tank towns like Greenville, South Carolina, Saint Joseph, Missouri, and Eldorado, Illinois. At this stage of his development he had no business being in the same ring with Canizales, the pride of Laredo, Texas, who was making the 12th defense of his title and would come to be regarded in many quarters as the top bantamweight of the modern era.
"When the fight was pitched to me," says Bones, "I was told that the venue was neutral, but when I got over there I saw people coming up to Canizales saying 'how nice to see you again' and I learned that one of the judges was from Texas."
The previous year, Canizales had twice defended his title in France. The Texas judge, Ronnie Ralston, was working his fourth Canizales title fight. (Astoundingly – but hey, maybe not; this is boxing – when Canizales lost three years later to Junior "Poison" Jones in a bid for the IBF super bantamweight title, Ronnie Ralston scored the fight 119-109 for Canizales. The other judges had Jones winning by six and seven points.)
Bones was being thrown to the wolves, but he was no pushover. Canizales broke Bones' jaw in the third round, but the kid kept plugging away. After ten frames, Canizales led by two points on all three cards; the fight still hung in the balance. But in the 11th, Bones' father, who had no boxing experience but was working his corner, tossed in the towel.
Canizales vs Adams was held in a classy joint, the Casino Royale resort overlooking Lake Geneva, a favorite getaway for European bluebloods. This was quite a departure for Bones who was only a few years removed from scrounging through dumpsters for aluminum cans and other stuff that could be sold to a recycling center or a junk dealer. But the luxurious accommodations were no consolation. At an age when many young men are hijinking through their freshman year of college, here was Bones Adams nursing a painfully broken jaw on a long flight home across the Atlantic, a jaw that would be surgically repaired at his own expense.
In both of his next two fights, Bones dislocated his left shoulder and was forced to shut it down. With three straight losses, all inside the distance, his future looked grim. But Bones persevered and in 1995 was accorded a match in Las Vegas with Kevin Kelley on the undercard of the world lightweight title fight between Oscar De La Hoya and LA-area rival Genero "Chicanito" Hernandez.
They fought outdoors at Caesars Palace in the early evening on a swelteringly hot day. Fighting for a purse of $40,000, Bones fought the last four rounds of the 12-round fight with a badly swollen left eye that appeared to ringsiders, but not referee Mitch Halpern, to be the result of an accidental head butt. When the smoke cleared, veteran Las Vegas judge Bill Graham had it 116-112 for Bones Adams, but he was overruled by Art Lurie, another local man, and Rhode Island import Clark Sammartino who both had it 114-114 and it went into the books as a draw.
A former featherweight champion, Kevin Kelley, the Flushing Flash, was 43-1-2 going in. He was one of the great action fighters of his day, but this particular fight was rather dull. "And that tells you right there I got screwed," says Bones. "I controlled the ring, I made him fight my fight."
Bones would be on the wrong side of another questionable decision in an even bigger fight, but prior to that disappointment, all of his hard work finally paid off and he experienced the highest high of his boxing career.
On March 4, 2000, at the Mandalay Bay Events Center in Las Vegas, Adams deposed WBA super bantamweight champion Nestor Garza. Although he broke his hand in the eighth round, he won a wide decision.
"I was having a lot of aches and pains," Bones recalled, "but when I woke up on the morning of the fight, I felt great, I felt very strong. I called all my friends and told them to bet on me. I had a lot of friends that night."
Bones says that going into the fight he had only $980 to his name. He bet $900 on himself and says he secured 8/1 odds. (In truth, Garza wasn't quite that big a favorite. In boxing, upsets invariably become bigger upsets in the re-telling and with the passage of time.)
After two successful title defenses, Bones returned to Mandalay Bay to oppose Paulie Ayala. Bones held the WBA 122-pound title, Ayala was that organization's 118-pound champion, and yet there was no title at stake, save that of a fringe organization (we wouldn't even try to explain how that came about – hey, this is boxing).
Title or no title, the fight created a lot of buzz. Wladimir Klitschko's WBO title defense against Charles Shufford was relegated to the undercard. And the bout was a humdinger that went to the scorecards after 12 nip-and-tuck rounds. Bones won the last round on the card of all three judges, but that wasn't sufficient to get him over the hump. Ayala won a split decision.
Bones didn't bring the same fire into his rematch with Paulie Ayala who was returned a clear winner after 12 rounds. He felt that he deserved no less than a draw in his next fight, a 12-round featherweight contest with tough Guty Espadas Jr, but that fight too ended with Bones on the wrong side of a split decision. For this bout, Bones had a 12-week camp in Big Bear and felt that he had over-trained.
He would go on to have six more fights for small purses before calling it quits, retiring with a record of 44-7-4. When he left the sport, he wasn't yet 26 years old, but he had a lot of mileage on his odometer – as a pro, he had answered the bell for 344 rounds – and it was time to say goodbye.
Bones concedes that he began to make some bad choices following his first loss to Paulie Ayala, for example using recreational drugs as a crutch to uplift his spirits. He then made a whopper of a bad choice when he accepted an offer of employment from the predatory Charles Horky.  To be continued……
Check out more boxing news on video at The Boxing Channel  
To comment on this story in The Fight Forum CLICK HERE