Pernell Whitaker, Short List All Time Great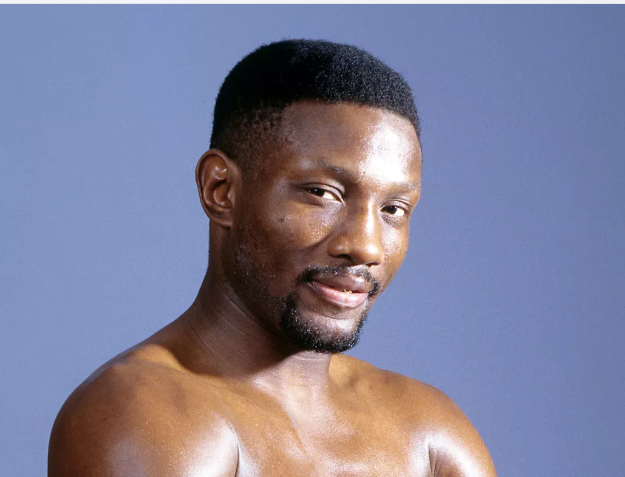 Pernell Whitaker was, by most accounts, the best defensive fighter since Willie Pep, maybe even better. His ability to stay in the pocket and make frustrated opponents hit nothing but air, answering their misfires with stinging counterpunches, was a form of pugilistic genius beyond replication until Floyd Mayweather Jr. came along. But even Mayweather might not have matched Pernell "Sweet Pea" Whitaker's uncanny gift for ducking and dodging incoming shots, Matrix-style. It was almost as if he were in a rainstorm without an umbrella, yet somehow able to avoid getting wet.
All right, so even a legendary fighter's quick-twitch reflexes figure to slow nearly two decades after his retirement from the ring. Whitaker was 55 and well removed from his remarkable prime when he was struck by a car while crossing a Virginia Beach, Va., street Sunday night, sustaining fatal injuries.  But here's the thing: the driver whose vehicle slammed into the four-division former world champion didn't swerve out of control, and he apparently wasn't exceeding the posted speed limit. There is no fleeing villain for Whitaker's many admirers to castigate (the driver, who stayed with Whitaker, has not been charged with a crime), and emergency medical personnel were quickly on the scene to render whatever assistance they could, to no avail.
Pernell Whitaker, who was to hit-and-not-be-hit boxing what baseball's Ozzie Smith was to art of playing shortstop, was pronounced dead at the scene. His official time of passing was listed as 10:04 p.m. EDT.
The only possible explanation is familiar to all boxers who were surprised to find themselves on the canvas, woozy, and being counted out. The blow that is most apt to result in a knockout is the stealthy one you don't see coming. It's just that this knockout, steel against flesh and bone, was forever.
Kathy Duva, the Main Events CEO who has known Whitaker even before the clever southpaw, a gold medalist at the 1984 Los Angeles Olympics, signed with her now-deceased husband Dan's promotional company as part of arguably the greatest crop of U.S. boxers ever to come out of the same Olympiad, finds it as ironic as it is tragic that someone known for being nearly untouchable inside the ropes could have forgotten the first safety rule for all pedestrians: Look both ways before stepping onto any roadway, especially if it's late at night and that roadway is not particularly well-illuminated.
"For a guy who almost never got hit to die that way … It's insane. Ironic. I guess that's the only word for it," said Duva, still nearly overwrought with emotion 12 hours after a fighter she so liked and respected, and with whom she had remained in fairly regular contact, perished so unexpectedly.
Asked if she thought Whitaker's face belonged on a figurative Mount Rushmore of the greatest defensive fighters ever, Duva said, "Oh, absolutely. And, really, he's on a lot of people's lists of the greatest fighters of all time, and not just for his defense. He belongs there, too."
Over the course of his 17-year pro career, Whitaker won world titles as a lightweight, junior welterweight, welterweight and junior middleweight. Considering the high level of competition he routinely faced, his 40-4-1 record, with 17 KOs and one no-decision, would be impressive, but it is even more so upon closer examination. His first "loss," by split decision to WBC lightweight champion Jose Luis Ramirez in Paris on March 12, 1988, was a heist by pencil so blatant wanted posters should have been distributed seeking the arrests of judges Newton Campos and Louis Michel for crimes against sensibility.
After winning a one-sided unanimous decision over IBF lightweight titlist Greg Haugen (Whitaker won 35 of the 36 rounds on the three judges' combined scorecards), he exacted his revenge upon Ramirez on Aug. 20, 1989, in Whitaker's hometown of Norfolk, Va., retaining his IBF strap while adding the vacant WBC belt on a UD so obviously in his favor that it could have been scored by Ray Charles, Stevie Wonder and Ronnie Milsap. This time Whitaker was only marginally less dominant than he had been against Haugen, winning 33 of 36 rounds on the cards.
"Sweet Pea's" emergence as boxing's top pound-for-pound performer earned him recognition as 1989's Fighter of the Year from both the Boxing Writers Association of America and The Ring magazine, but his skyrocketing confidence in his own ability, almost bordering on arrogance, was tempered by his lingering belief that powerful, behind-the-scenes players not only were hesitant to give him his due, but were actively plotting to stick it to him again as had been the case in the first Ramirez bout.
That sense of foreboding appeared at least somewhat justified the night of Sept. 10, 1993, in San Antonio's Alamodome, when he defended his WBC welterweight championship against Mexican superstar Julio Cesar Chavez, who came in 87-0 and had the crowd of nearly 60,000 squarely behind him. But Whitaker did to Chavez that night what he had done to so many other opponents, which was to confuse and frustrate El Gran Campeon with an unorthodox fight plan that had him frequently going down onto his haunches, the most successful bit of duckwalking since Chuck Berry was strutting along 1950s stages, playing his guitar just like ringing a bell and belting out Johnny B. Goode.
Although almost everyone in the press section had Whitaker winning eight to 10 of the 12 rounds, judges Mickey Vann and Franz Marti each saw the fight as a 115-115 standoff (the third judge, Jack Woodruff, had Whitaker ahead by 115-113), making for a hugely controversial majority draw that again left the American feeling as if he'd been gut-shot.
"I knew this might happen, but still it was like a bad dream," a disbelieving Whitaker said. "It was like someone put a knife in me and twisted it.
"I whipped his ass, and easily. I mentally and physically beat him. I put an old-fashioned project beating on him. A housing authority beating. A ghetto beating."
There were those who predicted the draw was designed to set the stage for an even bigger rematch, but neither Kathy Duva nor I believed it. Chavez, also a great fighter, might have wanted a do-over as much as Whitaker, but his promoter Don King would decide who he would fight going forward, and His Hairness understood that Whitaker's unorthodox and impenetrable style was always going to be problematic for JCC.
Did his disappointment over the disputed outcome of the fight with Chavez weigh so heavily on Whitaker that it affected him throughout the remainder of his career? Maybe, maybe not. He strung together an eight-fight winning streak after Chavez, but lost a relatively wide unanimous decision to Oscar De La Hoya in a fight that seemed much closer, and to some people's way of thinking could have gone the other way.
Convinced he had been shafted again, Whitaker followed the De La Hoya fight with a close, 12-round points nod over Andrey Pestryaev in a WBA welterweight elimination bout, which was later changed to a no-decision when Whitaker tested positive for cocaine. He did not fight again for 16 months, and when he returned it was for a beatdown at the hands of IBF welterweight champ Felix Trinidad, in which Whitaker suffered a broken jaw. Disregarding the pain, Whitaker went the distance, whereupon he again put himself on a shelf for 26 months, coming back for a scheduled 10-rounder against journeyman Carlos Bojorquez on April 27, 2001, in which Whitaker was stopped in the fourth round on the advice of ring physician Dr. Margaret Goodman when it became clear that Whitaker was a one-armed fighter unable to deal with the effects of a broken clavicle.
Finally, it was over. Whitaker went back home to Norfolk, where he occasionally trained fighters, but largely stayed under the radar, his once-gleaming reputation tarnished by occasional reports of his ongoing brushes with the law over his cocaine habit. In June 2002, he was convicted of cocaine possession after a judge found he had violated terms of a previous sentence by overdosing on cocaine in March of that year.
"He had demons, but when he was in the ring that was when he was in control and when he was happy and when he was the very best at what he did, and he wanted to show that to everybody," Duva said in another interview, with ESPN.
By all accounts, however, Whitaker had exorcised many of the demons that had made him an unhappy semi-recluse. A first-ballot inductee into the International Boxing Hall of Fame in 2007, he returned to Canastota, N.Y., in June to participate in the festivities for the 2019 induction ceremonies and took delight in being greeted warmly by fight fans. He also had accepted an invitation to leave for Las Vegas on Thursday to do a similar meet-and-greet with the public at the MGM Grand in advance of Saturday's big PBC on Fox Sports PPPV fight between Manny Pacquiao and Keith Thurman.
All of which makes his sudden death so much more shocking to those who were encouraged that he was finding his way back to a better life in and out of boxing, a life that always should have been afforded him by virtue of his rare and special gift.
Los Angeles Lakers legend Magic Johnson, a big boxing buff and as much an artist in his own sphere as Whitaker had been in his, tweeted, "Pernell `Sweet Pea' Whitaker was in the class of Muhammad Ali and Sugar Ray Leonard as one of the most entertaining fighters of my lifetime."
Former ESPN boxing analyst Max Kellerman, now with ESPN, also ladled out the praise, tweeting, "The best lightweight I ever saw passed away (Sunday night). Yes, that includes Roberto Duran, Floyd Mayweather, Ike Williams and anyone else you want to mention … He was one of the three greatest pure boxers who ever lived."
For those who always want to remember the best of Pernell Whitaker, there is consolation knowing that his passing appears to be nothing more than a terrible accident, the kind that can happen on any street, at any time, and to anyone.
"I guess he was wearing dark clothes, the road was dark and the driver didn't see him," Devon Whitaker, 27, the youngest of Pernell's four surviving children, said of what he thought might have happened. Virginia Beach Police spokesperson Linda Kuehn noted that the investigation is still ongoing, "However, it does not appear that drugs, alcohol or speed were factors in the crash."
Rest in peace, Sweet Pea. It was my pleasure watching you work.
Check out more boxing news on video at The Boxing Channel
To comment on this story in The Fight Forum CLICK HERE
Mercito Gesta Victorious Over Jojo Diaz at the Long Beach Pyramid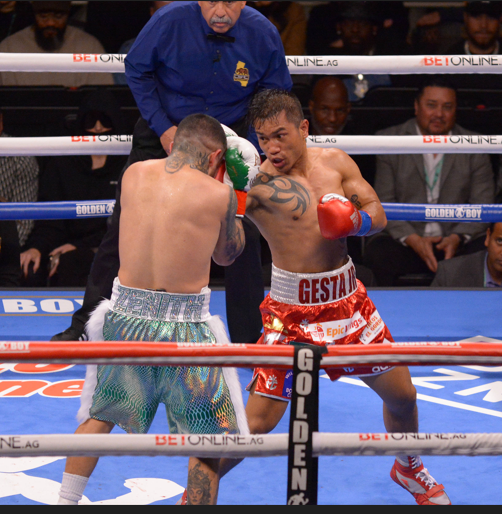 LONG BEACH, CA.-Those in the know knew Mercito Gesta and Jojo Diaz would be a fight to watch and they delivered.
Gesta emerged the winner in a super lightweight clash between southpaws that saw the judges favor his busier style over Diaz's body attack and bigger shots and win by split decision on Saturday.
Despite losing the main event because the star was overweight, Gesta (34-3-3, 17 KOs) used an outside method of tactic to edge past former world champion Diaz (32-4-1, 15 KOs) in front of more than 5,000 fans at the Pyramid.
The speedy Gesta opened up the fight with combination punching up and down against the peek-a-boo style of Diaz. For the first two rounds the San Diego fighter overwhelmed Diaz though none of the blows were impactful.
In the third round Diaz finally began unloading his own combinations and displaying the fast hands that helped him win world titles in two divisions. Gesta seemed stunned by the blows, but his chin held up. The counter right hook was Diaz's best weapon and snapped Gesta's head back several times.
Gesta regained control in the fifth round after absorbing big blows from Diaz. He seemed to get angry that he was hurt and opened up with even more blows to send Diaz backpedaling.
Diaz targeted his attack to Gesta's body and that seemed to slow down Gesta. But only for a round.
From the seventh until the 10th each fighter tried to impose their style with Gesta opening up with fast flurries and Diaz using right hooks to connect with solid shots. They continued their method of attack until the final bell. All that mattered was what the judges preferred.
After 10 rounds one judge saw Diaz the winner 97-93 but two others saw Gesta the winner 99-91, 98-92. It was a close and interesting fight.
"I was expecting nothing. I was the victor in this fight and we gave a good fight," said Gesta. "It's not an easy fight and Jojo gave his best."
Diaz was surprised by the outcome but accepted the verdict.
Everything was going good. I thought I was landing good body shots," said Diaz. "I was pretty comfortable."
Other Bouts
Mexico's Oscar Duarte (25-1-1, 20 KOs) knocked out Chicago's Alex Martin (18-5, 6 KOs) with a counter right hand after dropping him earlier in the fourth round. The super lightweight fight was stopped at 1:14 of the round.
A battle between undefeated super welterweights saw Florida's Eric Tudor (8-0, 6 KOs) emerge the winner by unanimous decision after eight rounds versus Oakland's Damoni Cato-Cain.
The taller Tudor showed polished skill and was not bothered by a large cut on his forehead caused by an accidental clash of heads. He used his jab and lead rights to defuse the attacks of the quick-fisted southpaw Cato-Cain. The judges scored the fight 80-72 and 78-74 twice for Tudor.
San Diego's Jorge Chavez (5-0, 4 KOs) needed less than one round to figure out Nicaragua's Bryan Perez (12-17-1, 11 KOs) and send him into dreamland with a three-punch combination. No need to count as referee Ray Corona waved the fight over. Perez shot a vicious right followed by another right and then a see-you-later left hook at 3.00 of the first round of the super featherweight match.
Photo credit: Al Applerose
Jojo Diaz's Slump Continues; Mercito Gesta Prevails on a Split Decision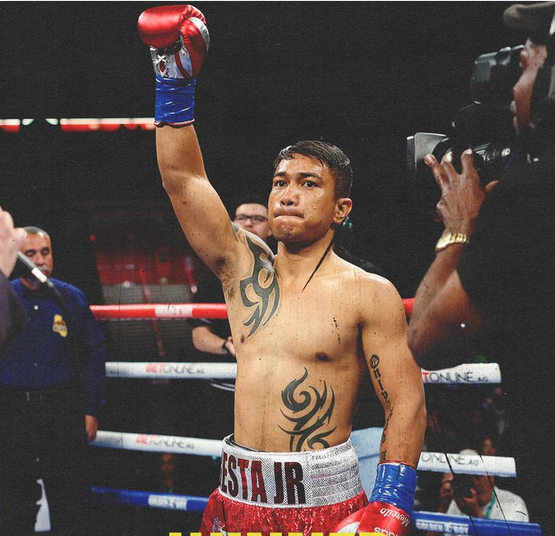 At age 30, Jojo Diaz's career is on the skids. The 2012 U.S. Olympian, a former world title holder at 126 and 130 pounds and an interim title holder at 135, Diaz suffered his third straight loss tonight, upset by Mercito Gesta who won a split decision at the Walter Pyramid in Long Beach, CA.. The scoring was strange with Gesta winning nine of the 10 rounds on one of the cards and only three rounds on another. The tie-breaker, as it were, was a 98-92 tally for Gesta and even that didn't capture the flavor of what was a closely-contested fight.
Originally listed as a 12-rounder, the match was reduced to 10 and that, it turned out, did Diaz no favors. However, it's hard to feel sorry for the former Olympian as he came in overweight once again, having lost his 130-pound title on the scales in February of 2021.
Diaz also has issues outside the ropes. Best elucidated by prominent boxing writer Jake Donovan, they include a cluster of legal problems stemming from an arrest for drunk driving on Feb. 27 in the LA suburb of Claremont.
With the defeat, Diaz's ledger declined to 32-4-1. His prior losses came at the hands of Gary Russell Jr, Devin Haney, and William Zepeda, boxers who are collectively 83-2. Mercito Gesta, a 35-year-old San Diego-based Filipino, improved to 34-3-3.
Co-Feature
Chihuahua, Mexico super lightweight Oscar Duarte has now won nine straight inside the distance after stopping 33-year-old Chicago southpaw Alex Martin in the eighth frame. Duarte, the busier fighter, had Martin on the deck twice in round eight before the fight was waived off.
Duarte improved to 25-1-1 (20). Martin, who reportedly won six national titles as an amateur and was once looked upon as a promising prospect, declined to 18-5.
Other Bouts of Note
New Golden Boy signee Eric Tudor, a 21-year-old super welterweight from Fort Lauderdale, overcame a bad laceration over his right eye, the result of an accidental clash of heads in round four, to stay unbeaten, advancing to 8-0 (6) with a hard-fought unanimous 8-round decision over Oakland's Damoni Cato-Cain. The judges had it 80-72 and 78-74 twice. It was the first pro loss for Cato-Cain (7-1-1) who had his first five fights in Tijuana.
In the DAZN opener, lanky Hawaian lightweight Dalis Kaleiopu went the distance for the first time in his young career, improving to 4-0 (3) with a unanimous decision over 36-year-old Colombian trial horse Jonathan Perez (40-35). The scores were 60-52 across the board. There were no knockdowns, but Perez, who gave up almost six inches in height, had a point deducted for a rabbit punch and another point for deducted for holding.
To comment on this story in the Fight Forum CLICK HERE
'Big Baby' Wins the Battle of Behemoths; TKOs 'Big Daddy' in 6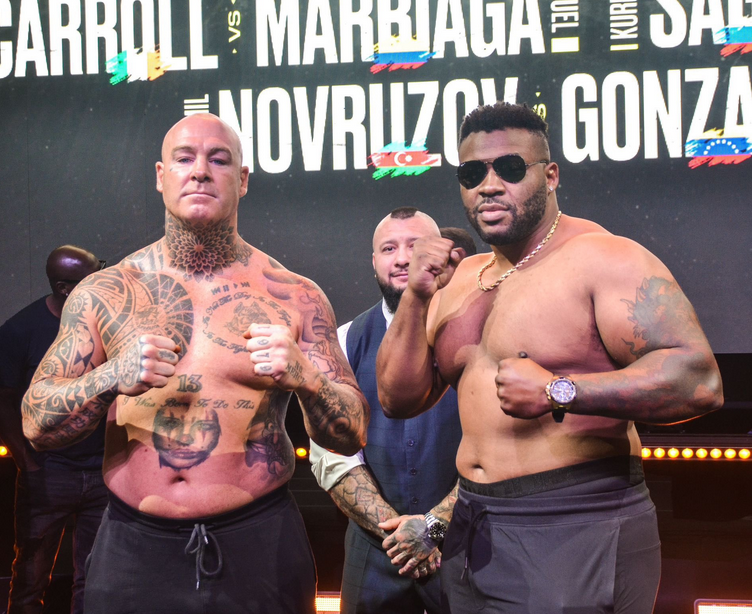 Lucas "Big Daddy" Browne weighed in at a career-high 277 pounds for today's battle in Dubai with Jarrell "Big Baby" Miller, but he was the lighter man by 56 pounds. It figured that one or both would gas out if the bout lasted more than a few stanzas.
It was a war of attrition with both men looking exhausted at times, and when the end came it was Miller, at age 34 the younger man by nine years, who had his hand raised.
Browne was the busier man, but Miller, whose physique invites comparison with a rhinoceros, hardly blinked as he was tattooed with an assortment of punches. He hurt 'Bid Daddy' in round four, but the Aussie held his own in the next frame, perhaps even forging ahead on the cards, but only postponing the inevitable.
In round six, a succession of right hands knocked Browne on the seat of his pants. He beat the count, but another barrage from Miller impelled the referee to intervene. The official time was 2:33. It was the 21st straight win for Miller (26-0-1, 22 KOs). Browne declined to 31-4 and, for his own sake, ought not fight again. All four of his losses have come inside the distance, some brutally.
The consensus of those that caught the livestream was that Floyd Mayweather Jr's commentary was an annoying distraction that marred what was otherwise an entertaining show.
As for what's next for "Big Baby" Miller, that's hard to decipher as he has burned his bridges with the sport's most powerful promoters. One possibility is Mahmoud Charr who, like Miller, has a big gap in his boxing timeline. Now 38 years old, Charr – who has a tenuous claim on a WBA world title (don't we all?) —  has reportedly taken up residence in Dubai.
Other Bouts of Note
In a 10-round cruiserweight affair, Suslan Asbarov, a 30-year-old Russian, advanced to 4-0 (1) with a hard-fought majority decision over Brandon Glanton. The judges had it 98-92, 97-93, and a more reasonable 95-95.
Asbarov was 12-9 in documented amateur fights and 1-0 in a sanctioned bare-knuckle fight, all in Moscow, entering this match. He bears watching, however, as Glanton (18-2) would be a tough out for almost anyone in his weight class. In his previous fight, at Plant City, Florida, Glanton lost a controversial decision to David Light, an undefeated Australian who challenges WBO world title-holder Lawrence Okolie at Manchester, England next week.
A 10-round super featherweight match between former world title challengers Jono Carroll and Miguel Marriaga preceded the semi-windup. Carroll, a 30-year-old Dublin southpaw, overcame a cut over his left eye suffered in the second round to win a wide unanimous decision in a fairly entertaining fight.
It was the sixth straight win for Carroll (24-2-1, 7 KOs) who elevated his game after serving as a sparring partner for Devin Haney. Marriaga, a 36-year-old Colombian, lost for the fourth time in his last five outings, declining to 30-7.
To comment on this story in the Fight Forum CLICK HERE