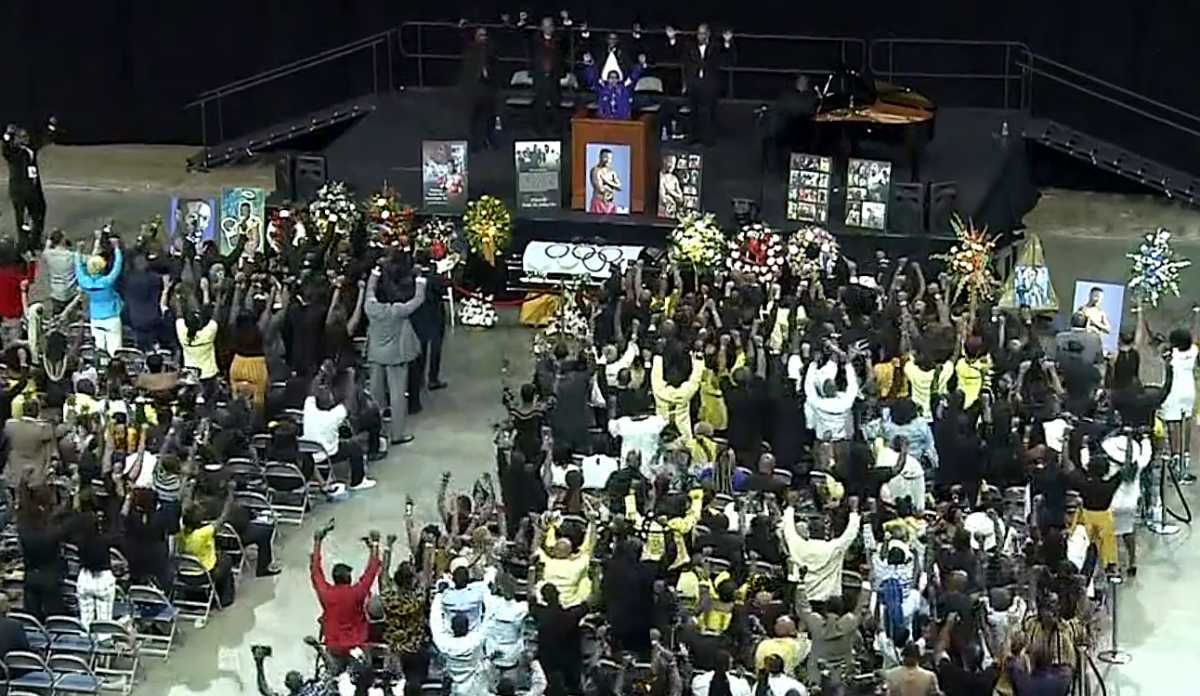 Good Night, Sweet Pea
Bishop James E. Jones Jr.'s booming baritone was rising up through the rafters at the Scope Arena in Norfolk, Virginia. He was preaching about hands—your neighbor's hands, the hand in yours now, the Father's hands into which Jesus commended his spirit from the cross. "Sweet Pea's HANDS," he shouted, "took him to places HIS EYES NEVER IMAGINED!"
Pernell "Sweet Pea" Whitaker, the greatest pure boxer since Willie Pep, lay in repose at the foot of the stage, his hands crossed at his belt. His coffin was black. An Olympic flag was draped over it and boxing gloves carefully arranged on top. The few thousand who attended his Saturday morning memorial service came to mourn and to celebrate a perfect fighter, an imperfect man, and a community that has long-since learned to look up no matter what.
Mark Breland was there. He came down from New York to honor the captain of an Olympic boxing team that won nine gold medals in 1984. Long gone is the fresh-faced amateur smiling under a laurel wreath, but Breland remains reed thin. He stood at the podium in a gray suit with a powder blue shirt and was too overwhelmed with grief to say much. "We knew him differently," he said.
Kathy Duva, now a promoter, then his publicist, was there too. "Pound-for-pound," she said. "That's how he signed his autographs." And that's exactly what he was: the pound-for-pound best boxer in the world from September 1993 through March 1996, despite performances that struck the unsophisticated as pusillanimous. "He simply chose not to engage in outright brutality," Duva said. "It was so much more fun to tease and toy with his opponents." Whitaker teased and toyed with everyone, including a young Floyd Mayweather Jr. who, she said, "could not lay a glove on him" even as he sparred with those hands of his behind his back in 1996. Whitaker brought laughter into the midst of danger because of his cosmic level of skill, and because it kept boredom at bay. Merely making world-class fighters miss wasn't enough; so he'd dart behind them and as they looked around to see where he went, he'd tap them on the rear end. When Roger Mayweather was known as "Black Mamba" and feared for his right hand, Whitaker—fighting here at the Norfolk Scope—yanked his trunks down in the middle of the sixth round.
"An imp with gold teeth," said one wit during his glory days, "floating around that blue canvas like a cloud," added Duva.
No one could outbox him. It isn't easy to settle firmly on a lightweight in history who could. But the product of Young Park, a housing project just east of the Scope, wasn't raised to shrink from violence. As a child, his father wouldn't tolerate tears when he was hurt by neighborhood bullies. He'd turn him around. "Go back," he'd say. "Give them everything you got." When he was eight, he and nine-year-old Mario Cuffee got into a street fight and Clyde Taylor, a mailman who moonlighted as the neighborhood's recreation director, hustled over and grabbed both by the scruff of the neck. "Do your fighting in the gym," he said, and with permission from the boys' parents, restaged the fight in the ring, with boxing gloves that looked like balloons. Whitaker lost that one, but found a mentor who began the process of transforming an undersized project kid into a giant of boxing and boxing history. Whitaker credited Cuffee almost as much. "Come to think of it," Cuffee told me Monday, "I beat him that first fight, though I gotta come clean, he got me back a few years later." When Whitaker fought Greg Haugen at the Coliseum in 1989, Cuffee bought a ticket and made his way across the Hampton Roads Beltway through a blizzard to see Haugen lose every round. At the post-fight press conference, Cuffee was standing in the back, "in cognito." Whitaker spotted him and told the story of their fateful childhood fight. "Thanks Mario," he said. Haugen, his face scuffed and swollen, looked up. "Yeah," he said. "Thanks Mario."
In Detroit, while still an amateur, he was invited to spar with Hector Camacho just as Floyd Mayweather was later invited to spar with him. Camacho couldn't land a glove on him either. "He got mad and started fighting dirty," Whitaker told the Newport News. "He grabbed me behind the head, pulled it down, and hit me with an uppercut. Then I grabbed him and threw him to the canvas and we started wrestling and fell out of the ring." Whitaker offered to take it outside. Camacho talked a lot but never went near him again.
In 1984, after the Duvas had convinced Whitaker to throw in with Main Events, they introduced him to trainer George Benton. Benton, who understood the science of belligerent invisibility like no one else, took what Taylor had begun and finished it. He taught him to stop running around the ring, to stand on a dime; to see the difference between wasting energy and ducking and slipping just enough to let punches graze your hair or flick your ear. Benton made sure he became, in his words, "harder to hit than the numbers," and a master at punching around, between, over, and under what's coming in. "When I talk he stands and listens like a private would a general," he said in 1986. "Sweet Pea's going to be one of the best fighters ever."
Seven years later, Whitaker swaggered into the ring against Julio Cesar Chavez, then 87-0 and rated by The Ring as the best pound-for-pound fighter in the world. Whitaker fought him on a dime—twisting, rolling, fast-stepping outside his lead foot, and punching around, between, over, and under whatever came in. He had a trick that kept working. He'd turn his right shoulder in to narrow himself and hide his left until the moment it clubbed Chavez on the side of the head. You could hear it land—"whump!"—and it landed all night. In the ninth round, he was outfighting Chavez on the inside—"whump, whump!"—which no one had ever done. Chavez was befuddled and —"whump!"—puffing up. And then, at the end, 59,000 witnessed one of boxing history's most egregious heists. Two of the three judges called the fight a draw. That's what we were told anyway. Josè Sulaimàn, WBC president, countryman of Chavez, and favorite stooge of Don King, was seen collecting the scorecards after every round that night.
It is a grandiose irony. Whitaker put an exclamation point on Benton's prediction in two fights he didn't win. The second one was nearly as bad as the first.
At 33, he faced a 24-year-old Oscar De La Hoya, then 23-0 and rated by The Ring as the second best pound-for-pound fighter behind Roy Jones Jr. Whitaker made him look like a golem and won that fight too despite an official loss that stinks to this day. "The world saw it," he said afterward, and smiled anyway, gold teeth gleaming. "The people saw it."
Bishop Jones saw it. He remembered him standing triumphantly on the ropes before the decision against him was announced. He remembered it well.
"What I loved most about Sweet Pea Whitaker," he told the mourners at the Norfolk Scope,
".…was when he KNEW he had won the fight he DIDN'T WAIT on the referee to hold up his hands. He didn't WAIT on the THE JUDGES to tell him whether or not he had won the fight, but if you look on the back of your programs, there's a SIGNATURE MOVE that the champ would always do when he knew he had WON THE FIGHT. Family! HE WOULD THROW UP BOTH HIS HANDS!"
With that, Jones stepped back from the podium and thrust both hands in the air. When the people saw that, they roared as one. But Jones was just getting started, the crescendo wasn't reached, not yet. He stopped them short. "EXODUS CHAPTER SEVENTEEN, VERSE ELEVEN! Whenever Moses held up…" and stepping back again, struck the same pose, "…HIS HANDS the people always had the victory…if the champ could hold up his hands in the middle of his fight, then SURELY you and I ought to HOLD UP OUR HANDS!"
Mario Cuffee jumped to his feet and thrust both hands in the air. Thousands, dressed in their best on the hottest day yet this year, rose as one and thrust both hands in the air. Whitaker's signature move, multiplied. It was a transcendent moment; the spirit of a man—a father, a brother, a friend, a neighbor—merging with the spirit of the city he loved.
Bishop Jones lowered his gaze to the black coffin at the center of it all. "SWEET PEA!" he thundered as if to wake him up, "That one is for you! You got the victory! CHAMP!"
I closed my eyes and somewhere, I know, Whitaker opened his.
"—YOU GOT THE VICTORY!"
___________________
Special thanks to Dr. James E. Jones Jr. senior pastor and founder of Greater Grace Church in Portsmouth, VA.
 Springs Toledo is the author of Smokestack Lightning: Harry Greb, 1919, now available in paperback.
Check out more boxing news on video at The Boxing Channel
To comment on this story in The Fight Forum CLICK HERE
Editor's Note: SMOKESTACK LIGHTNING: HARRY GREB, 1919, originally released as an eBook, is now available in PAPERBACK at AMAZON for $13.99. Check out the trailer on youtube:
Mercito Gesta Victorious Over Jojo Diaz at the Long Beach Pyramid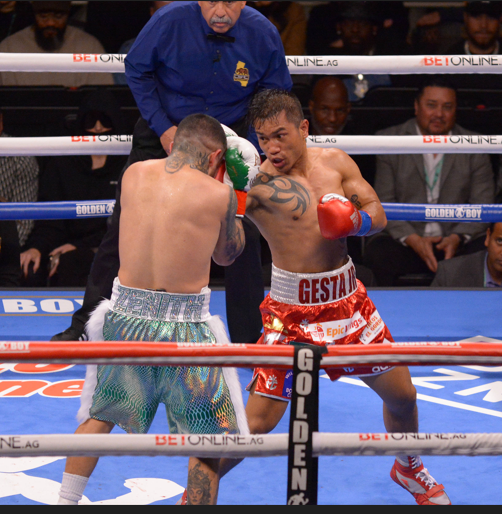 LONG BEACH, CA.-Those in the know knew Mercito Gesta and Jojo Diaz would be a fight to watch and they delivered.
Gesta emerged the winner in a super lightweight clash between southpaws that saw the judges favor his busier style over Diaz's body attack and bigger shots and win by split decision on Saturday.
Despite losing the main event because the star was overweight, Gesta (34-3-3, 17 KOs) used an outside method of tactic to edge past former world champion Diaz (32-4-1, 15 KOs) in front of more than 5,000 fans at the Pyramid.
The speedy Gesta opened up the fight with combination punching up and down against the peek-a-boo style of Diaz. For the first two rounds the San Diego fighter overwhelmed Diaz though none of the blows were impactful.
In the third round Diaz finally began unloading his own combinations and displaying the fast hands that helped him win world titles in two divisions. Gesta seemed stunned by the blows, but his chin held up. The counter right hook was Diaz's best weapon and snapped Gesta's head back several times.
Gesta regained control in the fifth round after absorbing big blows from Diaz. He seemed to get angry that he was hurt and opened up with even more blows to send Diaz backpedaling.
Diaz targeted his attack to Gesta's body and that seemed to slow down Gesta. But only for a round.
From the seventh until the 10th each fighter tried to impose their style with Gesta opening up with fast flurries and Diaz using right hooks to connect with solid shots. They continued their method of attack until the final bell. All that mattered was what the judges preferred.
After 10 rounds one judge saw Diaz the winner 97-93 but two others saw Gesta the winner 99-91, 98-92. It was a close and interesting fight.
"I was expecting nothing. I was the victor in this fight and we gave a good fight," said Gesta. "It's not an easy fight and Jojo gave his best."
Diaz was surprised by the outcome but accepted the verdict.
Everything was going good. I thought I was landing good body shots," said Diaz. "I was pretty comfortable."
Other Bouts
Mexico's Oscar Duarte (25-1-1, 20 KOs) knocked out Chicago's Alex Martin (18-5, 6 KOs) with a counter right hand after dropping him earlier in the fourth round. The super lightweight fight was stopped at 1:14 of the round.
A battle between undefeated super welterweights saw Florida's Eric Tudor (8-0, 6 KOs) emerge the winner by unanimous decision after eight rounds versus Oakland's Damoni Cato-Cain.
The taller Tudor showed polished skill and was not bothered by a large cut on his forehead caused by an accidental clash of heads. He used his jab and lead rights to defuse the attacks of the quick-fisted southpaw Cato-Cain. The judges scored the fight 80-72 and 78-74 twice for Tudor.
San Diego's Jorge Chavez (5-0, 4 KOs) needed less than one round to figure out Nicaragua's Bryan Perez (12-17-1, 11 KOs) and send him into dreamland with a three-punch combination. No need to count as referee Ray Corona waved the fight over. Perez shot a vicious right followed by another right and then a see-you-later left hook at 3.00 of the first round of the super featherweight match.
Photo credit: Al Applerose
Jojo Diaz's Slump Continues; Mercito Gesta Prevails on a Split Decision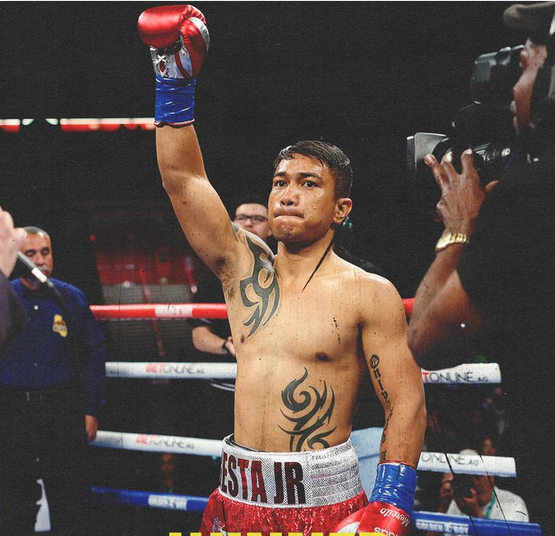 At age 30, Jojo Diaz's career is on the skids. The 2012 U.S. Olympian, a former world title holder at 126 and 130 pounds and an interim title holder at 135, Diaz suffered his third straight loss tonight, upset by Mercito Gesta who won a split decision at the Walter Pyramid in Long Beach, CA.. The scoring was strange with Gesta winning nine of the 10 rounds on one of the cards and only three rounds on another. The tie-breaker, as it were, was a 98-92 tally for Gesta and even that didn't capture the flavor of what was a closely-contested fight.
Originally listed as a 12-rounder, the match was reduced to 10 and that, it turned out, did Diaz no favors. However, it's hard to feel sorry for the former Olympian as he came in overweight once again, having lost his 130-pound title on the scales in February of 2021.
Diaz also has issues outside the ropes. Best elucidated by prominent boxing writer Jake Donovan, they include a cluster of legal problems stemming from an arrest for drunk driving on Feb. 27 in the LA suburb of Claremont.
With the defeat, Diaz's ledger declined to 32-4-1. His prior losses came at the hands of Gary Russell Jr, Devin Haney, and William Zepeda, boxers who are collectively 83-2. Mercito Gesta, a 35-year-old San Diego-based Filipino, improved to 34-3-3.
Co-Feature
Chihuahua, Mexico super lightweight Oscar Duarte has now won nine straight inside the distance after stopping 33-year-old Chicago southpaw Alex Martin in the eighth frame. Duarte, the busier fighter, had Martin on the deck twice in round eight before the fight was waived off.
Duarte improved to 25-1-1 (20). Martin, who reportedly won six national titles as an amateur and was once looked upon as a promising prospect, declined to 18-5.
Other Bouts of Note
New Golden Boy signee Eric Tudor, a 21-year-old super welterweight from Fort Lauderdale, overcame a bad laceration over his right eye, the result of an accidental clash of heads in round four, to stay unbeaten, advancing to 8-0 (6) with a hard-fought unanimous 8-round decision over Oakland's Damoni Cato-Cain. The judges had it 80-72 and 78-74 twice. It was the first pro loss for Cato-Cain (7-1-1) who had his first five fights in Tijuana.
In the DAZN opener, lanky Hawaian lightweight Dalis Kaleiopu went the distance for the first time in his young career, improving to 4-0 (3) with a unanimous decision over 36-year-old Colombian trial horse Jonathan Perez (40-35). The scores were 60-52 across the board. There were no knockdowns, but Perez, who gave up almost six inches in height, had a point deducted for a rabbit punch and another point for deducted for holding.
To comment on this story in the Fight Forum CLICK HERE
'Big Baby' Wins the Battle of Behemoths; TKOs 'Big Daddy' in 6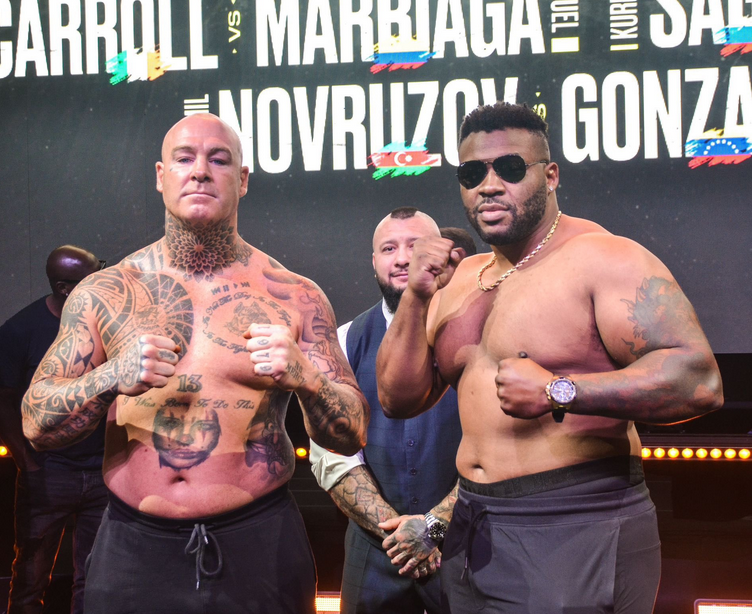 Lucas "Big Daddy" Browne weighed in at a career-high 277 pounds for today's battle in Dubai with Jarrell "Big Baby" Miller, but he was the lighter man by 56 pounds. It figured that one or both would gas out if the bout lasted more than a few stanzas.
It was a war of attrition with both men looking exhausted at times, and when the end came it was Miller, at age 34 the younger man by nine years, who had his hand raised.
Browne was the busier man, but Miller, whose physique invites comparison with a rhinoceros, hardly blinked as he was tattooed with an assortment of punches. He hurt 'Bid Daddy' in round four, but the Aussie held his own in the next frame, perhaps even forging ahead on the cards, but only postponing the inevitable.
In round six, a succession of right hands knocked Browne on the seat of his pants. He beat the count, but another barrage from Miller impelled the referee to intervene. The official time was 2:33. It was the 21st straight win for Miller (26-0-1, 22 KOs). Browne declined to 31-4 and, for his own sake, ought not fight again. All four of his losses have come inside the distance, some brutally.
The consensus of those that caught the livestream was that Floyd Mayweather Jr's commentary was an annoying distraction that marred what was otherwise an entertaining show.
As for what's next for "Big Baby" Miller, that's hard to decipher as he has burned his bridges with the sport's most powerful promoters. One possibility is Mahmoud Charr who, like Miller, has a big gap in his boxing timeline. Now 38 years old, Charr – who has a tenuous claim on a WBA world title (don't we all?) —  has reportedly taken up residence in Dubai.
Other Bouts of Note
In a 10-round cruiserweight affair, Suslan Asbarov, a 30-year-old Russian, advanced to 4-0 (1) with a hard-fought majority decision over Brandon Glanton. The judges had it 98-92, 97-93, and a more reasonable 95-95.
Asbarov was 12-9 in documented amateur fights and 1-0 in a sanctioned bare-knuckle fight, all in Moscow, entering this match. He bears watching, however, as Glanton (18-2) would be a tough out for almost anyone in his weight class. In his previous fight, at Plant City, Florida, Glanton lost a controversial decision to David Light, an undefeated Australian who challenges WBO world title-holder Lawrence Okolie at Manchester, England next week.
A 10-round super featherweight match between former world title challengers Jono Carroll and Miguel Marriaga preceded the semi-windup. Carroll, a 30-year-old Dublin southpaw, overcame a cut over his left eye suffered in the second round to win a wide unanimous decision in a fairly entertaining fight.
It was the sixth straight win for Carroll (24-2-1, 7 KOs) who elevated his game after serving as a sparring partner for Devin Haney. Marriaga, a 36-year-old Colombian, lost for the fourth time in his last five outings, declining to 30-7.
To comment on this story in the Fight Forum CLICK HERE