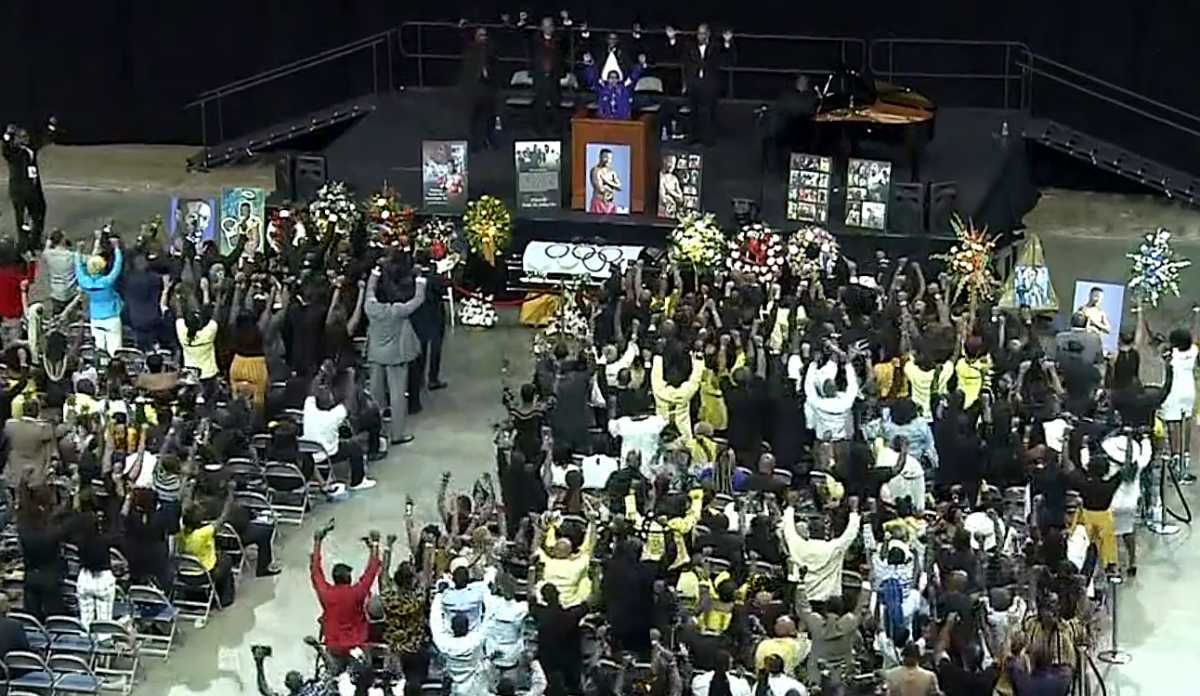 Good Night, Sweet Pea
Bishop James E. Jones Jr.'s booming baritone was rising up through the rafters at the Scope Arena in Norfolk, Virginia. He was preaching about hands—your neighbor's hands, the hand in yours now, the Father's hands into which Jesus commended his spirit from the cross. "Sweet Pea's HANDS," he shouted, "took him to places HIS EYES NEVER IMAGINED!"
Pernell "Sweet Pea" Whitaker, the greatest pure boxer since Willie Pep, lay in repose at the foot of the stage, his hands crossed at his belt. His coffin was black. An Olympic flag was draped over it and boxing gloves carefully arranged on top. The few thousand who attended his Saturday morning memorial service came to mourn and to celebrate a perfect fighter, an imperfect man, and a community that has long-since learned to look up no matter what.
Mark Breland was there. He came down from New York to honor the captain of an Olympic boxing team that won nine gold medals in 1984. Long gone is the fresh-faced amateur smiling under a laurel wreath, but Breland remains reed thin. He stood at the podium in a gray suit with a powder blue shirt and was too overwhelmed with grief to say much. "We knew him differently," he said.
Kathy Duva, now a promoter, then his publicist, was there too. "Pound-for-pound," she said. "That's how he signed his autographs." And that's exactly what he was: the pound-for-pound best boxer in the world from September 1993 through March 1996, despite performances that struck the unsophisticated as pusillanimous. "He simply chose not to engage in outright brutality," Duva said. "It was so much more fun to tease and toy with his opponents." Whitaker teased and toyed with everyone, including a young Floyd Mayweather Jr. who, she said, "could not lay a glove on him" even as he sparred with those hands of his behind his back in 1996. Whitaker brought laughter into the midst of danger because of his cosmic level of skill, and because it kept boredom at bay. Merely making world-class fighters miss wasn't enough; so he'd dart behind them and as they looked around to see where he went, he'd tap them on the rear end. When Roger Mayweather was known as "Black Mamba" and feared for his right hand, Whitaker—fighting here at the Norfolk Scope—yanked his trunks down in the middle of the sixth round.
"An imp with gold teeth," said one wit during his glory days, "floating around that blue canvas like a cloud," added Duva.
No one could outbox him. It isn't easy to settle firmly on a lightweight in history who could. But the product of Young Park, a housing project just east of the Scope, wasn't raised to shrink from violence. As a child, his father wouldn't tolerate tears when he was hurt by neighborhood bullies. He'd turn him around. "Go back," he'd say. "Give them everything you got." When he was eight, he and nine-year-old Mario Cuffee got into a street fight and Clyde Taylor, a mailman who moonlighted as the neighborhood's recreation director, hustled over and grabbed both by the scruff of the neck. "Do your fighting in the gym," he said, and with permission from the boys' parents, restaged the fight in the ring, with boxing gloves that looked like balloons. Whitaker lost that one, but found a mentor who began the process of transforming an undersized project kid into a giant of boxing and boxing history. Whitaker credited Cuffee almost as much. "Come to think of it," Cuffee told me Monday, "I beat him that first fight, though I gotta come clean, he got me back a few years later." When Whitaker fought Greg Haugen at the Coliseum in 1989, Cuffee bought a ticket and made his way across the Hampton Roads Beltway through a blizzard to see Haugen lose every round. At the post-fight press conference, Cuffee was standing in the back, "in cognito." Whitaker spotted him and told the story of their fateful childhood fight. "Thanks Mario," he said. Haugen, his face scuffed and swollen, looked up. "Yeah," he said. "Thanks Mario."
In Detroit, while still an amateur, he was invited to spar with Hector Camacho just as Floyd Mayweather was later invited to spar with him. Camacho couldn't land a glove on him either. "He got mad and started fighting dirty," Whitaker told the Newport News. "He grabbed me behind the head, pulled it down, and hit me with an uppercut. Then I grabbed him and threw him to the canvas and we started wrestling and fell out of the ring." Whitaker offered to take it outside. Camacho talked a lot but never went near him again.
In 1984, after the Duvas had convinced Whitaker to throw in with Main Events, they introduced him to trainer George Benton. Benton, who understood the science of belligerent invisibility like no one else, took what Taylor had begun and finished it. He taught him to stop running around the ring, to stand on a dime; to see the difference between wasting energy and ducking and slipping just enough to let punches graze your hair or flick your ear. Benton made sure he became, in his words, "harder to hit than the numbers," and a master at punching around, between, over, and under what's coming in. "When I talk he stands and listens like a private would a general," he said in 1986. "Sweet Pea's going to be one of the best fighters ever."
Seven years later, Whitaker swaggered into the ring against Julio Cesar Chavez, then 87-0 and rated by The Ring as the best pound-for-pound fighter in the world. Whitaker fought him on a dime—twisting, rolling, fast-stepping outside his lead foot, and punching around, between, over, and under whatever came in. He had a trick that kept working. He'd turn his right shoulder in to narrow himself and hide his left until the moment it clubbed Chavez on the side of the head. You could hear it land—"whump!"—and it landed all night. In the ninth round, he was outfighting Chavez on the inside—"whump, whump!"—which no one had ever done. Chavez was befuddled and —"whump!"—puffing up. And then, at the end, 59,000 witnessed one of boxing history's most egregious heists. Two of the three judges called the fight a draw. That's what we were told anyway. Josè Sulaimàn, WBC president, countryman of Chavez, and favorite stooge of Don King, was seen collecting the scorecards after every round that night.
It is a grandiose irony. Whitaker put an exclamation point on Benton's prediction in two fights he didn't win. The second one was nearly as bad as the first.
At 33, he faced a 24-year-old Oscar De La Hoya, then 23-0 and rated by The Ring as the second best pound-for-pound fighter behind Roy Jones Jr. Whitaker made him look like a golem and won that fight too despite an official loss that stinks to this day. "The world saw it," he said afterward, and smiled anyway, gold teeth gleaming. "The people saw it."
Bishop Jones saw it. He remembered him standing triumphantly on the ropes before the decision against him was announced. He remembered it well.
"What I loved most about Sweet Pea Whitaker," he told the mourners at the Norfolk Scope,
".…was when he KNEW he had won the fight he DIDN'T WAIT on the referee to hold up his hands. He didn't WAIT on the THE JUDGES to tell him whether or not he had won the fight, but if you look on the back of your programs, there's a SIGNATURE MOVE that the champ would always do when he knew he had WON THE FIGHT. Family! HE WOULD THROW UP BOTH HIS HANDS!"
With that, Jones stepped back from the podium and thrust both hands in the air. When the people saw that, they roared as one. But Jones was just getting started, the crescendo wasn't reached, not yet. He stopped them short. "EXODUS CHAPTER SEVENTEEN, VERSE ELEVEN! Whenever Moses held up…" and stepping back again, struck the same pose, "…HIS HANDS the people always had the victory…if the champ could hold up his hands in the middle of his fight, then SURELY you and I ought to HOLD UP OUR HANDS!"
Mario Cuffee jumped to his feet and thrust both hands in the air. Thousands, dressed in their best on the hottest day yet this year, rose as one and thrust both hands in the air. Whitaker's signature move, multiplied. It was a transcendent moment; the spirit of a man—a father, a brother, a friend, a neighbor—merging with the spirit of the city he loved.
Bishop Jones lowered his gaze to the black coffin at the center of it all. "SWEET PEA!" he thundered as if to wake him up, "That one is for you! You got the victory! CHAMP!"
I closed my eyes and somewhere, I know, Whitaker opened his.
"—YOU GOT THE VICTORY!"
___________________
Special thanks to Dr. James E. Jones Jr. senior pastor and founder of Greater Grace Church in Portsmouth, VA.
 Springs Toledo is the author of Smokestack Lightning: Harry Greb, 1919, now available in paperback.
Check out more boxing news on video at The Boxing Channel
To comment on this story in The Fight Forum CLICK HERE
Editor's Note: SMOKESTACK LIGHTNING: HARRY GREB, 1919, originally released as an eBook, is now available in PAPERBACK at AMAZON for $13.99. Check out the trailer on youtube:
Gvozdyk vs. Beterbiev: Point Counterpoint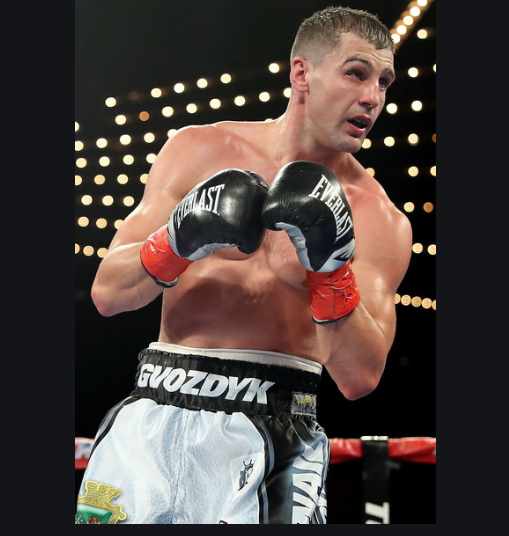 Gvozdyk vs. Beterbiev: Point Counterpoint
Putting pineapple on pizza is not a good idea but it IS an example of point counterpoint, and when these two boxers meet on Friday in Philadelphia with the WBC and IBF world light heavyweight titles at stake, it also will be a contrast—but not of tastes as much as styles..
There are, however, many similarities. Both are Eastern European boxers though one, Gvozdyk, is a Ukrainian and the other, Beterbiev, is a Russian and this particular regional difference has sparked a lot of conversation. (Interestingly, Beterbiev has never fought professionally in Russia, nor has the English-speaking Gvozdyk ever fought in the Ukraine.)
Both have superb amateur credentials but this has a flip side in that too many amateur fights can add to the wear and tear of these Eastern Euro warriors when they become professionals. Beterbiev is 34; Gvozdyk 32.
Both are undefeated with outstanding knockout percentages. Gvozdyk, aka The Nail, is 17-0 with 14 KOs. Beterbiev (14-0) has won all of his fights inside the distance.
Both are excellent finishers and when they have their man hurt, it's all over.
Both have excellent corners and handlers and will be fit and ready to rumble.
"This could very well be the fight of the year…These are two evenly matched, undefeated light heavyweight champions. There is nothing better in the sport of boxing," says promoter Bob Arum.
Styles
The 6'0" Beterbiev's style is one of a stalking aggressor and he is especially dangerous when his opponent engages him in a heated exchange as that allows him to land one of his heavy-handed bombs. To use an old cliché, Artur has "bricks in his fists." He also is dangerous when he is stunned as Callum Johnson discovered.
Some say Beterbiev's chin is a question mark but his style allows an opponent to nail him (no pun intended) as he moves in. That may well be more a function of his go-forward movement than it is any weakness in his chin.
Conversely, The Nail is a very accurate and powerful puncher and is technically (and defensively) more sound than the bludgeoning Russian. He uses a super-fast jab and counters with sharp stuff. This 6'2" slickster combines exceptional speed and deceptive power. He is patient, relaxed, and fluid.
Intangibles
Has Gvozdyk's psyche been altered by the events of his December 2018 fight with Adonis Stevenson wherein Adonis (thankfully now recovering) was severely injured? While The Nail was somewhat stymied by his last opponent, Doudou Ngumbu, the thinking here is that that had more to do with Ngumbu's awkwardness than anything else—and that the Stevenson matter is mostly in the past. In short, the Nail's focus on Friday should be right where it should be.
With a KO percentage of 100%, Beterbiev has answered the bell for very few rounds, only 52 to be exact. This could weigh against him.
Prediction: Gvozdyk's superior boxing skills should begin to bear fruit in the mid to late rounds when a frustrated Beterbiev is forced to take risks for which he will pay dearly. I see "The Nail" winning by late stoppage or by UD.
A Russian vs. a Ukrainian — one who lives in Canada and the other who lives in California.  Heck, it's the battle of ex-patriots. If ever a fight was much anticipated, this is the one.
Ted Sares can be reached at tedsares@roadrunner.com
Check out more boxing news on video at The Boxing Channel 
To comment on this story in The Fight Forum CLICK HERE
Terence Crawford is Bob Arum's Yuletide Gift to New York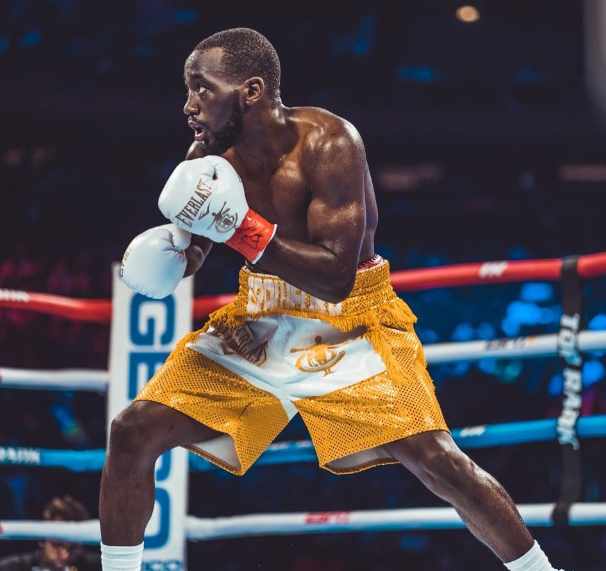 Terence Crawford is Bob Arum's Yuletide Gift to New York
Throughout history, boxing promoters have shunned the weeks before Christmas. The conventional wisdom is that the typical fight fan has little money at his disposal for a frivolity such as a night at the fights, having exhausted his funds buying Christmas presents. But don't tell that to Top Rank promoter Bob Arum who has flouted this dictum and profited handsomely.
Back in 1995, Arum secured Madison Square Garden for the night of Dec. 15 for a show that pitted Oscar De La Hoya against Jesse James Leija in the main event. The cynics said the date was all wrong, let alone the location for a match between two Mexican-Americans from out west, one from LA and the other from San Antonio. But lo and behold, the show was a big money-maker, attracting a crowd of 16,027, more than 15,000 paid.
Arum anticipates another box office bonanza on Dec. 14 when he plants an ESPN and ESPN Deportes tripleheader in America's most famous sports arena, an event headlined by Terence "Bud" Crawford's WBO title defense against Egidijus Kavaliauskas. Crawford, who turned 32 several weeks ago, moved up to welterweight after grabbing all the belts at 140 and will be making his fourth welterweight title defense.
The opening bout on the telecast pits featherweight Michael Conlan against former amateur rival Vladimir Nikitin. Conlan will be making his sixth appearance at the Garden. In the co-feature, Richard Commey defends his IBF world lightweight title against Teofimo Lopez.
Although many rate Terence Crawford the top pound-for-pound fighter in the world, he has been something of a forgotten man lately. Almost 10 full months have elapsed since he last fought. Oscar De La Hoya, who had a bitter break-up with Arum late in his boxing career, recently took a swipe at Arum for not keeping Crawford more active, suggesting Arum's "inertia" might be keeping Crawford out of the Hall of Fame.
The Crawford-Kavaliauskas match-up serves as Arum's retort as it will shine a bright spotlight on Crawford, the pride of Omaha, Nebraska, as Arum's show will air on ESPN directly following the Heisman Trophy presentation. Now it behooves Arum to pull some strings so that the Heisman Trophy show doesn't run too long as has happened in the past.
At the moment, parlaying Terence Crawford (35-0, 26 KOs) to Alabama quarterback Tua Tagovailoa seems like a safe bet, but Egidijus Kavaliauskas, a two-time Olympian who was profiled on these pages in July of 2016, is no slouch.
True enough, Kavaliauskas (21-0-1, 17 KOs) didn't look all that sharp in his last outing when he was held to a draw by Ray Robinson, but Philadelphia's Robinson had an awkward style (think former heavyweight contender Jimmy Young) and was fighting in his hometown.
If Kavaliauskas were a horse, we would say that he comes from a great barn. The 31-year-old Lithuanian is a stablemate of the Big Three in the barn of Egis Klimas: Vasiliy Lomachenko, Oleksandr Usyk, and Oleksandr Gvozdyk.
—
Richard Commey (29-2, 26 KOs) hails from Ghana but now hangs his hat in Brooklyn. His losses were both by split decision in back-to-back fights with Robert Easter and Denis Shafikov and he has won five straight since then, most recently an eighth-round stoppage of veteran Ray Beltran in the first defense of his IBF title.
Teofimo Lopez, 10 years younger than Commey at age 22, is moving up in class, but will yet go to post the favorite. In his last start, Lopez won a unanimous 12-round decision over Masoyoshi Nakatani, ending a skein of highlight reel knockouts. In December of last year, Lopez scored a one-punch knockout over Mason Menard in a bout that lasted all of 44 seconds. It was named the TSS Knockout of the Year.
Lopez (14-0, 11 KOs) grew up in Davie, Florida, but was born in Brooklyn and currently has a home there, giving the show even more of a local flavor. He and his Honduras-born father of the same name are not shy when it comes to boasting of his prowess and Teofimo's braggadocio has enhanced his appeal with young fans.
Michael Conlan (10-0, 7 KOs) and Vladimir Nikitin (3-0, all by decision) met in the quarterfinals of the 2016 Rio Olympics. Nikitin got the decision, a jaw-dropper that spawned the most indelible moment of the Games when an enraged Conlan gave the judges a two-middle-finger salute.
The rematch between them was hatched at that moment although it took awhile for Arum to rope the Russian into the fold. They were originally slated to fight on Aug. 3 at an outdoor show in Conlan's hometown of Belfast, but Nikitin suffered a torn bicep in training and had to pull out.
This is the kind of match that Bob Arum can really get his teeth in. The crusty octogenarian and former attorney would have it that all people of good character ought to be rooting for Conlan in the interest of seeing an injustice rectified.
Regardless, Arum's Dec. 14 show is a nice Christmas present for Big Apple boxing fans.
Check out more boxing news on video at The Boxing Channel 
To comment on this story in The Fight Forum CLICK HERE
Three Punch Combo: Gvozdyk-Beterbiev Thoughts and More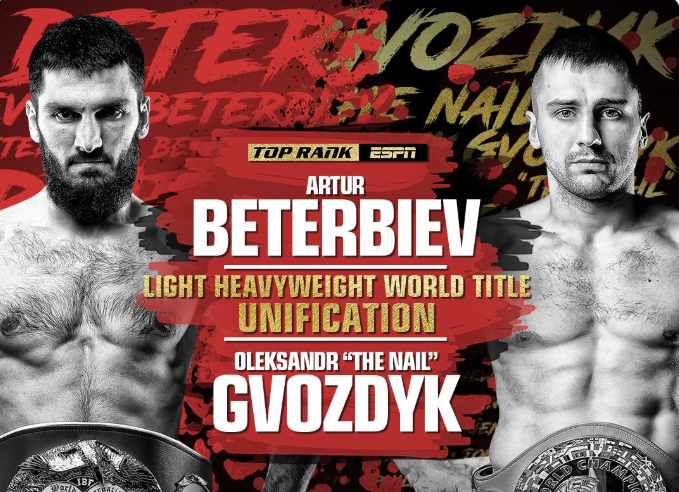 Three Punch Combo — For hardcore fans, one of the most attractive fights of the year takes place on Friday when undefeated light heavyweight champions Oleksandr Gvozdyk (17-0, 14 KO's) and Artur Beterbiev (14-0, 14 KO's) battle in a title unification bout. This contest will headline an ESPN televised card from the Liacouras Center in Philadelphia, PA. Here are a few subtle things that could play a factor in how this fight plays out.
A Tactical Fight?
Twenty years ago, Oscar De La Hoya and Felix Trinidad met in a welterweight title unification fight. It was a super fight between two explosive punchers. Everyone expected fireworks, but as we all know, it turned into an all-out chess match for twelve rounds.
When two big punchers meet, sometimes we get fireworks and sometimes each fighter respects the other's power so much that they both become somewhat tentative inside the ring.
Keep in mind we have seen in several Gvozdyk fights a somewhat cautious approach. He will take what is given and nothing more. As for Beterbiev, he has typically been a very aggressive fighter (more on that later) but has had his moments where caution has entered his mindset. Just take a look back at his 2017 fight with Enrico Koelling.
I know it is the unpopular opinion but we could certainly see a very tactical chess match between these two on Friday.
Beterbiev's Defense and Chin
Beterbiev, as noted, is a very aggressive fighter. But with that aggression comes an almost complete lack of focus on the defensive side of the game.
So far, Beterbiev's offense has been his best defense as many times his opponents have simply been too fearful of opening up. But at times the cracks have shown. Callum Johnson, for example, wasn't afraid to throw in spots and when he did, his punches landed.
In that fight, we saw Beterbiev get hurt and dropped. Beterbiev showed a ton of heart to come back from that moment and later stop Johnson, but his chin is certainly a question mark. And Gvozdyk, aside from carrying one-punch power, is a very sharp and accurate puncher who has shown excellent finishing skills thus far in his career.
Gvozdyk's Mindset
A little more than ten months ago, Gvozdyk wrested away the title from Adonis Stevenson. But on what was supposed to be the night where Gvozdyk's dream came true, things almost turned tragic as Stevenson suffered a brain bleed that nearly took his life.
Gvozdyk has had one fight since against journeyman Doudou Ngumbu. Though Gvozdyk won easily, there was something about his performance that just didn't feel right. Gvozdyk had a fighter in front of him who offered little resistance but seemingly didn't want to fully step on the gas.
In order to compete with Beterbiev, we have to see the same Gvozdyk that we saw against Stevenson. But has Gvozdyk's mindset permanently been altered by the events of that evening?
Under The Radar Fight
A pivotal crossroads bout in the welterweight division between Luis Collazo (39-7, 20 KO's) and Kudratillo Abdukakhorov (16-0, 9 KO's) is also on Friday's ESPN broadcast. The winner will be in prime position for a title shot in 2020.
Collazo, a world welterweight titlist back in 2005, is in the midst of yet another career resurrection. After getting stopped by defending WBA welterweight champion Keith Thurman in 2015, Collazo has won three straight. And these wins were not against subpar opposition. Two were against up-and-coming young fighters in Sammy Vasquez and Bryant Perrella; the other against fringe contender Samuel Vargas.
At age 38, Collazo has proven he still has plenty in the tank and has clawed back up the rankings in the welterweight division. But to get one more shot at a title, Collazo must find a way to get past another young up-and-comer in Uzbekistan's Abdukakhorov.
Abdukakhorov, 26, is coming off the biggest win of his pro career this past March when he won a 12-round unanimous decision over former 140-pound title challenger Keita Obara. That win boosted Abdukakhorov into the number one position in the IBF at welterweight and in line to one day be the mandatory challenger for current belt-holder Errol Spence Jr.
Stylistically, I love this matchup. Abdukakhorov is an aggressive boxer-puncher. He will look to press the attack and won't be afraid to lead looking to land his best punch which is the overhand right. Collazo is a southpaw who is a natural counterpuncher. He will look to make Abdukakhorov's aggression work against him and should find plenty of opportunities to do so.
I think we are going to get an action-packed, competitive fight. This should serve as an excellent appetizer to Gvozdyk-Beterbiev.
What's Next For Dmitry Bivol?
This past Saturday, Dmitry Bivol (17-0, 11 KO's) successfully defended his WBA light heavyweight title with a wide unanimous decision over Lenin Castillo (20-3-1, 15 KO's). Though it wasn't the most exciting performance, the win keeps Bivol in line for bigger opportunities down the road. So, what's next for him?
Saturday's title defense marked Bivol's second consecutive appearance on the streaming service DAZN. DAZN needs future opponents for its two biggest stars in Canelo Alvarez and Gennady Golovkin. Clearly part of the reason for DAZN showing interest in Bivol is geared toward him potentially getting one or the other down the road.
Though Alvarez is fighting at light heavyweight in November, this appears to be a one-time appearance for the Mexican superstar in that division. He is likely headed back to middleweight or the 168-pound weight class. As for Golovkin, he has fought his entire 13-year career at middleweight. A move at some point soon to 168 would not be a surprise.
Bivol and his team have made it very clear that he can get down to 168. With DAZN's two biggest stars hovering around that division, a move down to 168 seems likely.
The WBA champion at 168 is Callum Smith who is slated for a title defense in November against UK countryman John Ryder. Assuming Smith prevails, he would make a logical opponent for Bivol in the spring of 2020.
Smith-Bivol would be a big fight between two young undefeated fighters and the winner would then be in position for a mega fight later in 2020 against either Alvarez or Golovkin.
But what if Smith goes a different direction following the Ryder fight? If that is the case, Bivol may instead just look to dip his toes in the water at 168 with someone like Rocky Fielding.
Fielding is a tough, gritty competitor who is popular in the UK and has name recognition in the US based on his fight last December with Canelo. But as we saw in that fight, Fielding is very limited.
Fielding is just the type of opponent who could bring out the best in Bivol. A spectacular knockout would help erase some of Bivol's recent lackluster performances. And this would, of course, make Bivol much more marketable for a future date with Alvarez or Golovkin.
Check out more boxing news on video at The Boxing Channel 
To comment on this story in The Fight Forum CLICK HERE