Michael Hunter is Fueled by Thoughts of his Father as he Pursues Heavyweight Glory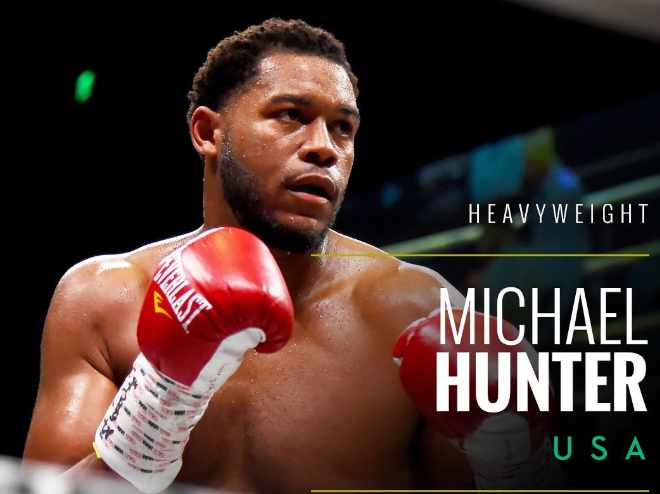 "I got into boxing because of my dad and then I stayed in it because of my dad." So said Michael Hunter who fights undefeated Sergey Kuzmin a week from Friday at Madison Square Garden on DAZN with the winner very much in the mix for a shot at a world heavyweight title in 2020.
For the uninitiated, Michael Hunter is the son of the late Mike "The Bounty" Hunter. Active from 1985 to 1996, Mike Hunter, an undersized heavyweight, was one of the more interesting fighters of his era. He had a unique style, a style that defied description. Perhaps the best comparison would be Tommy "Hurricane" Jackson, a boxer best remembered for his two fights with Floyd Patterson. "Name a punch," said Arthur Daley of the New York Times, "and (Hurricane Jackson) has it. He also has a few nobody ever thought of before."
All comparisons are imperfect and this is giving Mike Hunter the worst of it. He was very hard to hit cleanly. There were elements of his game similar to (take your pick) Young Griffo or Willie Pep or Pernell Whitaker. And he had a granite chin. He was stopped only once and that was in his final pro fight in Copenhagen against Brian Nielsen when he retired on his stool after four rounds with an injury of dubious authenticity. At that, he lasted one round longer than Tony Tubbs who went out the same way. The expression "There's Something Fishy in Denmark" didn't originate with Danish boxing promoter Mogens Palle but it could have.
Mike Hunter finished his career with a record of 26-7-2 with one no-decision. Who knows how far he would have gone if he had packed a harder punch? He scored only eight knockouts. But despite this drawback, he was one of the great spoilers in heavyweight history. Among his victims were Oliver McCall, Pinklon Thomas, Ossie Ocasio and Tyrell Biggs, all of whom out-weighed him by 16-20 pounds. On one of the rare occasions when he was pitted against a man of his own poundage, he dropped down to cruiserweight and won a wide 12-round decision over Dwight Muhammad Qawi.
Many boxing mavens know only the raw details of Mike Hunter's life. They know he served time in prison before starting his boxing career at age twenty-six. They know he died under strange circumstances. He was shot during an altercation with two plainclothes policemen on the roof of the gone-to-seed St. Moritz Hotel in Hollywood where he had been staying. The cops were reportedly conducting a routine drug sting. He was shot twice and died from his wounds.
These raw facts, while true, obscure the true Mike Hunter. Among other things, he was a family man, devoted to his children. In Las Vegas, where he lived during the bulk of his boxing career, he usually brought his kids with him to the gym. In 1990, when he went off to Australia to fight hot prospect Jimmy Thunder, he arrived in Melbourne with his family, including two-year-old Michael, in tow. After Mike knocked out Thunder, the family remained in Australia for almost two years. (It was there that young Michael Hunter first learned to talk. When the family returned to the U.S., Michael's playmates were bemused by his Australian accent.)
When Michael Hunter says that he got into boxing because of his father, he is referencing the fact that he literally grew up in the sport. There was also a boxing connection on his mother's side. His maternal grandfather Norman Henry was a matchmaker in Philadelphia and for a time ran a boxing gym in Santa Monica. Norman Henry was close pals with Archie Moore and served as an adviser to George Foreman when Foreman re-entered the sport after a 10-year absence.
Michael idolized his father. In one of their conversations, the elder Hunter told his son how proud he would be if he became an Olympian. It eventually happened, but it took two tries.
Hunter made the 2008 U.S. Olympic team as a super heavyweight, but had to clear more hurdles to punch his ticket to Beijing and came up short in the final Olympic qualifier in Guatemala. Pressured to turn pro, he elected to give it one more shot although that meant staying an amateur for four more years.
In 2012, competing as a heavyweight, he represented the U.S. at the London games, fulfilling his father's dream. But he failed to medal, losing his second-round contest to Russia's Artur Beterbiev on a close and controversial decision.
Hunter won his first 12 pro fights before running into fellow unbeaten Oleksandr Usyk. Hunter had his moments, but the Ukrainian cruiserweight, who had a big 12th round, won by seven points on all three cards. Michael's management then decided that henceforth Michael would compete only as a heavyweight.
Hunter, in common with his father, had always fought bigger men. While still a teenager, he sparred with the likes of Samuel Peter and Hasim Rahman, the latter a long-time family friend who is now a member of his brain trust. As an amateur he swapped punches with the towering Tyson Fury at a U.S.A.-England dual meet. The judges gave Fury the decision in the 3-round go which Hunter insists was a great injustice. His former sparring partners include both Klitschko brothers, Vitali and Wladimir, who brought Hunter to their training camp in a small skiing village in the Tirol mountains of Austria, a place that Hunter would like to re-visit. He says it's the most beautiful place on earth.
Since fighting strictly as a heavyweight, the results have been smashing. He's won five straight, including stoppages of Martin Bakole Ilunga (KO 5) and veteran Alexander Ustinov (TKO 10).  The previously undefeated Ilunga, who carried 256 pounds on a six-foot-six frame, was touted by no less an authority than Barry McGuigan as the next big thing. They fought at London's venerable York Hall.
Stylistically, Michael Hunter doesn't fight anything like his father. But like his dad, he has embraced the role of a spoiler.
This past April, Hunter signed a promotional deal with Eddie Hearn's Matchroom organization. Shortly thereafter, Anthony Joshua's fight with Jarrell "Big Baby" Miller fell out when Miller tested positive for PEDs. Several writers, including this reporter, rated Hunter the favorite to fill the empty slot, but Hearn ultimately picked Andy Ruiz.
Hunter was ringside for Joshua-Ruiz. When Ruiz scored his first knockdown, Hunter remembers shouting to no one in particular, "I told you so; I told you." Hunter had sparred with Ruiz and like all the others that had shared the ring with the Mexican, he knew that there was more to Ruiz than meets the eye.
Hunter's nemesis Oleksandr Usyk had previously signed with Matchroom. As first reported by The Athletic's Mike Coppinger, Usyk will make his debut as a heavyweight on Oct. 12 in Chicago against Suriname-born Tyrone Spong, a former champion kickboxer who left that sport in 2014 after suffering a fractured leg in a fight in Istanbul.
"Skill-wise," says Hunter, "Oleksandr Usyk can out-box any heavyweight. However, he doesn't fight like a heavyweight and for that reason he may have trouble getting big fights. Heavyweights don't like to get out-boxed. If they are going to lose, they would prefer to lose to a slugger."
These remarks harked to his father. No important heavyweight wanted to fight Mike "The Bounty" Hunter, for even if he were to beat him, he wasn't likely to look good in the process. The elder Hunter secured several big fights only because a replacement was needed and the promoter was desperate. He fought Tyrell Biggs for the vacant USBA title on 24 hours notice, salvaging a Top Rank ESPN fight that unraveled when Tony Tubbs tested positive for cocaine, his second infraction. Oh, and by the way, Hunter won the fight.
In addition to being a participant, Michael Hunter is a fan of boxing. He's very much looking forward to the forthcoming light heavyweight unification fight between Oleksandr Gvozdyk and his old amateur rival Artur Beterbiev. "This will be a beautiful fight for the fans to watch," he says. "It will be a test of wills. Beterbiev has great timing and I think he will do really well in the middle rounds." But can he sustain it? Hunter is non-committal.
It's an awkward question, but we had to ask it: Does Michael Hunter believe that the circumstances of his father's death were accurately reported by the media? Mike Hunter was reportedly shot after hitting one of the officers over the head with a fake handgun.
"We'll never know what really happened," he says, noting that there were no witnesses. "The police may have drawn their guns a little too soon. There's that tendency when they confront a black male they perceive to be a threat." He says this matter-of-factly, without raising his voice, while acknowledging that the father he lost when he was seventeen years old, the man whose memory he cherishes, had personal demons and fell prey to drugs.
Michael Hunter has a younger brother who may get there ahead of him in the race to fight for a world title. Keith Hunter, a 27-year-old welterweight, is 11-0. The brothers, who train in the same Las Vegas gym, are both "The Bounty" Hunters. Like father, like sons.
Sergey Kuzmin, Michael Hunter's opponent on Sept. 13, hails from St. Petersburg, Russia, and, like Hunter, had a wealth of amateur experience. Kuzmin is 15-0 (11 KOs) with 1 no-decision, that coming in a match with Amir Mansour that was stopped in the third round when both suffered severe cuts following an accidental clash of heads. In his most recent fight, Kuzmin scored a majority decision over rugged Joey Dawejko.
The oddsmakers have chalked Hunter (17-1, 12 KOs) the favorite, but the odds are short, seemingly portending a very competitive fight. As always, Michael will feel his father's presence as he enters the ring. And whatever the outcome, he has the satisfaction of knowing that his father would be very proud of him.
Check out more boxing news on video at The Boxing Channel  
To comment on this story in The Fight Forum CLICK HERE
Mercito Gesta Victorious Over Jojo Diaz at the Long Beach Pyramid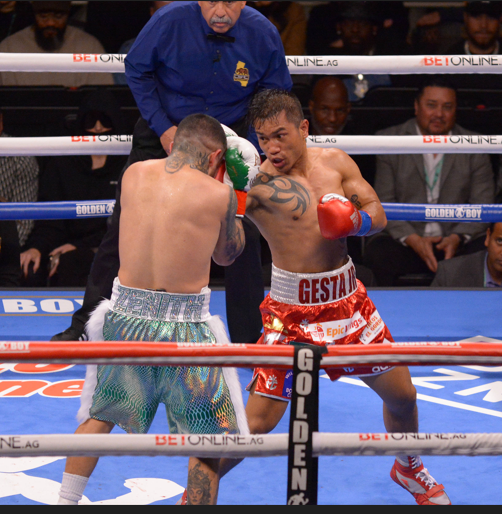 LONG BEACH, CA.-Those in the know knew Mercito Gesta and Jojo Diaz would be a fight to watch and they delivered.
Gesta emerged the winner in a super lightweight clash between southpaws that saw the judges favor his busier style over Diaz's body attack and bigger shots and win by split decision on Saturday.
Despite losing the main event because the star was overweight, Gesta (34-3-3, 17 KOs) used an outside method of tactic to edge past former world champion Diaz (32-4-1, 15 KOs) in front of more than 5,000 fans at the Pyramid.
The speedy Gesta opened up the fight with combination punching up and down against the peek-a-boo style of Diaz. For the first two rounds the San Diego fighter overwhelmed Diaz though none of the blows were impactful.
In the third round Diaz finally began unloading his own combinations and displaying the fast hands that helped him win world titles in two divisions. Gesta seemed stunned by the blows, but his chin held up. The counter right hook was Diaz's best weapon and snapped Gesta's head back several times.
Gesta regained control in the fifth round after absorbing big blows from Diaz. He seemed to get angry that he was hurt and opened up with even more blows to send Diaz backpedaling.
Diaz targeted his attack to Gesta's body and that seemed to slow down Gesta. But only for a round.
From the seventh until the 10th each fighter tried to impose their style with Gesta opening up with fast flurries and Diaz using right hooks to connect with solid shots. They continued their method of attack until the final bell. All that mattered was what the judges preferred.
After 10 rounds one judge saw Diaz the winner 97-93 but two others saw Gesta the winner 99-91, 98-92. It was a close and interesting fight.
"I was expecting nothing. I was the victor in this fight and we gave a good fight," said Gesta. "It's not an easy fight and Jojo gave his best."
Diaz was surprised by the outcome but accepted the verdict.
Everything was going good. I thought I was landing good body shots," said Diaz. "I was pretty comfortable."
Other Bouts
Mexico's Oscar Duarte (25-1-1, 20 KOs) knocked out Chicago's Alex Martin (18-5, 6 KOs) with a counter right hand after dropping him earlier in the fourth round. The super lightweight fight was stopped at 1:14 of the round.
A battle between undefeated super welterweights saw Florida's Eric Tudor (8-0, 6 KOs) emerge the winner by unanimous decision after eight rounds versus Oakland's Damoni Cato-Cain.
The taller Tudor showed polished skill and was not bothered by a large cut on his forehead caused by an accidental clash of heads. He used his jab and lead rights to defuse the attacks of the quick-fisted southpaw Cato-Cain. The judges scored the fight 80-72 and 78-74 twice for Tudor.
San Diego's Jorge Chavez (5-0, 4 KOs) needed less than one round to figure out Nicaragua's Bryan Perez (12-17-1, 11 KOs) and send him into dreamland with a three-punch combination. No need to count as referee Ray Corona waved the fight over. Perez shot a vicious right followed by another right and then a see-you-later left hook at 3.00 of the first round of the super featherweight match.
Photo credit: Al Applerose
Jojo Diaz's Slump Continues; Mercito Gesta Prevails on a Split Decision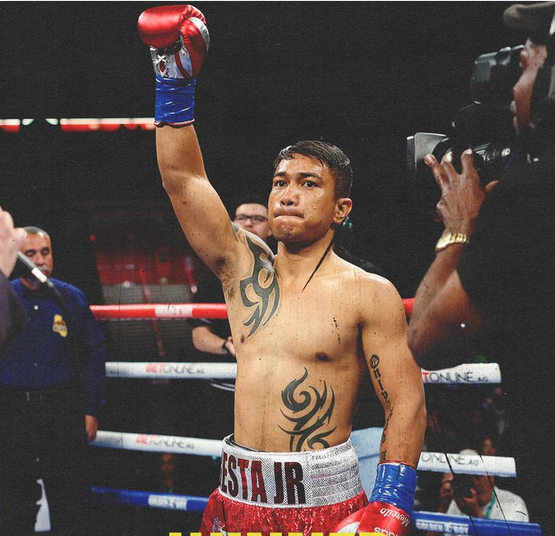 At age 30, Jojo Diaz's career is on the skids. The 2012 U.S. Olympian, a former world title holder at 126 and 130 pounds and an interim title holder at 135, Diaz suffered his third straight loss tonight, upset by Mercito Gesta who won a split decision at the Walter Pyramid in Long Beach, CA.. The scoring was strange with Gesta winning nine of the 10 rounds on one of the cards and only three rounds on another. The tie-breaker, as it were, was a 98-92 tally for Gesta and even that didn't capture the flavor of what was a closely-contested fight.
Originally listed as a 12-rounder, the match was reduced to 10 and that, it turned out, did Diaz no favors. However, it's hard to feel sorry for the former Olympian as he came in overweight once again, having lost his 130-pound title on the scales in February of 2021.
Diaz also has issues outside the ropes. Best elucidated by prominent boxing writer Jake Donovan, they include a cluster of legal problems stemming from an arrest for drunk driving on Feb. 27 in the LA suburb of Claremont.
With the defeat, Diaz's ledger declined to 32-4-1. His prior losses came at the hands of Gary Russell Jr, Devin Haney, and William Zepeda, boxers who are collectively 83-2. Mercito Gesta, a 35-year-old San Diego-based Filipino, improved to 34-3-3.
Co-Feature
Chihuahua, Mexico super lightweight Oscar Duarte has now won nine straight inside the distance after stopping 33-year-old Chicago southpaw Alex Martin in the eighth frame. Duarte, the busier fighter, had Martin on the deck twice in round eight before the fight was waived off.
Duarte improved to 25-1-1 (20). Martin, who reportedly won six national titles as an amateur and was once looked upon as a promising prospect, declined to 18-5.
Other Bouts of Note
New Golden Boy signee Eric Tudor, a 21-year-old super welterweight from Fort Lauderdale, overcame a bad laceration over his right eye, the result of an accidental clash of heads in round four, to stay unbeaten, advancing to 8-0 (6) with a hard-fought unanimous 8-round decision over Oakland's Damoni Cato-Cain. The judges had it 80-72 and 78-74 twice. It was the first pro loss for Cato-Cain (7-1-1) who had his first five fights in Tijuana.
In the DAZN opener, lanky Hawaian lightweight Dalis Kaleiopu went the distance for the first time in his young career, improving to 4-0 (3) with a unanimous decision over 36-year-old Colombian trial horse Jonathan Perez (40-35). The scores were 60-52 across the board. There were no knockdowns, but Perez, who gave up almost six inches in height, had a point deducted for a rabbit punch and another point for deducted for holding.
To comment on this story in the Fight Forum CLICK HERE
'Big Baby' Wins the Battle of Behemoths; TKOs 'Big Daddy' in 6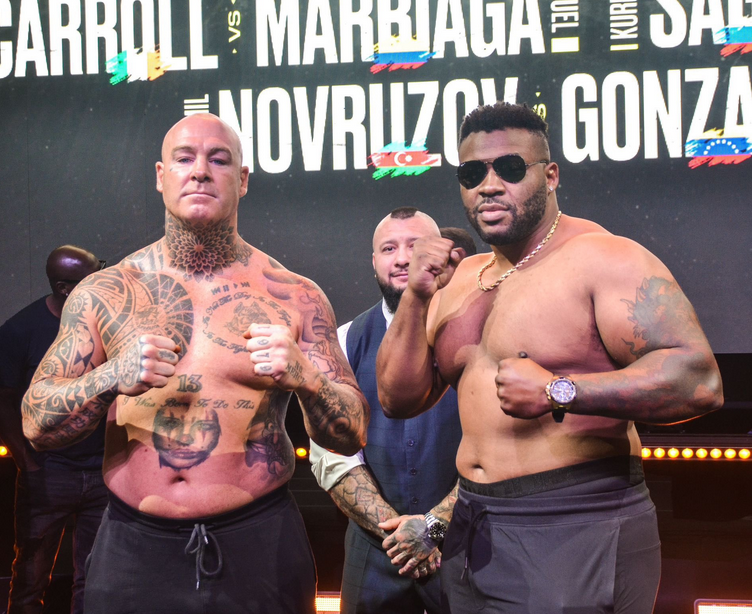 Lucas "Big Daddy" Browne weighed in at a career-high 277 pounds for today's battle in Dubai with Jarrell "Big Baby" Miller, but he was the lighter man by 56 pounds. It figured that one or both would gas out if the bout lasted more than a few stanzas.
It was a war of attrition with both men looking exhausted at times, and when the end came it was Miller, at age 34 the younger man by nine years, who had his hand raised.
Browne was the busier man, but Miller, whose physique invites comparison with a rhinoceros, hardly blinked as he was tattooed with an assortment of punches. He hurt 'Bid Daddy' in round four, but the Aussie held his own in the next frame, perhaps even forging ahead on the cards, but only postponing the inevitable.
In round six, a succession of right hands knocked Browne on the seat of his pants. He beat the count, but another barrage from Miller impelled the referee to intervene. The official time was 2:33. It was the 21st straight win for Miller (26-0-1, 22 KOs). Browne declined to 31-4 and, for his own sake, ought not fight again. All four of his losses have come inside the distance, some brutally.
The consensus of those that caught the livestream was that Floyd Mayweather Jr's commentary was an annoying distraction that marred what was otherwise an entertaining show.
As for what's next for "Big Baby" Miller, that's hard to decipher as he has burned his bridges with the sport's most powerful promoters. One possibility is Mahmoud Charr who, like Miller, has a big gap in his boxing timeline. Now 38 years old, Charr – who has a tenuous claim on a WBA world title (don't we all?) —  has reportedly taken up residence in Dubai.
Other Bouts of Note
In a 10-round cruiserweight affair, Suslan Asbarov, a 30-year-old Russian, advanced to 4-0 (1) with a hard-fought majority decision over Brandon Glanton. The judges had it 98-92, 97-93, and a more reasonable 95-95.
Asbarov was 12-9 in documented amateur fights and 1-0 in a sanctioned bare-knuckle fight, all in Moscow, entering this match. He bears watching, however, as Glanton (18-2) would be a tough out for almost anyone in his weight class. In his previous fight, at Plant City, Florida, Glanton lost a controversial decision to David Light, an undefeated Australian who challenges WBO world title-holder Lawrence Okolie at Manchester, England next week.
A 10-round super featherweight match between former world title challengers Jono Carroll and Miguel Marriaga preceded the semi-windup. Carroll, a 30-year-old Dublin southpaw, overcame a cut over his left eye suffered in the second round to win a wide unanimous decision in a fairly entertaining fight.
It was the sixth straight win for Carroll (24-2-1, 7 KOs) who elevated his game after serving as a sparring partner for Devin Haney. Marriaga, a 36-year-old Colombian, lost for the fourth time in his last five outings, declining to 30-7.
To comment on this story in the Fight Forum CLICK HERE