Once Upon a Time….A Fighter from Sweden, Bob Arum, and the Diabolical Roy Cohn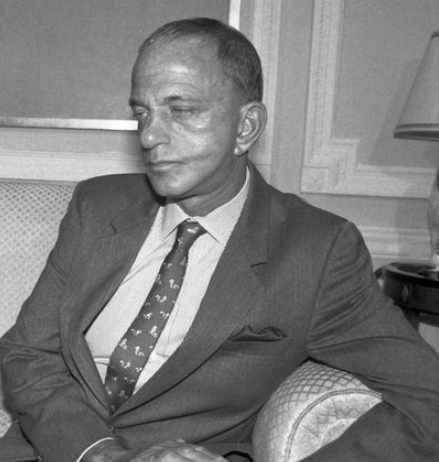 Sixty years have elapsed since Ingemar Johansson made his U.S. debut with a shocking demolition of defending heavyweight champion Floyd Patterson. Now another fighter from Sweden, Otto Wallin, enters a U.S. ring on the big stage with hopes of emulating his late countryman. And inevitability, the promoters of Wallin's fight on Saturday with Tyson Fury are invoking Johansson's name as a cautionary tale, a retort to the cynics who say the Swede has zero chance of upending the lineal heavyweight champion. Hardly anyone gave Ingemar a chance. If he could do it, then why not Otto?
Johansson knocked Patterson down seven times in the third round before the referee thought it prudent to stop the fight. It was a total massacre. There were two fast rematches and Patterson won both inside the distance, but it is the first meeting, staged at Yankee Stadium, that everyone remembers because the outcome was so unexpected.
The promoter of the first Patterson-Johansson fight was Bill Rosensohn. Formerly an executive with the TelePrompter Corp, a pioneer in the cable television industry, Rosensohn, 38, was a greenhorn in the boxing business and undercapitalized, making him easy prey for those that wanted to horn in on his operation. Some of the infiltrators were alleged Mafia figures which led the New York State Athletic Commission to rescind Rosensohn's license before he could put the pieces together for Patterson-Johansson II.
The dissolution of Rosensohn Enterprises left quite a mess. Roy Cohn (pictured) seized the moment, putting together a 10-man syndicate to get the rematch back on track and control the heavyweight champion, whoever that may be. The syndicate got it done, but not without extensive in-fighting, recriminations and ultimately lawsuits, foreseeable whenever venal people are brought together in a complicated money grab.
Let's stop for a moment to make certain there's no confusion. Bob Arum and Roy Cohn were adversaries, never collaborators. In answer to a question posed by this reporter on Wednesday, Arum called Cohn despicable. The late Mr. Cohn, a homophobic homosexual and an anti-Semitic Jew, has been called a lot worse.
For the uninitiated, Roy Cohn, the son of a New York State Supreme Court Justice, first attracted notice as the 23-year-old lead prosecutor of the Rosenbergs, Julius and Ethel, a married couple accused of selling atomic bomb secrets to the Soviet Union. Cohn's bulldog cross-examination of Ethel's brother elicited the most damning piece of evidence that sent Julius and Ethel off to the electric chair.
Cohn's work attracted the interest of anti-communist crusader Joseph McCarthy, the U.S. Senator from Wisconsin. Cohn served as McCarthy's legal counsel and sat alongside McCarthy during the Army-McCarthy hearings of 1954 which were undertaken with the goal of purging communists and homosexuals from the federal workforce. When Cohn returned to his law practice, he handled such diverse clients as John Gotti, Rupert Murdoch, the Catholic Diocese of New York, and a young Donald Trump. A man with enormous pull in political circles during several administrations and a publicity hound, Cohn lived large. His primary residence was a six-story, 33-room Manhattan townhouse.
One man that Cohn couldn't browbeat was Bobby Kennedy, who was appointed Attorney General by his brother, President John F. Kennedy. Bobby Kennedy loathed Roy Cohn. And as had been true when the government went after Al Capone, it was determined that the best way to bring down Cohn was to dig into his financial affairs and punish him for his machinations as a tax cheat.
Enter Bob Arum, the young Harvard Law School graduate who would become head of the tax division in the U.S. Attorney's Office for the Southern District of New York. For 10 days, Arum took Cohn's deposition. At issue was the dispensation of the proceeds of the first Patterson-Liston fight in Chicago which the government had seized pending an investigation.
At this juncture of his life, Bob Arum had never seen a prizefight. His contentious conversations with Roy Cohn obviously piqued his interest. "I learned a lot about boxing in those 10 days," Arum told me. Years later, after Arum became a major force in boxing, he bumped into Cohn at a swanky restaurant. "Where's my commission?" growled Cohn. He was jesting, of course, but the gist was that he ought to have been paid for his tutorial.
History records that Bob Arum's maiden promotion was the fight between Muhammad Ali and George Chuvalo at Maple Leaf Gardens in Toronto on March 29, 1966. Arum credits the great NFL running back Jim Brown for making that promotion possible by introducing Arum to Ali's Svengali, Elijah Muhammad. But, if one were writing Arum's life story beginning with his involvement in boxing, one could begin by citing Ingemar Johansson who indirectly set the wheels in motion by virtue of his tie-in with Roy Cohn.
Six decades have elapsed since Ingemar Johansson came over from Sweden and made a big splash and 44 years have gone by since the late Mark Kram, in Sports Illustrated, wrote that Bob Arum, of all the major players in boxing, was the most resilient.
How prescient of Kram! Arum, now 87 years old with no sign of slowing down, will be ringside on Saturday at the T-Mobile Arena in Las Vegas as the latest heavyweight from Sweden (a very short list) attempts to shipwreck the grand promotion at the end of the tunnel, the rematch between Tyson Fury and Deontay Wilder.
As for Roy Cohn, who never served a day in prison, he was eventually disbarred for what was termed "dishonesty, fraud, deceit, and misrepresentation."  He died of AIDS in 1986 at age 59 owing $7 million in back taxes.
Check out more boxing news on video at The Boxing Channel 
To comment on this story in The Fight Forum CLICK HERE
Avila Perspective, Chap. 81: Robert Garcia's Boxing Academy, 'J-Rock' and More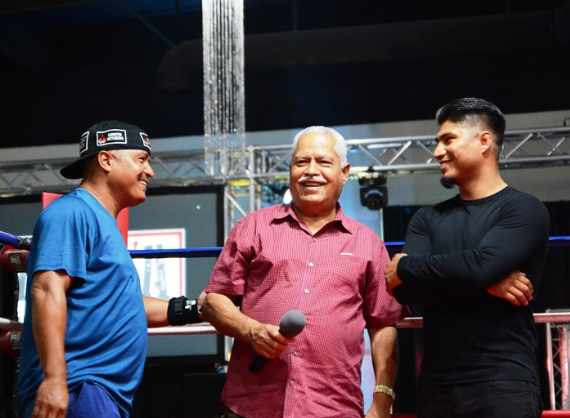 Stacked cars block the long entrance to Robert Garcia Boxing Academy where many of the best prizefighters in the Southwest prepare.
It's Wednesday afternoon and the first shift has arrived.
Just last weekend two RGBA-trained fighters Hector Tanajara Jr. and Joshua Franco returned to their native area San Antonio, Texas and showed off their fighting skills polished in the hills of Riverside, California. It's a human factory of prizefighters of all sizes and ethnicities.
Trainer Robert Garcia, with help from his sons, runs the sizeable gym that includes three boxing rings like a choreographer. He doesn't need charts or tablets, he simply directs the fighters to the ring and tells them the number of rounds they will be trading punches.
Gabriel Flores Jr. of Stockton is chosen to open up the sparring. He's a 19-year-old speedy lightweight from Stockton, Calif. and so far has remained undefeated after 16 pro bouts.
First to spar with the Stockton fighter was Saul "Neno" Rodriguez, the slim power-punching super featherweight from Riverside. Early in his career he was trained by Garcia, first in Oxnard, then, when the Riverside operation was opened, he made the transition too. For more than two years Rodriguez had trained elsewhere but has returned to the Garcia machine. It's hard to get better training.
Flores and Rodriguez sparred for multiple rounds of action that featured what each fighter does best. One is a counter-puncher and the other stalks and punishes. One utilizes speed and agility to offset attacks and the other pressures and pursues while looking for openings and mistakes.
It's a perfect mesh of styles.
Next up was Luis Coria another lightweight with speed and aggressiveness like a wound-up top.
Coria was scheduled to fight Adam Lopez last November in Las Vegas, but when the main event featuring former WBO featherweight titlist Oscar Valdez fell out due to the opponent weighing 10 pounds over the limit, Lopez was asked to step in. That left Coria without an opponent.
"He was well paid to step aside," said Robert Garcia trainer and manager for Coria.
That night Lopez impressed the boxing world by flooring Valdez although eventually losing by stoppage. That could have been Coria. No problem, he will be fighting soon enough.
Coria sparred several rounds with Flores and both showed speed and a contrast in styles.
The gym always operates at crank level and somebody is always preparing for the next big fight. Coming up soon will be WBC and WBO super lightweight titlist Jose Carlos Ramirez who will be traveling to China to defend against Viktor Postol on Feb. 2.
Later in February, Mikey Garcia returns to the ring for the first time since last March. The former featherweight, super featherweight, lightweight, and super lightweight titlist is set to meet former super lightweight and welterweight titlist Jessie Vargas on Feb. 29, at Frisco, Texas.
Pick any season in the year and RGBA is always humming.
J-Rock
WBA, IBF and IBO super welterweight titlist Julian "J-Rock" Williams (27-1-1, 16 KOs) finally returns to the ring and makes his first defense against Jeison Rosario (19-1-1, 13 KOs) on Saturday Jan. 18, in Philadelphia. FOX will televise.
It's homecoming for Williams who grabbed the title with a riveting win over former champion Jarrett Hurd in what I felt was the Fight of the Year in 2019. Both engaged in trench warfare and exhibited the beautiful art of inside fighting rarely seen or allowed by trigger-happy referees anxious to create space. Close-quarter fighting takes talent.
Fighting in front of friends and family can be pretty stressful. Philadelphia is a true fight town and it could be an added distraction for Philly boxer J Rock.
"I try to just block myself from the world. Especially with a hometown fight, people are pulling you 50 different ways, tickets, asking me stupid questions. It's crazy, so I just try to block myself from the world," said Williams about the upcoming fight with Rosario. "Rosario brings ambition to the table. I think he's an ambitious kid. I don't think it's a difficult fight (for me), to be quite honest. I just think it's a matter of being focused and on top of my game, and I think I'll take care of him. I don't think it's difficult, though. He's a decent fighter. We're not going to make him out to be Ray Robinson."
Top Rank in NY
If you are one of the many who wondered whatever happened to Puerto Rico's Felix Verdejo here's your chance to watch the former phenom in action as he meets Manuel Rey Rojas (18-3, 5 KOs) at Turning Stone Resort and Casino in Verona, NY. ESPN+ will stream the Top Rank card.
Verdejo (25-1, 16 KOs) fought once in 2019 and defeated cagey veteran Bryan Vasquez by decision last April in New York City. He remains a big draw but since turning pro nearly 10 years ago has failed to live up to expectations as the next Felix Trinidad. There's only one "Tito" Trinidad.
Rumors abound when it comes to Verdejo who was supposedly involved in a motorcycle accident and other escapades. Life can get in the way. Here he is now 26 years old and looking to conjure up some of that old fervor he had as a teen.
Fights to Watch
Fri. Showtime 7 p.m. Shojahon Ergashev (17-0) vs Adrian Estrella (29-4).
Sat. ESPN 4 p.m. Eleider Alvarez (24-1) vs Michael Seals (24-2); Felix Verdejo (25-1) vs Manuel Rey Rojas (18-3).
Sat. FOX, 5 p.m. Julian Williams (27-1-1) vs Jeison Rosario (19-1-1); Chris Colbert (13-0) vs Jezzrel Corrales (23-3).
Photo: Eduardo Garcia, the Garcia family patriarch, is flanked by sons Robert and Mikey. Photo by Al Applerose.
Check out more boxing news on video at The Boxing Channel 
To comment on this story in The Fight Forum CLICK HERE
Julian "J-Rock" Williams: From a Homeless Teenager to a World Boxing Champ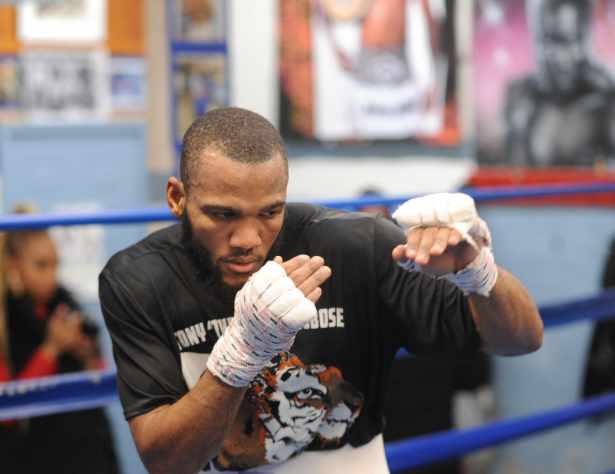 Last weekend was a mixed bag for Philadelphia fighters. Undefeated welterweight Jaron "Boots" Ennis looked sensational on Friday while scoring a fourth-round stoppage of Bakhtiyar Eyubov. The next night, a raggedy performance by Jesse Hart in a super middleweight contest with Joe Smith Jr scraped away some of the city's prestige as an incubator of great fistic talent. (Thirteen fighters identified with Philadelphia are in the International Boxing Hall of Fame; bet you can't name seven.)
On Saturday at Philadelphia's Liacouras Center, WBA/IBF 154-pound world title-holder Julian "J-Rock" Williams (27-1-1, 1 NC, 16 KOs) seeks to right the ship, so to speak, when he opposes Jeison Rosario (19-1-1, 13 KOs) in the first defense of the titles he won from Jarrett Hurd last May in one of the most entertaining fights of 2019. It's a homecoming for Williams, 29, who trains at the James Shuler Memorial Gym, named for the former middleweight contender who died at age 26 in a 1986 motorcycle accident. "J-Rock" last fought in Philly in 2011 at a small show at a National Guard armory when he was still a 6-round fighter.
Williams, like so many professional boxers, had a rough upbringing. According to an article by Frank Fitzpatrick in the Philadelphia Inquirer, during his school days Williams lived in an old motel that had been converted into a homeless shelter. His mother battled substance abuse and his father was in prison.
The shelter was located a long distance from his high school, Overbrook, in gritty West Philadelphia. Getting there required a trip on two buses sandwiched around a ride on the "el" train.
The faculty at Overbrook High School, who work in a 95-year-old building, face all the challenges that are endemic to inner-city schools populated by students from economically disadvantaged homes. But the school is famous because of the achievements of certain alumni. The great NBA player Wilt Chamberlain went to Overbrook High, as did the actor Will Smith and Guion S. Bluford Jr, America's first African-American astronaut. If "J-Rock" can keep winning, he may etch his name on that roster.
Williams will go to post a big favorite over Rosario, a 24-year-old Miami-based fighter from the Dominican Republic. They have a common opponent in Nathaniel Gallimore who was out-pointed by Williams after previously saddling Rosario with his lone defeat (TKO by 6). Rosario got this coming assignment when Jarrett Hurd changed his mind, declining a rematch with Williams after initially activating his rematch clause. (Hurd has a stay-busy fight later this month on the undercard of the Danny Garcia vs. Ivan Redkach bout at Brooklyn's Barclays Center.)
Williams vs. Rosario will air on FOX and FOX Deportes as part of a triple-header. In the co-feature, 23-year-old Brooklyn super featherweight Chris Colbert (13-0, 5 KOs) is matched against Panamanian southpaw Jezzrel Corrales (23-3, 9 KOs) in a match billed for an interim WBA title. The flashy Colbert, reportedly 103-3 as an amateur, has a big upside if he can improve his punching power.
As for Julian Williams, down the road he figures to meet up with Jermell Charlo who recently recaptured his WBC 154-pound title while avenging a controversial loss to Tony Harrison. Williams' lone defeat was inflicted by Jermell's twin brother Jermall Charlo who now competes a weight class up at 160. If that fight materializes, "J-Rock" would be the second person to lock horns with both Charlo twins at the pro level following Austin Trout.
That may be putting the cart before the horse, but Williams, who is a good interview because of his forthrightness, is supremely confident. "I don't think it's a difficult fight for me, to be quite honest," he says. "We're not going to make (Rosario) out to be (Sugar) Ray Robinson. But he has the ambition to win, so you can't underestimate him."
Considering the obstacles that "J-Rock" has already overcome, it would seemingly be foolish to bet against him.
– – –
Philadelphia fighters in the International Boxing Hall of Fame listed in order of their year of induction: Joe Frazier (1990), Tommy Loughran (1991), Philadelphia Jack O'Brien (1991), Joey Giardello (1993), Harold Johnson (1993), Bob Montgomery (1995), Matthew Saad Muhammad (1998), Lew Tendler (1999), Battling Levinsky (2000), Jeff Chandler (2000), Benny Bass (2002), Harry Lewis (2008), Bernard Hopkins (2020).
Photo credit: Darryl Cobb / TGB Promotions
Check out more boxing news on video at The Boxing Channel 
To comment on this story in The Fight Forum CLICK HERE
Tyson Fury's Daffy Training Regimen has Nat Fleischer Spinning in his Grave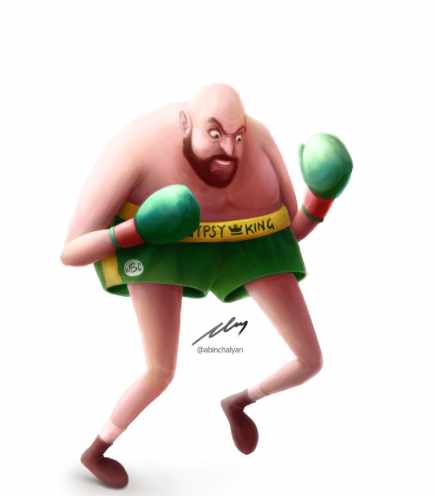 The late Nat Fleischer, the co-founder and publisher of The Ring magazine, the self-proclaimed Bible of Boxing, was regarded in his day as the world's foremost authority on all things fistic.
In addition to looking after his monthly magazine, Fleischer wrote many books. Most were small biographies of famous fighters but there were also instructional manuals for boys and young men interested in learning the science of pugilism. In fact, Fleischer's first book was a training manual. First published in 1929, "Training for Boxers" (with a foreword by Jack Dempsey) sold more than one million copies at $1 each according to Fleischer's 1972 obit in the New York Times.
Fleischer's three "how to" books for aspiring boxers were heavy on the importance of leading a virtuous life outside the ring. Don't masturbate, he commanded his readers. Masturbation, in Fleischer's view, was the scourge of civilization.
The same admonition against "self-abuse" was found in the Boy Scouts Handbook. British military officer Lord Robert Baden-Powell, credited with founding the world-wide Boy Scouts movement, also railed against this temptation. The son of a clergyman, Baden-Powell didn't invent the popular saying "idle hands are the devil's workshop," but, among other things, His Lordship believed that excessive masturbation led to idiocy.
If that were true, that doesn't bode well for Tyson Fury (insert your own joke here). At Monday's press conference in Los Angeles, Fury said that as part of his preparation for his rematch with Deontay Wilder, he would be masturbating seven times a day. "I have to keep my testosterone pumping," said Fury by way of explanation.
Fury's impulsion flouts conventional wisdom. Old-time trainers believed that masturbation and sex in general were to be avoided in the days preceding a fight. Celibacy was useful for keeping a fighter focused on the task at hand and the retention of semen was thought to be useful for keeping a boxer on edge so that when the battle commenced, he had a reservoir of pent-up energy ready to be unleashed.
It was written that Primo Carnera's trainers tied a string around his penis when he went to bed at night to keep him from having a wet dream. Like so much that was written about the Ambling Alp, this was assuredly nonsense. However, fanciful yarns like this exposed the mindset of many old trainers whose philosophies, however quaint, were passed on to future generations of boxers and trainers including some who are active today.
Muhammad Ali said that he stopped having sex six weeks before a fight. Freddie Roach has been quoted as saying that he exhorts his fighters to "practice discipline" for 10 days before a bout. This was never an issue with Manny Pacquiao who reportedly adhered to a higher standard, eschewing sex for 21 days.
David Haye, who held world titles at cruiserweight and heavyweight before retiring in 2018, remains active in the sport as a manager and promoter. When it comes to his views on getting ready for a fight, the "Hayemaker" is a throwback.
I don't ejaculate for six weeks before the fight. No sex, no masturbation, no nothing. It releases too much tension. It releases a lot of minerals and nutrients that your body needs, and it releases them cheaply. – David Haye
 For the record, although the evidence is slim, Haye's beliefs lack scientific support. In fact, a 1999 Italian study found that testosterone levels actually increase as sexual activity increases.
That finding suggests, egads, that the Gypsy King may actually be on to something. However, the view from here is that whether Tyson Fury masturbates 70 times a day, if that were humanly possible, or masturbates not at all, it won't matter a bit if Deontay Wilder lands his Sunday punch flush on his jaw. He's going down and the ghost of Nat Fleischer will then hover over the ring and bellow, "I told you so, you big lug, now go home and be a good role model and from now on keep your hands away from that appendage in your quiet hours."
Check out more boxing news on video at The Boxing Channel 
To comment on this story in The Fight Forum CLICK HERE