Javan 'Sugar' Hill Keeps the Kronk Flame Burning in Banged-Up Detroit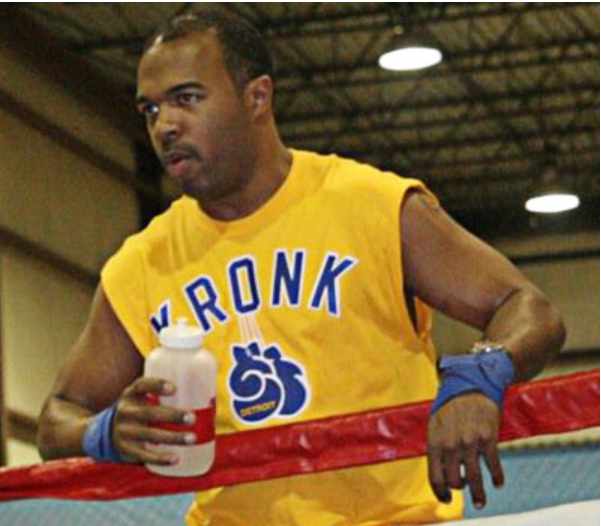 Anthony Dirrell, who risks his WBC 168-pound world title against former title-holder David Benavidez this Saturday, Sept. 28, is one of the last of a dying breed, one of the last active fighters who earned his spurs at the fabled Kronk Gym, by which we mean the original Kronk Gym at 5555 McGraw Street on Detroit's west side, the place that the late great trainer Emanuel Steward put on the map.
Steward, an electrician by trade and former National Golden Gloves champion, built an amateur boxing powerhouse in the basement of the Kronk Rec Center before attracting national notice for his work with Kronk alumni who turned pro, most notably Tommy Hearns. Anthony Dirrell and his older brother Andre Dirrell represented Kronk as amateurs. They learned their craft in the original gym, often with Emanuel Steward present, watching over them like a mother hen and giving pointers.
Steward always had assistants (in the beginning unpaid volunteers) and their roles became larger as Steward became the sport's most prominent hired gun, taking him away from Detroit for long stretches to coach such notables as Lennox Lewis and Wladimir Klitschko, plus serving as a member of HBO's boxing broadcasting team. The most prominent of the assistants were Johnathon Banks, who currently trains Gennady Golovkin, and Javan "Sugar" Hill who will be in Anthony Dirrell's corner on Sept. 28, having trained both Dirrell brothers off and on since their amateur days.
Emanuel Steward died in 2012 after a short illness at age 68. By then the Kronk Rec Center, built in 1921 when the area around it was heavily Polish, was no more. As the economy of Detroit worsened – the city filed for bankruptcy in 2013 – instances of vandalism increased as desperate people took to stealing anything that could be sold on the black market. In September of 2006, thieves entered the rec center in the still of the night and disemboweled it, removing all the copper fixtures. With its budget strapped, the city couldn't afford the cost of repairs. Six years later, most of the building was destroyed by a fire of suspicious origin. Last year, what was left of the structure was finally demolished.
But the Kronk Gym, a hallowed name in boxing, never perished; just the place where Emanuel Steward worked his magic. The gym is currently housed in a former church, school and convent that has passed through several hands since being closed by the Catholic Archdiocese of Detroit. There you will find Javan "Sugar" Hill when he's not out of town at an amateur boxing tournament or on the road with a professional fighter. The 48-year-old Hill, above all others, is the man keeping the Kronk flame burning.
It was inevitable that Javan Hill would take on this responsibility; he is Emanuel Steward's nephew. "Emanuel was his parents only boy," notes Javan, "and I am my parents only boy." That common circumstance strengthened their tie. For much of his youth and into his adult years, Hill resided in Steward's home.
Hill spent 12 years on the Detroit police force. In 2007 he took an early retirement so that he could focus more fully on the gym. "When I was growing up," he says, "I never thought about becoming a policeman. For me, it was an opportunity to get off the street and keep myself out of trouble." (With his uncle Emanuel looking after his welfare, it's doubtful that Hill would have strayed too far from the straight and narrow, but we will take him at his word.)
When Emanuel Steward died, Wladimir Klitschko went with the aforementioned Banks as his new trainer. Hill wasn't resentful – he and Banks are best buddies – although he had more longevity with Kronk.
"Johnathon had been with Emanuel at Klitschko's training camps and he and Wladimir had developed a special relationship. I was less involved because of Adonis Stevenson. Adonis wasn't yet a champion when Emanuel died and I had the satisfaction of helping him grow into a world champion."
Stevenson suffered a traumatic brain injury in the 10th defense of his world title on Dec. 1 of last year when he was stopped in the 11th round by Oleksandr Gvozdyk.
How is he doing? "We talk quite a bit," says Hill, "and he is making steady progress."
Hill draws a comparison between Stevenson's current situation and one of those old dial-up computers that took forever to download a song. But little by little, things are slowly getting back to speed for him. "He can't drive yet, but he can communicate in French, English, or Creole," Hills says of the ex-champion who was born in Haiti and grew up in Montreal.
In the heyday of Kronk, the program had a big booster in Coleman Young, the city's five-term mayor whose 20-year reign began in 1974. Subsequent mayors have been far less supportive (understandable considering the budget constraints), making it that much harder to recapture the glory days anytime soon.
In his quest to make boxing relevant again in Detroit, Hill found an unlikely ally in Ukrainian-born Dmitriy Salita. A former world title challenger who retired with a record of 35-2-1, Salita launched Salita Promotions in his hometown of Brooklyn as his career was winding down. When the New York Athletic Commission effectively put him out of business by adopting more stringent insurance requirements, prohibitively expensive for a grass-roots promoter, Salita shifted his base to Detroit where he had trained for his last few pro fights.
Salita, 37, has made great strides as a promoter. His clients include Claressa Shields, Jarrell "Big Baby" Miller and Norway's newest sporting hero, Otto Wallin. Salita has also roped in a number of promising prospects from Russia and her former satellites, the most arresting of whom is Uzbekistani knockout artist Shohjahon Ergashev (17-0, 15 KOs), currently ranked #6 at junior welterweight by the IBF. Ergashev trains at Kronk as do three fighters who appeared on the same card last week in Grozny, Russia: heavyweight Apti Davtaev, light heavyweight Umar Salamov, and super middleweight Aslambek Idigov.
The Eastern European contingent has introduced a new strain into Kronk's inner city vibe. It's also made life somewhat more challenging for Javan Hill, especially on those occasions when he is working a corner and has only 60 seconds before the start of the next round to convey the message he wants to convey. But, Hill insists, it hasn't been as challenging as one might think.
"Boxing is a universal language," he says. "All of our foreign fighters take classes in English." Alexey Zubov, a 32-year-old Russian cruiserweight with a 17-2 record, speaks almost flawless English and is often there when a translator is needed.
Kronk Gym became something of a foster child when the rec center shut down. For a time, Kronk fighters trained in the Detroit suburb of Dearborn. The gym's current home, at 9520 Mettetal, six miles away from where it all started, suits Javan Hill to a tee because the surroundings so closely mirror the original.
"We're back in the basement again, just like the old days," says Hill, "and in a place very much like a rec center. Upstairs there are programs for adults that teach certain skills. And I like the fact it's a small gym, just like our old gym."
In a big gym, notes Hill, it's harder to know when someone is slacking off. When a boxer hits a heavy bag and does it correctly, it emits a certain sound. A good trainer in a gym where there's a lot going on, knows how to keep tabs on things with his ears as well as his eyes. "Here," he says, "I can hear everything going on."
The boxers who work out at Kronk are as young as eight years old. When school is out, says Hill, there may be as many as 25 or 30 amateurs on the premises. Emanuel Steward, were he alive, wouldn't have it any other way. Steward believed that if a gym had a strong amateur program, the professional side would evolve organically.
If boxing in Detroit never gets back to where it once was, it won't be for lack of trying. And the man doing the heavy lifting is Javan "Sugar" Hill, Emanuel Steward's nephew and surrogate son.
Anthony Dirrell
Anthony Dirrell (pictured below) turns 35 next month. His fight this coming Saturday with undefeated and heavily favored David Benavidez, 12 years his junior, may be his last rodeo. He has hinted at retirement.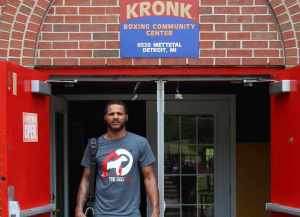 It's hard not to root for him as few fighters have overcome as much adversity. Born and raised in hardscrabble Flint, Michigan, Dirrell was diagnosed with non-Hodgkins lymphoma in December of 2006. He was out of action for 22 months while undergoing chemotherapy. In May of 2012, he broke his leg and fractured his arm in a motorcycle accident. That dictated another long layoff. But he persevered and on Aug 16, 2014, he won the WBC world 168-pound title with a unanimous decision over Sakio Bika in a rematch after their first encounter ended in a draw.
Dirrell lost the belt in his first defense on a close decision to Badou Jack, but regained it earlier this year at the expense of Turkey's Avni Yildirin after the title became vacant when Benavidez was stripped of it for testing positive for cocaine. His fight with Yildirin was stopped by the ringside physician after 10 rounds because of a worsening cut caused when the fighters clashed heads three rounds earlier, sending the fight to the scorecards. It was a tougher-than-expected fight for Dirrell who prevailed on a split decision.
The bout between Dirrell (33-1-1, 24 KOs) and Benavidez (21-0, 18 KOs) is the chief undercard bout underneath the welterweight title unification fight between Errol Spence Jr. and Shawn Porter. It will air on FOX pay-per-view.
Check out more boxing news on video at The Boxing Channel  
To comment on this story in The Fight Forum CLICK HERE
"Sparring with Smokin' Joe" is a Great Look into a Great, Complicated Man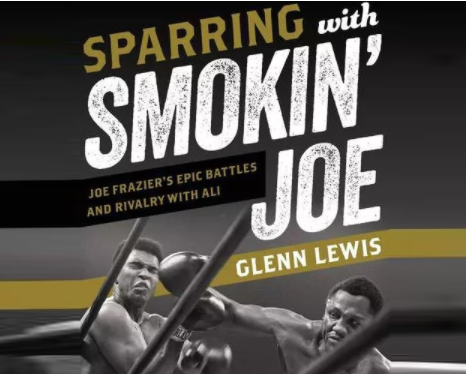 BOOK REVIEW – Some rare moments arrive, as either a blessing or a curse, to cast definitive impressions of how someone might be remembered. As anyone reading this should well know, such a moment occurred 50 years ago today (March 8, 1971) at Madison Square Garden for Joe Frazier and Muhammad Ali.
For Frazier, a punishing 15-round victory became the foundation to his legacy. That leads us to Sparring with Smokin' Joe by Glenn Lewis, the latest biographical volume to focus on Frazier, with a timely release date close to the "Fight of the Century" anniversary that should provide plenty of solid promotional material for the book.
As a piece of literature the book, published by Rowman & Littlefield, stands up quite well on its own, and as a piece of boxing literature it stands out, through previously unpublished situational information on Frazier.
I found it to be a must-read for Frazier fans and a solid plus for most boxing libraries.
Author Lewis is a graduate school professor at the City University of New York (CUNY) and director of journalism at the affiliated York College with decades of expertise on his resume. This project is expertly constructed and reads very smoothly throughout. Beside the many insightful instances regarding Frazier himself, a very thoughtful portrait of his son Marvis Frazier runs through the narrative, which also conjures a vivid depiction of Frazier's Broad Street Gym in North Philadelphia.
The book's unique highlight is the ongoing tale of traveling with Frazier and his all-white band (with multiple Berklee school members) during a tour of southern states.
The first 140 pages or so (out of a listed 256), make up a fascinating memoir of getting to know Frazier and his circle during 1980, around four years after his second crushing defeat to George Foreman. At that point in his life, Frazier was trying to settle into retirement, guide Marvis's culminating amateur career, and transition from boxing superstar to fledgling vocal attraction.
I devoured the opening sections of the book with reader's glee, far more than enough to highly recommend Lewis' book, but toward the end it seemed maybe he should have quit while and where he was ahead.
The last third gets substantially less engaging. The author grew distanced from his subject's proximity and it shows, as the tale becomes far more familiar in relating already well-documented fight data.
There is still some fine perspective from Lewis like Joe's hugely destructive obsession with rushing Marvis into disaster versus Larry Holmes, but for many of the closing segments you could cut and paste the same period of Frazier's career out of Mark Kram Jr's recent book Smokin' Joe (2019) and gain a bit more personal touch.
That's not at all to imply that the boxing writing is weak. Lewis makes an excellent case that Frazier won the rematch with Ali, not only the first fight; which leads to justified speculation on what could have occurred had Frazier gotten the second nod. Back then I shared Lewis' opinion on the scoring, and his detailed analysis inspires taking another look at the replay.
Some minor gym characters or business associates become animated as if they're standing in front of you, but I was disappointed in how a charming, complicated guy like Jimmy Young was overlooked and how larger-than-life characters like Gil Clancy and especially George Benton (a living example of where playwright August Wilson drew inspiration) came across rather subdued compared to the boisterous conversationalists I spoke with many times not long after the year Lewis's story begins.
There are also a couple of minor omissions that, though based on very brief listings, still stick out when considering Lewis's scholarly, journalistic credentials.
James Shuler is mentioned, but there's nothing about his tragic death in a motorcycle accident a week after losing to Tommy Hearns in a minor title fight, nor the touching story about Hearns at the funeral, offering to put the belt in Shuler's coffin. Frazier's restaurant, Smokin' Joe's Corner, is also listed a couple times but there is no mention of the horrible murders that took place there during an inside job robbery and how that tragedy probably put the final nail into Frazier's aspirations in the food industry.
I also hoped for some tidbits from Frazier's thoughtful and wise older brother Tommy who provided me with some rare insights (and had an offbeat sense of humor about his name), a stoic trickster who seemed to lovingly enjoy putting his famous sibling on the spot.
Still, the overall impression I got was fantastic. A memoir should share time, location, emotion, and reflection. Lewis achieves all those things many times over.
Which leads to my primary, personal takeaway of this very worthwhile book. Based on a few of the lengthy encounters I was lucky enough to share with Joe Frazier (boxing and non-boxing related), it's difficult for me to imagine that a canny observer like Lewis didn't emerge from the amazing and enviable access he got with more wild tales, especially from nights on the road.
So, I'd have to guess, and bet, that Lewis let some of the more sensational situations or quotes remain aloft in the mist of the past, which to me is admirable, even more so in these social media dominated days.
Here's a non-controversial quote that is included, which provides a sample of the many fine nuggets to be found:
"I don't think you're less of a man for crying," said Joe, taking me by surprise. "It's healthy for you. I cry if something goes wrong- I'll cry right out. But if I cry out of anger, look out! Somebody's in trouble. Crying shows a man has heart and helps him out of his pressures. Just don't cry for nothing."
I could almost hear Frazier's voice when I read that, and descriptions of places I've been like Frazier's gym read true enough to give the entire book an aura of accuracy.
A dozen excellent photographs serve as a first-class coda.
Fifty years after his biggest triumph, Joe Frazier remains a compelling topic in the discourse of sociological significance. This well written tribute does him plenty of justice.
Check out more boxing news on video at the Boxing Channel
To comment on this story in the Fight Forum CLICK HERE
The Fight of the Century: A Golden Anniversary Celebration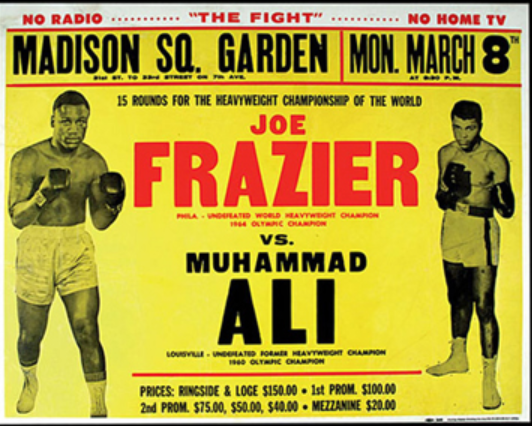 In professional boxing, fights can be rank-ordered as generic fights, big fights, bigger fights, mega-fights, and spectacles. The first fight between Muhammad Ali and Joe Frazier wasn't merely a spectacle, but the grandest spectacle of them all. This coming Monday, March 8, is the 50th anniversary of that iconic event.
Ali-Frazier I was staged at three-year-old Madison Square Garden, the fourth arena in New York to take that name. It drew a capacity crowd: 20,455 (19,500 paid). An estimated 60 percent of all the tickets sold fell into the hands of scalpers.
The fight was closed-circuited to more than 350 locations in the United States and Canada. At some of the larger venues, it established a new record for gate receipts, and this for an attraction that wasn't produced in-house. In Los Angeles, 15,333 saw the fight at the Forum and 11,575 at the nearby Sports Arena.
Bill Ballenger, the sports editor of the Charlotte (NC) News, saw the fight at the Charlotte Coliseum. He reported that the audio – Don Dunphy did the blow-by-blow with Burt Lancaster and Archie Moore serving as color commentators – was loud enough to be heard outside the arena and that many folks, either unable or unwilling to purchase a ticket, loitered outside and followed the action in 30 degrees weather.
An estimated three hundred million people saw the fight worldwide. In England, by some estimates, half the population tuned in, watching either at home on BBC1 or at a theater where one could watch the fight unfold on a movie screen. Now keep in mind that in England the fight didn't commence until 6:40 in the morning on a Tuesday!
Inside Madison Square Garden, the large flock of celebrities included many folks one wouldn't expect to find at a prizefight. Marcello Mastroianni, Italy's most famous movie star, made a special trip from Rome. Salvador Dali was there and Barbra Streisand and Ethel Kennedy, widow of Bobby Kennedy, seated next to her escort, crooner Andy Williams. Frank Sinatra was there working as a photographer for Life magazine. Lore has it that Sinatra wangled the assignment after failing to boat one of the coveted ringside seats.
The scene was made brighter by human "peacocks," the label applied to Harlemites with an outrageous sense of fashion, and the electricity was palpable. When Ali appeared at the back of the arena, making his way from his dressing room to the ring, everyone had goosebumps.
The late, great New York sportswriter Dick Young once wrote that there is no greater drama than in the moments preceding a big heavyweight title fight and that was never more true than on March 8, 1971 at Madison Square Garden.
Ali (31-0, 25 KOs) and Frazier (26-0, 23 KOs) were both undefeated. Both had a claim to the heavyweight title, Ali because the belt had been controversially stripped away from him for his political beliefs. Opinions as to who would win were pretty evenly divided. In Las Vegas, Joe Frazier was the favorite at odds of 6 to 5. Across the pond in England, bookies were quoting odds of 11 to 8 on Ali.
Those that favored Ali were of the opinion that 'Smokin' Joe was too one-dimensional. That much was true. Joe was as subtle as a steam locomotive on a downhill grade. He ate Ali's hardest punches, said Boston Globe reporter Bud Collins, as if they were movie house popcorn and he eventually wore Ali down. There was little doubt as to how the judges would see it after Joe knocked Ali down in the 15th round with a frightful left hook. When Ali arose, it appeared that he had been afflicted with a sudden case of the mumps. The decision was unanimous: 11-4, 9-6, 8-6-1.
This wasn't the greatest fight of all time, but it was a fight that more than lived up to the hype. And, as several people have noted, the event took on a life of its own without the benefit of modern technology to push it along. The buzz was fueled in a large part by newspapers, the "antiquated" sort of newspapers that a fellow fished from his driveway or purchased at a newsstand on the way to or from work. If twitter and facebook had been around during Muhammad Ali's prime, Ali would have blown the doors off the internet.
A cultural touchstone is an event that remains sealed in our memory. As we slide into old age, if we are lucky enough to live that long, we may not remember what we had for breakfast in the morning, but some long-ago events are as vivid as if they had happened just yesterday.
Boxing historian Frank Lotierzo has written poignantly about how overjoyed he was when he was surprised with the news that his father would be taking him to the fight. "To this day it remains the biggest thrill of my life!" wrote Lotierzo, who was then in the seventh grade. "And it's not even close!"
I didn't see the fight, but I can recall the faces of people that I overheard talking about it, people whose interest in the fight struck me as odd as I knew they had little interest in the world of sports. So, when the fight is replayed in its entirety on Sunday – it airs on ABC at 2 p.m ET and again at 6 p.m. ET on ESPN – I will be watching it for the first time. And it will be bittersweet as I will be reminded that I am in the twilight of my life and my thoughts will inevitably drift to my friends and loved ones that have left this mortal world in the years since that grand night in 1971 when Muhammad Ali and Joe Frazier locked horns in the Fight of the Century.
I get misty-eyed just thinking about it.
Check out more boxing news on video at the Boxing Channel
To comment on this story in the Fight Forum CLICK HERE
Yoka TKO 12 Djeko in France: Claressa Pitches a Shutout on Ladies Day in Flint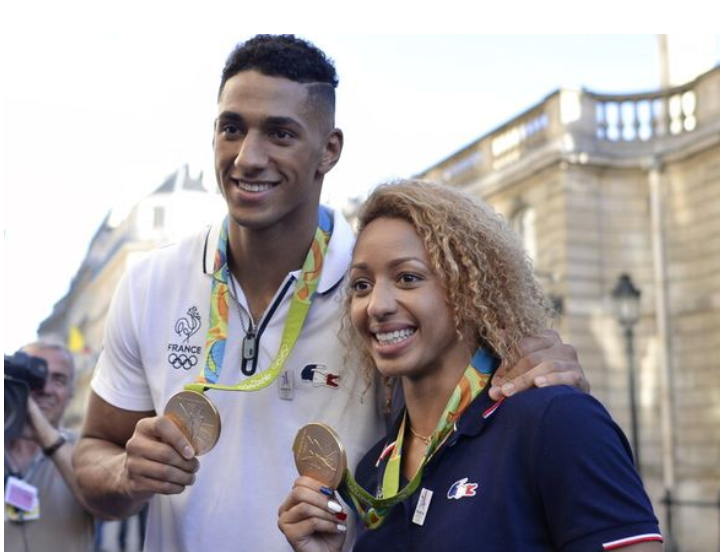 Yoka TKO 12 Djeko in France: Claressa Pitches a Shutout on Ladies Day in Flint
March 8 is International Women's Day which is actually a formal holiday in many parts of the globe. It was somehow fitting that female boxers were on display on the Friday feeding into it, a weekend without a must-see attraction on the men's side.
Today's activity began in the French port city of Nantes where 2016 Olympic gold medal winners Tony Yoka and Estelle Mossely, husband and wife, kept their undefeated records intact, both advancing to 10-0, against European opponents. Yoka (10-0, 8 KOs) was matched against Joel "Big Joe" Djeko (17-3-1), a 31-year-old Brussels native of Congolese and Cuban extraction who had fought most of his career as a cruiserweight. Mossely, a lightweight who now goes by Yoka-Mossely, drew Germany's Verena Kaiser (14-2).
At the Rio Olympiad, Yoka got by Filip Hrgovic in the semis and Joe Joyce in the finals to win the gold, winning both bouts by split decision. Both would be favored over the Frenchman in a rematch fought under professional rules.
Against the six-foot-six Djeko, Yoka controlled the fight with his jab, repeatedly backing his foe against the ropes. Very few of Djeko's punches got through Yoka's high guard. Had the fight gone to the scorecards, it would have been a rout for Yoka, but it didn't quite get there as Djeko turned his back on the proceedings midway through the 12th round after absorbing a sharp jab and it went into the books as a TKO for Yoka. At stake was some kind of European title or a derivation thereof.
Mossely's fight with Kaiser, slated for 10 two-minute rounds, followed a somewhat similar tack, save that it went the full distance. With only one knockout to her credit at the pro level, Mosseley, typical of female boxers, lacks a knockout punch. But she's a good technician and had too much class for the German.
Flint
A Covid-19 limited crowd of perhaps 300 was on hand to watch hometown heroine Claressa Shields oppose IBF 154-pound title-holder Marie Eve Dicaire at a 4,400-seat arena in Flint. There were five bouts on the undercard, three of which were women's bouts.
Shields, a two-time Olympic gold medalist, was seeking to become a four-belt title-holder in a second weight class, having previously turned the trick at 160. Dicaire, a 34-year-old southpaw, brought a 17-0 record but she had never won a fight inside the distance and all of her previous bouts took place in French-speaking Canada.
The self-proclaimed GWOAT, Shields has no peer between 154 and 168 pounds. Heading into this contest, she had hardly lost a round since meeting Hanna Gabriels and tonight was another total whitewash, her fourth overall in 10-round fights.
Claressa Shields, now 11-0 (2) may be too good for her own good. Her fights are so one-sided that they are monotonous. Her TV ratings have actually been falling. Today's show was a $29.99 pay-per-view on FITE when the established networks refused to meet her purse demands. It will be interesting to see how many tuned in.
In another fight of note, 2012 Olympic bronze medalist Marlen Esparza, in her first fight as a bantamweight, dominated Toronto's Shelly Barnett en route to winning a 6-round unanimous decision. There were no knockdowns, but the scorecards (60-54, 60-53 twice) were indicative of Esparza's dominance.
Esparza, who pushed her record to 9-1 (1), came in ranked #1 by the WBC in the flyweight class. Her lone defeat came at the hands of rugged Seniesa Estrada. Barnett declined to 4-4-3.
Check out more boxing news on video at the Boxing Channel
To comment on this story in the Fight Forum CLICK HERE