New Usyk Opponent Chazz Witherspoon Had a Good Story Spoiled by Harsh Reality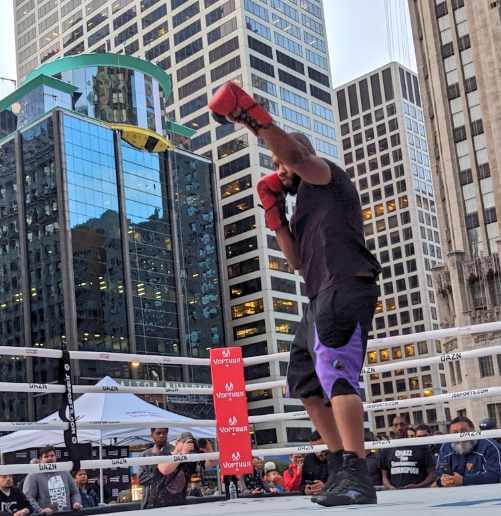 New Usyk Opponent Chazz Witherspoon Had a Good Story Spoiled by Harsh Reality
All other things being more or less equal, if pressed every writer or columnist would admit that their professional instinct is to pull for the story.
Once upon a time, heavyweight prospect Chazz Witherspoon had a very good and marketable story. He is the second cousin of two-time former alphabet heavyweight champion Tim Witherspoon and, in contradiction to all those wrong-side-of-the-tracks tales of boxers trying to rise above the impoverished circumstances of their upbringing, he was bright, polite and well-educated, so much so that the former star basketball player at Paulsboro, N.J., forsook the opportunity to walk on in that sport at Saint Joseph's University in Philadelphia to concentrate on academics. His classroom performance at Paulsboro High earned him a full scholarship at St. Joe's where he graduated with a bachelor's degree in pharmaceutical marketing. Even his ring nickname, "The Gentleman," set him apart from the trash-talking, profanity-spewing street guys who might have had genuine talent in the ring but sometimes got publicity for all the wrong reasons.
"Chazz Witherspoon was a good story," admitted Teddy Atlas, the longtime ESPN boxing analyst who is now on Witherspoon's old turf (Chazz was born in Philadelphia, as well as having gone to college there), where he is readying WBC light heavyweight champion Oleksandr Gvozdyk  for his Oct. 18 unification matchup with IBF titlist Artur Beterbiev at the 2300 Arena in South Philly. "He was a nice kid, someone you root for. But that doesn't mean every good story has a happy ending."
It has been at least seven years since those who pay attention to the sport of boxing, and those who write about it, took much notice of the gentlemanly Chazz Witherspoon and his story. That, however, changed – at least temporarily – when he was named the replacement for a replacement as the opponent for former undisputed cruiserweight champion Oleksandr Usyk (16-0, 12 KOs), who makes his heavyweight debut against Witherspoon (38-3, 29 KOs) Saturday night at Chicago's Wintrust Arena. The scheduled 12-rounder will be streamed by DAZN.
"I can't wait to face Usyk," said Witherspoon (pictured at yesterday's open workout in Chicago). "I have been in training, ready for a big fight, and it doesn't get any bigger than this." Selected from a reported field of five fighters on standby in case of still another main-event adjustment, Witherspoon took the bout on four days' notice after another designated victim, Tyrone Spong (14-0, 13 KOs), failed a test administered by the Voluntary Anti-Doping Association (VADA) and was scratched from his slot by the Illinois State Athletic Commission.
"Oleksandr is stepping up to heavyweight – and he's going to find out it's a totally different game. I've won my last eight fights, and I really feel that I've been waiting in the wings for a huge opportunity like this. I am going to put every ounce of myself into the fight on this massive stage."
All well and good, and boxing doesn't always follow the expected script, as demonstrated by such previous heavyweight longshot winners as Buster Douglas and Andy Ruiz Jr. Atlas expects Witherspoon, now 38 and likely facing his final opportunity to restore the career momentum blunted by past failures when stepping up in class, to dutifully play the same role assigned to Non-Power Five college football teams tasked with playing the Alabama Crimson Tide. Someone does periodically beat overwhelming odds to win the Powerball Lottery, right? But even Witherspoon has to realize that he was chosen for this dream shot not because he is the same reasonably hot prospect he once was, but because he is an aging trial horse with some residual name value and a story that can be milked of its last few drops of relevancy.
"He's a competitive guy, so he's going to go in there thinking he at least has a chance to win," Atlas continued. "He's a fighter, a real fighter, and real fighters always believe they can win. He wants to challenge himself, and I give him credit for that.
"But let's be realistic. We live in the real world, not the world we wish it to be. This is Usyk's first time putting his toe into the heavyweight pool. His handlers want him to make a big and impressive splash, and they want to be as certain as possible that they can control the result.
"This is not a learning experience for Usyk. They figure he's learned enough. He's undefeated, an Olympic gold medalist and the undisputed cruiserweight champion. This is not a Sherlock Holmes mystery that has to be solved. It's pretty solvable. The butler didn't do it. The proof is in the pudding. The pudding here is that three times Witherspoon stepped up and three times he lost convincingly."
You want to compare odds? Douglas shocked Mike Tyson as a 42-to-1 underdog. Ruiz was a mere 11-1 outsider when he took down Joshua.  At this time there are no odds posted regarding Witherspoon's chances of upsetting Usyk, who, it should be noted, was 2018's Fighter of the Year as selected by the Boxing Writers Association of America and The Sweet Science. If you want to surmise that "The Gentleman" is a 100-1 longshot, that might not be too much of a stretch. The plan always has been for Usyk, arguably the greatest cruiserweight of all time, to take just a few fights against Witherspoon-level opponents before testing himself against the heavyweight division's major players, be it Deontay Wilder, Tyson Fury, Ruiz, Joshua or whomever else might fit that description a bit down the road.
Which is to say the Ukrainian southpaw would likely have been almost as overwhelming a choice to have won against his originally announced opponent, Carlos Takam (37-5-1, 28 KOs), or Spong, a former kickboxer whose pugilistic resume was crafted against a lineup of hand-picked opponents as soft as Spong's six-pack abs are hard, which might owe in part to his now-verified use of clomiphene, a banned substance that can be used to increase testosterone. At least the 38-year-old Takam, at first glance, would appear to have posed a more legitimate test for Usyk than Spong or Witherspoon, in light of the fact that the veteran from Cameroon, now living in Las Vegas, lasted until the 10th round before being stopped by then-WBA/IBF champ Joshua on Oct. 28, 2017. His scheduled go at Usyk, originally scheduled for May 25, was scratched when Usyk suffered a torn bicep in training and had to withdraw.
Chazz Witherspoon might never have risen to the level of a Wilder, Fury or Joshua, or even that of cousin Tim, now 62, who has not been inducted into the International Boxing Hall of Fame and may never be, but who had quite a nice career in giving the great Larry Holmes one of his sternest tests in addition to having had separate and brief reigns as the WBC and WBA heavyweight titlist.
After a second-round knockout of Nigeria's Innocent Otukwu on Sept. 16, 2006, that improved his record to 14-0 (8), Chazz was asked whether his "good family genes" were a contributing factor to his rising prominence.
"Oh, definitely," he said. "You know you have it in your makeup when you got a champion's blood running through your veins."
Chazz remained a person of interest when he was paired against another young heavyweight with a hook of a story, Chris Arreola, whose stated goal was to become the first big man of Mexican heritage to win his sport's most prestigious prize. When they squared off on June 23, 2008, a bout for the WBC Continental Americas belt that was televised by HBO, Witherspoon was 23-0 with 14 KOs and Arreola 23-0 with 21 wins inside the distance.
"Witherspoon and Arreola clearly are the two most advanced, relatively unknown American heavyweights," veteran HBO analyst Larry Merchant opined before that bout. "The winner will emerge as the better of the two and immediately goes on the short list of U.S. contenders who could be in line to get a crack at one of the world titles in the relatively near future."
Merchant's words, as it turned out, were prophetic. Arreola – who, four bouts later challenged WBC champ Vitali Klitschko and would fight three times in all for heavyweight titles, losing each — had to settle for a third-round disqualification victory when Witherspoon's corner team, having heard the bell, entered the ring while referee Randy Phillips was in the process of administering a count after Witherspoon had gone down a second time. Although Phillips' decision to end the fight was a stunner, the outcome likely would have been the same; Witherspoon was wobbled in the first round and was decked twice in the third, lurching to his feet on shaky legs after the second knockdown.
There would be no title shots for Witherspoon, and an expected loss to Usyk likely would mean there never will be. In his two most important ring appearances after the Arreola disaster, 'Spoon was stopped in nine rounds by veteran contender Tony Thompson, then 38, on Dec. 5, 2009, and in three rounds by former Michigan State linebacker Seth Mitchell, a Golden Boy protégé, on April 28, 2012. Mitchell fought only three times after his stoppage of Witherspoon, sandwiching knockout losses at the hands of Johnathon Banks and, yes, Arreola, around a points nod over Banks, a onetime pupil of the late Emanuel Steward now best known as the trainer of Gennadiy Golovkin.
While it is true that Witherspoon has strung together an eight-fight winning streak, those outings were spread over five years and against suspect opposition. Raise your hand if you are familiar with the careers of the men defeated during that run by Witherspoon, a list that includes the non-celebrated likes of Tyyab Beale, Cory Phelps, Galen Brown, Nick Guivas, Michael Marrone, Carlos Sandoval, Lamont Capers and Santander Silgado.
Which is not to say that Witherspoon will not at least remind some people of the promise of better things that marked his emergence as a fighter to be tracked. If all the stars align just so, he could come away as a sort of Otto Wallin, who gave such a good, and surprising, account of himself in his recent points loss to Tyson Fury. Avoiding humiliation against a clearly superior fighter like Usyk in a high-visibility scrap might provide enough incentive for him to keep on keeping on. Even being on the wrong side of a rout might not be all bad.
"At least there should be some fairness in this because he's going to get a decent payday," Atlas, ever the pragmatist, noted. "I'm sure he's getting paid pretty well because he had the promoter (Eddie Hearn) over a barrel at the 11th hour. I just hope he doesn't get hurt too bad."
Check out more boxing news on video at The Boxing Channel  
To comment on this story in The Fight Forum CLICK HERE
Juan Francisco Estrada Holds Off 'Chocolatito' Again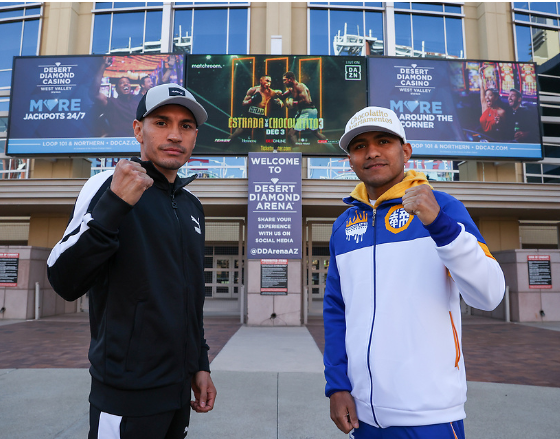 Once again Juan Francisco Estrada jumped out in front early and Roman "Chocolatito" Gonzalez needed time to crank up the engine, but fell too far behind as the Mexican fighter won the vacant WBC flyweight world title on Saturday.
Estrada wins the trilogy 10 years in the making.
Once again Estrada (44-3, 28 KOs) surged ahead early in the fight against Nicaragua's Gonzalez (51-4, 41 KOs) and then navigated toward another win, this time at the Gila River Arena in Glendale, Arizona on the Matchroom Boxing card.
"We had excellent preparation at high altitude and I think we left the fight clear on who won the fight this time," said Estrada about the third encounter.
Ten years ago, the trilogy began in Los Angeles as "Chocolatito" confronted an unknown fighter at the time in Estrada. The two surprised the crowd who expected Gonzalez to destroy yet another Mexican fighter. But it did not happen that night though Chocolatito proved too experienced and battered his way to victory in a light flyweight world title clash.
Then, in March 2021, Estrada finally fought Gonzalez in a rematch and the two engaged in a closely-fought super flyweight world title match. This time Estrada proved slightly better according to the judges and won by split decision in Dallas, Texas.
Few knew what to expect in a third encounter.
At first the coronavirus stalled plans for the trifecta so Chocolatito fought a replacement and dominated. Meanwhile Estrada fought another Mexican and did not look good.
On Saturday, a decade after their first encounter, Estrada looked fluid and accurate in dominating the first six rounds of the fight. Though he did not hurt Gonzalez, he was repeatedly scoring at will.
Gonzalez woke up around the seventh round.
Suddenly the Nicaraguan who was once considered the best fighter Pound for Pound showed up and fired rapid combinations. The spring in his legs suddenly appeared and the energy level was cranked up high after nearly being on idle.
Estrada suddenly found himself against the ropes forced to slip and slide away from Gonzalez's powerful combination punches. A real fight suddenly erupted during the final six rounds.
"All fights are different and all fights are difficult and this was the most difficult one," said Gonzalez, a four-division world champion.
Though neither fighter was ever visibly hurt, Gonzalez's pressure kept Estrada expending too much energy trying to evade the Nicaraguan's traps during the final six rounds.
"He always goes 100 miles an hour," said Estrada of his nemesis.
Estrada used uppercuts and slide steps to maneuver against Gonzalez's hard charges. It seemed to work and allowed the Mexican fighter more room and time to apply counter-measures.
In the final round, those maneuvers allowed Estrada to connect with a hard punch to the body that forced Chocolatito to cover up. It also allowed Estrada to unravel a combination that gave him the last round if needed. After 12 rounds one judge scored it 114-114, while two others saw it 116-112, 115-113 for Estrada who becomes the new WBC super flyweight world titlist.
"We did an excellent fight and I got the victory," said Estrada. "I've always said Chocolatito is a future Hall of Famer."
Gonzalez was gracious in defeat.
"What is important is we gave that good fight to the fans and we came out in good health," Gonzalez said.
There is even talk of a fourth fight.
"As long as they pay well, of course," said Gonzalez.
Other Fights
Julio Cesar Martinez (19-2, 14 KOs) retained the WBC flyweight world title by majority decision over Spain's Samuel Carmona (8-1) in a rather dull affair. Mexico's Martinez chased Carmon all 12 rounds in a fight that saw Carmona slap and run, then hold.
No knockdowns were scored and Martinez won 114-114, 117-111, 116-112.
Diego Pacheco (17-0, 14 KOs) ran over Mexico's Adrian Luna (24-9-2) with three knockdowns in winning by stoppage in the second round of the super middleweight fight. It was no surprise.
The 21-year-old from South Central L.A. once again showed that despite his youth his power seems to be continually increasing as evident in the knockout win.
Now training with Team David Benavidez, the young super middleweight looked sharp, especially with the lead overhand right that floored Luna in the second round. Luna was floored two more times and the fight was wisely stopped by his own corner.
"You put in the hard work then you come in here and shine," said Pacheco. "I joined team Benavidez this year."
Nicaragua's former world titlist Cristofer Rosales (35-6, 21 KOs) won a dog fight over Mexico's Joselito Velasquez (15-1-1, 10 KOs) by unanimous decision after 10 rounds in a flyweight clash.
It was a back-and-forth struggle that saw the taller Rosales take over in the second half of the fight and win by simply out-punching Velasquez and handing the Mexican his first loss as a professional by scores 97-93 three times.
Photo credit: Milena Pizano
To comment on this story in the Fight Forum CLICK HERE
Tyson Fury TKOs Derek Chisora in Round 10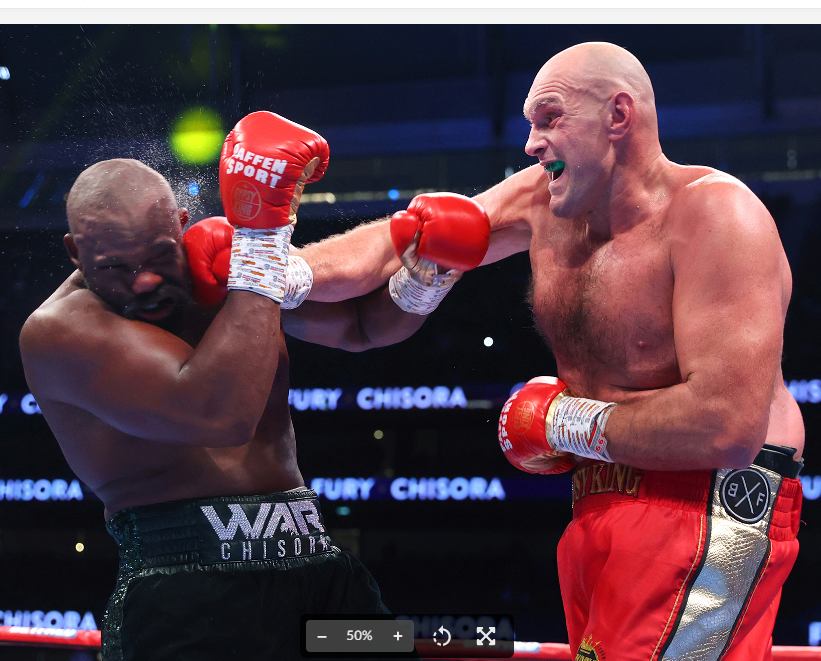 It was a chilly night in London but that didn't deter a near-capacity crowd from turning out at Tottenham Hotspur Stadium to witness the third rumble between Tyson Fury and Derek Chisora. The Gypsy King was heavily favored to retain his WBC and lineal heavyweight title and performed as expected. Indeed, this fight closely resembled their second encounter back in 2014.
In that bout, Chisora absorbed a terrific amount of punishment before his corner pulled him out at the conclusion of the 10th round. Tonight's fight ended nine seconds earlier at the 2:51 mark of round 10 and it was the referee who terminated the match.
When is a heavyweight not a heavyweight? When the man in the opposite corner is substantially bigger. With an 8-inch height advantage and a 15-inch reach advantage, the six-foot-nine Fury was simply too big a mountain to climb for the brave Derek Chisora, a fighter who changed his nickname in mid-career, transitioning from "Dell Boy" to "War."
Fury dominated round two, especially the last minute, a round in which he was credited with landing 18 power punches. The writing was on the wall for Chisora who ate a lot of thudding uppercuts in the ensuing rounds and ended the contest with a badly swollen right eye and a bloody mouth. With the victory, Fury improved his ledger to 32-0-1 with his 24th win inside the distance. The Zimbabwe-born Chisora falls to 33-13.
Oleksandr Usyk and Joe Joyce were in attendance and the Gypsy King addressed both before he left the ring. Calling Usyk "The Rabbit," he indicated that he would fight Usyk next in a true unification fight, but said if there were a snag in negotiations he wouldn't mind trading blows with the Juggernaut, Joe Joyce, who wore down and stopped former heavyweight title-holder Joseph Parker, a former Fury sparring partner, in his most recent engagement. However, Fury also revealed that he had an issue with his right elbow that may require surgery.
Co-Feature
In a heavyweight match that lasted only three rounds but was chock-full of action, Daniel Dubois overcame three knockdowns to retain his secondary WBA heavyweight title he won at the expense Trevor Bryan with a third-round stoppage of upset-minded Kevin Lerena.
In the opening stanza, Johannesburg's Lerena, landed an overhand left on the top of Dubois's head that put the Englishman on the canvas and left him all at sea. He went down twice more before the round was over, the first time of his own volition when he took a knee (reminiscent of his match with Joe Joyce) and the second from a glancing blow.
Dubois, whose legs are spindly for a man of his poundage, had trouble regaining his equilibrium in round two, but Lerena didn't press his advantage. In the next frame, a short right from Dubois penetrated Lerena's guard and down went the South African. Smelling blood, Dubois knocked him down again and was pummeling him against the ropes when the referee interceded just as it appeared that Lerena would be saved by the bell.
It was the fourth straight win for Dubois (19-1, 18 KOs) since his mishap versus Joyce. Lerena, who entered the bout on a 17-fight winning streak, lost for the second time in 30 fights.
Also
In a ho-hum affair, Denis Berinchyk, a 24-year-old Ukrainian, captured the European lightweight title and remained undefeated with a unanimous decision over French-Senagalese warhorse Ivan Mendy. Berinchyk (17-0, 9 KOs) was making his first appearance in London since winning a silver medal at the 2012 Olympics where he was a teammate of Oleksandr Usyk and Vasiliy Lomachenko.
The judges had it 117-112 and 116-112 twice for the Ukrainian. The 37-year-old Mendy, who has answered the bell for 380 rounds, falls to 47-6-1.
Photo credit: Mikey Williams / Top Rank via Getty Images
To comment on this story in the Fight Forum CLICK HERE
Light Nips Glanton in Florida; across the pond, Kelly UD 12 Williamson in Newcastle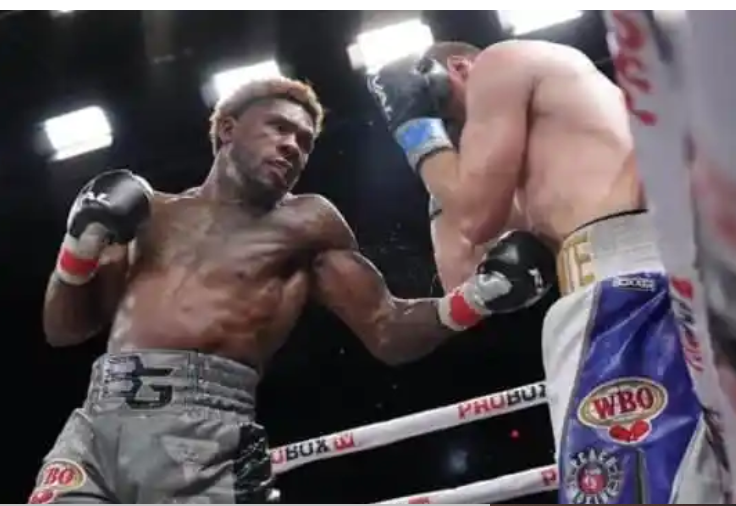 ProBox TV, a fledgling promotional group co-founded by former world champions Roy Jones Jr, Juan Manuel Marquez, and Paulie Malignaggi, has found a home for their bi-monthly shows at an events center in Plant City, Florida, near Tampa. The main event of last night's show (Friday, Dec. 2) was a well-matched 10-rounder between world ranked cruiserweights Brandon Glanton (pictured on the left) and David Light, both undefeated.
Light, a 31-year-old New Zealander who was 19-0 (12 KOs) heading in, had a strong amateur background that included a silver medal at the 2014 Commonwealth Games, but was virtually unknown outside the Antipodes, having fought almost exclusively on small shows in Auckland. Glanton, a 30-year-old Atlanta native who had trimmed down considerably since his days as a defensive lineman at HBCU Albany State, had caught the eye of hardcore fight fans with a thrilling split decision over previously unbeaten Efetobor Apochi on a TBS show in Minneapolis.
The oddsmakers made Glanton (17-0, 14 KOs heading in) a small favorite and after 10 hard rounds there were many who thought he deserved the nod. He turned the fight into a "phone booth" affair, pressing the action while working the body effectively, and scored the bout's lone knockdown, knocking Light off his pins (he wasn't badly hurt) in the final frame with what appeared to be a glancing blow. But two of the judges were more impressed by Light's counter-punching, scoring the bout 97-92 and 95-94 for the kiwi, overruling the dissenter who had it 95-94 for Blanton.
It was the sort of fight that cries out for a rematch, but David Light will undoubtedly go in a different direction. Both he and Glanton were pointing toward a match with WBO title-holder Lawrence Okolie.
Newcastle
Earlier on Friday, across the pond in Newcastle, England, former Olympian Josh Kelly got the signature win that had eluded him with a lopsided 12-round decision over defending British 154-pound title-holder and former amateur teammate Troy Williamson.
This was Kelly's third fight since David Avanesyan burst his bubble in a welterweight affair, stopping Kelly in the sixth stanza. The local fighter, who boosted his record to 13-1-1 (7) blamed his poor performance on his struggle to make weight.
The previously undefeated Williamson, 19-0-1 heading in, was making the second defense of the title he won in a barnburner with Ted Cheeseman. He went to post a small favorite, but was outclassed by Kelly who won by scores of 119-109, 119-111, and 118-110.
In the co-feature, Manchester's Lyndon Arthur (21-1, 15 KOs) stayed relevant in the light heavyweight division with a second-round stoppage of overmatched Joel McIntyre (20-5). In his lone defeat, Arthur was TKOed by revenge-minded Anthony Yarde.
To comment on this story in the Fight Forum CLICK HERE