Beterbiev vs. Gvozdyk a Matchup of Shark vs. Piranha?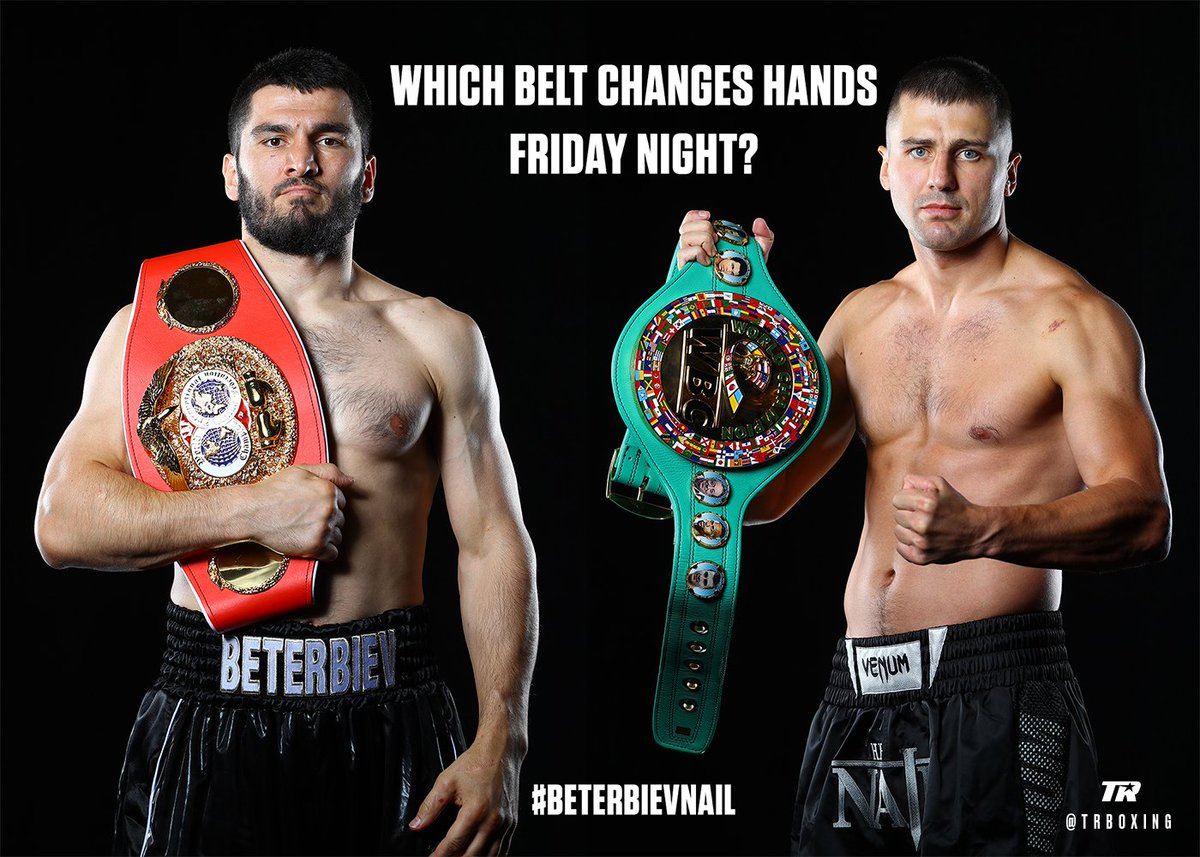 To hear trainer Teddy Atlas describe it, Friday night's light heavyweight unification matchup of IBF champion Artur Beterbiev (14-0, 14 KOs) and WBC titlist Oleksandr "The Nail" Gvozdyk (17-0, 14 KOs) is like a shark taking on a piranha, and Teddy's guy, Gvozdyk, is the piranha.
But boxing isn't always about the predator that has the biggest, sharpest teeth, or the hardest punch. Victory in the ring can be the result of various means, one being the way a large enough shark can swallow its prey almost whole.  Another is for the piranha to take a bite here and a bite there until the same objective is achieved.
Which approach is the more effective on fight night should be determined in what the oddsmakers have made a virtual 50/50 tossup. ESPN and ESPN Deportes will televise from the Liacouras Center on the Temple University campus in North Philadelphia.
Atlas and Beterbiev's trainer, Marc Ramsay, appear to be in agreement that Beterbiev, 34, a Russian based in Montreal for the last several years, has the kind of paralyzing power capable of taking out many opponents with a single shot. But the Big Bite strategy can be neutralized and overcome by patient nibblers who recognize that there are times when it's better to hang back and other times when it's preferable to dart in and quickly snack on whatever is being offered. Not so very long ago Gvozdyk, a bronze medalist for Ukraine at the 2012 London Olympics, was hesitant to exhibit the selective restraint as preached by Atlas. Now, as they approach their third bout together, Gvozdyk – hardly a pittypat puncher, if not quite on Beterbiev's level — has made himself over into the prototypical Atlas fighter. Ramsay, however, isn't convinced that any trainer, together with a fighter for less than a year, can orchestrate such a swift and comprehensive stylistic overhaul. What Ramsay does know is that his man is the real deal when it comes to bringing the pain.
"He's the best that I ever saw," Ramsay, who also has worked with former light heavyweight champions Jean Pascal and Eleider Alvarez, said when asked about Beterbiev's penchant for exclamation-point finishes. "And the thing is that it's not only one shot. It's all the shots. He can hurt you from distance or in close. He has that kind of explosiveness. But he has a lot more than power to offer."
Ramsay is less inclined to accept the notion that Gvozdyk, who is no newcomer to boxing at 32, can make anything more than cosmetic changes to an aggressive, come-forward style that has served him so well for so long. He said old, ingrained habits are not so easy to break.
"Real change – technical things, philosophical things – is a long process," Ramsay opined. "It's a lot of repetition in the gym. A lot of repetition."
Atlas is a highly accomplished trainer who has worked at various times with such outstanding fighters as a young Mike Tyson, Michael Moorer, Donny Lalonde, Alexander Povetkin and Timothy Bradley Jr., was inducted into the International Boxing Hall of Fame as a broadcaster last June. He is my-way-or-the-highway Type A personality who demands absolute adherence to his dictums from his fighters, which is one reason why he was hesitant to take on another after Bradley retired. Gvozdyk is his only fighter at this time, maybe the last he'll ever work with, and the relationship seems solid.
"We know the basics. Everybody knows the basics," Gvozdyk said of the way he looked at the way he prepared himself for bouts before he hooked up with Atlas. "But the small details … sometimes you think I'm too good, somebody can forgive me some mistakes. Teddy is always on top of it. He never lets you drift. He's kind of like a dictator. A smart dictator. That is what I need at this stage of my career. I feel like I'm special right now for Teddy. Teddy is not some average trainer. He's a legend."
Atlas' first fight as Gvozdyk's chief second was no shakedown cruise through smooth waters. When "The Nail" – his last name literally translates to that in Russian – challenged then-WBC titlist Adonis "Superman" Stevenson on Dec. 1, 2018, on Stevenson's home turf in Quebec City, he was facing another devastating puncher, maybe one with even more pop than Betierbiev, and a long-reigning champ who was making his 10th defense over  5½ years. But while Gvozdyk ended Stevenson's career with an 11th-round knockout, he did have a couple of shaky moments. The first came when he was hammered with a flush shot in the second round and another, one he didn't see, in the 10th. He might not be readying to face Beterbiev now if he had been caught with a follow-up shot while hurt, but he found a way to make it to the end of the round.
Asked if he "felt good" about Gvozdyk's chances against Beterbiev, given his previous brush with disaster with Stevenson, Atlas said there's always some anxiety when the guy in the other corner hits as hard as a mule kicks.
"It's never a good experience facing a puncher," Atlas noted. "It's a reminder that there's no room for mistakes. There has to be full concentration for 36 minutes. You have to fight one three-minute round at a time, not two minutes and 59 seconds, not when you're in there with a puncher that can change everything in a moment, as Stevenson almost did in the 10th round.
"But the reason why (Gvozdyk) is a champion is that he was able to survive that. When the moment came, he behaved like a champion. I've no doubt that whenever that moment comes Friday night, he'll do the same thing. It's never comfortable to be facing a puncher, but at least we know we've done it and we know what it takes to get by."
Atlas banned media members from attending any of Gvozdyk's private training sessions in Philadelphia, the better to ensure that whatever wrinkles he was adding to a fighter that still might be considered a work in progress were not made public before fight night. But Atlas did say that there are times when a clever piranha can indeed defeat a shark. Little bites add up, until the time is right to open those smaller jaws wide and gouge out a larger chunk.
"If there's moments to take bigger bites in this fight, we're going to take them, at whatever time that is," Atlas said. "If it's early, it's early. If it's late, it's late. There's going to be moments to take bigger bites with this guy. That doesn't mean getting sloppy or careless or greedy.
"Alex has great judgment and instincts. I know we can depend on that judgment and those instincts."
Go, Eagles! Uh, make that Rock …
Arch-rivalries are the lifeblood of any sport. How much less interesting would baseball be without Yankees-Red Sox, Cardinals-Cubs and Dodgers-Giants to stir fans' passions? The NBA was so much more compelling when the Lakers and Magic could go for it all, and frequently did, against the Celtics and Bird. Tennis used to be defined by Borg vs. Connors, Sampras vs. Agassi and, even now in their athletic dotage, Federer vs. Nadal.
In Philadelphia, the most despised opponent is always the Dallas Cowboys. The City of Brotherly Love is anything but when the Eagles and 'Boys hook up, as will be the case Sunday night when the Eagles and Cowboys, both 3-3 and tied for first place in the lackluster NFC East, square off in AT&T Stadium in Arlington, Texas. Each team's season might be disappointing to this point, but that hardly matters when emotions run high and civic pride is on the line. In Philly, at least, the quarterback duel of Carson Wentz vs. Dak Prescott will still be viewed as something akin to Frazier vs. Ali in helmets and shoulder pads. Eagles coach Doug Pederson fanned the standard flames higher and hotter by publicly predicting his team was "going to win that football game."
In addition to Eagles-Cowboys, there will be another Philly vs. Dallas matchup on ice, albeit at a somewhat less acrimonious level, Saturday night when the NHL's Flyers host the Dallas Stars at the Wells Fargo Center. Meanwhile, in a different part of town the same evening, Hard Hitting Promotions gets in on the act by staging a 10-bout card at The Met Philadelphia as part of what is being described by HHP head Manny Rivera as "Philly vs. Dallas Week."
The eight-round main event pairs North Philly heavyweight Darmani Rock (16-0, 11 KOs) against 41-year-old Maurenzo Smith (21-11-4, 14 KOs), who actually was born and raised in Houston but is said to now fight out of Dallas. The undercard is topped by the six-round light heavyweight matchup of Glassboro, N.J.'s (hey, it's reasonably close to Philly) Derrick Webster (28-2, 14 KOs) and Israel Duffus (19-6, 16 KOs), of Los Angeles by way of his native Panama. Duffus is a late fill-in for Francisco Castro (28-11, 23 KOs) of El Paso, Texas, which, like LA, is really nowhere near Dallas. five other Philadelphia fighters, or those in the general vicinity, are slated to appear, but none against opponents with even the thinnest ties to Dallas.
Word has it that Rock and maybe Webster will enter the ring garbed in some sort of midnight green, the better to stoke the Eagles-adoring crowd. Prudent matchmaking suggests that both local fighters (if you give Webster benefit of the doubt) will be victorious, although Rock's weight is frequently an area of concern. The 6-foot-5, 23-year-old prospect came in at a career-high 289 pounds for his most recent bout, a second-round knockout of Raymond Ochieng on June 14, 48 pounds more than he did for his sixth pro outing three years earlier. Rock will probably be looking to quickly put away Smith, who has been stopped seven times and, at 278 pounds for his most recent ring appearance, also packs the heft of an NFL defensive lineman.
For Philadelphia fight fans hankering for a much more consequential Philly vs. Dallas showdown, it will happen sometime in 2020 if (a)  IBF/WBC welterweight champion Errol Spence Jr. (26-1, 21 KOs), who lives in the Dallas suburb of DeSoto, Texas, fully recovers from injuries suffered in his recent auto accident and (b) he actually does take on two-division former titlist Danny Garcia (35-2, 21 KOs), of the Juniata Park section of Philly, as was announced after Spence's Sept. 28 split-decision unification victory over Shawn Porter.
Check out more boxing news on video at The Boxing Channel 
To comment on this story in The Fight Forum CLICK HERE
Don Dunphy:  Simply the Best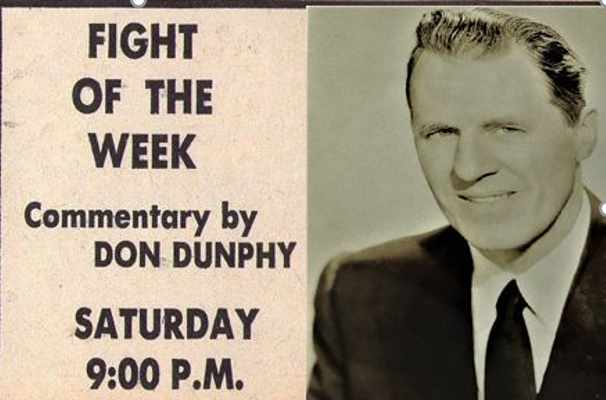 Don Dunphy once said, "When two or more people do blow by blow….they overtalk and emphasize too much." He was responding in 1996 to the issue of modern television's insistence on multiple announcers at ringside.
Don was unique. He a clear, no-nonsense delivery, "pungent phrasing," and just the right sense of drama (without faking it). His voice was crystal-clear with a noirish tang of his New York City roots.
Dunphy's distinct and informative style was not limited to boxing, but boxing was his thing – his signature sport, marked by his election to ten halls of fame (Don was 90 when he passed away in 1998).
Dundee called the blow-by-blow for more than 2000 fights, 200 or so for titles and 50, or thereabouts, for the heavyweight championship. It was his nasal-voiced staccato style that gave him unique status among announcers back in the day. (I dearly liked Jimmy Powers but I loved Don as his clear voice made following a fight an easy and enjoyable experience on the radio. Win Elliott filled in nicely between rounds.)
"Don Dunphy was boxing" – Marv Albert
Don was the master of brevity. He would allow long periods of time to pass without saying anything, interjecting just enough to add to the drama and not interrupt it. He was indeed the golden voice of boxing. His announcing style was like a well-timed left hook, short and crisp.
More importantly, Don never let himself become the focus. It was never about him.
His first blow-by-blow broadcasts came in 1939, but his fame came two years later when the Gillette Razor Company began its marvelous Friday night tradition.
Here's what Don's son, Bob, had to say during a telephone conversation: "My father had tremendous respect for the fighters and he always knew what his role was in relation to the event. On radio broadcast that was to give a total blow by blow description of what was happening in the ring. On TV he felt it was unnecessary to repeat what the viewer could see for himself and looked to call attention to what was not so obvious. Simply put, nobody did it better.
Don was Boxing's answer to Baseball's Mel Allen.
Along with ring announcer Johnny Addie who never used fake or manufactured enthusiasm, timekeeper Fred Abbatiello, and judge Artie Aidala, the fans were treated to the very best. As much as Dunphy knew about boxing, he never came across as if he knew more than his audience. He made us feel that we were all enjoying the fights together.
Compared with Don Dunphy, the screamers of today are sometimes like a bunch of guys in the front row standing up on every occasion and blocking the view. Unlike these shrill announcers (some of whom have been very fine like Jim Lampley who is one of the most intelligent, humble, and accessible boxing announcers you will ever meet), Dunphy gave viewers only the information they needed. He was a host first and, as the fights unfolded, his calls punctuated the drama.
I grew up listening to Dunphy. He was very much a part of my childhood. His voice, the Gillette jingle, Johnny Addie and peripheral figures like trainer Whitey Bimstein will always be among the highlights and fond memories of my life.
Don Dunphy was inducted into the International Boxing Hall of Fame in 1993.
Ted Sares can be reached at tedsares@roadrunner.com
Check out more boxing news on video at The Boxing Channel 
To comment on this story in The Fight Forum CLICK HERE
Noted Boxing Buffs Name Their Favorite Boxing Book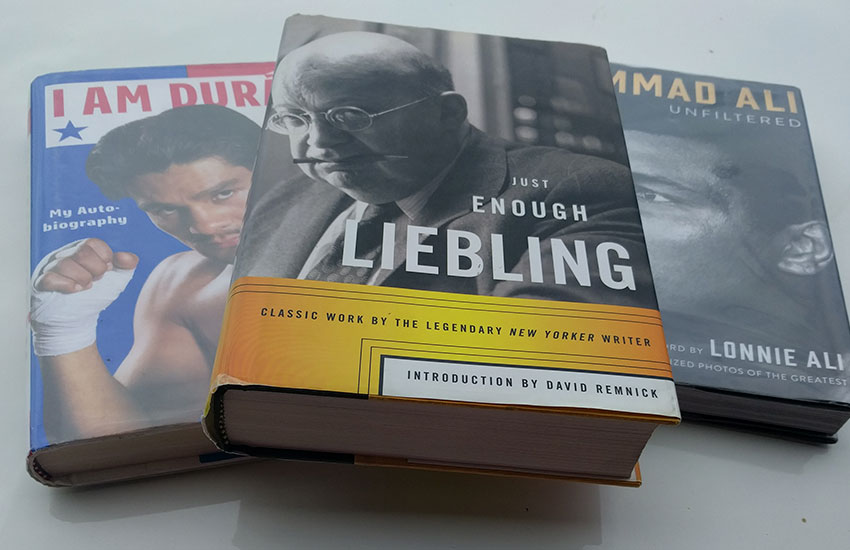 If you happen to have a lot of time on your hands (and, unfortunately, many of us do) this might be a good time to cuddle up with a good book. If you are like us, you promised yourself that you would get acquainted with a particular author, but somehow never found the time. Well, now just may be the right time to fulfill that promise.
And it just so happens that we have a ready-made list of recommendations.
In August of 2017, TSS writer Ted Sares reached out to more than two dozen noted boxing buffs and asked them to name their favorite boxing book. Many felt compelled to name more than one, which was fine with us. We thought this would be a good time to re-visit Ted's survey.
Yes, we know that bookstores and libraries are closed right now throughout most of the English-speaking world, but almost every title can be found on Amazon and some of the classics – even books prized by collectors – can be acquired very cheaply from independent online booksellers who specialize in used books. Their ranks have mushroomed in recent years.
We listed Ted's correspondents alphabetically by their last name. Here are their picks:
JIM AMATO (writer, historian): A.J. Liebling's "The Sweet Science."
RUSS ANBER (elite trainer, corner man, and TV personality): "Joe Louis -Black Hero in White America" by Chris Mead. I remember reading this from cover to cover, unable to put it down. Others: "The Greatest Fight of Our Generation" by Lewis A. Erenberg, "The Sixteenth Round" by Rubin "Hurricane" Carter, "Beyond Glory" by David Margolick.
JOE BRUNO (former New York Tribune sportswriter; author of more than 45 crime-related books, including true crime, novels and screenplays): AJ Liebling's "The Sweet Science."
TRACY CALLIS (eminent boxing historian, writer, and journalist): Seven come quickly to mind. I love to read about boxing so I like almost any book about the game.
"A Man among Men" by Kelly Richard Nicholson
"Chicago's Greatest Sportsman" by Mark T. Dunn
"Hitters, Dancers and Ring Magicians" by Kelly Richard Nicholson
"In the Ring with Bob Fitzsimmons" by Adam Pollack
"In the Ring with James J. Jeffries" by Adam Pollack
"The Choynski Chronicles" by Chris LaForce
"Ultimate Tough Guy" by Jim Carney Jr.
STEVE CANTON (A member of the International Boxing Research Organization, Steve has been involved in every aspect of boxing for more than 52 years): There are so many excellent boxing books. "Only The Ring Was Square" by Teddy Brenner with Barney Nagler was outstanding. "Bummy Davis vs. Murder Inc." by Ron Ross, "Boxing Babylon" by Nigel Collins, just to name a few.
WILLIAM DETLOFF (former amateur boxer, author, editor of Ringside Seat magazine): I'll go with Liebling's "The Sweet Science." Wiley's anthology is certainly up there. It's underrated.
JILL DIAMOND (boxing writer, official, and matchmaker): BOX: "The Face of Boxing" by Holgar Keifel because I love a good photography book. "Four Kings" by George Kimball. In fiction, "The Harder They Fall" by Budd Schulberg. There are so many others.
BERNARD FERNANDEZ (boxing writer and lifetime member of the BWAA): It's a tough call. There are a lot of good ones floating around, but I'll go with John Schulian's "Writers' Fighters and Other Sweet Scientists." But then I'm kind of biased as John, a colleague of mine for a time at the Philadelphia Daily News, is a friend.
IVAN GOLDMAN (ex-Washington Post and LA Times newspaperman, boxing writer, novelist): I humbly submit my novel "The Barfighter" for consideration.
Dr. MARGARET GOODMAN (President of VADA, former Nevada boxing official, neurologist, author): Actually my novel "Death in Vegas" is my favorite book as it tells the truth about the sport via thinly-veiled fiction. Writing it was very cathartic.
LEE GROVES (boxing writer, author): If I had to pick one, it would be "McIlvanney on Boxing" by Hugh McIlvanney. Anytime I want to get a booster shot of excellent, muscular prose, that's what I read. The two A.J. Liebling books "The Sweet Science" and "The Neutral Corner" also provide inspiration.
KEVIN IOLE (Yahoo combat sports writer): I loved "The Fight" by Norman Mailer, which I found to be a well-reported, gripping tale of one of the seminal events of my youth. I also loved "Muhammad Ali: His Life and Times" by Thomas Hauser and "Fight of the Century" by Michael Arkush.
MIGUEL ITURRATE (TSS writer and Senior Archivist at The Boxing Channel): I really enjoy the history books, especially biographies. Battling Nelson's autobiography is a good one. I also really enjoyed "Muldoon: The Solid Man of Sport" by Edward Van Every.
Dr. STUART KIRSCHENBAUM (former amateur boxer; co-founder National Association of Boxing Commissioners): "Empire of Deceit" by Dean Allison. It's a fascinating true story of the Wells Fargo Bank embezzlement by boxing promoter Harold Smith. I had dealings with him while I was the head of the boxing commission in Michigan. He promoted several Kronk championship fights. Cast of characters include Muhammad Ali, Thomas Hearns, and a who's who of that era. Only in America and only in boxing… crime does pay.
HAROLD LEDERMAN (famous boxing judge, member of HBO team, and 2016 IBHOF inductee): "All Time Greats Of Boxing" by Peter Arnold is my favorite boxing book because it's a great book.
FRANK LOTIERZO: (TSS writer emeritus): I can't pick a favorite….so I'll give you a few of my favorites that I've read this summer. "In This Corner" by Peter Heller which I read for the third time; "Sugar Ray Robinson" with Dave Anderson, "Joe Louis: The Great Black Hope" by Richard Bak, "Hard Luck: The Triumph and Tragedy of Jerry Quarry" by Steve Springer and Blake Chavez
ARNE LANG (historian, author, editor-in-chief of The Sweet Science): Many years ago I stumbled on a book called "Bella of Blackfriars" in a used book store in Carlsbad, California. Bella was Bella Burge, the widow of Dick Burge, an English middleweight champion who went to prison for eight years in a massive bank fraud. From her husband's death in 1918 until 1940, Bella ran "The Ring," a boxing house in a circular building on Blackfriars Road in London that was originally an Anglican chapel. I would liken "The Ring" to the Olympic Auditorium in LA. It didn't get the biggest fights but housed many important fights and attracted a loyal clientele that included some salty characters. I found the book a great window into the world of boxing in London. By the way, The Ring had fallen on hard times when it was reduced to rubble by the German Luftwaffe in 1940. I never tire of reading A.J. Liebling, whether he's writing about boxing or Louisiana politics or whatever. I read Liebling for pleasure and also in hopes that some of his skill as a wordsmith will rub off on me but it never has.
RON LIPTON (world class referee): I enjoyed "Jersey Boy: The Life and Mob Slaying of Frankie DePaula" and "Dick Tiger: The Life and Times of a Boxing Immortal," both by Adeyinka Makinde, and the Rocky Graziano biography "Somebody Up There Likes Me." Also, anything by Ted Sares, Springs Toledo, Mike Silver, and William Detloff.
GORDON MARINO (philosophy professor, Wall Street Journal boxing writer, trainer): I guess I would go with Carlo Rotella's "Cut Time" and Roger Kahn's "A Flame of Pure Fire: Jack Dempsey and the Roaring 20's."
ROBERT MLADINICH (former NYPD police detective, author, boxing writer): "Writers, Fighters and Other Sweet Scientists" by John Schulian. It is a collection of his columns from the Chicago Sun-Times and there is not a weak story in the batch. He is a master storyteller and my favorite boxing writer. I also immensely enjoyed "Beyond Glory: Joe Louis vs. Max Schmeling and a World on the Brink" by David Margolick for its historical and social significance and the underrated but exceptional "Weigh-In: The Selling of a Middleweight" by title challenger Fraser Scott.
TED SARES (TSS writer) Ralph Wiley's "Serenity: A Boxing Memoir." I also enjoyed Mike Silver's "The Arc of Boxing: The Rise and Decline of the Sweet Science" for the primary reason that it stirred up a lot of much needed debate between Old School and New School.
JOHN SCULLY (elite trainer, former world title challenger): My favorite boxing book is one that I believe to be one of the greatest books ever written on the inside of boxing called "The Black Lights" by Thomas Hauser. It was actually sent to me by Mike Jones back in 1988 when he was trying to sign me to a professional contract. He sent me the book I assumed as a way to show me how he deals in the boxing game as it is centered around his fighter, Billy Costello. It is a truly great book.
MIKE SILVER (boxing historian; author): I could easily name at least a dozen truly outstanding boxing books that are my favorites, but if asked to name just one I would place David Margolick's "Beyond Glory Joe Louis vs. Max Schmeling and a World on the Brink" in the top spot. Another all-time favorite is the great Nat Fleischer's "50 Years at Ringside."
CARYN A. TATE (boxing writer) While it encompasses more than boxing, Bruce Lee's "Tao of Jeet Kune Do" is probably my favorite book on combat. The book is filled with priceless instruction that is relevant and insightful. Lee was a great admirer of many Western boxers and incorporated some of their techniques into the martial art he founded. More than just an instruction manual, the book fuses technique with philosophy and real world psychology. The book shows that Lee was on the same page with great minds in boxing like Emanuel Steward and Cus D'Amato.
BRUCE TRAMPLER (Top Rank matchmaker; a member of the International Boxing Hall of Fame): Off the top of my head, "The Professional" by W.C. Heinz, "Fat City" by Leonard Gardner, "A Boxing Companion" by Richard O'Brien, "Only The Ring Was Square," and "James Norris and the Decline of Boxing" by Barney Nagler.
GARY "DIGITAL" WILLIAMS: (boxing writer, blogger and "Master of the Beltway"): I have two. Jack Newfield's "Only in America: The Life and Crimes of Don King" is one of the great investigative books of all time. It was riveting. Also, Brad Berkwitt's "Boxing Interviews of a Lifetime." I love the range of people — in and out of the sport — that he interviews in the book.
PETER WOOD: (former boxer, author): My favorite iconic boxing books are "The Sweet Science" by A.J. Liebling and "The Harder They Fall" by Budd Schulberg. My favorite non-fiction boxing books are "Weigh-In" by Fraser Scott; "In This Corner" by Peter Heller, "Atlas" by Teddy Atlas, and "The Raging Bull" by Joseph Carter and Peter Savage. My favorite fictional boxing books are "My Father's Fighter" by Ronald K. Fried and "The Professional" by W.C. Heinz.
Special Mention goes to "Flash Gordon's 1970 East Coast Boxing Yearbook" with Johnny Bos and Bruce Trampler. My all-time favorite boxing autobiography is "Confessions of a Fighter" by Peter W. Wood.
EDITOR'S NOTE: Several interesting books have been published since Ted Sares conducted this survey. A new publishing house in Boston, Hamilcar Publications, released several boxing books, both hardcover and paperback, with more on the way. One of Hamilcar's initial offerings was a reprint of Donald McRae's 1997 opus "Dark Trade: Lost in Boxing," which many consider one of the best boxing books of all time. The Hamilcar edition, with a new chapter by the author, clocks in at 552 pages.
Each year during the holiday season, Hall of Fame boxing writer Thomas Hauser publishes a list of what he considers the best books on boxing. It's a long list. Here's a recent compilation.
Check out more boxing news on video at The Boxing Channel 
To comment on this story in The Fight Forum CLICK HERE
Art of Boxing Series: Sergio 'The Latin Snake' Mora of East L.A.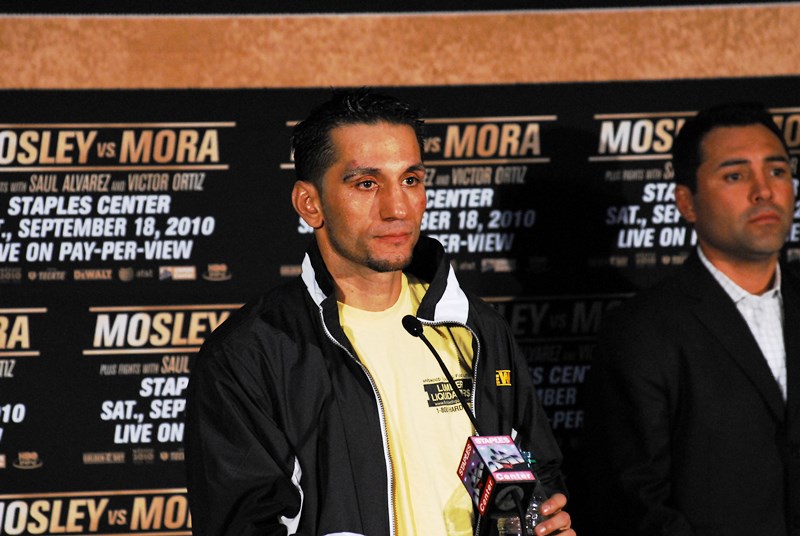 Art of Boxing Series: Sergio 'The Latin Snake' Mora of East L.A.
Not all prizefighters are built or fight the same. This is a series devoted to those who mastered the art of boxing.
Meet Sergio Mora the "Latin Snake".
Thumping neighborhood boys in an East Los Angeles backyard led to eventually winning a reality television tournament called The Contender, to winning a world championship and now sitting as an expert analyst for DAZN's boxing series.
It's been an extraordinary journey for Mora, the boxer from East L.A. who traded punches against neighbors and relatives as a teen for fun.
"We called it barbecue boxing," said Mora of his inauspicious discovery of his talent. "We used to box each other when I was a kid in junior high. We made videos of the fights. You can look it up. I was knocking out older guys."
A few boxing experts advised that he should look deeper into the sport and he did. After a few hits and misses looking for a gym, he found a perfect location at a Montebello gym. He hooked up with a trainer named Dean Campos and advisor in John Montelongo and they made history together.
"I owe it all to Dean and John," said Mora now 39.
But we are getting ahead of ourselves.
Mora's natural abilities included quickness, agility and the ability to absorb punishment. He also relished competition and proving others wrong.
But the East L.A. youngster finally put all of his traits together artistically when he followed the advice of the young trainer Campos whose radical boxing ideas fit perfectly.
"Nobody believed in his unorthodox ideas but they worked for me," said Mora.
For several years Mora and Campos and Montelongo befuddled the amateur competition, first in Southern California and then nationally. He made the semi-finals of the 2000 Olympic Trials and fought to a draw with Darnell Wilson. Somebody decided to determine the winner by who threw the most punches. Wilson threw more punches and moved forward.
It was a severe disappointment for Mora.
The Contender
After three years of dwelling in the amateur boxing world Mora and his team entered the non-structured prizefighting universe not knowing what to expect.
Though Campos taught an unorthodox style of fighting to Mora, the youngster didn't feel confident in using its assets to full capacity in the beginning.
"It wasn't until I fought a guy named Charles Blake that I used everything that Dino (Campos) taught me," said Mora who fought the undefeated Blake at the Arrowhead Pond in Anaheim in 2001. "I did everything he told me and I won pretty easily."
It was also the first time I spotted Mora and quickly determined he would be difficult to beat especially with that fighting style that utilized his speed and agility. I had never seen or heard of Mora before but he stood out.
Two months later he fought again at the Pond and then in June 2001 he fought a hard-charging opponent named Warren "War Dog" Kronberger. It was a middleweight fight set for six rounds but War Dog kept running into Mora's punches and was stopped in three.
After the fight I met the team and discovered Mora was from East L.A. near my family's home. I don't know if he remembers, but I told him he was going to be a world champion someday. It was the first time I ever said that to a fighter though I had been a boxing reporter since 1985.
For the next several years Mora kept knocking off opposition with his crouching tiger style and soon a television production company came calling. Actually, it was a radio announcement during a morning Hip Hop show calling for all boxers interested in making $1 million dollars in a television tournament.
"I was driving in the morning listening to Big Boy when he made the announcement," said Dean Campos who trains Mora. "I couldn't believe what I heard and I told Sergio and John about it. They didn't believe me at first until we went to San Diego to spar somebody and they asked if we were going to try out."
A reality television show called the Contender pit young talented fighters against each other and housed them together in a studio-made home. Week by week the NBC network telecast the show to millions of living rooms across the country.
After months of auditions and tryouts Mora was among those selected.
Filming was done in Pasadena and those prizefighters who participated were Peter Manfredo Jr., Ishe Smith, Alfonso Gomez, Jesse Brinkley and several others including Mora.
The fights were taped and later shown to the public in edited form. But few outside of the production crew knew who the winners were for many weeks. The finals of the first season took place at Caesars Palace in Las Vegas. The winner would take home $1 million dollars and a free truck among other things including a promotion deal.
Fans of boxing did not like watching edited fights but despite the many criticisms from hardcore fans, when the finals took place on May 24, 2005, thousands of fans showed up in Las Vegas to watch Manfredo battle Mora in the championship fight.
Manfredo's fans arrived in droves and shouted "Pi-Ta!" "Pi-Ta" which confused many who were not familiar with the New England accent. Manfredo fans were shouting the first name Peter but it comes out as Pi-Ta. Southern California fans arrived but were muted in comparison to the East Coast fans.
It was a surprise to see Manfredo in the semi-final because he had lost earlier to Alfonso Gomez. But he returned as a wild card participant and vanquished his way to the finals against Mora who had defeated Najai Turpin, Ishe Smith, and Jesse Brinkley to get to the finals.
In the finals the boisterous crowd saw Mora defuse Manfredo's attacks and win the seven-round middleweight The Contender championship fight by unanimous decision. Mora went from unknown boxer to a nationally and internationally recognized prizefighter in not just the boxing world, but households everywhere.
The East L.A. youngster who was 24 years old at the time, suddenly morphed from impoverished boxer to bankable fighter. His team also benefited from the massive exposure. It also remained the same three members from start to finish with Dean Campos serving a trainer and manager, John Montelongo as assistant trainer and benefactor and Mora the fighter.
"Rolando Arrellano who worked as a manager and promoter said he couldn't believe we had been together that long with no changes," said Campos, who managed Mora's fighting career without a written contract. "Nobody else does that, but we never wrote anything down."
Montelongo, a motorcycle police officer, always took care of the team's needs especially in terms of equipment and facilities. In the beginning Mora would train at the Montebello Police headquarters small gym.
Forrest, Mosley and More
For several years Mora continued fighting under the Contender promotions banner and always sought better competition. After a 10-round draw against Elvin Ayala in Carson, the East L.A. native decided to accept any world title match.
"I didn't want to slip up so I figured let's just go for a big fight," said Mora. "That's when we got the offer for Vernon Forrest, may he rest in peace."
When the fight was announced only two boxing writers picked Mora to win. Those two were the only journalists familiar with the boxing abilities of the stance switching fighter. It was not seen as a competitive fight by other writers or announcers.
"Vernon Forrest really under-estimated me," said Mora who had sparred Forrest once at the Wild Card Gym in Hollywood years earlier. "It was my one of my most satisfying wins because I proved I was good enough to beat one of the best."
Mora utilized his crouching style to perfection and basically stymied most of Forrest's attacks. Though it appeared the East L.A. boxer won clearly, one judge saw it a draw but two saw Mora out-performing the champion.
After capturing the WBC super welterweight title Mora went on a celebration binge according to his own words. Three months later they fought again.
"We had a rematch clause and I partied too much," said Mora. "I was in no way ready for Vernon Forrest in the second fight. He beat me good in the rematch."
Two years later Mora accepted a fight against Sugar Shane Mosley at the Staples Center on September 2010. It remains the biggest disappointment in Mora's career.
Mosley and Mora battled 12 rounds in a slow-moving battle in which both engaged in counter-punching. There was a weight problem Mora suffered that resulted in him weighing 157 pounds instead of the 154 contracted weight.
"There was something wrong with the scale in the hotel for the B side of the fight card," said Mora. "Almost everyone on the B-side missed their weight."
Regardless of losing weight before the fight, Mora felt he was far enough ahead in the fight to win handily against Mosley.
"I should have listened to my corner," said Mora. "Dino told me that I needed to throw more punches, that it could be a close fight. But I thought I was comfortably ahead. It was a huge mistake on my part. I lost a lot of money because of it."
After 12 rounds the fight was scored a split-decision draw. The HBO commentators eviscerated Mora and not Mosley.
Mora remained a viable contender for the remainder of his career and on August 2015 he was offered a shot at the WBA middleweight title against Daniel Jacobs at Brooklyn, New York. He eagerly accepted the fight.
"He really underestimated me and thought he would run over me," said Mora of their clash at Barclays Center. "He knocked me down with a punch. I've never been hit that hard before. But then I knocked him down when he ran into my punch. It was a perfectly placed left hook."
The fight proceeded but in the second round the two middleweights got entangled and Mora went down to the floor writhing in pain from a severe ankle injury. He could not go on.
"Jacobs leaned on me with his full body and it just tore my ligament," said Mora.
The fight was ruled a knockout win for Jacobs and though they would meet again Mora's leg had seen better days. He lost in the rematch badly a year later by technical knockout in the seventh round.
"I had no legs anymore," said Mora regarding the rematch held a year later. "It was my worst training camp. I don't think I ever looked good even in sparring. But Jacobs was the better man and was definitely the hardest puncher I ever faced."
Mora fought once more against his old pal Alfredo "El Perro" Angulo. They had sparred many times over the years especially when they both trained at the same gyms in South El Monte and in Montebello.
"I love Angulo but it was a fight," said Mora. "I won the first half of the fight and he won the second half of the fight. But fans will tell you it was one of the most entertaining fights I've ever been in."
Mora won the fight that night on April 2018 and it was the final time Mora entered the prize ring.
DAZN
One day Mora received an unlisted phone call and answering it led to another change in his boxing life.
"I never answer unknown numbers but for some reason I answered it. I'm glad I did," said Mora.
That phone call was from John Learing of Perform Group who wanted him as an analyst for the DAZN boxing series. They put Mora on a live broadcast for a prize fight and ever since that night he has been a regular analyst on DAZN's boxing shows.
"It's been one of the most satisfying experiences I've ever had," said Mora. "Not only do I get to stay in boxing, I love what I do and I love the challenges. It's hard work and I'm learning every day."
Mora has steadily established himself as an acute analyst whose own ring intelligence plays out with his new work as a boxing journalist. He's always been a quick study especially when it pertains to the sweet science.
"Now I'm learning the other side of boxing," said Mora who had 36 pro bouts in an 18-year career as a prizefighter. "I really love it."
Few would have predicted that the East L.A. kid who didn't pack a big punch would last in this business. Instead, Mora mastered the art of boxing that allowed him to match blows against some of the best that ever fought. And he won.
Photos credit: Al Applerose
Check out more boxing news on video at The Boxing Channel 
To comment on this story in The Fight Forum CLICK HERE