Beterbiev vs. Gvozdyk a Matchup of Shark vs. Piranha?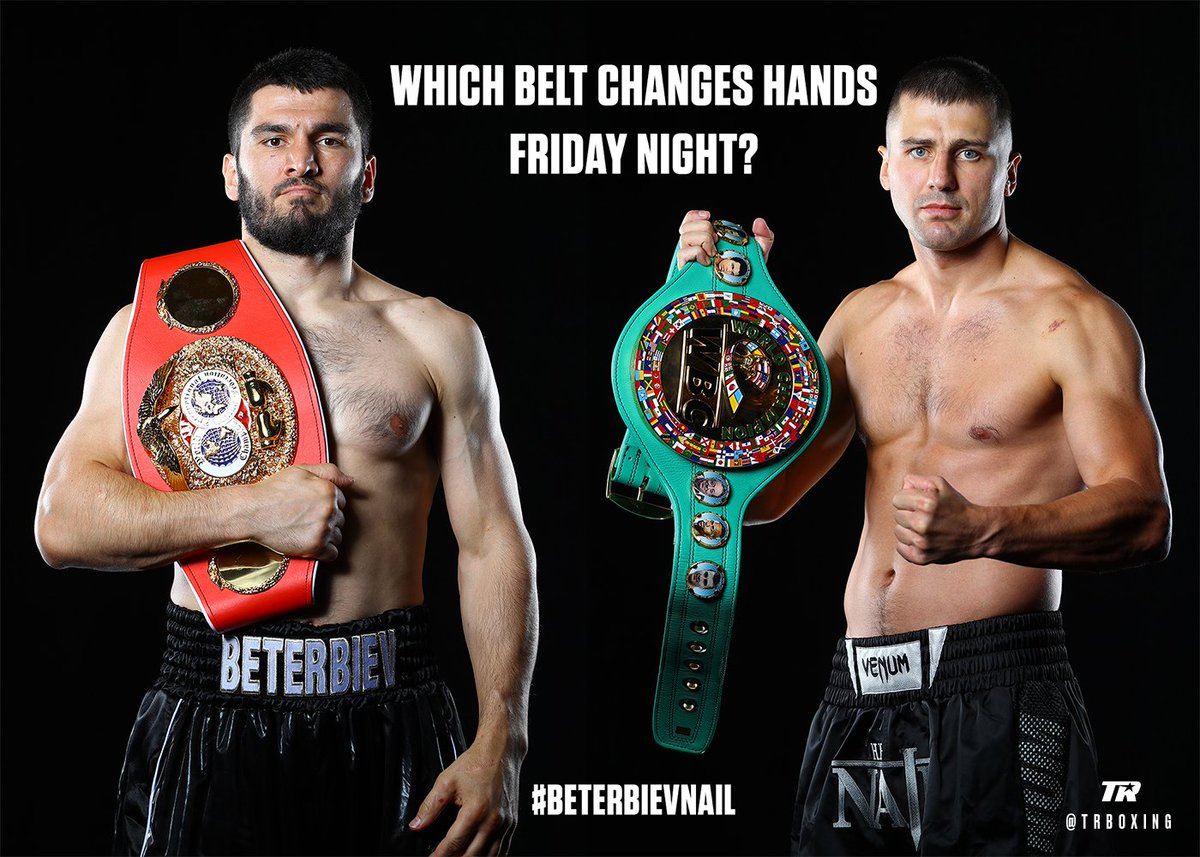 To hear trainer Teddy Atlas describe it, Friday night's light heavyweight unification matchup of IBF champion Artur Beterbiev (14-0, 14 KOs) and WBC titlist Oleksandr "The Nail" Gvozdyk (17-0, 14 KOs) is like a shark taking on a piranha, and Teddy's guy, Gvozdyk, is the piranha.
But boxing isn't always about the predator that has the biggest, sharpest teeth, or the hardest punch. Victory in the ring can be the result of various means, one being the way a large enough shark can swallow its prey almost whole.  Another is for the piranha to take a bite here and a bite there until the same objective is achieved.
Which approach is the more effective on fight night should be determined in what the oddsmakers have made a virtual 50/50 tossup. ESPN and ESPN Deportes will televise from the Liacouras Center on the Temple University campus in North Philadelphia.
Atlas and Beterbiev's trainer, Marc Ramsay, appear to be in agreement that Beterbiev, 34, a Russian based in Montreal for the last several years, has the kind of paralyzing power capable of taking out many opponents with a single shot. But the Big Bite strategy can be neutralized and overcome by patient nibblers who recognize that there are times when it's better to hang back and other times when it's preferable to dart in and quickly snack on whatever is being offered. Not so very long ago Gvozdyk, a bronze medalist for Ukraine at the 2012 London Olympics, was hesitant to exhibit the selective restraint as preached by Atlas. Now, as they approach their third bout together, Gvozdyk – hardly a pittypat puncher, if not quite on Beterbiev's level — has made himself over into the prototypical Atlas fighter. Ramsay, however, isn't convinced that any trainer, together with a fighter for less than a year, can orchestrate such a swift and comprehensive stylistic overhaul. What Ramsay does know is that his man is the real deal when it comes to bringing the pain.
"He's the best that I ever saw," Ramsay, who also has worked with former light heavyweight champions Jean Pascal and Eleider Alvarez, said when asked about Beterbiev's penchant for exclamation-point finishes. "And the thing is that it's not only one shot. It's all the shots. He can hurt you from distance or in close. He has that kind of explosiveness. But he has a lot more than power to offer."
Ramsay is less inclined to accept the notion that Gvozdyk, who is no newcomer to boxing at 32, can make anything more than cosmetic changes to an aggressive, come-forward style that has served him so well for so long. He said old, ingrained habits are not so easy to break.
"Real change – technical things, philosophical things – is a long process," Ramsay opined. "It's a lot of repetition in the gym. A lot of repetition."
Atlas is a highly accomplished trainer who has worked at various times with such outstanding fighters as a young Mike Tyson, Michael Moorer, Donny Lalonde, Alexander Povetkin and Timothy Bradley Jr., was inducted into the International Boxing Hall of Fame as a broadcaster last June. He is my-way-or-the-highway Type A personality who demands absolute adherence to his dictums from his fighters, which is one reason why he was hesitant to take on another after Bradley retired. Gvozdyk is his only fighter at this time, maybe the last he'll ever work with, and the relationship seems solid.
"We know the basics. Everybody knows the basics," Gvozdyk said of the way he looked at the way he prepared himself for bouts before he hooked up with Atlas. "But the small details … sometimes you think I'm too good, somebody can forgive me some mistakes. Teddy is always on top of it. He never lets you drift. He's kind of like a dictator. A smart dictator. That is what I need at this stage of my career. I feel like I'm special right now for Teddy. Teddy is not some average trainer. He's a legend."
Atlas' first fight as Gvozdyk's chief second was no shakedown cruise through smooth waters. When "The Nail" – his last name literally translates to that in Russian – challenged then-WBC titlist Adonis "Superman" Stevenson on Dec. 1, 2018, on Stevenson's home turf in Quebec City, he was facing another devastating puncher, maybe one with even more pop than Betierbiev, and a long-reigning champ who was making his 10th defense over  5½ years. But while Gvozdyk ended Stevenson's career with an 11th-round knockout, he did have a couple of shaky moments. The first came when he was hammered with a flush shot in the second round and another, one he didn't see, in the 10th. He might not be readying to face Beterbiev now if he had been caught with a follow-up shot while hurt, but he found a way to make it to the end of the round.
Asked if he "felt good" about Gvozdyk's chances against Beterbiev, given his previous brush with disaster with Stevenson, Atlas said there's always some anxiety when the guy in the other corner hits as hard as a mule kicks.
"It's never a good experience facing a puncher," Atlas noted. "It's a reminder that there's no room for mistakes. There has to be full concentration for 36 minutes. You have to fight one three-minute round at a time, not two minutes and 59 seconds, not when you're in there with a puncher that can change everything in a moment, as Stevenson almost did in the 10th round.
"But the reason why (Gvozdyk) is a champion is that he was able to survive that. When the moment came, he behaved like a champion. I've no doubt that whenever that moment comes Friday night, he'll do the same thing. It's never comfortable to be facing a puncher, but at least we know we've done it and we know what it takes to get by."
Atlas banned media members from attending any of Gvozdyk's private training sessions in Philadelphia, the better to ensure that whatever wrinkles he was adding to a fighter that still might be considered a work in progress were not made public before fight night. But Atlas did say that there are times when a clever piranha can indeed defeat a shark. Little bites add up, until the time is right to open those smaller jaws wide and gouge out a larger chunk.
"If there's moments to take bigger bites in this fight, we're going to take them, at whatever time that is," Atlas said. "If it's early, it's early. If it's late, it's late. There's going to be moments to take bigger bites with this guy. That doesn't mean getting sloppy or careless or greedy.
"Alex has great judgment and instincts. I know we can depend on that judgment and those instincts."
Go, Eagles! Uh, make that Rock …
Arch-rivalries are the lifeblood of any sport. How much less interesting would baseball be without Yankees-Red Sox, Cardinals-Cubs and Dodgers-Giants to stir fans' passions? The NBA was so much more compelling when the Lakers and Magic could go for it all, and frequently did, against the Celtics and Bird. Tennis used to be defined by Borg vs. Connors, Sampras vs. Agassi and, even now in their athletic dotage, Federer vs. Nadal.
In Philadelphia, the most despised opponent is always the Dallas Cowboys. The City of Brotherly Love is anything but when the Eagles and 'Boys hook up, as will be the case Sunday night when the Eagles and Cowboys, both 3-3 and tied for first place in the lackluster NFC East, square off in AT&T Stadium in Arlington, Texas. Each team's season might be disappointing to this point, but that hardly matters when emotions run high and civic pride is on the line. In Philly, at least, the quarterback duel of Carson Wentz vs. Dak Prescott will still be viewed as something akin to Frazier vs. Ali in helmets and shoulder pads. Eagles coach Doug Pederson fanned the standard flames higher and hotter by publicly predicting his team was "going to win that football game."
In addition to Eagles-Cowboys, there will be another Philly vs. Dallas matchup on ice, albeit at a somewhat less acrimonious level, Saturday night when the NHL's Flyers host the Dallas Stars at the Wells Fargo Center. Meanwhile, in a different part of town the same evening, Hard Hitting Promotions gets in on the act by staging a 10-bout card at The Met Philadelphia as part of what is being described by HHP head Manny Rivera as "Philly vs. Dallas Week."
The eight-round main event pairs North Philly heavyweight Darmani Rock (16-0, 11 KOs) against 41-year-old Maurenzo Smith (21-11-4, 14 KOs), who actually was born and raised in Houston but is said to now fight out of Dallas. The undercard is topped by the six-round light heavyweight matchup of Glassboro, N.J.'s (hey, it's reasonably close to Philly) Derrick Webster (28-2, 14 KOs) and Israel Duffus (19-6, 16 KOs), of Los Angeles by way of his native Panama. Duffus is a late fill-in for Francisco Castro (28-11, 23 KOs) of El Paso, Texas, which, like LA, is really nowhere near Dallas. five other Philadelphia fighters, or those in the general vicinity, are slated to appear, but none against opponents with even the thinnest ties to Dallas.
Word has it that Rock and maybe Webster will enter the ring garbed in some sort of midnight green, the better to stoke the Eagles-adoring crowd. Prudent matchmaking suggests that both local fighters (if you give Webster benefit of the doubt) will be victorious, although Rock's weight is frequently an area of concern. The 6-foot-5, 23-year-old prospect came in at a career-high 289 pounds for his most recent bout, a second-round knockout of Raymond Ochieng on June 14, 48 pounds more than he did for his sixth pro outing three years earlier. Rock will probably be looking to quickly put away Smith, who has been stopped seven times and, at 278 pounds for his most recent ring appearance, also packs the heft of an NFL defensive lineman.
For Philadelphia fight fans hankering for a much more consequential Philly vs. Dallas showdown, it will happen sometime in 2020 if (a)  IBF/WBC welterweight champion Errol Spence Jr. (26-1, 21 KOs), who lives in the Dallas suburb of DeSoto, Texas, fully recovers from injuries suffered in his recent auto accident and (b) he actually does take on two-division former titlist Danny Garcia (35-2, 21 KOs), of the Juniata Park section of Philly, as was announced after Spence's Sept. 28 split-decision unification victory over Shawn Porter.
Check out more boxing news on video at The Boxing Channel  
To comment on this story in The Fight Forum CLICK HERE
Johnny Famechon was a Hero in Australia Where Willie Pep Had a Bad Night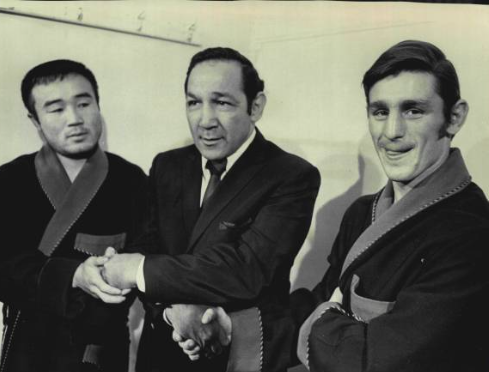 Willie Pep was good at boxing. He wasn't so good at math. Ah, but hold the phone; we are getting ahead of ourselves. This isn't a story about Willie Pep, but about former world featherweight champion Johnny Famechon who passed away last Thursday, Aug. 4, in Melbourne, Australia, at age 77.
Famechon was five years old when his parents left his birthplace in Paris and settled in Melbourne. He came to the fore in an era when boxing was still a mainstream sport and home-grown champions were national idols. The locals turned out in droves for the parade in Johnny's honor when he returned to Melbourne after taking the featherweight crown from the Cuban-born Spaniard Jose Legra in a big upset at London's Prince Albert Hall.
Famechon's first title defense came against Japan's Fighting Harada. They met in Sydney, Australia, on July 28, 1969.
At age 26, Harada was a battle-tested veteran. He previously held world titles at flyweight and bantamweight and would be remembered as the only man to defeat the great Brazilian boxer Eder Jofre, a feat he accomplished not once, but twice.
Only two boxers in history – Bob Fitzsimmons and Henry Armstrong – had won world titles in three of the eight classic weight divisions. Harada, who entered the International Boxing Hall of Fame in 1995, was bidding to become the third.
Team Harada insisted on a neutral referee. The British promoters chose Willie Pep. A legend in the sport, Pep had previously shared a ring with another Famechon, having out-pointed Johnny's uncle Ray Famechon in a featherweight title defense at Madison Square Garden in 1950.
Some thought that Pep would favor Fighting Harada. American referees put a higher premium on aggression than did their foreign counterparts and Harada was a little buzzsaw who rarely took a backward step. But others thought that Pep's selection favored Famechon, an elusive counterpuncher with whom the Connecticut "Will-'o-Wisp" could identify; their styles were similar.
Pep had been the third man in the ring for four previous title fights, three in Jamaica and one in Brazil. But this fight would be different. He would be the sole arbiter. If the fight went the full 15 rounds, Willie Pep would be the judge and jury.
During the bout, Famechon scored one knockdown, sending Harada to the canvas in round five, but Harada scored three, knocking Famechon down in rounds two, 11, and 14. The last of the three knockdowns was the harshest, but Famechon made it to the final bell.
The fight ended in a clinch. Immediately upon separating the fighters, Pep raised both of their hands, a signal that the fight was a draw.
Fighting Harada's handlers were outraged and demanded to see the scorecard. A policeman at ringside was empowered to give it a look-over (Australia had no boxing commission). What the policeman found was that there was indeed a discrepancy. However, it was the opposite of what Team Harada anticipated!
The fight was scored on the antiquated system whereby the winner of a round was awarded five points and the loser four points or less. In the case of an even round, both fighters got five points.
After 13 rounds, Fighting Harada had amassed 59 points on Pep's card. He won the 14th round, giving him an aggregate total of 64 points. But when Pep added up the numbers "59" and "5" in the column where he kept the aggregate total, he came up with "65."
Oops.
When Pep signaled that the fight was a draw, people stormed the ring from all sides. Newspaper reports said the belligerents were about evenly divided. Famechon, the Aussie, was the crowd favorite, but Fighting Harada was well-backed in the betting markets, a very big industry in Australia. Many were even angrier when Famechon was summoned back to the ring to have his hand raised.
The Famechon-Harada fight aired live on Japanese television. In Japan, there was a great outpouring of outrage. Pep had been instructed to score a round 5-4 if the round was narrow and 5-3 if there was a clear-cut winner. Despite the knockdowns, Pep scored every round 5-4 or 5-5. In the revised tally, he had Famechon winning 6-5-4 in rounds.
"Harada loses to referee" was the headline in Japan's leading sports daily. Willie Pep made no friends in Australia either. There were shouts of "Yankee go home" as he left the ring.
Famechon and Harada met again five months later in Tokyo. One would assume that Fighting Harada proved superior and got a fair shake, winning the third title denied him in Sydney. But don't assume.
Harada was well ahead after ten rounds but faded. On the deck in round 10, Famachon returned the favor three rounds later, knocking Harada down hard with a perfectly placed left hook. Harada was in dire straights when he came out for round 14 and Famechon put him away.
Harada never fought again and Famechon left the sport six months later after losing his crown to Vicente Saldivar. Johnny was only 25 years old, but had crammed 67 fights into a nine-year pro career and said enough is enough.
Famechon's post-boxing life took a tragic turn in 1991 when he was hit by a car while out jogging on a Sydney highway. He spent several weeks in a coma and several years in a wheelchair but eventually recovered most of his motor skills and regained his speech to the point where he could serve as a boxing color commentator on television. In 2018, a larger-than- life statue of Famechon was unveiled at a public park in the Melbourne suburb of Frankston where he was a longtime resident.
For the record, Johnny Famechon finished his career with a record of 56-5-6 with 20 KOs. We here at The Sweet Science send our condolences to his loved ones.
Arne K. Lang's latest book, titled "George Dixon, Terry McGovern and the Culture of Boxing in America, 1890-1910," will shortly roll off the press. The book, published by McFarland, can be pre-ordered directly from the publisher (https://mcfarlandbooks.com/product/clashof-the-little-giants) or via Amazon.
To comment on this story in the Fight Forum CLICK HERE
Fast Results from Fort Worth Where Vergil Ortiz Jr Won His 19th Straight by KO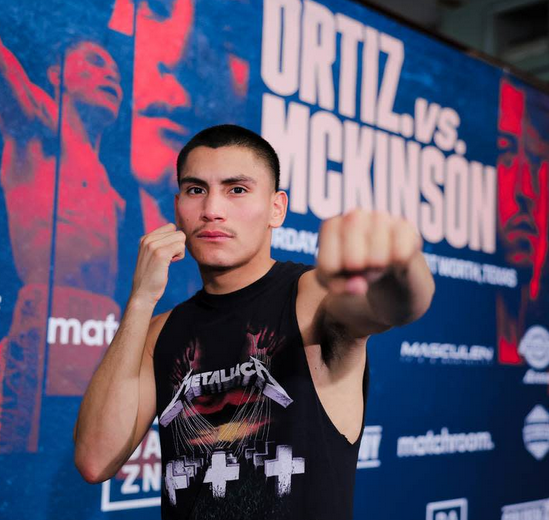 In a match pushed back from March 19, Vergil Ortiz Jr moved one step closer to a mega-fight with Terence "Bud" Crawford or Errol Spence Jr or Boots Ennis with a ninth-round stoppage of England's feather-fisted Michael McKinson. The end came 20 seconds into round nine when McKinson appeared to injure his knee as he fell to the canvas, an apparent residue of the body punch that put him on the deck late in the previous stanza. To that point, Ortiz had seemingly won every round.
It was the 19th win inside the distance in as many opportunities for Ortiz who resides in nearby Grand Prairie and was making his first start with new trainer Manny Robles. McKinson was undefeated heading in, but had scored only two knockouts while building his record to 22-0.
Ortiz, ranked #1 at welterweight by the WBA and the WBO, pulled out of the March 19 bout after being diagnosed with rhabdomyolysis, a muscle disorder associated with over-training.
Ortiz's promoter, Oscar De La Hoya, says that Ortiz will fight the winner of Errol Spence vs Terence Crawford next assuming that the fight gets made, and if doesn't get made, Ortiz's next fight will be with one or the other. The WBA, which stamped tonight's fight an eliminator, may push to have Ortiz fight their secondary title-holder, Eimantas Stanionis.
Co-Feature
Houston's Marlen Esparza (13-1, 1 KO) successfully defended her WBA/WBC world flyweight title with a unanimous decision over plucky 4'11 ½" Venezuelan southpaw Eva Guzman who had won 14 straight coming in, albeit against soft opposition. The judges had it 98-92 and 99-91 twice.
Guzman (19-2-1) was game, but just didn't have the physical tools to overcome Esparza whose lone defeat came at the hands of talented Seneisa Estrada.
Other Fights of Note
In a 10-round match contested at the catchweight of 150 pounds, Blair "The Flair" Cobbs rebounded from his first defeat with a career-best performance, a wide decision over former WBO 140-pound world titlist Maurice Hooker. It was the second straight loss for Hooker who returned to the ring after a 17-month hiatus and came out flat. Cobbs put him on the canvas in the opening frame with a combination and decked him twice more with straight lefts in round two.
Things got somewhat dicey for Cobbs in round five when he suffered a bad gash on his forehead from an accidental head butt, but Hooker, who had stablemate Bud Crawford in his corner, hesitated to let his hands go and couldn't reverse the tide. The judges had it 96-91 and 97-90 twice for the flamboyant Cobbs who improved to 16-1-1 (10). Hooker, a consensus 5/2 favorite, lost for the third time in his last five starts and slumped to 27-3-3.
In the opener to the main portion of the DAZN card, Uzbekistan's Bektimir Melikuziev (10-1, 8 KOs), a super middleweight growing into a light heavyweight, dominated and stopped overmatched Sladan Janjanin. Melikuziev put Janjanin down with a body punch in the opening minute of the fight and scored two more knockdowns before the bout was halted at the 2:18 mark of round three.
This was Melikuziev's third fight back after his shocking one-punch annihilation by Gabriel Rosado. Janjanin, a well-traveled Bosnian who fought three weeks ago in Massachusetts, declined to 32-12 and was stopped for the eighth time.
Also
Chicago welterweight Alex Martin (18-4, 6 KOs) overcame a first-round knockdown to win a unanimous decision over 38-year-old Philadelphia journeyman Henry Lundy. The judges had it an unexpectedly wide 98-91, 97-92, 97-92.
Martin was coming off a points loss to McKinson and this bout was his reward for taking that fight on short notice. Lundy (31-11-1) has lost five of his last seven.
Floyd "Austin Kid" Schofield, a lightweight who appears to have a big upside, advanced to 11-0 (9 KOs) at the expense of Mexican trial horse Rodrigo Guerrero whose corner wisely pulled him out after five one-sided rounds. It was the ninth straight loss for Guerrero (26-15).
To comment on this story in the Fight Forum CLICK HERE
Conlan Wins His Belfast Homecoming; Breezes Past Lackadaisical Marriaga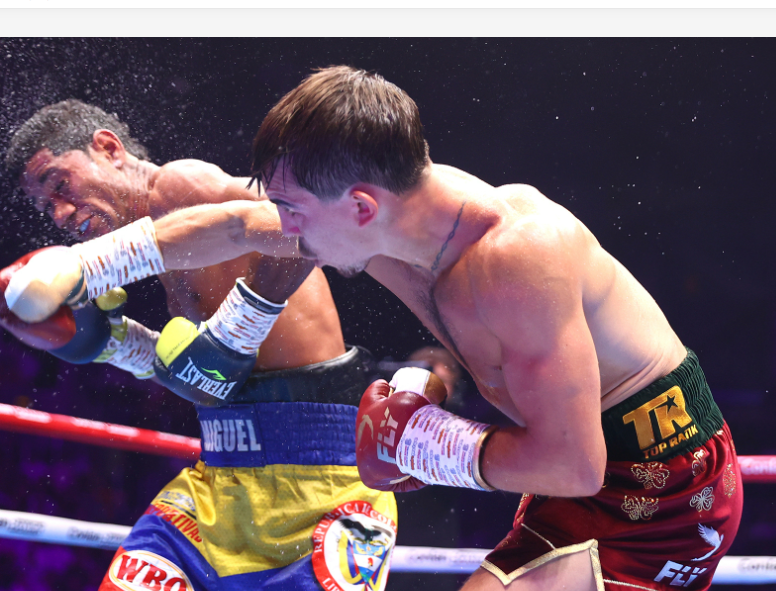 "The Return of the Mick" was the label attached to tonight's show at the SSE Arena in Belfast, Northern Ireland. The reference was to local fan favorite Michael "Mick" Conlan who returned to his hometown in hopes of jump-starting his career after suffering his first pro loss in a brutal encounter with Leigh Wood.
In that bout, a strong "Fight of the Year contender, Conlan was narrowly ahead on all three cards heading into the 12th and final round when the roof fell in. Wood, who was making the first defense of his WBA world featherweight title on his home turf in Nottingham, knocked the favored Conlan unconscious and clear out of the ring.
This was the sort of fight that can shorten a man's career. Hence the intrigue in Conlan's homecoming fight tonight against Miguel Marriaga. On paper, the Colombian, a three-time world title challenger, was a stern test considering the circumstances.
To the contrary, Marriaga had no fire in his belly until the final round when he hit Conlan with a shot that buckled his knees. But, by then Conlan was so far ahead without overly exerting himself that there was virtually no chance of another meltdown.
While Conlan won lopsidedly, the scores – 99-89 and 99-88 twice – were somewhat misleading. True, "Mick" had Marriaga on the deck in rounds 7, 8, and 9, but the punches that put him there did not look particularly hard.
Conlan, 30, improved to 17-1 (8). Marriaga, 35, declined to 30-6.
After the fight, Conlan expressed the hope that Leigh Wood would give him a rematch.
Other Bouts of Note
In an entertaining 10-round welterweight scrap that could have gone either way, Belfast's Tyrone McKenna (23-3-1, 6 KOs) rebounded from his defeat in Dubai to Regis Prograis (TKO by 6) with a hard-fought unanimous decision over 33-year-old Welshman Chris Jenkins (23-6-3). The judges favored the local fighter by scores of 97-94 and 96-95 twice.
Jenkins, a former British and Commonwealth title-holder, had the best of the early going, working the body effectively while frequently finding a home for his uppercut, but he could not sustain his advantage.
Thirty-four-year-old Belfast super middleweight Padraig McCrory who got a late start in boxing, scored the most important win of his career with a fifth-round stoppage of Marco Antonio Periban, a former world title challenger. McCrory had Periban on the deck three times – once in the second and twice in the fifth – before the bout was halted at the 2:14 mark of round five.
It was the fourth straight win inside the distance for McCrory who improved to 14-0 (8 KOs). Mexico's Periban, who returned to the sport in April after missing all of 2020 and 2021, fell to 26-6-1.
Highly-touted welterweight Paddy Donovan improved to 9-0 (6) with an 8-round unanimous decision over Yorkshireman Tom Hall (10-3). The referee scored every round for Donovan, an Irish Traveler trained by Tyson Fury's bosom buddy Andy Lee, the former world middleweight title-holder.
Photo credit: Mikey Williams / Top Rank via Getty Images
To comment on this story in the Fight Forum CLICK HERE