Canelo's Fate May Rest in the Hands of a Bolivian Soccer Guy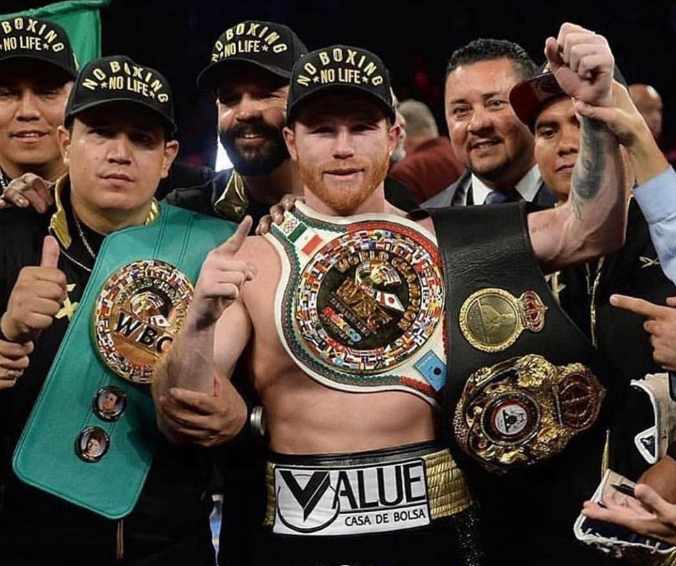 Canelo's Fate May Rest in the Hands of a Bolivian Soccer Guy
His name is Munir Somoya and, for now, he's the least-known member of Team Canelo. But Somoya's relative anonymity could well receive a major upgrade should Canelo Alvarez (52-1-2, 35 KOs), making the always-risky two-division jump up from middleweight to light heavyweight for Saturday night's DAZN-streamed challenge of WBO 175-pound champion Sergey "Krusher" Kovalev (34-3-1, 29 KOs), win as impressively as, say, Michael Spinks did when he dethroned Larry Holmes, or Roy Jones Jr. did when he took down the much larger John Ruiz, or Bernard Hopkins did when he schooled Antonio Tarver.
The aforementioned champions, all of whom have been or soon will be inducted into the International Boxing Hall of Fame (Hopkins likely will be enshrined on June 14, 2020, and Jones is a mortal lock for the Class of 2022), successfully moved up two weight classes to win fights that history and their natural physical dimensions suggested might have represented an attempt to go a bridge too far. So, what did the Spinks Jinx, RJJ and B-Hop have in common? Their regular training regimens for those watershed matches were augmented by the addition to their corner teams of Mackie Shilstone, the now-celebrated New Orleans-based fitness expert whose methods once were deemed to be so untraditional as to be almost revolutionary. But there is no arguing with success; to a man, Spinks, Jones and Hopkins are effusive in their praise for the 69-year-old Shilstone, who KO magazine once named as one of the 50 most influential figures in boxing history.
Shilstone, who is not involved with Alvarez, also has a onetime boxing client list that includes Hall of Famer Riddick Bowe and future Hall of Famer Andre Ward (eligible for induction in 2021). Perhaps to demonstrate that he can take pounds off as sensibly as he helps to put them on, he oversaw the frequently flabby Bowe's paring down from 272 to 235 for the first of his three confrontations with Evander Holyfield, in which the no-quite-as-large "Big Daddy" seized the WBA, IBF and WBC belts on a 15-round unanimous decision on Nov. 13, 1992.
It was Spinks' upset of Holmes, who was attempting to match Rocky Marciano's legendary record of 49-0, that made Shilstone something of a trailblazer in the field of nutrition and physiology, a reputation which over time he would go on to buff and polish to a sparkly sheen. But boxing represented only a small portion of Shilstone's fitness empire. Over the past 30-plus years he has helped whip into supreme condition such other legendary athletes as tennis' Serena Williams, football's Peyton Manning, baseball's Ozzie Smith and basketball's Ralph Sampson and Manute Bol, scrawny skyscrapers who even more than any of Shilstone's fighters needed all the help they could get in gaining weight the proper way.
"Their caloric machine is always in overdrive," Shilstone once said of working with the 7-foot-4 Sampson and 7-7 Bol. "It's like pumping blood up an elevator shaft."
So what does Somoya have in common with Shilstone? Maybe nothing. And maybe quite a bit, as he is playing the role of a Shilstone equivalent for Alvarez, who is giving away four inches in height (he's 5-8 to Kovalev's 6-foot) and two inches in reach (Kovalev's in 72½ inches to Canelo's 70½). What may prove more consequential is that Kovalev has always been a light heavyweight, one who conceivably might have done what Alvarez is now attempting to do by bulking up to cruiserweight or possibly even heavyweight, as the undisputed light heavyweight titlist Spinks, with Shilstone's assistance, did for Holmes. Alvarez, on the other hand, began his career as a junior welterweight. He was just 139 pounds for his pro debut, a fourth-round stoppage of Abraham Gonzalez on Oct. 29, 2005, although that bout took place when Canelo was just 15 years old. The precocious adolescent was in the 140s for his next 12 bouts, and 20 of his first 21 overall until he filled out to welterweight on the way up to junior middleweight and middleweight. The heaviest he has ever weighed for any professional outing was 167¼ for his third-round technical knockout of WBA "regular" super middleweight champ Rocky Fielding on Dec. 15, 2018, a massacre in which the Briton was floored four times. No one, however, is apt to equate the always-dangerous Kovalev with the out-of-his-league Fielding.
As TSS contributor Matt McGrain has noted, middleweight champions, even Hall of Fame-caliber ones, have a spotty record when diving into choppy light heavyweight waters. A highly accomplished Shilstone alumnus, Andre Ward, might be correct in opining that the 37-year-old Kovalev, a 4-1 underdog who is 0-2 against Ward, is "no longer `The Krusher,' he's simply Sergey Kovalev," but even a lesser version of the hard-hitting Russian who routinely belted out opponents much larger than Canelo figures to have enough of a power advantage to pose a constant threat to detonate a bomb on the Mexican superstar's jaw. It's a fairly safe bet that Alvarez, upon making the 175-pound limit for the weigh-in, won't come in much higher than that on fight night. It's also a fairly safe bet that Kovalev could rehydrate into the mid- to high-180s, or possibly even a bit north of that, further accentuating the size difference between the two men.
All of which makes Somoya, a Bolivian whose expertise mostly had been confined to working with soccer players in his home country, a bit of a wild card given his shadowy function as a sort of Shilstone equivalent. Although Shilstone's methods were considered unorthodox when he first made his mark in boxing with Spinks, and were viewed with some suspicion by Spinks' old-school trainer Eddie Futch, not much about the Somoya plan has garnered media attention, even though this is Somoya's second time around with Canelo. The first came when he was brought aboard by Alvarez for his winning May 4 middleweight defense against Daniel Jacobs, which was hardly a walk in the park for the victor.
Unlike Spinks' preparations for his first go at Holmes, in which Shilstone's mad-scientist experiments – he had the challenger doing interval sprints instead of long jogs, among other innovations – were a fascinating subject to reporters 34-plus years ago, Somoya is just … there. Canelo hasn't mentioned him often, and neither has his principal trainer, Eddy Reynoso. Even Eric Gomez, president of Canelo's promotional company, Golden Boy, seemingly has only a vague notion as to what Somoya does.
"I've met the guy," Gomez said of Somoya. "He has some sort of soccer background. I think he has a strategy and a plan, like he did for Jacobs. But not all fights are the same. I just know Canelo feels comfortable with him."
Not surprisingly, Gomez does not view his guy as being too undersized, to cite an analogy used by trainer Teddy Atlas prior to the recent light heavyweight unification showdown of Atlas' fighter, Oleksandr Gvozdyk, and Artur Beterbiev, as a piranha going up against a shark. As things turned out, Gvozdyk, the perceived piranha, didn't have teeth large enough to out-chomp Beterbiev's voracious shark.
"What people don't realize is that Canelo's a big kid," Gomez said. "He's like (Mike) Tyson, a tank. He has big, strong legs, big shoulders, a big back."
But while other members of Team Canelo aren't revealing any of Somoya's secrets, whatever they are, leave it to Golden Boy executive and Shilstone fan Bernard Hopkins to offer his thoughts on a fight that is of massive consequence to the boxing industry, given Alvarez's position as the highest-paid (the Kovalev fight is the third in his 11-bout, five-year, $365 million deal with DAZN) drawing card in the sport. Beating the bigger man, and especially if done in an emphatic fashion, makes Alvarez add the designation of giant-killer to his commendable portfolio. A loss doesn't necessarily make him severely damaged goods, but it almost certainly would result in his moving down to super middle or, more likely, a more familiar comfort zone at 160.
"Canelo's not the tallest light heavyweight, but you don't have to be in order to be effective at 175," said Hopkins, who reigned for extended periods at both middleweight and light heavy, with a wide points loss to Kovalev. "When I look at Canelo I think of the `Camden Buzzsaw,' Dwight Muhammad Qawi, who was built kind of similar, wide and stocky. Yeah, Kovalev has advantages in height and range, but there are ways for a shorter fighter to neutralize that, especially if the shorter fighter has Canelo's talent."
Although Gomez said it will be up to Alvarez to decide which weight class he chooses to campaign in should he defeat Kovalev, Hopkins figures the most logical course would be for this fight to be a one-and-done before Canelo slims back down to middleweight and a more appealing variety of opponents that can be easily sold to the public by DAZN.
"The great thing about the middleweight division is that it's loaded, maybe more than it's been in the last 10 or 15 years," Hopkins said. "Even if Canelo wins on Nov. 2, what's his choice going to be? I don't think 175 is that deep. I mean, Beterbiev is impressive and dangerous, but who really knows him? I see light heavyweight as a stopover for Canelo.
"I want Canelo to be undisputed (champion at middleweight). He can grab that IBF title that got stripped from him (and is now held by familiar foe Gennadiy Golovkin, against whom Alvarez is 1-0-1). There's Demetrius Andrade (the WBO middleweight ruler), and the Charlo twins (Jermall holds a version of the WBC middleweight crown and Jermell is the WBC's No. 1 contender at junior middleweight).
"Ultimately, Canelo's body is going to tell him what to do to some extent, but you have to look at what matches are out there for him as well. I don't think there's as many big names at super middle, which is why he jumped over 168 and went straight to 175. DAZN is paying him a lot of money, so those people are going to want him to take the biggest fights at whichever weight he chooses to fight at because the fans are going to demand that."
All of which begs one question, and maybe two. Will a victory over Kovalev suddenly make Munir Somoya a hot property, as Spinks' upset of Holmes did for Shilstone? And would Somoya still have a place with Canelo if, should he elect to go back down to middleweight, he has to sensibly take off the weight he put on for Kovalev?
Check out more boxing news on video at The Boxing Channel  
To comment on this story in The Fight Forum CLICK HERE
Undercard Results from the Canelo-Charlo Card in Las Vegas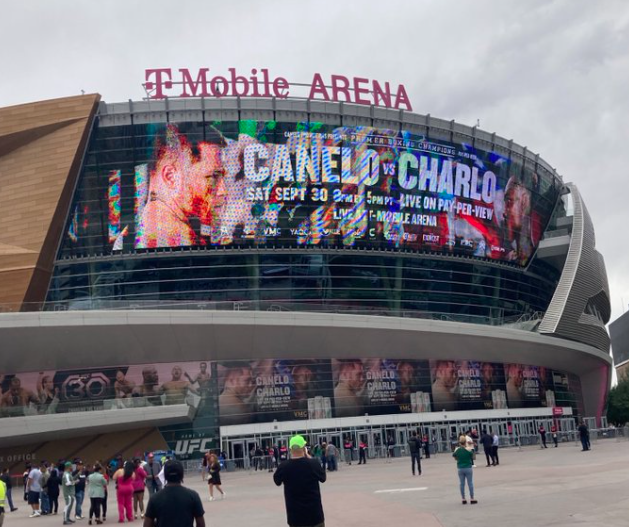 In a heavyweight battle slated for 10, Frank Sanchez (23-0, 16 KOs) stopped LA trial horse Scott Alexander (17-6-2) after four frames. Alexander's corner attempted to stop it in the waning seconds of the fourth, but the referee did not see it and the bell rang before the fight was waived off.
Alexander had one big moment. In the opening round, he rocked Sanchez with a short right hand. But from there, it was all Sanchez in a rather messy fight.
A Miami-based Cuban defector, Frank Sanchez came in ranked #3 by the WBO, #4 by the WBC, and #5 by the IBF. His best win came in this building, a comfortable decision over Efe Ajagba in October of 2021. Alexander also fought here. In his previous visit to the T-Mobile, he was knocked out in the opening round by Zhilei Zhang.
Former WBO light heavyweight champion Oleksandr Gvozdyk, in his third fight back since ending his retirement, improved to 20-0 (16) with a second-round stoppage of 38-year-old Brazilian Isaac Rodrigues (28-5). Gvozdyk, 36, left the sport after getting beat up by Artur Beterbiev, but got the itch and is pursuing a fight with Dmitry Bivol.
In an 8-round middleweight fight, 2012 U.S. Olympian Terrell Gausha (24-3-1) won a majority decision over Keandre Leatherwood (23-9-1). The judges had it 76-76 and 78-74 twice. Once a highly regarded prospect, Gausha is spinning his wheels. Leatherwood, from Tuscaloosa, Alabama, had been stopped four times.
Guadalajara super lightweight Gabriel Gollaz Valenzuela advanced to 28-3-1 (17 KOs) with a sixth-round stoppage of overmatched Colombia import Yves Gabriel Solano (15-3).  This was redemption of sorts for Valenzuela who lost an unpopular 12-round decision to Montana Love in his last outing inside these walls.
Kazakh super middleweight Bek Nuramaganbat (11-0) continued his fast ascent of the 168-pound ladder with a third-round stoppage of Bola Osundairo. A 30-year-old Chicago-based Nigerian, Osundairo was a 2021 USA National Champion at 178 pounds.
A four-round middleweight contest between Abilikhan Amankul (4-0-1, 4 KOs) and Joeshon James (7-0-2, 4 KOs) ended in a draw. Although he didn't win, Sacramento's James continued to exceed expectations. In previous contests he KOed previously undefeated Richard Brewart and fought to a draw with Top Rank signee Javier Martinez. Amankul, a 26-year-old Kazakh, lost a split decision to eventual gold medal winner Hebert Conceicao in the Tokyo Olympics.
To comment on this story in the Fight Forum CLICK HERE
—
David Avila is ringside. Check back later for his report of the Canelo-Charlo fight and the main supporting bouts.
Opetaia Demolishes Thompson in London; Wallin Upsets Gassiev in Turkey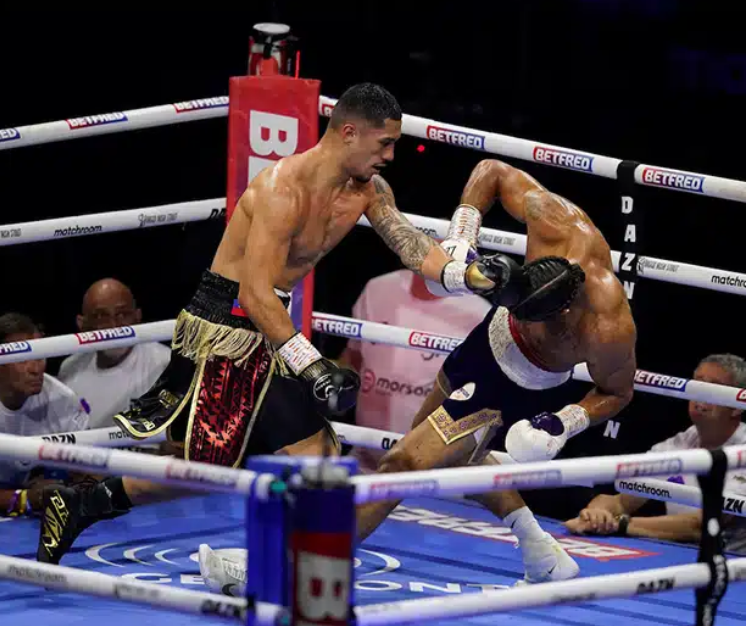 In his first defense of his IBF cruiserweight title, Australian southpaw Jai Opetaia demolished overmatched Jordan Thompson in the featured bout of a Matchroom card at London's Wembley Arena. Opetaia (23-0, 18 KOs) overwhelmed Thompson (15-1) from the opening gun and had the six-foot-six Mancunian on the canvas twice before the match was waived off at the 20-second mark of round four.
An Olympian at the age of 16, Opetaia won the title 15 months ago with a unanimous decision over longtime title-holder Mairis Briedis. Noting that Opetaia broke his jaw in two places early in that contest, prominent Australian sporting journalist Simon Smale called it "one of the bravest, gutsiest, victories in Australian boxing history."
Following that fight, Opetaia had to eat through a straw for several months. Hence, there were questions about whether his jaw would hold up and whether he would show ring rust in his first title defense. But the towering Thompson, whose nickname is Troublesome, although game, proved to be no trouble whatsoever for Opetaia who would be favored to beat any cruiserweight in the world, no matter the locale.
Opetaia may return to England for his next fight which would be a unification match with Bournemouth's 18-1 Chris Billam-Smith who captured the WBO version of the 200-pound title in May with a surprisingly one-sided decision over favored Lawrence Okolie. The other cruiserweight title-holders are the well-traveled Badou Jack (WBC) and the French-Armenian boxer Arsen Goulamirian (WBA).
Four female fights were on the undercard including two 10-rounders, both of which were won by the "A side" Englishwomen.
In her first title defense, Ellie Scotney, a 25-year-old Londoner, retained her IBF world super bantamweight title and improved to 8-0 at the expense of 37-year-old Argentine veteran Laura Soledad Griffa (20-9). In a rather monotonous fight, Scotney won every round on two of the scorecards and nine rounds on the other.
Rhiannon Dixon, a 29-year-old southpaw, had a surprisingly easy time with Norwegian veteran Katharina Thanderz, a former world title challenger. Dixon (9-0) won every round on all three cards. Thanderz, who trains in Spain, declined to 16-2.
Wallin-Gassiev
In a 12-round heavyweight fight in Antalya, Turkey, Swedish southpaw Otto Wallin (26-1, 14 KOs) won a split decision over Murat Gassiev (30-2). This was a dull fight. Owing to various issues, Gassiev had answered the bell for only eight rounds in the previous seven years and his vaunted power had deserted him. True, he landed the harder punches, but Wallin, who kept pecking away with his jab, was far busier and won the fight on volume alone. Two of the judges had it 115-113 for the Swede who is 6-0 since going 12 rounds with Tyson Fury. The other judge scored it for Gassiev by a bizarre 117-111.
Opetaia-Thompson photo credit: Mark Robinson / Matchroom
To comment on this story in the Fight Forum CLICK HERE
Avila Perspective, Chap. 254: Canelo vs Jermell Charlo in a Battle of Undisputed Champions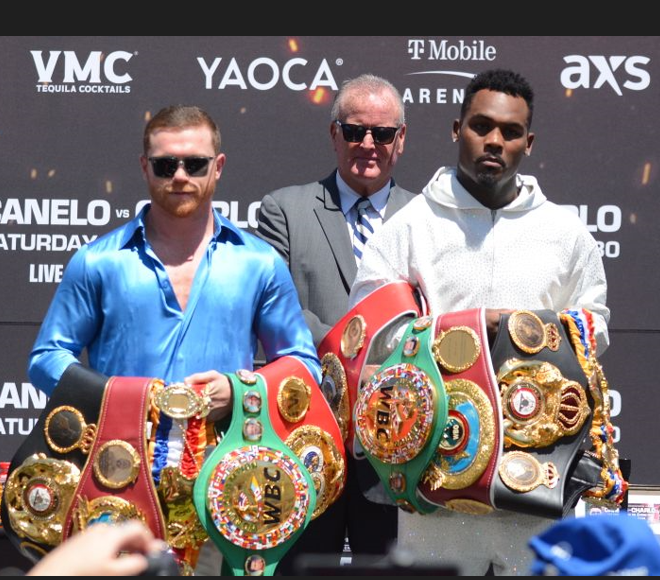 LAS VEGAS-Less than the usual massive crowd gathered for boxing kingpin Saul "Canelo" Alvarez and Jermell Charlo in the desert heat outside of the T-Mobile Arena on Friday afternoon. Usually the weigh-ins are slightly bigger for Mexico's idol.
Is the declining crowd an indicator of Alvarez fans ebbing belief in his abilities?
Still, on Saturday night, two undisputed world champions from differing divisions will collide as Guadalajara, Mexico's Alvarez (59-2-2, 39 KOs) meets Houston's Charlo (35-1-1, 19 KOs) at T-Mobile Arena for the super middleweight world championship. PPV.Com will stream the clash of champions.
This year has seen a hyper-speed uptick in champions fighting other champions, perhaps the result of watching their female counterparts Amanda Serrano and Katie Taylor produce the biggest fight of 2022. This year several marquee collisions were spawned from lightweights to heavyweights.
Or maybe the pandemic lull created a twitch panic among the elite.
Charlo was one of those who had been sidelined while others like Gervonta "Tank" Davis, Naoya "Monster" Inoue and Canelo Alvarez filled their pockets with cash. And others like Devin Haney and Teofimo Lopez gained undisputed glory.
Instead of watching on the sidelines, Charlo decided to make his move for greater glory by attempting to dethrone one of the top pound-for-pound fighters in the world, if not the kingpin of boxing when it comes to money.
"If I accomplish this massive goal, it will be hard to top," Charlo said a few weeks ago during his media workout. "I'll be in the record book with the greats of boxing for a long time."
Risks brings rewards.
Canelo, long a member of the boxing elite, has held his position as the box office king for many years now by taking the daunting risks throughout his boxing life.
"Jermell is right, I have nothing to prove. But this time I have something to prove to him," said Alvarez while in Las Vegas on Wednesday. "He never believed in my skills. He's been calling me out. Now I have an opportunity to show him my skills."
Undisputed super welterweight will challenge undisputed super middleweight in a two-division jump not often seen, except for Henry Armstrong, Roberto Duran and Sugar Shane Mosley. It's the road taken by those who seek to be great.
Both are 33 but the redhead Alvarez has been fighting professionally since he was 15. That's a lot of bullets in the chamber he has already used. Charlo has height, speed and the ability to adapt to different styles. Stylistically, it's a battle that makes even the skeptics take pause.
It all depends on Alvarez's resiliency. Charlo has ring rust, while Alvarez seemingly has lost the hunger. Whose weakness will prove the greater?
"Now is the time for this fight. We're in our primes and at our best," said Charlo. "I wanna shake the doubters off and prove to the world why I"m in this position. There's a reason I made it this far."
Alvarez remembers being as hungry as Charlo.
"I never overlook any fighter," Alvarez said. "I know what he's going to bring and I'm ready."
Undercard
Several other notable bouts are included on the pay-per-view card.
Former world titlists and current welterweight contenders Yordenis Ugas (27-5) and Mario Barrios (27-2) battle for an interim title set for 12 rounds.
Super welterweights Jesus Ramos (20-0, 16 KOs) and Erickson Lubin (25-2, 18 KOs) match skills  in a match that pits a southpaw veteran against an undefeated southpaw from Arizona. For the past three years Ramos has been moving up the ladder and was last seen pounding out highly-touted Joey Spencer. Can he survive Lubin who nearly toppled Sebastian Fundora?
Doors open at T-Mobile Arena at 2 p.m. Pacific Time.
Lampley is back
Legendary HBO announcer Jim Lampley was hired along with ace reporter Lance Pugmire who will co-host the Saul "Canelo" Alvarez versus Jermell Charlo showdown via viewer chat live on PPV.com.
It's the same concept used by Monday Night Football that features former quarterback greats Peyton Manning and Eli Manning in alternative programming.
Lampley returns to boxing after a five-year absence following HBO's yanking of the popular program that vaulted elite boxing to the top behind the likes of George Foreman, Oscar De La Hoya and Manny Pacquiao.
The veteran announcer will be live streaming all the action on media platforms before and during the fight action. He was sorely missed by all who follow the sweet science.
Photo credit: Al Applerose
To comment on this story in the Fight Forum CLICK HERE