Canelo's Fate May Rest in the Hands of a Bolivian Soccer Guy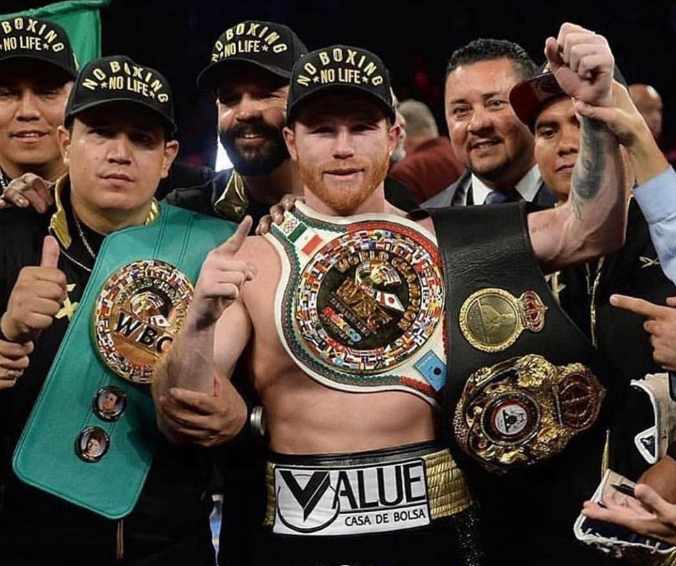 Canelo's Fate May Rest in the Hands of a Bolivian Soccer Guy
His name is Munir Somoya and, for now, he's the least-known member of Team Canelo. But Somoya's relative anonymity could well receive a major upgrade should Canelo Alvarez (52-1-2, 35 KOs), making the always-risky two-division jump up from middleweight to light heavyweight for Saturday night's DAZN-streamed challenge of WBO 175-pound champion Sergey "Krusher" Kovalev (34-3-1, 29 KOs), win as impressively as, say, Michael Spinks did when he dethroned Larry Holmes, or Roy Jones Jr. did when he took down the much larger John Ruiz, or Bernard Hopkins did when he schooled Antonio Tarver.
The aforementioned champions, all of whom have been or soon will be inducted into the International Boxing Hall of Fame (Hopkins likely will be enshrined on June 14, 2020, and Jones is a mortal lock for the Class of 2022), successfully moved up two weight classes to win fights that history and their natural physical dimensions suggested might have represented an attempt to go a bridge too far. So, what did the Spinks Jinx, RJJ and B-Hop have in common? Their regular training regimens for those watershed matches were augmented by the addition to their corner teams of Mackie Shilstone, the now-celebrated New Orleans-based fitness expert whose methods once were deemed to be so untraditional as to be almost revolutionary. But there is no arguing with success; to a man, Spinks, Jones and Hopkins are effusive in their praise for the 69-year-old Shilstone, who KO magazine once named as one of the 50 most influential figures in boxing history.
Shilstone, who is not involved with Alvarez, also has a onetime boxing client list that includes Hall of Famer Riddick Bowe and future Hall of Famer Andre Ward (eligible for induction in 2021). Perhaps to demonstrate that he can take pounds off as sensibly as he helps to put them on, he oversaw the frequently flabby Bowe's paring down from 272 to 235 for the first of his three confrontations with Evander Holyfield, in which the no-quite-as-large "Big Daddy" seized the WBA, IBF and WBC belts on a 15-round unanimous decision on Nov. 13, 1992.
It was Spinks' upset of Holmes, who was attempting to match Rocky Marciano's legendary record of 49-0, that made Shilstone something of a trailblazer in the field of nutrition and physiology, a reputation which over time he would go on to buff and polish to a sparkly sheen. But boxing represented only a small portion of Shilstone's fitness empire. Over the past 30-plus years he has helped whip into supreme condition such other legendary athletes as tennis' Serena Williams, football's Peyton Manning, baseball's Ozzie Smith and basketball's Ralph Sampson and Manute Bol, scrawny skyscrapers who even more than any of Shilstone's fighters needed all the help they could get in gaining weight the proper way.
"Their caloric machine is always in overdrive," Shilstone once said of working with the 7-foot-4 Sampson and 7-7 Bol. "It's like pumping blood up an elevator shaft."
So what does Somoya have in common with Shilstone? Maybe nothing. And maybe quite a bit, as he is playing the role of a Shilstone equivalent for Alvarez, who is giving away four inches in height (he's 5-8 to Kovalev's 6-foot) and two inches in reach (Kovalev's in 72½ inches to Canelo's 70½). What may prove more consequential is that Kovalev has always been a light heavyweight, one who conceivably might have done what Alvarez is now attempting to do by bulking up to cruiserweight or possibly even heavyweight, as the undisputed light heavyweight titlist Spinks, with Shilstone's assistance, did for Holmes. Alvarez, on the other hand, began his career as a junior welterweight. He was just 139 pounds for his pro debut, a fourth-round stoppage of Abraham Gonzalez on Oct. 29, 2005, although that bout took place when Canelo was just 15 years old. The precocious adolescent was in the 140s for his next 12 bouts, and 20 of his first 21 overall until he filled out to welterweight on the way up to junior middleweight and middleweight. The heaviest he has ever weighed for any professional outing was 167¼ for his third-round technical knockout of WBA "regular" super middleweight champ Rocky Fielding on Dec. 15, 2018, a massacre in which the Briton was floored four times. No one, however, is apt to equate the always-dangerous Kovalev with the out-of-his-league Fielding.
As TSS contributor Matt McGrain has noted, middleweight champions, even Hall of Fame-caliber ones, have a spotty record when diving into choppy light heavyweight waters. A highly accomplished Shilstone alumnus, Andre Ward, might be correct in opining that the 37-year-old Kovalev, a 4-1 underdog who is 0-2 against Ward, is "no longer `The Krusher,' he's simply Sergey Kovalev," but even a lesser version of the hard-hitting Russian who routinely belted out opponents much larger than Canelo figures to have enough of a power advantage to pose a constant threat to detonate a bomb on the Mexican superstar's jaw. It's a fairly safe bet that Alvarez, upon making the 175-pound limit for the weigh-in, won't come in much higher than that on fight night. It's also a fairly safe bet that Kovalev could rehydrate into the mid- to high-180s, or possibly even a bit north of that, further accentuating the size difference between the two men.
All of which makes Somoya, a Bolivian whose expertise mostly had been confined to working with soccer players in his home country, a bit of a wild card given his shadowy function as a sort of Shilstone equivalent. Although Shilstone's methods were considered unorthodox when he first made his mark in boxing with Spinks, and were viewed with some suspicion by Spinks' old-school trainer Eddie Futch, not much about the Somoya plan has garnered media attention, even though this is Somoya's second time around with Canelo. The first came when he was brought aboard by Alvarez for his winning May 4 middleweight defense against Daniel Jacobs, which was hardly a walk in the park for the victor.
Unlike Spinks' preparations for his first go at Holmes, in which Shilstone's mad-scientist experiments – he had the challenger doing interval sprints instead of long jogs, among other innovations – were a fascinating subject to reporters 34-plus years ago, Somoya is just … there. Canelo hasn't mentioned him often, and neither has his principal trainer, Eddy Reynoso. Even Eric Gomez, president of Canelo's promotional company, Golden Boy, seemingly has only a vague notion as to what Somoya does.
"I've met the guy," Gomez said of Somoya. "He has some sort of soccer background. I think he has a strategy and a plan, like he did for Jacobs. But not all fights are the same. I just know Canelo feels comfortable with him."
Not surprisingly, Gomez does not view his guy as being too undersized, to cite an analogy used by trainer Teddy Atlas prior to the recent light heavyweight unification showdown of Atlas' fighter, Oleksandr Gvozdyk, and Artur Beterbiev, as a piranha going up against a shark. As things turned out, Gvozdyk, the perceived piranha, didn't have teeth large enough to out-chomp Beterbiev's voracious shark.
"What people don't realize is that Canelo's a big kid," Gomez said. "He's like (Mike) Tyson, a tank. He has big, strong legs, big shoulders, a big back."
But while other members of Team Canelo aren't revealing any of Somoya's secrets, whatever they are, leave it to Golden Boy executive and Shilstone fan Bernard Hopkins to offer his thoughts on a fight that is of massive consequence to the boxing industry, given Alvarez's position as the highest-paid (the Kovalev fight is the third in his 11-bout, five-year, $365 million deal with DAZN) drawing card in the sport. Beating the bigger man, and especially if done in an emphatic fashion, makes Alvarez add the designation of giant-killer to his commendable portfolio. A loss doesn't necessarily make him severely damaged goods, but it almost certainly would result in his moving down to super middle or, more likely, a more familiar comfort zone at 160.
"Canelo's not the tallest light heavyweight, but you don't have to be in order to be effective at 175," said Hopkins, who reigned for extended periods at both middleweight and light heavy, with a wide points loss to Kovalev. "When I look at Canelo I think of the `Camden Buzzsaw,' Dwight Muhammad Qawi, who was built kind of similar, wide and stocky. Yeah, Kovalev has advantages in height and range, but there are ways for a shorter fighter to neutralize that, especially if the shorter fighter has Canelo's talent."
Although Gomez said it will be up to Alvarez to decide which weight class he chooses to campaign in should he defeat Kovalev, Hopkins figures the most logical course would be for this fight to be a one-and-done before Canelo slims back down to middleweight and a more appealing variety of opponents that can be easily sold to the public by DAZN.
"The great thing about the middleweight division is that it's loaded, maybe more than it's been in the last 10 or 15 years," Hopkins said. "Even if Canelo wins on Nov. 2, what's his choice going to be? I don't think 175 is that deep. I mean, Beterbiev is impressive and dangerous, but who really knows him? I see light heavyweight as a stopover for Canelo.
"I want Canelo to be undisputed (champion at middleweight). He can grab that IBF title that got stripped from him (and is now held by familiar foe Gennadiy Golovkin, against whom Alvarez is 1-0-1). There's Demetrius Andrade (the WBO middleweight ruler), and the Charlo twins (Jermall holds a version of the WBC middleweight crown and Jermell is the WBC's No. 1 contender at junior middleweight).
"Ultimately, Canelo's body is going to tell him what to do to some extent, but you have to look at what matches are out there for him as well. I don't think there's as many big names at super middle, which is why he jumped over 168 and went straight to 175. DAZN is paying him a lot of money, so those people are going to want him to take the biggest fights at whichever weight he chooses to fight at because the fans are going to demand that."
All of which begs one question, and maybe two. Will a victory over Kovalev suddenly make Munir Somoya a hot property, as Spinks' upset of Holmes did for Shilstone? And would Somoya still have a place with Canelo if, should he elect to go back down to middleweight, he has to sensibly take off the weight he put on for Kovalev?
Check out more boxing news on video at The Boxing Channel  
To comment on this story in The Fight Forum CLICK HERE
Juan Francisco Estrada Holds Off 'Chocolatito' Again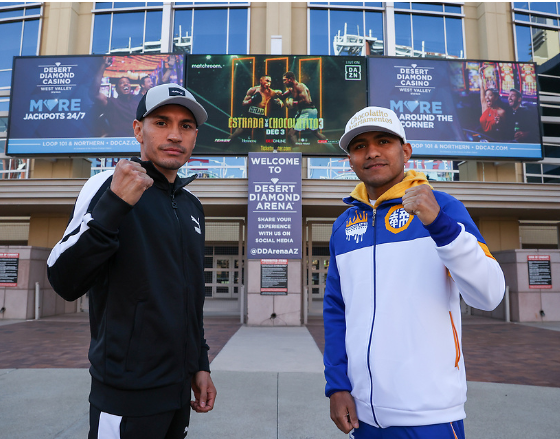 Once again Juan Francisco Estrada jumped out in front early and Roman "Chocolatito" Gonzalez needed time to crank up the engine, but fell too far behind as the Mexican fighter won the vacant WBC flyweight world title on Saturday.
Estrada wins the trilogy 10 years in the making.
Once again Estrada (44-3, 28 KOs) surged ahead early in the fight against Nicaragua's Gonzalez (51-4, 41 KOs) and then navigated toward another win, this time at the Gila River Arena in Glendale, Arizona on the Matchroom Boxing card.
"We had excellent preparation at high altitude and I think we left the fight clear on who won the fight this time," said Estrada about the third encounter.
Ten years ago, the trilogy began in Los Angeles as "Chocolatito" confronted an unknown fighter at the time in Estrada. The two surprised the crowd who expected Gonzalez to destroy yet another Mexican fighter. But it did not happen that night though Chocolatito proved too experienced and battered his way to victory in a light flyweight world title clash.
Then, in March 2021, Estrada finally fought Gonzalez in a rematch and the two engaged in a closely-fought super flyweight world title match. This time Estrada proved slightly better according to the judges and won by split decision in Dallas, Texas.
Few knew what to expect in a third encounter.
At first the coronavirus stalled plans for the trifecta so Chocolatito fought a replacement and dominated. Meanwhile Estrada fought another Mexican and did not look good.
On Saturday, a decade after their first encounter, Estrada looked fluid and accurate in dominating the first six rounds of the fight. Though he did not hurt Gonzalez, he was repeatedly scoring at will.
Gonzalez woke up around the seventh round.
Suddenly the Nicaraguan who was once considered the best fighter Pound for Pound showed up and fired rapid combinations. The spring in his legs suddenly appeared and the energy level was cranked up high after nearly being on idle.
Estrada suddenly found himself against the ropes forced to slip and slide away from Gonzalez's powerful combination punches. A real fight suddenly erupted during the final six rounds.
"All fights are different and all fights are difficult and this was the most difficult one," said Gonzalez, a four-division world champion.
Though neither fighter was ever visibly hurt, Gonzalez's pressure kept Estrada expending too much energy trying to evade the Nicaraguan's traps during the final six rounds.
"He always goes 100 miles an hour," said Estrada of his nemesis.
Estrada used uppercuts and slide steps to maneuver against Gonzalez's hard charges. It seemed to work and allowed the Mexican fighter more room and time to apply counter-measures.
In the final round, those maneuvers allowed Estrada to connect with a hard punch to the body that forced Chocolatito to cover up. It also allowed Estrada to unravel a combination that gave him the last round if needed. After 12 rounds one judge scored it 114-114, while two others saw it 116-112, 115-113 for Estrada who becomes the new WBC super flyweight world titlist.
"We did an excellent fight and I got the victory," said Estrada. "I've always said Chocolatito is a future Hall of Famer."
Gonzalez was gracious in defeat.
"What is important is we gave that good fight to the fans and we came out in good health," Gonzalez said.
There is even talk of a fourth fight.
"As long as they pay well, of course," said Gonzalez.
Other Fights
Julio Cesar Martinez (19-2, 14 KOs) retained the WBC flyweight world title by majority decision over Spain's Samuel Carmona (8-1) in a rather dull affair. Mexico's Martinez chased Carmon all 12 rounds in a fight that saw Carmona slap and run, then hold.
No knockdowns were scored and Martinez won 114-114, 117-111, 116-112.
Diego Pacheco (17-0, 14 KOs) ran over Mexico's Adrian Luna (24-9-2) with three knockdowns in winning by stoppage in the second round of the super middleweight fight. It was no surprise.
The 21-year-old from South Central L.A. once again showed that despite his youth his power seems to be continually increasing as evident in the knockout win.
Now training with Team David Benavidez, the young super middleweight looked sharp, especially with the lead overhand right that floored Luna in the second round. Luna was floored two more times and the fight was wisely stopped by his own corner.
"You put in the hard work then you come in here and shine," said Pacheco. "I joined team Benavidez this year."
Nicaragua's former world titlist Cristofer Rosales (35-6, 21 KOs) won a dog fight over Mexico's Joselito Velasquez (15-1-1, 10 KOs) by unanimous decision after 10 rounds in a flyweight clash.
It was a back-and-forth struggle that saw the taller Rosales take over in the second half of the fight and win by simply out-punching Velasquez and handing the Mexican his first loss as a professional by scores 97-93 three times.
Photo credit: Milena Pizano
To comment on this story in the Fight Forum CLICK HERE
Tyson Fury TKOs Derek Chisora in Round 10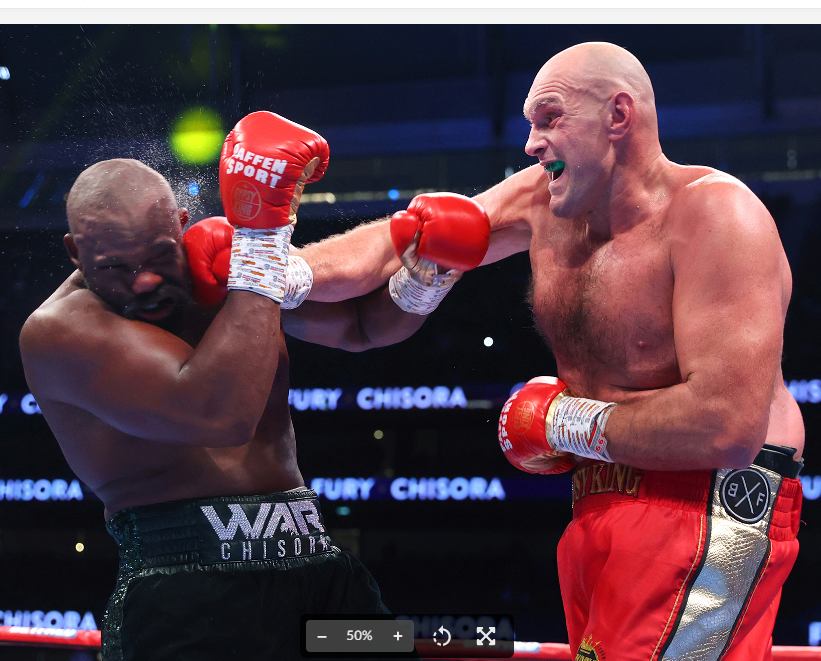 It was a chilly night in London but that didn't deter a near-capacity crowd from turning out at Tottenham Hotspur Stadium to witness the third rumble between Tyson Fury and Derek Chisora. The Gypsy King was heavily favored to retain his WBC and lineal heavyweight title and performed as expected. Indeed, this fight closely resembled their second encounter back in 2014.
In that bout, Chisora absorbed a terrific amount of punishment before his corner pulled him out at the conclusion of the 10th round. Tonight's fight ended nine seconds earlier at the 2:51 mark of round 10 and it was the referee who terminated the match.
When is a heavyweight not a heavyweight? When the man in the opposite corner is substantially bigger. With an 8-inch height advantage and a 15-inch reach advantage, the six-foot-nine Fury was simply too big a mountain to climb for the brave Derek Chisora, a fighter who changed his nickname in mid-career, transitioning from "Dell Boy" to "War."
Fury dominated round two, especially the last minute, a round in which he was credited with landing 18 power punches. The writing was on the wall for Chisora who ate a lot of thudding uppercuts in the ensuing rounds and ended the contest with a badly swollen right eye and a bloody mouth. With the victory, Fury improved his ledger to 32-0-1 with his 24th win inside the distance. The Zimbabwe-born Chisora falls to 33-13.
Oleksandr Usyk and Joe Joyce were in attendance and the Gypsy King addressed both before he left the ring. Calling Usyk "The Rabbit," he indicated that he would fight Usyk next in a true unification fight, but said if there were a snag in negotiations he wouldn't mind trading blows with the Juggernaut, Joe Joyce, who wore down and stopped former heavyweight title-holder Joseph Parker, a former Fury sparring partner, in his most recent engagement. However, Fury also revealed that he had an issue with his right elbow that may require surgery.
Co-Feature
In a heavyweight match that lasted only three rounds but was chock-full of action, Daniel Dubois overcame three knockdowns to retain his secondary WBA heavyweight title he won at the expense Trevor Bryan with a third-round stoppage of upset-minded Kevin Lerena.
In the opening stanza, Johannesburg's Lerena, landed an overhand left on the top of Dubois's head that put the Englishman on the canvas and left him all at sea. He went down twice more before the round was over, the first time of his own volition when he took a knee (reminiscent of his match with Joe Joyce) and the second from a glancing blow.
Dubois, whose legs are spindly for a man of his poundage, had trouble regaining his equilibrium in round two, but Lerena didn't press his advantage. In the next frame, a short right from Dubois penetrated Lerena's guard and down went the South African. Smelling blood, Dubois knocked him down again and was pummeling him against the ropes when the referee interceded just as it appeared that Lerena would be saved by the bell.
It was the fourth straight win for Dubois (19-1, 18 KOs) since his mishap versus Joyce. Lerena, who entered the bout on a 17-fight winning streak, lost for the second time in 30 fights.
Also
In a ho-hum affair, Denis Berinchyk, a 24-year-old Ukrainian, captured the European lightweight title and remained undefeated with a unanimous decision over French-Senagalese warhorse Ivan Mendy. Berinchyk (17-0, 9 KOs) was making his first appearance in London since winning a silver medal at the 2012 Olympics where he was a teammate of Oleksandr Usyk and Vasiliy Lomachenko.
The judges had it 117-112 and 116-112 twice for the Ukrainian. The 37-year-old Mendy, who has answered the bell for 380 rounds, falls to 47-6-1.
Photo credit: Mikey Williams / Top Rank via Getty Images
To comment on this story in the Fight Forum CLICK HERE
Light Nips Glanton in Florida; across the pond, Kelly UD 12 Williamson in Newcastle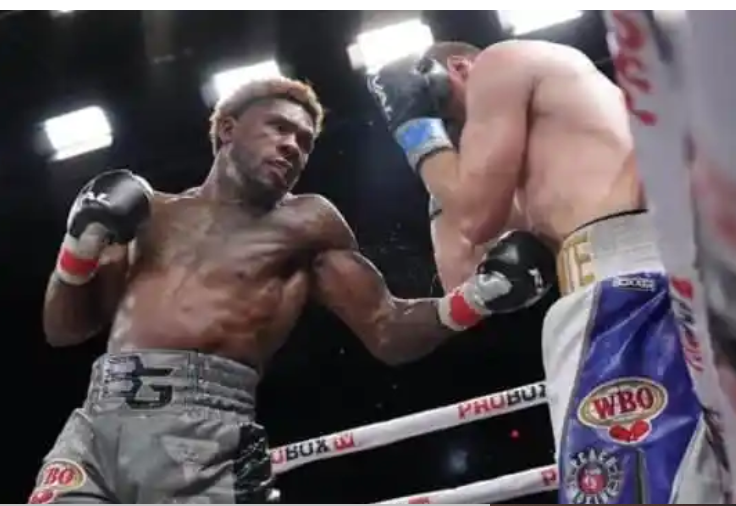 ProBox TV, a fledgling promotional group co-founded by former world champions Roy Jones Jr, Juan Manuel Marquez, and Paulie Malignaggi, has found a home for their bi-monthly shows at an events center in Plant City, Florida, near Tampa. The main event of last night's show (Friday, Dec. 2) was a well-matched 10-rounder between world ranked cruiserweights Brandon Glanton (pictured on the left) and David Light, both undefeated.
Light, a 31-year-old New Zealander who was 19-0 (12 KOs) heading in, had a strong amateur background that included a silver medal at the 2014 Commonwealth Games, but was virtually unknown outside the Antipodes, having fought almost exclusively on small shows in Auckland. Glanton, a 30-year-old Atlanta native who had trimmed down considerably since his days as a defensive lineman at HBCU Albany State, had caught the eye of hardcore fight fans with a thrilling split decision over previously unbeaten Efetobor Apochi on a TBS show in Minneapolis.
The oddsmakers made Glanton (17-0, 14 KOs heading in) a small favorite and after 10 hard rounds there were many who thought he deserved the nod. He turned the fight into a "phone booth" affair, pressing the action while working the body effectively, and scored the bout's lone knockdown, knocking Light off his pins (he wasn't badly hurt) in the final frame with what appeared to be a glancing blow. But two of the judges were more impressed by Light's counter-punching, scoring the bout 97-92 and 95-94 for the kiwi, overruling the dissenter who had it 95-94 for Blanton.
It was the sort of fight that cries out for a rematch, but David Light will undoubtedly go in a different direction. Both he and Glanton were pointing toward a match with WBO title-holder Lawrence Okolie.
Newcastle
Earlier on Friday, across the pond in Newcastle, England, former Olympian Josh Kelly got the signature win that had eluded him with a lopsided 12-round decision over defending British 154-pound title-holder and former amateur teammate Troy Williamson.
This was Kelly's third fight since David Avanesyan burst his bubble in a welterweight affair, stopping Kelly in the sixth stanza. The local fighter, who boosted his record to 13-1-1 (7) blamed his poor performance on his struggle to make weight.
The previously undefeated Williamson, 19-0-1 heading in, was making the second defense of the title he won in a barnburner with Ted Cheeseman. He went to post a small favorite, but was outclassed by Kelly who won by scores of 119-109, 119-111, and 118-110.
In the co-feature, Manchester's Lyndon Arthur (21-1, 15 KOs) stayed relevant in the light heavyweight division with a second-round stoppage of overmatched Joel McIntyre (20-5). In his lone defeat, Arthur was TKOed by revenge-minded Anthony Yarde.
To comment on this story in the Fight Forum CLICK HERE