Two More Votes for Canelo from our Spanish Language Sister Site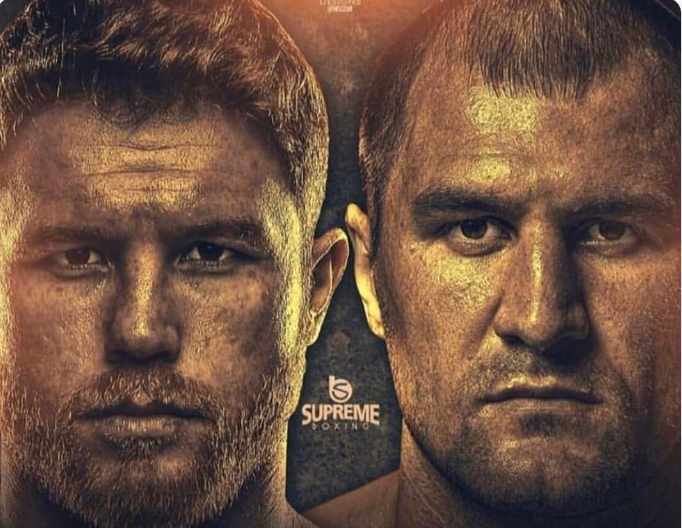 Lazaro Malvarez Cárdenas and J.J. Alvarez are the linchpins of our Spanish language sister site. Both previewed the Canelo-Kovalev fight in-depth. Here are their stories, translated in English, with Lazaro Malvarez Cárdenas stepping up to the plate first.
*
It took some time and even a World title was lost along the way, but when Alvarez's team makes moves it's because they know where they're going and this Saturday, Nov. 2, is no exception. Even though 'Canelo" and his promoters haven't been seeing eye to eye, let's not think that "Golden Boy", with Óscar de la Hoya in charge, would risk their golden goose, especially during times like these when boxing is being bombarded from the outside as well as from within its own business.
Álvarez is the betting favorite and has a 350 million-dollar deal with the platform DAZN, which he must live up to in great fashion; in other words, without facing another Michael "Rocky" Fielding.
Let's begin with the comparisons: Alvarez is 29 years old, while Kovalev is seven years his senior at 36. Álvarez has competed in 55 professional bouts, with 52 victories, only one loss against Floyd Mayweather Jr and two draws. Kovalev possesses a record of 34 victories, 3 defeats and one draw with his failures being talked about much more than his successes. His execution came at the hands of Andre Ward, who exposed him in their second match, and the Colombian Eleider Álvarez, whom he was able to get the better of in a subsequent rematch. If we go to the numbers, the Russian has a higher percentage of knockouts (76% to 64%) and he's 4 inches taller.
Sergey "Krusher" has heavy hands but is mentally weak. Power, a potent jab, and being at his habitual weight of 175lbs are some of his strengths.
Álvarez's fans point to his speed, ability to bob and weave, adapt, precision, power and to his corner with Eddy Reynoso as head coach. But the real question here is, how will these aforementioned attributes fare at 175lbs and against a natural light heavyweight?
Those who are truly optimistic believe that a body shot from "Canelo" will destroy the Russian and there is no doubt that it will cause some form of damage. That being said, the Mexican's victory has already long been decided: it comes from his mindset and confidence in that he will retire a faded Kovalev.
Let's not fool ourselves, the times when Kovalev demolished undefeated fighters such as Nathan Cleverly, Cedric Agnew, Blake Caparello or terrified veterans like Bernard Hopkins and Jean Pascal are long gone. He was almost knocked out in his most recent fight against the unknown Anthony Yarde, and thanks to the Brit's lack of stamina avoided the upset.
Álvarez is younger, defensively sound and has improved tremendously at the hands of Eddy Reynoso, and if by chance he doesn't deserve to win in the ring, he'll have three allies sitting in high chairs at ringside that will help him because "Canelo" Álvarez is part of the Las Vegas show even if it's only twice a year.
PREDICTION: The Mexican "David" defeats the Russian "Goliath." Canelo Álvarez by knockout after the 8th round (Lazaro Malvarez Cárdenas)
*
After the initial celebration from confirming the fight between the Mexican challenger Saúl "Canelo" Alvarez and the Russian light heavyweight champion Sergey "Krusher" Kovalev, questions flooded the representatives of the red headed Aztecan for allowing him to move up a few weight classes against a big puncher like Kovalev. Previously it seemed like an illogical and absurd decision.
But the people who represent the superstar Alvarez (52-1-2, 35 Kos) and have transformed him into a valuable "commercial product", as well as the world's most popular boxer, aren't taking any shots in the dark. NO. To get to this contract with Kovalev, Canelo's team made a thorough analysis of today's Kovalev who at 36 years of age lacks the power of yesteryear and has a stamina issue, as seen in his knockout losses to the American Andre Ward (in the 8th round in 2017), and the Colombian Eleider Alvarez (in the 7th round in 2018), and most recently in his victory against the British Anthony Yarde.
Canelo will be at a height disadvantage (5'8" vs 6'0"), but will have youth on his side (29 vs 36), a deadly left hook and an amazing training camp. The crowd could also be a factor for Canelo, swaying the judges in his favor with their overwhelming chants.
Canelo has competed 12 times in Sin City, with 10 wins one loss and one draw. His defeat against the now retired American Floyd "Money" Mayweather shows the judges favoritism for the Mexican. Mayweather's victory was domination in all aspects, and yet judge C. J. Ross (who eventually was forced to resign) shamelessly scored the fight a draw, 114-114.
Another memorable fight was Canelo vs the Cuban southpaw Erislandy "The American Dream" Lara, July of 2014. The higher volume of punches, superior technique and defensive ability was displayed by the Cuban, but the judges at ringside unjustly announced the Mexican as the winner with score cards of 117-111 and 115-113 (from Dave Moretti, who will be present at the Kovalev fight). Jerry Roth saw the Cuban as victorious 115-113.
More recently, the draw between Canelo and Gennady "GGG" Golovkin, September 16th of 2017, created a lot of doubt surrounding the impartiality and honesty of the judges. Golovkin was the aggressor and landed the more significant punches. But somehow Canelo received the insane score of 118-110 from Adalaide Byrd! (she saw the Aztecan win 10 rounds and only two for the European). Meanwhile, Moretti saw It 115-113 in favor of the Kazakhstani and Don Trella scored it a draw.
We also can't disregard the claims made by James "Buddy" McGirt, Kovalev's trainer, who is convinced that his disciple will win. McGirt was inducted in the International Boxing Hall of Fame this year and knows what kind of weight his words carry. If he provides his unconditional support for the European, his prestige as a trainer will be in question.
McGirt stated that Canelo hasn't faced any great fighters with the exception of Floyd Mayweather Jr. "I like Canelo, I think he's a good fighter and his trainer has done a lot of good things with him, but tell me, who has he beat?," said McGirt. "I respect him for accepting the challenge, but I think he picked the wrong guy".
Even though anything can happen inside the ring, the decision to take on Kovalev was not without calculation. Canelo's team is aware of the risk and is extremely confident in his ability to claim victory and grasp the WBO World Light Heavyweight Title. If he sticks with Trainer Chepo Reynoso's game plan and there are no "lucky" punches, then Canelo will end the night with his hand raised. The winds of victory blow in his direction.
VERDICT: Canelo!  (J.J. Alvarez)
Translated by E.G. for Lazaro Malvarez Cárdenas of CdB.ib.tv and J.J. Alvarez of Boxeo.ib.tv
Check out more boxing news on video at The Boxing Channel  
To comment on this story in The Fight Forum CLICK HERE
Brandon Adams Bursts Bohachuk's Bubble in Puerto Rico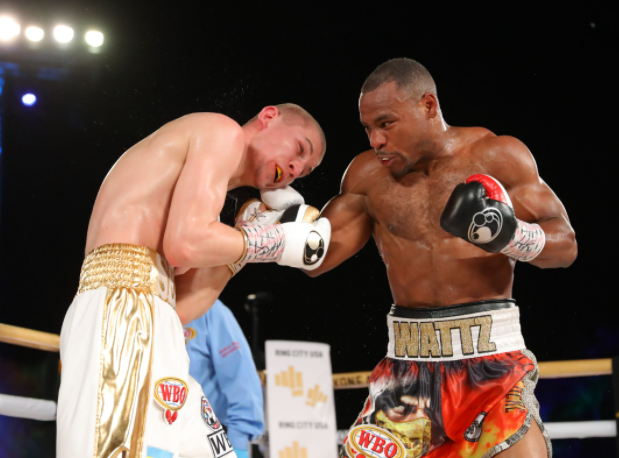 Brandon Adams Bursts Bohachuk's Bubble in Puerto Rico
Ring City USA, a new promotional entity, debuted on Nov. 19, 2020 with a show staged in the parking lot of Freddie Roach's Wild Card Boxing Club in Hollywood, CA. Ring City stayed outdoors for their first offering of 2021, but the company was a long ways from California. Tonight's card was staged on a roundabout near a municipal gym in Guaynabo, Puerto Rico.
The headline attraction was an attractive match between junior middleweights Serhii Bohachuk and Brandon Adams. The bout was originally set for Dec. 3, but had to be pushed back when Bohachuk tested positive for the coronavirus.
Bohachuk, a 25-year-old California-based Ukrainian, had stopped all 18 of his previous opponents. He had never gone past six rounds. Brandon Adams, a former world title challenger, represented a step up in class.
Bohachuk was well on his way to winning a unanimous decision when the tide turned dramatically in round eight. Fighting on a slick canvas, Adams suddenly found a new gear, unloading a series of punches climaxed by a thunderous left hook as Bohachuk retreated. The Ukrainian beat the count, but was teetering on unsteady legs and the referee properly called a halt.
Adams was without his regular trainer, 80-year-old Dub Huntley, who remained back in LA as a health precaution. In winning, he elevated his records to 23-3 (15). It was his best performance since defeating Shane Mosley Jr in the finals of Season 5 of the "Contender" series.
—
In the co-feature, an 8-round featherweight contest, Puerto Rico's Bryan Chevalier improved to 15-1-1 (12) with a third-round stoppage of Peru's Carlos Zambrano (26-2). Chevalier scored two knockdowns, the first a sweeping left hook that appeared to land behind Zambrano's head, and the second a punch to the liver that left Zambrano in severe distress. The referee waived the fight off in mid-count.
The official time was 2:21. Chevalier, a tall featherweight (5'11") made a very impressive showing; he bears watching. This was Zambrano's first fight since April of 2017 when he was knocked out in the opening round by Claudio Marrero in a bout for the WBA interim featherweight title.
—
The TV opener was an entertaining fight between contrasting styles that produced a weird conclusion when Danielito Zorrilla was awarded a technical decision over Ruslan Madiyev. The bout was stopped at the 1:16 mark of round eight after Zorrilla sank to his knees after absorbing a punch to the back of the head. The ringside physician examined him for evidence of a concussion, but ultimately it was Zorrilla's choice as to whether the bout would continue. He declined and was reportedly taken to a hospital for observation.
Madiyev, a California-based Kazahk, was the aggressor. He fought the fight in Zorilla's grill, often bullying him against the ropes. In round five, he had a point deducted for hitting behind the head, squandering what was arguably his best round.
The fight went to the scorecards with Zorrilla winning a split decision (77-74, 77-75, 73-76), thereby remaining undefeated: 15-0 (12). Ironically, Madiyev (13-2, 5 KOs), suffered his previous loss in a similar fashion.
Madiyev's new trainer Joel Diaz reportedly discouraged his charge from taking this fight for fear that he wouldn't get a fair shake in Puerto Rico. Diaz's apprehensions were well-founded.
Photo credit: Tom Hogan / Ring City USA
To comment on this story in the Fight Forum CLICK HERE
Ed Odeven's New Book Pays Homage to Sports Journalist Jerry Izenberg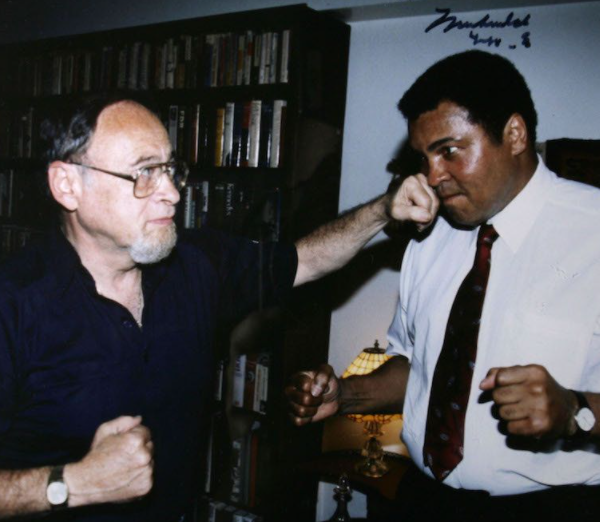 It's one thing to get to the top, but it's something else entirely to remain there for more than half a century. Jerry Izenberg, longtime sports columnist for the Newark Star-Ledger, now semi-retired and living in Henderson, Nevada, has done just that.
Izenberg is the subject of Ed Odeven's book, "Going 15 Rounds With Jerry Izenberg," which was released New Year's Eve and is available at amazon.com.
"By all accounts, he should be recognized as one of the greatest American sports columnists," said Odeven, a 1999 graduate of Arizona State University who has lived in Japan since July 2006 and is the sports editor for the website Japan Forward. "A versatile professional, he was equally skilled at writing books and magazine articles and producing sports documentaries and crafting essays for the groundbreaking 'Sports Extra' television program on Channel 5 in New York in the 1970s."
Odeven went on: "Jerry has seen everything and been seemingly everywhere. He brought gravitas to the newspaper sports section with decades of sustained excellence."
During a seven-decade career in sports journalism, the 90-year-old Izenberg, found time to write 15 non-fiction books and one novel. His affinity for the manly sport is reflected in his 2017 book, "Once There Were Giants: The Golden Age Of Heavyweight Boxing."
"From the 1950s to the present day [including recent years' coverage of Tyson Fury and Manny Pacquiao, for instance, Izenberg has shined in his boxing coverage," Odeven said. "You can't ignore his remembrance pieces on fighters and boxing personalities across the decades [such as a terrific column on the late Leon Spinks in which he weaved a tapestry of the fighter's life and his family's struggles into a powerful piece], either."
One of Izenberg's favorite topics is Muhammad Ali.
"Izenberg first observed the great fighter's infectious personality, popularity and boxing talent on display at the 1960 Rome Olympics," Odeven said. "Cassius Clay was unlike any other famous pugilist in those days and for the rest of his life."
Odeven spoke about the support Ali received from Izenberg: "When very few were publicly taking a stand to support Ali, Izenberg wrote columns that defended his right to fight. He took the boxing establishment to task for stripping Ali of his titles even while Ali's case was making its way through the courts – and ultimately the United States Supreme Court."
Izenberg, a graduate of Rutgers University who covered the first 53 Super Bowls, and Ali were close. "As friends, they were around each other in all corners of the earth," Odeven said. "They shared highs and lows during periods of personal and professional success and disappointment."
Here's Jerry Izenberg talking about Ali's humanity: "I was a single father and when my children came to live with me, they were very nervous. I took them to Deer Lake [Pennsylvania] for a television show I was filming as an advance to the Foreman-Ali fight. After the filming, knowing my situation, (Ali) took my son aside and put his arm around him and said, "Robert, you have come to live with a great man. Listen to him and you will grow to be a great man just like him.
"On the way up my daughter, who was seven, had said, 'I hope Foreman beats him up because he brags too much and you always told me to not brag.' "I told her, 'you are seven and you have nothing to brag about. Both of these men are my friends. When you get there, keep your mouth shut.' When we were packing up the equipment, he saw her in the back of the room and hollered, 'come up here little girl. You with the braids.' She was convinced I had ratted her out about what she said and tried her best to melt into the wall because she was frightened. As she walked toward him, she lost the power of speech and mumbled. He was 6-3 and she was 4-5. He grabbed her and held her over his head. 'Is that man your daddy?' All she could do was nod. 'Don't you lie to me little girl, look at him,' and he pointed at me. 'That man is ugly…ugly. You are beautiful, now gimme a kiss.' On the way home she said, 'I hope Muhammad can win,' and I said, 'you are just like the rest of them. The only difference is your age.' He was one of my five best friends. When he died, I cried."
Odeven offered his slant on why Izenberg was at home at major boxing events: "It was clear that Jerry was in a comfort zone on the week of a big fight, writing the stories that set the stage for the mano a mano encounter and the follow-up commentary that defined what happened and what it meant."
Izenberg, noted Odeven, had worked under the legendary Stanley Woodward, as had Red Smith and Roger Kahn, among others, the latter most well-known for having penned the baseball classic, "The Boys Of Summer." Many insist that Woodward, who read the classics, was the greatest sports editor.
Woodward, Odenven believes, helped shape Izenberg's world outlook. "Izenberg became keenly aware of this human drama at its rawest form that existed in boxing," he said, noting that in decades past the public was captivated by the big fights. "Examples, of course, include the first and third Ali-Frazier bouts and The Rumble In The Jungle [against Foreman]. Let's not forget they were cultural touchstones."
Referencing the third installment of Ali-Frazier in Manila, Izenberg said, "I've probably seen thousands of fights, but I never saw one when both fighters were exhausted and just wouldn't quit…My scorecard had Ali ahead by one which meant if Joe knocked him down in the 15th, he would have won on my card. But there was no 15th because Joe's trainer, Eddie Futch, ordered the gloves cut off after the 14th.
"At the finish, Ali collapsed. Later as Ali walked slowly up the aisle supported by his seconds, he leaned over toward the New York Times' Dave Anderson and me and said through puffy lips, 'Fellas. That's the closest you will ever see to death.'"
Izenberg remembered his lead: "Muhammad Ali and Joe Frazier did not fight for the WBC heavyweight title last night," he wrote. "They did not fight for the heavyweight championship of the planet. They could have fought in a telephone booth on a melting ice flow. They were fighting for the championship of each other and for me that still isn't settled."
What makes Izenberg relevant even today? "His canvas was the global sports landscape and he explored the human condition in each of his columns in some way," Odeven stated. "He recognized what made a good story and sought out individuals and topics that fit that description – and he still does.
"You could read a random stack of columns about any number of topics from the 1960s or '90s and be enlightened and entertained at the same time…He has always had a razor- sharp eye for details that illuminate a column and a source's words to give it added verve." Moreover, added Odeven, Izenberg had a never-wavering commitment to championing a just cause: "Speaking out against racism and religious bigotry, he gave a voice to the voiceless or those often ignored."
Note: Jerry Izenberg was inducted into the International Boxing Hall of Fame in the Observer category in 2015.
To comment on this story in the Fight Forum CLICK HERE
Avila Perspective, Chap. 126: Viva Puerto Rico, Claressa Shields, Canelo and More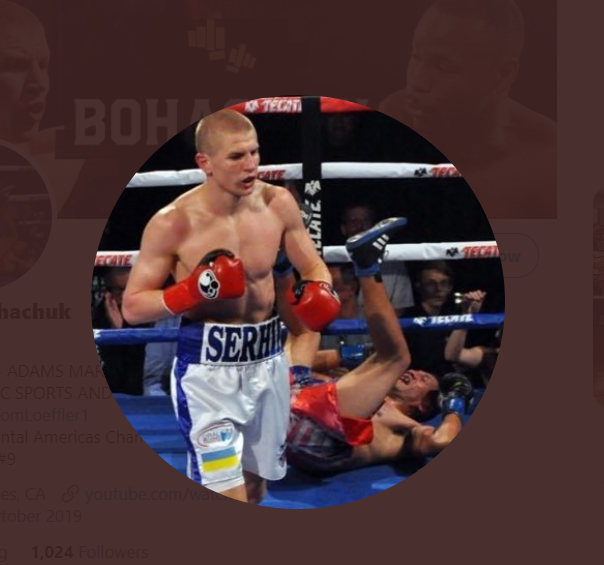 Avila Perspective, Chap. 126: Viva Puerto Rico, Claressa Shields, Canelo and More
In the age of Covid-19 fights get canceled and re-arranged and that's found here in this second attempt to stage Serhii Bohachuk versus Brandon Adams in a super welterweight showdown.
This pairing was first talked about back when the Dodgers and Lakers both won world championships last October. Finally, it's ready to cast off.
Beautiful Puerto Rico will be the locale for Bohachuk (18-0, 18 KOs) when he meets Adams (22-3, 14 KOs) on Thursday March 4, at Felix Pintor Gym in Guaynabo. NBC Sports Network will televise the Ring City USA fight card.
"Flaco" Bohachuk has rampaged through the super welterweight division like a ravenous Ukrainian version of Pacman. Who can stop him?
Adams has fought the better competition including a world title match against Jermall Charlo that he lost by decision less than two years ago.
Other factors exist.
Bohachuk was formally trained by Abel Sanchez in Big Bear Mountain but now works with Manny Robles at sea level. Will it make a difference when he trades blows against the smaller but seemingly stronger Adams?
"We're taking this fight seriously against Adams," said Robles who has trained numerous world champions including Oscar Valdez and Andy Ruiz. "Adams is a very strong fighter."
Bohachuk last fought deep in the heart of Mexico and emerged with a stoppage that saw him scrap with little-known but tough-as-nails Alejandro Davila. Both landed serious stuff but Bohachuk just had more firepower.
Adams says he has seen firepower like Bohachuk's before. He went toe-to-toe with Charlo for the WBC middleweight title and never touched the canvas. He's smaller but more muscular and has fought taller guys most of his career.
This is one of those fights that used to be held at the Olympic Auditorium back in the day. Ironically, there is a documentary that has just been released about those days before it was closed to boxing in 2005.
Added note: Fernando Vargas Jr. will also engage on the fight card. The son of "El Feroz," Fernando Vargas Jr. fights out of Las Vegas and will be in his second pro fight as a super middleweight.
Women's pay-per-view
An all-women fight card led by Claressa Shields takes place on Friday March 5. It will be streamed by FITE.tv beginning at 6 p.m. PT. Price is $29.99.
Shields (10-0) faces her toughest foe yet when she steps in the boxing ring against Canada's undefeated Marie Eve Dicaire (17-0) for the undisputed super welterweight world championship.
Dicaire is a tall southpaw with speed and agility who has defeated several world champions.
Shields is a two-time Olympic gold medalist and former undisputed middleweight world champion and super middleweight titlist who dropped down two weight divisions to pursue this venture.
Also, just added is Marlen Esparza, a USA Olympic bronze medalist, and current flyweight contender.
Esparza (8-1) agreed to fight on the pay-per-view card and meets Shelly Barnett (4-3-2) in a six-round bout set for the super flyweight division. Her last fight took place in October and she handed talented Sulem Urbina her first loss as a pro.
Barnett is a Canadian veteran of nine pro fights including an eight-round battle with Florida's Rosalinda Rodriguez.
Rumor has it that Esparza is getting prepared for a showdown with Mexico's Ibeth "La Roca" Zamora for the WBC flyweight world title later in the spring.
It's a pretty good pay-per-view card that also features Danielle Perkins, Logan Holler and Jamie Mitchell in competitive fights. If you haven't seen women fights, take a look. Shields alone can astonish with her fighting skills.
Canelo
That redhead from Mexico continues to decimate the competition whether its from England, Turkey or Russia. Line them up and let them fly.
Saul "Canelo" Alvarez holds the WBA and WBC super middleweight world titles and was forced to fight the number one contender Avni Yildirim and promptly stomped him out like a bug on the rug.
Fans get upset. They don't understand that ratings exist and with four or five sanctioning organizations all having different standings, a fighter like Alvarez who has two titles is forced to fight fighters ranked number one through 10. But it's just a part of boxing that has to be done.
Alvarez had already skipped Yildirim before to fight Callum Smith for the WBA title which he won by unanimous decision. Now he will be meeting another Brit in Billy Joe Saunders who has the WBO version of the super middleweight title. It will take place on May 8, most likely in Las Vegas. That's Cinco de Mayo weekend. Las Vegas needs the bank. Once again it depends on the Covid-19 situation.
Off topic, Canelo recently had an exchange with Claressa Shields who posted on social media that the Mexican redhead is one of her favorite fighters. She likes working on technique and posted one of her workouts where she is hitting a heavy bag with a combination that she saw Canelo use.
Canelo saw it and gave her a few tips. Champion to champion. That was kind of cool.
Farewell to L.A. Favorite
Featherweight contender Danny Valdez passed away on Sunday February 28 in Los Angeles. He was 81.
Valdez held the California Featherweight title when the state championship was not easy to gain. He also vied for the world title against Davey Moore in April 1961 in Los Angeles.
Many of his battles took place at the vaunted Olympic Auditorium where he fought the likes of Gil Cadilli and Sugar Ramos. Back in those days there was no better place to fight than the Olympic. But Valdez did engage in battles at Wrigley Field and the Hollywood Legion Stadium too.
Though Valdez fought up and down the West Coast in Oregon and California, he primarily battled at the Olympic Auditorium, a total of 24 times in all. If you ever watched a boxing card at the Olympic, it was a magical place.
Fights to Watch
(All Times are Pacific Time)
Thurs. 6 p.m. NBC Sports Network Serhii Bohachuk (18-0) vs Brandon Adams (22-3)
Fri. 6 p.m. FITE.tv.  Claressa Shields (10-0) vs Marie Eve Dicaire (17-0); Marlen Esparza (8-1) vs Shelly Barnett (4-3-2); Logan Holler (9-0-1) vs Schemelle Baldwin (3-1-2); Danielle Perkins (2-0) vs Monika Harrison (2-1-1); Jamie Mitchell (5-0-2) vs Noemi Bosques (12-15-3).
To comment on this story in the Fight Forum CLICK HERE