Canelo-Kovalev, the UFC, and the Great DAZN Flapdoodle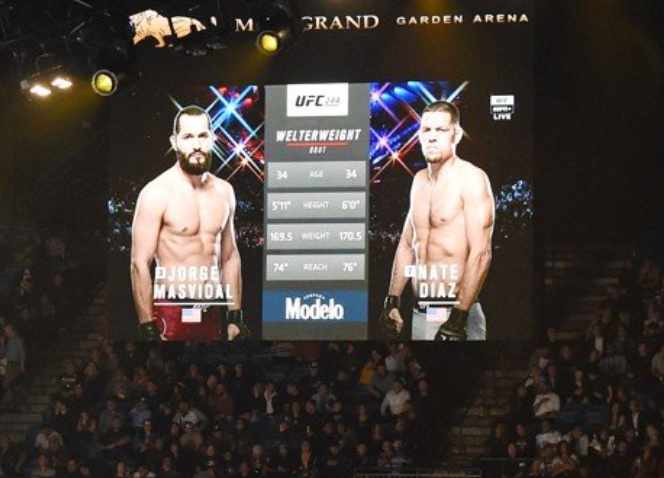 On Saturday, Nov. 2, Canelo Alvarez became a world title-holder in a fourth weight class with an 11th-round knockout of Sergey Kovalev. But the big winner that night was Dana White. The brassy, 50-year-old President and poster boy for the UFC, White has always insisted that his brand of Mixed Martial Arts would blow boxing out of the water as a spectator sport and on Saturday the live-streaming service DAZN bowed down before White and beatified his claim.
It's old news now, but the first bell for Canelo-Kovalev came at 10:18 Pacific. That's 1:18 in the morning for those living in the Eastern Time Zone where almost half the U.S. population resides. The late start, as we were forewarned, owed to the decision by DAZN executives that the fight would not go head-to-head with Dana White's promotion in New York, a pay-per-view event on ESPN+ featuring a bout between Jorge Masvidal and Nate Diaz for something called the BMF title (the initials stand for Baddest Motherf*****).
The co-main event to Canelo-Kovalev was a 12-round contest between lightweights Ryan Garcia and Romero Duno. It was over in 98 seconds. That meant that the long wait before the main event would become even longer. It dragged on for a good hour-and-a-half.
That was a tough break for the talking heads on the DAZN telecast, none of whom are likely to win any Peabody Awards. During the lull, former NBA star Robert Horry was interviewed at length. "Next they gonna interview the janitors," snorted someone whose tweet popped up on several web sites. (In Great Britain where Canelo-Kovalev was a PPV event on Sky Sports, they filled the void with a re-run of the Canelo-Jacobs-fight.)
I did not see the DAZN telecast because I remained in the arena where, quite unexpectedly, the Masvidal-Diaz MMA fight showed up on the big screens. Dana White explained how that came about. "So we were sitting there (at Madison Square Garden)," said White, "and MGM called and said that 'you guys are halfway through your co-main event now. People are losing their minds here,' or whatever. Can we show the Diaz fight at the MGM?"
Showing the MMA fight inside the Grand Garden to mollify the restless crowd was a smart call. As boxing writer Doug Fischer noted, most of the crowd got into the fight. And Masvidal-Diaz, truth be told, provided more excitement than Canelo-Kovalev, a fight with no indelible moments until Canelo closed the show with a devastating right hand. But the MGM erred by not switching away from the telecast as soon as it became obvious that the ringside physician had stopped the fight and that Masvidal had prevailed. That would have shortened the wait time by getting the three national anthems out of the way sooner. (Please, in the future can we please have an abridged version of the Russian anthem; it's awfully long.)
It was DAZN's doing, but the MGM Grand, although smart to show Masvidal-Diaz, has to be held complicit for stalling the fight that everyone came to see. It was a slap in the face to the paying customers who forked up anywhere from $400 to $1,700 to see the fight live. "If you are a boxing promoter and you want to turn off your fans," said Yahoo's Kevin Iole, "you overprice your tickets so they can't get in to see it and then kowtow to an MMA fight on the other side of the country."
Professional boxing as we know it, meaning gloves and a predetermined number of three-minute rounds, has been around for more than a century. A watershed event in the evolution of Queensberry boxing was the 1892 fight in New Orleans between John L. Sullivan and James J. Corbett.
The first UFC fight (UFC 1, we're now up to 244) was held in Denver on Nov. 12, 1993, but this was really an underground event of which the media took no heed, a representation of what the late Sen. John McCain famously called human cockfighting. The rules had to be softened (UFC 1 had no weight classes) and other changes had to be made before the UFC came out of the shadows. Their watershed event was the Nov. 22, 2002 show at the MGM Grand with Tito Ortiz opposing Ken Shamrock in the headliner.
And so, what DAZN did was disrespect a sport that has been around for more than a century in favor of a Johnny-come-lately. And what's odd about it is that Canelo Alvarez is their highest-paid performer, having signed the richest contract of any athlete under the DAZN umbrella. Canelo's purse for the Kovalev fight was reportedly $35 million. (I have no idea what Masvidal and Diaz earned, but Diaz was paid $250,000 for his previous fight with Anthony Pettis.)
For the record, the Masvidal-Diaz fight became official on Sept. 7. The Canelo-Kovalev fight did not become official until Sept. 19. So, the UFC, one might say, had dibs on the date.
Granted, nowadays, in a saturated market for combat sports, it's darn near impossible for a promoter to manufacture an event without a competitor coming along and planting something on the same date, but yet Golden Boy, Canelo's promoter, was guilty of poor planning. One guesses that Oscar De La Hoya and his associates underestimated the clout of UFC after their lone venture into MMA turned out badly. Their show at the LA Forum in November of last year featuring the rubber match between geezers Tito Ortiz and Chuck Liddell was purportedly a big money-loser.
The UFC isn't my cup of tea, but I understand the appeal. It harks back to the great 1890s barber shop debate as to whether a good boxer could defeat a good wrestler. Compared to boxing, UFC has more permutations. Because there are several different types of MMA disciplines, it's a more sophisticated blood sport. I have no doubt it is here to stay. This is no fad like indoor bicycle racing. There's even a part of me that wishes the sport had come along sooner so that the great college wrestlers of yesteryear had a place to go after exhausting their eligibility.
And to this we should add that although UFC fights appear to the naked eye to be far more brutal than boxing, UFC competitors, by all indications, are at less risk of a traumatic head injury.
But all this is neither here nor there. The fact is that DAZN screwed up and screwed up royally. Didn't upper management foresee that pushing Canelo-Kovalev back to such an ungodly hour would foment a great outpouring of outrage? And lest one think that the Brits were pleased that they didn't have to get up quite so early in the morning to take in Canelo-Kovalev, that's just not so. Like the rest of us, they were led to believe that the UFC fight wouldn't delay the MGM fight as long as it did and they set their alarms accordingly, something akin to being sent off on a wild goose chase. Much of the venom on social media emanated from Great Britain.
If we assume that the decision to push back Canelo-Kovalev wasn't motivated entirely by greed – giving the company extra time to sign up new subscribers – then we must conclude that DAZN concluded that boxing and MMA have overlapping constituencies; that a good many boxing fans also follow MMA and vice versa. Perhaps, but there's no hard data and I personally have seen no evidence of this.
October was a great month for boxing with several Fight of the Year candidates. So, we'll give DAZN a pass this time for getting the month of November off on such a messy start. But if they pull this stunt again…. Well, serious boxing fans are accustomed to getting crapped on, but even they have their limits.
Check out more boxing news on video at The Boxing Channel  
To comment on this story in The Fight Forum CLICK HERE
Mercito Gesta Victorious Over Jojo Diaz at the Long Beach Pyramid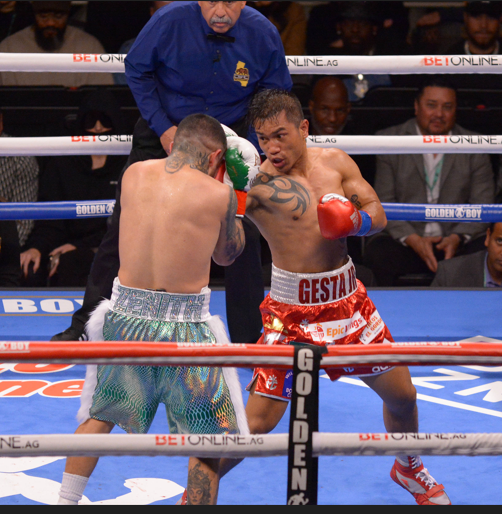 LONG BEACH, CA.-Those in the know knew Mercito Gesta and Jojo Diaz would be a fight to watch and they delivered.
Gesta emerged the winner in a super lightweight clash between southpaws that saw the judges favor his busier style over Diaz's body attack and bigger shots and win by split decision on Saturday.
Despite losing the main event because the star was overweight, Gesta (34-3-3, 17 KOs) used an outside method of tactic to edge past former world champion Diaz (32-4-1, 15 KOs) in front of more than 5,000 fans at the Pyramid.
The speedy Gesta opened up the fight with combination punching up and down against the peek-a-boo style of Diaz. For the first two rounds the San Diego fighter overwhelmed Diaz though none of the blows were impactful.
In the third round Diaz finally began unloading his own combinations and displaying the fast hands that helped him win world titles in two divisions. Gesta seemed stunned by the blows, but his chin held up. The counter right hook was Diaz's best weapon and snapped Gesta's head back several times.
Gesta regained control in the fifth round after absorbing big blows from Diaz. He seemed to get angry that he was hurt and opened up with even more blows to send Diaz backpedaling.
Diaz targeted his attack to Gesta's body and that seemed to slow down Gesta. But only for a round.
From the seventh until the 10th each fighter tried to impose their style with Gesta opening up with fast flurries and Diaz using right hooks to connect with solid shots. They continued their method of attack until the final bell. All that mattered was what the judges preferred.
After 10 rounds one judge saw Diaz the winner 97-93 but two others saw Gesta the winner 99-91, 98-92. It was a close and interesting fight.
"I was expecting nothing. I was the victor in this fight and we gave a good fight," said Gesta. "It's not an easy fight and Jojo gave his best."
Diaz was surprised by the outcome but accepted the verdict.
Everything was going good. I thought I was landing good body shots," said Diaz. "I was pretty comfortable."
Other Bouts
Mexico's Oscar Duarte (25-1-1, 20 KOs) knocked out Chicago's Alex Martin (18-5, 6 KOs) with a counter right hand after dropping him earlier in the fourth round. The super lightweight fight was stopped at 1:14 of the round.
A battle between undefeated super welterweights saw Florida's Eric Tudor (8-0, 6 KOs) emerge the winner by unanimous decision after eight rounds versus Oakland's Damoni Cato-Cain.
The taller Tudor showed polished skill and was not bothered by a large cut on his forehead caused by an accidental clash of heads. He used his jab and lead rights to defuse the attacks of the quick-fisted southpaw Cato-Cain. The judges scored the fight 80-72 and 78-74 twice for Tudor.
San Diego's Jorge Chavez (5-0, 4 KOs) needed less than one round to figure out Nicaragua's Bryan Perez (12-17-1, 11 KOs) and send him into dreamland with a three-punch combination. No need to count as referee Ray Corona waved the fight over. Perez shot a vicious right followed by another right and then a see-you-later left hook at 3.00 of the first round of the super featherweight match.
Photo credit: Al Applerose
Jojo Diaz's Slump Continues; Mercito Gesta Prevails on a Split Decision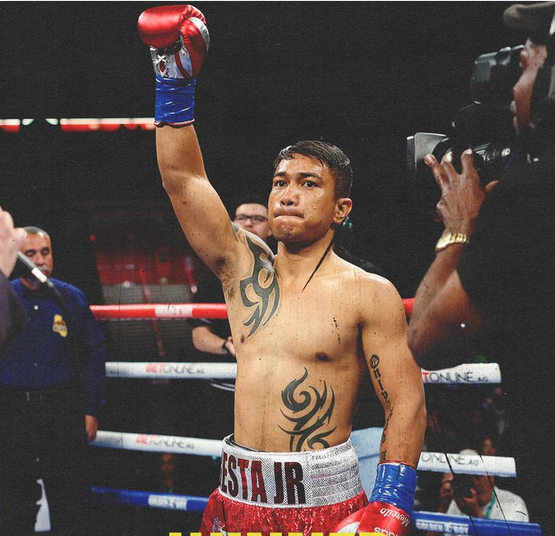 At age 30, Jojo Diaz's career is on the skids. The 2012 U.S. Olympian, a former world title holder at 126 and 130 pounds and an interim title holder at 135, Diaz suffered his third straight loss tonight, upset by Mercito Gesta who won a split decision at the Walter Pyramid in Long Beach, CA.. The scoring was strange with Gesta winning nine of the 10 rounds on one of the cards and only three rounds on another. The tie-breaker, as it were, was a 98-92 tally for Gesta and even that didn't capture the flavor of what was a closely-contested fight.
Originally listed as a 12-rounder, the match was reduced to 10 and that, it turned out, did Diaz no favors. However, it's hard to feel sorry for the former Olympian as he came in overweight once again, having lost his 130-pound title on the scales in February of 2021.
Diaz also has issues outside the ropes. Best elucidated by prominent boxing writer Jake Donovan, they include a cluster of legal problems stemming from an arrest for drunk driving on Feb. 27 in the LA suburb of Claremont.
With the defeat, Diaz's ledger declined to 32-4-1. His prior losses came at the hands of Gary Russell Jr, Devin Haney, and William Zepeda, boxers who are collectively 83-2. Mercito Gesta, a 35-year-old San Diego-based Filipino, improved to 34-3-3.
Co-Feature
Chihuahua, Mexico super lightweight Oscar Duarte has now won nine straight inside the distance after stopping 33-year-old Chicago southpaw Alex Martin in the eighth frame. Duarte, the busier fighter, had Martin on the deck twice in round eight before the fight was waived off.
Duarte improved to 25-1-1 (20). Martin, who reportedly won six national titles as an amateur and was once looked upon as a promising prospect, declined to 18-5.
Other Bouts of Note
New Golden Boy signee Eric Tudor, a 21-year-old super welterweight from Fort Lauderdale, overcame a bad laceration over his right eye, the result of an accidental clash of heads in round four, to stay unbeaten, advancing to 8-0 (6) with a hard-fought unanimous 8-round decision over Oakland's Damoni Cato-Cain. The judges had it 80-72 and 78-74 twice. It was the first pro loss for Cato-Cain (7-1-1) who had his first five fights in Tijuana.
In the DAZN opener, lanky Hawaian lightweight Dalis Kaleiopu went the distance for the first time in his young career, improving to 4-0 (3) with a unanimous decision over 36-year-old Colombian trial horse Jonathan Perez (40-35). The scores were 60-52 across the board. There were no knockdowns, but Perez, who gave up almost six inches in height, had a point deducted for a rabbit punch and another point for deducted for holding.
To comment on this story in the Fight Forum CLICK HERE
'Big Baby' Wins the Battle of Behemoths; TKOs 'Big Daddy' in 6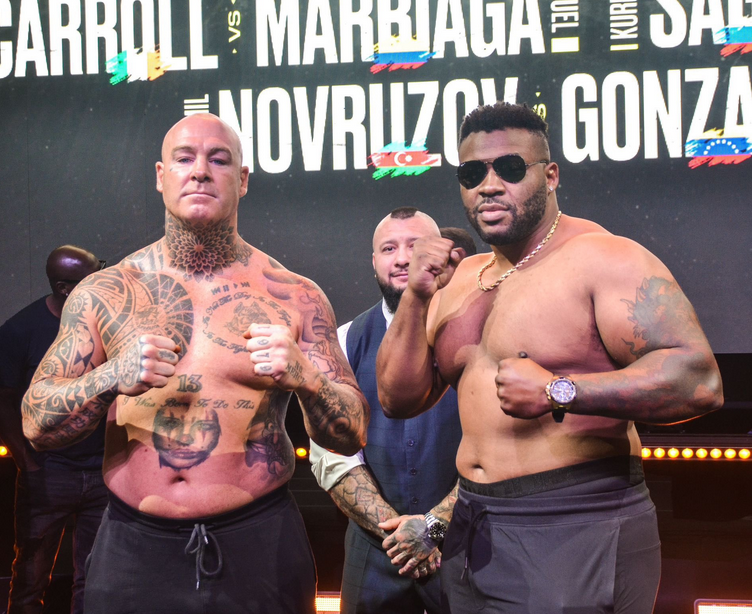 Lucas "Big Daddy" Browne weighed in at a career-high 277 pounds for today's battle in Dubai with Jarrell "Big Baby" Miller, but he was the lighter man by 56 pounds. It figured that one or both would gas out if the bout lasted more than a few stanzas.
It was a war of attrition with both men looking exhausted at times, and when the end came it was Miller, at age 34 the younger man by nine years, who had his hand raised.
Browne was the busier man, but Miller, whose physique invites comparison with a rhinoceros, hardly blinked as he was tattooed with an assortment of punches. He hurt 'Bid Daddy' in round four, but the Aussie held his own in the next frame, perhaps even forging ahead on the cards, but only postponing the inevitable.
In round six, a succession of right hands knocked Browne on the seat of his pants. He beat the count, but another barrage from Miller impelled the referee to intervene. The official time was 2:33. It was the 21st straight win for Miller (26-0-1, 22 KOs). Browne declined to 31-4 and, for his own sake, ought not fight again. All four of his losses have come inside the distance, some brutally.
The consensus of those that caught the livestream was that Floyd Mayweather Jr's commentary was an annoying distraction that marred what was otherwise an entertaining show.
As for what's next for "Big Baby" Miller, that's hard to decipher as he has burned his bridges with the sport's most powerful promoters. One possibility is Mahmoud Charr who, like Miller, has a big gap in his boxing timeline. Now 38 years old, Charr – who has a tenuous claim on a WBA world title (don't we all?) —  has reportedly taken up residence in Dubai.
Other Bouts of Note
In a 10-round cruiserweight affair, Suslan Asbarov, a 30-year-old Russian, advanced to 4-0 (1) with a hard-fought majority decision over Brandon Glanton. The judges had it 98-92, 97-93, and a more reasonable 95-95.
Asbarov was 12-9 in documented amateur fights and 1-0 in a sanctioned bare-knuckle fight, all in Moscow, entering this match. He bears watching, however, as Glanton (18-2) would be a tough out for almost anyone in his weight class. In his previous fight, at Plant City, Florida, Glanton lost a controversial decision to David Light, an undefeated Australian who challenges WBO world title-holder Lawrence Okolie at Manchester, England next week.
A 10-round super featherweight match between former world title challengers Jono Carroll and Miguel Marriaga preceded the semi-windup. Carroll, a 30-year-old Dublin southpaw, overcame a cut over his left eye suffered in the second round to win a wide unanimous decision in a fairly entertaining fight.
It was the sixth straight win for Carroll (24-2-1, 7 KOs) who elevated his game after serving as a sparring partner for Devin Haney. Marriaga, a 36-year-old Colombian, lost for the fourth time in his last five outings, declining to 30-7.
To comment on this story in the Fight Forum CLICK HERE