Deontay Wilder May Be a One-Trick Pony, But What an Extraordinary Trick It Is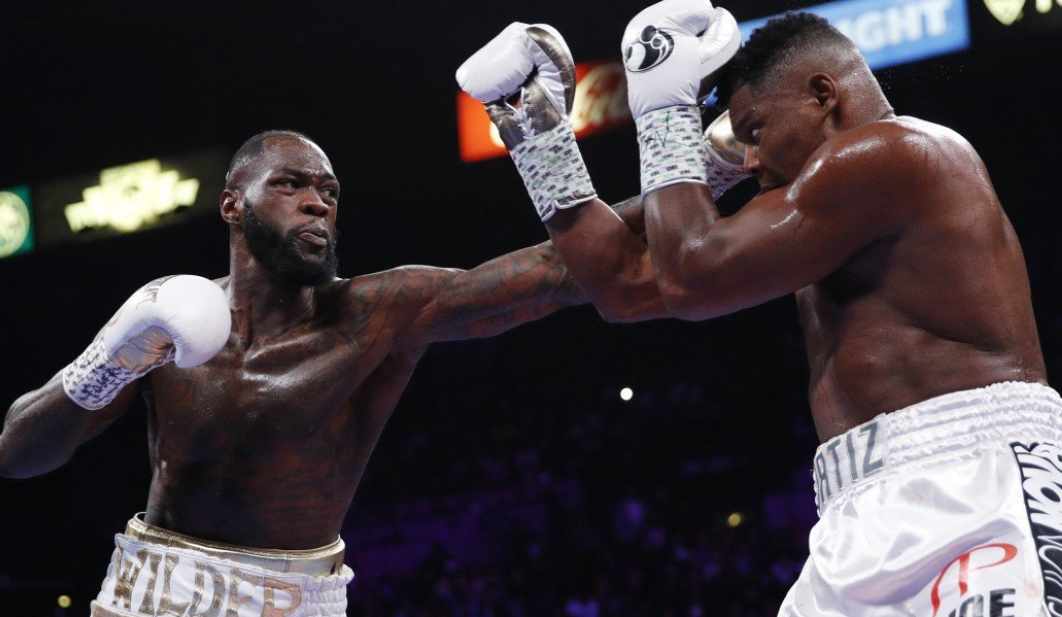 Deontay Wilder May Be a One-Trick Pony, But What an Extraordinary Trick It Is
Scientists with instruments precise enough to gauge such matters tell us that the return stroke of a lightning bolt (the current that causes the visible flash) moves upward at a speed of about 220 million miles per hour, or one-third the speed of light.
Reason also tells us that WBC heavyweight champion Deontay "The Bronze Bomber" Wilder's vaunted overhand right can't possibly move that swiftly, but its effect is no less destructive when it lands flush. Down on all three official scorecards through six rounds Saturday night at Las Vegas' MGM Grand and seemingly in no particular hurry to do what he almost always does in the ring, Wilder finally flashed his signature lightning bolt in the closing seconds of the seventh. Thudding against Ortiz's forehead with a concussive force only occasionally glimpsed in big-man boxing, it so electrified the dangerous Cuban southpaw that he collapsed onto his back, the whites of his eyes rolling in his head. His groggy attempt to pull himself upright before referee Kenny Bayless reached the count of 10 failed.
It went into the books as a knockout after an elapsed time of 2 minutes, 51 seconds, boosting Wilder's professional record to 42-0-1 with 41 KOs, but no matter. The remaining nine seconds in the round, and the subsequent one-minute rest period, almost surely would not have been enough to sufficiently restore the shaken challenger's equilibrium or to enable him to avoid that lethal weapon of a right hand for five more rounds.
It was not exactly a replay of their first meeting, on March 3, 2018, in Brooklyn's Barclays Center, when Ortiz (now 31-2, 26 KOs, 2 NC) had Wilder in trouble in the seventh round before going down and out himself in round 10. The put-away shot in that clash was a demonstration of the champ's versatility, such as it is, with a ripping right uppercut nearly separating Ortiz's large head from his broad shoulders.
"I was clear-headed when I hit the canvas," Ortiz said, despite evidence to the contrary. "When I heard the referee say `seven' I was trying to get up. But I guess the count went a little quicker than I thought."
But there was nothing amiss with Bayless' sense of timing, just as there was nothing wrong with the surprising patience exhibited by Wilder before capitalizing on the opening he knew would come. He didn't take up boxing until the relative advanced age of 19, logging just 40 or so amateur bouts (Ortiz had nearly 400), including his bronze medal turn at the 2008 Beijing Olympics, before turning pro on Nov. 15, 2008, with, natch, a second-round stoppage of Ethan Cox.
The lightning bolts have continued to crackle with metronome regularity, the only two times Wilder, now 34, has been obliged to go the distance being his title-winning unanimous decision over Bermane Stiverne on Jan. 17, 2015, and a rousing split draw with lineal titlist Tyson Fury on Dec. 1, 2018. It should be noted, however, that Wilder floored Bermane three times en route to a first-round stoppage in the do-over on Nov. 4, 2017, and had Fury down twice, including a knockdown in round 12 that was almost identical to the way he put away Ortiz in Vegas. The only difference is that Fury lurched to his feet and gathered himself enough to fight back and make it to the final bell.
Throughout much of Wilder's pro career he has fought as if his hair were on fire, wanting to get his man out of there as soon and as savagely as possible. For his second go at Ortiz, he was unaccustomedly restrained, landing just three of 31 punches in the first round and five of 31 in the second, according to statistics compiled by CompuBox. For the night, he was on target with just 34 of 184, a tepid 18.5%, with the 40-year-old Ortiz no busier, landing 35 of 179 (19.6%). The pace was almost glacial compared to the undercard bout in which WBA super bantamweight champion Brandon Figueroa and Julio Ceja, who fought to a split draw, combined to connect with an astounding 784 of 2,811 through 12 action-packed stanzas. Figueroa thus retained his title, which would have become vacant had he lost to Ceja, who came in four pounds over the 122-pound limit.
But they say all good things come to those who wait, and Wilder, co-trained by Mark Breland and Jay Deas, appears to have finally learned there are benefits that can be gained by waiting to pick your spots before unfurling that dynamite right hand.
"You know, my intellect is very high in the ring, even though I don't get no credit for it," said Wilder, seemingly nonplussed by the scorecards that had him trailing 59-55 on those submitted by Dave Moretti and Steve Weisfeld and 58-56 on Eric Cheek's. "But, you know, I had to go in and I had to go out. I had to throw the right hand a few times and I finally got my measurement, and I took the shot. I seen the shot and I took it. I think I hurt him one time, buzzed him a little bit with the left hook. That was the start of it, and then I took my (cue) from there."
Maybe it now is time to assess how Wilder's punching power stacks up against the hardest-hitting heavyweights ever. By defending his WBC title for the 10th time and whacking out Ortiz again, his kayo percentage rose a bit to 95.3%, tops among anyone who has ever held a world championship in the sport's most prestigious division, topping the 88% mark registered by the late, great Rocky Marciano (49-0, 43 KOs). It can be argued, of course, that any such number is somewhat subjective, dependent upon the quality of opposition faced. It is becoming increasingly difficult, however, to dismiss the Tuscaloosa, Ala., native – still absent from many astute observers' top 10 pound-for-pound lists – as a one-trick pony whose right hand is the only weapon in his arsenal. He still uses his jab mostly as a range-finder, but the word going into the second Ortiz fight was that he had been working to make his left hook something more than ornamental, which seems to have been the case. It's not at the Joe Frazier level yet, but if it ever gets there, watch out.
Lou DiBella, who was involved in the staging of several of Wilder's earlier defenses, disputed the notion that Wilder is still as raw and unrefined as he was when he dethroned Stiverne.
"I don't work with the dude anymore, but the `Wilder has no talent' narrative is trash,'" DiBella tweeted. "The ability to destroy an `A' level opponent with a single punch at any SECOND of a fight is a singular, awesome TALENT. Give @BronzeBomber the credit he deserves. He is a scary man."
Next up for Wilder is the contracted rematch with Fury (29-0-1, 20 KOs) on Feb. 22, should Fury prove he is recovered enough from the nasty gash above the right eye he suffered in his Sept. 14 unanimous-decision victory over Sweden's tougher-than-expected Otto Wallin to proceed on that date. If Wilder's history in rematches with Stiverne and now Ortiz is any indication, an exclamation-point finish against the "Gypsy King" no doubt would further certify the Alabaman as a big enough hitter to be part of the conversation when rating the power quotient of such legendary heavyweights as Marciano, Sonny Liston, Joe Louis, George Foreman, Jack Dempsey, Earnie Shavers, Vitali Klitschko and Mike Tyson, who was in attendance Saturday night and looking his age at 53 with a beard gone gray and a bit of middle-age paunch.
But what Wilder really wants is to have what the most recent undisputed heavyweight champion, Lennox Lewis, had, which is to scoop up all the alphabet titles, eliminating any doubt as to his claim to be the biggest, baddest and best heavyweight of his generation. The other three most widely recognized belts (WBA, IBF and WBO) are currently held by the rotund but quick-handed Andy Ruiz Jr. (33-1, 22 KOs), who defends them in a rematch with Anthony Joshua (22-1, 21 KOs) on Dec. 7 in Diriyah, Saudi Arabia. The outcome of that matchup remains to be determined, as is the likelihood of a full unification pairing of the winner and Wilder. Just as there were promotional and television obstacles in the recent past, when HBO and Showtime were highly reluctant to make bouts involving fighters from the other side of the street, the fact that Wilder is with Premier Boxing Champions, Fury with Top Rank, Ruiz with PBC and Joshua with Matchroom Boxing and DAZN could prove problematical. The sad fact is that Riddick Bowe never swapped punches with Tyson, who also rose up from the Brownsville section of Brooklyn, or Lewis, who had defeated him in the gold medal bout at the 1988 Seoul Olympics. Sometimes the most contentious battles are waged not inside the ropes, but in paneled boardrooms where the cutthroat business of boxing is conducted.
"I am the best in the world and I say it with confidence," Wilder said prior to the Ortiz rematch. He repeatedly has stressed that he wants fight fans to think of one man, one name, one face, when it comes to global recognition as the true heavyweight champion.
Time will tell if his quest is fulfilled.
Check out more boxing news on video at The Boxing Channel 
To comment on this story in The Fight Forum CLICK HERE
Jeison Rosario's Upset Crowns This Week's Edition of HITS and MISSES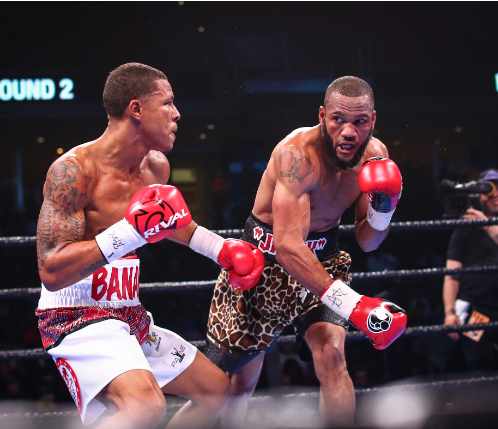 Jeison Rosario's Upset Crowns This Week's Edition of HITS and MISSES
There's was plenty of quality boxing action available for consumption this weekend in the U.S., particularly on Saturday evening because of the competing cards put forth by the PBC on FOX and Top Rank on ESPN crews that have become chief rivals over the last year.
But what were the biggest HITS and MISSES seen during all the action? That's what you're here to find out.
HIT – Jeison Rosario's Stunning Upset for two 154-pound Titles
Nobody expected Rosario to dethrone unified junior middleweight champion Julian Williams on Saturday night at the Liacouras Center in Philadelphia, but the massive underdog overcame the situation anyway to vault himself to the top of the junior middleweight division. The thing that saved Rosario was his stunning power. He appeared to be out-boxed by Williams early in the fight, but that changed just as soon as it became apparent Williams was slinging only his fists while Rosario was working with sledgehammers. Now the division has become more crowded than ever at the top with all roads amazingly leading to Rosario, the little known 24-year-old from the Dominican Republic who now owns the WBA and IBF titles.
MISS – Chris Colbert's Fail to Impress
Junior lightweight prospect Chris Colbert was given a great chance by the PBC to impress fight fans on national television on the undercard of Williams-Rosario, but the talented 23-year-old didn't make the most of the opportunity. Sure, Colbert was taking a step up in competition by taking on former world titleholder Jezreel Corrales for a vacant interim belt, but Colbert mostly came across as a talented fighter who just doesn't seem quite capable of putting it all together yet. Colbert won the fight, but it wasn't interesting or noteworthy in any way. Judging by how the PBC has worked in the past, he'll get plenty more chances to shine, but I'm not sure anyone but the people who stand to gain monetarily from the fighter's success will be looking forward to it.
HIT –  Eleider Alvarez's Epic KO of Michael Seals
Former light heavyweight titleholder Alvarez scored the early leader for knockout of the year against Seals in the main event at Turning Stone Resort Casino in Verona, New York. The fight was fairly lackluster until the explosive ending in the seventh round. It was an important victory for Alvarez, who was coming off losing his title to Sergey Kovalev via decision last February. Alvarez is 35, so it was imperative for him to get back to action and remind people he's still a viable contender in the 175-pound ranks. And there's no better way to do that in boxing than by thunderous knockout.
MISS – Felix Verdejo's Fresh Start Starts Stale
Verdejo is still only 26 years old, but after defeating Manuel Rojas in a lightweight bout at Turning Stone, the once highly regarded prospect doesn't appear to be any closer today than he was yesterday to living up to the tremendous promise he once possessed. To be completely fair to Verdejo, it was only his first fight under new trainer Ismael Salas and the fighter still has time on his side. Still, there appears to be plenty of work to do if Verdejo is ever to become a world champion. In fact, he didn't look all that materially different from the fighter who was knocked out in 2018.
HIT – Floyd Mayweather Wins Prestigious BWAA Award 
I honestly had some concern that Mayweather wouldn't win the BWAA's Fighter of the Decade award before it was announced on Friday via press release. After all, Mayweather lost the previous decade's top honor to Manny Pacquiao in 2010, and Sports Illustrated had just named Andre Ward its Fighter of the Decade winner the week prior. It's only one person's opinion, of course, but I think there would have been something wrong with Mayweather not picking up the honor at least once in the last two decades. After all, he's quite easily the generation's best overall fighter and he's transcended the sport to mainstream celebrity status, too. Congrats to Mayweather for winning the well-deserved honor.
Photo credit: Stephanie Trapp / TGB Promotions
Check out more boxing news on video at The Boxing Channel 
To comment on this story in The Fight Forum CLICK HERE
South African Trailblazer Peter Mathebula Dead at Age 67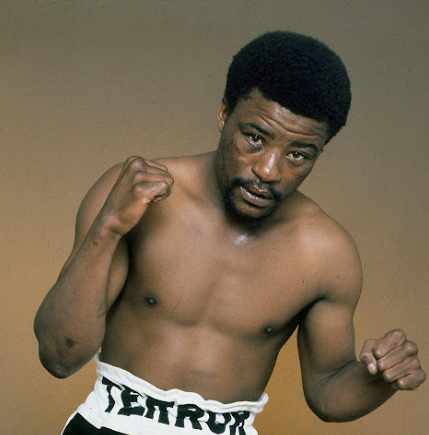 Peter Mathebula wasn't a great fighter. He suffered nine losses during his 45-bout career. He was stopped five times. But Mathebula, who died yesterday (Jan. 18) at age 67, was a historically important fighter. He was the first black South African to win a world title. He was the first South African boxer of any color to win a world title on foreign soil. His predecessors, bantamweights Vic Toweel and Arnold Taylor, won their titles in Johannesburg. Mathebula won his in Los Angeles.
Mathebula took the WBA flyweight title on a split decision from Korea's Tae-Shik Kim on Dec. 12, 1980 at LA's Olympic Auditorium. The fight was originally headed to Seoul but Mathebula was denied a visa.
In those days, South Korea barred tourists from South Africa as a protest against that country's policy of apartheid. Mathebula was a victim of apartheid, but that made no difference as the ban was a blanket ban, covering all South Africans, regardless of color.
Olympic Auditorium matchmaker Don Fraser acquired the orphanded fight. Southern California had a large Korean population and Fraser thought the fight would go over big with this demographic.
The fabled Olympic Auditorium was noted for raucous SRO crowds. But not on this particular night. The crowd was overwhelmingly Korean-American, but there weren't more than 3,000 in attendance. Kim vs. Mathebula didn't resonate with the Olympic Auditorium regulars.
The fight was very close but most thought the decision was fair. The Korean started fast, wrote LA Times ringside reporter Mark Heisler, but Mathebula fought his way back into the fight in the middle rounds and won the 14th and 15th stanzas on his card, sufficient he thought to secure the win.
The victory made Mathebula a big star in South Africa. His purse for the fight with Tae-Shik Kim was only $7,500 (approximately $23,500 in today's dollars) but he made up for it in endorsements. He appeared in ads for automobiles, Old Buck Gin, Bostonian shoes and a line of splashy clothes according to Joseph Lelyveld, the New York Times man on the scene.
Mathebula's celebrityhood crossed racial lines. Newspapers that took little cognizance of goings-on in the black community showered Mathebula with a copious amount of ink. When he defended his title against Argentina's Santos Laciar, it was front page news in white and black newspapers.
Mathebula opposed Laciar a mere 13 weeks after winning his title in Los Angeles. The match was held in Soweto's Orlando Stadium, a facility built to house the Pirates, Soweto's all-black soccer team. Three years earlier, South Africa had legalized interracial sporting events but few whites dared venture into Soweto which was ground zero for anti-apartheid demonstrations.
Despite the great esteem in which Mathebula was held, the fight wasn't a sellout. A local black nationalist organization launched a campaign to boycott the fight on the grounds that the government, which paid to set up Mathebula in a fancy hotel and paid for his motorcades, was using international mixed-race sporting events as a propaganda tool, an early illustration of what has come to be called "sportswashing."
Peter Mathebula couldn't catch a break and that may have impacted his performance against the Argentine. It was woeful. Laciar knocked him down in the fifth and then bull-rushed him out of the ring (the ref called it a push) and the bout was stopped in the eighth with Mathebula complaining that his vision was compromised.
Before the year was out, Mathebula lost twice more. Fighting on hostile turf in Venezuela, he was stopped twice by Betulio Gonzalez, first in the 10th and then in the sixth. A three-time world title-holder, Gonzalez had a great career but he was approaching his 32nd birthday, old for a flyweight, and his best days were behind him.
In the span of less than 10 full months, Peter Mathebula went from the penthouse to the proverbial outhouse, but with the passage of time his people remembered his historic achievement in Los Angeles and pretty much forgot the slew of disappointments that quickly followed. The word "legend" suffuses reports of his death in South African papers.
Mathebula reportedly had multiple health issues and spent the last three weeks of his life in Leratong Hospital in the province of Gauteng, not far from the all-black township where he was born. May he rest in rest in peace.
Check out more boxing news on video at The Boxing Channel 
To comment on this story in The Fight Forum CLICK HERE
Ringside in Verona: Alvarez Capsizes Seals Plus Undercard Results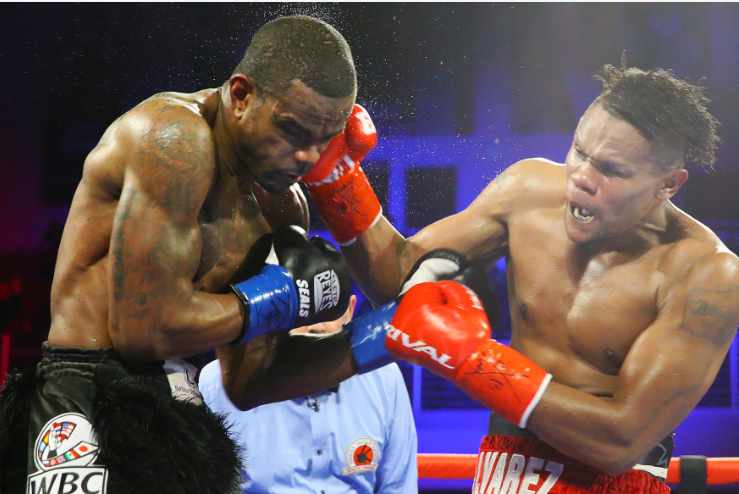 VERONA, NY — The main event of an ESPN televised card at the Turning Stone Resort Casino in Verona, NY between light heavyweight contenders Eleider Alvarez (25-1, 13 KO's) and Michael Seals (24-3, 18 KO's) started with a whimper but ended with a bang. After six-plus rounds of lackadaisical action, Alvarez scored a stunning sensational one punch knockout just before the end of the seventh round of their scheduled ten round fight.
The first three rounds saw more clinches than punches landed. Seals seemed to be looking to land one perfect punch and in doing so barely unleashed any punches. Alvarez, for his part, was not very active in these rounds but certainly moved his hands more and landed more than Seals.
In round four, Seals came out much more aggressive and had his best round of the fight. But in the fifth, Seals went back to looking for that one punch and Alvarez took back control of the action. Toward the end of the round, Alvarez staggered Seals with a right hand.
Alvarez continued to be in control of the fight in rounds six and seven by simply moving his hands more. And then towards the end of round seven, Alvarez connected with a picture perfect overhand right that sent Seals crashing to the canvas. Referee Danny Schiavone did not reach a full 10-count before waiving the fight off.
For Alvarez, this was a big bounce-back win after his loss to Sergey Kovalev in their light heavyweight title rematch last February. With the light heavyweight division flush with talent, it seems Alvarez is in prime position to get a big opportunity his next time out.
In the co-feature, lightweight contender Felix Verdejo (26-1, 16 KO's) put on a workmanlike effort in winning a wide ten round unanimous decision against Manuel Rey Rojas (18-4, 5 KO's). While Verdejo was in complete control of the contest from the opening bell, the performance certainly lacked sizzle and may raise even more questions on the potential of the once can't-miss prospect.
Verdejo utilized a very patient approach throughout the night working behind the left jab. While the jab was effective, Verdejo only occasionally looked to unleash power punches behind that jab. Reyes, for his part, played mostly defense keeping a very tight guard and looking to selectively counter Verdejo's jab.
Verdejo's defense, which had been criticized in the past, looked better but still showed some leaks. In the fifth round, Reyes landed a sharp right hand flush on the jaw of Verdejo that seemed to momentarily get Verdejo's attention. And in the ninth, Reyes landed a hard right that snapped Verdejo's head back. If Reyes could punch harder, either of those two rights may have altered the course of the fight.
But aside from those brief moments from Reyes, Verdejo dictated all the action. He easily out-worked and out-landed the mostly defensive minded Reyes. In the end it is a win for Verdejo and he can proceed forward towards what he hopes will be an eventual title shot in the lightweight division.
In a bizarre heavyweight fight between two former 2004 Olympians, Devin Vargas (22-6, 9 KO's) was awarded a disqualification victory in the eighth and final round against Victor Bisbal (23-5, 17 KO's). Bisbal scored a knockdown in round two with a left hook but was deducted two points in round four for various infractions.  Aside from the knockdown round, Vargas seemed to out-hustle and out-land Bisbal. Ahead on all three scorecards (67-63 twice and 66 -64) entering the final round, Vargas absorbed a low blow from Bisbal. At this point, referee Michael Ortega decided to disqualify Bisbal.
Abraham Nova (18-0, 14 KO's) scored a one-sided fourth-round TKO of tough veteran Pedro Navarette (30-25-3, 19 KO's) in a lightweight contest that was scheduled for eight rounds. Nova scored knockdowns in rounds two, three and four before the fight was waived off.
Knockout out artist Jonathan Guzman (24-1, 23 KO's) rose from the canvas to score a fourth-round knockout of Rodolfo Hernandez (30-10-1, 28 KO's) in a 122-pound slugfest. The heavily favored Guzman scored two knockdowns with body shots in the opening stanza and appeared on his way to an easy win. But Hernandez flipped the script in round three with a hard right hand just before the bell sounded that put Guzman on the canvas and nearly out. The two went toe to toe in the fourth when a vicious left hook to the body from Guzman put Hernandez down and this time out for good.
In a battle of former world title challengers, Freddie Roach trained Christopher Diaz (25-2, 16 KO's) scored a wide eight round unanimous against Adeilson Dos Santos (19-8, 15 KO's) in a featherweight contest. Diaz dominated the fight from the opening bell and hurt Dos Santos on a few occasions but ultimately had to settle for the decision victory.
The opening fight of the night saw heavyweight prospect Jared Anderson (3-0, 3 KO's) easily dispatch Andrew Satterfield (5-4, 3 KO's) in the first round of their scheduled four round fight. Anderson scored two knockdowns in what was a dominant performance.
Photo credit: Mikey Williams for Top Rank
Check out more boxing news on video at The Boxing Channel 
To comment on this story in The Fight Forum CLICK HERE