Avila Perspective, Chap. 75: Oscar Valdez, Carl Frampton and Heavyweights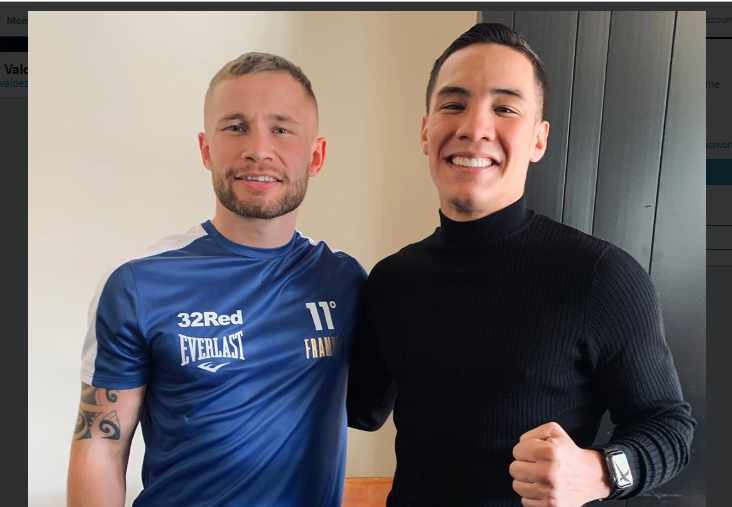 Two former featherweight champions — Oscar Valdez and Carl Frampton — dip their toes into the world of the 130-pound super featherweights, prizefighting's deepest division.
Don't get bit.
While Valdez (26-0, 20 KOs) meddles with Andres Gutierrez (38-2-1, 25 KOs) in a 10 round test, Northern Ireland's Frampton (26-2, 15 KOs) tries out Tyler McCreary (16-0-1, 7 KOs) in another 10 rounder, both at the Cosmopolitan on Saturday in Las Vegas. It's a roll of the dice that will be shown on ESPN+.
Frampton looks to become the first from his country to win world titles in three weight divisions. Not even the great Barry McGuigan could accomplish the feat.
Super featherweights have long been the litmus tests for those seeking greatness as multi-division winners. It's a division where the men are separated from the boys and a single punch can wreck a career.
More than a few former greats passed through the super featherweight division to achieve greatness like Oscar De La Hoya, Floyd Mayweather and Manny Pacquiao. Even today the weight class has one of the deepest rosters of fighters that have a 50-50 chance of usurping any champion at any time.
Valdez, who is moving up after spending three years and six defenses as the WBO featherweight king, feels confident in delving into the talent-rich super featherweight division. He also has a new trainer in Eddy Reynoso who helped Saul "Canelo" Alvarez jump into the middleweight, super middleweight and light heavyweight divisions.
"Eddy has shown me a few things that will help me in the next weight division," said Valdez while in L.A. "I know my opponent is tough, but I plan on putting on a show for the fans. This is my third camp with Eddy Reynoso, and it's going great. This is an important first step towards another world title."
Frampton stands as the other half of the super featherweight equation. Should he defeat the undefeated McCreary, it could more than likely lead to a showdown with Valdez early next year.
It's a dream fight for the Irish fighter who's very familiar with Mexican fighters. He had two classic battles with Los Angeles-based Leo Santa Cruz who won a version of the WBA super featherweight title last weekend in Las Vegas. On the same day, Nicaragua's Rene Alvarado took the other WBA version away from Andrew "Chango" Cancio by knockout in Indio, Calif. Those are just two with titles. Several others hold super featherweight belts and all of them are equally talented and pose different obstacles like lanky southpaw Jamel Herring the WBO titlist, or Tevin Farmer the speedy IBF titlist. And then there's Mexico's Miguel Berchelt who many argue might be the best of them all.
It's a loaded weight division and even the contenders pose danger like Mexico's Andres Gutierrez who has almost as many knockouts as Valdez has wins. And he's only 26 years old.
"I hope Valdez is prepared for a super featherweight war," said Gutierrez who hails from Guadalajara. "I'm now training in Las Vegas with the professor, Ismael Salas, and 'Memo' Heredia. Boxing fans, get ready for a true Mexican-style battle."
Frampton has no concerns about Valdez or Gutierrez. Not yet. He has his own dilemma with Toledo, Ohio's McCreary.
McCreary knows all about Frampton.
"It's an opportunity I couldn't turn down, and I feel that every fight is a risk. This is one where, if anything, I would love to risk my undefeated record against a fighter like Frampton," said McCreary. "A win here means a world title shot next."
Frampton has world titles in the super bantamweight and featherweight divisions and seeks to be the first Irish fighter to claim three weight division world titles.
"It means the world to me to become the first," said Frampton, 32, a native of Northern Ireland. "Nobody from my country has ever done it."
The ultra-aggressive Irish fighter who handed Santa Cruz his first defeat, then was handed his first loss by Santa Cruz, confesses that the sport of boxing saved his life.
"I had many close friends that are dead or in prison," said Frampton. "Boxing kept me from getting involved in the wrong direction."
Weight has become an issue and Frampton believes this new weight class, though dangerous, presents an opportunity to not only win another world title but help him make history.
"It would give me a legacy as a three division world champion," said Frampton.
It's worth the risk.
"Carl Frampton and Oscar Valdez are great fighters moving into the next weight category," said Top Rank's Bob Arum. "Either fighter can be a great match with Shakur (Stevenson)."
Stevenson currently holds the WBO featherweight title recently vacated by Oscar Valdez.
Though Stevenson just captured the title with a decisive victory over Joet Gonzalez last month, Arum sees the former Olympian moving up quickly to grab another division world title. He also envisions more co-promotions with Golden Boy Promotions who promoted Gonzalez and also Lamont Roach who was recently paired against Herring.
"The more we can do that stuff, the better," said Arum.
Heavyweights
WBC heavyweight titlist Deontay Wilder's electrifying knockout over Luis Ortiz last weekend in Las Vegas opens the door for a return showdown with Tyson Fury. It's slated for February 2020.
Wilder is promoted by Premier Boxing Champions and will be facing Top Rank's Fury early next year in Las Vegas.
Top Rank and PBC normally do not mix together, but in this instance, as proven a year ago, money talks, or better still Wilder wanted the match and Wilder will get the match again.
Wilder is the big wild card in the heavyweight division. He can be matched against any of the other heavyweights and a knockout will be expected – whether it is him or the other guy. Fans simply love knockouts. If you were to survey 100 boxing fans more than 90 percent would confess to liking wins decided by a knockout over a decision. That's Wilder's calling card.
"I'm a knock Fury out," said Wilder following his knockout win of Ortiz. "I'm the hardest hitting man, most devastating puncher in the history of boxing."
That's impossible to prove but he very well could be today's most powerful punching heavyweight. No doubt about it.
A match between Wilder and Fury could be the opening of a relationship between PBC and Top Rank. That could set the table for a future match between Terence Crawford and any of the many welterweights in the PBC kingdom like Danny Garcia, Shawn Porter, Keith Thurman, Manny Pacquiao or Errol Spence Jr. if he can recover from his recent injuries from a car accident. That indeed would make Wilder a man of influence.
Next week another heavyweight world title clash takes place when Chicano heavyweight Andy Ruiz puts the WBA, WBO and IBF titles up for grab when he faces former champion Anthony Joshua in a rematch. It happens next Saturday, Dec. 7, in Saudi Arabia.
If Ruiz wins again, then it's almost guaranteed that he would fight the winner of Wilder-Fury later in 2020. Both fight under PBC. If Joshua wins, a fight could be made but it's not a guarantee.
Wilder is holding all the cards now. He's got a full house but is looking for the Royal Flush.
Fights to Watch
Sat. Nov. 30 DAZN 11 a.m. Cecilia Braekhus (35-0) vs Victoria Bustos (19-5); Radzhab Butaev (12-0) vs Alexander Besputin (13-0)
Sat. Nov.30 ESPN+ 7 p.m. Oscar Valdez (26-0) vs Andres Gutierrez (38-2-1); Carl Frampton (26-2) vs Tyler McCreary (16-0-1); Carlos Adames (18-0) vs Patrick Teixiera (30-1).
Check out more boxing news on video at The Boxing Channel  
To comment on this story in The Fight Forum CLICK HERE
"Sparring with Smokin' Joe" is a Great Look into a Great, Complicated Man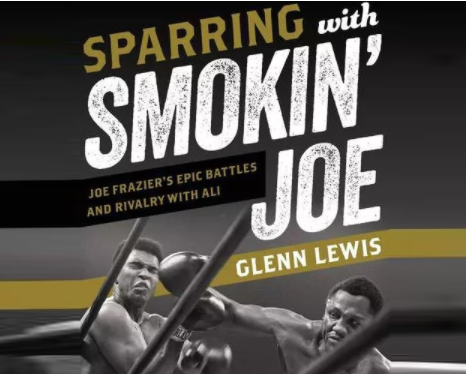 BOOK REVIEW – Some rare moments arrive, as either a blessing or a curse, to cast definitive impressions of how someone might be remembered. As anyone reading this should well know, such a moment occurred 50 years ago today (March 8, 1971) at Madison Square Garden for Joe Frazier and Muhammad Ali.
For Frazier, a punishing 15-round victory became the foundation to his legacy. That leads us to Sparring with Smokin' Joe by Glenn Lewis, the latest biographical volume to focus on Frazier, with a timely release date close to the "Fight of the Century" anniversary that should provide plenty of solid promotional material for the book.
As a piece of literature the book, published by Rowman & Littlefield, stands up quite well on its own, and as a piece of boxing literature it stands out, through previously unpublished situational information on Frazier.
I found it to be a must-read for Frazier fans and a solid plus for most boxing libraries.
Author Lewis is a graduate school professor at the City University of New York (CUNY) and director of journalism at the affiliated York College with decades of expertise on his resume. This project is expertly constructed and reads very smoothly throughout. Beside the many insightful instances regarding Frazier himself, a very thoughtful portrait of his son Marvis Frazier runs through the narrative, which also conjures a vivid depiction of Frazier's Broad Street Gym in North Philadelphia.
The book's unique highlight is the ongoing tale of traveling with Frazier and his all-white band (with multiple Berklee school members) during a tour of southern states.
The first 140 pages or so (out of a listed 256), make up a fascinating memoir of getting to know Frazier and his circle during 1980, around four years after his second crushing defeat to George Foreman. At that point in his life, Frazier was trying to settle into retirement, guide Marvis's culminating amateur career, and transition from boxing superstar to fledgling vocal attraction.
I devoured the opening sections of the book with reader's glee, far more than enough to highly recommend Lewis' book, but toward the end it seemed maybe he should have quit while and where he was ahead.
The last third gets substantially less engaging. The author grew distanced from his subject's proximity and it shows, as the tale becomes far more familiar in relating already well-documented fight data.
There is still some fine perspective from Lewis like Joe's hugely destructive obsession with rushing Marvis into disaster versus Larry Holmes, but for many of the closing segments you could cut and paste the same period of Frazier's career out of Mark Kram Jr's recent book Smokin' Joe (2019) and gain a bit more personal touch.
That's not at all to imply that the boxing writing is weak. Lewis makes an excellent case that Frazier won the rematch with Ali, not only the first fight; which leads to justified speculation on what could have occurred had Frazier gotten the second nod. Back then I shared Lewis' opinion on the scoring, and his detailed analysis inspires taking another look at the replay.
Some minor gym characters or business associates become animated as if they're standing in front of you, but I was disappointed in how a charming, complicated guy like Jimmy Young was overlooked and how larger-than-life characters like Gil Clancy and especially George Benton (a living example of where playwright August Wilson drew inspiration) came across rather subdued compared to the boisterous conversationalists I spoke with many times not long after the year Lewis's story begins.
There are also a couple of minor omissions that, though based on very brief listings, still stick out when considering Lewis's scholarly, journalistic credentials.
James Shuler is mentioned, but there's nothing about his tragic death in a motorcycle accident a week after losing to Tommy Hearns in a minor title fight, nor the touching story about Hearns at the funeral, offering to put the belt in Shuler's coffin. Frazier's restaurant, Smokin' Joe's Corner, is also listed a couple times but there is no mention of the horrible murders that took place there during an inside job robbery and how that tragedy probably put the final nail into Frazier's aspirations in the food industry.
I also hoped for some tidbits from Frazier's thoughtful and wise older brother Tommy who provided me with some rare insights (and had an offbeat sense of humor about his name), a stoic trickster who seemed to lovingly enjoy putting his famous sibling on the spot.
Still, the overall impression I got was fantastic. A memoir should share time, location, emotion, and reflection. Lewis achieves all those things many times over.
Which leads to my primary, personal takeaway of this very worthwhile book. Based on a few of the lengthy encounters I was lucky enough to share with Joe Frazier (boxing and non-boxing related), it's difficult for me to imagine that a canny observer like Lewis didn't emerge from the amazing and enviable access he got with more wild tales, especially from nights on the road.
So, I'd have to guess, and bet, that Lewis let some of the more sensational situations or quotes remain aloft in the mist of the past, which to me is admirable, even more so in these social media dominated days.
Here's a non-controversial quote that is included, which provides a sample of the many fine nuggets to be found:
"I don't think you're less of a man for crying," said Joe, taking me by surprise. "It's healthy for you. I cry if something goes wrong- I'll cry right out. But if I cry out of anger, look out! Somebody's in trouble. Crying shows a man has heart and helps him out of his pressures. Just don't cry for nothing."
I could almost hear Frazier's voice when I read that, and descriptions of places I've been like Frazier's gym read true enough to give the entire book an aura of accuracy.
A dozen excellent photographs serve as a first-class coda.
Fifty years after his biggest triumph, Joe Frazier remains a compelling topic in the discourse of sociological significance. This well written tribute does him plenty of justice.
Check out more boxing news on video at the Boxing Channel
To comment on this story in the Fight Forum CLICK HERE
The Fight of the Century: A Golden Anniversary Celebration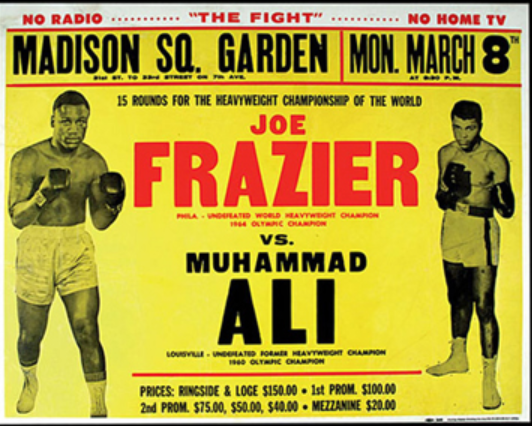 In professional boxing, fights can be rank-ordered as generic fights, big fights, bigger fights, mega-fights, and spectacles. The first fight between Muhammad Ali and Joe Frazier wasn't merely a spectacle, but the grandest spectacle of them all. This coming Monday, March 8, is the 50th anniversary of that iconic event.
Ali-Frazier I was staged at three-year-old Madison Square Garden, the fourth arena in New York to take that name. It drew a capacity crowd: 20,455 (19,500 paid). An estimated 60 percent of all the tickets sold fell into the hands of scalpers.
The fight was closed-circuited to more than 350 locations in the United States and Canada. At some of the larger venues, it established a new record for gate receipts, and this for an attraction that wasn't produced in-house. In Los Angeles, 15,333 saw the fight at the Forum and 11,575 at the nearby Sports Arena.
Bill Ballenger, the sports editor of the Charlotte (NC) News, saw the fight at the Charlotte Coliseum. He reported that the audio – Don Dunphy did the blow-by-blow with Burt Lancaster and Archie Moore serving as color commentators – was loud enough to be heard outside the arena and that many folks, either unable or unwilling to purchase a ticket, loitered outside and followed the action in 30 degrees weather.
An estimated three hundred million people saw the fight worldwide. In England, by some estimates, half the population tuned in, watching either at home on BBC1 or at a theater where one could watch the fight unfold on a movie screen. Now keep in mind that in England the fight didn't commence until 6:40 in the morning on a Tuesday!
Inside Madison Square Garden, the large flock of celebrities included many folks one wouldn't expect to find at a prizefight. Marcello Mastroianni, Italy's most famous movie star, made a special trip from Rome. Salvador Dali was there and Barbra Streisand and Ethel Kennedy, widow of Bobby Kennedy, seated next to her escort, crooner Andy Williams. Frank Sinatra was there working as a photographer for Life magazine. Lore has it that Sinatra wangled the assignment after failing to boat one of the coveted ringside seats.
The scene was made brighter by human "peacocks," the label applied to Harlemites with an outrageous sense of fashion, and the electricity was palpable. When Ali appeared at the back of the arena, making his way from his dressing room to the ring, everyone had goosebumps.
The late, great New York sportswriter Dick Young once wrote that there is no greater drama than in the moments preceding a big heavyweight title fight and that was never more true than on March 8, 1971 at Madison Square Garden.
Ali (31-0, 25 KOs) and Frazier (26-0, 23 KOs) were both undefeated. Both had a claim to the heavyweight title, Ali because the belt had been controversially stripped away from him for his political beliefs. Opinions as to who would win were pretty evenly divided. In Las Vegas, Joe Frazier was the favorite at odds of 6 to 5. Across the pond in England, bookies were quoting odds of 11 to 8 on Ali.
Those that favored Ali were of the opinion that 'Smokin' Joe was too one-dimensional. That much was true. Joe was as subtle as a steam locomotive on a downhill grade. He ate Ali's hardest punches, said Boston Globe reporter Bud Collins, as if they were movie house popcorn and he eventually wore Ali down. There was little doubt as to how the judges would see it after Joe knocked Ali down in the 15th round with a frightful left hook. When Ali arose, it appeared that he had been afflicted with a sudden case of the mumps. The decision was unanimous: 11-4, 9-6, 8-6-1.
This wasn't the greatest fight of all time, but it was a fight that more than lived up to the hype. And, as several people have noted, the event took on a life of its own without the benefit of modern technology to push it along. The buzz was fueled in a large part by newspapers, the "antiquated" sort of newspapers that a fellow fished from his driveway or purchased at a newsstand on the way to or from work. If twitter and facebook had been around during Muhammad Ali's prime, Ali would have blown the doors off the internet.
A cultural touchstone is an event that remains sealed in our memory. As we slide into old age, if we are lucky enough to live that long, we may not remember what we had for breakfast in the morning, but some long-ago events are as vivid as if they had happened just yesterday.
Boxing historian Frank Lotierzo has written poignantly about how overjoyed he was when he was surprised with the news that his father would be taking him to the fight. "To this day it remains the biggest thrill of my life!" wrote Lotierzo, who was then in the seventh grade. "And it's not even close!"
I didn't see the fight, but I can recall the faces of people that I overheard talking about it, people whose interest in the fight struck me as odd as I knew they had little interest in the world of sports. So, when the fight is replayed in its entirety on Sunday – it airs on ABC at 2 p.m ET and again at 6 p.m. ET on ESPN – I will be watching it for the first time. And it will be bittersweet as I will be reminded that I am in the twilight of my life and my thoughts will inevitably drift to my friends and loved ones that have left this mortal world in the years since that grand night in 1971 when Muhammad Ali and Joe Frazier locked horns in the Fight of the Century.
I get misty-eyed just thinking about it.
Check out more boxing news on video at the Boxing Channel
To comment on this story in the Fight Forum CLICK HERE
Yoka TKO 12 Djeko in France: Claressa Pitches a Shutout on Ladies Day in Flint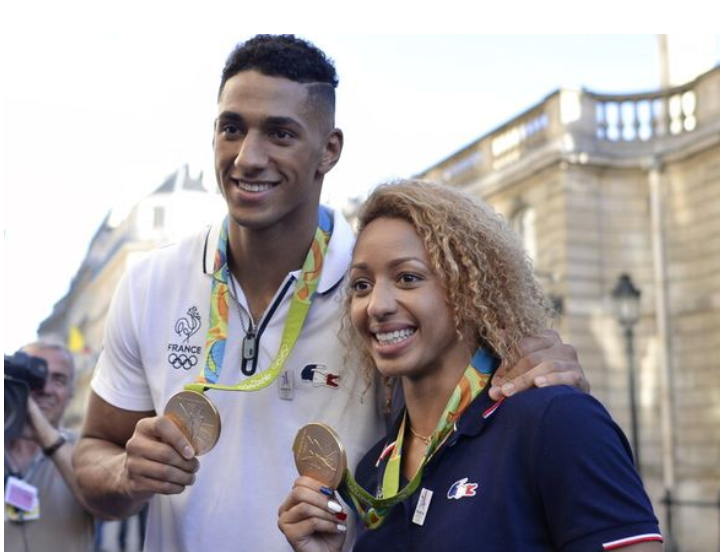 Yoka TKO 12 Djeko in France: Claressa Pitches a Shutout on Ladies Day in Flint
March 8 is International Women's Day which is actually a formal holiday in many parts of the globe. It was somehow fitting that female boxers were on display on the Friday feeding into it, a weekend without a must-see attraction on the men's side.
Today's activity began in the French port city of Nantes where 2016 Olympic gold medal winners Tony Yoka and Estelle Mossely, husband and wife, kept their undefeated records intact, both advancing to 10-0, against European opponents. Yoka (10-0, 8 KOs) was matched against Joel "Big Joe" Djeko (17-3-1), a 31-year-old Brussels native of Congolese and Cuban extraction who had fought most of his career as a cruiserweight. Mossely, a lightweight who now goes by Yoka-Mossely, drew Germany's Verena Kaiser (14-2).
At the Rio Olympiad, Yoka got by Filip Hrgovic in the semis and Joe Joyce in the finals to win the gold, winning both bouts by split decision. Both would be favored over the Frenchman in a rematch fought under professional rules.
Against the six-foot-six Djeko, Yoka controlled the fight with his jab, repeatedly backing his foe against the ropes. Very few of Djeko's punches got through Yoka's high guard. Had the fight gone to the scorecards, it would have been a rout for Yoka, but it didn't quite get there as Djeko turned his back on the proceedings midway through the 12th round after absorbing a sharp jab and it went into the books as a TKO for Yoka. At stake was some kind of European title or a derivation thereof.
Mossely's fight with Kaiser, slated for 10 two-minute rounds, followed a somewhat similar tack, save that it went the full distance. With only one knockout to her credit at the pro level, Mosseley, typical of female boxers, lacks a knockout punch. But she's a good technician and had too much class for the German.
Flint
A Covid-19 limited crowd of perhaps 300 was on hand to watch hometown heroine Claressa Shields oppose IBF 154-pound title-holder Marie Eve Dicaire at a 4,400-seat arena in Flint. There were five bouts on the undercard, three of which were women's bouts.
Shields, a two-time Olympic gold medalist, was seeking to become a four-belt title-holder in a second weight class, having previously turned the trick at 160. Dicaire, a 34-year-old southpaw, brought a 17-0 record but she had never won a fight inside the distance and all of her previous bouts took place in French-speaking Canada.
The self-proclaimed GWOAT, Shields has no peer between 154 and 168 pounds. Heading into this contest, she had hardly lost a round since meeting Hanna Gabriels and tonight was another total whitewash, her fourth overall in 10-round fights.
Claressa Shields, now 11-0 (2) may be too good for her own good. Her fights are so one-sided that they are monotonous. Her TV ratings have actually been falling. Today's show was a $29.99 pay-per-view on FITE when the established networks refused to meet her purse demands. It will be interesting to see how many tuned in.
In another fight of note, 2012 Olympic bronze medalist Marlen Esparza, in her first fight as a bantamweight, dominated Toronto's Shelly Barnett en route to winning a 6-round unanimous decision. There were no knockdowns, but the scorecards (60-54, 60-53 twice) were indicative of Esparza's dominance.
Esparza, who pushed her record to 9-1 (1), came in ranked #1 by the WBC in the flyweight class. Her lone defeat came at the hands of rugged Seniesa Estrada. Barnett declined to 4-4-3.
Check out more boxing news on video at the Boxing Channel
To comment on this story in the Fight Forum CLICK HERE