Fast Results from Phoenix: History Repeats as Chavez Jr Exits After Five Frames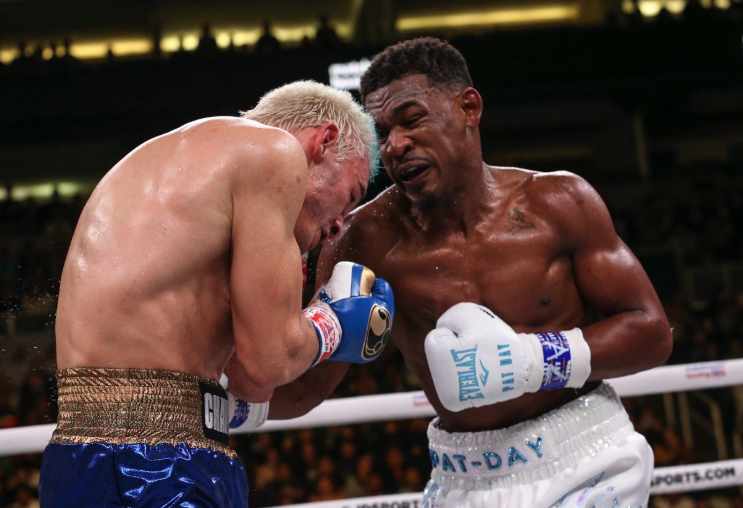 In 2005, the legendary Julio Cesar Chavez had his final fight at America West Arena in Phoenix. He was matched against Omaha journeyman Grover Wiley. El Gran Campeon, then 43 years old, retired on his stool after five rounds with a broken hand. Tonight, his son of the same name was here, although you wouldn't know it from the name of the building which has been re-branded twice since the elder Chavez fought here and nowadays is known as the Talking Stick Resort Arena, taking its name from a nearby Native American hotel-casino.
In a bizarre instance of history repeating itself, the younger Chavez also retired on his stool after five frames. At first it appeared that the motivation was a broken hand, but apparently his nose had been broken to the point where he couldn't breathe properly. Up to the time of the stoppage, his opponent Daniel Jacobs had been the busier man and when the bell sounded to end the fifth it appeared that Jacobs was also the fresher man.
Daniel Jacobs, the Brooklyn "Miracle Man" who overcame a rare form of bone cancer to twice grab a piece of the world middleweight title, improved to 36-3 (29) in what was his debut at 168 pounds. Chavez Jr, who came in nearly five pounds overweight at the weigh-in, was naturally the bigger man but Jacobs had the bigger heart. When the end came, Chavez was booed and objects went flying in his direction as he left the ring. It was the second time that he had turned in a stinker in an important fight after being whitewashed by Canelo Alvarez in a 2017 Cinco de Mayo snoozer. (In defense of Chavez Jr, who declined to 51-4-1, his four losses have come at the hands of opponents who were a combined 138-4-2 at the time that he fought them.)
Co-Feature
Mexico City's Julio Cesar Martinez (15-1, 1 NC, 12 KOs), with TSS 2019 Trainer of the Year Eddy Reynoso in his corner, delivered a very strong performance in capturing the vacant WBC world flyweight title with a ninth-round stoppage of Nicaragua's Cristofer Rosales (29-5) who was seeking to regain the title that he once held. Martinez, a consensus 3/1 favorite, was the alpha male, forcing Rosales to fight off his back foot. Rosales was on his feet when the referee stopped the fight to prevent him from taking further punishment. Martinez's lone defeat came in his pro debut and that was a split decision.
TV Lid-Lifter
In a welterweight match slated for 10 rounds, former WBO 140-pound world title holder Maurice Hooker (27-1-3, 18 KOs) dismissed late sub Uriel Perez in a jiffy, ending matters with a body shot late in the opening round. Hooker was making his first start since being stopped in the sixth round by Jose Carlos Ramirez in a unification fight and making his first start under his new head trainer, Brian McIntyre. The 24-year old Perez, making his first appearance outside his native Mexico, fell to 19-5.
Other Bouts
Liverpool's Liam Smith, a former WBO 154-pound champion now campaigning as a middleweight, improved to 29-2-1 with a clear-cut 10-round decision over 39-year-old Tex-Mex veteran Robert Garcia (42-5) who was making his first start in 16 months. The scores were 98-92 and 99-91 twice.
Welterweight Josh Kelly, who represented England in the 2016 Olympics (he was eliminated from the competition by Kazakhstan's Daniyar Yeleussinov) improved to 10-0-1 with a one-sided 10-round decision over Nicaraguan southpaw Wiston Campos (31-7-6). The scores were 98-91 and 99-90 twice. This was designed as a tune-up for Kelly who has an agreement in place for a match with European welterweight title-holder David Avanesyan. Campos is 1-4-1 in his last six starts.
In another welterweight contest, the aforementioned Yeleussinov, a two-time Olympian and gold medalist at the Rio games, improved to 9-0 (5 KOs) with a fifth-round stoppage of Alan Sanchez (20-5-1). The bout was stopped by the ring doctor at the 0:19 mark because Sanchez, from Fairfield, CA, by way of Guadalajara, could no longer see out of his swollen left eye. Yeleussinov dominated the completed rounds.
By the way, Chavez Jr, 33, avenged his father's loss to Grover Wiley, stopping the Omaha man in the third round at Madison Square Garden on June 9, 2007. For that fight, Chavez Jr, then 21 years old, carried 150 pounds.
Photo credit: Ed Mulholland / Matchroom
Check out more boxing news on video at The Boxing Channel 
To comment on this story in The Fight Forum CLICK HERE
When Boxing Was Big on the Fourth of July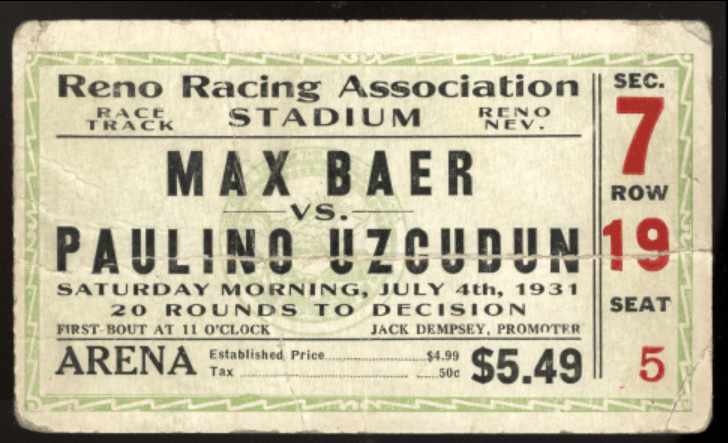 We're going way back, but there was a time when the Fourth of July was a big day for boxing in the U.S. The high-water mark, according to BoxRec, was set in 1922 when there were 67 shows spread across 27 states. In that year, the holiday fell on a Tuesday.
Two of the most historically significant fights were staged on the Fourth of July. In 1910, in a fight that "marinated" for almost five years, Jack Johnson successfully defended his world heavyweight title at the expense of former champion James J. Jeffries. Measured by the amount of newsprint expended on this story as it developed, Johnson vs. Jeffries was the biggest single-day sporting event in the history of man. In 1919, Jack Dempsey dethroned Johnson's conqueror Jess Willard, the first big bang in the Golden Era of Sports. And although it didn't move the needle, how appropriate in hindsight that Joe Louis began his pro career on the Fourth of July.
During the early years of the 20th century, promoters often hitched their events to other events – county fairs, carnivals, race meets, national conventions of fraternal organizations, and so forth. One might call these festival fights. The 1931 show in Reno featuring Max Baer and Paulino Uzcudun was an example. It was, in many ways, the quintessential Fourth of July boxing show, a window into western Americana.
In 1931, Reno (the "Biggest Little City in the World") was home to about 20,000 people. Twice that number swarmed into Reno on that year's Fourth of July. "Special trains by the score, automobiles by the hundreds and airplanes by the dozen poured into the famous divorce metropolis from the Pacific Coast. From the sandy wastes of Nevada came prospectors on burros, cowboys on horseback and ranchers in buckboard wagons," said the correspondent for the United Press.
The race meet was in progress and there were sundry other activities arranged to make the day special, but the big shebang was the prizefight.
The spearheads of the promotion, Bill Graham and James McKay, owned the Bank Club, Reno's biggest casino. Business was booming now that Nevada had legalized gambling, not that it made much difference in Reno where gambling was wide-open before the new law took effect.
Graham and McKay had made their fortunes running gambling saloons in Nevada mining towns and could afford to commit big dollars to the promotion. They brought in the great ring announcer Dan Tobey from Los Angeles (520 miles away) to serve as the master of ceremonies — Tobey was the Michael Buffer of his day — but their big coup was getting Jack Dempsey involved. Dempsey was retired, having last fought in 1927, but the Manassa Mauler was still a towering personality and his involvement insured good national newspaper coverage. For advertising purposes, he was named the actual promoter, the makeshift wooden stadium erected in the infield of the thoroughbred track was named for him, and he would serve as the bout's referee.
At this stage of their respective careers, Max Baer and Paulino Uzcudun were borderline journeymen. Baer's best days were ahead of him, but he had lost three of his last five. Uzcudun had lost four of his last seven beginning with a 15-round setback to Max Schmeling at Yankee Stadium. But Baer was still recognized as a man with a pulverizing punch and the pairing was smart from a geographical perspective. Baer had cultivated a strong following in northern California, Reno's primary tourist market. Uzcudun, who had his early fights in Paris, hailed from the Basque region of Spain.
The Reno area was home to many people of Basque descent, and Uzcudun, nicknamed the Basque Woodchopper, had a ready-made fan base. It was 11 pm on June 4 when Uzcudun arrived in Reno on the Southern Pacific to set up his training quarters, but despite the late hour, thousands were reportedly at the rail terminal waiting to greet him.
Baer arrived a few days later. It was customary in those days for the headliners in a big show outside a major metropolis to arrive in the host city several weeks before the event. They held public workouts and were squired around town to press the flesh to goose the gate.
With the city about to be inundated by a great throng, the Chamber of Commerce undertook a campaign to discourage price-gouging. The District Attorney cautioned homeowners renting beds to visitors to exercise caution when accepting checks, "particularly checks drawn on banks in other cities." Those that came by rail and could afford a berth in a Pullman car brought their own hotel rooms. The Pullmans were diverted to a side track where they sat until the excursionists were ready to leave.
There was never a dull moment in Reno, a place where gambling houses operated around the clock. Reporters had plenty to write about besides the big fight. The cantankerous mayor, E.E. Roberts, was quite a character. To boost tourism, he "advocated placing a barrel of corn whiskey on every corner of the city with a dipper attached and a sign directing all favorably inclined to drink as much as they pleased." Prohibition was still in effect and this didn't sit well with federal prohibition agents. On June 30, the day prior to the start of the racing meet and four days before the big fight, agents from the San Francisco office descended on the city, raiding 19 saloons and arresting 37 people for violating the Volstead Act. By most accounts, this barely dented the city's saloon industry.
The Fight
Although no title was at stake, the bout — billed as the "Battle of the Sagebrush" — was scheduled for 20 rounds. It was a messy affair fought on a sweltering day where the temperature at ringside climbed into the mid-90s. "On occasion they butted like goats," said a ringside reporter.
The match, which lasted the full distance, struck some reporters as vicious and others as rather tame – there were no knockdowns — but on two matters everyone agreed: it was a closely contested contest and both Baer and Uzcudun exhibited great stamina. By and large, Baer landed the cleaner punches but Uzcudun, who had a famously awkward style, a peek-a-boo defense grafted to a low crouch, stubbornly pressed the action and was commended for his tenacity.
At the end of the 19th round, referee Dempsey, the sole arbiter, leaned over to a group of reporters and told them that he would award the fight to the man that had the best of it in the final round. That proved to be the Basque Woodchopper, who had attracted most of the bets in the betting shed built adjacent to the arena.
The attendance was listed at 18,000, but it would be reported that only 9,260 paid. Looking back 10 years later, an attendee recalled that "gatecrashers by the hundreds swarmed over the racetrack fences and infiltrated from all angles. There just weren't enough cops, ushers, and guards to handle them."
The promoters reportedly lost money, but the visitors must have been good spenders because Dempsey was back in Reno with another Fourth of July prizefight the following year. The 1932 promotion, pitting Max Baer against King Levinsky in the main event, was a big disappointment, playing out in a half-empty stadium, but at least those in attendance could say that they got to see a future heavyweight champion in action. Not quite two years later, Baer massacred Primo Carnera at an outdoor arena in Queens, igniting a short- lived title reign. (Rising heavyweight contender Joe Louis would subsequently defeat all three of the Reno headliners, knocking out Levinsky, Baer, and Uzcudun, in that order, in consecutive bouts.)
Reno's second "Battle of the Sagebrush" was a would-be extravaganza that fell flat, the fate of most holiday festival fights, a development that the late, great sportswriter John Lardner attributed to "chuckleheaded boosterism."
That's a story for another day. In the meantime, here's wishing everyone a Happy Fourth of July.
EDITOR'S NOTE: This is a reprint of a story that ran on these pages on July 3, 2018.
Check out more boxing news on video at The Boxing Channel 
To comment on this story in the Fight Forum CLICK HERE
Avila Perspective, Chap. 98: Prizefighters are Hungry to Fight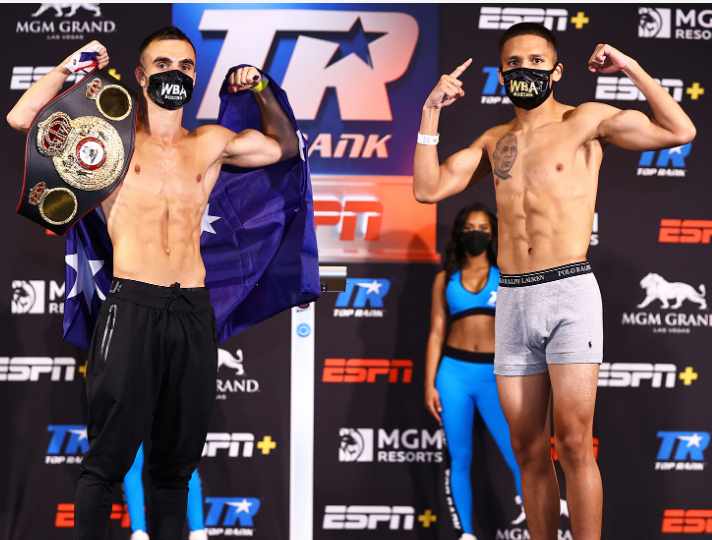 Avila Perspective, Chap. 98: Prizefighters are Hungry to Fight
Hunger. That's what boxing is all about.
It's time to eat.
While athletes in other pro sports like baseball, basketball and football worry about contracting the coronavirus, prizefighters around the world are begging to find work. Literally begging.
"In this sport they are fighting to get back in the ring," said Mark Kriegel while on ESPN Boxing this past Thursday night.
That one sentence explains prizefighting.
While the rich and famous of other sports abstain from partaking of their actual livelihoods, the poor and destitute partakers of the sweet science march on despite the dangers. They want to get paid.
Blue collar boxing has taken several hits with various trainers in the USA losing their lives such as Stan Ward, Ali Salaam, Francisco Mendez, Jimmy Glenn, and multiple former fighters such as Carmen Williamson and Hedgemon Lewis. The sport has taken severe hits to its older generation.
Even right now several fighters and trainers have contracted the coronavirus and remain battling the effects. Among those infected are Robert Duran, Fernando Vargas and Henry Ramirez. (The legendary Duran was discharged from the hospital on Thursday and is recuperating at home.)
Ramirez stated he was stricken with severe symptoms for several days and just now has regained health.
"It happened to me on Father's Day," said Ramirez, who has trained various world title contenders such as Chris Arreola and Josesito Lopez. "It hit me like a truck. It was no joke. I was down for eight straight days."
The Riverside-based trainer said he knows he contracted it from one of his fighters who was tested and found to be positive with the Covid-19 prior to a fight last month. That fighter was unable to participate because of the positive test result. Ramirez soon discovered through symptoms that he was inflicted with the virus too.
"This virus is real," said Ramirez, who trains more than a dozen prizefighters but has remained in quarantine for more than two weeks now. "I've been healthy for four days now."
He awaits his test results to confirm his health.
Gung Ho
Regardless of the danger, fighters are eager to return to the boxing ring. There are no pensions or unemployment benefits for prizefighters. Those depending solely on boxing need to return to the prize ring.
Last month, Mikaela Mayer was scheduled to fight on the semi-main event in Las Vegas. It was part of a Top Rank boxing card to be televised by ESPN. Though she had been training intensely and felt healthy she was discovered through a Covid-19 test to have the coronavirus in her system. She was taken off the card.
"I had trainers and bills to pay," said Mayer. "I thought we were going to fight back in March but the pandemic arrived and that fight was canceled."
Mayer's opponent Helen Joseph also was forced to wait. Both will hopefully face each other on July 14, at the MGM Grand in a bubble created to prevent infection from the virus. Fingers are crossed.
Last week, Riverside-based Joshua Franco (pictured on the right) ignored the dangers of the coronavirus to face the WBA super flyweight titlist Andrew Moloney and won by split decision. Moloney trekked from Australia to defend his title. Both were eager to perform.
Boxers are gung ho to return to the prize ring. It's all about hunger. No other sport has the appetite for action like a prizefighter. Whether it's boxing or MMA the prizefighters are always ready to eat.
Sports fans and athletes from other sports should appreciate the one sport that never shies from danger. It's prizefighting.
Fights to watch
Tues. July 7, ESPN, Andy Vences (23-1-1) vs Luis Lopez Vargas (20-2)
Thurs. July 9, ESPN, Carlos Castro (25-0) vs Cesar Juarez (25-8).
Photo credit: Mikey Williams for Top Rank
Check out more boxing news on video at The Boxing Channel 
To comment on this story in the Fight Forum CLICK HERE
Fast Results from the Bubble: Pedraza Punishes LesPierre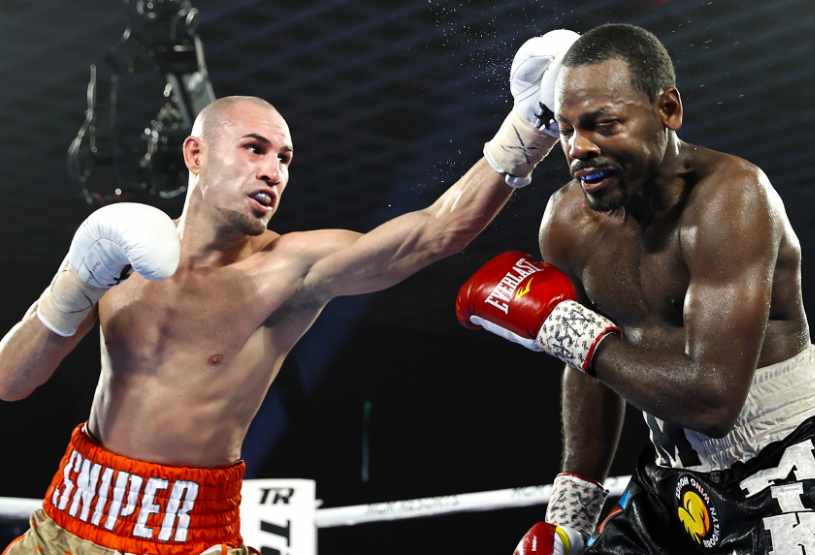 Former two-division world title holder Jose Pedraza (27-3) fought his way back into title contention tonight with a lopsided 10-round decision over Mikkel LesPierre (22-2-1). The bout, rescheduled from June 18, was fought at the catchweight of 144 pounds inside "The Bubble" at the MGM Grand Conference Center in Las Vegas.
Pedraza took charge from the opening bell. The fight appeared in danger of being stopped in round two and again in round 10. In the second round Pedraza landed perhaps 30 unanswered rapid-fire punches as LesPierre had his back to the ropes. In the 10th, Pedraza put him in the canvas with a left-right combination and repeatedly strafed him with clean shots, but LesPierre, a Brooklynite born in Trinidad and Tobago, was game to the core and did some good work in the final seconds.
It appeared that both fighters scored knockdowns in the fifth, but referee Kenny Bayless, after consulting with the replay officials, expunged the first knockdown and ruled it a slip. Pedraza's feet were tangled with those of LesPierre when LesPierre caught him with a glancing left hand. The replay didn't appear conclusive (Bayless was seemingly right the first time), but it was a moot point as Pedraza would have won by a comfortable margin regardless. The scores were 100-88 and 99-89 twice.
Other Bouts
In a fight without an indelible moment, Toledo lightweight Albert Bell (16-0, 5 KOs) "pitched a shutout" over Mark Bernaldez (20-4) of the Philippines, winning all 10 rounds on all three scorecards. The rangy Bell had a 6-inch height advantage and a 6-inch reach advantage and kept Bernaldez at the end of his stick throughout. Bell hurt his right hand late in the ninth round and threw only one right hand in the 10th, but won the round anyway.
Freddie Roach protégé Elvis Rodriguez, 7-0-1 (7 KOs), a 24-year-old southpaw from the Dominican Republic, scored an impressive one-punch knockout over New Jersey's Dan Murray (5-4). A straight right hand, basically just a hard jab, sent Murray sprawling the through the ropes with an apparent fractured orbital bone. The official time was 2:13 of round one.
In a 6-round between two ponderous 284-pound heavyweights, Kingsley Ibeh was awarded a majority decision over Patrick Mailata. It was a quick turnaround for Nigeria-born Ibeh (5-1) who appeared in this same ring last week. Mailata, a Samoa-born New Zealander, fell to 4-1.
The scores were 57-57 and 58-56 twice. Judge Patricia Morse-Jarman had it 57-57 and that was the most appropriate tally as neither man did enough to win.
In the TV opener, Robeisy Ramirez, a two-time Olympic gold medalist for Cuba, improved to 4-0 with a 6-round unanimous decision over Denver's Adan Gonzales (5-3-2).  Ramirez avenged a shocking defeat in his pro debut. The judges had it 60-54 across the board.
Off TV
In what was perhaps the best fight of the night, Jose Enrique Vivas scored a mild upset with a unanimous 10-round decision over previously undefeated Carlos Jackson. The scores were 97-93 across the board according to ESPN's lead announcer Joe Tessitore.
Vivas, a native of Mexico now residing in Montebello, California, improved to 19-1. The 31-year-old Jackson (16-1) fights out of Atlanta but has fought extensively in the Dominican Republic.
Photo credit: Mikey Williams for Top Rank
Check out more boxing news on video at The Boxing Channel 
To comment on this story in The Sweet Science CLICK HERE